Five Fun and Free Things to do in Malmo with Kids
Our day trip to Malmo from Copenhagen last summer was short and sweet. But in that brief visit, Malmo left us wanting more and gave its best first impression of a family-friendly city that had a lot to offer no matter what your interests are. These are our recommendations for five free things to do in Malmo with kids.
1. Discover Malmo's Parks
Its many parks scattered throughout the city, that have been around since the 1900s, has earned Malmo the nickname "City of Parks".  From its largest park, Pildammsparken, used for the Baltic Expo, to Folkets Park, the oldest park, it offers something for the whole family.  Many of the parks feature playgrounds, children's theater and other family activities throughout the summer.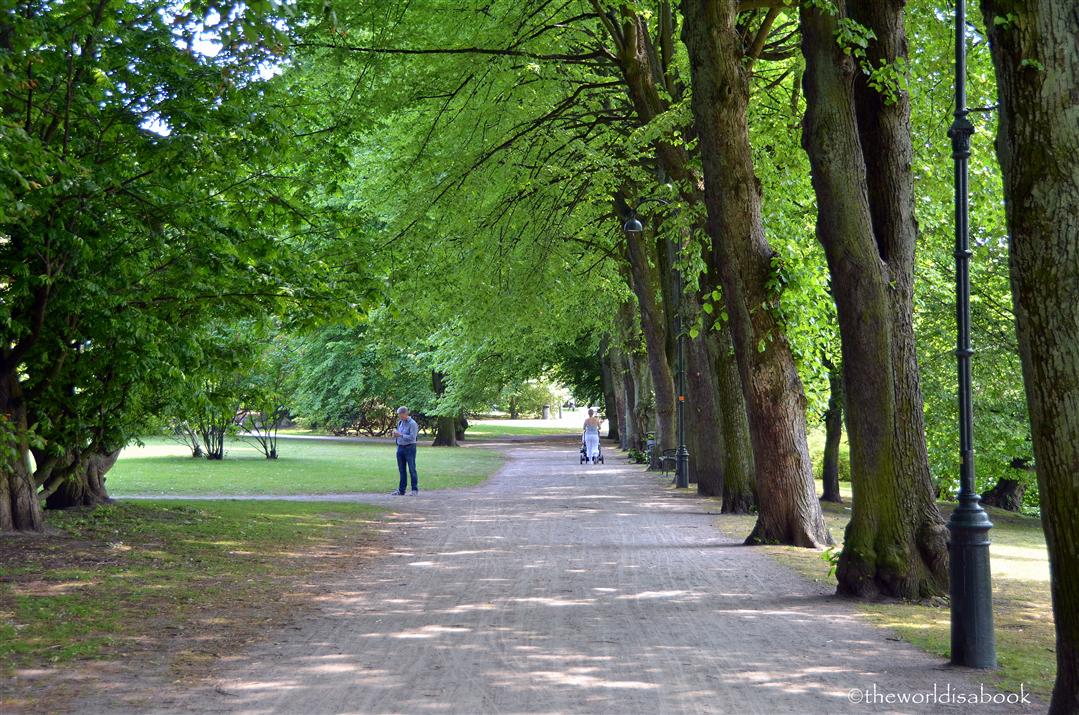 We were only able to visit King's Park (Kungsparken) where we spent quite some time relaxing and enjoyed watching the entertainment barges while the kids loved feeding the ducks on the canal. The clean, well-maintained park was a popular place for locals during the warm summer day we visited. There's even a casino on the grounds for those who want to try their luck.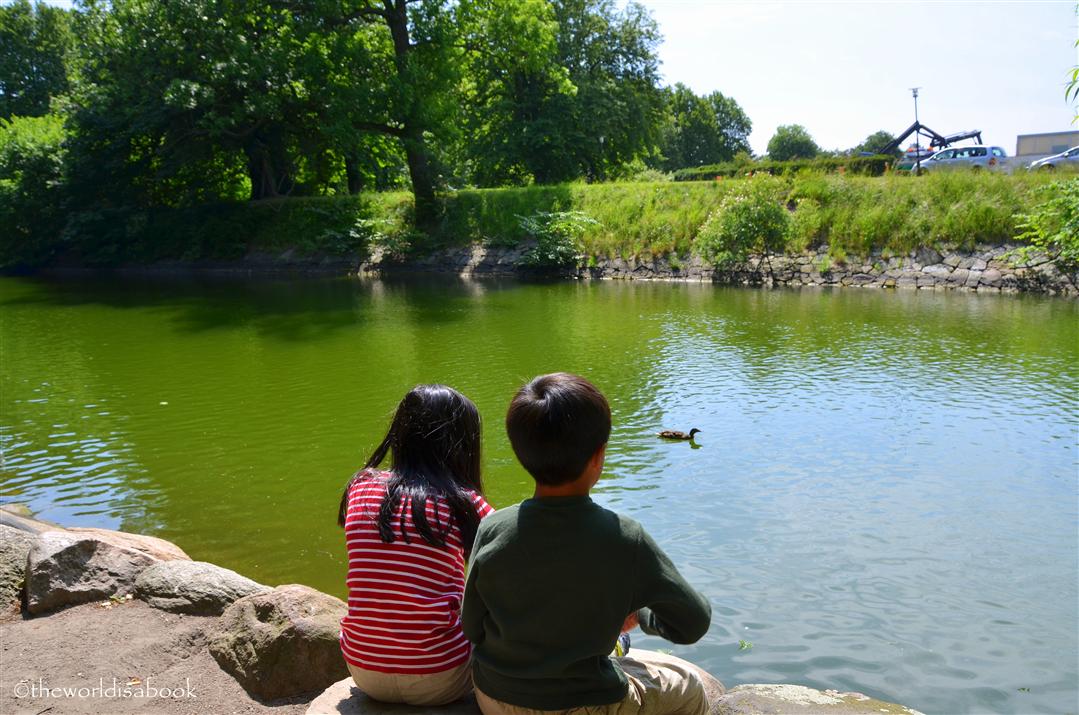 2. Visit St Peter's Cathedral (Sankt Petri Kyrka).
Step inside Malmö's oldest building (built in the 14th century) for a glimpse of an impressive 17th century altar piece.  Churches may not be the most popular attraction choice for kids but this one fascinated my kids. They were particularly intrigued with Tradesmen Chapel's beautiful and well-preserved wall and ceiling frescoes.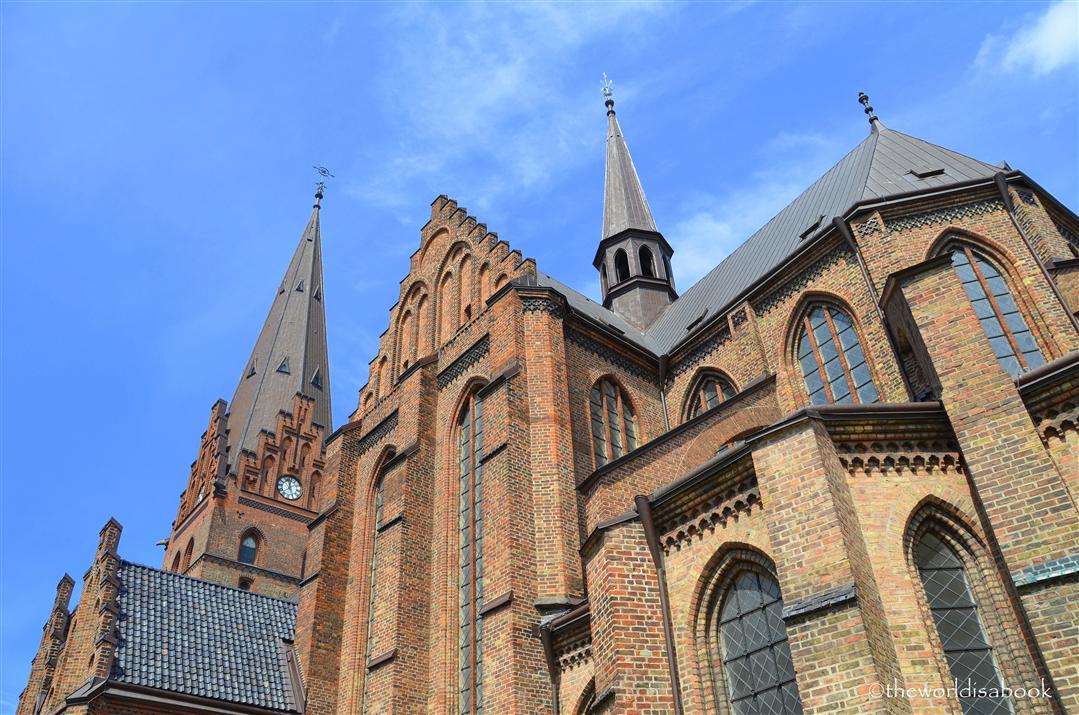 3. Explore the Public Squares
Like many European cities, Malmo's public squares were popular places for gatherings and many historic buildings. The Great Square (Stortorget) is Malmo's Central Square which prominently featured the grand City Hall. Kids will be captivated by the numerous interesting statues on its facade.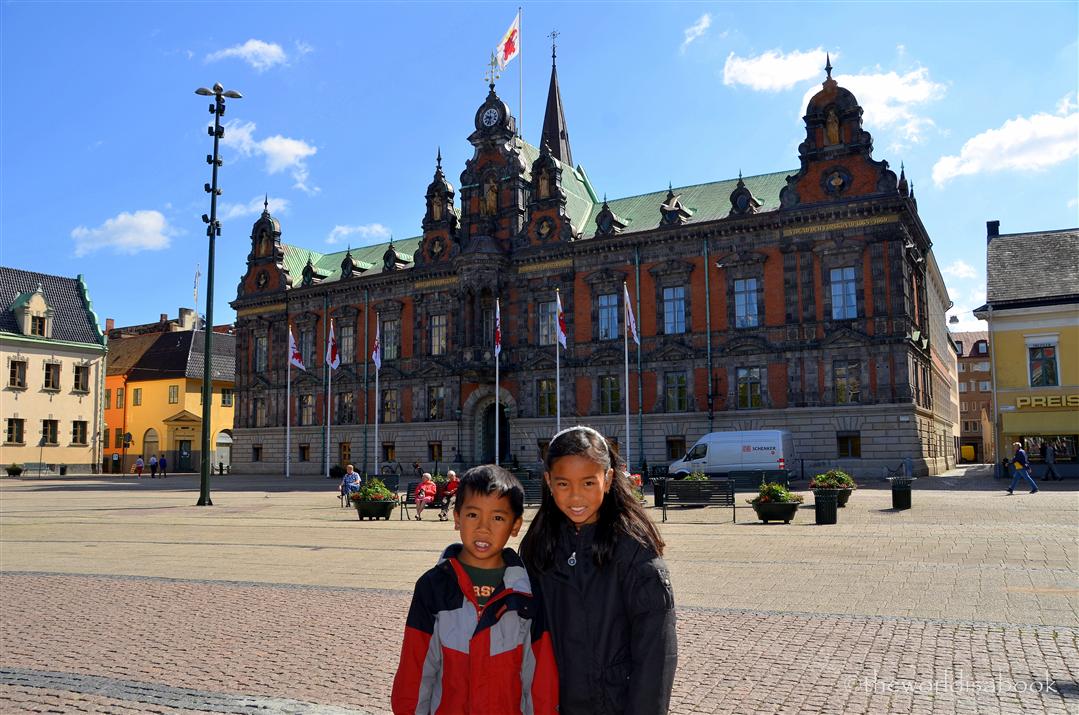 The square also has a bronze water sculpture, popular with the kids, which represented the old city well's location.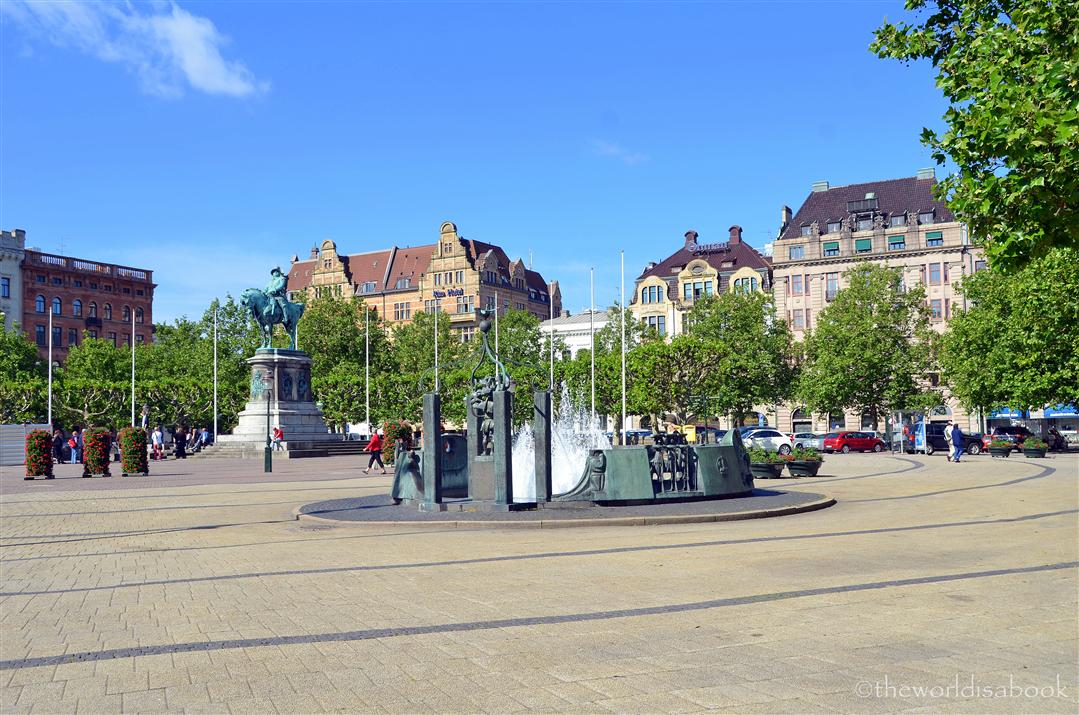 We loved walking around the smaller but also popular Lilla Torg. It was a great place to people watch and admire the striking, old-world architecture of the buildings and timbered houses. My kids gravitated towards that water sculpture below too. Flowing water seems to have that captivating effect on kids.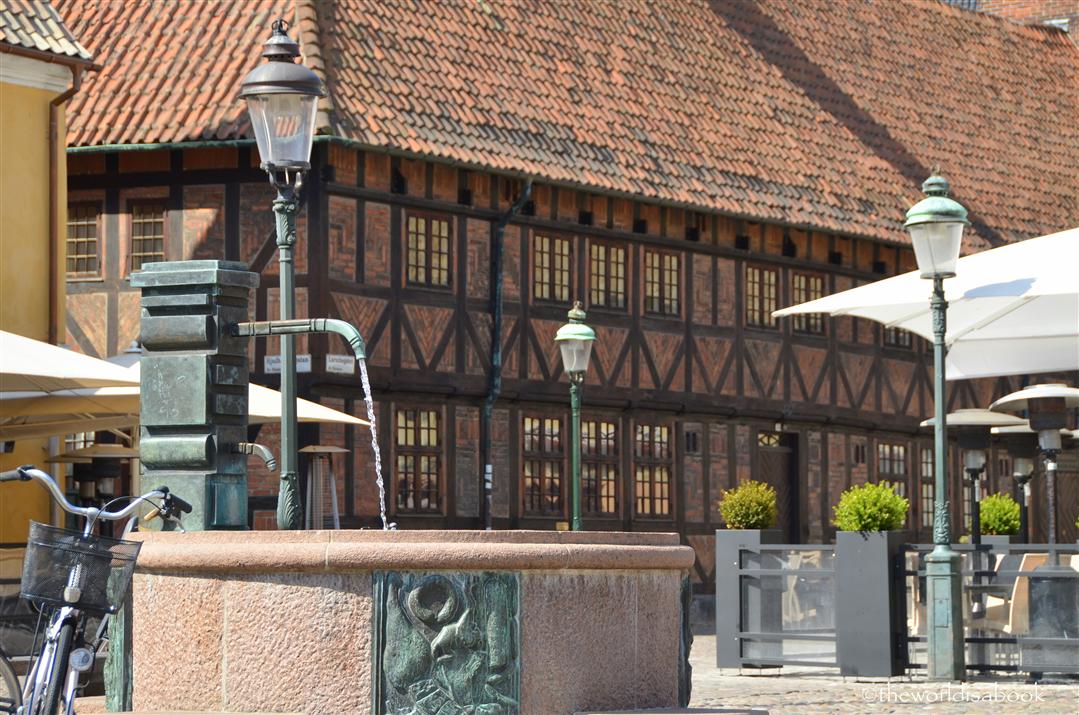 4. Sightsee around Malmohus
Castles usually conjure up images of turrets and spires. Malmo's castle, Malmöhus, looked more like a large, red-brick fortress. It has a long and varied history as a royal residence, prison, citadel and minting place. It now houses an art gallery and several museums so admission isn't free. But, walking around Scandinavia's oldest Renaissance castle, its surrounding moat and a section within the castle wall is free.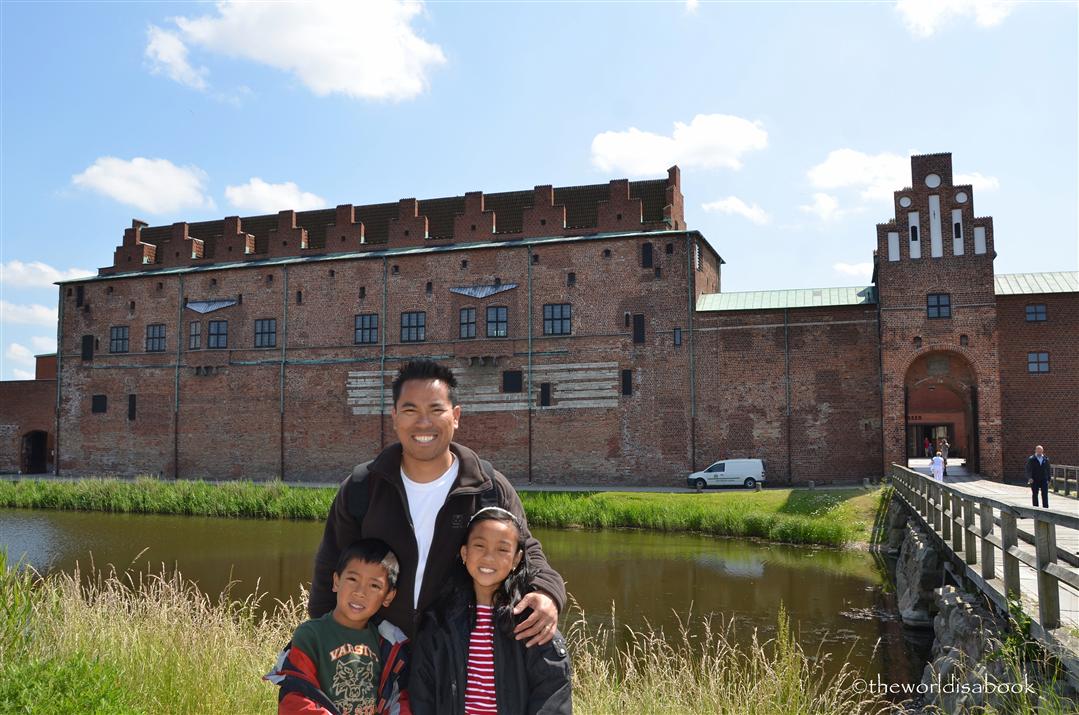 5. See Malmo's Quirky Public Art
Malmo was a wonderful place to walk around since you never know what quirky art sculpture or exhibit you'll see. Public art has always fascinated us and ones with a background story make them more interesting and memorable. We were greeted with a musical sculpture group called Optimistic Orchesta used to depict "optimistic, enthusiastic and happy" Malmo.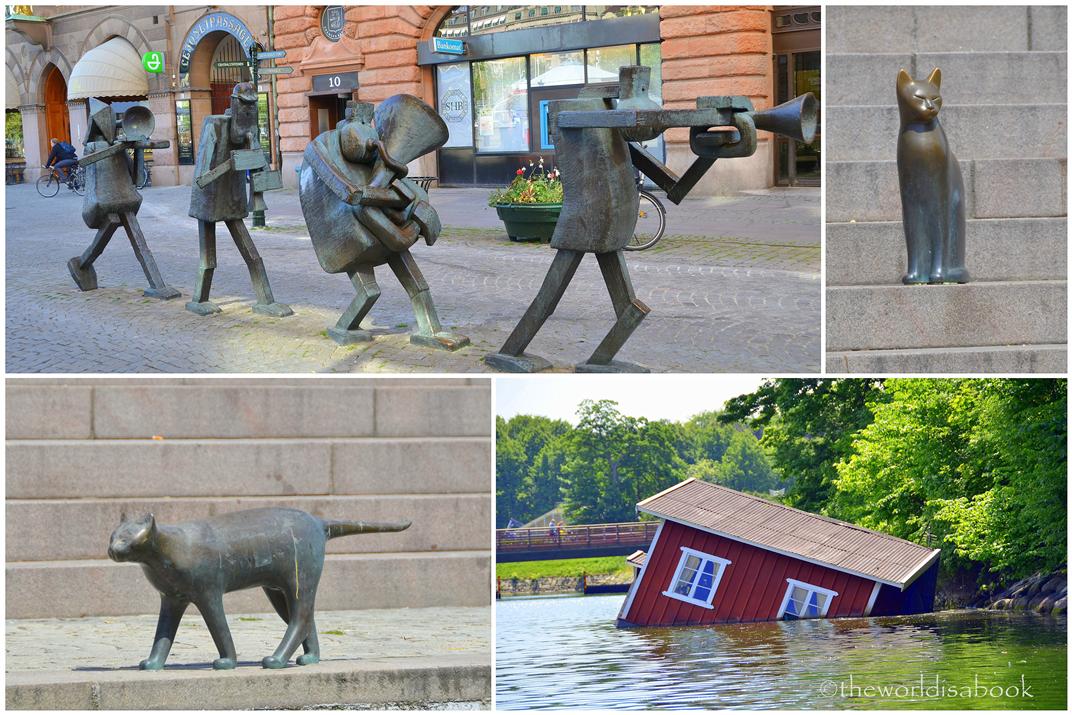 Like many European cities, there are plenty of equestrian statues too (if you're into those).  A few of the street art that stood out were a sinking house art exhibit and several cat statues along the canal to keep people company. How thoughtful and welcoming is that?
*Have you visited any of these free Malmo attractions? Any other free attractions you'd like to add?
Related Posts
This is a part of a series called Five Free Family Friday.  I hope this will grow into a collective guide of free family-friendly attractions of places all over the world.  If you'd like to contribute with the free attractions in your home city, I would love your guest posts.
Pin it for later!