Bryce Canyon National Park: It's a Hoodoo's World
Hoodoos are the tall and unusual limestone rock formations that have made Bryce Canyon National Park in Utah famous. The park has the most concentration of hoodoos found anywhere else in the world. These hoodoos have always intrigued us and was the main reason this park has been on our road trip bucket list. We have spent a few winters skiing in nearby Brian Head Resort but finally made it to Bryce Canyon last month. It definitely lived up to its expectations and more.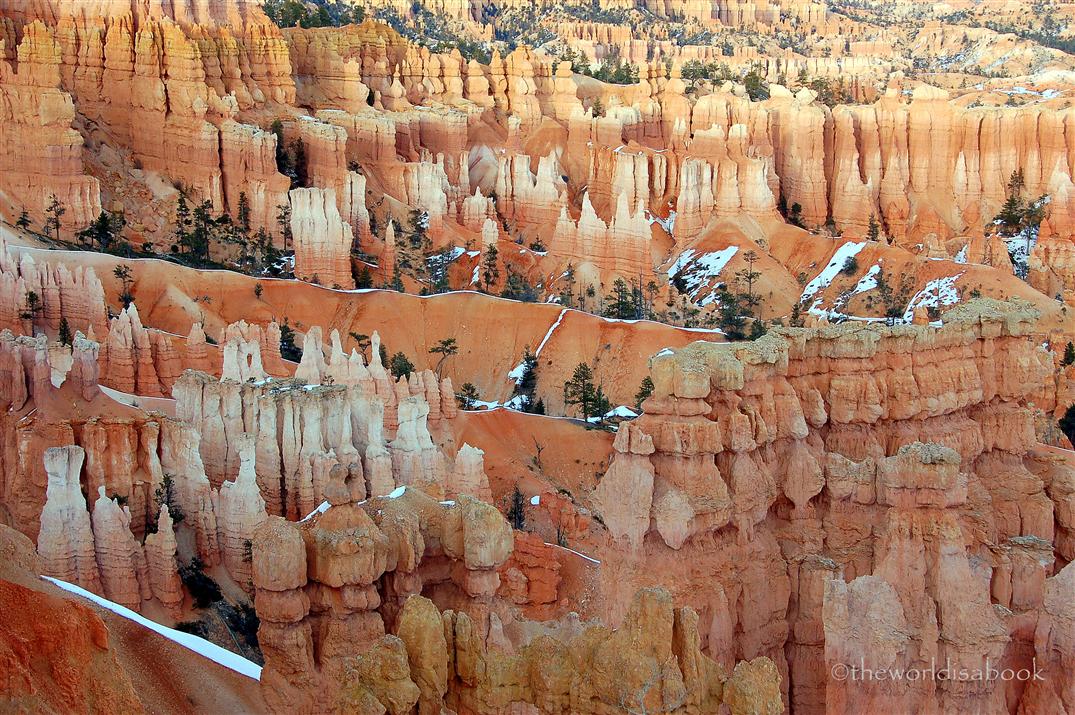 Some of the most dramatic pictures of Bryce I've seen is during the winter with the contrast of snow and the multi-colored rocks. This panorama of mostly red and orange rocks and green pines covered with snow was a sight to behold.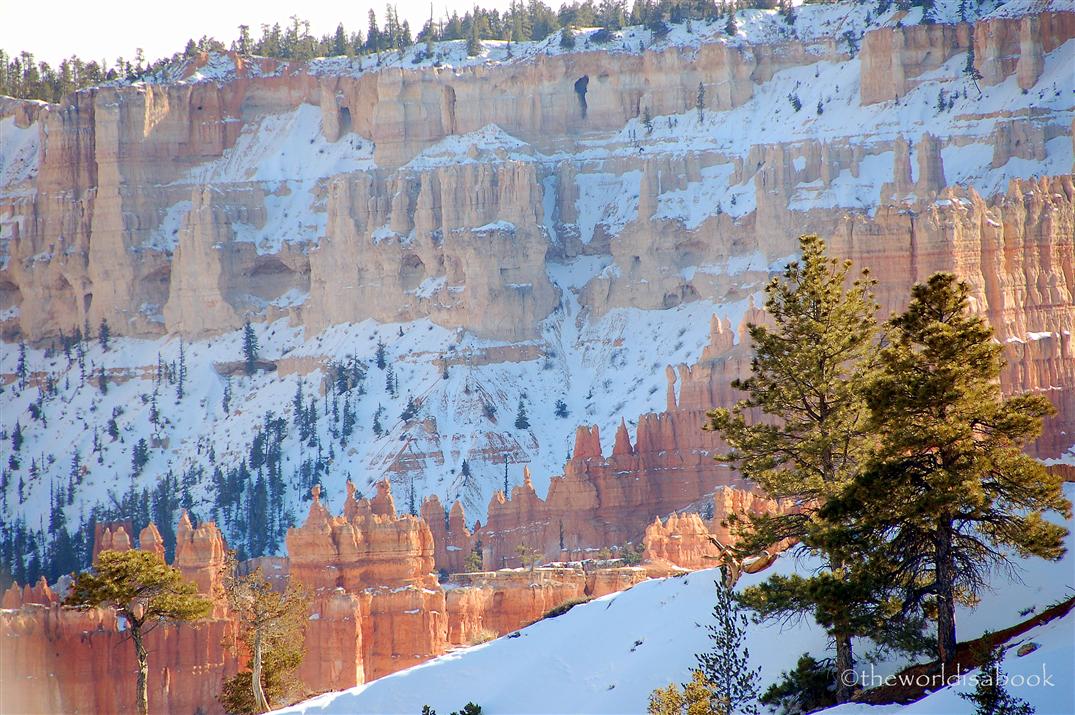 It was no surprise to hear many visitors let out a 'Wow" upon catching a glimpse of this amazing scenery. It was breathtaking and these pictures can't do them any justice.
Despite seeing it in countless pictures over the years, nothing prepared me in seeing the vast collection of hoodoos in many shapes, colors and sizes.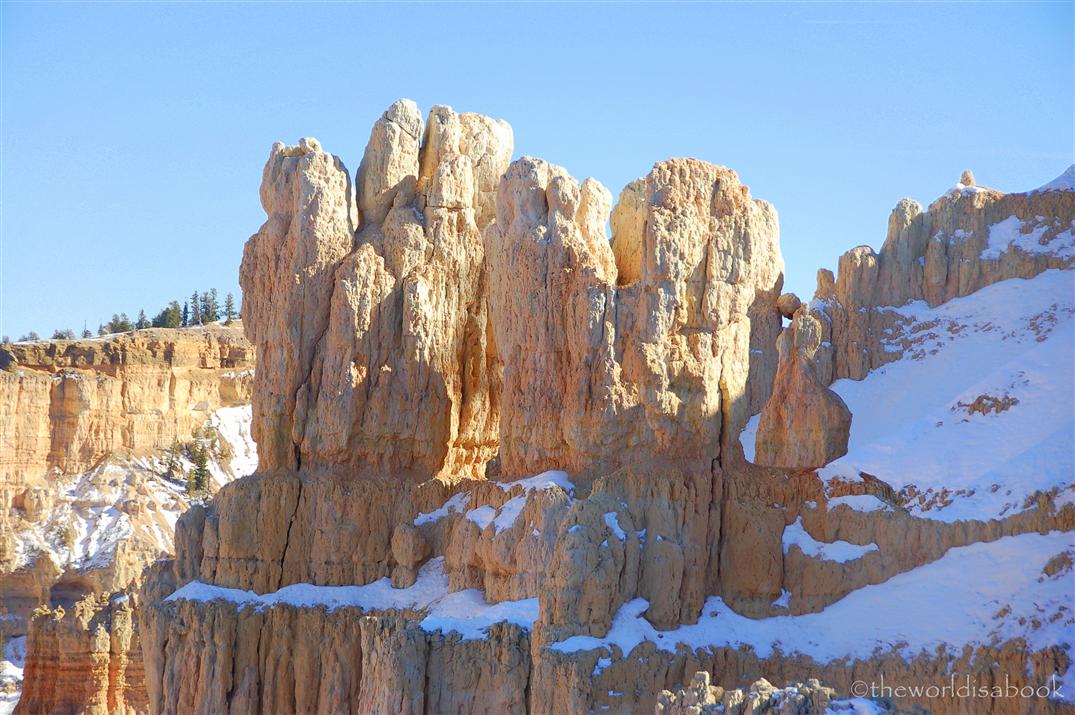 Hoodoos were formed with the forces of water, ice and gravity carving the limestone rocks and eroding them into the varying shapes. Unlike nearby Zion and the Grand Canyon National Parks, there are no rivers running through Bryce to shape it so technically, it's not a canyon.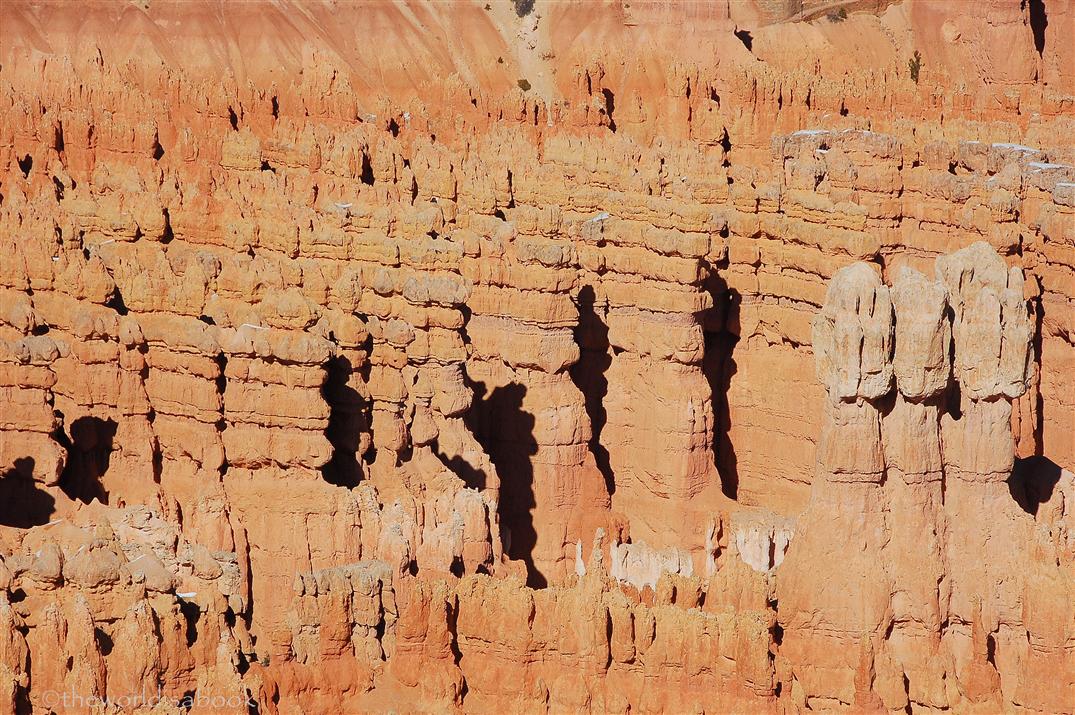 Bryce Canyon only had one main road which was a 37-mile (59.5 km) round-trip scenic loop drive. There were about 14 lookout points along the road with plenty of parking spots to pull over and be amazed at the scenery.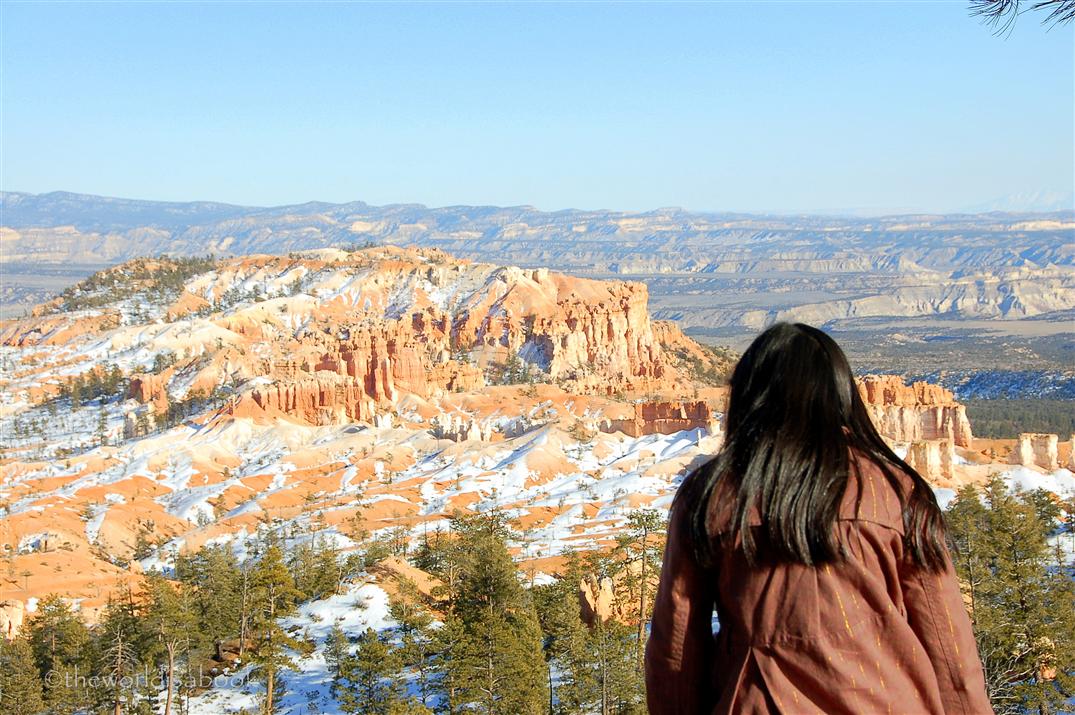 We only had a few hours here since we were caught in traffic and ventured into the four scenic viewpoints of Sunrise, Sunset, Inspiration and Bryce Points. This area known as the ampitheater was a spectacular sight of a maze of valleys and hoodoos against some of the bluest skies we've ever seen.
We made it as far down the road to see the Natural Bridge which was actually an arch.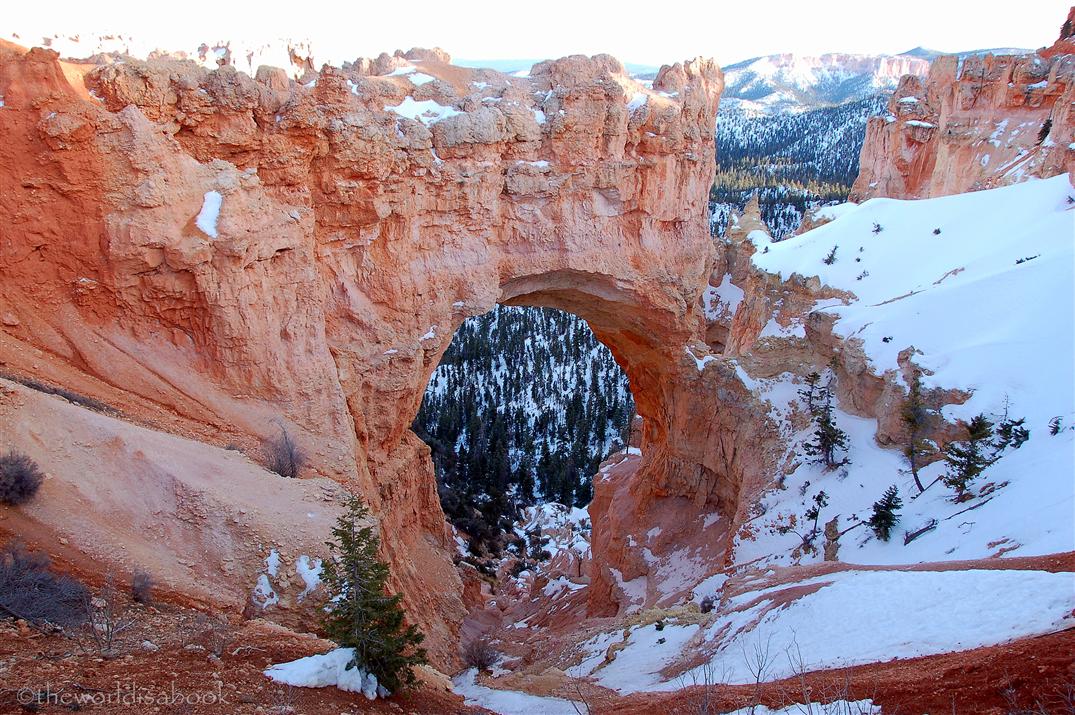 These lookout areas were also the starting points of many hikes which is the best way to see these amazing geologic formations up close. The park has 50 miles of eight different hiking trails that range from an easy .8 mile (1.3 km) Mossy Cave trail to the more strenuous 8 miles (12.9 km) of Fairyland Loop.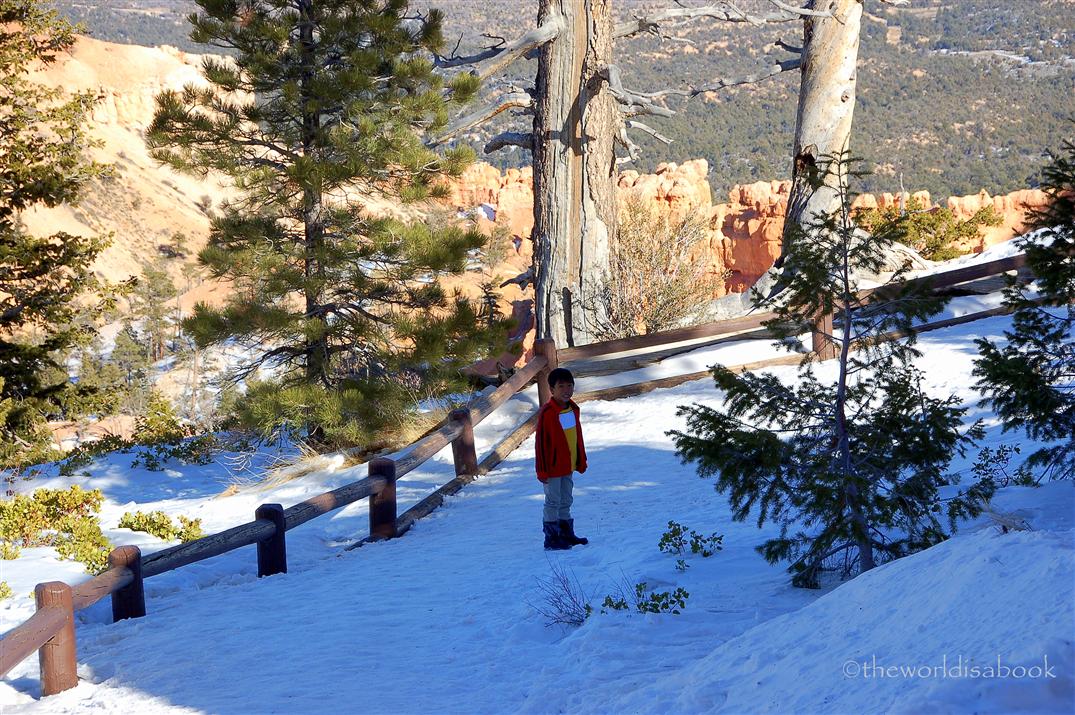 Unfortunately, some of the trails were closed during our visit since it snowed a few days before including the Navajo Loop trail we wanted to do.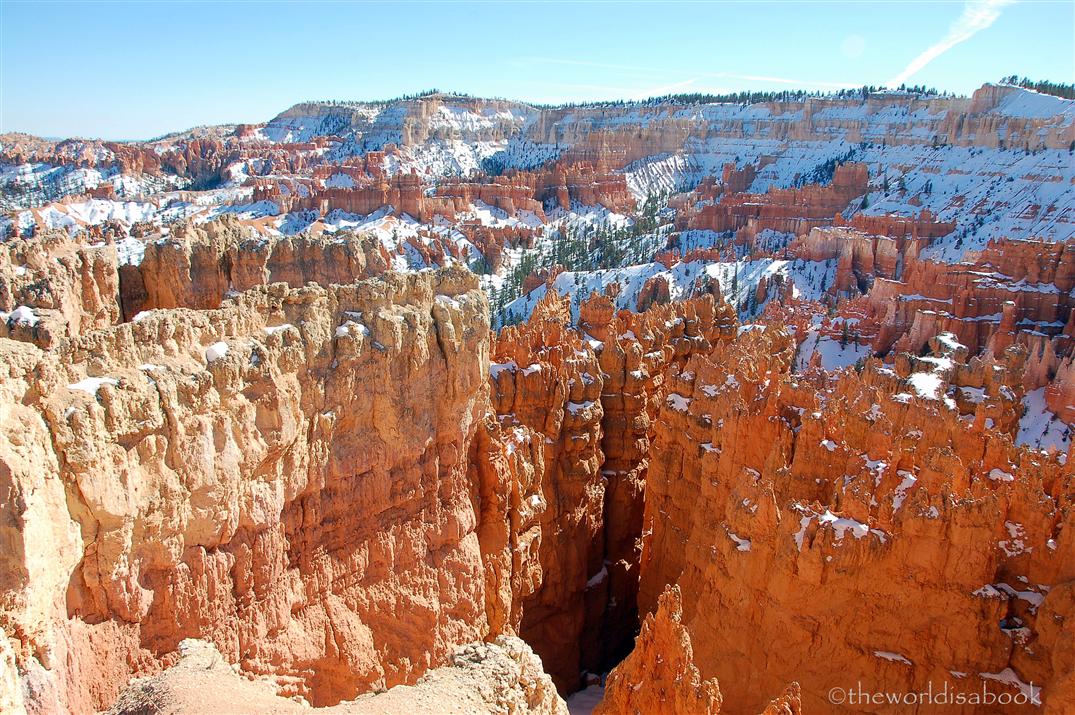 We managed to slowly go down a slippery snow-covered path by holding on to the rail carefully but didn't make it deep enough down the valley. We couldn't resist and had to do some fun shots like this one to make up for the disappointment.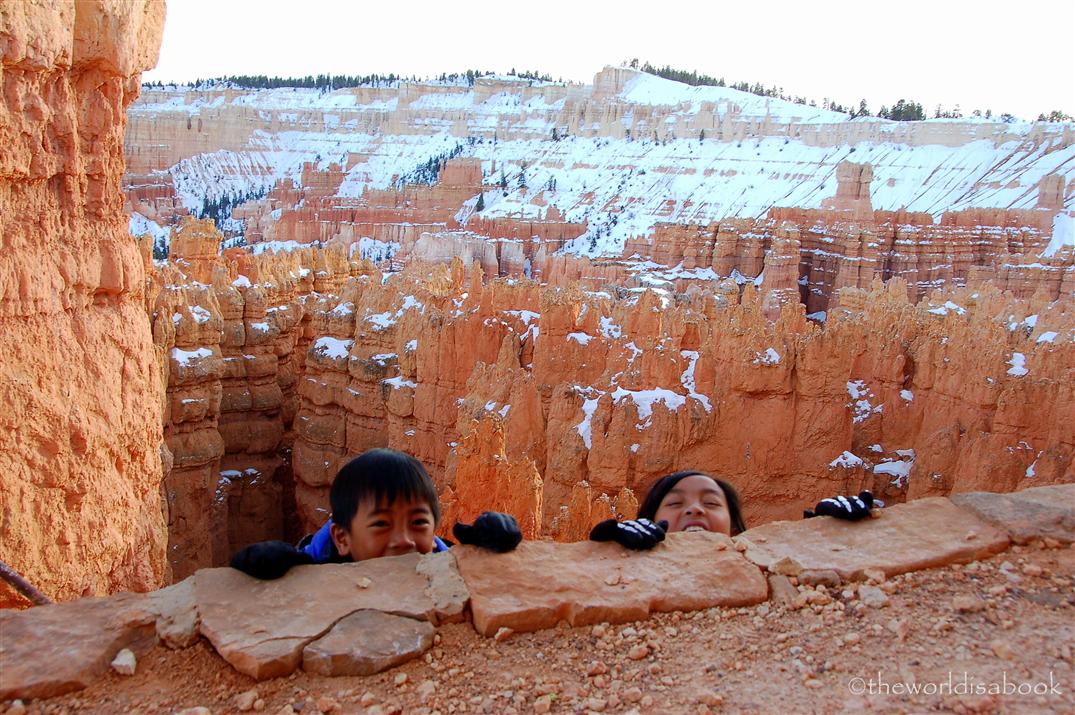 There was something whimsical about some of those hoodoos that almost made us think we were in Dr. Seuss' world or another planet. The various shapes and sizes made it an ideal environment for kids with active imaginations. My 10-year old daughter called some of the hoodoos upside down ice cream cones.
Some of the hoodoos had catchy names like Thor's Hammer, The Poodle, Chinese Wall, Queen Victoria and Sinking Ship based on their appearance.
We had fun looking at them and trying to figure out what they resembled. They most likely had names but it was more fun naming them ourselves. How about kissing horses for this one?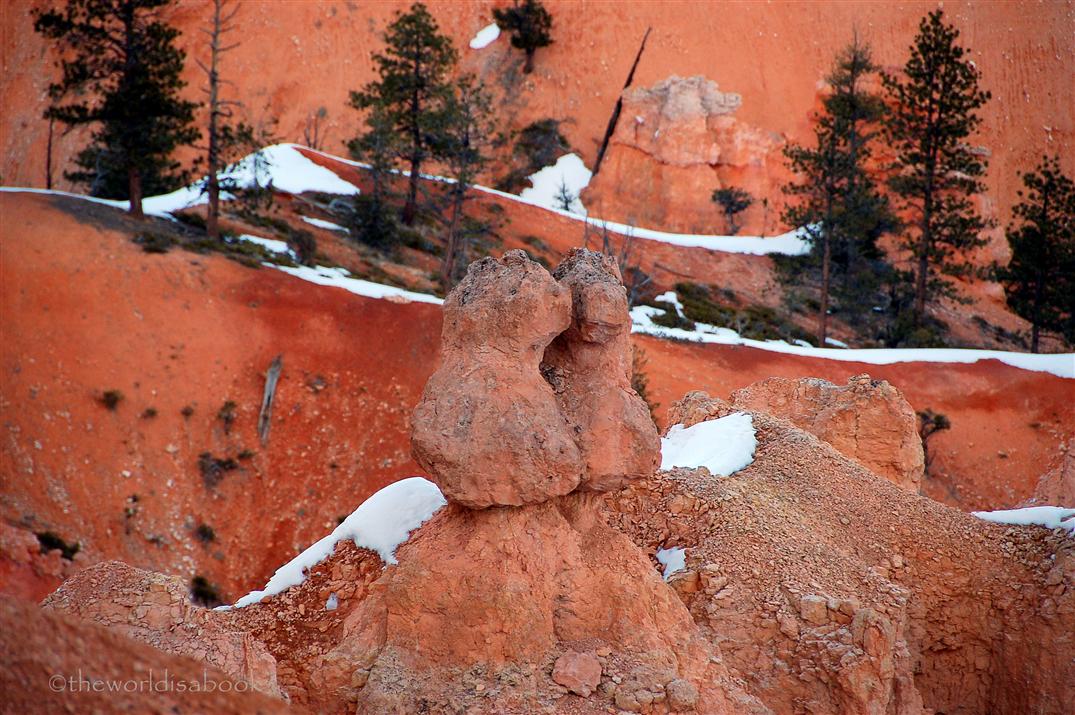 We called this one below…about ready to fall over soon so you'd better take a picture.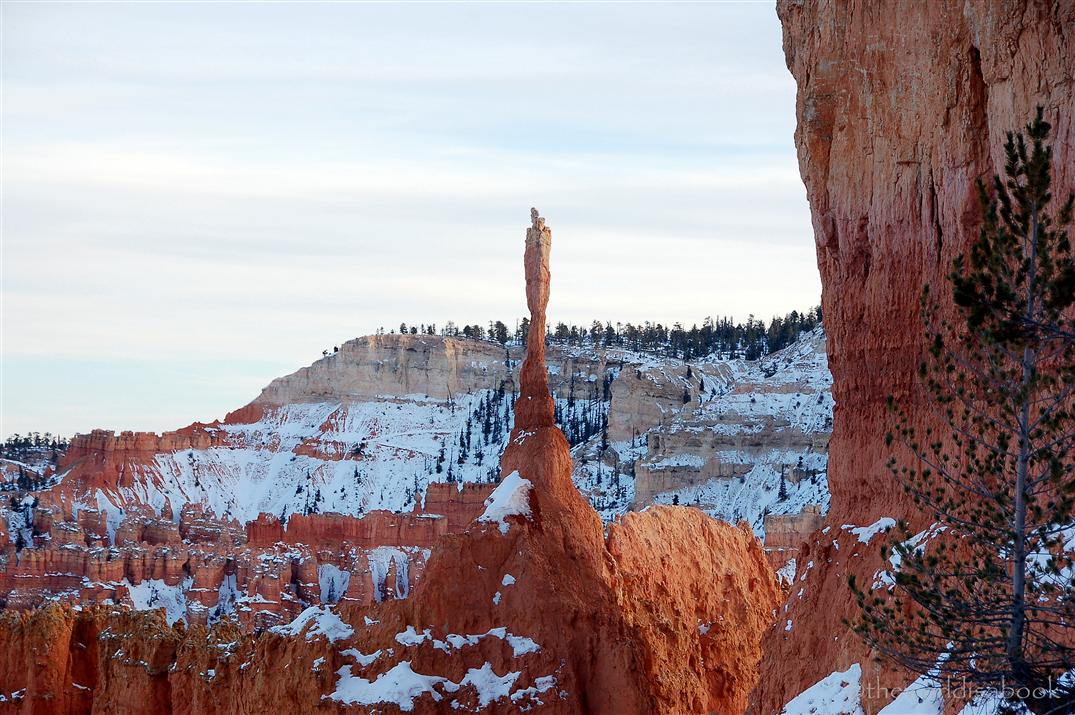 Bryce Canyon has plenty of wildlife within its borders including interesting ones like Utah prairie dogs, short-horned lizards and pronghorns. Unfortunately, many of them were hibernating during our visit but we did see these three mule deer along the side of the road. They caused quite a bit of traffic as many of us stopped to take pictures.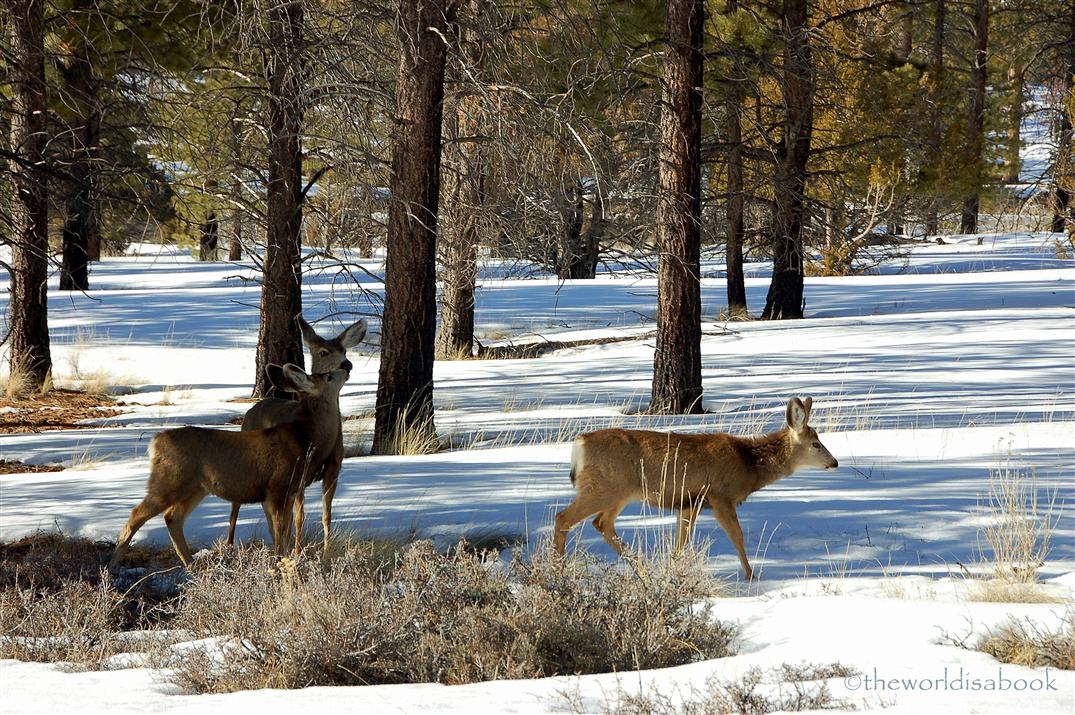 Many sources have said that sunrise or sunset make for some striking photos. We stayed long enough to watch the sunset and watch the sun cast its shadow across the valley. The hoodoos took on a magical and surreal look. The word Hoodoo also means "to cast a spell". Seeing these odd-shaped geologic formations certainly cast a spell on us and other visitors lucky enough to visit Bryce Canyon and marvel at Mother Nature's incredible work.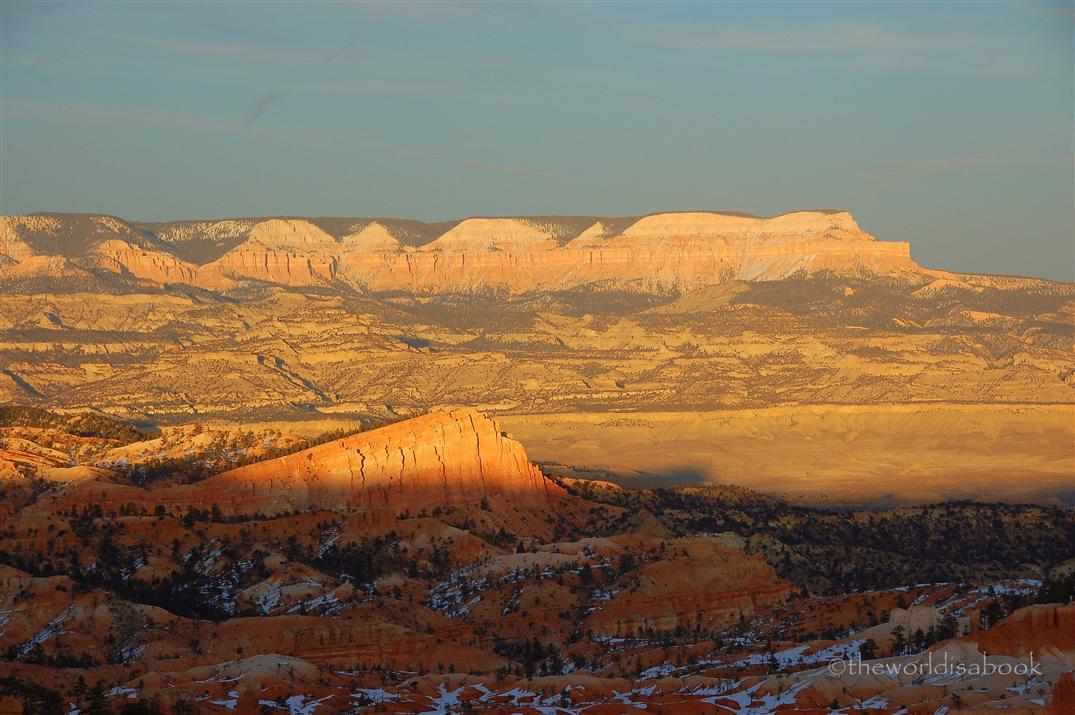 Visiting Bryce Canyon National Park Tips and Basics
The first stop should be the Visitor's Center by the entrance. It provides a great orientation with a number of ranger programs or watch a 22-minute film about the park. Kids will love the wildlife exhibits.
Get the Junior Ranger Program booklets for the kids at the Visitor's Center. My kids completed 4 activities to earn their badge but patches can also be purchased for $1.
Let the kids sit and look out. Let their imaginations run wild and see what they can find among the hoodoos.
See the hoodoos during sunrise or sunset if possible.
Participate in the "I Hiked the Hoodoos" requiring a 3-mile (4.8 km) hike minimum to hunt for benchmarks and get a special reward afterwards. Or a friendly ranger can give your kids the reward for doing a minimal hike.
The park is also known for having the darkest night skies and ranger-led stargazing walks are available at night.
Park literature recommends driving to the southern end first (Rainbow Point) and make your way north to stop at the overlooks estimating the park can be seen in 3-4 hours with no hikes involved.
Browse the

Bryce Canyon National Park website

for updates and events.
*Have you explored the Hoodoos at Bryce Canyon National Park?
PIN IT FOR LATER!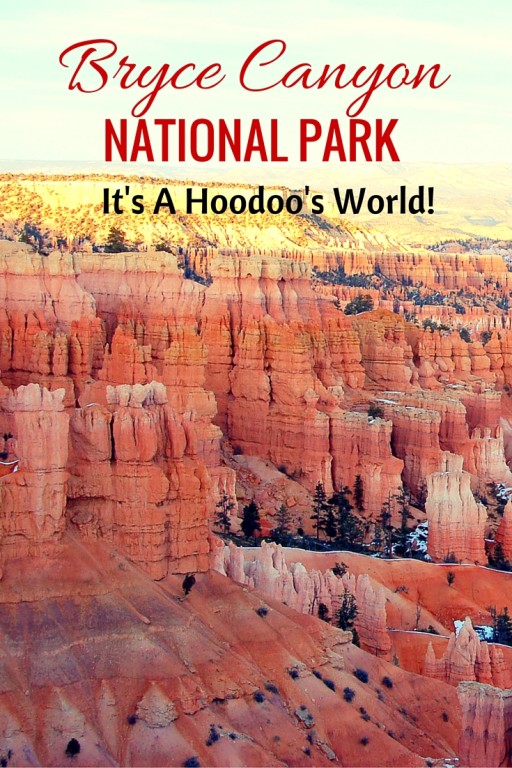 Check out these related posts: