Spring at San Diego Japanese Friendship Garden and Balboa Park
Spring is in the air! This is my favorite time to explore San Diego's outdoors when the weather is a bit warmer and there's more color everywhere. To celebrate the first full week of Spring, I wanted to share some pictures from our visit to the San Diego Japanese Friendship Garden and Balboa Park Botanical Building a couple of weeks ago. This garden was formed to represent the relationship between the cities of San Diego, California and Yokohama, Japan.
Walking through the doors, we were greeted with the cherry blossoms in bloom along the winding path.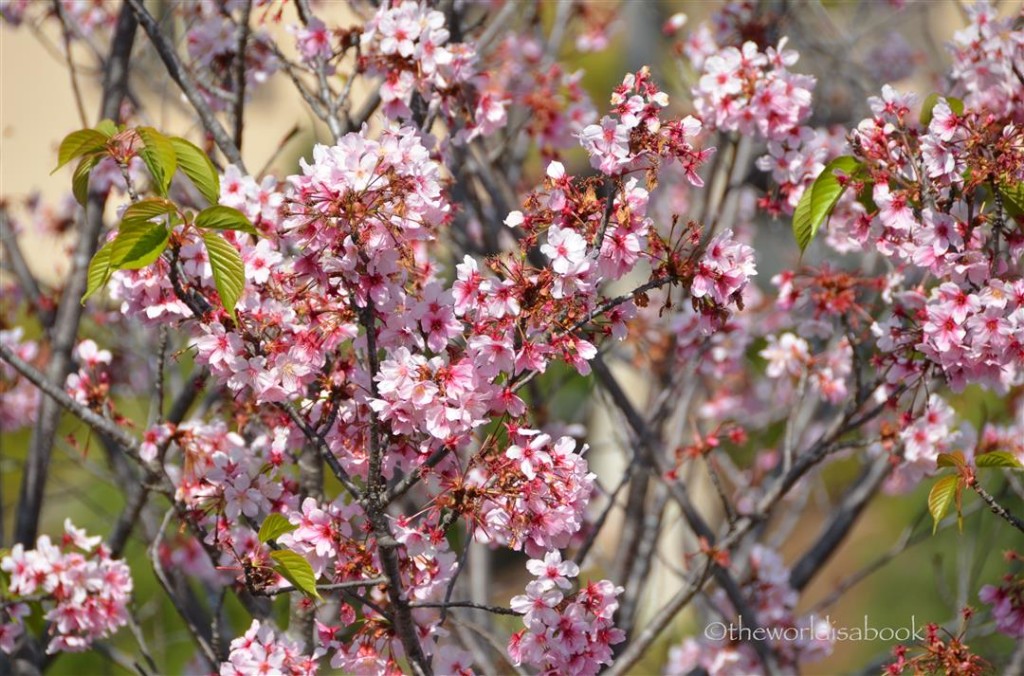 Unfortunately, the canyon and lower part were closed during our visit as they expand the garden.  Only about a quarter of the actual garden seemed to be open. The main area popular with kids is the koi pond in front of a small water feature. This is also the spot chosen by many photographers as a background for family portraits. We saw at least three families here on a photo shoot.
The koi collection here was actually hand-selected in Japan by the Koi Club of San Diego. All the koi were born there too which says a lot for this club's dedication to authenticity.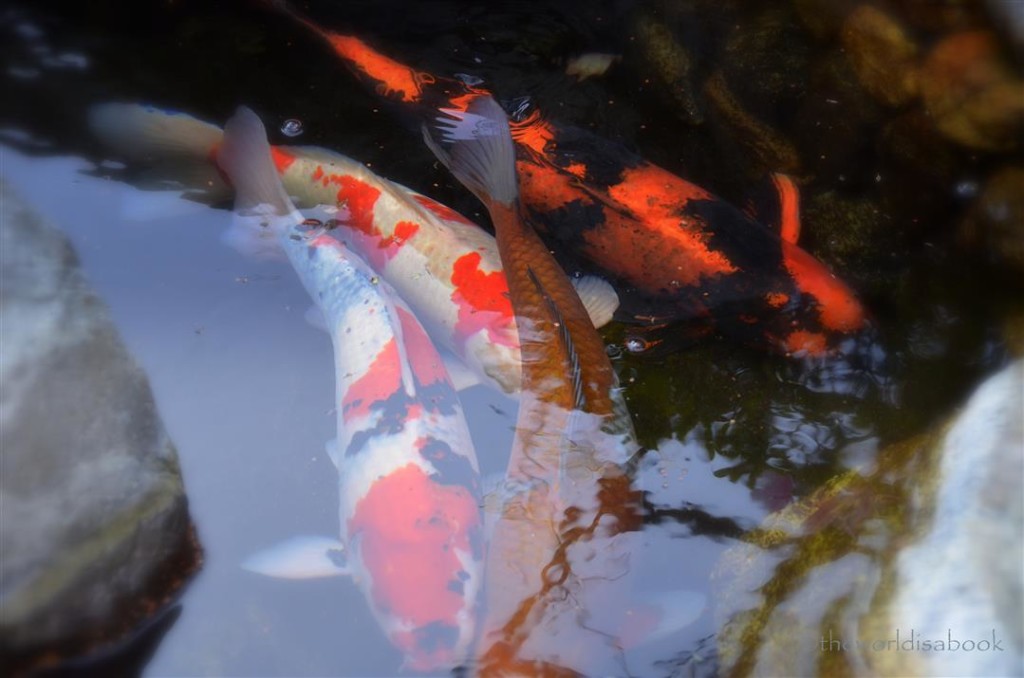 Water features and lanterns, usually made of stone, are some of the elements found in typical Japanese gardens. We found a few of these lanterns scattered throughout the garden and bamboo water basins my daughter wanted in our backyard.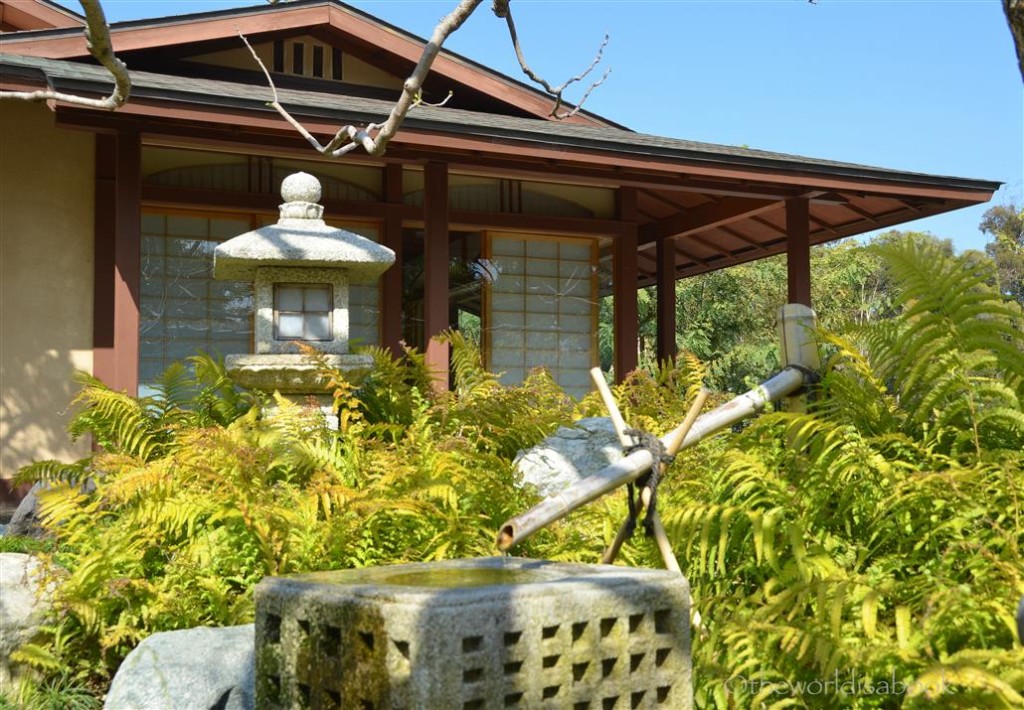 One of the things I love about Japanese gardens is its simplicity. This dry garden of raked sand (gravel) and stone are also common in many Japanese gardens usually meant for meditation. It was so calming to look out into this Zen Rock Garden.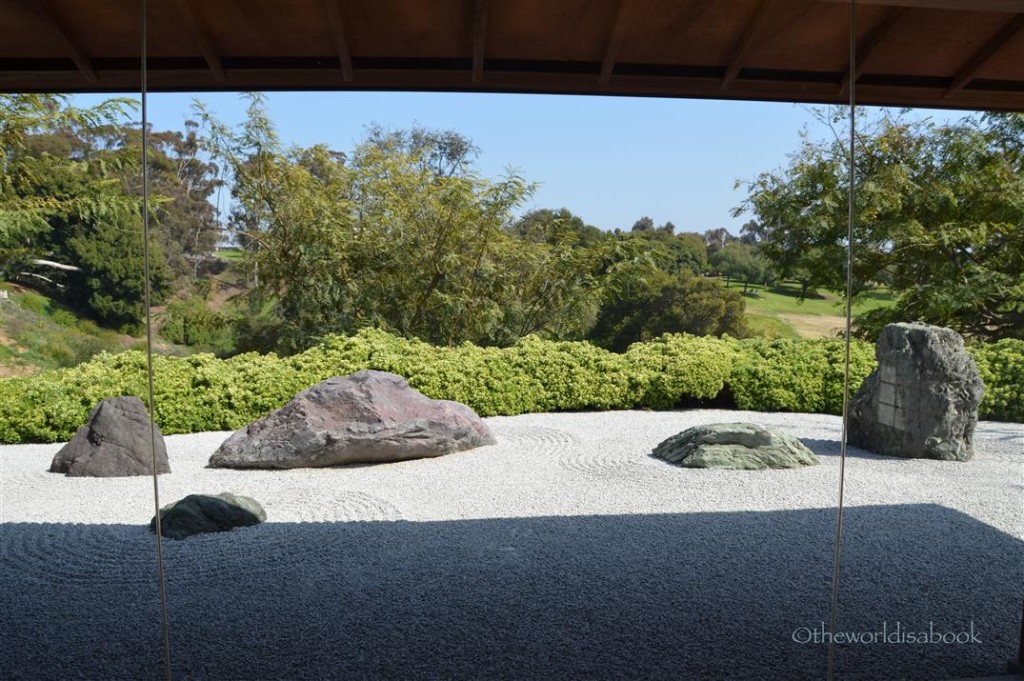 Many of the trellises were covered with these purple flowers and filled the air with a sweet scent.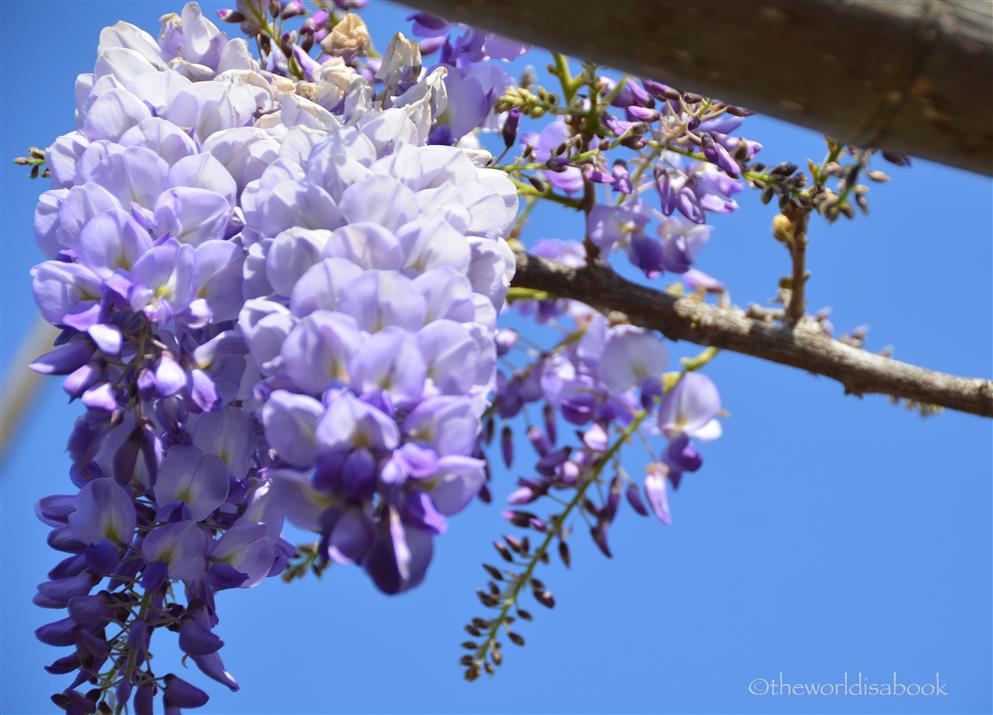 It wouldn't be a Japanese garden without some Bonsai trees. We were expecting a bit more but only found a small area of these delicate plants.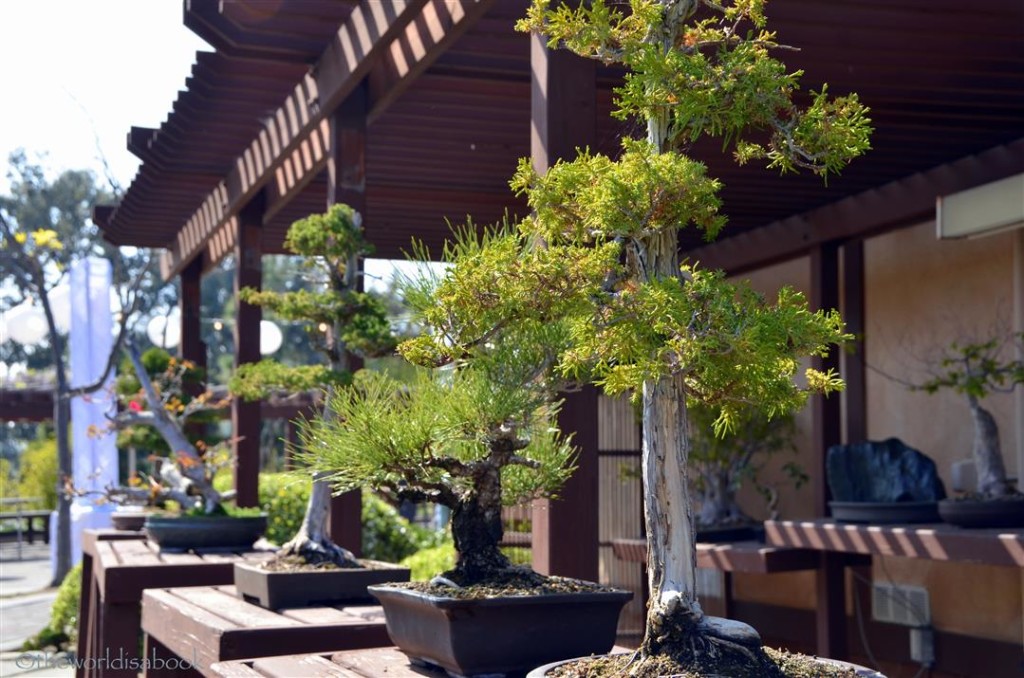 One of the buildings showcased these beautiful and colorful kimonos on the walls.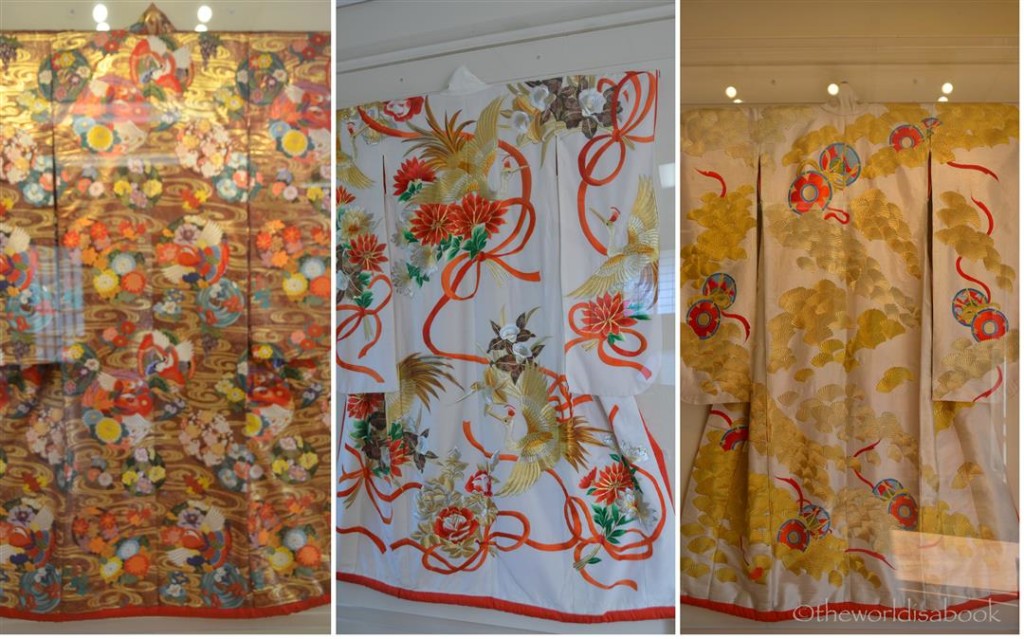 There was also a small bamboo collection off the trail.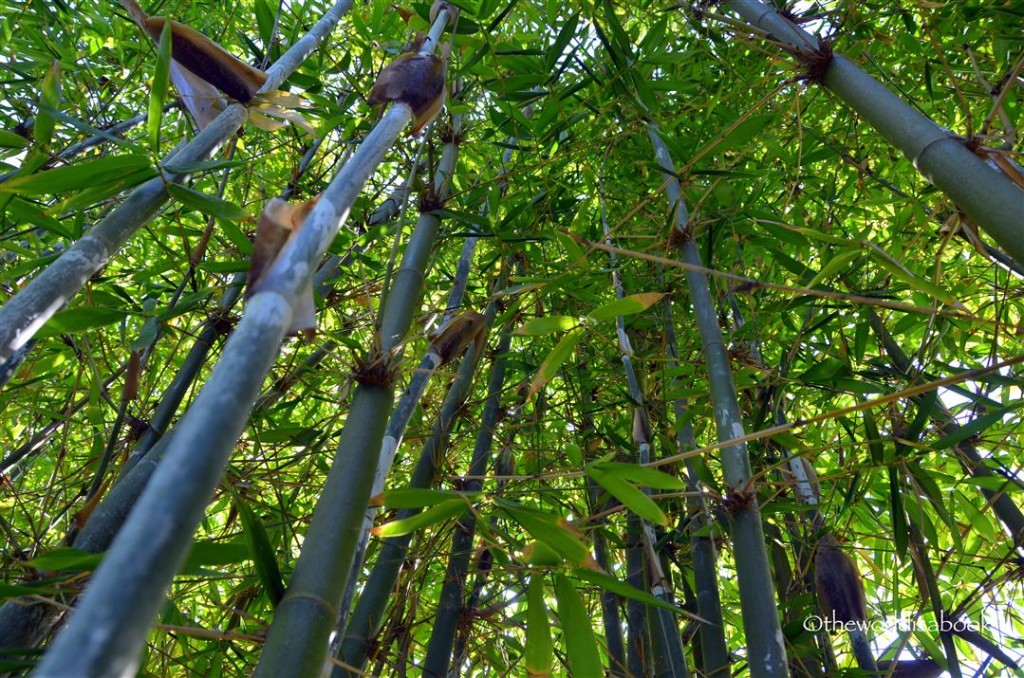 The Japanese Garden is a peaceful place to walk through despite its small size for now. Its well maintained landscape is a wonderful escape from the park's crowd and offers a little bit of cultural lesson as well.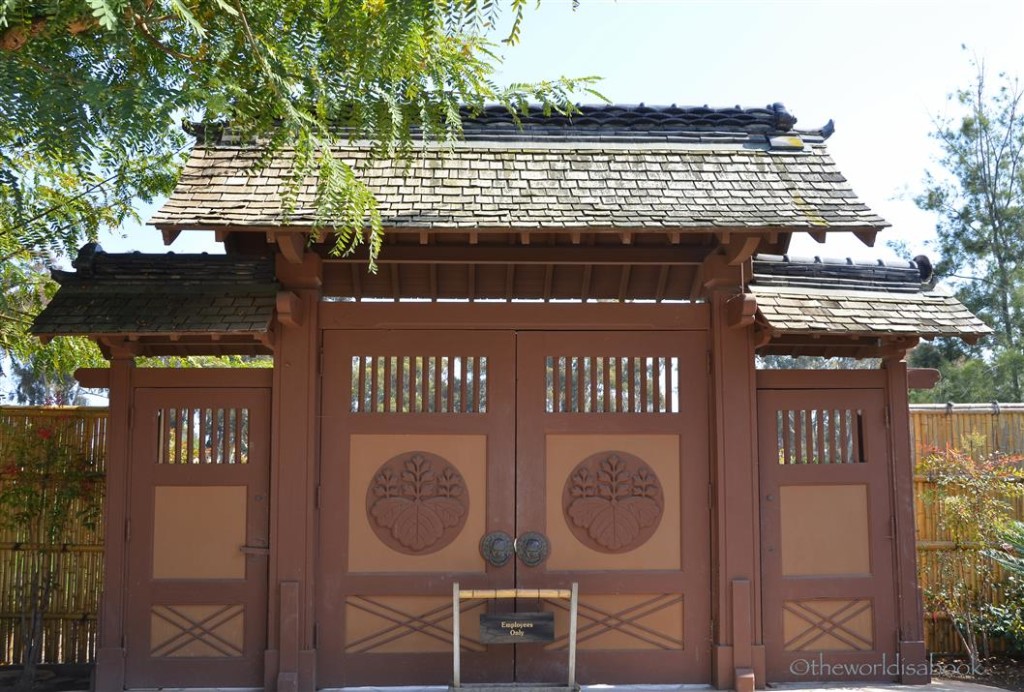 The Japanese garden is located in a separate section of Balboa Park with an admission fee. Balboa Park is America's largest urban cultural park with 15 museums. This is a very popular area for locals and visitors to explore the museums and gardens and to see all the street performers.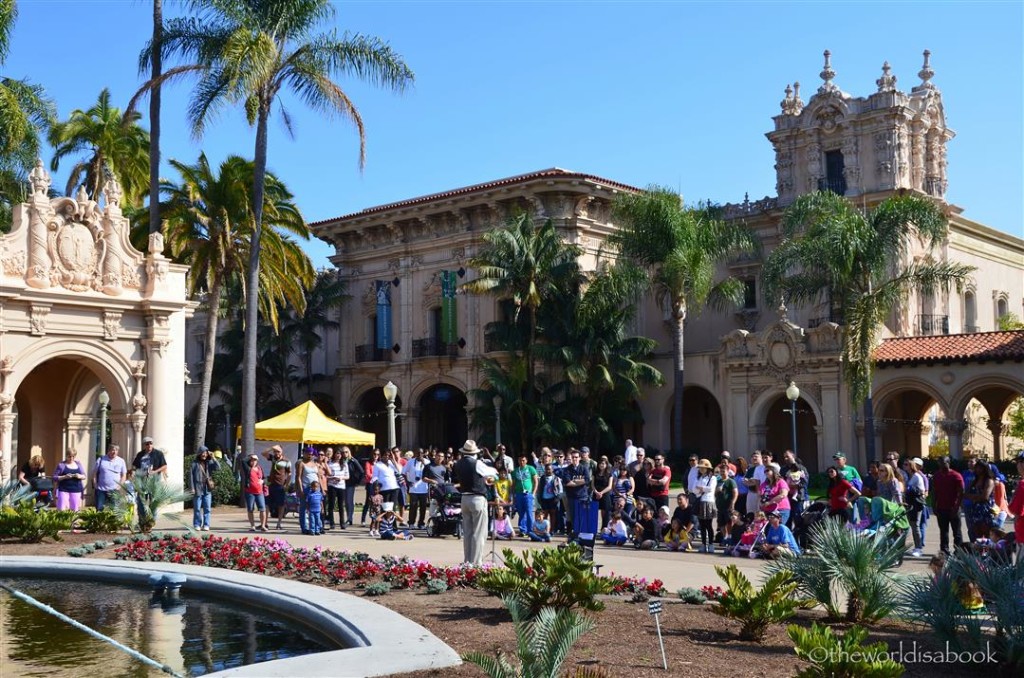 Outside the Japanese garden was this explosion of colors along the median to Balboa Park.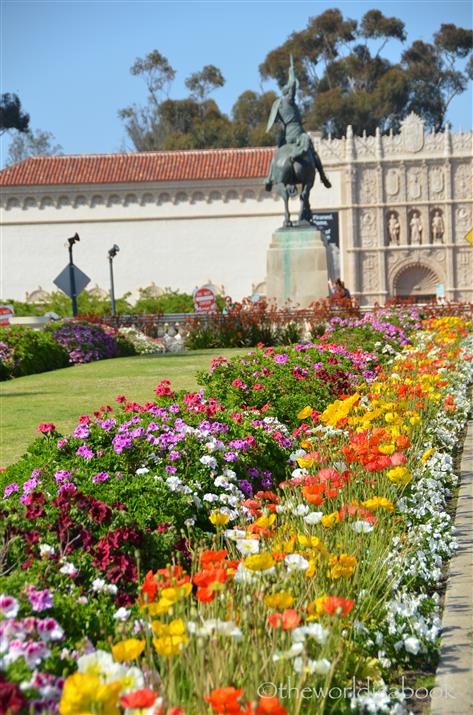 We also found these fuzzy looking plants. They were as soft as they look in the picture.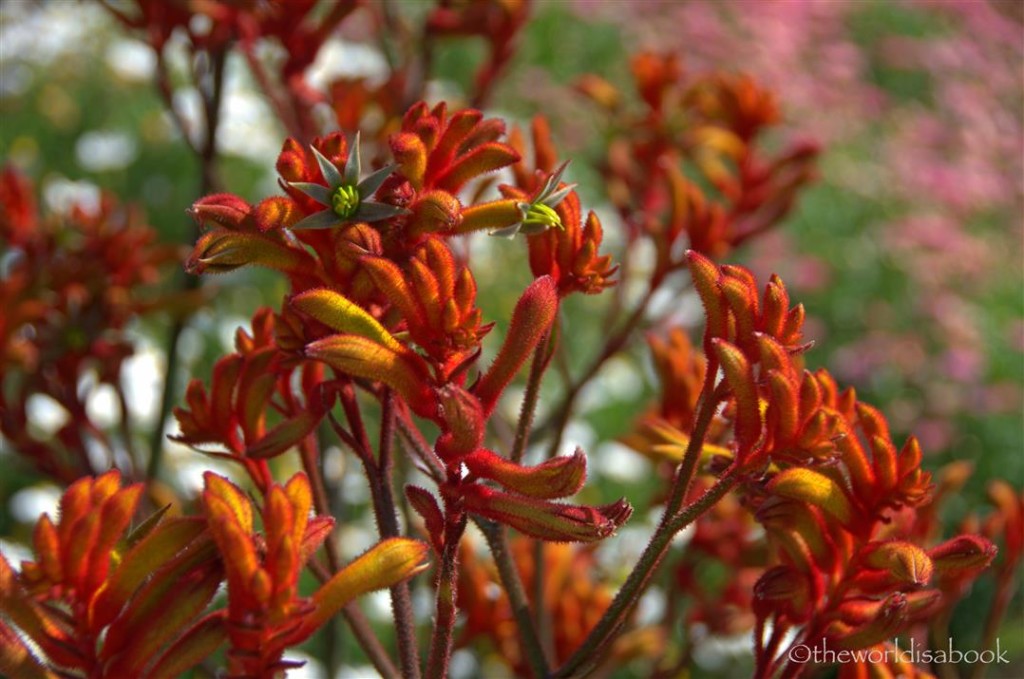 It was such a beautiful day and inspired by all the flowers we decided to see what was in bloom at the Balboa Park Botanical Building. The Botanical Building houses a variety of 2,100 permanent plants and a visual feast.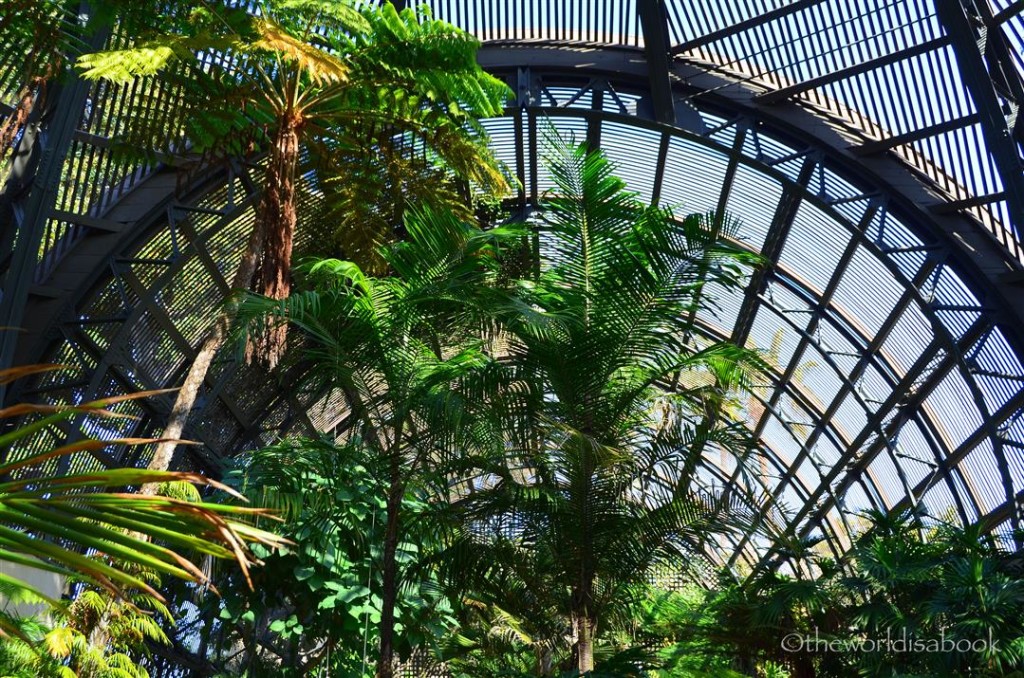 My favorite here has always been the orchids and these cymbidiums didn't disappoint.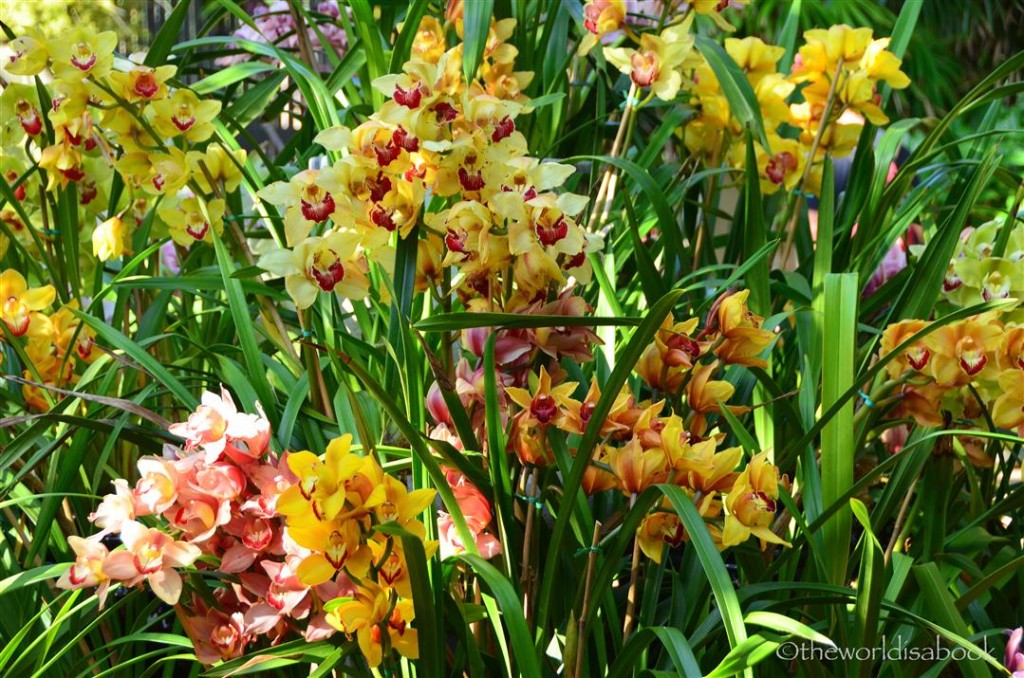 One of the reasons we love going into the botanical building is that we never know what's in bloom. My daughter and I gushed over this one called Blood Lily.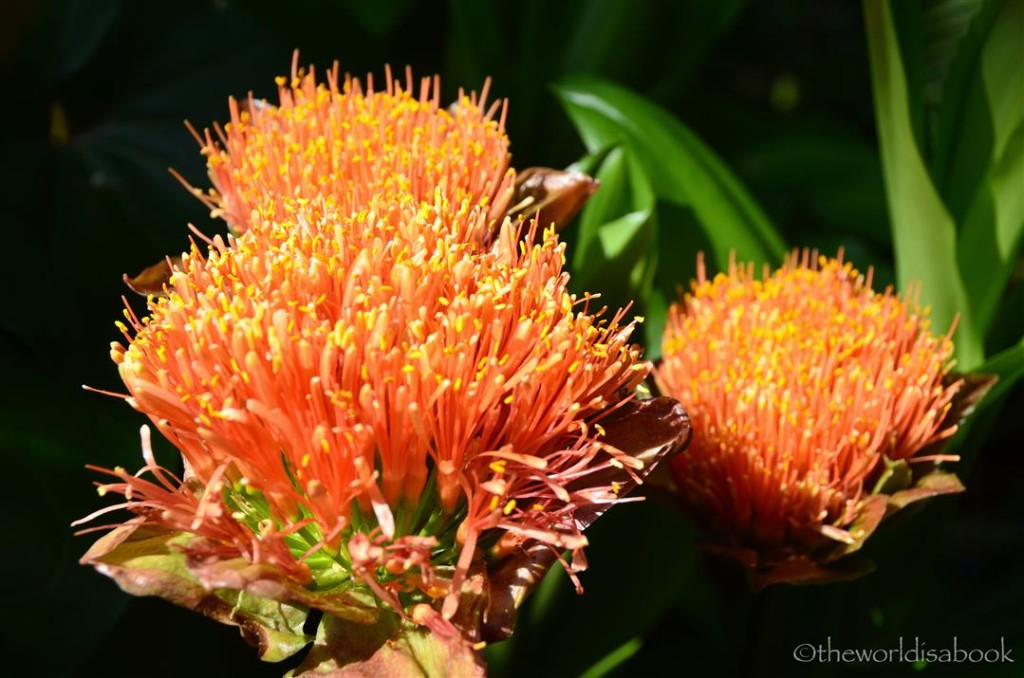 We loved that even the cacti plants didn't want to feel left out here and showed off this beautiful flower. I wanted to take this one home. Cacti and succulents are plants that have lasted the longest under my not so green thumb.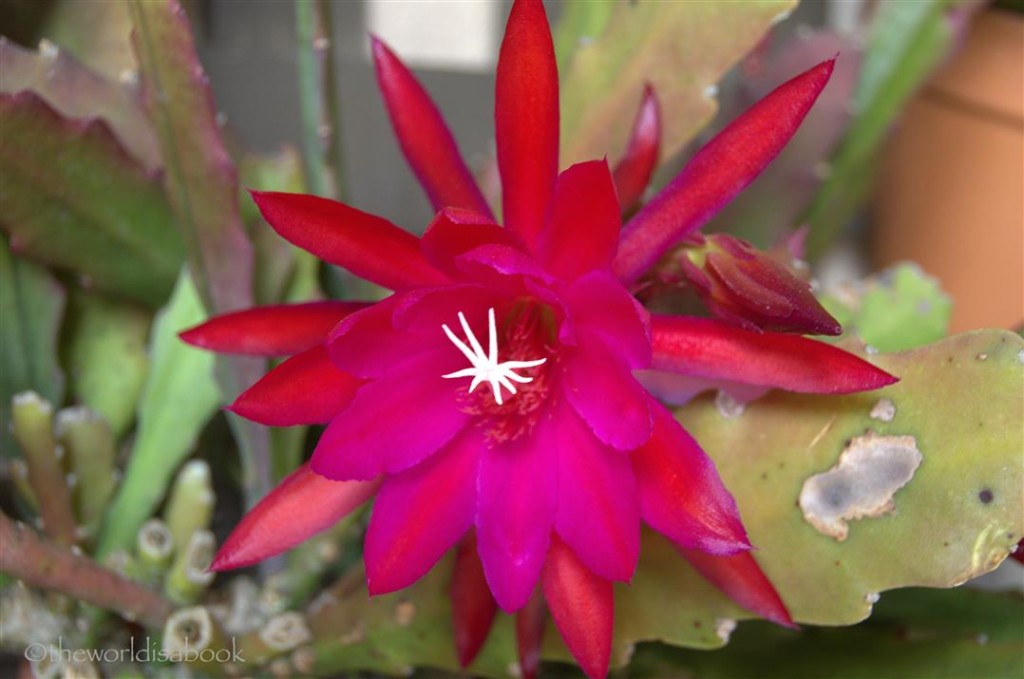 I know some of you haven't seen hints of spring yet so hopefully these pictures will brighten your day knowing the colors and blooms are just around the corner. Happy Spring to all of you!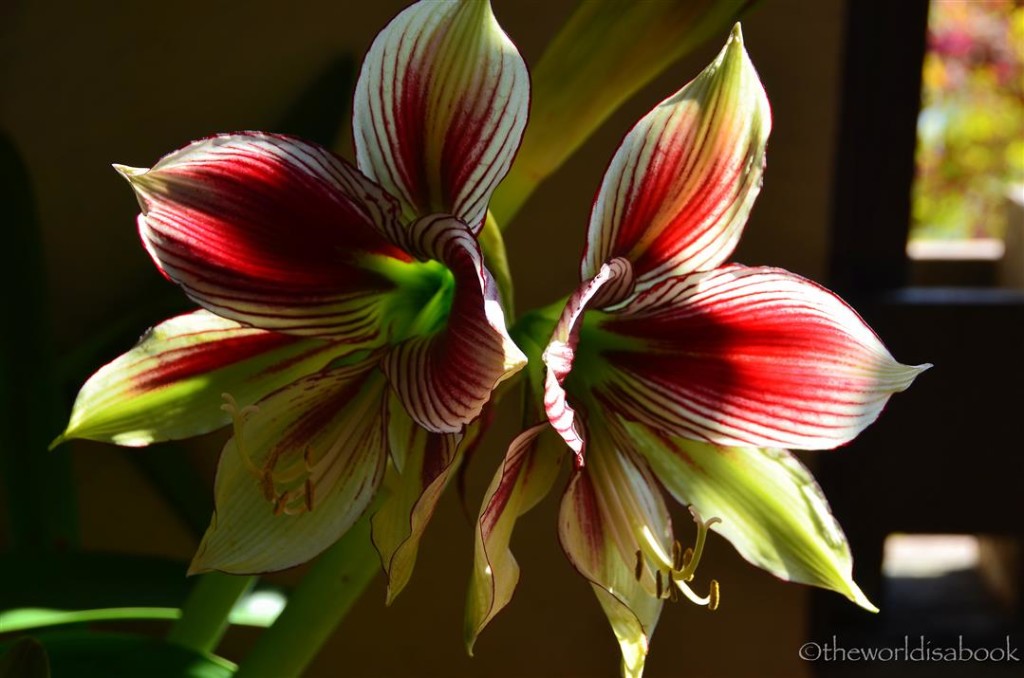 Visiting San Diego Japanese Friendship Garden Basics and Tips
Admission Cost:$4 (Adults); $3 (65+/Students/Military); Free for Kids 6 years and under.
If you have a membership to the American Horticultural Society's Reciprocal Admissions Program, admission is free along with a network of gardens across the US and Canada.
Visit the

Japanese Friendship Garden website

for a calendar of classes and exhibitions. Garden tours are also available.
The Tea Pavilion Restaurant is located outside its gates for a quick bite.
*Is it Spring in your part of the world yet? Any favorite gardens you like to visit during Spring?
Related Post:
Where to Stay in San Diego
For the Bucket List:
Legoland California Hotel – This is perfect for Lego lovers and those staying in Legoland. There is plenty of space for families with bunk beds. We also love their various four themed rooms. They offer free buffet breakfast and nightly kids entertainment.
Hotel del Coronado – This iconic and beachfront San Diego hotel is worth the splurge. The grounds are beautiful and they offer first class amenities. There are many reasons why this has been a favorite among former presidents and movie stars.
Downtown Area and within a few minutes of Balboa Park
Embassy Suites San Diego Bay – This hotel has a great location downtown and steps from Seaport Village and the Embarcadero. Families can spread out in any of the two-room suites. They have a great cooked-to-order, buffet breakfast and an evening reception.
Hilton San Diego Bayfront – The views from this 30-story hotel overlooking the bay and the skyline are beautiful. It's a convenient location to all the downtown festivities and the convention center.The rooms are spacious and they offer great amenities.

Manchester Grand Hyatt

– This waterfront hotel is huge and has a convenient location by the boardwalk and adjacent to Seaport Village and the convention center. There are over 1,600 rooms and suites. Amenities include the pool and sun deck with whirlpools and fire pits.
Omni San Diego Hotel – This 500+ room hotel is perfect for a game at PETCO park or to explore downtown. We've stayed here and overlooked the ballpark which was quite special.
See the best prices from the major travel sites on HotelsCombined.
Find the best San Diego hotels and read reviews on TripAdvisor.
Packages
Save up to 50% on your next Southern California vacation package with Get Away Today. 

You can also u

se

promo code: *WorldBook* to get an extra $10 off any 2-night or longer Southern California package (hotel and 2 ticket minimum)
Attractions
Save Money on San Diego and Southern California's top attractions by using CityPASS. 
Flights/Vacation Packages
Compare airlines, dates and prices all in one place with Skyscanner
*There are affiliate links in this post to help support this website.