Hunting for Rock Art at Petroglyph National Monument
Who knew rock art could be interesting? We visited Petroglyph National Monument a few months ago which totally changed our perception. This is one of the largest petroglyph sites in North America with over 25,000 petroglyph images within the 17 mile boundary of the park. Petroglyphs come from the two Greek words – petro meaning rock and glyph which means carving or engraving. Other common terms for it are rock writing and rock art. These memorable images held many meanings and was filled with so much history.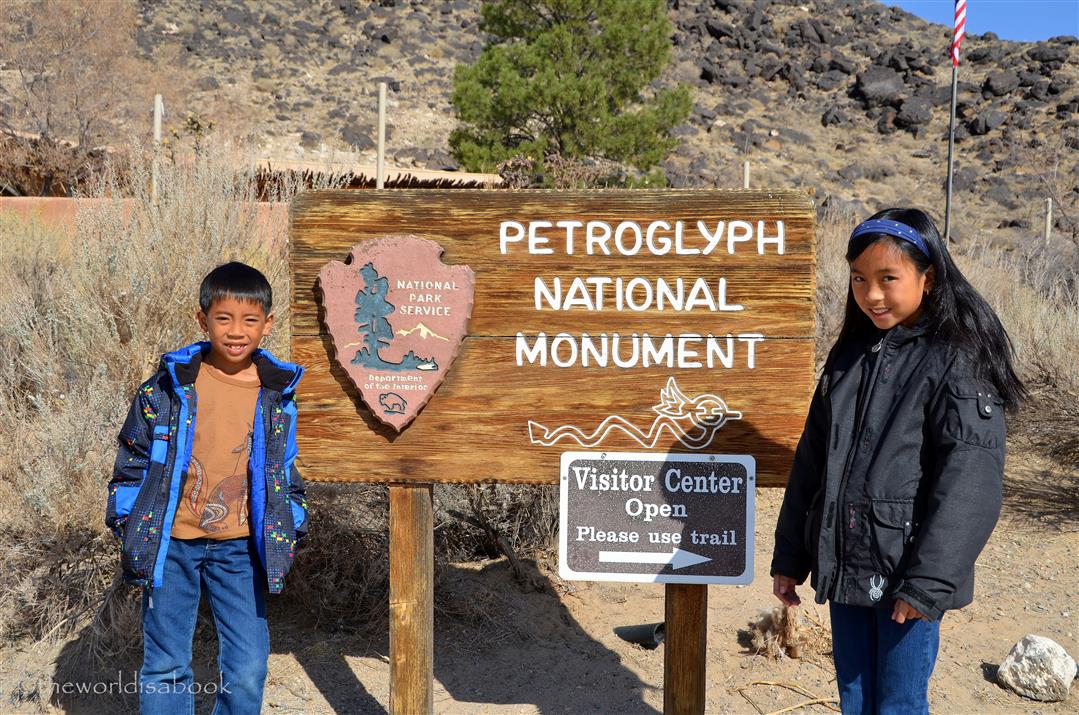 Petroglyphs were made by directly pecking into the rock's surface by using hammer stones and chisels to remove the thin exterior layer of the rocks. Some were also made by grinding the surface or a combination or pecking and grinding.  With all these volcanic rocks here, they certainly had many choices for their canvas.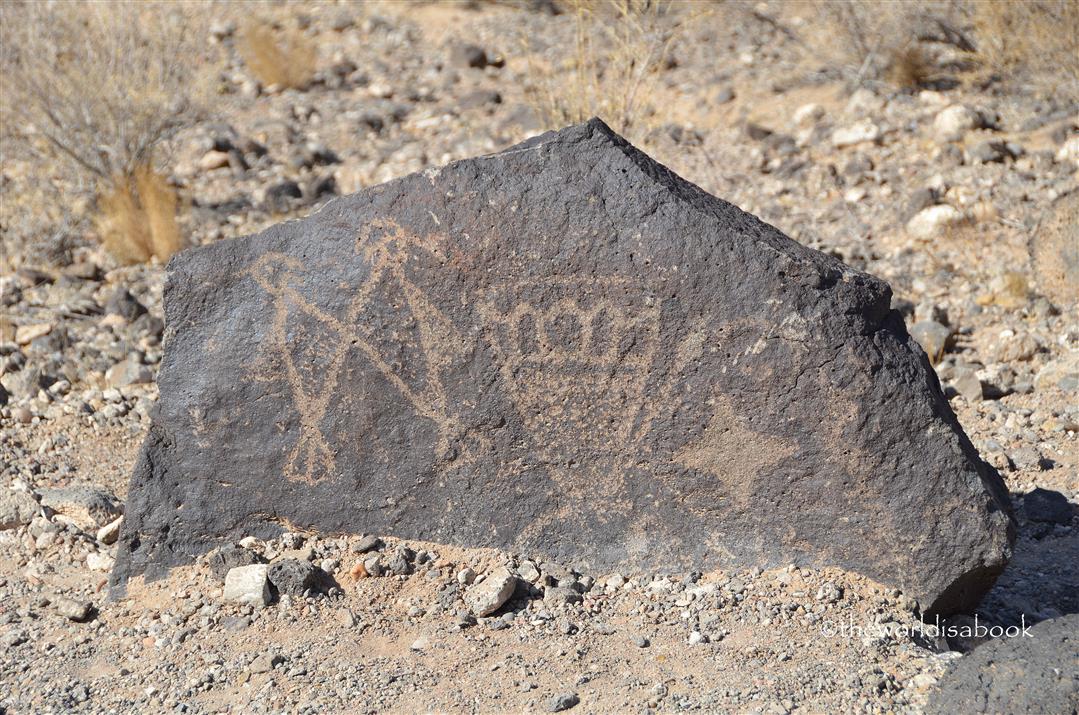 Archaeologists believe the Pueblo Indians carved the petroglyphs to tell stories, show trails or communicate messages to each other. Some were tribal or religious symbols or recorded events. It was an early form of cultural expression whose meanings were only known by the carvers.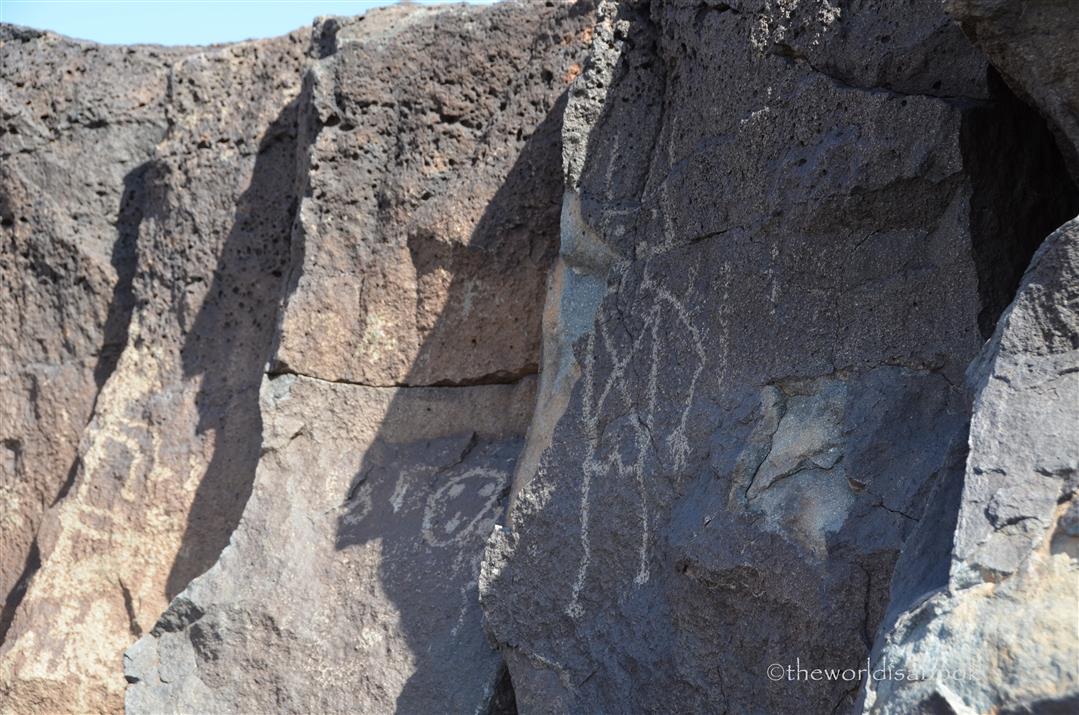 An estimated 90% of the petroglyphs were created by today's Pueblo Indian's ancestors.  A majority were believed to have been carved between 1300 and 1700 AD. Some of images were traced to early Spanish settlers which settled the area in the late 1600s after the Pueblo tribes were driven out.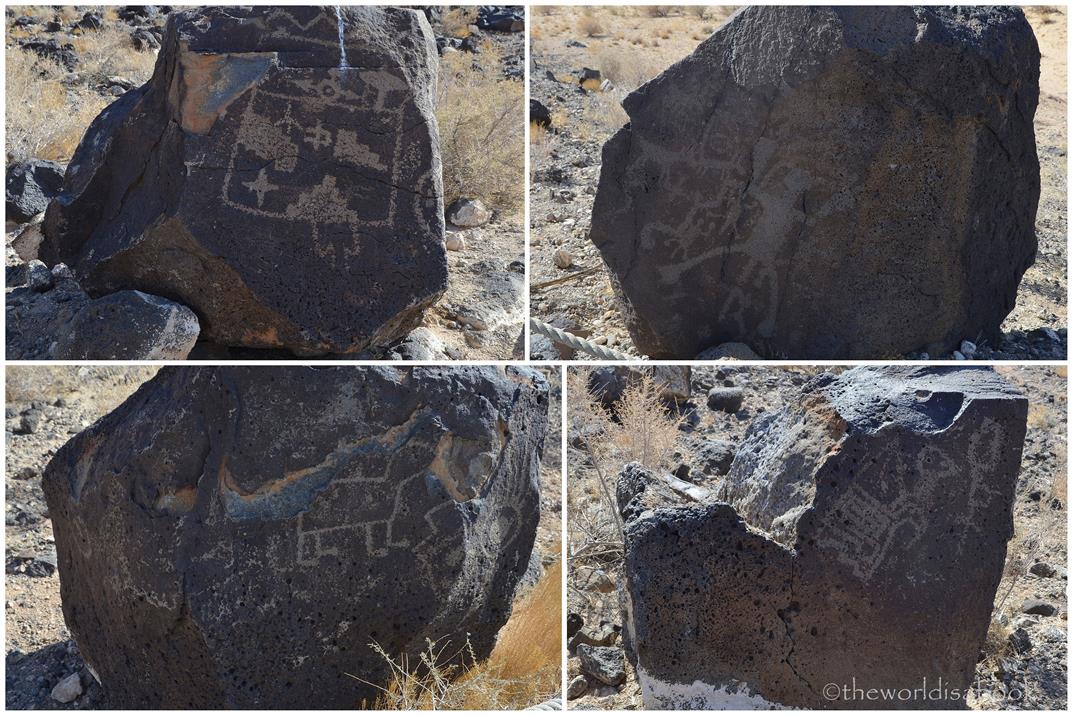 This outdoor gallery has long been considered a sacred place by Pueblo Indians nearby but was in a surprising location by suburban housing developments near Albuquerque, New Mexico. It was easily accessible and convenient. The monument has four trails with varying difficulty levels and length but all had well-preserved and easy to find petroglpyhs. The rangers recommended Boca Negra Canyon for us which was near the Visitor's Center and could easily be done with kids.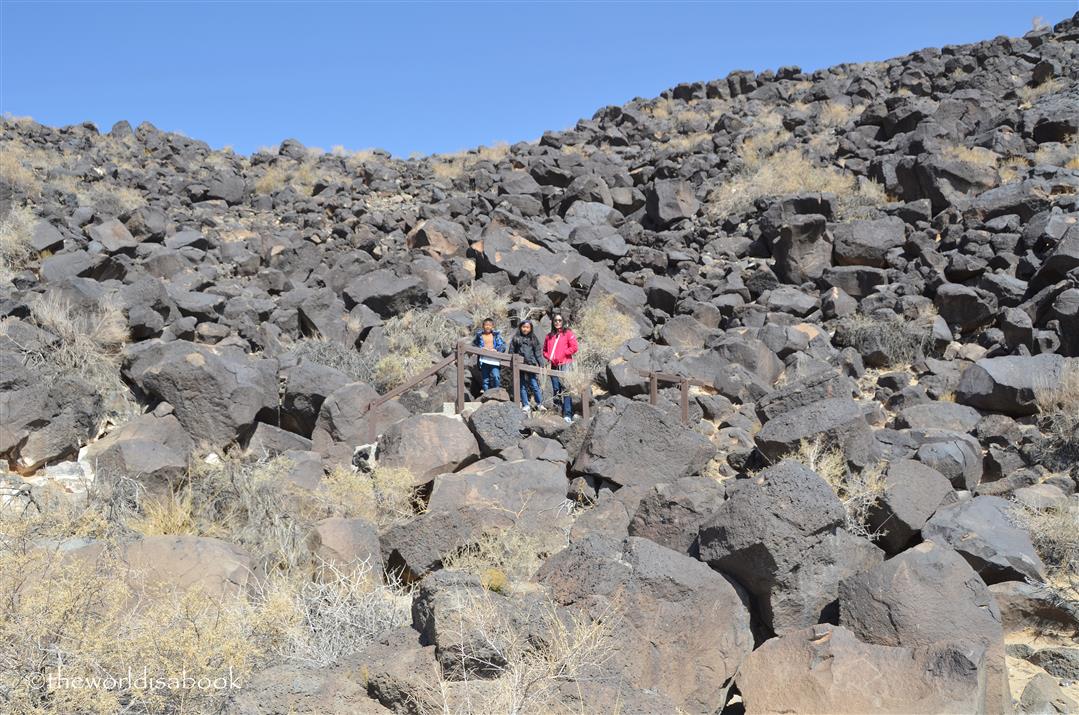 Our first hike was on Mesa Point Trail. This was an uphill climb overrun by volcanic rocks but with an easy to follow path including some paved steps and handrails. It was great for all ages. We saw various people walking up from toddlers to groups of seniors.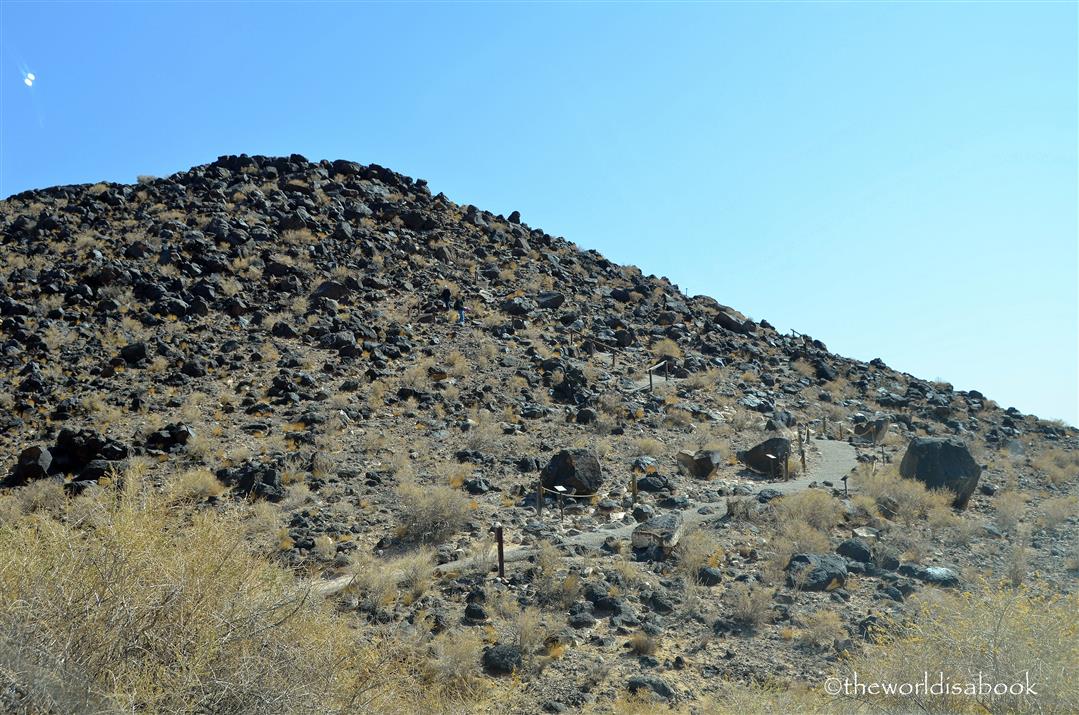 We caught sight of the first set of petroglyphs at the start of the trail. It was amazing how there were so many of them along the trail. My kids enjoyed spotting as many as they could walking up and trying to figure out what they resembled.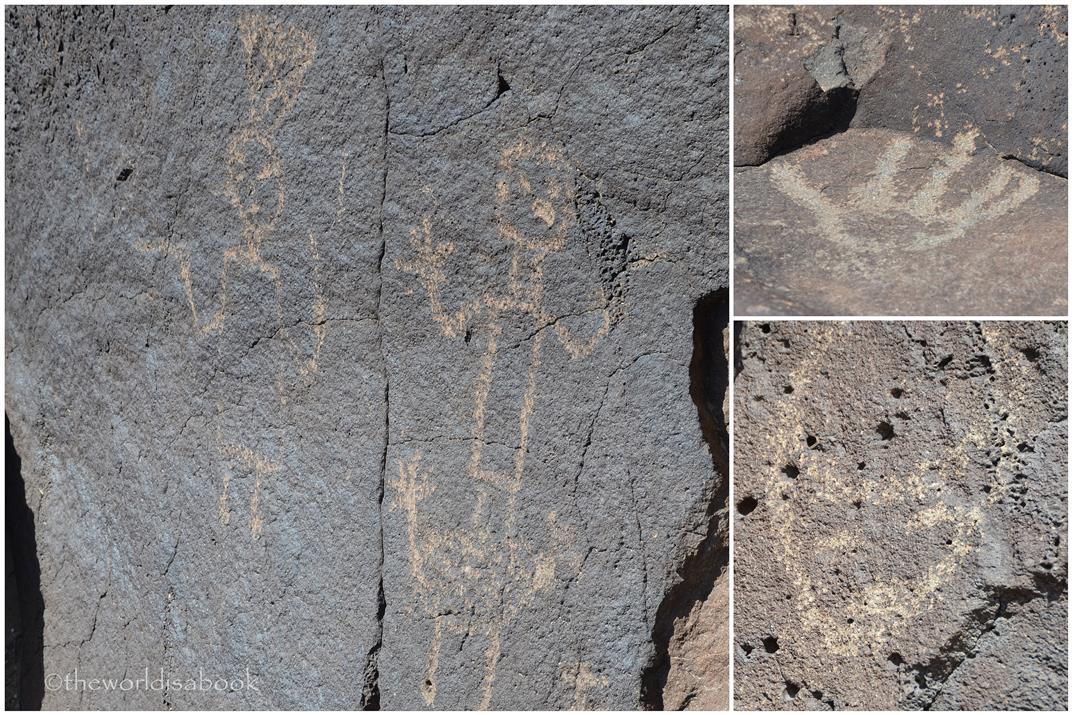 Some were recognizable and some defied explanations.  Some were simple enough that they looked like doodles but probably meant something important. It was astoundingto see these rock art up close and knowing they've been here for centuries with so much history and mystery behind them.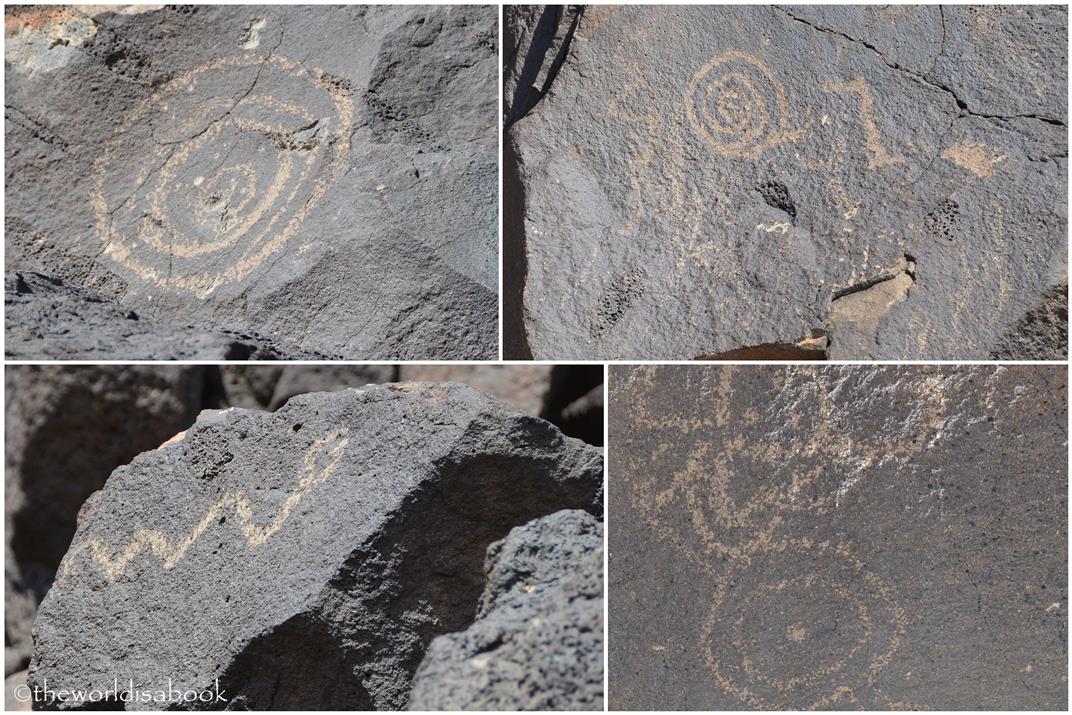 I admit there were some instances when we doubted the authenticity of some of the petroglyphs. The park was easily accessible to the public and easy enough for pranksters and vandals to make their way here. It was pretty surprising to find that most of the rocks were not roped off. But, the park was well maintained and many of the rocks were well-preserved.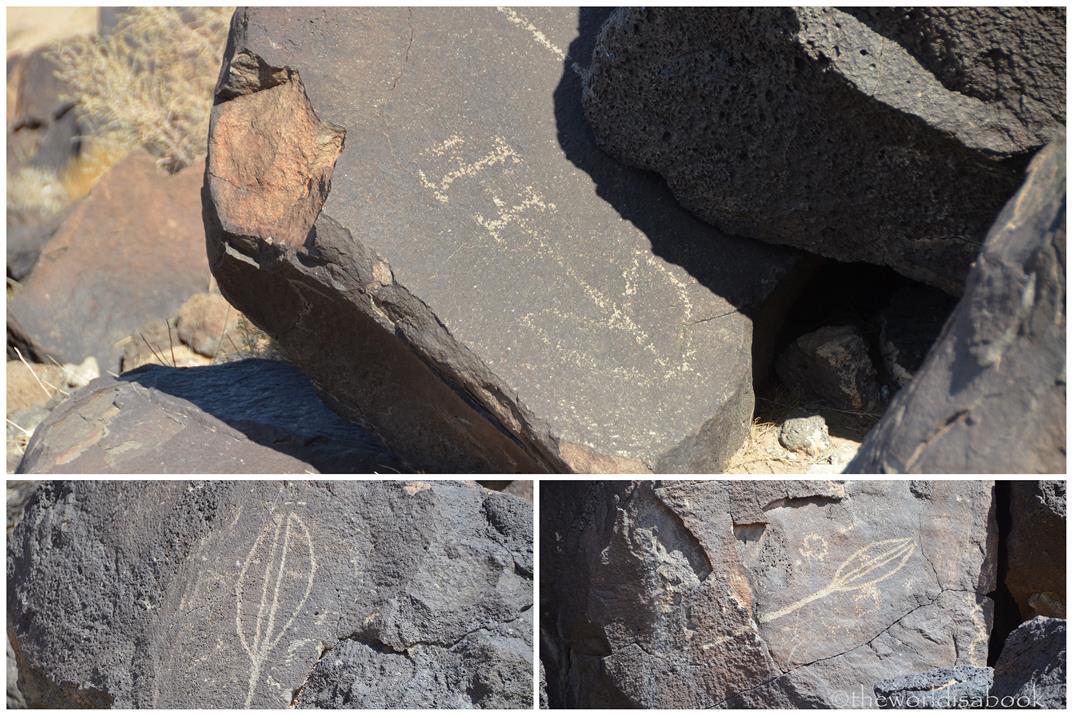 The trail looped at the top which was a mile above sea level looking over the Sandia Mountains and the Rio Grande Valley which was first occupied 3,000 years ago. It was the perfect spot to take a rest and do some of the Junior Ranger activities like sketching your favorite petroglyph and decipher its meaning.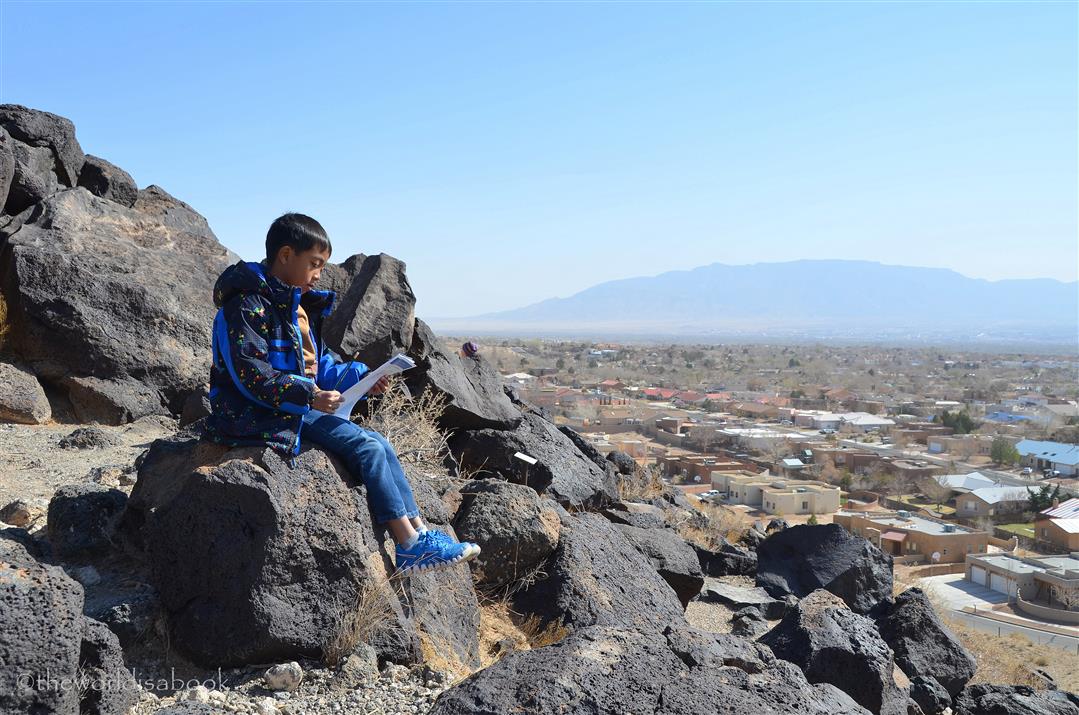 I liked that many of the petroglyphs stimulated the kids' imaginations and captured their interest. It prompted many curious questions from them and from us. What does that look like? What do you think it means? Why do you think they carved it? Of course, there were no wrong or right answers here.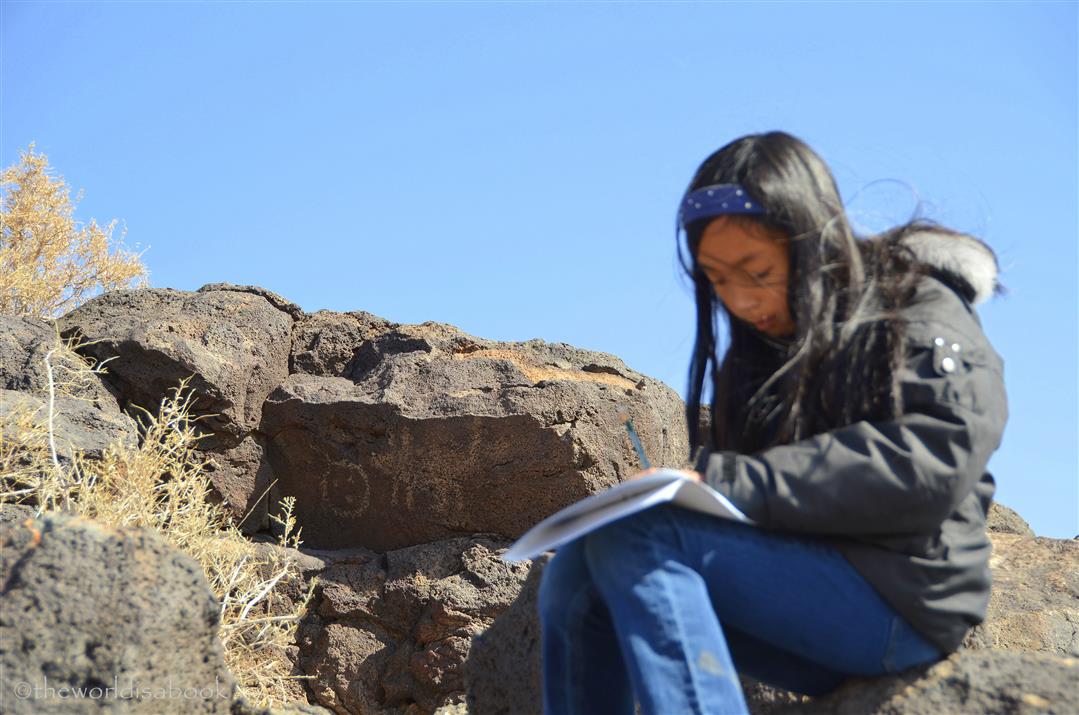 We also explored the nearby Cliff Base Trail at Boca Negra Canyon which was mainly a flat path with a bit more vegetation. We saw more interesting and thought provoking rock art here.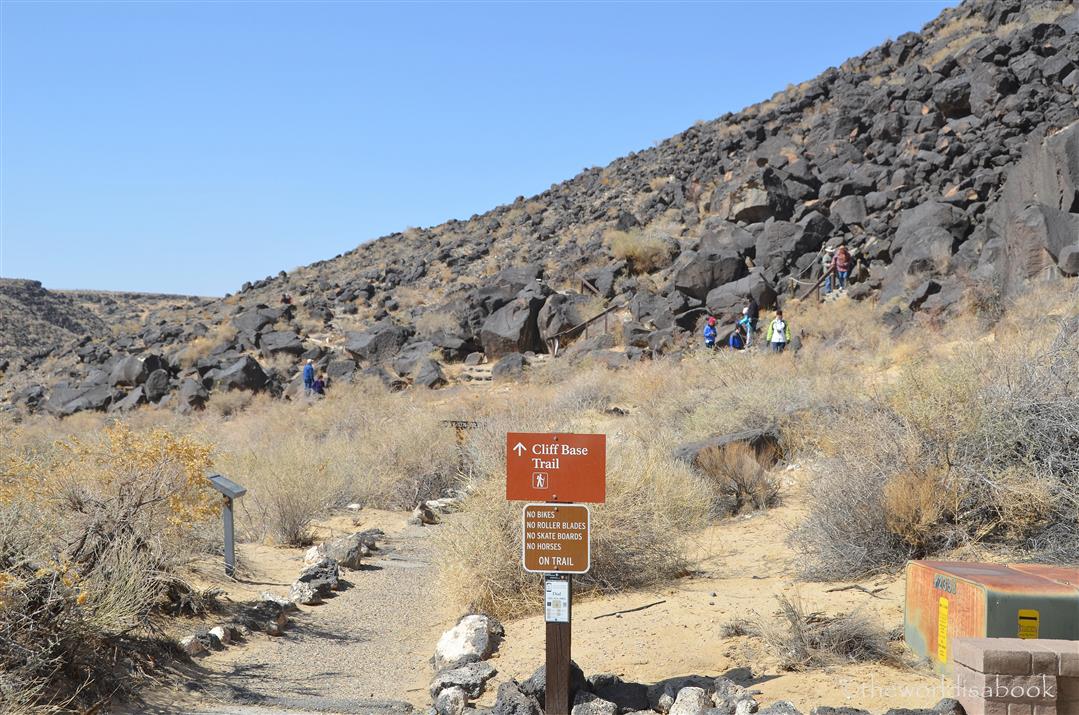 These were probably some ceremonial figures but looked like aliens to my kids which they found fascinating. My seven-year-old son was convinced the early settlers were drawing the aliens they saw. Who knows? He could be right.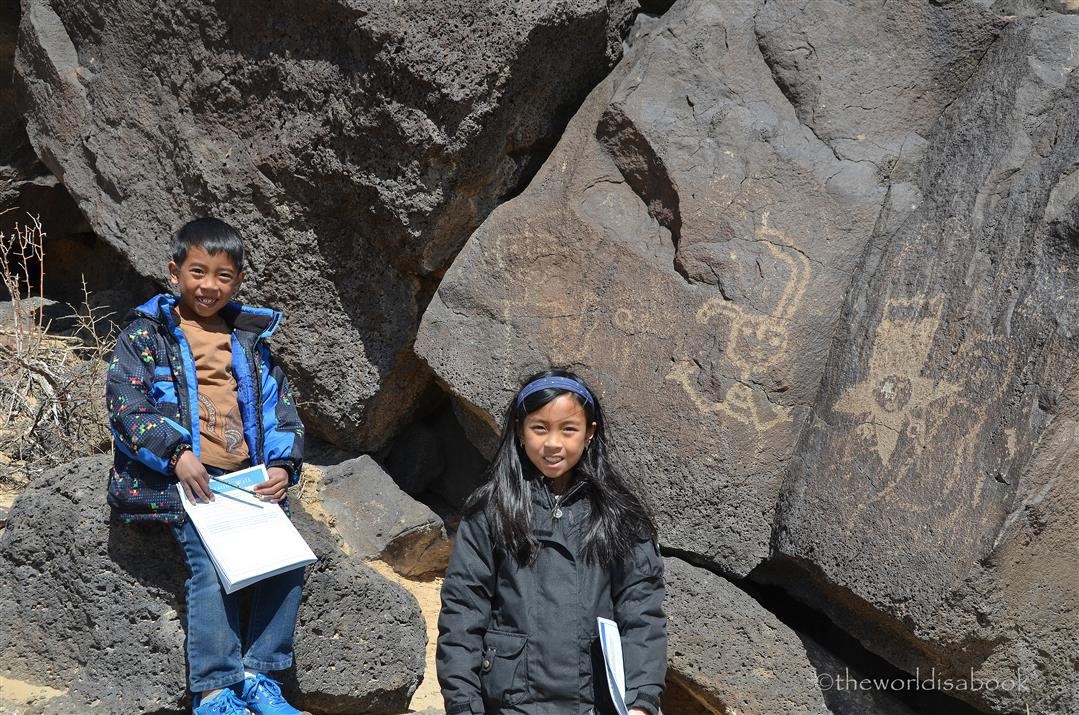 Our last stop was at Rinconada Canyon which required a little bit more walking to see our first set of petroglyphs.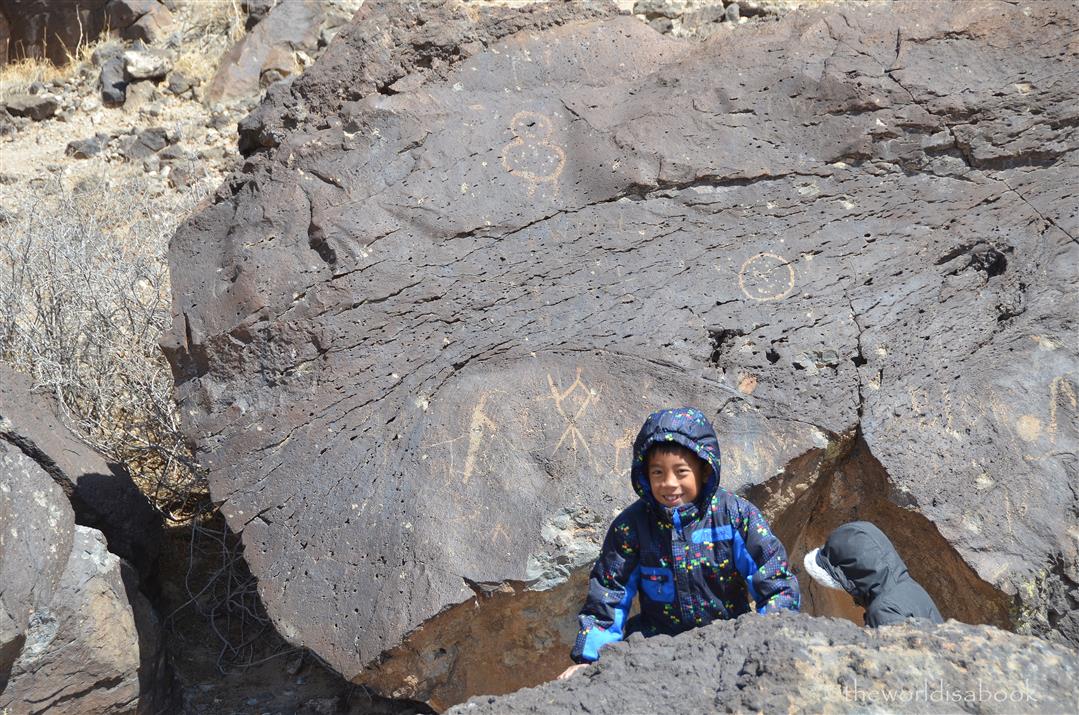 The path here was very sandy and on a windy March day was not the best place to hike. Needless to say, we cut this hike short after sand kept going in our eyes.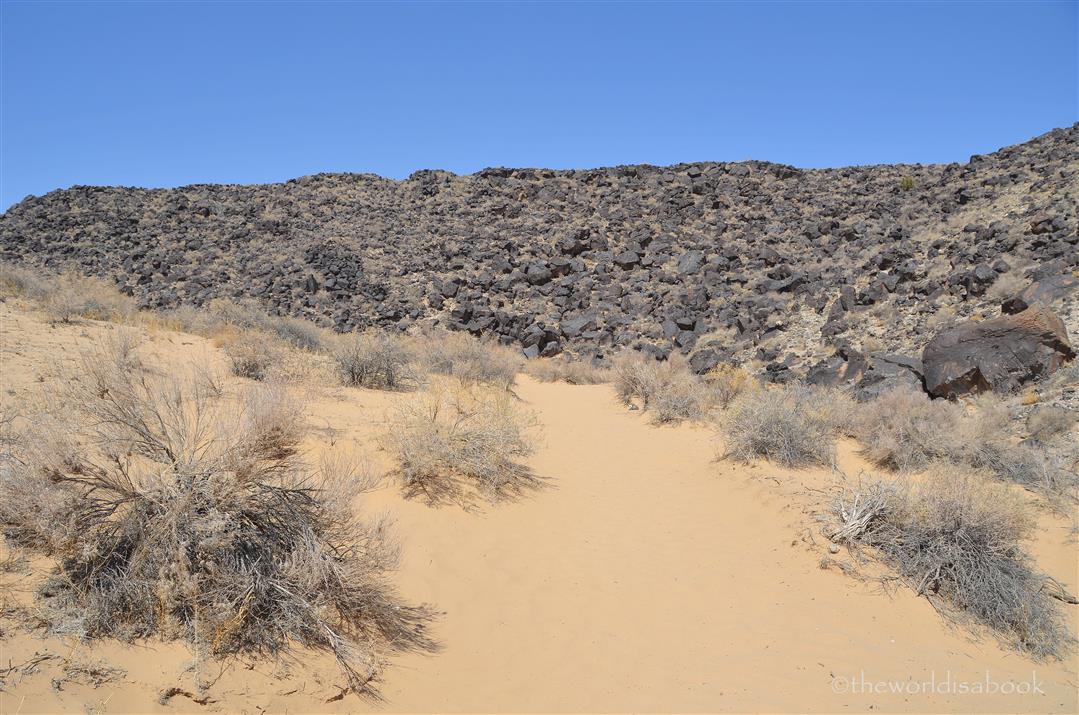 The Native Americans especially and the Spanish settlers provided an insight into their culture and beliefs with these long-lasting and valuable records. It was a fascinating visit that raised more questions than answers for us. We all came away wanting to know what these carvers were trying to tell us. We only spent a couple of hours here but delighted to have peeked into the past. These rocks seem more vulnerable and I hope they withstand the test of time, people and weather for future generations to enjoy.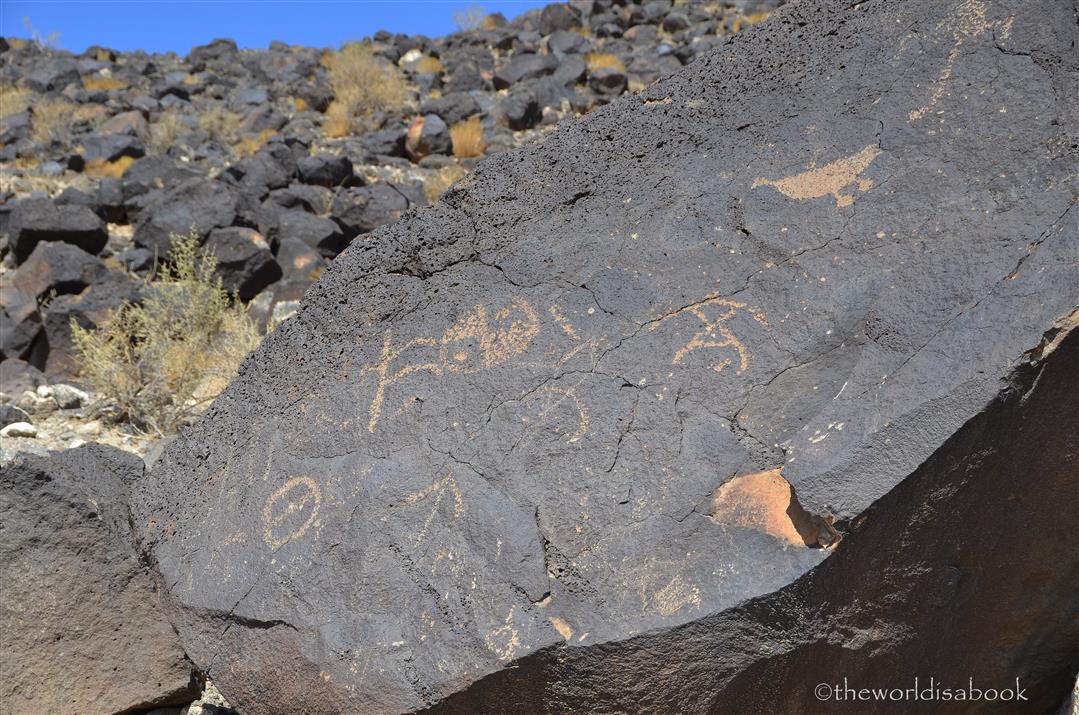 Tips for Visiting Petroglyph National Monument
Petroglyph National Monument is a day-use park. No camping areas and the visitor's center and trail parking lots close at 5 PM.
Stop at the Visitor's Center first to get maps and trail guides. The rangers were all great with answering questions.
Grab the Junior Rangers' booklet for the kids to enhance their park experience. Kids ages 5-9 complete 5 activities and get a patch, badge and certificate upon cpmpletion. Older kids can complete 5 or more activities.
Boca Negra Canyon has a parking fee of $1 on weekdays and $2 on weekends. There were no attendants during our visit but money was deposited in a box.
Bring plenty of water when hiking especially during the summer months. Hats and sunscreen are also recommended since there are hardly any shaded areas. Wear layers during other times. It was windy and a bit cold during our visit in March.
Wear good, closed-toe shoes especially in the Rinconada Canyon trail where it was very sandy.
Beware of Rattlesnakes on some of the trails during spring and summer. According to the national Park Service, "most of the snakes found in Petroglyph are harmless and nocturnal." Be aware of your surroundings when walking and keep your ears open for their hissing sound.
Get the pocket-sized Easy Field Guide to Southwestern Petroglyphs which gives you some clues of what the petroglyphs could possibly mean. It was a wonderful guide for kids.
 *Have you visited Petroglyph National Monument or other petroglyph sites?
Related Post: