The Iceland Geysers in Haukadalur Geothermal Area
The Golden Circle in Iceland is one of the most scenic drives we've ever done. One of the most memorable part was called Haukadalur Geothermal Area. It was a geologic wonder of mud pots, hot springs and geysers. We've done our fair share of geyser gazing at America's Yellowstone National Park and this valley was just as spectacular.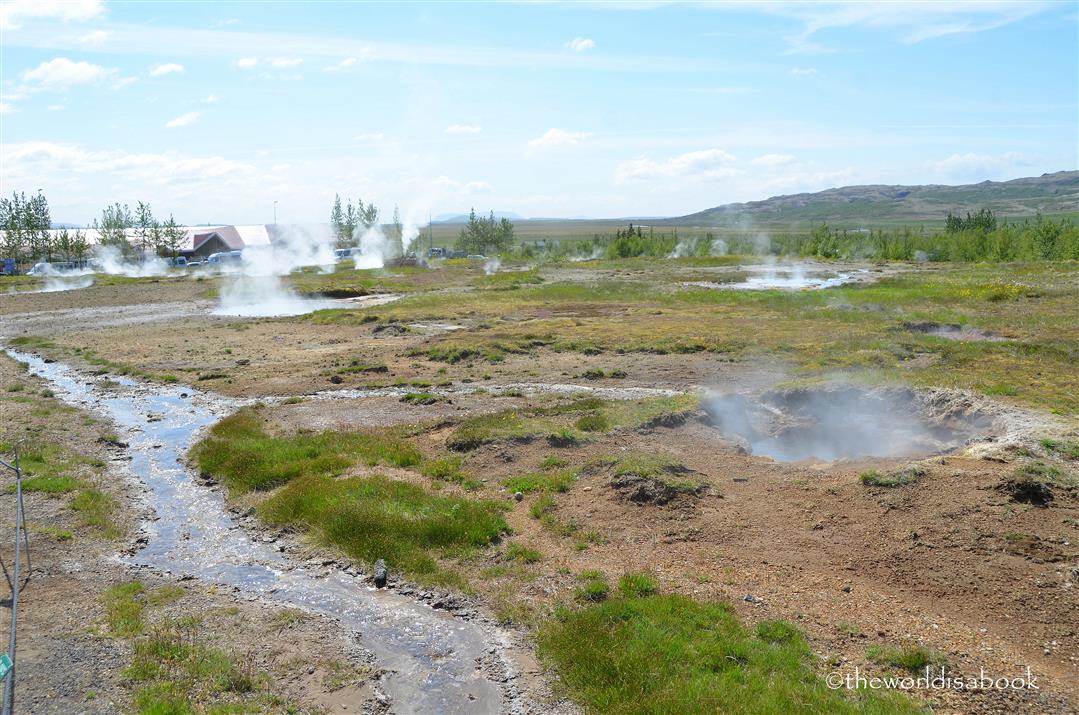 We instantly knew we were near the valley with the number of tour buses parked at the side of the road. Then, we caught sight of all the smoke rising in one area.
There was an unpaved walkway and ropes separating the thermal areas. We don't know how they were able to build a small structure over this area and made it look like the steam was coming out of the chimney.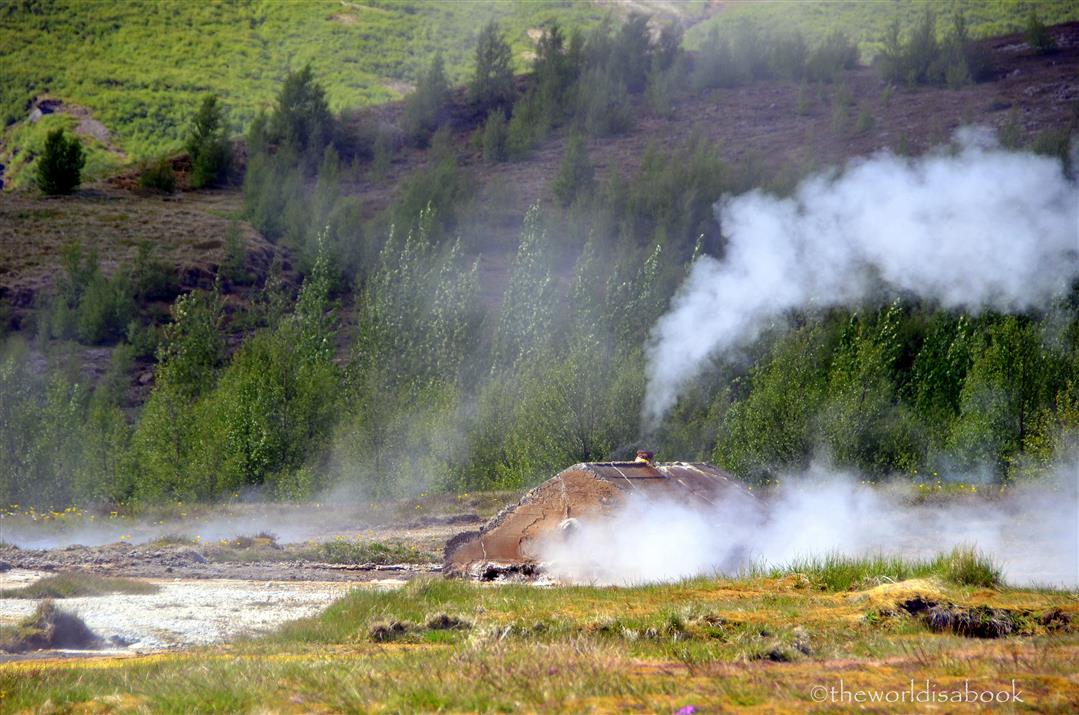 These temperature indicators were a good reminder just how hot this place was. For those of us using the Fahrenheit temperature scale in the USA, 80-100° C is 176-212° F. The boiling point of water is 100° C.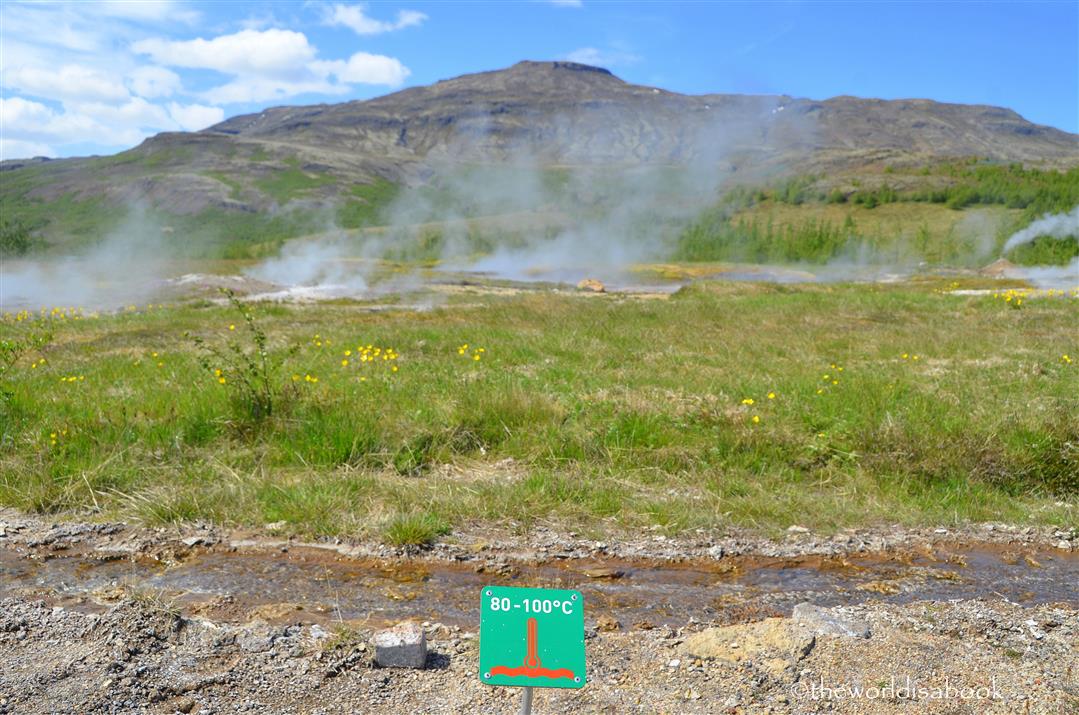 This geothermal area formed at the end of the Ice Age. There were over 40 geothermal features in Haukadalur. But, the main attractions have always been the geysers.
Geysers are a type of hot springs that erupt and spray thermal water and steam high into the air. It requires water, volanic heat and pressure to erupt. This video is a wonderful explanation of this natural pressure cooker and does a much better job than I can do.
The Great Geysir (with an i) was one of the few known geysers in the world during the 18th century and garnered a lot of interest. The word "geysir" came from the Icelandic word, geysa, meaning to gush or to rush forth.
This Icelandic geysir originated the English word for every geyser in the world. This geysir used to erupt every hour. But, it has slowed down to every 8-10 hours. During our visit, it acted more like a hot spring with only smoke coming out it.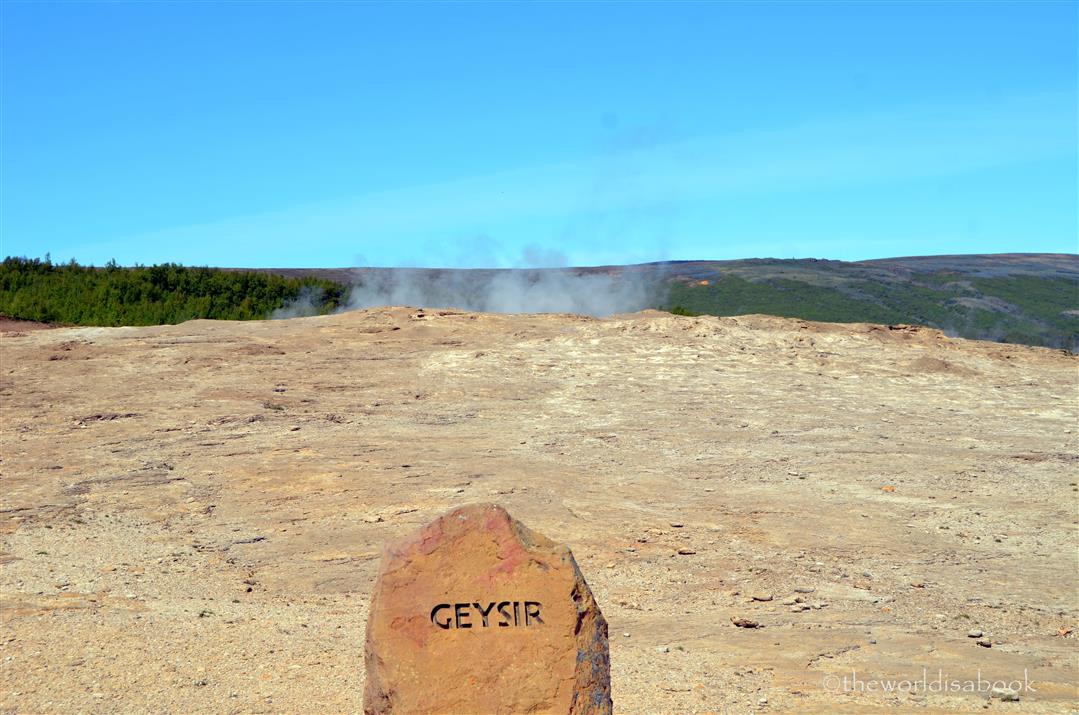 The main attraction of this area was Strokkur (pronounced Strau-ker) meaning "churn". It was formed as result of an earthquake in 1789.
There's no need for a sign here since it was always surrounded by visitors. Strokkur erupts every 5-8 minutes. The hot water rises 60-100 feet ( (18-30 m)  up into the air and evaporates into thin air.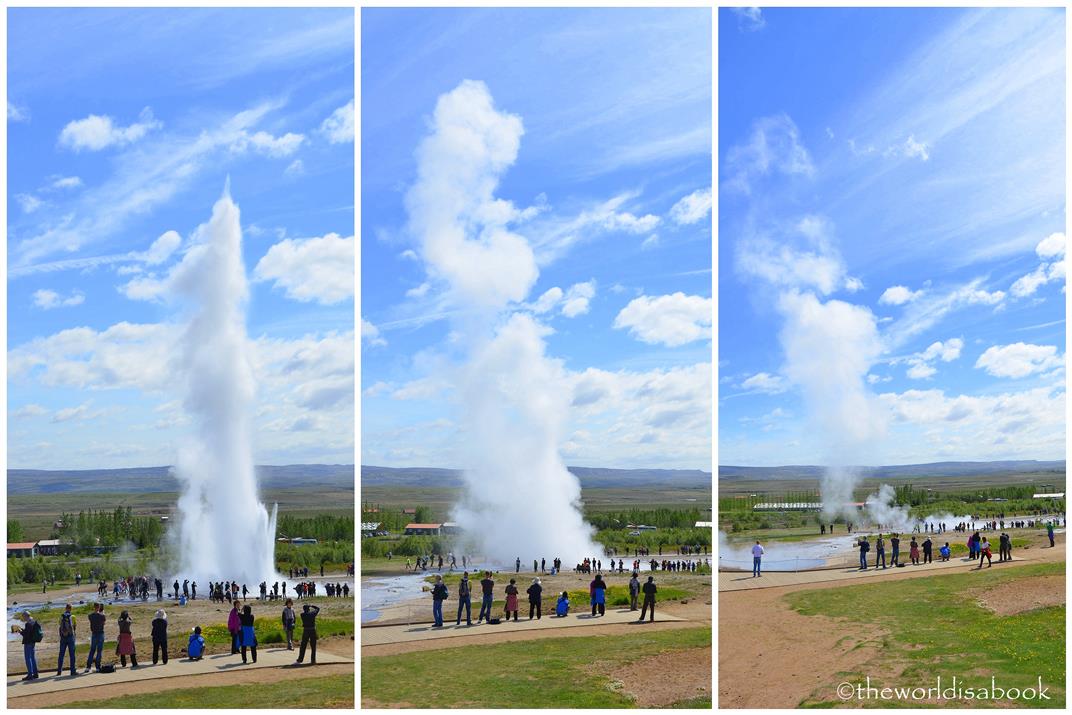 We were in the area for awhile and witnessed its eruption several times. It was an incredible force of nature each time. Strokkur's surface is constantly boiling so there's no warning of its imminent eruption. It is a great water show that will surely entertain everyone.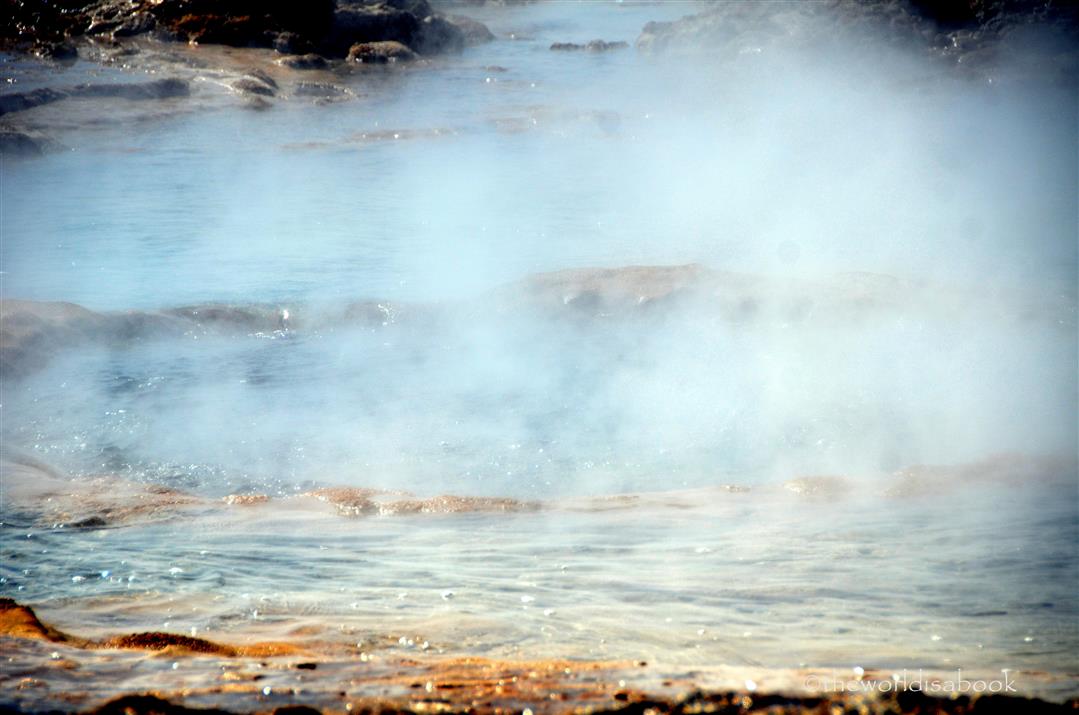 It was hard not to get excited and join the crowd gushing in amazement and excitement every time Strokkur erupted. We decided to go near the area and during one of its eruptions. We ran off in time to be sprayed with some of the water.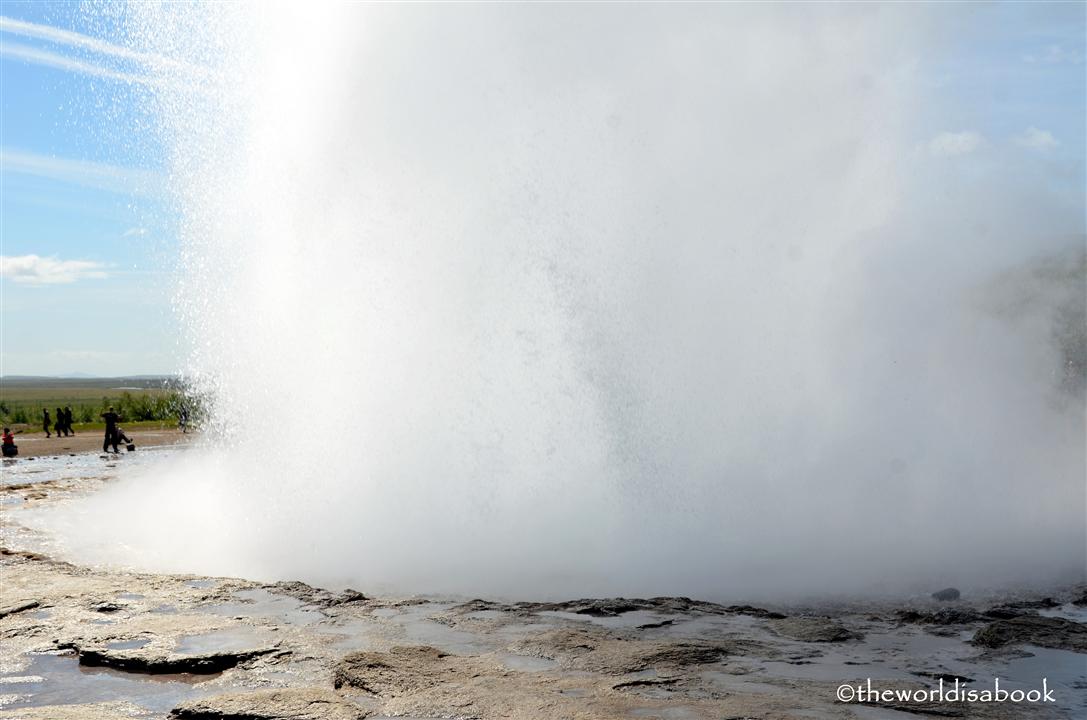 It was a feast for the senses here. Despite the sounds of cars and buses on the road and the crowd, we paused long enough to hear some of the water gurgling and bubbling and the steam vents hissing. Some areas had stronger sulfur smell than others or what my kids called the "bad egg smell".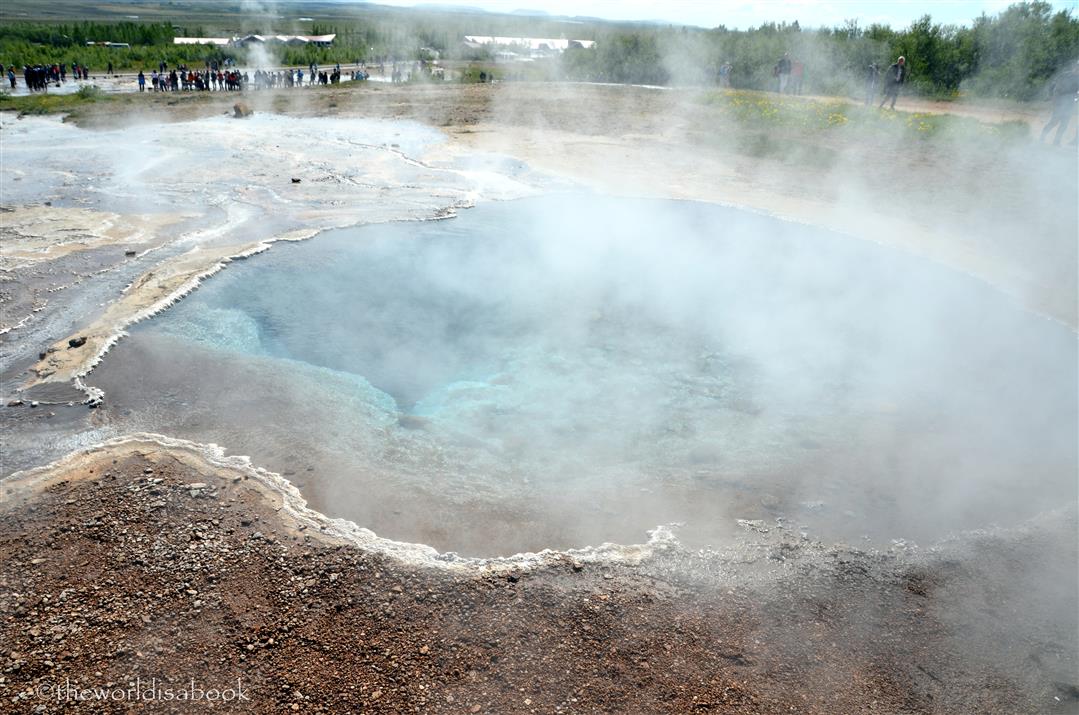 The smaller ones looked like holes in the ground with steam vents including Litli Strokkur and Litli Geysir(Little Geysir). But these small geysers can be activated by earthquakes. In the old days, locals who lived nearby activated geysers by throwing soap in the hot spring which eventually damaged and "killed" some of them.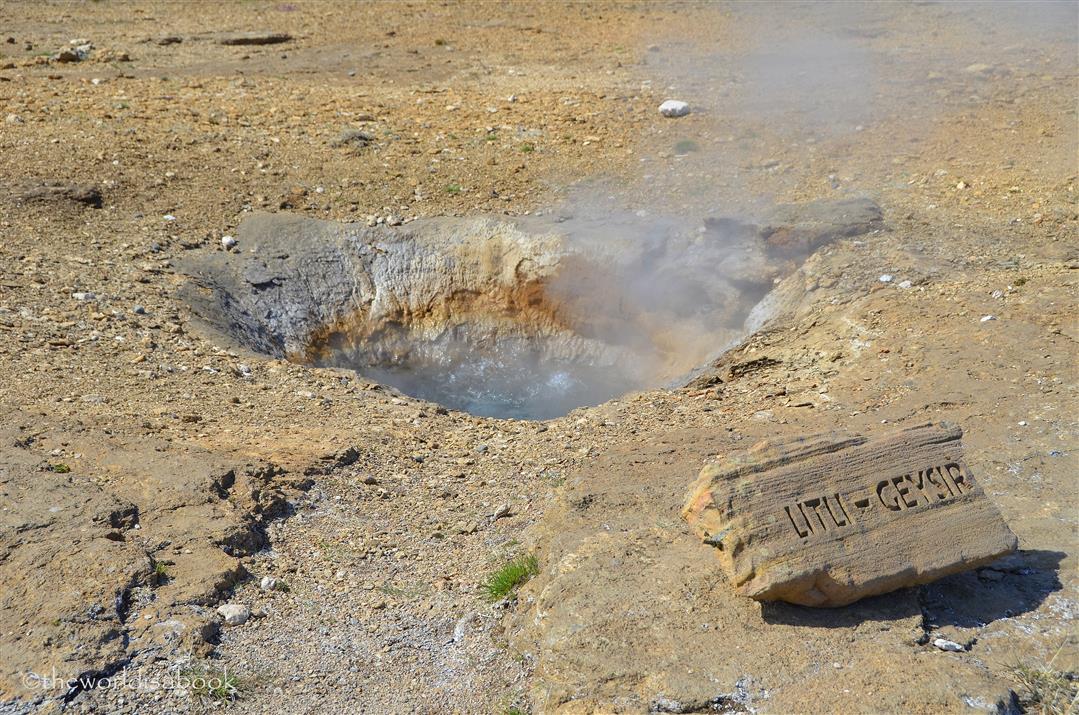 There were also numerous hot springs here including Konungshver (the king's hot spring) which looked like a big puddle to us.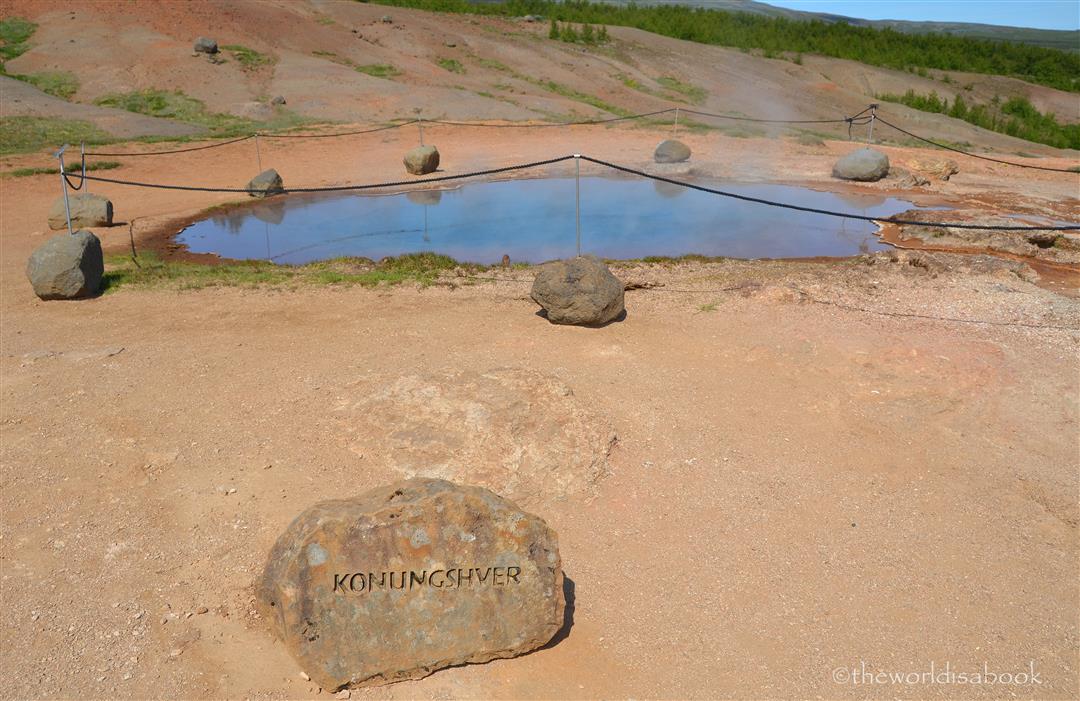 One of the most beautiful hot springs we saw was Blesi (the blazer). It had two ponds next to each other but one was a beautiful blue color colored by silica while the other one was clear and at boiling temperature.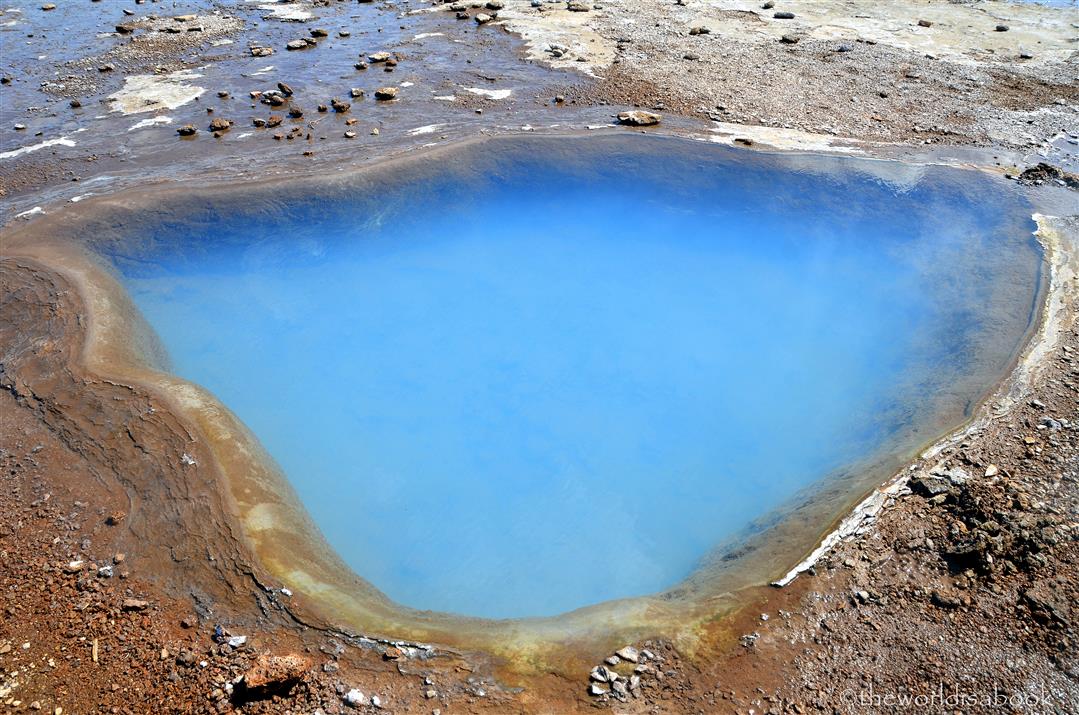 In this land of steam and sulfur, we surprisingly found vegetation. There were yellow wildflowers but there were also fields of the beautiful purple nootka or Alaska lupine. We found these flowers throughout our drive in Iceland's countryside.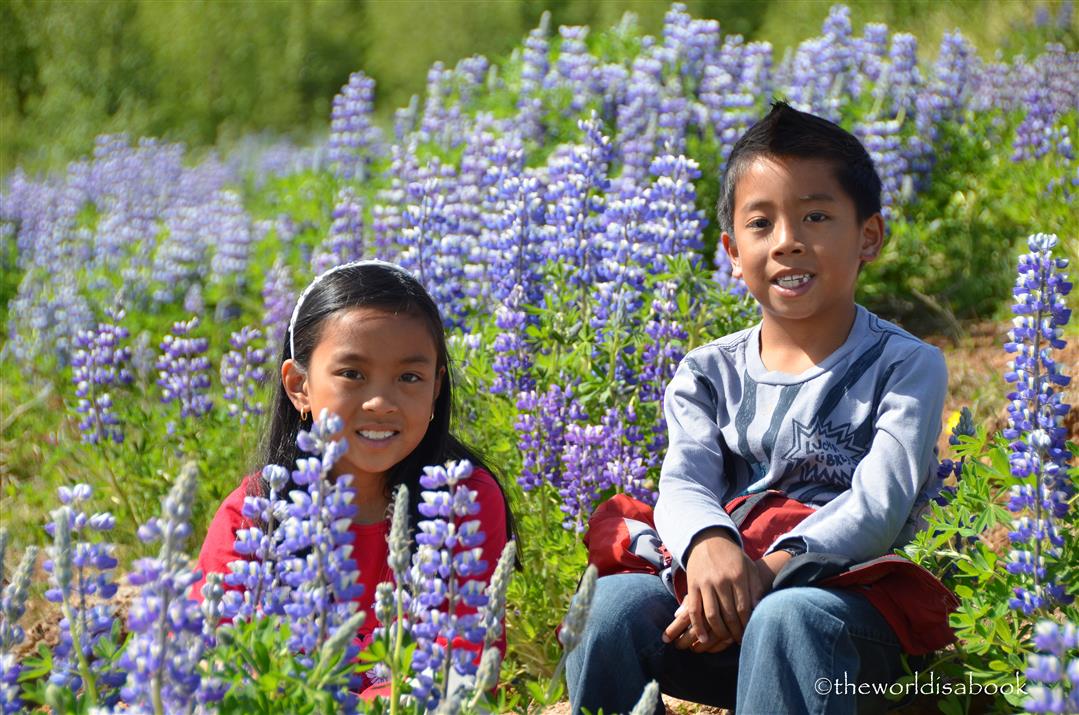 This whole area was a wonderful place to stroll and enjoy the scenery. I wish they had installed boardwalks throughout the area to make it easier to walk around instead of the uneven surfaces. This wasn't the most wheelchair or stroller friendly place. Though, some geysers had a platform to take a closer look at them.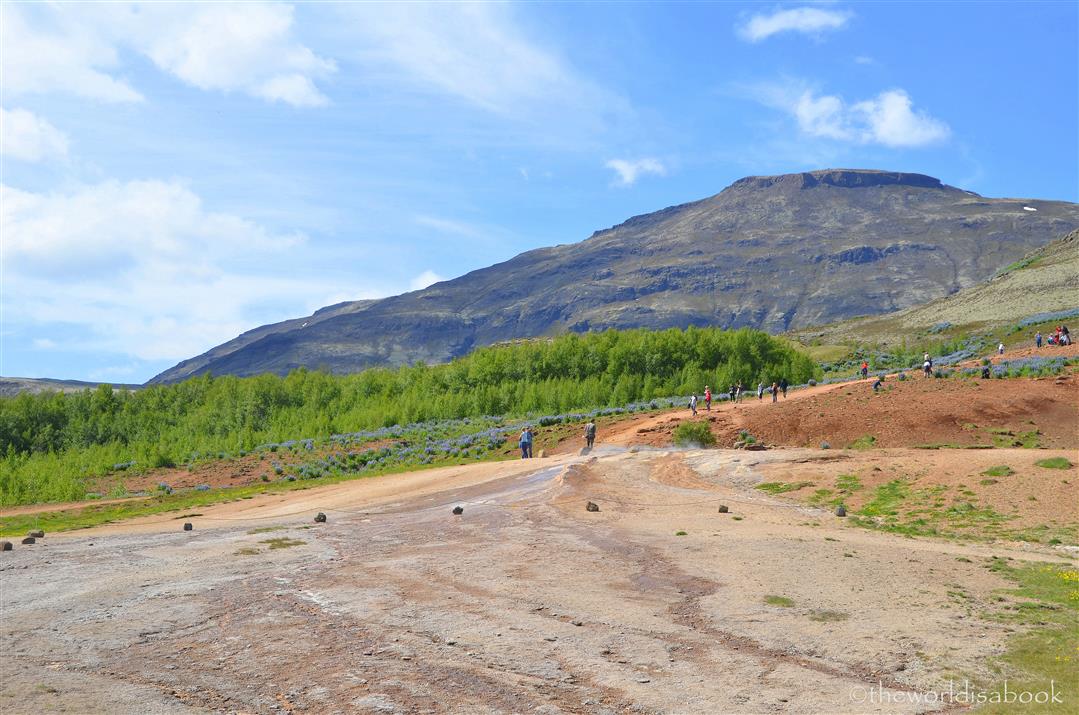 We saw some hikers climb up a small mountain. I'm sure the views of the countryside and the thermal area were amazing from up there.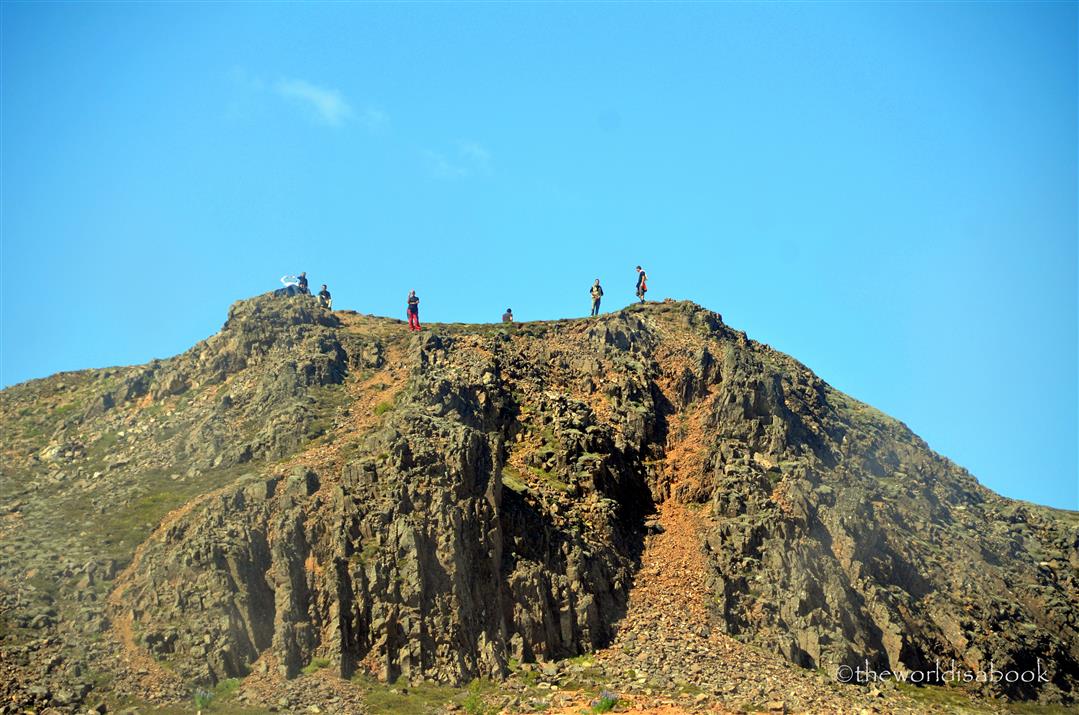 Near Hotel Geyser was this big green field with little hills perfect for kids who were confined in cars and needing to run around. The highlight for my kids here though was this large wooden statue. He looked like he was guarding the Haukadalur valley or he could have been the hotel mascot.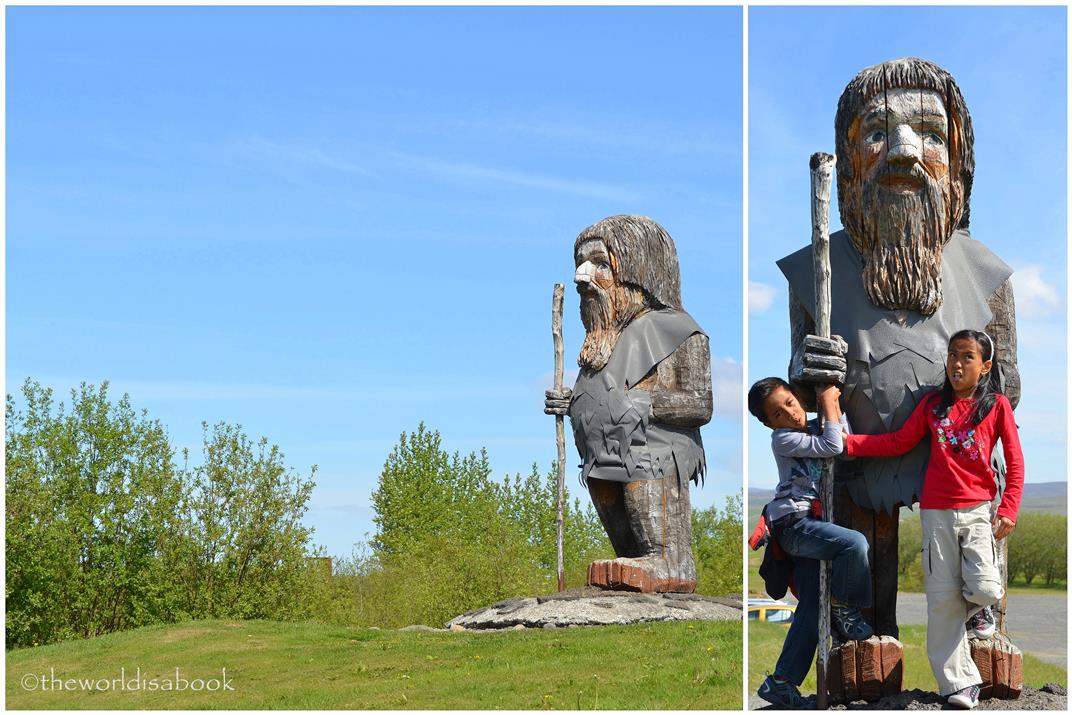 The Haukadalur area is a major tourist attraction in Iceland with its dazzling display of erupting geysers and boiling hot springs. Geysers are rare and Iceland is one of the few places in the world to see them. It was a fascinating lesson in geology visiting this area but also a wonderful place to walk around and enjoy Iceland's natural beauty.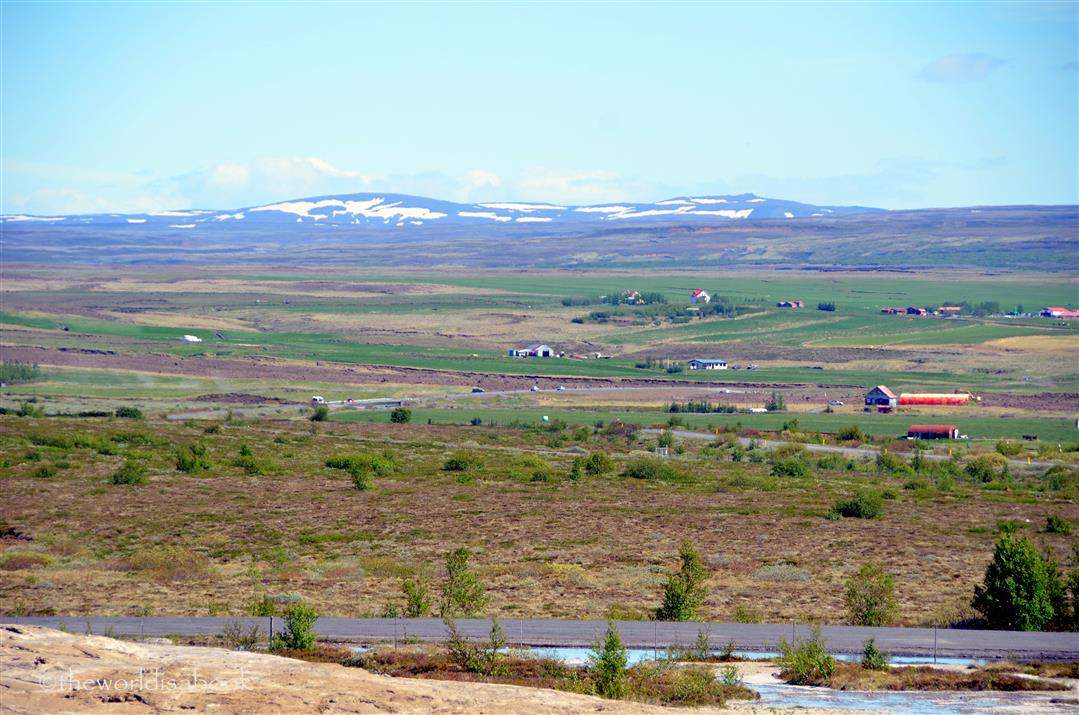 Visiting Haukadalur Basics and Tips
The Haukadalur Valley can be reached via the Golden Circle tours or self-drives.
The Geysir-Center is across the road from the Haukadalur geothermal area It's a building complex of restaurants, hotel, gift shop, food court and Geysir museum with a multimedia show. There is a huge Geysir gift shop across the street and a food court. This is a main stop for many tour buses so it does get pretty crowded around lunchtime.
Take your time exploring this area and enjoy.
*Have you visited the Haukadalur area or other geyser zones?
Related Post:
Where to Stay
Hotel Berg in Keflavik

 – This was the first hotel we stayed during our first visit and loved it. It's close to the airport (2 miles), by the marina and offers free Wi-fi and airport transfer. It's a small family-owned hotel. We had a split-level suite which fit our family comfortably.
Hilton Reykjavik Nordica 

– 

This hotel is located in the city and within walking distance of the center but shuttle buses are also provided. If you want the comforts of a modern hotel, this has it with buffet breakfast and Executive Lounge for Hilton Honors Gold and Diamond members. A couple of friends have stayed here and recommend it.

Hlemmur Apartments  

– We loved this spacious, two bedroom apartment located within walking distance to Reykjavik's city center. It looked like an IKEA showroom, It was clean, well-equipped and furnished well with all the amenities we needed for our stay. It had free WI-fi and the owners were friendly. 
Save up to 50% on Iceland hotels on Booking.com 

(the #1 Accommodation site)

Find the best Iceland hotels and read reviews on TripAdvisor.
Car Rntals
Flights/Vacation Packages
Pin it later!