Fun Times at the San Diego County Fair
When June comes around in San Diego, the weather is warmer, traffic increases and the locals flock to the Del Mar horse racing venue for the San Diego County Fair. This highly anticipated event takes place from early June through the 4th of July weekend every year. Unfortunately, our hectic weekends and a summer vacation means we're missing the fair this year. I never got around to writing about our fair experience last year though. So, what exactly will you find at this popular event?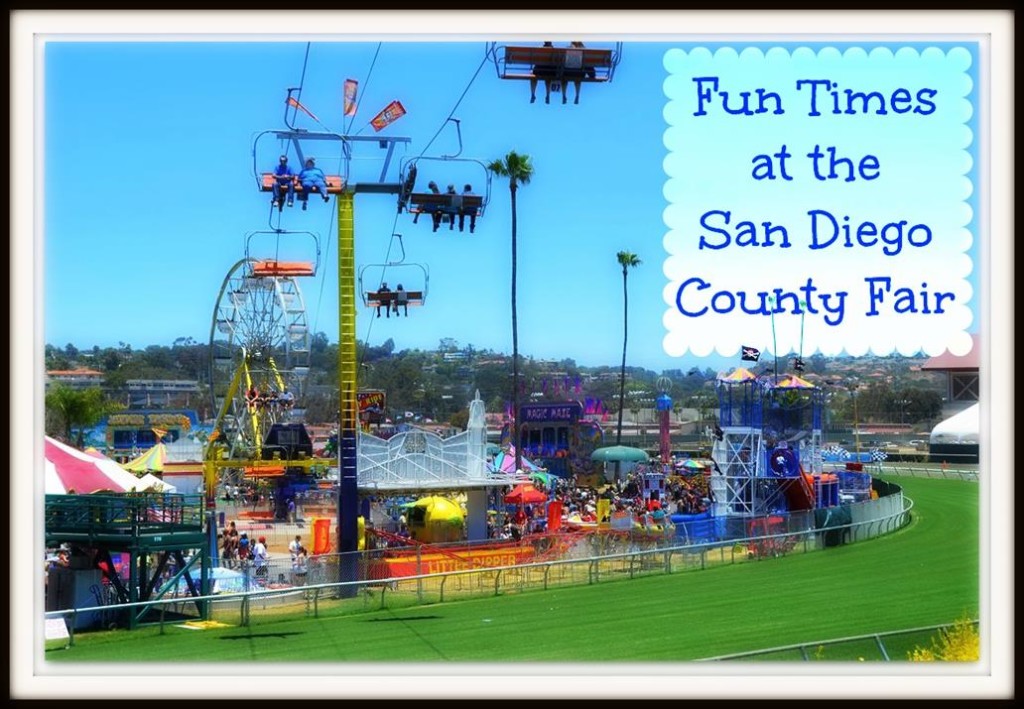 The fair is the largest annual event held in San Diego County which is made up of 18 cities. It is one of the largest attended fairs in America which hosts and offers a variety of exhibits, shows, carnival rides and games, attractions, concerts and plenty of vendors. There's a Fun Zone and Kiddieland for the young and young at heart. This fair has been around for 29 years and has become an annual tradition for many families.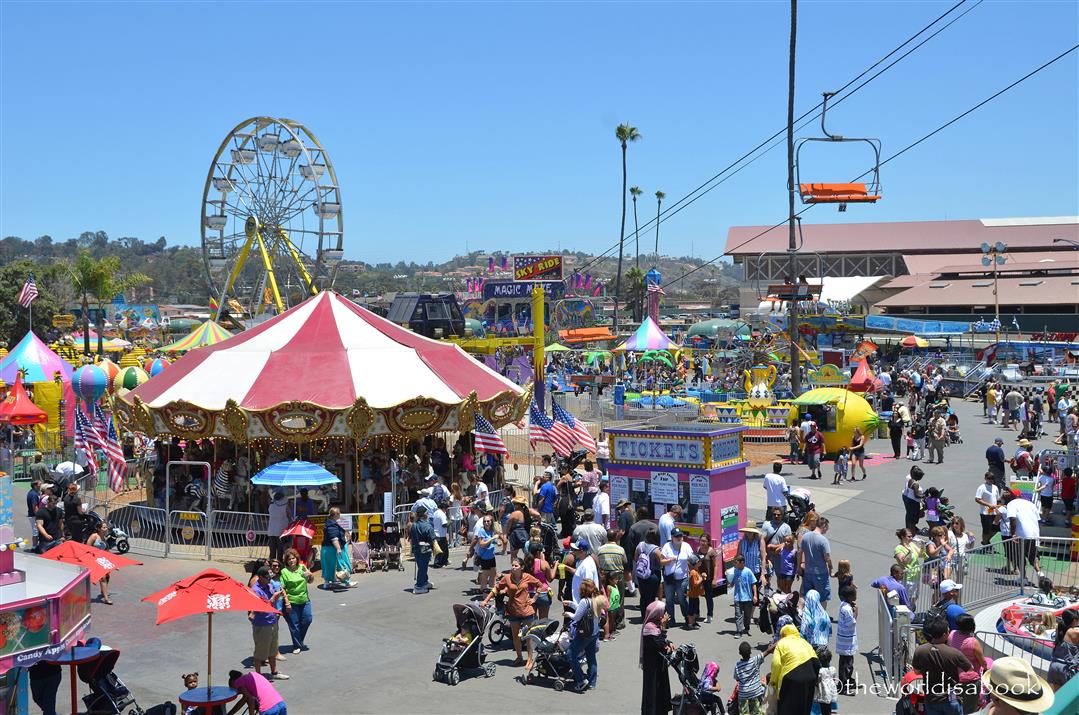 Many county fairs were originally set up to showcase livestock and agricultural products with some competitions and a spirit of community in the process. There was no shortage of cattle, sheep, goats and pigs including a Barnyard Babies Petting Farm and a Livestock Barn here.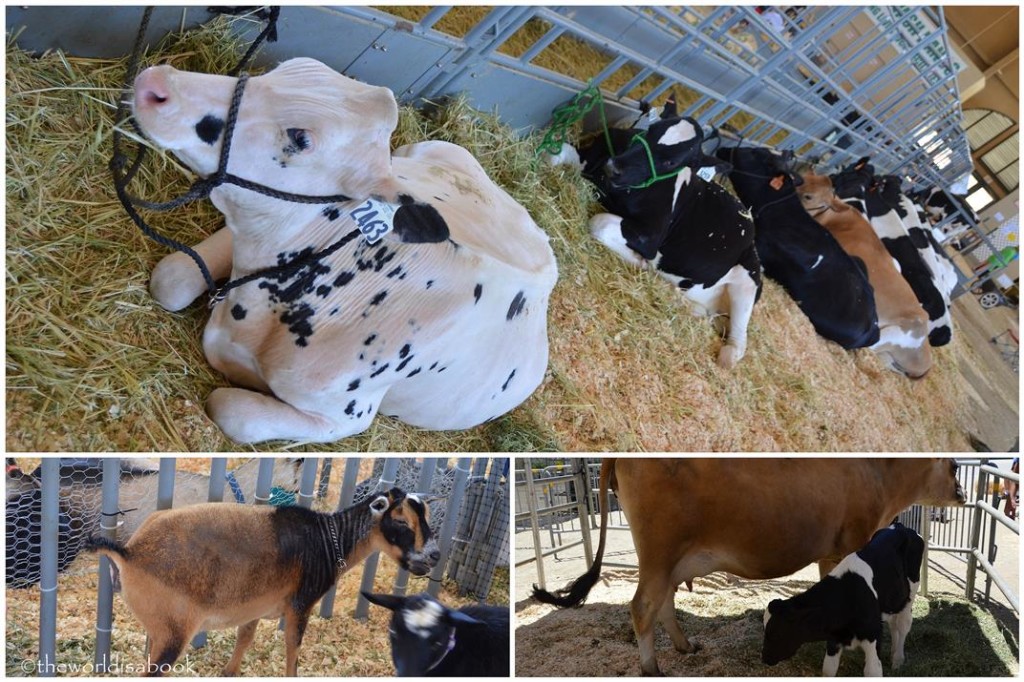 A first for us last year was watching a bunch of piglets racing around a track. The Swifty Swine Racing Pigs ranked as one of the strangest things we've ever seen. Granted, the piglets were adorable. Different seating sections were assigned a pig to cheer on. Who knew it could get loud and competitive at a pig race?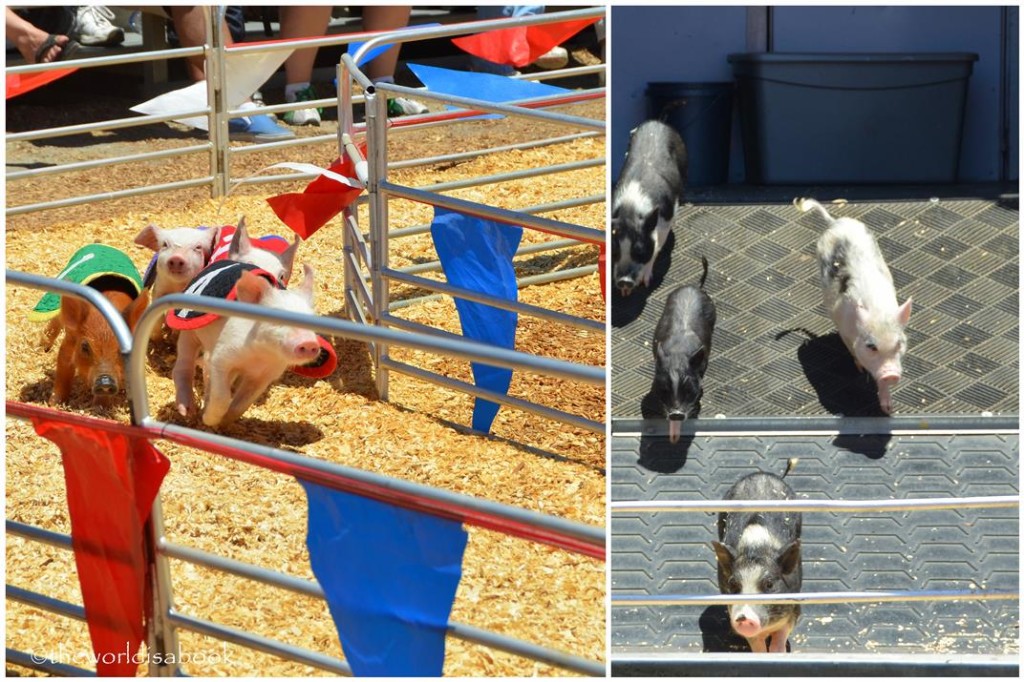 As a bonus, there was also a piglet, Swifty the Swimming Pig, who swam across a large basin. Fair goers can also pose with Swifty afterwards for a "pigture". It was too bad we also missed the Turkey stampede, Fido 500 mini dog races and the ostrich race.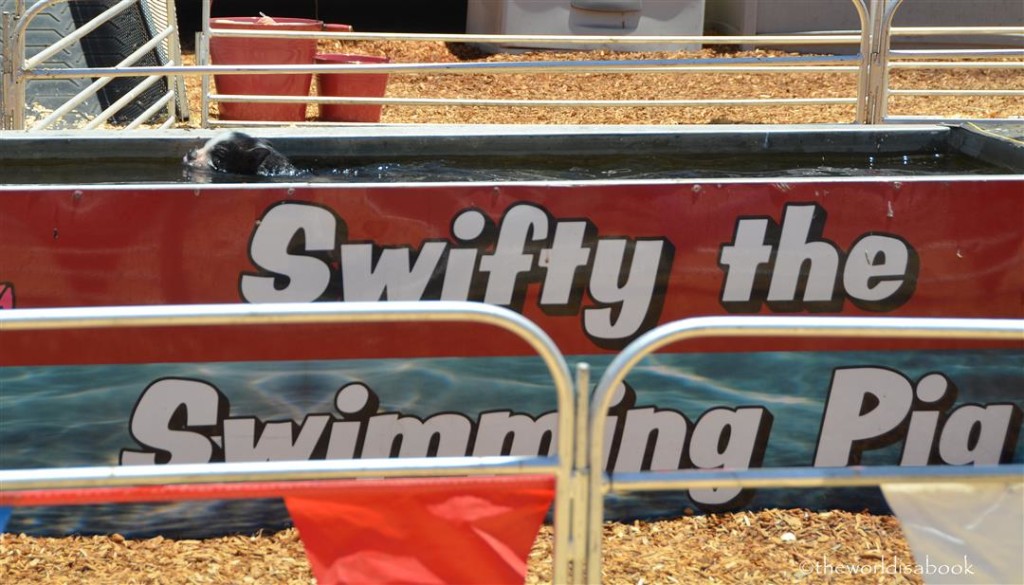 Have Trunk Will Travel has operated the fair's elephant rides for decades here. These rides have been a subject of controversy recently. Some have called for banning them claiming cruel treatments and posing injuries to children. It's been banned in other Southern California fairs like the Orange County and Los Angeles fairs. But, the San Diego board of directors has allowed the ride to continue since there were no signs of cruelty or incidents of safety issues.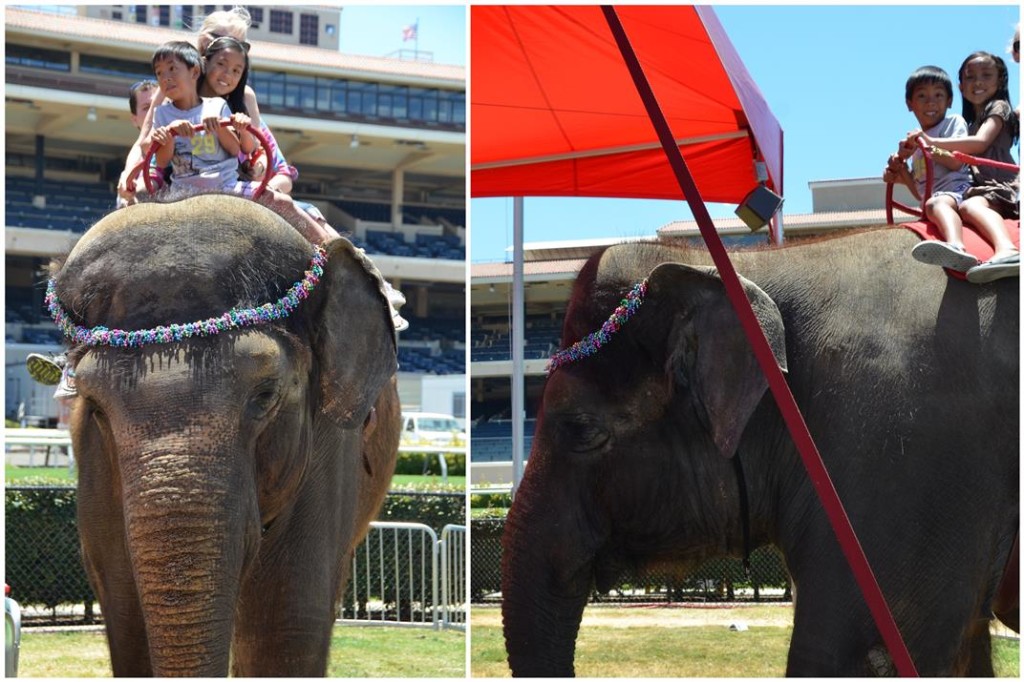 My husband and I deliberated for awhile on whether our kids should ride. Our kids pleaded and we saw the excitement and joy in many of the other children who just finished the ride. This ride has been here for decades and the fair's governing body would have banned this if there were any issues. We ultimately decided to let them ride this one time for an invaluable experience to interact and be up close to such a magnificent animal. I've always felt sorry for wild animals paraded around like this and in circus acts. But, I hope that they get treated better here than trying to survive or killed mercilessly like their counterparts in the wild.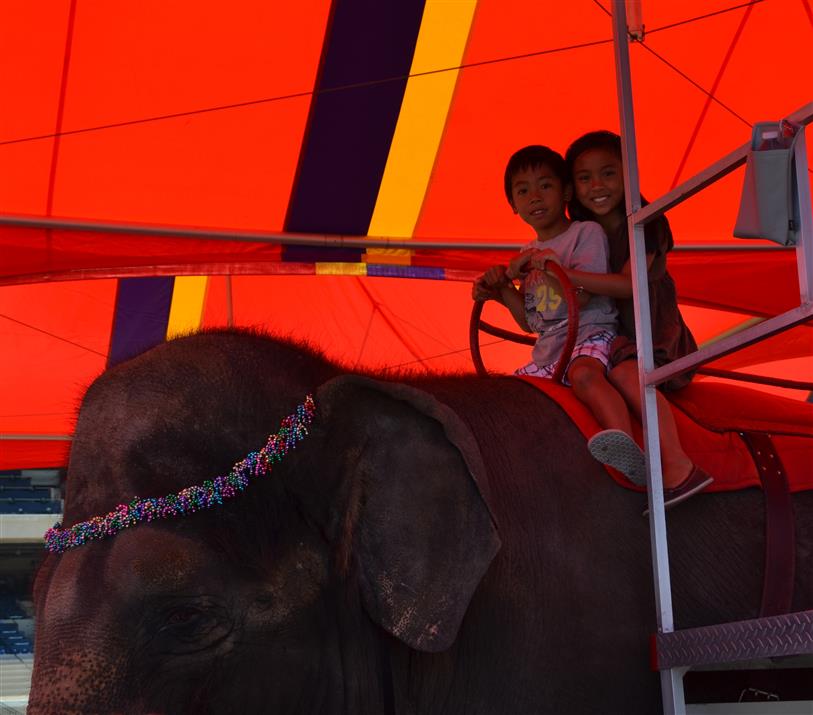 Each year, the fair also has an overall theme. This year is Game On! which spotlights the variety of games people play. Last year's theme was Out of This World. So, of course, we got to meet some of the aliens walking around.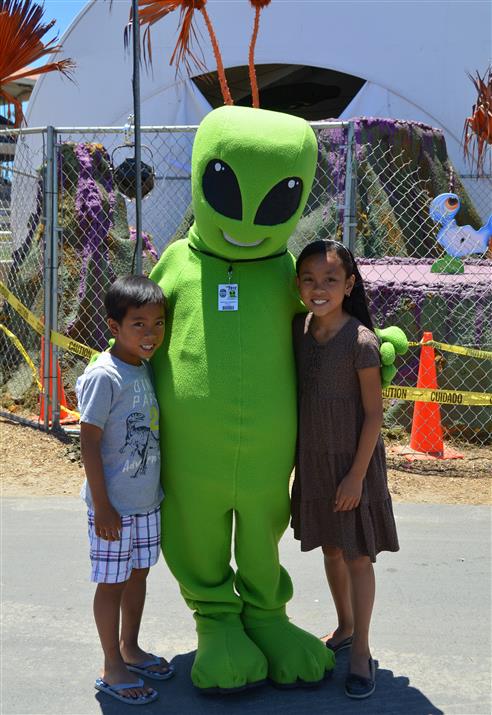 One of the great things the fair does is dedicate a big tent to showcase many of the students' artworks from the various San Diego county cities. It took awhile but we eventually found our kids' artworks their teachers submitted. We love that the kids get a free fair ticket for submitting their artwork and they can see them displayed here.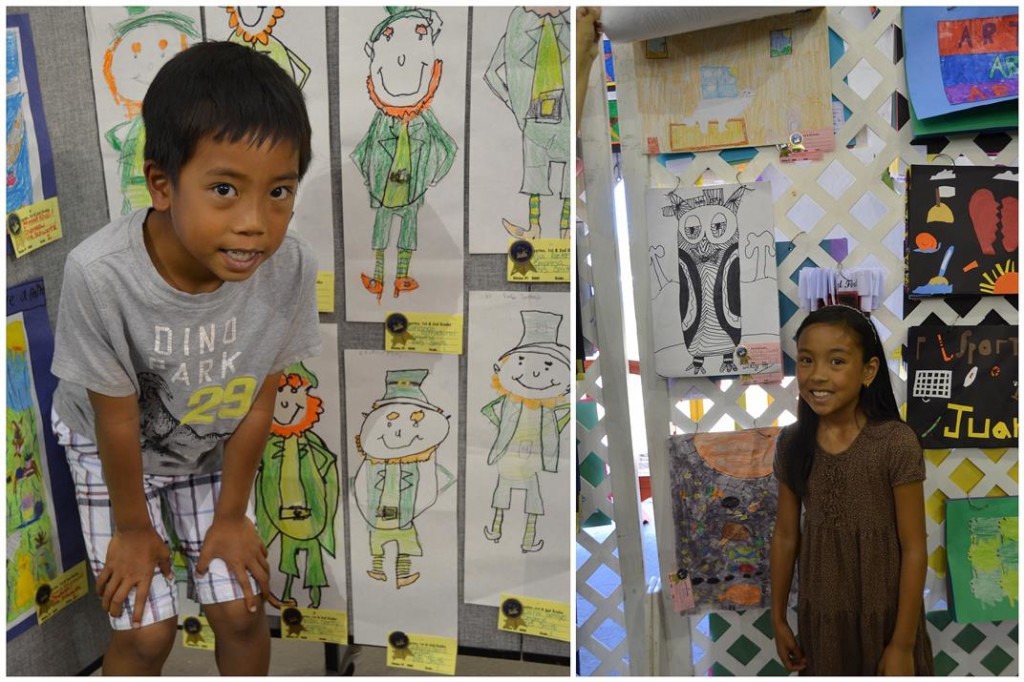 One of the best things about these county and state fairs has to be the food. I admit, it's my favorite part of the fair. Fair food is calorie loaded, artery clogging, cholesterol laden and expensive. But, that didn't stop us from trying some out. This giant smoked turkey leg was enough to feed my husband and kids for lunch. We passed on the Caveman Turkey Club which was one pound of bacon wrapped around an extra large turkey leg.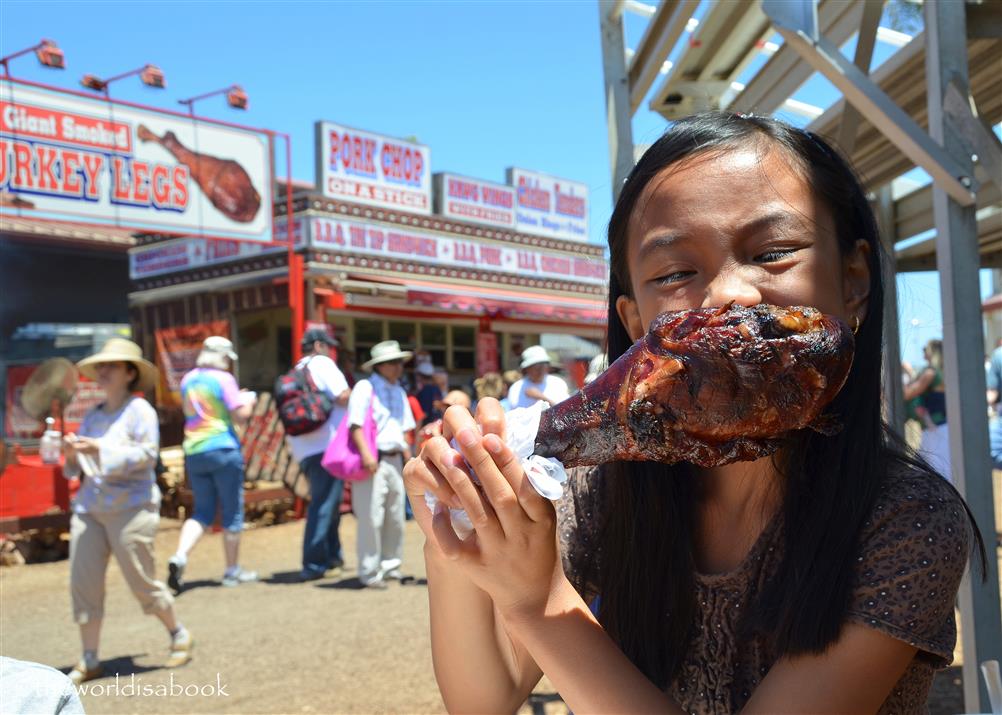 Seeing all the bacon items felt a little strange after watching the little piglets racing. It also gave me heartburn just by looking at the menu offerings. Despite being a chocolate lover, I didn't even find the chocolate covered bacon appealing.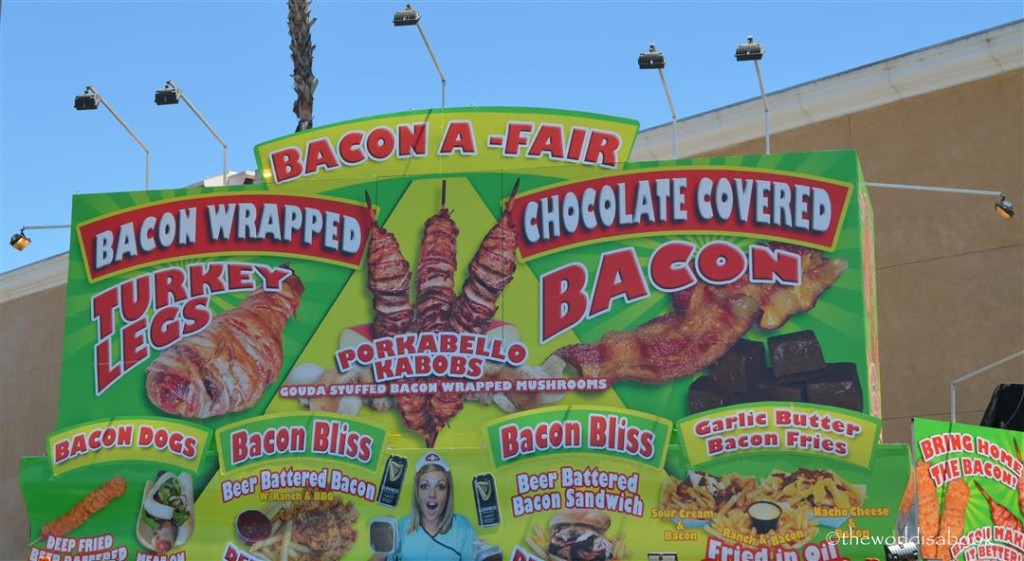 The Porkabello Kabobs which were Gouda cheese stuffed portabello mushrooms wrapped in bacon on a stick seemed pretty popular.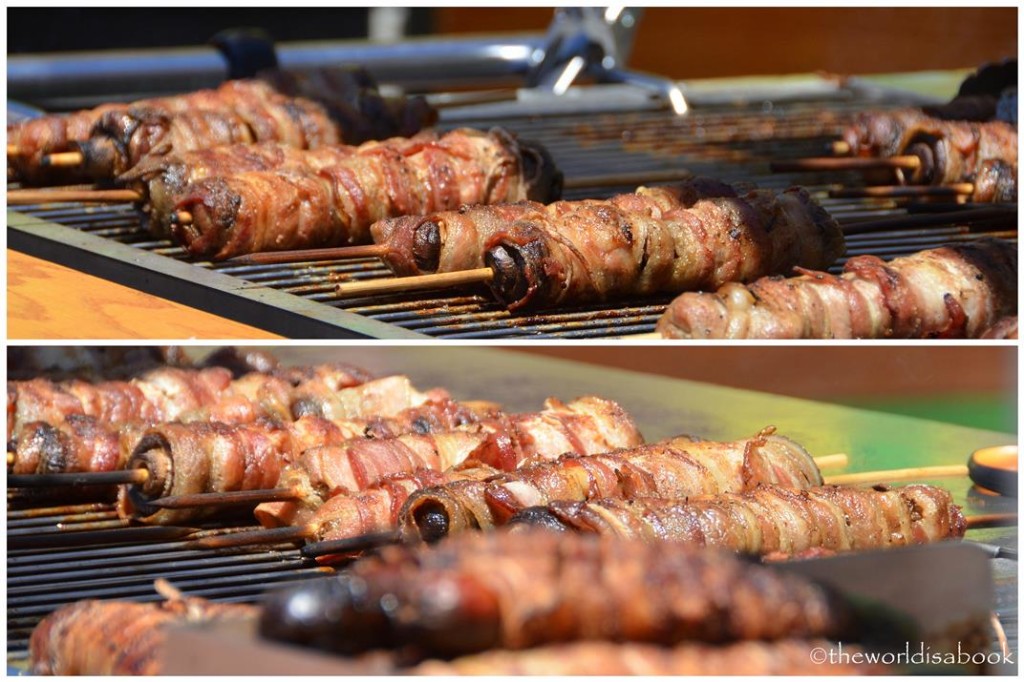 These Porky Poppers which were bacon-wrapped stuffed jalapeños were also a hit.
The most popular food items are usually the fried ones. The food choices seem to get stranger and more interesting every year. This menu alone will make you do a double take on what they've come up with to fry.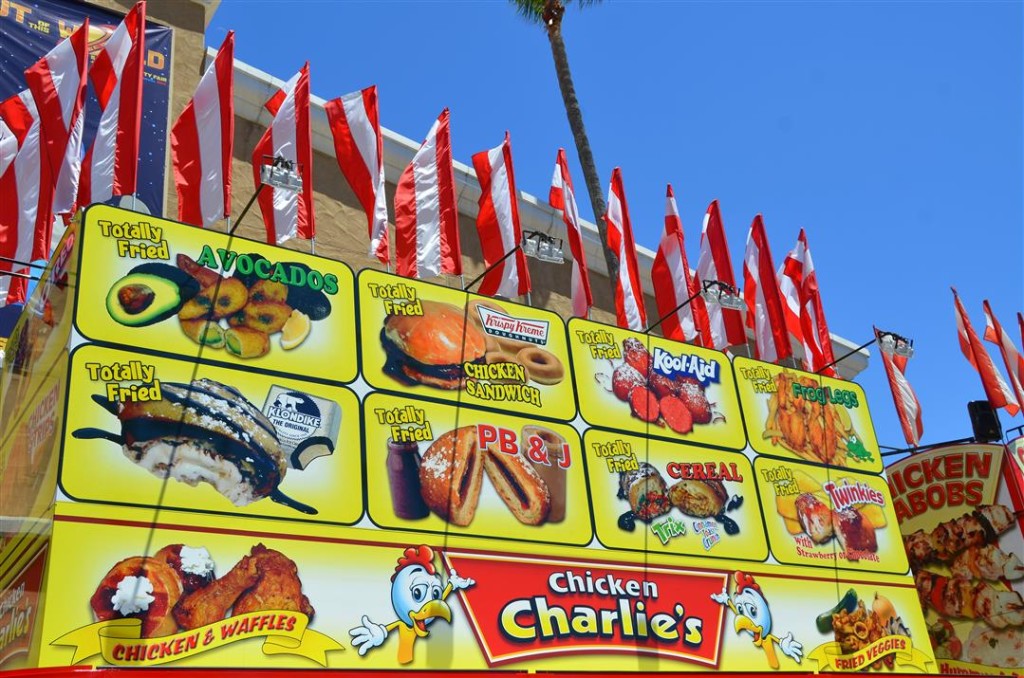 I wish we had room in our stomachs to try the Texas Tater twisters. Fair goers can either have a sausage on a stick covered with fries or just the plain fries twisted on a stick. Seasonings and dipping sauces were extra.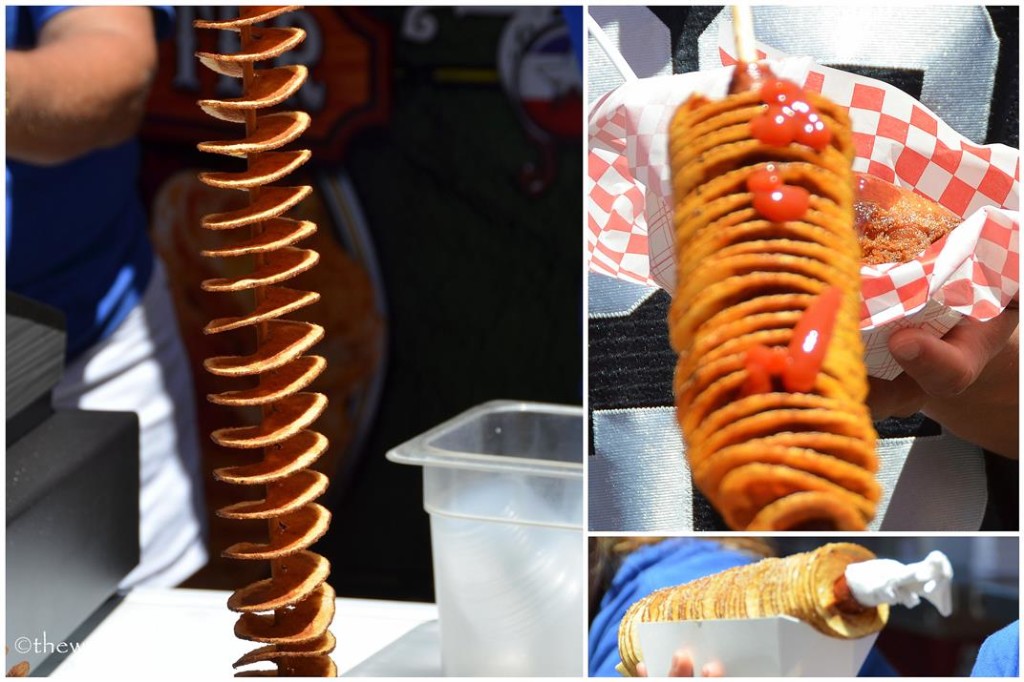 Our desserts were a couple of the deliciously sounding fried sweets. This Fried Oreos which had the famous sandwich cookie enveloped with batter was as delicious and messy as it looked.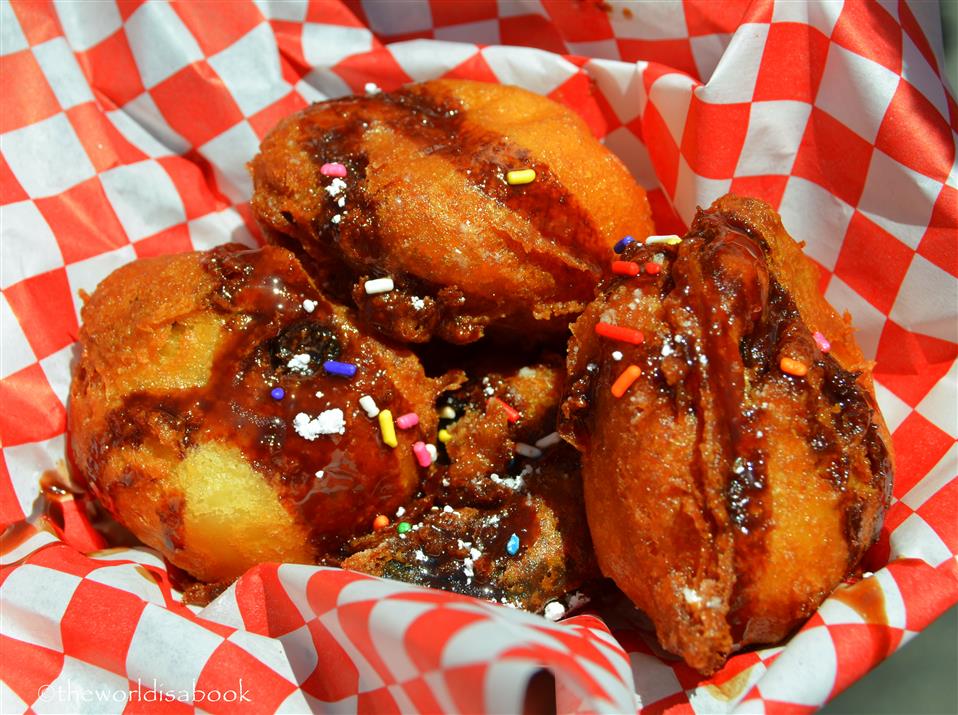 Finally, we couldn't resist the Fried Kool-Aid. It tasted more like a strawberry cupcake batter and wasn't too popular with our family.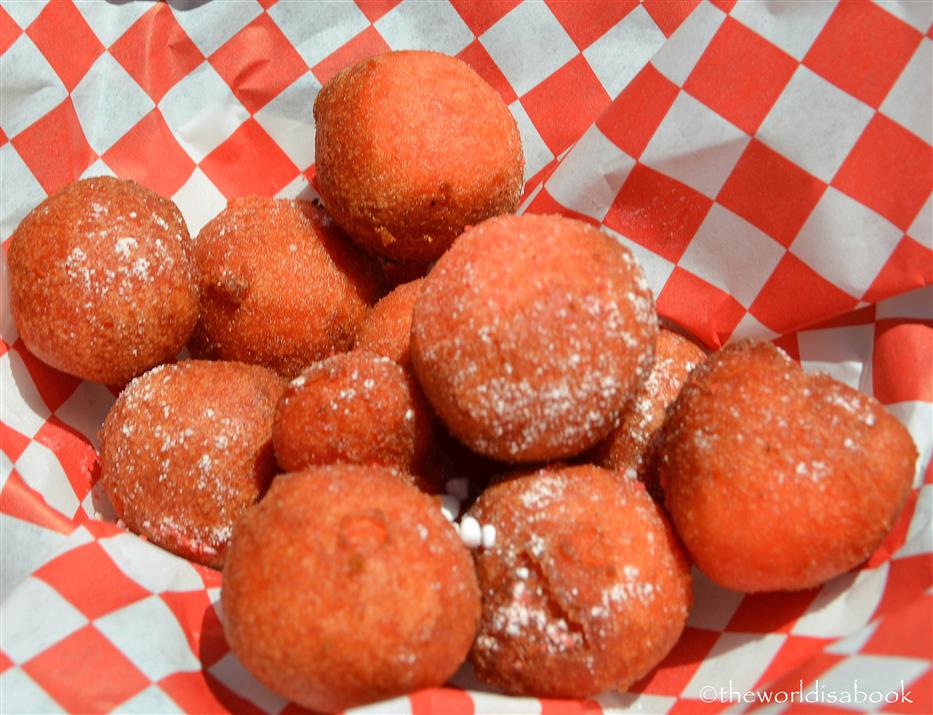 Fairs are one of the best family-friendly outings that can satisfy everyone. There's a little bit of everything from the rides, attractions, animals, food, shopping and exhibits. It's an annual event that many look forward to going and one that also creates lasting memories.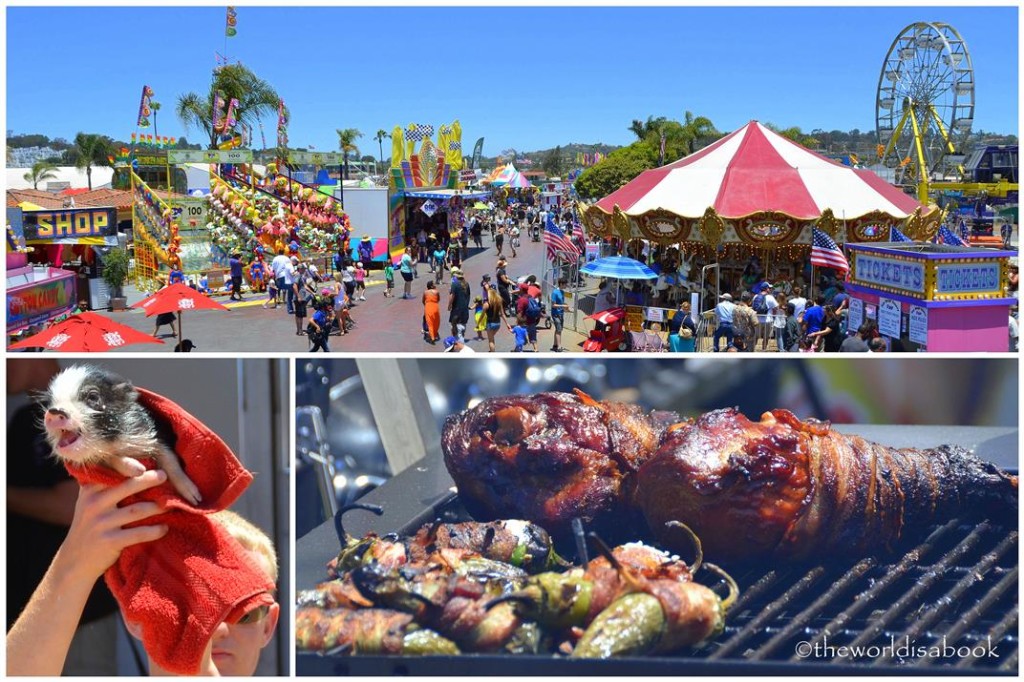 San Diego County Fair Basic and Tips
Buy tickets in advance to avoid lines and to get discounts. Prices: $14 adults; Kids (6-12) and Seniors 62 and older: $8. Check grocery stores like Albertsons or Costco to get discounted tickets. There's also a $24 pass for admission to the fair for 24 days.
Parking is $10.00 per vehicle ($15.00 for RVs) in the Fair's paid parking lots.Go to the free parking sites every day at Horsepark (2.5 miles away) and at MiraCosta College's San Elijo campus and Torrey Pines High School during the weekends. Free shuttles are provided.
Try to visit on a weekday if you can to avoid the weekend crowds. The fair is closed on Mondays.
Bring your own water bottles to save some money.
Carnival ride tickets must be purchased. Most rides require between three and six tickets. Look for deals like 25 midway rides coupons for $15.
Check the

San Diego County Fair website

 for events, concerts and special days at the fair like Kids' Day, every Tuesday with special activities for kids, and all kids 12 and under get in free, Seniors' Day on Thursday or Taste of the Fair, every Tuesday, featuring $2.00 samples of fair food.
*Do you like fairs? Would you eat these unique fair foods?
This post is part of Travel Photo Thursday at Budget Travelers Sandbox , Friday Daydreaming at R We There Yet Mom? and Oh the Places I've Been at The Tablescraper.  Do some armchair traveling and please visit the sites for other travelers' wonderful photos and posts.