Strolling through the Original Farmers Market Los Angeles
Los Angeles may be known for its beaches, amusement parks and Hollywood stars but the famous intersection of Third Street and Fairfax Avenue and home of the Original Farmer's Market is also a pleasant stop as one of its top tourist attractions. This historic cultural monument has been a favorite gathering place for generations of residents and visitors. With over 120 shops, produce stands, restaurants and food stalls, it offers something for everyone strolling through here.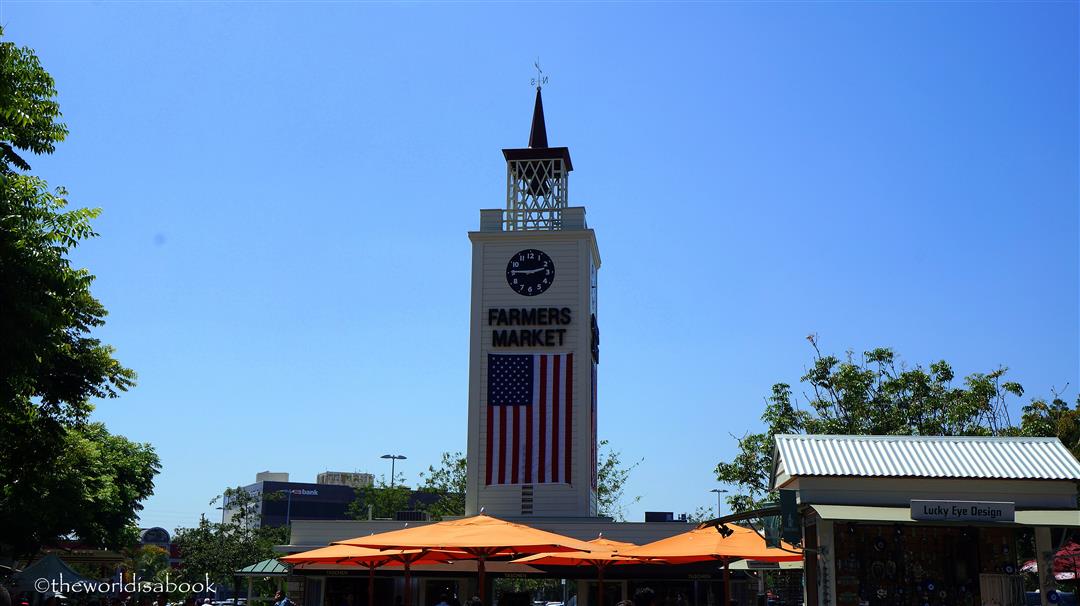 The Original Farmer's Market had its humble beginnings when a group of farmers in 1934 started displaying their fruits, vegetables and flowers on truck beds at this once dirt parking lot. This actual market was envisioned by two entrepreneurs, Roger Dahlhjelm and Fred Beck.
They approached one of the Gilmore family members, who owned this land, to use this empty space for "An Idea". This idea was a village square with a central market for farmers to sell their fruits and vegetables surrounded by artisans and carpenters selling handmade items. The farmers were charged 50 cents to "rent" a space per day.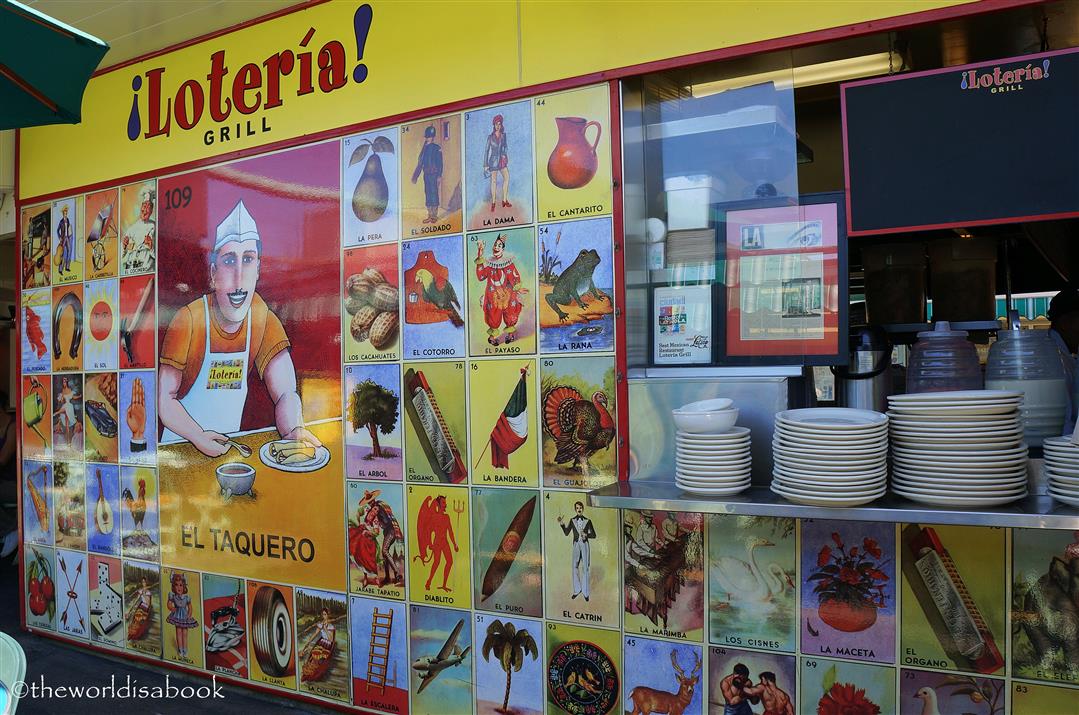 The Gilmore family still owns the Farmers Market and the land it sits on. They started out as a dairy farm until discovering oil in their land. As a tribute to the Gilmore Oil Company, one the largest in the West at one time, there's a small exhibit outside the market of the little pieces of history of the Gilmores who also made many contributions to Los Angeles. This self-serve gas station and old car reflects the good old days. It's a popular area for visitors to take pictures.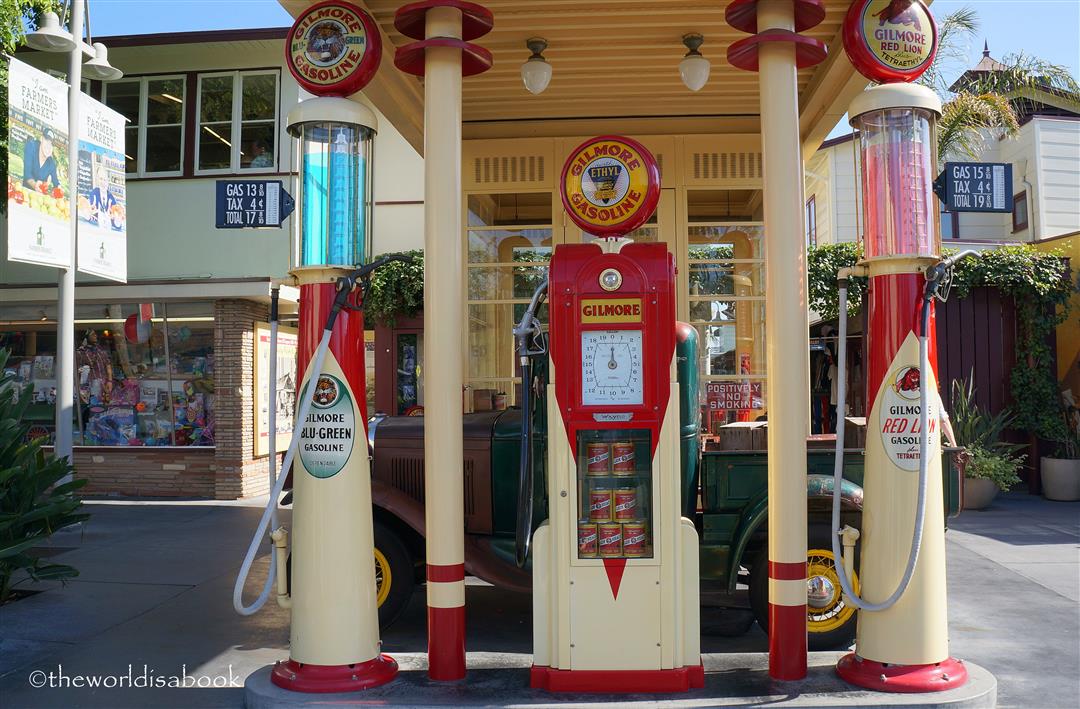 The farmer's market has an eclectic mix of shops that caters to every age with varying interests. One of the best things here is, of course, the fresh produce. I love the display of colors and seeing the variety of fruits and vegetables. Sure, I can go to the grocery store across the street but the variety here is better.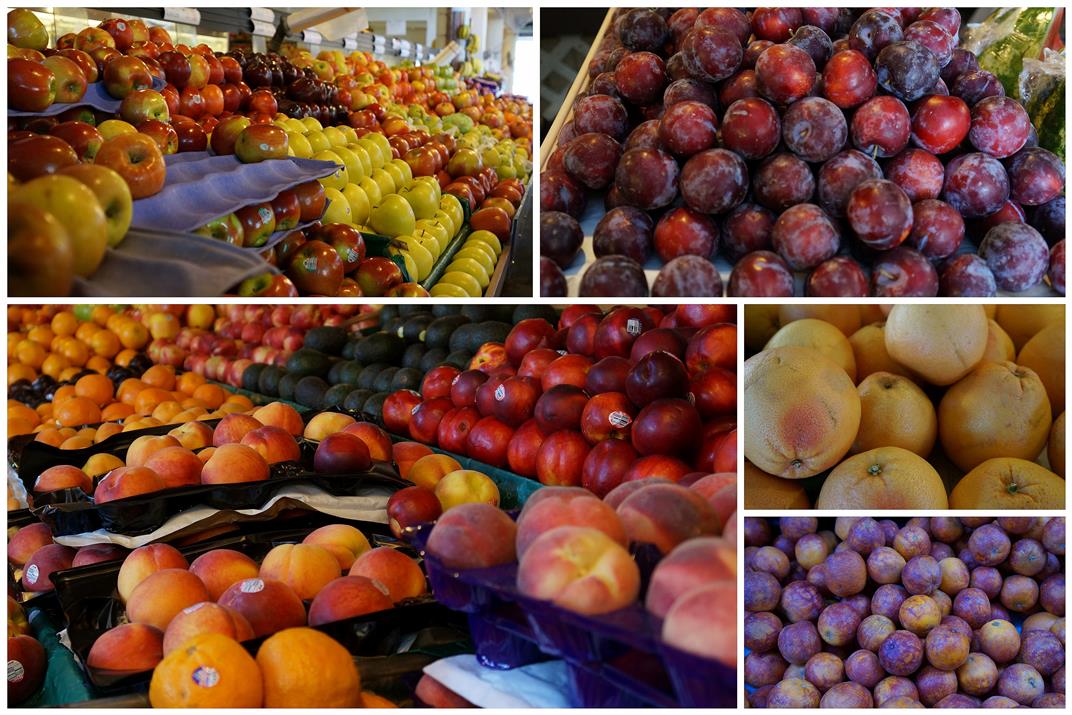 Anyone need unique sauces to take home or just need a good laugh at some of the sauce names? The Light My Fire store is for you with hundreds of hot sauces (from mild to mouth burning) from around the world. I've always been a little leery taking my kids in here with the number of breakables but also due to some of the more mature labels.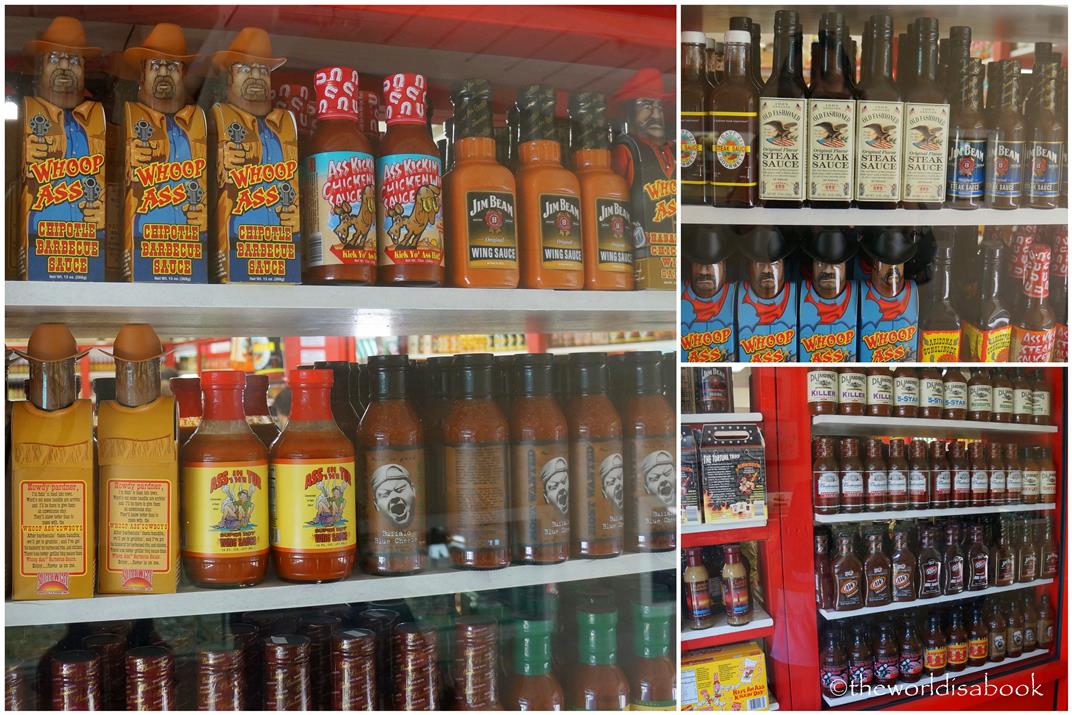 Tea anyone? They have over 250 kinds of teas at this stall.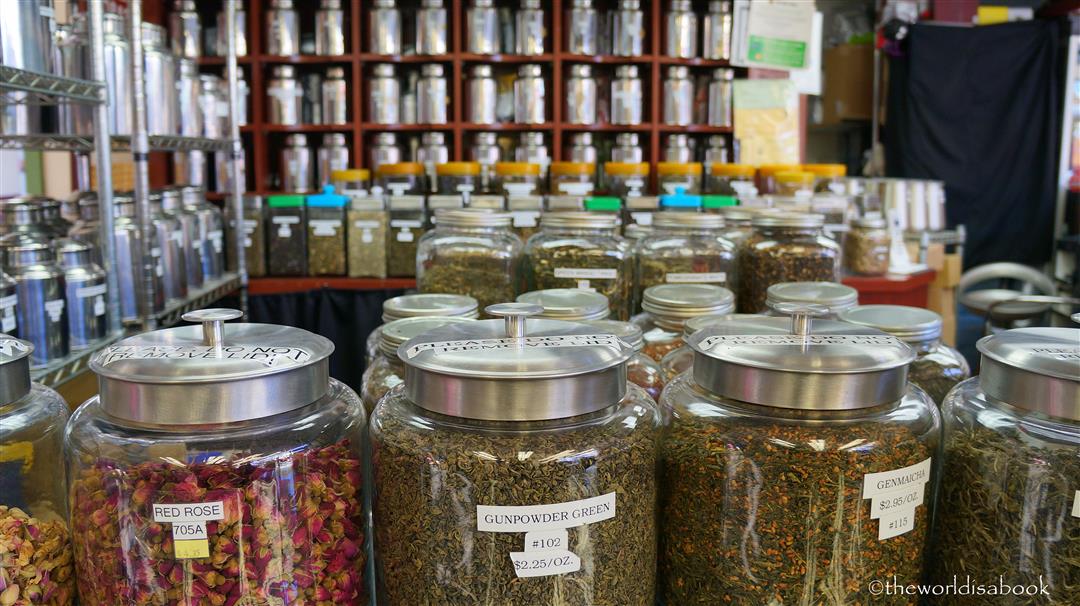 There are a few souvenir stands to cater to the tourists too.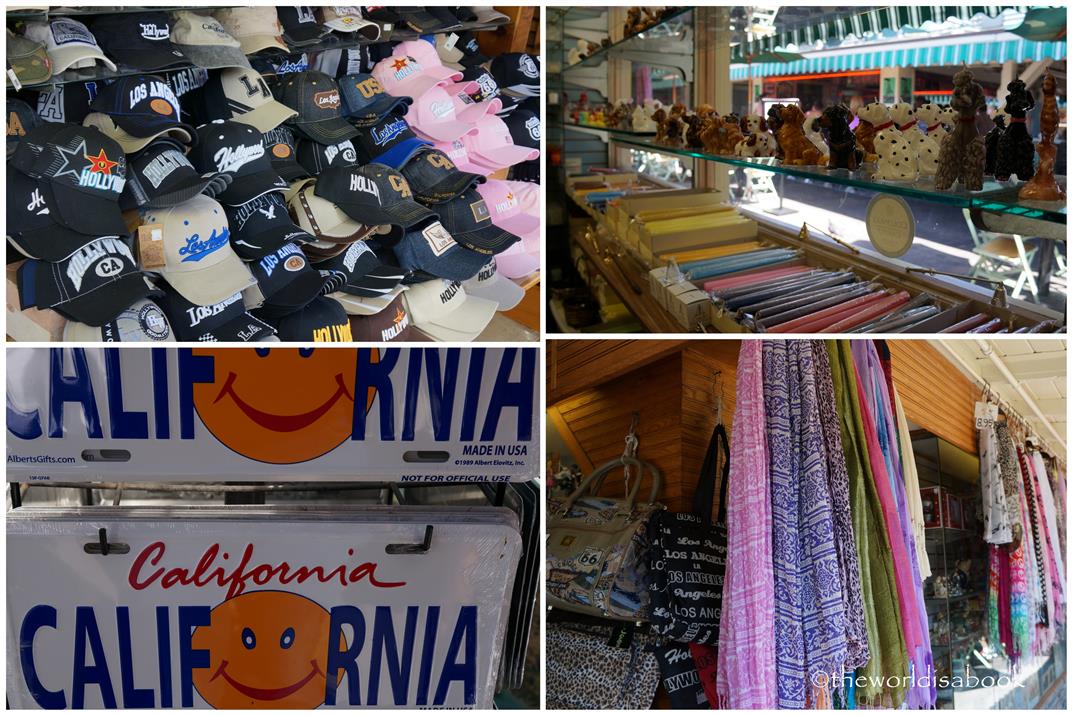 My kids love coming here and looking through the shops. Sticker Planet is dedicated to stickers carrying at least 5,000 different stickers and very popular with kids. This store selling tin lunch boxes and cars is a favorite with my kids too.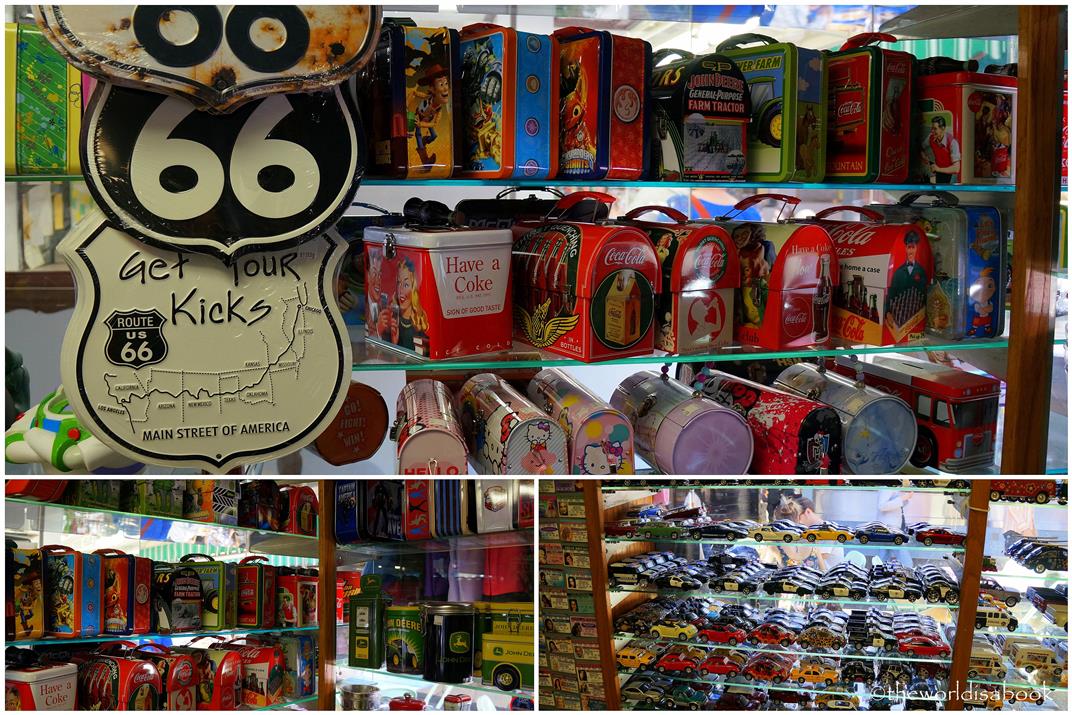 It's hard to walk out empty handed when visiting Los Angeles' oldest toy store. Kip's Toyland opened here in 1956 and is one of the few remaining independently-owned toy shops in the state. Its owner, Mr. Kip, can often be found in the store helping customers. You won't find any electronic toys here which is a rarity too these days.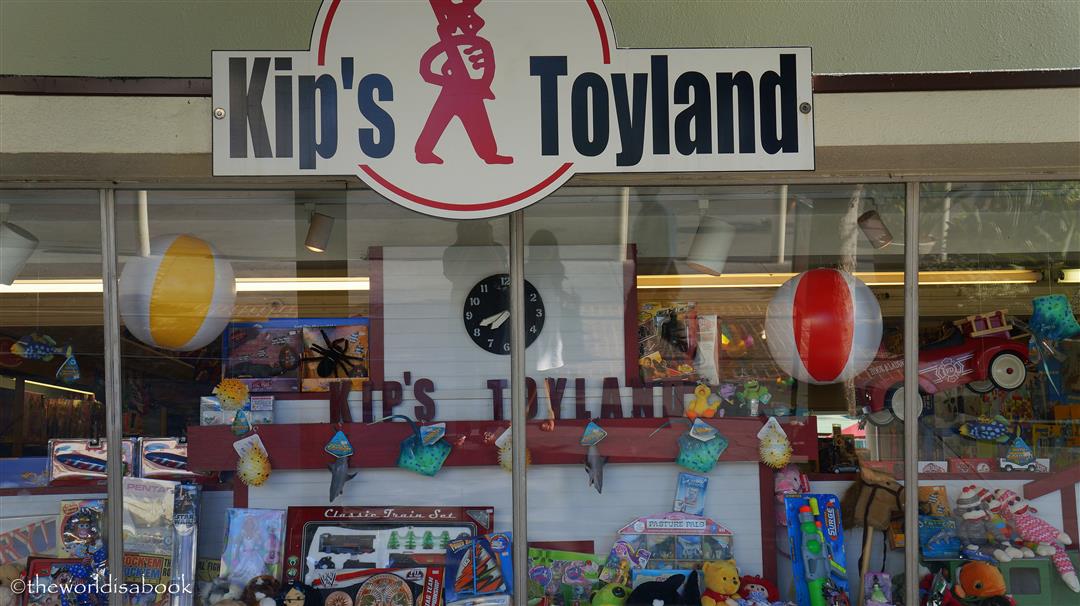 I loved the colors and variety in the glace fruit stand.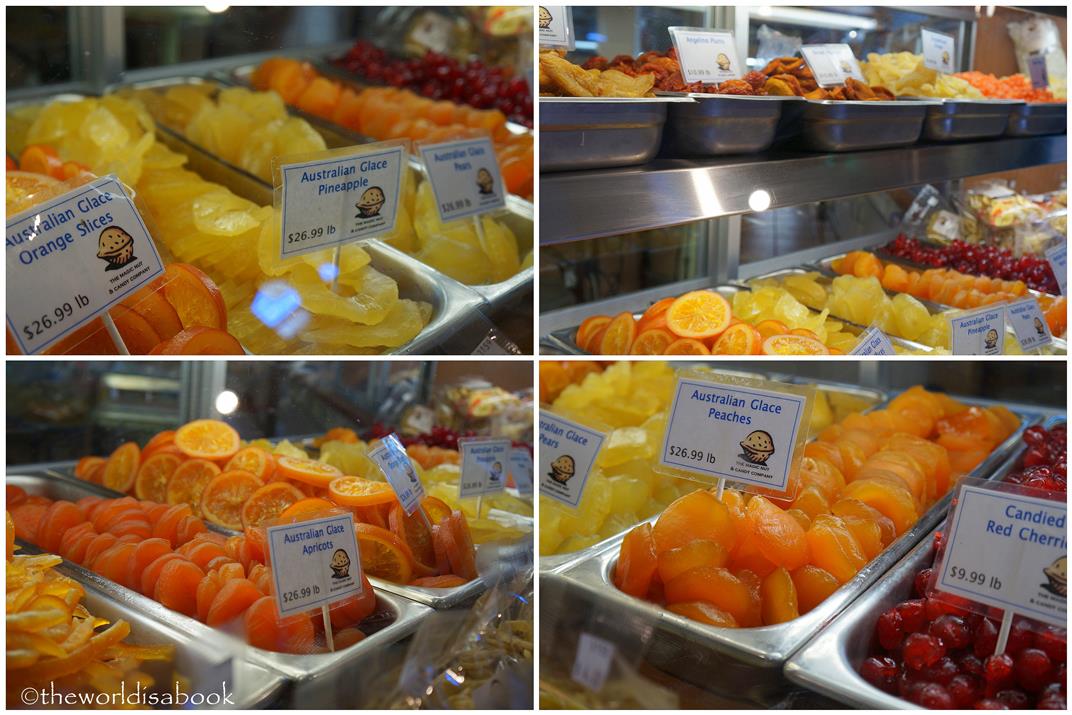 There are stalls outside too selling some of the most eye-pleasing home accessories.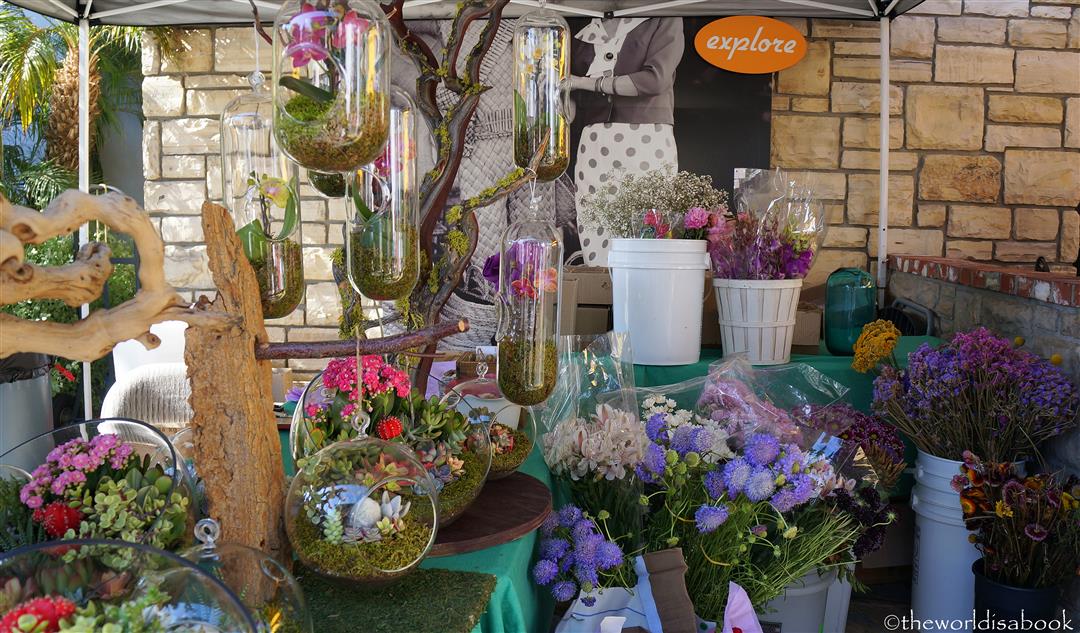 Need a place to buy newspapers and magazines or buy a lotto ticket? I've always admired the mural outside this newsstand – vintage Los Angeles.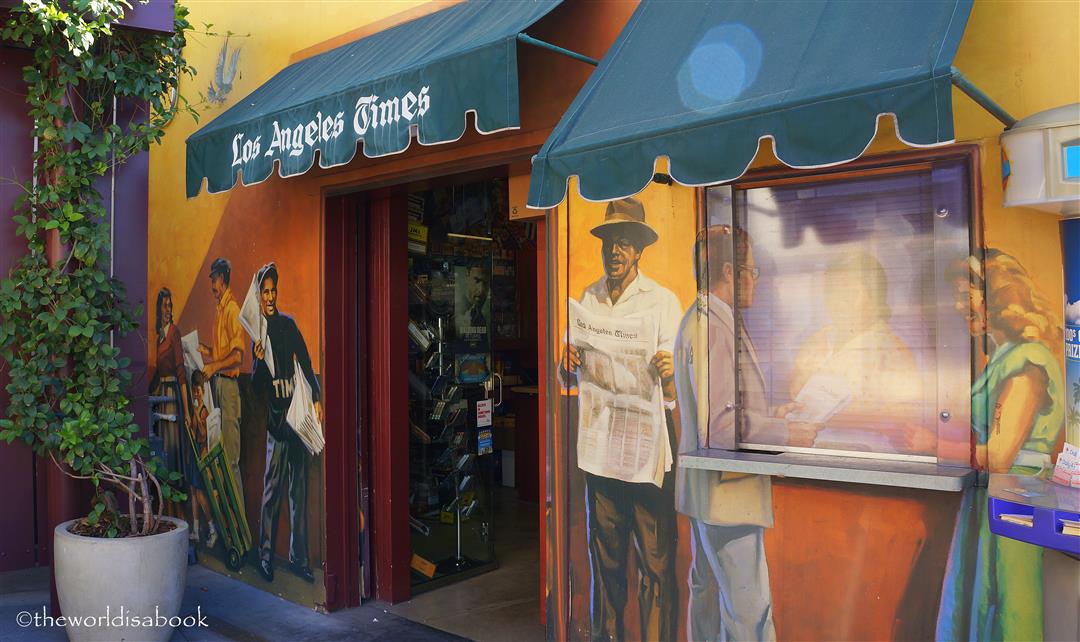 The Farmers Market is one of our favorite places to eat in Los Angeles. The restaurants and eateries offer some of the best food in the city. You can find a variety of food here from Cajun, Brazilian to Italian and Korean among others waiting to satisfy your palate.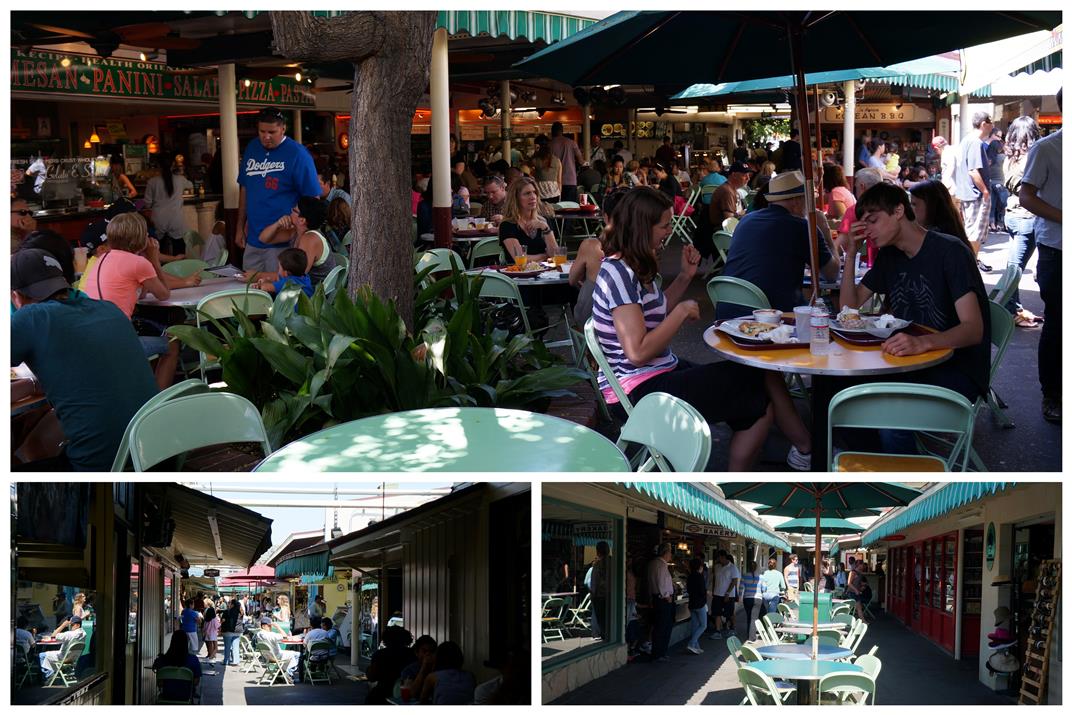 There are plenty of open and outdoor seating around the area. Some are even decorated with colorful tiles to add to the ambience.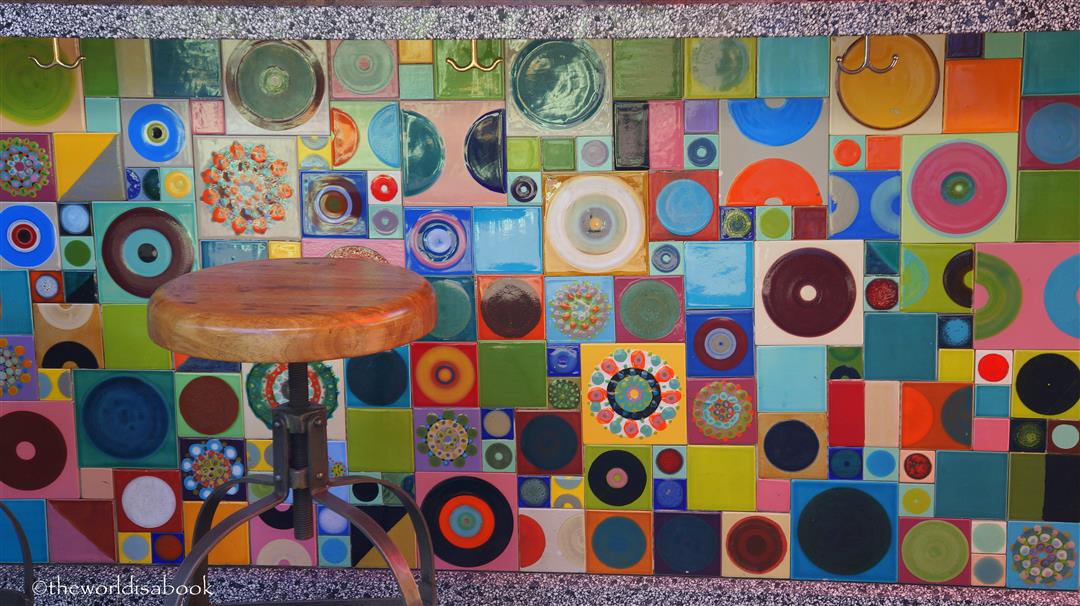 During our visit last weekend, we wanted to try out a burger place called Short Order. It was touted as one of the best in the country for its organic and juicy burgers. It was delicious and huge but I loved their sweet potato fries more.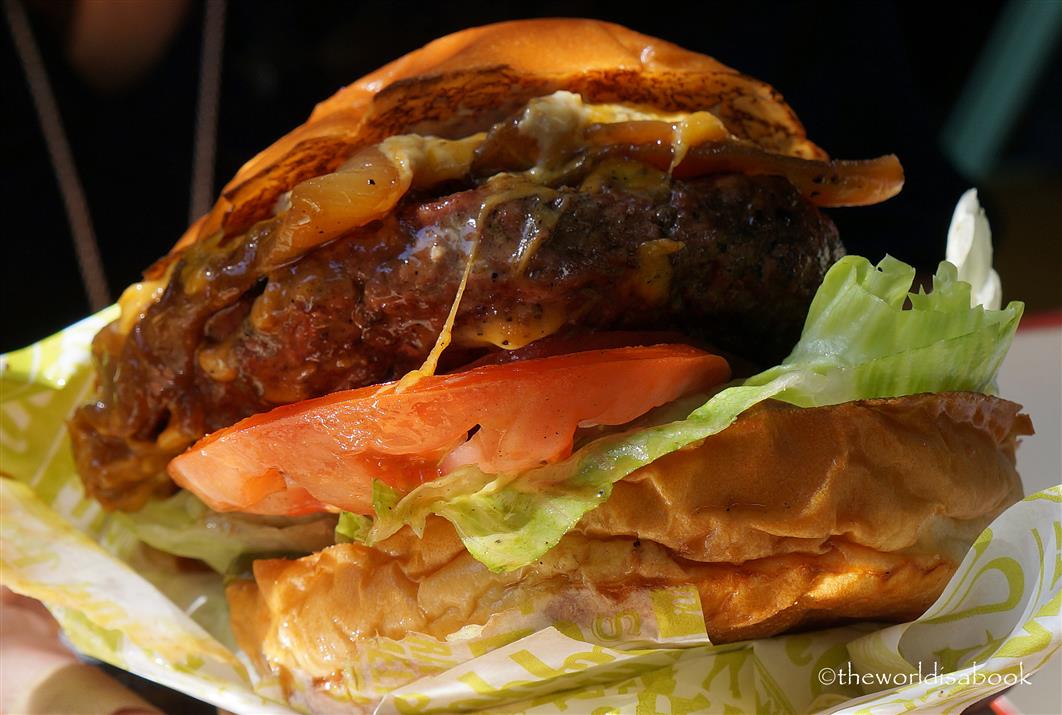 It's always dangerous walking through the market with all the sweet temptations. We always try to save some room for desserts. How can we resist window displays like these?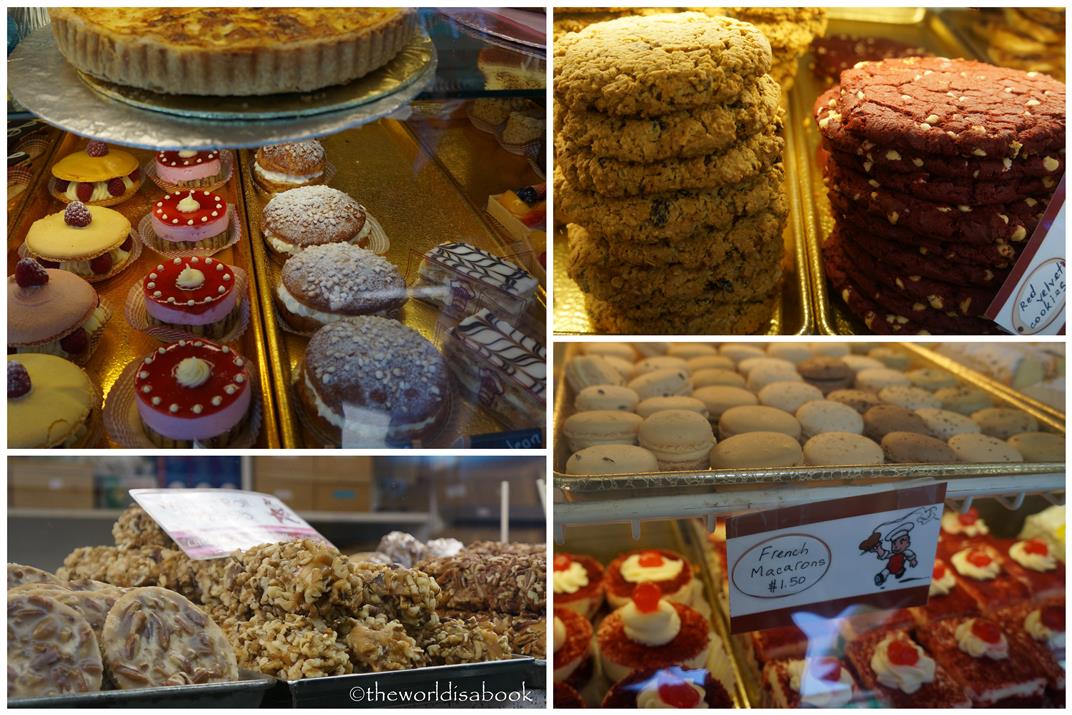 Or this?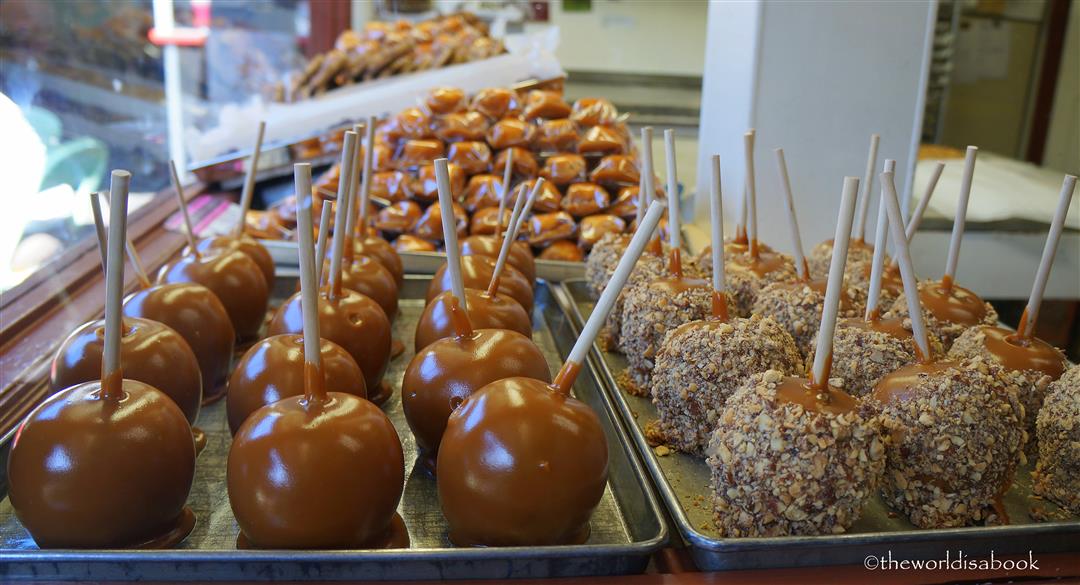 One of the best things about the market is how many of the vendors have endured the economy and changing times through the years. Their constant presence here is a great assurance that our favorite stalls are around to visit. Bob's Coffee and Doughnuts is an L.A. institution with some of the best doughnuts. Nutella doughnut anyone?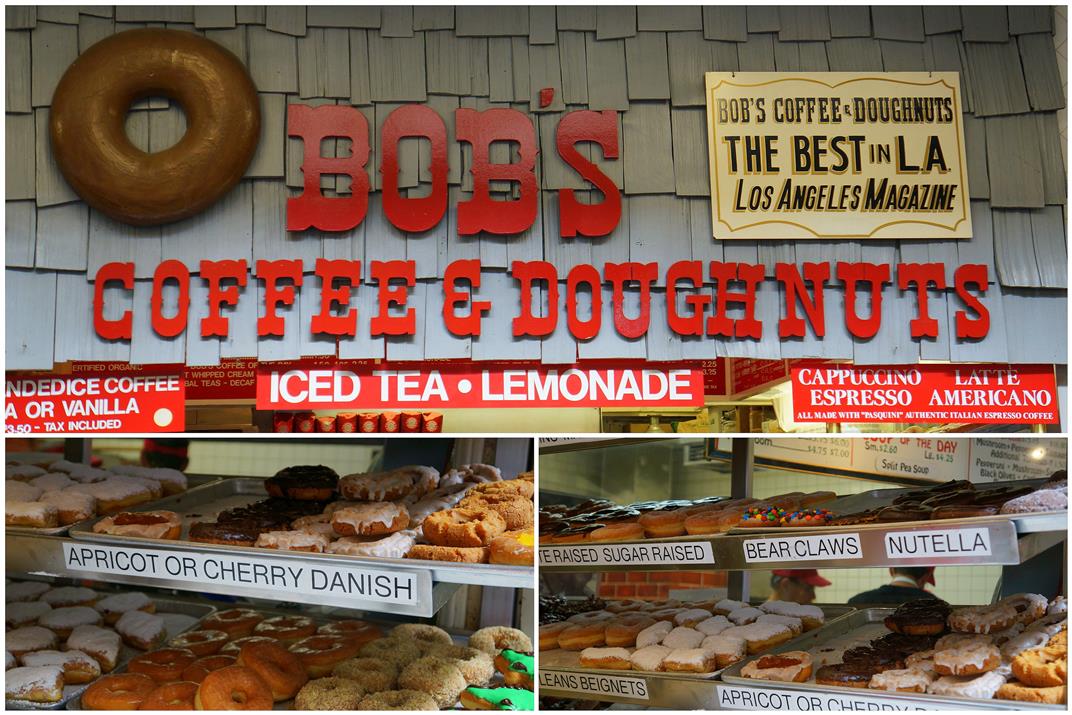 One of the newest additions here is a branch of the famous Dylan's Candy Bar from New York City. It's also many kids' new favorite place. This was their colorful ceiling art.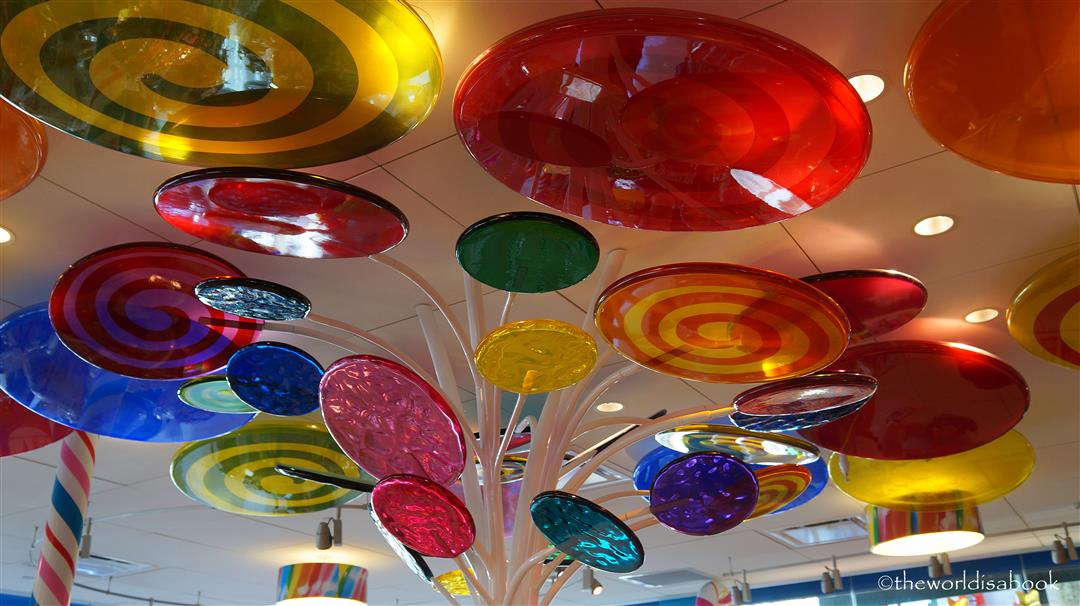 As an ode to the tourists and travelers that come through here, this sculpture called The Travel Angel guards one of the entrances. The angel's wings have postcards and stickers of the places he has visited while he's dressed in a local attire to "blend in".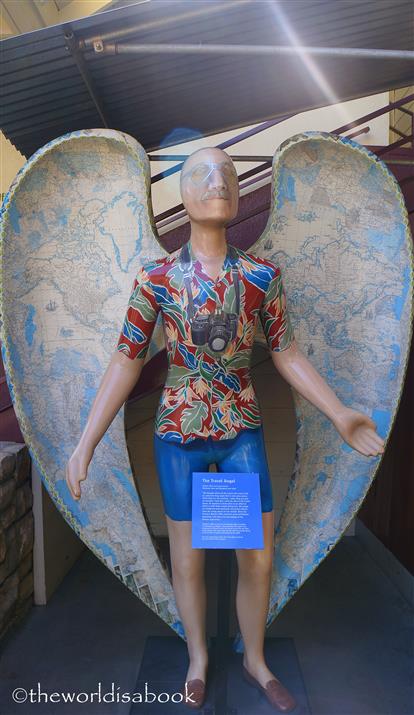 Over the years, Farmers Market became a place to meet, eat and shop for many of the locals and eventually one of the city's main tourist destinations. Vendors have come and gone but there are stalls that have become institutions and have catered to generations of Los Angeles residents. It's one of the best places to visit and take a break from the city's hustle and bustle.
Visiting the Farmer's Market Basics:
The market is open everyday from 9 AM – 9 PM. They close at 8PM on Sat. Sunday hours: 10 AM – 7 PM
Parking is available around the area and tickets can be validated for two hours of free parking. Parking is also available at The Grove (adjacent shopping center).
Check the

Farmer's Market website

for special events like summer concerts and family activities
*Have you visited the Los Angeles Farmer's Market? Any favorite markets you've visited?
Pin it for later!