River Surfers, Beer and Birds: The English Garden Munich
We didn't have the greatest summer weather during our visit to Munich last month. There was rain and mostly overcast skies. But, we did have one glorious afternoon at Munich's Englische Garten (English Garden). This is Europe's largest city park covering 3.73 square km (1.4 miles) and even bigger than New York City's Central Park. The urban park in the middle of Munich offered so much for tourists and locals. Come along with us on our stroll through one of the most diverse and beautiful parks we've visited and see what we encountered. Yes, river surfers, beer and birdss are included.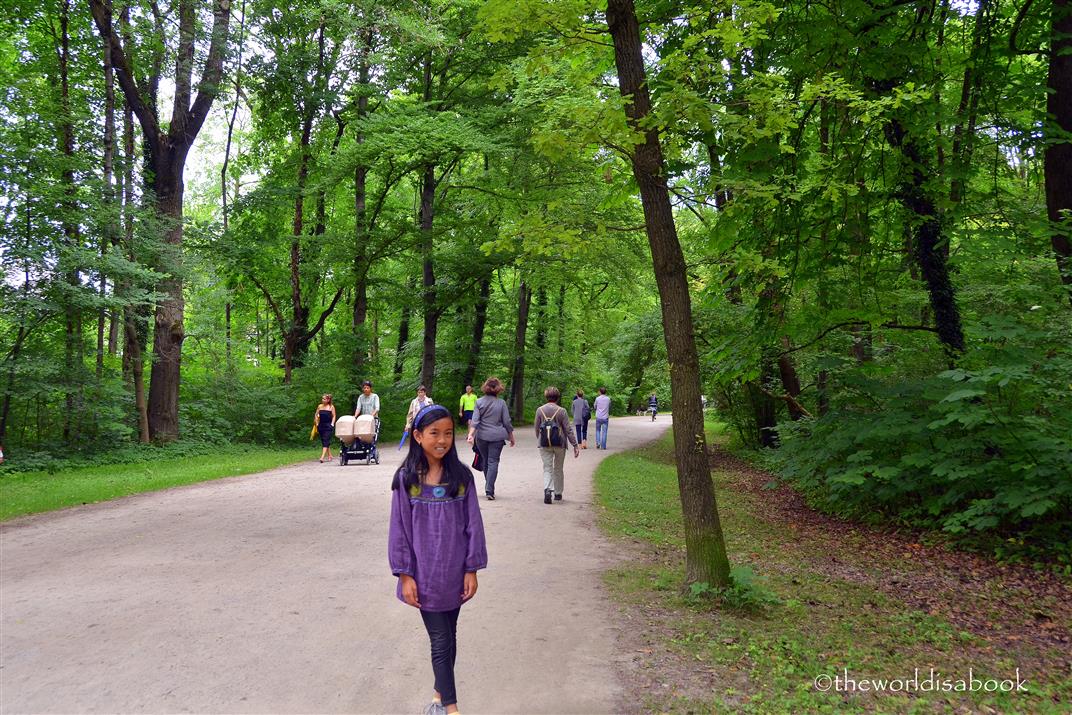 This park was established along the Isar River in the late 1700s. It was developed by British physicist Sir Benjamin Thompson and so named because of its English country park landscaping and layout. It was surprising to see how green Munich was and how many trees and shrubs were all over the city. Though, the English Gardens take it to a different level. As soon as we walked in, we were greeted with many trails, wooded paths and plenty of open fields. We loved that the paths were so wide. There were plenty of spaces for runners, bicyclists and leisure walkers to share the roads.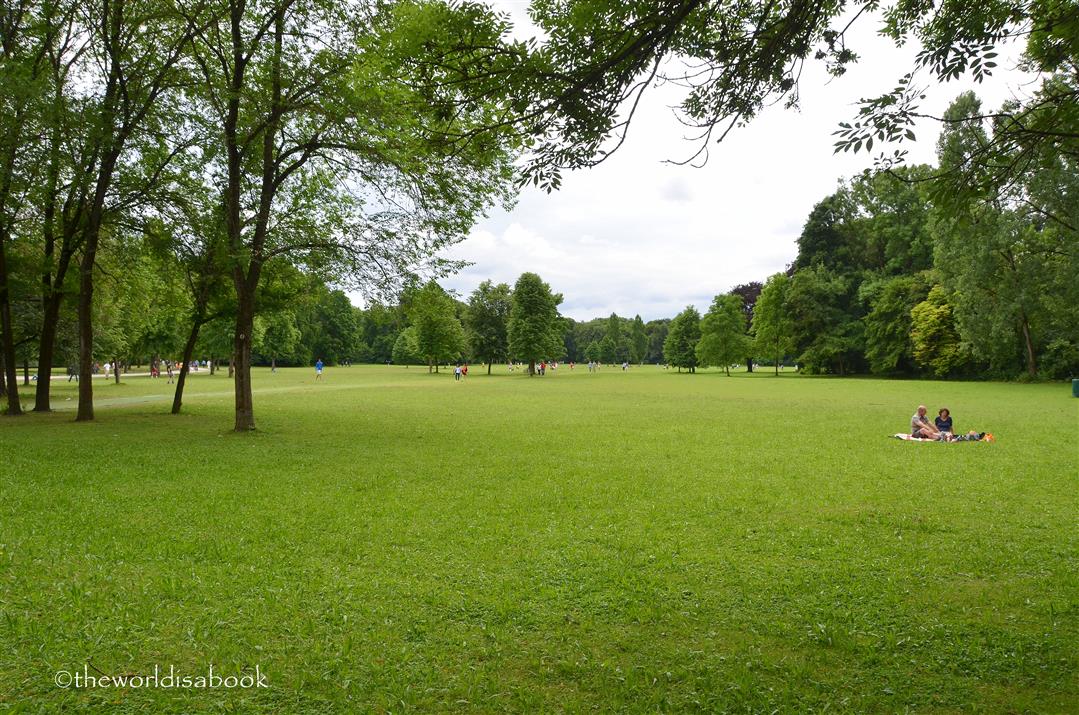 One of the first places we stopped at was Kleinhesseloher Lake. This was an artificial lake built in 1802 with three small islands. Though, no one is allowed to disembark in any of the islands. We saw plenty of people on row boats all over the lake.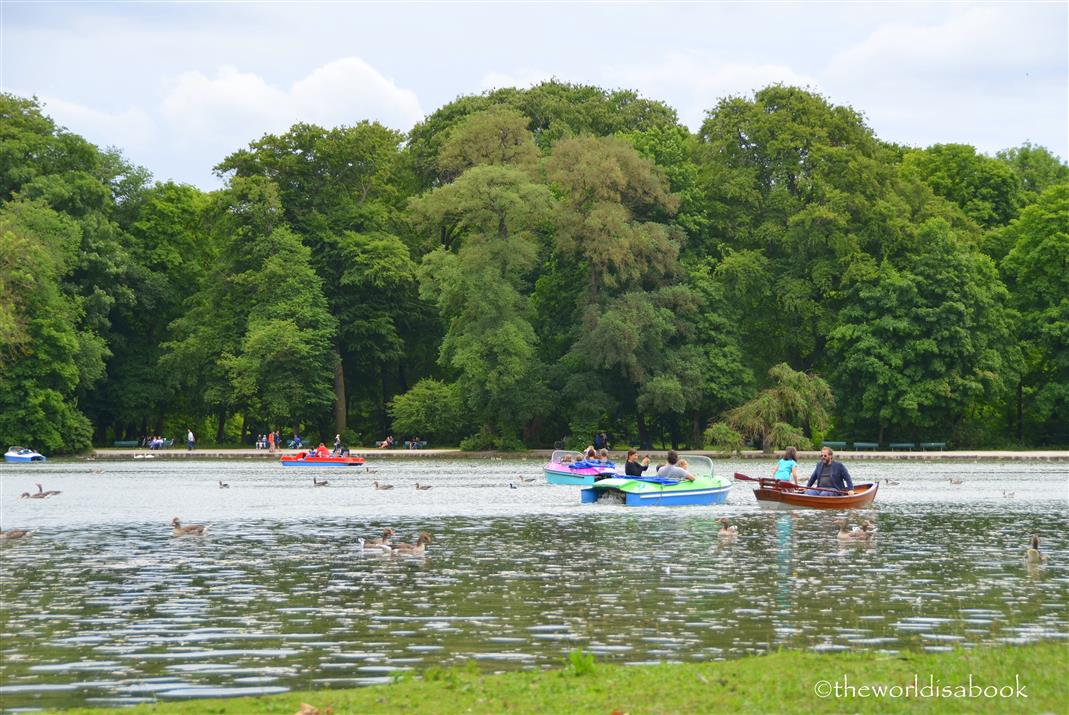 We wanted to do this but one of the pitfalls with traveling with a husband allergic to certain things and forgetting to take his medicine is not being able to do some activities. The lake was surrounded by ducks, birds and geese and feathers are one of his allergy triggers. He didn't want to risk an allergy fit in the middle of the lake. Of course, that may have just been an excuse to avoid rowing his family around while a bit jet lagged.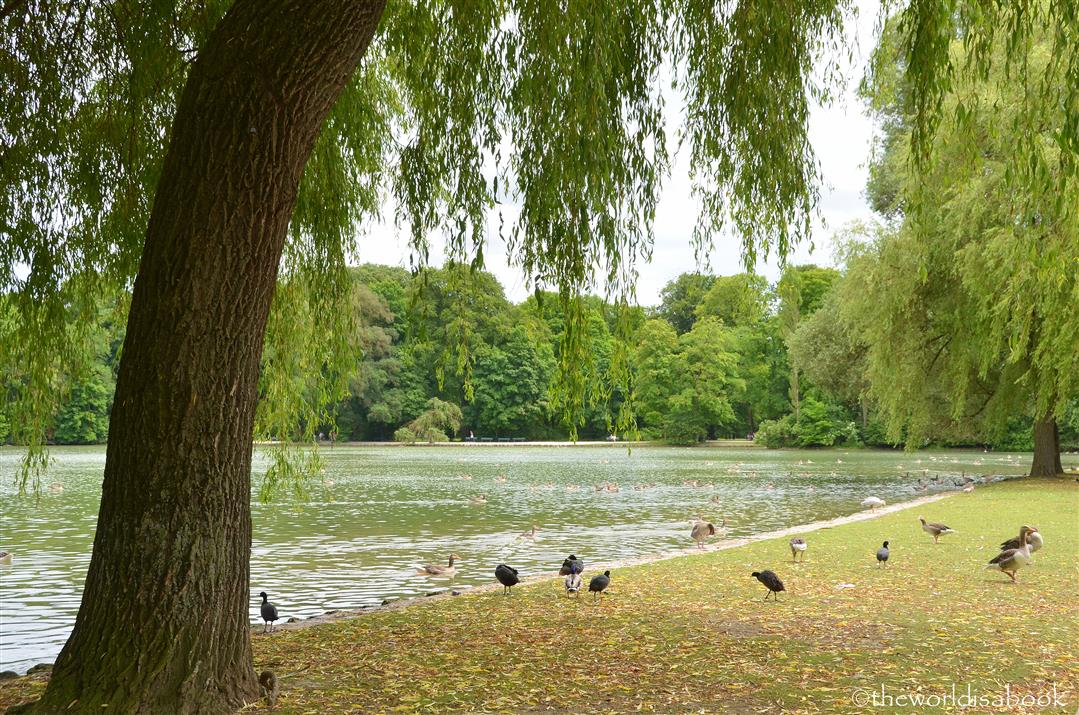 Those same wildlife entertained many kids, including mine, along the shores. These two geese were very friendly with visitors and instantly came over to us as soon as my kids opened their snacks.
Due to its size, it will take a few hours to cover a major portion of this park. There were portions of the park we didn't see including the nude sunbathers area. After our Blue Lagoon experience last year, it was best to avoid that section. We saw plenty of bicyclists including some bike tours which was an ideal way to see the park. Horse carriages were also a great way to explore the park.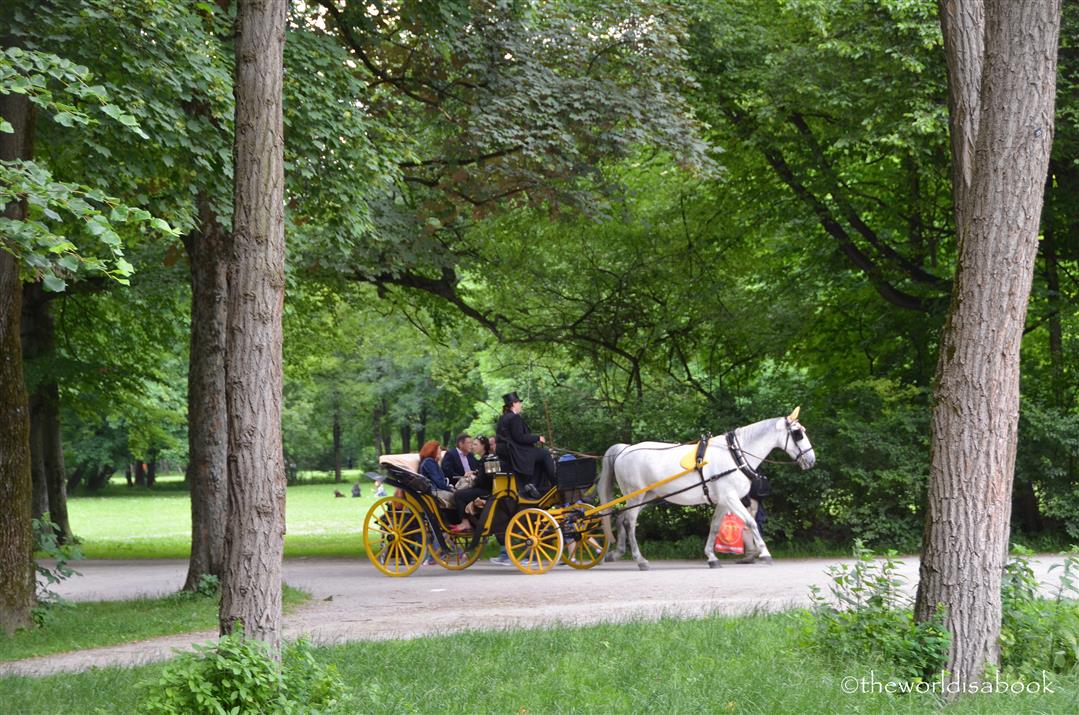 A walk along the Isar river was one of the most scenic and peaceful areas of the park. We came across a few of these bridges with lovelocks.
Beer Gardens
It wouldn't be Munich if there weren't beer gardens here. There were actually four beer gardens scattered throughout the park. One of them was along the shores of the artificial Kleinhesseloher Lake. Seehaus seemed like an ideal place to take in the beauty of the lake and relax.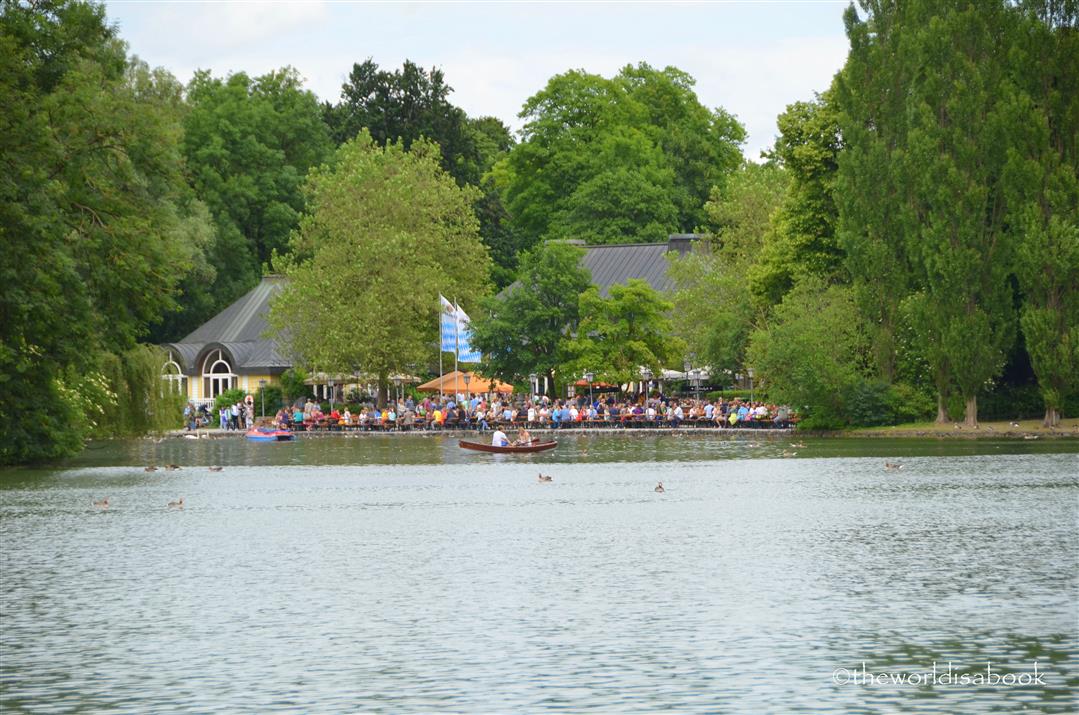 The most popular beer garden and Munich's second largest was located by the Chinese Tower. The wooden structure was 25 meters (about 75 feet) high. This was rebuilt many times over the years and stayed true to its original design from 1789. The tower has been consumed by fires several times and was also damaged during WWII bombings.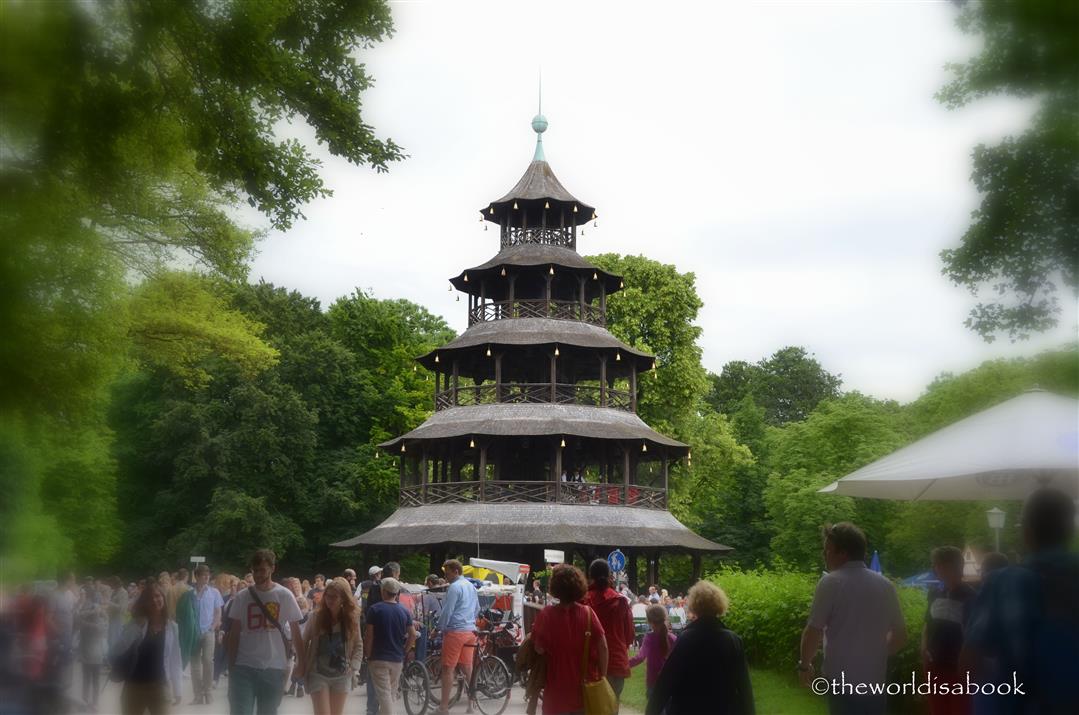 With 7,000 seats here, the beer garden was laid out well surrounded by food stalls including a busy cafeteria style area offering the popular Hofbrauhaus beer and various local German delicacies. We loved the atmosphere and being under the shades of old chestnut trees.
I'm not a beer drinker or a sausage lover so beer garden food was not very appealing to me. I know, I wasn't in the right city to enjoy being a foodie. On the other hand, my husband wanted to try most of Munich's local brews and every type of bratwurst they offered. This was his afternoon snack at the beer garden. Those baked potatoes were actually delicious though.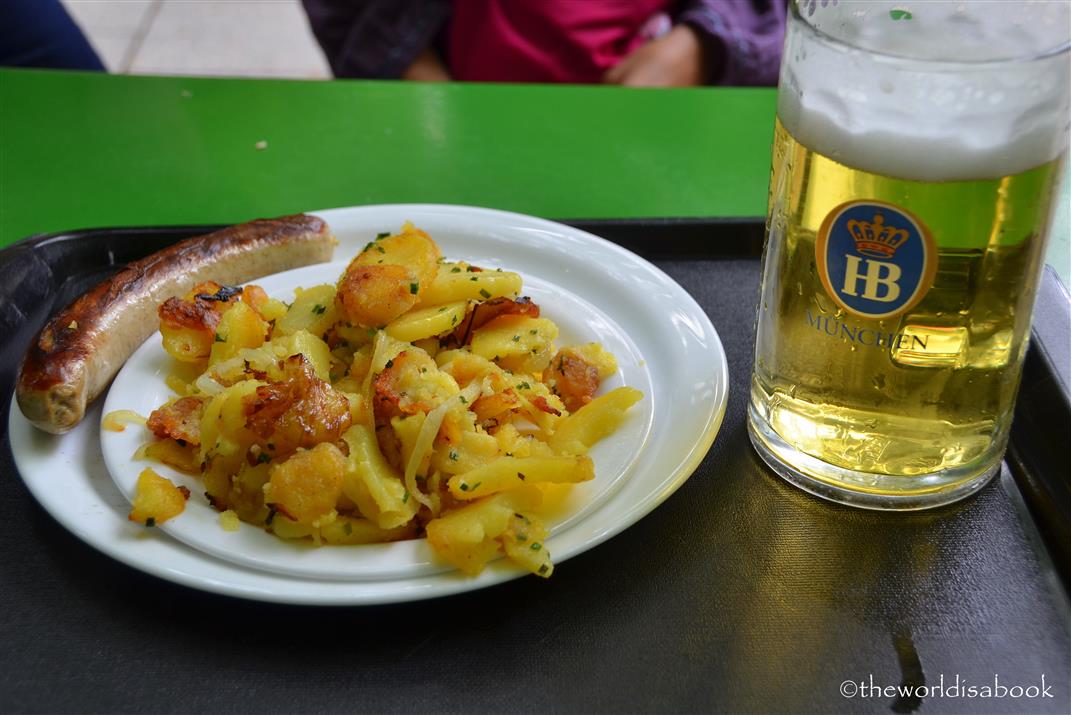 I lost count on how many of these large pretzels my kids consumed in Germany. This was taken elsewhere at night but they had a couple of these pretzels at this beer garden too.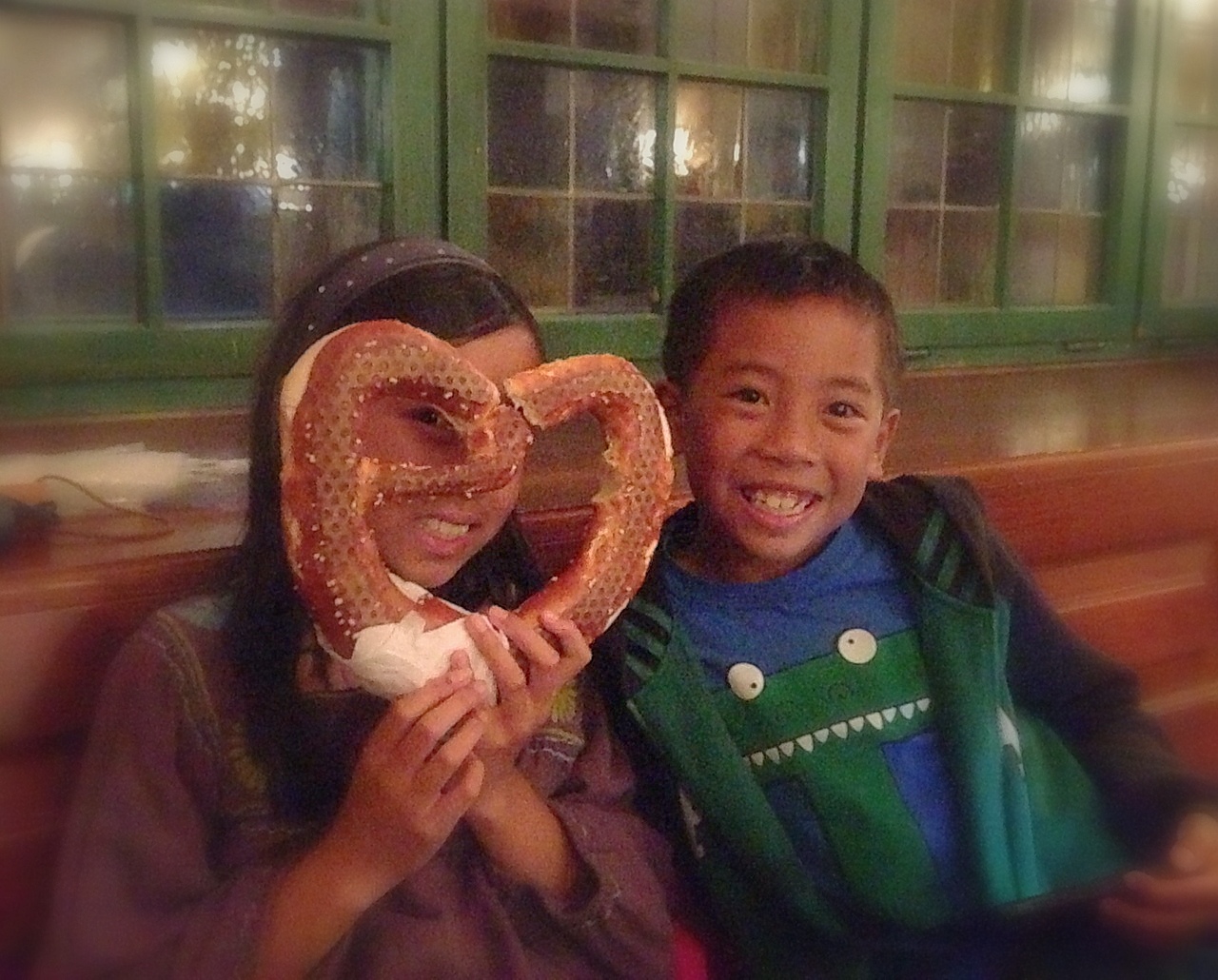 We were lucky enough to be here when a brass band was performing from inside the Chinese tower. It was a great accompaniment to the festive atmosphere of the beer garden.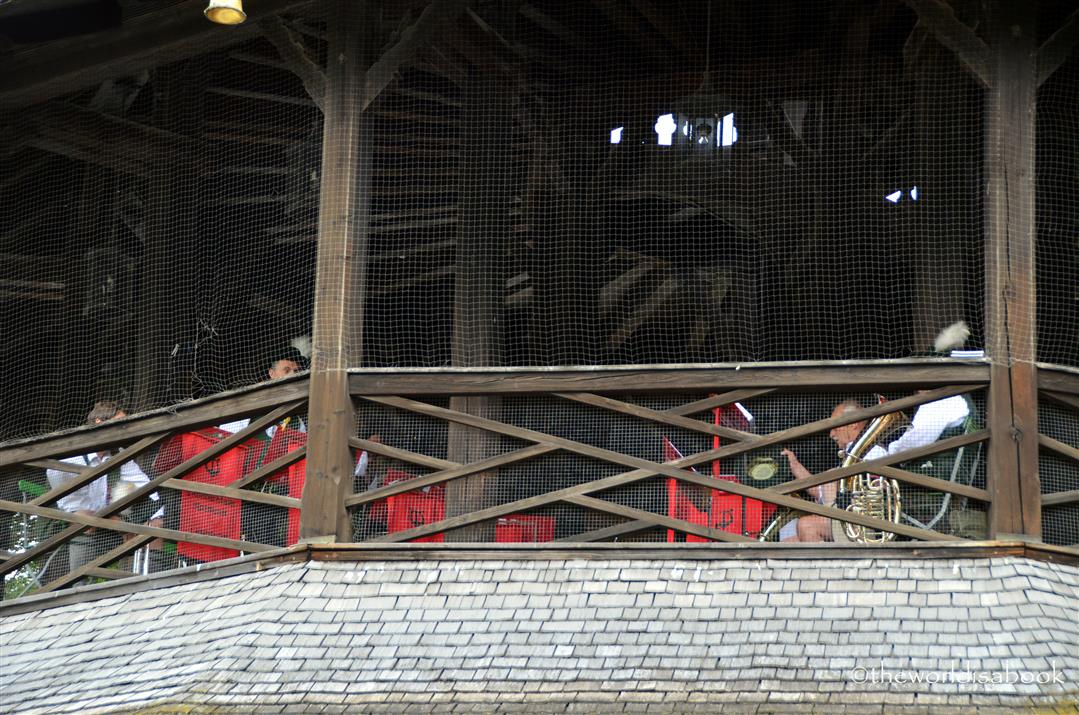 Where can the kids hang out while the parents are socializing at the beer gardens? We found a couple of playgrounds much to my kids delight. We even found one right next to the Chinese tower beer garden. It was big with plenty of playground equipment and a carousel. It goes to show beer gardens are not just for grown-ups.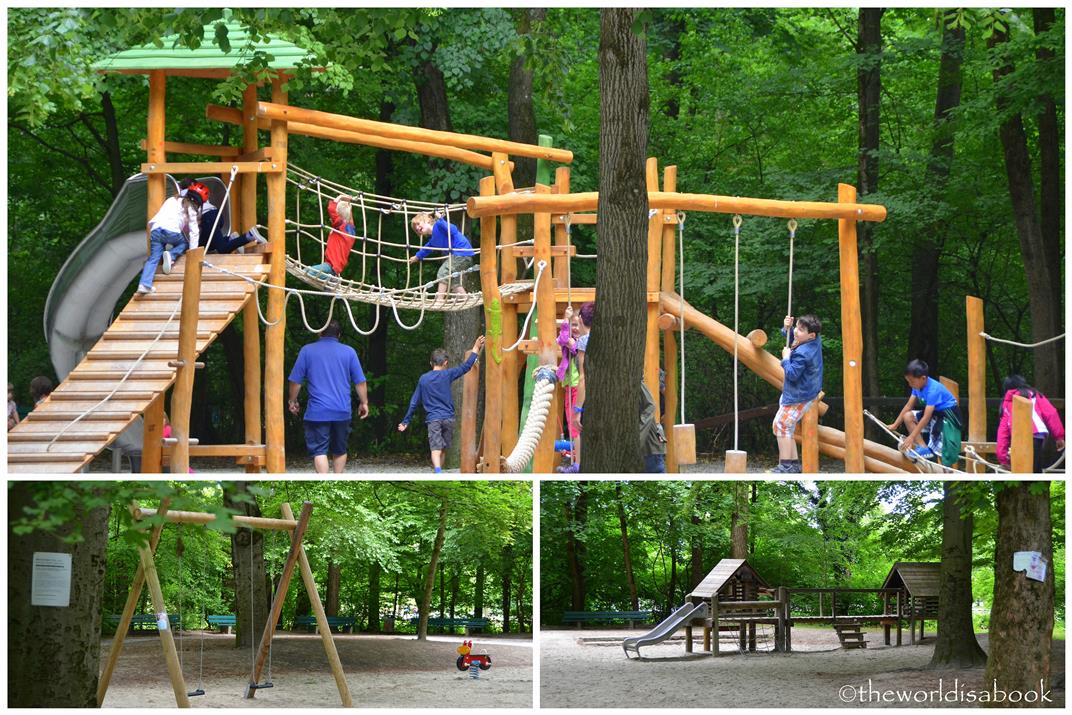 Munich's River Surfers
Who would have thought that one of landlocked Munich's famous attraction would be surfers in a river? There was something so cool and yet so odd about the thought of this. We found our first set of surfers while we were walking along the Isar river.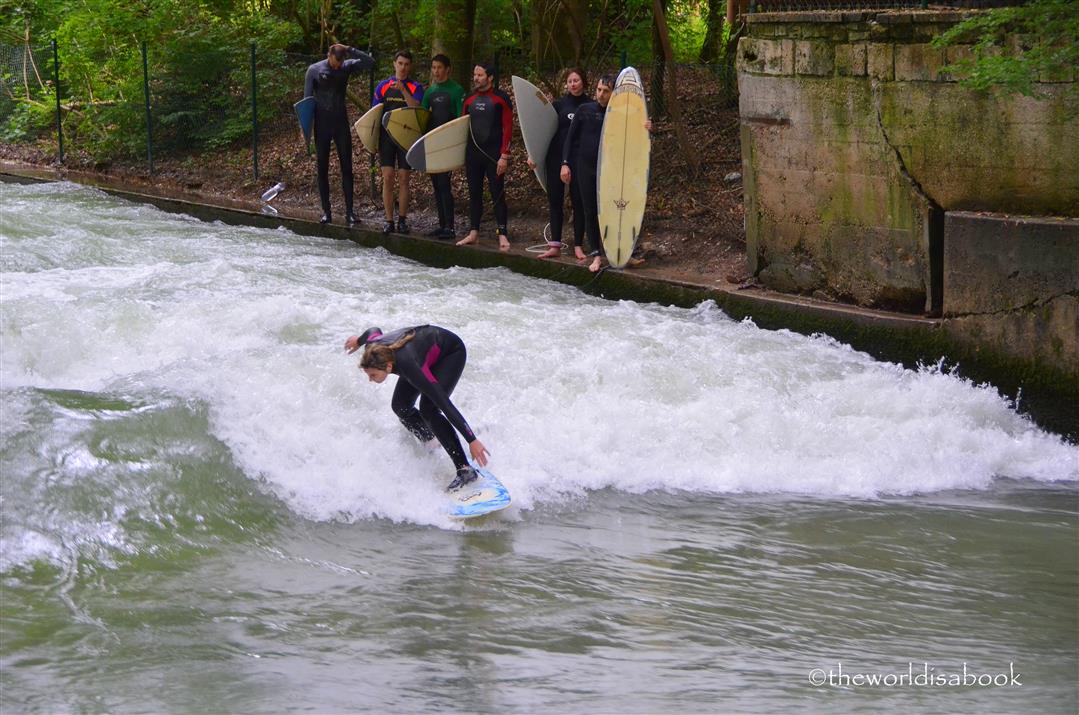 Daredevil surfers have braved these waters since 1972. We found the surfers lining up against the concrete wall and taking turns to "catch a wave". The river and waves are only wide enough for one surfer at a time. Once they fall, they swim back out to get behind the waiting queue.
It was so fascinating to watch them as they try to hold their balance against the short yet powerful currents. Some were even doing some tricks. My kids, who don't pay too much attention to the many surfers at the beach at home, couldn't take their eyes off them.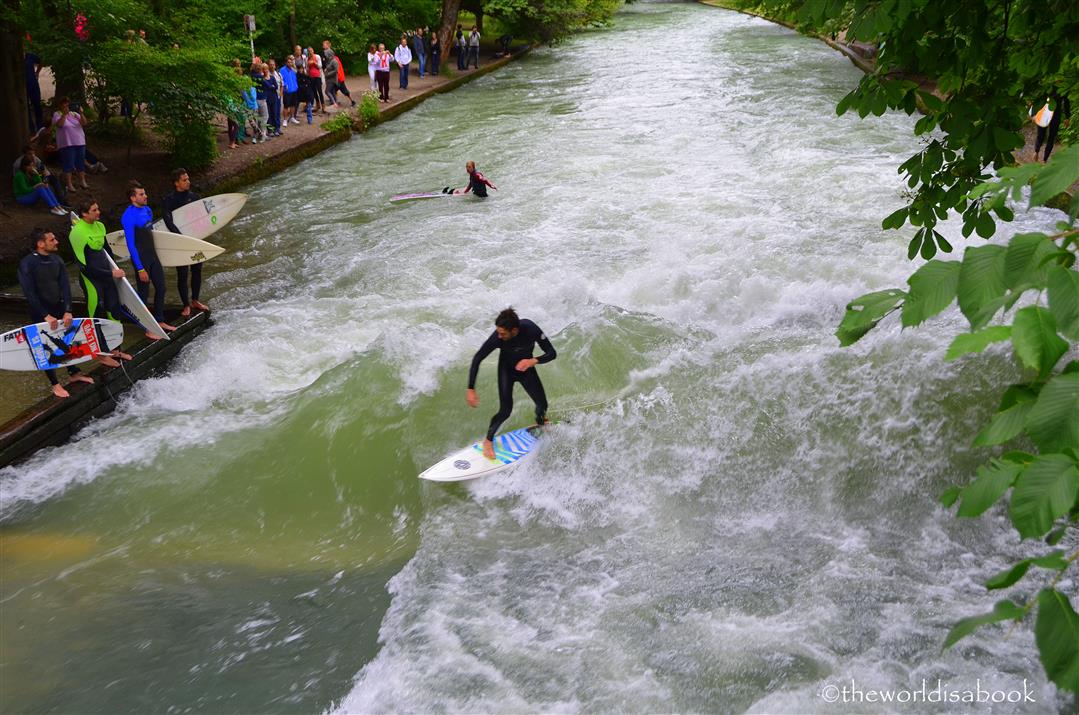 Though the most popular area to watch the surfers is at the Eisbach ("icy brook" in German). It's actually a small canal near a major street (Prinzregenten Street) and onlookers crowd the Himmelreich bridge overlooking it.  This was urban surfing at its finest. Apparently, the dead of winter in Munich, where water temperature can dip down to 1C (34F), doesn't stop these surfers. They're here everyday of the year no matter the weather.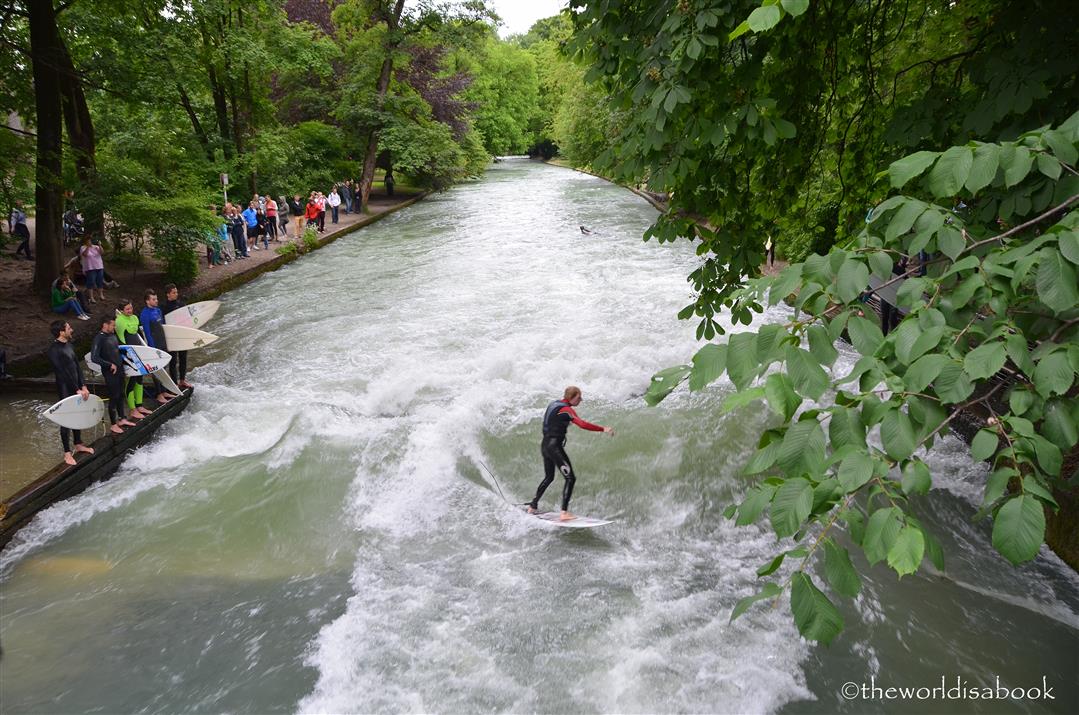 This was a video my 10-year-old daughter shot from my iPhone. They still enjoy watching it and this will give you a bit of an idea of what we saw.
Munich's English Garden is a green oasis that shouldn't be missed when visiting the city. It was a fantastic area to spend a sunny, relaxing afternoon. After our 3-hour walking city tour and a museum visit, this was a wonderful sightseeing break.  We loved that there was something for everyone in the family.
Have you visited Munich's English Garden? Favorite urban park?
Pin it for later!