Prague with Kids: Cruising the Vltava River
One of the things we like to do when visiting a city by a body of water is go on a sightseeing cruise. It's a wonderful way to see a city despite it being full of tourists. We've also used it as an orientation to see where the attractions are located. Prague's Vltava River (pronounced vuhl-tuh-vuh) cuts across the city center and is the country's longest river. There were several river cruises that range from a sightseeing tour or ones offering lunch and dinner or live music. We saw various types and sizes of boats for these cruises with indoor and outdoor seating areas.
We decided on a two-hour cruise as our first activity. Unfortunately, this didn't include a tour guide narrating the attractions we were passing or audio guides. We used the river map and our guide books to spot attractions and read their descriptions. There were less than 20 passengers on the boat with us which made it more relaxing. We saw many interesting things along the way in addition to Prague's waterside attractions.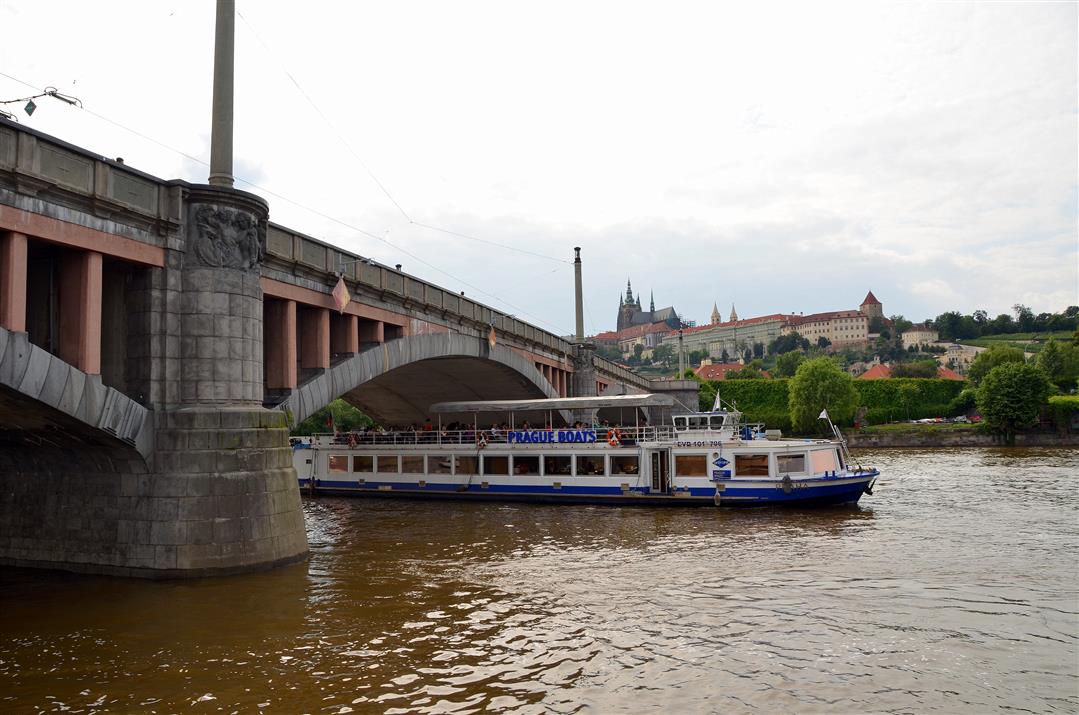 Prague Castle and St. Vitus Cathedral's spires dominated the skyline and the river has one of the best vantage points to admire these historic sites. The Prague Castle complex includes courtyards, churches, museums and is considered the city's historical and political center. This is also the official residence of the Czech Republic's president.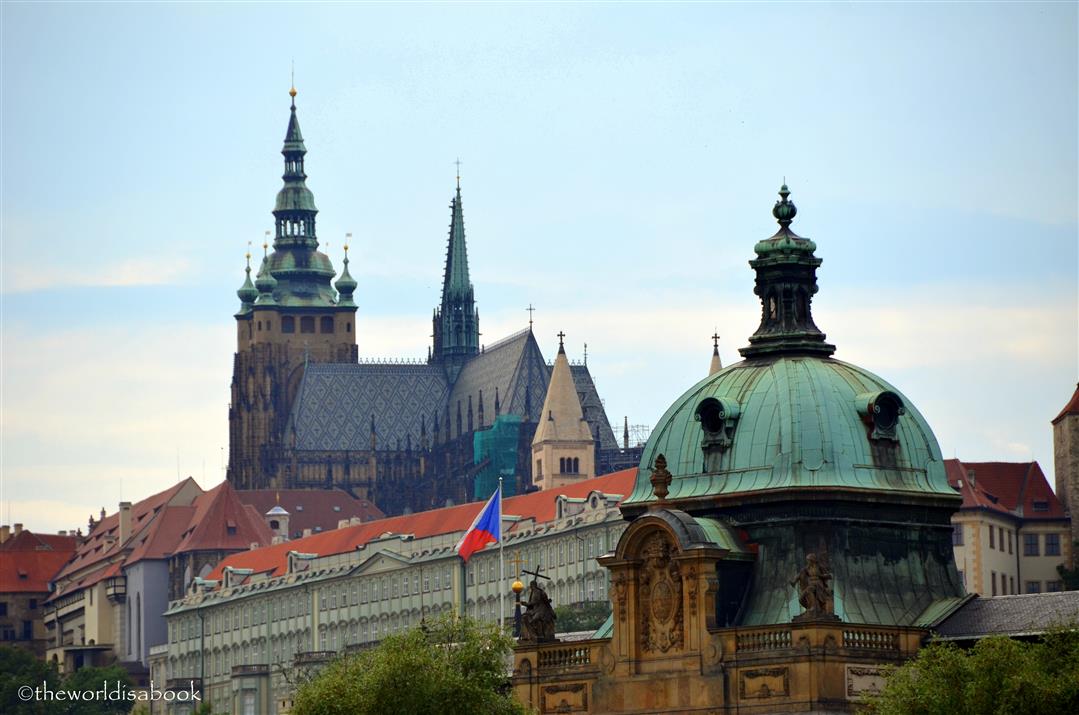 There are 18 bridges that cross the Vltava in Prague. The most famous is the medieval, 14th century Charles Bridge. It connected the Old Town area with the Lesser Town (Mala Strana) and the Prague castle complex.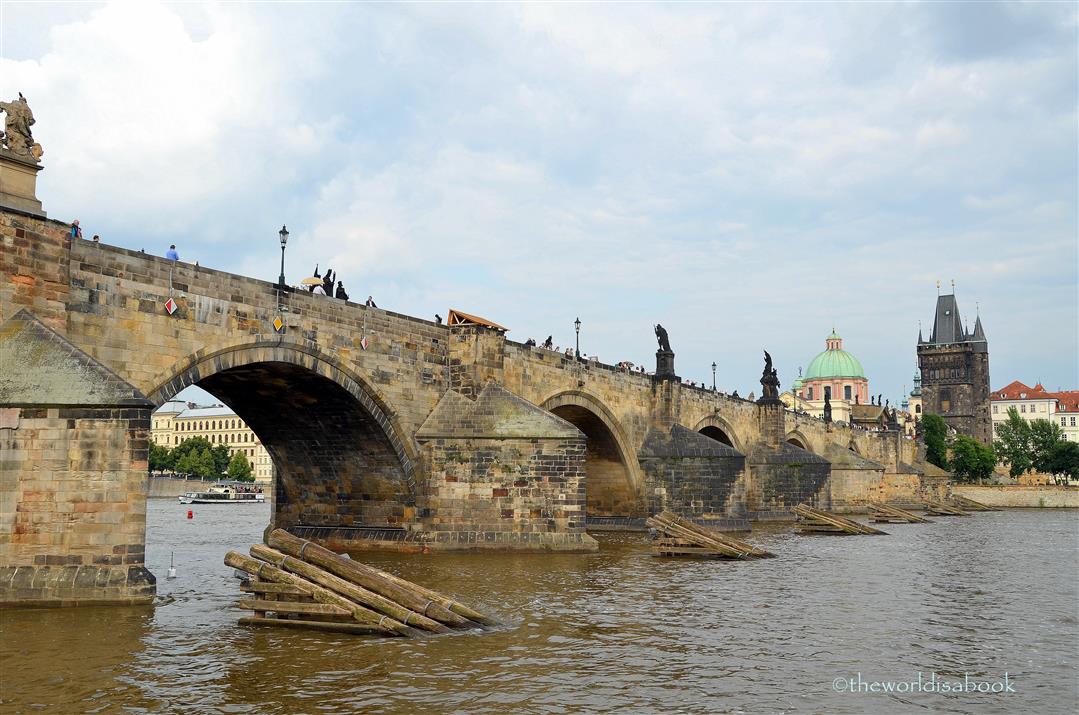 This pedestrian bridge has 30 statues lining it and an interesting array of street performers and vendors. We caught a glimpse of the busy activity on the bridge from the boat. Many of the passengers (including my kids) were more than happy to wave back to the people waving at us from the bridge.
We loved seeing the ornate and unique building facades we passed.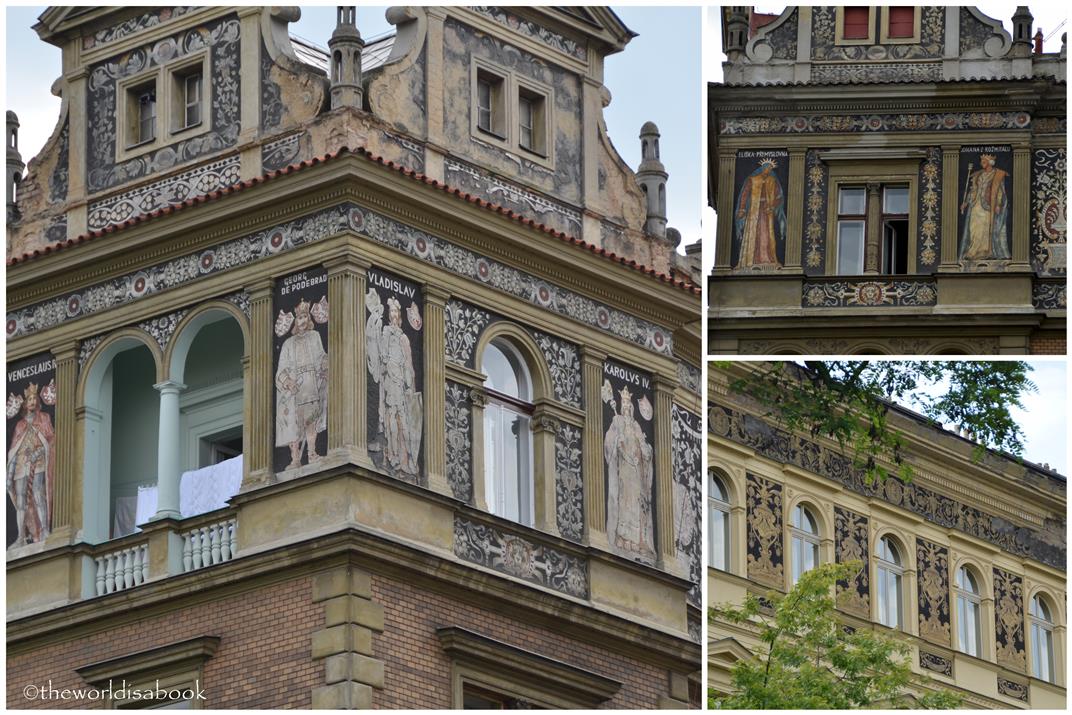 The many historic and colorful buildings along the Vltava provided an ideal way to see rows of diverse architectural styles Prague is famous for without all the walking.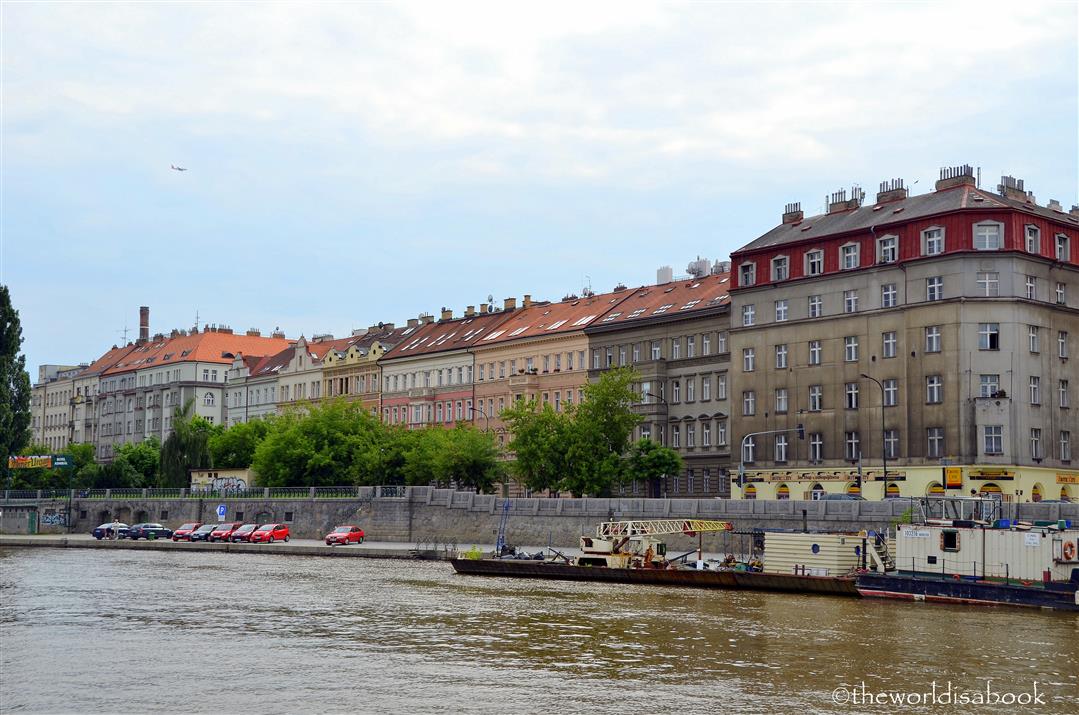 The city escaped major structural damages from World War II bombings so many of its buildings have retained their old world glory.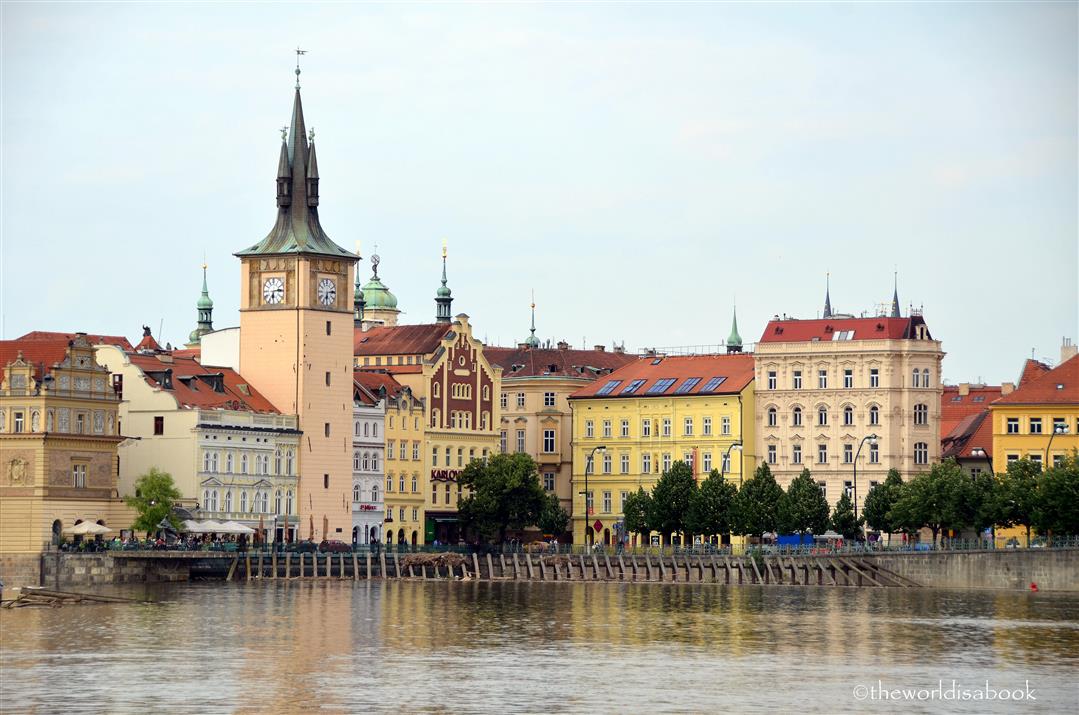 Prague's predominantly Baroque, Gothic and Art Noveau architectural styles are such a big draw for this city. While seeing it up close was wonderful, seeing it from the water and from a distance also made me fully appreciate their beauty even more.
This was the stunning National Theatre glistening under the sun. We didn't get to go inside but pictures of its interior looked just as beautiful.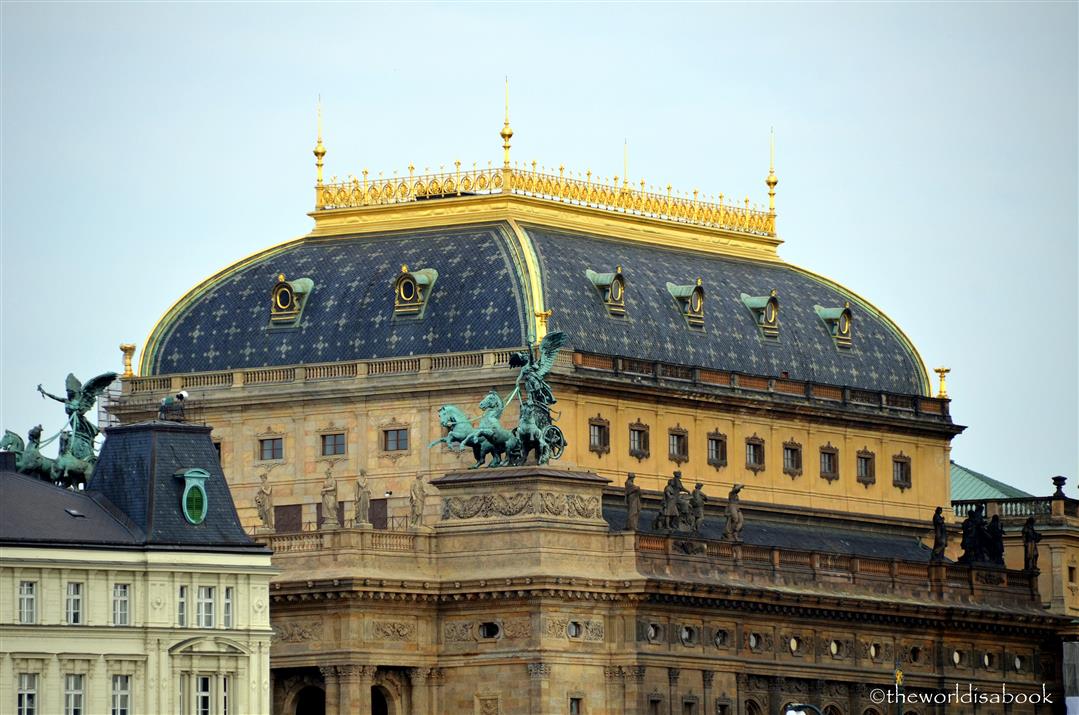 We also saw some modern architecture including the Dancing House or Nationale-Nederlanden building. This curvy, glass building was completed in 1996 and stood out among the historic buildings. It portrayed a couple dancing and has also been nicknamed Fred and Ginger (after dancers Fred Astair & Ginger Rogers). The top floor is home to a French restaurant (Celeste) while the rest of the building are occupied by offices.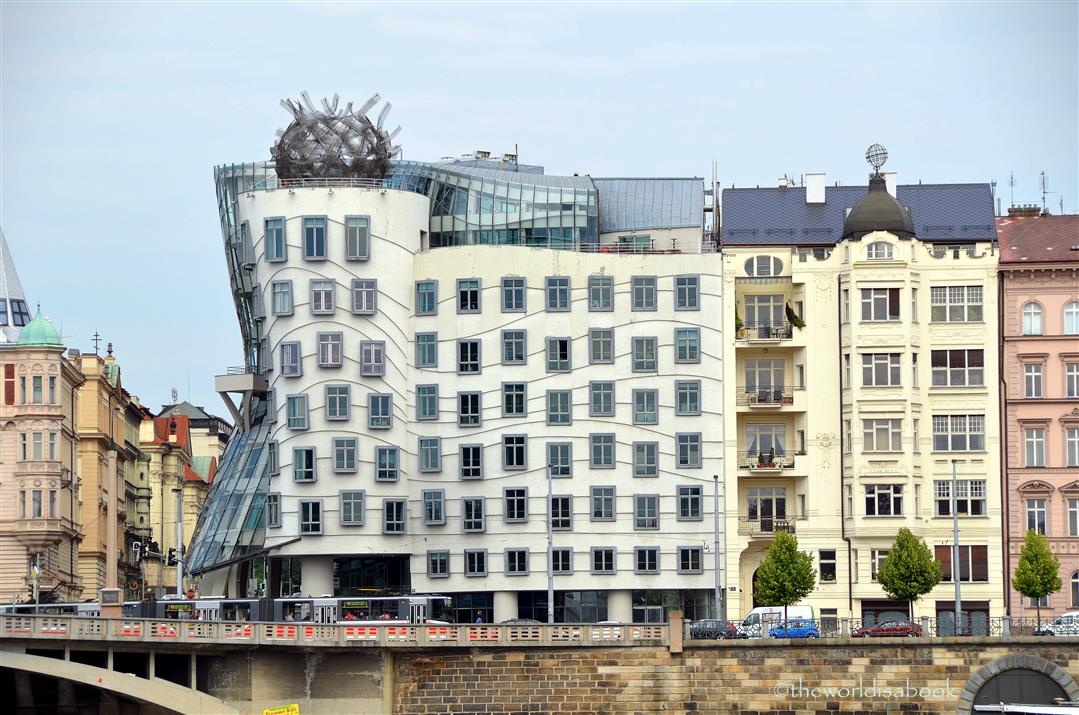 Sometimes, it's the little things that get my kids' attention. They were excited when they saw this flock of swans on the river bank. We never did make it back to see them up close.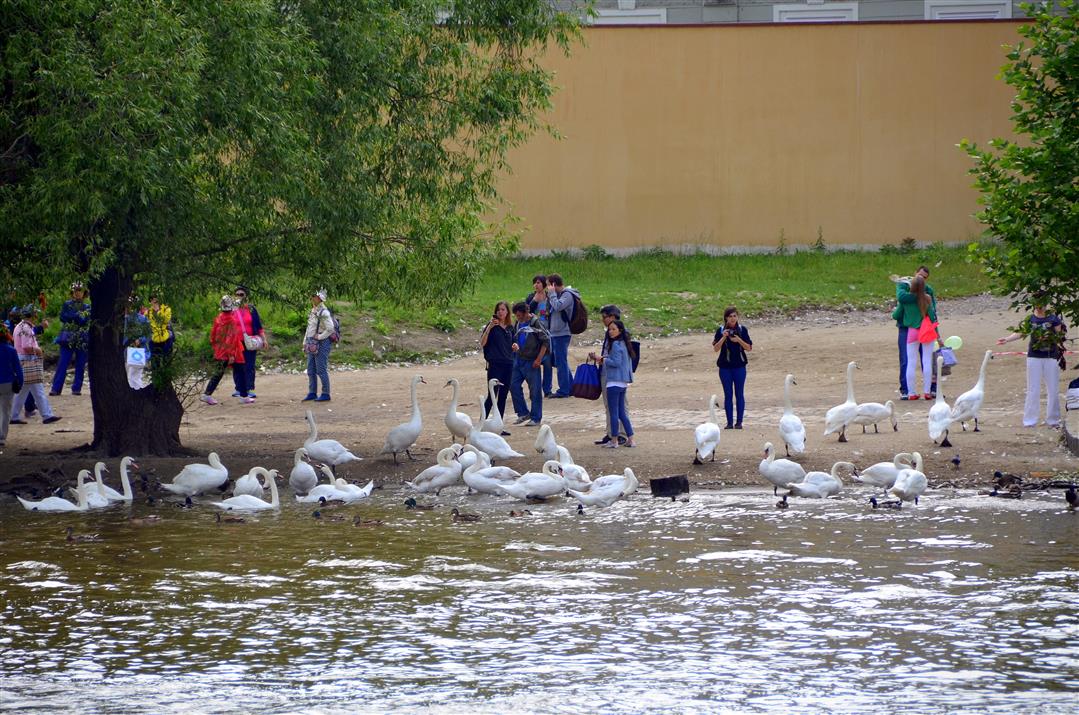 The Vltava River has commercial and recreational traffic but also part of Prague's rich history. It's hard not to notice the flood closures, navigation channels and weirs along the river. Weirs are river barriers used to alter the water flowing to prevent flooding, divert water and make them more navigable. Prague was flooded a few weeks before our visit when water went above the weirs but luckily, everything was back to normal when we were there.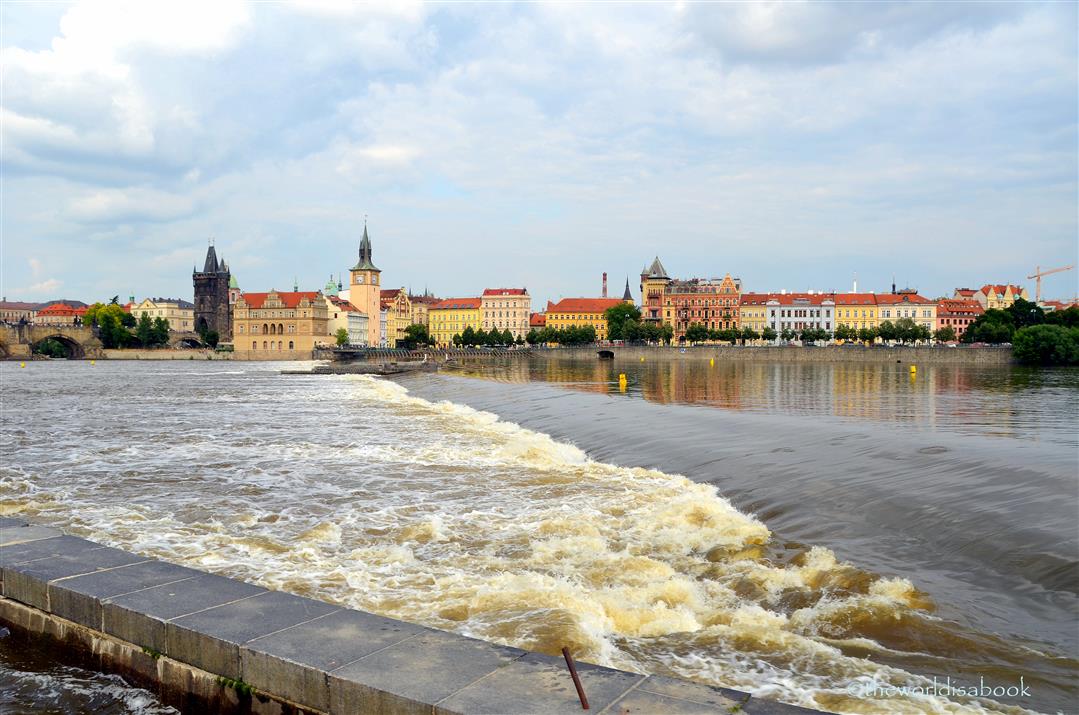 My husband and kids' favorite part during our cruise was crossing the Smíchov floodgates or Smíchov Canal lock by Children's Island. This is the busiest canal lock along the river and used for river cruising traffic so we waited here for several minutes. The locks bypassed the weirs. It had top and bottom gates used to allow vessels to travel from one water level to another. This is an animation that shows how the locks work and gives a far better picture and description than I could.
When we traveled upstream, we entered a gate and a chamber where we saw our boat rise as the chamber was slowly filled with water. The openings on the gates allow the water to flow in and out of the chamber adjusting the water level. As soon as we reached the desired water level, the gates opened for us to continue our cruise.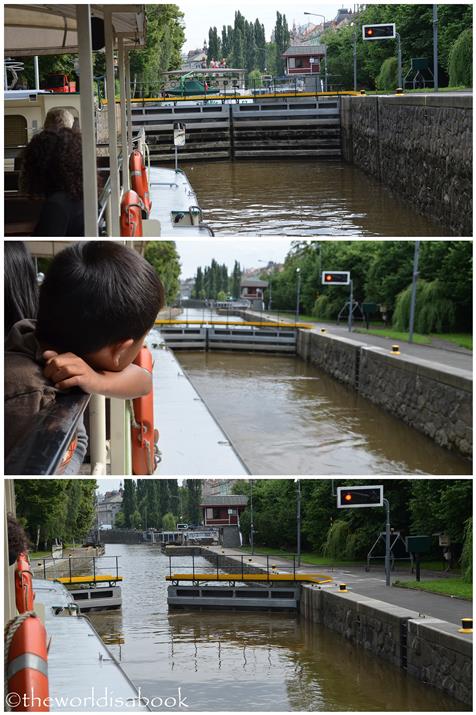 In reverse, we saw our boat go down as the water level was lowered on our return trip.  This was the difference in water height from the wall barrier.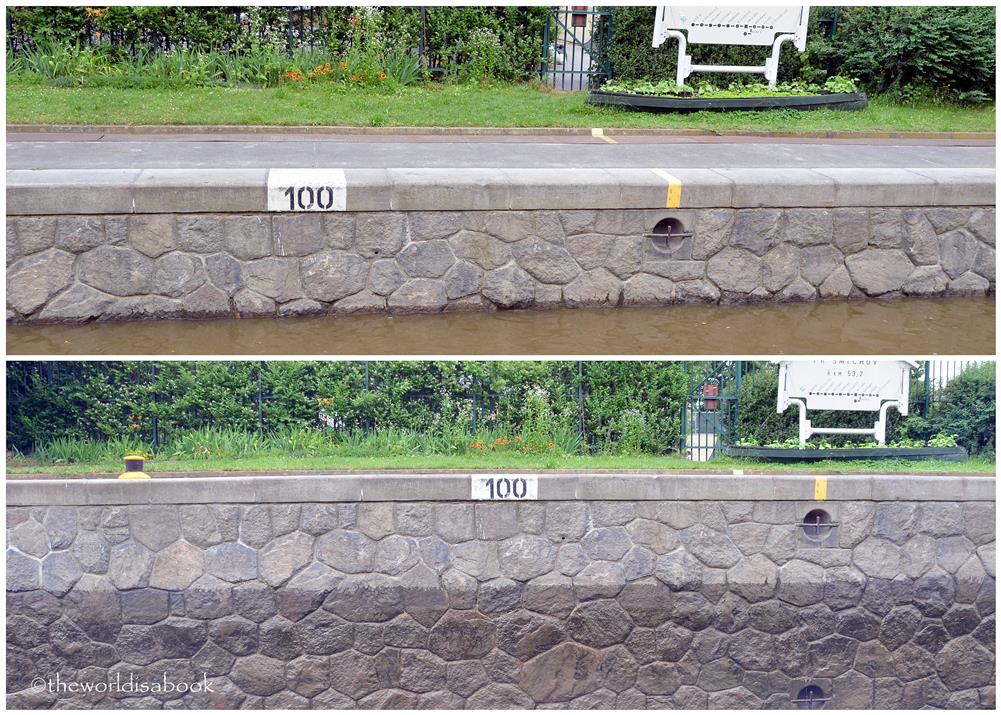 For my husband, the engineer, this was worth the cruise and an added bonus. The kids thought this was "so cool". My seven-year-old son was fascinated with the mechanics here and thought the water disappearing was "like magic".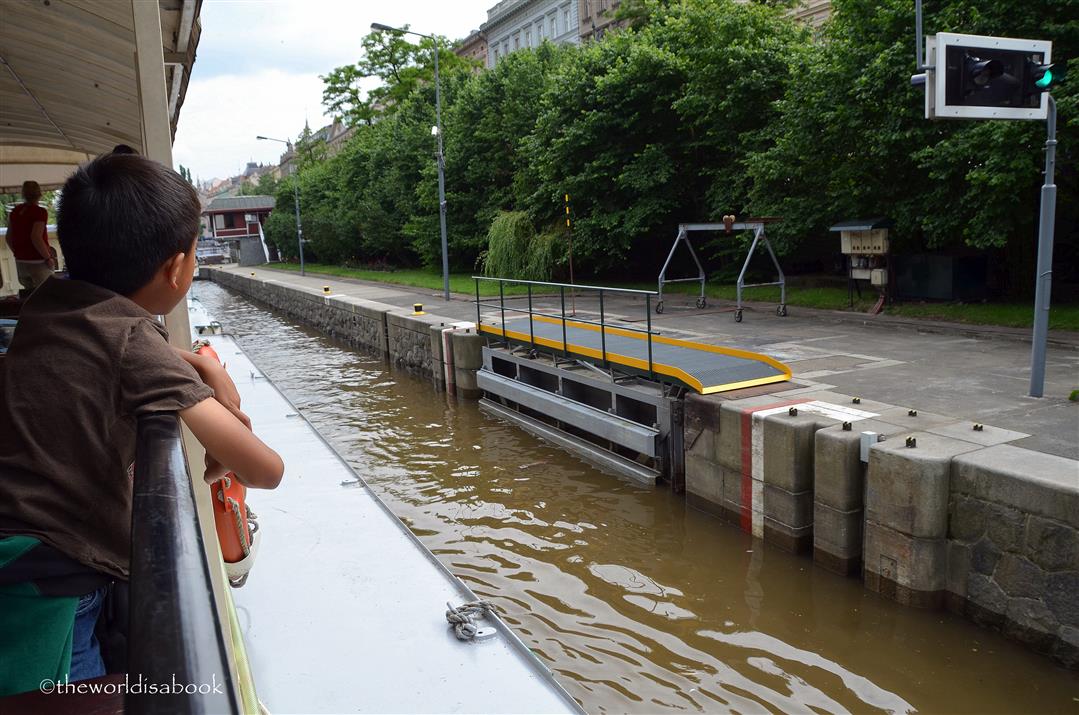 It was hard not to miss the two dominant spires of Saints Peter and Paul Church on a cliff. This area is known as Vysehrad. It was once a castle and fort used as a royal residence until 1140 before the rulers moved to Prague Castle. We visited a large park in here and it was a lovely escape from the busy and crowded streets of Prague.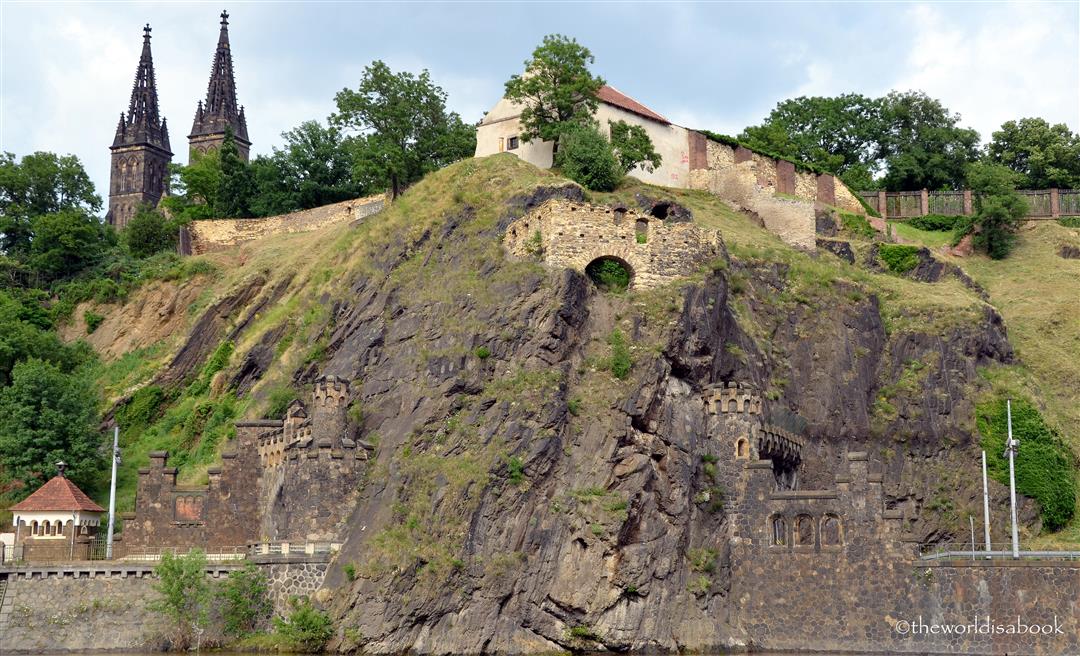 The Vysehrad tunnel was used as a tram passage and one of the more elaborate tunnels we've seen.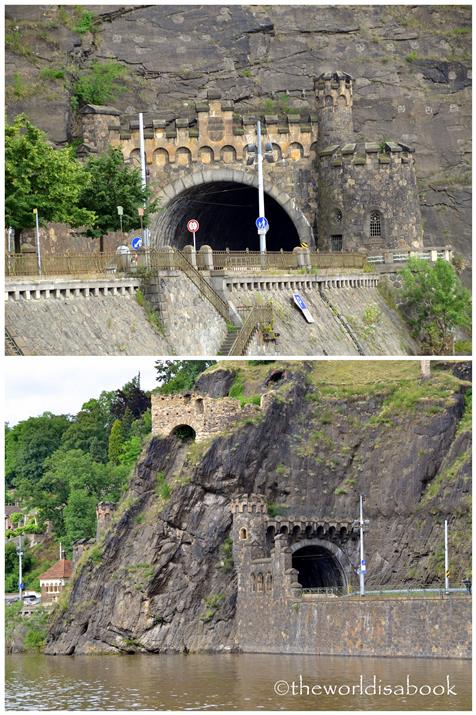 We sailed past Vysehrad and turned around a few miles later. Along the way, we saw Prague's attempt at a beach resort.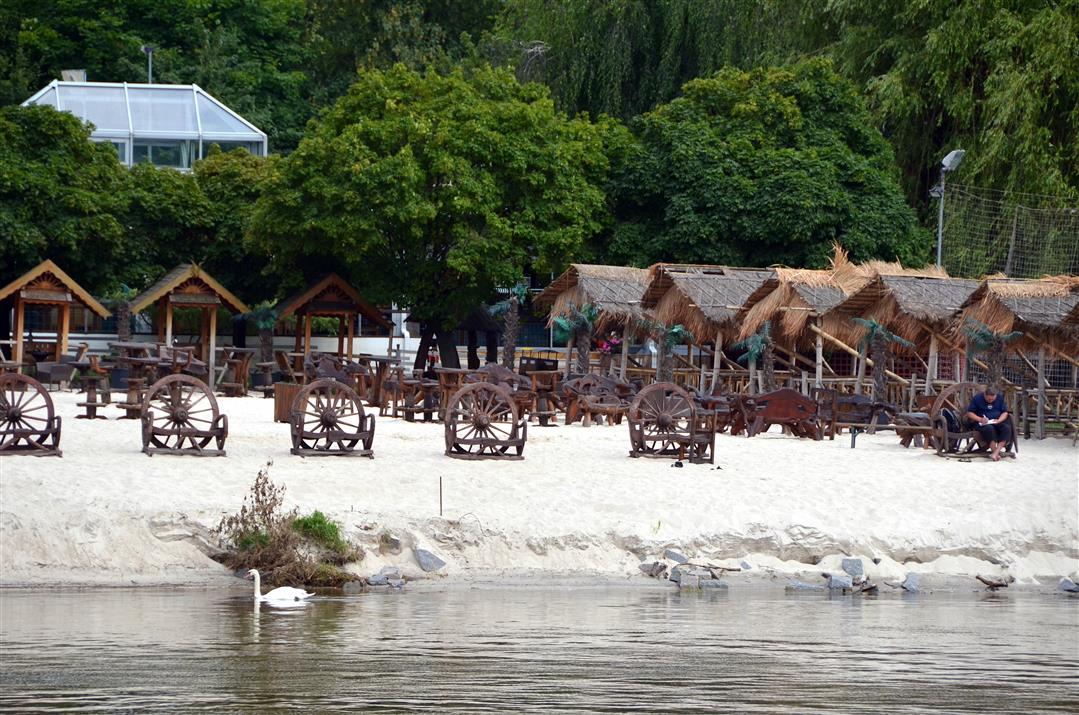 We also saw other versions of cruising the river.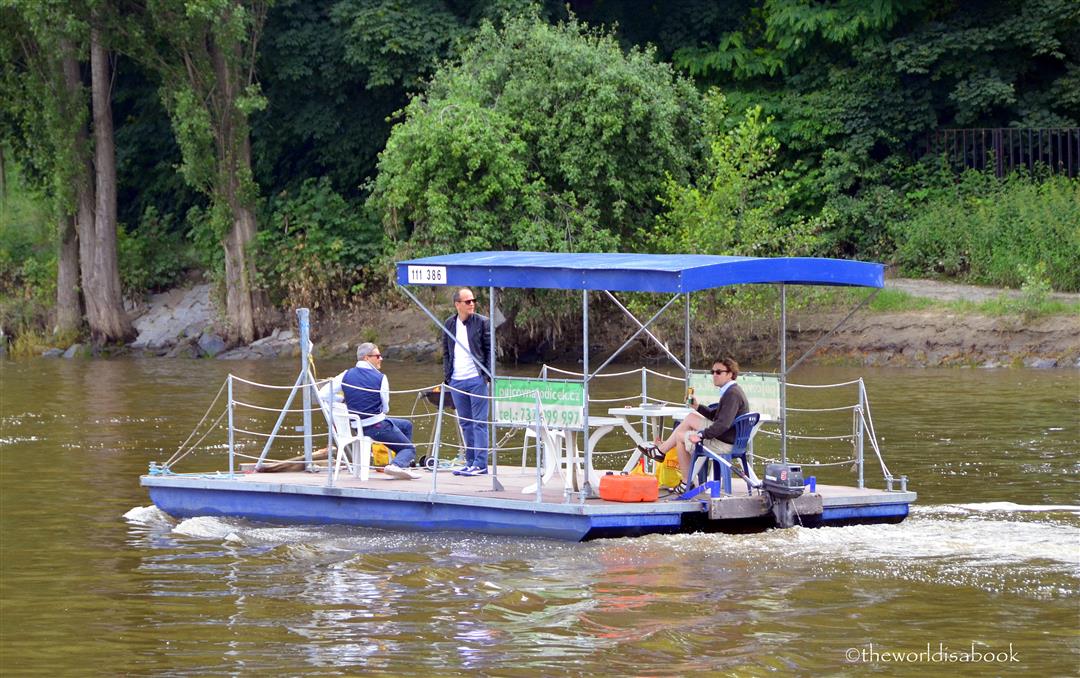 Cruising on the Vltava river allows you to see what options you have to enjoy life on the river. How about staying at a "boatel"? This particular one had over 80 rooms.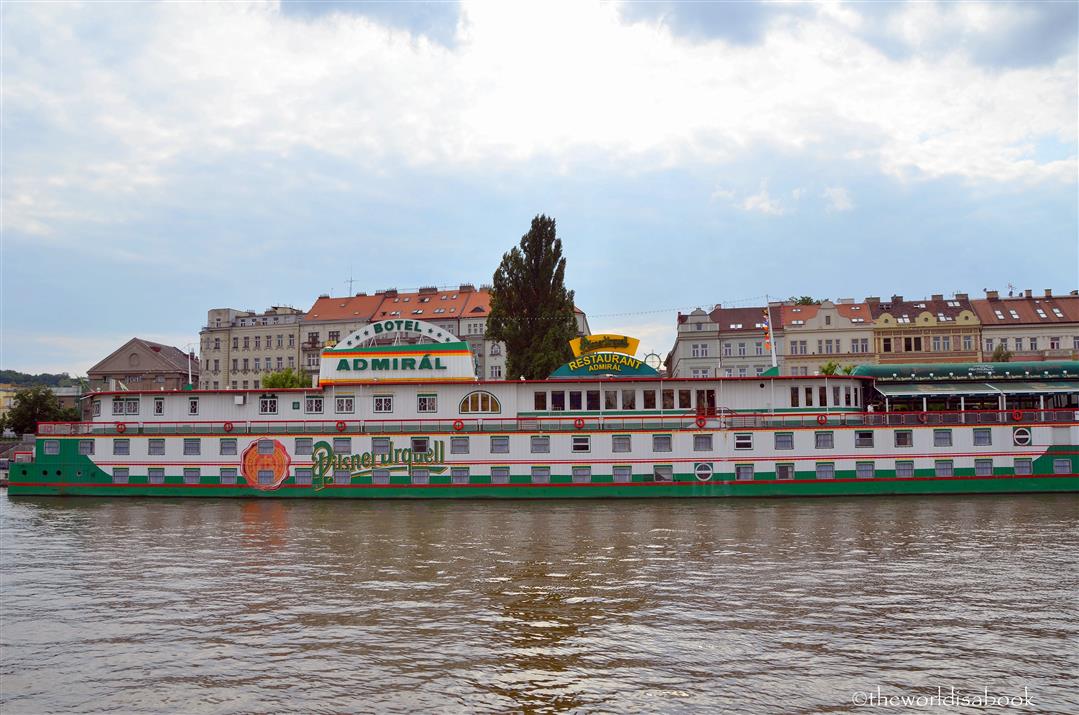 We saw a few floating restaurants and ones that offered dining along the river. We ate at this Italian restaurant called Marina Grosseto Ristorante which was a boat built on top of a cargo ship. It was located by the start/end of the cruise and had great food, service and big portions for reasonable prices.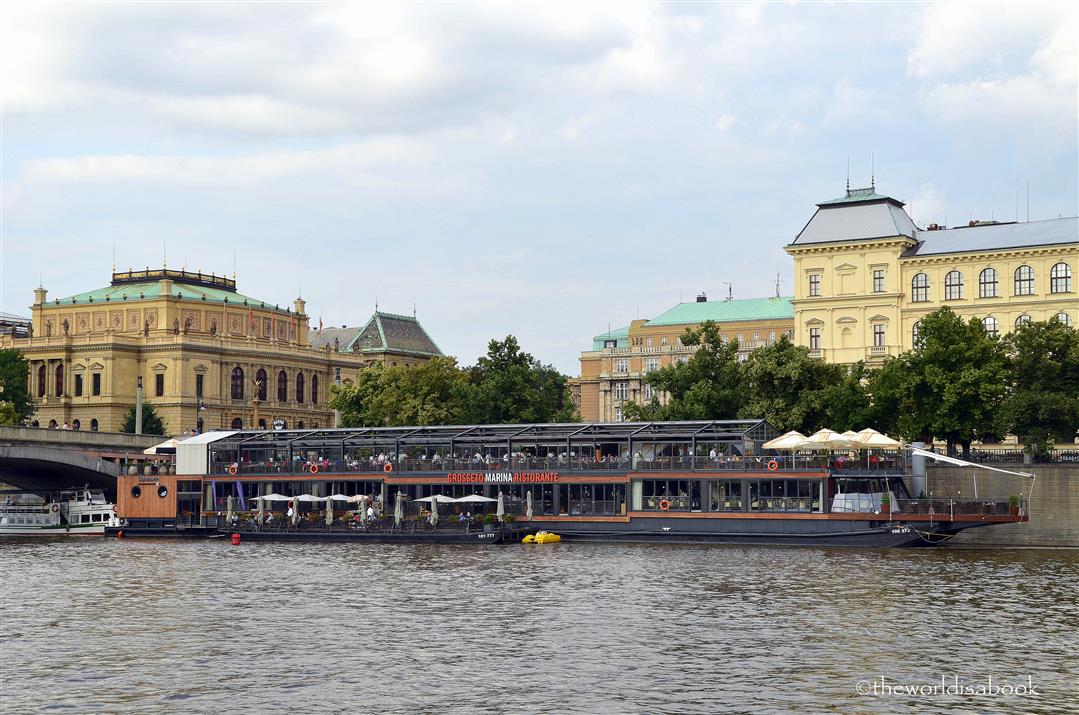 The Vltava river tour allowed us to see Prague's sights from a different perspective. It was also relaxing. There was a lot to see along the way and our kids actually didn't complain of boredom or fell asleep. In our family, that's a great gauge for good value for our money. No matter what type of cruise you prefer, we do recommend a cruise along the Vltava river to enhance your Prague experience and visit.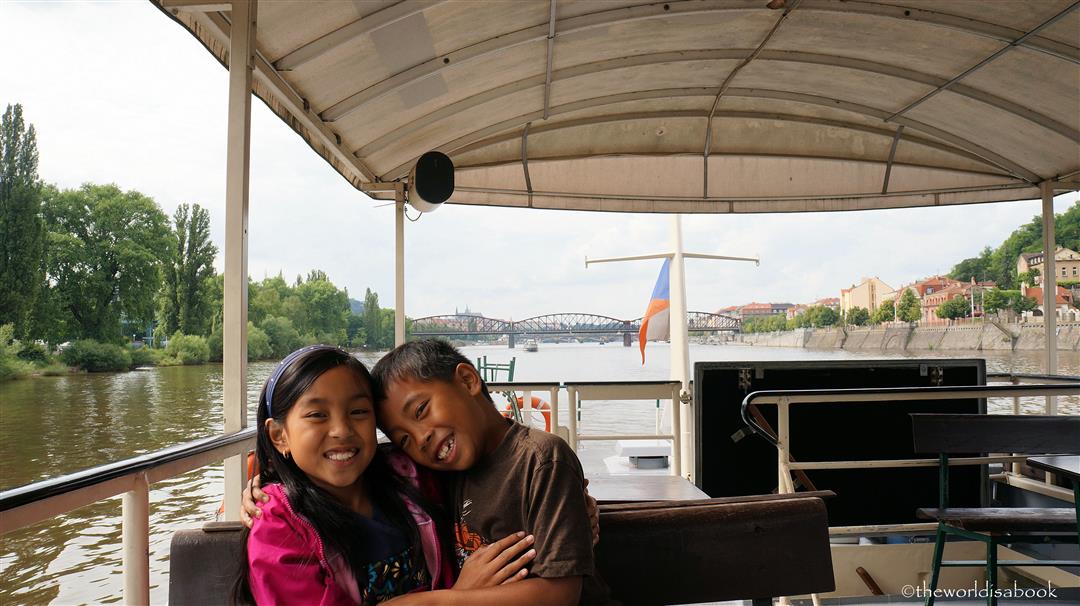 Cruising Vltava River Tips & Basics
Depending on your interest and time restrictions, look into narrative tours. The narrative tours will give more insight into the various attractions along the river. But, most of the 1-hour tours don't go on the canal locks.
Many of the tours start along the landing stage under Cechuv Bridge.
Read reviews carefully. There are many river cruise options and many companies offer them with many add-ons.
We did the Two Hour City Cruise from Grayline Tours. Price: $21 US (16 euros) with no discounts for kids over 2 years old.
Check your hotel for discounts and coupons on these river cruises.
Reserve ahead if you're set on a particular cruise or time. We walked up the ticket window for the 4:30 PM cruise and got lucky.
Look into a combined city bus tour before or after the river cruise.
Our other river/canal cruises:
 *

Have you taken a cruise on the Vltava River? What are your favorite river cruises?