5 Free Things to do in Munich with Kids
Munich impressed our family so much we put it on our list of places to revisit as soon as we left. There were so many things in this Bavarian capital to love – efficient transportation system, clean, pedestrian zones, green spaces, rich culture and friendly locals among others. Though Oktoberfest and Christmas markets may be its biggest draws, we enjoyed our summer visit too. Munich was actually a very family-friendly city with so many amazing day trips possible including exploring castles. Like many European metropolis, a family visit here can get quite expensive. But, we managed to find and enjoy these 5 free things to do in Munich with kids.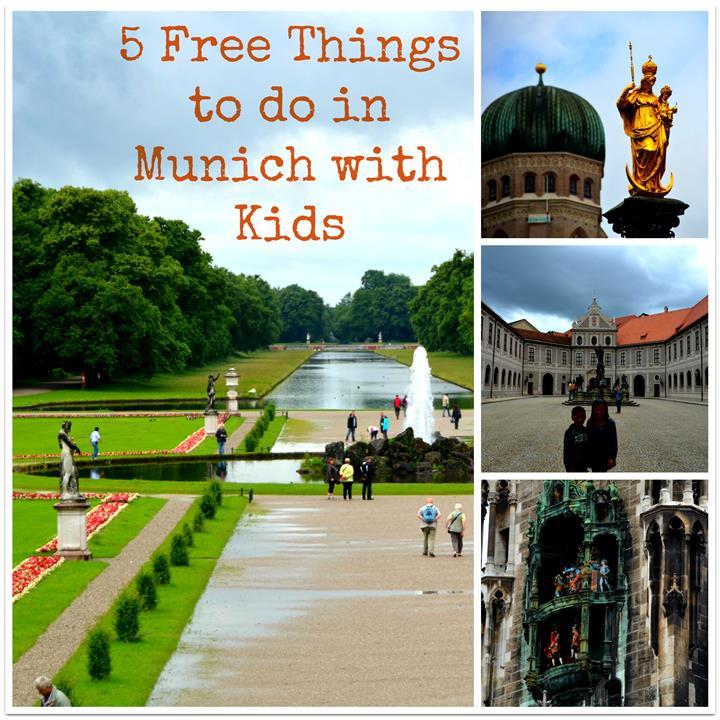 1. Visit the English Gardens
Englishe Garten or the English Gardens is Europe's largest city park at 3.73 km (1.4 miles). This urban park offered so many things for kids of all ages. We enjoyed our walk along the shores of Kleinhesseloher Lake. This was an artificial lake with three small islands that no one is allowed to go on. Row boats can be rented to explore the lake. My kids were entertained by the ducks and geese roaming around. We saw plenty of people feeding them so be sure to save your picnic leftovers. We loved all the wide open spaces around the English Gardens. There were many places for playing sports, running around or just relaxing.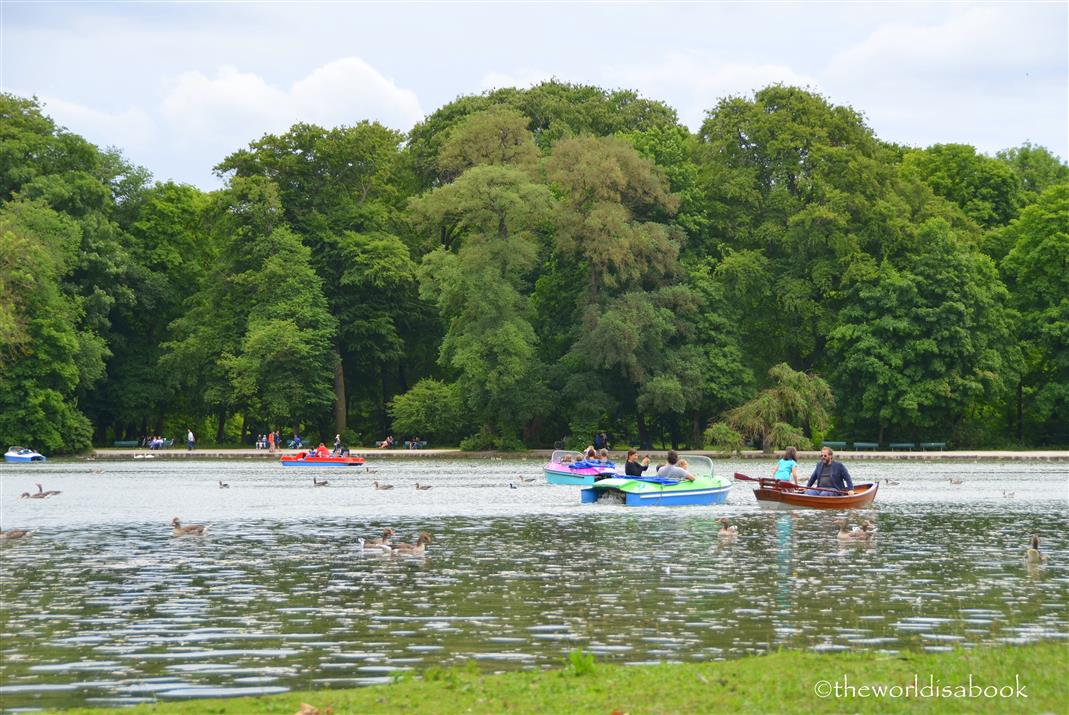 The English Gardens had four beer gardens throughout the area. While the adults are enjoying themselves, the kids can also have some fun. We visited and ate at the beer garden by the Chinese Tower. There was a decent size playground nearby with plenty of equipment, a sandbox and even a carousel.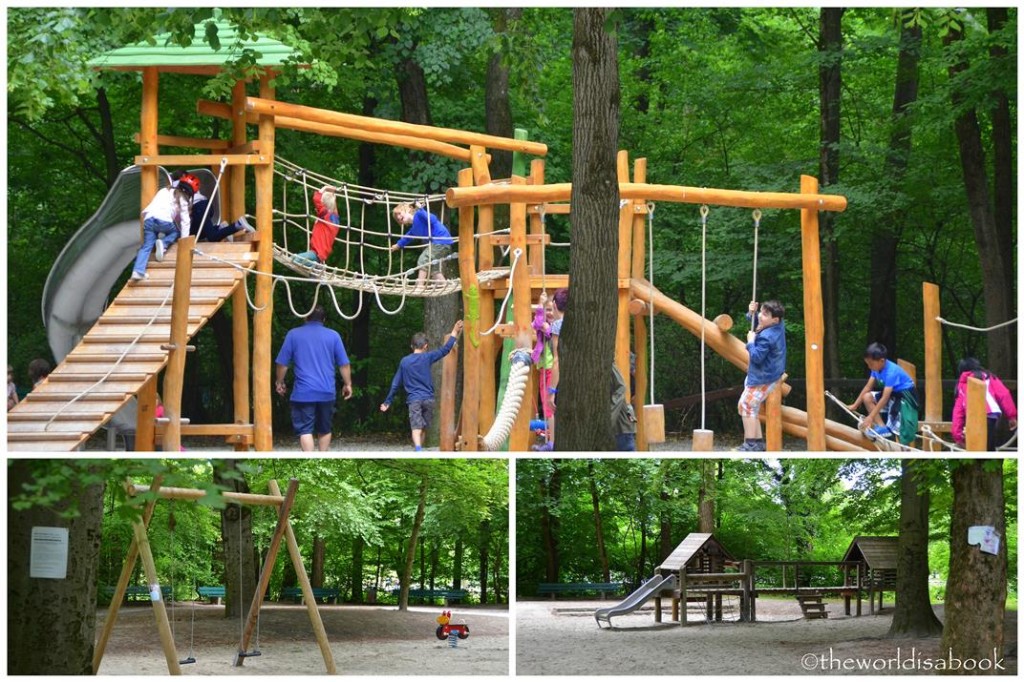 But, the highlight of the park for us was seeing the river surfers at the Eisbach. Who knew you could surf on a river? My kids were mesmerized watching the various surfers trying to stay up against the current. The  Himmelreich bridge was one of the best spots to watch them.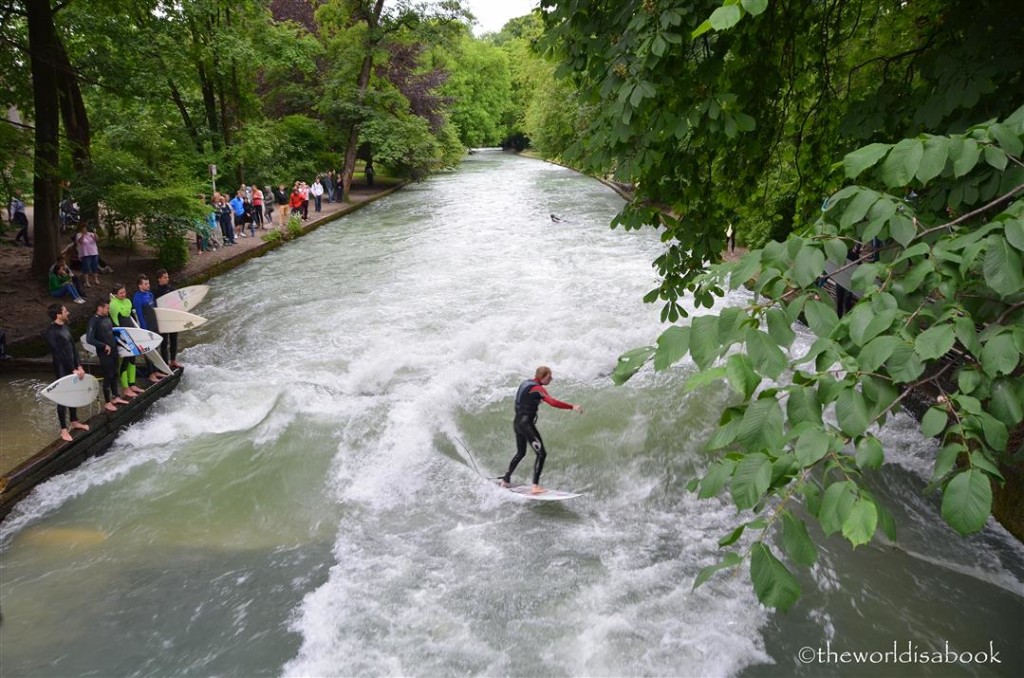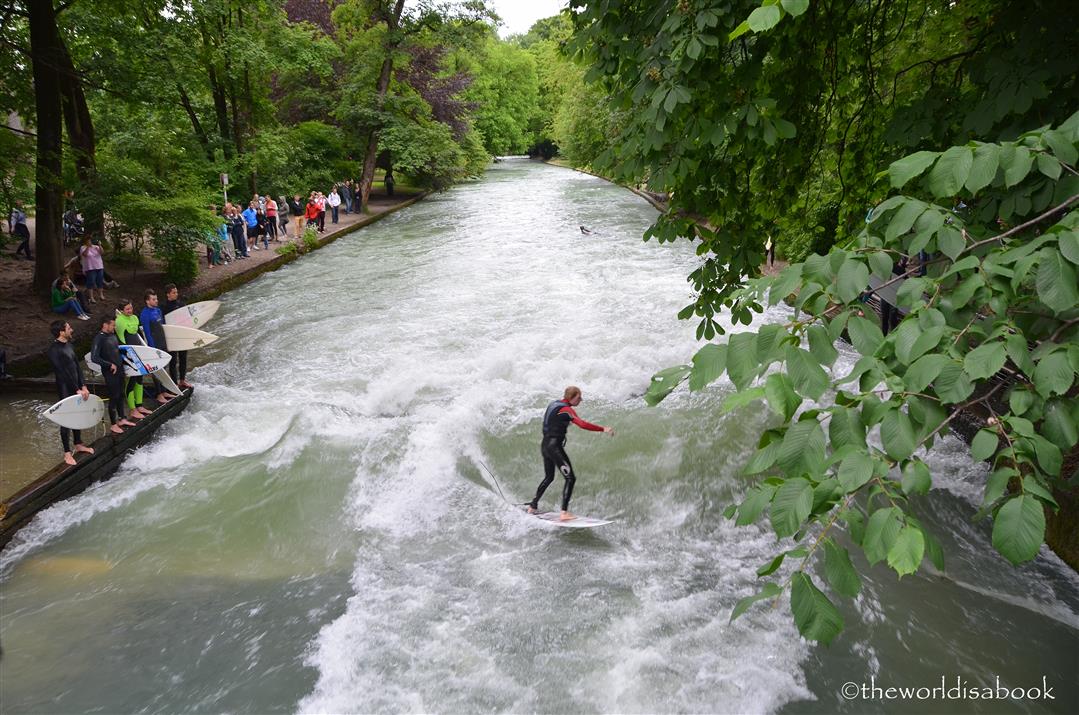 2. Explore the Churches
Munich has several churches worth a visit and all for free. I've taken my kids to enough European churches so I'm grateful they've learned to appreciate their art, architecture and beauty. This city surprisingly had many remarkable churches that housed magnificent altars, ceilings, frescoes and sculptures. The most popular ones are Frauenkirche/Church of Our Lady, Peterskirche/St. Peter's Church,  Theatinerkirche/St. Kajetan Church and Asam Church/St. Johann Nepomuk.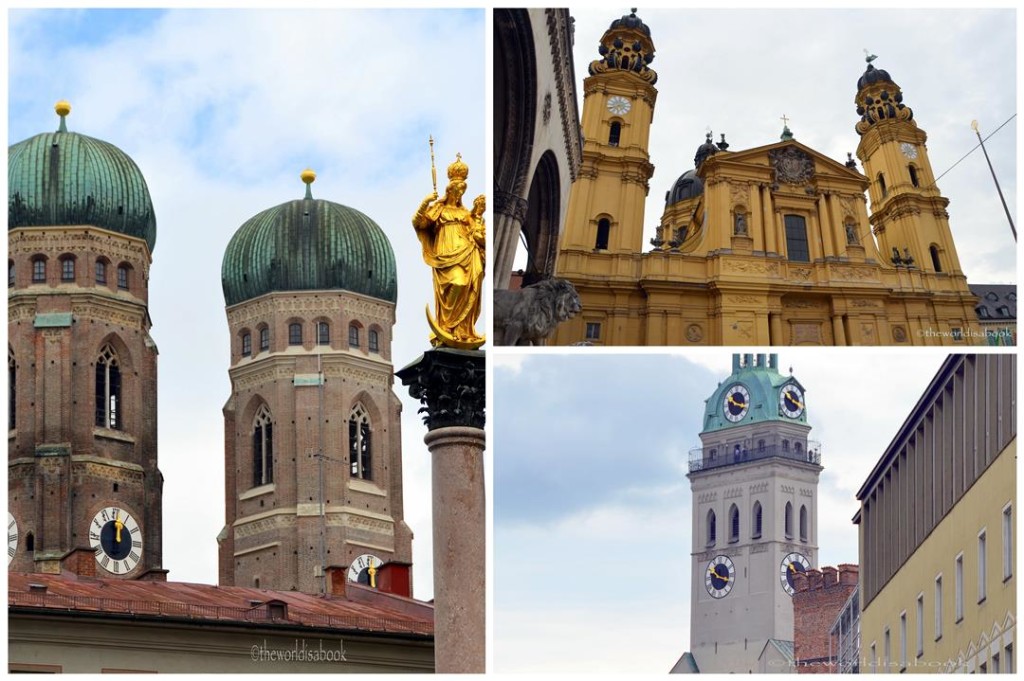 St. Peter's Church is the city's oldest parish church. We didn't get the chance to climb the 300 steps to the tower. It's a minimal € 1.50 (kids 6 and under are free) to climb and your efforts are rewarded with a scenic panoramic view of the city.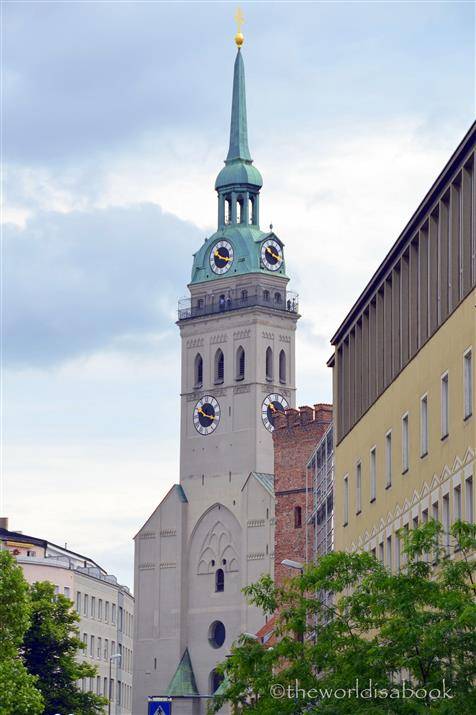 The Church of Our Lady's two onion dome towers have long been a part of Munich's city landscape. They're visible from many areas of the city. This large Gothic building is worth entering for its beauty and to see the fabled devil's footprint that's sure to entertain the kids. Legend has it that the builder struck a deal with the devil to construct the church. The devil only agreed if the church was windowless. Once it was completed, he led the devil to a spot where he couldn't see a single window. The devil was enraged and stomped his foot leaving this footprint.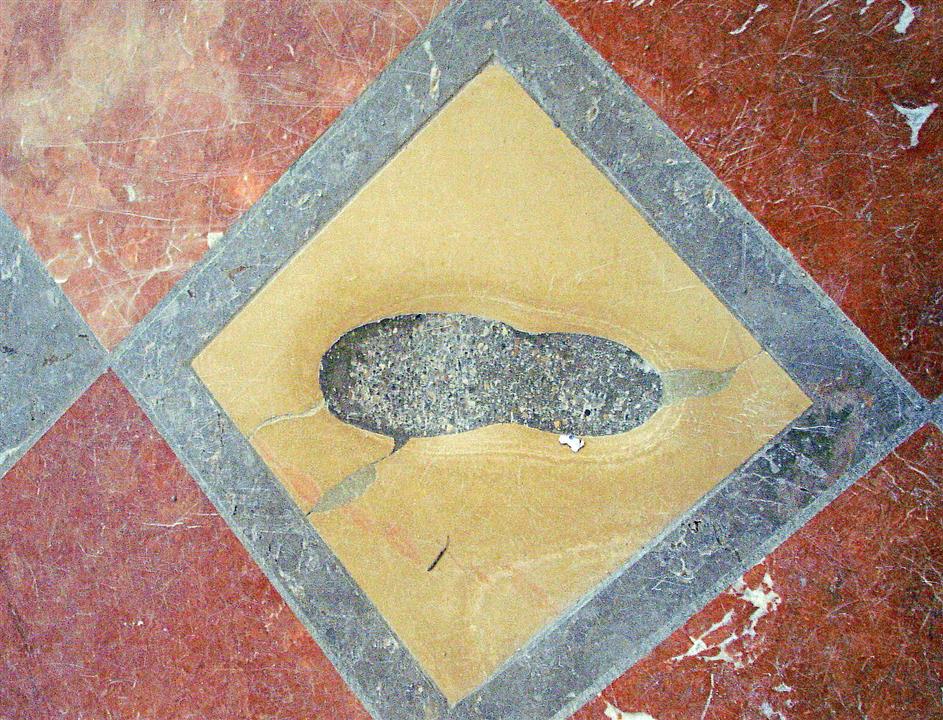 3. Stroll through Viktualienmarkt
Food halls and farmers markets are always a big hit with my kids. I think it's because they see the many possibilities of things they can buy. Viktualienmarkt is the oldest farmer's market in Munich dating back to the early 1800s. There were about 140 booths that housed local food, produce, meats, breads, cheeses, flowers, unique merchandise and souvenirs in this outdoor market.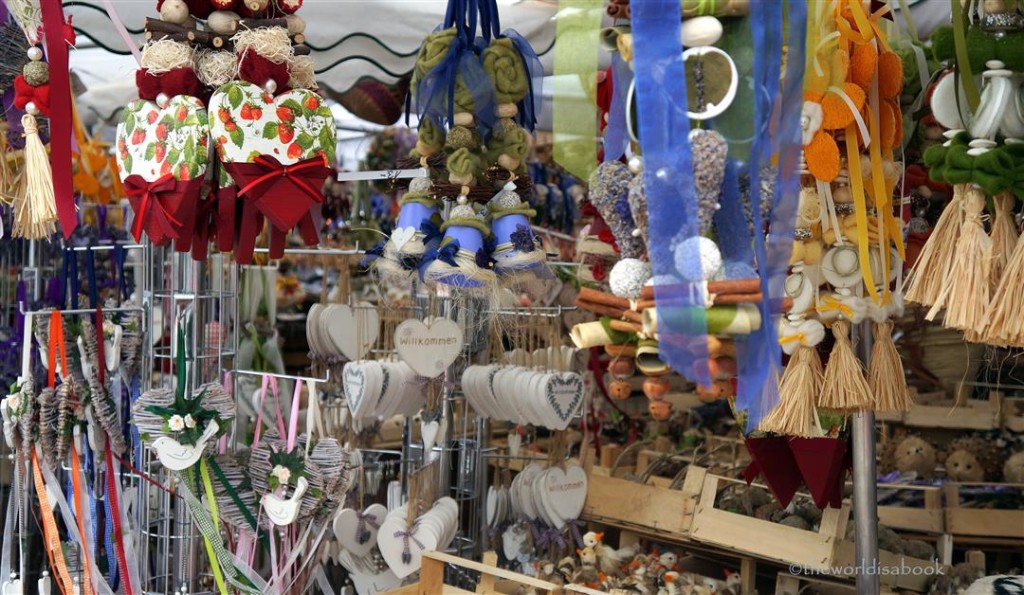 This market is also called the "city's stomach". Local markets are also cultural lessons for the kids. They can see a variety of local delicacies and have the opportunity to sample them. Picky eaters, like my daughter, may actually be tempted to sample something that looks interesting. Some of the food booths beckoned us with the delicious aroma. We ate at the food stalls a few times and loved the variety of native cuisine they offered.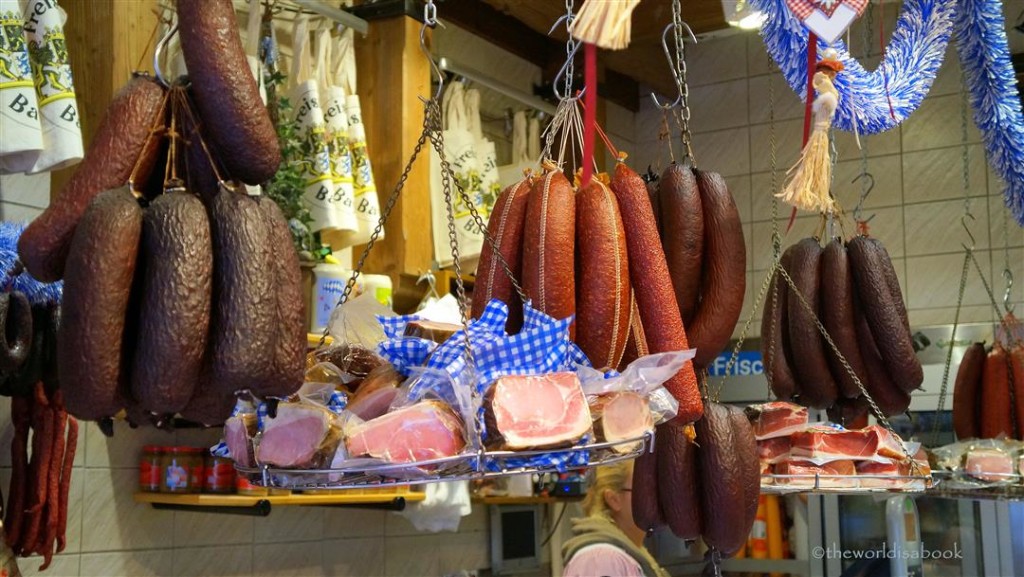 Don't miss the tall maypole which was a wooden pole used for celebrations and festivals. My kids also enjoyed walking around and seeing the memorial fountains of local singers and comedians scattered around the market. It's a lovely place to stroll and window shop. We just can't guarantee you'll walk out of Viktualienmarkt empty-handed.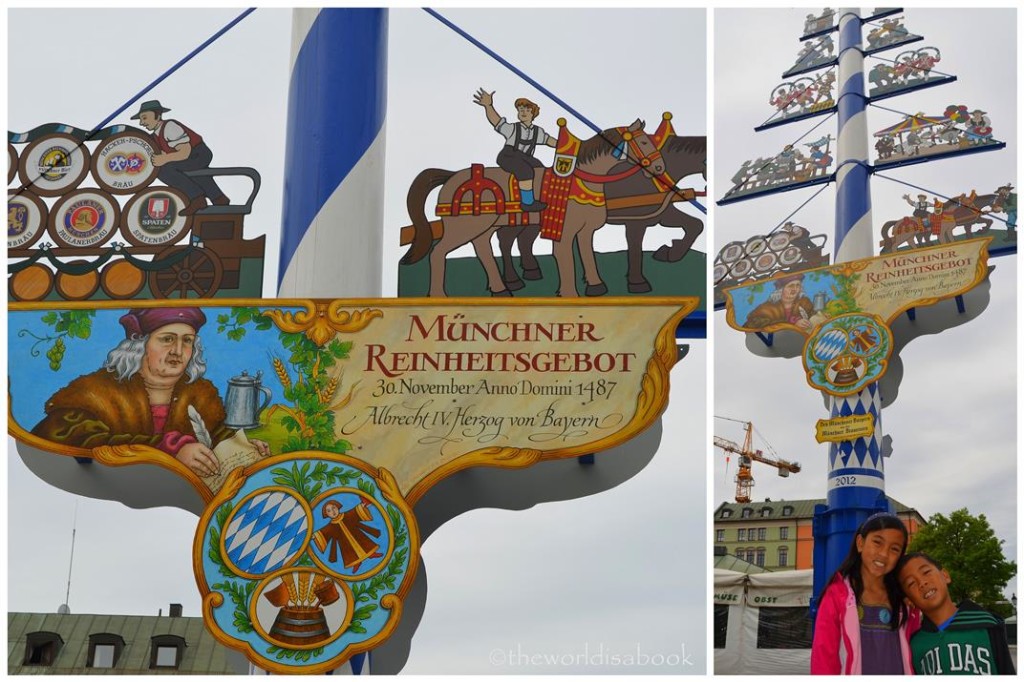 4. See the Glockenspiel at Marienplatz
Marienplatz or Mary's Square is Munich's center of activity. Surrounded by many wonderful and colorful architecture, there is always a crowd gathered here. We always found a variety of street performers entertaining the crowds. There are fountains, statues and columns for kids to climb on and sure to keep them busy.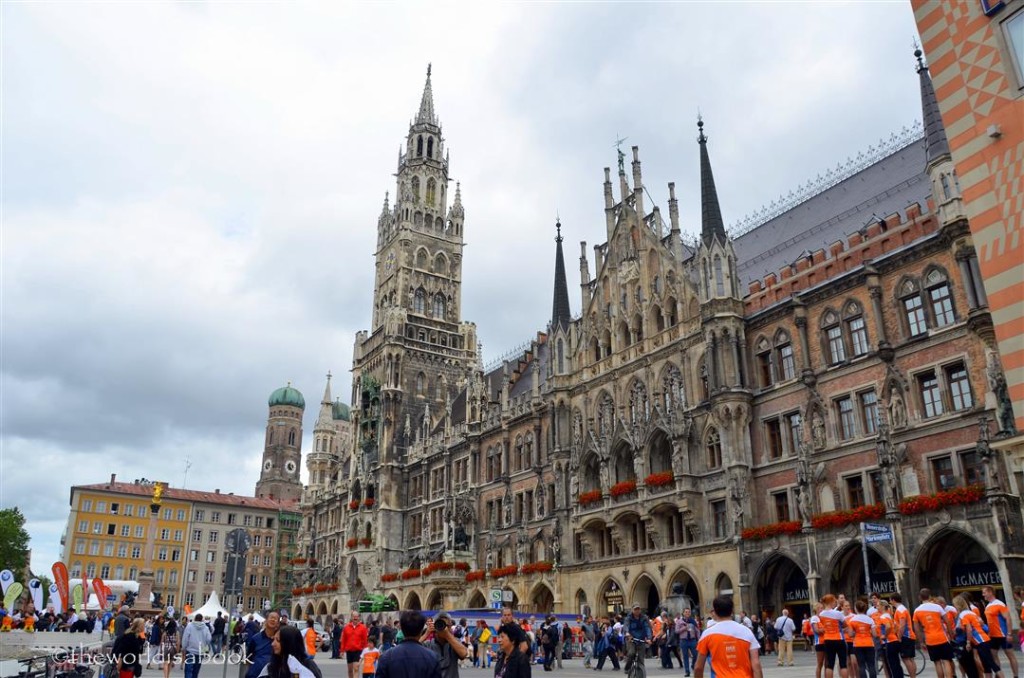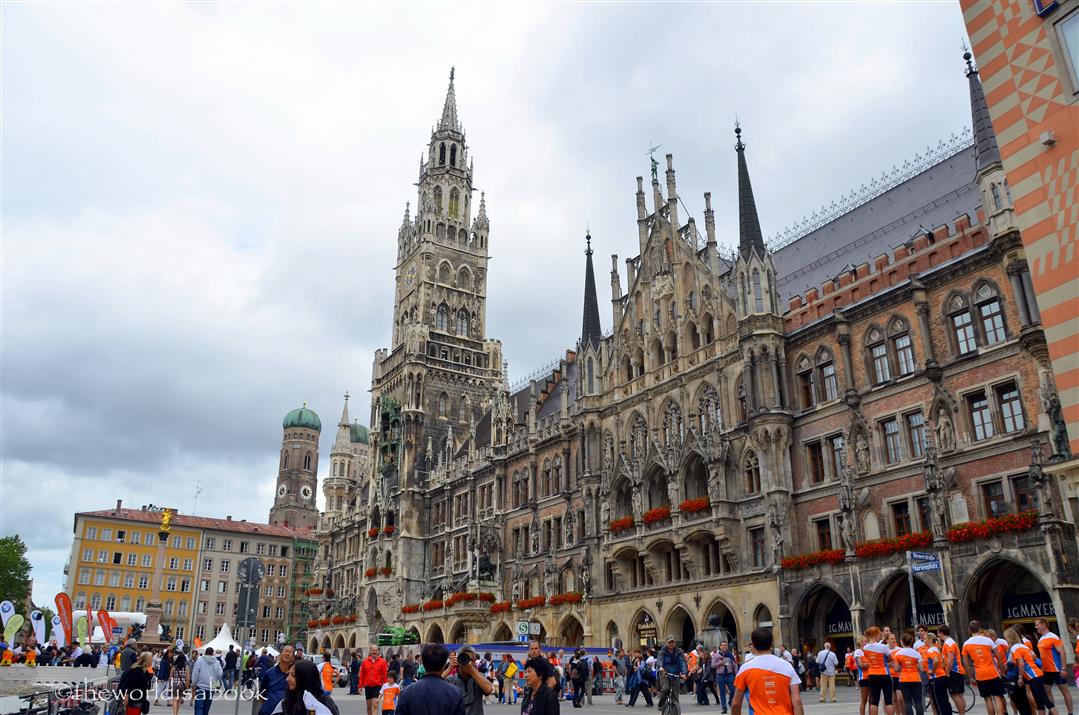 But, the Marienplatz's biggest attraction is the popular Glockenspiel and carillon. The Glockenspiel is located on the gothic New Town Hall's tower. With 32 life-sized, wooden figures on two levels, it is sure to entertain the whole family. The figures come out from the clock and put on a show for 12 minutes depicting a wedding, a tournament and a harvest festival to the sound of bells. This entertaining show occurs at 11 AM and noon everyday (additional 5 PM show during the summers).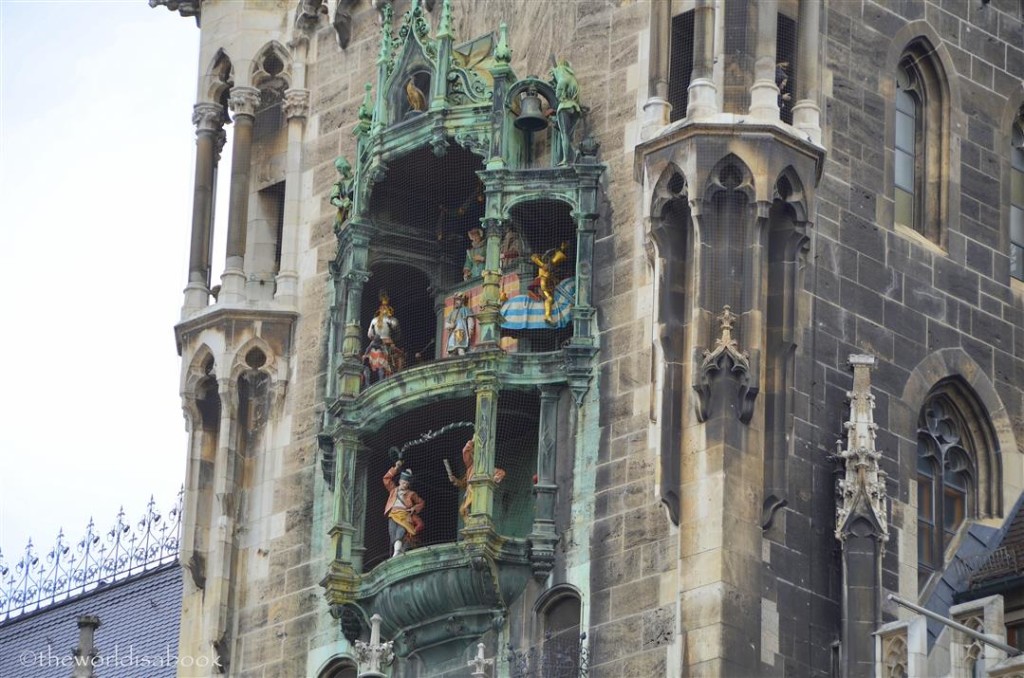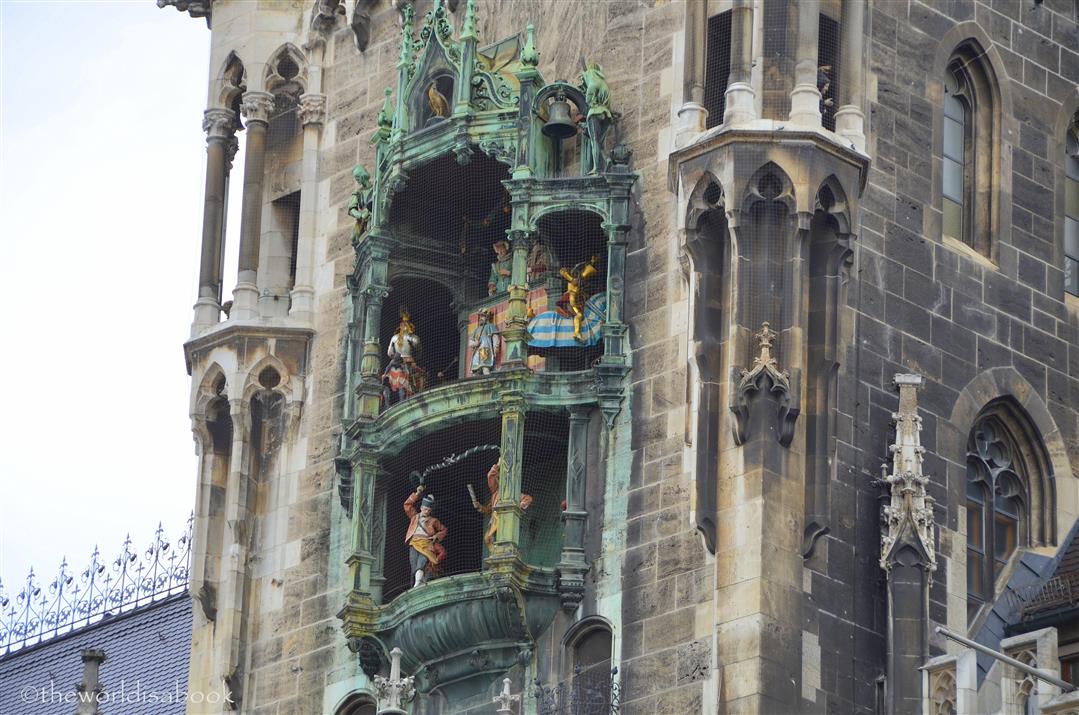 5. Discover the Royal Gardens and Courtyards
It's hard to visit Munich and the surrounding areas without setting foot in one of the royal residences. While admission to these palatial homes and museums aren't free, its gardens and courtyards can be enjoyed at no cost. Two of our favorites are Nymphenburg Palace and the Munich Residenz.
Nymphenburg Palace is a short distance from the city center and well worth a visit. This opulent former summer residence has an extensive back garden and park. Small ponds with swans, geese and ducks are sure to catch children's attention. My kids couldn't get enough of them. Fountains, flowerbeds, a canal and an array of Greek god statues made this park a wonderful place to spend some time in. The grounds are also lovely place for a stroll and admire the architecture.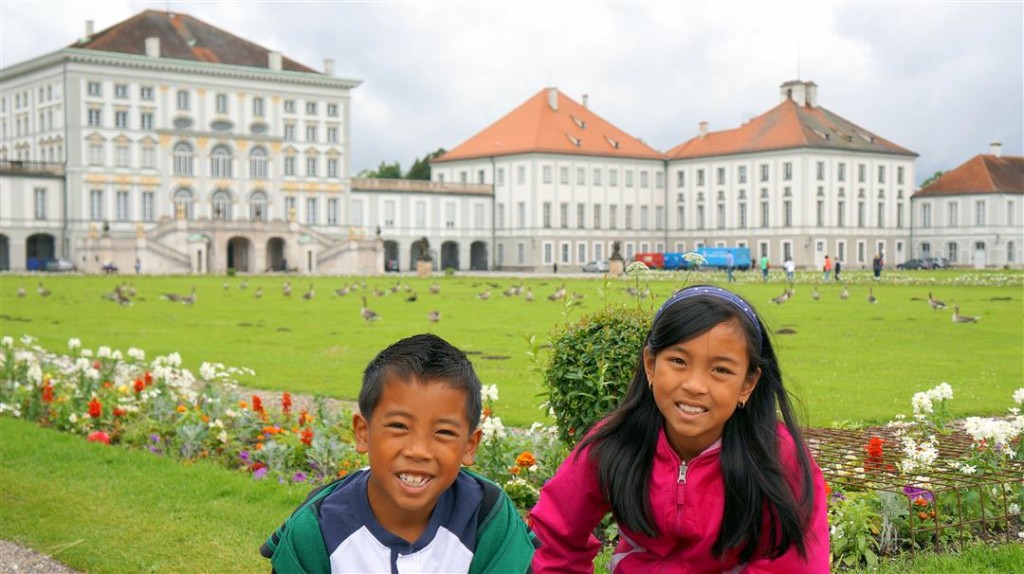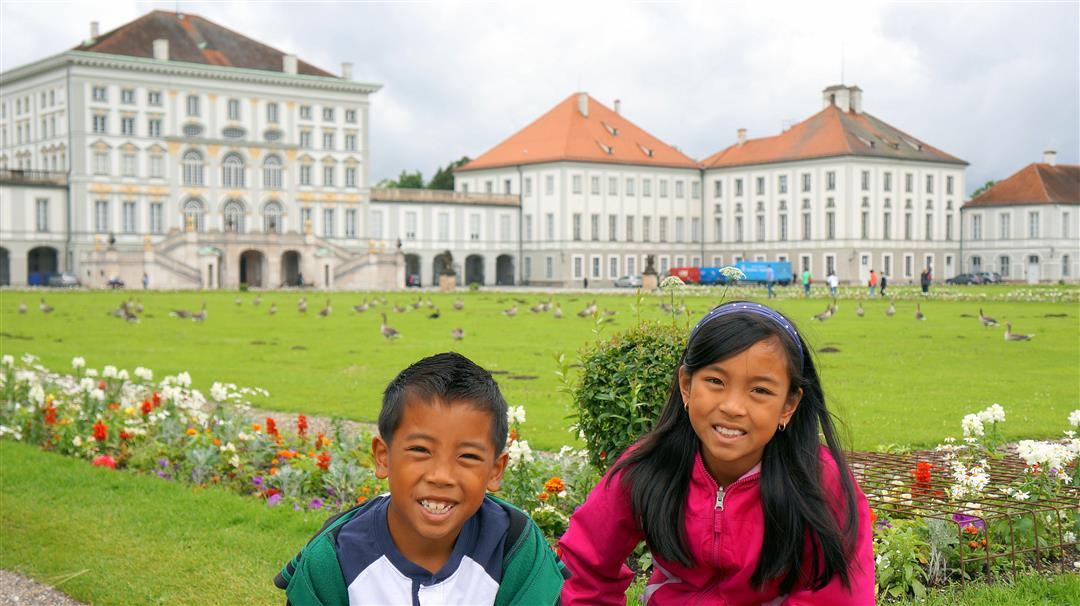 The Munich Residenz was once the Bavarian royal residence at the center of the city. The adjacent Court Garden has a central pavilion, fountains and sculptures in an elegant landscape. Some of its courtyards are accessible to  the public without entering the museum. We loved strolling through them particularly Fountain Court.
Honorable Mention
Free Munich Walking Tour – This 3-hour tour is touted as free but tipping the guides is highly encouraged. Tours occur everyday, rain or shine and start at Marienplatz in front of the large column at 10:45 AM and 1:00 PM.
Almost Free
One Euro Sundays – Some of Munich's museums offer one euro entrance fees on Sundays. These include:
Museum Brandhorst

– a museum of modern art
Glyptothek – contains Roman and Greek architecture

Bayerisches National Museum

– dedicated to European visual arts and cultural history that include porcelain, musical instruments and furniture
*What other free things to do in Munich can you add to the list?
This is a part of a series called Five Free Family Friday which is a collective guide of free family-friendly attractions from places all over the world.  If you'd like to contribute with the free attractions in your home city, I would love your guest posts. Thanks!