5 Free Things to Do In Salzburg with Kids
Salzburg, Austria is one of those idyllic European cities I have always wanted to visit. Surrounded by the Austrian Alps and an imposing fortress high above the city, it was still small enough to walk around to admire its grand architecture. Unfortunately, we were only here during a day trip from Munich this past summer but would go back in a heartbeat. There was a charm and quaintness to Salzburg where marionette theaters are common and Wolfgang Amadeus Mozart's presence is still everywhere in his hometown. These are some of our favorite free things to do in Salzburg with kids.
1. DIY Sound of Music Tour
We're big fans of the classic movie musical, The Sound Of Music. Many of the exterior scenes were shot in Salzburg so this was one of the reasons we had to visit the city. It was easy to see why this city was chosen as a backdrop to this much-loved movie classic.
There are many Sound Of Music tours offered in the city that range from private vans to the four-hour bus tours to see the film locations. We're not too much into bus tours and we had a car so we decided to do our own Do-It-Yourself (DIY) tour and it was free.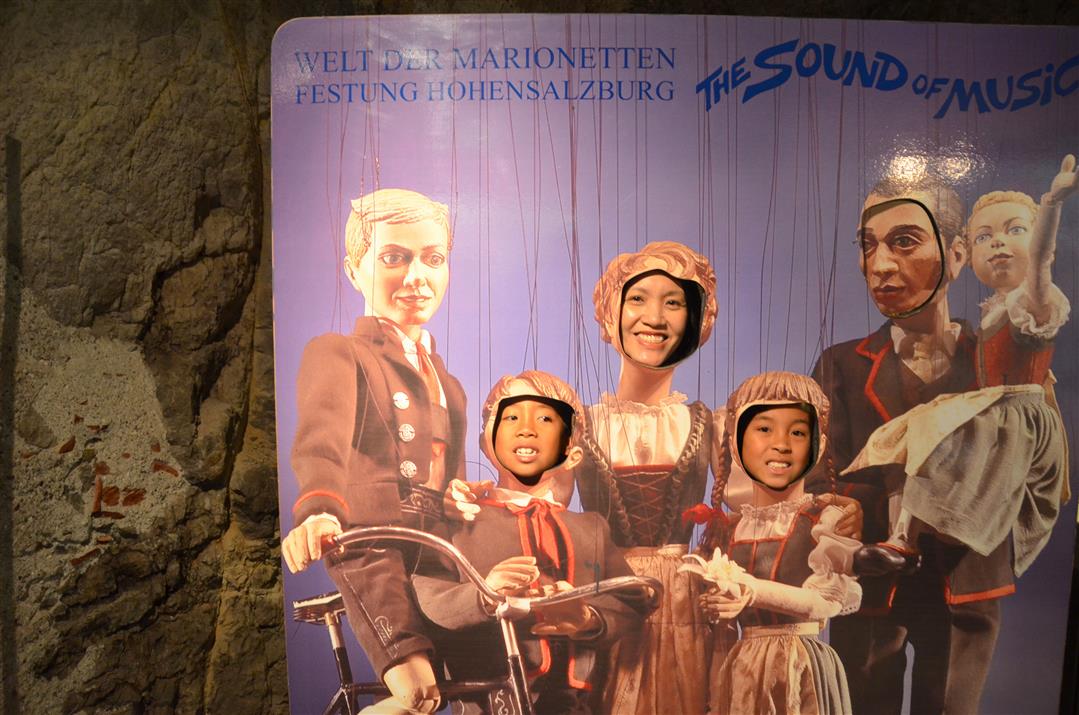 Many of the sights are located within the Old Town or Alstadt area ( a UNESCO World Heritage site) and can easily be found with a good walking map. It was a fun way to explore the city and see familiar sights we have repeatedly seen in the movie – the fountains, gardens, squares and churches. Having a rental car made it fairly easy to venture off the town and see the buildings used for Von Trapp family home façades as well as the famous gazebo used in the "16 going on 17" song. You can also download this city map which includes the Sound of Music map, Salzburg and other cities for your smartphone.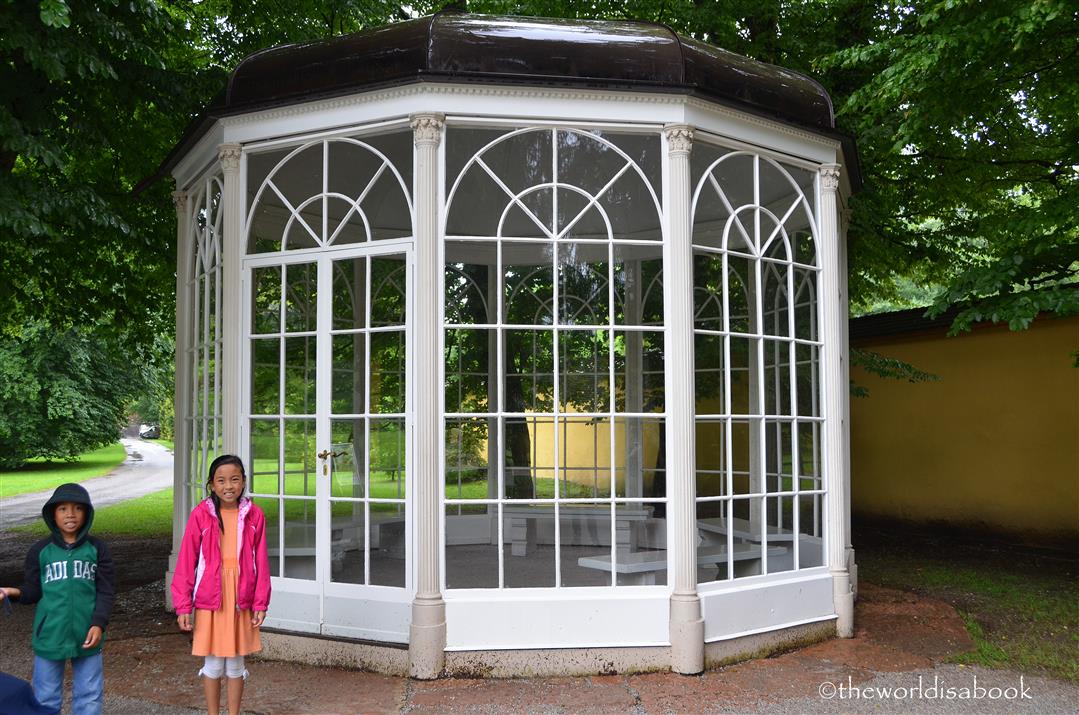 2. Mirabell Gardens and Gnome Garden
This beautiful garden was prominently featured in the Sound Of Music. But, even if you're unfamiliar with the movie it is a great place to walk around. Manicured gardens, a palace that's home to the mayor, fountains and sculptures to climb on make this a wonderful place to spend some time strolling.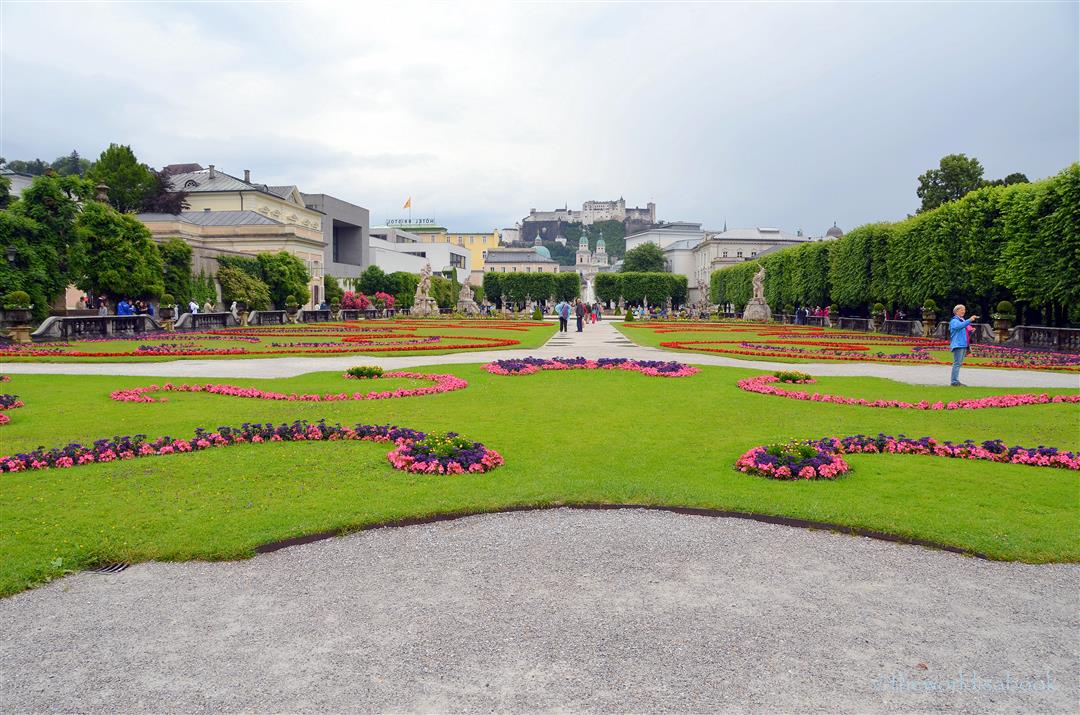 My eight-year old son sees any horse (or unicorn for that matter) as an invitation for him to climb on it.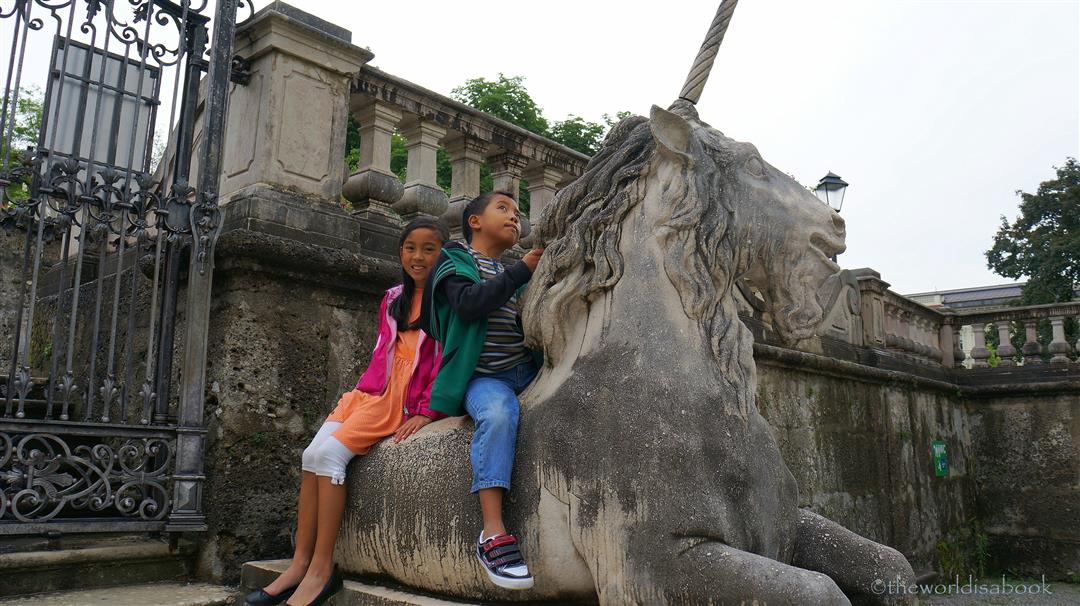 One of my kids favorite part was the Dwarf Gnome Park (Zwerglgarten) on one side of Mirabell Gardens. An open field was surrounded by many gnome statues who were said to have been modeled after real dwarves. My kids enjoyed seeing these gnomes and enthusiastically posed with all of them. The statues were so whimsical you can't help but smile seeing them.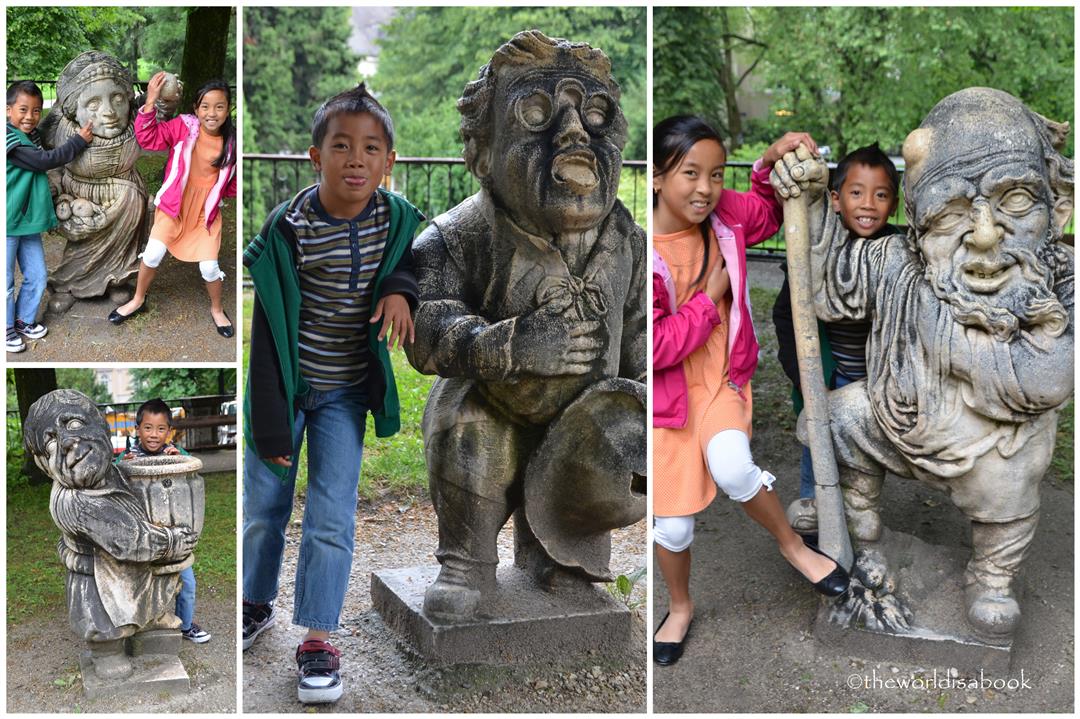 From the footbridge of the gnome park, you can see a playground that's wonderful for kids of all ages. It had great facilities and equipment.  We also really enjoyed walking and running through the vine tunnel. You may have to wait a bit while fans re-create scenes from the Sound of Music through here.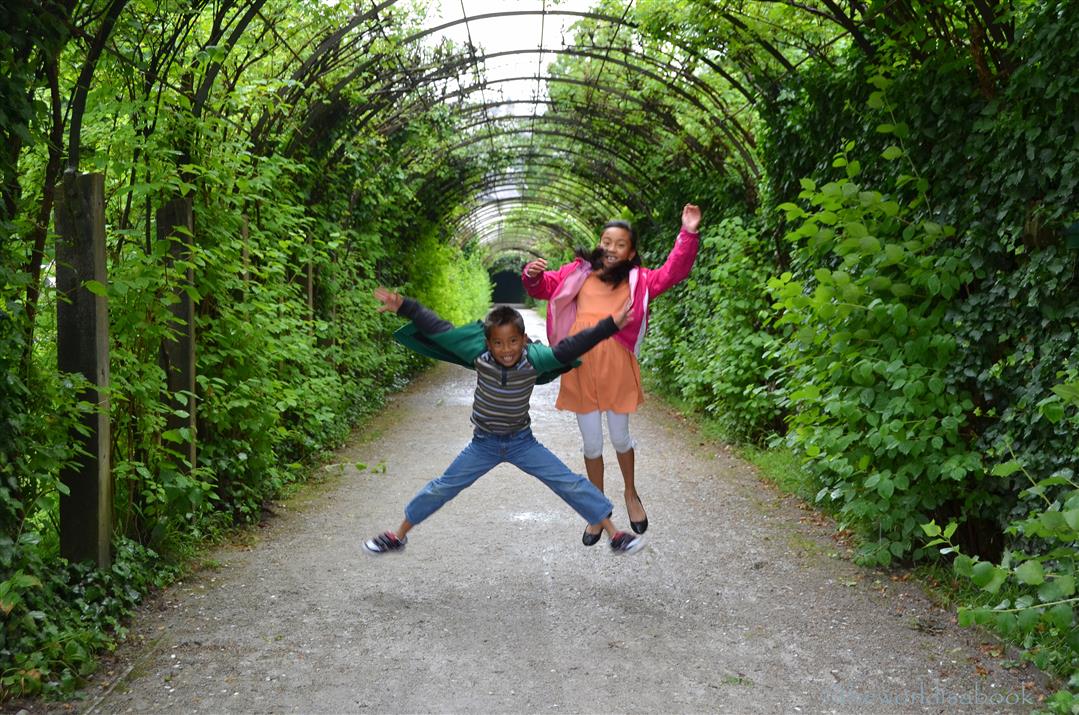 3. Do the Modern Art Walk
While there were frescoes on building walls and ornate fountains to admire all over the city, there were also some modern artwork worth exploring. The Salzburg Foundation was established in 2002 and has since invited international artists annually to create sculptures in public spaces. Some of the renowned works of art include the bronze "caldera" on Marktplatz, the golden sphere with the man on top at Kapitelplatz (pictured below) and a walk-in attraction in Furtwanglerpark. The giant chess pieces were a bonus for my kids. Check this website to see the other pieces around Salzburg and their locations.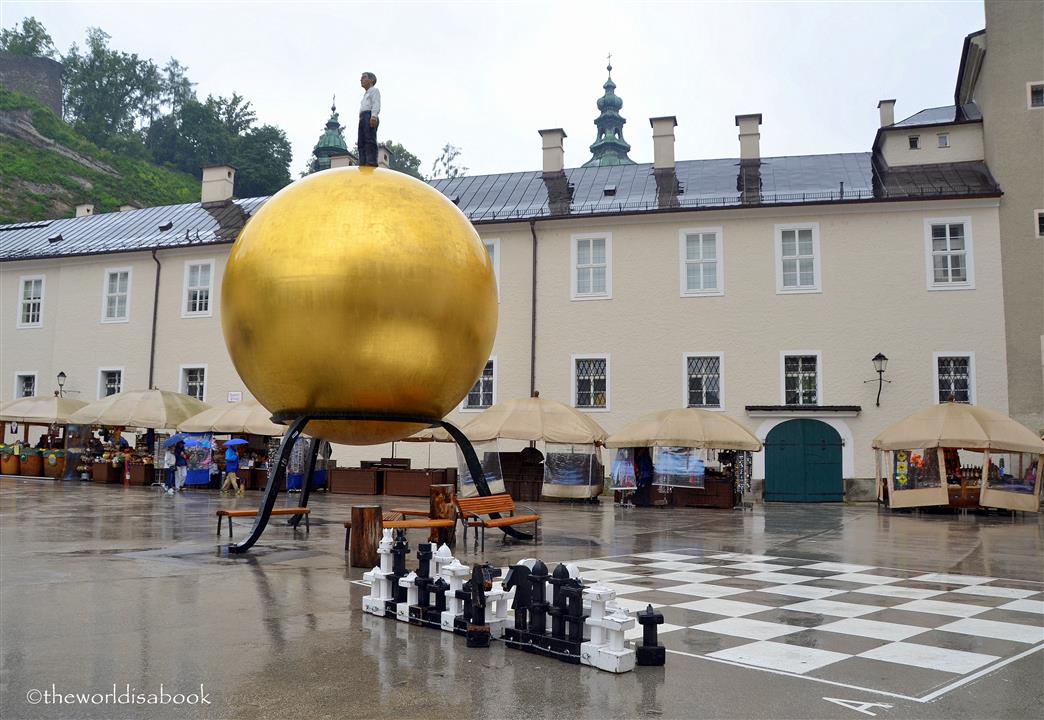 4. Walk along Getreidgasse
One of the areas we loved in Salzburg was walking through the pedestrianized Getreidgasse shopping street lined with row houses. It was pretty crowded but it made for a perfect excuse to enter one of the restaurants, unique stores or the many souvenir shops. My kids enjoyed looking at all the colorful window displays especially all the Mozart related souvenirs and the Mozartkugel (Mozart chocolate balls).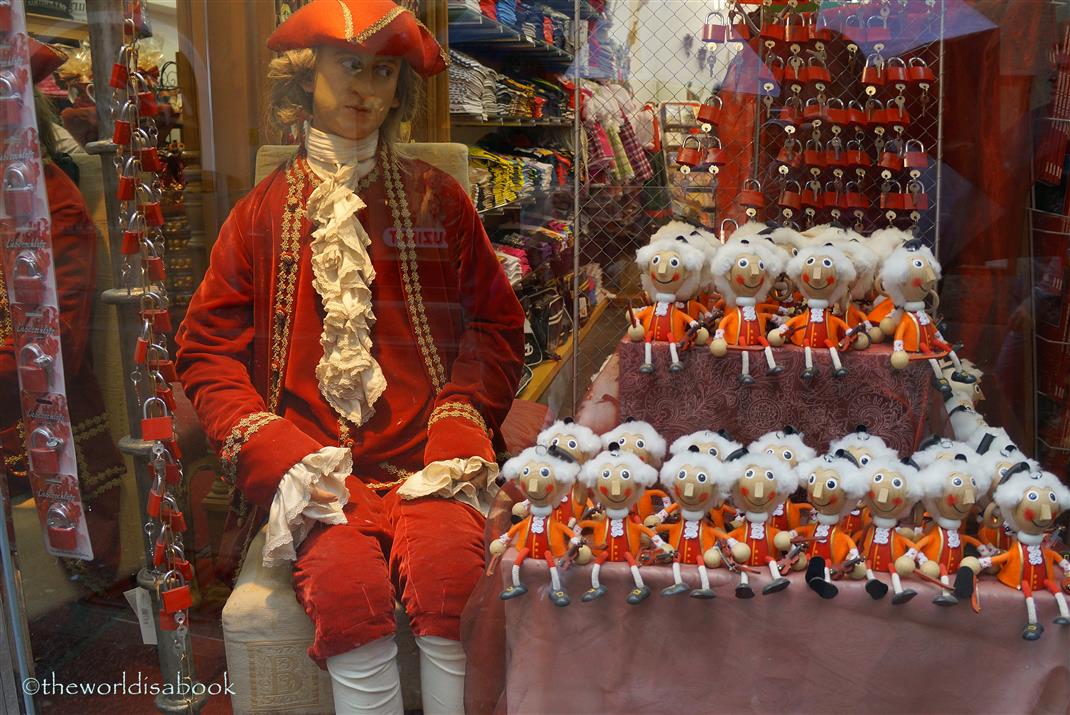 We loved seeing all the wrought iron guild signs above each store front even the familiar ones like McDonald's. It was amazing to see the craftsmanship and details on some of those signs.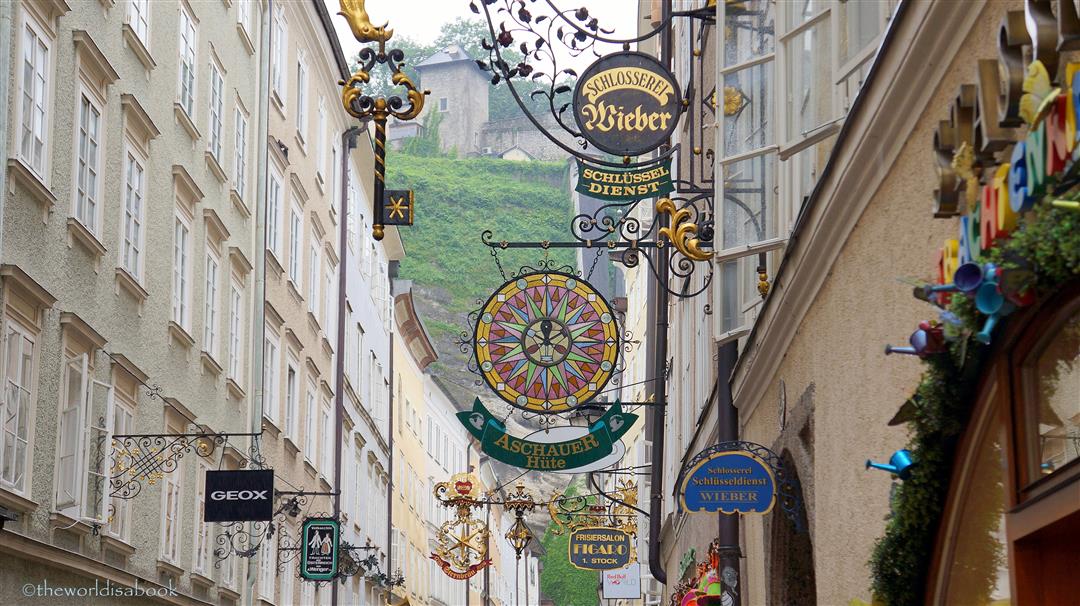 Don't miss walking down alleyways and courtyards. You never know what surprises are in store for you and the kids. You'll be sure to notice many visitors taking pictures of a yellow building – No. 9 Mozarts Geuburtshaus (Mozart's Birthplace) – which is now a museum.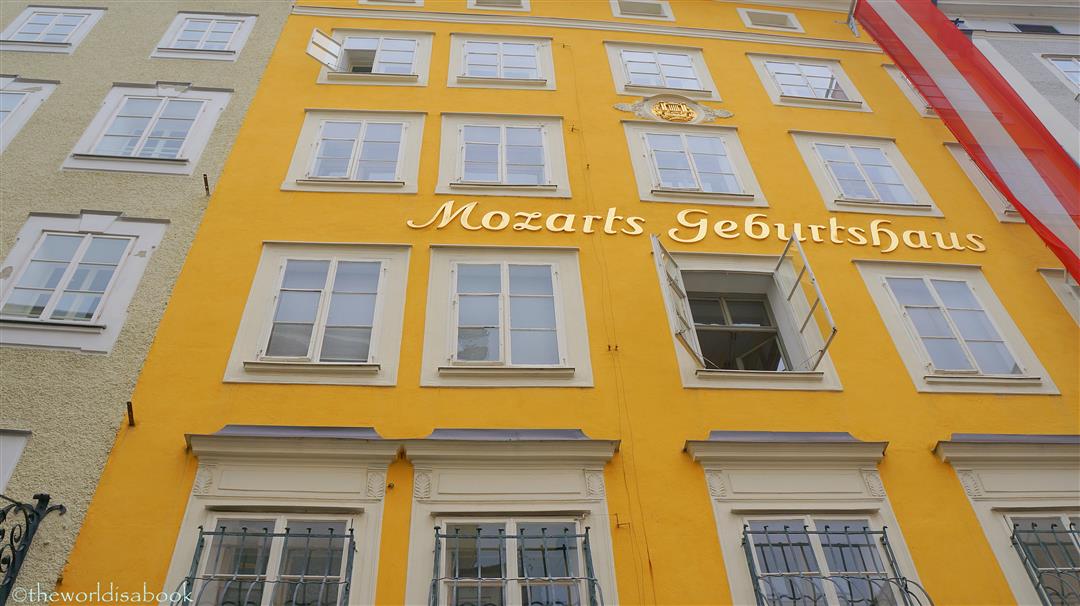 5. Explore the Historic Churches
Much of Salzburg has retained its beautiful architecture and charm since it was lucky enough to have escaped heavy bombing during World War II. Since we were in one of the most well-preserved cities in Europe, we couldn't help but go into the churches we passed by while walking around the Alstadt.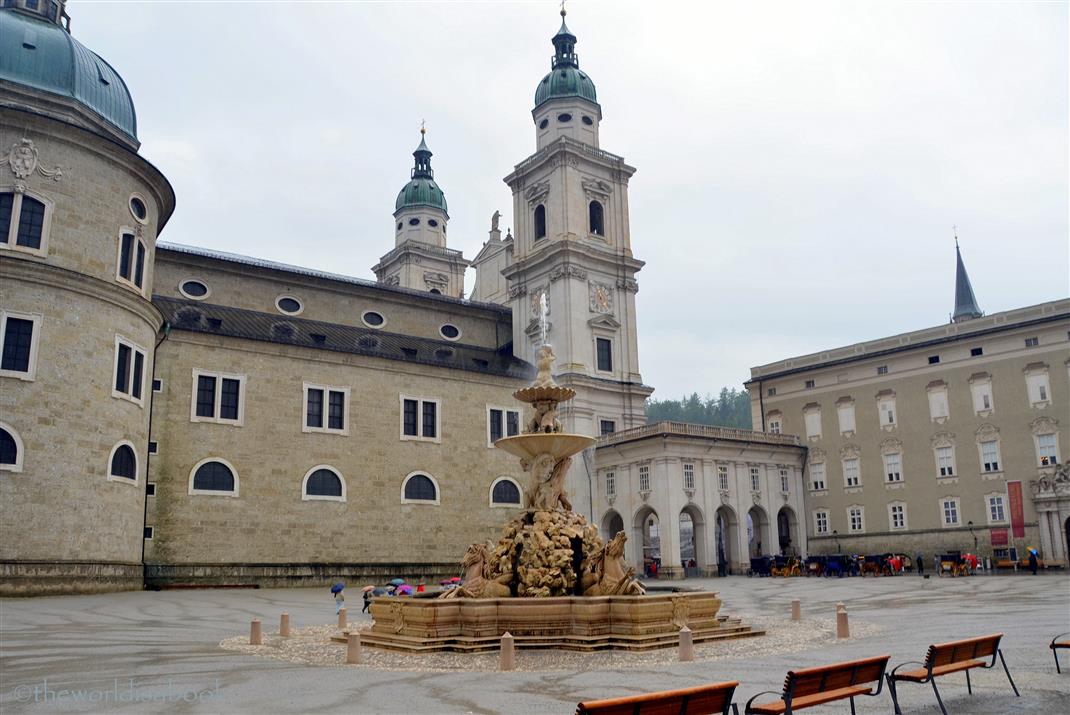 The most impressive was the magnificent Salzburg Cathederal. We visited when a choir was practicing and it sounded glorious. The architecture inside was absolutely gorgeous. Yes, even the kids will be mesmerized. Go towards the altar area and look up at the stunning dome and its frescoes. Mozart was baptized here and was also an organist.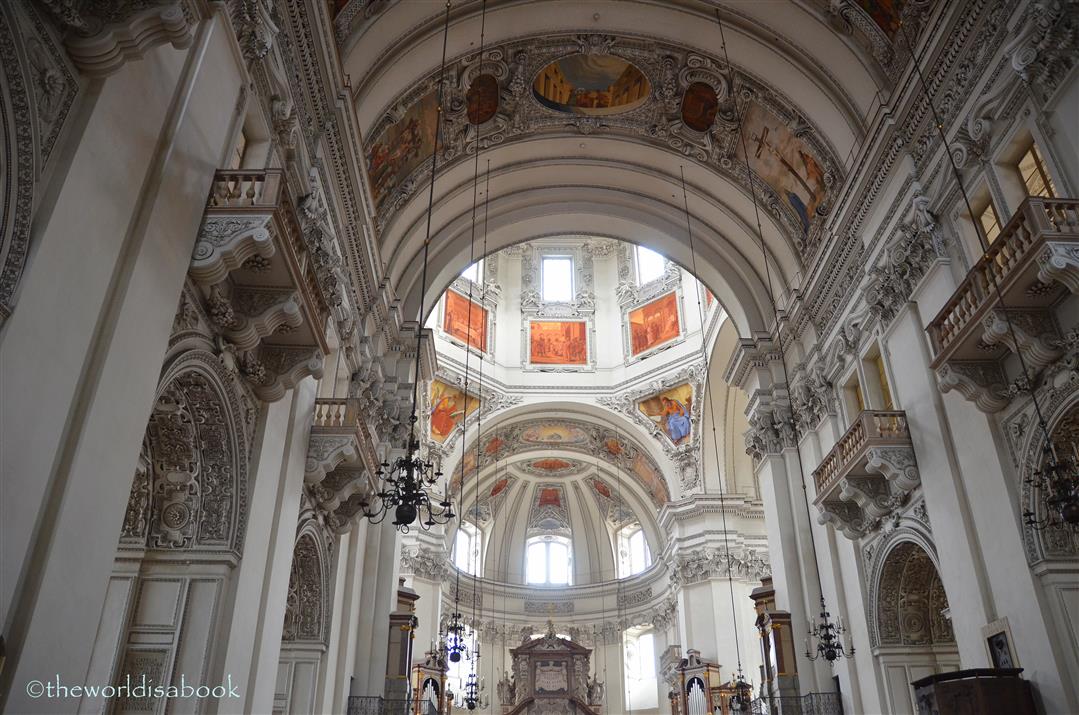 Nearby is St. Peter's abbey and cemetery. I know it sounds morbid to let kids walk through here and explore but it was actually one of Salzburg's popular attractions. Many of the tombs were decorated with flowers and were so well-maintained. The kids were fascinated with how old some of the tombstones were in here. Other churches worth visiting include Franziskanerkirch and the Baroque Kollegienkirche.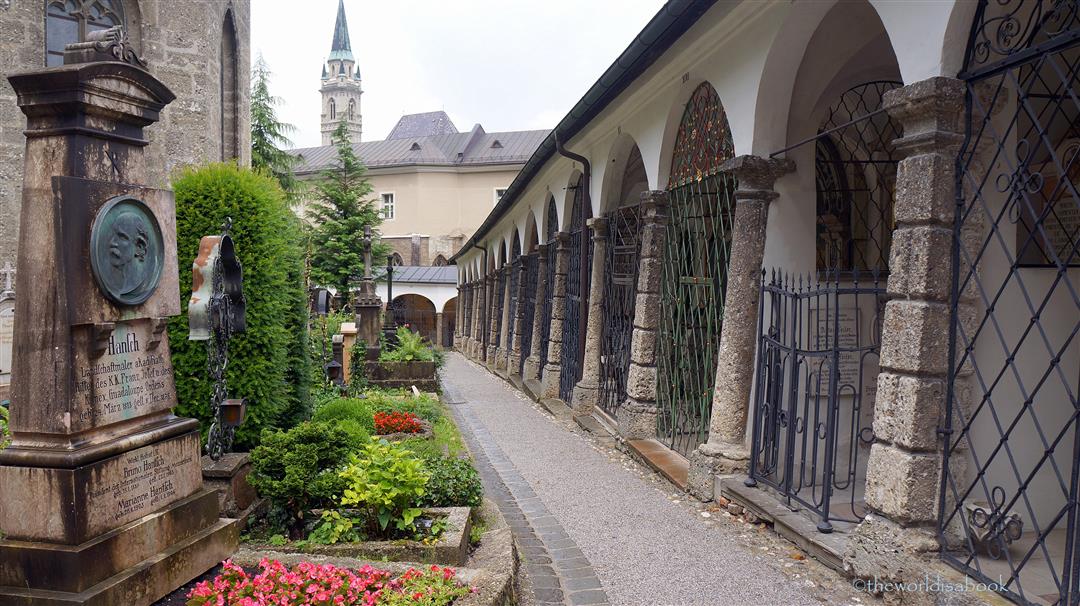 *What other free things to do in Salzburg can you add?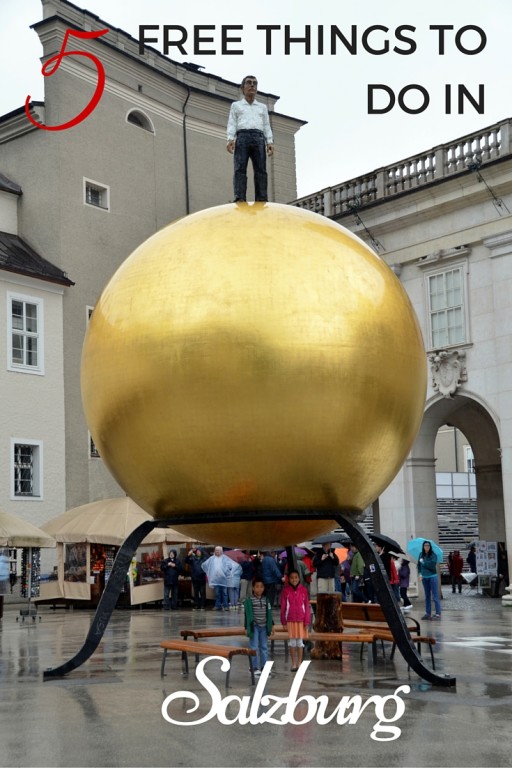 This is a part of a series called Five Free Family Friday which is a collective guide of free family-friendly attractions from places all over the world.  If you'd like to contribute with the free attractions in your home city, I would love your guest posts. Thanks!