London with Kids: All Aboard the London Eye
We've visited many towers and observation decks in many cities to get a bird's eye view but nothing that looked like an amusement park ride. We spent our last night in London this past summer aboard the EDF Energy London Eye to see the sights from a different perspective. It's hard to miss it since it can be seen from many places around London. While the tourism brochures would prefer to call it an "observation wheel", we like to call it a giant ferris wheel but also an engineering marvel.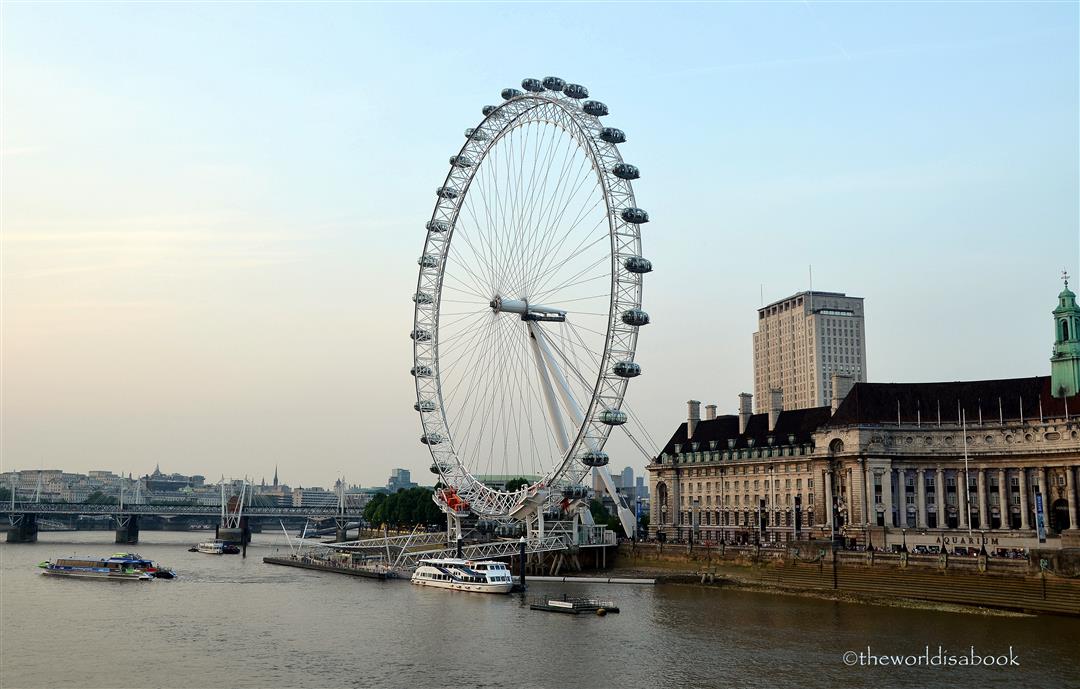 The London Eye stands at 443 feet (135 meters) tall and was completed in 2000 as part of London's millennium celebration. The ferris wheel design was chosen for its uniqueness with the wheel representing the turn of the century.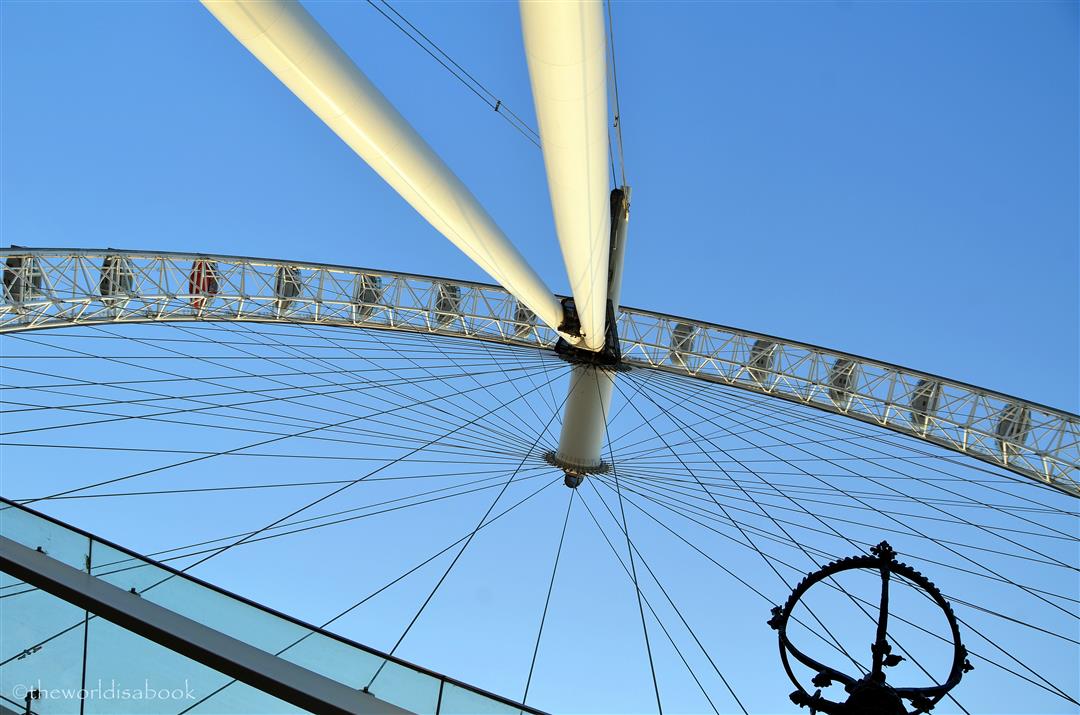 There are 32 glass, egg-shaped capsules on the outside of the rim – representing the 32 boroughs of London. Each capsule holds up to 25 passengers. For those who want to splurge, private capsules can be rented for special occasions that can include wine and chocolates among other things. It's become one of the go-to places for proposals and weddings.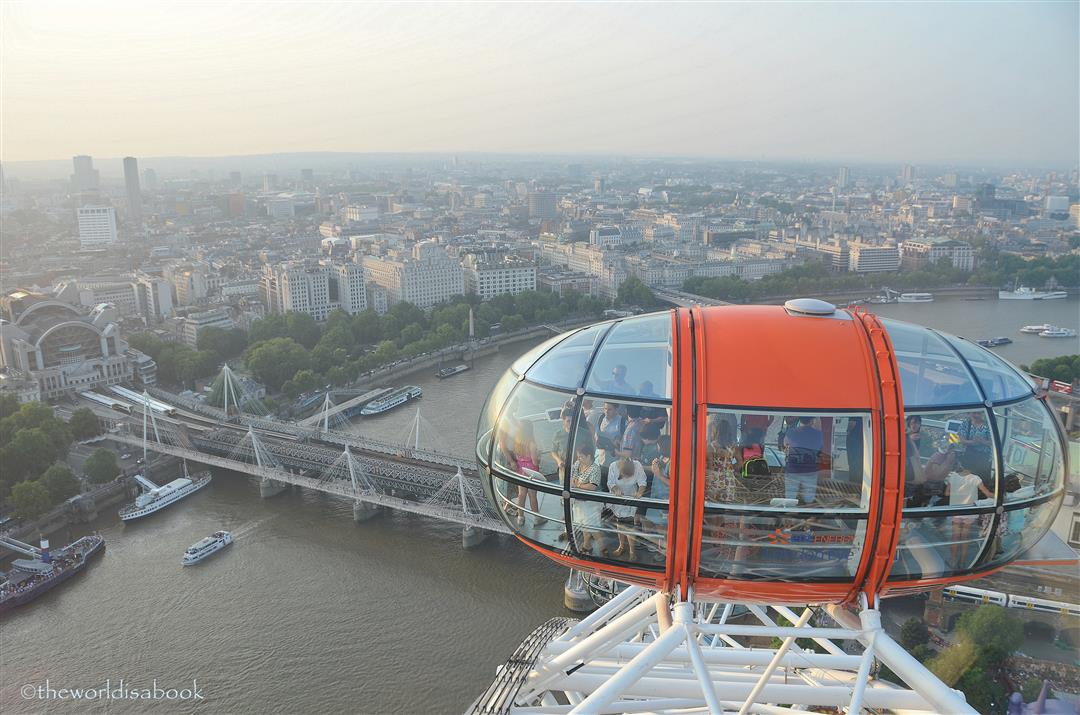 Since it's a major tourist attraction in London, you can expect lines especially during weekends and the summertime. We decided not to reserve the tickets ahead, despite the cost and time savings, since weather was a bit unpredictable. Luckily, the ticket counter lines weren't that long.
Each ticket has an assigned time to enter the boarding queues. Ours was scheduled for 8PM and the line went surprisingly fast. These lines actually looked deceiving so don't let it deter you or maybe it was just timing late in the day. The London Eye can hold 800 people at a time and they were pretty efficient in loading guests. We were excited to go on this must-do attraction since this wasn't around during our last London visit.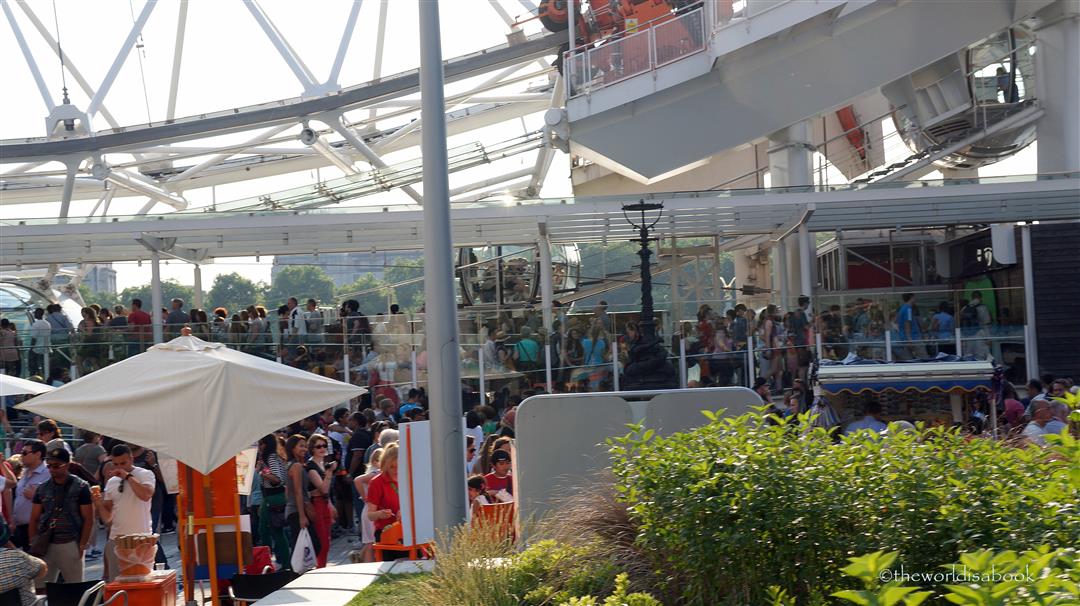 One of the great things about the London Eye was its constant motion. It slowly turns so everyone in the capsule can enjoy the view for 30 minutes but also slow enough for everyone to easily embark or disembark. It can be stopped for the elderly and those in wheelchairs.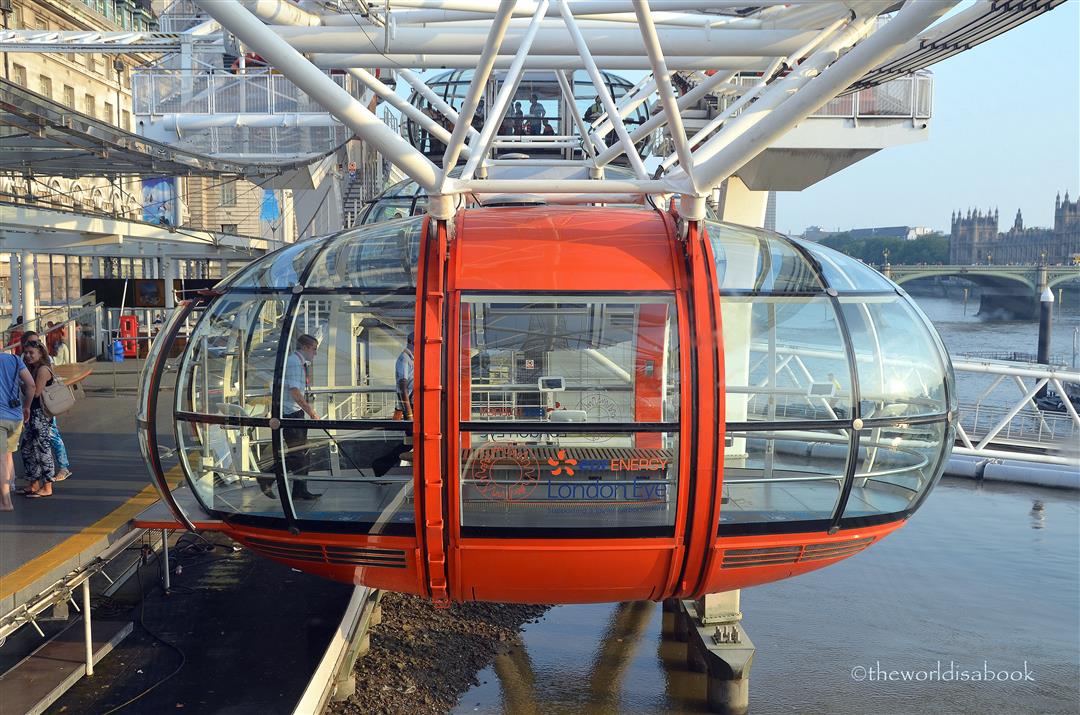 As soon as we stepped into the capsule, everyone clamored for the best window spots. The 20+ other people you're in here with can probably alter your experience. I was praying we wouldn't be in the same capsule with the group of hyper-active teenagers behind us in line. Thank goodness we didn't but felt sorry for the others that were with them. There are no windows but each capsule has its own heating and cooling system. It did feel crowded at times even with a bench in the middle.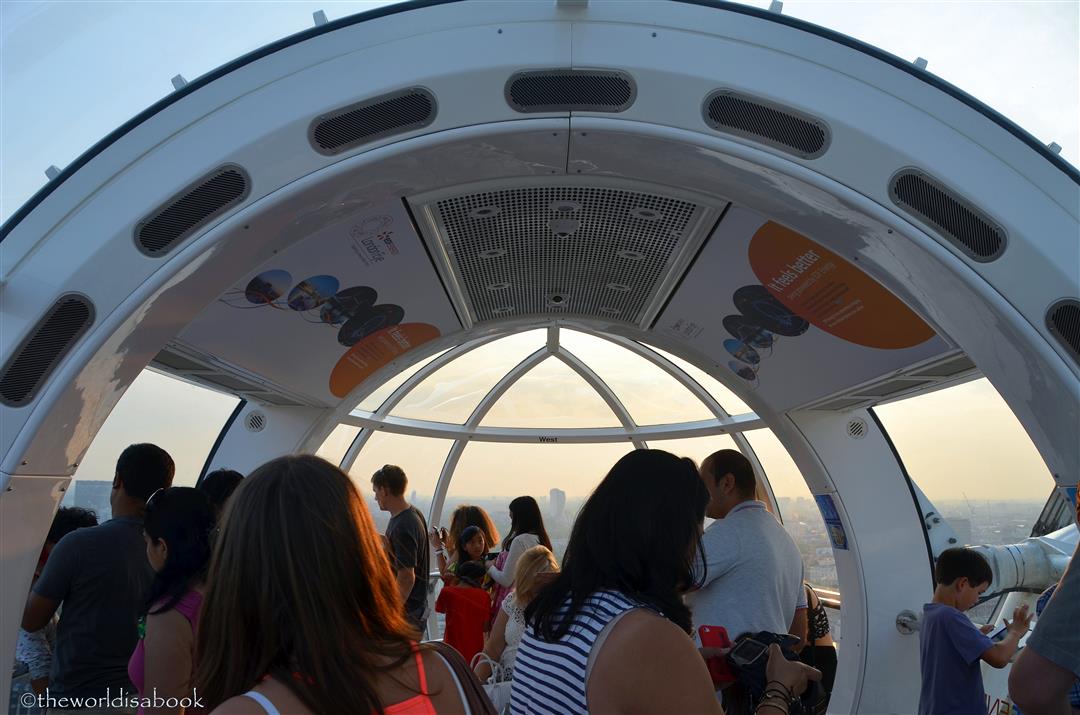 Thankfully, it was very stable and such a smooth ride. The London Eye rotates at about 0.6 mile per hour (.96 kph) so we didn't feel much movement. I had visions of a rocking capsule when all the people in there were moving around. It was also good to know that it can withstand lightning strikes and storms.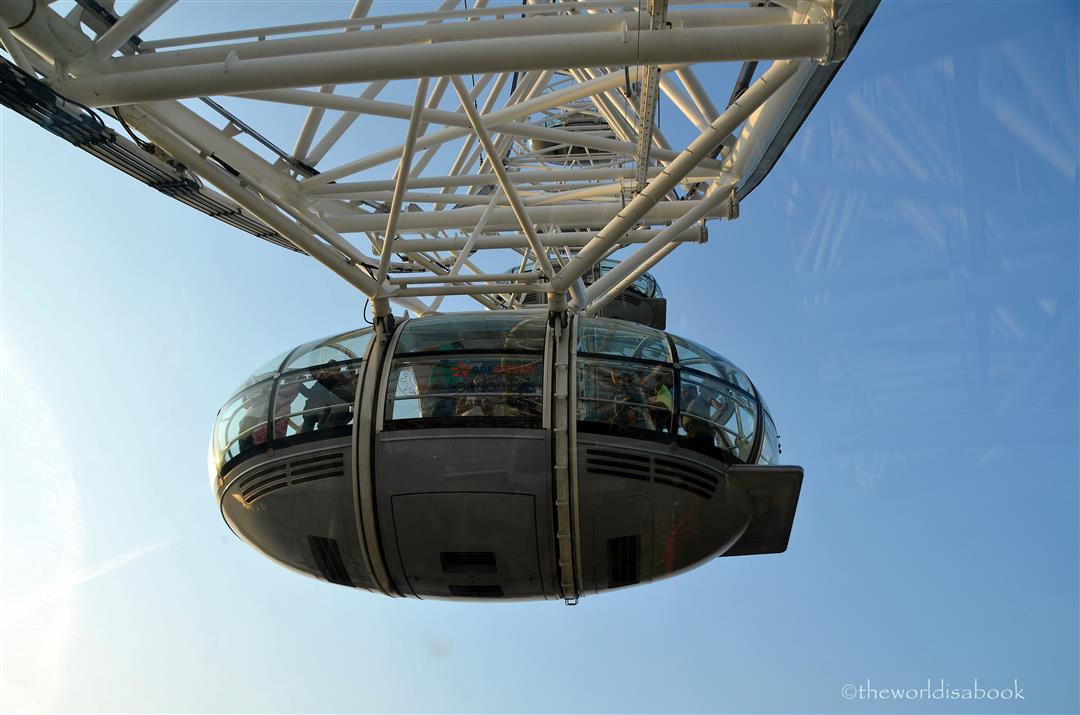 It was a beautiful and clear evening during our "flight" which is what they like to call it. We really enjoyed the 360-degree views and seeing all the familiar landmarks from above.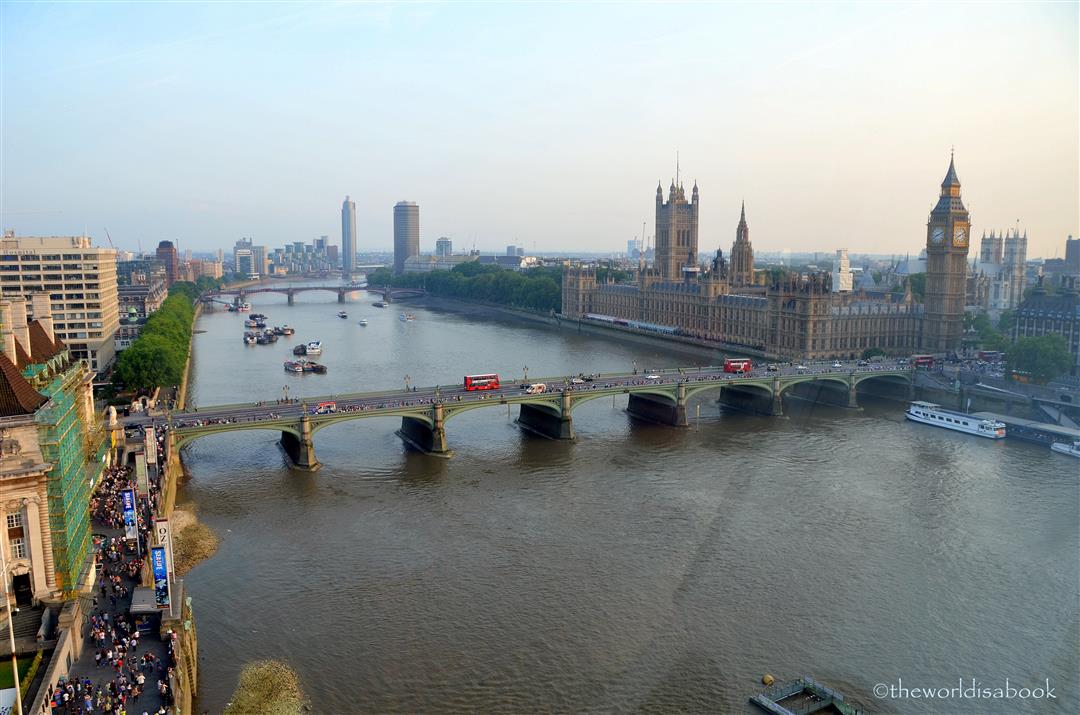 I thought my kids would get bored after awhile but they actually had fun looking for the sights we had seen on the ground a few days before.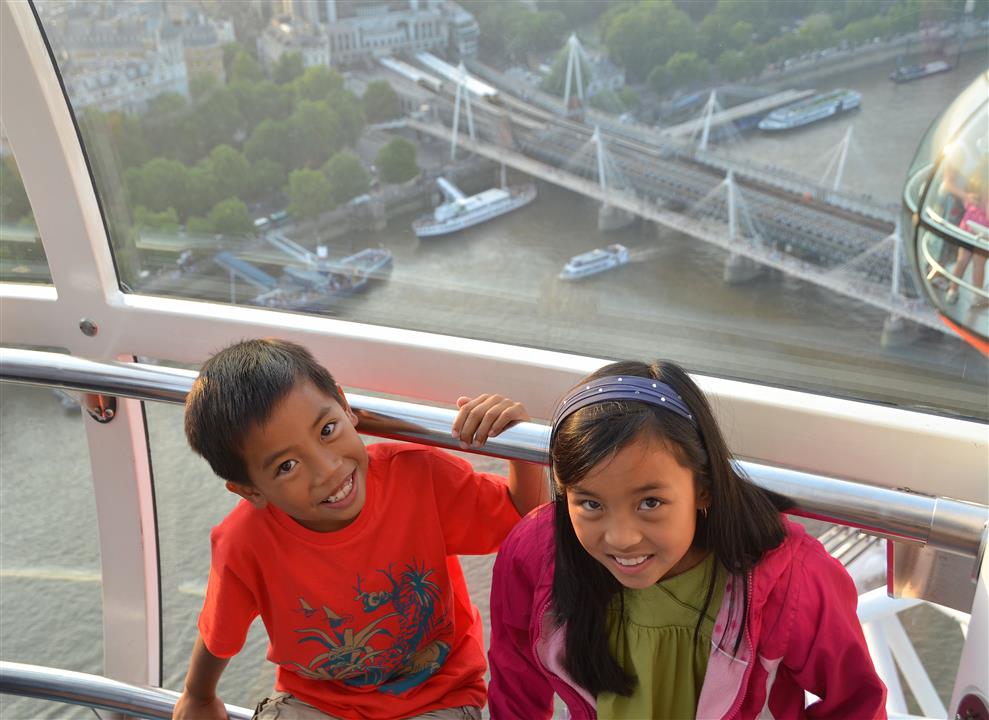 It also helped that they had the Samsung tablets with interactive guides and information on the sights we were seeing.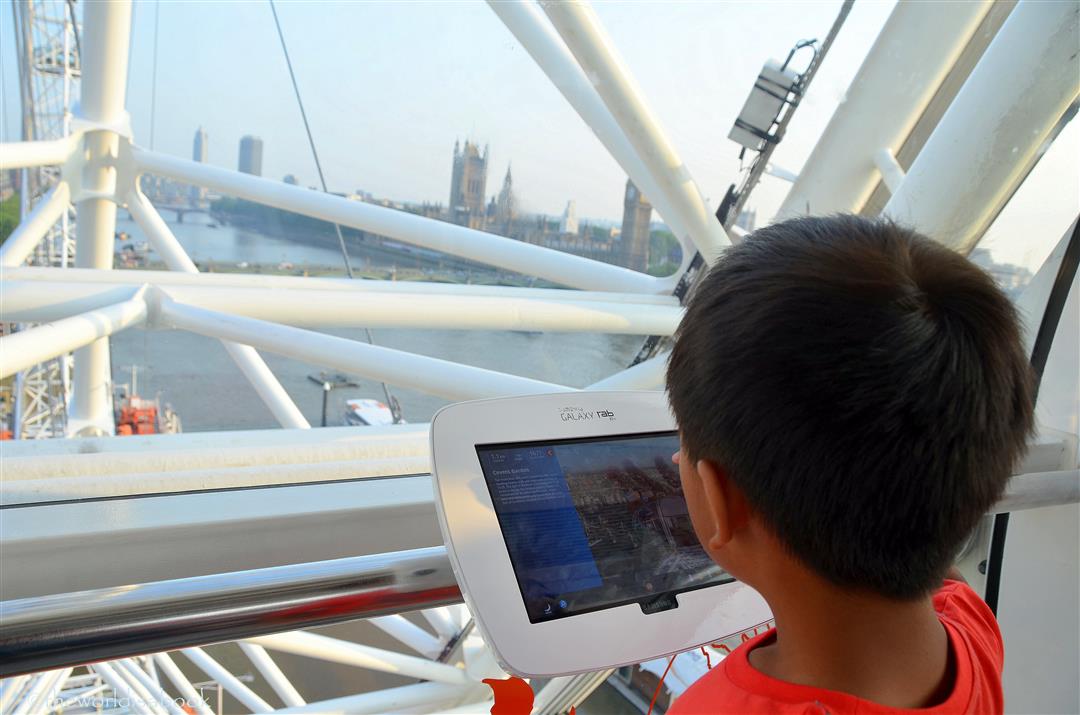 They also enjoyed looking up and looking down at the capsules and waving at all the people. Ladies, it's probably not a good idea to wear dresses or skirts. You never know what people will see from below.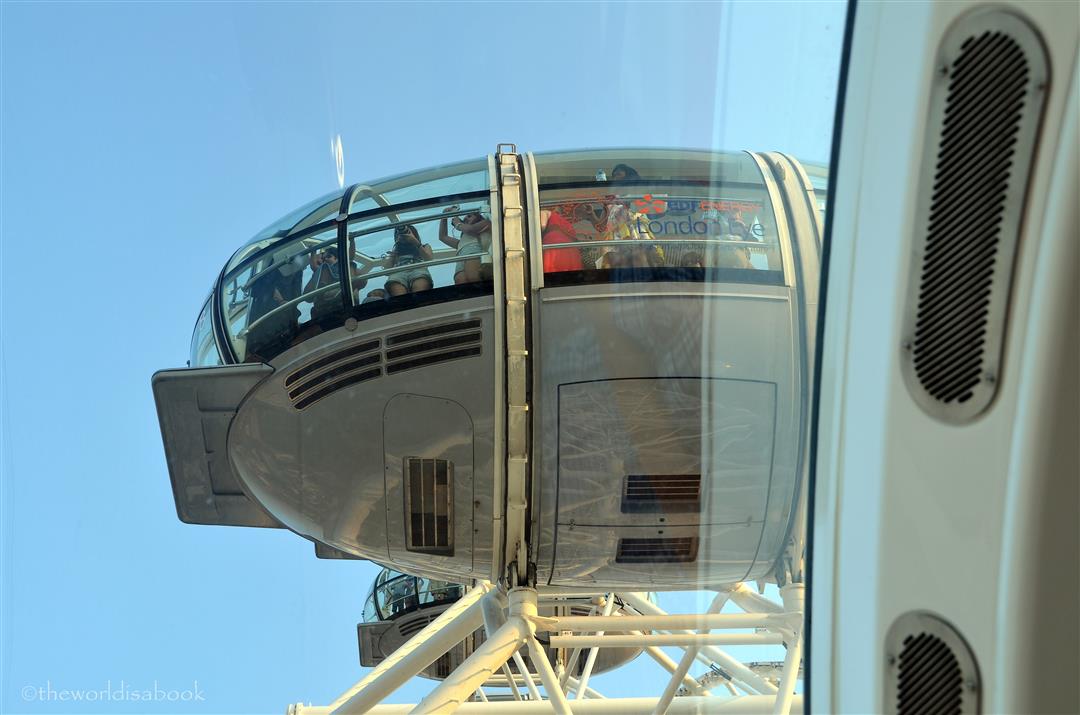 It has been said that on a very clear day, Windsor Castle, which is about 25 miles (40 km) away can be seen from the top. We didn't get that lucky but did see Buckingham Palace nearby. The London Eye is located on the south bank of the River Thames near the Jubilee Gardens which we had a good view of from above.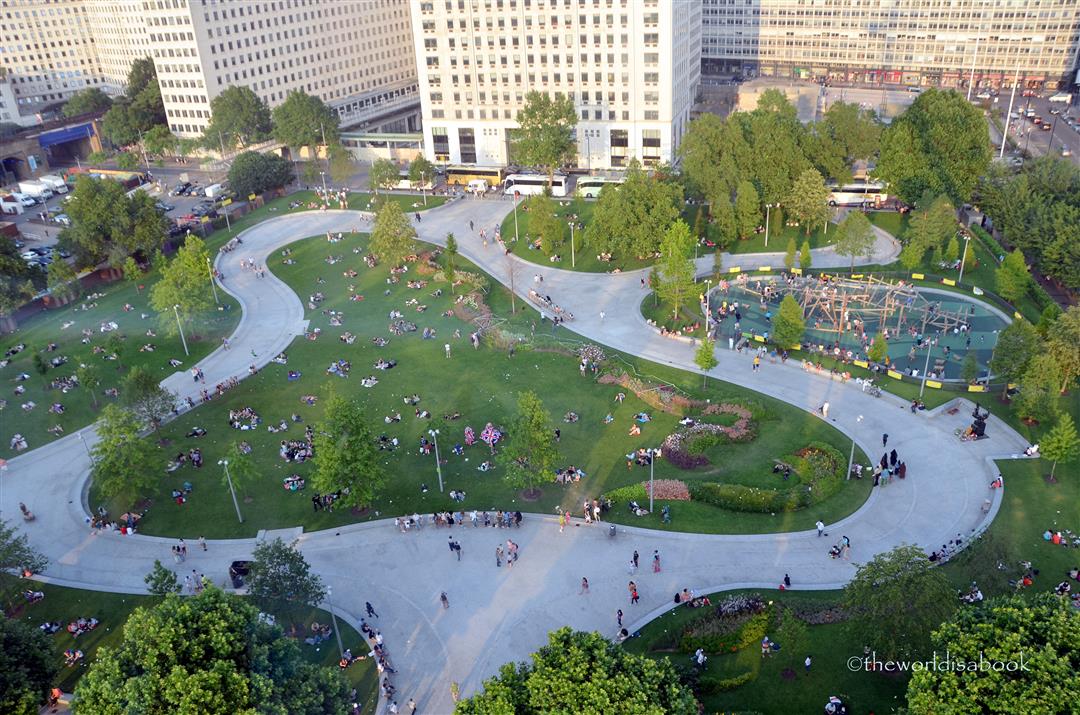 Views of Big Ben and the Houses of Parliament don't get old no matter where you are.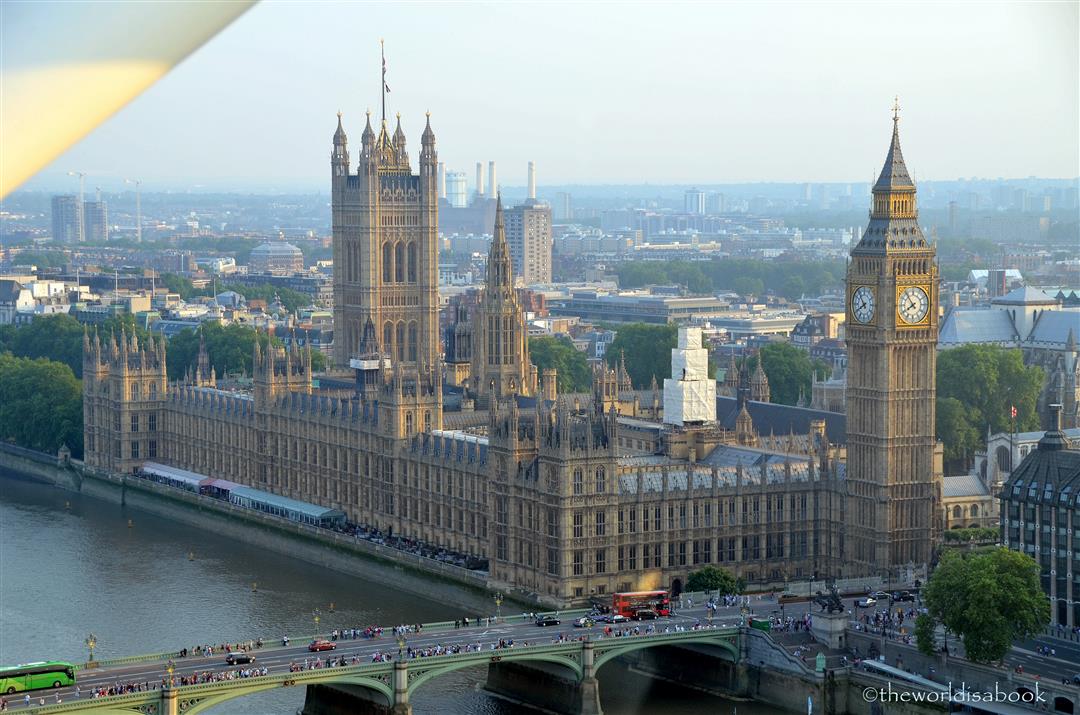 Being up on the capsule also gave us wonderful views of St. Paul's Cathedral and its majestic dome.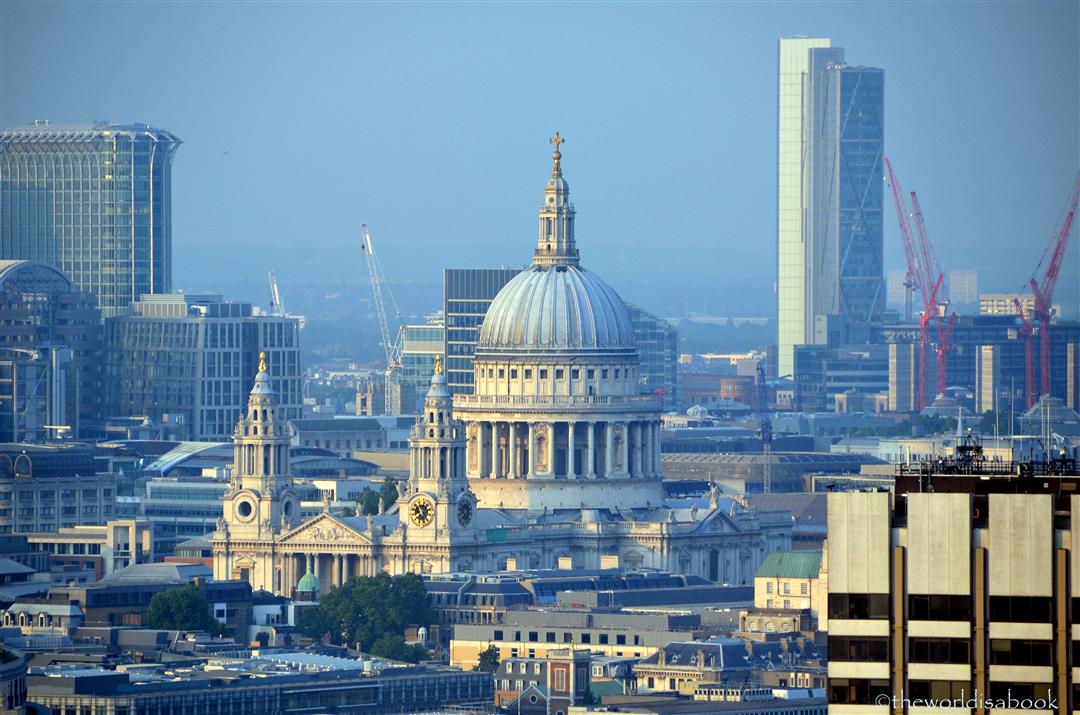 It was fun to see all the activities on the River Thames below too. You don't actually realize how many water vessels go back and forth on the river in that 30 minute period.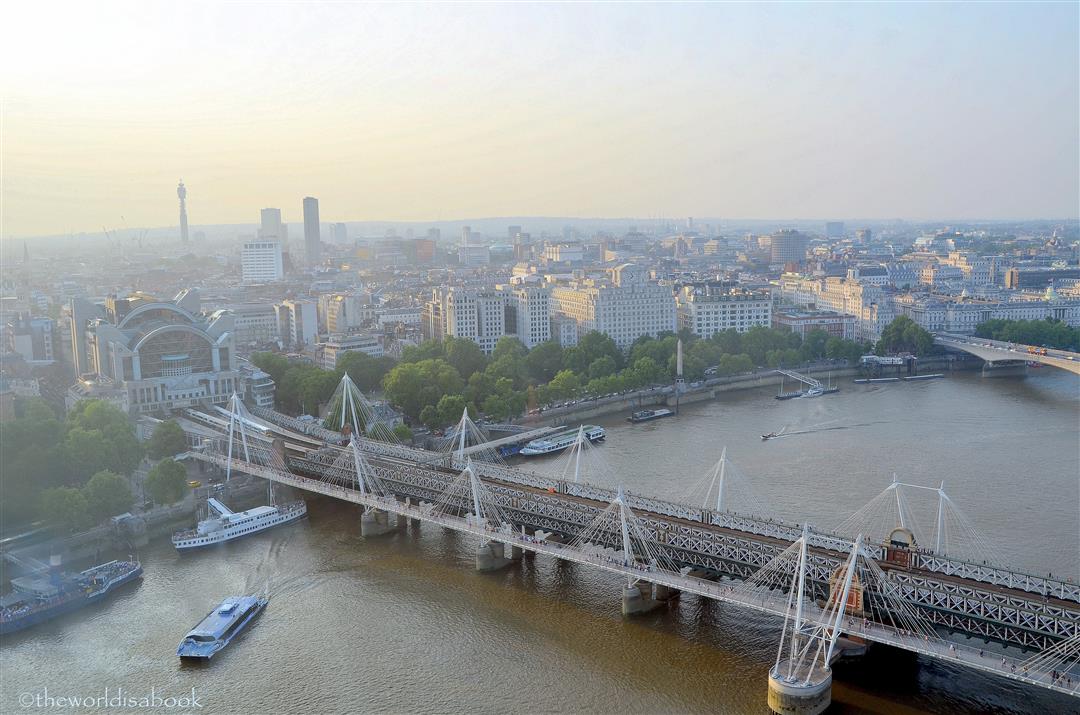 In addition to the the familiar landmarks, we also got to see new structures like The Shard. It is currently Western Europe's tallest building. I'm sure the views from its observatory are just as stunning.

We were too busy posing, taking pictures and enjoying the scenery that it actually felt like the 30 minutes went by too fast. The group, including a couple of families, in our capsule was considerate and pleasant so that also made for an overall wonderful experience. Before getting off, be sure to step on these footsteps and face the camera and smile. You can then buy your photo souvenir.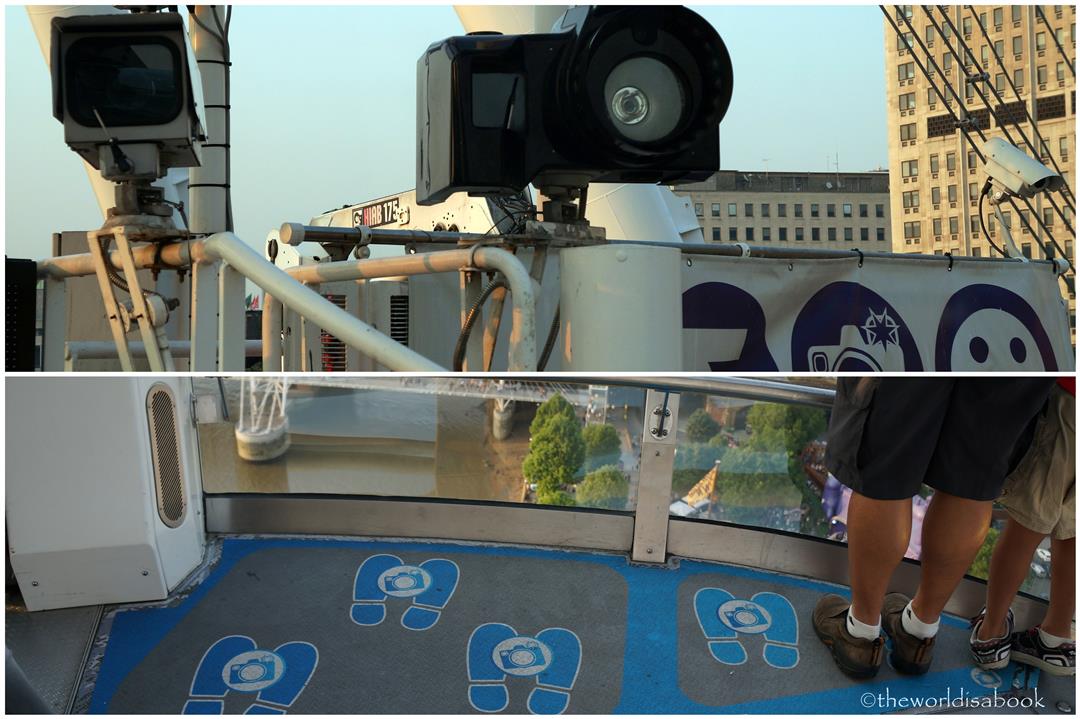 Over three million people take flight on the London Eye every year. Sure, it's touristy and expensive but should also be done at least once. The flight was a lovely way to see the city and we really appreciated seeing everything from above. It was a great ending to an incredible trip.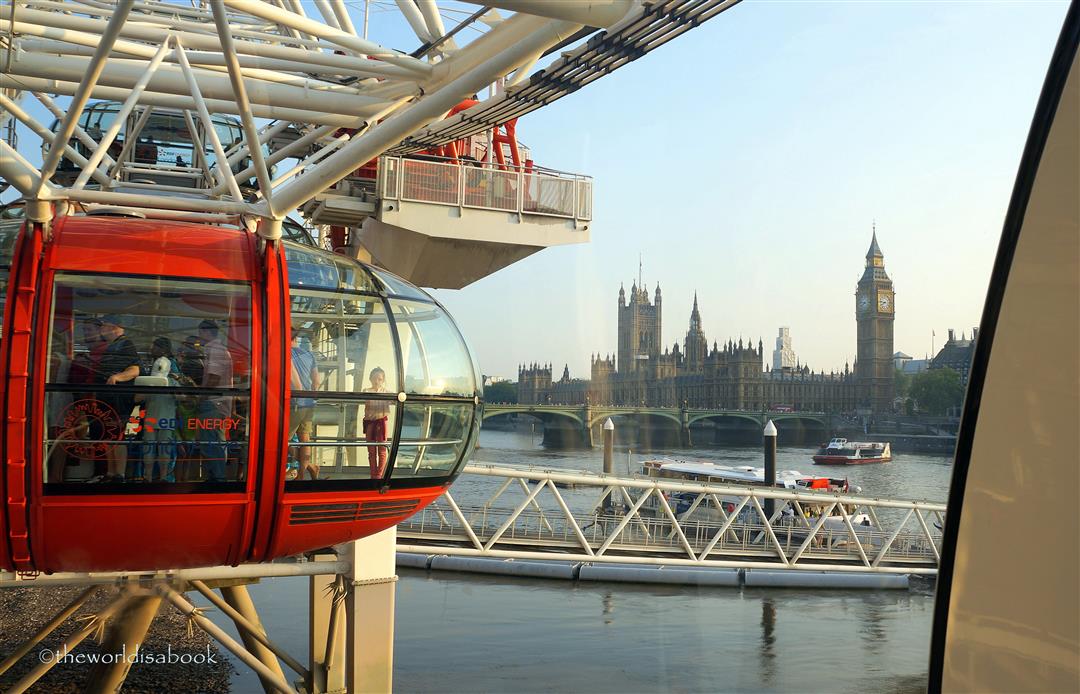 Visiting the London Eye Basics and Tips
Ticket Prices: There are various types of tickets available with adult prices starting at £19.20 ($31 US) and Kids (4-15 yrs old) £12.30($19 US);  Check

the latest prices online

or to purchase tickets. 10% ticket savings if bought online.
There are also price tickets for families of four. £63.00 ($102 US). 20% savings if bought online. All tickets include entry to the 4D cinema experience.
If you're a bit more flexible and having a sunny weather matters more, buy your tickets on the day of your visit to make sure the weather is right. It is London after all. We had better luck late in the day so go early or late.
Try to go to the boarding line a few minutes before your scheduled time. We were able to get in at 7:35 PM even though our ticket was reserved for 8PM.
If traveling with kids, give them a camera or bring portable binoculars to enhance their experience.

Combination tickets

are available with other London attractions and river cruises.
The London Eye is open daily except Christmas day and during its annual scheduled maintenance in mid-January. Check their

website for exact dates

.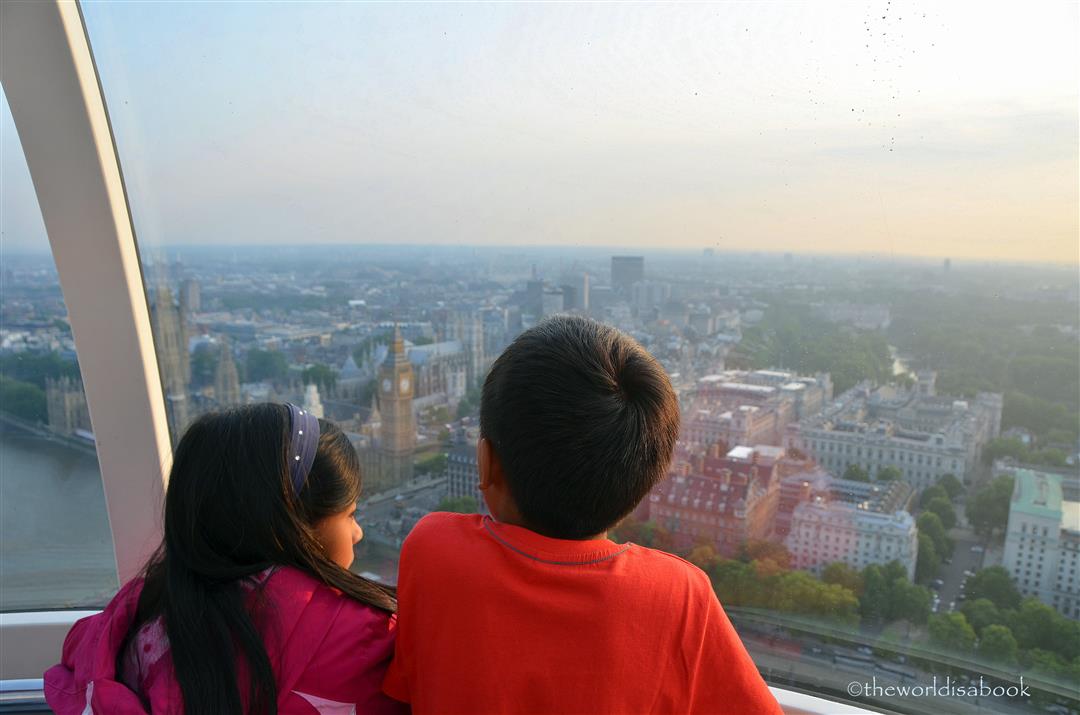 *Have you gone on the London Eye? Any favorite observation decks?
PIN IT FOR LATER!