Celebrating December Nights Festival in San Diego
San Diego may not have snow for a winter wonderland type of holiday celebration but we still know how to kick-off the holiday season with the annual December Nights. Our version of a Christmas market has been around for 35 years and has been a part of many family traditions and get-togethers. Come along with us to see the sights and sounds of this holiday festival of food, lights, entertainment and fun.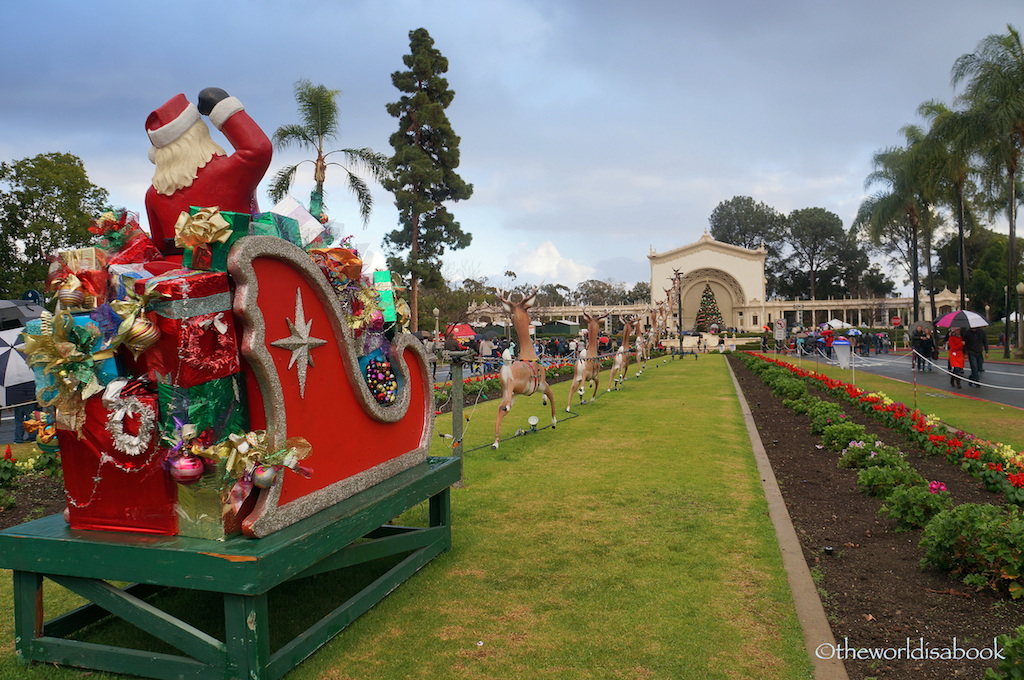 We went to the annual December Nights in San Diego's Balboa Park last weekend and it was worth braving the crowds, some drizzle and cold. I know my snow-covered friends and family don't appreciate San Diegans' definition of cold at 50 ºF (10 ºC) but we're a bit spoiled here. There was something there for everyone that really got us into the Christmas spirit.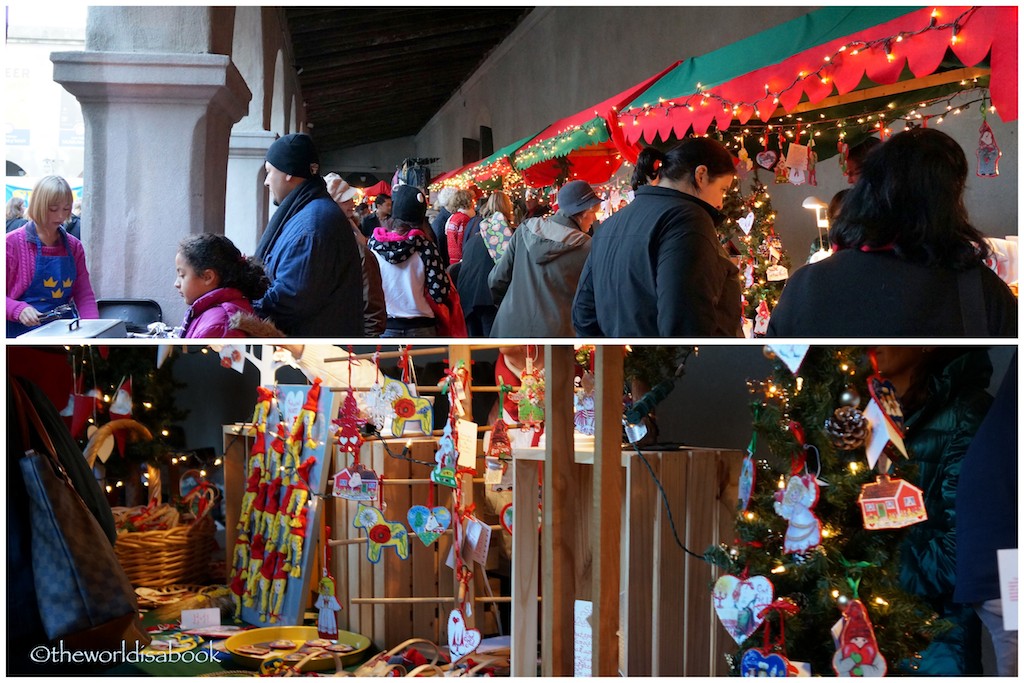 December Nights is a two-day event usually held during the first Friday and Saturday of the month. This has been touted as San Diego's largest free community festival that attracts over 300,000 locals and visitors during its duration. Yes, those numbers are enough to scare off a lot of people from coming. But, don't let it deter you. Be prepared and come early and you'll be fine.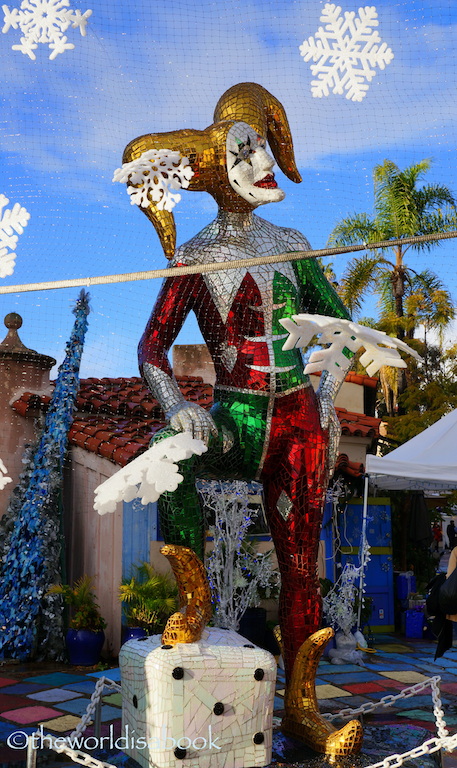 We got there around 3PM on a Saturday when the event festivities were already in full swing. But, the crowds really start coming in around 5 PM when most of Balboa Park's museums are open for FREE from 5-9 PM. Balboa was the perfect festival setting as America's largest urban cultural park.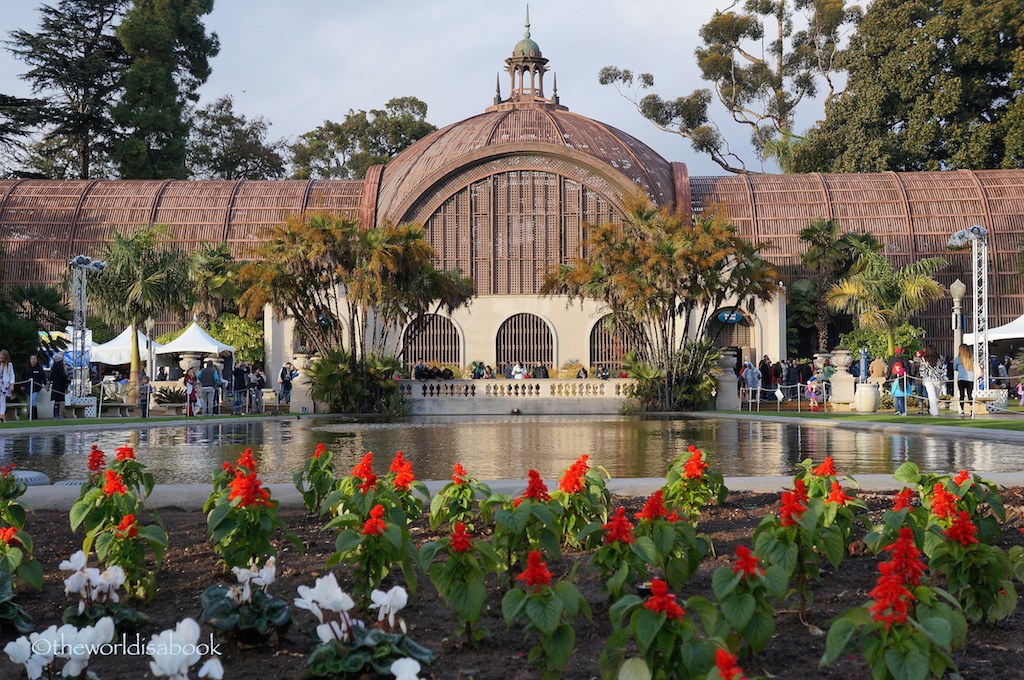 We entered the Spanish Village Art Center first. I love this area even more when it's decorated during the holidays. Over 250 artists and about 37 working studios make up this area and was a great place for some holiday shopping. Many of the studios had tables outside with sales and special holiday items.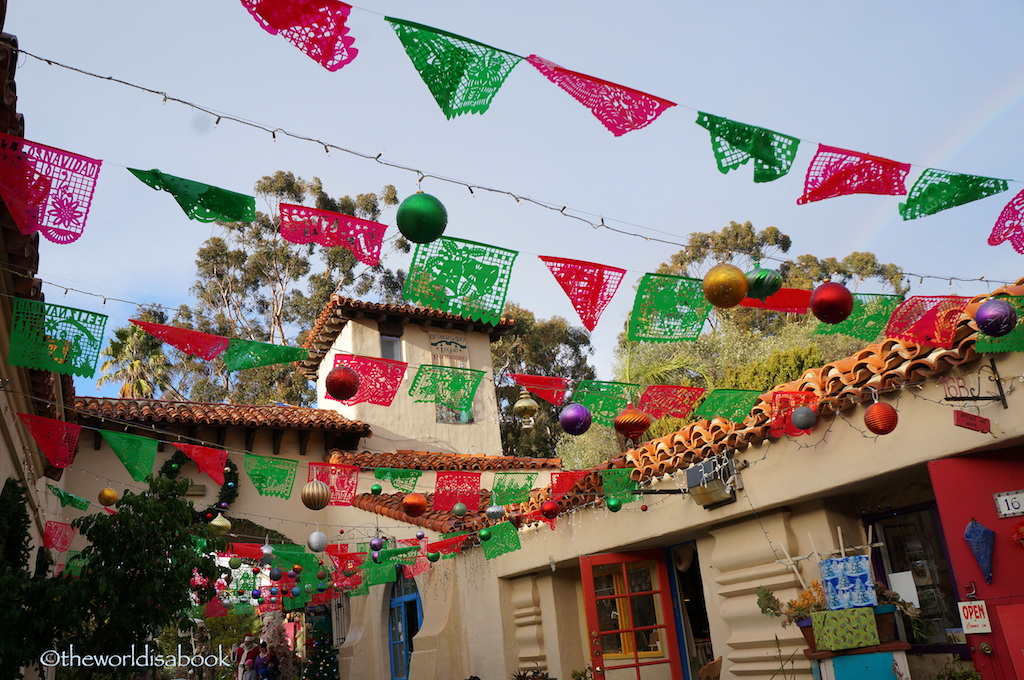 There were several Christmas trees around the area and many of the trees that provide shade had presents hanging from them.
The whole park was buzzing with live holiday music and many theater performances. We saw a long line when we were leaving for the Nutcracker at the Casa del Prado theater.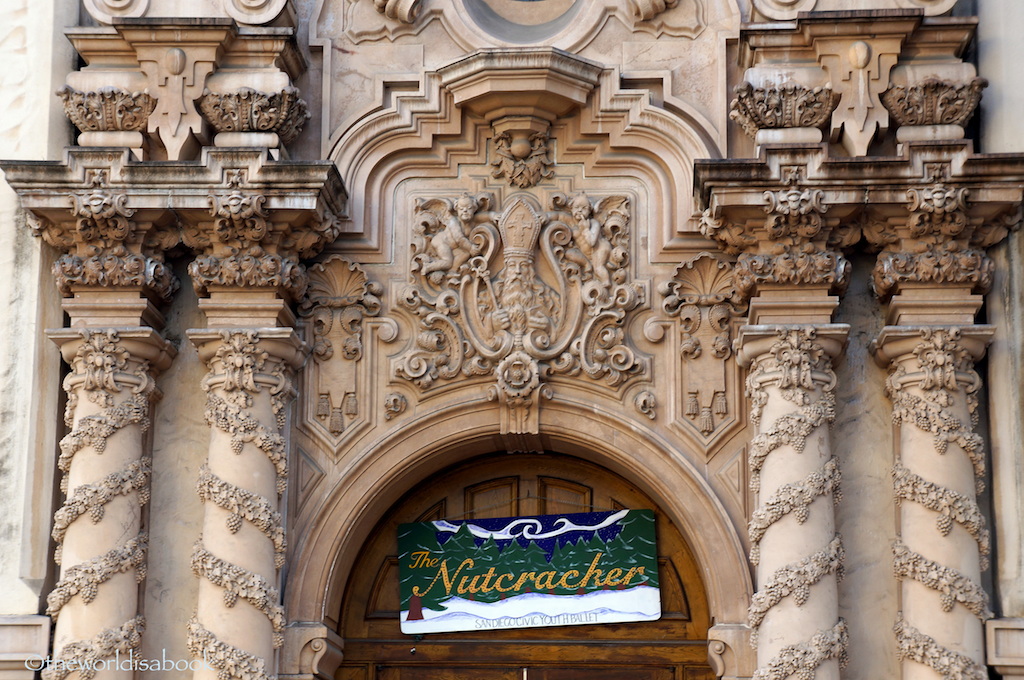 The beautiful California Tower and Building didn't need any decorations. These iconic structures have been here since they were constructed for the 1915 Panama-California Exposition. The tower and its ringing bells added to the festive atmosphere.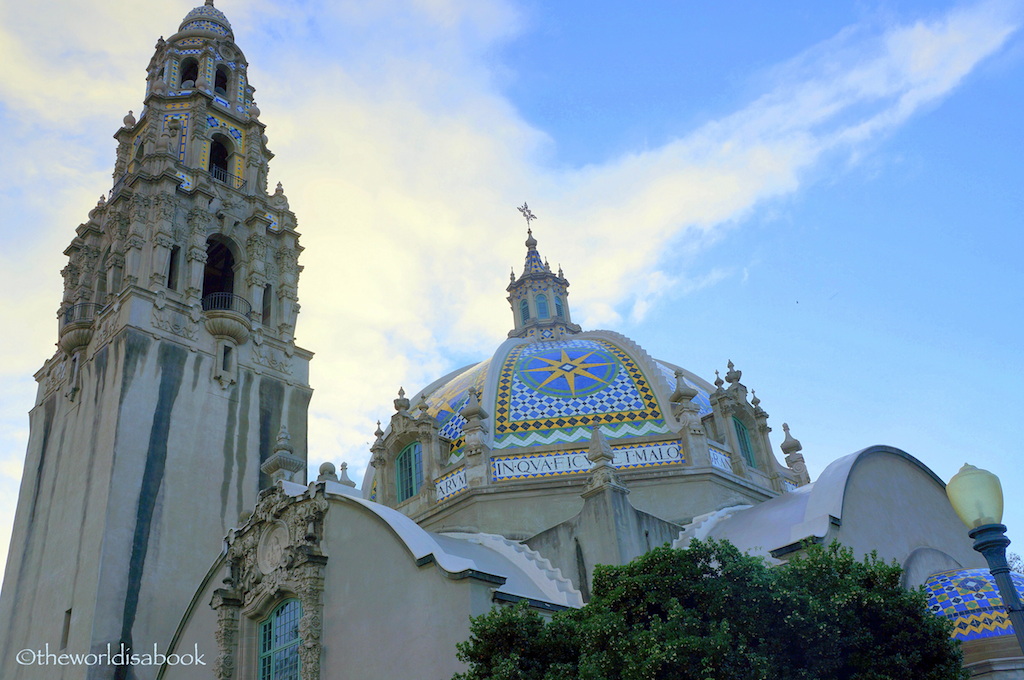 This whimsical Christmas tree takes center stage at the Old Globe Theater area. Dr. Seuss' "How the Grinch Stole Christmas" is performed for several weeks. An open house displays costumes and a tour of the Whoville set from the play. Kids can even take pictures with the Grinch which we didn't get around to doing.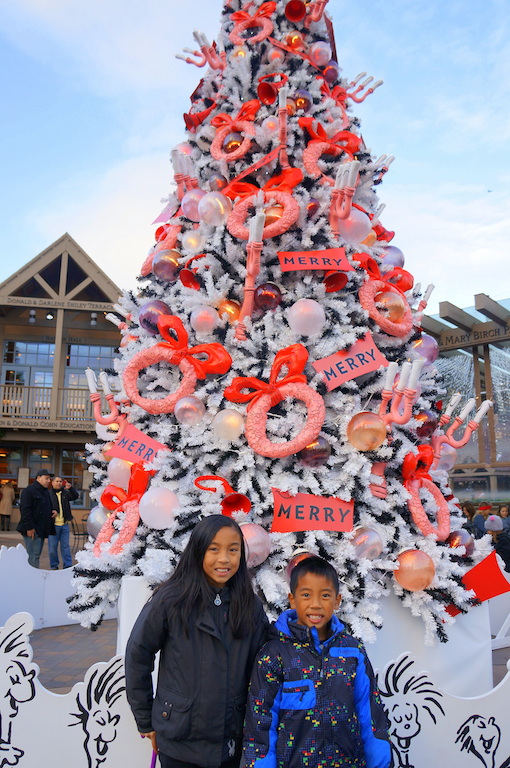 I always love taking pictures of The Botanical Building with the Laguna de las Flores or Lake of the Flowers no matter what time of the year. It was surrounded by many booths during the event. This was how it looked lit up at night.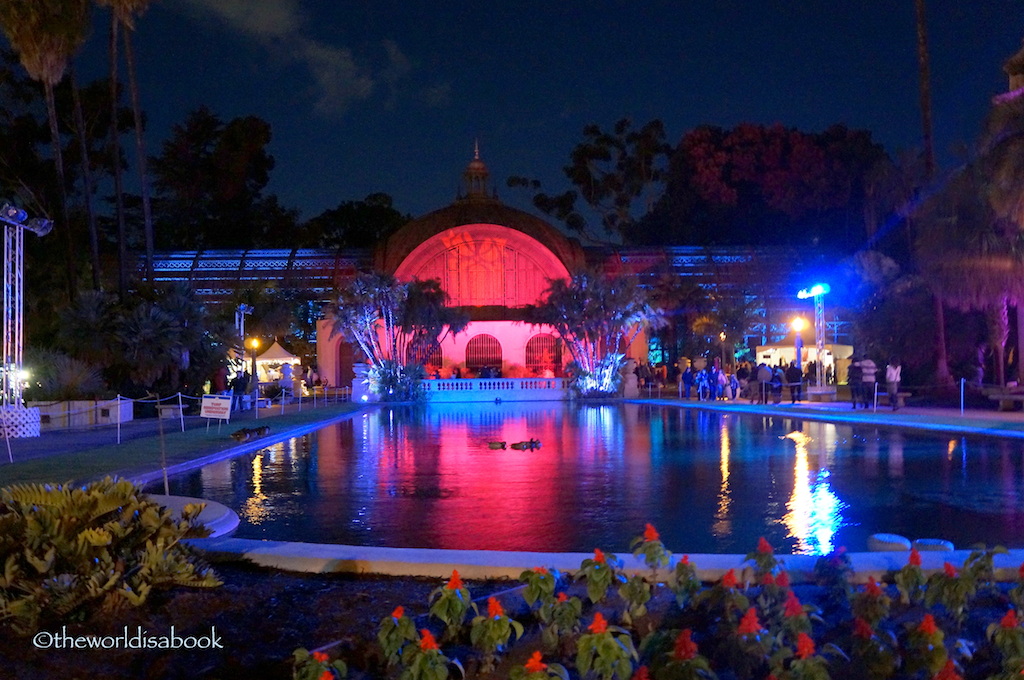 Despite the decorations, carnival games and entertainment, what really attracts us to December Nights is the chance to sample delicious and diverse food from around the world. The International Christmas Festival at the House of Pacific Relations Cottages is usually a big hit. Although, there are also other vendors and food trucks throughout the park.
The House of Pacific Relations (HPR), within the park, are located in the historic 1935 Exposition cottages comprising of 32 countries. The cottages are open every Sunday afternoon to promote educational and cultural programs. It's a wonderful way to learn more about each country. During December nights, the countries sell ethnic food and spirits and perform traditional music and dance on the stage. How about some Turkish delights and beef kebabs from the House of Turkey?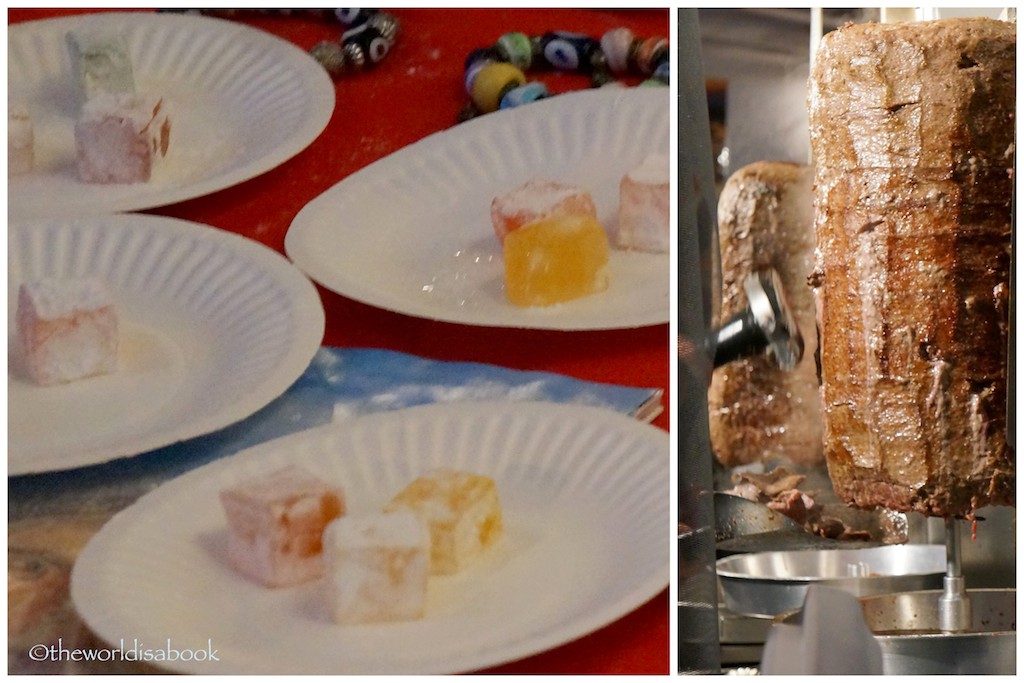 Many of the cottages also displayed traditional holiday decorations which was a lovely way to see the native crafts. Of course, we had to stop at the House of the Philippines and one place I probably need to take my kids to more often. They only offered three Filipino dishes which I felt didn't really represent the best ones. So, we settled for lumpia (eggrolls) and turon (wrapped fried plantains and jackfruit) even though we have some at home. My kids are posing next to handcrafted Christmas lanterns called Parols which are always a joy to see symbolizing the Filipino Christmas spirit.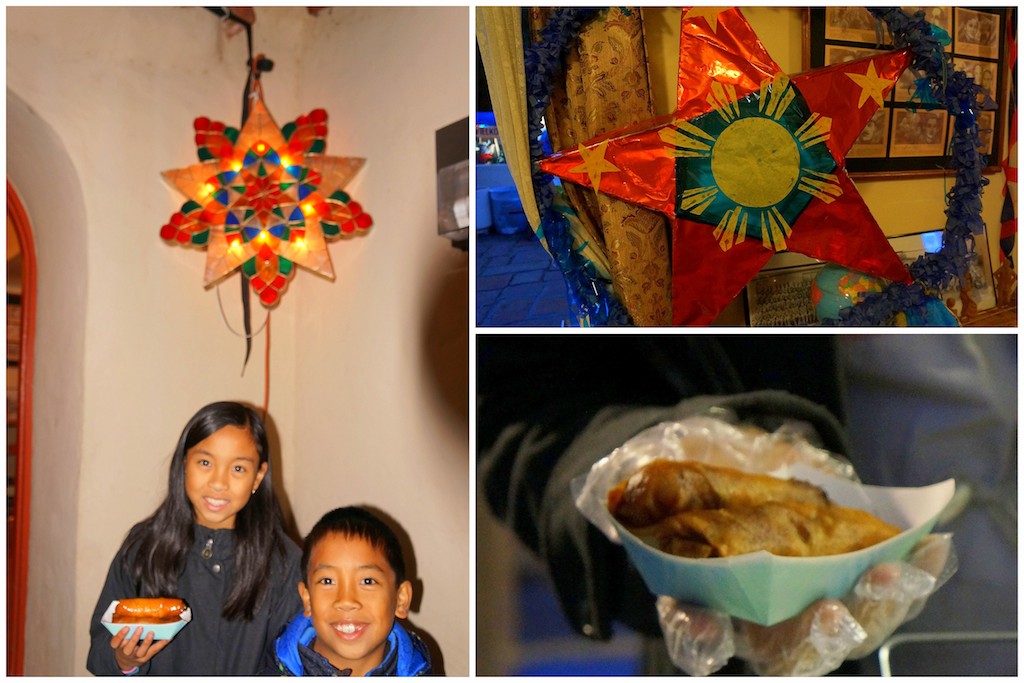 We enjoyed walking through the House of Denmark and seeing them make the Æbleskiver which are traditional circular Danish pancakes. We've only had these in the US at Solvang (America's Danish capital) and here and now wonder why we didn't eat them when we were in Copenhagen last year.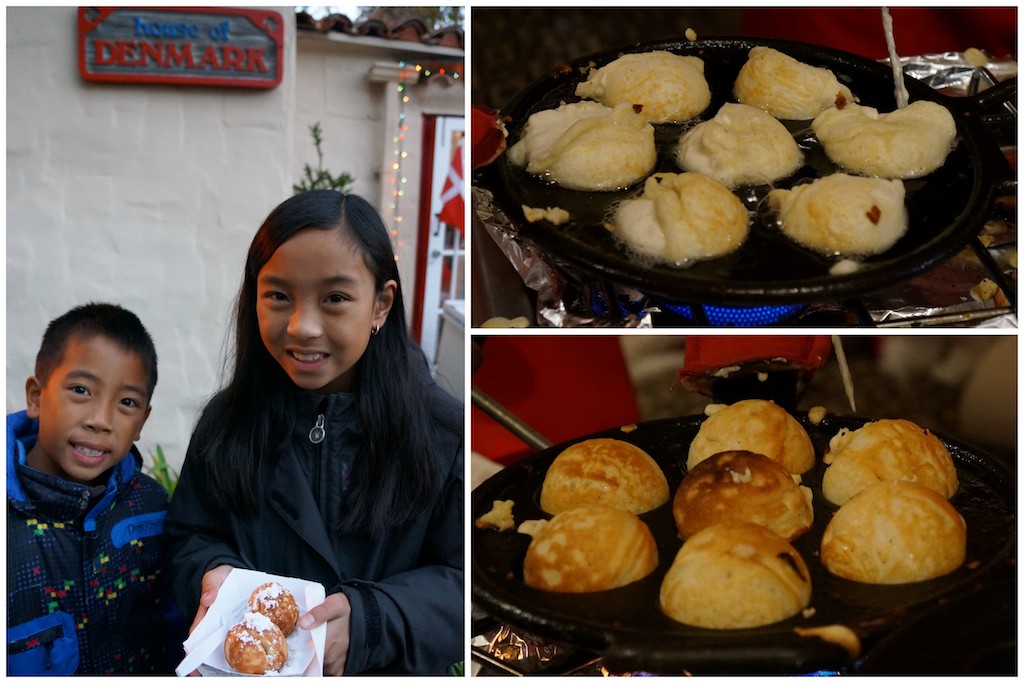 I was excited to finally go to House of Colombia. They offered these traditional food of arepa (corn cake), empanadas (beef turnover) and patacon (fried plantains). We loved their version of empanadas and spicy sauce.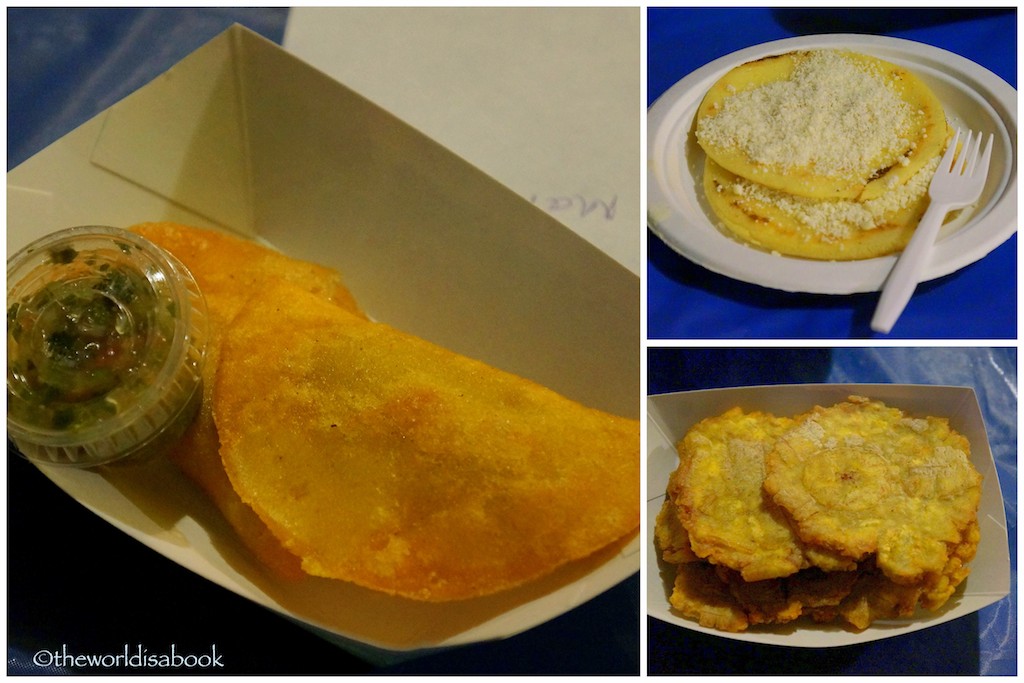 Walking around here will definitely make you hungry with the BBQ grills hard at work. There were so many treats to try and irresistible food aromas floated from every corner. We found beef and plenty of sausages roasting. The houses of Argentina, Poland and Germany seemed to have some sort of sausage competition.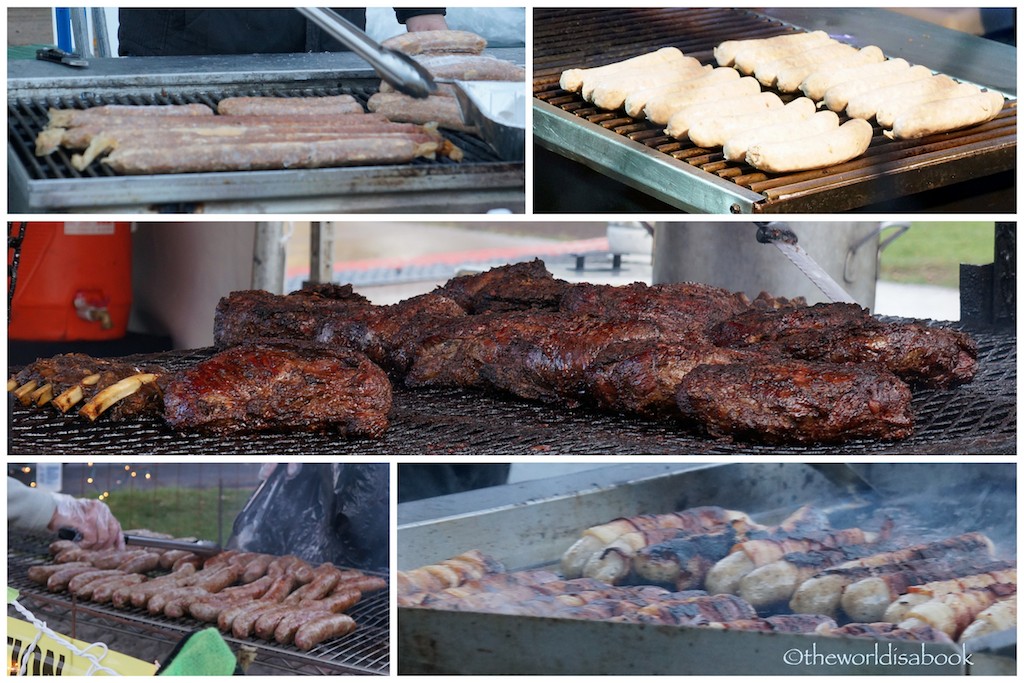 There was a separate area for alcohol sold by some of the countries including some imported beer. I liked that this was a separate area and only 21 years old and over were admitted. Pastries and desserts were everywhere too. This was a sample of what we ate and saw. It truly was a gastronomic adventure and one we can't wait to try again next year.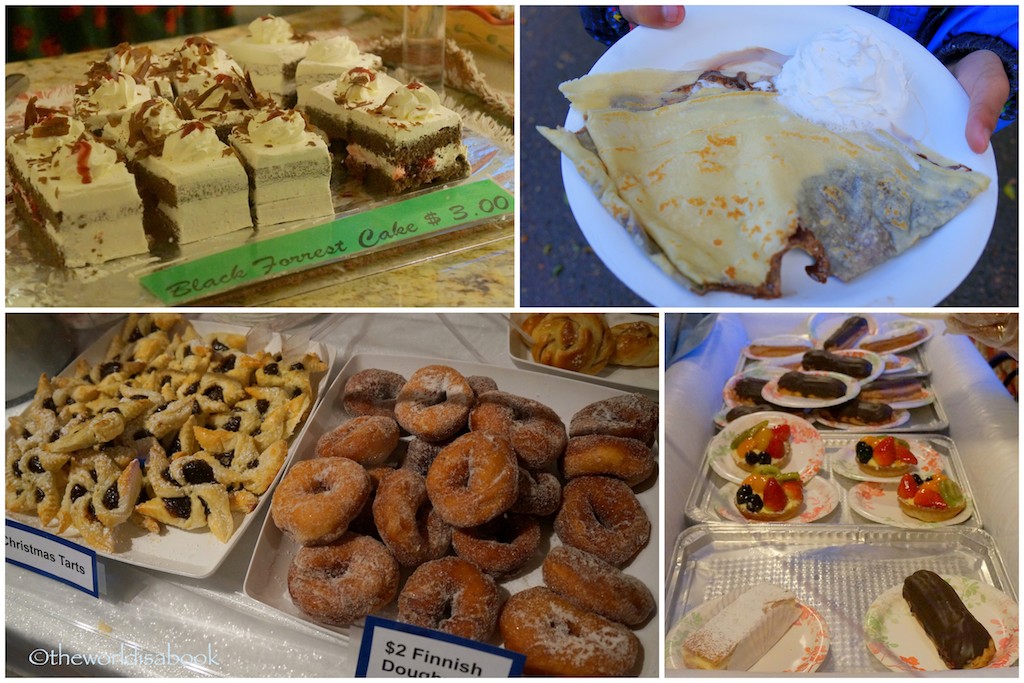 For Southern Californians who haven't made the trek here yet, I hope you consider going next year. Or if you're planning a visit to our area next year, try to come here during the first December weekend.It is truly worth going to December Nights to enjoy food, music and all the holiday cheer.
December Nights Tips and Basics
Get to the park early. We got there around 3 PM and parked for free at the San Diego Zoo which was a short walk. Parking is limited inside the park and nearby lots are about $20. Getting there early also allows you to see the park before it's lit up and before most of the crowds come.
Take the shuttle services provided from Petco Park or San Diego City College (free). Depending on times, lines can be long.
Bring lots of cash. Many of the food vendors only accept cash. There are several ATMs around the park but charge fees.
Shop around the food booths. There were so many choices so don't settle for the ones you see first. You may discover your new favorite ethnic dish as you walk around.
Bring your own water or beverages to save money. Some booths were selling water bottles for $2.
Santa Claus is available for picture taking in many areas. Check with the information booths with friendly and helpful volunteers scattered around the park or the

December nights website

.