Whale Watching Adventures in San Diego
Over 25,000 Pacific gray whales make the annual winter journey from the cold Alaska waters to Baja California, Mexico's warm lagoons from December to April to mate and for the females to give birth. San Diego's 70 miles of coastline lies in the gray whale's migration path. While it's possible to see the whales from spots like Cabrillo National Monument or Torrey State Reserve, the best way to get a closer look at them is through whale watching cruises. Come along with us on our 3.5 hour whale watching journey and see if we got lucky.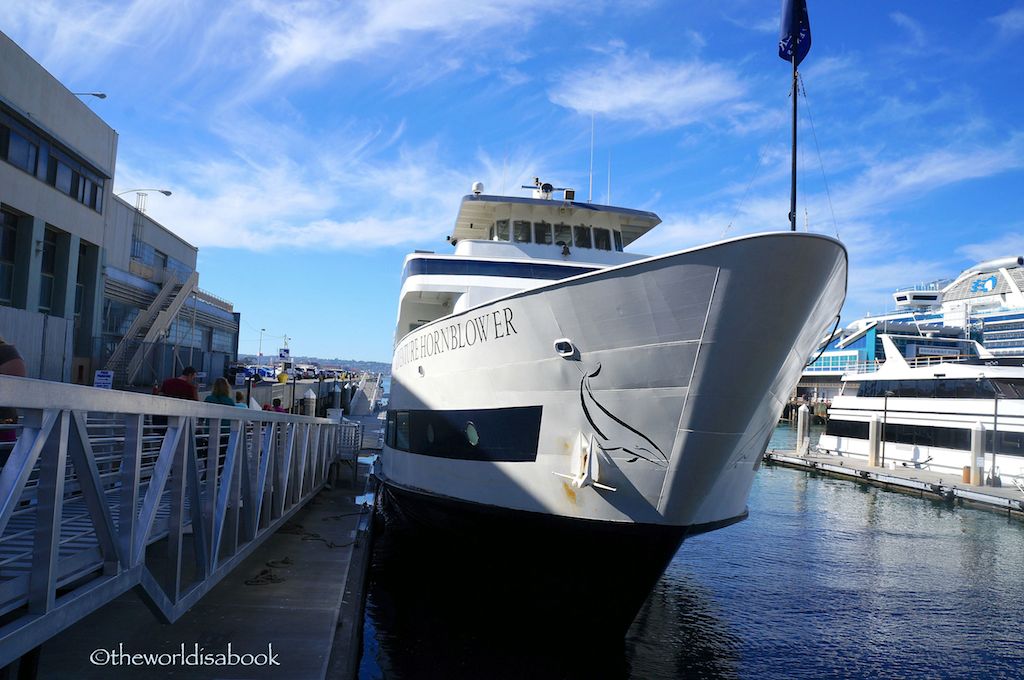 For one reason or another, we've never gone whale watching off these shores.We got jaded with annual passes to Sea World San Diego to see all the dolphins and whales there instead. this cruise was also a great way to see San Diego from a different perspective on a beautiful, sunny day. Our afternoon sailing started at the San Diego Harbor. We passed by the USS Midway Museum on one side and the Sapphire Princess cruise ship on the other. I can never get enough of this city's skyline.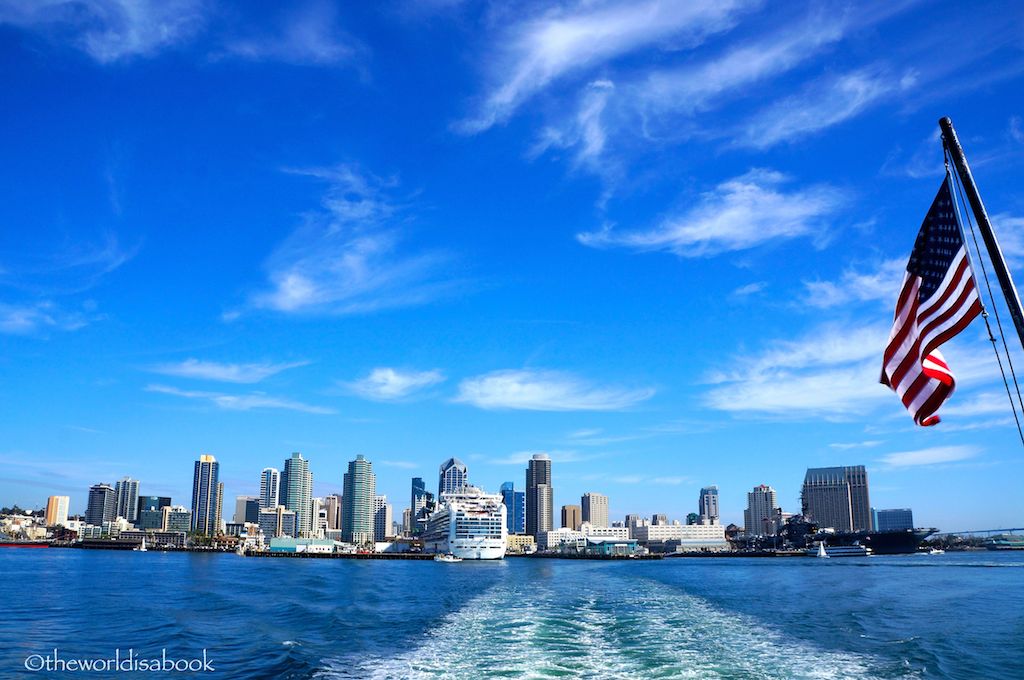 The first wildlife we passed were these sea lions on a dock. It was wonderful to see them lazing out in the sun. This was just a small portion of them. This dock was long and filled with them.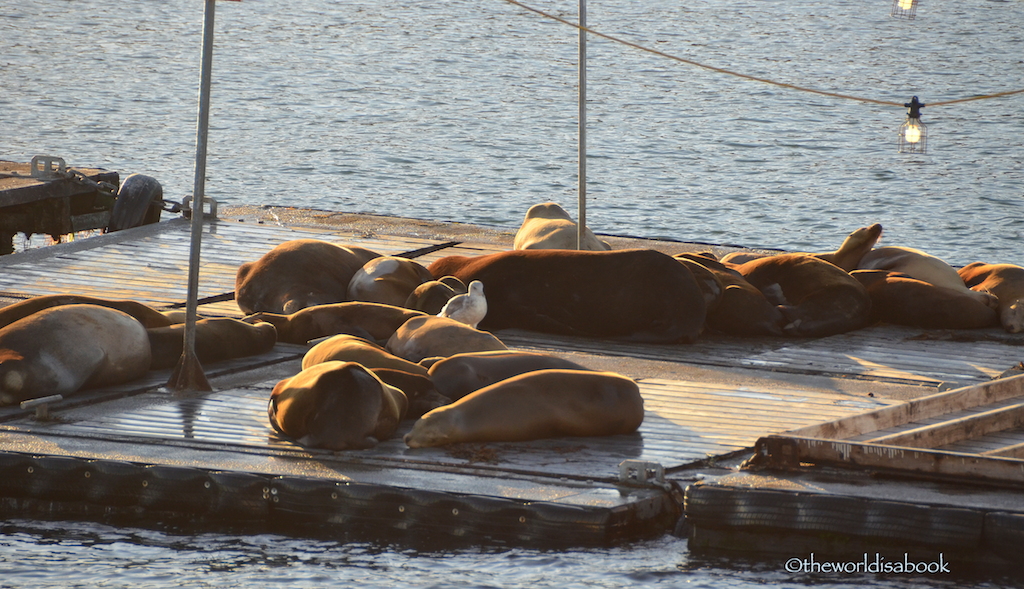 We also passed by one of the lighthouses along the coast by Cabrillo National Monument.

Unfortunately, these two bottle-nosed dolphins we spotted were the only ones we saw throughout the cruise.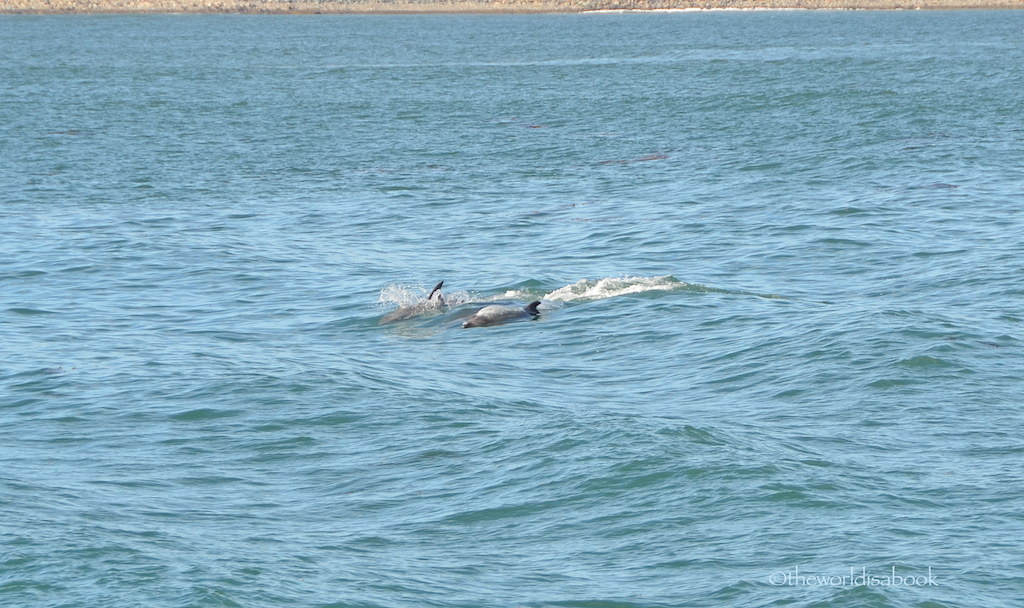 We sailed off a few miles into the open ocean. It was noticeably calm and there were a lot of leisure boaters and a few whale watching cruises in our path. The whales generally stay within six miles (10 km) of the coastline. Along the way, we spotted these adorable sea lions on a buoy.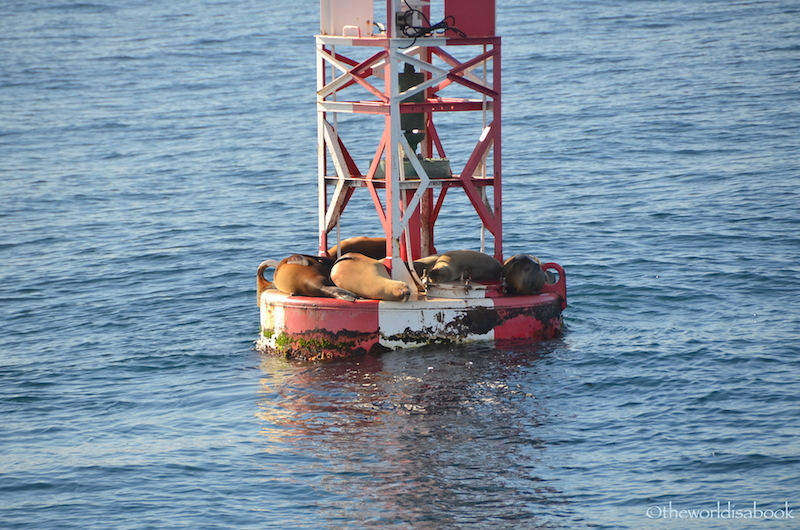 The whales stay in Mexico's warm waters for several months until they give birth and their calves are strong enough to swim back home during the Spring months. They spend the summer feeding in the Arctic waters and the cycle starts again.This 10,000 mile round-trip journey is thought to be the longest known distance for any mammal to migrate on an annual basis. It's quite incredible how they're able to navigate and survive through vessels, pollution and predators during this trip.
We were told by the captain to yell out "Thar She Blows!" if we spot the whales in reference to Moby Dick or maybe, pirates. Everyone was on the lookout but it wasn't long before the captain told us they spotted three whales swimming together in a pod. It was amusing to hear people yell out "Thar she blows" or little kids yelling "There's one!". As we got nearer, it almost felt like the boat was leaning to one side as everyone gathered to the left or port side.
A smoky air, called a blow or spot, is created when whales exhale warm, moist air and it meets the ocean's cool air. The spout can be up to 15 feet high and visible for five seconds. Whales do three to five blows in a row for 30-50 seconds apart before diving again. It was exciting to see three spouts from the whales.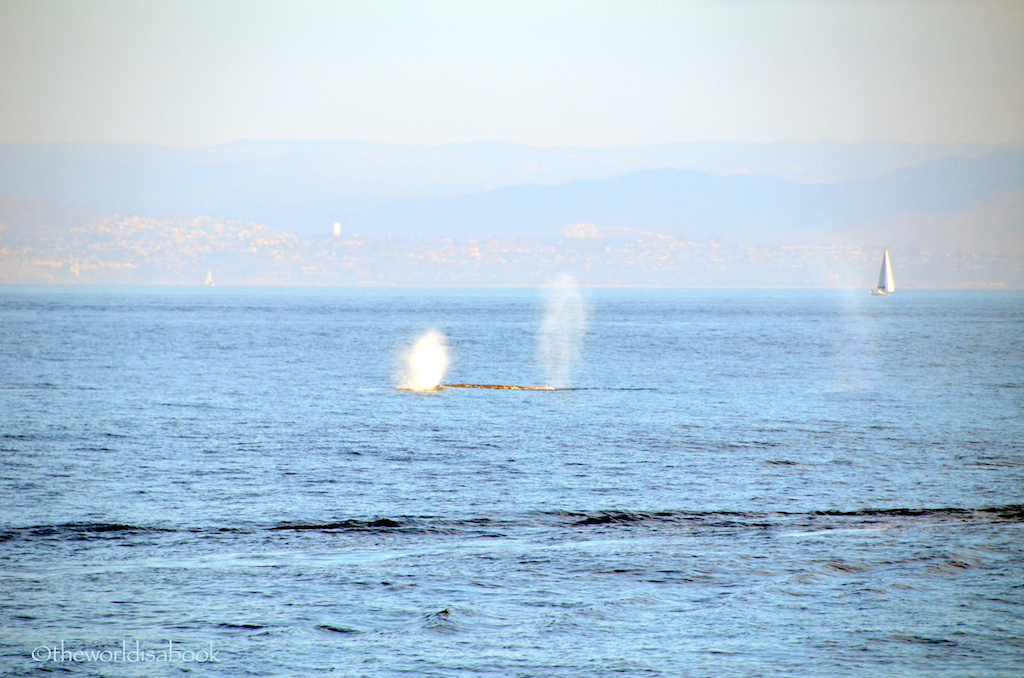 It was hard to gauge how big these whales were from only seeing some body parts. An adult Pacific gray whale can be up to 45 feet long and weigh up to 33 tons. That's about the size of a bus or a basketball court's width. They swim at an average speed of five knots or six miles per hour.
It wasn't long before the other leisure boats and other whale watching excursions came over to our area and started getting close to the whales. Federal law prohibits boaters to move within 100 yards of whales or in front of it unless the whale moves towards the vessel. It is unfortunate that some boat captains ignore this and we did witness a couple of sailboats get too close. Of course, with all the boats surrounding them, we saw the whales dive down and stay submerged.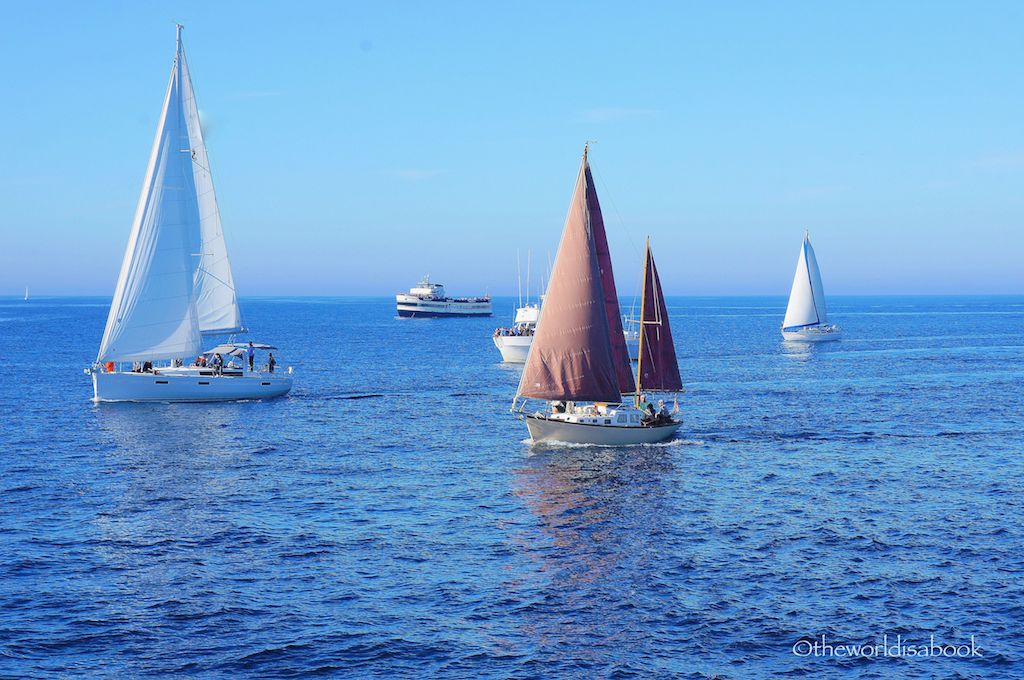 We spotted another whale swimming by itself soon after. We saw parts of the whale's blotchy, crusty skin and gray discoloration. They have scarring from the barnacles that attach themselves to the whales and parasitic lice that feed on their skin and damaged tissue. It really was amazing to see and follow these whales' swimming pattern.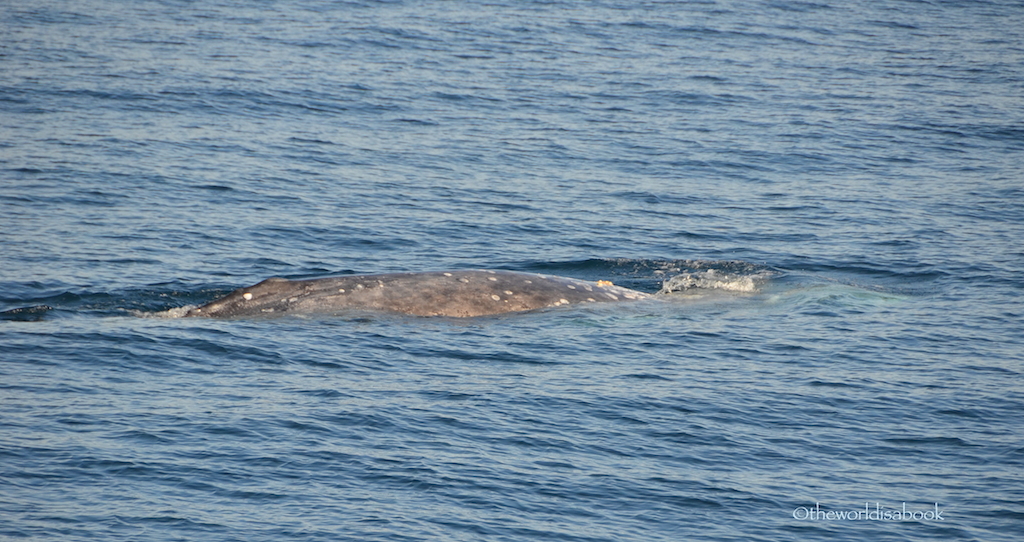 We kept sailing south towards the Mexican border and close enough for my phone to activate an international roaming notice. Another whale was spotted by itself but this was the closest one we've seen.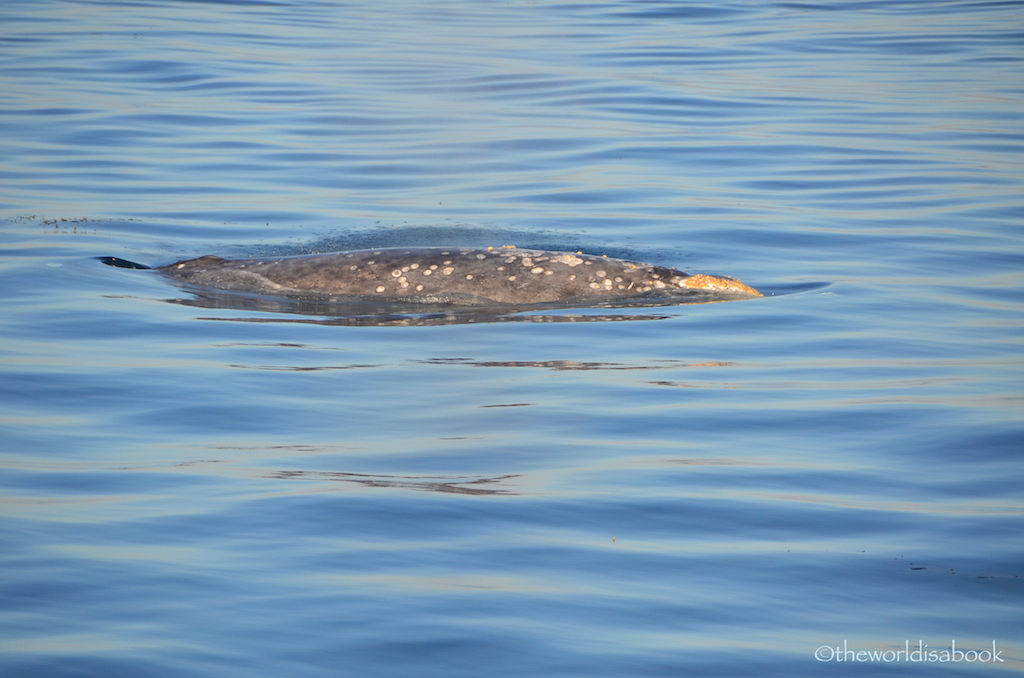 We were enjoying watching the whale's progress when a sailboat decided to sail closer to the whale disrupting it for the rest of us when the whale stayed submerged. Our captain was getting frustrated with the boat too and told us that some boaters in LA have been capsized by whales recently for getting too close to them. Did you really need to be on top of the whale? Yes, that's the boat!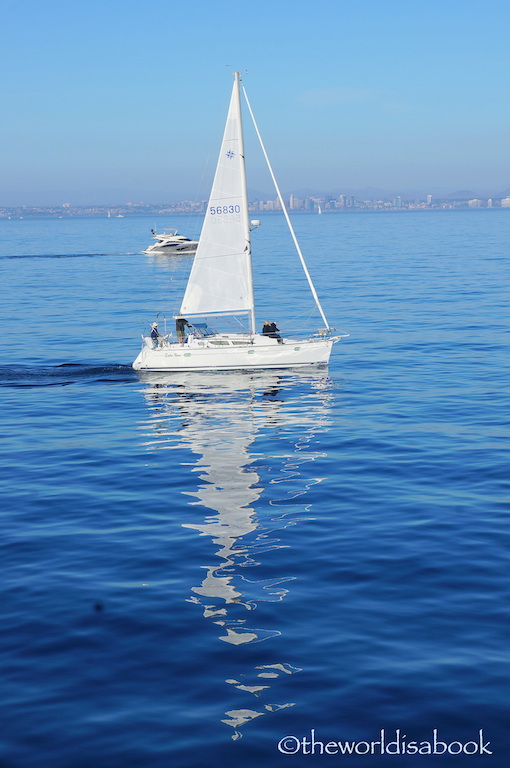 The gray whales sometimes hurl themselves out of the water (for unexplained reasons) and is called breaching. Unfortunately, we didn't get to witness that but did see its tail before it dove down. The tail's weight is supposed to help it dive deep. This was a great ending to our batch of whales in this excursion.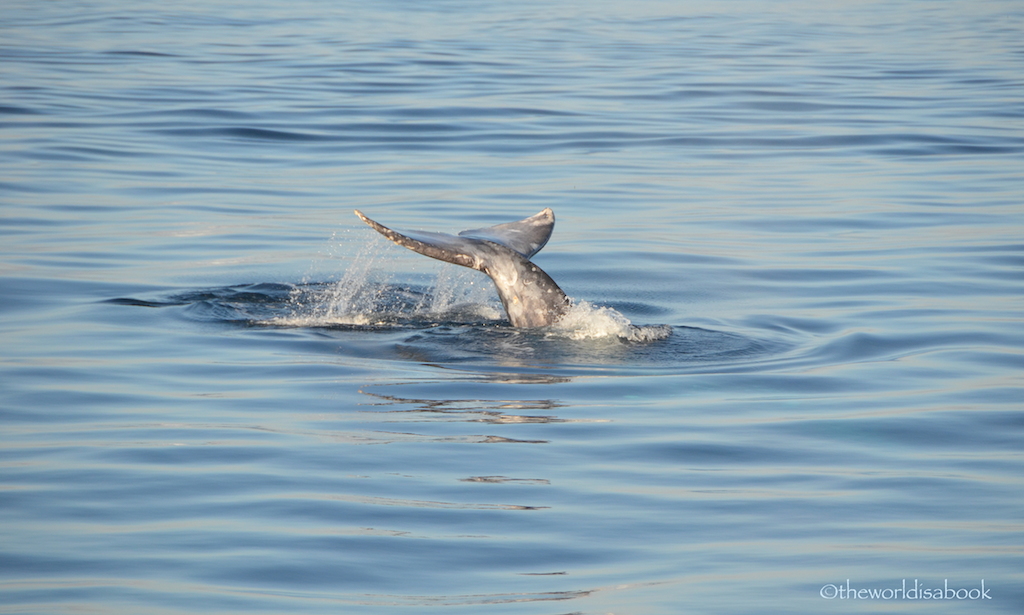 As we sailed back to shore, the captain invited everyone to meet him and see the boat's controls. Of course, my kids jumped at the chance to sit on the captain's chair. They gave out "I Saw Whales' stickers too.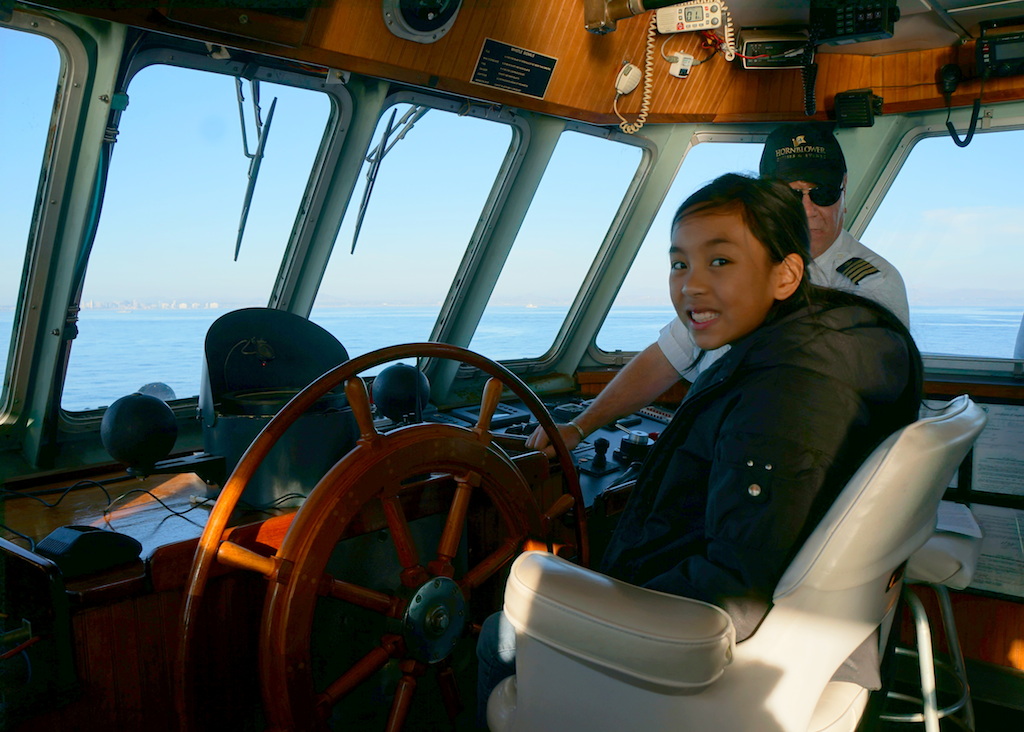 We were on the Adventure Hornblower which was large and fast with plenty of outdoor and indoor seating. It was stable and no one got seasick. We really liked that they had volunteer naturalists from the San Diego Natural History Museum that roamed around the ship to answer questions and informed us about the whales. They gave a short talk and showed us a whale's vertebrae, its baleen (stiff, bristly material used for feeding in lieu of teeth), barnacles and the parasitic lice.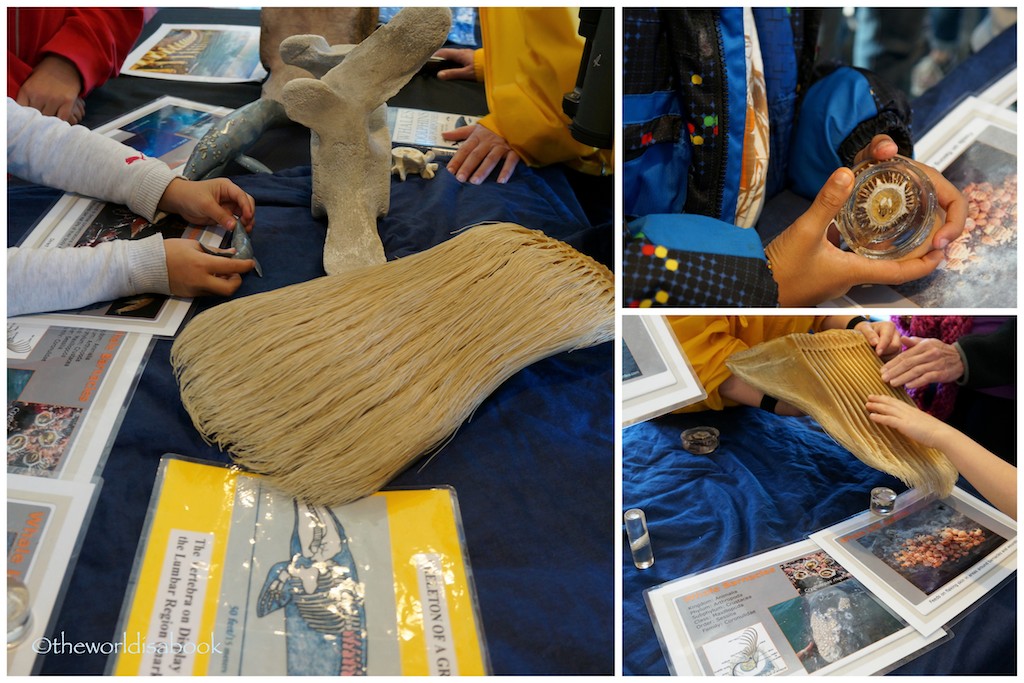 Along the way, we passed by these Navy Seals in training.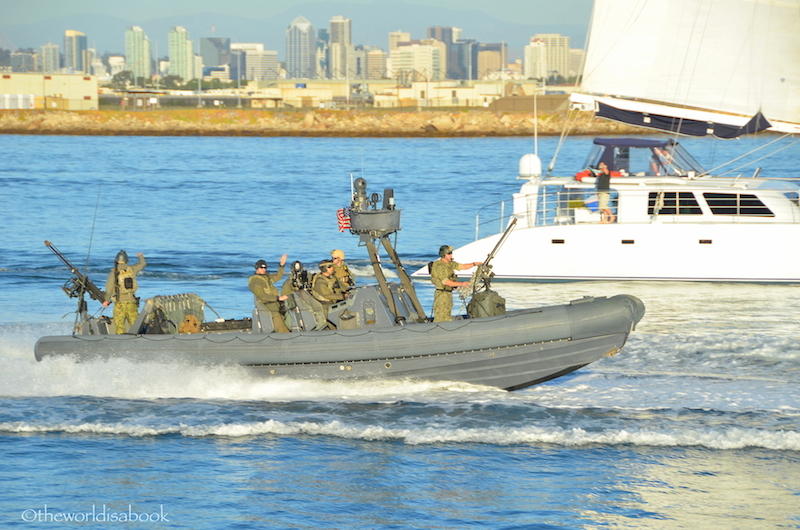 One of the benefits of choosing an afternoon cruise is being rewarded with an almost sunset setting and this lovely view of the city as we pulled into shore just in time for dinner. Is it wrong that I felt like eating seafood and sushi for dinner?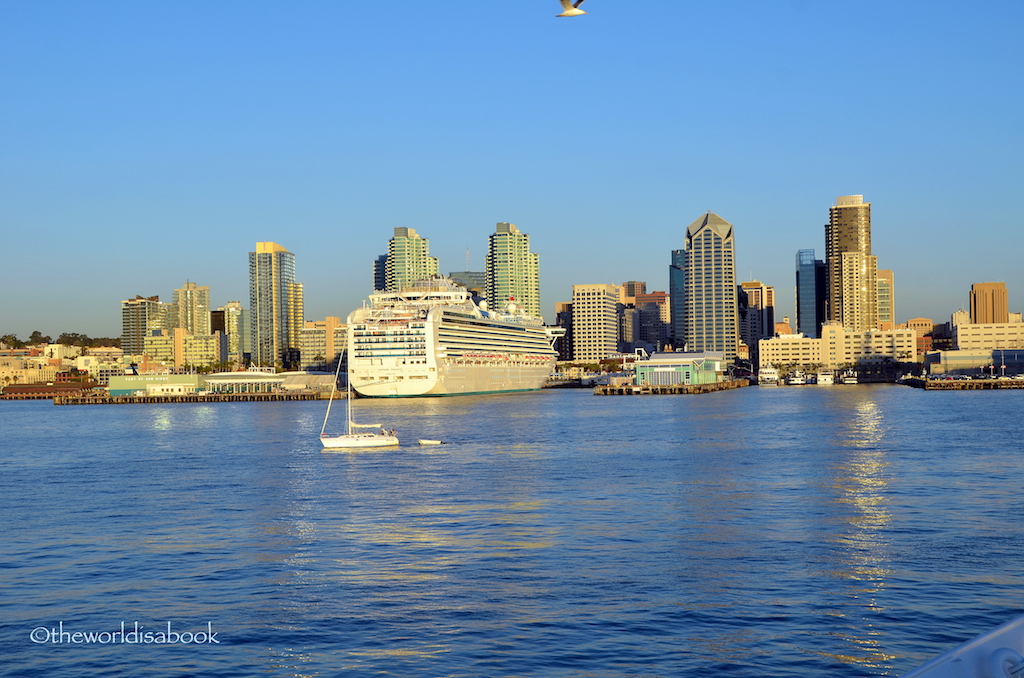 It was a great trip for the whole family and we saw many multi-generation families there enjoying the cruise. This remarkable annual whale migration event is an unforgettable experience and now makes me wonder what took us so long to do it. It was a wonderful first experience but certainly won't be our last to see these majestic creatures. Don't miss this when you're in town!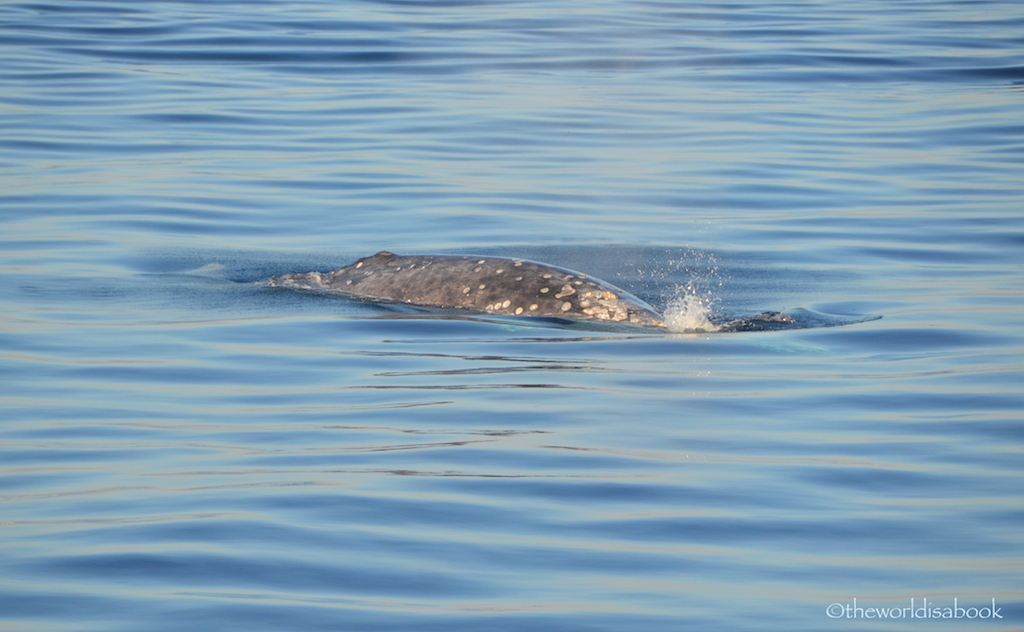 Fun Facts about the Gray Whales
Females give birth only once in two years, usually to a single calf after a 12-13 month gestation period. Female whales are larger than males.
A mother gray whale's milk is 30-50% fat and calves continuously nurse during the long swim back to the Arctic consuming about 50 gallons of milk everyday. Baby gray whales average 15 feet in length and weigh about a ton.
Gray whales can live 40 to 60 years.
Young whales are born underwater and are able to swim immediately.
Gray whales are bottom feeders and eat small crustaceans such as amphipods and tube worms.
San Diego Whale Watching Basics and Tips
There are a few operators that offer whale watching excursions in San Diego during the morning and afternoon. Most of them offer guaranteed sightings or a "whale check" to come back for free. Reservations are required.
Get to the dock 30 minutes before since you will line up to board 15 minutes before sailing. Try to go to the top deck and stay as close as possible to the rails. Despite having a table, people will encroach on your space.
Best parking area is at the adjacent USS Midway Museum ($10)
Bring binoculars for better views.
Bring snacks and water. There is a full snack bar on the ship and sold alcoholic beverages.
Layer up. Bring jackets as it did get cold out in the ocean.
*Have you gone Whale Watching? Would you go?
Where to Stay in San Diego
For the Bucket List:
Legoland California Hotel – This is perfect for Lego lovers and those staying in Legoland. There is plenty of space for families with bunk beds. We also love their various four themed rooms. They offer free buffet breakfast and nightly kids entertainment.
Hotel del Coronado – This iconic and beachfront San Diego hotel is worth the splurge. The grounds are beautiful and they offer first class amenities. There are many reasons why this has been a favorite among former presidents and movie stars.
Downtown Area 
Embassy Suites San Diego Bay – This hotel has a great location downtown and steps from Seaport Village and the Embarcadero. Families can spread out in any of the two-room suites. They have a great cooked-to-order, buffet breakfast and an evening reception.
Hilton San Diego Bayfront – The views from this 30-story hotel overlooking the bay and the skyline are beautiful. It's a convenient location to all the downtown festivities and the convention center.The rooms are spacious and they offer great amenities.

Manchester Grand Hyatt

– This waterfront hotel is huge and has a convenient location by the boardwalk and adjacent to Seaport Village and the convention center. There are over 1,600 rooms and suites. Amenities include the pool and sun deck with whirlpools and fire pits.
Omni San Diego Hotel – This 500+ room hotel is perfect for a game at PETCO park or to explore downtown. We've stayed here and overlooked the ballpark which was quite special.
See the best prices from the major travel sites on HotelsCombined.
Find the best San Diego hotels and read reviews on TripAdvisor.
Packages
Save up to 50% on your next Southern California vacation package with Get Away Today.

You can also u

se

promo code: *WorldBook* to get an extra $10 off any 2-night or longer Southern California package (hotel and 2 ticket minimum)
Attractions
Save Money on San Diego and Southern California's top attractions by using CityPASS.
Flights/Vacation Packages
Compare airlines, dates and prices all in one place with Skyscanner
Pin it for later!
*There are affiliate links in this post to help support this website.
Check out these related posts: