St Barbara Cathedral Kutná Hora: A Miner's Church
Churches can start to look almost the same when you're hopping from one European city to another. But, sometimes, you come across one that's quite memorable. We traveled to the UNESCO Heritage site of Kutná Hora on a day trip from Prague. One of the main reasons we traveled there was to visit the Bone Church at the Sedlec Ossuary nearby. We happily explored this Kutná Hora landmark and the town's most significant monument – St. Barbara Cathedral.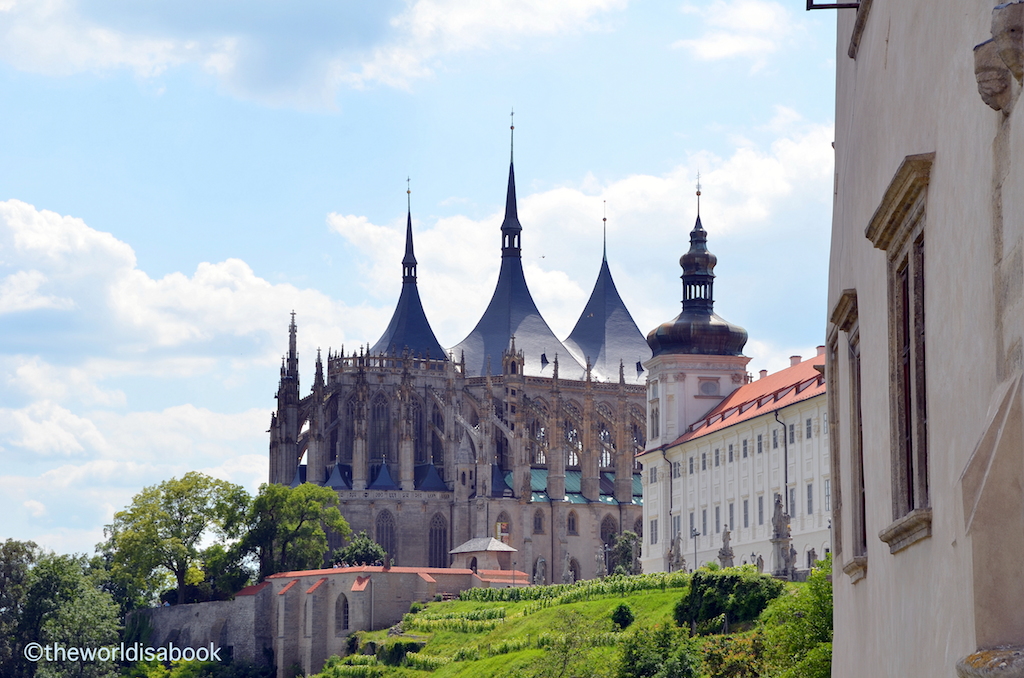 Kutná Hora was one of the Czech Republic's gems. It was Bohemia's political and economic center between the 14th and 15th century and once was one of the richest cities. The city sat on high deposits of silver ore and was a successful mining town. The Church of St. Barbara or St Barbara's Cathedral was founded by Kutná Hora's rich mine owners in 1388. Many believe it was to assert their religious independence from the Sedlec monastery nearby and to compete with the majestic St. Vitus Cathedral in Prague. St. Barbara was the patron saint of miners.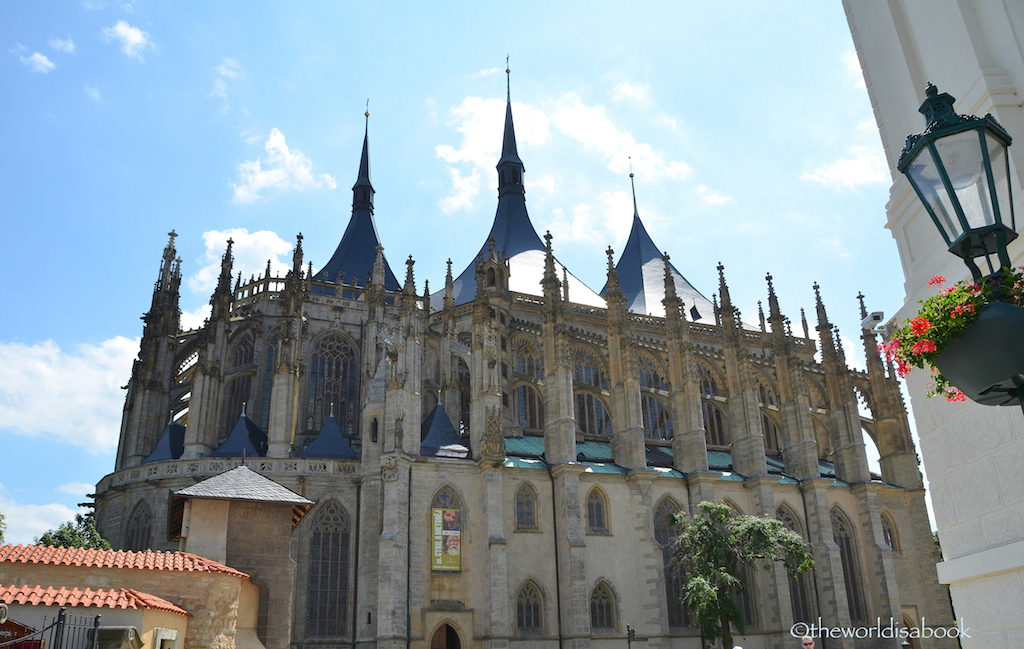 They built a Gothic masterpiece symbolizing their mining power. The church was built using sandstone from nearby quarries. However, the Hussite wars and financial issues hampered the construction of the cathedral that it ultimately took five hundred years to complete in 1905.
It didn't stop residents from praying to their patron saint. They believed St. Barbara was there in their time of need and helped them in many dire situations from lighting their mines to finding their way out to answering simple prayers. The church was also viewed as symbol to protect the town and its miners.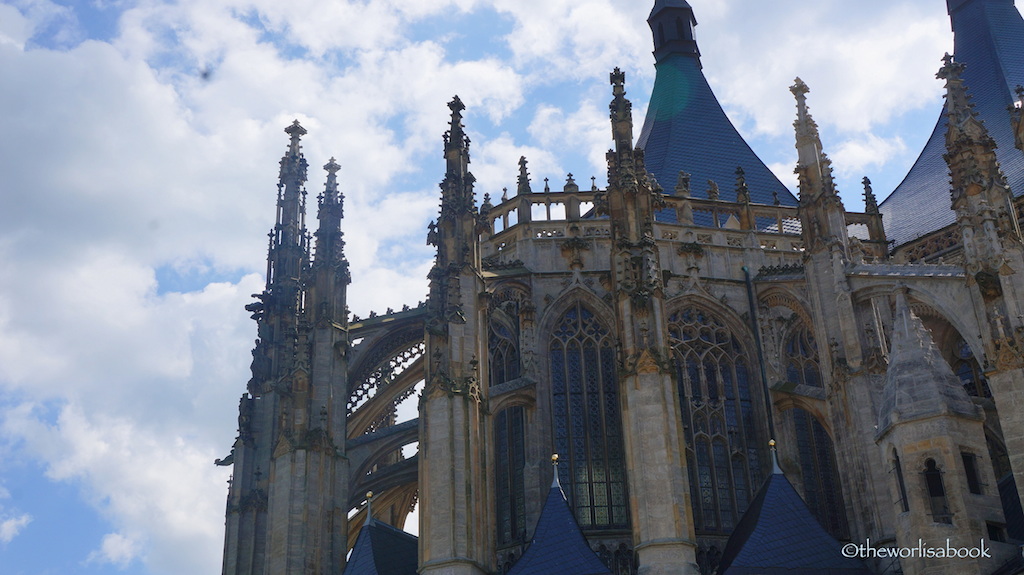 The cathedral, set on a hilltop, could be seen from many vantage points around town. We first caught a glimpse of its "soaring" spires as we rode the bus into town. It had a unique three-tent looking roof that almost felt out of place next to the flying buttresses that I love on these European cathedrals.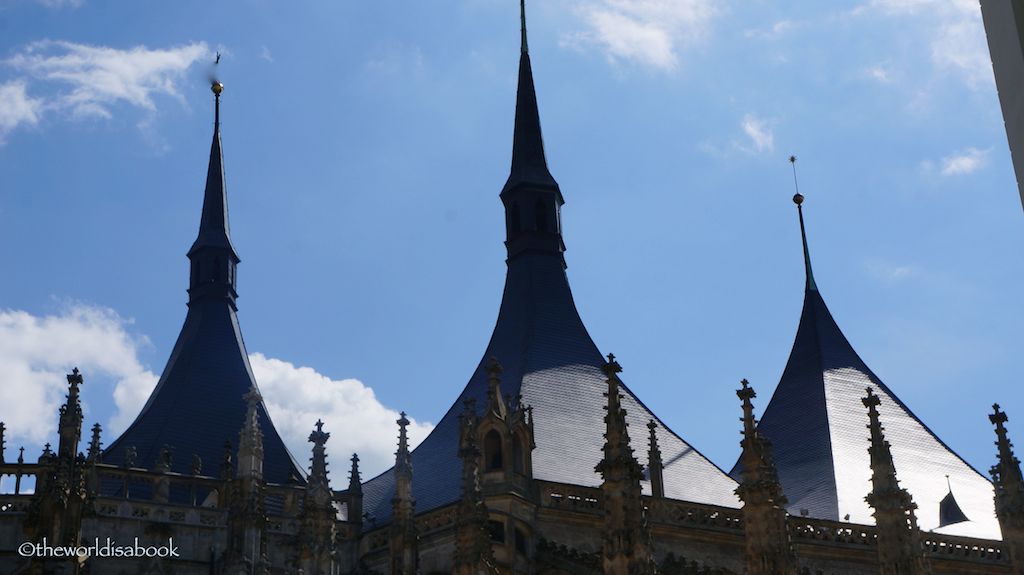 Baborska Street was a wide cobblestoned pathway that led us to the church and connected it to the town. It was lined with many statues on one side and the beautiful Jesuit College on the other.
This was the view of our pathway. Grapevines covered the hillside and there was actually a tasting room next to the church. We took this picture on the roof of their building that was open to the public.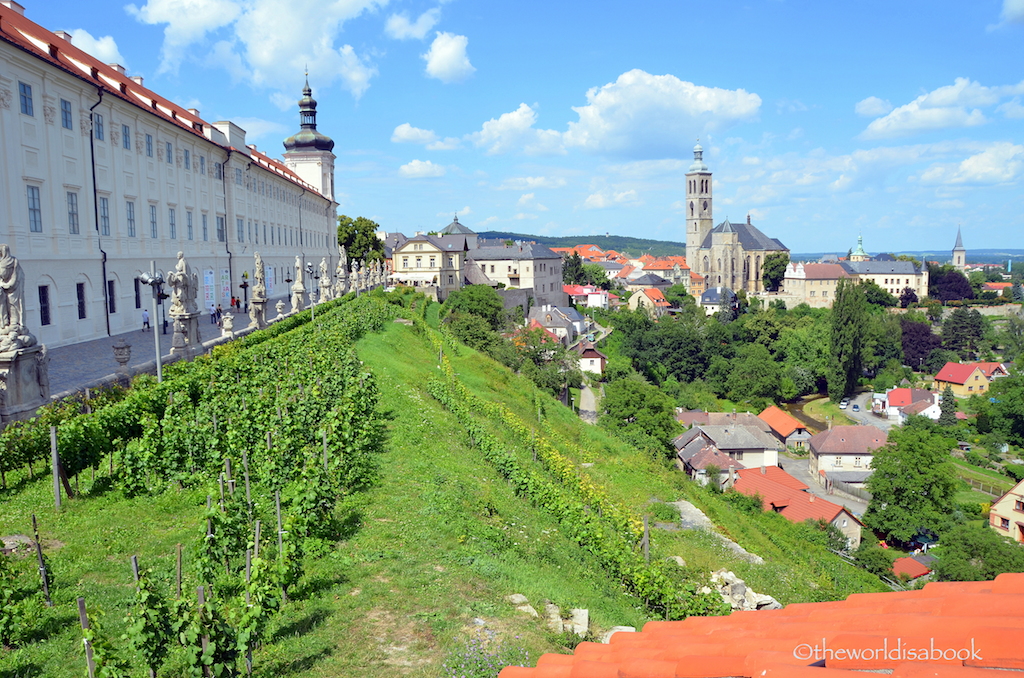 It was even more impressive as we got closer to the church. But, the interior was even more amazing. We spent quite some time exploring the interior of St Barbara's Cathedral. We've seen some beautiful European churches and this was one of them.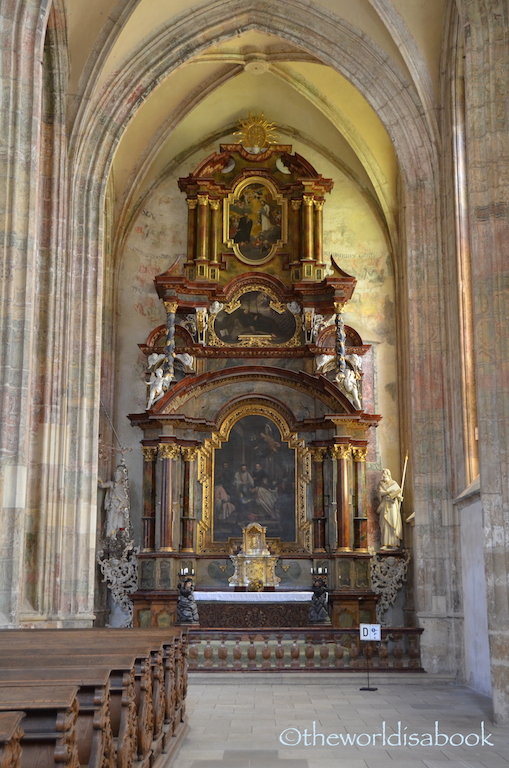 Though some original frescoes and architecture were still intact, much of what was seen today was part of a huge restoration effort during the late 1800s. Its mining connection was apparent in many features of the church. We were greeted with this statue of a miner who was believed to have been placed there as a symbol of the entrepreneurs' revolt again the Czech King once upon a time.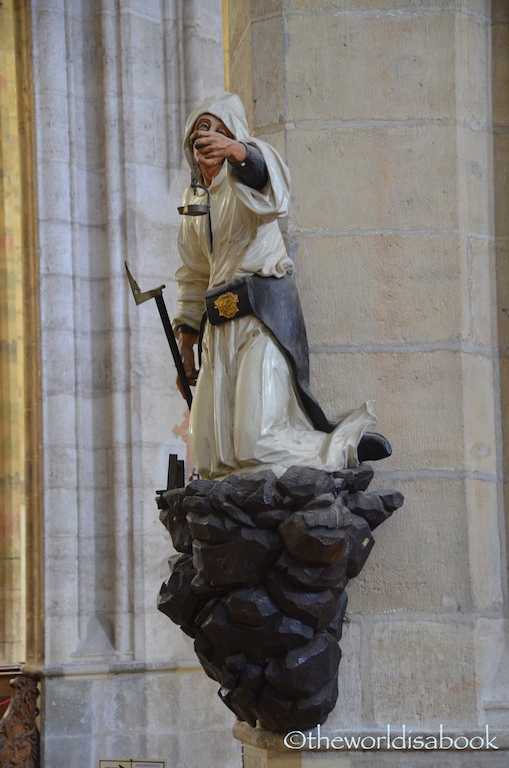 The interior was huge and very open with towering ceilings. The ceiling murals showed many of the miners' coat of arms. There were so many of them and times like these, I wish we carried binoculars around to see the details.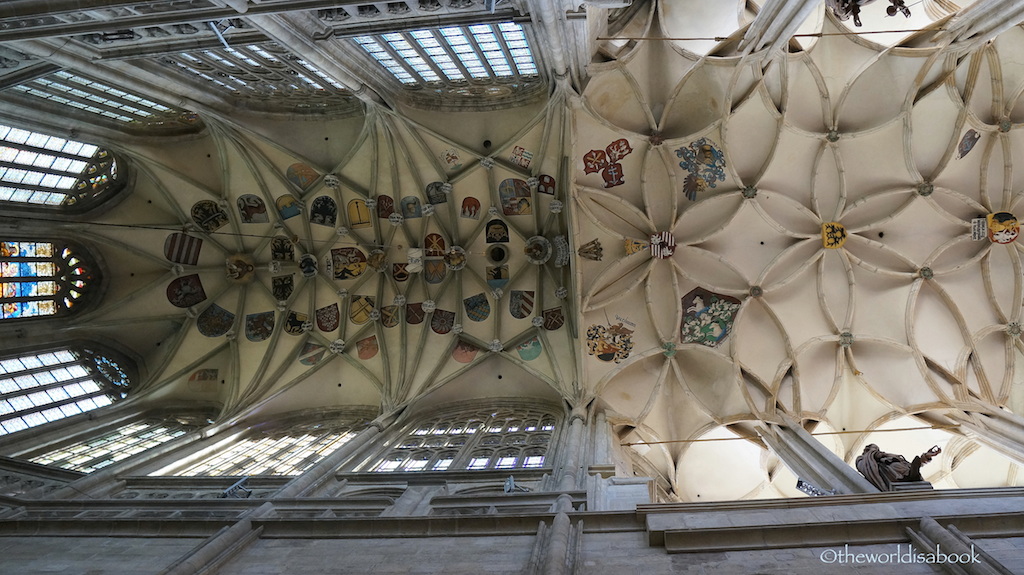 It was so high up it's incredible to think how they were able to accomplish putting all of them there.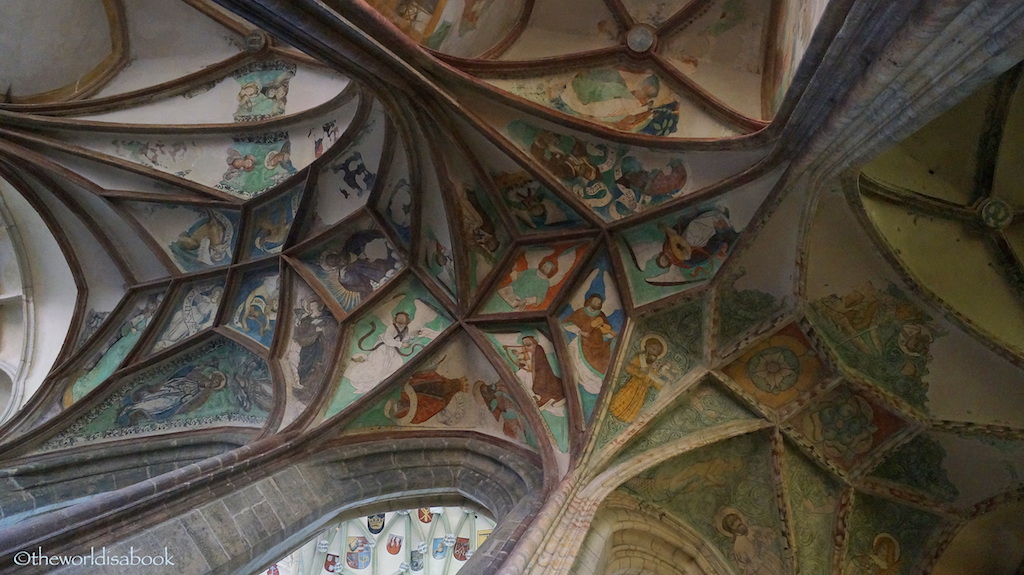 This was the guilded altar which was not as ornate as other churches but the details of biblical scenes were remarkable. The Last Supper with Christ was the center of the piece.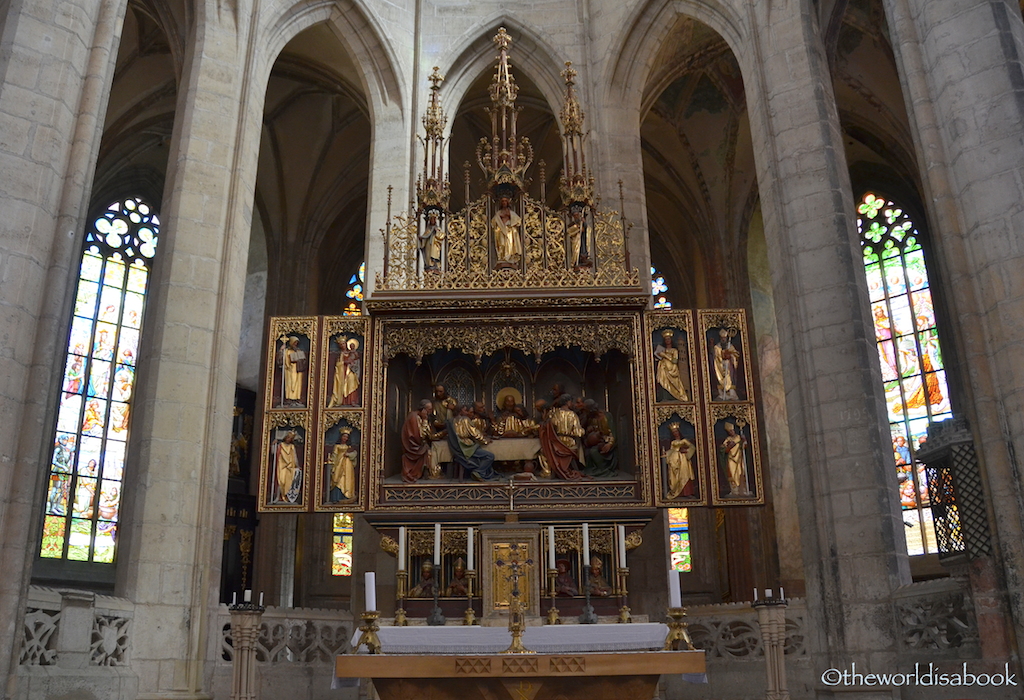 There were many medieval frescoes throughout the church which mostly showed scenes from Kutná Hora's mining past. It almost felt like visiting a museum as we saw various depictions of their mining life.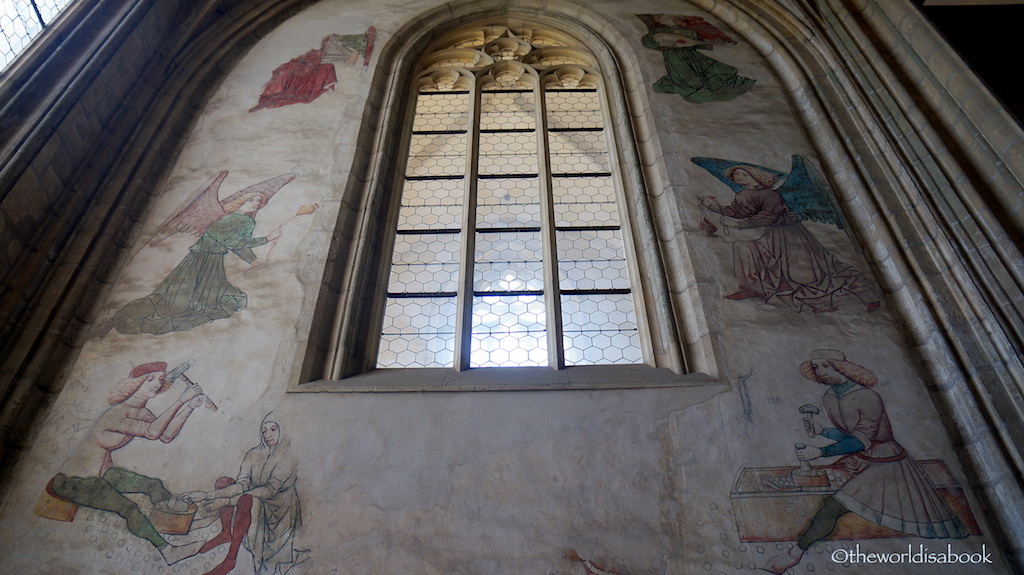 The acoustics here must be incredible. The church holds organ concerts which I'm sure sounds heavenly especially with instruments that looked like this piece.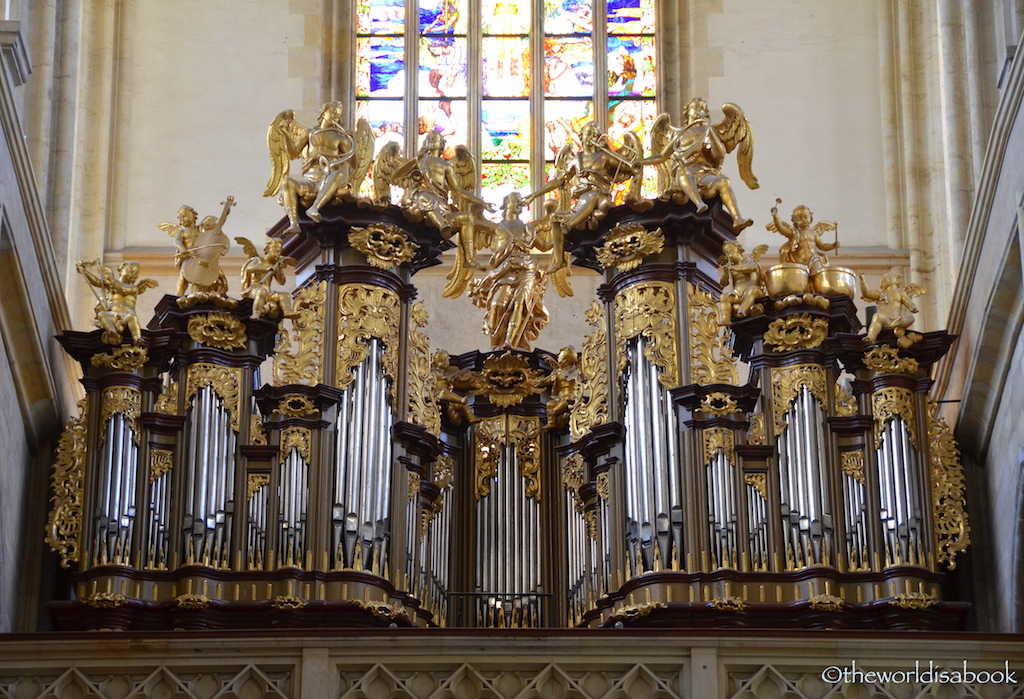 These were some of the best stained glass windows we've seen. They were very detailed and so colorful. We couldn't help but stand there and try to interpret the story each panel was telling us. It was a mixture of religious and secular scenes and aseembled with stunning artistry.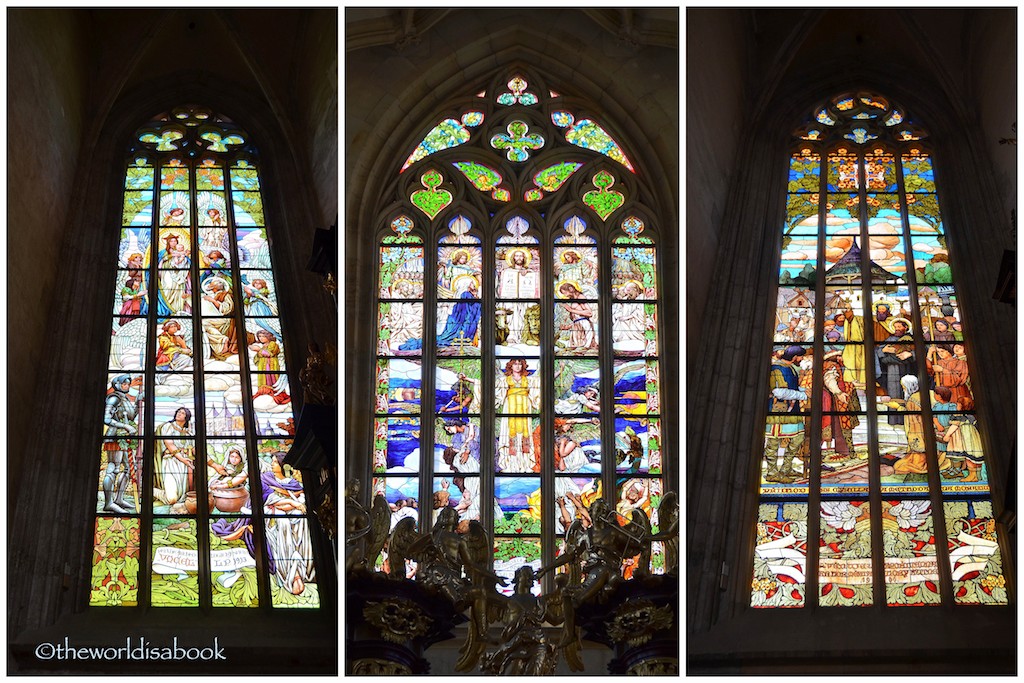 These windows even captivated my kids' attention. My then 10-year-old daughter declared these windows her favorite part of the church. These pictures really don't do them any justice.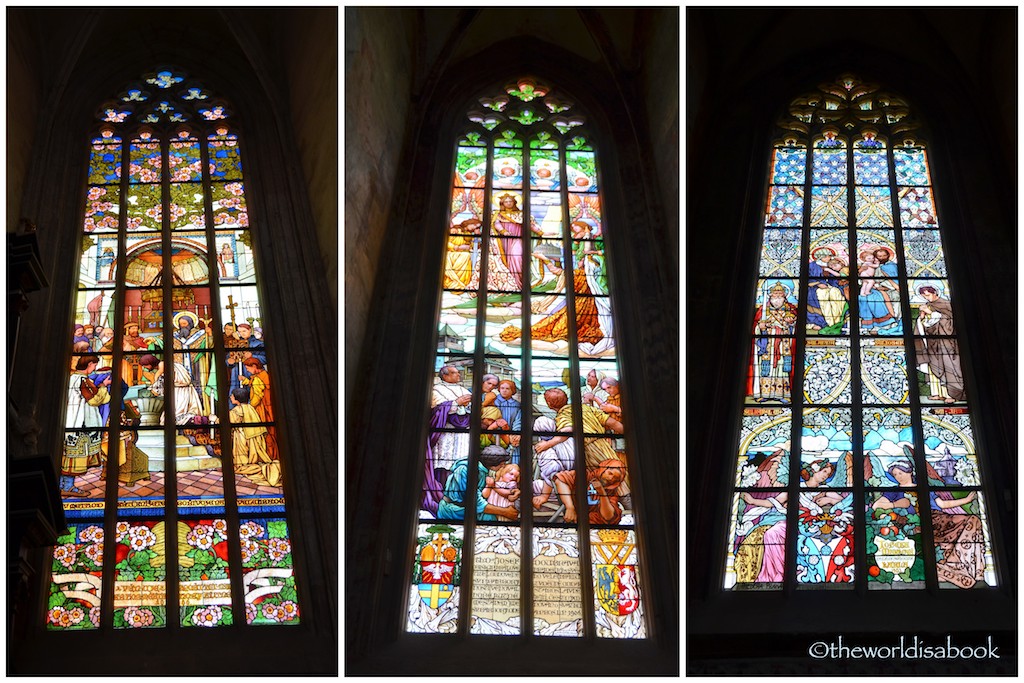 These were also some of the fanciest confessionals we have encountered.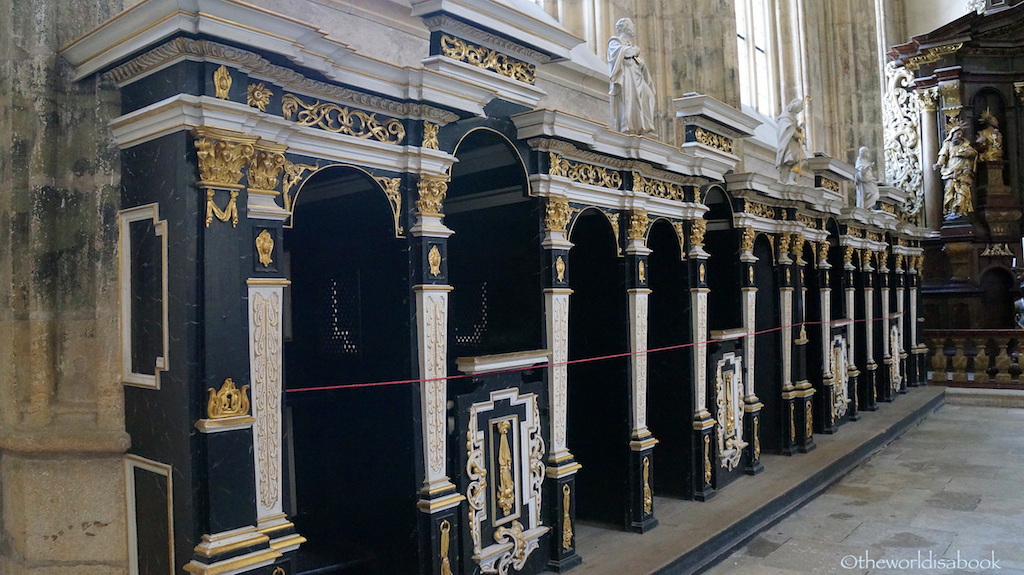 Like many cathedrals, there were many chapels that lined its walls. Some of these chapels were acquired by the rich mining families and high court officials and commissioned painters to adorn them with murals. This was Smisek chapel with an altar showing the Virgin Mary surrounded by several female saints.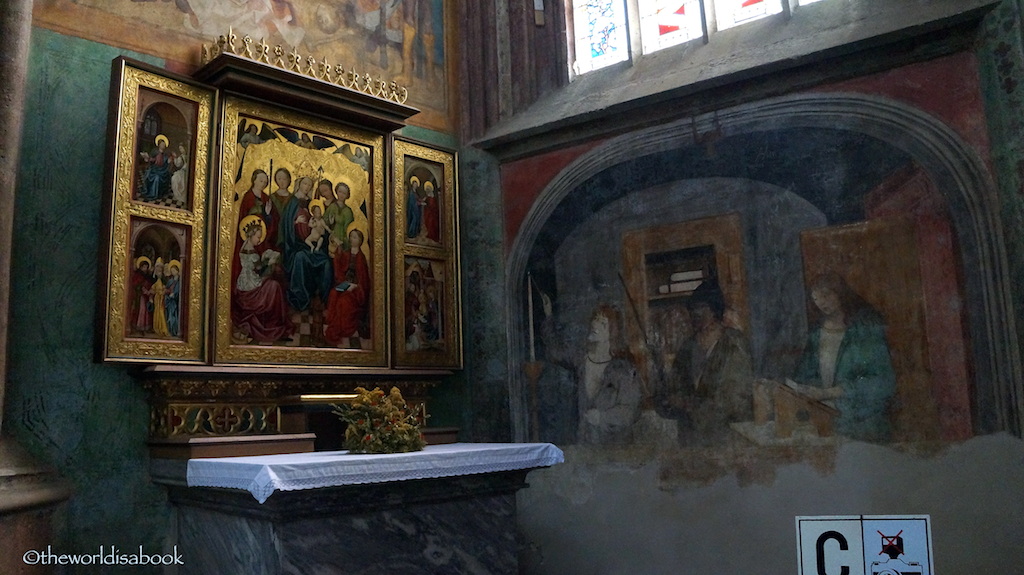 There were several wall murals showing the Crucifixion scenes. The chapels also had an ongoing theme of redemption through sacrifice.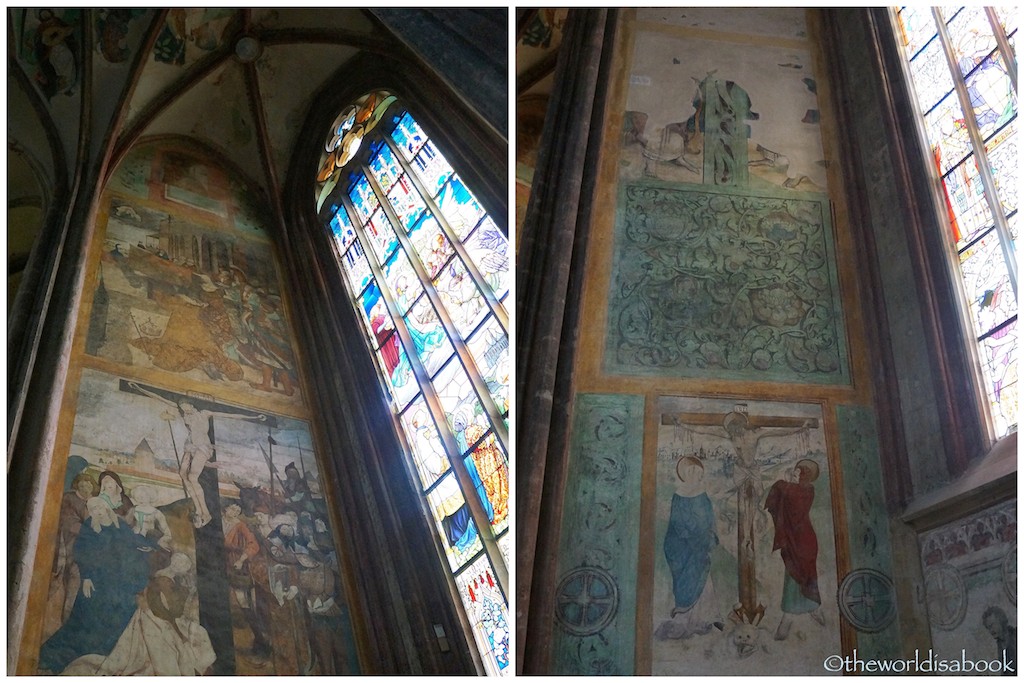 The south nave was divided into three chapels. Two of them were built by a prominent Kuta Hora family (the Piseks). They were dedicated to the Virgin Mary and the Three Wise Men and mostly kept to honor deceased family members. The Wise Men chapel was given to minters and coiners.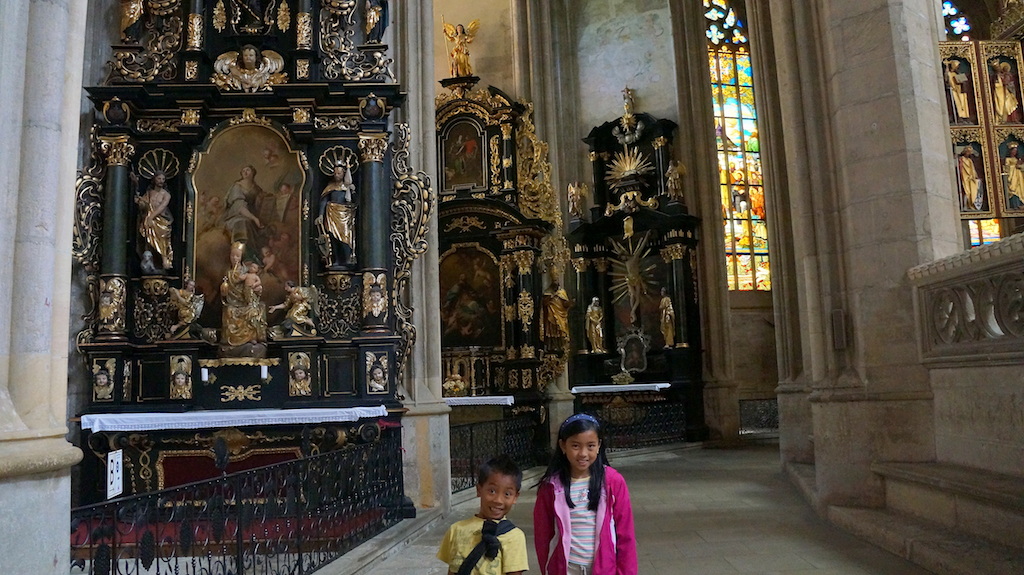 Kutná Hora was once the Czech Republic's silver treasury and one of its most prosperous cities. It was a beautiful, historic city and worth visiting to get away from Prague's crowds. St. Barbara Cathedral was a true testament to the miners' riches, life and dedication. It was stunning all around. The interior's architecture, artwork and windows were kept in great condition and really should be seen in person to fully appreciate its splendor.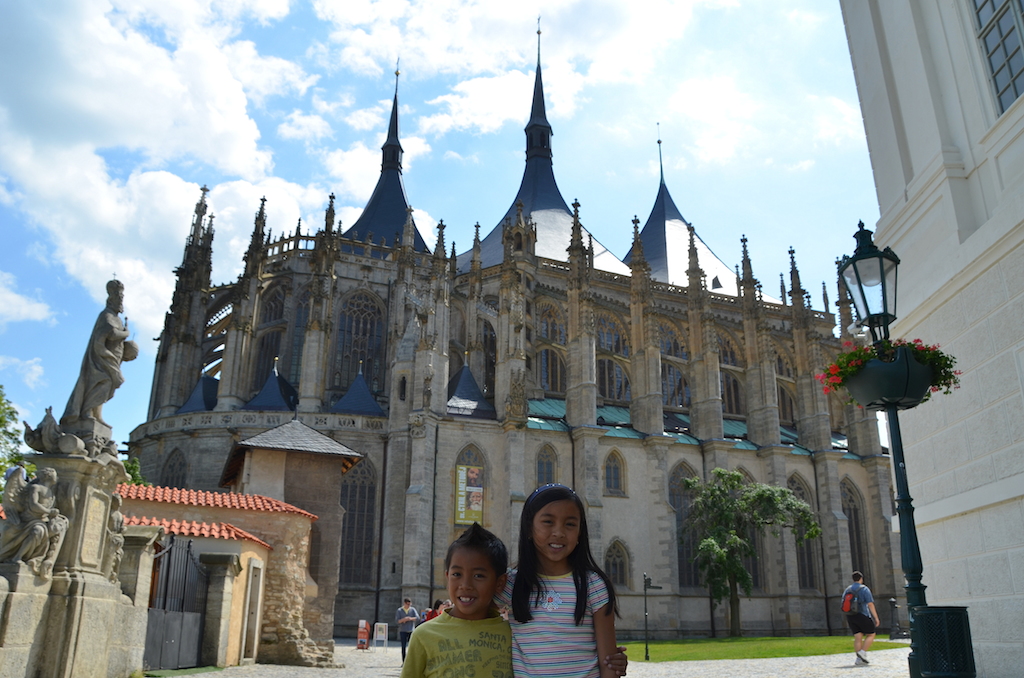 Visiting St Barbara Cathedral Kutná Hora Tips and Basics
Admission: Adults 60 CZK($3USD); Children/students 40 CZK($2 USD)
Get the ticket combo with 1-3 other attractions in Kutna Hora that included the Sedlec Ossuary or Bone Church and Cathedral of Our Lady (which was down the street). We did the 3-combo tour and paid 160 CK ($8.50 US) and 110 CK ($6 US) for kids.
Guided tours are available; Upper galleries are open for tours too for an additional cost.
Open year round and daily. May through September from 9AM to 6PM, and the rest of the year from 9am to 4.30PM
Getting there: We took the train from Prague to Kutna Hora Hlavni Nadrazi (h.ln) train station which was an hour away. We then took a small local train to Sedlec to visit the ossuary and then a bus into town (15 minutes). There's a visitor's center by the ossuary and they told us which bus to take, departure times and where to get off.
Visitors can also get off the Kutná Hora Město (town center) station or take buses from Prague which stop at the main bus station and is a short walk into the town center. There are also many guided day trip tours from Prague to Kutna Hora
Ask away if you're lost. The locals we met spoke English and were very helpful. The town is very walkable and easy to get around. Here's a handy map to start off.

*Have you visited Kutná Hora or this church?
Pin it for later!