Exploring Saguaro National Park Arizona
Saguaro cacti stand as regal guardians and are an abundant presence in the desert landscape. They're symbols of America's southwestern deserts and have been appropriately crowned as monarchs of the desert. There are about 1.6 million saguaro plants growing inside Saguaro National Park. We visited this unique park last month near Tucson, Arizona and found out there was more to the giant cacti than meets the eye.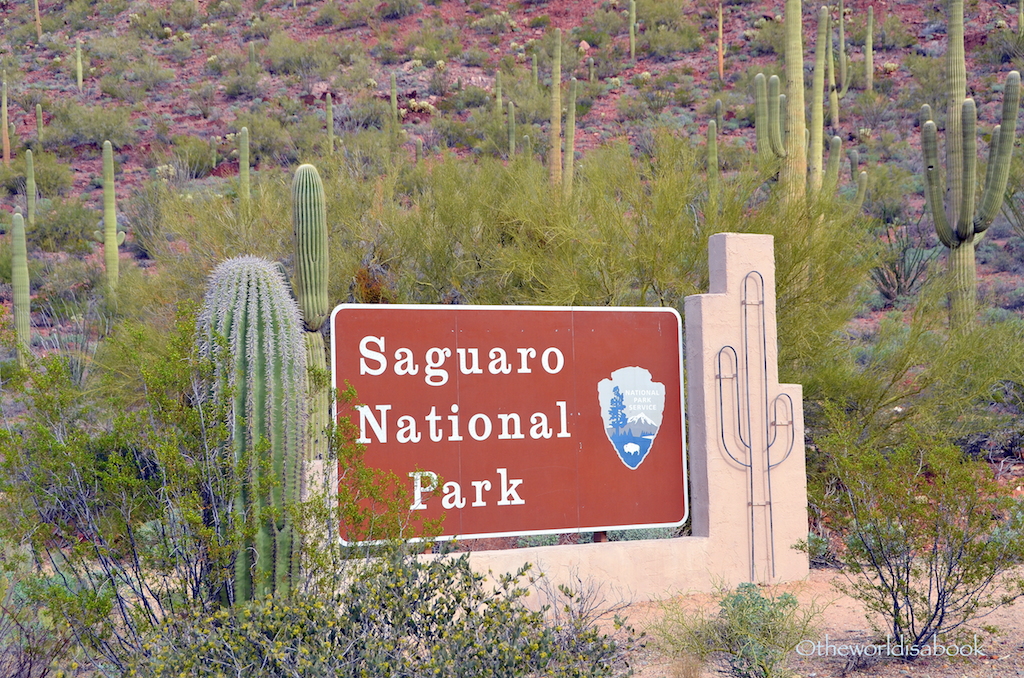 This vast area is government protected to ensure the survival of the saguaro cactus. Saguaro National Park has two areas or districts to visit. We visited the western section known as the Tucson Mountain District which is hotter and drier. The much larger Rincon Mountain District lies 30 miles east and is a bit cooler and wetter but most can only be accessed through hiking or horseback. In addition to the saguaro forests, the higher altitude includes pines, oaks and other vegetation one wouldn't associate with Arizona's landscape.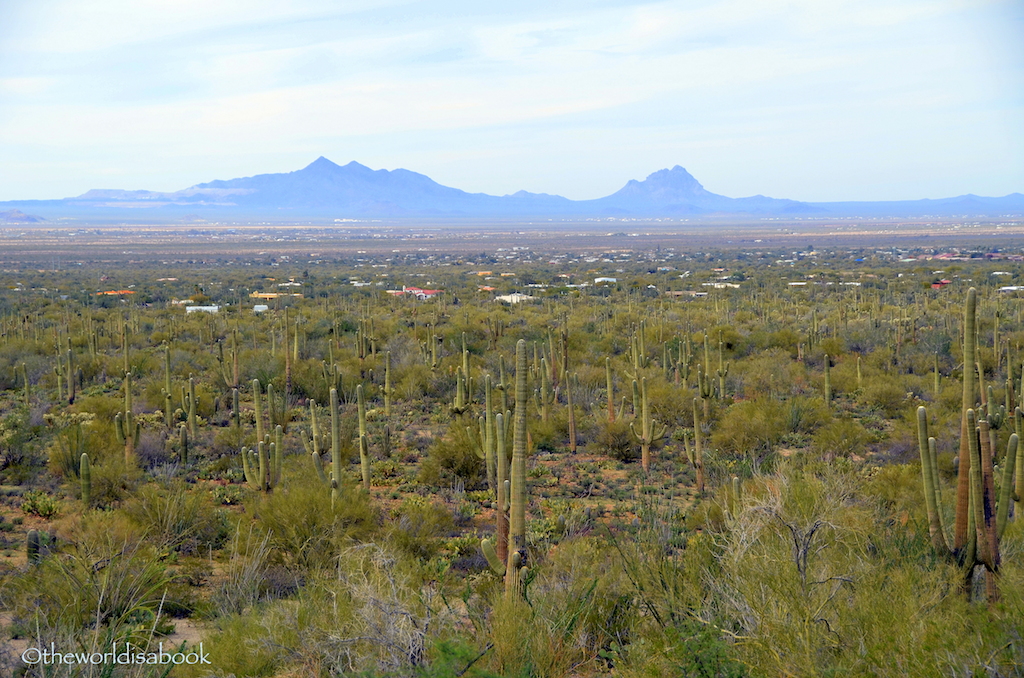 We drove down into a lookout surrounded by hills covered with cacti of various sizes and development. It was a bit strange to see so many cacti in one area and be in a cacti "forest". They stand there guarding the desert with arms outstretched towards the sky.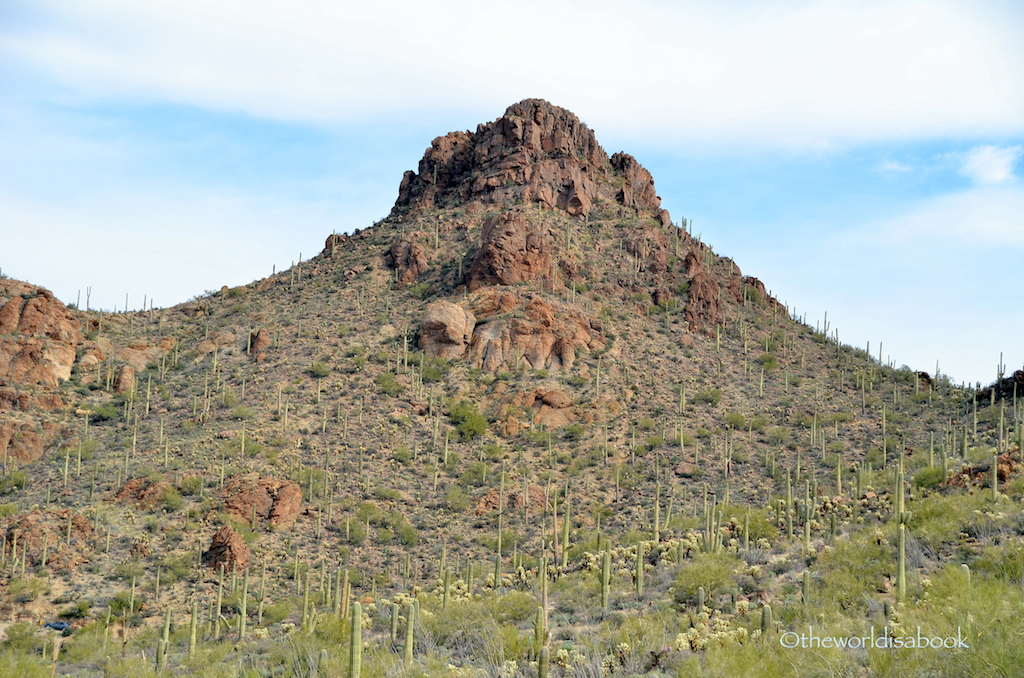 The saguaro cactus or Carnegiea gigantean can only be found in the Sonoran desert of northwest Mexico and southern Arizona. It was surprising to find that their columns were almost tree-like. They are protected by spines and produce white flowers, which are pollinated by bats, during the spring and a red fruit in the summer.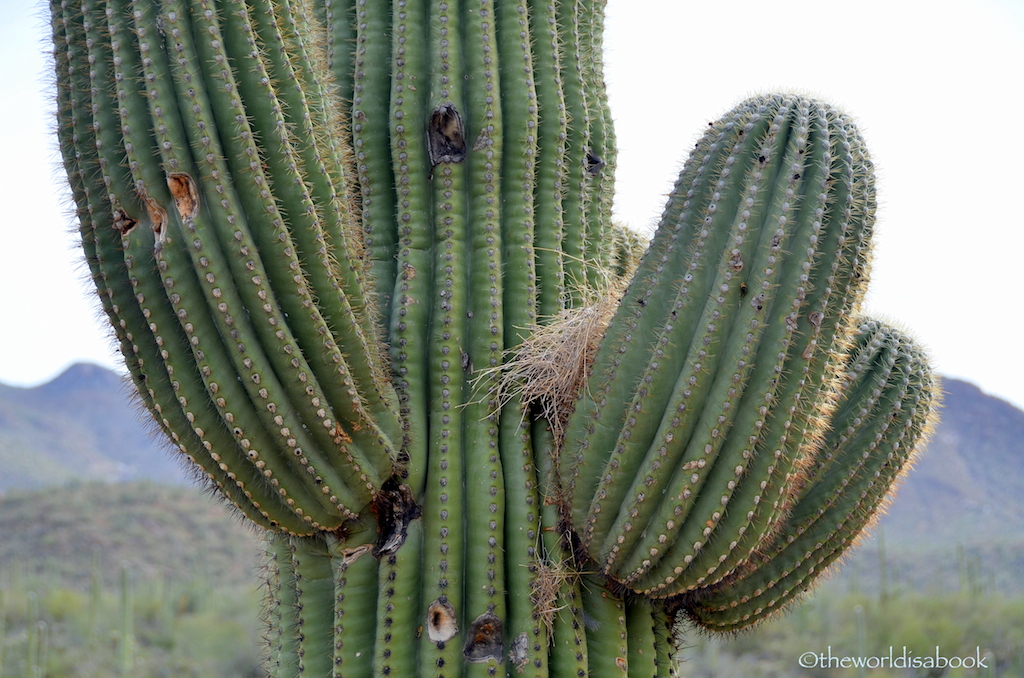 Their fig-like fruit ripens in late June and contain 2,000 seeds. The birds and wildlife eat the seeds and the pulp. We actually found a couple of birds' nests within the cactus' branches. We found this exhibit at the visitor's center of how the fig-like fruit were made into jam, syrup and even wine by the Tohono O'odham Indians. Unfortunately, they didn't have any samples.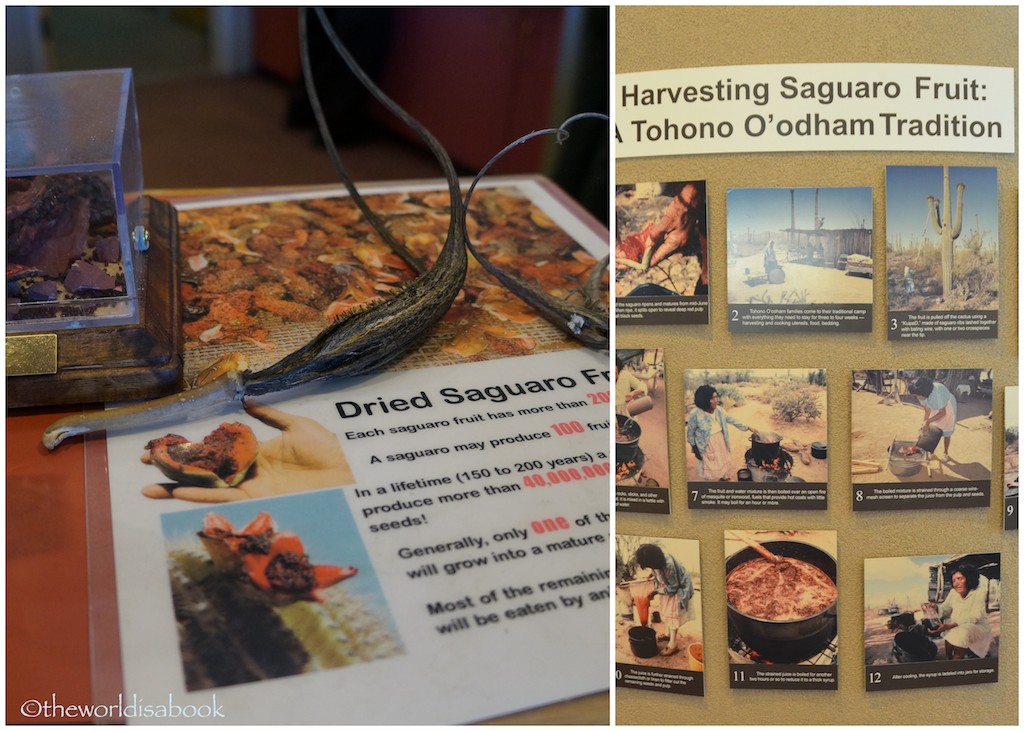 It's hard to believe that these giant cacti began life as a black seed. The saguaros can grow as tall as 50 feet (15.2 meters) and weigh more than eight tons.They are the largest cacti in the United States. The oldest saguaros can weigh over 7 tons and can be as tall as a four-story building. Standing below some of them made us feel small but in awe of their beauty.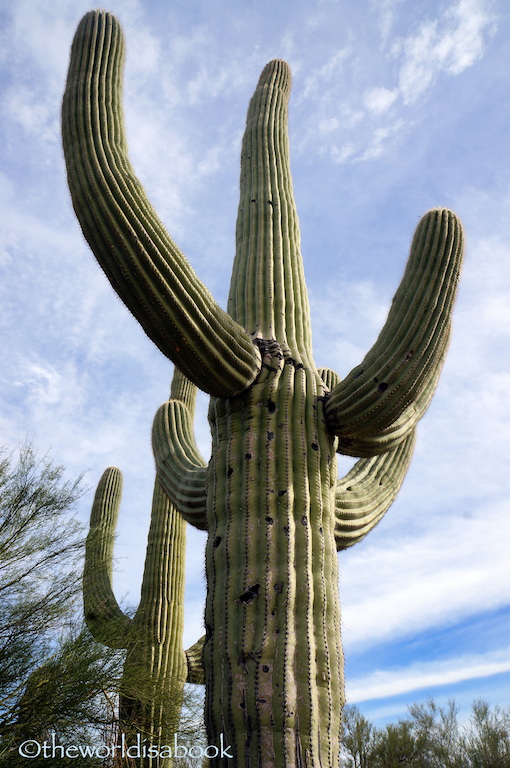 It is estimated that saguaros can live up to 150-200 years old in the right conditions. Severe freezing, wind, lighting, vandalism and disease can kill or damage the saguaros. They grow very slowly at a rate of 6 inches every 9 years. They may only be about 12 inches when they are 15 years old.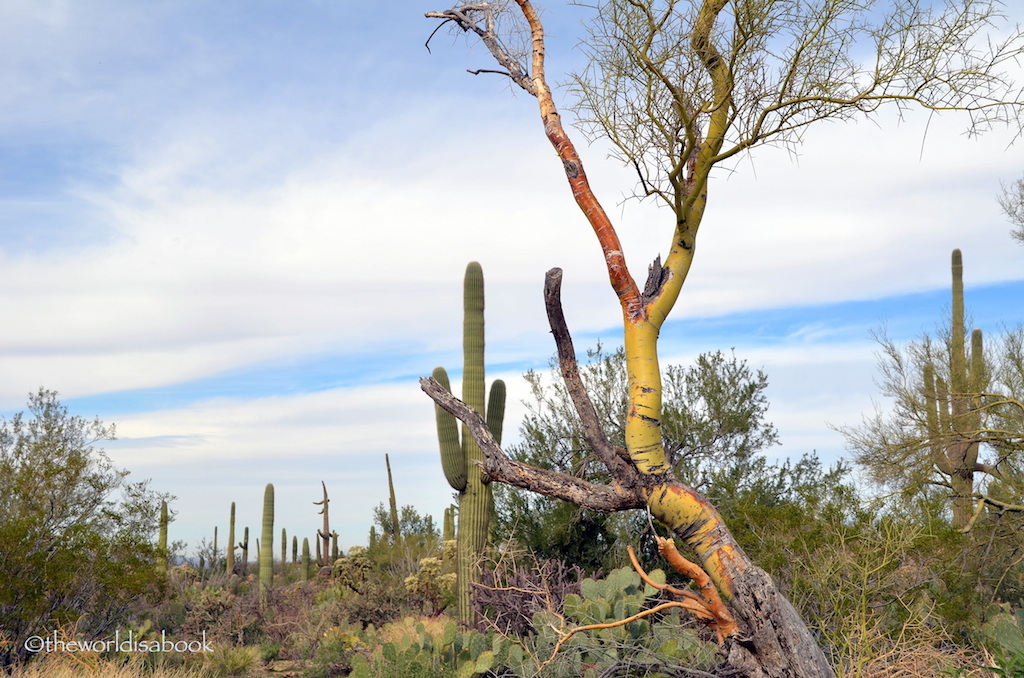 Most of the cacti grow branches or arms. Some of them an take up to 75 years to grow a single one. While their arms usually grow upward, some of them looked whimsical with arms growing in other directions. Some can grow up to 25 arms but we weren't lucky enough to see any with over six arms.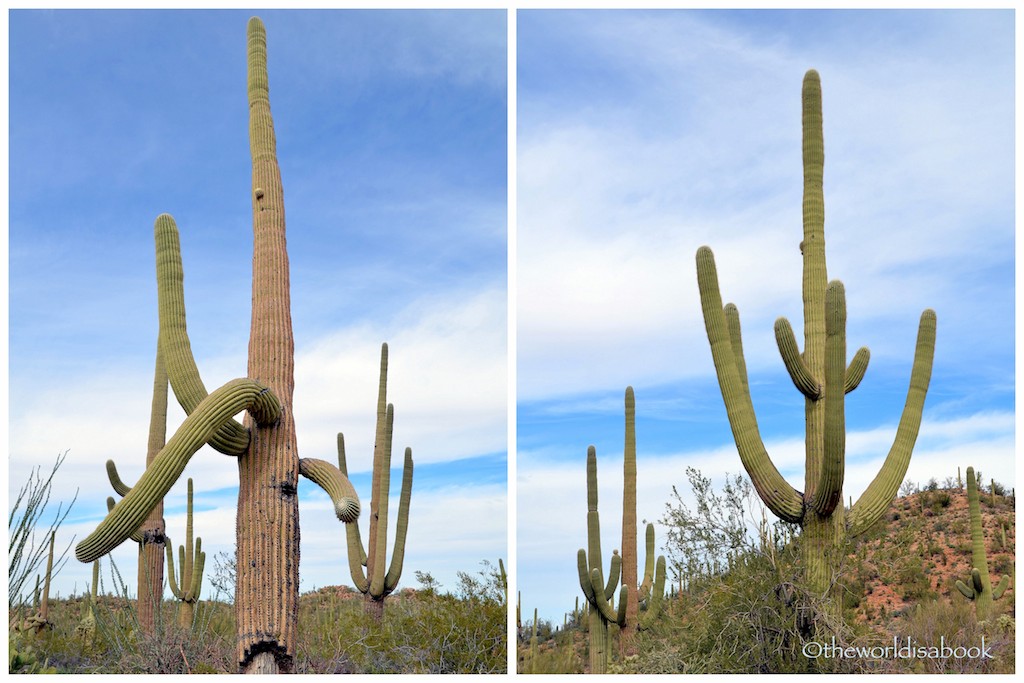 Though they look imposing and robust, saguaros actually fight many elements just to reach maturity. It is survival of the fittest for these large creatures. Few survive the unforgiving conditions and extreme temperatures of the desert, lightning and animals trying to eat the young plants.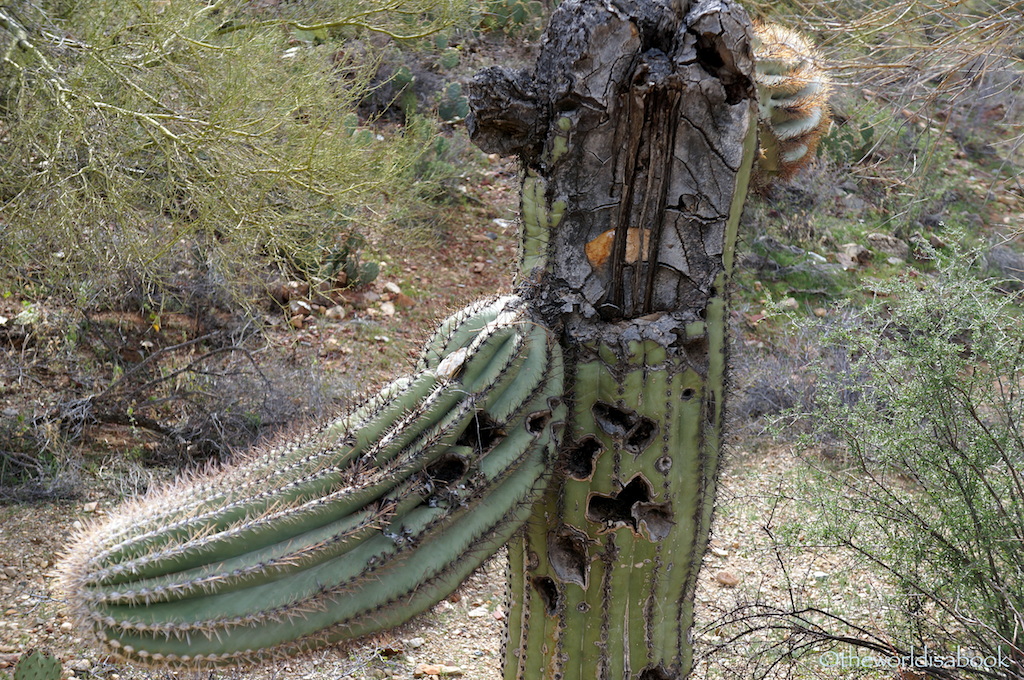 What we found most interesting was that young saguaros were protected by trees like the Mesquite and Palo Verde known as "nurse plants". Most of the young cacti had this nearby tree companion and protector. These trees protect them from the sun, extreme cold and the animals. It's amazing what the nurse plants sacrifice for the survival of the saguaro.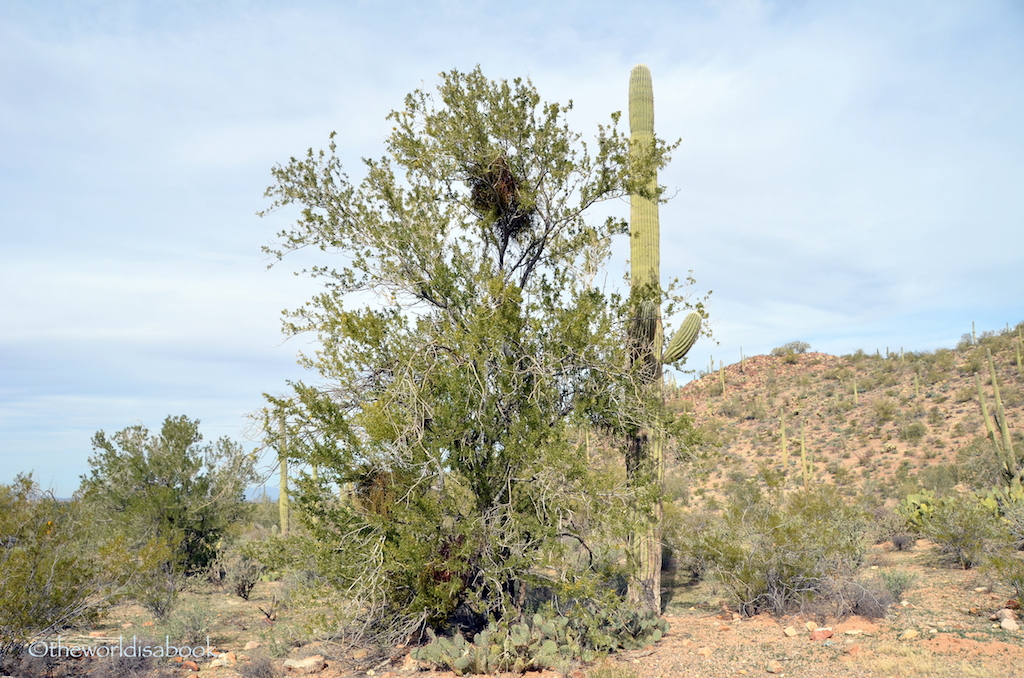 We did the five-mile Scenic Bajada Loop Drive that took us from a paved road to a dusty, unpaved road. But, we were driving through a dense saguaro forest with some beautiful views.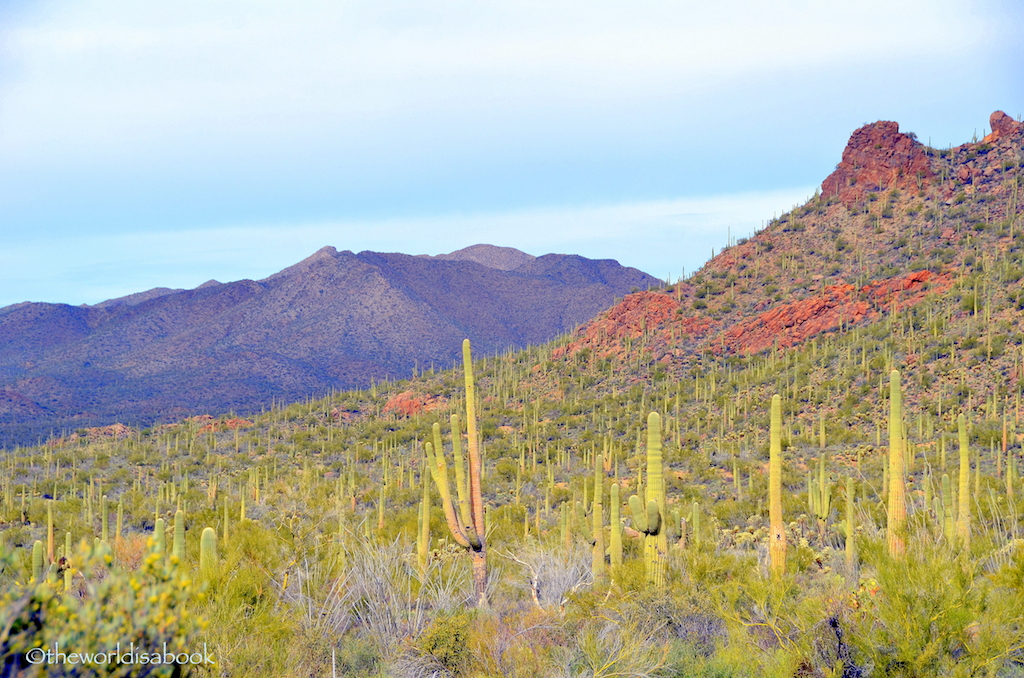 This was where we saw some of the dead saguaros and got a closer look at what was inside. Most of their weight is supported by these cylinder-shaped wooded ribs. These wood ribs from dead cacti have been used for roofs, fences and furniture.

Short on time, our hike was limited to the ½ mile round trip Signal Hill Trail. It was a lovely walk with desert and mountain views.The trail wasn't very wide but heavily emphasized staying on the trail. Warnings of prickly plants, rattlesnakes, scorpions and Gila monsters made my kids a bit uneasy as they slowly watched their every step. Luckily, we didn't spot any of these desert wildlife.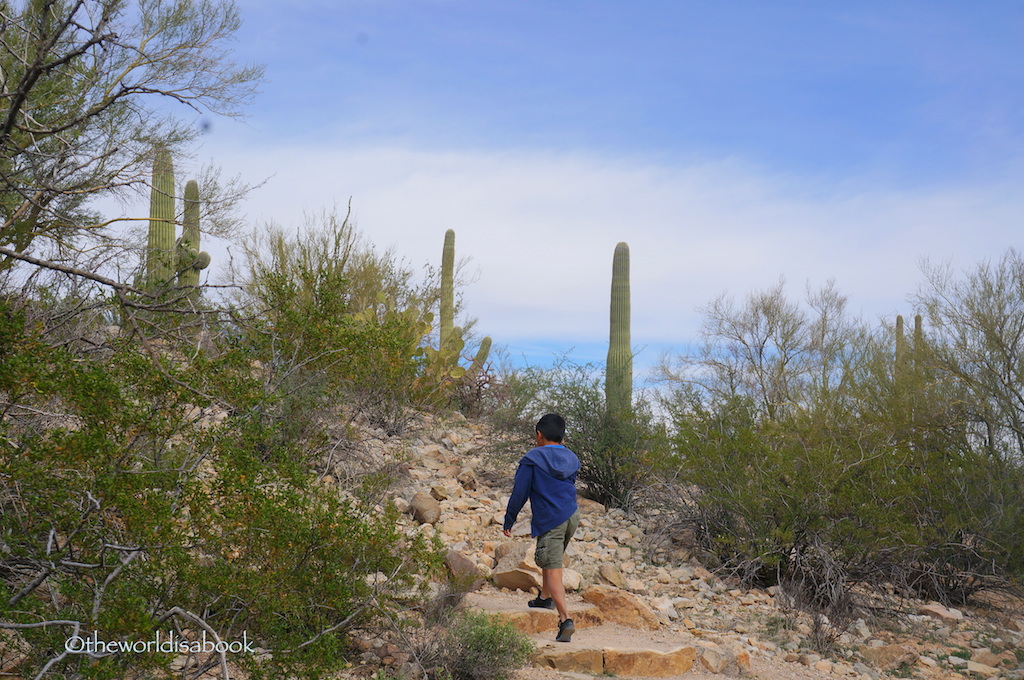 Though the saguaros were the main attraction here, there were also a variety of cacti, including some prickly pear, along the trails.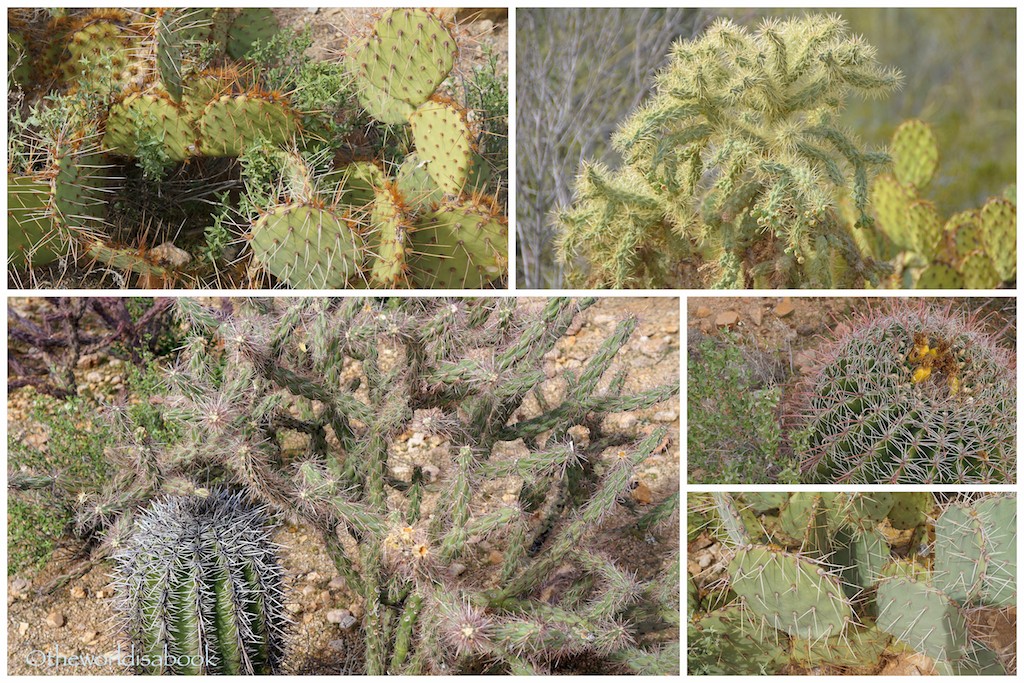 We found this barrel cactus blooming with flowers.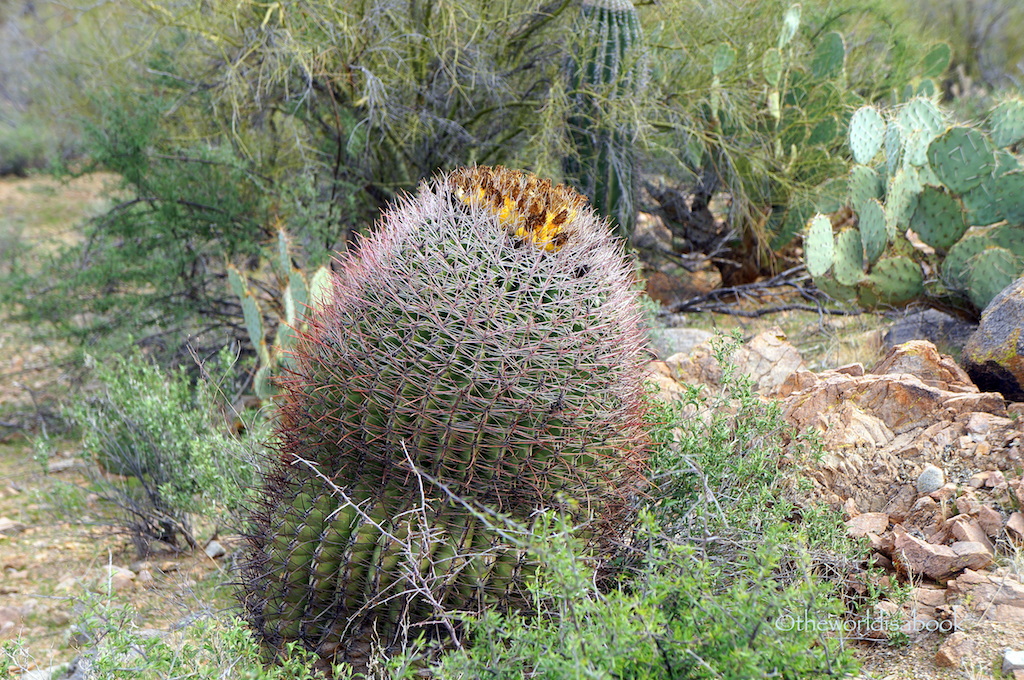 We also liked that there were several picnic spots with grills along the trail. We are definitely going to come with supplies during our next visit.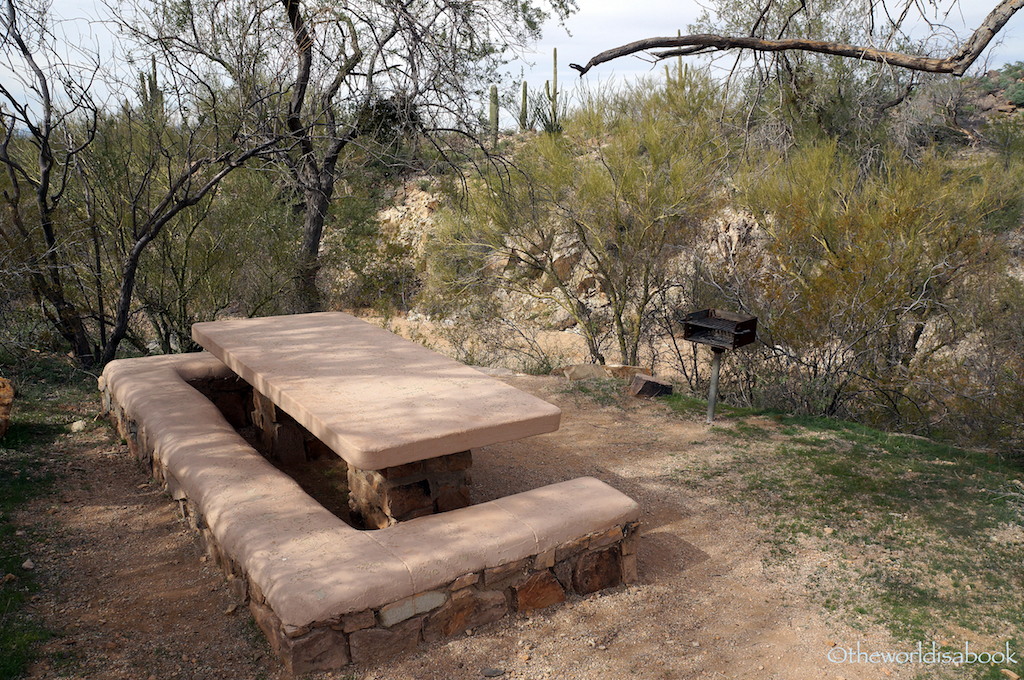 One of the main reasons we hiked this trail was to see the prehistoric rock art or petroglyphs found inside the park. These were created by the Hohokam people who were Native American Indians who once roamed this area. It was believed that they pecked these into stones while hunting and gathering more than a thousand years ago.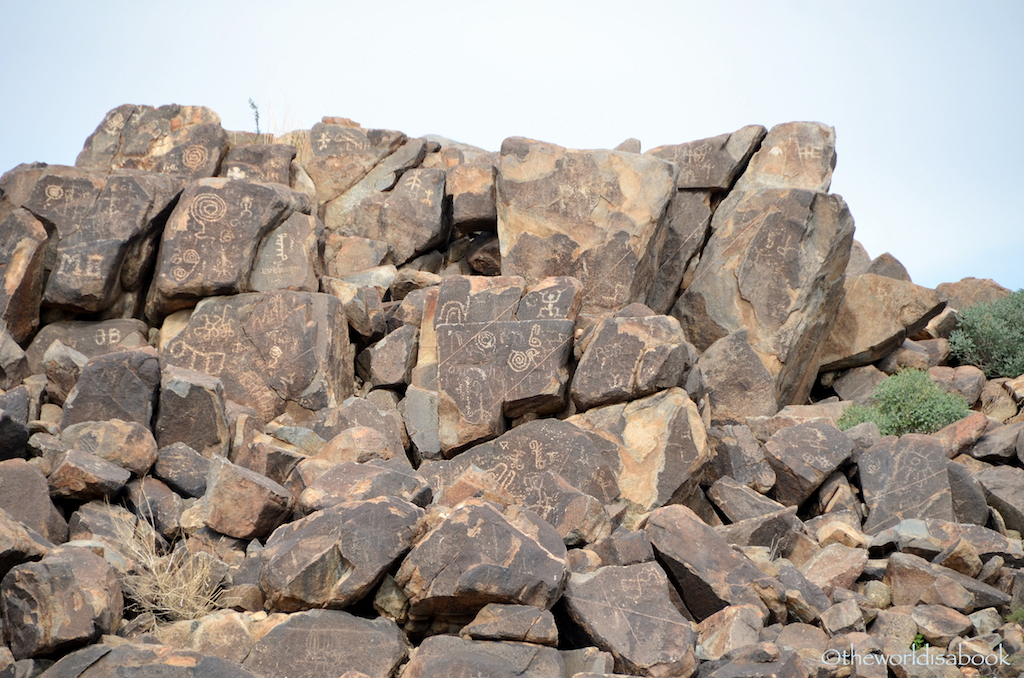 We saw many of them concentrated in one area on Signal Hill Trail. Their meanings have kept everyone guessing from religious, ceremonial symbols, markers or ancient graffiti. My kids enjoyed interpreting their own versions of what some of the petroglyphs could have meant. It was surprising to see such a large concentration in one area.

Saguaro National Park with Kids
We visited the Visitor's Center which showed a movie and plenty of exhibits that will entertain the kids. They had a table where kids can see some of the wildlife up close including antlers and skins.  There was also a small section for the kids to color and do some interactive activities.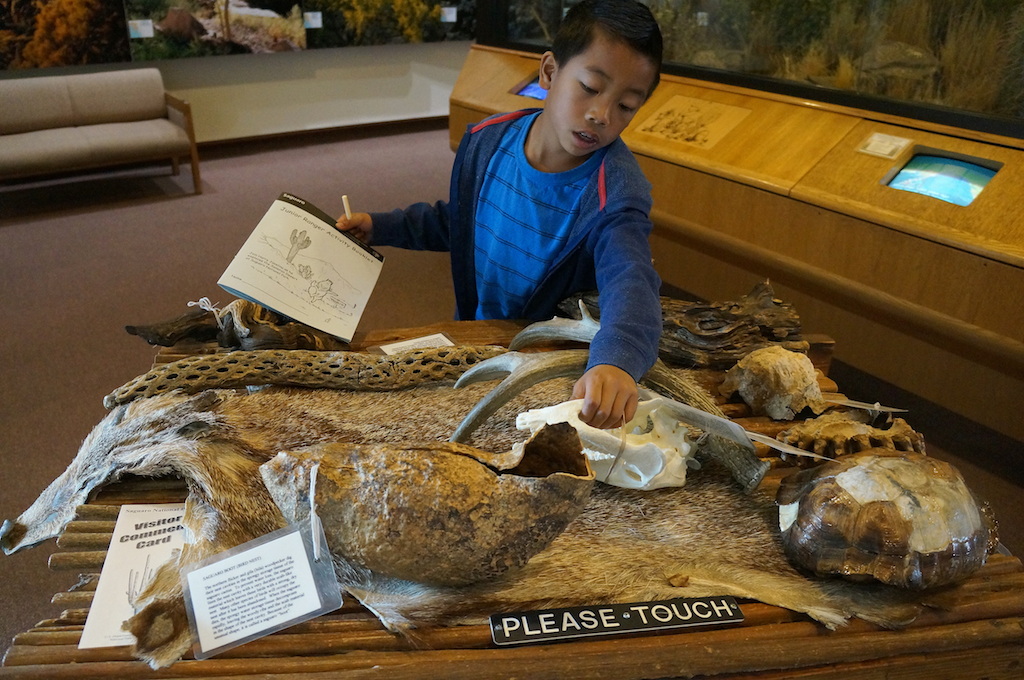 Other kid-friendly hikes in the west district include the Cactus Garden Trail at the visitor center and the Desert Discovery Nature Trail (.5 mile loop north of the visitor center)
My kids love the National Park's Junior Ranger program and always look forward to completing the Junior Ranger packet and activities. The packets kept them engaged and they learned quite a bit about the plants, wildlife and park. They always enjoy being sworn in and getting their certificates and badges.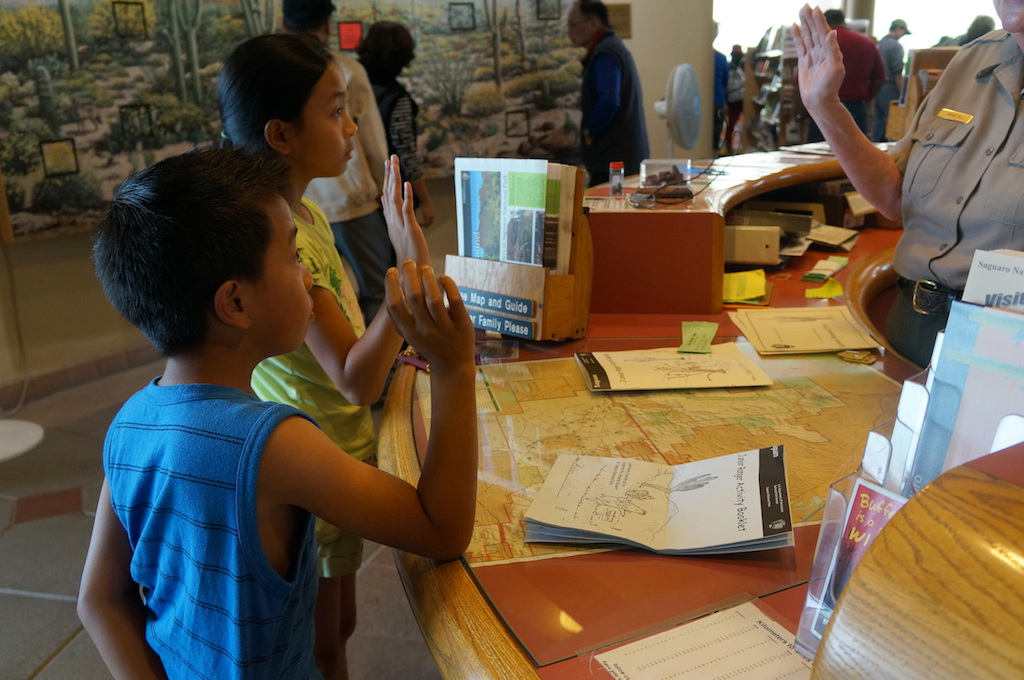 While we didn't get to fully experience what Saguaro National Park had to offer, we still enjoyed our short visit. The park wasn't crowded and felt secluded despite having Tucson at its doorstep. The Arizona desert is a special place to visit but this unique park really made us appreciate what the majestic saguaro cacti endure to survive. Though, cacti may be everywhere in Arizona, this park is still very much worth a visit. After all, there aren't many places where you can explore a cactus forest.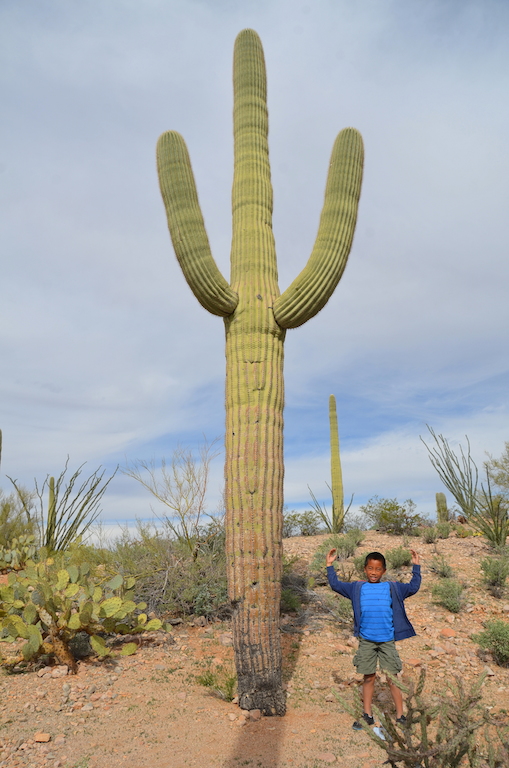 Visiting Saguaro National Park Tips and Basics
Stop at the visitors center to get trail maps, watch a movie or see exhibits to learn more about the desert ecosystem and what's inside the park.
$10 entrance fee. There was no guard house or entrance ticket area. Based on an honor system, pay your fees at the visitor's center.
Check these

specific dates for National Park fee free days

.
No food, camping or lodging inside the park. Bring plenty of water and snacks. Some snacks and beverages are sold at the visitor's center.
Travel time between the two park districts is about an hour.
Recommended time to visit is October through April when temperatures during the day are comfortable compared to dry desert heat during the summer. Visit during Spring to see the wildflowers and blooming cacti.
*Have you explored Saguaro National Park? Is the desert for you?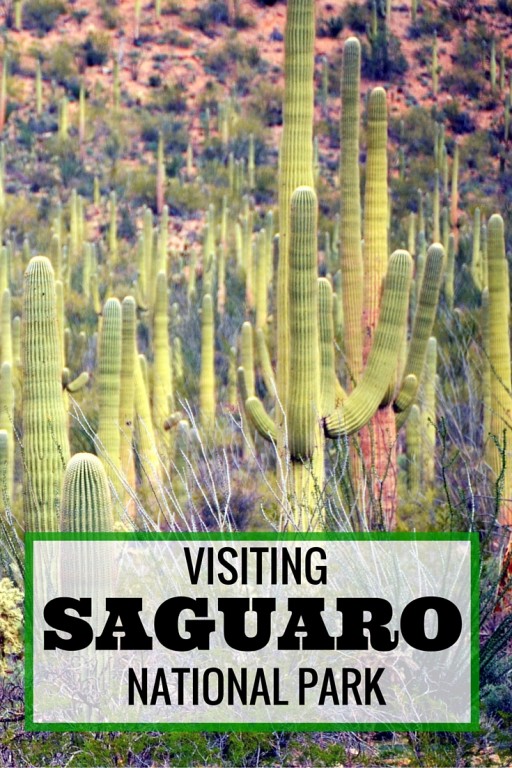 Check out these related posts: