The Gothic Masterpiece of St Vitus Cathedral Prague
In honor of Holy Week leading up to Easter for some of us, I was inspired to write about one of Europe's grandest churches. St. Vitus Cathedral (Katedrála svatého Víta) dominates Prague's skyline almost acting like the city's guardian. Its steeples were distinguishable from a distance but it was as grand up close and inside. It is a Gothic masterpiece that took almost 600 years to complete.

This was once a pagan temple site dedicated to the god of fertility, Svetovid in the 10th century. King Charles IV commissioned the project and construction began in 1344. Over the years, construction of the cathedral was marred due to death of its builders, the Hussite Wars in 1419 and a tower fire.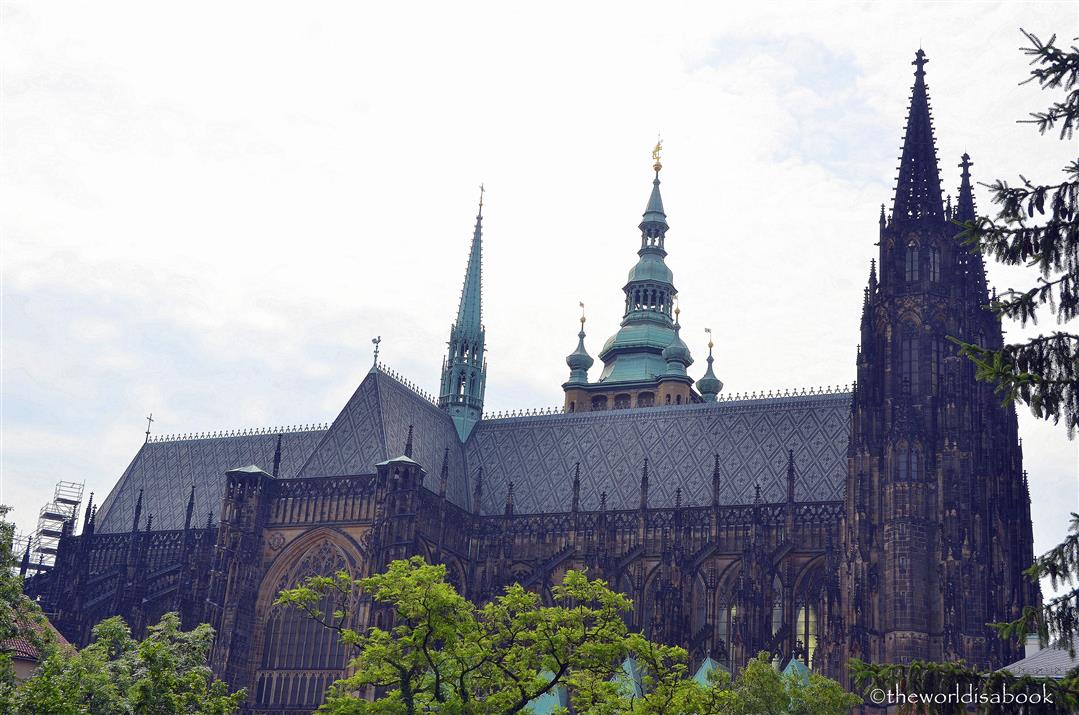 Architectural styles have varied over the years from the Romanesque rotunda to a Baroque dome on top of the clock tower. It stood unfinished for awhile until a group of individuals took action to ensure the cathedral's completion in 1929. Fortunately, many of the original builders' plans were used during the late construction phases staying true to its origins.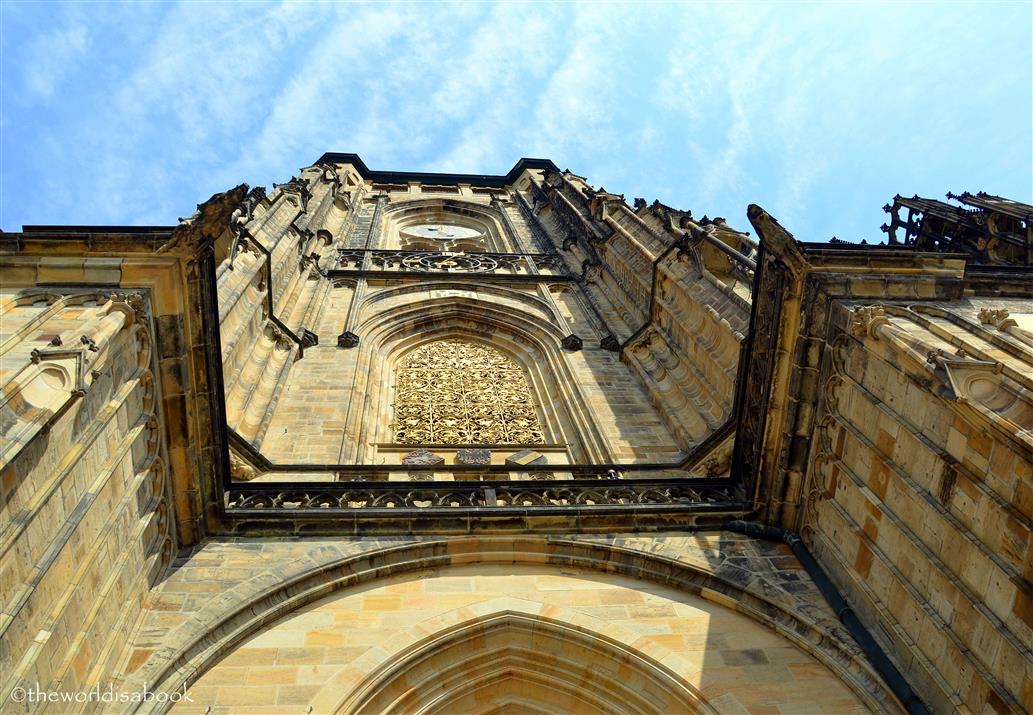 St Vitus Cathedral is located within the confines of the Prague castle complex along with the country's presidential seat, gardens and many museums. Its full name is St. Vitus, St. Wenceslas and St. Adalbert Cathedral but is largely known for St. Vitus who was a Sicilian martyr and was also the patron saint of Bohemia, actors and dancers. The saints' remains are kept within the cathedral.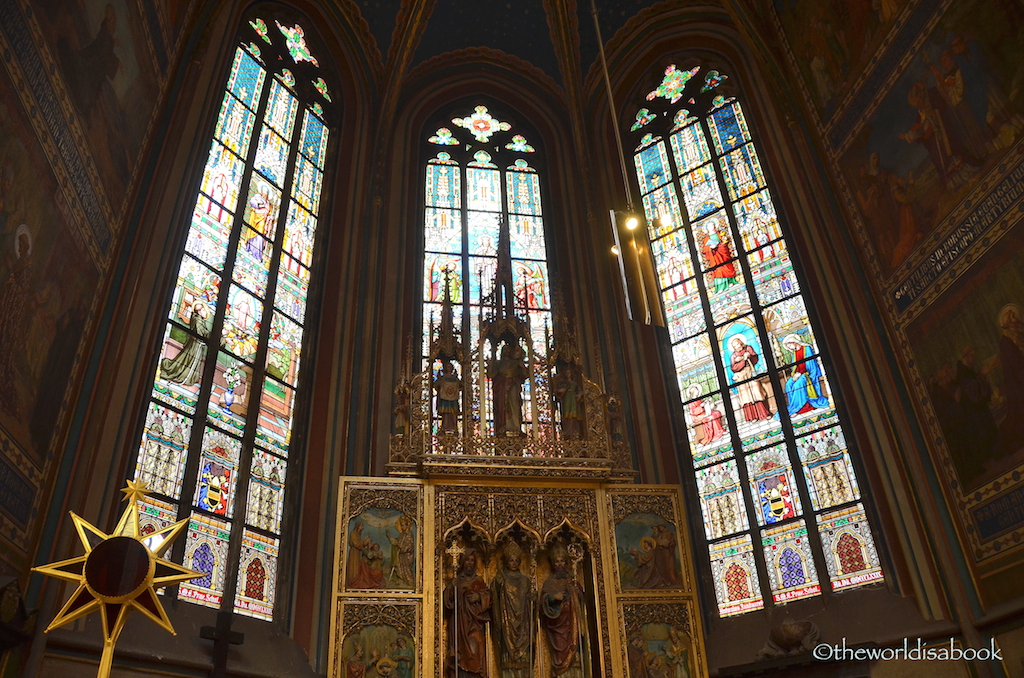 It is the seat of the Archbishop of Prague and is the city's largest church with limited religious services. This was used for many coronations of Czech royals over the centuries. It's now one of the city's top attractions that also house the royal treasury and royal tombs. We've seen many European cathedrals and this has one of the most detailed and ornate architecture.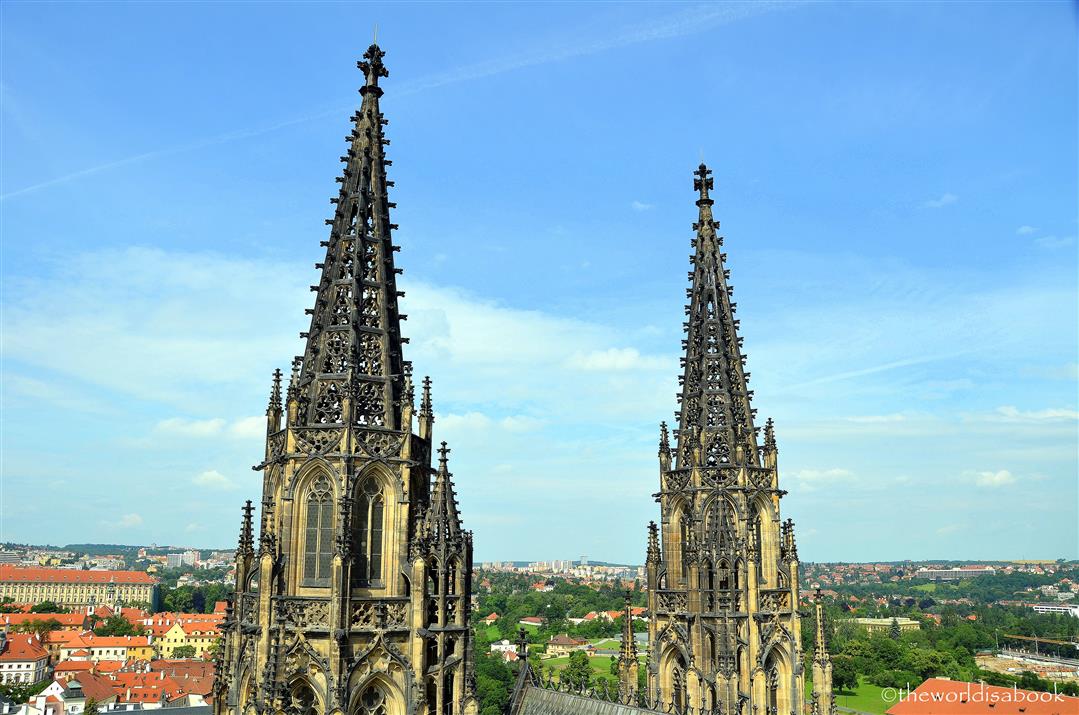 The Golden Portal or Zlatá brána is at the side of the cathedral graced with a colorful and remarkable mosaic over it. This was a depiction of the Last Judgment and was created by Venetian artisans in the 1300s. It was only fitting that this portal was once used as the cathedral's main entrance and where the royals entered.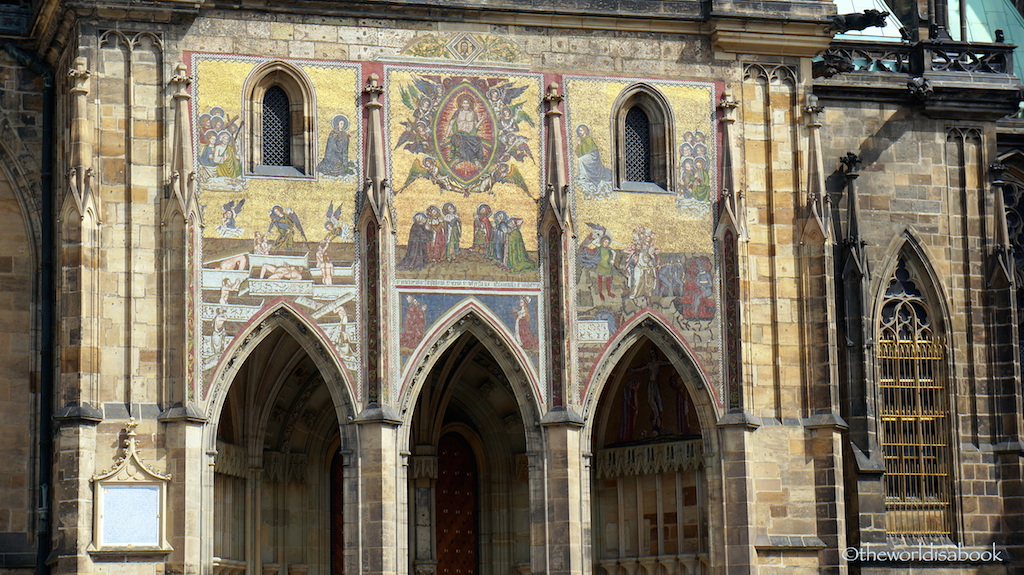 The imposing Great South Tower/clock tower at a height of 317 ft (96.5 m) shouldn't be missed. We climbed the 287 steps to the top of the tower passing Eastern Europe's largest church bell (Žikmund) for a breathtaking, bird's eye view of Prague. It gave us a different perspective of the city and the cathedral and one climb worth the effort and one we highly recommend.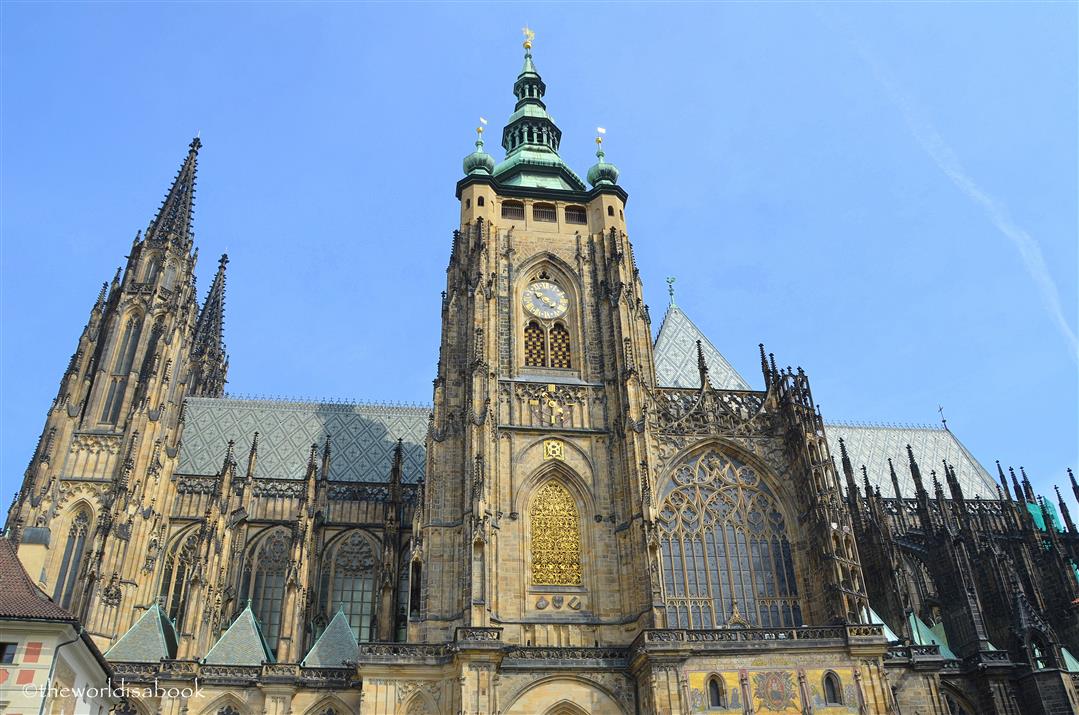 We entered the west entrance which is the front of the cathedral. This neo-Gothic facade was built between 1873 and 1929 and by European standards is fairly new. It was decorated with many statues of saints and some gargoyles. Though, some parts were already covered with black dust. The bronze doors were hard to miss with an endless number of visitors queuing to get in through one door.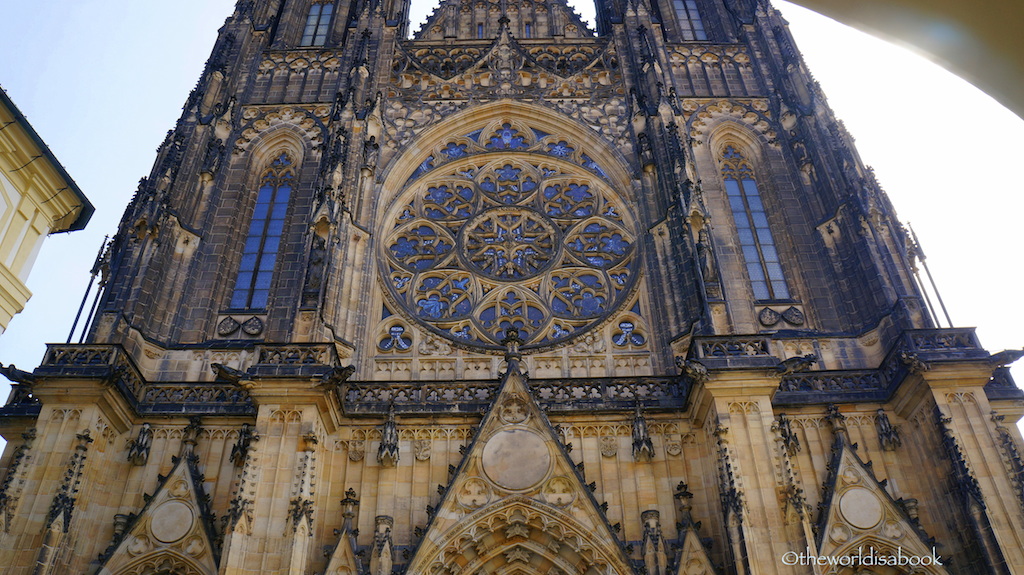 I wasn't totally prepared for the sheer size and beauty of the cathedral once we were inside. I thought the interior was even more impressive than its marvelous facade. It got a little crowded in the section by the door since this was as far as visitors are allowed to go for free. Visitors must pay to further explore the cathedral and go beyond the barricade.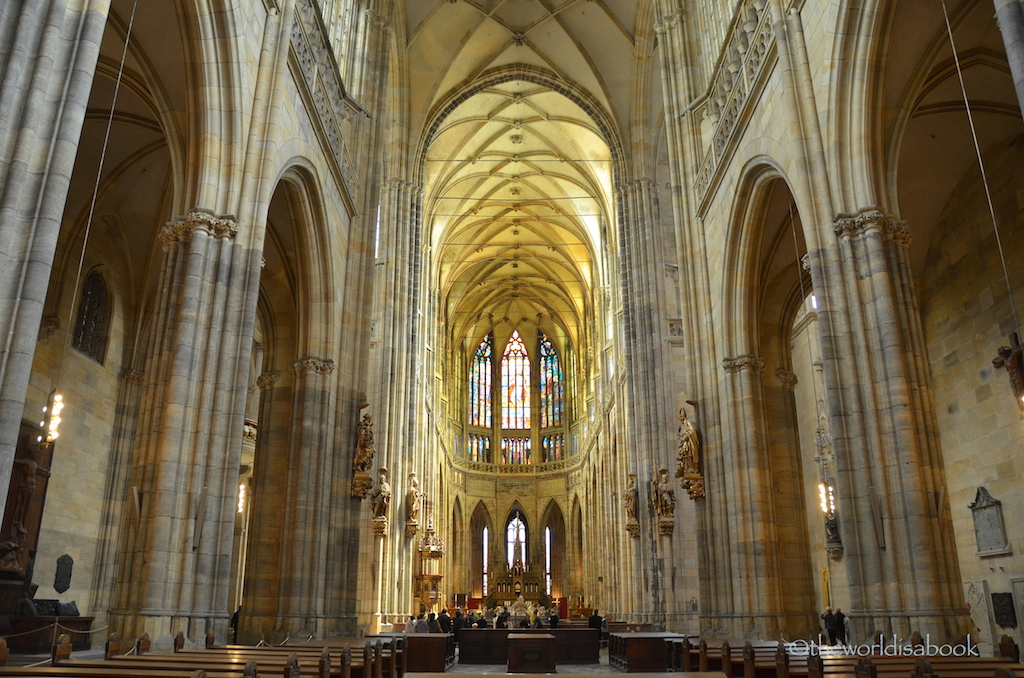 While there were tours available and probably would have helped us since many of the signs were in Czech, we decided to do our own self-guided tour instead with our trusty guidebook. We couldn't help but look up to admire the soaring ceilings supported by massive pillars. These always made me wonder how they were able to accomplish its complex construction given the tools they had back then.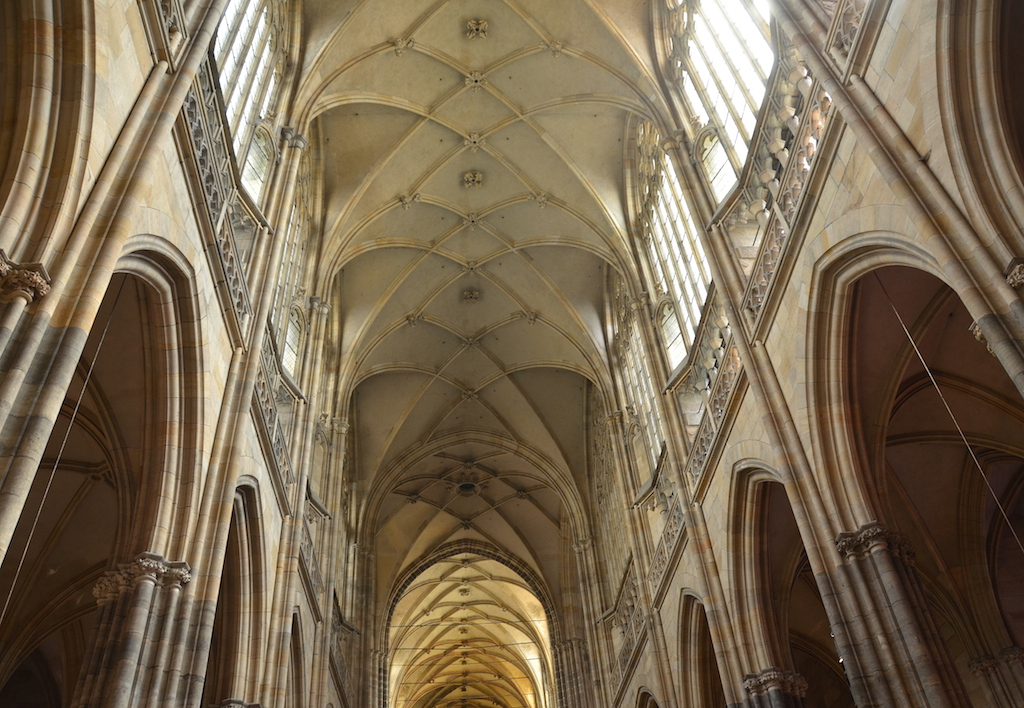 There was a large rose stained glass window above the cathedral's main entrance which was completed in 1927 and showed biblical scenes.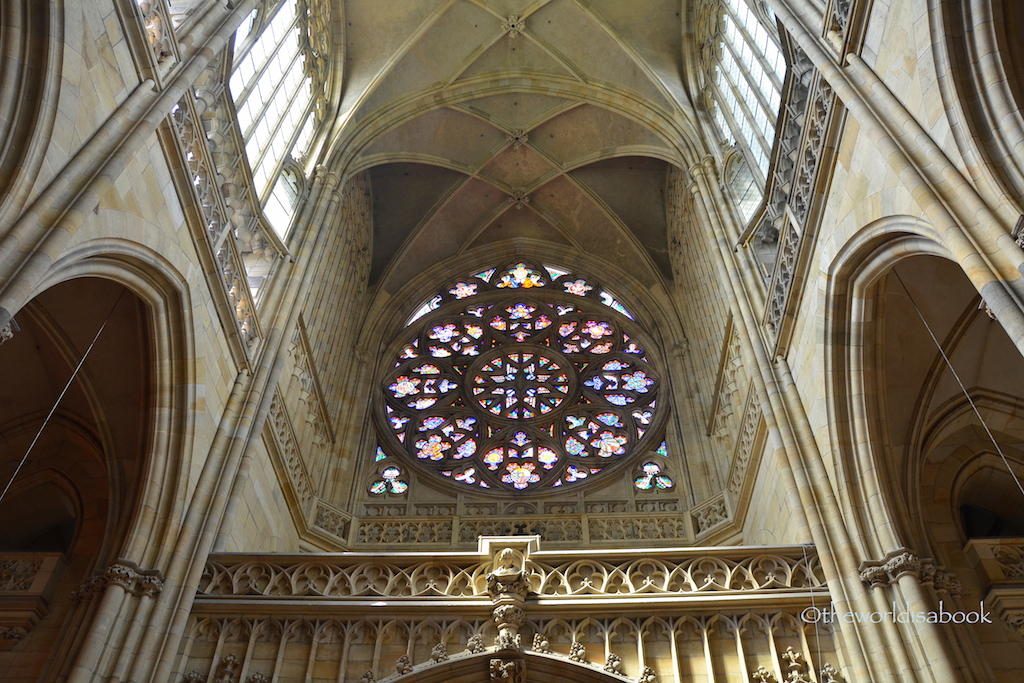 It was hard not to miss the royal mausoleum in the middle of the cathedral's chancel in front of the high altar. We saw stairs that led down to the royal crypt where tombs of the Czech Republic's royalty and patron saints were laid to rest. The two tombs on top were of Ferdinand I and his wife that were built between 1571 and 1589.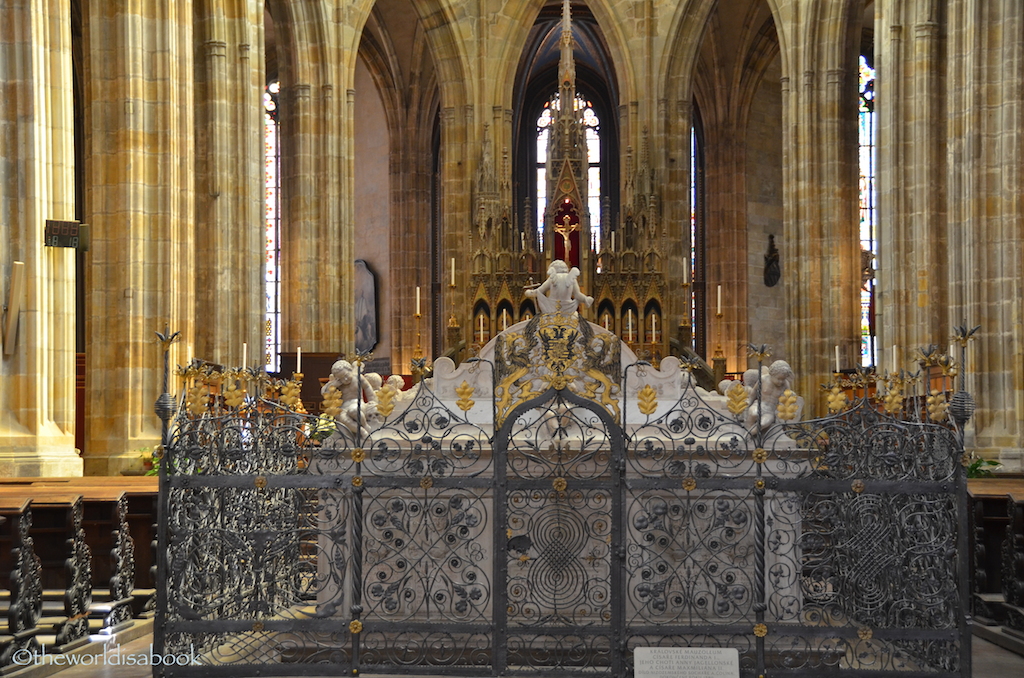 The most impressive tomb here was that of St. John Nepomuk who was a Czech archbishop and martyr. Its Austrian architect designed this ornate tomb in 1736 and used two tons of silver for it. It was very extravagant with silver cherubs and candlessurrounding the saint's statue.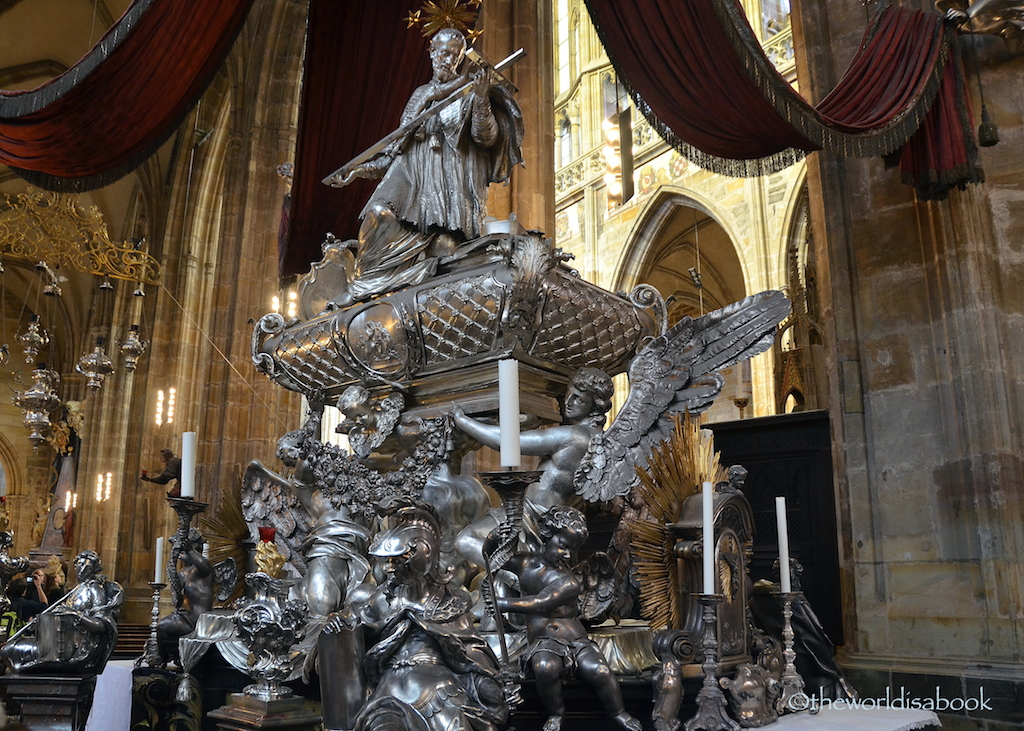 The tomb had a sculpted red canopy over it held by angels. It was such an interesting tribute but almost felt out of place among the church's art pieces.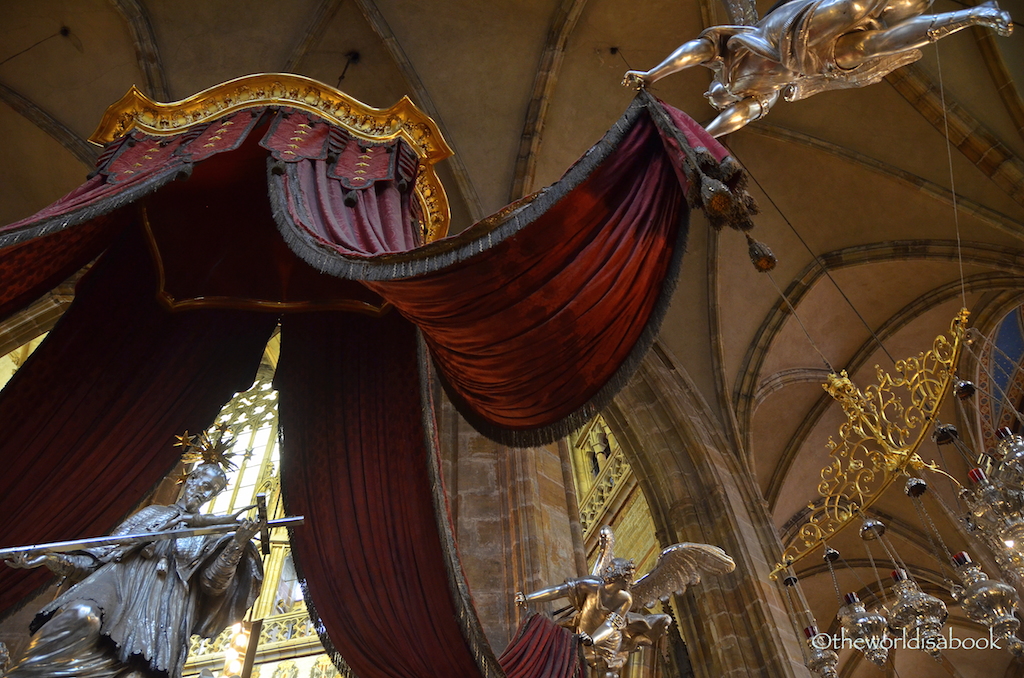 The cathedral had many chapels but its most popular one is St. Wenceslas Chapel which is dedicated to the country's patron saint. This chapel was built during the 14th centrury and is above St. Wenceslas' tomb. The wall frescoes show biblical scenes and St. Wenceslas' life. It was also decorated with over 1,300 semi-precious stones. A nearby door leads to the royal treasury containing Bohemian crown jewels among others. Unfortunately, we didn't get a chance to visit.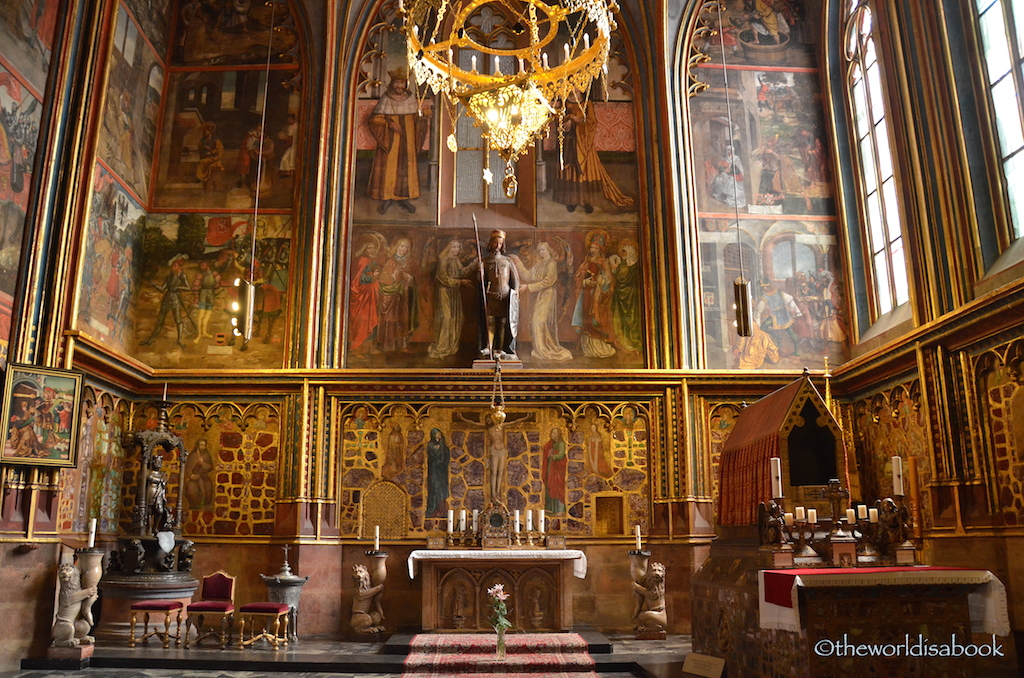 These were some of the fanciest pulpits we've seen.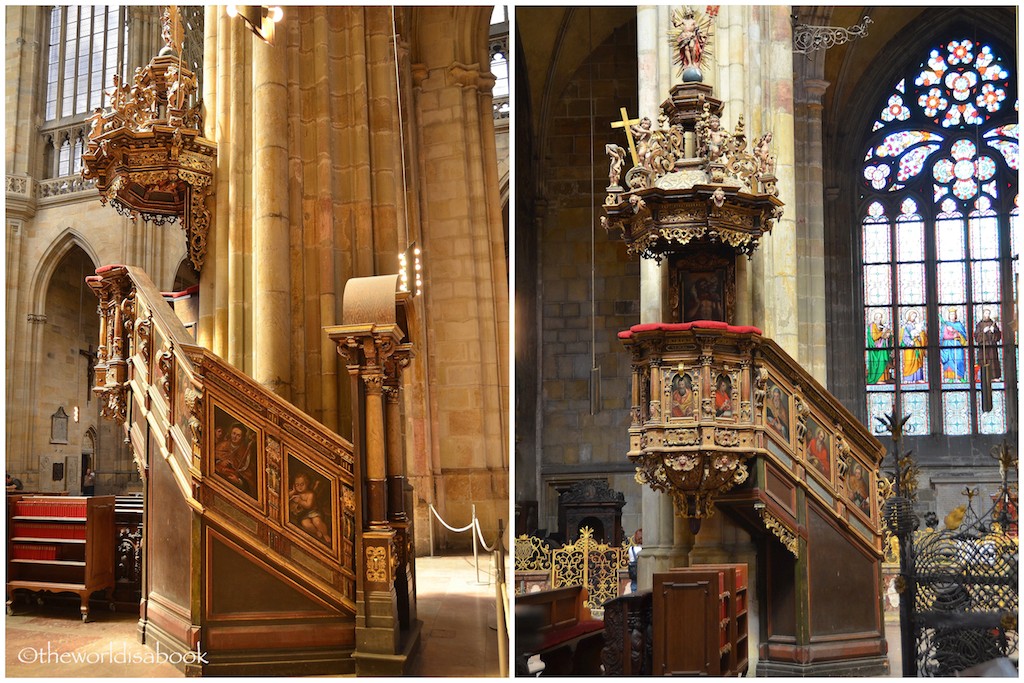 I love stained glass windows and I always find the art behind them incredible. St Vitus Cathedral didn't disappoint with some stunning ones. It was times like these I wish I had binoculars to have gotten a closer look at what was portrayed in each panel. The sun filtering in through the colorful windows added to the ambience of the church.

Visiting St. Vitus Cathedral with Kids
Churches are a hit or miss with my kids. I've dragged them to enough churches since I have a hard time passing by them without entering. St.Vitus felt more like a museum and they actually enjoyed walking around. There was so much to see at every corner and they marveled at the statues, paintings and windows.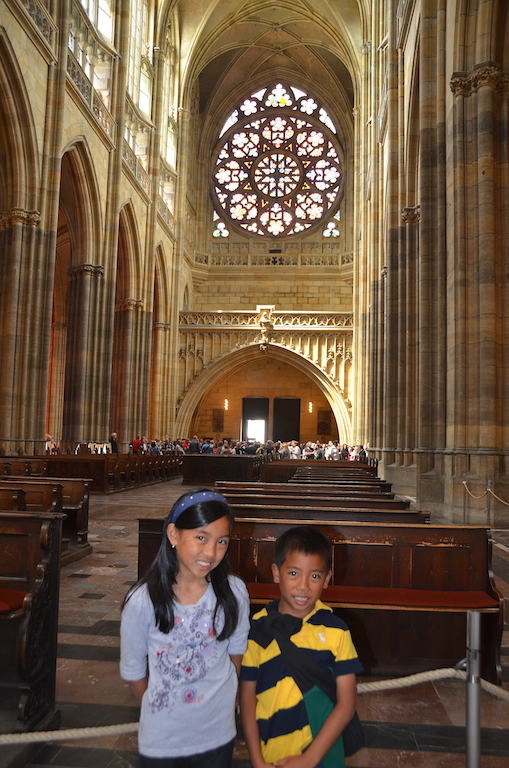 It's not often that we get to visit 600-year-old churches that look great for their age. Walking around St. Vitus Cathedral really made one appreciate its history and especially its long and rocky road to completion. It was a remarkable attraction inside and out and shouldn't be missed when in Prague regardless of one's religious beliefs. It can get crowded but take your time and we hope you enjoy its architecture, windows and artwork as much as we did.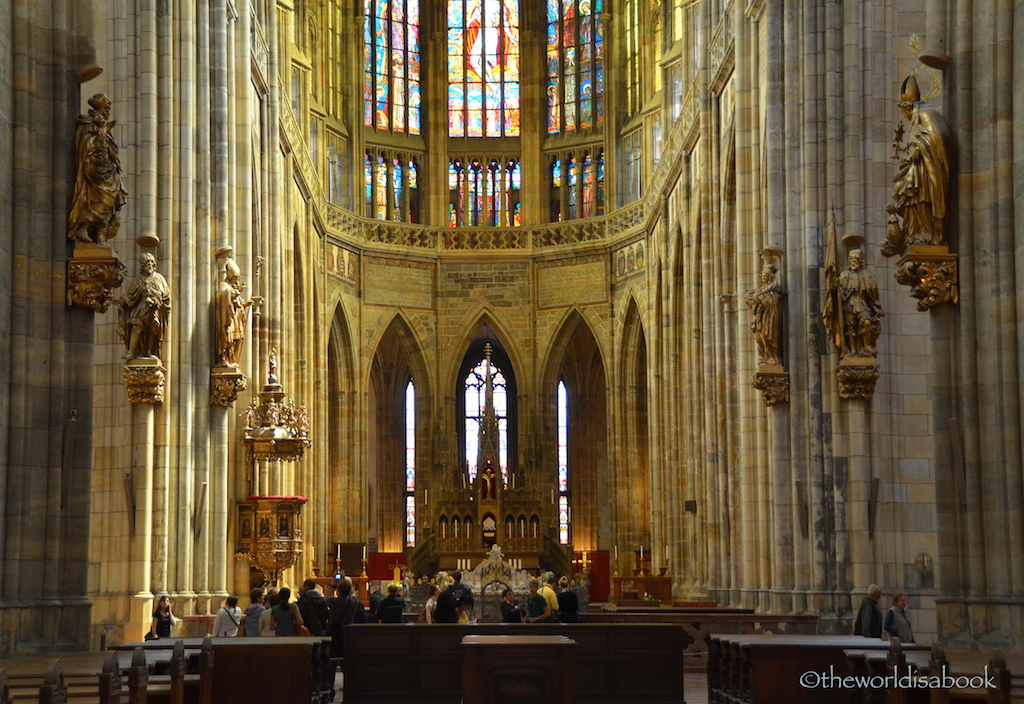 Visiting St. Vitus Cathedral Basics and Tips
The front interior area of the cathedral is free for visitors to see. Visitors must have tickets to walk around the rest of the cathedral. There is no separate ticket just for the cathedral. There are a couple of ticket types to tour Prague castle which include cathedral admission.
Going up to the bell tower or visiting the Treasury requires separate admission tickets.
Use the restrooms before entering especially when traveling with kids. We didn't see any within the church.
Go early in the morning (opens at (9 AM, noon on Sundays) or later in the evening (closes at 4-5 PM depending on season) to beat the crowds especially when visiting during the summer.
Have you visited St. Vitus Cathedral?
Pin it for later!