Visiting Viktualienmarkt: The Stomach of Munich
We love visiting open-air markets especially in Europe. It's a great way to see where the locals shop and see diverse samples of local cuisine and produce. Munich's Viktualienmarkt (literally, victuals market) certainly didn't disappoint with over 140 booths and farm stands. Victual is the Latin word for food. Come take a stroll with us through this bustling market and one of Munich's top attractions. There's a reason this is known as "the stomach of Munich".
Viktualienmarkt is Munich's oldest farmer's market and was founded in 1807 by King Maximillian I. This market replaced the smaller food market in Marienplatz, Munich's central square. It isn't too far from the Marienplatz and Glockienspiel. Located in the city center, it was easily accessible. A variety of designated halls, unique elements, stands and pavilions were added over the years. This sprawling market now occupies about 22,000 square meters (about 5.5 acres).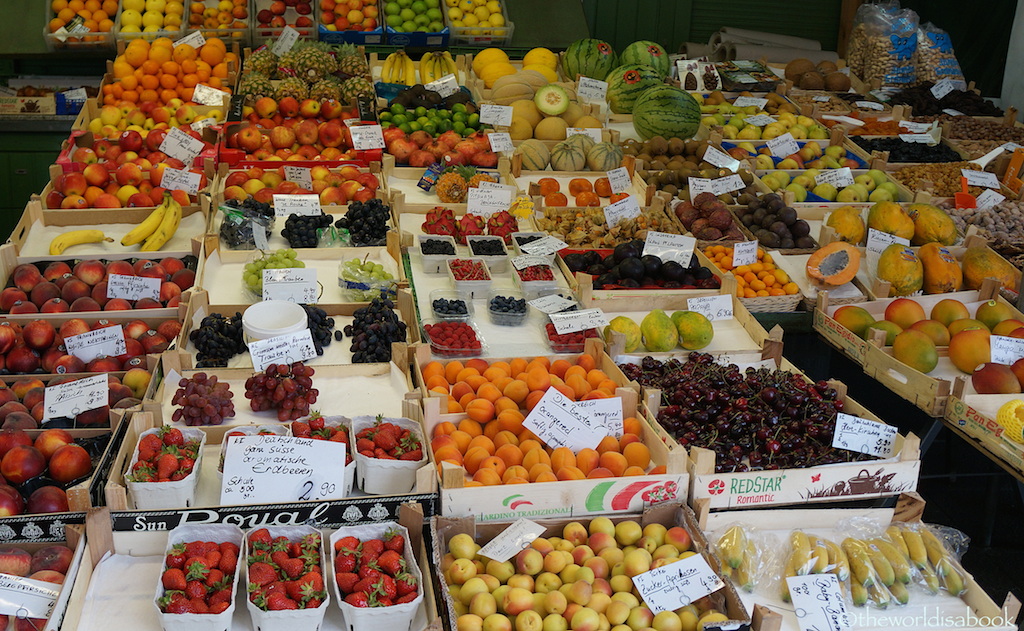 We visited twice during a Sunday morning but it was closed and during a weeknight late afternoon. We decided to stay away during the lunch hour rush but it probably would have made for fun people watching activity. Its convenient location makes it a very popular gathering place for locals and tourists.
There is no shortage of food options at this market. No matter what your preferences or dietary restrictions are, you'll be sure to find something here to satisfy everyone. It's such a great place to stroll and explore the booths. We never knew what greeted us around the corner. It's not often you see rows of meat purveyors with hanging sausage garlands.
Viktualienmarkt was such a foodie's paradise. The fruits and vegetables were fresh and stacks of German cheese were all waiting to be sampled. We could smell the newly baked bread. There was even a whole store dedicated to honey.  Walking around here almost made me wish we were in an apartment instead of hotel. I don't cook during vacations but seeing all these gourmet goodness was so inspiring.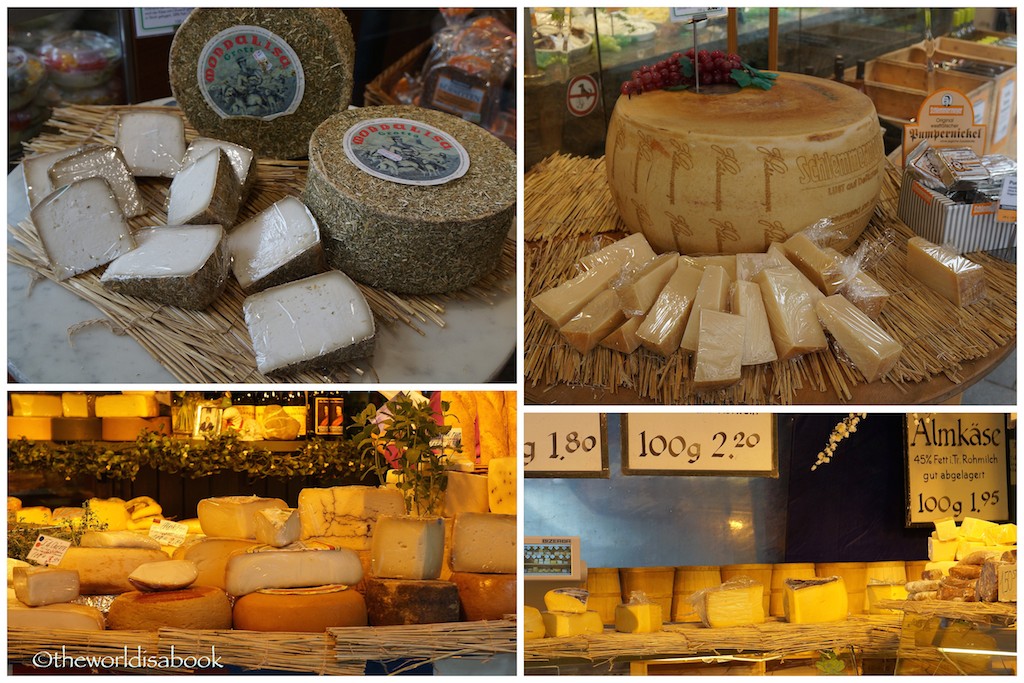 Despite Munich being a landlocked city, the seafood selections looked pretty good.
I loved their diverse flower and plant stalls too. It's always a joy to see flora from other areas of the world. All these colors were enough to brighten our day amidst the overcast skies.
It was a surprise to see these chili pepper ristras I've only seen in New Mexico.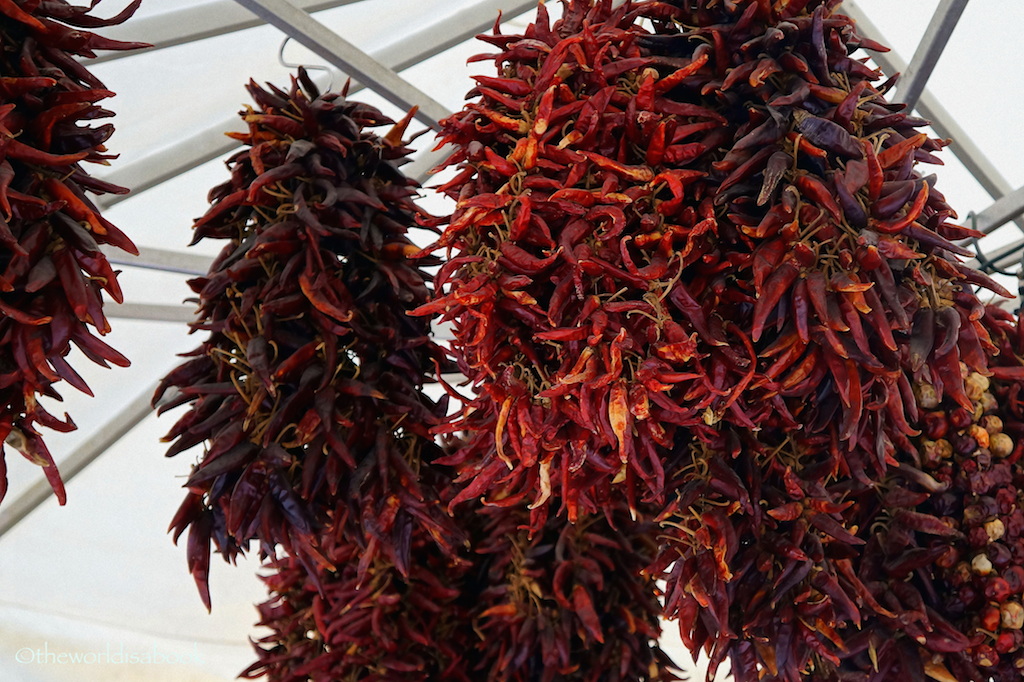 One of the first things we noticed when we first entered the market was the 36m tall Maypole in the center. A Maypole or Maibaum (May tree) is a tall, wooden pole used to usher in Spring. It is decorated with carved figures, colorful ribbons, paintings and flowers representing their locations.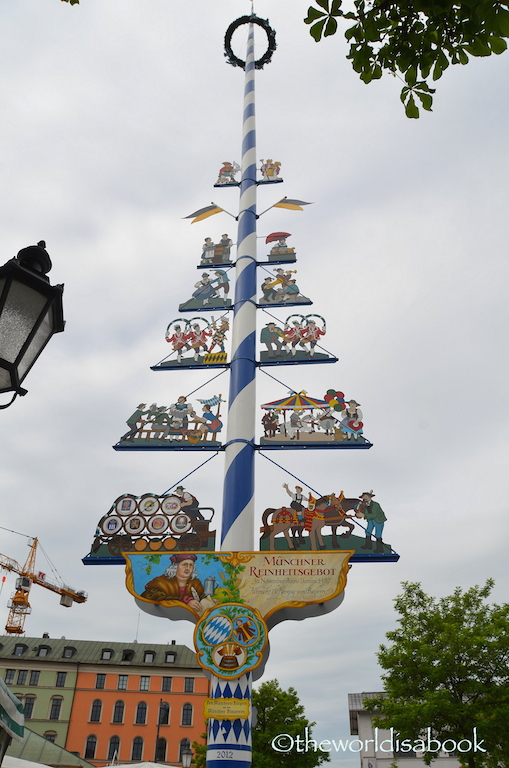 This particularly one showed crafts and trades common to Munich. We also found smaller and more colorful Maypoles as we drove through the Bavarian countryside.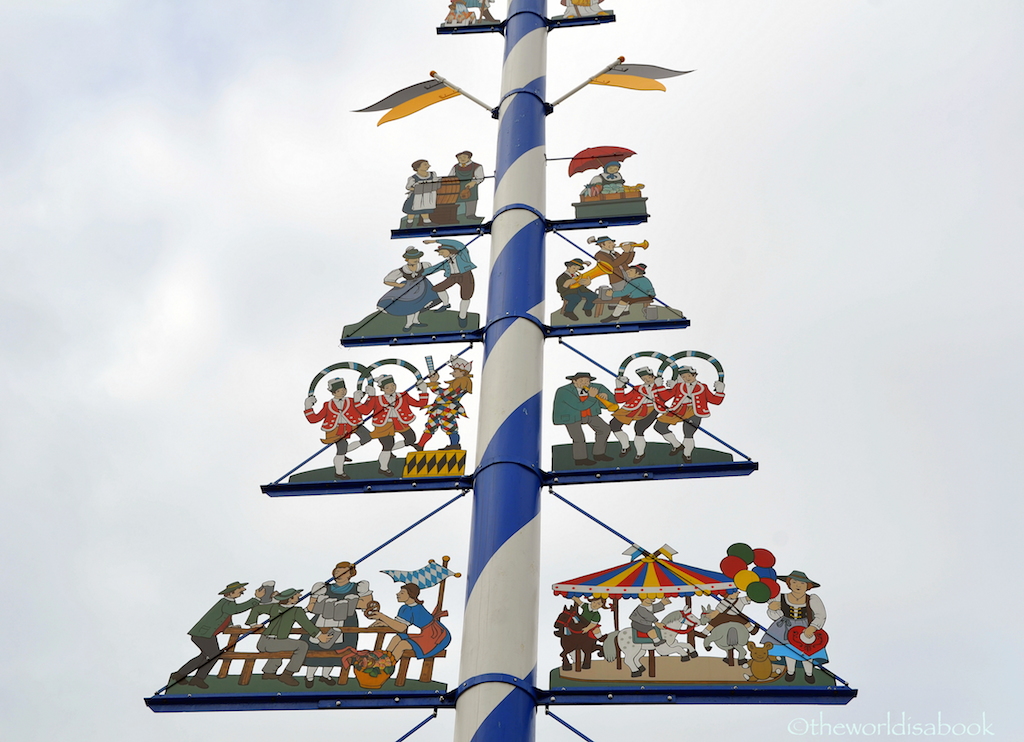 The left decoration panel below pays homage to Munich's breweries.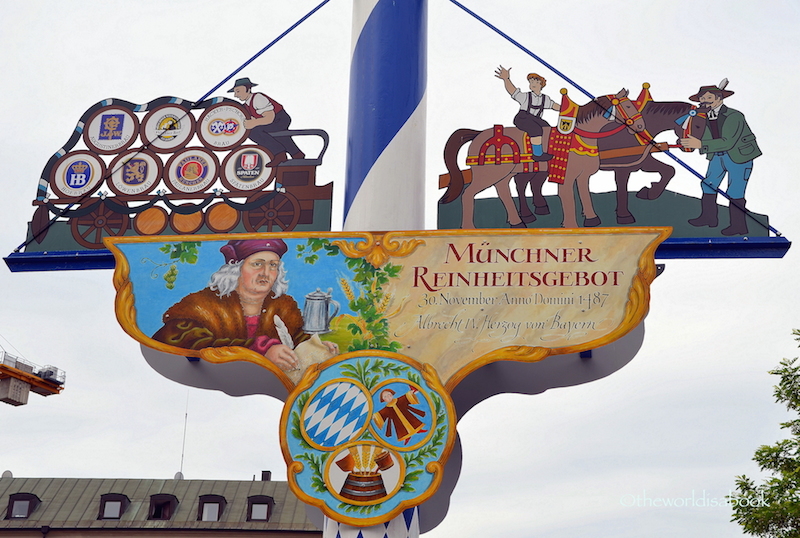 We also found unique arts and crafts stalls throughout the market.  I loved seeing these decorations.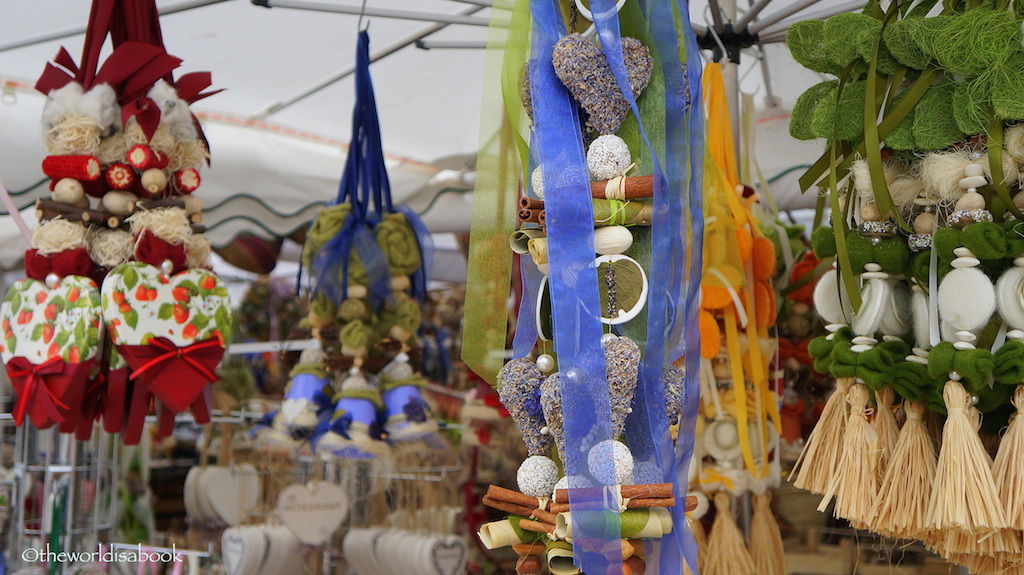 Anyone fancy some adorable squirrels and sheep? I was very tempted to buy these cuties.
Since it's a German market, it's no surprise to find a beer garden in the middle of it all. Chestnut trees provided shade throughout the beer garden with about 1,000 seats. We liked that there were many food choices surrounding the garden including Bavarian specialties. It was a wonderful place to rest while sightseeing and shopping.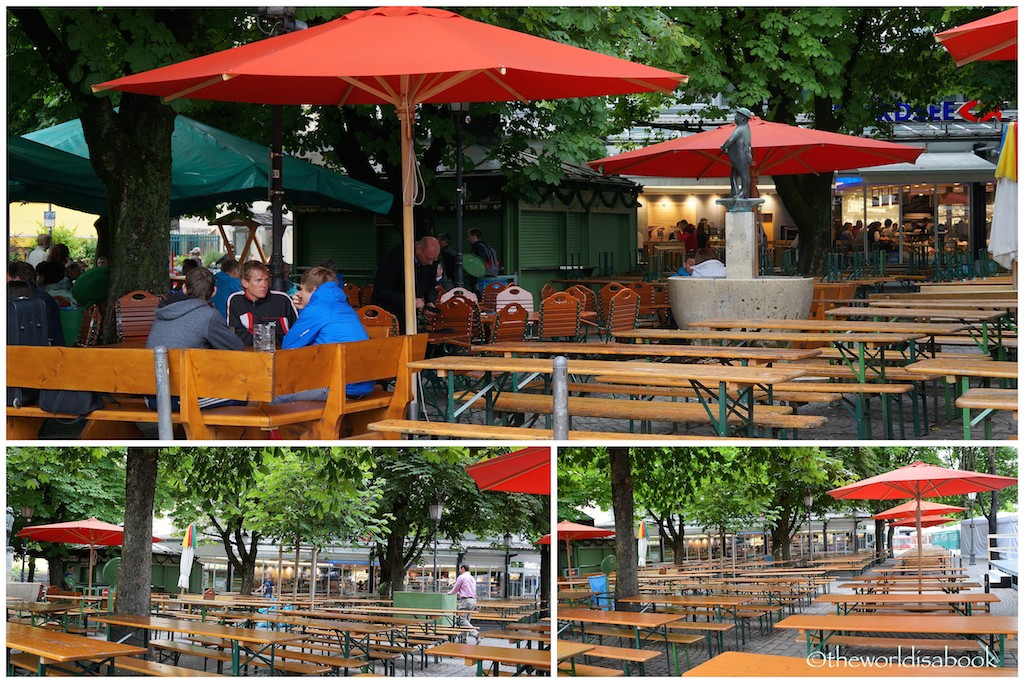 Like some parts of Munich, Viktualienmarkt was damaged during World War II. The city and its citizens saw this repair as an opportunity to enhance the market by adding fountains and memorial wells for local comedians and folk singers. I'm not sure how drinkable the water was so we passed on trying them.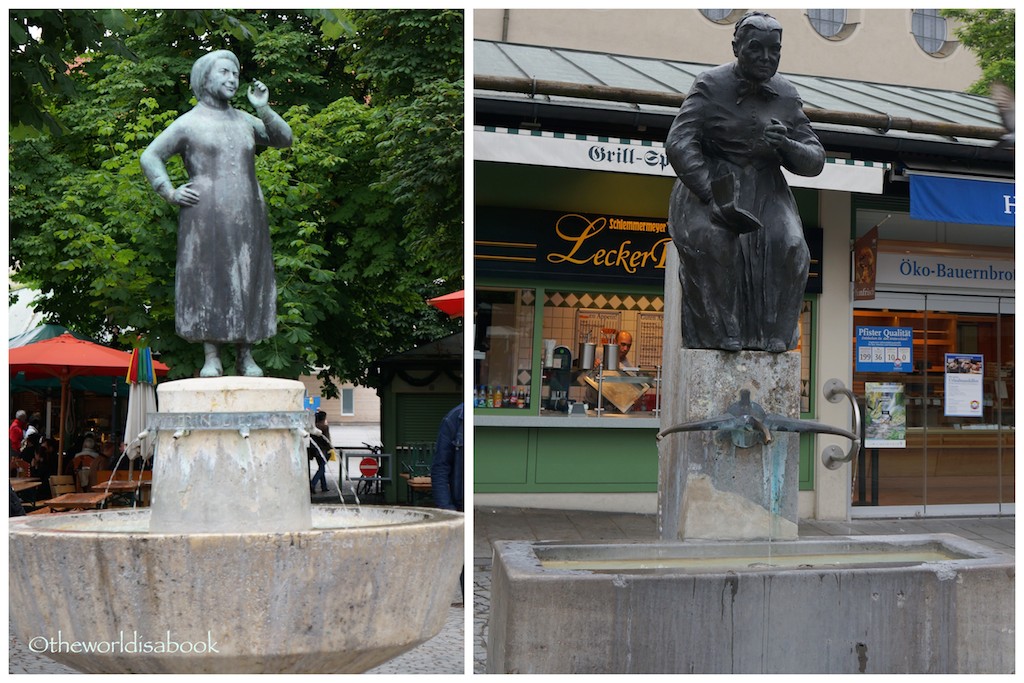 One of the great things about this market is the welcoming and relaxed atmosphere. There is a mix of locals and tourists mingling with each other especially in the beer garden. We loved the lively atmosphere. Don't miss this when visiting Munich – eat, shop, drink and be merry at Viktualienmarkt.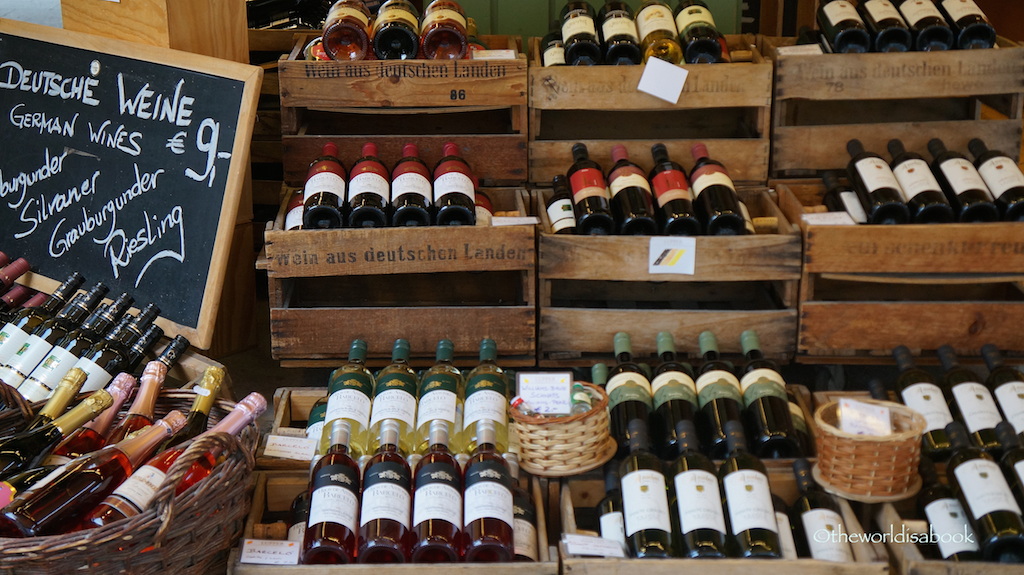 Visiting Viktualienmarkt Tips and Basics
Opening hours: Monday to Friday 10AM – 6PM; Saturday 10AM – 3PM; closed on Sundays. Some stalls may open earlier or close later than others.
Public transport S-Bahn lines 1-8, U3 or U6, Bus 52 to Marienplatz; Walk towards Tal and turn right behind St. Peter's church.
Have cash handy. It's easier and more convenient with transactions. There are several cash machines nearby.
Have you visited Viktualienmarkt? What are your favorite markets?
Pin it for later!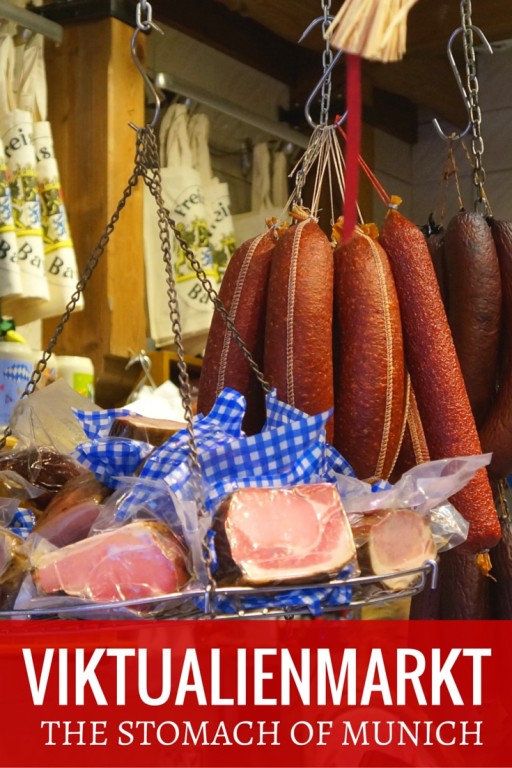 Check out these related posts: