Tjapukai Aboriginal Cultural Park With Kids by Day
"Djirri Nyurra" is an Aboriginal word also for Welcome. We felt the hospitality right at the start of an eventful day at the Tjapukai (pronounced Jab-u-ki) Aboriginal Cultural Park, 15 minutes north of Cairns, Australia. Experiencing other cultures has always been a big part of our trips. We were excited to start our first day in Cairns with some arts, crafts, music and dance and learning about the indigenous Australians.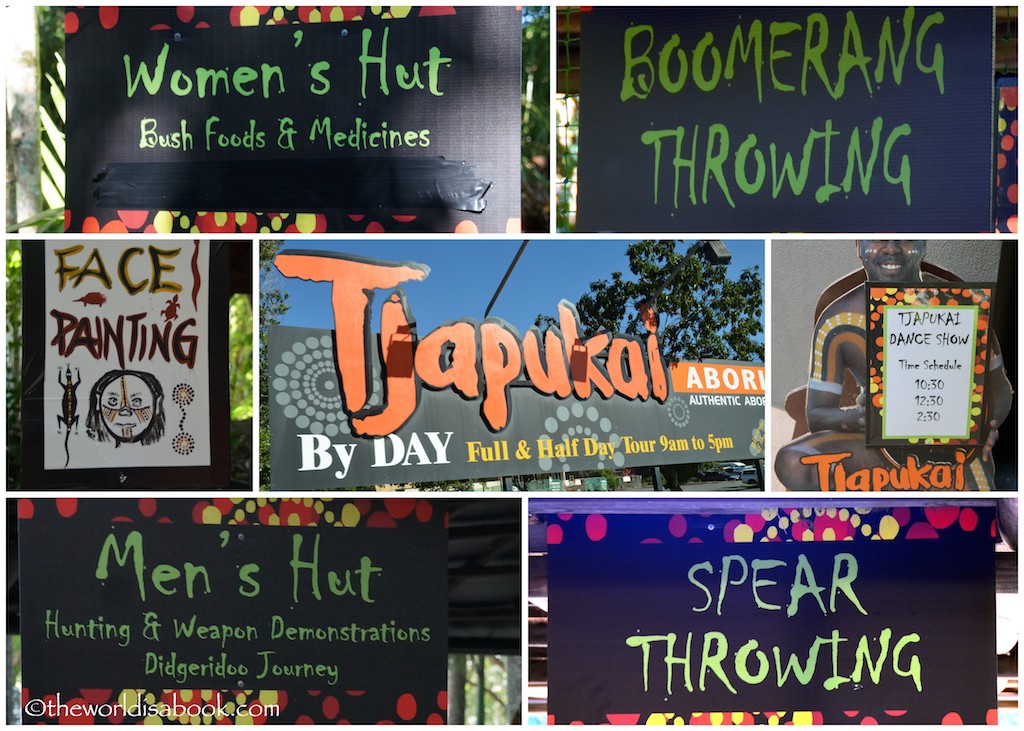 The Tjapukais were the rainforest natives of the Cairns and Great Barrier Reef region. Tjapukai actually means "rainforest". This cultural park was founded over 25 years ago for the Tjapukais to share their culture and to help preserve their traditions. It has evolved into Australia's " largest Indigenous cultural park". Set amidst a picturesque rainforest on a 25-acre area, the exterior was a bit unassuming. But, inside was a culture fest filled with activities that kept the whole family busy.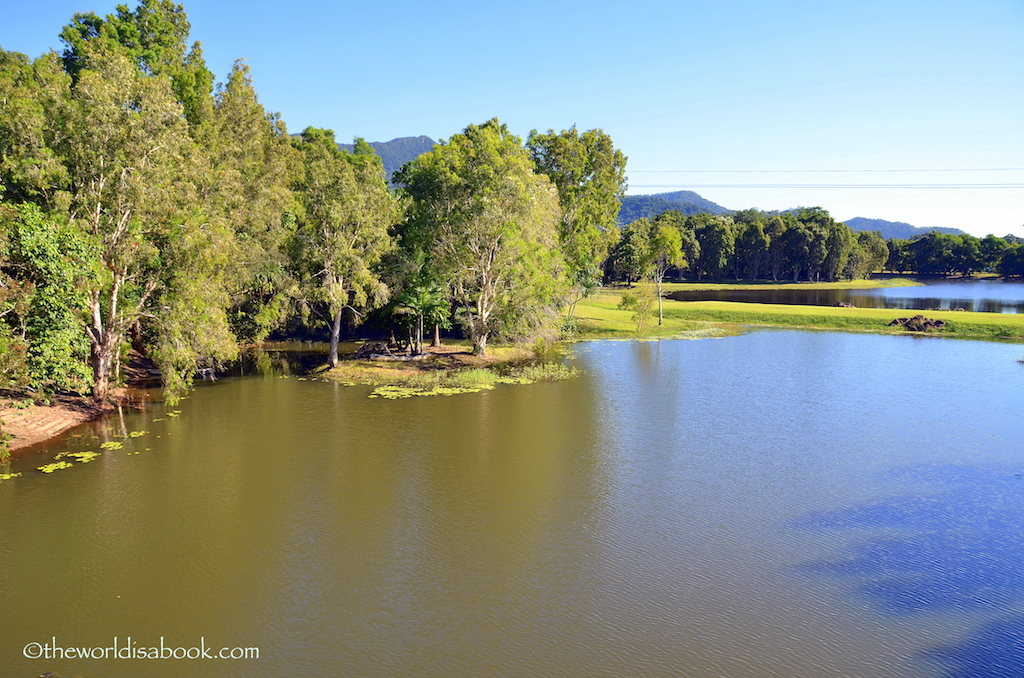 One of the first things we saw was a very colorful old army ambulance. This was called the "Message Stick" vehicle and was covered in handprints and artwork. It was a mobile peace totem that symbolized Australia's indigenous people's unity. It was used for the education their indigenous culture.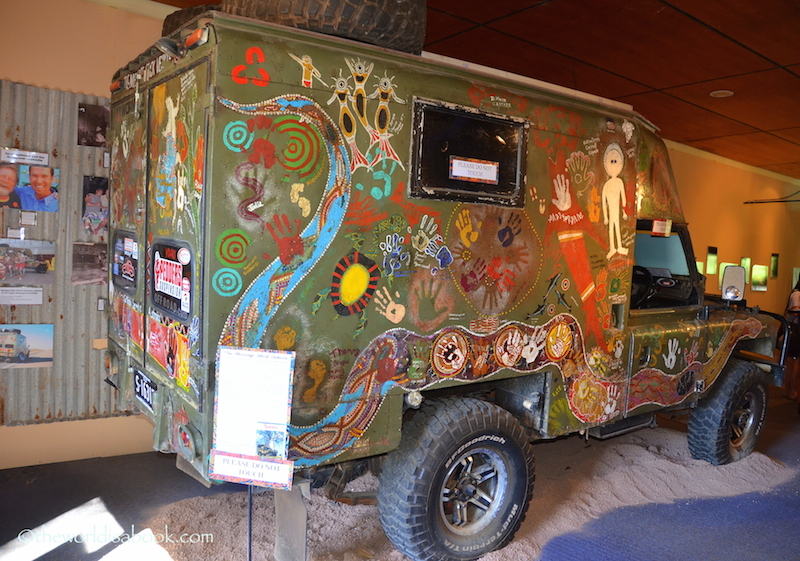 We were given a schedule of shows and activities at the entrance. The lady at the ticket counter was nice enough to mark a schedule for us. Some activities were ongoing while others had set times. This gave us the chance to plan the few hours we had here accordingly.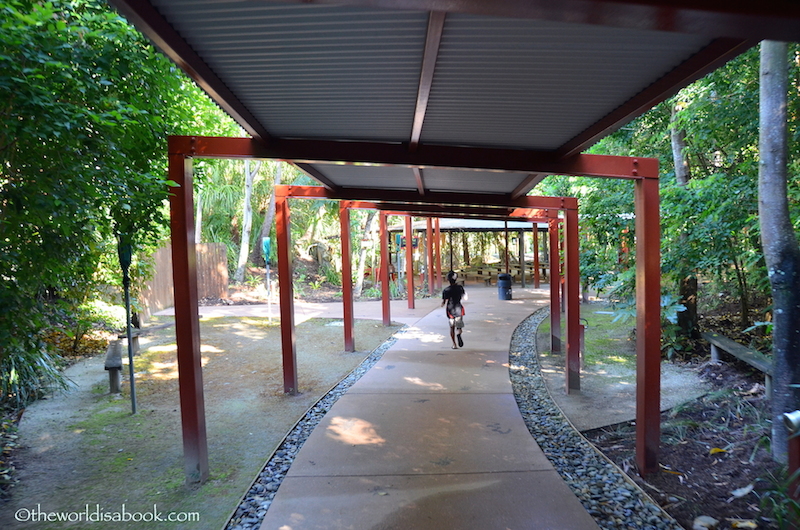 We really liked the park like setting and covered walkways here. There was even a river to cross with a lot of fish and turtles for the kids to gape at. It was small enough to feel like we were in a village and everything was in close proximity to each other. This made it pretty easy to quickly move from one activity to another.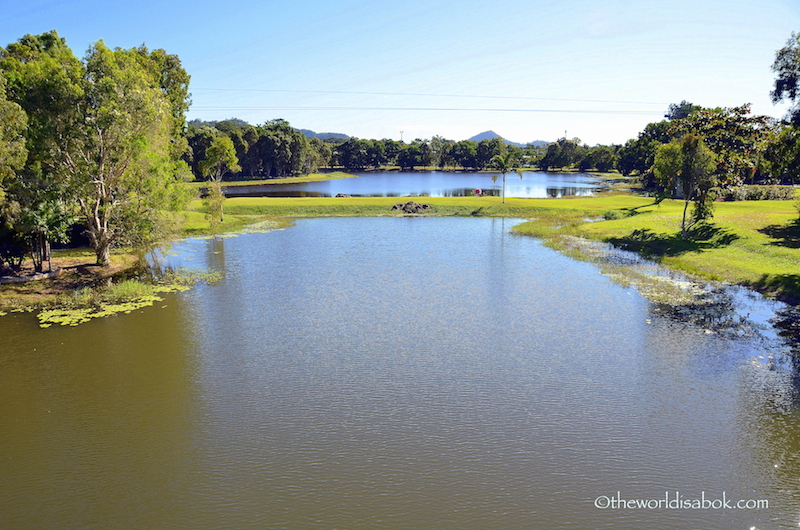 We got here a few minutes after it opened and headed straight towards the back of the park for a boomerang throwing demonstration. My husband and kids eagerly wanted to try. After all, we were in Australia. Returning boomerangs are closely associated with Australian Aborigines who relied on them for hunting. Who knew there were different boomerangs whether you're left or right handed?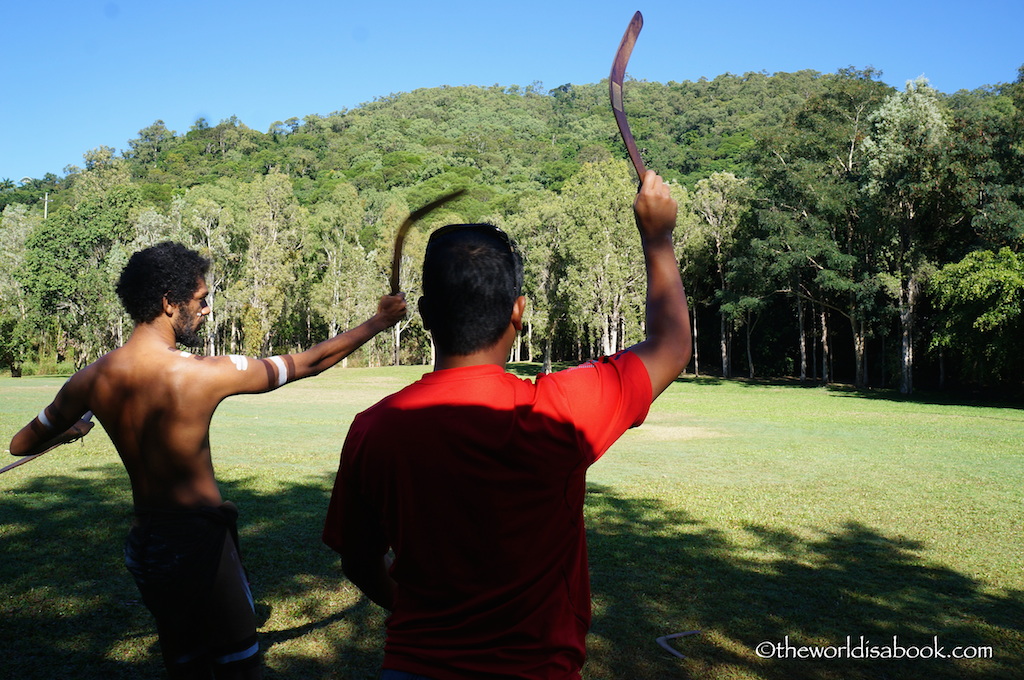 Each person only got three tries to throw the boomerangs and it was one person at a time while the rest of us waited behind the safe zone. My kids could have stayed here all day mastering the returning boomerang. Of course, we bought some and it's been put to good use at a nearby park since we returned.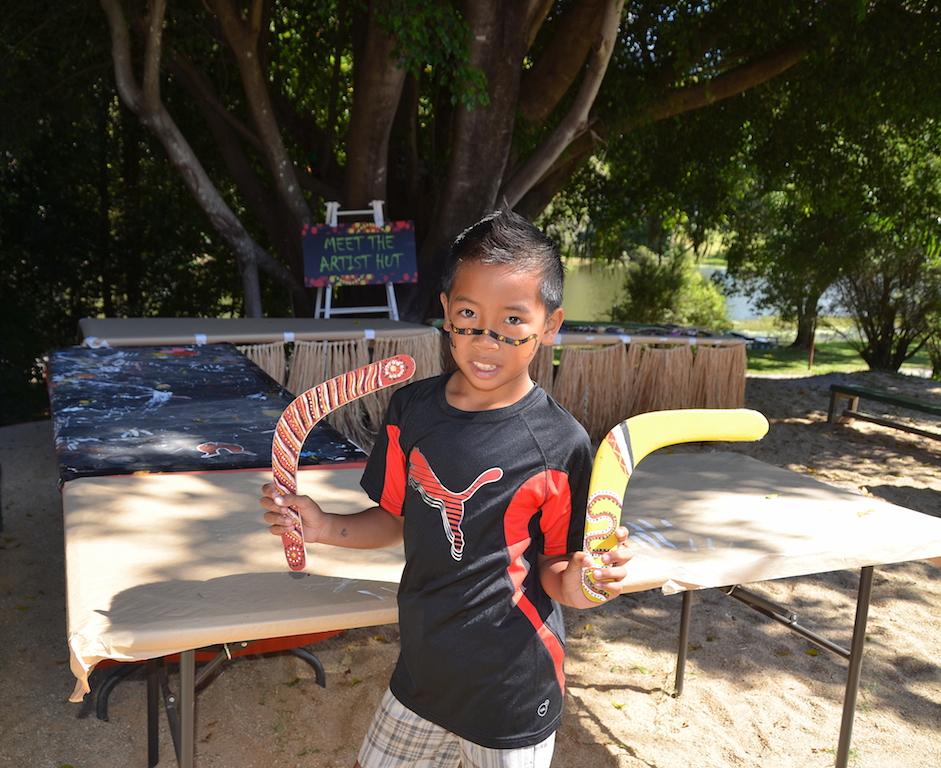 So, how does one ensure your boomerang cooperates and returns to you? Here is a great video from the park that can explain it much better than I could. The rest of us weren't very good at it and the one who came closest was my son.
There were several huts that housed the various activities. Demonstrations usually last between 10-15 minutes, which were long enough to learn something but short enough to keep everyone's attention and interest (especially the kids). The Men's Hut was used for hunting and weapons demonstration. Traditional weapons were laid out on a table to show what Tjapukai warriors from 40,000 years ago used for hunting and fighting. It was interesting to find out that the aboriginals didn't use bows and arrows.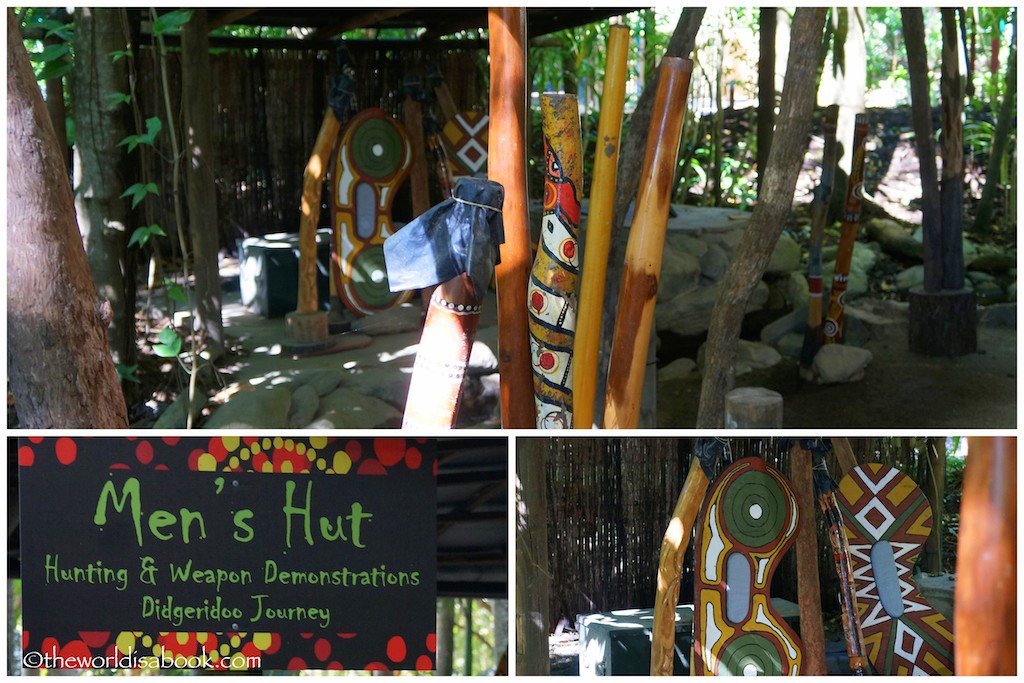 The Women's Hut had a table filled with bushfood or bush tucker which were native Australian plants, flowers and fruits from the rainforest. The Tjapukai people lived off the land and used this bush tucker for medicinal purposes too. Almost everything in that table didn't look familiar to us.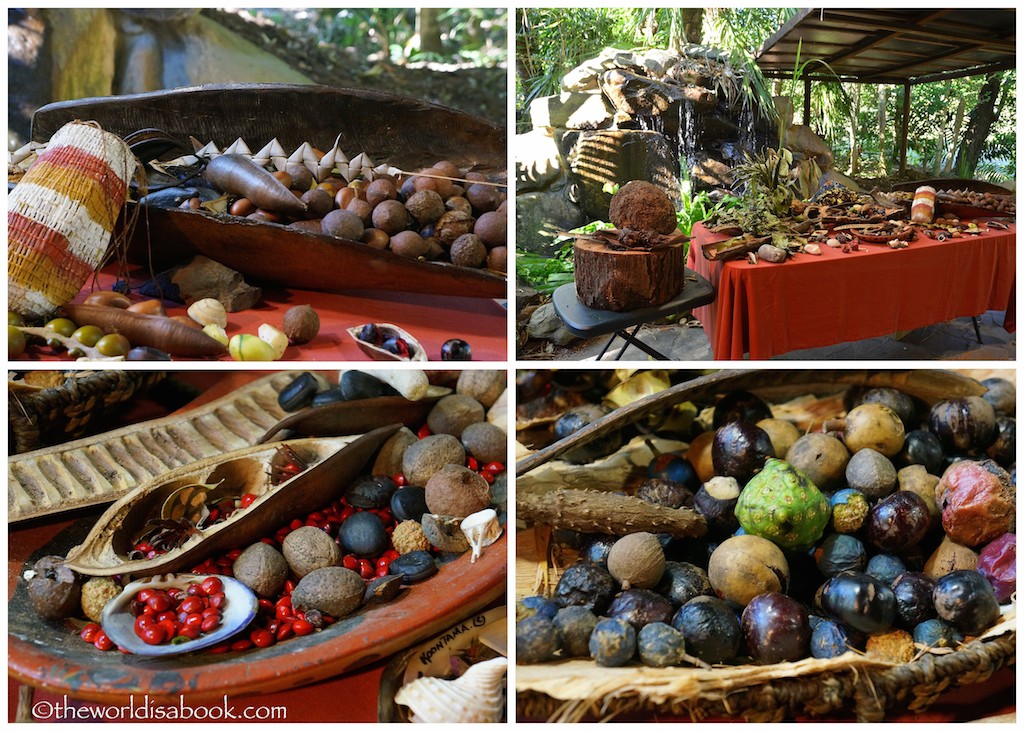 We learned the use of some of the plants on display from one of the women during the demonstration and got to hold some of the items. I was too engrossed in watching her that I forgot to take notes or record a video. I wish I remembered something she told us now. It probably would have come in handy especially if we lived in the area. I apologize for failing as a travel blogger and not including all that information.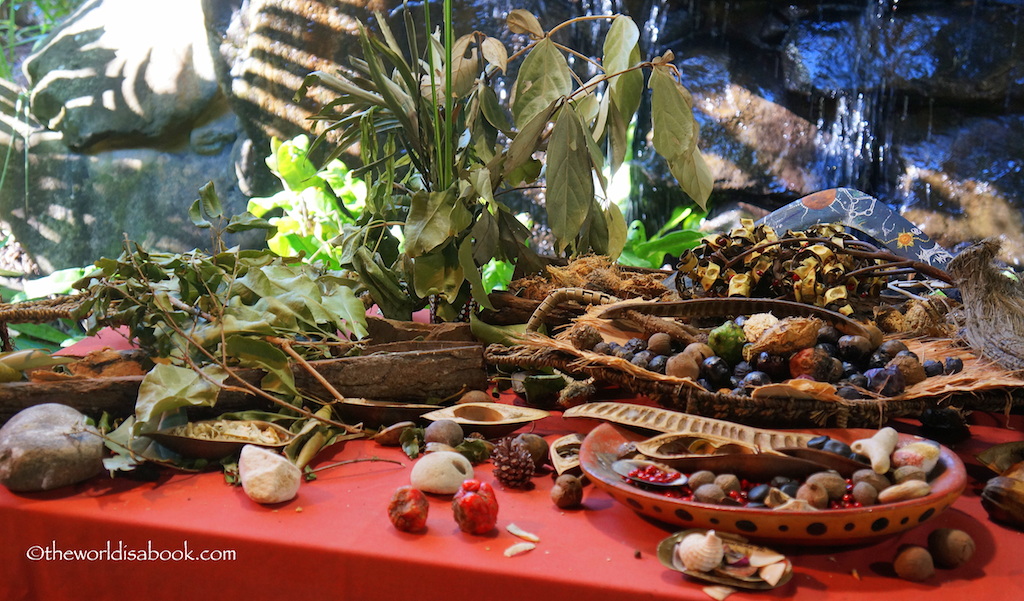 There's a reason my usually upbeat son doesn't look too happy in this photo. He preferred to wait in line for the spear throwing instead. His sister, on the other hand, was more than happy to be the first one in line. There was a long line at the spears demonstration so we made him do this while the crowd subsided. Our family travels aren't always bright and happy, folks.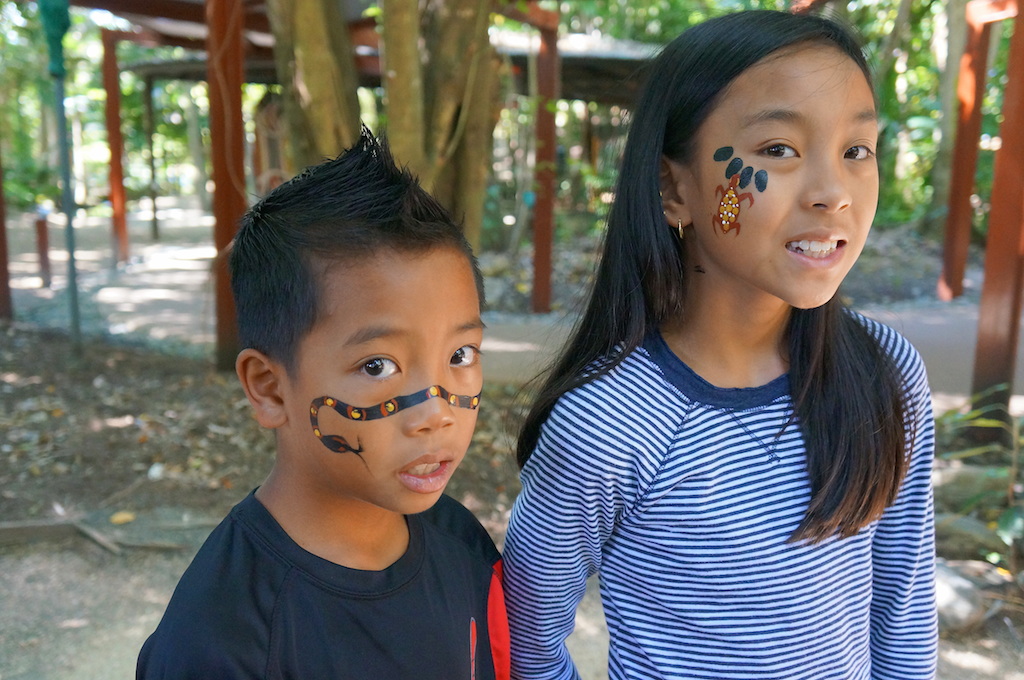 As it turned out, he kept that Aboriginal snake face paint on for a few hours and proudly wore it. Sometimes, we know our kids more than they know themselves.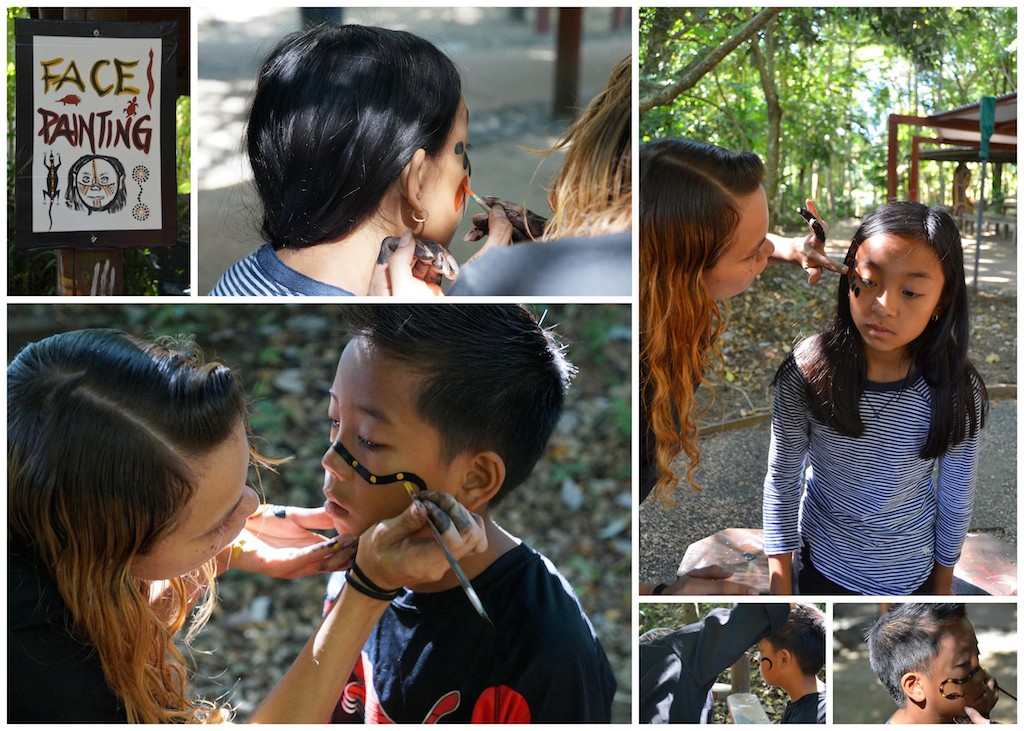 You can bet he ran to the spears demonstration right after these pictures were taken. The spear throwing demonstration was an ongoing activity from 9:30 AM – 4:30 PM on a first come first serve basis. My daughter and I weren't too interested in doing this so we walked around the lovely grounds instead. If there were basket weaving, we probably would have done that.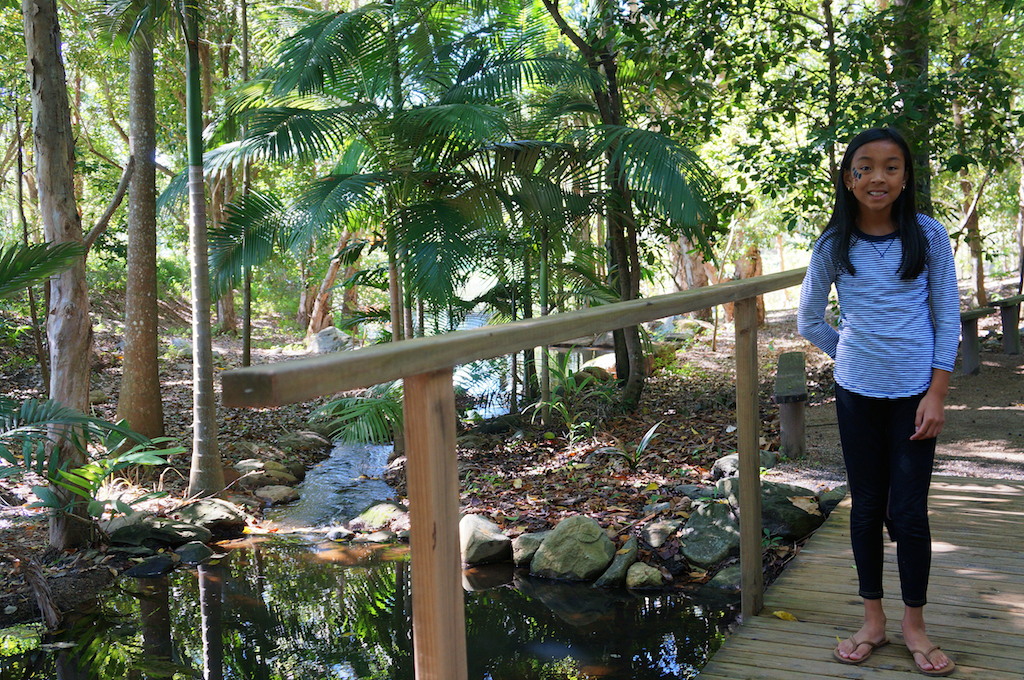 My husband and son really enjoyed learning how to throw the spears. According to them, they used a flat stick (about 3 feet long) with a small hook at the end and attached it to the opposite side of the spear head or end of the shaft (the non-pointy area).  This tool, also known as a Milay, was used to throw the spear.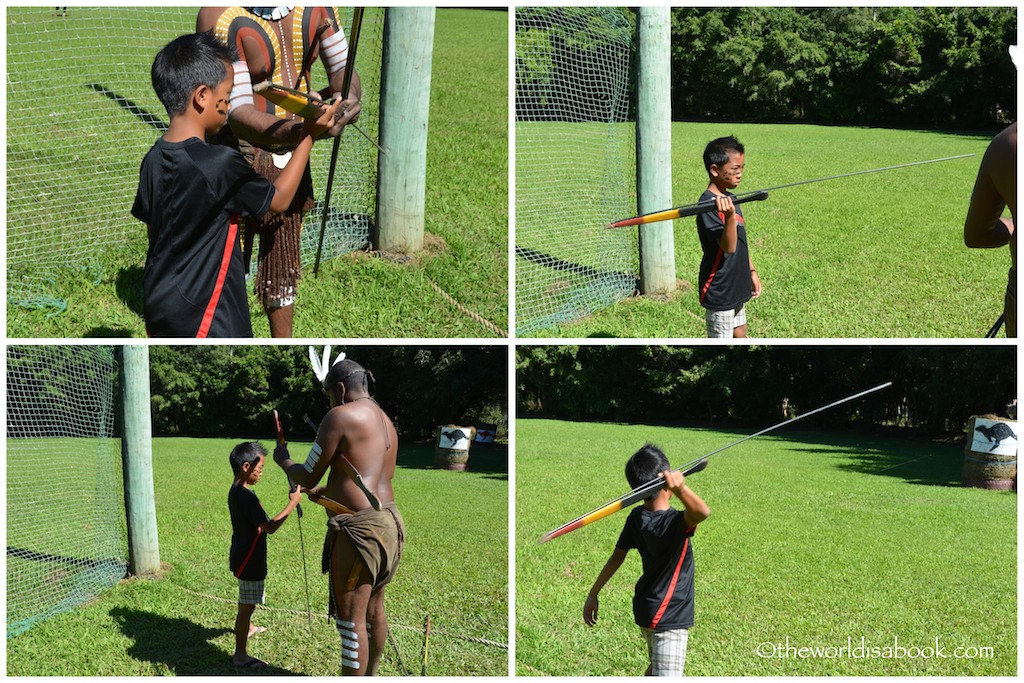 Their targets were native animals covered in bales of hay. It was a bit sad to see that some of them were red kangaroo images especially after we had so much fun feeding the kangaroos in another part of Australia.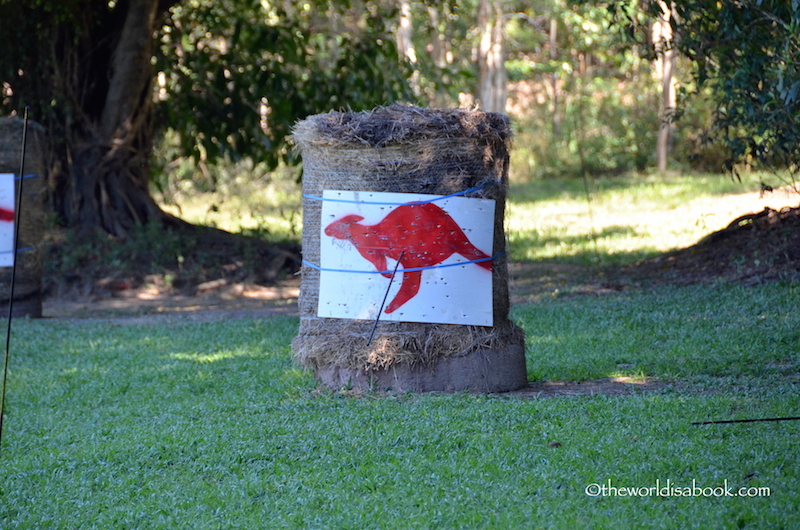 One can fully participate in all the activities or choose which shows or activities are of interest to each family member. A highlight from our visit was watching and learning about the Tjapukai Aboriginal culture through authentic song, dance and storytelling in a ceremony also known as corroborees at the Dance Theatre.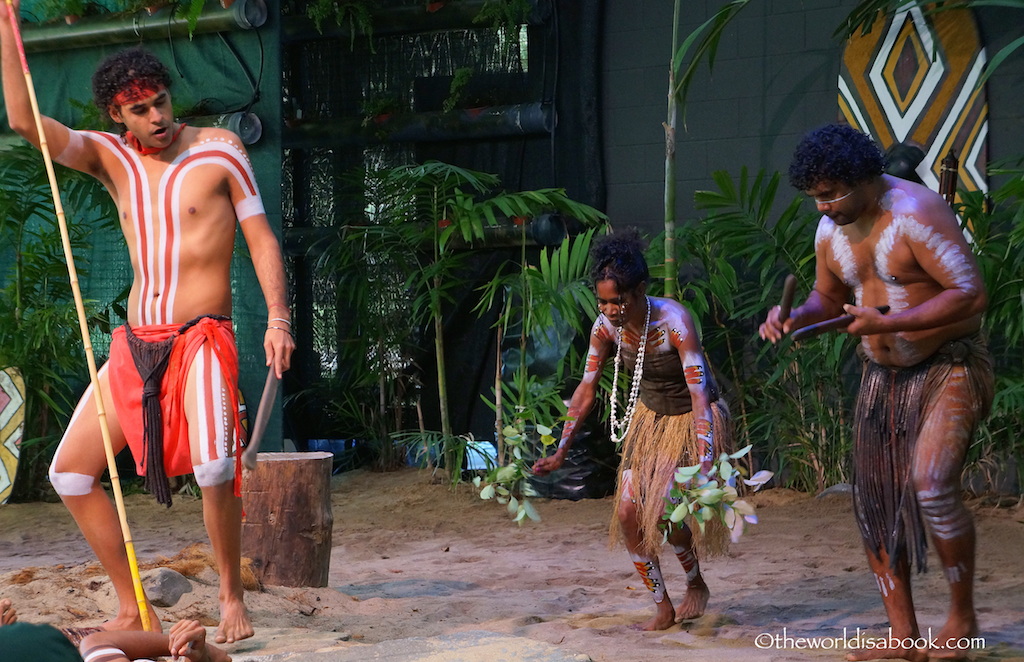 The Tjapukai Dance Show opened with one of the natives playing the Didgeridoo. There is a haunting, mystical sound to this powerful instrument that resonated throughout the amphitheater.

It provided the perfect backdrop to the show.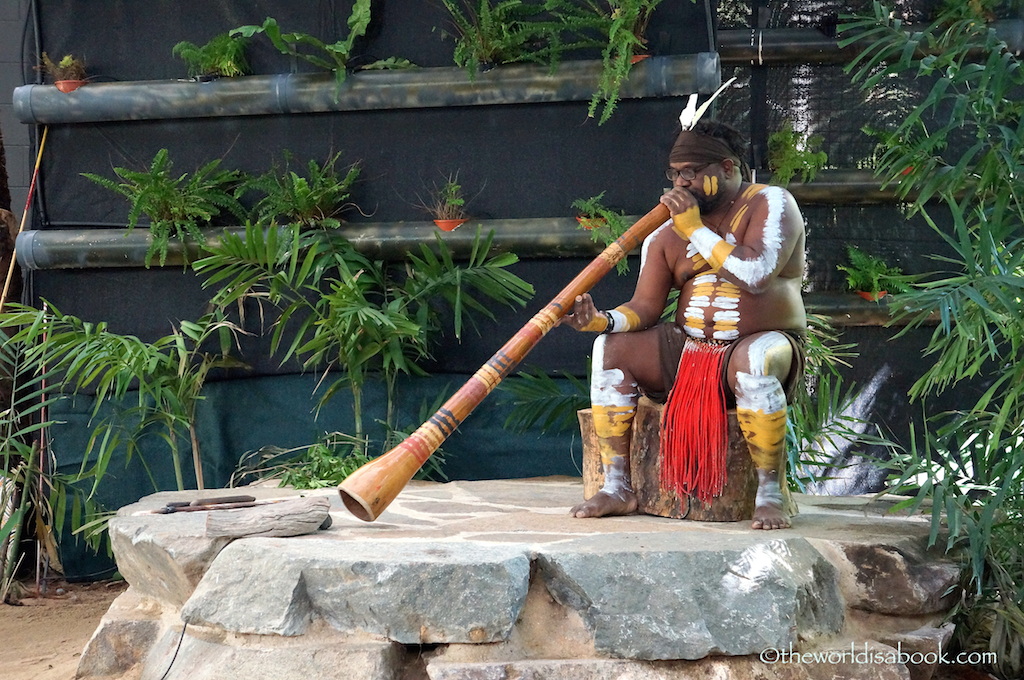 Didgeridoos are Australia's oldest musical instrument. They are made from tree trunks and limbs (usually the eucalyptus species) that were hollowed out by termites.  The hollowed tree is cut and cleaned out, bark covering is removed and the surface smoothed out. Many of the ones we saw were painted and decorated. Most are cut down to the right pitch that is usually 3 to 10 feet long (1-3 meters). The longer it is, the lower the pitch. Sometimes, bees' wax is put around the mouthpiece for a smoother seal.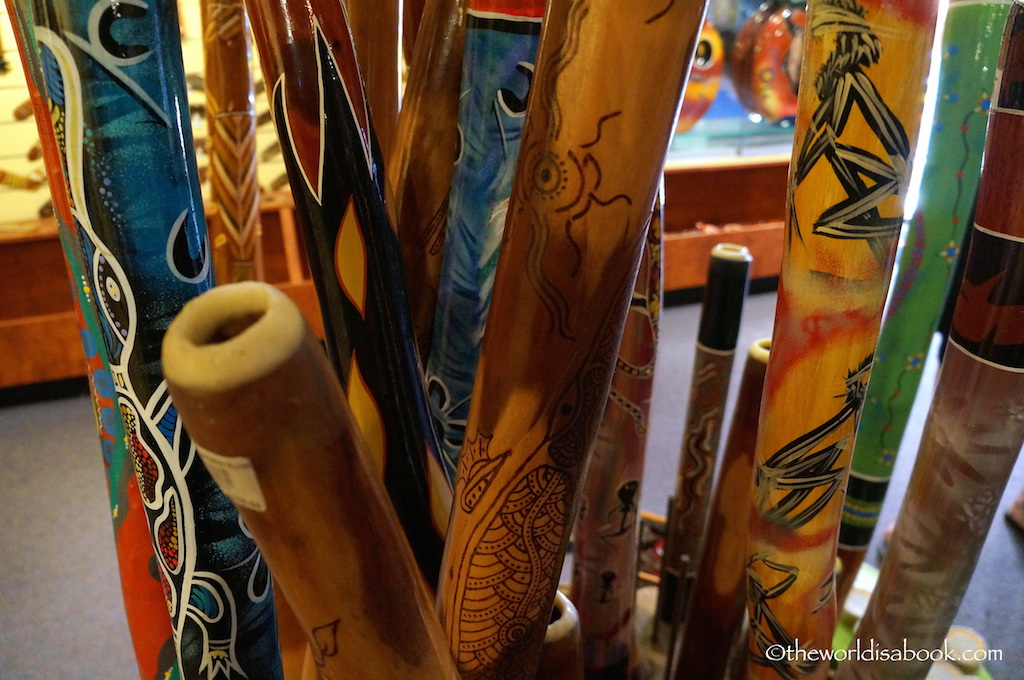 Set in an outdoor theater and surrounded by the natural rainforest, we watched and enjoyed this interactive performance. It was interesting to see them re-enact native Australian animals like the cassowary and kangaroos in dances. It was amazing how much rhythm there was just by using their traditional instruments. The clap sticks or bilma accompanied the didgeridoo.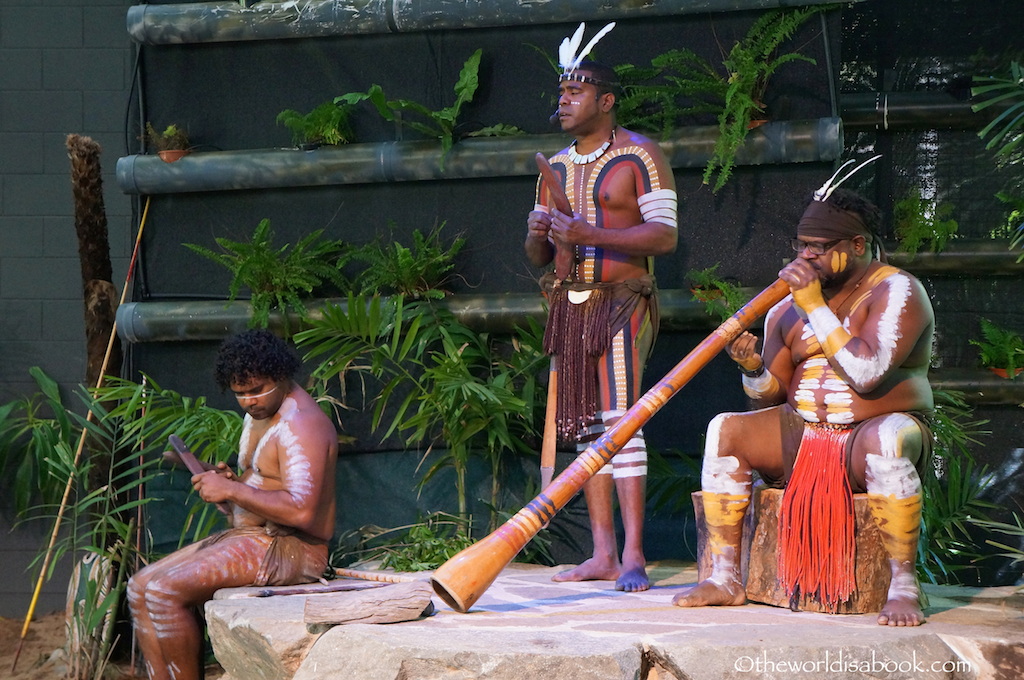 Another highlight was when they showed us how they start and make fire (Biri) using some hollowed out wood and a stick. I think it would take me a few hours, if not days, to start a fire using only those items.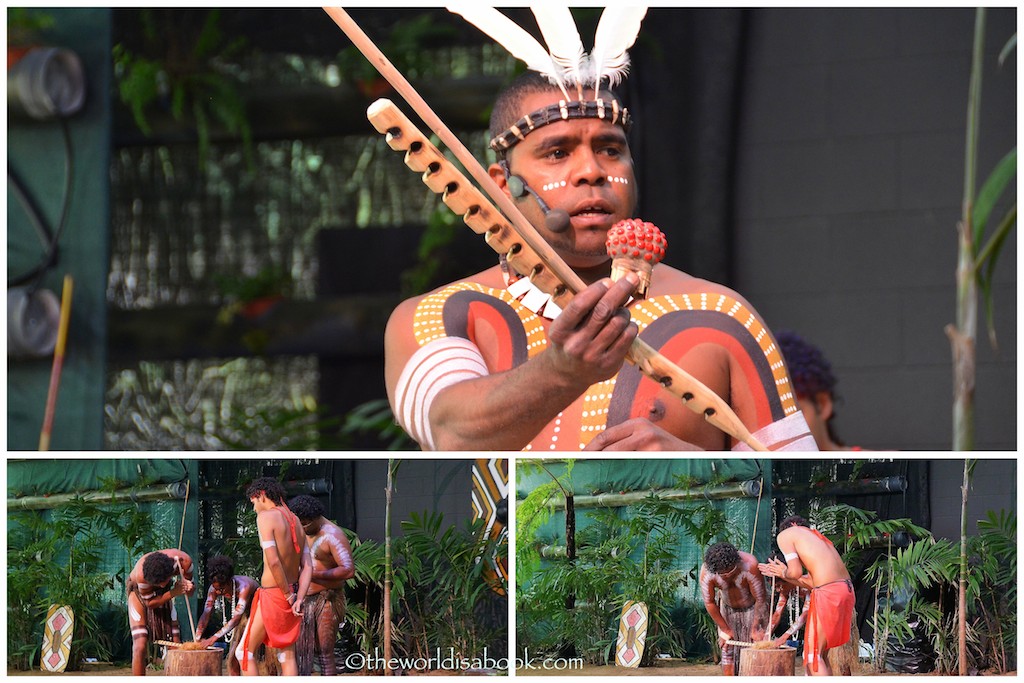 It was amazing to see the whole process and how quickly it was done.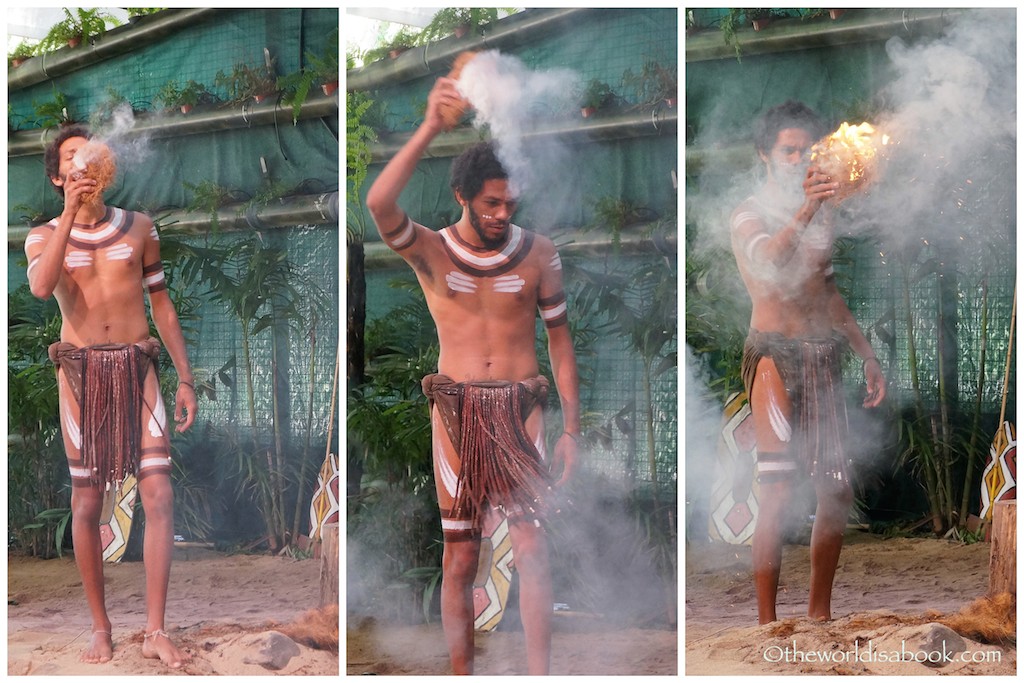 We loved that they encourage audience participation. At the end of the show, everyone was up on his or her feet clapping for a high-energy finale. The songs were catchy and we heard our kids singing them long after the show was over.
Despite their website indicating a Creation Theatre session, it was disappointing to find out it had been closed since January 2014. I read great reviews of this theater experience showing the creation of the Tjapukai people and their inherent beliefs.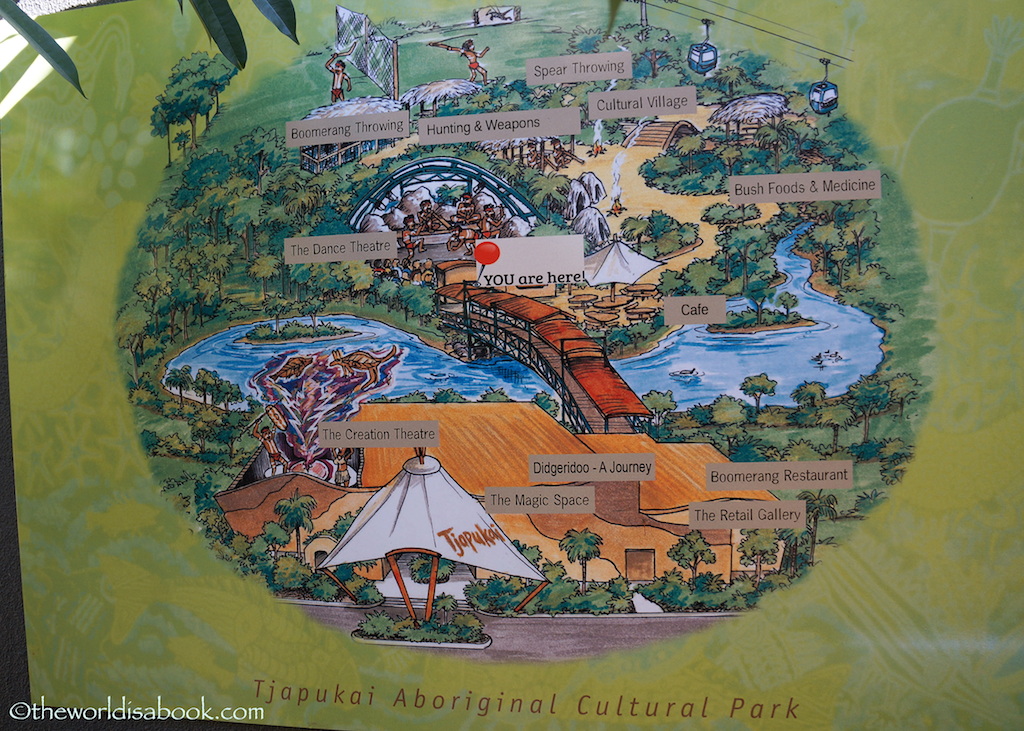 It looks like this will be revamped and opened later after their $12M renovation is done. It explains why we entered through the gift shop. This would have completed our outlook and understanding of the Tjapukai people. Without that background story, it felt like we were missing an important piece to the puzzle. So, please keep that in mind when visiting while they're doing construction.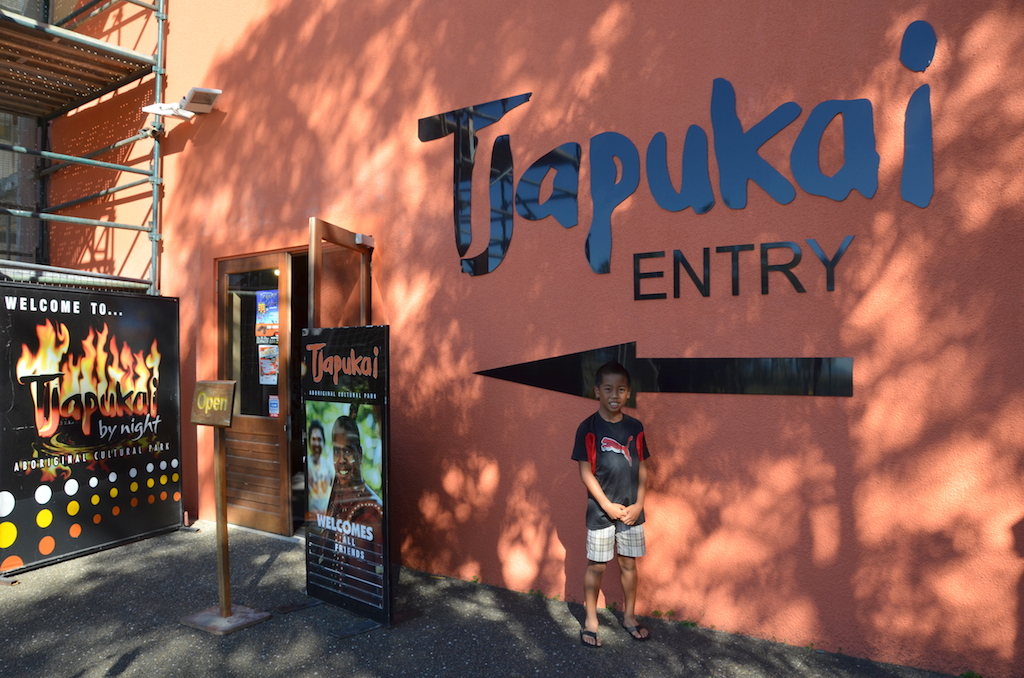 My daughter was very interested in learning how to play the didgeridoo. One of the workers led us to the didgeridoos at the gift shop and gave an impressive performance by playing varying sounds of birds. It sounded complicated as he was trying to explain it to us. I'm sure we looked pretty hopeless but grateful he was patient with us tourists. Playing it was a lot harder than it looks. There's circular breathing, lip vibrations and cheek movements involved. If you're really interested, here's a website dedicated on how to play the didgeridoo.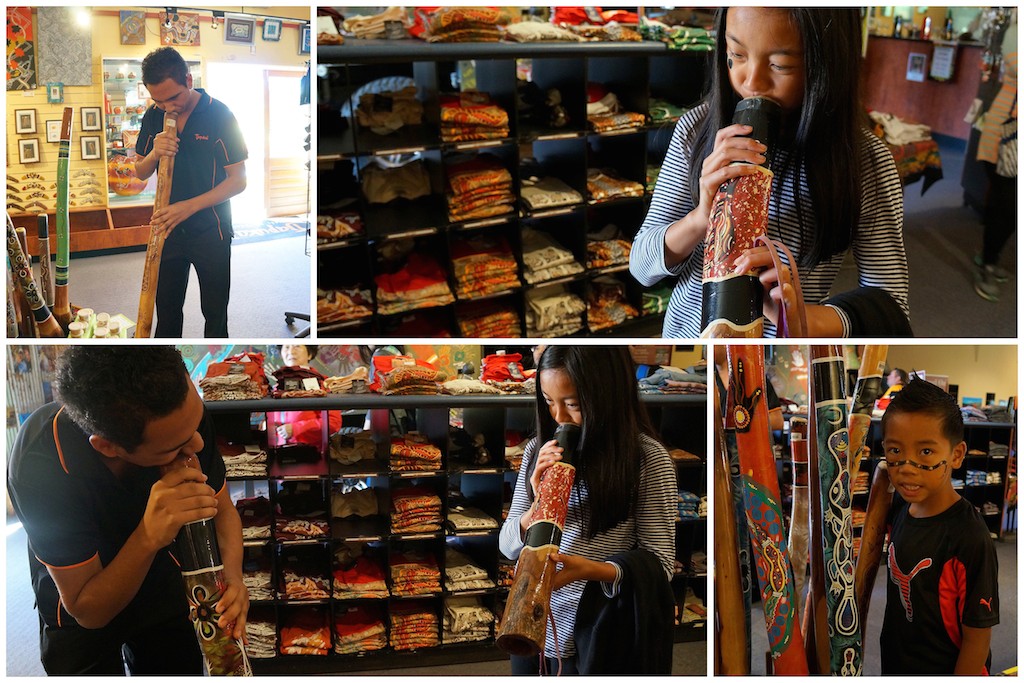 We didn't buy any didgeridoos to ship home and practice.  We weren't sure how often everyone was actually going to play it. Somewhere down the line I know my kids will drive me nuts practicing it too. I know our neighbors are grateful too. It's a whole different instrument from pianos and recorders.
Don't miss the Art of my people activity, which showcased Aboriginal art pieces. Visitors also have opportunities to meet an artist or craftsman at specific times throughout the day at the designated Artist Hut.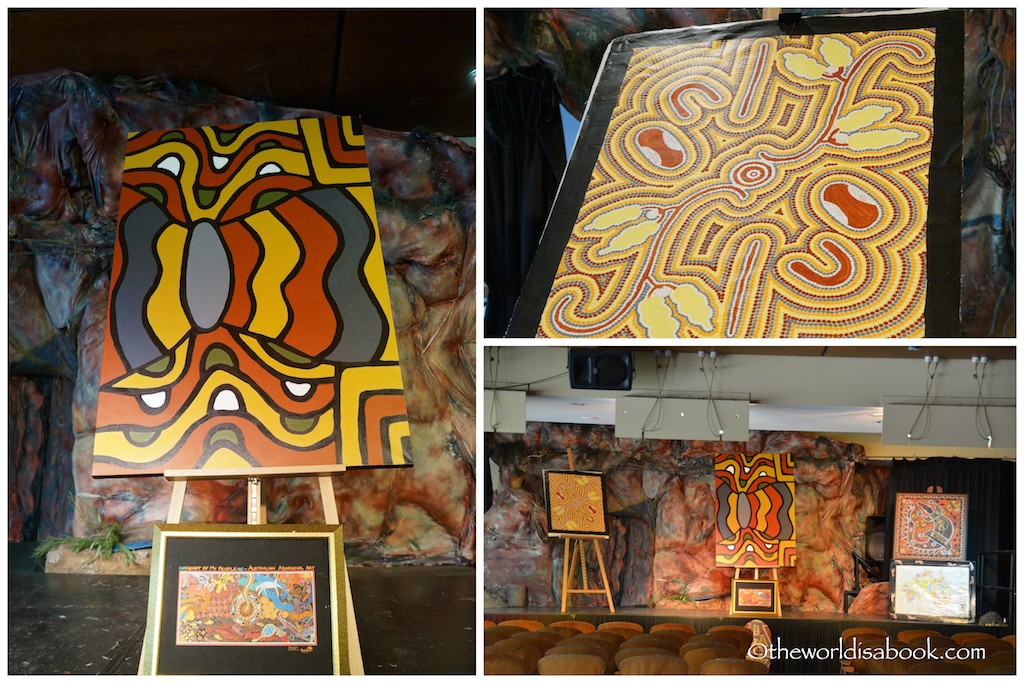 I loved this remarkable showpiece called "Heart of My People" that told the story, beliefs and traditions of the Tjapukai people. The colors were vibrant and it was amazing to see so much history embedded in there. We also saw a smaller framed piece on display with the other paintings. Can you spot the animals native to Australia?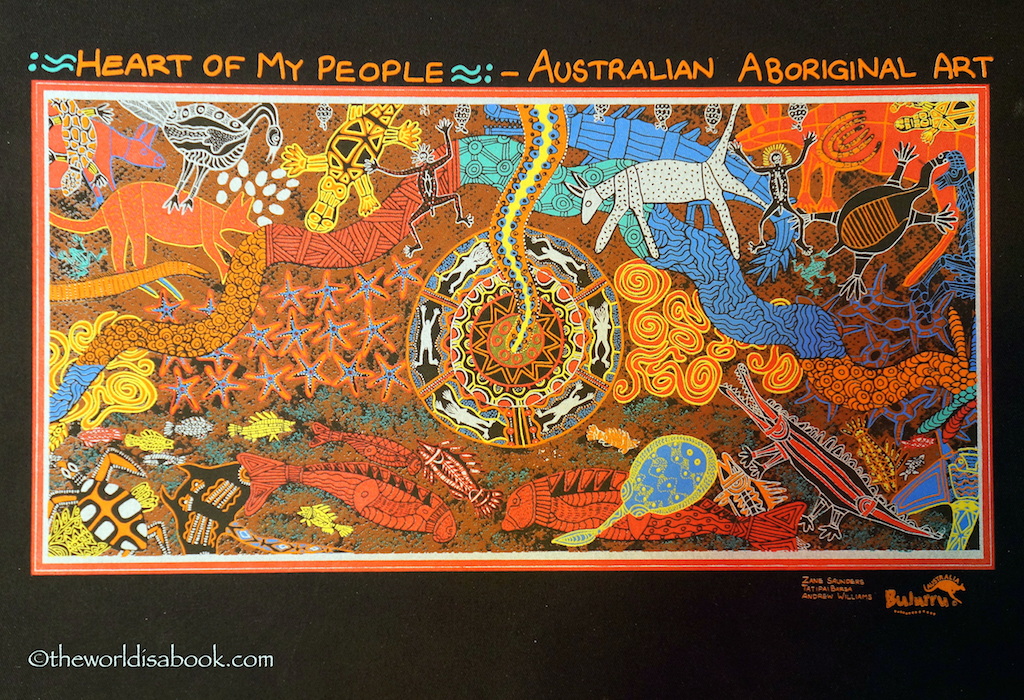 While it was nice for the kids to learn about didgeridoos, spears and boomerangs, they also appreciated making something of their own to take home.  We found this table with paint and stones with aboriginal symbols and paintings on them. My kids enjoyed creating their own versions using the stones as examples. They made for great souvenirs too.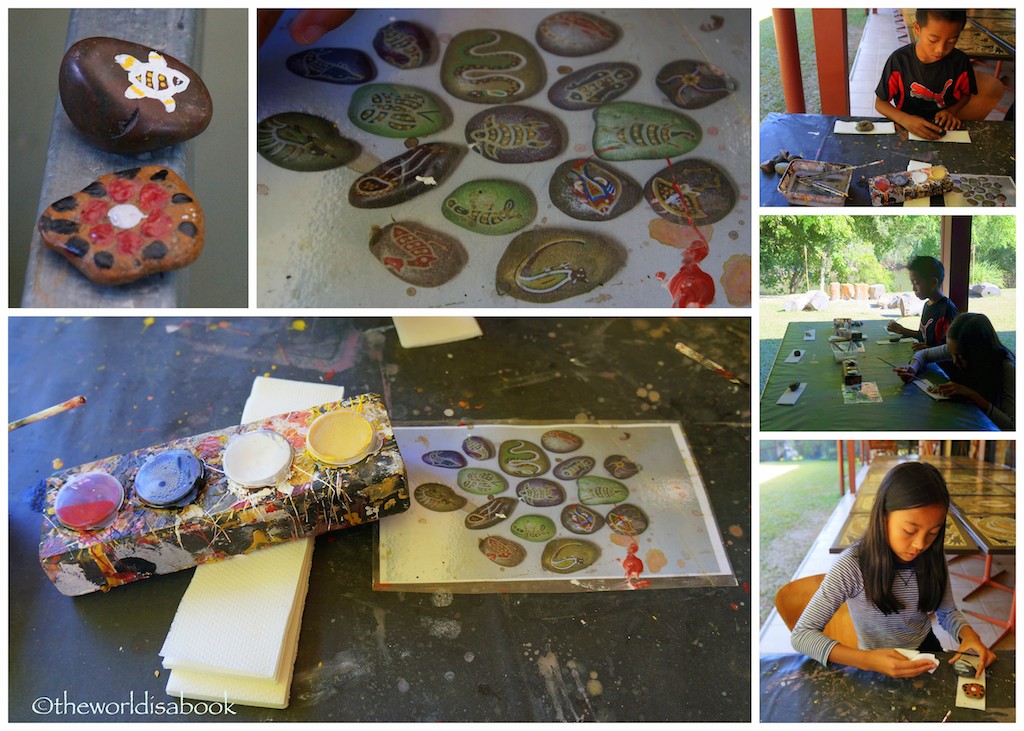 This brings me to where the experience started and ended for us – the gift shop. It was small but filled with so many unique and authentic Aboriginal arts and products. It was times like these when I wish I had deep pockets and a really large luggage. There were varieties of paintings, artifacts, boomerangs and didgeridoos among other things.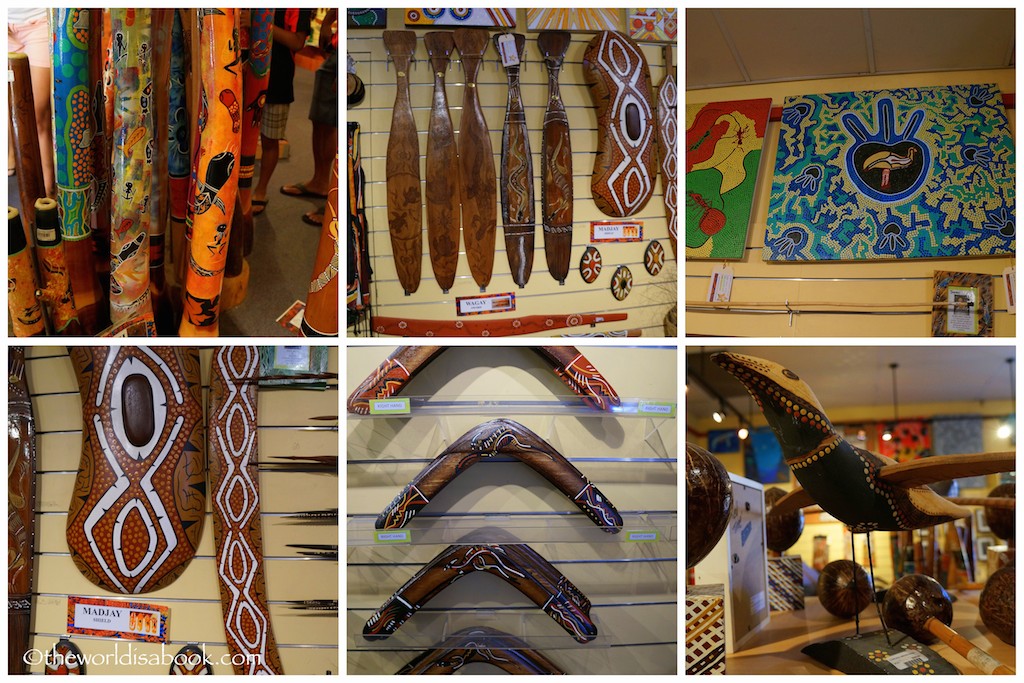 This truly was a unique cultural park that offered an unforgettable experience for our whole family. We learned quite a bit about these indigenous Australians and had fun doing it. Our family came out appreciating the Tjapukai Aboriginal culture. It was really wonderful to meet the Aboriginals and interact with them. Everyone we encountered was friendly and welcoming and was eager to share things with us. I leave you with a Tjapukai Aboriginal phrase of "Nganydjin-da Garran Ngundalna" which means "Come and Visit us Soon" and you really should if you're exploring this part of Australia.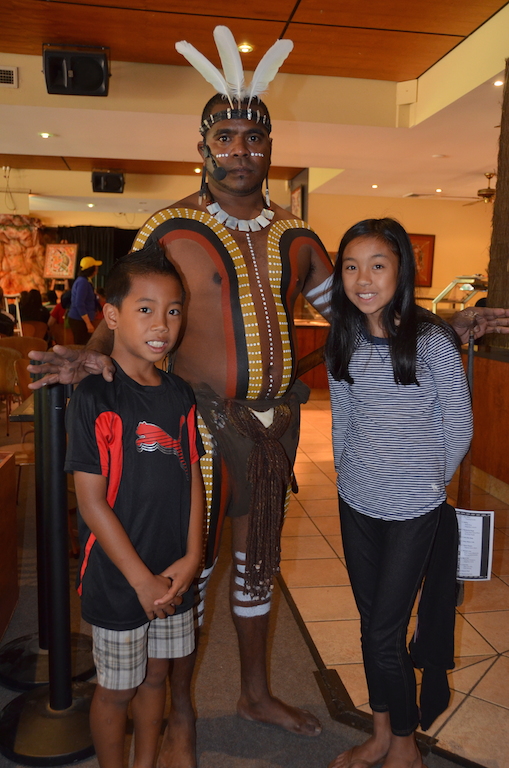 Tjapukai Aboriginal Cultural Park Basics and Tips
Getting Here:

This park was located about 20 minutes from the Cairns downtown area in the town of Caravonica.

There is a public bus that goes here but takes almost an hour.

We priced out the taxis which was about $30 each way from downtown Cairns. 

There are also pre-arranged shuttles/transfers you can buy with your tickets. 

Self-drive. We had a rental during our stay in Cairns so we drove here. My husband just had to get used to driving on the other side of the road which he eventually did.

Admission Prices: $40 Adults; $25 Kids; $105 Family
We were here for almost three hours but actually wished we had more time. It was too bad we had other plans in the afternoon. We felt a bit rushed trying to see the different shows and demonstrations at specific times.
We combined this attraction with the neighboring Skyrail Rainforest Cableway to the mountaintop village of Kuranda and a ride down the mountain on the Kuranda Scenic Railway. Check their website for

package deals and tour combinations

.
There is Free Wi-fi inside the park. The signal is stronger by the main building. My tween daughter tested it.
Do not miss the Tjapukai Dance and Dinner show. We also attended the Tjapukai by Night on another day but that deserves its own post. It's a completely different experience.
Get there early when they open at 9AM. We had some activities to ourselves before the busload of tourists came.
Food is available inside the park. Boomerang Restaurant offers  morning or afternoon tea, a light snack or buffet lunch. Buffet lunch is available from 11:30am to 2:30pm.There is also a Story Waters Café next to the Dance Theatre for some snacks.
Have you visited this cultural park or something similar?
Pin it for later!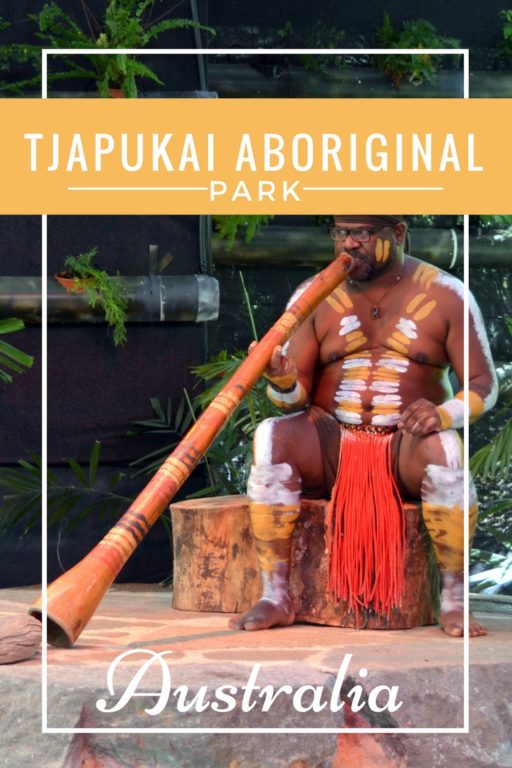 Did you know that you need a tourist visa in Australia if you're traveling from the USA or Canada? Get your Australia ETA (tourist visa) in a few steps with iVisa (it's an electronic process!).
Disclaimer: We were graciously hosted by Tjapukai Aboriginal Cultural Park. However, all opinions on our wonderful experience are solely our own.