Cruising Crater Lake National Park
On Monday, Aug. 25, the National Park Service, which was established to help preserve these significant places, is celebrating its 98th year. Today, it maintains 397 national parks that we can all enjoy and learn from. So, I'm taking a break from the Land Down Under posts this week to take you to one of our new favorite parks – Crater Lake National Park in Oregon. We visited this park a couple of weeks ago as a last summer fling before the kids go back to school. Cruise along with us to America's deepest lake.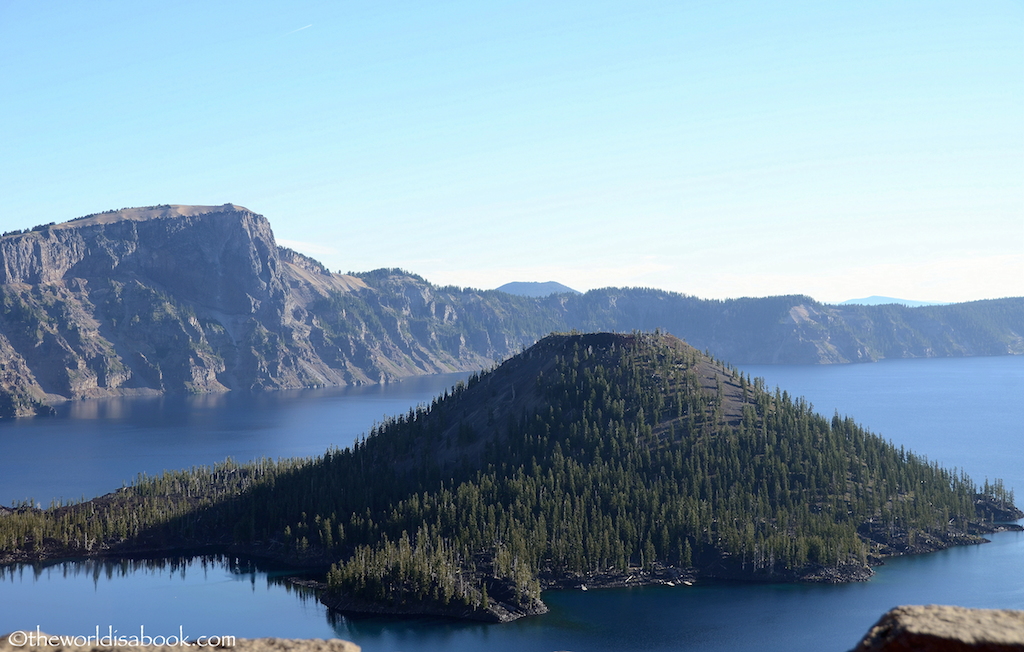 Crater Lake is six miles across and many visitors do the 33-mile (53 km) Rim Drive. The lake isn't open for kayaking, snorkeling, diving, water sports or other water vehicles. The views of the lake from the 30+ lookout points are amazing but the boat tour around Crater Lake gave us a very unique perspective and provided the best way to experience the lake. This was the only authorized boat to go around the lake and narrated by the park rangers who gave us an in-depth look at the lake's natural and cultural history, geology and biology.
Unfortunately, the Crater Lake cruise is only available from late June to mid-September and highly dependent on weather. There were several timed tours throughout the day. We chose the earliest one, which was at 9:30 AM.
The lake was created when a volcano, Mount Mazama, erupted over 7,000 years ago. A big basin formed under the volcano where lava was. The mountaintop fell into the hole creating a crater. This empty crater was eventually filled up with rain and snow over the centuries. The lake is inside the caldera and holds about 4.9 trillion gallons of water and almost 2,000 feet deep. This is believed to be the world's cleanest body of water since no rivers or streams go in here.
The adventure began before we got anywhere near the water. We first had to hike down Cleetwood Cove Trail to get to the boat dock. This was a 2.2 mile (3.5 km) round-trip trail and the only legal and safe access to Crater Lake's shores and waters.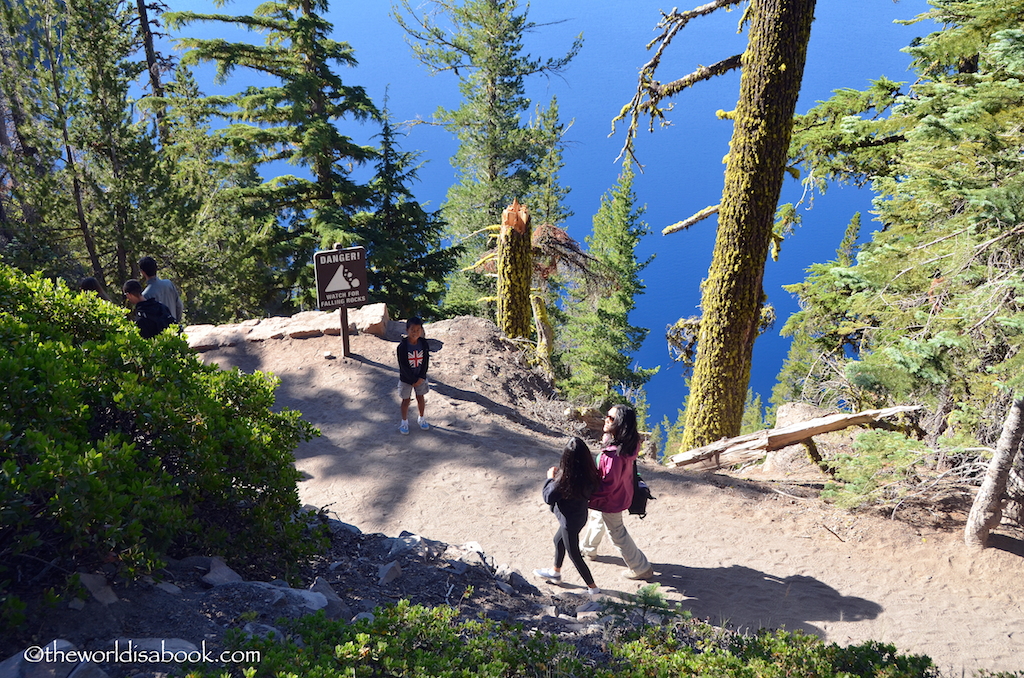 It was an easy walk down along the winding sandy paths. But, it was hard not to stop and take in these views that greeted us at every corner.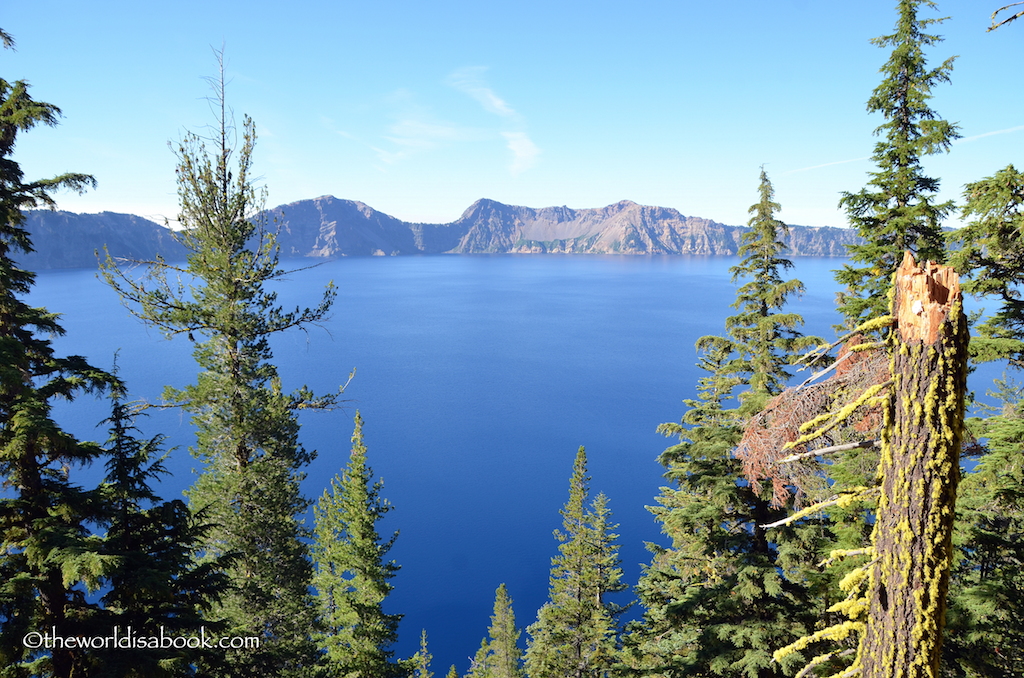 The water really was that blue against the morning sun. It was such an incredible sight and got even better as we neared its shoreline.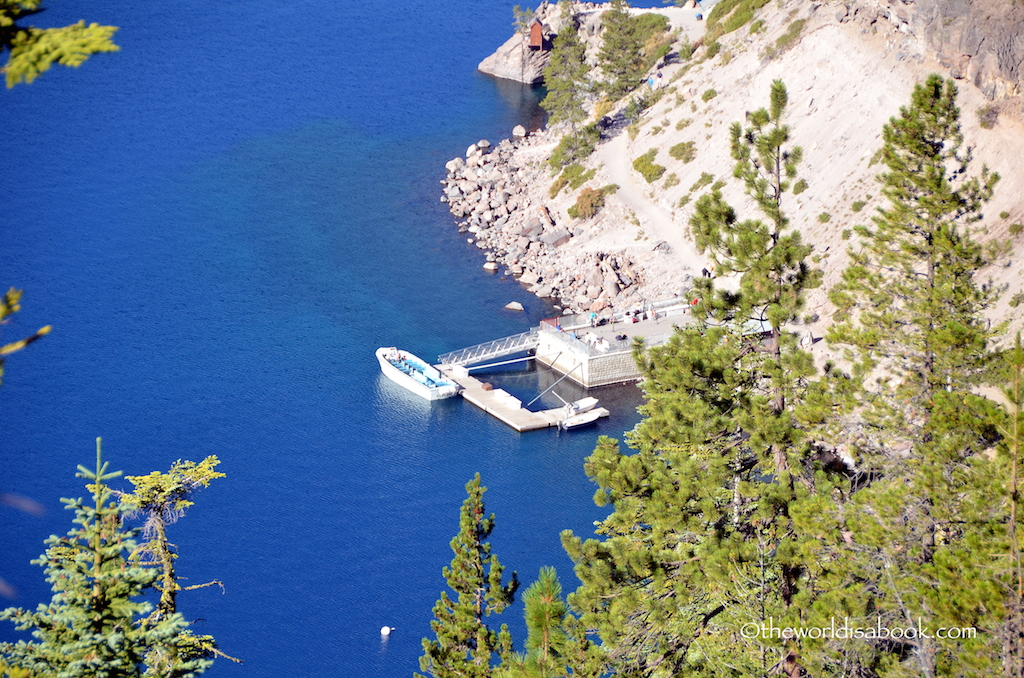 Each boat held 37 passengers and was led by a boat captain and the park ranger. We were so excited to start this journey. We sailed past some varying landscapes and it was one of those unbelievable moments. We were in the middle of a dormant volcano. It was a bit unnerving but luckily, there were no immediate signs of an eruption anytime soon.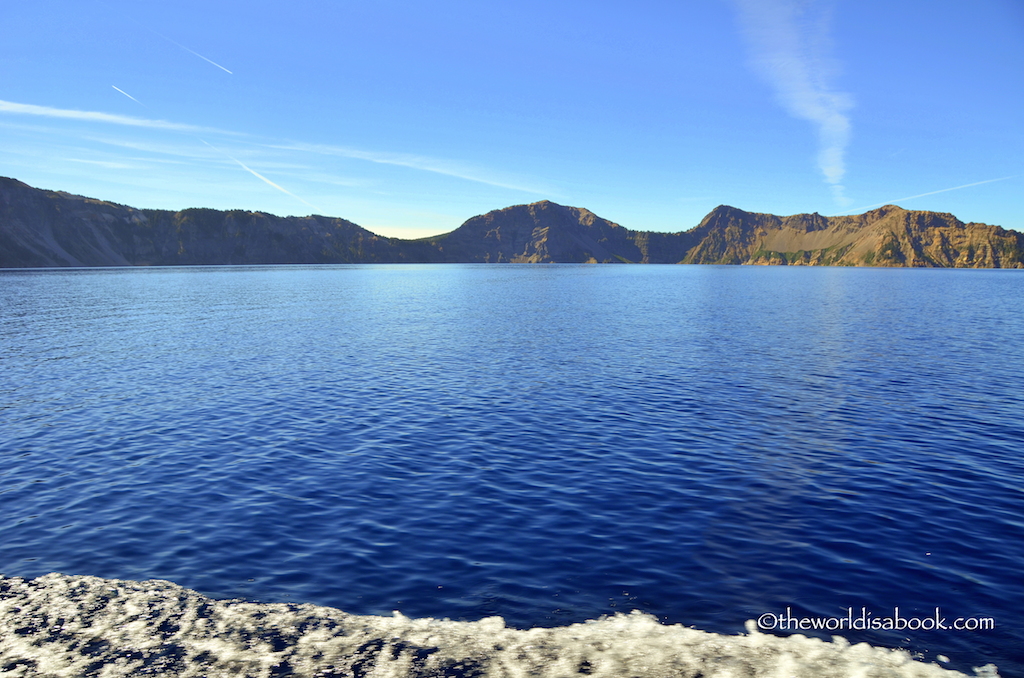 The landscape on the caldera was varied, beautiful and remarkable. We saw patches of pine trees like these that almost looked like plastic toys.
Other areas looked like a desert landscape that just happened to be next to the lush areas.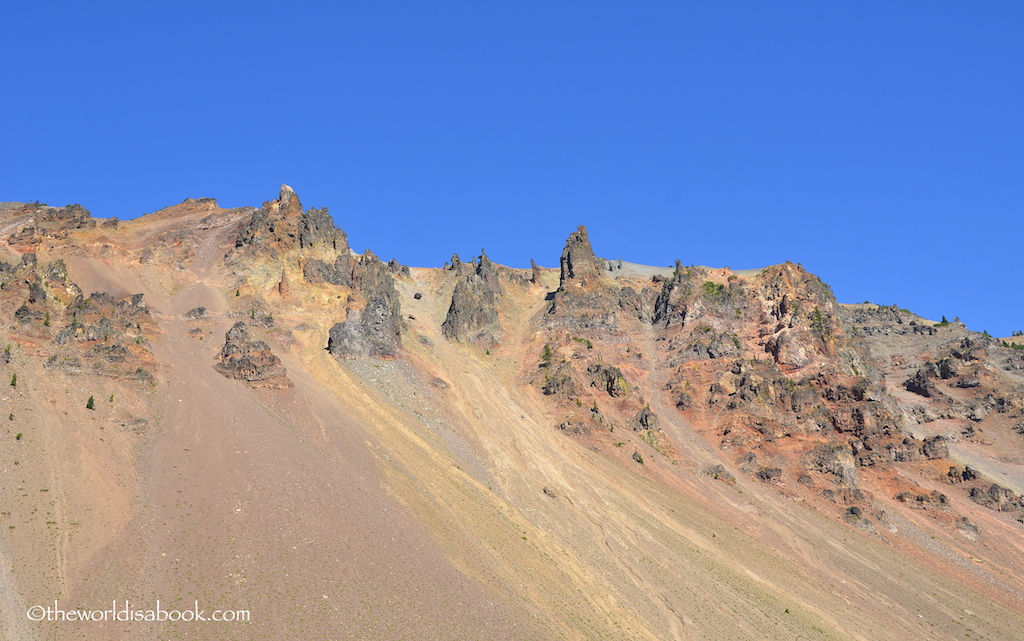 It was hard not to miss the imposing Llao Rock.  The views from below were much more dramatic. This hardened dacite (sluggish lava) is the highest point on the rim at almost 2,000 feet above the water. Crater Lake is 1,943 feet (592 m) deep at its deepest point. Looking up, it was hard to fathom the lake's depth.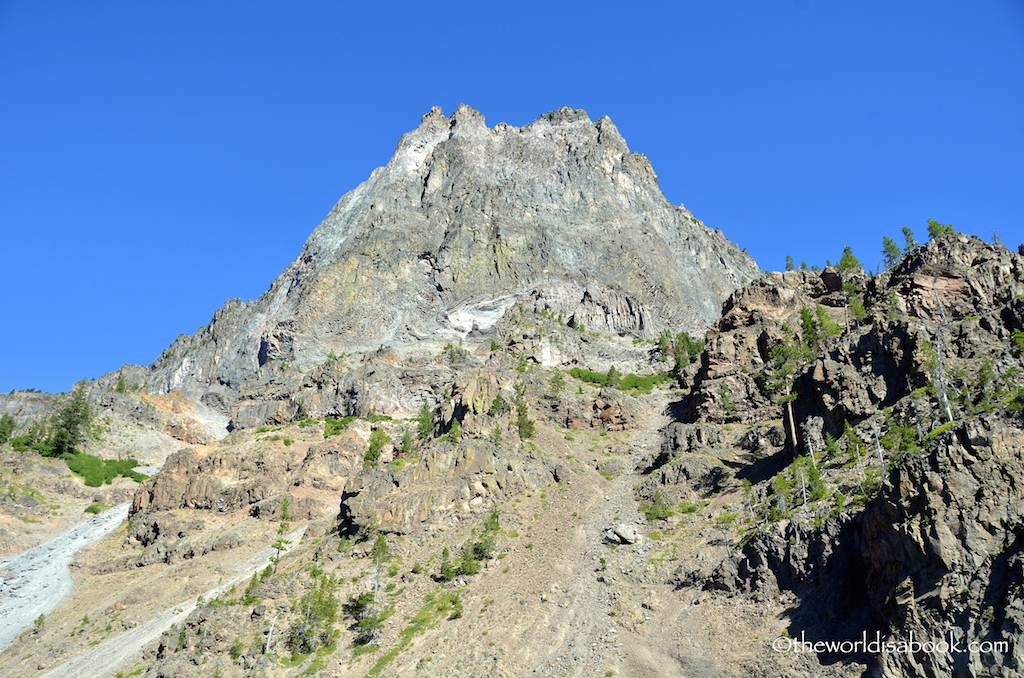 Devil's Backbone was another interesting name and geologic feature along the caldera. This was technically known as a dike which was initially formed by molten lava, filled the crevices and eventually built up to create the jagged and slanted shapes. This was the only dike that extended from the water to the crater's rim.
There were even some remnants of snow in August. The average snowfall here is 43.5 feet (13.2 m). And if you're wondering, like I was, with all that snowfall here – Crater Lake last froze in 1949.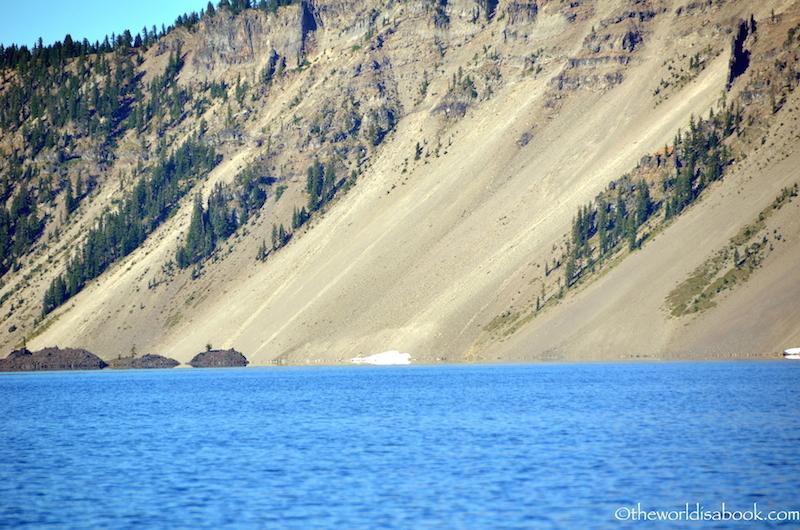 Wizard Island was a prominent feature on the lake. This was a volcanic cinder cone formed by a small eruption. It was so named because it supposedly looked like a wizard's hat. It is 767 feet (234 m) above the lake surface.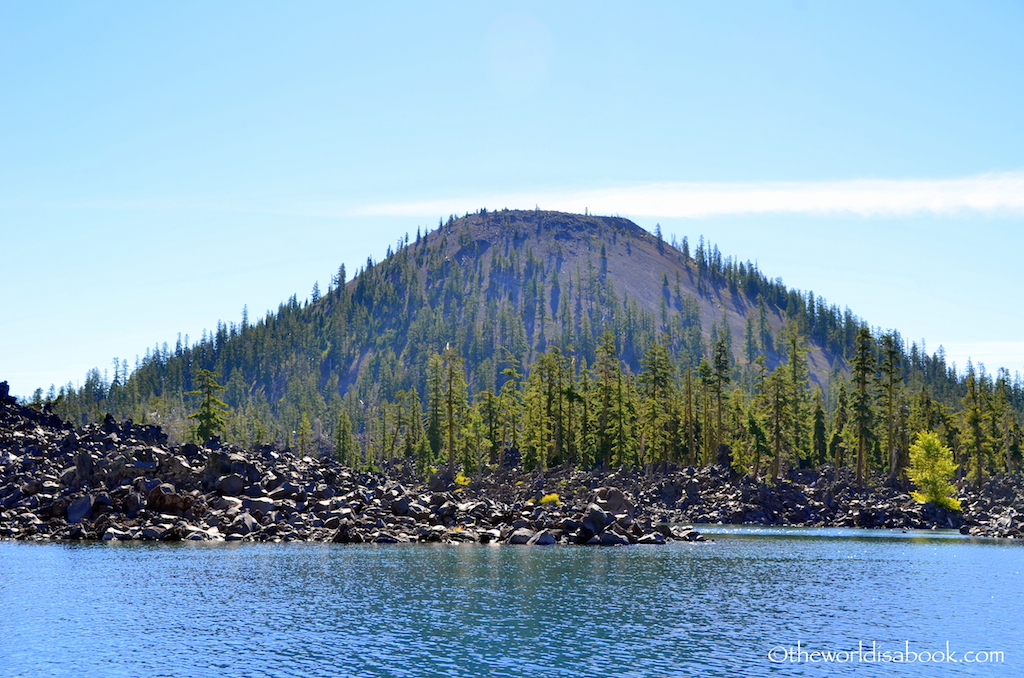 The boat made several stops around the lake and one of the first areas was near Wizard Island. We spotted these large volcanic rocks that almost acted like a protective barrier around the island.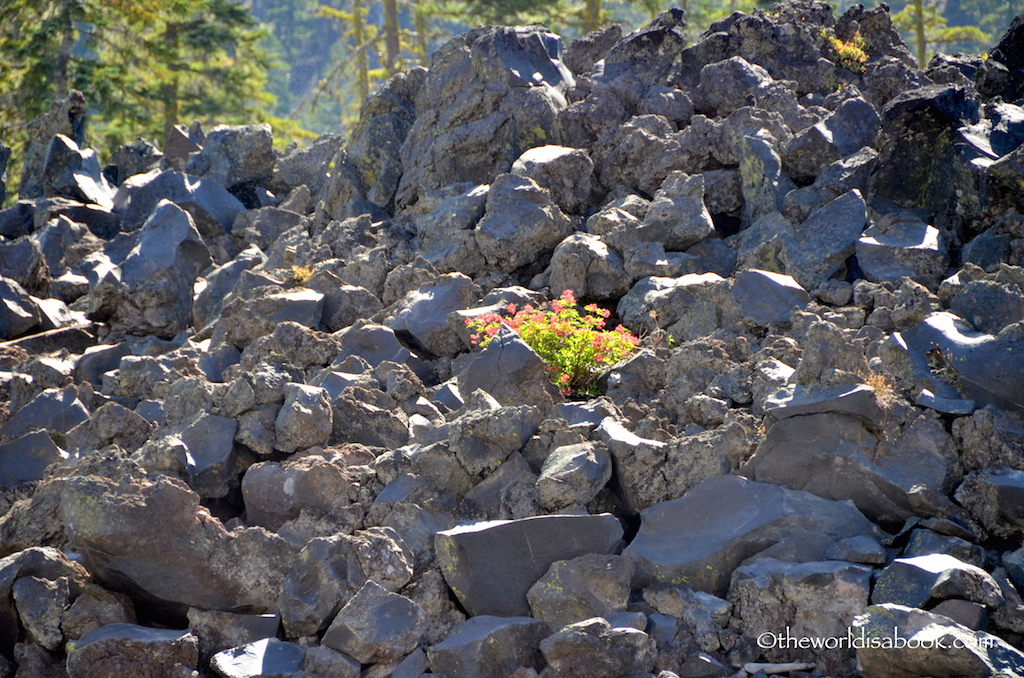 Wizard Island was filled with a variety of fir trees and pines along with some wildflowers. It was surprising to find out that there were actually animals, like ground squirrels and garter snakes, on the island. How did they get here? Theories ranged from the animals being stowaways to birds dropping them there.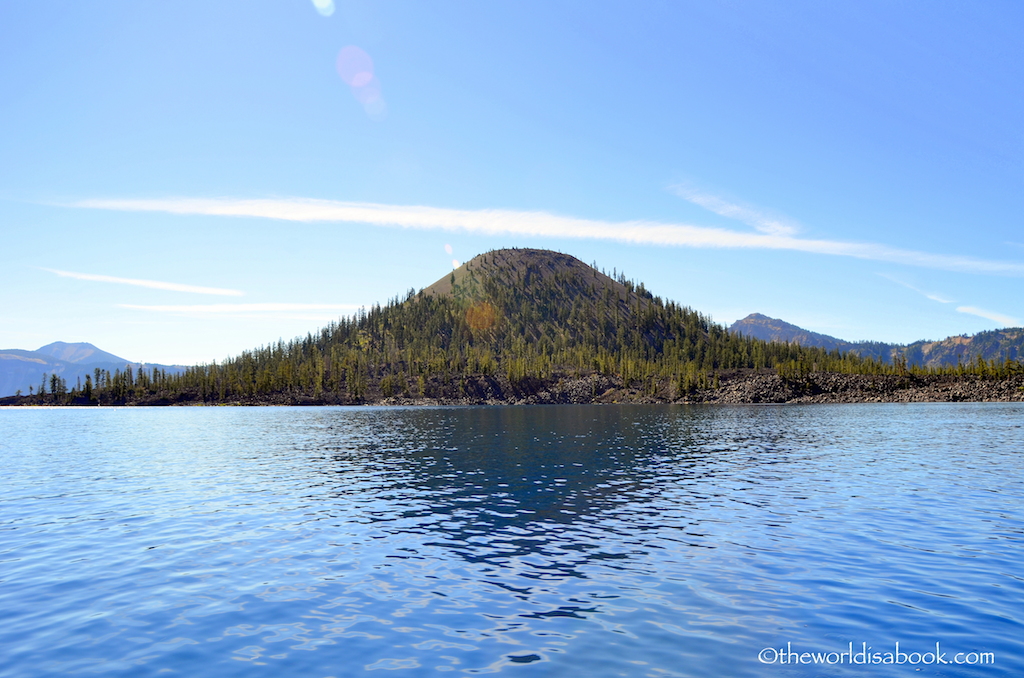 This was one of the boat ramps on the island. We saw a couple more storage sheds where they stored the boats during the winter season.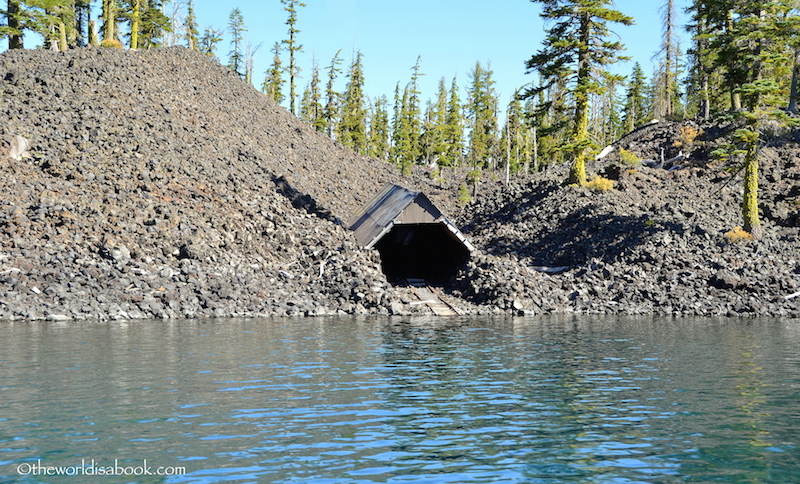 We saw one of the tours letting hikers get off the island. We were on a two-hour Standard Tour but there was also a Wizard Island tour that allowed visitors to spend from three to six hours here. There's hiking, swimming and fishing to do on the island but no other amenities are available.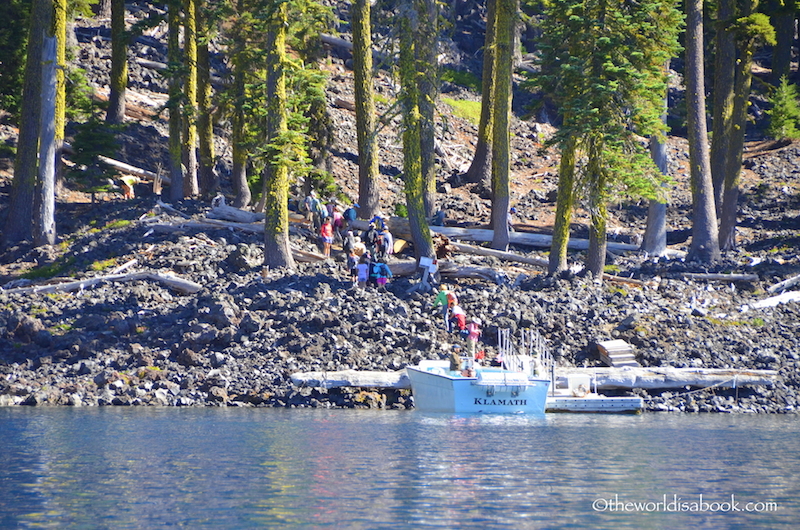 We opted out of this one for lack of time and it was just too rustic for me. Visitors can fish for kokanee salmon and rainbow trout without a fishing license and no limits but must use artificial bait. These were introduced to the lake many years ago.
Crater Lake Lodge was one of the few lodging alternatives in the park but definitely the one with the most enviable location overlooking the lake. This was originally opened in 1915. There are only 71 rooms here so if you want to stay during the popular summer months, reserve way in advance. It's usually only open from mid-May to mid-October.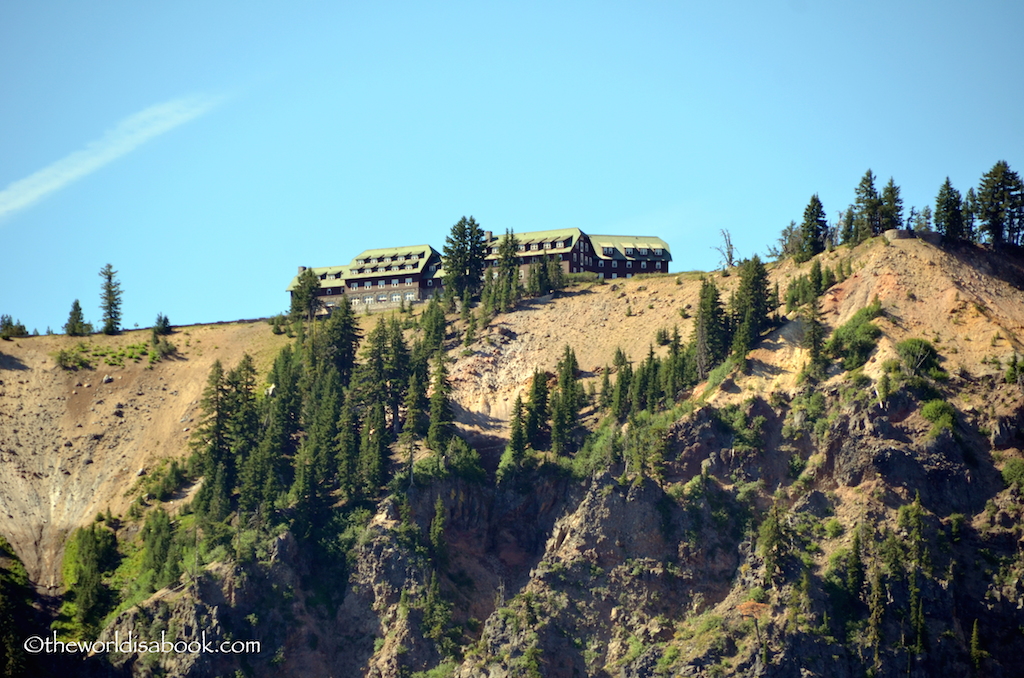 We learned about John Hillman, a gold prospector, who accidentally came across this lake in 1853 while riding a mule. He became the first European-American to "discover" it since American Indians were already in the area. He appropriately, though not too creatively, called it "Deep Blue Lake".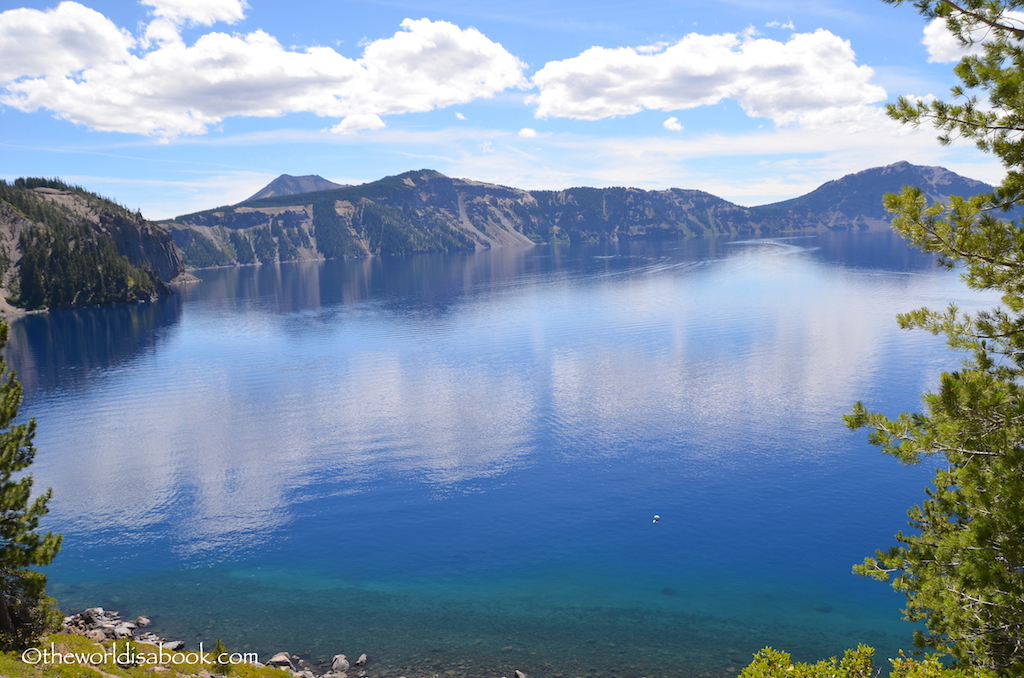 With the amount of snowfall here, it was no surprise to see this little waterfall along the caldera near Chaski Bay. This was still flowing from the snow melting from the crater's rim.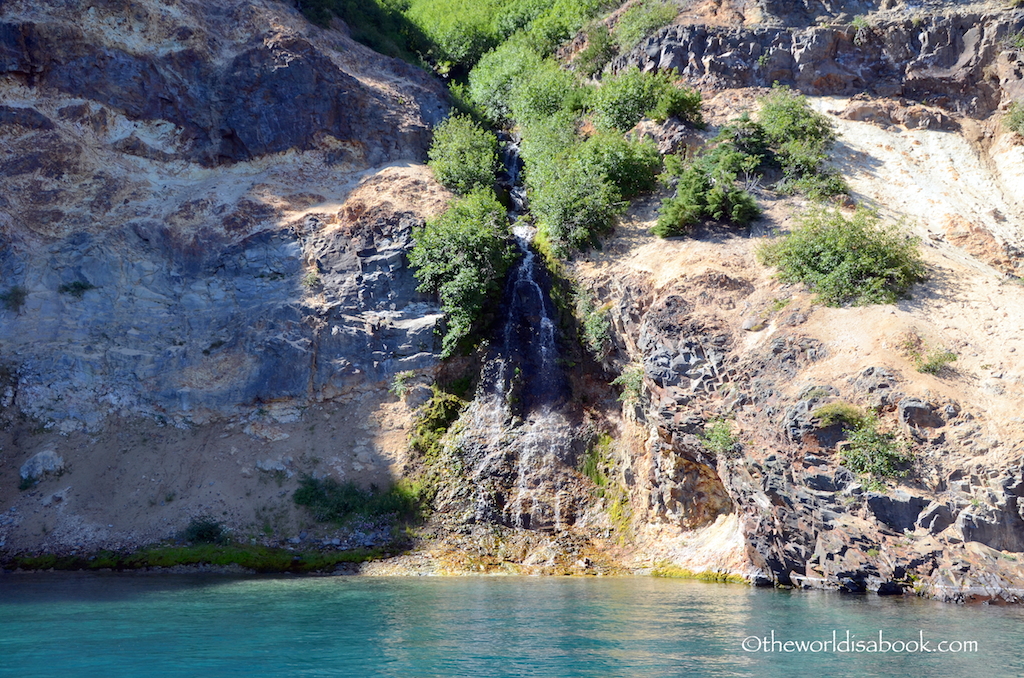 This was such a remarkable sight to see. The sun was just in the right position to cast this rock shadow on the caldera.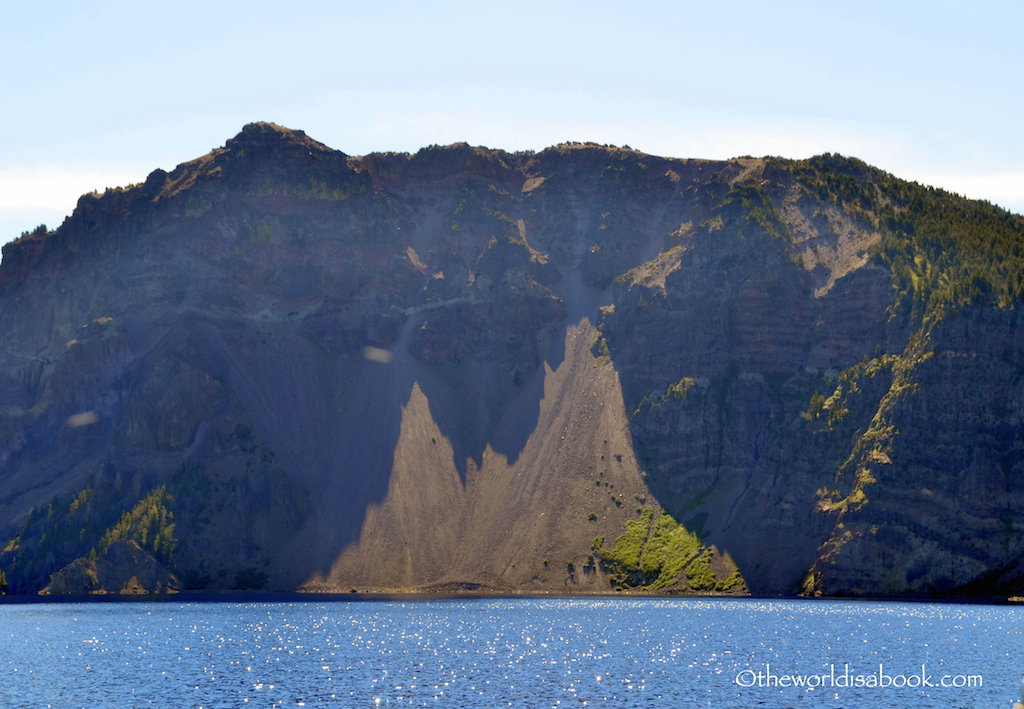 Phantom Ship was another major feature on Crater Lake. It was so named because it looked like a dark pirate ship sailing on the lake. This was as tall as a 16-story building. This was the oldest exposed rock in the caldera and has its own forest ecosystem.
There's even a castle near the lake. Pumice Castle is a reddish/orange towering rock that almost looks like a medieval castle shaped by erosion. Its texture looked amazing and really stood out from the caldera wall.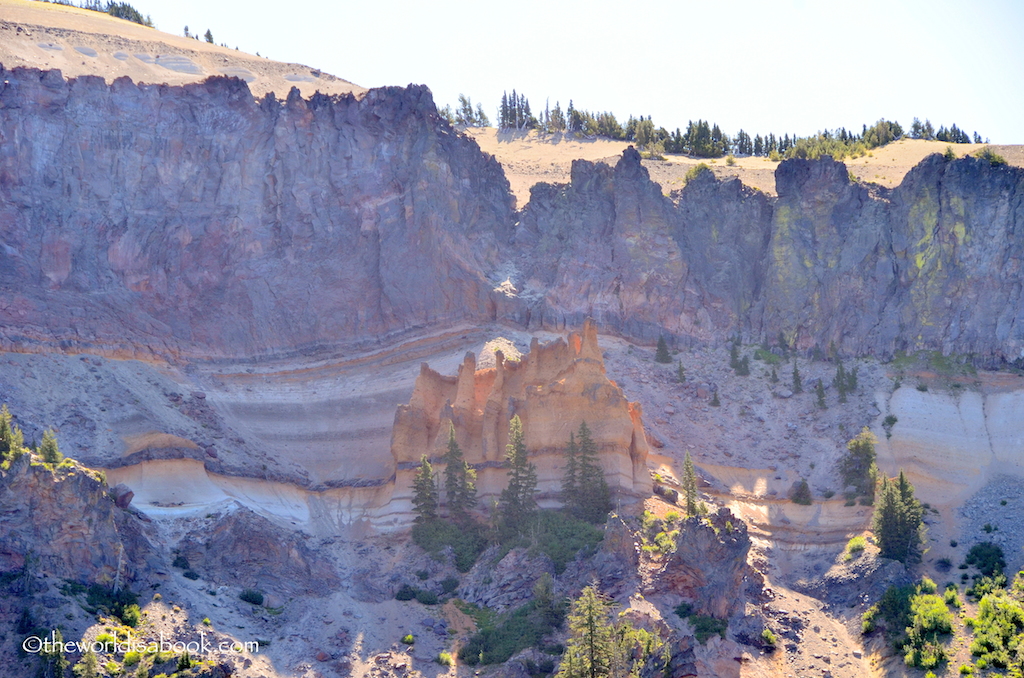 After our cruise, we found plenty of people fishing, swimming or dipping their toes in the water. The water looked so refreshing and inviting.
We followed the crowd to a lookout point and found a few people diving into the water – many of them in their underwear. Kudos to this Japanese visitor who did this backward plunge. We saw kids and adults doing many variations of dives. It was entertaining to watch them and hear the initial reactions as they hit the cold water.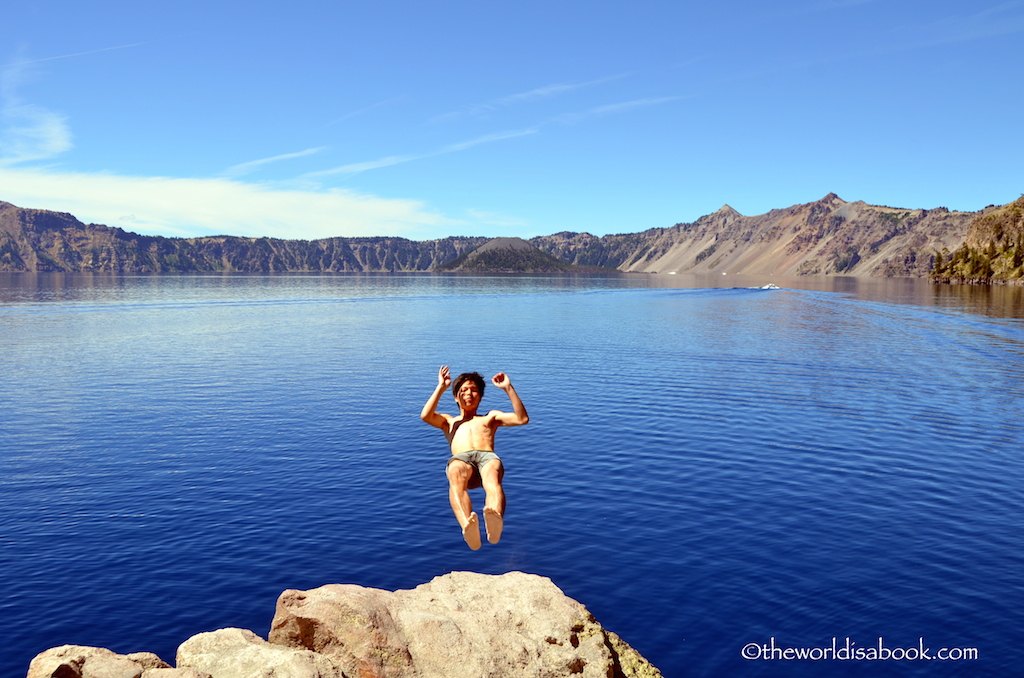 The shore is mostly made of rocks that we had to climb to get to the water but found a quiet spot for a dip. My husband and kids swam. Yes, in their underwear, in the cold. The water temperature is usually between 55 – 66 ˚F (13 – 19˚C). We weren't planning to swim but how could they not take the opportunity to swim and dip in a volcanic lake? They shivered at first but got used to the cold water  and they said it felt good being in there with the afternoon sun's intense rays.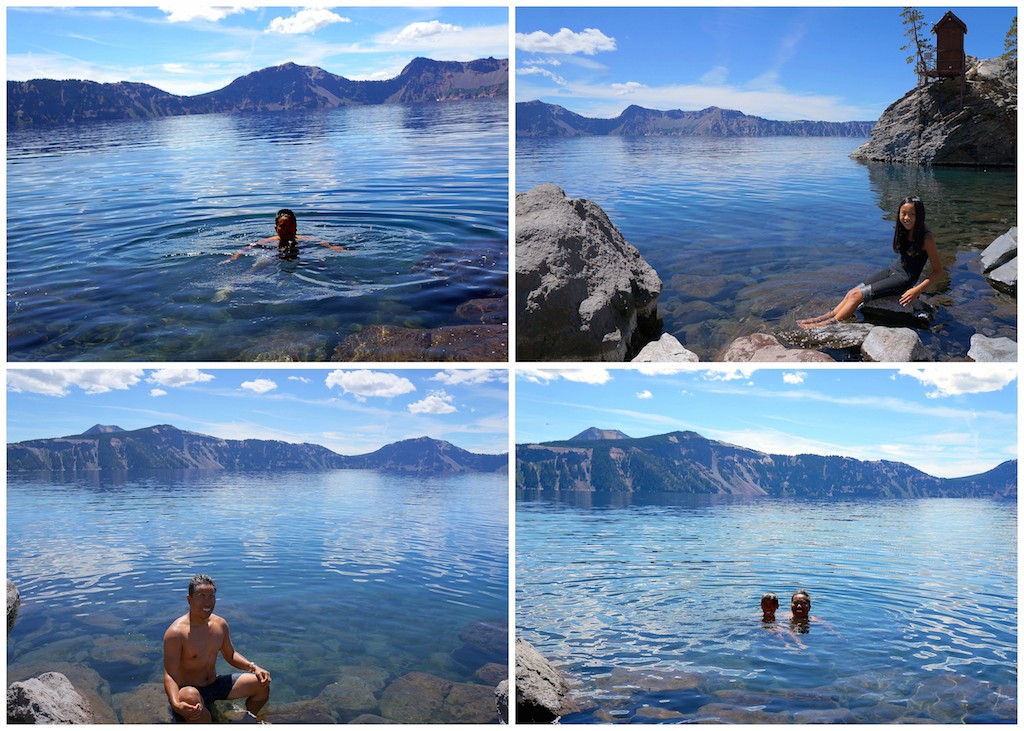 We could not get over how clear the water was.
Before we left the shoreline, this ground squirrel kept following us along the trail. There were quite a few of them here darting between rocks and bushes. I'm so glad it posed for us for this classic picture.
We weren't looking forward to a noon hike back up but it was inevitable. The park classified this trail as "strenuous" and they weren't exaggerating. There's a 700-foot ascent in a mile that they equated to climbing 70 flights of stairs. In the summer afternoon heat and at 6,000 feet elevation, it sure felt way more than that. Luckily, there were benches along the way to rest and some shaded areas. The park would make so much money if they built a cable car here.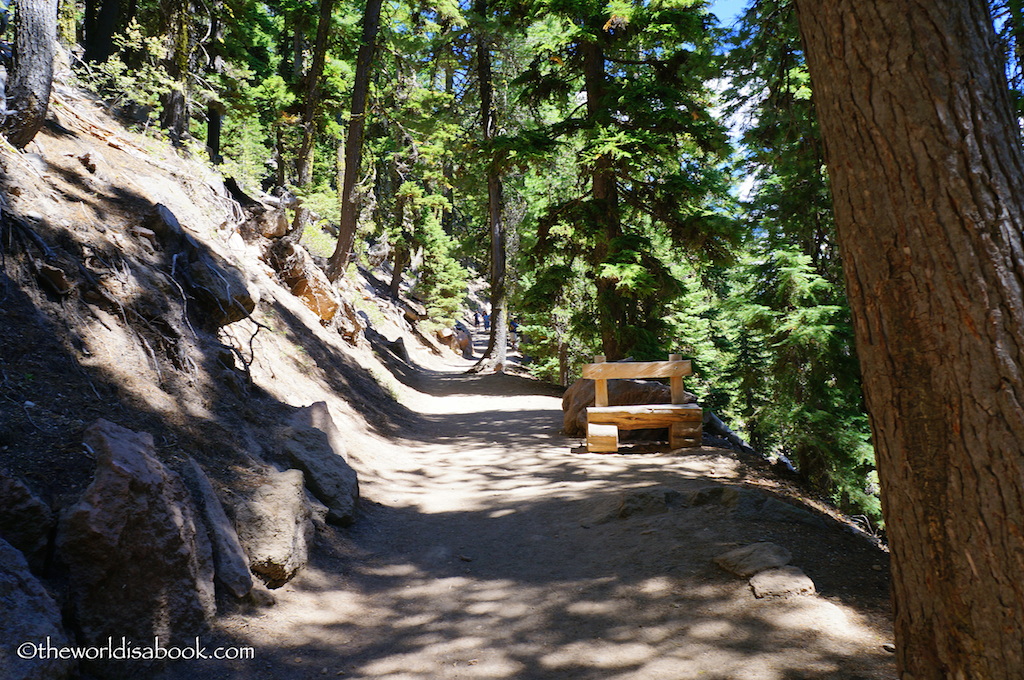 Gorgeous views like this gave us an excuse to stop and admire the lake again and again. My kids hiked back up with minimal complaints and they did better than I did.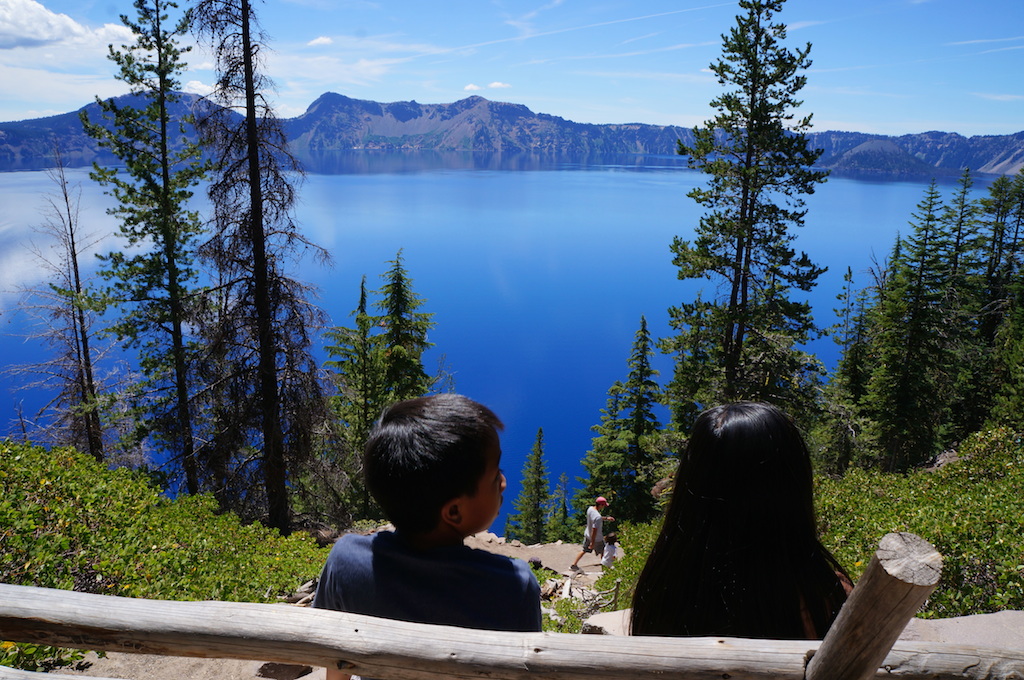 The ranger put it in the best way possible that the hike back up wasn't timed nor was it a race. Go slow and at your own pace and those benches were there for a reason so use them. Sage advice we took to heart and eagerly followed which made one of the park's steepest hikes tolerable.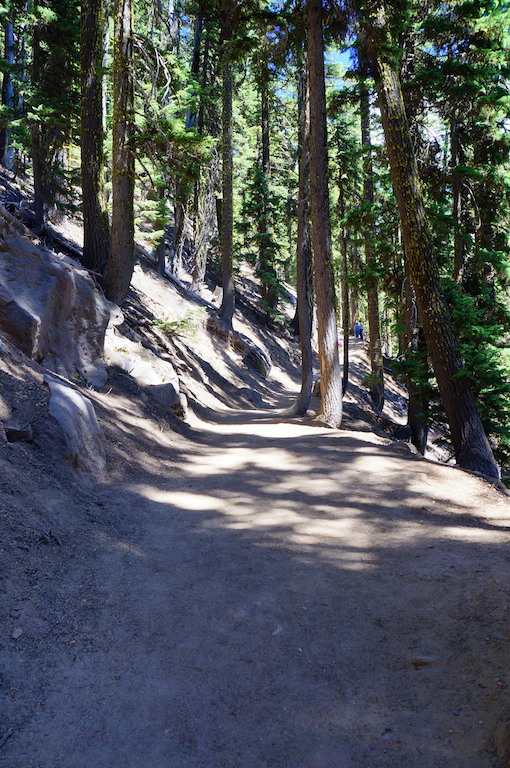 While driving around the rim of Crater Lake was awe-inspiring, cruising its waters was a fantastic and different perspective. The cruise was also very relaxing and a very educational tour. This boat tour should not be missed if you're visiting this park. It was definitely worth the hike for unique experience.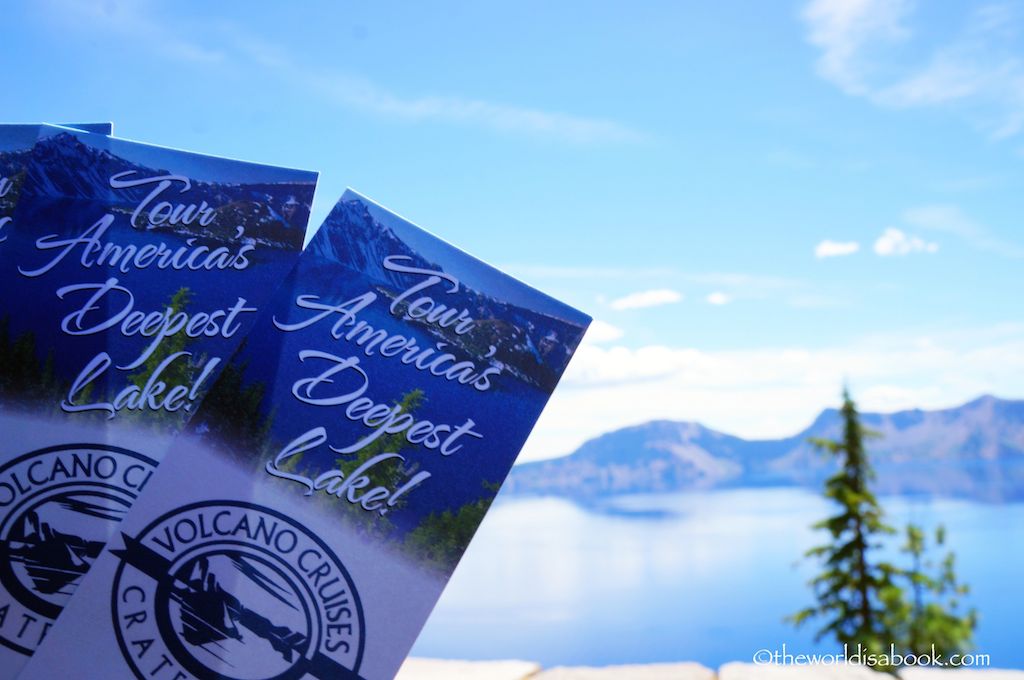 Tips for Crater Lake National Park Cruise
Reserve this boat tour in advance or as soon as you know you're heading to the park. Spots fill up pretty quickly in the summer especially during the weekends.
Tickets can be

reserved online

or by calling 888-774-CRATER (888-774-2728) or 303-29PARKS (297-2757.
Prices (as of Aug. 2014) Standard Tour – Adults$37; Kids (3-11) $25. Varying prices for the  Wizard Island Tour depending on the tour length and start at Adults $42; Kids (3-11) $28.
The Cleetwood Cove trail parking lot is about 11 miles into the park from Rim Village and about an hour from the entrance.
You must check-in at the parking lot area and collect your tickets and sign in again when you get to the bottom at the boat dock. So, get there at least an hour before your scheduled cruise time. Allow for 30-40 minutes to hike down to the boat dock.
There are portable/vault restrooms (port-o-potties) on the top parking lot and another set down by the dock. Use them before hiking in either direction (especially the kids) and before the boat tour.
All kids 12 and under are required to wear life jackets.
Bring towels and swimsuits if you plan to take a dip or a dive in the lake.
Bring binoculars, sunscreen, hat, and sunglasses while you're on the cruise. It can get pretty hot and binoculars will help the kids focus on some caldera features.
Bring plenty of snacks and water since there are no concession stands at the bottom other than water. You're going to especially need it during the hike up.
Dress in layers for those other times it may be chilly. Weather here can be a bit unpredictable.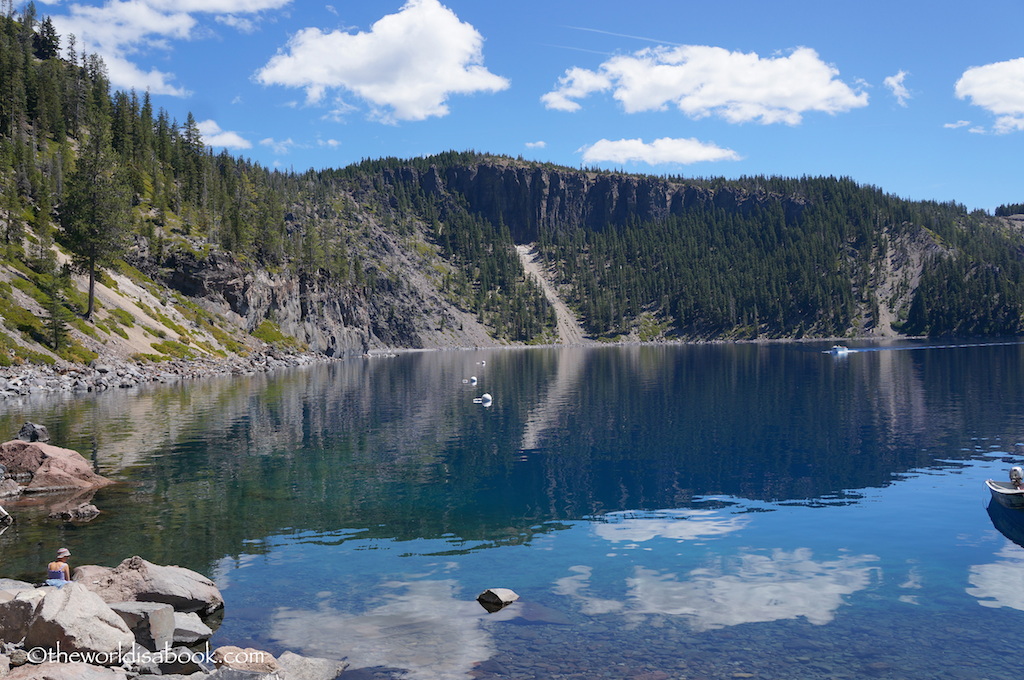 Have you visited Crater Lake National Park?