Going Home: Postcards from GUAM
It's "Where America's Day Begins" and one of my childhood homes – a small island and American territory in the Pacific a few plane ride hours from Japan and the Philippines. In order to fully appreciate this post, it would help to read my intro to Guam post first to learn more about it and clear any misconceptions. This is a virtual tour of some parts of Guam we explored from our visit a couple of months ago.


This trip has long been overdue especially since my husband and kids have never gone. I've gotten my fair share of guilt trips through the years for taking trips all over the world and bypassing the island. Going back after 13 years, some areas are a bit more run down than others. Some have drastically improved or deteriorated that I barely recognized them. While I've tried to share some of the local food, culture and childhood stories with my family, nothing could compare to experiencing the island in person.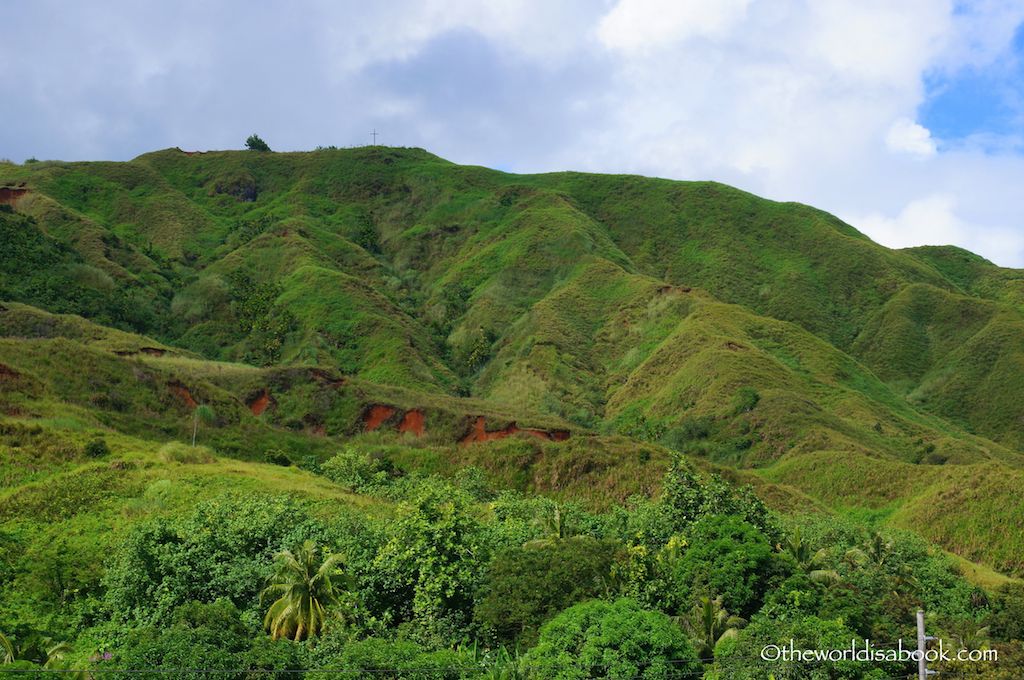 I've seen Guam repeatedly referred to as a "resort island" getaway for the Japanese and South Koreans due to its convenient location. The main attractions are the clear, warm waters that offer a wide assortment of activities and the American-style dining options and tax-free shopping.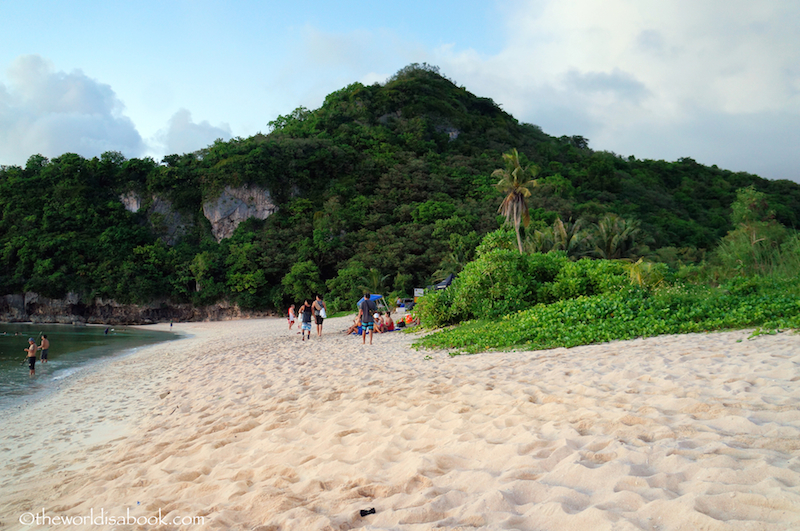 Tumon is the tourist district and lined by many hotels, resorts and restaurants. Tumon Bay is a protected marine preserve and the most popular area for any water-related activity. Although, there are many more, beautiful beaches scattered throughout the 30-mile long island.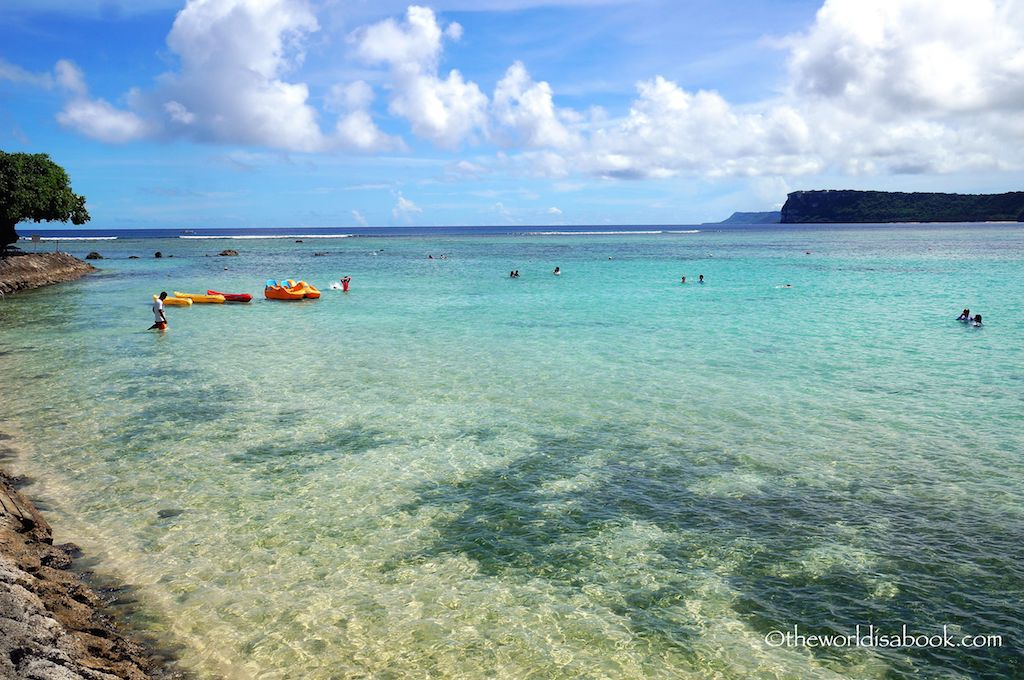 We spent our fair share of time at the beaches despite the heat and humidity. We even found some surprises like this blue starfish. This was actually the first one we've ever seen and are fairly common in Guam's waters.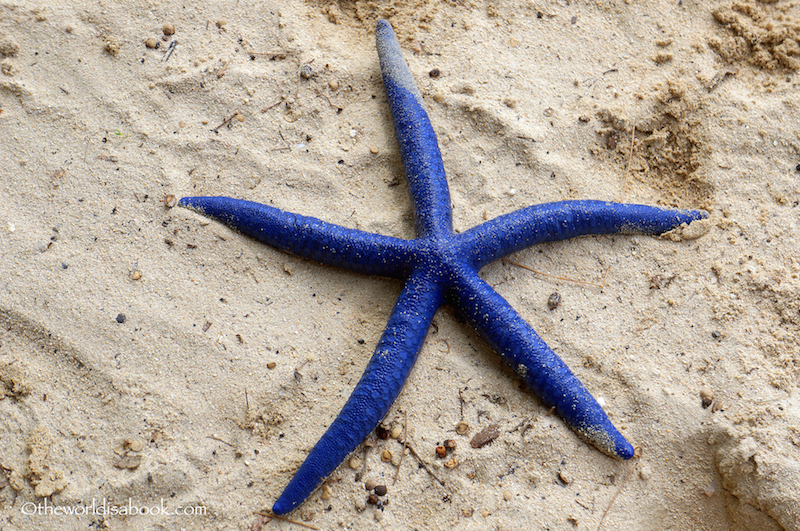 This was the view that greeted us for 10 days from our Hilton Guam Resort & Spa room. Yes, we were a bit spoiled and it was hard to leave it.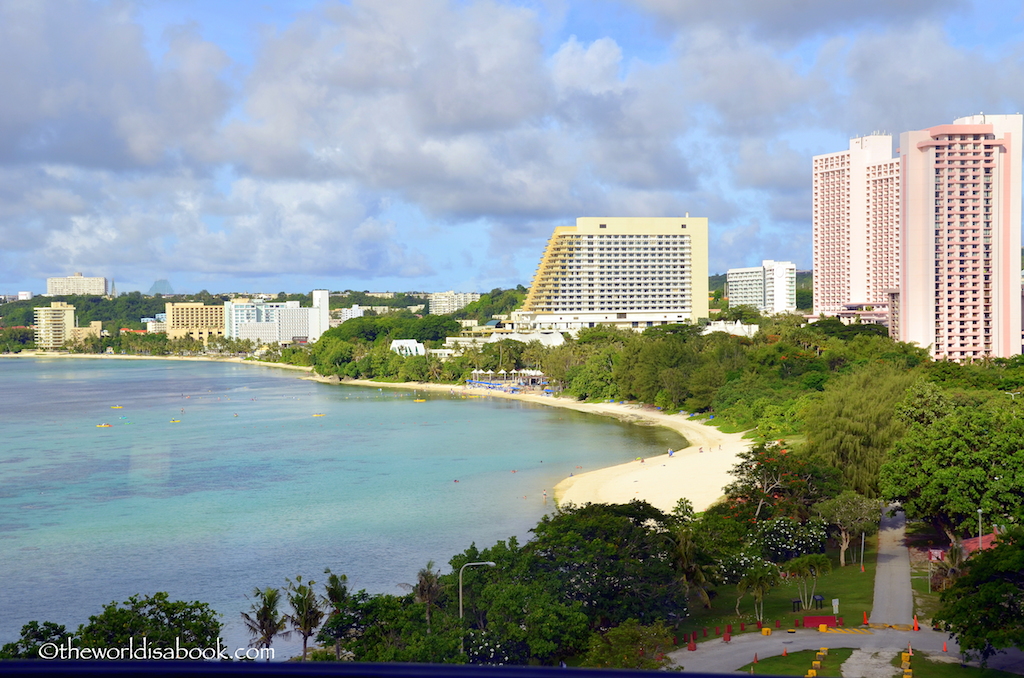 Two Lover's Point is Guam's most popular attraction. Viewpoints are set along a cliff overlooking the Philippine Sea and the northern end of hotel row. It stands 368 feet above the reef and really not for anyone with a fear of heights. The panoramic scenery is stunning.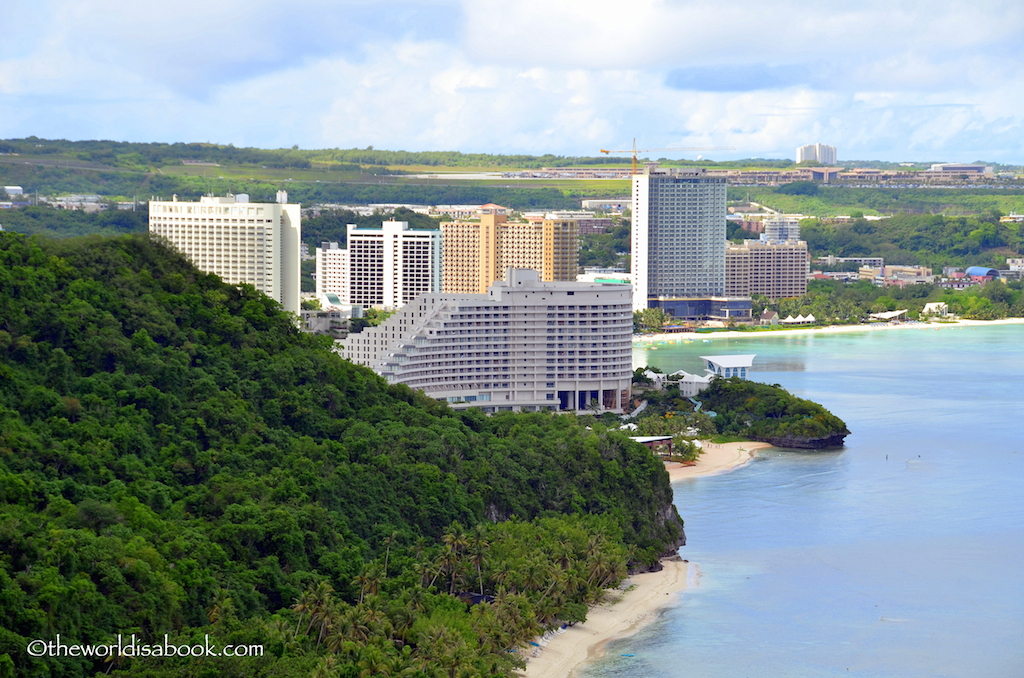 This lookout point isn't just known for its views but for the story it was named after – Guam's own Romeo and Juliet. Legend has it that two young, forbidden lovers leapt to their death from this cliff so they could be eternally together. Today, the romance is still alive with hundreds of colorful, heart-shaped plastic souvenirs and love locks left along fences and rocks with messages to loved ones or to symbolize a couple's love.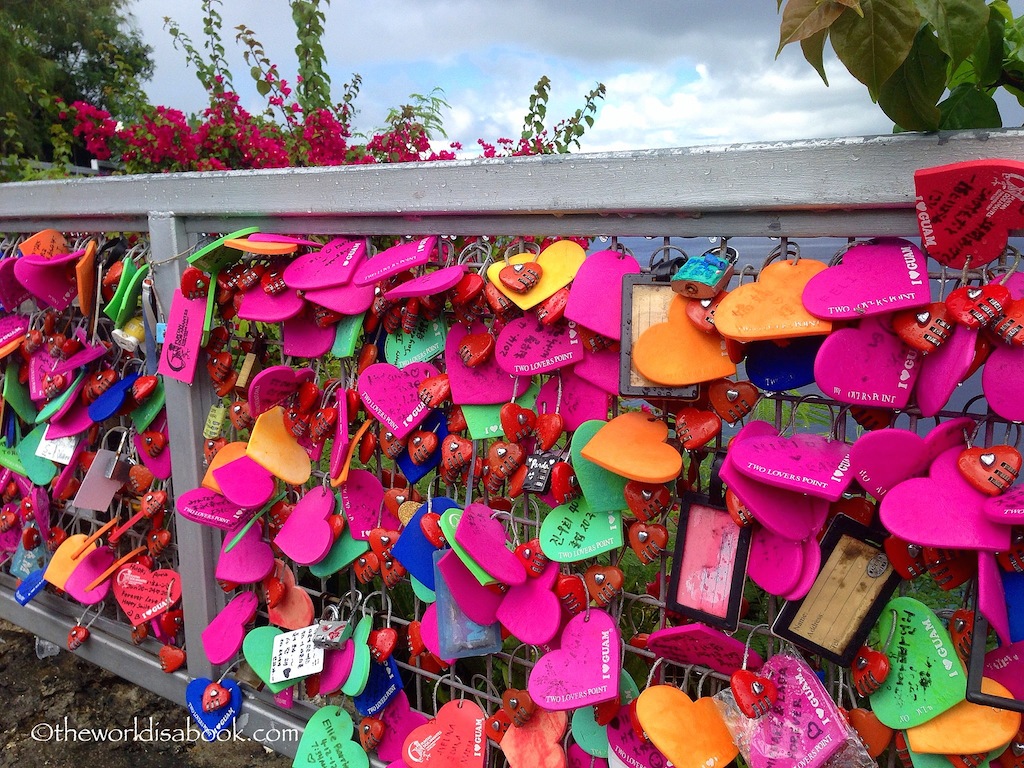 Latte Stones are a unique symbol of Guam. The ancient Chamorros (Guam's indigenous people) used these pillars and capstone, made of coral limestone and coral heads, for building foundations. These ancient stones at Latte Stone Park were transferred here from their original location in the south.

But, the biggest latte stone on the island and the world is the 80-feet tall Latte of Freedom. It was completed in 2010 to symbolize Guam's heritage and the Chamorro culture's strength. It is also a lookout point to enjoy the ocean and surrounding area. Built of reinforced concrete, it was built to withstand island occurences like earthquakes and typhoons with winds up to 150 miles per hour.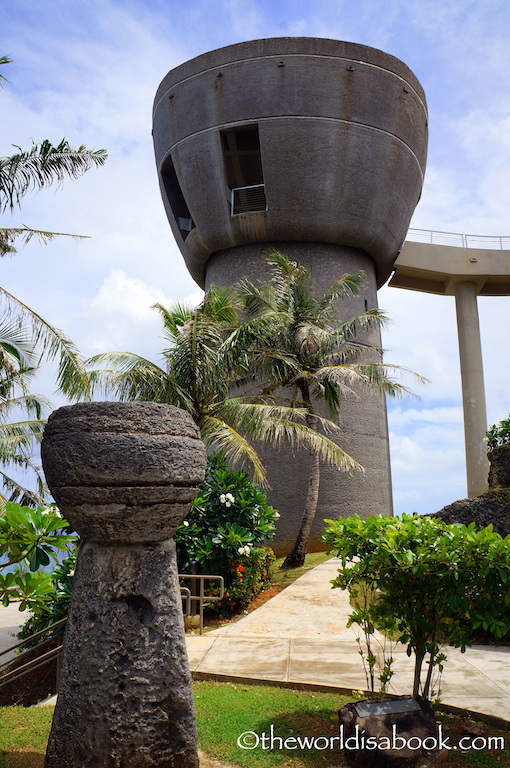 Guam was officially claimed by Spain from 1668 to 1898 when the natives were colonized and Christianity was introduced. This era ended after the Spanish-American war when Spain surrendered the island to the United States.Plaza de España is one of the Spanish era remnants in central Guam. Most of the structures were destroyed during World War II but one of the remaining ones is Chocolate or Summer House. This was the garden's social meeting place and where afternoon hot chocolate was served to the governor's guests.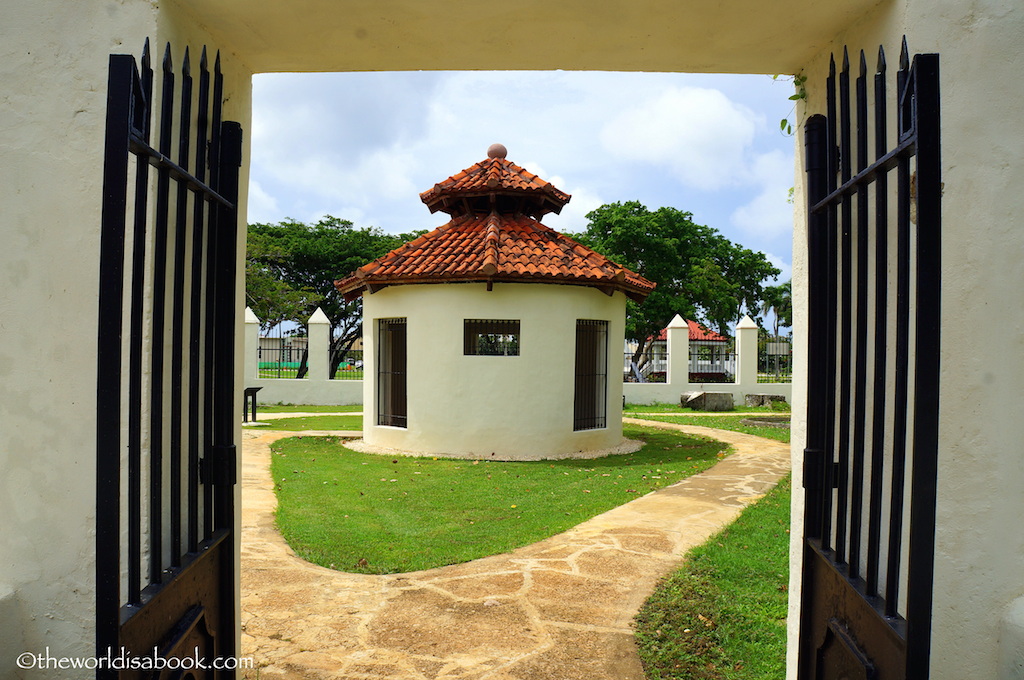 Guam has a rich history that also included a strategic location and active role during World War II. The War in the Pacific National Historic Park is composed of six various areas around the island commemorating the sacrifice and courage of everyone involved. The Asan Beach Park was one of these points with hundreds of palm trees lining the beach where American soldiers landed to liberate Guam from Japanese forces who occupied it for three years.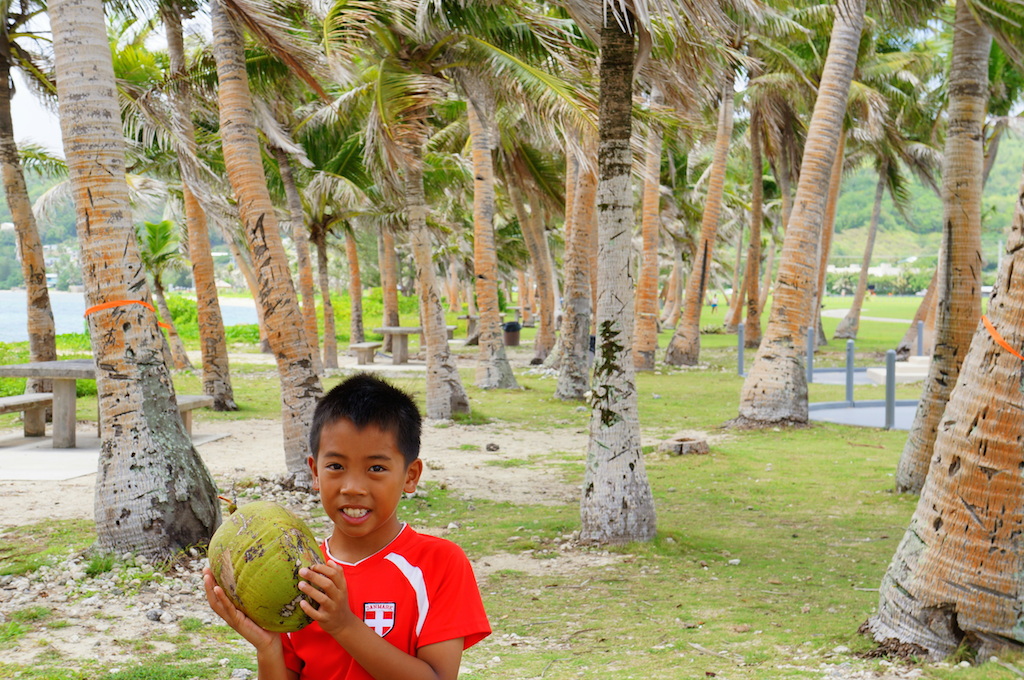 Let's move out of the touristy area and to the southern part of Guam where I lived. Things are a bit quieter and greener here. There are several lookouts along the main highway for people to pull over and admire views like these. That other small island in the distance is uninhabited Cocos Island which is used as a day resort for tourists who want to enjoy various activities and water sports.

Fort Nuestra Señora de la Soledad, or Fort Soledad is on a cliff with sweeping views of the ocean, coastline and the mountains. This Spanish fortification was built in the early 1800s to help strengthen the protection at the entrance of the bay. Umatac Bay was a vital supply station during the Spanish Galleon trade.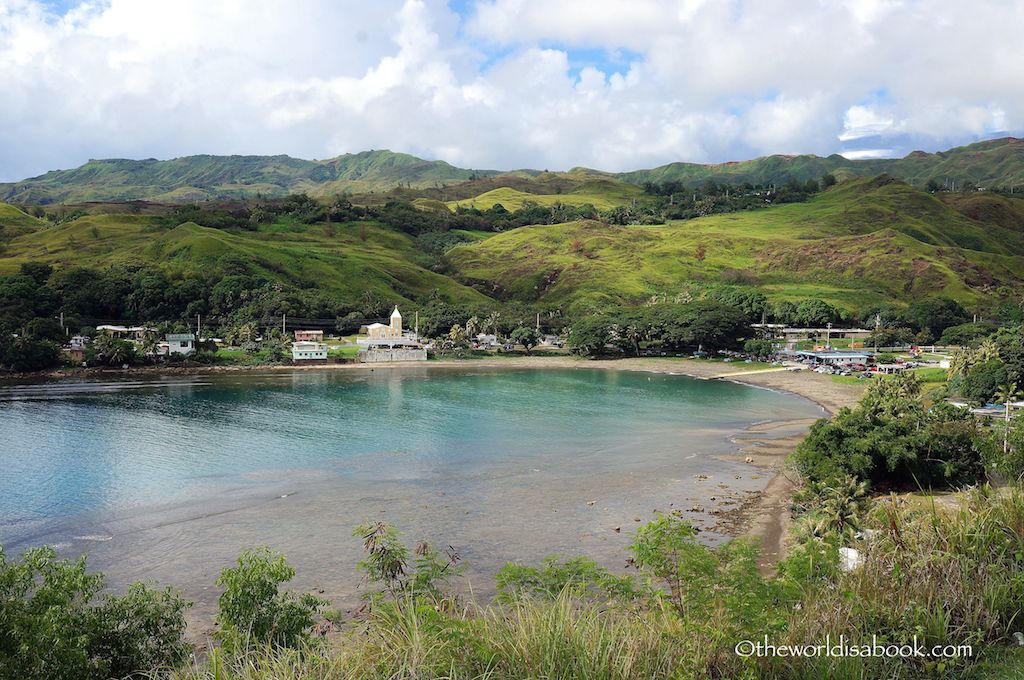 Ferdinand Magellan, the Portuguese explorer, landed here in Umatac Bay in1521. This introduced Guam to Western Europe and opened the gateway to Spanish colonization. This sentry post was one of the few remainders of this once important fort.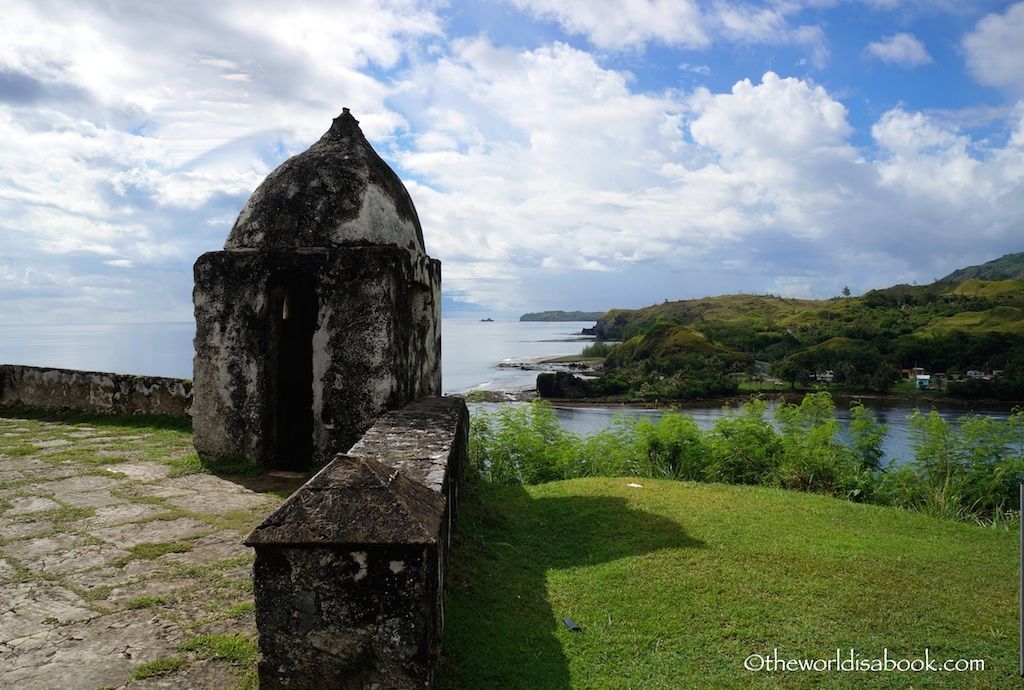 The fort still has the cannons strategically placed and pointed towards the ocean. You know how much we love taking tacky tourist photos so we couldn't help doing this one. Cannon ball!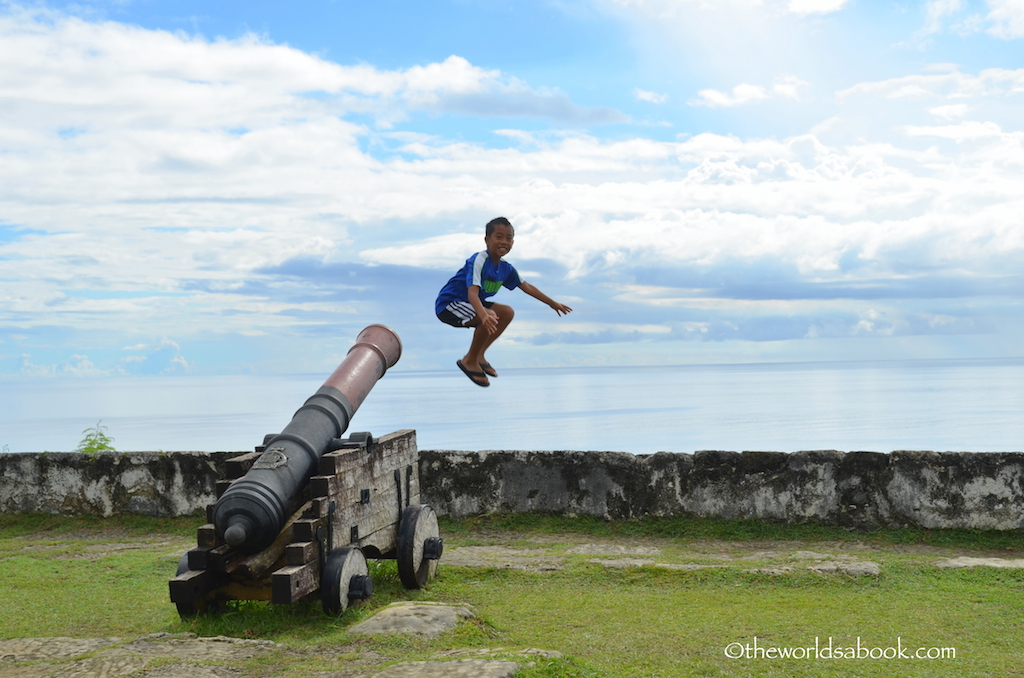 I have always loved the Inarajan Pools that was located on the southern tip of the island. These natural swimming holes are also called Salugula Pool. The calm and clear water in the pool was such a contrast to the crashing ocean waves surrounding this reef area.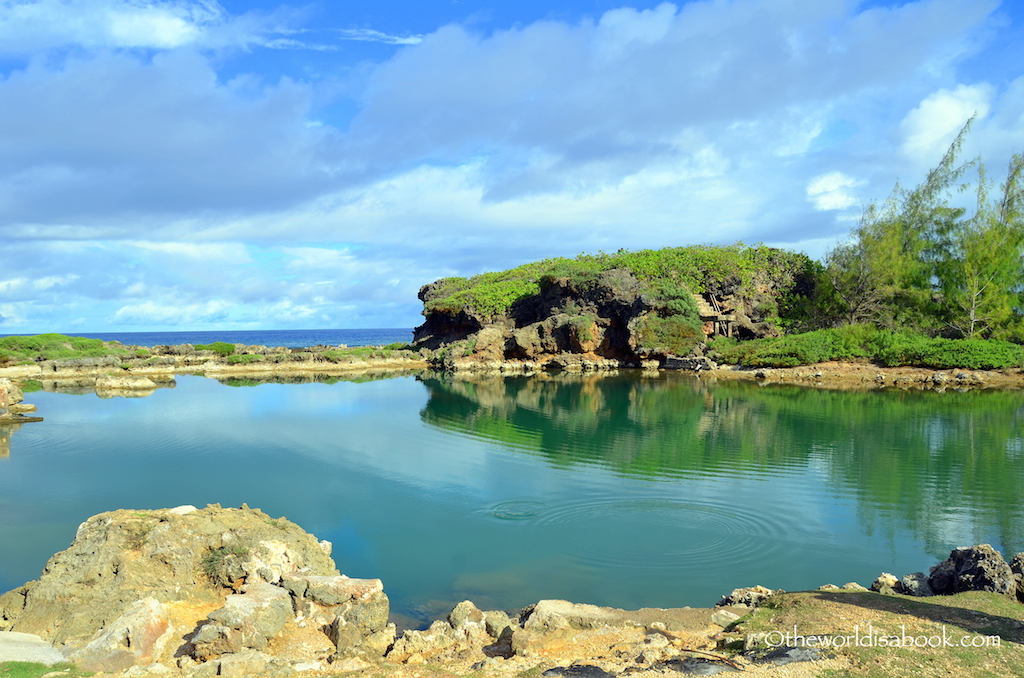 There was a bridge for visitors to pass through to get to a viewpoint that looked out into the ocean and a diving board for those who wanted some adventure. We saw local kids and tourists doing some interesting dives here. It was a lovely area to explore the corals and marine life in a natural setting.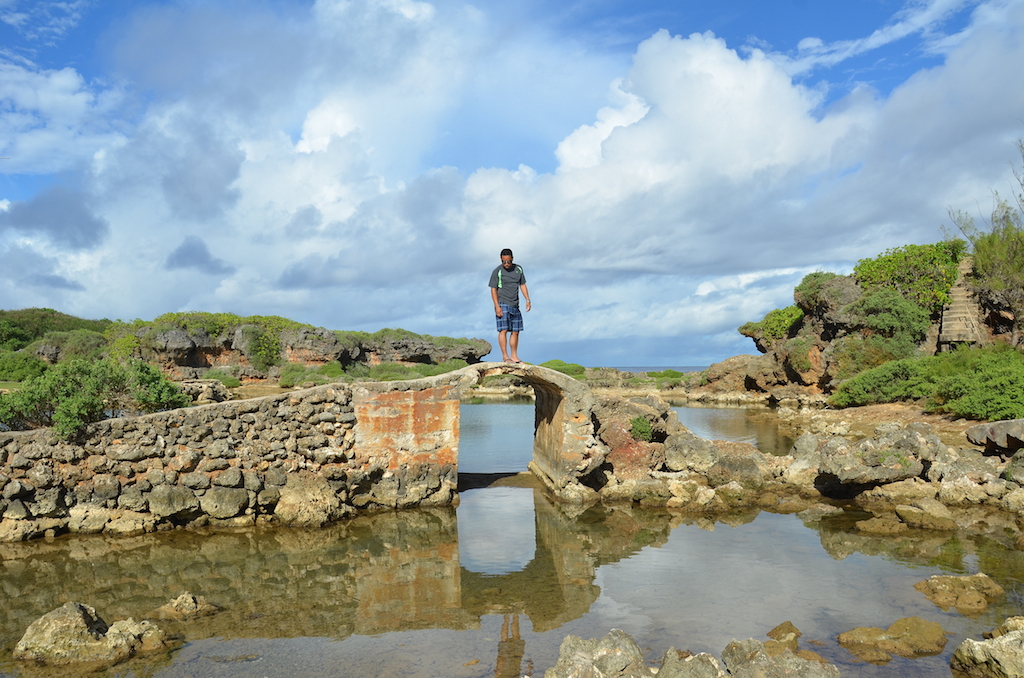 There are only a few black sand beaches in Guam and Talofofo Bay is one of them. This was a popular spot for surfers. Although during our visit, it was only us and another family swimming here during a weekday afternoon.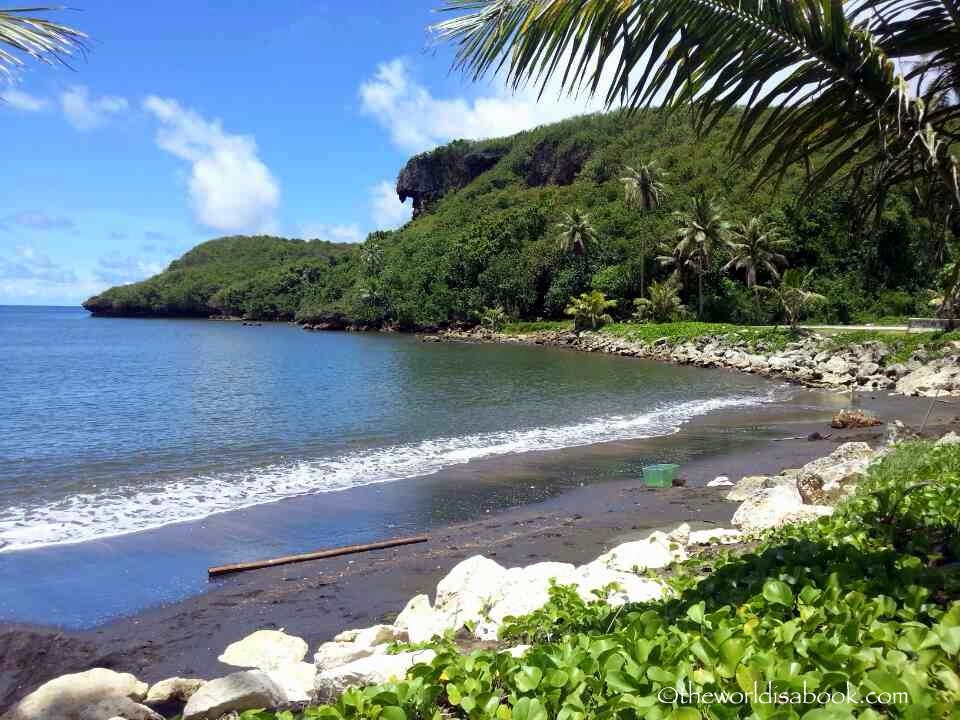 One of the southern area's most popular attractions is the Talofofo Falls Resort and Theme Park. I don 't know when it became a resort and theme park but it is neither one unless one counts the small collection of non-operational kiddie rides. We went on a short cable car ride to the bottom of the series of waterfalls.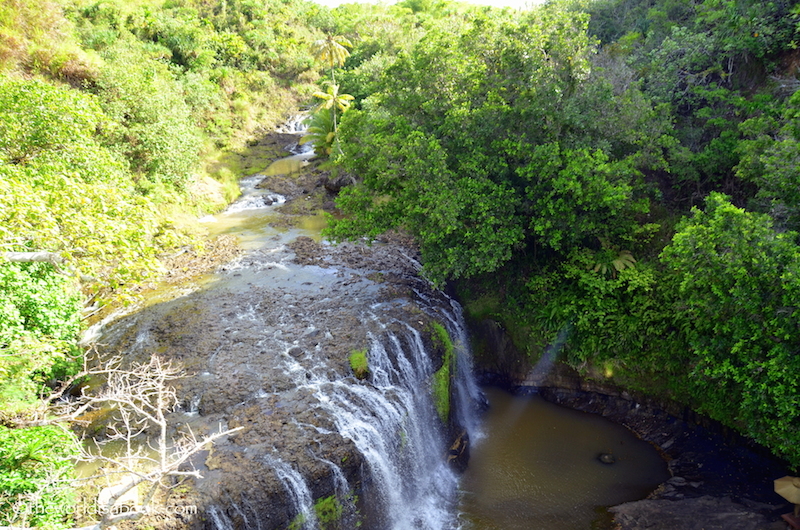 This was touted as Guam's biggest waterfall but it was a bit disappointing during our visit. I remember this waterfall to be bigger and with more water. But to be fair, we were there during the tail end of dry season.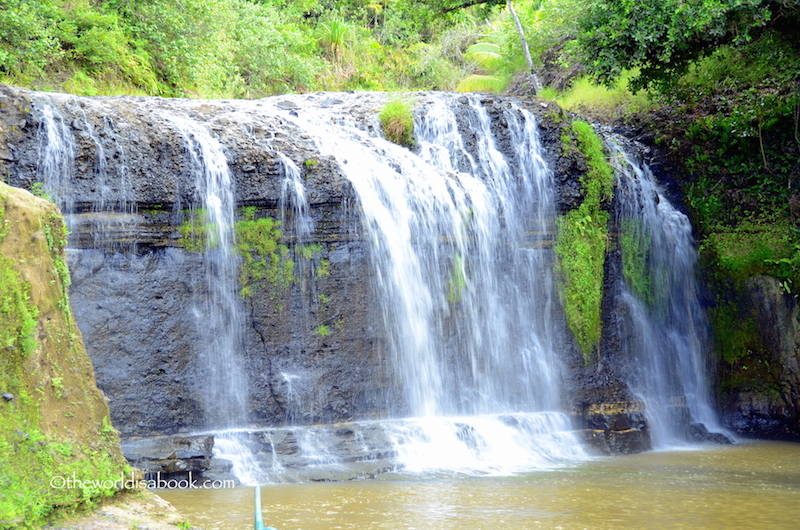 What kid wouldn't want to run across and jump along the way in a suspension bridge? (no matter how rickety it looked)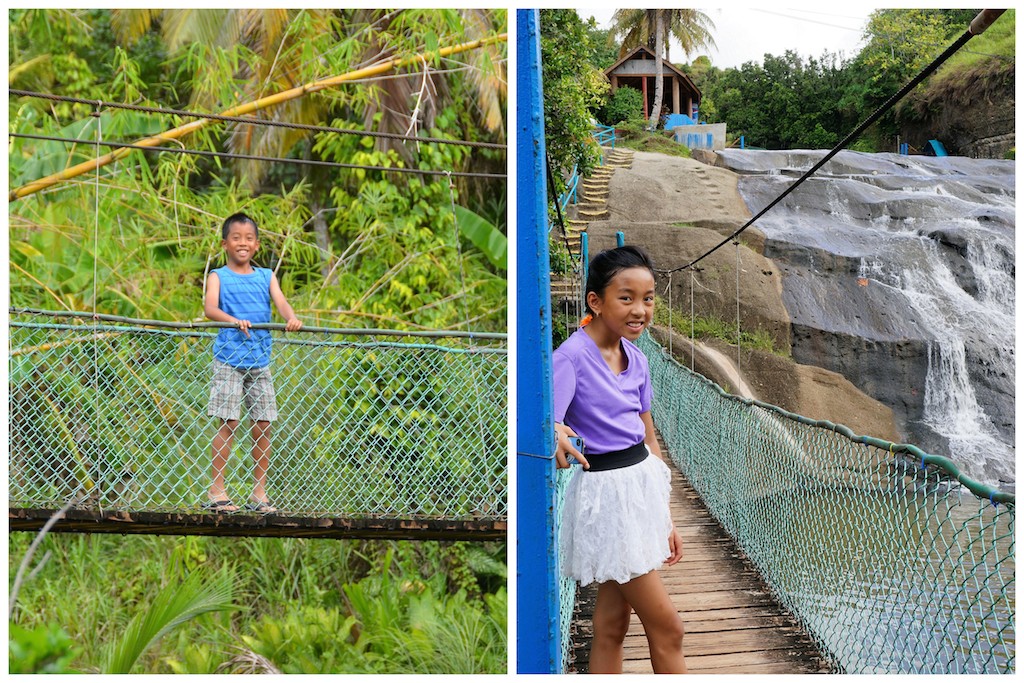 This area also contains Yokoi's Cave. Sergeant Yokoi was a member of the Japanese army, who sought refuge in the jungles during World War II. He was found here (alive and relatively healthy) in 1972 after hiding out and surviving in Guam's dense jungles for 28 years after the end of the war. He was in the jungle with two fellow soldiers but outlived them. His main hideaway was an underground cave that has since collapsed but a replica and memorial is nearby to visit. It was a little bit of hike to get there with the least ideal conditions of extreme heat and humidity.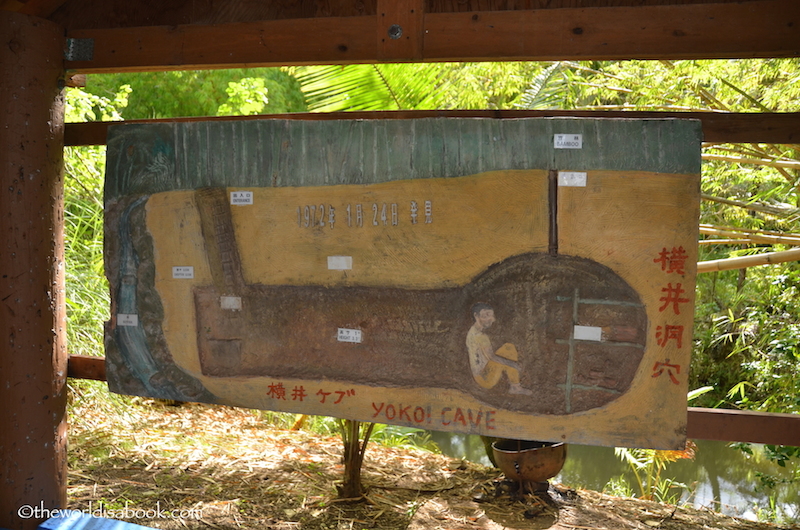 I also wanted to do something I've never done in Guam before. We did a cruise that sailed along two rivers flanked by a lush jungle and stopped at an ancient river village replica. It was such a peaceful and lovely ride that I've highly recommended this cruise to local family and friends who haven't gone here thinking it was too touristy.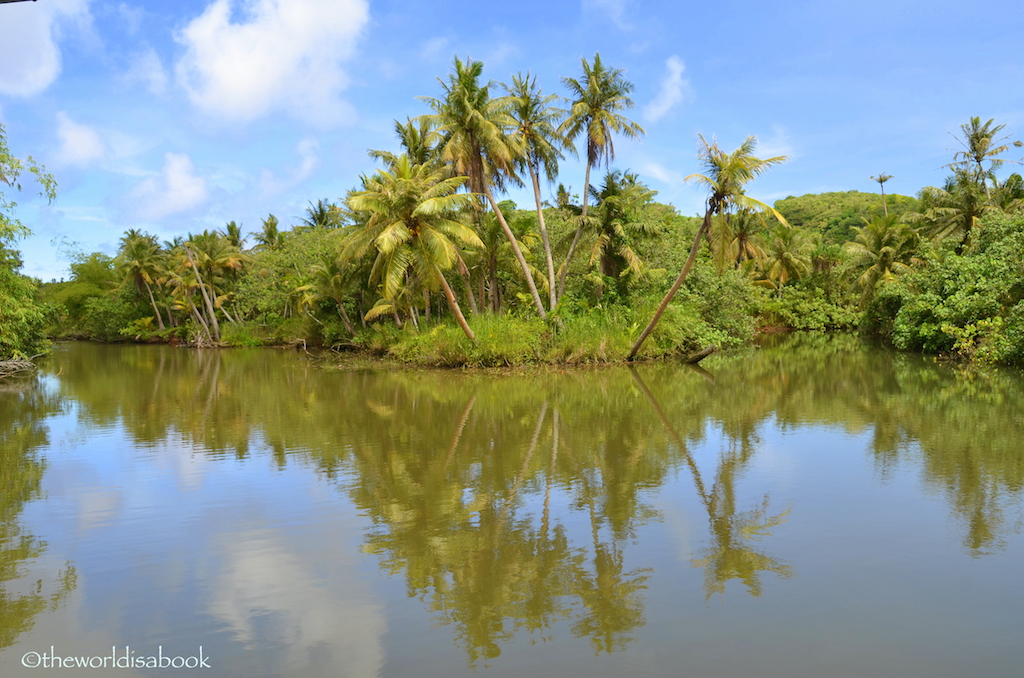 One of the things I have missed about living on Guam is the food. I'm lucky enough to have a Guamanian restaurant down the street from my house but there's nothing that can compare to potluck style family get-togethers or the delicious spread of a fiesta table. Fiestas or parties are HUGE in Guam. Villages celebrate them in honor of patron saints. Come to think of it, locals find an excuse to fire up the grill and cook. I've always loved the hospitality. Everyone is invited to come in and join the party whether you know the hosts or not.
Unfortunately, we didn't get to attend any fiestas during our visit. But, we had some get-togethers with family and friends to give my husband and kids a taste of more island food. These are the staples in many of the parties – red rice (coloring and flavor from the achiote seeds), BBQ meats, fish, egg rolls, noodles and chicken kelaguen (diced chicken with lemon). Food around the island is a combination of Filipino, Spanish, Chamorro and now infused with some Japanese and Korean flavors. Only in Guam will fast food giant, Kentucky Fried Chicken, sell red rice and chicken kelaguen. My husband and I came home with our clothes a bit tighter.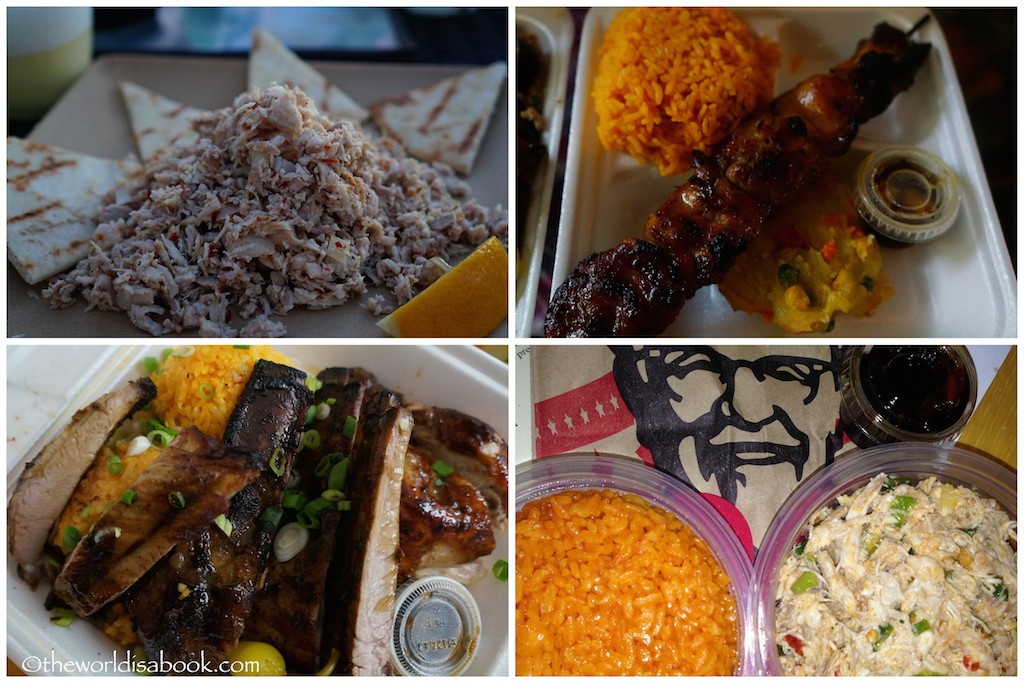 Spam (slice pork and ham) is ubiquitous in Guam. A Times article has labeled Guam as the SPAM capital of the world with residents consuming about 16 cans per person annually. This was the SPAM aisle at the 24-hour Kmart. Who knew you could have so many different flavors of SPAM? I think I've lost some island girl credentials by not bringing some home or at least, trying one flavor. Which flavor looks appealing to you?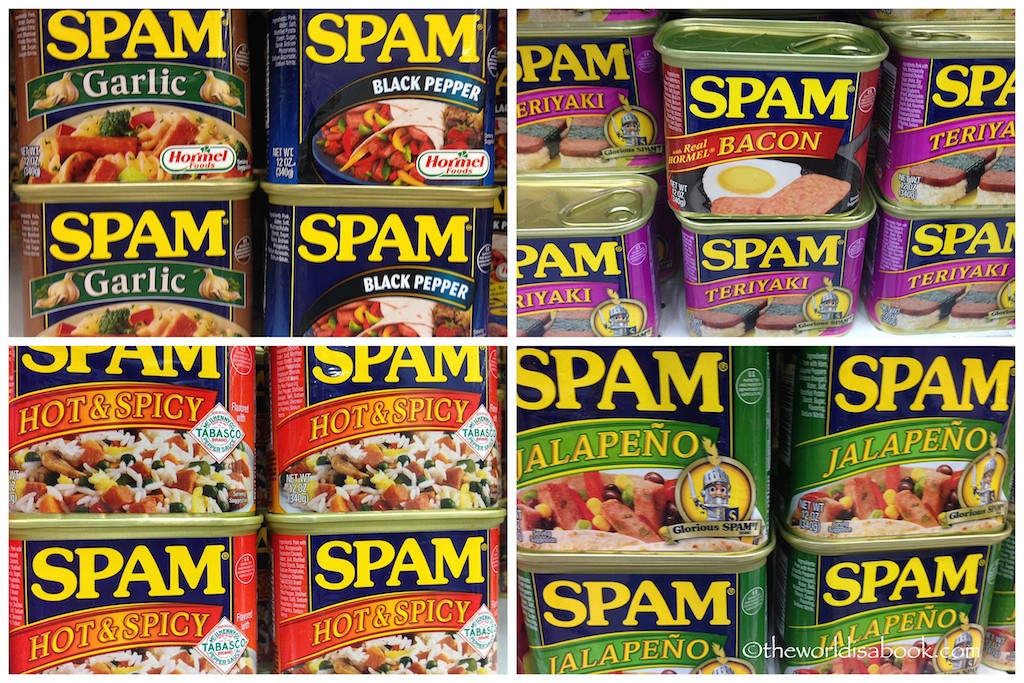 After seeing their uncle on a touristy carabao ride photo during his visit, my kids desperately wanted to ride these docile water buffalos in Guam. We eventually found one to ride on at the night market and were the first ones in line. For $3 per person, the kids rode a carabao around the parking lot that took less than five minutes. This was a memory and experience they will always treasure.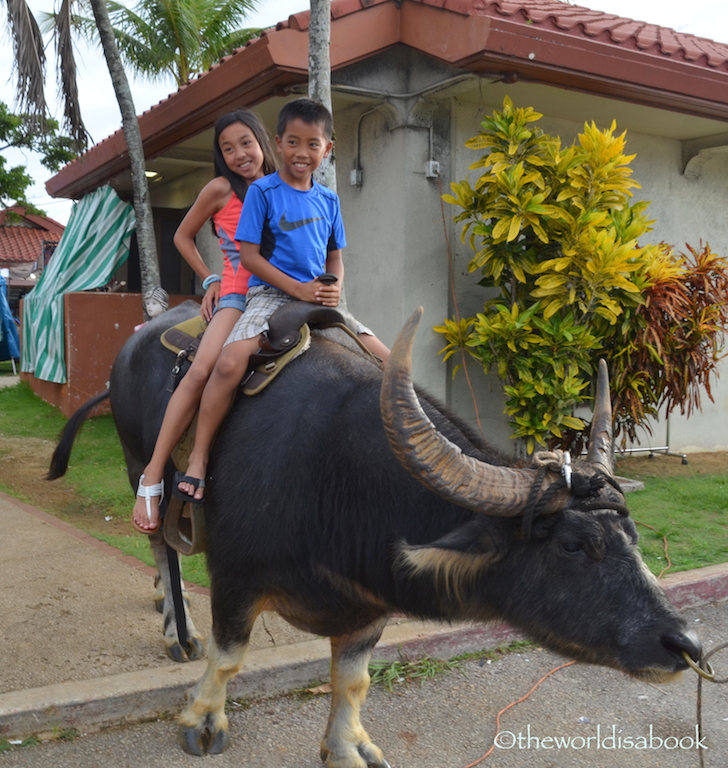 Carabaos have unofficially become Guam's mascot. We also found painted, fiberglass carabao statues all over the island. They deserve their own post and photo gallery in the future.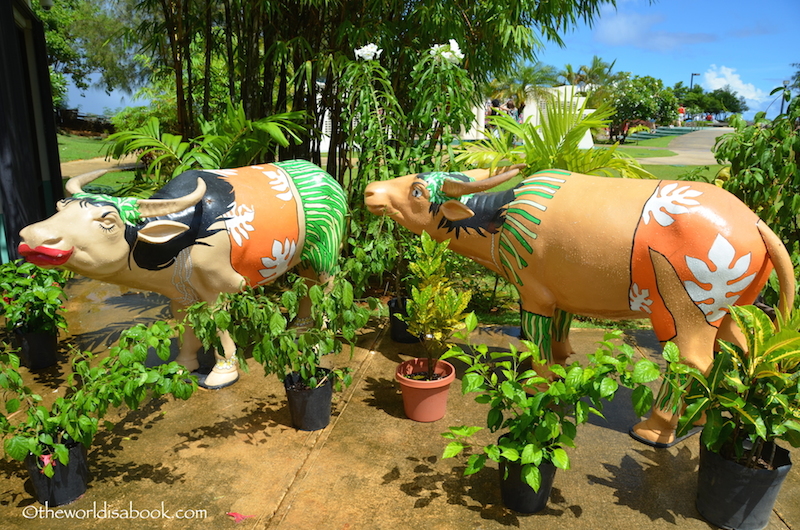 Many of my favorite Facebook postings from my family and friends who live in or visit Guam are the spectacular sunsets. In the beginning, I felt a little silly and sad not remembering seeing such dramatic displays growing up. I guess I had other priorities other than sunset viewing as a teenager. After being lucky enough to travel to many places since then and seeing my share of sunsets, I can say that Guam ranks right up there. We were greeted with this incredible sunset just a few hours after landing.

Everyday was another spellbinding display of colors.

One of my favorite memories was our family beachside dinner watching this sunset unfold before our eyes.
This trip made me realize that I took many things for granted growing up in Guam – the beaches, the natural, tropical beauty and those stunning sunsets. It was an incredible feeling to see and experience the island through the eyes of my children and share my childhood with them. There were so many more activities we didn't get to do and many more beaches yet to explore. One advantage of this short and sweet trip was that I've got my family on board for a return visit soon.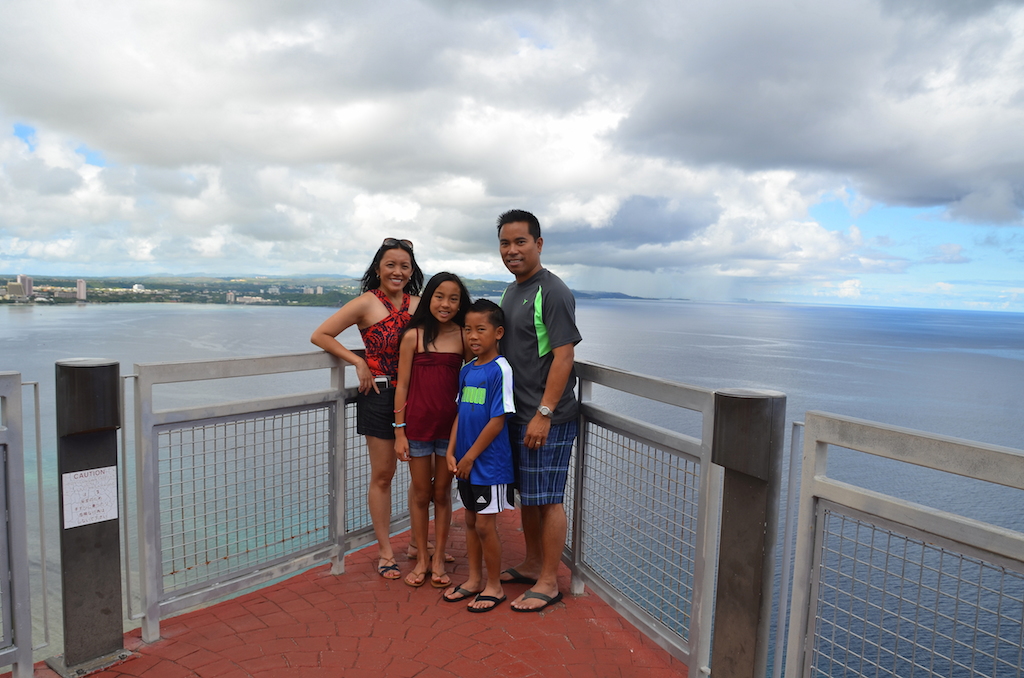 Guam isn't on many travelers' radar and many haven't even heard of it. I hope that sharing these pictures will inspire some of you to travel there (it's about a 4-hour flight from Japan) or at least, gave you a bit of insight the next time you hear about it. For my fellow islanders who left and haven't visited for awhile, I hope these photos invoked enough homesickness to start planning a return trip there soon.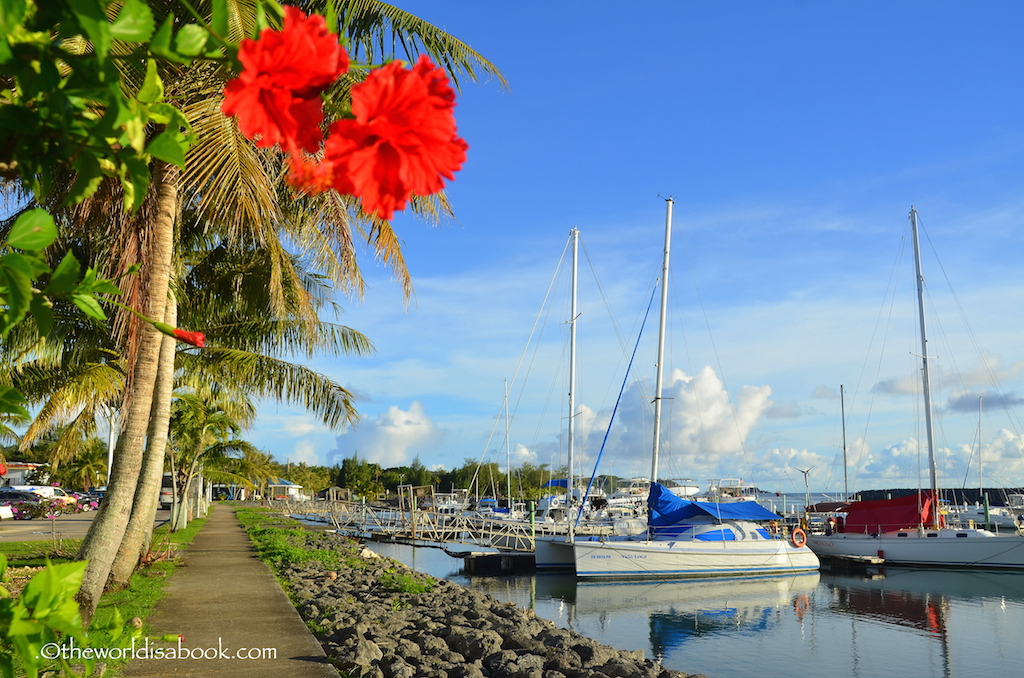 Have you been to Guam? Would you like to visit?
Check out these related posts: