Exploring Nagoya Castle in Japan
It may not be one of Japan's most visited cities but Nagoya boasts one of the country's prettiest castles. We were in Nagoya for a couple of days this past summer on our way to Guam. Nagoya was never on my cities to visit before but it was a convenient stopover in our complicated summer itinerary. I'm glad we got to visit Japan's fourth largest city briefly and Nagoya Castle (Nagoya-jo) with its rich history was a memorable attraction.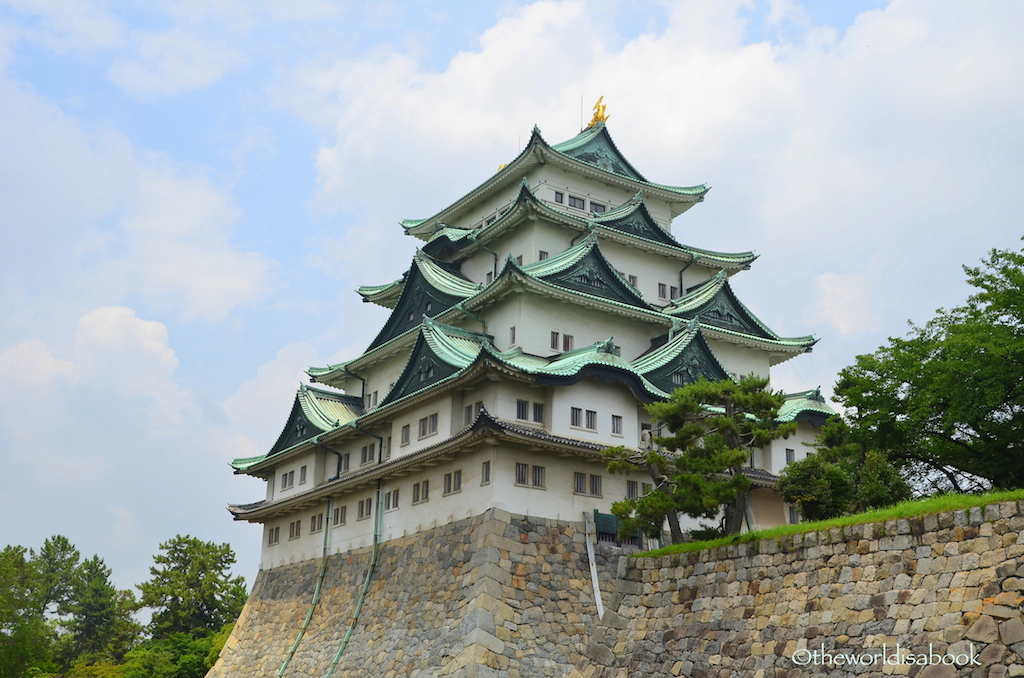 In order to get to the castle, one must pass through expansive grounds and gardens. Ninomaru Garden was a beautiful representation of a meticulously arranged and maintained Japanese landscape garden.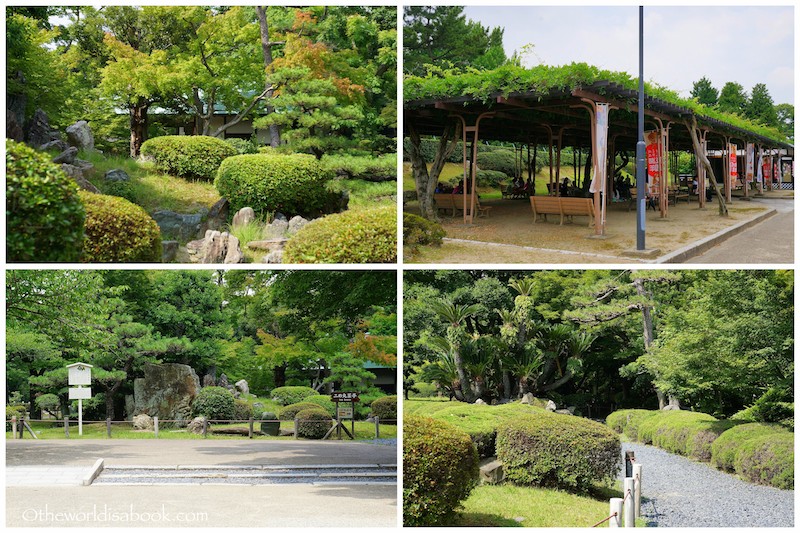 This was the Southeast Corner tower that sat on a stone wall. There were two others nearby (southwest and northwest) and these were considered the castle's important cultural assets. It was three-stories tall with a two-level roof that was near the east entrance we used.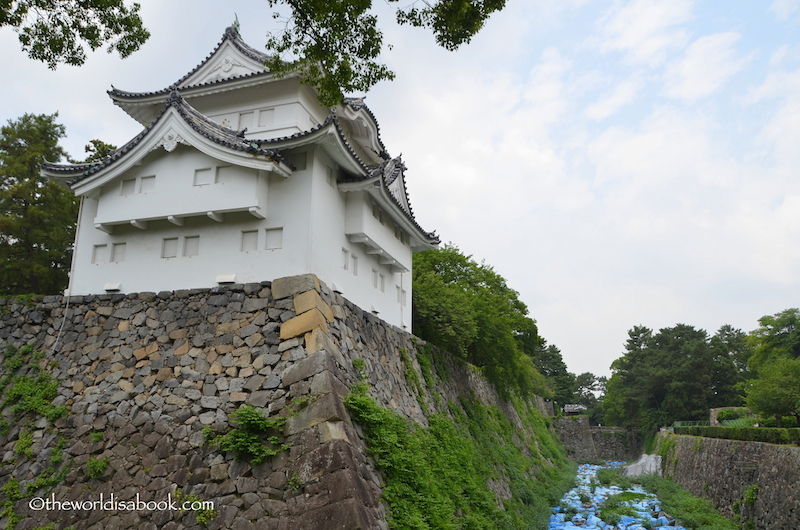 As we rounded the corner, we caught sight of a magnificent structure that looked like it was part of a fairytale scene. Perched on a stone wall was Nagoya Castle and looked very much like the how I would have envisioned an ancient castle in imperial Japan. Nagoya Castle was completed in 1612 for the Owari lineage of the ruling Tokugawa family as a residence and to protect it from other cities. Unfortunately, most of the buildings in the castle complex were burned down during the World War II air raids in 1945. The corner towers were some of the structures that weren't destroyed.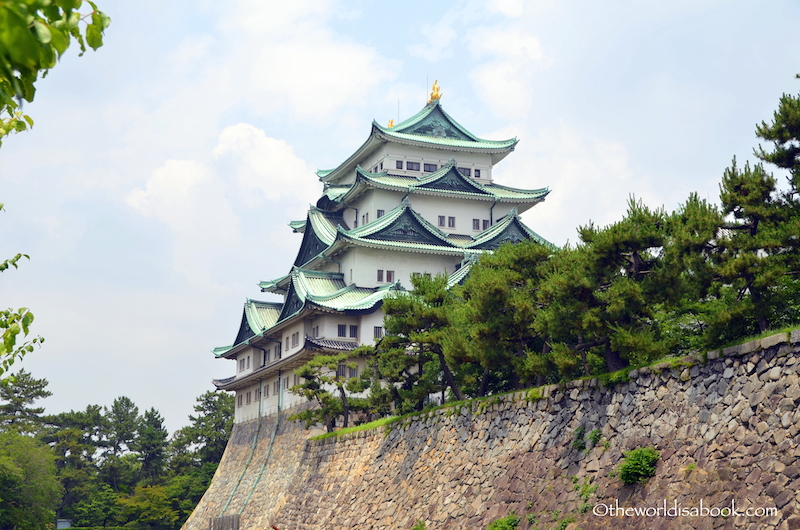 This current castle or donjon was a reconstruction completed in 1959 but was still impressive. It was about 64 feet (19.5 m) tall from the moat to the stone wall foundation. The 5-story structure was 110 feet (33.5 m) tall.  It is now a modern museum with various interesting exhibits on the castle's history.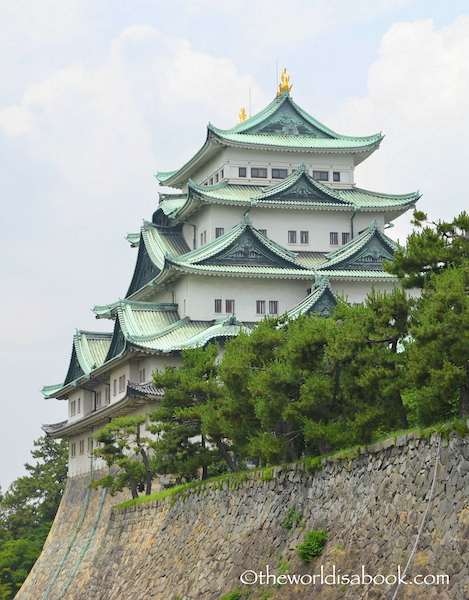 We passed by a scaffolding structure and learned this was a major project to rebuild the castle's Honmaru Goten Palace with traditional construction materials and techniques and based on original designs. Visitors are allowed to go inside the construction area and watch the reconstruction project everyday except Tuesday and Thursday. Unfortunately, we were here on a Thursday which was disappointing. Most of the rebuilt palace is expected to open in 2018.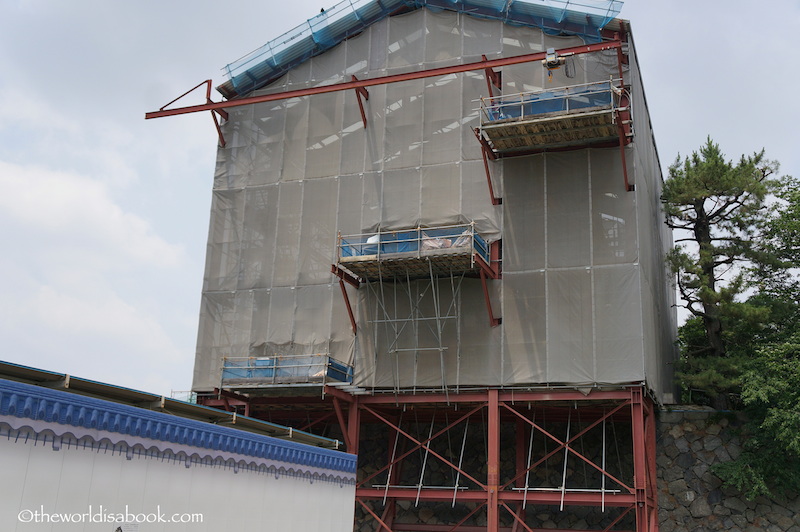 The back of the castle showed some tea houses. Visitors could enter for some tea and sweet treats. There were some other small structures and signs around the grounds but we didn't really know what they were since there were no signs.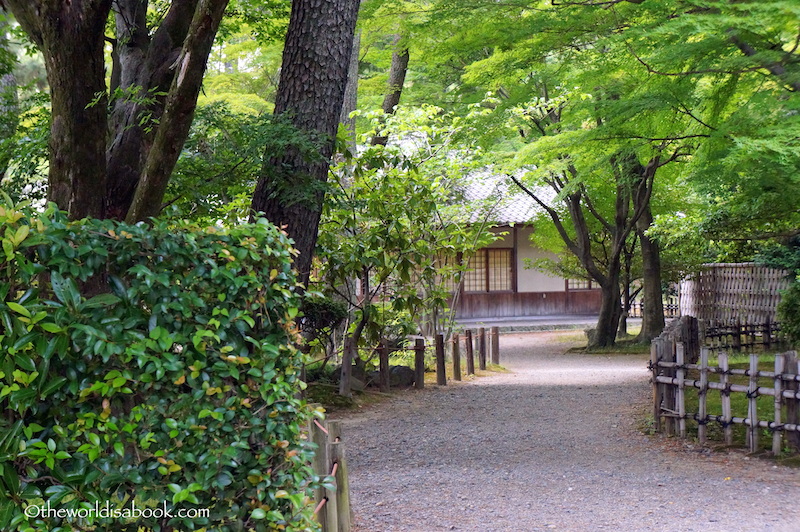 It was hard not to miss the two golden sea creatures on Nagoya Castle's rooftops representing a male and female. They were known as Kinshachi-jo where Kin means "gold" and shachi were mythical creatures. The shachis were believed to have the ability to summon water and prevent fires.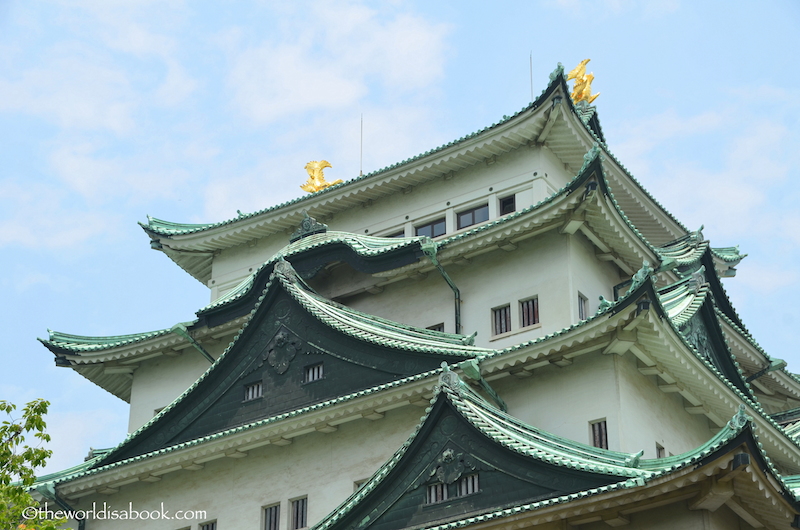 They were initially placed on top to show the Tokugawa family's wealth and power. These were also added during the reconstruction in 1959 and each weighed about 43 kg of gold. They have become part of the city's symbol.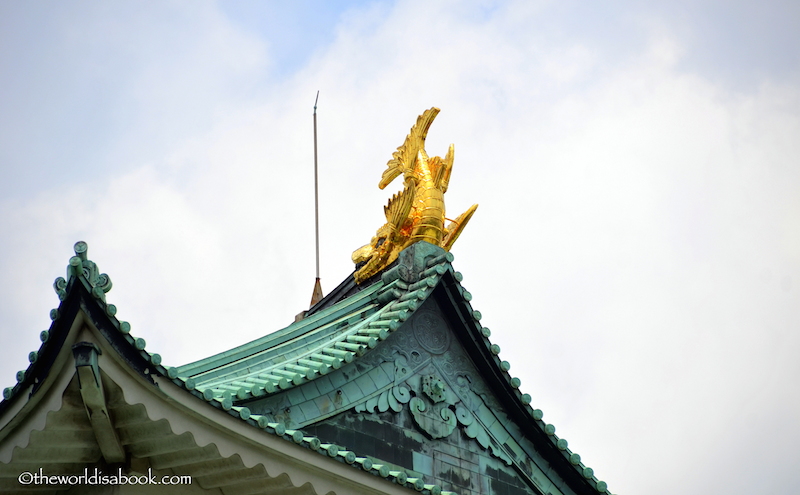 One of the unique features of the castle was its sloping walls. Since the castle was on a flat land,  wide moats and sloping walls were part of its defense mechanisms. A technique called fan sloping (ogi kobai) was used to create the walls. The wall's middle area was curved inward for balancing those large stones while the upper portion was curved outward in a fan shape.

We found Ofukemaru near the walls behind the castle. These stones were originally part of the original castle tower's foundation and were moved here during reconstruction in 1959. My kids, on the other hand, thought it provided a good foundation for hopscotch. It was one of the few shaded areas in the complex.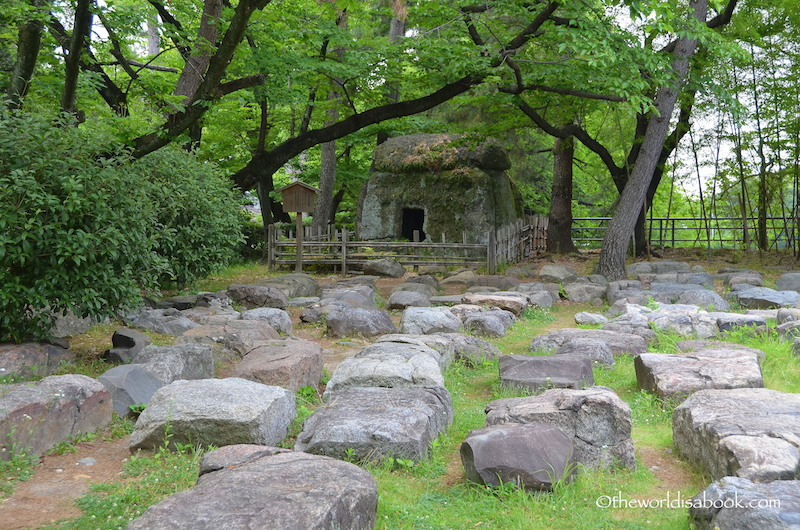 From this area, we got a good view of one of the wide moats that surrounded the castle.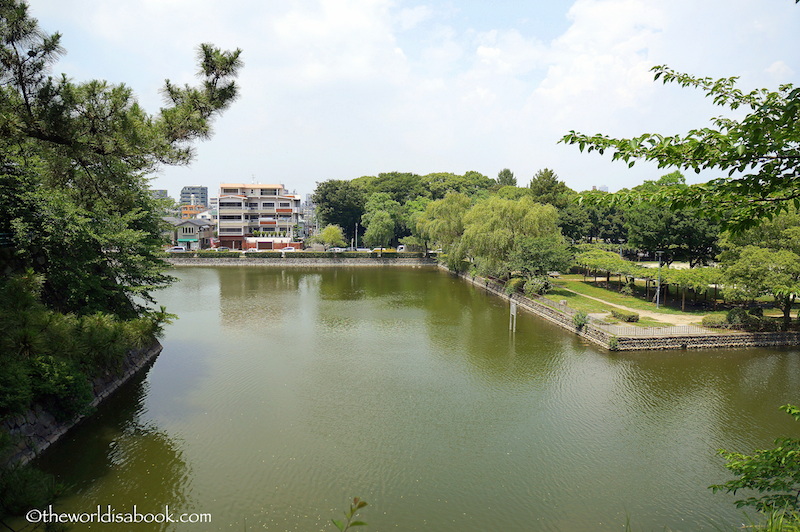 Towards the entrance of the museum and at the back of the castle was this modern staircase attached to the structure. I'm not exactly sure but it could have been built for emergency escapes.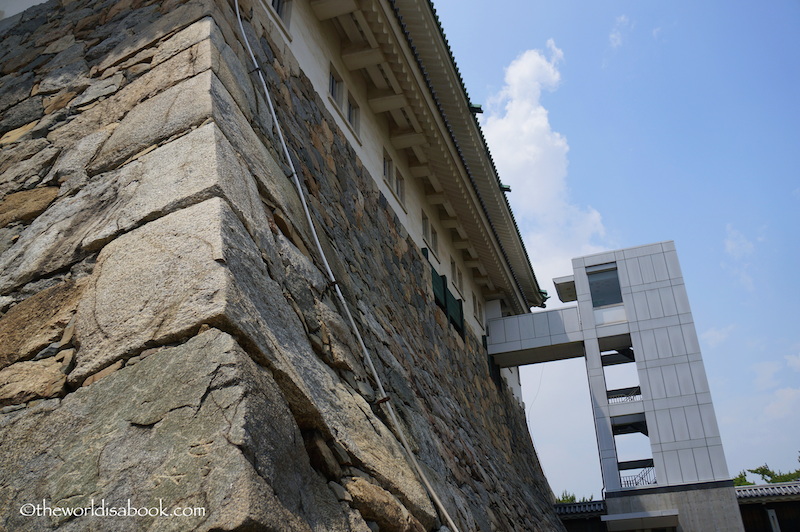 The Castle Interior
We entered the castle through this roofless passageway that gave a majestic view of the building and a closer look at the roof details.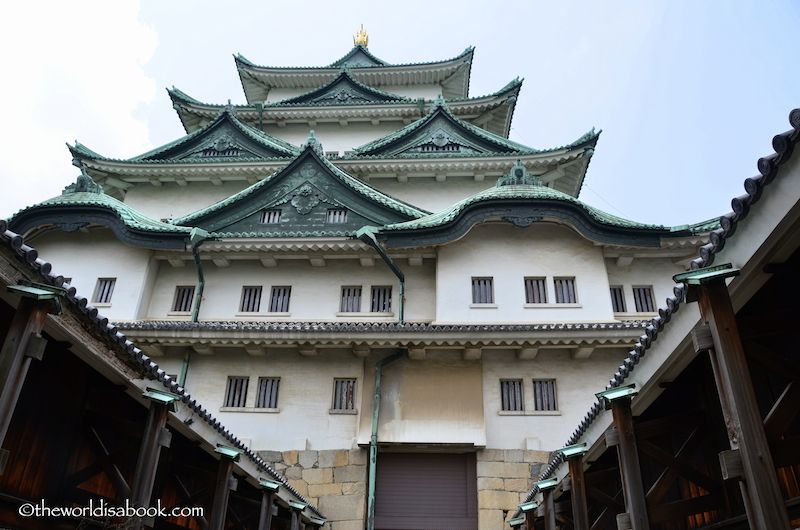 It's sometimes hard to engage kids inside historical museums especially in foreign countries. This was five floors plus a basement full of treasures and information. Nagoya Castle's museum did a wonderful job in keeping my kids and the myriad of other kids here on field trips occupied. There were armors, weapons and samurai related exhibits sure to fascinate many little boys and some men. My husband found it way more interesting than my son.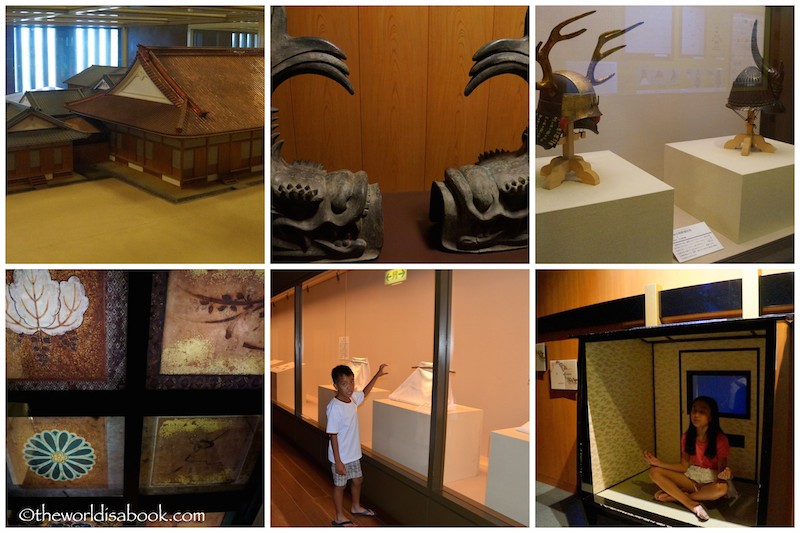 We found replicas of the Kinshachi-jo inside the museum too. It was great to see how it actually looked up close. I think it looked more like a giant fish instead of a dolphin. What does it look like to you? There was even a full-size version of the Golden Dolphin for kids to climb, sit and pose with.
We really liked the area that showed how the castle town and streets looked in the Edo period. It included some recreated shops and scenes of how the castle lord and the town people lived. It almost felt like we were transported back in time. There were tatami-floored rooms that showed where guests were received and where the castle lord ate including some of the meals he was served.  I found the kitchen room and the Honya bookstore very interesting.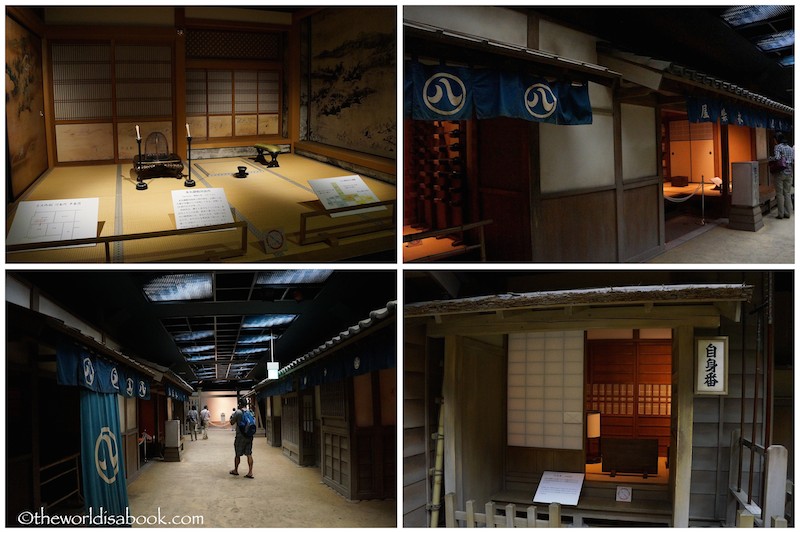 Many of the exhibits were laid out well. There were enough English signs that gave us an idea of the display and history of the pieces. Some of the art, paintings and unique fusuma-e (sliding door paintings) that were saved from the bombings were on display. Many more are being restored and will be on display when the Hommaru Palace is open. It's amazing to see how some of these survived considering the devastation this complex suffered.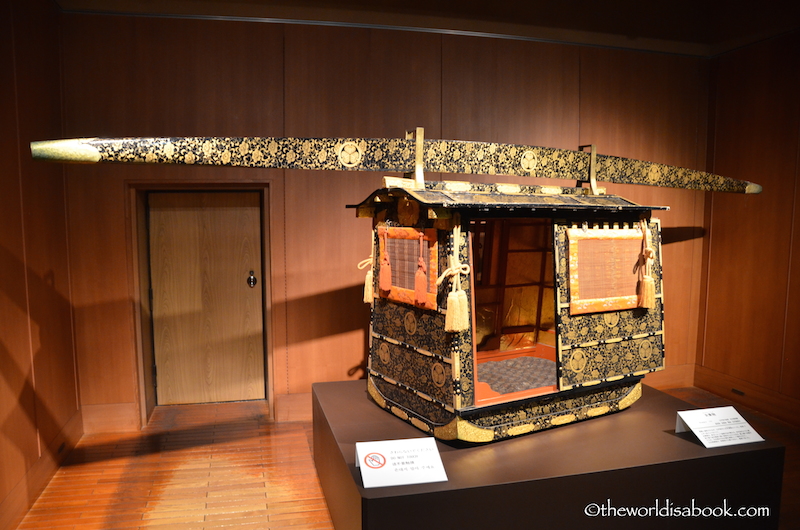 Many of the kids found this model of how the construction workers transported and moved stones that created the castle's stone walls very informative and interesting. Visitors could also try their hand in pulling ropes that were tied to stones as a way to experience how the stones were moved. A couple of the methods used were by using a rolling log path to haul stones or by pulling wooden sleds. It gave everyone an insight into what these workers endured and made us appreciate this castle's construction even more.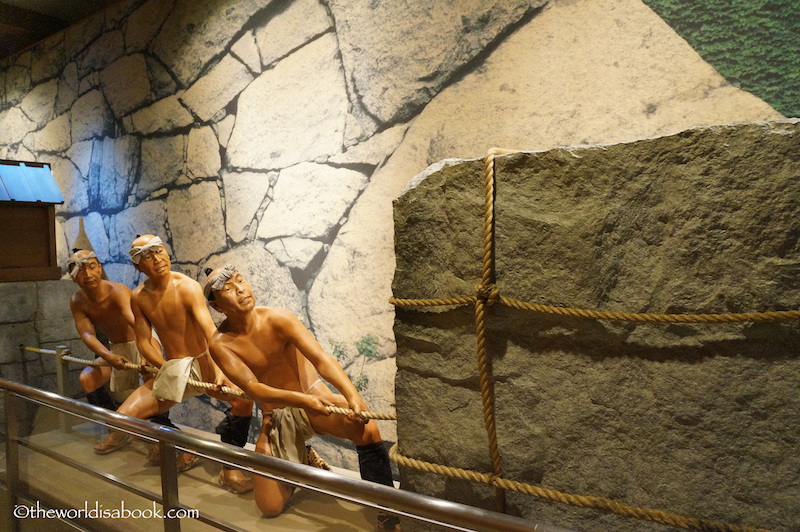 One of the best parts with climbing to the top of the castle and the observation deck were the panoramic views of downtown Nagoya. It was a bit hazy during the summer day but I'm sure one could see for miles on a clear, winter day. There was also a small shop here for some unique souvenirs and Japanese goodies.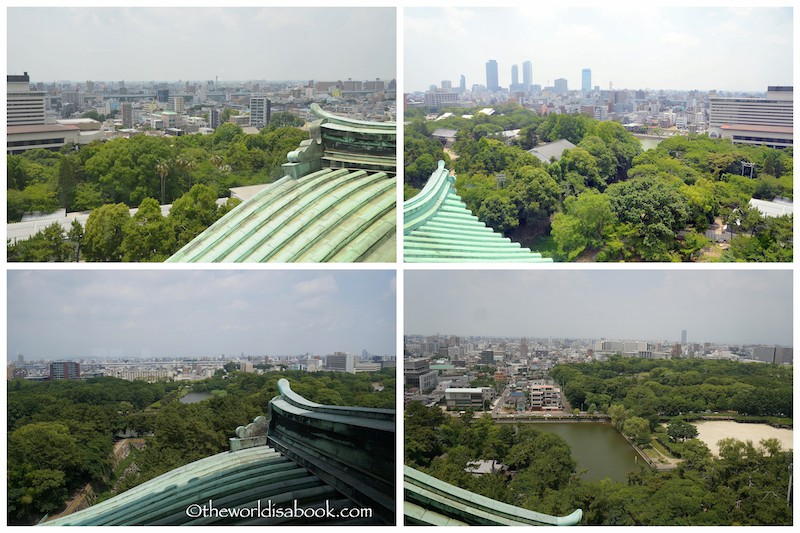 There were other things that made this visit memorable which included people watching and seeing some unique characters on the castle grounds. I always love seeing brides all over the world dressed in their traditional attire. We found this wedding party on a photo shoot. This was the closest we got to her without being obtrusive. It was hot and humid so it was so admirable to see them still smiling while wearing many layers of clothing.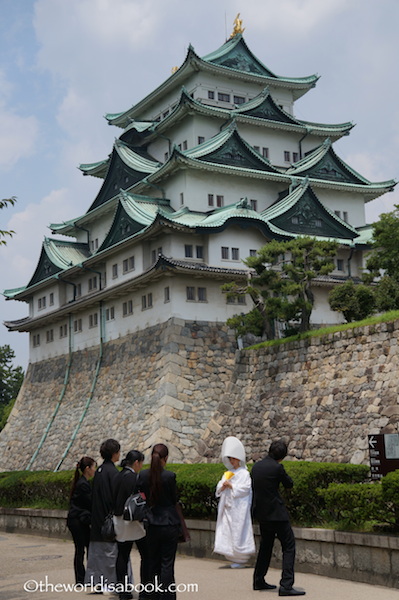 In keeping with the castle's golden dolphins mascot, we found these guys walking around and posing with visitors.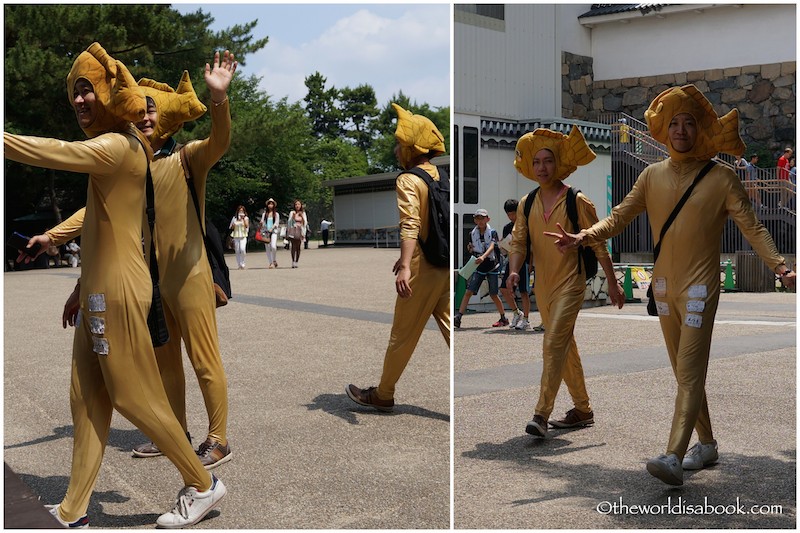 We also found these young ladies dressed in kimonos singing their hearts out near the exit. We didn't understand all of what they were saying but their little show was very entertaining.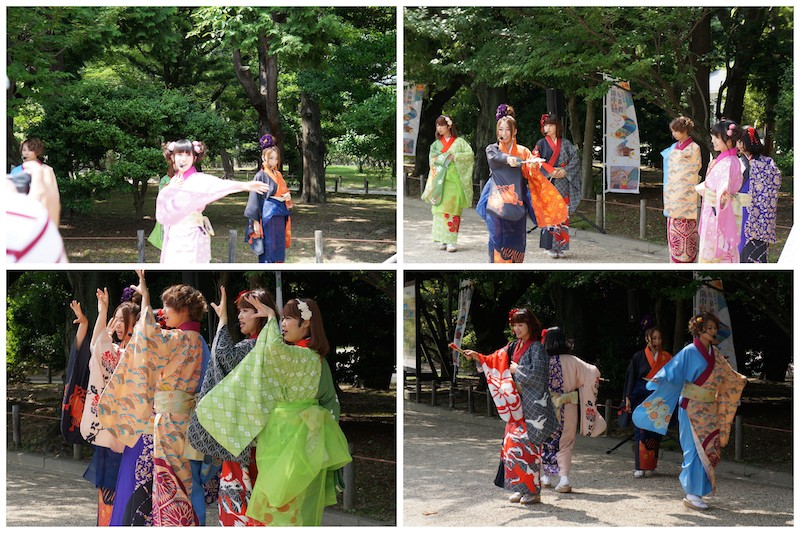 It only took us about three hours to visit and cover most of Nagoya Castle's grounds and museum. It may be a reconstuction but it gave us an insight into this city's unique history. We would love to return someday and see the completed palace and display of the castle's treasures.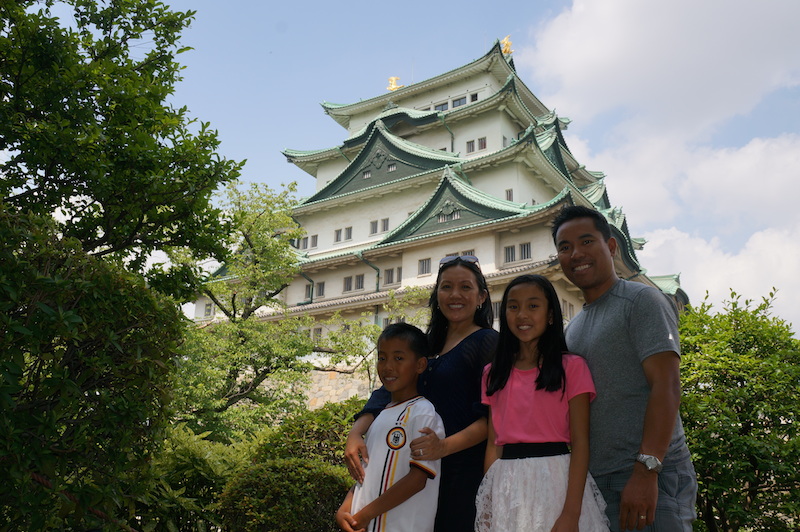 Visiting Nagoya Castle Tips and Basics
Getting There: These are various subway stops to get there depending on your location.

Get off at the "Shiyakusho (City Hall)" or M07 stop of the Meijo Line.
Get off at the "Sengencho" or T05 stop of the Tsurumai Line.

Prices: Adults 500 yen ($5 US); Kids 13 and under are free
Snacks including shaved ice and ice cream were for sale near the museum entrance. Seating under shade available.
Come here on days other than Tuesday or Thursday to see the Hommaru palace restoration project.
No food/drinks were allowed inside the castle
Have you visited Nagoya Castle or other Japanese castles?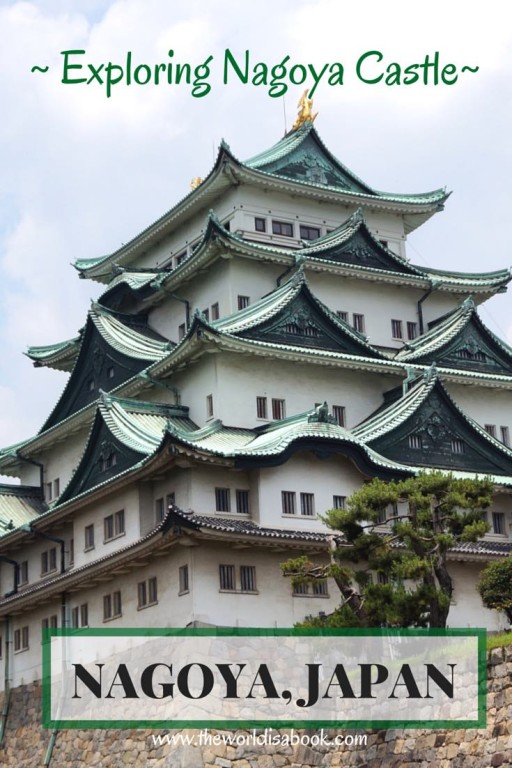 Check out these related posts: