Cliffside Viewing at Two Lovers Point Guam
Guam's most popular tourist attraction offers incredible panoramic views from a cliff in the northern part of the island. It overlooks the Philippine Sea, Tumon Bay and the tourist district where a majority of the hotels and resorts reside. It is also the site of an ancient and tragic legend of star-crossed lovers. This was one of the places I was excited to bring my family to during our visit last summer. I also feel like I have to preface every Guam post with a reference to this island introduction post if this is your first time here.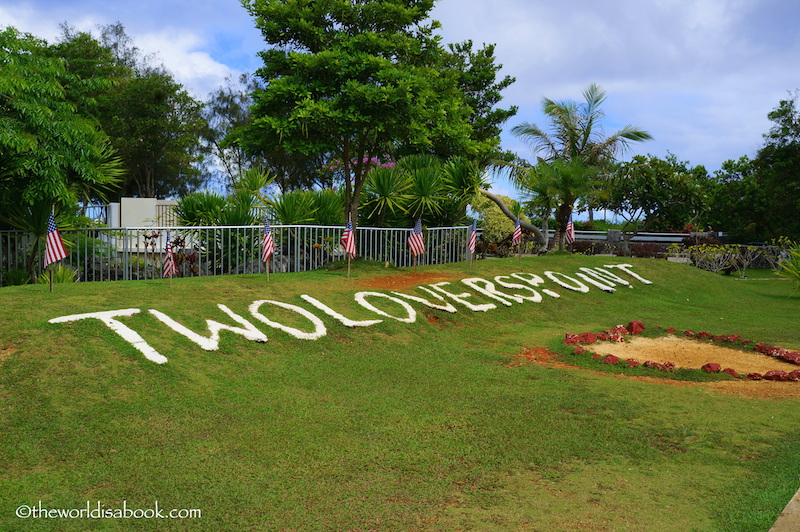 The legend began during the time Spain ruled Guam. The girl was the daughter of a rich Spanish aristocrat man and a Chamorro (Guam's indigenous people) woman whose father was also a village chief. Like many legends before her, she was described as beautiful, charming and her family's pride and joy. The girl's father decided to arrange for her to marry a Spanish captain against her will. As she walked along a beach, distraught and heartbroken, she met and fell in love with a young Chamorro warrior.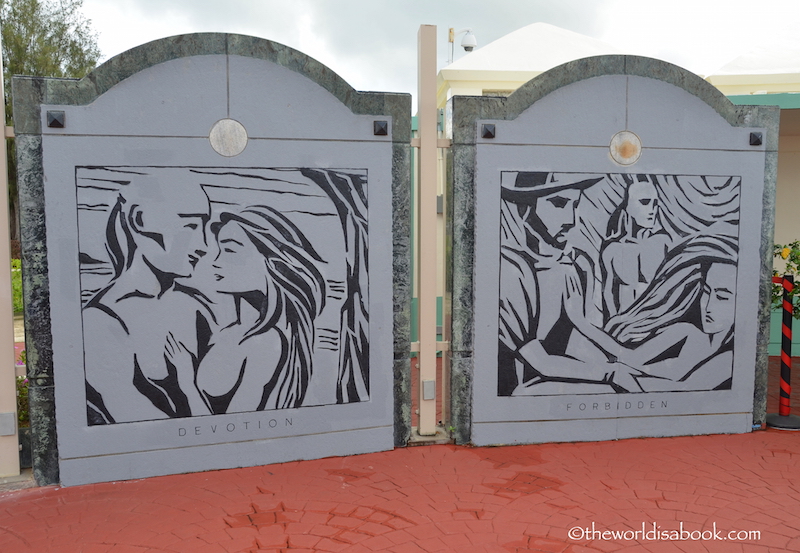 The father found out about his daughter's relationship and demanded for his daughter to marry the Spanish captain at once. Instead, she ran away to meet her lover. But, her father told the captain that she was kidnapped and the soldiers were sent to bring her back. Spanish soldiers, her father and the captain pursued them to this cliff. Feeling trapped between the ocean below and the approaching soldiers, the lovers decided to tie their hair together, kissed one last time and leapt to their deaths rather than be separated forever.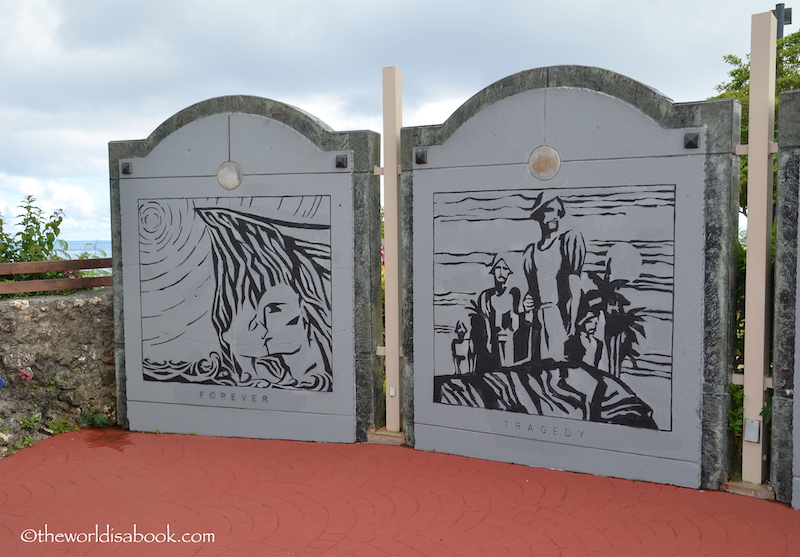 These two lovers became a symbol of true and eternal love – two souls together forever in life and death. The Chamorros also saw this devotion akin to their culture's resilience after surviving years colonized by the Spaniards, invaded by the Japanese and now as a United States territory. Thus, the two lovers have become one of Guam's most enduring symbols.There were these large, engraved storyboard slabs made of granite and marble that illustrated the legend with the words – Forbidden, Devotion, Despair, Tragedy, Forever.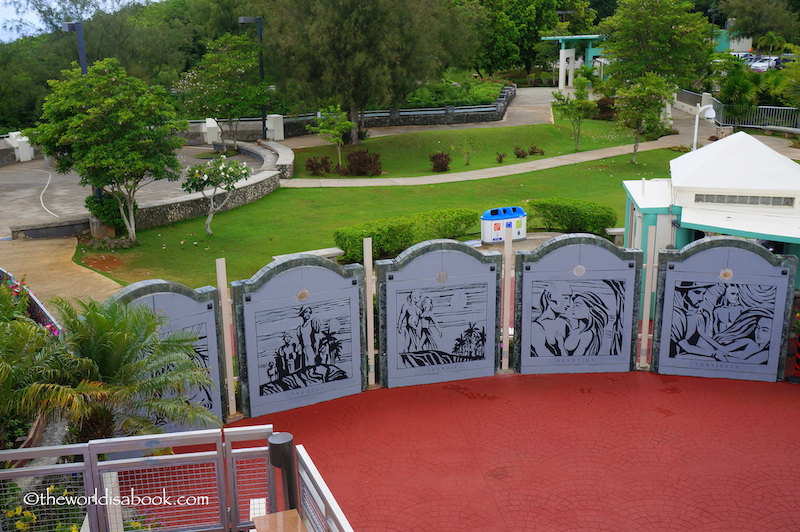 Hence, the name of this popular park and observation point. This star-crossed lovers' story has always been one of my favorite legends while I was growing up since it was our own version of Romeo and Juliet. While some may call the legend romantic, I've always found this story to be a bit depressing and such a tragedy.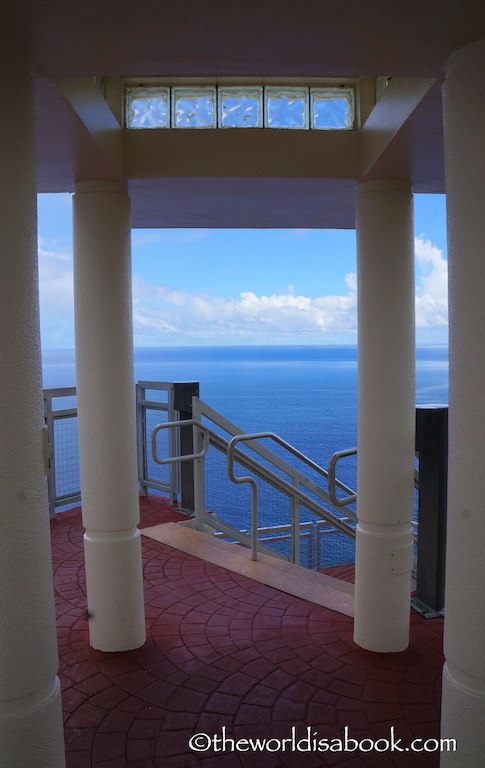 It's no surprise why this is a popular place for weddings and wedding party photo shoots. Love locks that have popped up worldwide on bridges were at this romantic attraction, of course. The locks can be purchased for $5 or if you want a foam Guam heart attached to write a message, that'll cost an extra $2.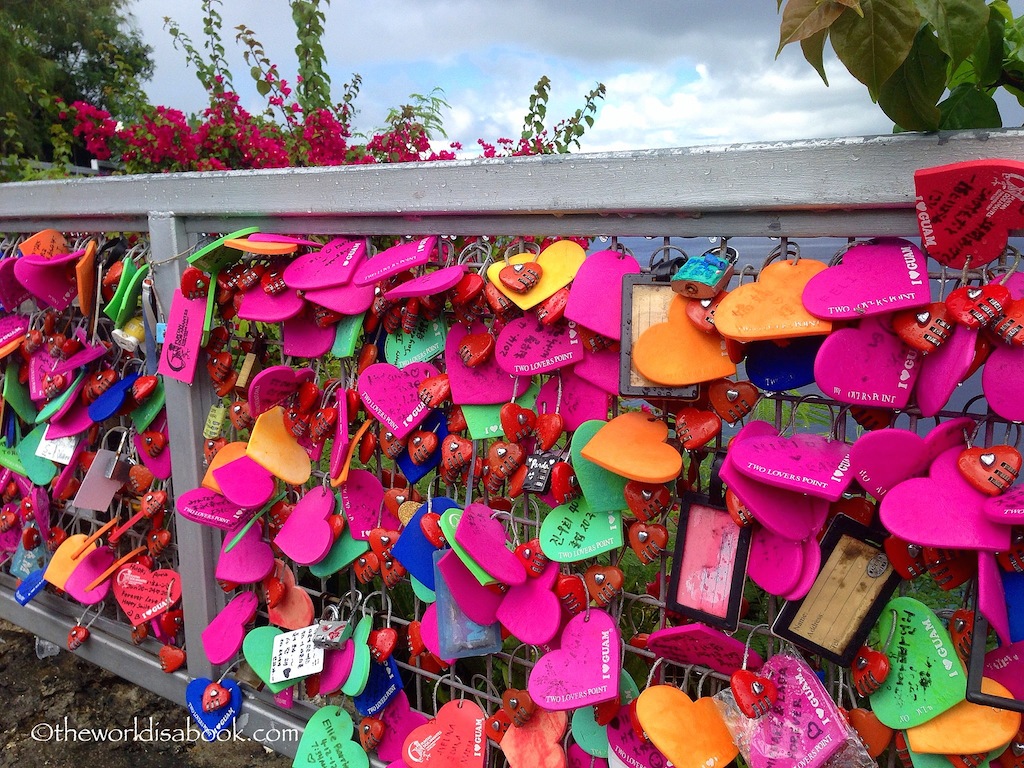 They were everywhere! Love locks were on rocks where they were left to symbolize people's love, devotion and vows. Many of them were in Japanese which is understandable since most of Guam's tourists are from Japan.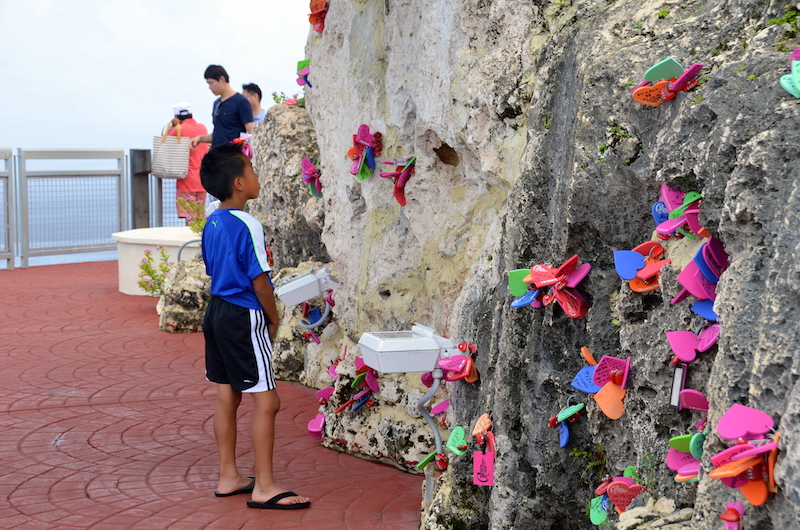 They were also hung on fences – some way more crowded than the others. I'm not sure if the keys were thrown into the ocean below. Aren't these some of the most colorful locks you've ever seen?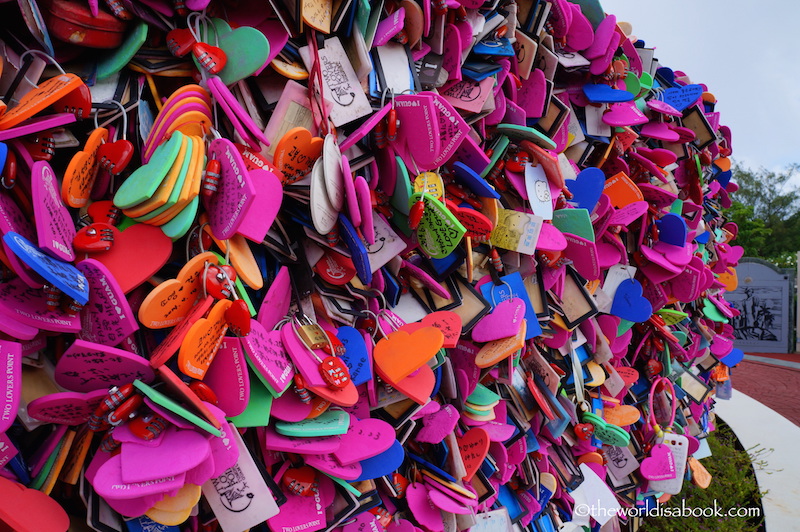 The major appeal to this attraction were the observation platforms that extend over the cliff.  This is the best place to see the fantastic views of the water below, the lush jungle nearby and the tourist district.

This isn't the place to go for anyone suffering from vertigo or with a fear of heights. The almost 400 feet (122 m) drop-off looked scary.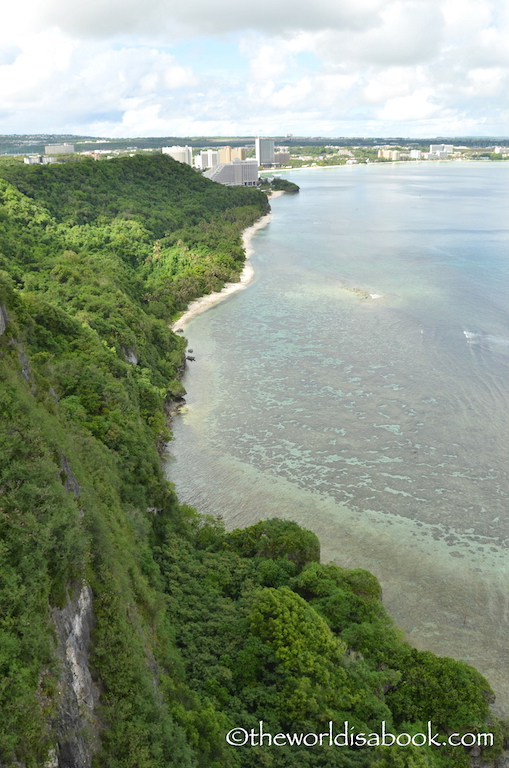 This has always been one of my favorite views on the island. I've seen the tourist district transformed from a few hotels to a strip of world-renowned resorts. It has definitely improved so much over the years.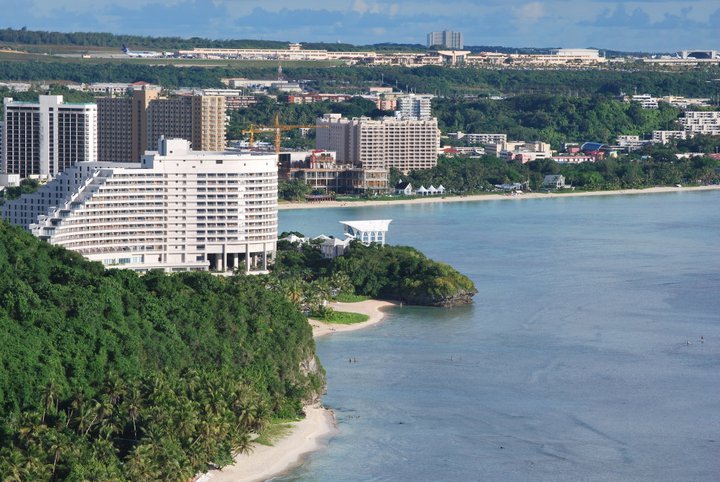 There was a $3 fee to go to the two-tiered overlooks. There were two flights of steps to the higher lookout pavilion which was more windy. I liked that the lower platform was wheelchair and stroller accessible so practically anyone can see the view. The rails overlooking the cliff were also kid-friendly which was great for nervous moms like me who travel with an active boy.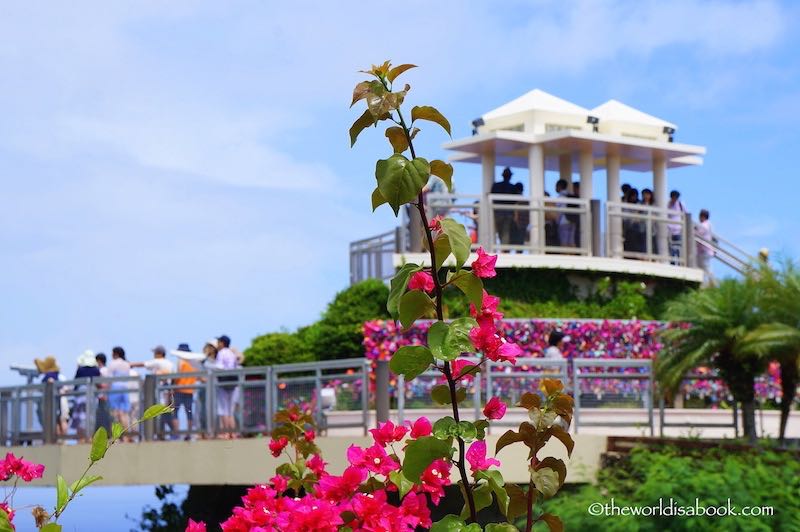 We were here on a weekday with some Japanese and Korean tourists. I can imagine the weekends would be even more crowded when busloads of tourists come here. But, the overlooks were wide enough for uncrowded spots to see the views and take pictures.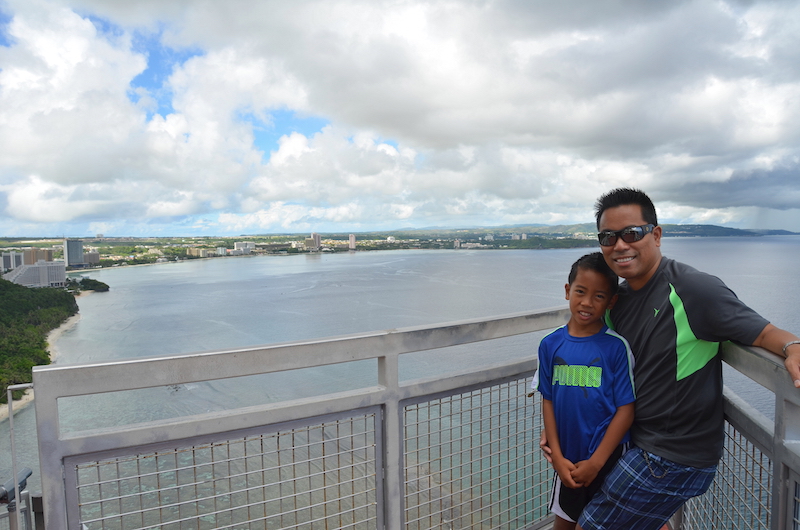 The lower platform also had telescopes for visitors to take a closer look at the coastline, water and activities along the beach. Sunset viewing is very popular here. Unfortunately, we never made it back here at dusk.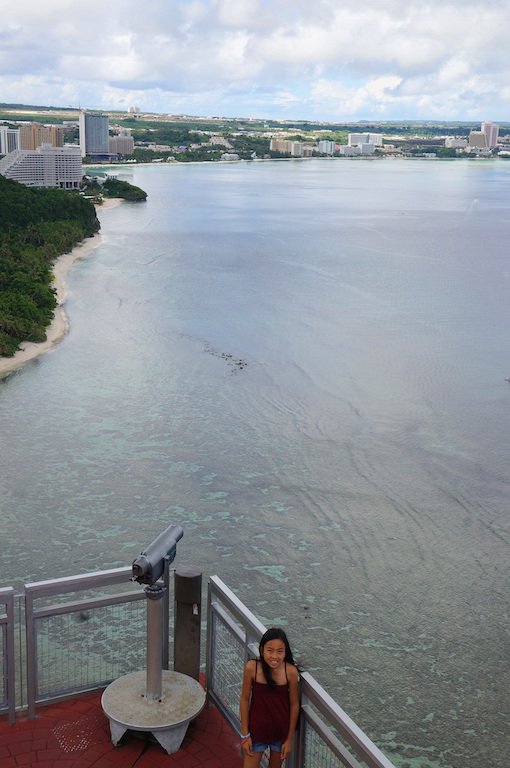 The park and tropical garden have souvenir and refreshment stands, picnic areas, pavilions, an art gallery and restrooms. Shaved ice, ice cream and coconuts with wasabi (a strange concoction we never got to try) were very popular refreshments here.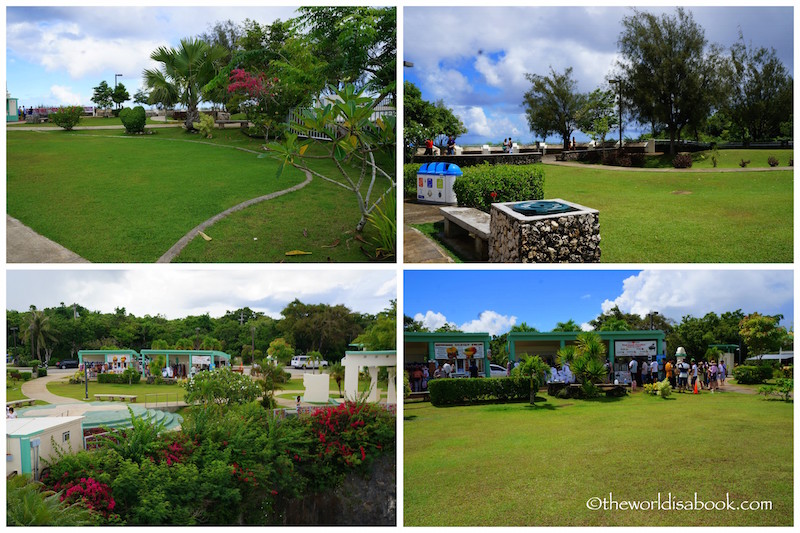 Since my last visit a few years ago, there have been some renovations and improvements to Two Lovers Point Park. It looks a bit more commercialized with the vendors, souvenir shops and fees but the stunning vistas haven't changed much. It's still a special and beautiful place filled with culture and romance.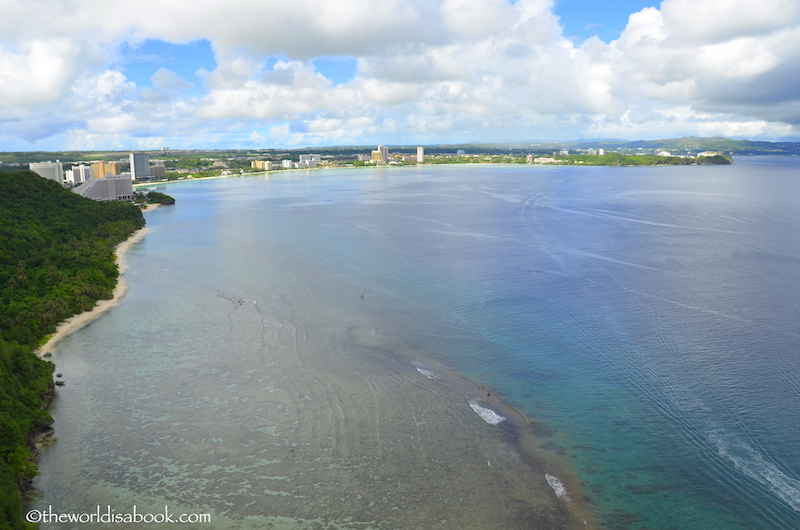 Visiting Two Lovers Point Basics and Tips
Park Admission: $3 per person (children 6 and under are free) for the two-tiered lookouts. $1 discount for military personnel and local residents. The rest of the grounds were free.
Two Lovers Point is open daily 8 a.m. to 8 p.m.
All day trolley services from tourist district and Micronesia Mall
Staff provide big umbrellas in case of downpour which happened when we were there.
No shaded places on the lookout so bring hats and sunglasses.
Have you visited Guam? What places have you visited that's rich in romance and culture?
Check out these related posts: