Walking Through Higashiyama District Kyoto
Kyoto was once the ancient capital of Japan with a 1200 year history. The Higashiyama District is one of Kyoto's best-preserved areas located on its eastern edge. It holds some of the city's important and popular temples and shrines. But, many people also come here to experience the streets and local culture and especially the district's two-kilometer (1.2 mile) path filled with history and charm. Stroll with us and see the little surprises along the way.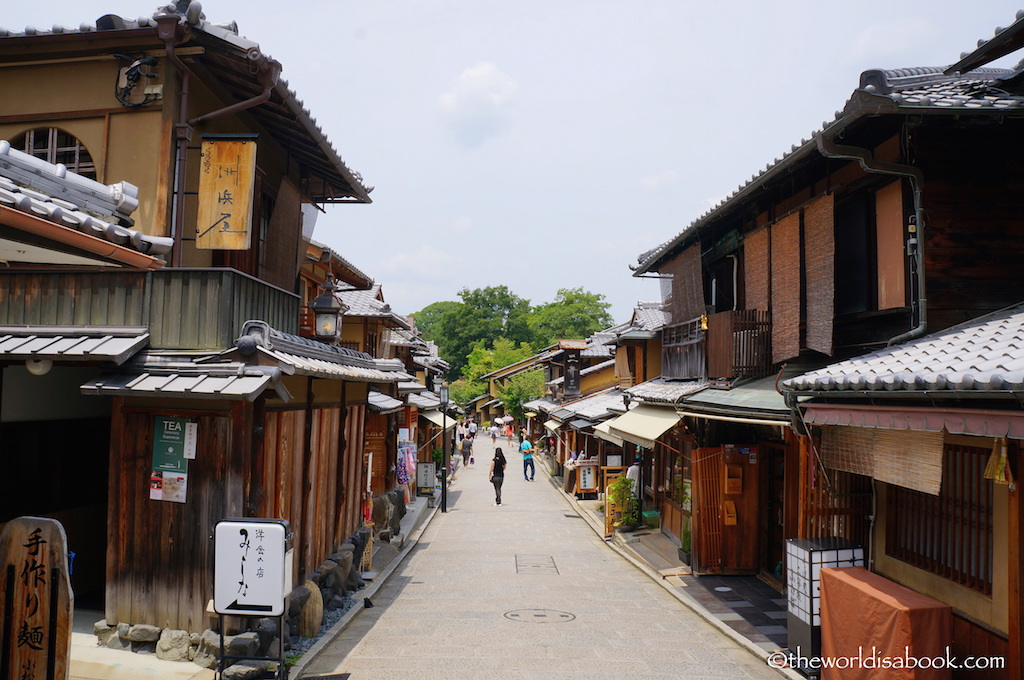 We had an all-day bus pass which is probably the best way to get around Kyoto in addition to walking. After our visit to the Golden Pavilion, our walk through the Higashiyama District started at Yasaka Shrine. The main hall was one of the main attractions here filled with many hanging lanterns bearing the name of businesses that have donated.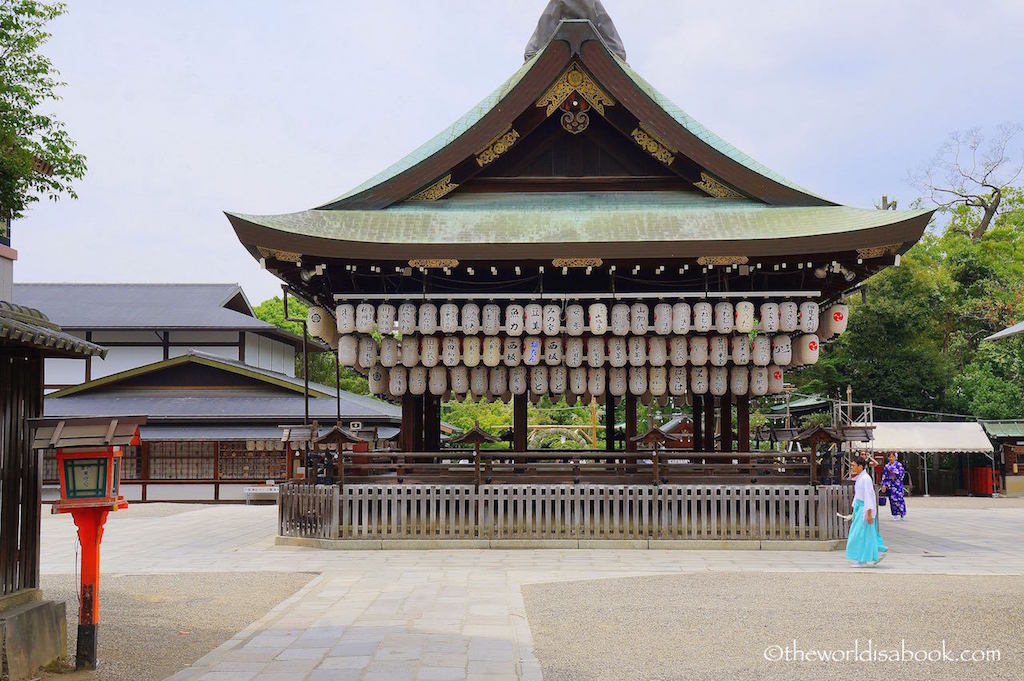 We walked through the narrow stone-paved paths flanked on both sides by old wooden buildings. Many of them were old houses (machiya) built in traditional architectural style from the late 19th to early 20th century. During the mid-14th century, this area became the center of many of Kyoto's temples, shrines and villas.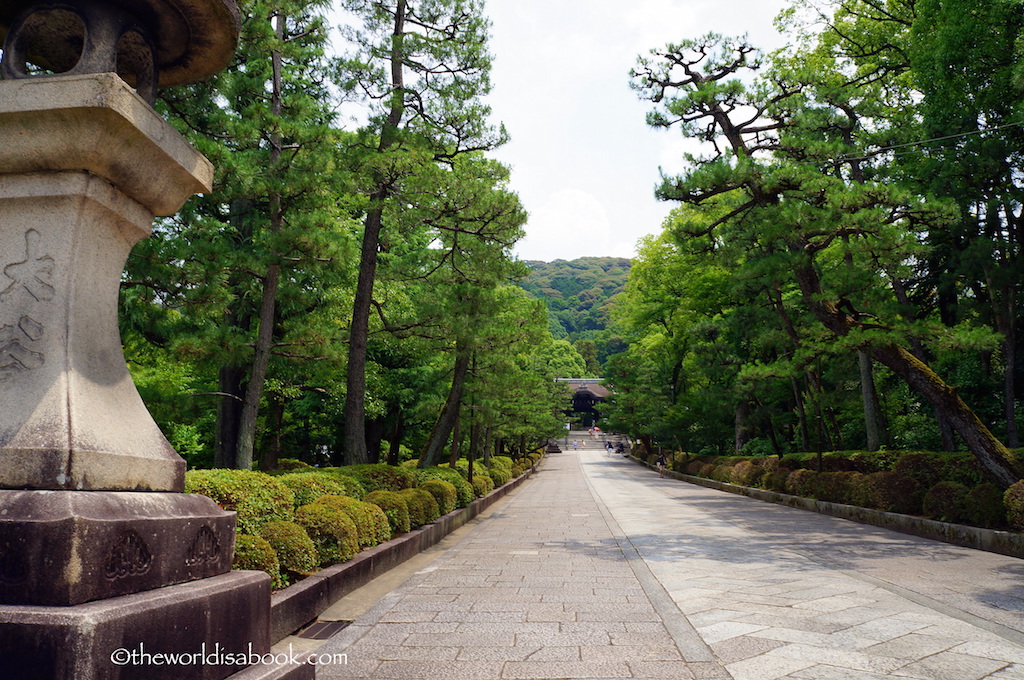 The Higashiyama district is one of Kyoto's 11 districts and was formed in 1929. This area has been designated as an "Important Preservation District for Groups of Historic Buildings". The locals have made great efforts to preserve this historical area and invoke that traditional feel including recently removing telephone lines. We felt like we were transported back in time to old Kyoto.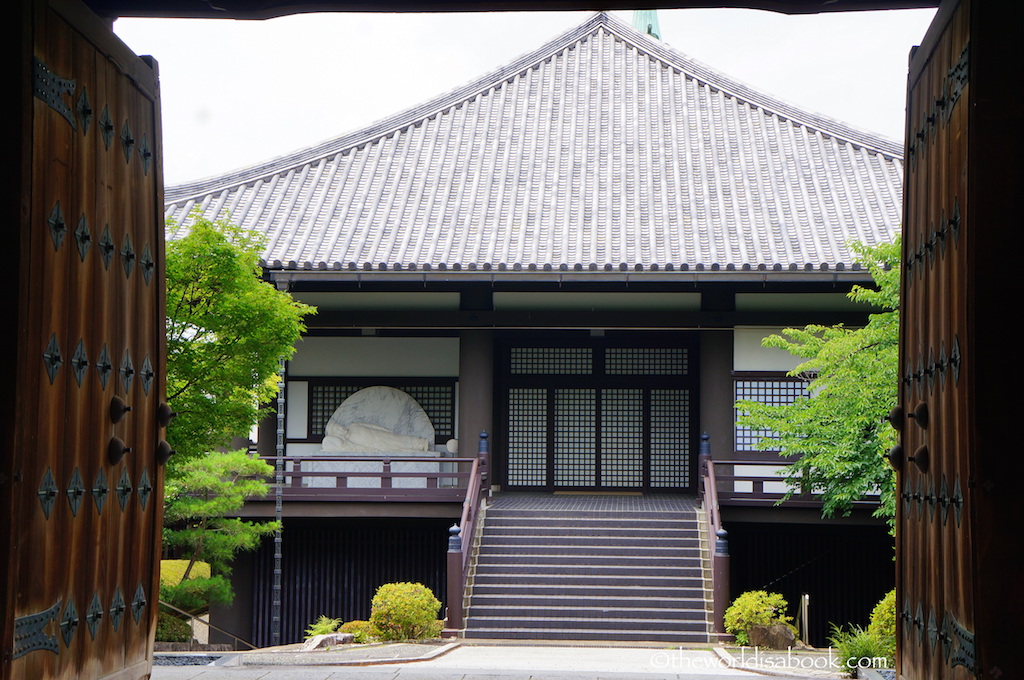 At times, we were one of the few walking on some outlying street during our Thursday summer visit. There was such a tranquil atmosphere walking through here.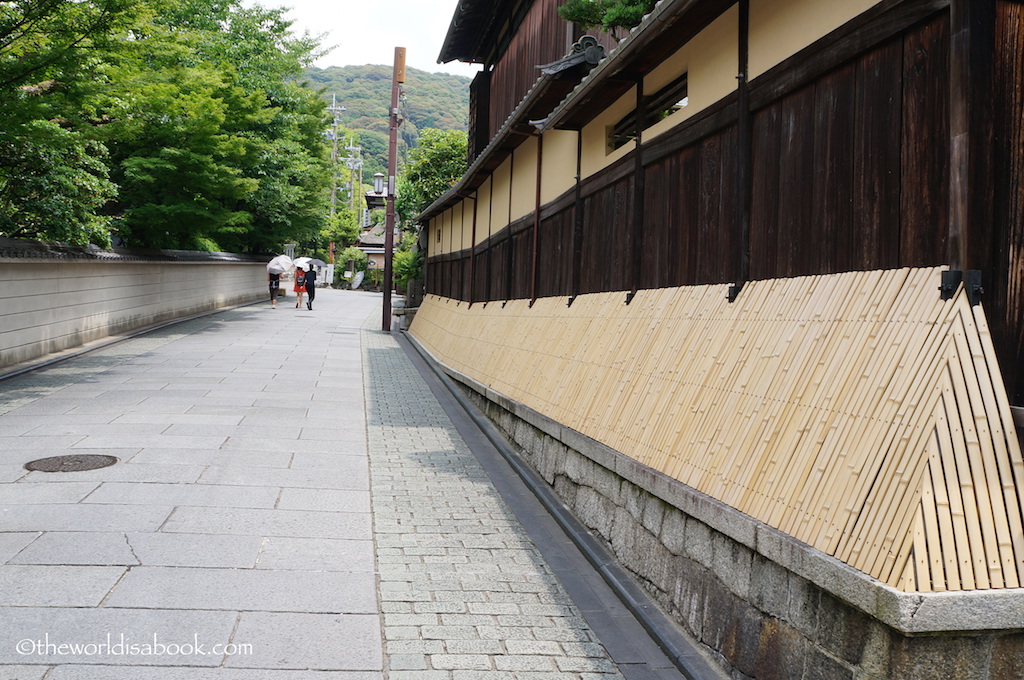 Residences, ryokan (Japanese-style inns), shops, cafes and restaurants occupied many of the wooden buildings. The businesses have been here for centuries retaining their exterior appearance and catered to the tourists and pilgrims who made treks to the temples and shrines.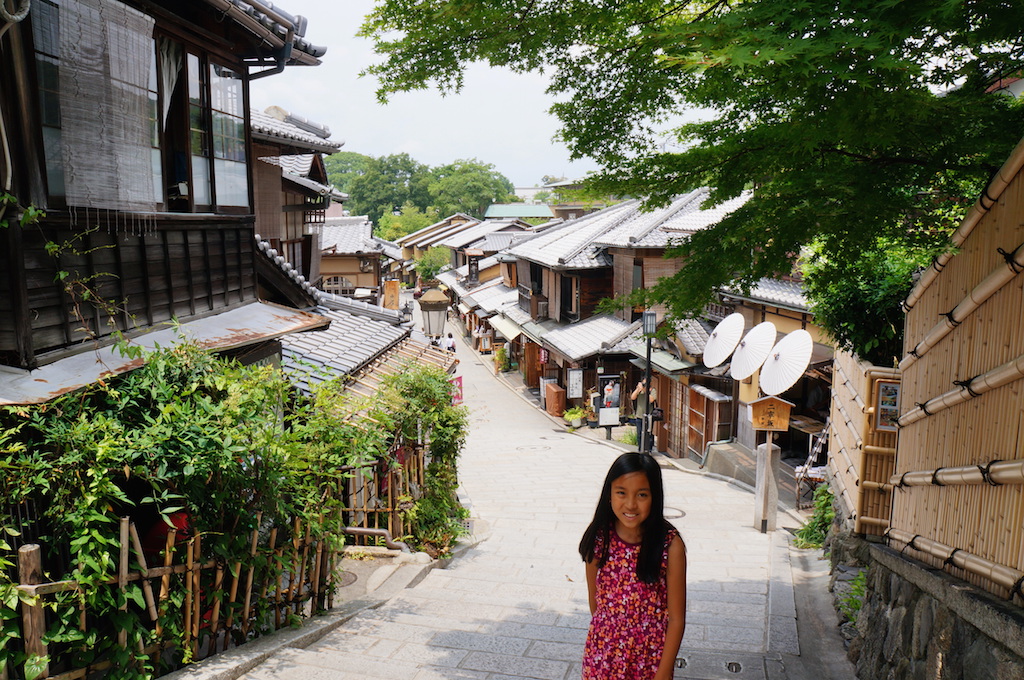 The two historic streets were known as Ninen-zaka and Sannen-zaka with steep stairs anchoring them. It's pedestrianized which made it a lovely area to shop and stroll. Many of the shops were selling unique souvenirs, traditional crafts and food. They're not very wide streets so it does get very crowded during festivals and especially during cherry blossom season.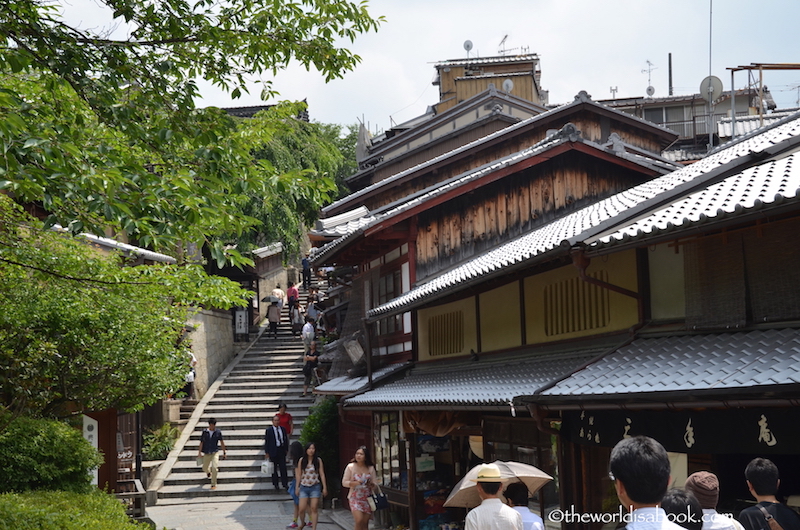 We found one of these stalls selling bottles of flavored green tea. Care for green tea with coconut milk? My son was practicing his Japanese here. Actually, he only knew how to say please and thank you and all he really wanted was some ice cream. Apparently, there was no lack of communication because he got his ice cream with no issues.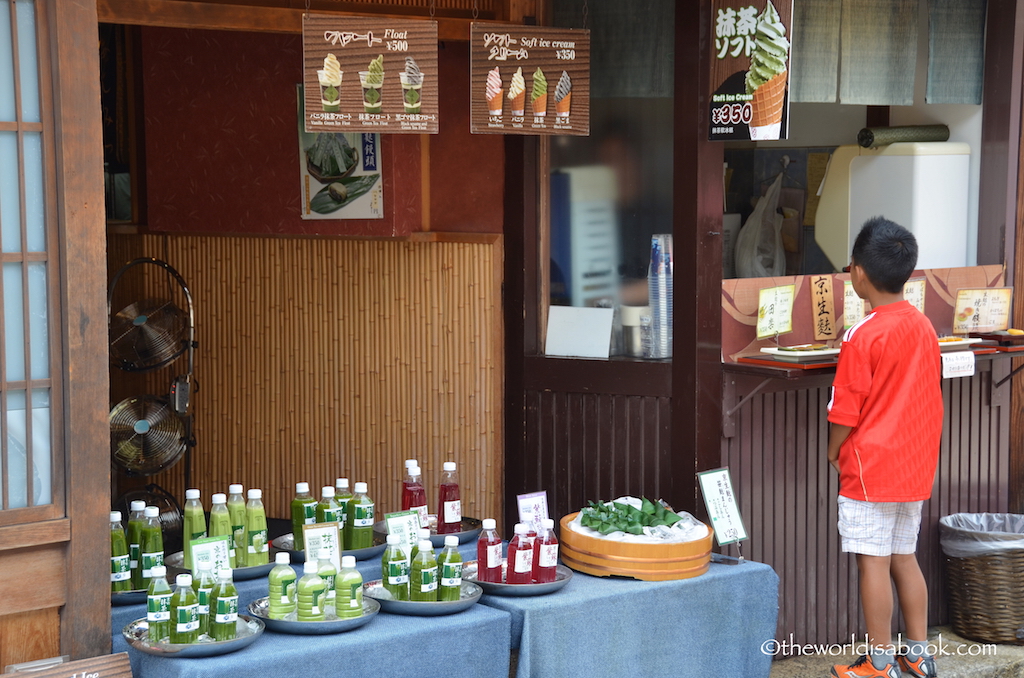 There were many choices for eating in the area. We ate at one of the restaurants near the Ninenzaka slope only because we were hungry and it was one of the first ones we saw. It was a restaurant that seemed to cater more to tourists but the food was quite good including all the soba noodles.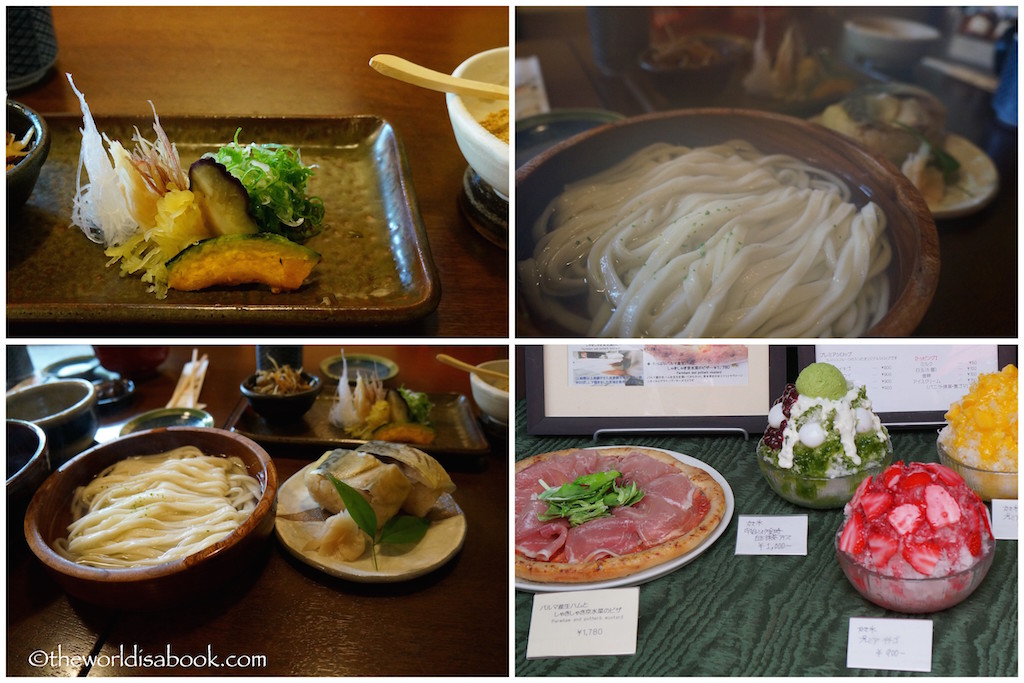 It was such a nice and pleasant walk through these quaint streets and hidden alleys never knowing what was in store for us. My kids were so excited to find these Studio Ghibli characters nearby. Totoro and Kiki (the cat) have been a part of my kids' lives since they were younger and one of the reasons we loved our visit to Studio Ghibli Museum near Tokyo a few years ago.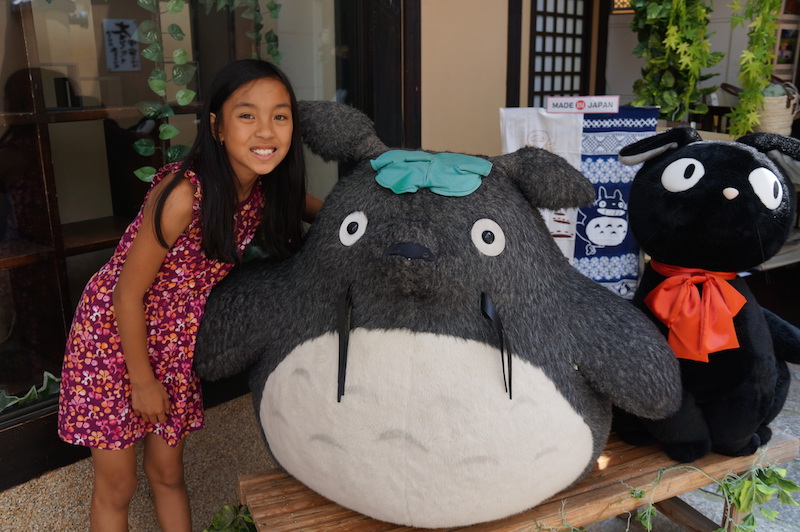 Vending machines are ubiquitous in Japan and even the historic district had quite a few. These beverages were very much welcomed during our uphill walk in the heat.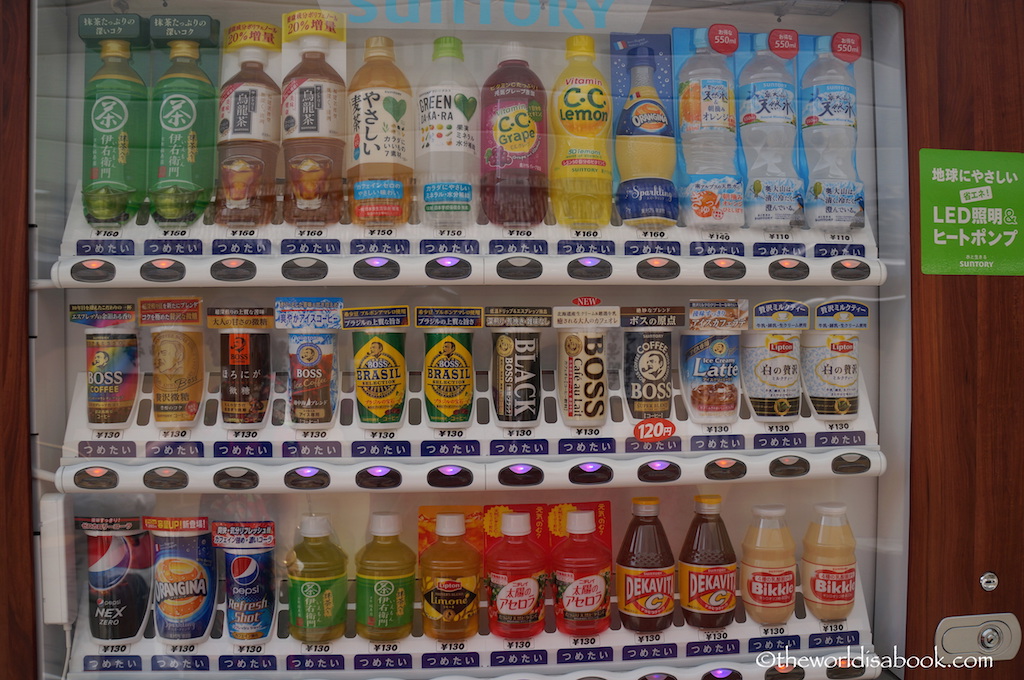 Cat souvenirs, anyone? These cat statues are almost as common as vending machines. Known as the "beckoning cat"or maneki-neko, these figurines are considered lucky charms, especially for businesses and homes, and make for great souvenirs. Some have also attributed the cat as the incarnation of the deity, Goddess of Mercy, who keeps watch over people. Japan is possibly the best place to souvenir shop if you're a cat lover.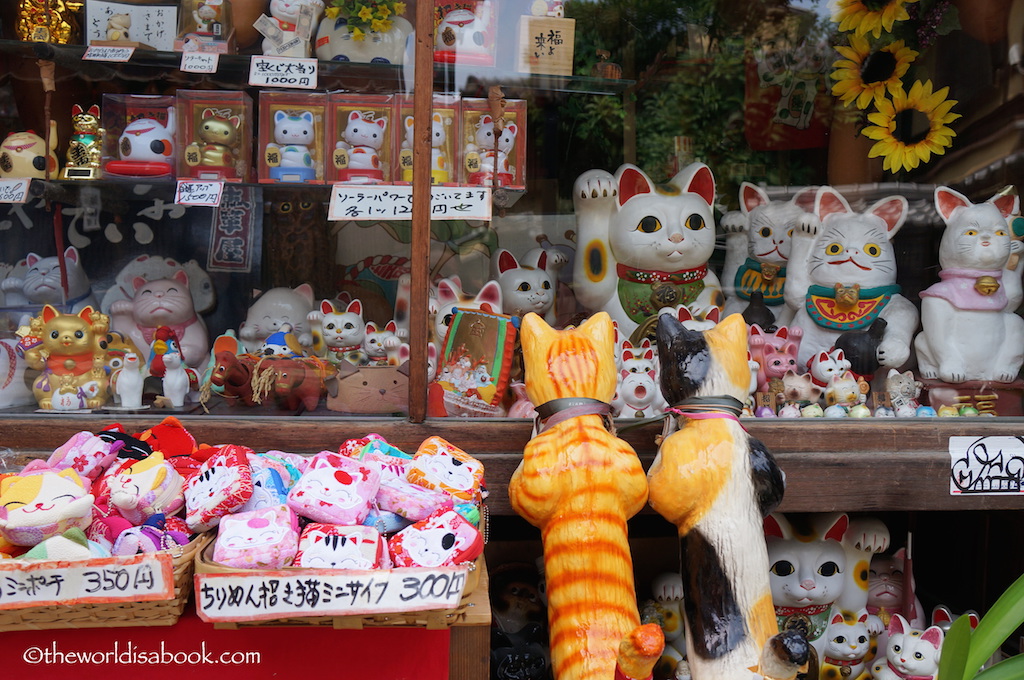 We found many of these roadside Buddhist statues tucked in street corners. They were various deities and represented prosperity, good fortune and good health. The signs with each statue showed us who they were. The statues needed to be touched with the right hand or both hands or touch the pedestals of taller statues. Finding these statues entertained my kids. My kids loved spotting these and followed the instructions religiously. With the number of statues we've rubbed for good fortune, we're hoping to win the lottery soon.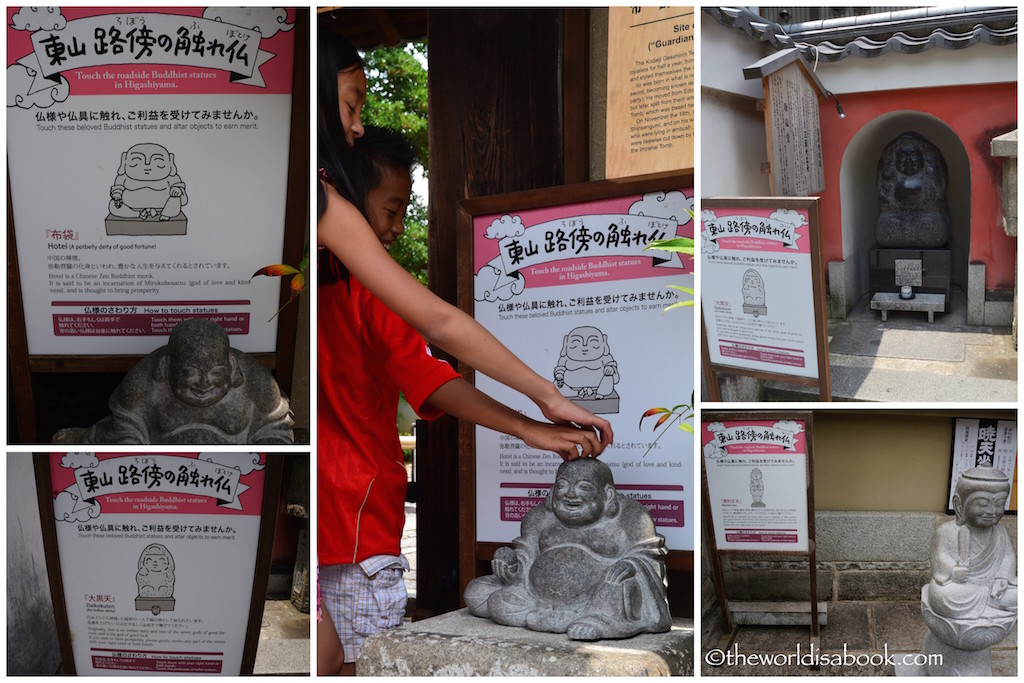 Rickshaws were found throughout this area to transport guests through the sloping streets. We found this lone rickshaw guy and admired his perseverance through that heat and humidity. That rickshaw looked massive and I can't even begin to imagine the strength necessary to carry it with passengers.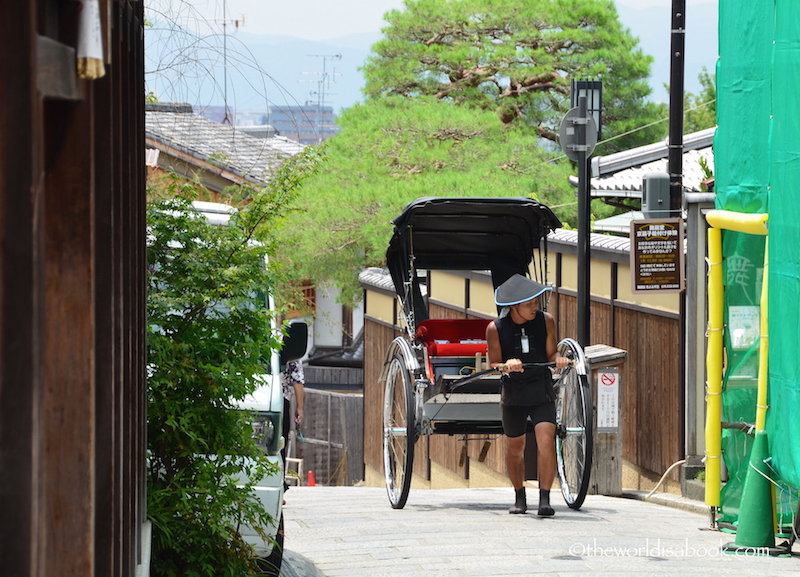 We saw quite a few women and girls dressed in their traditional attire on their way to the temples. Many of them were wearing the yukata which is made of cotton and worn during the summer months instead of the silky kimonos. I loved seeing their colorful outfits. We even spotted one girl who was dressed up as a geisha with a photographer. Visitors can go into some Kyoto shops and have a geisha makeover, walk the streets and have their photos taken. We were short on time so becoming a geisha for a few hours would have to be done on another visit.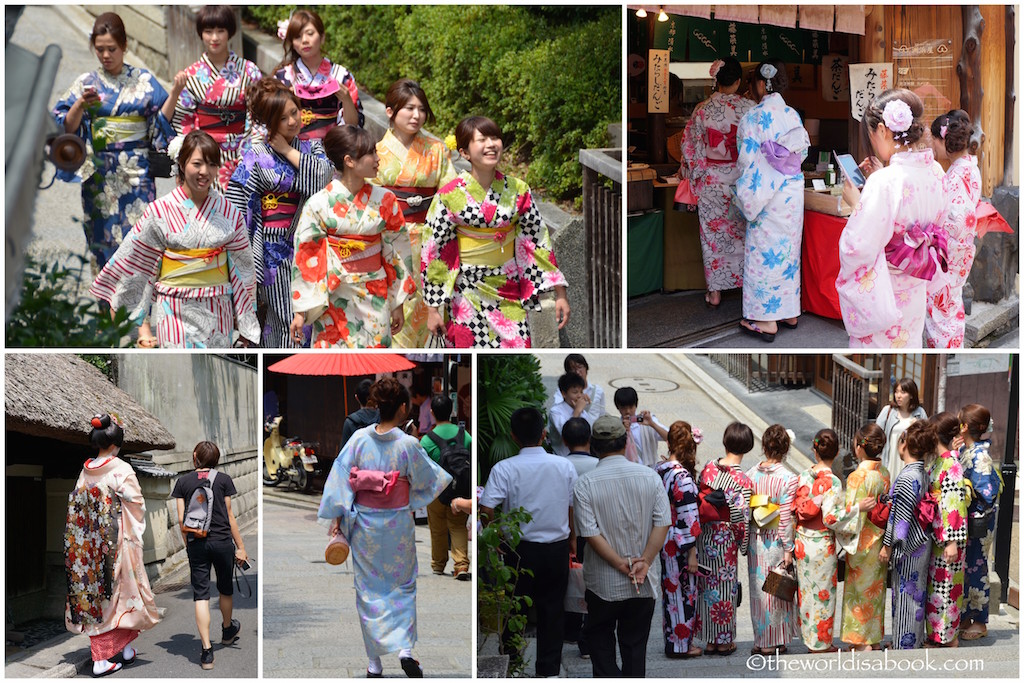 It goes to show that even though these girls were wearing their traditional clothes, they were still very much modern gals attached to their mobile devices.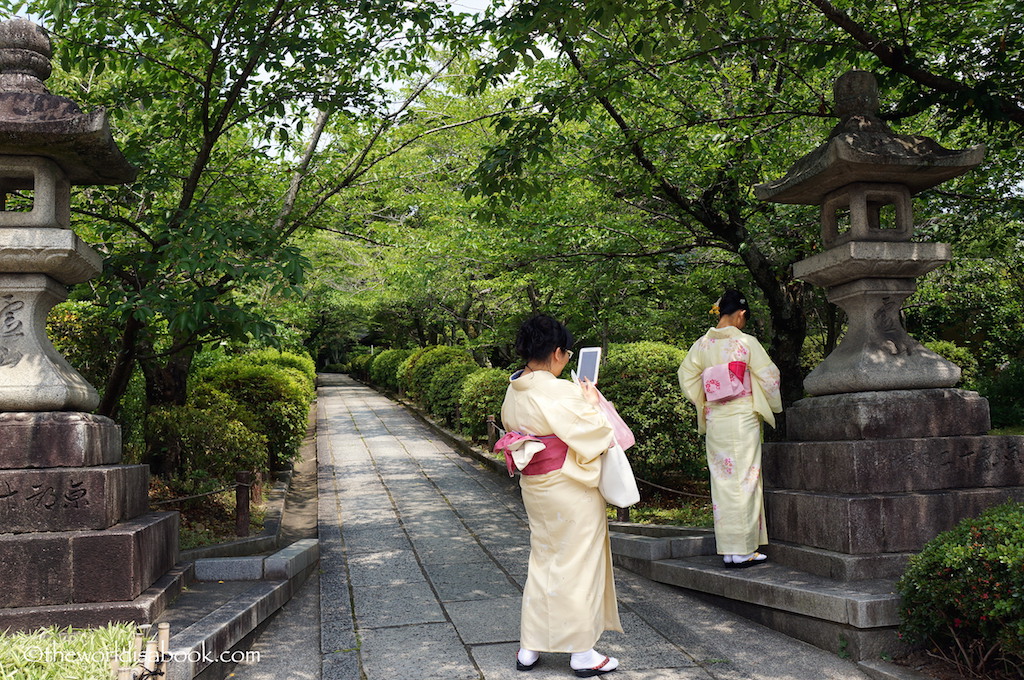 The main paths and streets through the Higashiyama district weren't very long. But, we spent a few hours walking, eating and shopping here. There were so many structures and quaint alleys we didn't even get to explore. Walking through the historic streets was a great way to see old Kyoto and such a unique experience. Sure, there are thousands of shrines and temples worth visiting in Kyoto but a stroll through Higashiyama District was quite memorable for us and shouldn't be overlooked when visiting this beautiful city.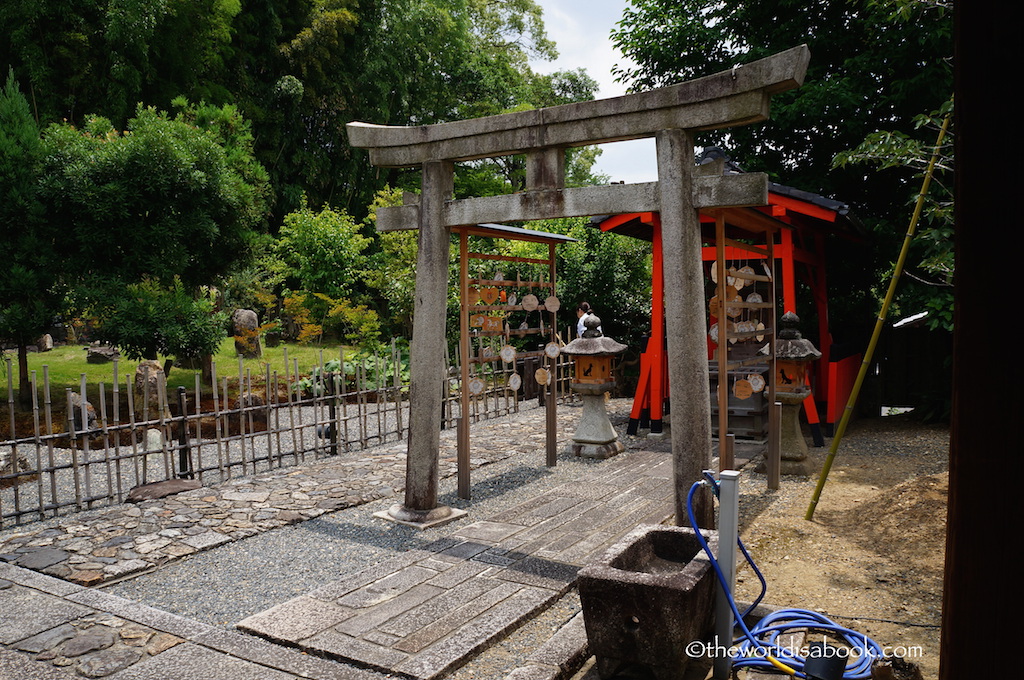 Walking through Higashiyama District Tips and Basics
Getting There: From Kyoto Station take bus number 100 or 206 in the direction of Kiyomizudera. There are two bus stops nearby, Gojozaka and Gion, with a 10-15 minute walk. It can also be reached in a 10-15 minute walk via trains and subways. Use the Kiyomizu-Gojo Station or Gion-Shijo Station on the Keihan Line, the Kawaramachi Station on the Hankyu Line or from Higashiyama Station on the Tozai Subway Line.
Don't forget to try Kyoto's famous treats called Yatsuhashi in the shops here. They're sweet treats made from rice flour, sugar and cinnamon with different flavored fillings. They come in beautifully wrapped packages and make for great souvenirs. Most importantly, the stores offer free samples. We loved the chocolate and strawberry ones.
Shops and restaurants usually open about 9-10 AM and close between 5-6 PM except during the Hanatoro, a 10-day illuminating event in March when the stores and restaurants have extended hours.
Have you visited Kyoto or Higashiyama District?
Where to stay in Kyoto
Save up to 50% on Value Deals in Kyoto through Booking.com!
See the best hotel prices from the major travel sites on

HotelsCombined

.
Find the best Kyoto hotels and read reviews on TripAdvisor.
Flights/Vacation Packages
Compare and book cheap flights to Japan through Vayama.