21 Interesting Things about FIJI
Fiji is one of those South Pacific Islands that evoke an exotic tropical paradise. And it really was! It doesn't take much promotion to make this an inviting travel destination whether you're on a honeymoon or a family vacation.
I didn't know too much about Fiji before going there last summer but we certainly learned a lot of interesting and unique things about this country while researching before our trip and during our short visit.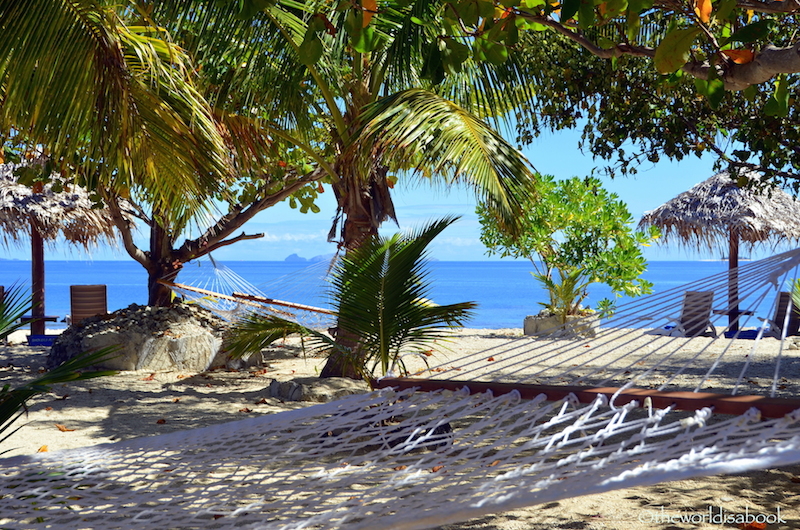 1. BULA everywhere! Let me start off with BULA which means "Hello". We heard this from the moment we stepped on the plane until we left and was how the Fijians repeatedly greeted everyone.
They also said it with a lot of enthusiasm and with genuine smiles. Some locals asked us to repeat it loudly if it didn't meet their satisfaction in the enthusiasm gauge.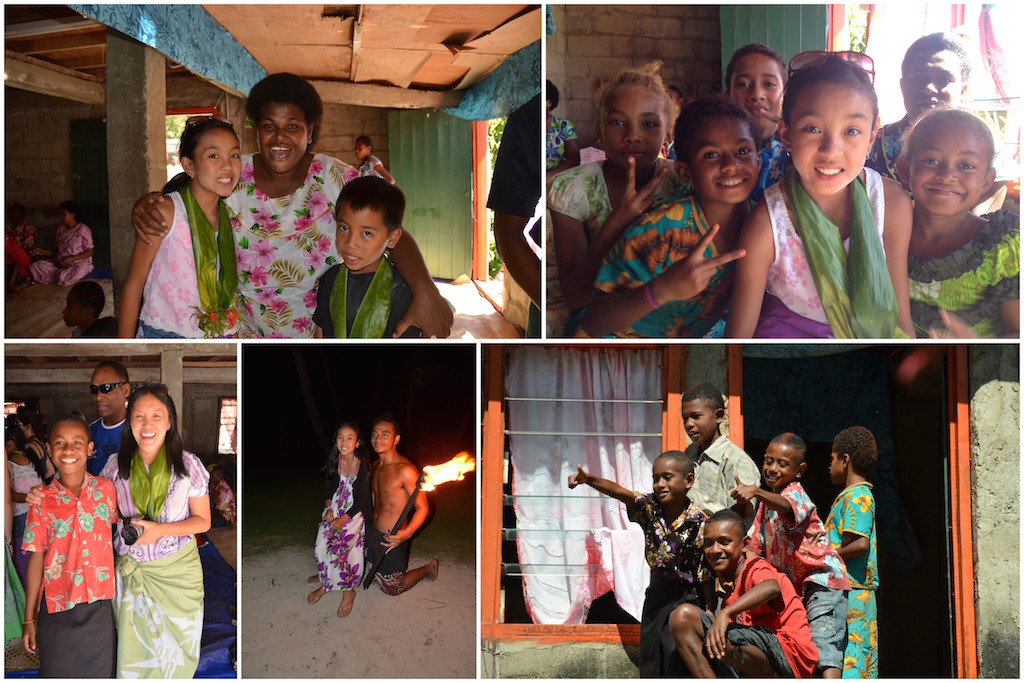 The Fijians are some of the friendliest people we have ever met. They're very hospitable and welcoming. We were repeatedly greeted warmly while walking around downtown Nadi welcoming us to Fiji and asked where we were from by locals who weren't trying to sell us anything. It may have helped to have the kids in tow.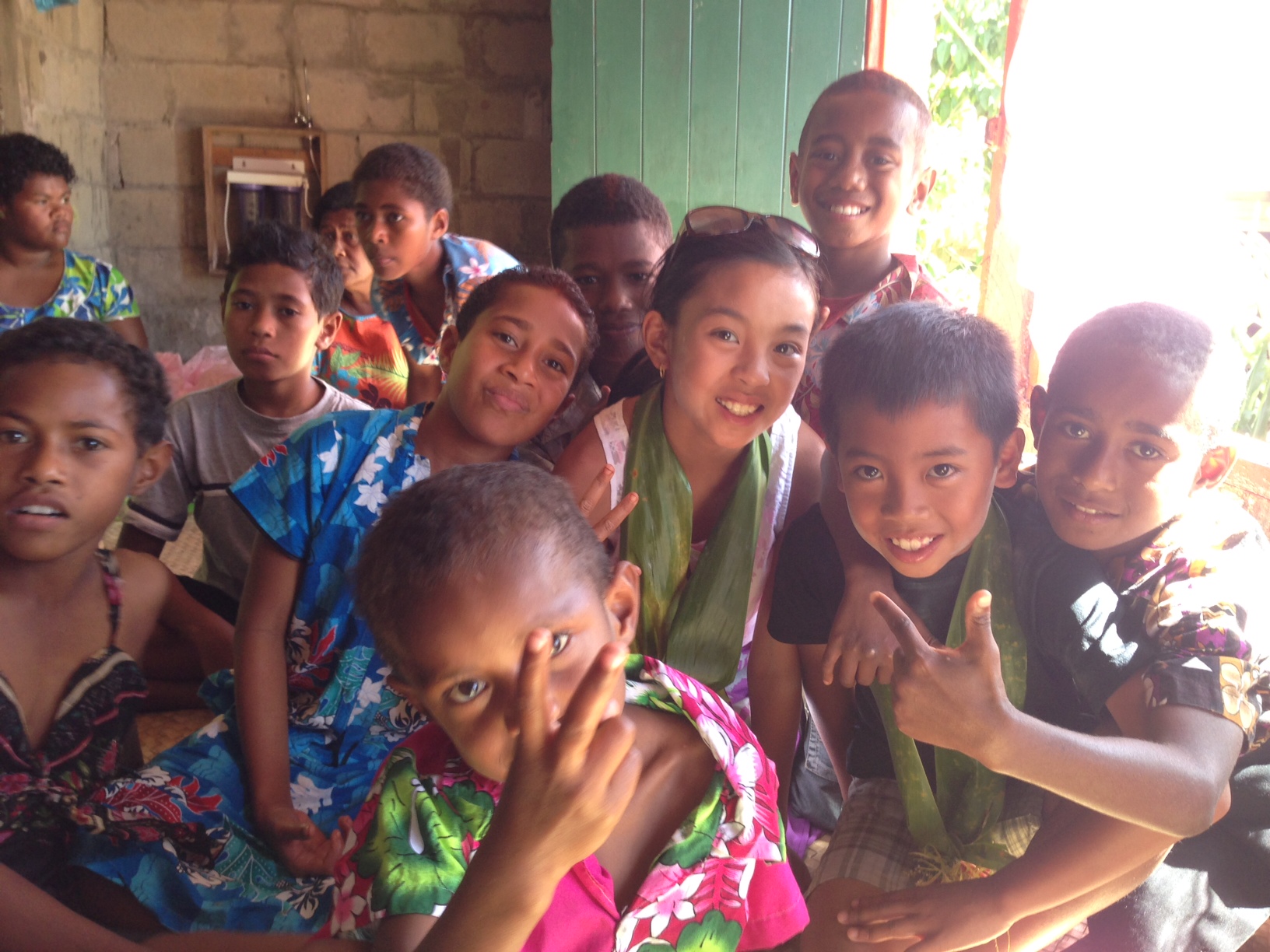 2. A nation of many islands. Fiji or Republic of Fiji is actually an island nation with about 332 (though some sources have said 333) islands and 110 are inhabited.
So, there is no actual and lone island called Fiji. About three quarters of the over 800,000 people live on its largest island of Viti Levu. Suva, its capital city, is also located here.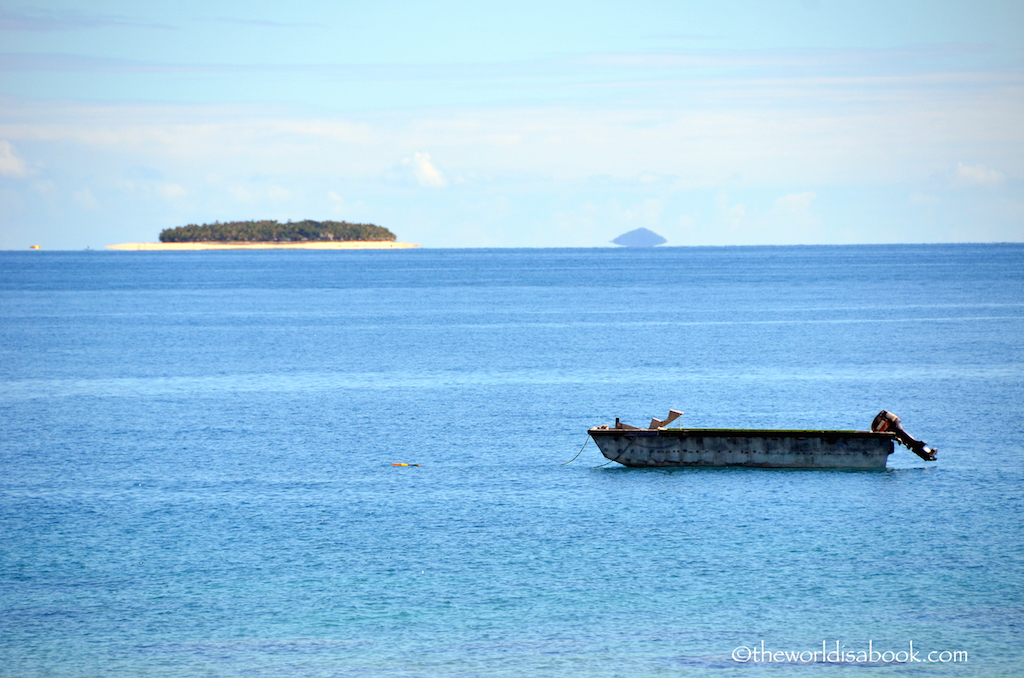 Surprisingly, its islands are mostly mountainous with rainforests in addition to its beautiful beaches. One local welcomed us to "Fun In Jungle Island" which we never would have thought of as an acronym for Fiji. We were only able to visit three of the islands and would love to return soon to island hop.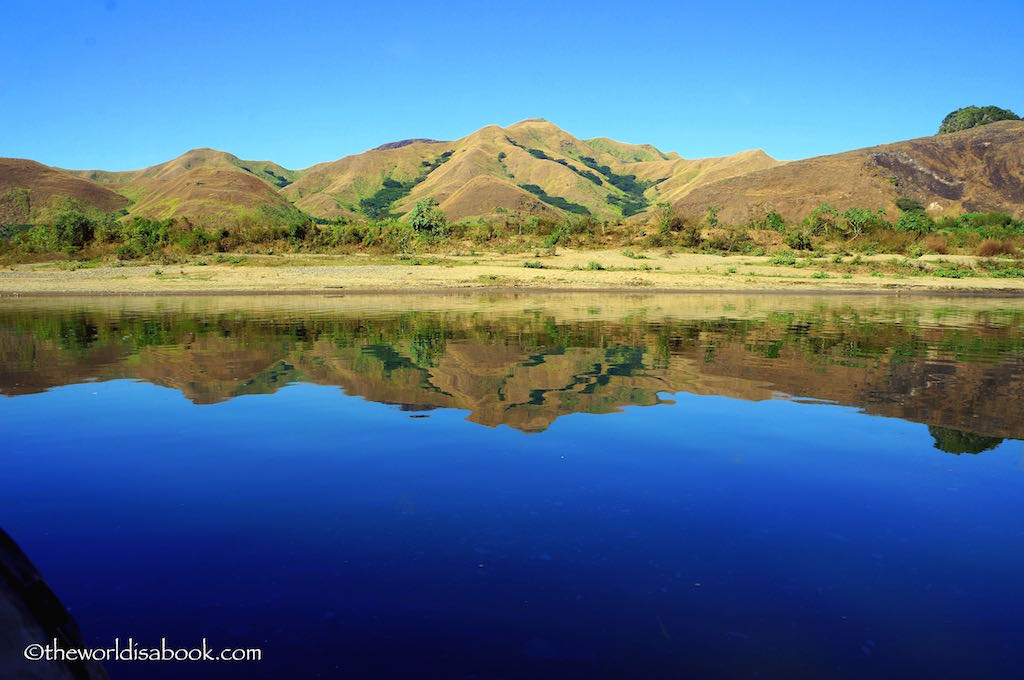 3. Fiji was a British colony for 96 years and finally gained its independence in 1970. There are still remnants of its past throughout the islands.
The Union Jack is still present on the country's flag along with its coat of arms. Though, there have been talks of changing the flag to reflect Fiji's identity. Images of Queen Elizabeth II are also on its bank notes and coins.
4. Indians and Indo-Fijians make up over 40% of Fiji's population. Most of them are in the main island of Viti Levu. Indentured laborers from India came to work on the sugarcane plantations during the British rule from 1879 – 1916.
Many stayed on to become farmers and businessmen after the indentured system was eliminated. The Fijian-Indians on the island now are mostly descendants of the laborers.
5. The Indo-Fijians are mostly Hindu and the native Fijians are mostly Christian. The largest Hindu temple in the Southern Hemisphere is the very colorful Sri Siva Subramaniya Temple located in Nadi.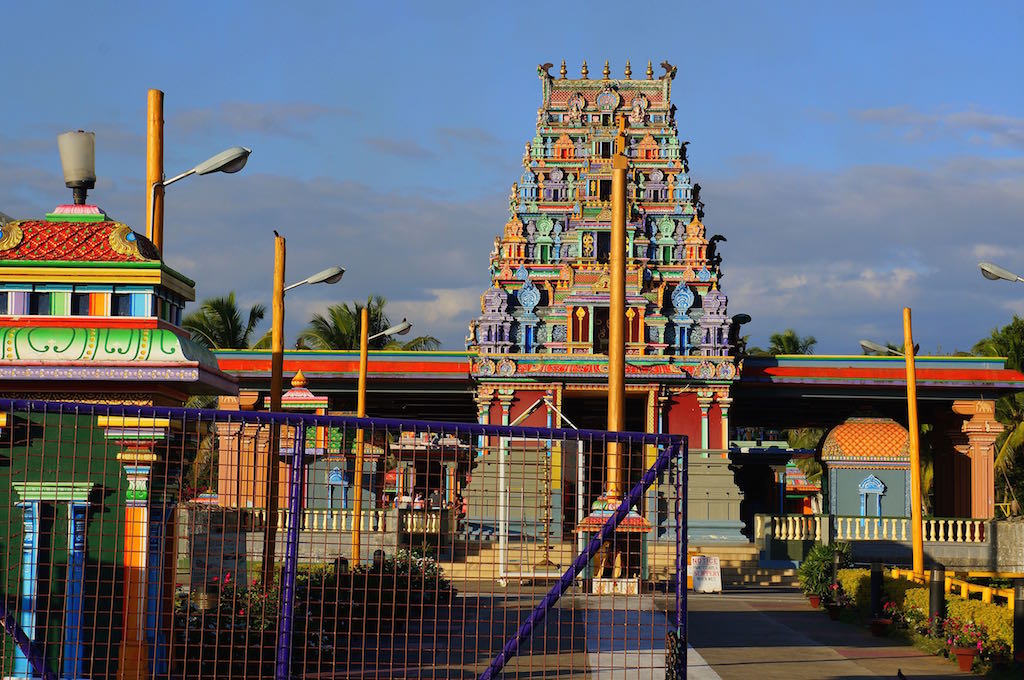 6. Fiji has three official languages – English, Fijian (with over 200 different dialects) and Hindustani. We were told that English was taught in schools so most Fijians speak English. Though, there were some odd pronunciations of words like Nadi (the city and international airport) was pronounced "Nan-di", Sigatoka (the river and town) was pronounced "Sing-a-toe-ka".
7. Over 80% of Fiji's land is called Native Land which is owned by village groups used for its village site and as a reserve. Only about 10% of its land can be leased, transferred or purchased but also restricts the land quantity owned by Fiji's non-residents.
Indo-Fijians who have been here for many years must lease lands to farm from the indigenous Fijians. This has, of course,caused conflicts and boycotts through the years.
8. Kava or Yaqona (pronounced "Yangona" is Fiji's traditional and national drink. It is made from the powdered root of a plant from the pepper family. It is mixed with water in the traditional bowl called tanoa.
The brown, muddy-looking result doesn't have the most appealing look but is believed to have medicinal qualities including treatments for stress, anxiety, insomnia, headaches and the common cold among other things.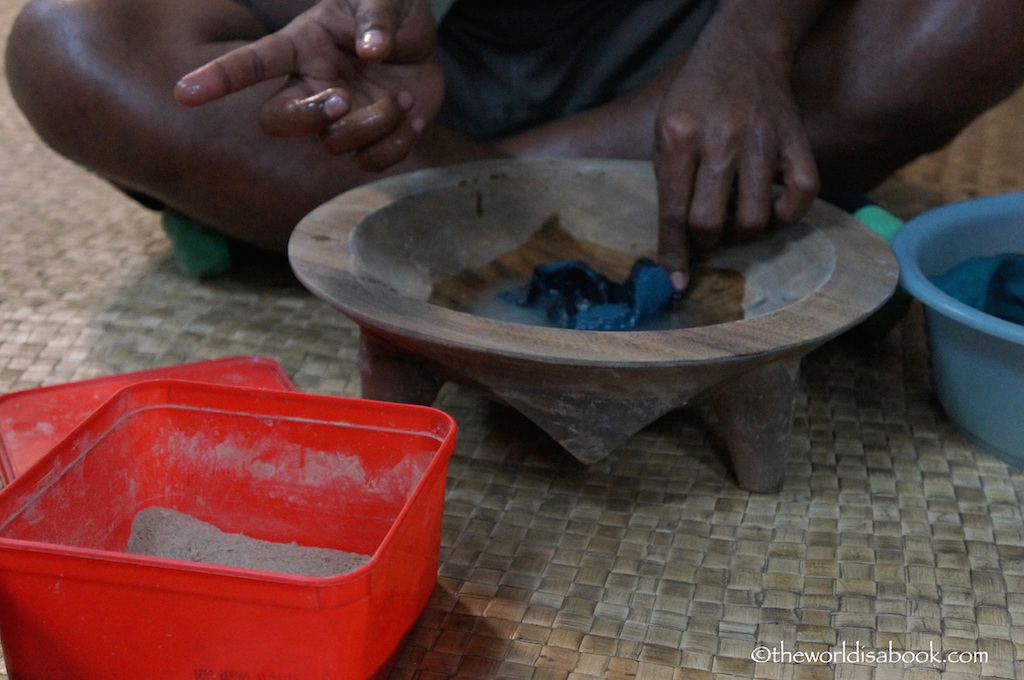 It has common descriptions of a bitter, earthy, tongue-numbing and unsweetened coffee taste. It's an acquired taste which my husband enjoyed. He said the mix he had in the village we visited was a lot stronger than the one we tasted in downtown Nadi.
My kids are a little more blunt and said it tasted like "dirt". We decided not to pursue the conversation on how they knew what dirt tasted like. I was so glad the kids participated in the rituals and didn't refuse to drink the kava though.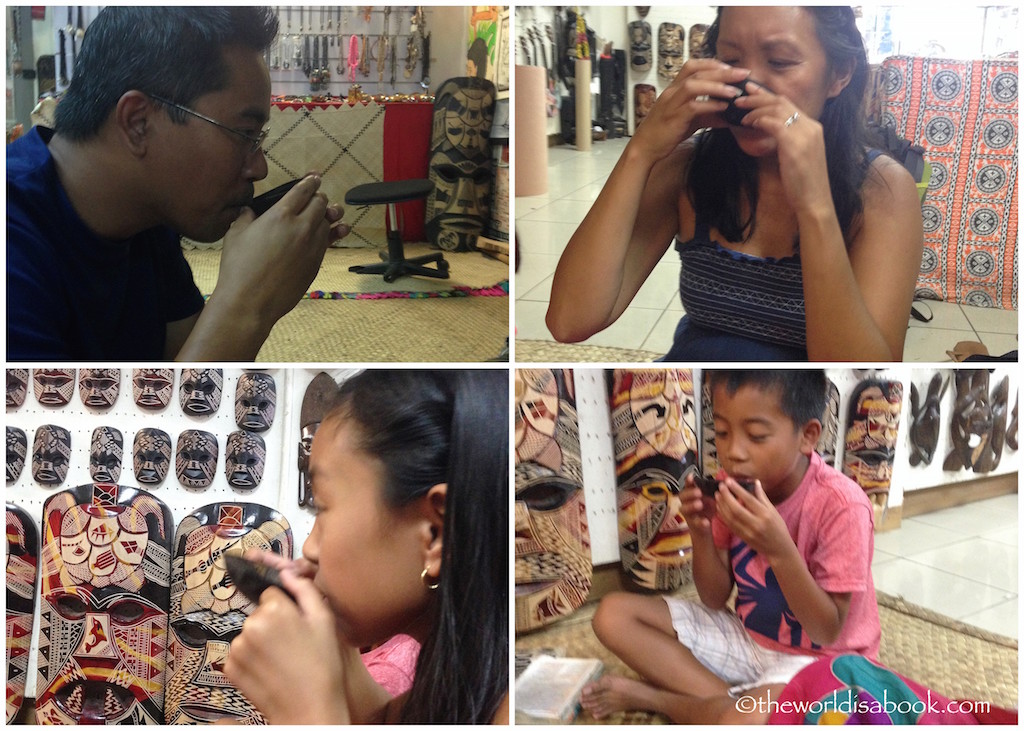 9. There's a whole ritual to the Kava ceremony. We witnessed three of them and participated in two. Participants sit in a circle on a floor while the tanoa is placed in front of the leader to mix the kava. Guests must clap before and after drinking from the cup or bilo with one shot.
10. We highly recommend visiting a Fijian village to get an insight into their fascinating culture. We were lucky enough to visit one village and I will share that special excursion here soon. Villages are self-sustaining, have a community center and a chief or leader.
11. Visitors must bring gifts of kava (in root or powder form) and present it to the chief for the "sevu sevu" welcoming ceremony. Women must wear modest clothing including covering legs with a sulu (Fijian sarong). We were further welcomed with white talc powder on our faces and leis of leaves and flowers by the villagers.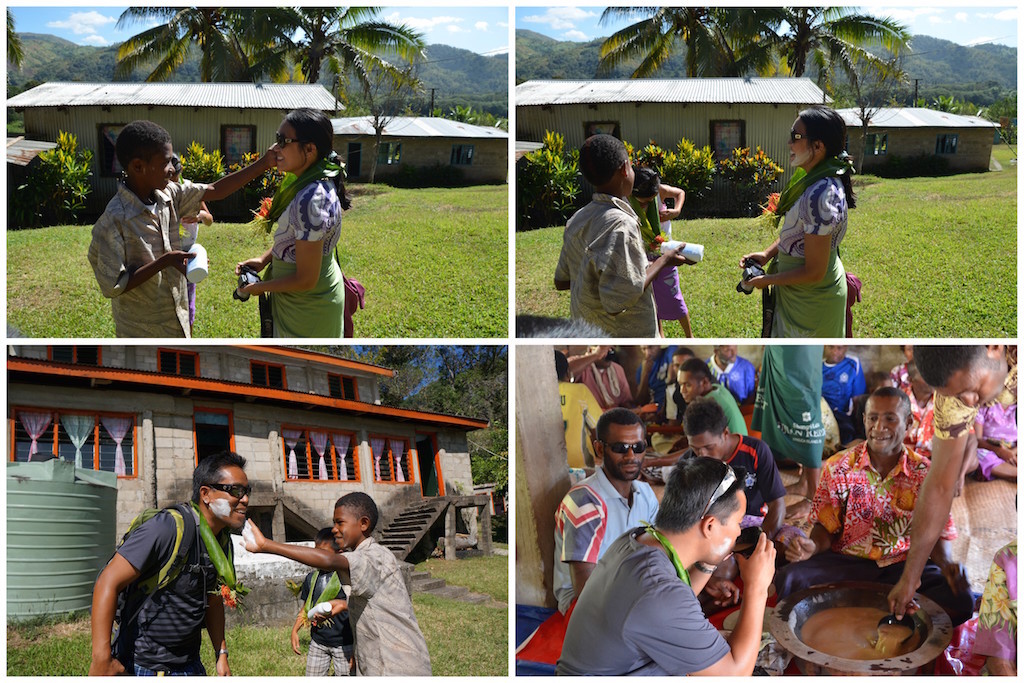 12. Visitors must also remove hats in the chief's presence and during ceremonies. We also had to remove our shoes before entering homes and buildings when visiting the village.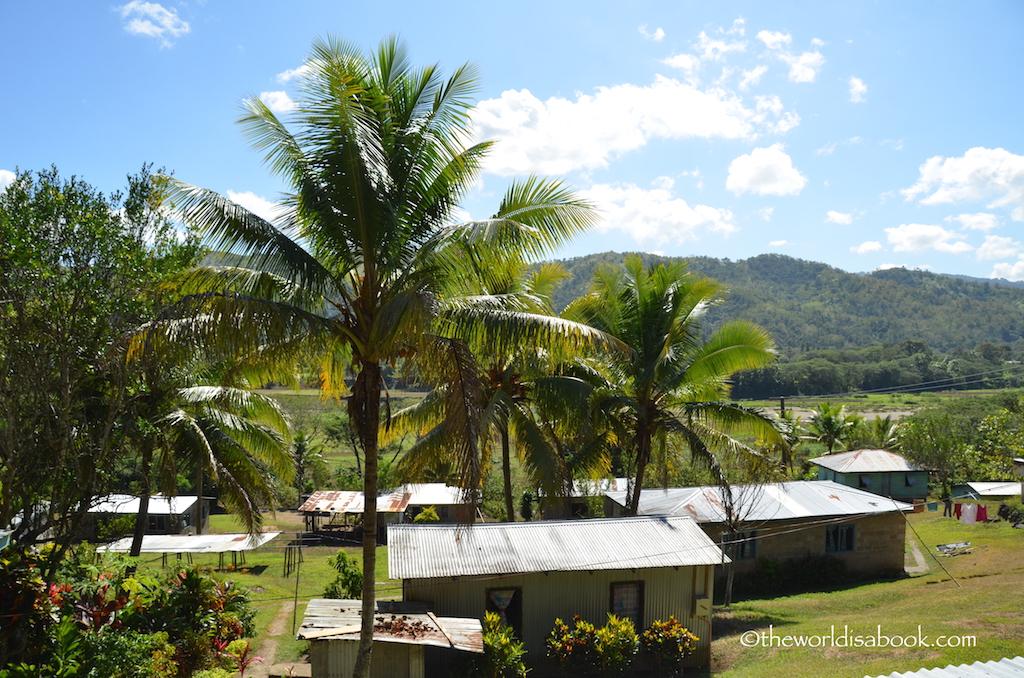 13. Rugby is like a religion here.This team sport with origins in England is the national sport. We saw plenty of the teams' merchandise from the airport shops to several souvenir stores.
Fiji is thought to have the "highest player-population ratio" of all nations playing the sport. The Fiji rugby team performs the Cibi (pronounced "thimbi") which is a war dance before matches.
14. The art of walking barefoot on smoldering hot stones originated about 500 years ago in the Sawau tribe on Bega Island off the coast of the main island. The natives still practice this fire walking ceremony which has been passed through generations.
But, the whole ritual and tradition has been modified to cultural shows that appeal to the tourists. Fire walking performances can be found through some resorts and hotels throughout the island. We witnessed the fire walkers during a night cruise to Robinson Crusoe Island and it was still pretty amazing to see.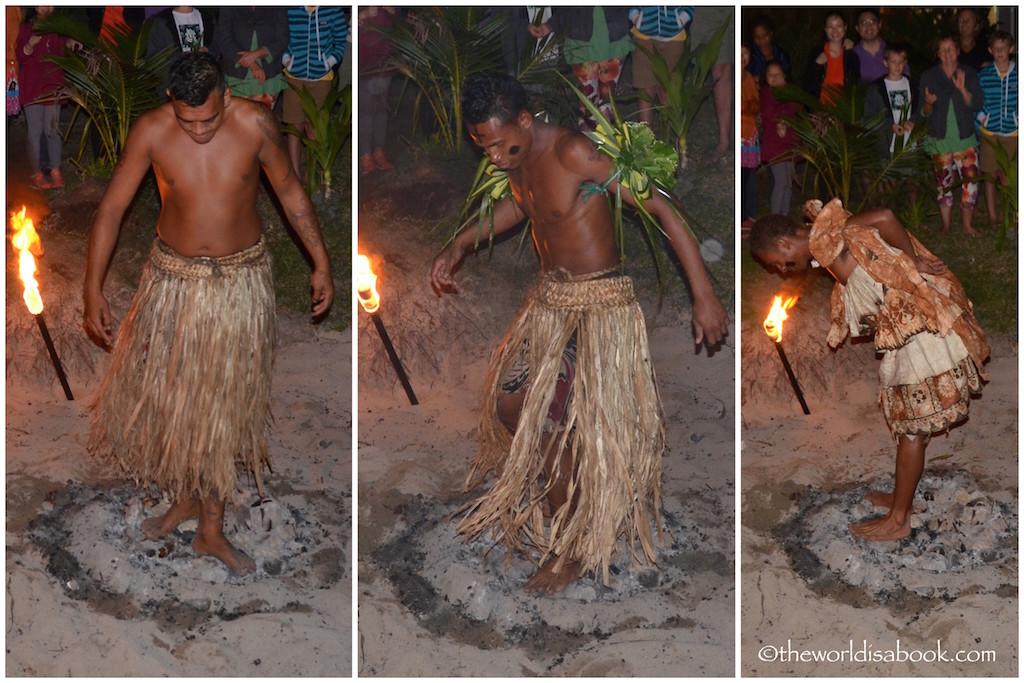 15. Local food is always a joy to sample when traveling. Fijians use Lovo Pits or underground ovens as a traditional method of cooking. Some food is buried underneath hot coals with banana leaves or palm fronds.
The marinated meats and fish are laid in the bottom and root crops like cassava, taro and yams are placed on top. We saw the lovo pit unearthed but not quite sure if part of the food was served to us during our dinner.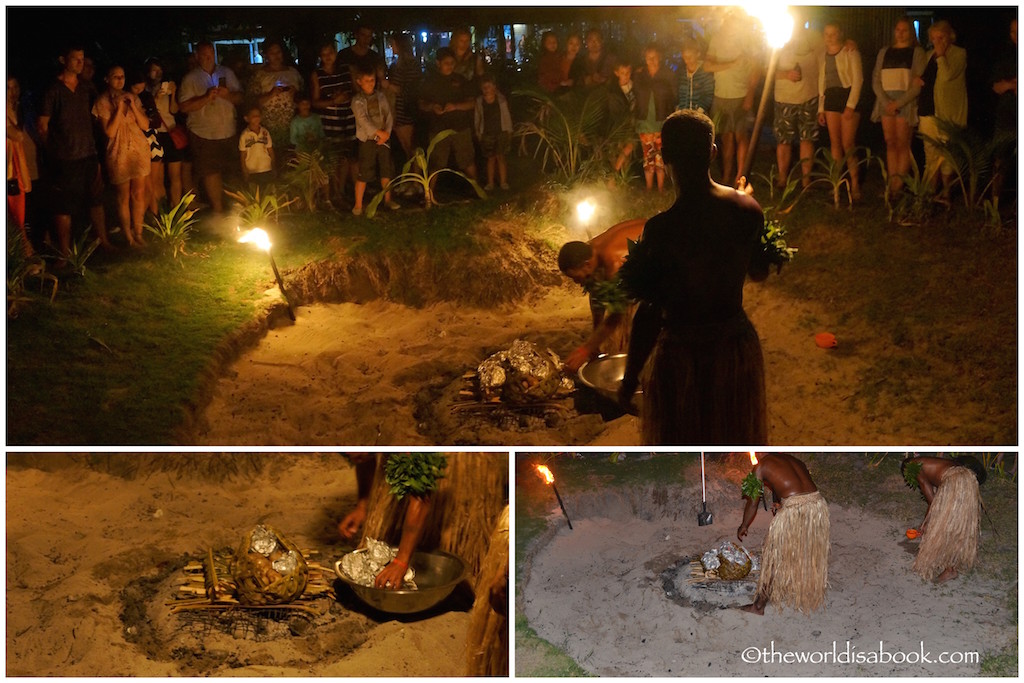 16. The Meke is a celebration of Fiji's culture through traditional dance and storytelling using songs. It was a way to pass on traditions and stories through generations. It's a collaborative effort between the men and women where the men are supposed to portray masculine gestures and the women are soft and feminine.
They are mostly performed during festivals and celebrations but more often during cultural shows at resorts. Don't miss seeing a meke when visiting.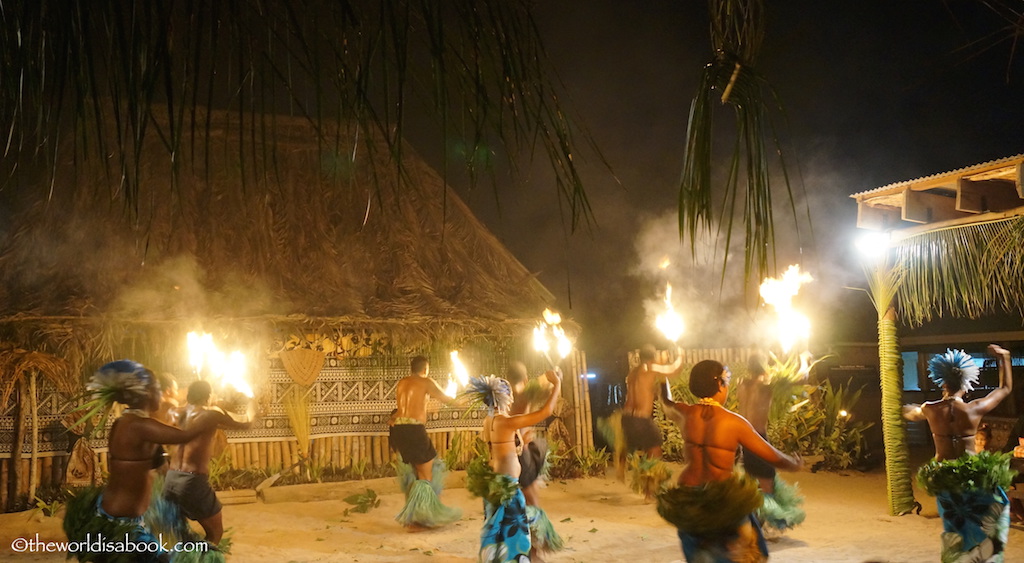 17. Fiji was once known as part of the "Cannibal Isles". Cannibalism existed here until the Christian Missionaries arrived in the mid 1800s. It was believed that cannibalism started from long sea voyages with not much choices to survive and these practices were brought over to the islands.
The last known Fijian cannibalism victim was a missionary named Rev. Thomas Baker. He and his colleagues visited the Nabutautau village to convert the natives into Christianity.
For some reason, Rev. Baker ended up touching the village chief's head which was a huge, forbidden act and considered an insult. His one remaining shoe is on display at the Fiji museum in the capital city of Suva.
Believe it or not, they actually sold souvenirs that resembled tools used during the cannibalism days like a brain picker, club and cannibal fork. You can also get a cannibal man doll. My husband was very tempted to buy one but we didn't get any.
18. The Sigatoka River is 75 miles (120 km) long and winds through Fiji's interior. It is a vital source of life for the Fijians and the over 50 villages along the river. It's the source of some of their food, their main irrigation system source and used for transportation.
We cruised on this river through the Sigatoka Valley on the main island of Viti Levu which is considered Fiji's salad bowl. Over 70% of Fiji's produce comes from this valley and mainly sold to Australia and New Zealand.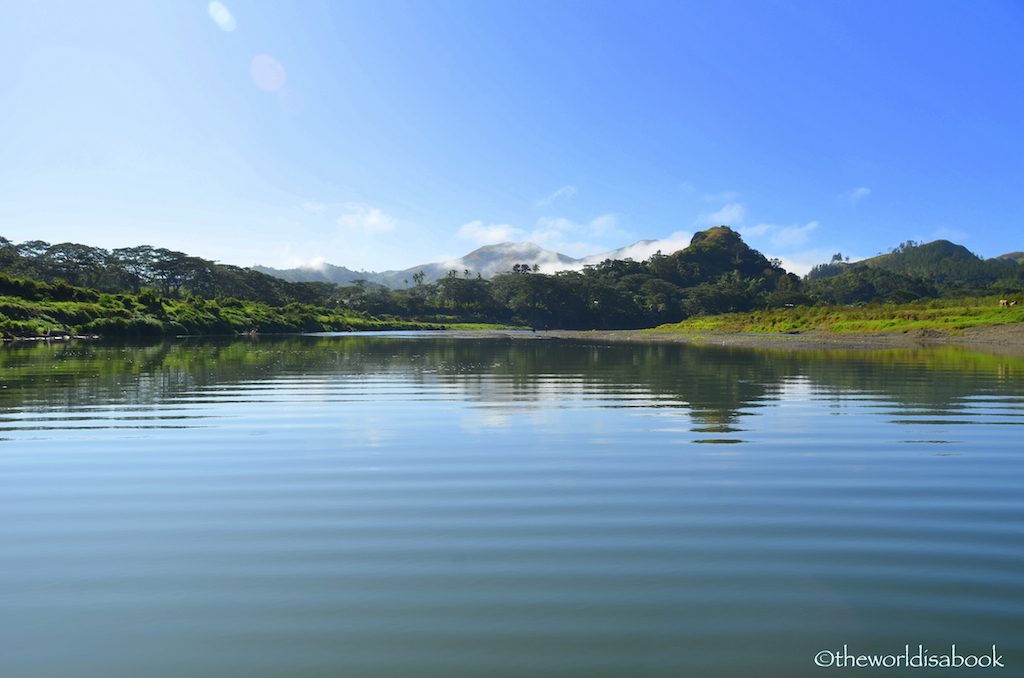 19. FIJI water. This popular brand of bottled water marketed as "Earths Finest Water" really does come from Fiji and they were everywhere. Although, I didn't notice a significant price difference or the bottled water tasting better there.
My daughter got a kick out of actually drinking Fiji water in Fiji. She regrets not taking any picture with any of the bottles she drank while there.
20. Fiji is located on the International Date Line which is the imaginary line in the Pacific Ocean that splits consecutive calendar days and where one day begins and another ends. There is a marker in the island of Taveuni where visitors can have one foot, arm, etc. on today and the other half on yesterday.
One can also jump from today and yesterday which would have been a pretty neat idea! Unfortunately, we were short on time so this will have to wait on a return trip.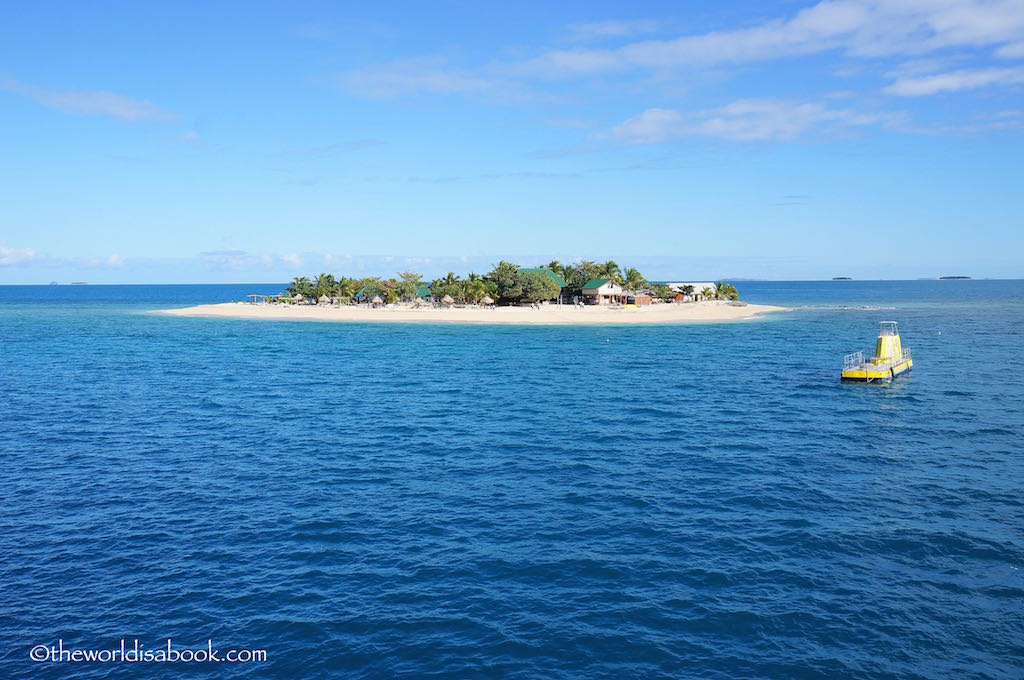 21. It's Fiji time. We repeatedly heard, "Don't worry, you're on Fiji time". Growing up in the island of Guam, I'm familiar with the laid back lifestyle and the concept of island time.
Things move a little slower and sometimes, set times are mere suggestions. There's an unhurried, relaxed vibe here so expect it and enjoy it. After all, who wants to be in a rush when in Fiji?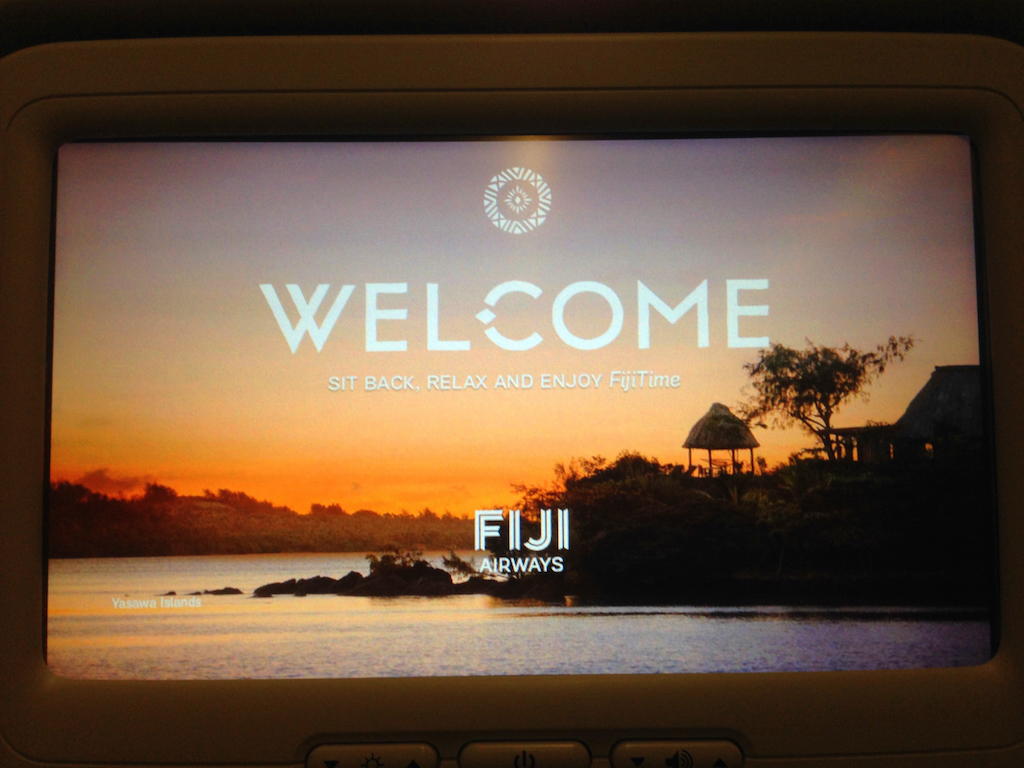 Tips for Visiting Fiji
Nadi Airport is where most international airplanes land. It was surprising to find that it was quite small for an international airport. Immigration with multiple planes coming in can be harrowing. There were also not that many shops or eating outlets within the airport.
Fijians drive on the left side of the road (like the British and Australians) and what we Americans call "the other side".
Denarau Island is a near the Nadi airport and the port/marina that takes visitors to the outer islands. If you're looking for the name brand hotels like Sofitel, Wyndham and Hilton, they're all located in this man-made island.
Fiji Airways is the national carrier. Check for free stopover promotions that include accommodations or for a small additional cost on a multi-city itinerary on your way to New Zealand or Australia from North America. We paid less than $100 extra per ticket due to taxes on our ticket from Los Angeles to Brisbane this past summer for stopping in Fiji for a few days.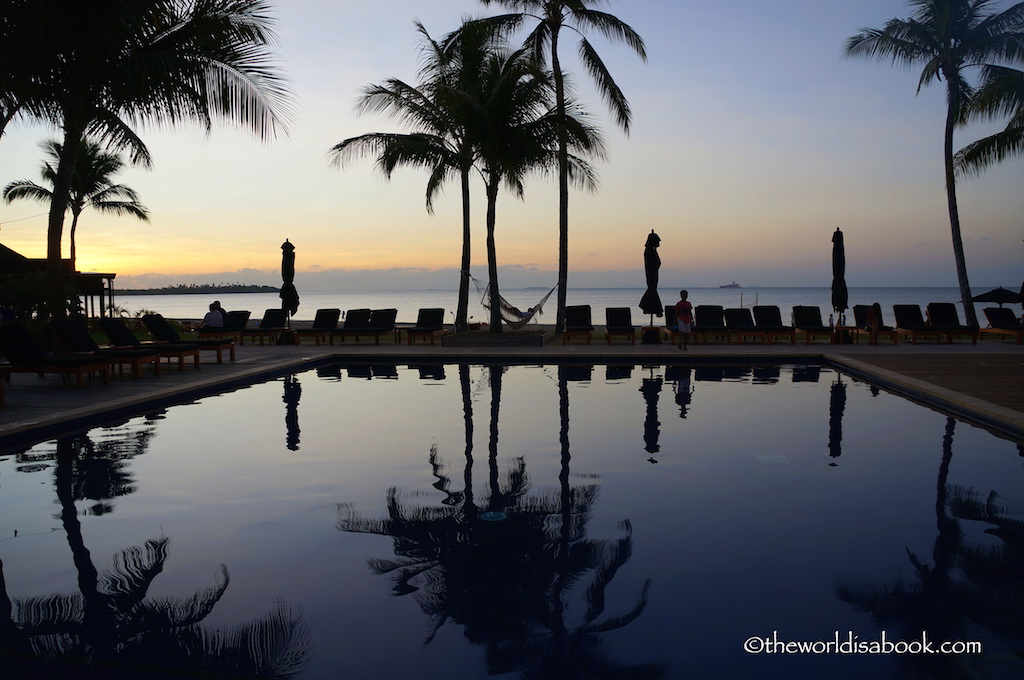 *Have you visited Fiji? Did you find some of these facts surprising? Is Fiji on your travel wish list?
Where to Stay
Hilton Fiji Beach Resort & Spa – We really enjoyed our stay at this oceanside resort located in Denarau Island. This property was huge that a golf cart goes around the property. The rooms were spacious with a living room and refrigerator. My kids enjoyed participating in the Kids Club. This was truly paradise with hammocks in between palm trees and amazing pools (see above). There's a bus that takes visitors into town and the nearby port and the hotel is near the international airport.
Flights/Vacation Packages
Compare airlines, dates and prices all in one place with Vayama
Related FIJI Posts: