Zion Lodging: Cable Mountain Lodge
We stayed at Cable Mountain Lodge in Springdale, Utah during a trip to Zion National Park.  It was the very last hotel on the right side before entering the park.  It was right behind the giant screen theater, a gallery, Sol foods and a Thai Sapa restaurant.   We heard the river flowing and the majestic monolith rocks surrounded the hotel.  The office check-in was really small but service was quick.  We were given free entries to watch a 'Zion Canyon:Treasure of the Gods' movie at the nearby Zion Canyon Theatre  but we weren't able to make it.
We checked in after 9 PM after losing an hour traveling through Utah's Mountain time zone. We were surprisingly amazed to find a suite towards the back of the buildings.  It was actually more of a 1-bedroom apartment.   It was very spacious, clean and tastefully decorated in nice, modern, dark woods with muted yellow walls. There were dark hardwood floors throughout with the exception of the carpeted bedroom and living room.   We had a kitchen with a dishwasher, full size refrigerator, stovetop and microwave.  The cabinets were stocked with dishes and utensils.   There was a dining table for four people.  It was too bad we were only staying here for one night.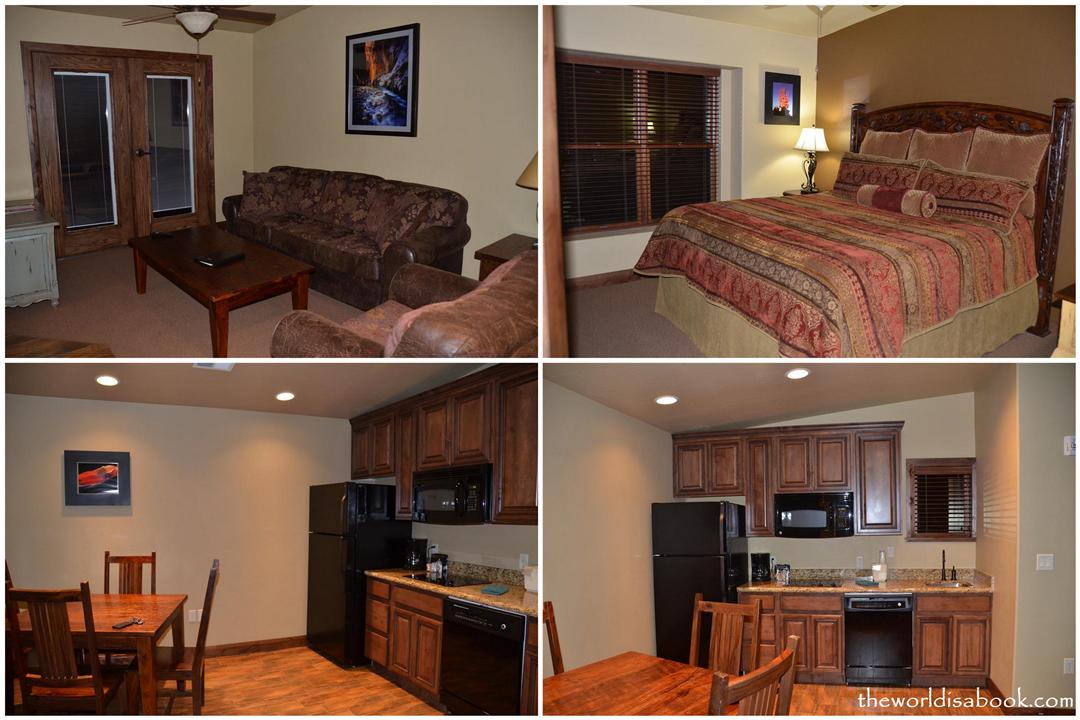 The living room had a couch and a a chair.  There was a small television on one side of the wall which was placed a little awkwardly off-centered. The french doors off the living room opened to a wrap around deck with a couple of chairs.  This would be a great place to relax especially during the summer.  There were plenty of little end and side tables in distressed wood for storage.  The highlight for my kids and husband had to be the remote controlled toilet that adjusted the temperature of the seat cover and the bidet. There was both a tub and a shower too that were controllable.  The bathroom was clean and very spacious.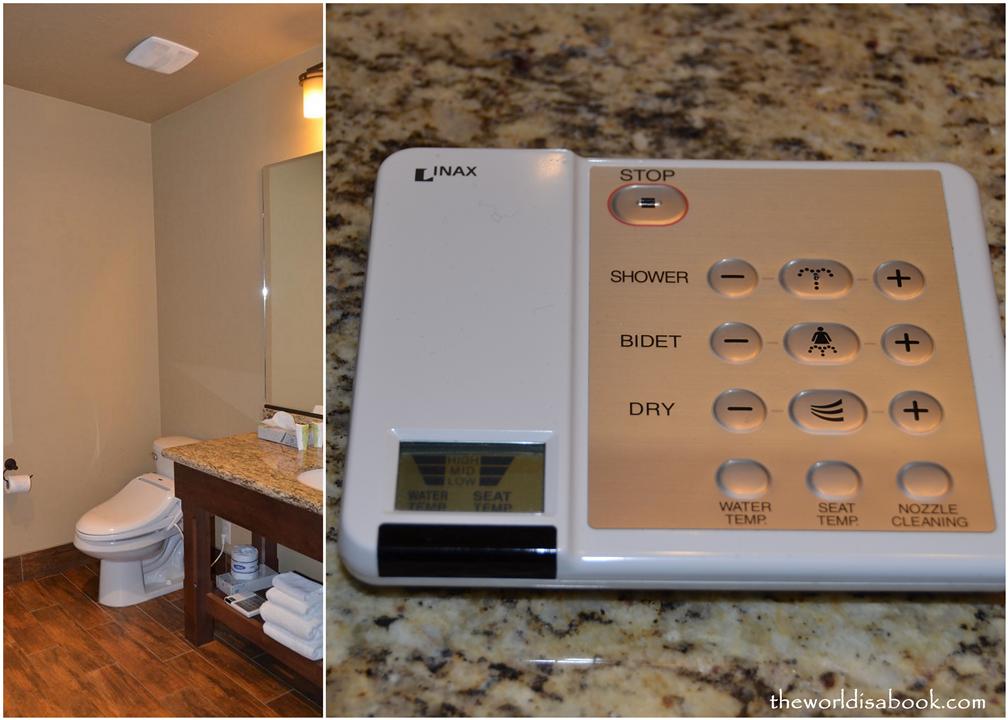 The prints on the wall were beautiful photographs of Zion National Park sceneries which completed the overall ambience of the suite.   There was plenty of storage in the bedroom and the king sized bed we had was very comfortable. There was a walkway that connected the hotel to the parking lot for the shuttles taking the guests into the park.  The shuttles were not operating when we were there but this would be a great convenience during the summer months.
This was an overall great value with an unbeatable location.  We highly recommend this family lodging for a stay in Zion and would gladly come back here on our return trip during the warmer months.
Website: http://www.cablemountainlodge.com/
Contact: 877.712.3366    Address: 147 Zion Park Blvd. Springdale, UT
Related Links:
Check out these related posts: