Photo Journey through a Guam Jungle River Cruise
Sometimes, going on tours specifically for tourists has its rewards. Our visit to one of my childhood island homes, Guam, this past summer, enabled us to do an attraction I had never done before. Before I continue, if you don't know much about Guam or have never heard of it –> please read this post first. The adventure river cruise through two of Guam's rivers and a jungle setting made for a wonderful discovery. Come cruise along with us.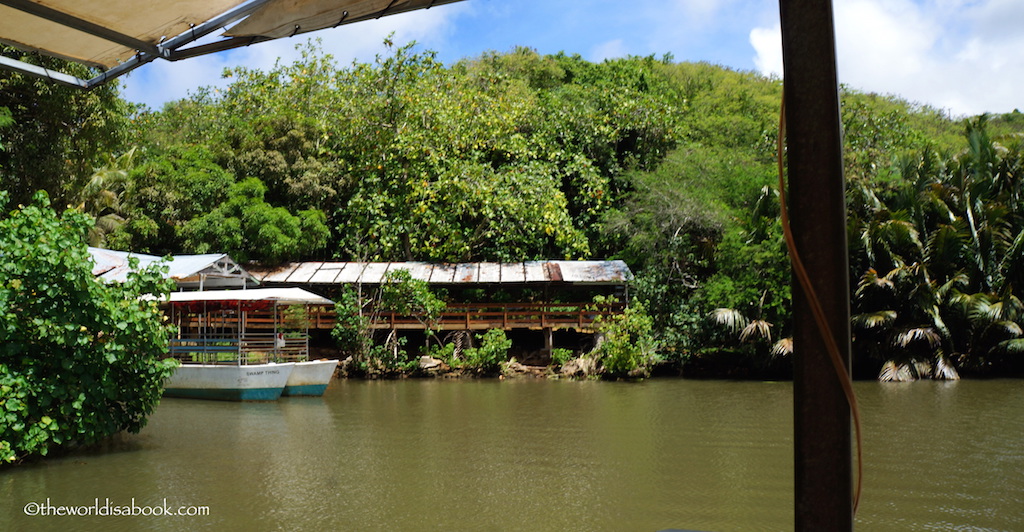 My local friends and family have never gone on this river cruise because "only tourists go there". There were non-existent reviews on yelp or Tripadvisor so we didn't really know what to expect. We embarked on a cruise through Guam' southern jungles and along the Talofofo and Ugum Rivers. The ocean nearby fed these rivers. I've passed by these rivers many times before but didn't even know cruising or kayaking here was possible. I was actually looking forward to exploring this part of the island.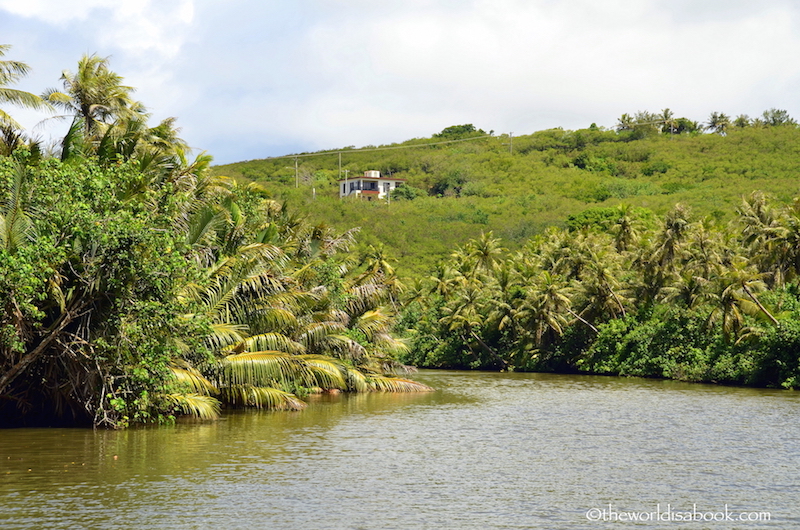 We boarded a covered, flat bed boat with seats along the sides and in the middle area. We had the captain, the tour guide and one other personnel. Our boat was filled with Japanese tourists, a military couple and a local family on a July weekday. So our tour was done in both Japanese and English.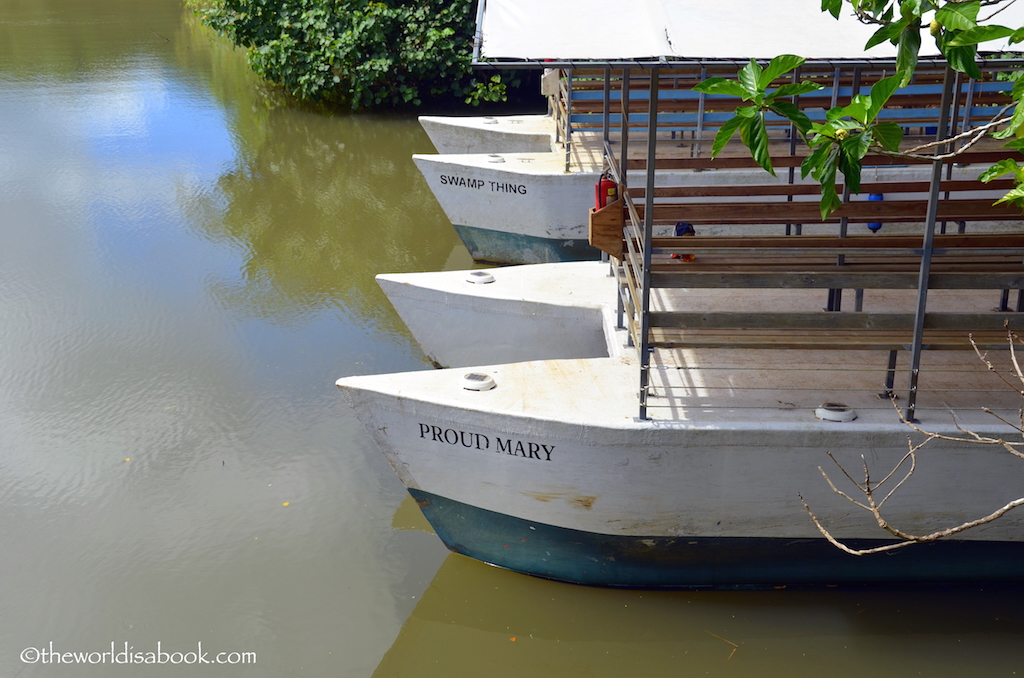 As we slowly made our way down the river, we almost felt like we were on Disneyland's jungle river cruise. I half expected animals to start popping out of the jungle. But, much to my kids' disappointment, we didn't spot anything big here.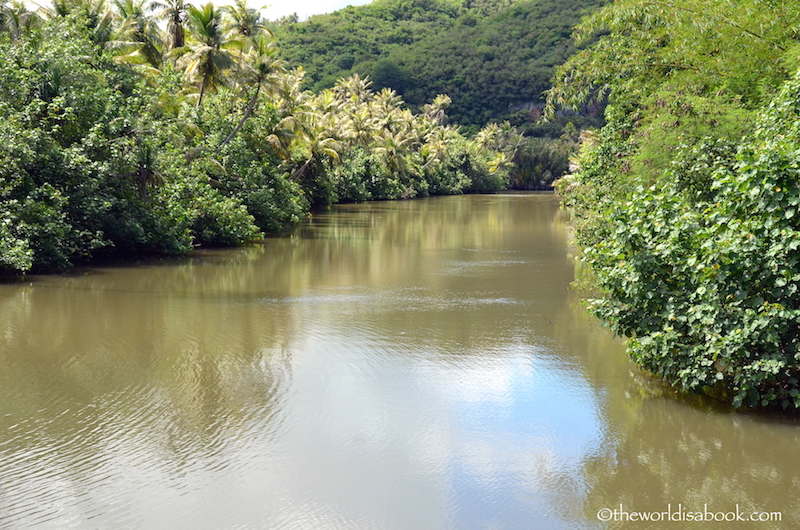 My kids were so happy when the guide handed out ice cream for everyone shortly after the cruise started. Guam can be excruciatingly hot and humid. Surprisingly, it was actually a bit cooler on the river with a nice breeze. Everyone was also given head bands made of palm fronds. It was a nice touch to get into the spirit of a jungle cruise.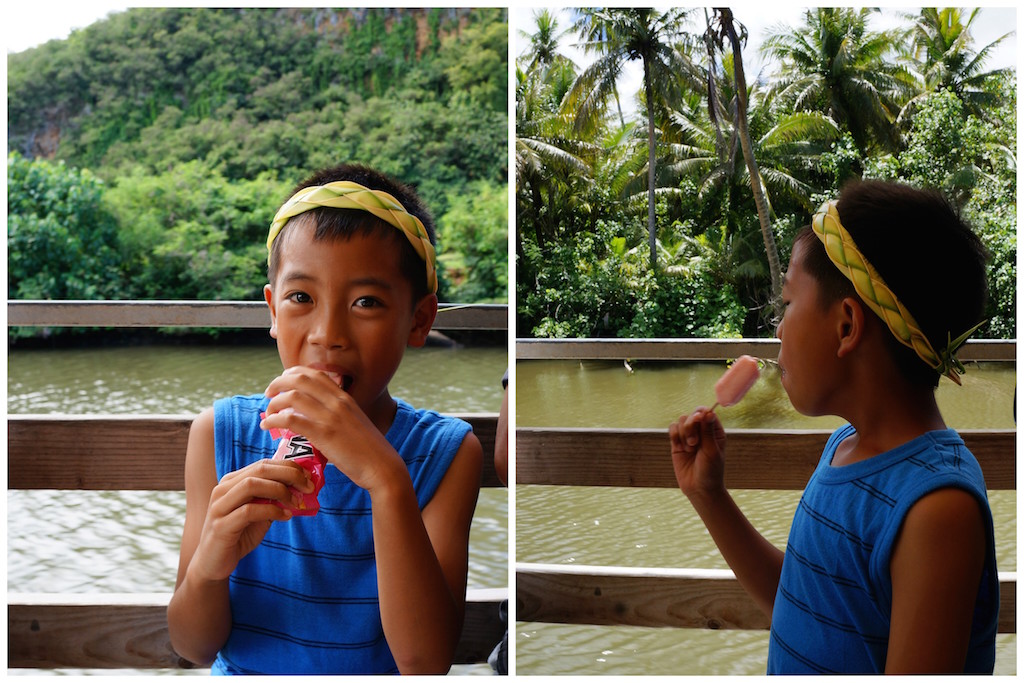 The tropical forest and jungle offered a very calming and scenic ride. There were no rushing rapids here and the river wasn't very big.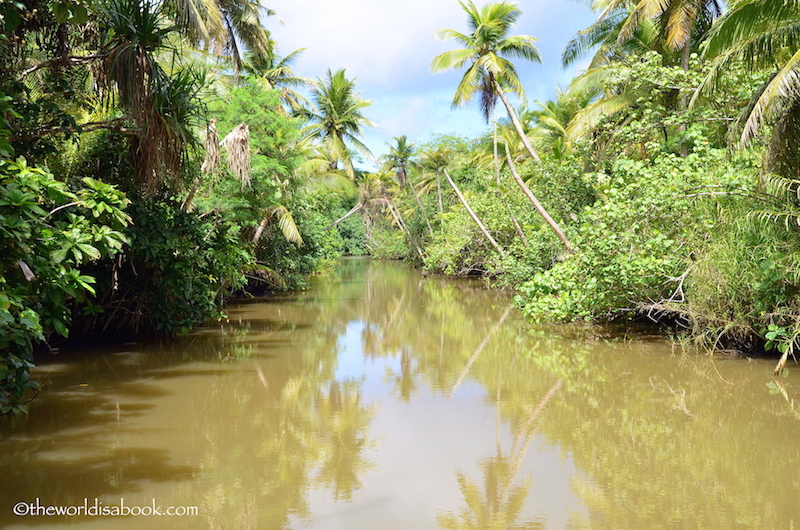 My favorite areas were what I called the reflections alley. The water was still enough and the sun was shining brightly to capture these reflection shots of the coconut and bamboo trees along the river.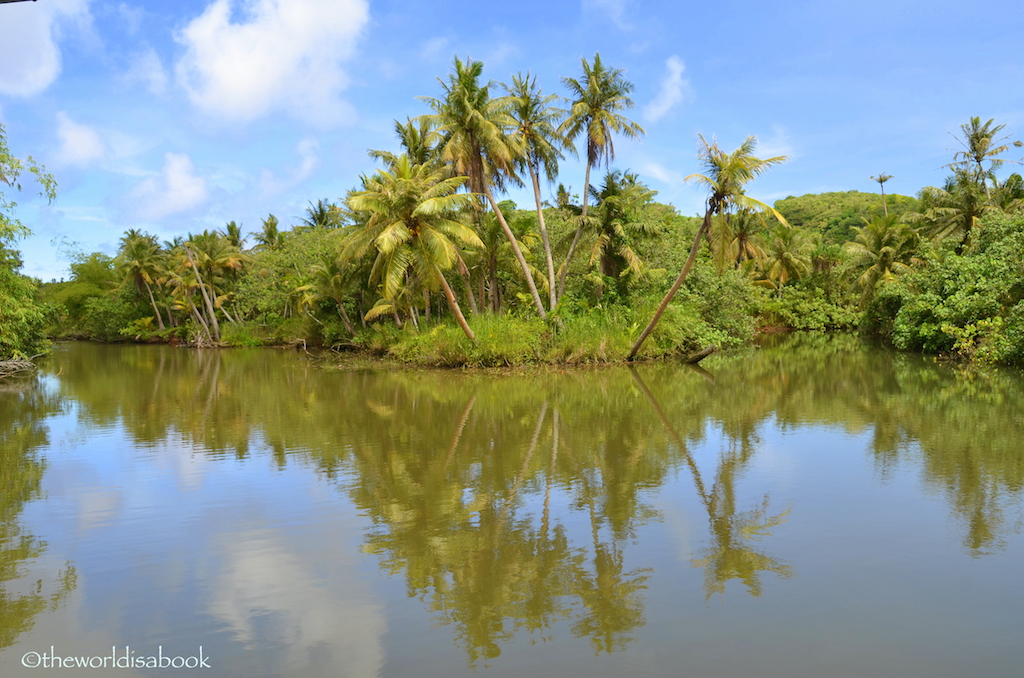 I was a bit excited to finally show my kids what a coconut crab was. I've seen them countless times scampering along the roads especially when the full moon is out. These giant hermit crabs with six legs is the largest "terrestrial arthrpod in the world". They can grow to over three feet and weigh over 9 lbs.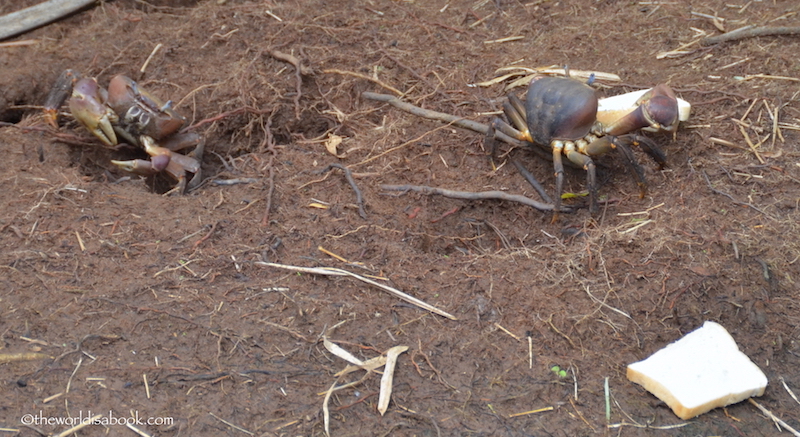 They're a delicacy in Guam and have been part of the native's diet. I know I've eaten them when I was younger but don't remember anything special about them. At one time, they were put as a "vulnerable species" that the government had to impose restrictions. They have to be over 4 inches for commercial sale and at least 3 inches for personal use.
The guides tossed out slices of bread which disappeared underground quickly. The chickens roaming around caught some of the bread. There were also some fish that clamored for this bread. We couldn't clearly see them with the murky river water here but saw the bread disappear underwater.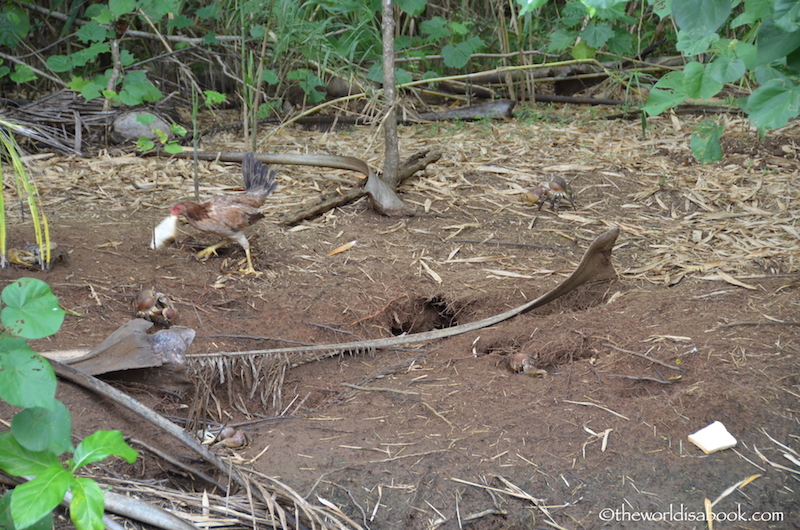 There were no alligators or piranhas in these rivers so that was a relief. One of the other kids asked. Our biggest danger was getting too close to this massive beehive. We actually had to fend off some bees that decided to go into the boat.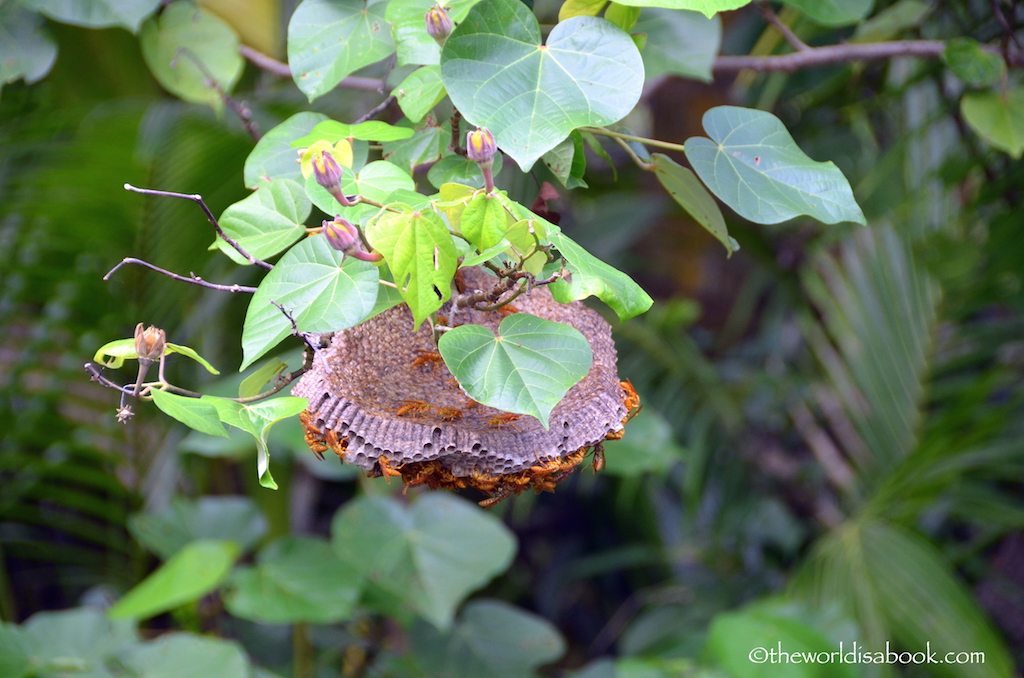 We cruised up to one river until it narrowed. The boat then turned around and we stopped at an actual site of an ancient Chamorro Village replica on the banks of the river for some history lesson. Chamorros were the indigenous people of Guam.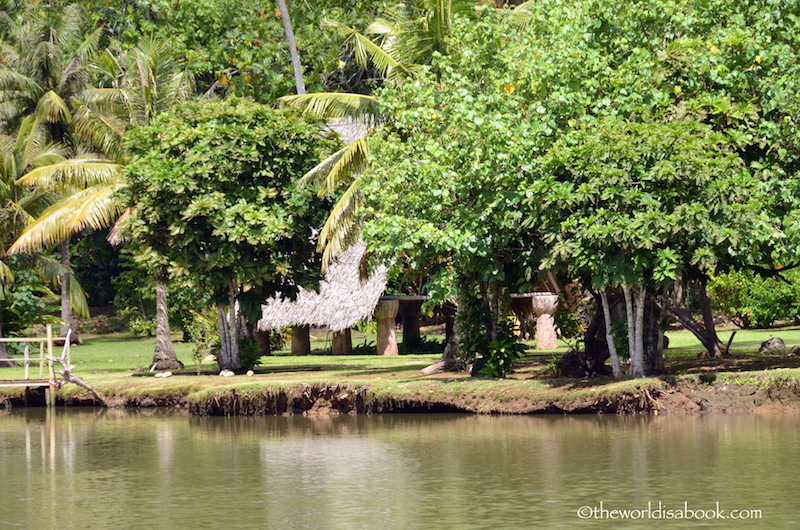 We found remnants of historic latte stones grouped near the river. Latte Stones were stone pillars with capstones constructed from 1100 to 1700 AD. These were archaeological remains that were once used by the indigenous people in this area as structure foundations. It has become the symbol of Guam signifying strength and the Chamorros' rich history and culture.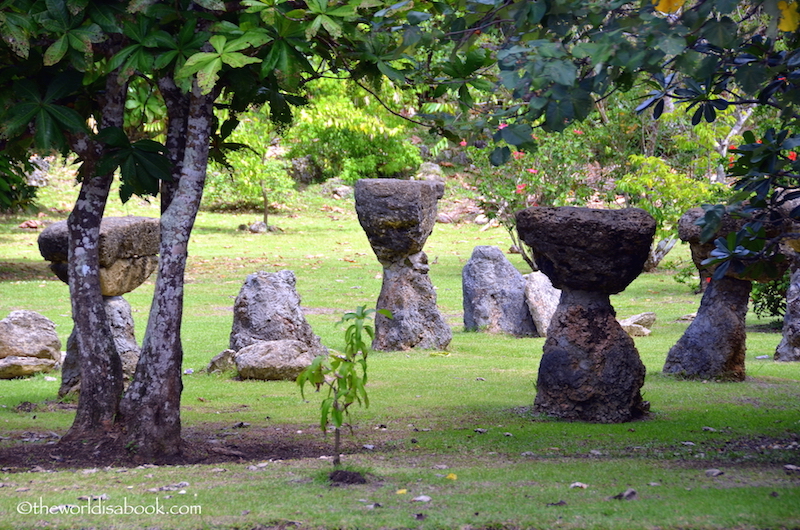 The Latte Stones have been described as "mushrooms with its top inverted". They were usually 4-6 feet (1.2 m – 1.8m) high. The stones were usually arranged into two parallel rows of three to seven pairs to strongly support the thatch buildings.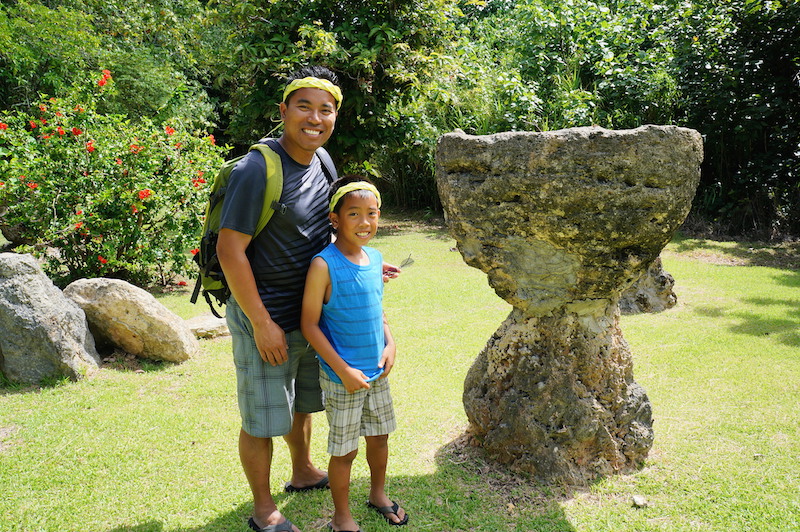 We found this replica wooden and thatched roof A-frame house supported by the latte stones. The islanders used this type of construction for several reasons. Stone didn't rot, it kept animals from climbing up and a raised floor meant it could stay dry from any flooding and allowed air to circulate under the house. It also provided a covered work space underneath the house.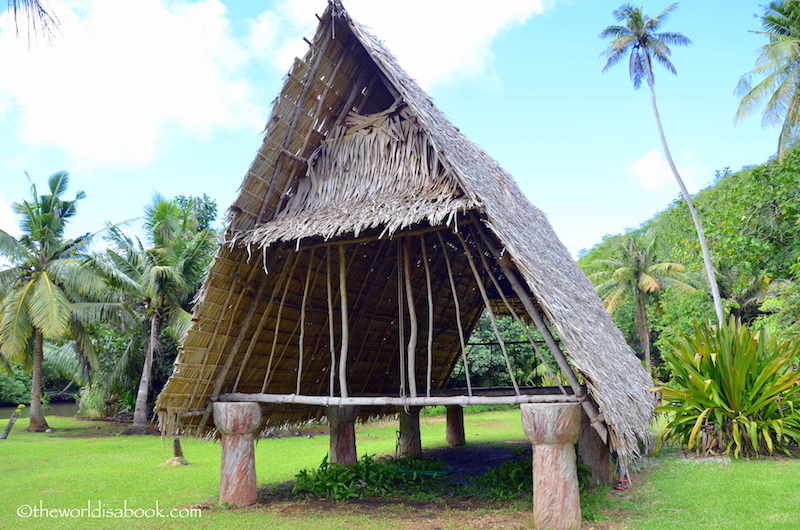 This was a nice open area with many banana trees. Unfortunately, no ripe bananas to pick here.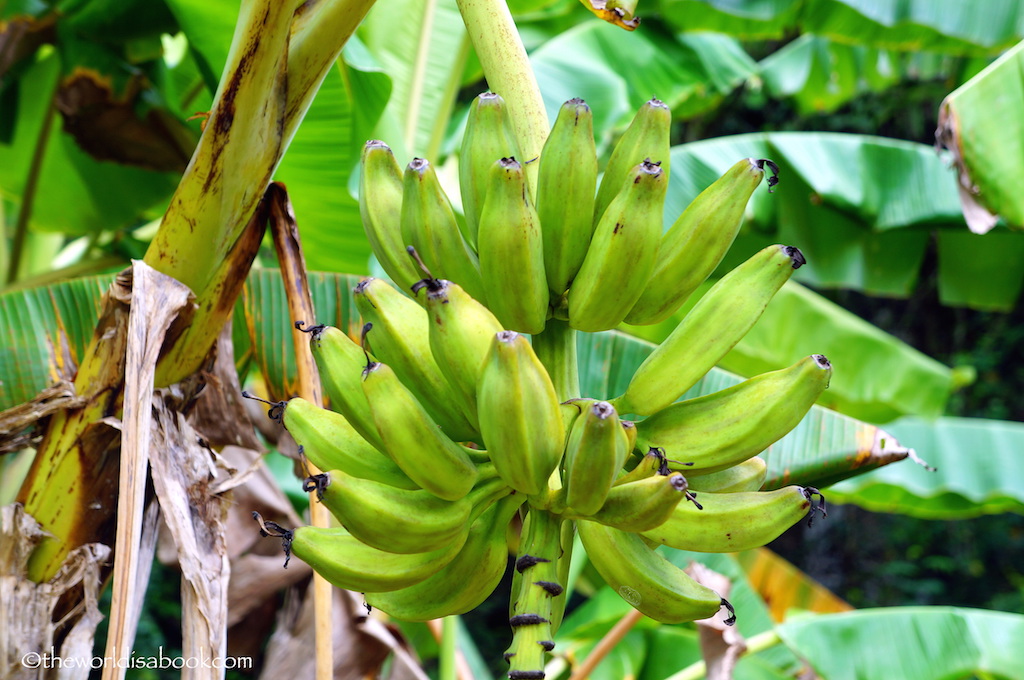 We passed by a cave area but didn't get a chance to go inside. The ancient Chamorros used this cave for shelter from the typhoons. There was a trail away from the village that we followed to get to the designated meeting point.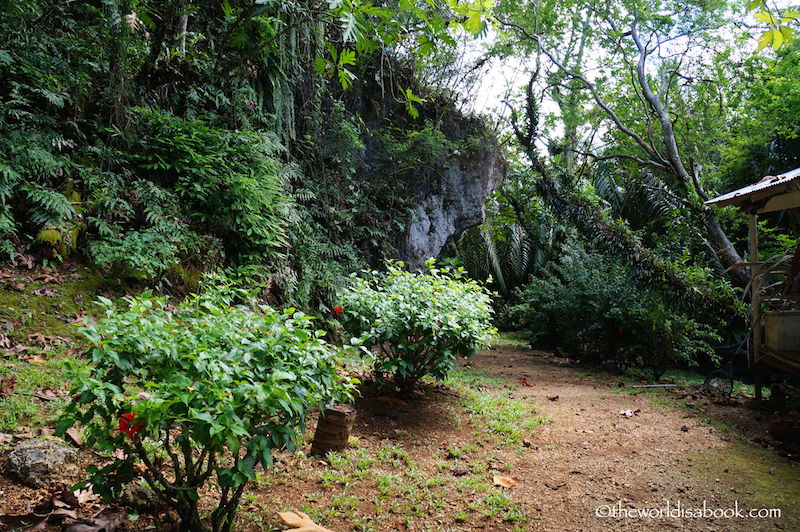 Along the way, we passed by some of these colorful, tropical flowers.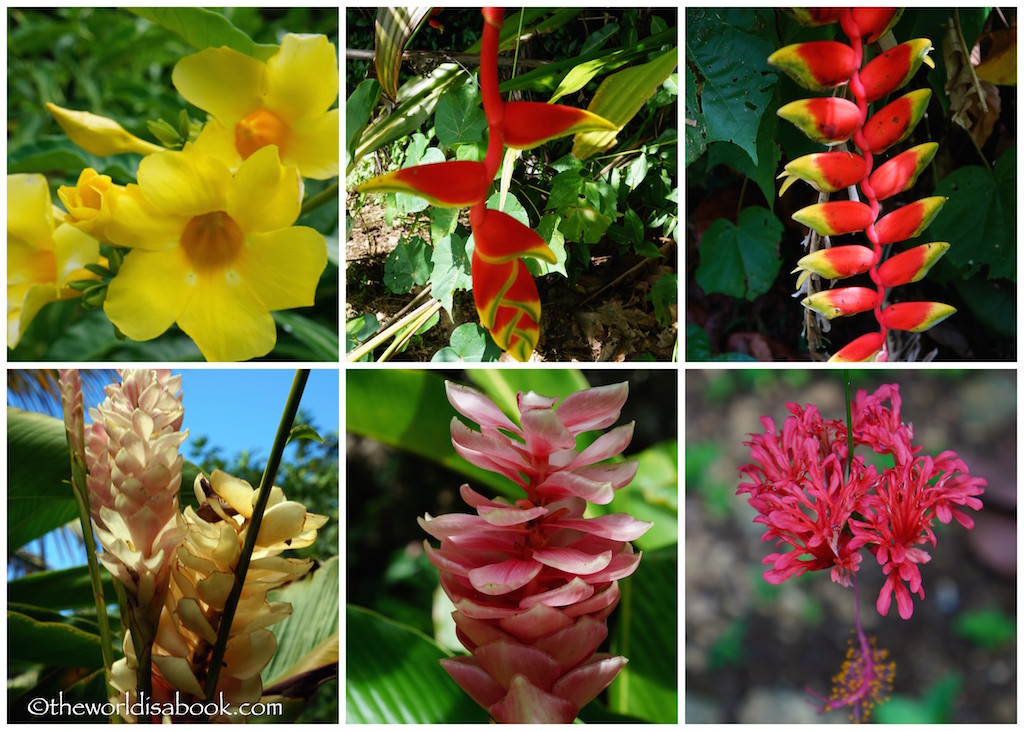 We ended up at a hut where a woman was masterfully weaving coconut leaves into fans, purses, flowers, hats and bowls. We thought they were selling them but they were actually giving them to the visitors. If you're a child, you were bound to score one. My kids ended up with flowers and bowls which we had to leave in Guam. There were also some local animals on display in cages like turtles, iguanas and the brown tree snake.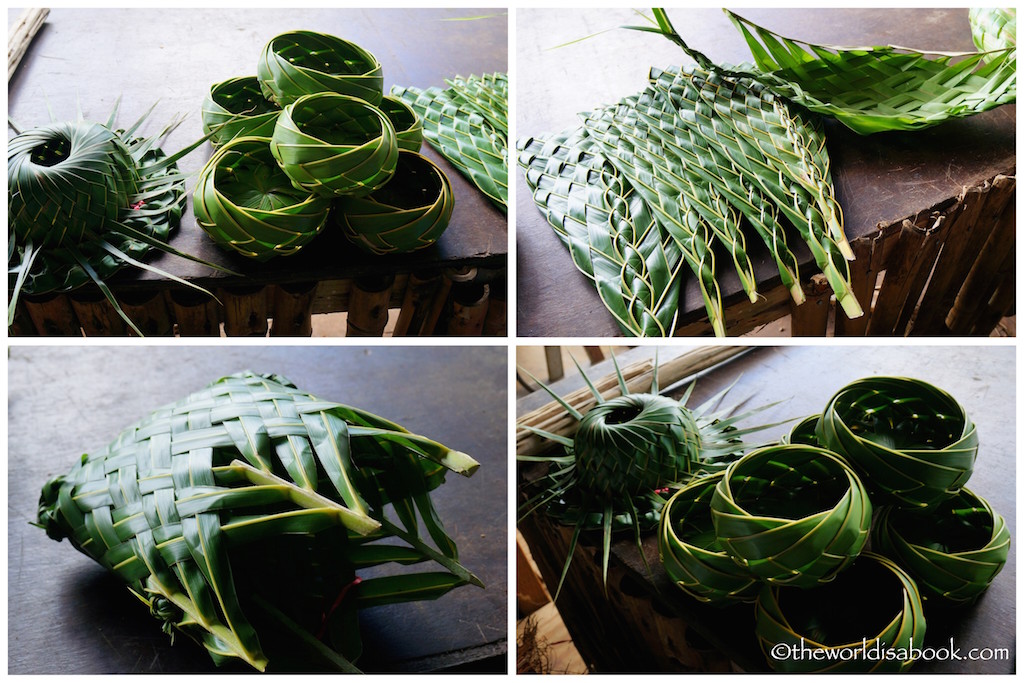 Though, everyone's favorite demonstration was fire making. One of the staff showed us how to make fire with a stick, a piece of wood and coconut husk. I guess pretty much how the ancient islanders would have done it. He made it look so easy and in no time, the coconut husk was on fire.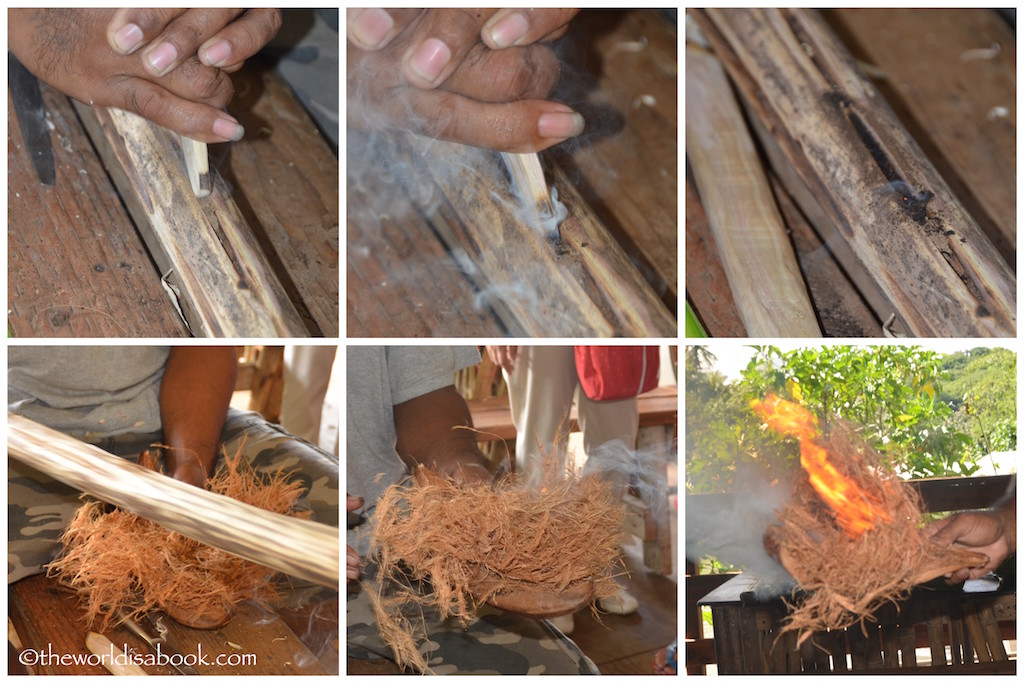 Everyone was welcomed to try to make fire too. My family didn't hesitate to do it. It took them awhile and never got a spark. Note my son profusely sweating from all the effort and humidity. I think it's safe to say we wouldn't be relying on our fire-making skills if we ever go camping anytime soon.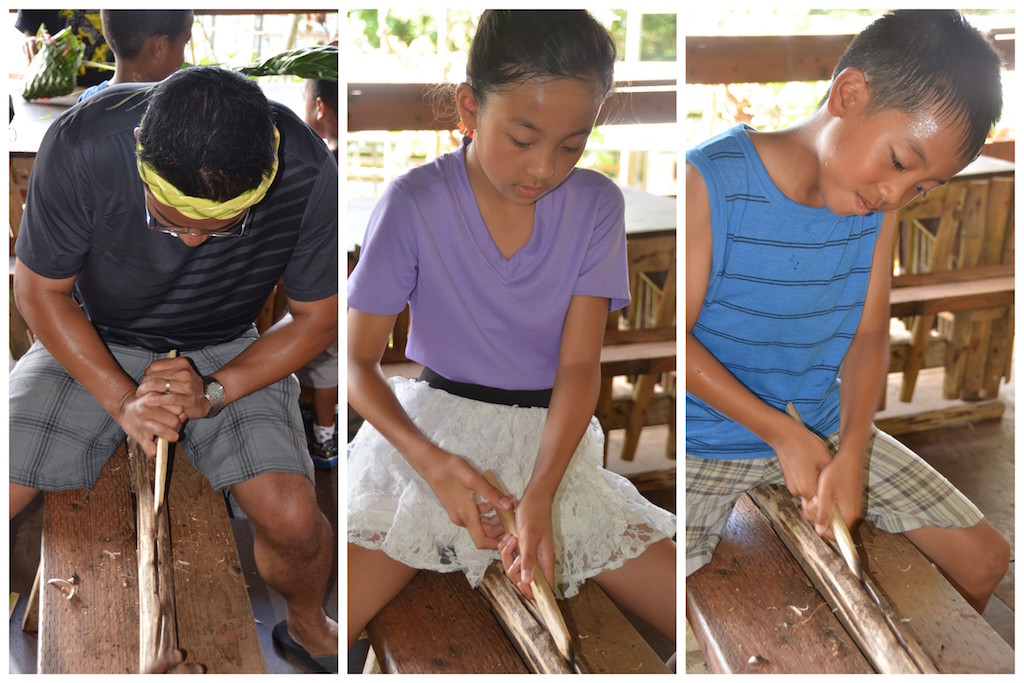 I really had no expectations on this river cruise other than wanting to try something new. It was actually worth a few hours of sightseeing and could see its appeal to the tourists. We enjoyed the relaxing ride down the rivers and seeing the village site. The cultural demonstrations were helpful and fun. The river cruise was a wonderful way to see a different side of Guam which this former local appreciated a lot.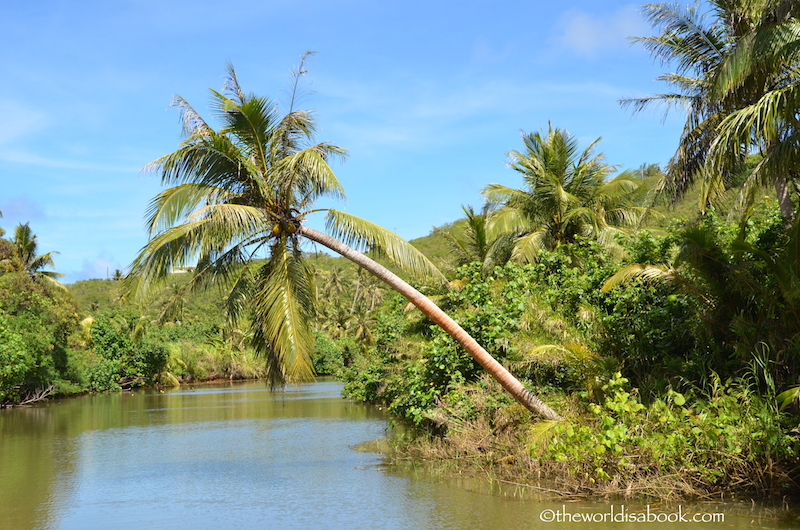 Guam Adventure River Cruise Basics and Tips
Ticket Prices: For Tourists – $70 (Adults); $40 (Kids 5-11); It's steep so try to get discounts. For Locals and Military – $25 (Adults); $15 (Kids 5-11). Check the tour website for the latest prices and information.
Tours last 2.5 hours. Add an 1.5 hour if you're going to be picked up at your hotel in the tourist district (Tumon) on the other side of the island. Certain hotel pickups are available
Tour Start Time at 9:00 AM and 1:40 PM
Free water and ice tea at the cultural demonstration hut.
The boat launch area had restrooms. Free parking available.
Bring and wear sunscreen and bug spray. You are going into a jungle after all.
Which river cruises have you enjoyed?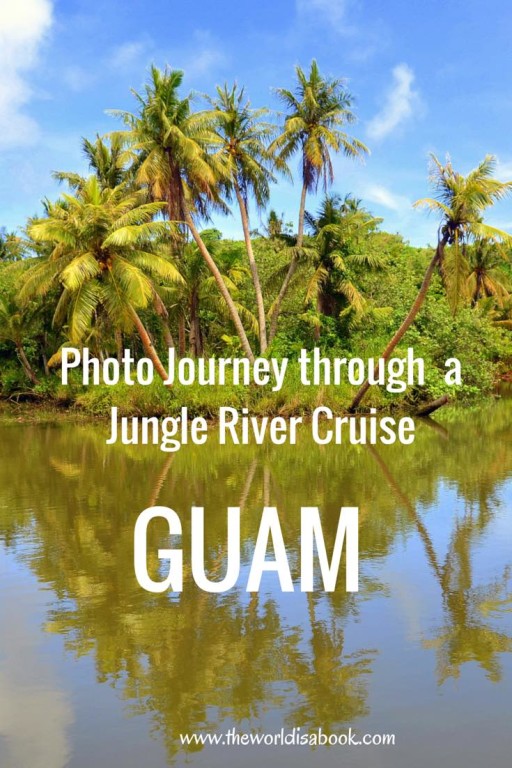 Check out these related posts: