Postcards from Monument Valley Navajo Tribal Park
Chances are you've seen this distinctive landscape as a symbol of the American Wild West and as a backdrop to many western and contemporary movies. We visited Monument Valley this past weekend and found there was so much more to these rock formations than what roadtrippers see along the highway. Come along with us on our self-guided drive around this Navajo Tribal Park and see why it's been called "Where the Earth Meets the Sky".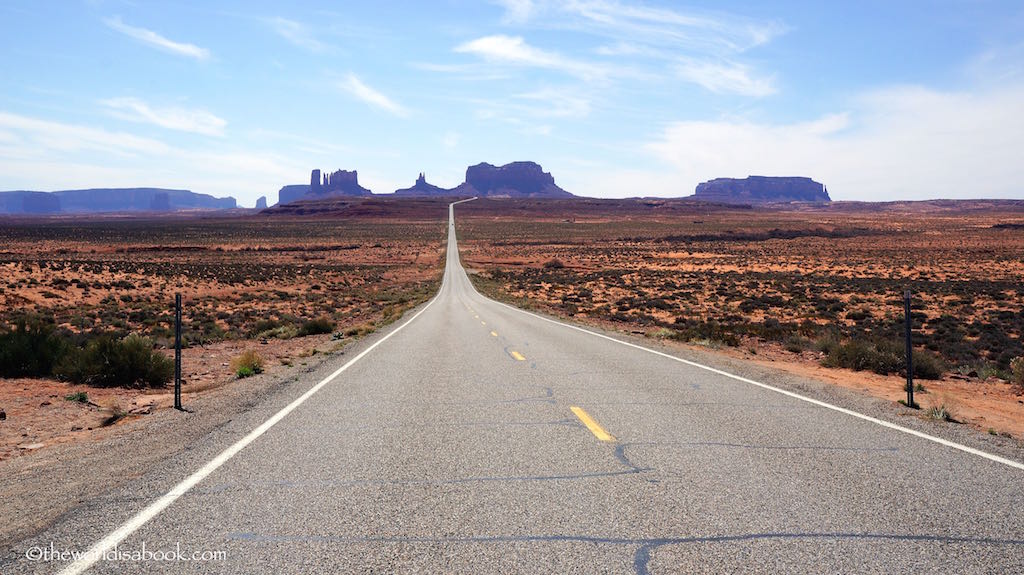 Many people see this popular and spectacular view along Highway 163. The tribal park is actually within the sovereign Navajo Nation land. The Navajo Nation is one of the largest North American Indian tribes with a reservation that extends through three states. Monument Valley is over 91,000 acres and covers parts of Arizona and Utah.
The Navajo people considered this area a sacred place . The rock formations were like altars for worshipping and where they left gifts. They do have their native names but were given English names over the years to make it easier for visitors. Monument Valley's unique sandstone rock formations were created through millions of years of wind and water erosion.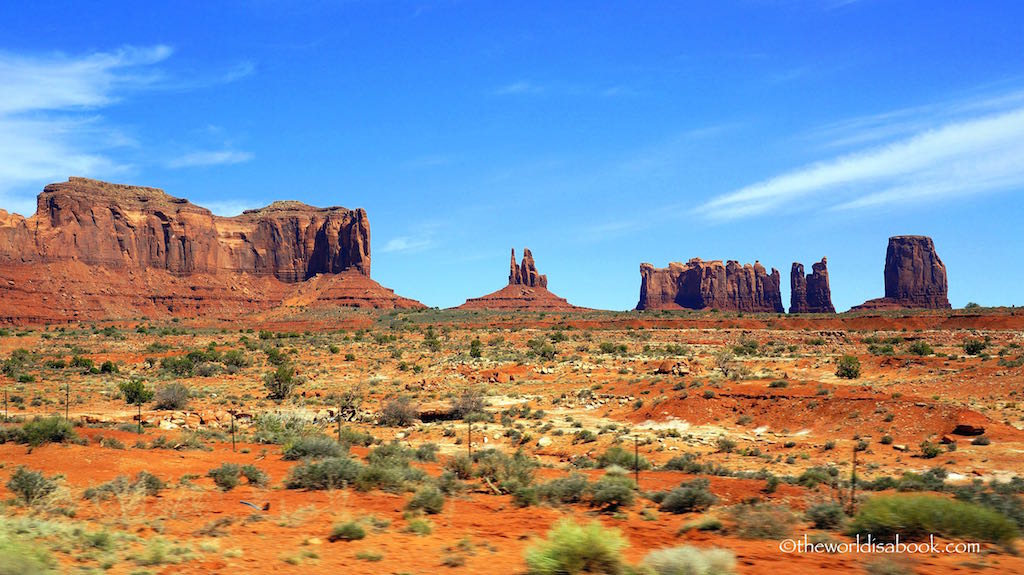 The most popular way to see the valley is through a self-guided drive tour through a 17-mile (27 km) loop. We also did a very interesting safari and cultural tour with one of the Navajo guides the following way and went to some areas not accessible to the public. I will write about that particular tour in more detail next week.
It took a bit of an imagination to see images and what these rock formations were named for. But, look closely and you may see something else. My kids loved staring into these formations and trying to figure out what they resembled. East and West Mitten Buttes were two of the first formations that we saw from our drive. They looked like hands and mittens. Buttes (pronounced byo͞ots) were described as rock towers with flat tops.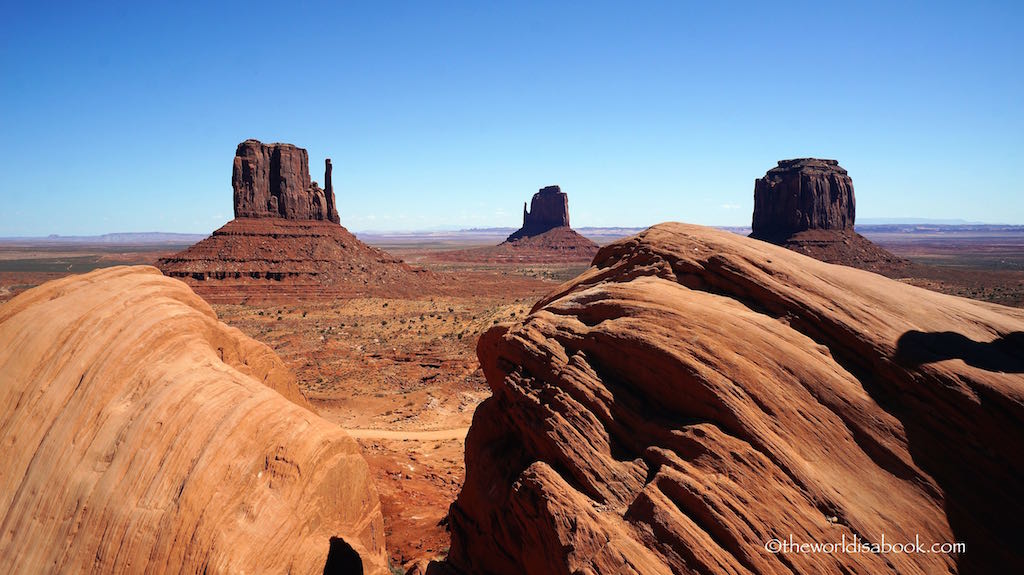 We also got pretty acquainted with the Mitten Buttes and Merrick Butte since this was our view from our hotel room balcony.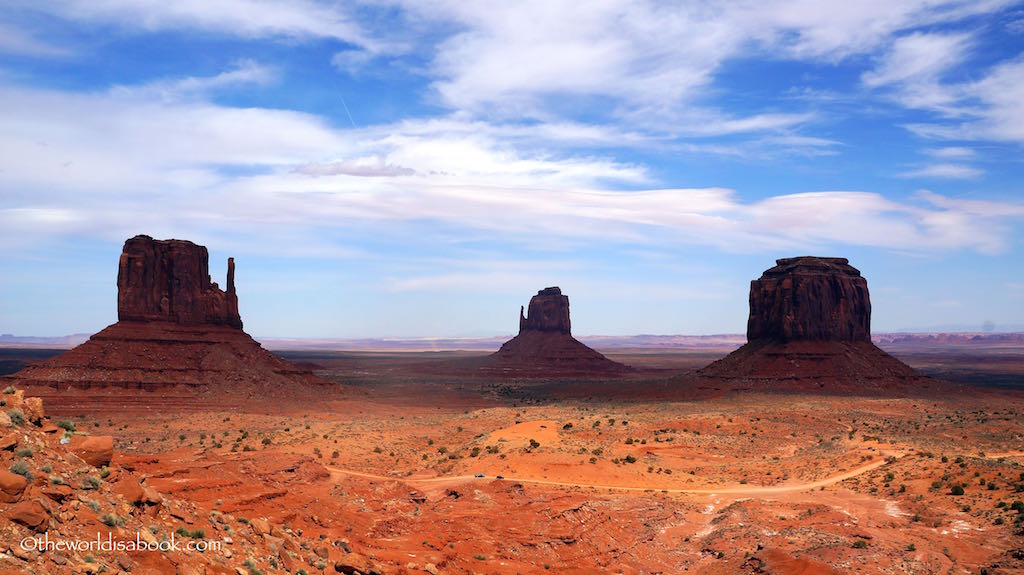 We stayed for one night at the aptly named The View Hotel where all of its 95 rooms had balconies facing the valley and this panorama. We loved hanging out in our balcony and just taking in this incredible beauty and especially the sunrise.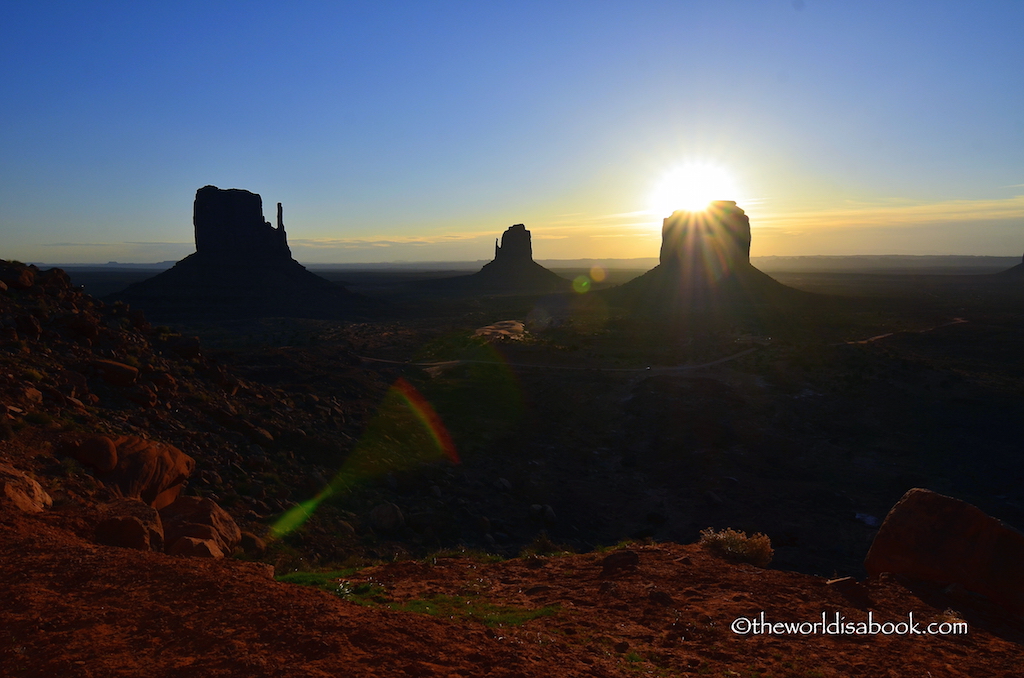 The road through the valley was an unpaved red dirt road that started by the Visitor Center parking lot. Many reviews I've read recommended to have a 4×4 car and/or an elevated car. But, we also saw many regular sedans and passenger cars touring. We had a VW Passat rental car and we were fine driving here. Just make sure you stay on the designated roads and drive slowly.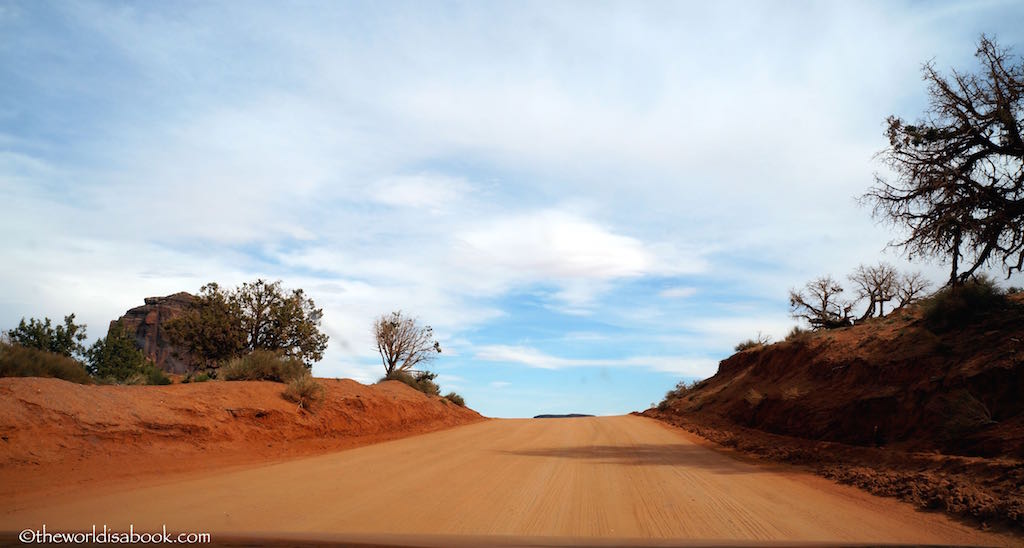 One of the most prominent monuments here was Elephant Butte. This one took us awhile to get and needed the help of our Navajo guide the following day. Can you see a huge elephant here?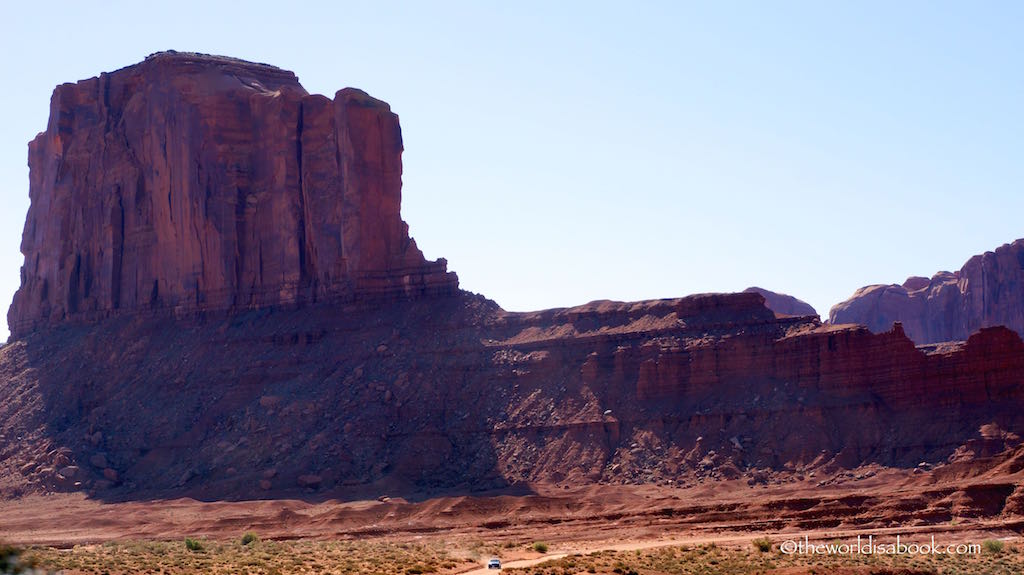 The Three Sisters formation was supposed to look like a Catholic nun facing two students.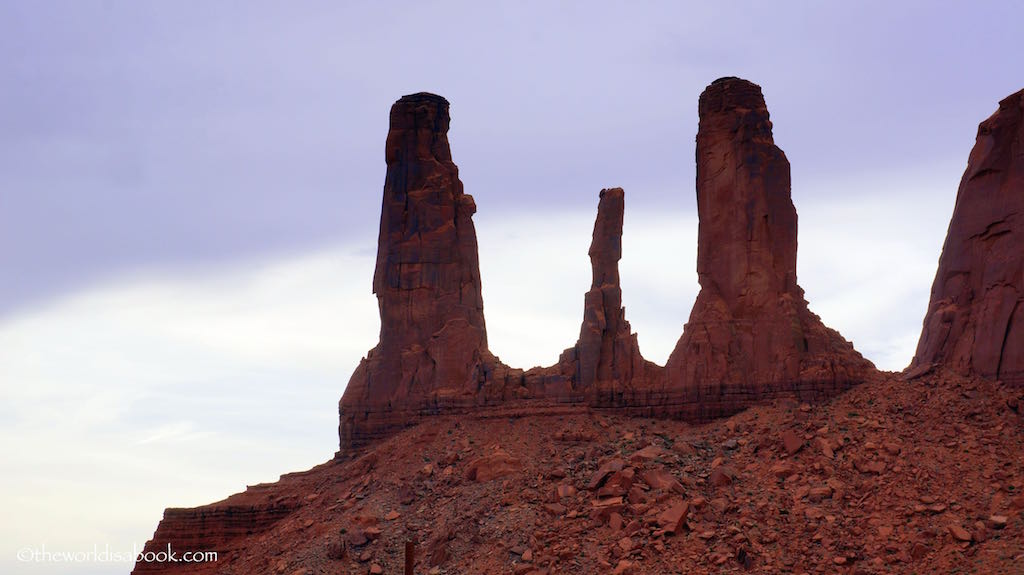 John Ford's Point was a small lookout area with Navajo people selling jewelry and souvenirs. It had a great vantage point of one portion of the valley. We were lucky enough to catch one of the natives on horseback reminiscent of an American western movie scene. This area was named for director, John Ford, who made many of these western movies.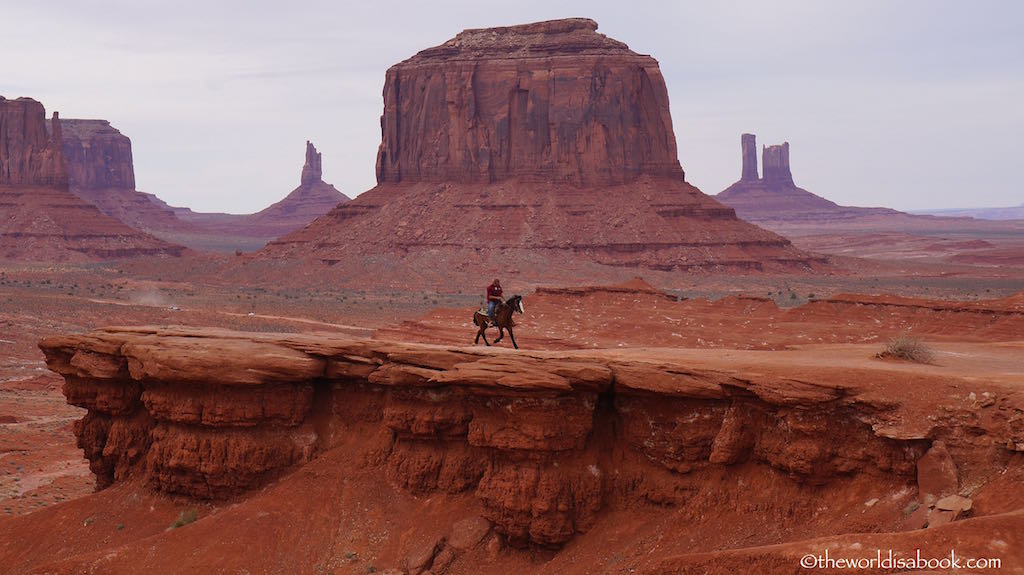 The Rain God Mesa was a huge rock formation we had to drive around. It reminded us of those giant monoliths inside Zion National Park. I've always found it fascinating how these rock surfaces looked so smooth. Mesas (Spanish for table) were named because of their wide and almost flat appearance. They were supposed to be the first stages of erosion and became buttes as the rocks were further eroded.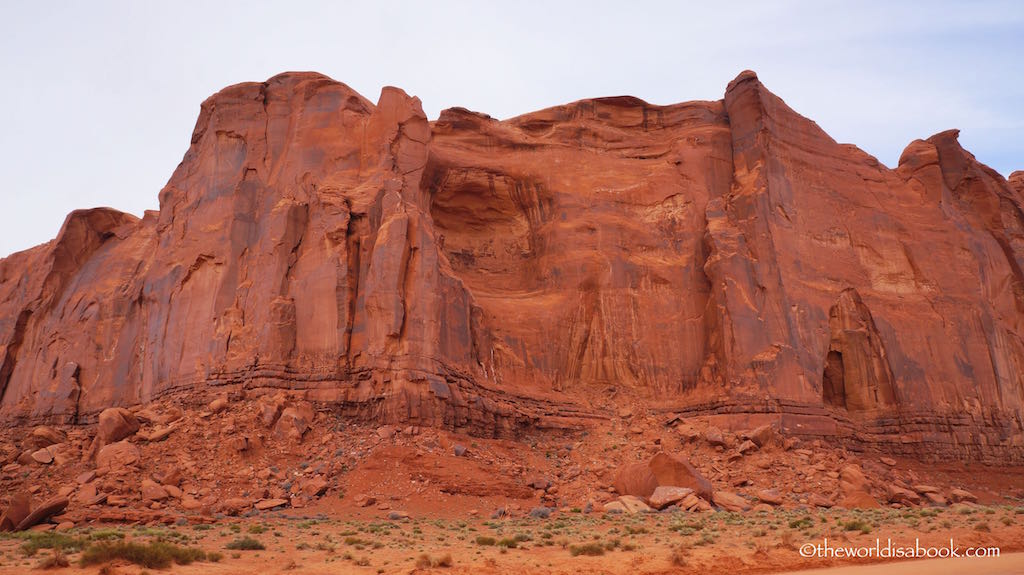 My kids desperatedly wanted to walk on this sand dune but it was too far away. But, they did get their chance the next day.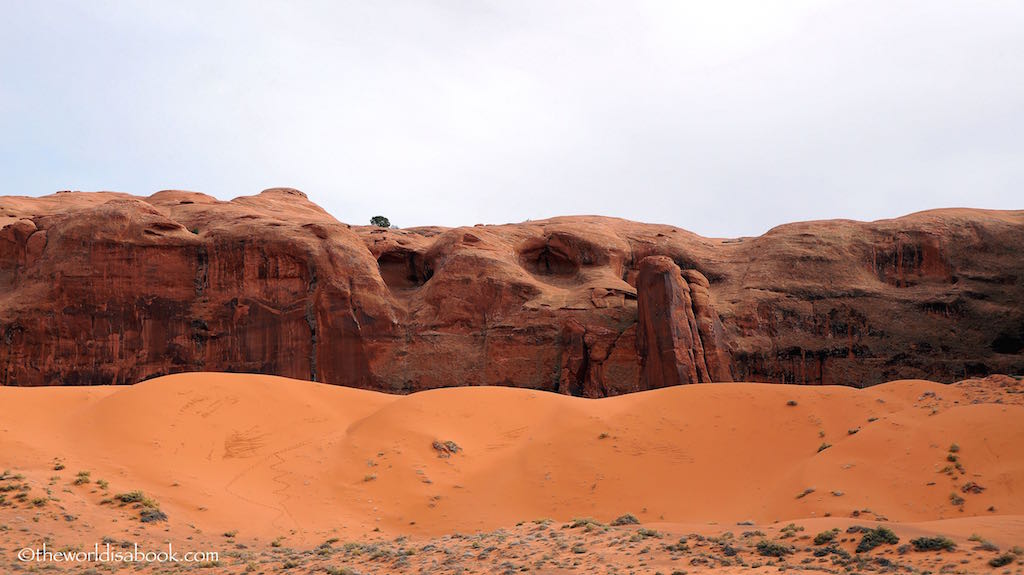 When butte rock formations are further eroded, they turn into tall, narrow formations called spires. We saw the Totem Pole spire from a distance standing tall.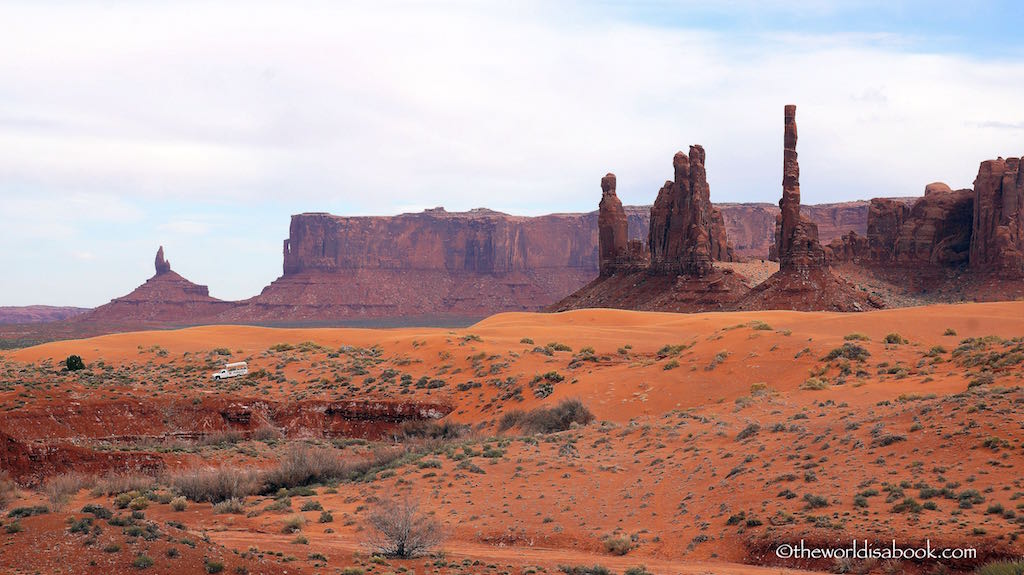 One of our favorite stops was at Artist's Point. This was such a great area to really see the almost otherworldly landscape of Monument Valley. We spent some time here where one could really feel the valley's serenity and clearly understood why the Native Americans revered this land. I could almost picture an artist sitting here capturing this scenery.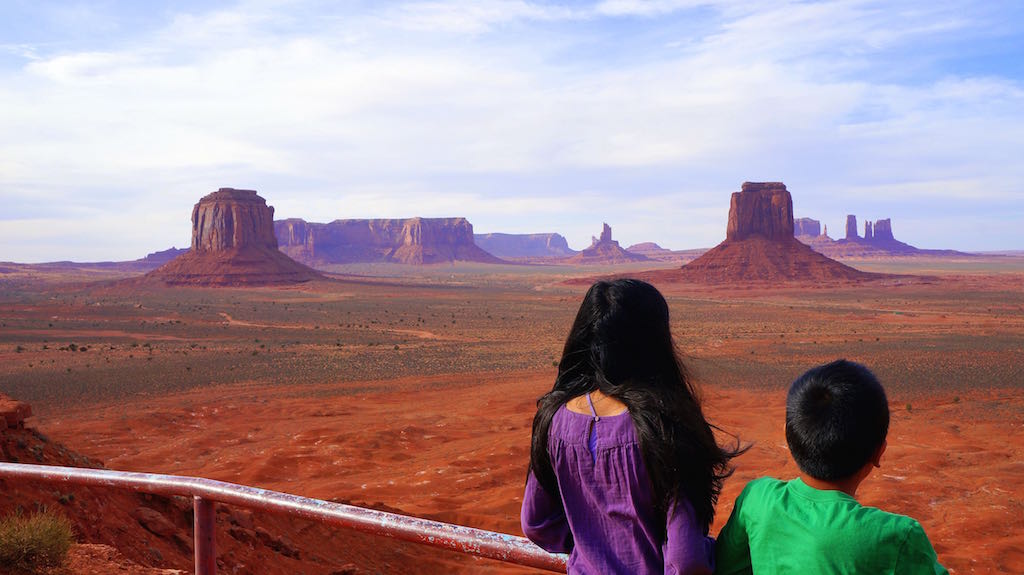 Dramatic landscapes and sceneries like this always inspire my kids to do these jump shots.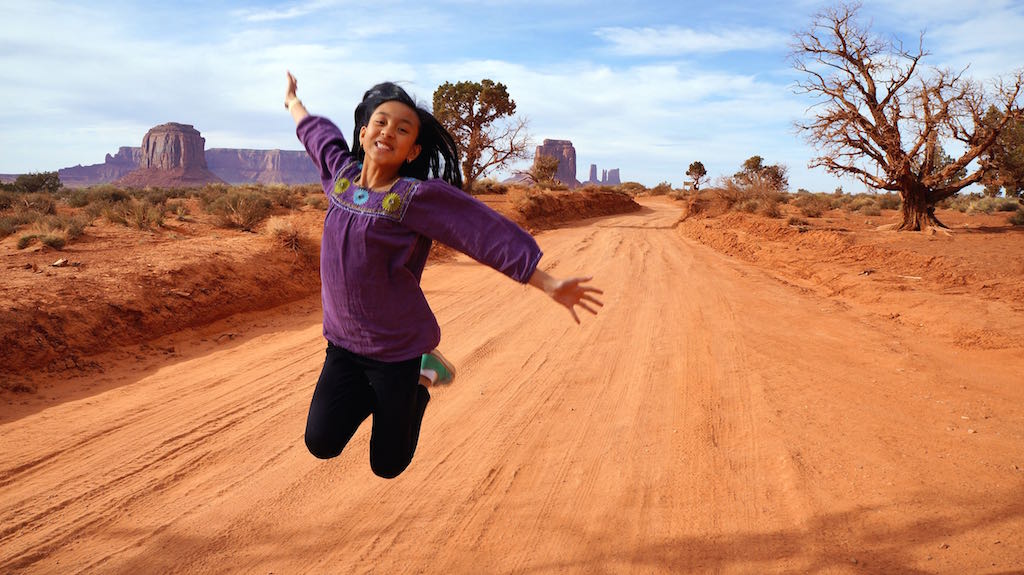 Our last stop on our drive was North Window. This was the spot to see the valley's northern view. From afar, this area really looked like a window between two large buttes of rock.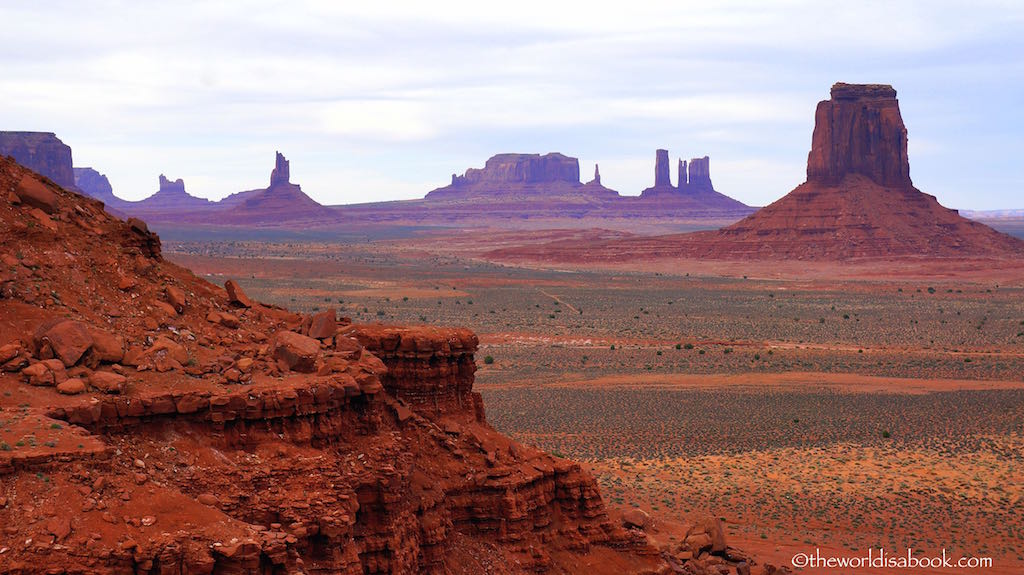 Don't miss the Hogan Village near the visitor's center. There were a few Hogans (Navajo homes) here for visitors to explore. The cone and round-shaped structures were made of cedar branches and other natural materials and covered with red-orange mud. It was very interesting to see how these structures were made. The kids loved exploring the interior. Many of these are stll around and mainly used for ceremonial purposes.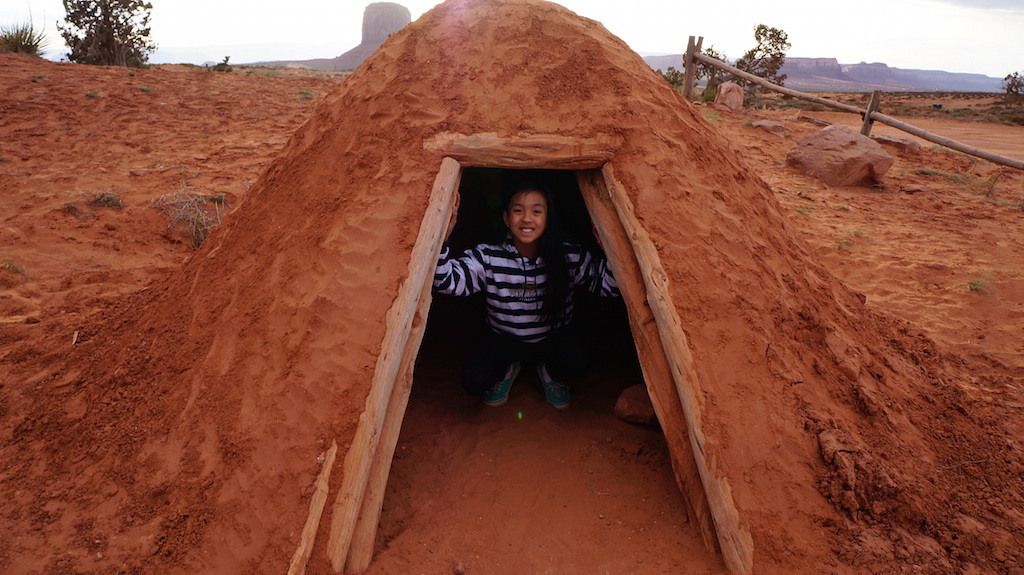 For anyone who has ever seen the very popular Forrest Gump movie, Monument Valley provided a lovely backdrop for the main character's run. There is a small made-up marker outside the park near Mile 13 on Highway 163 heading from Arizona to Utah indicating where Forrest Gump ended his run including some running shoes as a tribute.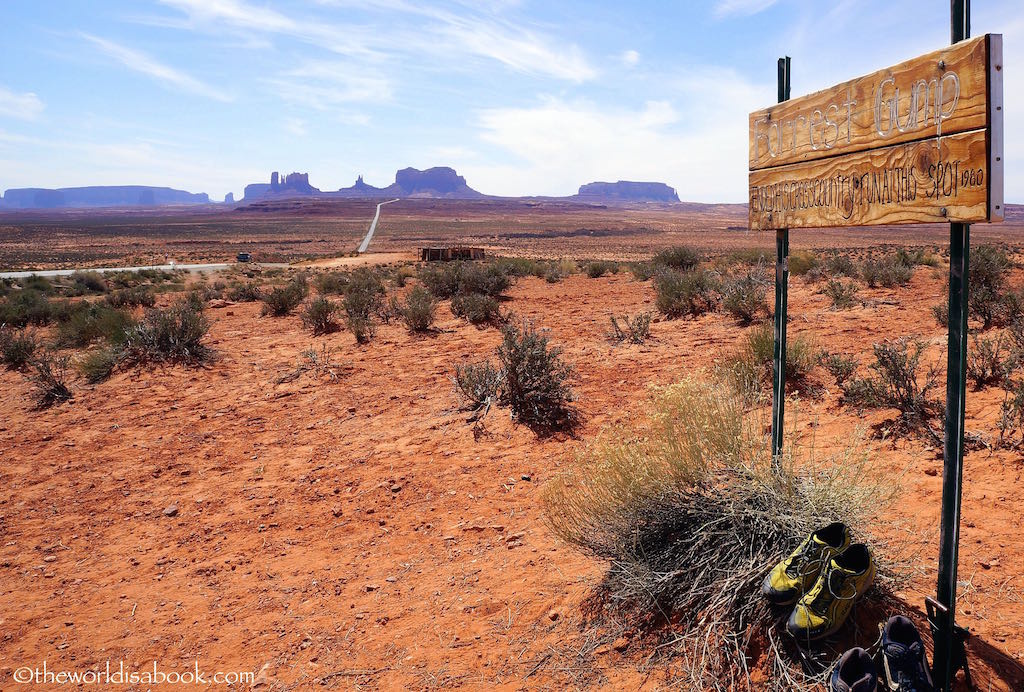 We absolutely loved our visit to Monument Valley and highly recommend it. There was such a sense of tranquility and spirituality to this whole area. There weren't that many people here on a March weekend but were told it gets pretty crowded during the summer months. So, if you're roadtripping across the American Southwest, be sure to take some time to explore this unique park.

Visiting Monument Valley Basics and Tips
Entrance Fee: $20/car and is good for 4 days. Payment is required regardless of The View hotel or tour reservation.
National Park passes are not accepted here since this is not affiliated with the US government Parks and is inside the Navajo Nation land.
Hiking is available on the 3.3 mile (5.3 km) loop Wildcat Trail. This walk goes around the West Mitten Butte.
Lodging: The View Hotel is the only lodging in the park. We enjoyed our stay here. There is also a campground and RV parking within the park. Gouldings Lodge by the highway also has lodging.
Places to Eat: There aren't that many restaurants in this area. We ate at The View Restaurant within the hotel and Goulding's Stagecoach Dining Room which both had great panoramic views. Be sure to try their Navajo Taco and Green Chile Stew.
Tours can be booked with a variety of Navajo operators. There's a stand outside the visitor's center.
Bring snacks and water. There are no concession stands along the drive.
The Valley drive loop will take about 1.5 – 2 hours and also dependent on how long one stays at each stop. Since we take a lot of poses and photos, we were here about 2.5 hours.
Have you visited or passed through Monument Valley?