Sightseeing in Toledo, Spain: City of Three Cultures
Sometimes one needs to venture out of a major city to find some hidden gems. We were in Madrid last November and decided to visit the nearby city of Toledo. It was a worthwhile trip to experience this unique placed dubbed as the "city of three cultures". Explore this walled city and its rich and fascinating history with us.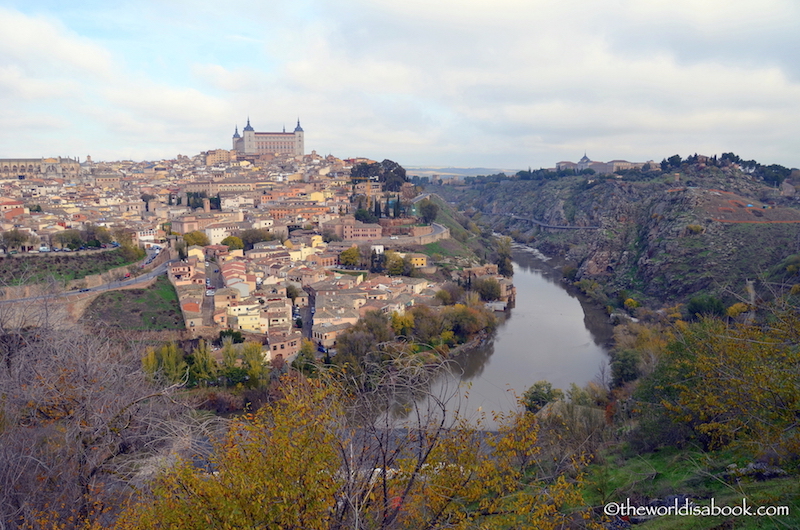 Toledo has a complex history. It was conquered by the Romans in 192 BC. The Visigoths made it their capital in mid 6th century and it became Spain's religious center and political power. The Arabs or Moors arrived in the 8th century but the Jews and Christians continued to live here and were free to practice their respective religions.
Spain's Alfonso VI of Castile reconquered it in 1085 and became the Spanish capital until 1560. Yet after all of these wars, the three religions and culture of Christians, Jewish and Arab co-existed peacefully for centuries.
It is now the capital of Toledo province and the independent region of Castilla-La Mancha. The city is very well preserved and was declared a UNESCO World Heritage site in 1986. It has one of Spain's largest historic centers and contains over 100 monuments that include churches, synagogues, mosques and fortresses.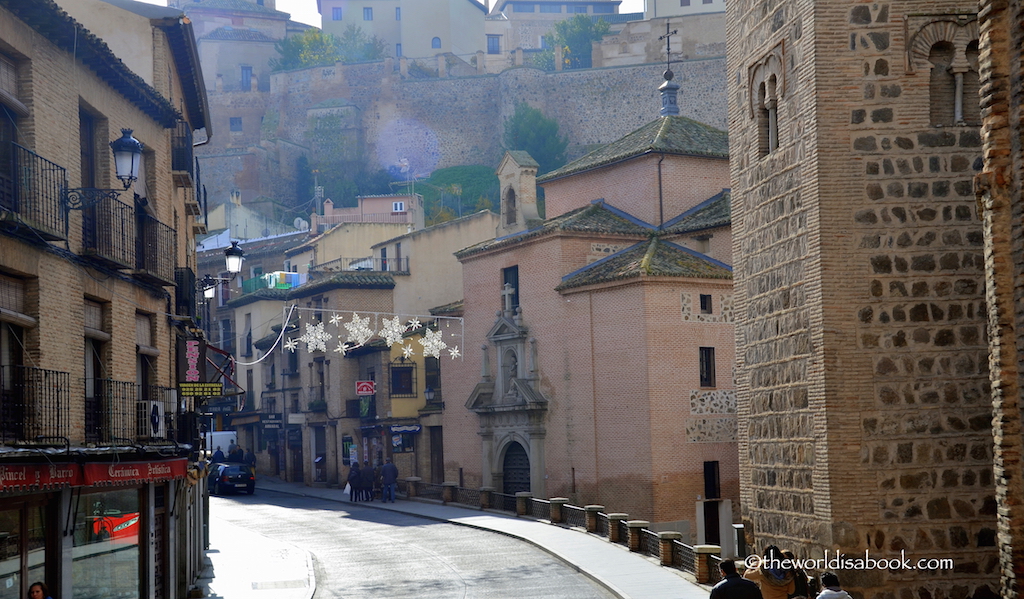 We arrived in Toledo via the Renfe high speed train from Madrid which took about 30 minutes. The city isn't very big and perfectly walkable but we decided to do a short tour first due to our limited time and to get an orientation of the city. The double-decker bus was parked outside the train station. It provided recorded commentary along the way of attractions we passed.
This was our first glimpse of the walled city. Toledo is located on a rocky hill and was almost surrounded by the winding Tagus River (Tajo River). It almost looked liked the city was a magical medieval town on top of a hill with a moat encircling it. This was one of its oldest bridges, Puente del Alcantara, connecting it to the other areas.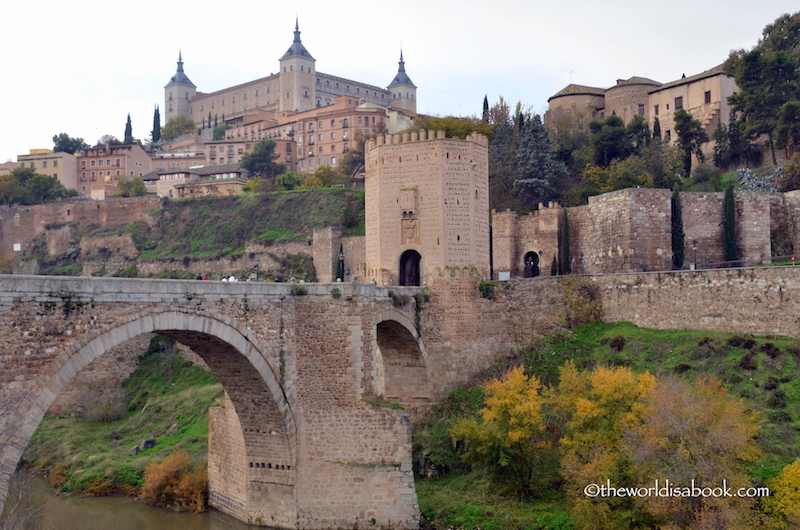 Whether you're exploring Toledo on foot or by a tour bus, make your way to the lookout point up the hill on the highway near Puente del Alcantara. It has a stunning panoramic view of the city from across the river. Many of the tour buses stopped here. The major structures that prominently stood out from the panorama were the fortress and the cathedral.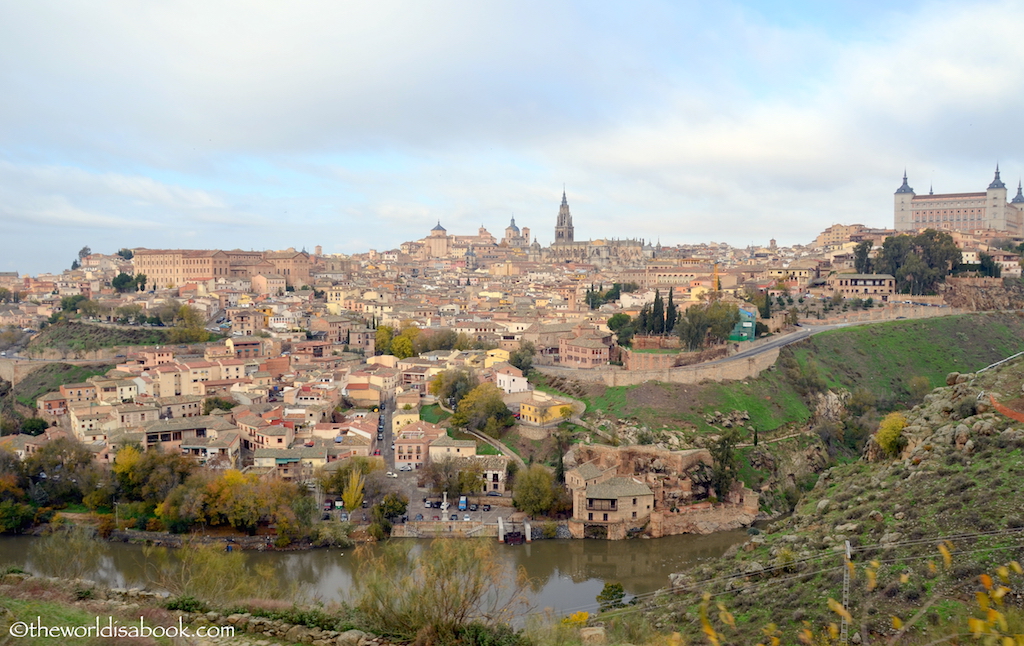 We also made a brief stop at the medieval Puente de San Martin (St Martin's Bridge). The bridge was built in the mid-14th century. This was such a beautiful area that showed another part of the city.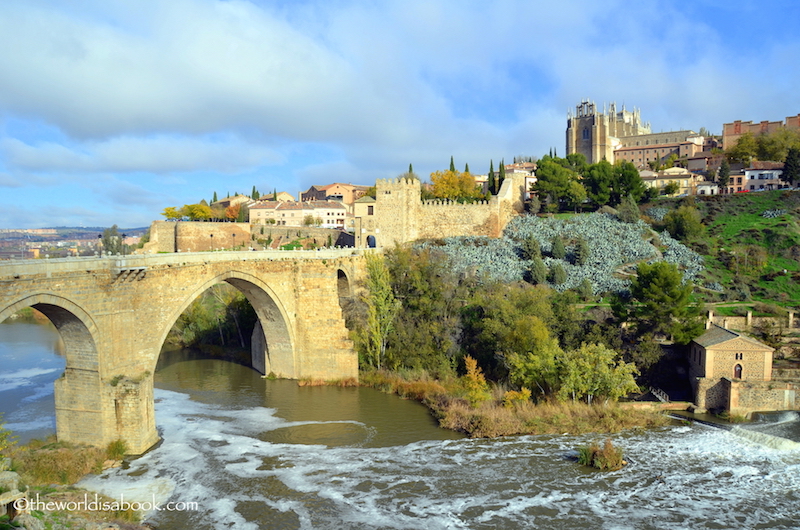 The bus entered the city walls through the Puerta de Bisagra Nueva Gate to the historic center. It was built around the 16th century and was an impressive way to enter. Towers surrounded the gate and with Toledo's coat of arms prominently displayed outside.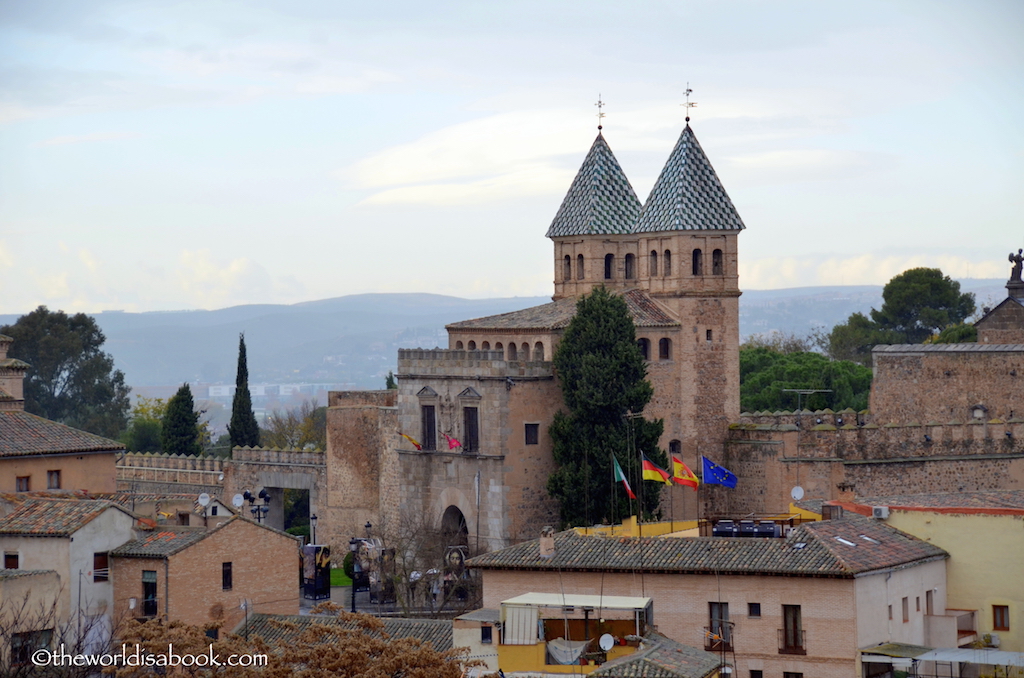 Plaza Zocodover is the city center. The square was filled with benches and trees and surrounded by beautiful buildings that housed restaurants, shops and lodging. There was even a small train that went around that will surely entertain the kids.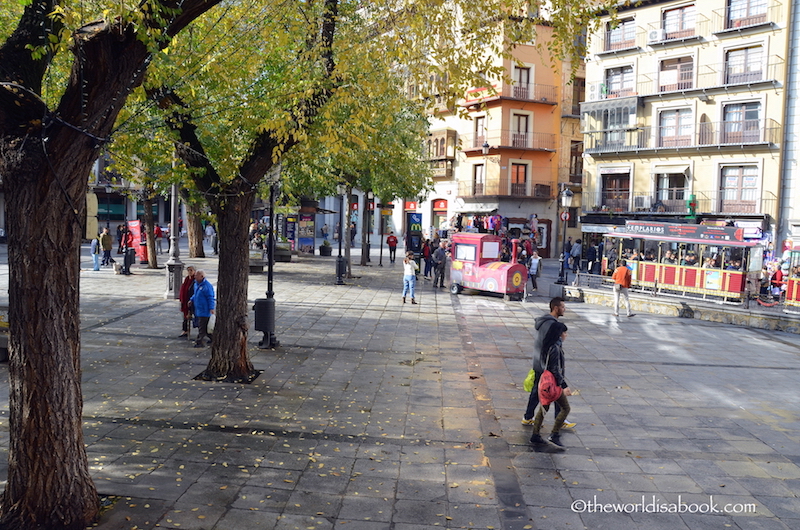 The tour bus dropped us off near the central plaza and by the Army Museum and we were free to wander off. These were some of the first things my kids spotted and of course, had fun with it.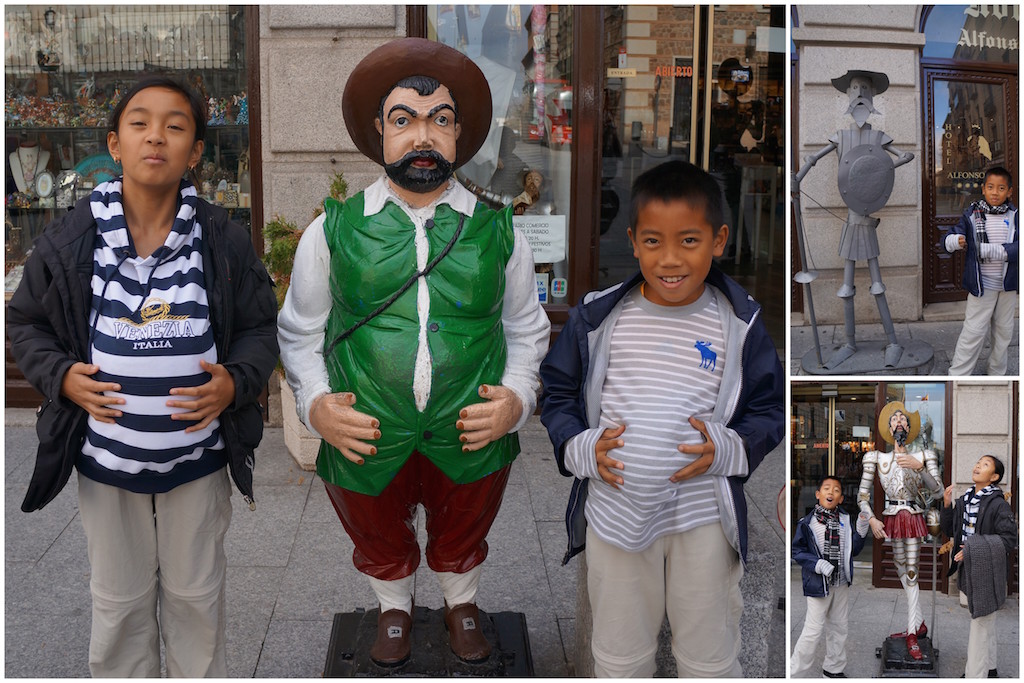 The best way to see Toledo is to walk its narrow cobblestoned streets and get lost. Remnants of the three distinct architectural styles of Moorish, Jewish and Christian Gothic could still be seen on buildings and monuments scattered around the city.
We loved the charming streets and had some of these alleys to ourselves many times. It felt like we stepped back into the medieval ages. Many of the locals we passed along the way were friendly and offered a gracious greeting.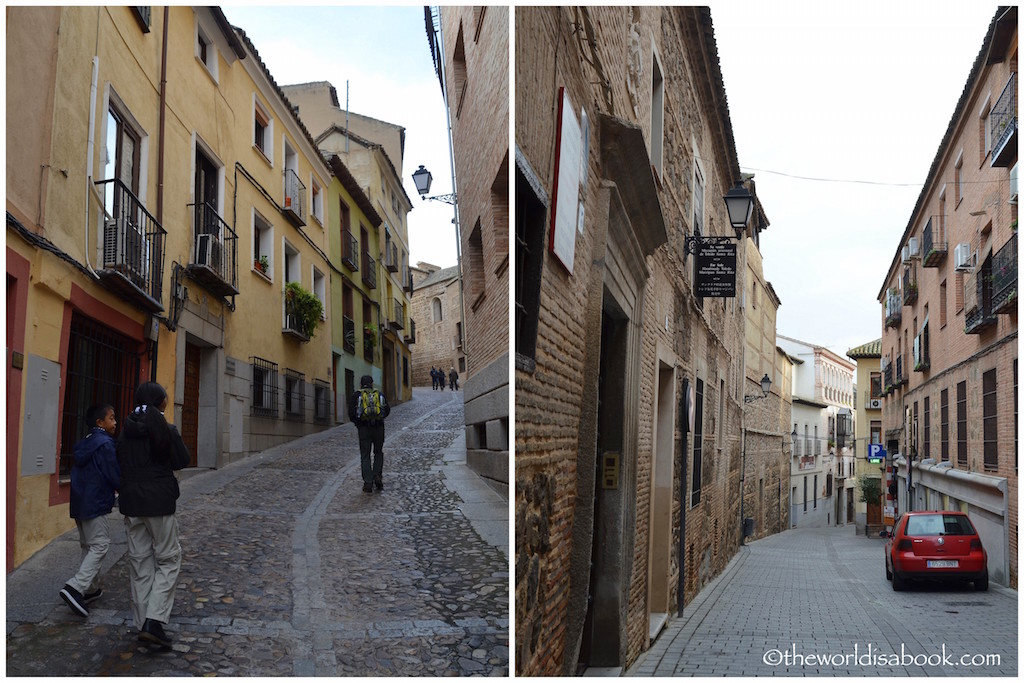 The Jewish Quarter was located downhill from the main streets with a few museums and synagogues to visit. The city's most famous citizen was the artist, El Greco. He was born in Greece, trained in Venice and came here to be a painter. The El Greco Museum is a popular attraction here which showcased some of his works. The building was made to look like a house in Toledo during El Greco's time here. Unfortunately, the museum was closed by the time we got there.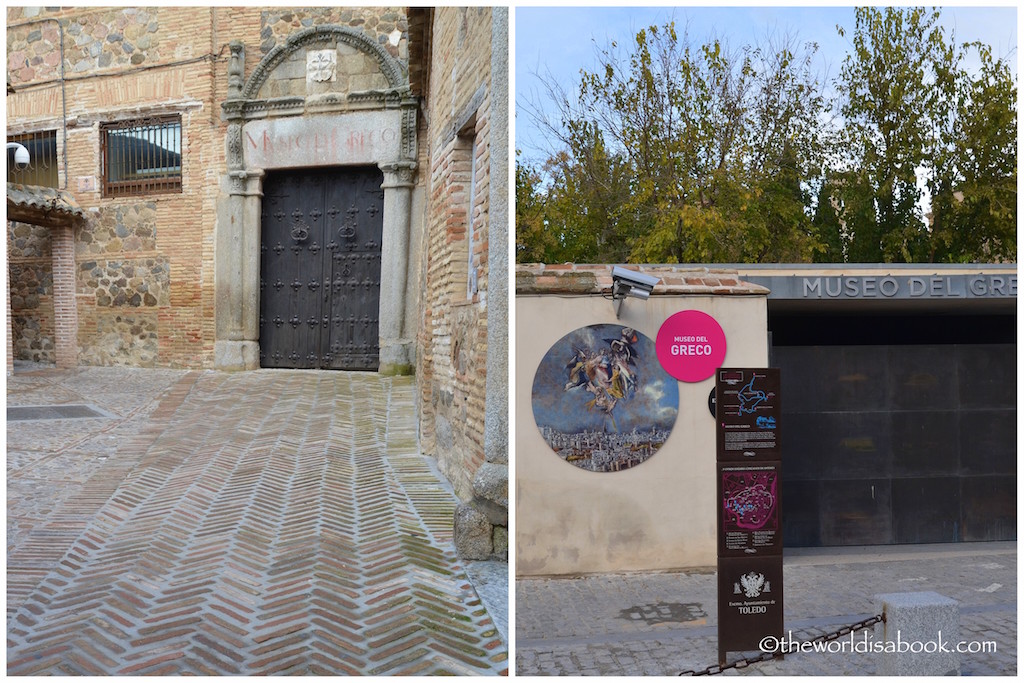 Jardines del Transito was across the street from the El Greco Museum and made for a nice stroll and view of the river. There was a playground here too in case you're traveling with kids and they need a space to play.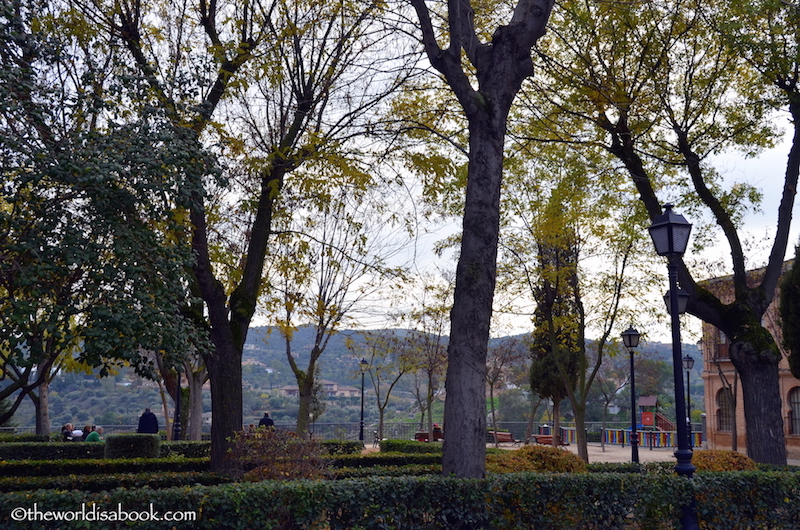 One of the most popular attractions here is the Gothic Toledo Cathedral with its two towers. This was completed in 1493 and took over 250 years to build. It was constructed where the Grand Mosque once stood. If you can only go inside one monument or structure, this is it. But, also take the time to walk around and enjoy its facade including the detailed carvings.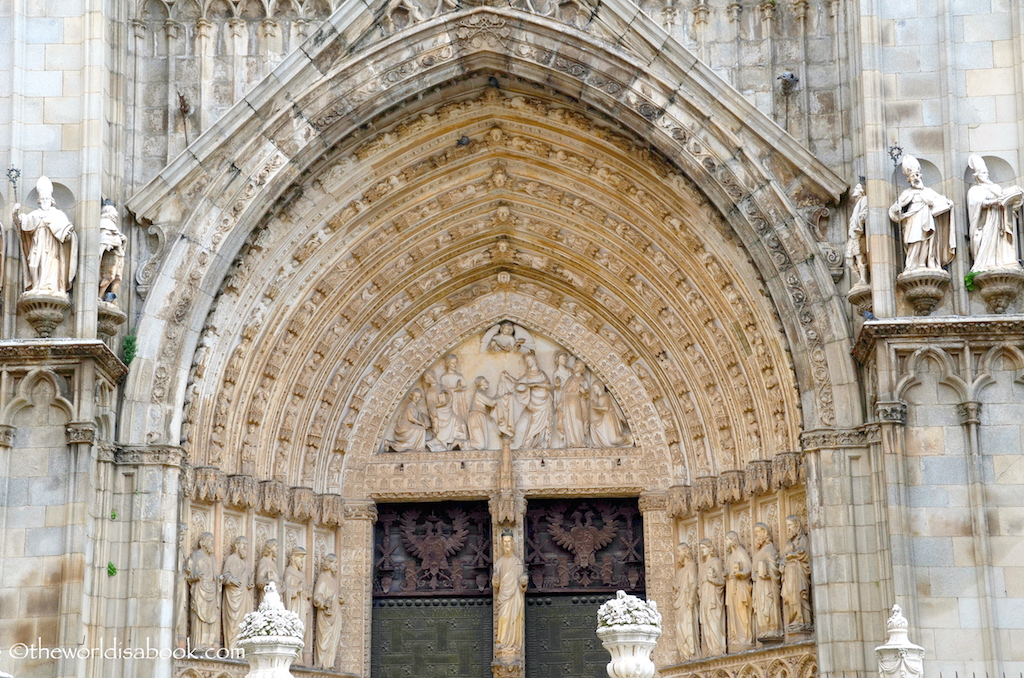 We've seen our fair share of European cathedrals and this was one of the most beautiful and grandest. We were supposed to go on a tour as part of our package but we missed it. So, we did our own self-guided tour which wasn't as effective. This cathedral was huge and felt like a museum inside. One of the most popular areas was Mayor Sacristy which featured the masterpiece "The Disrobing of Christ" (El Expolio) by El Greco.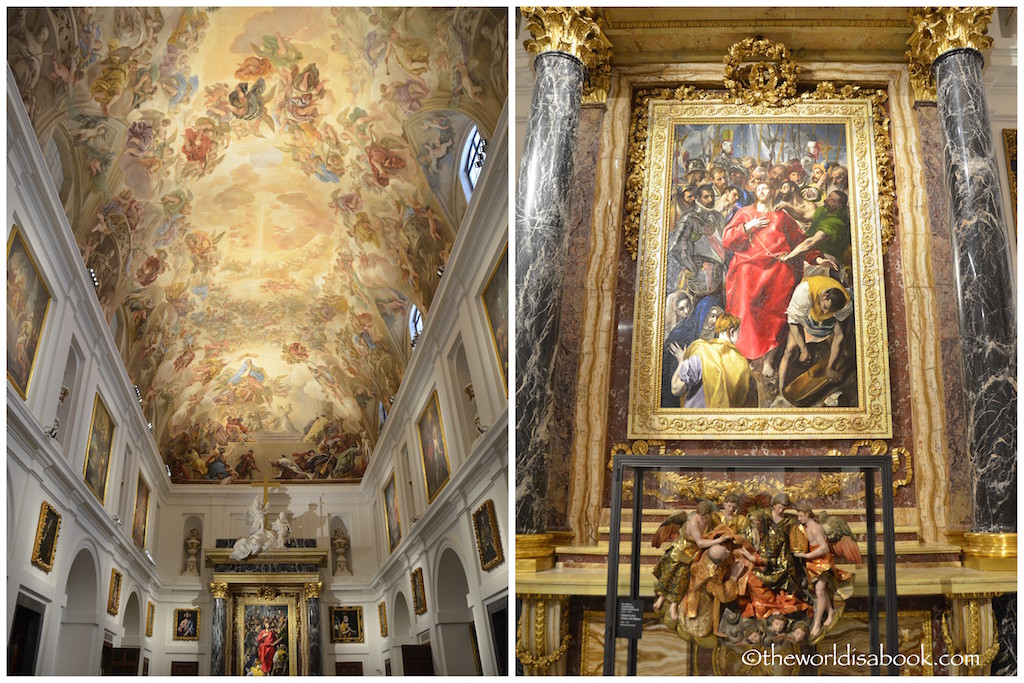 Walking around here left us in awe. There was so much to see – from its altars, chapels, columns and over 700 stained glass windows to the detailed sculptures. It was definitely worth the neck strain on some occasions. Plan on spending at least an hour here.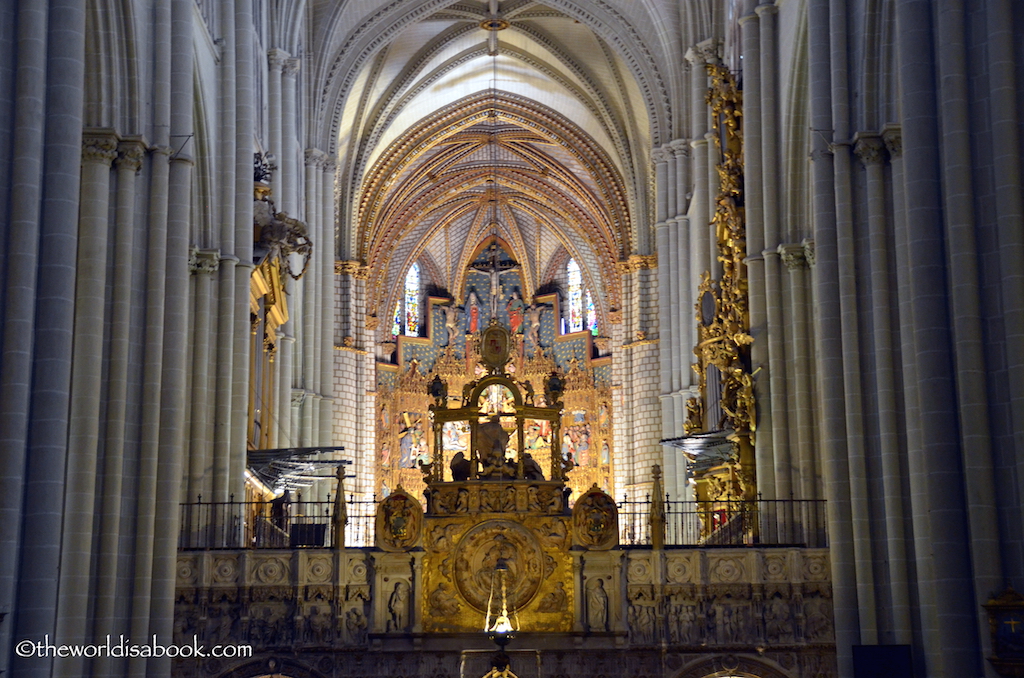 This was the Major Chapel's stunning altarpiece called "Retablo" that went all the way to ceiling. There were various colorful New Testament scenes done with so much detail and artistry. It was incredible!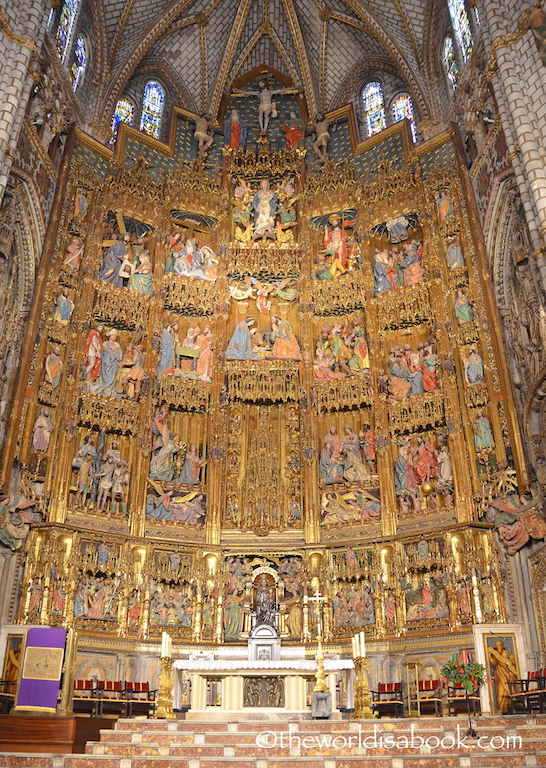 We also loved the Treasure Room. The room was small but the glass cabinets were gleaming with gems and relics. It would be a shame if I didn't share some of our hundreds of photos so I'll do a specific Cathedral post another time.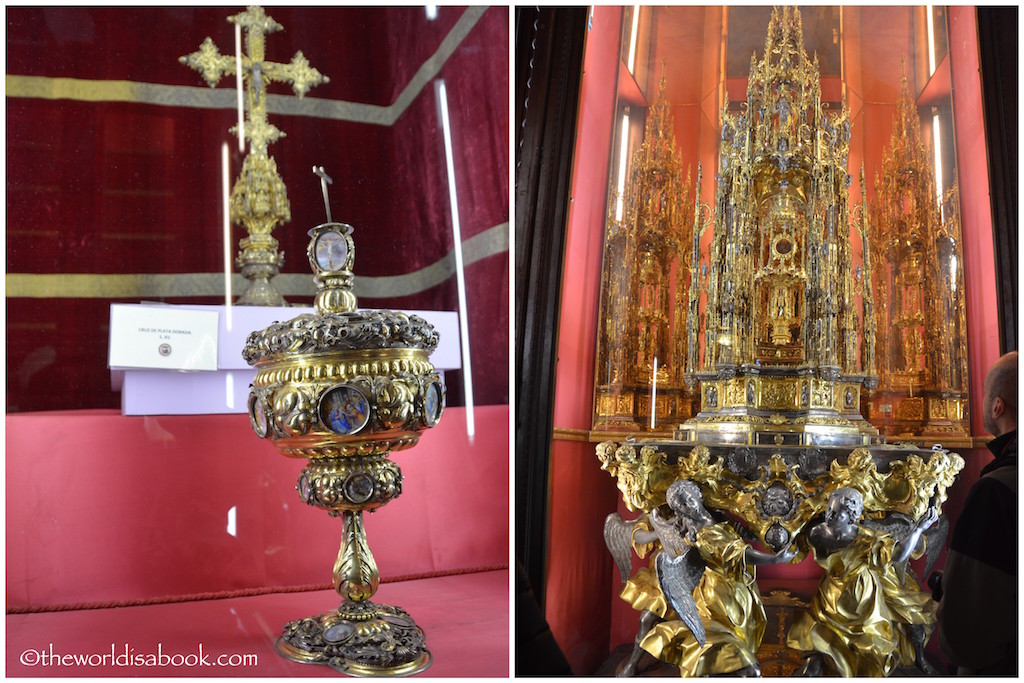 Toledo was world-renowned for their high-quality steel, weapons and swords for centuries. Various armies, including the Roman legion, used the Toledo swords since they were considered the best. There are still some shops around town, like Mariano Zamorano Swords and Toledo Sword Shop,to see craftsmen and sword smiths make swords.
Need souvenirs? There were many stores selling swords, knives, armor and silver jewelry here and most of the prices were reasonable. My husband and son really enjoyed window-shopping in Toledo. I'm not sure what we're going to do with a sword but my husband brought one home as a souvenir.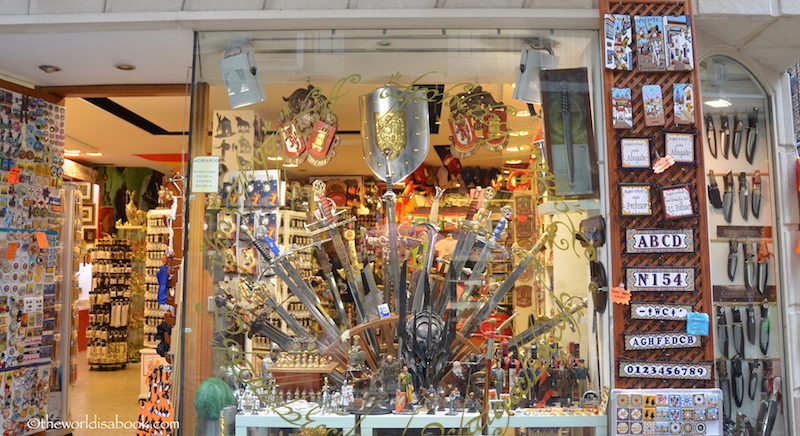 One of our last stops was the Alcazar. This was an imposing structure in its heyday. It was originally built as a fortress and Palace of Carlos V during the 16th century. It is currently the home of the Army Museum and the area's Regional Library.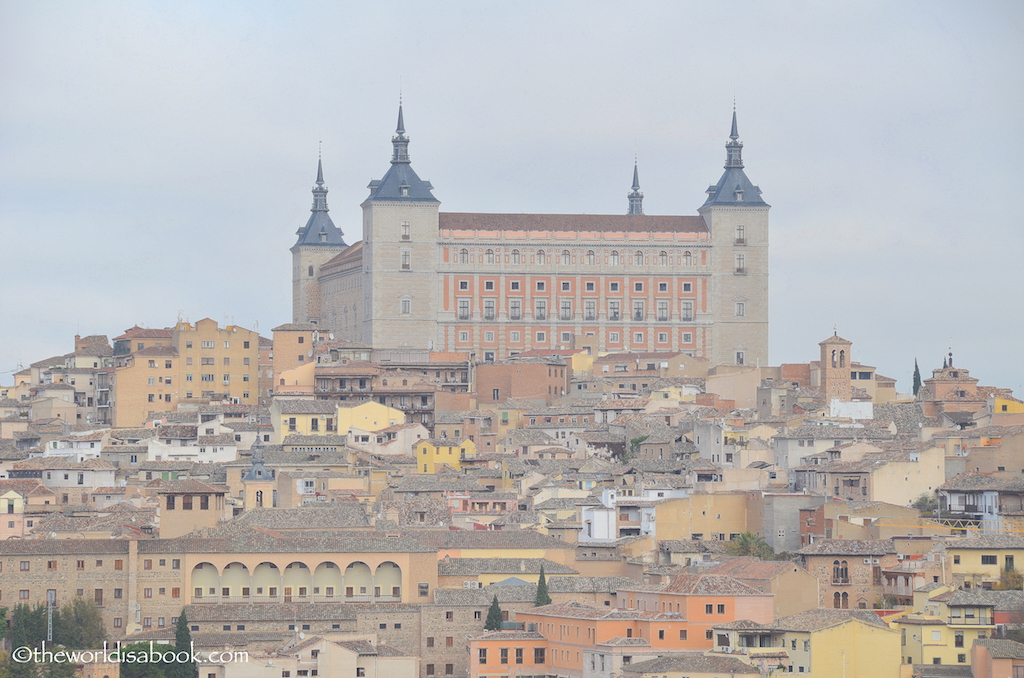 There were remnants of the old castle walls inside. The museum wasn't very big but we enjoyed the vast collection of weapons used by the Spanish Army and especially seeing the swords Toledo produced.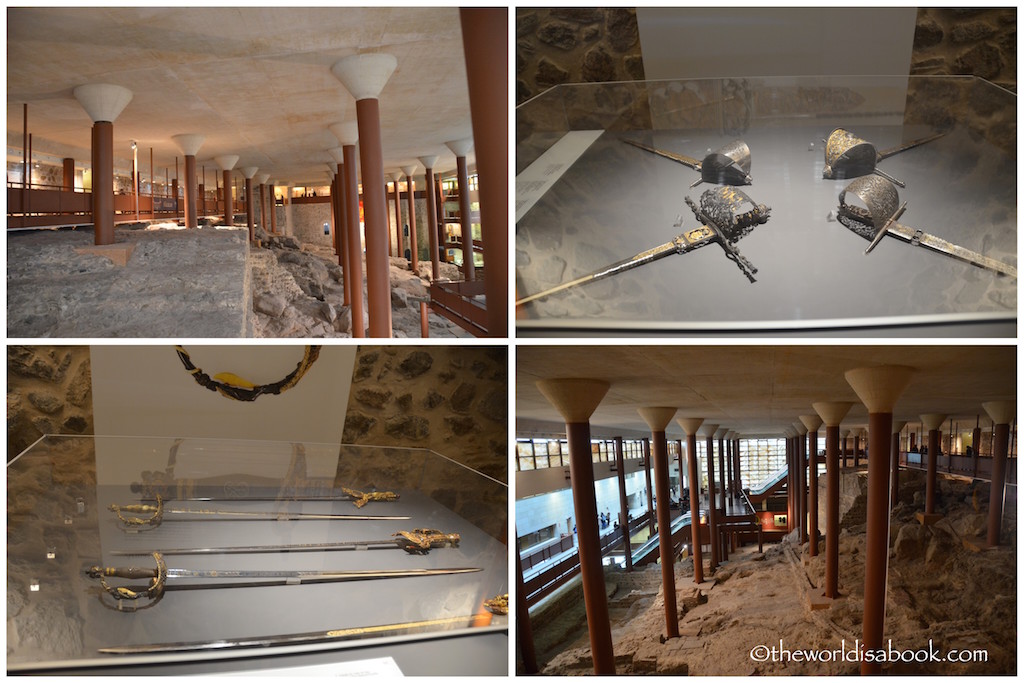 Where to eat
We stumbled on "La Malquerida de la trinidad" near the cathedral. It was filled with Spaniards and had a very lively atmosphere. Their menu was varied and had reasonable prices (most around 10 euros) including their express plates that came with drinks and salad.
I had some delicious paella and the kids were still stuck on pasta after having just left Italy and had tortellini. My husband asked our waitress for recommendations and ended up with carcamusas (pork meats stew in tomato sauce served with peas).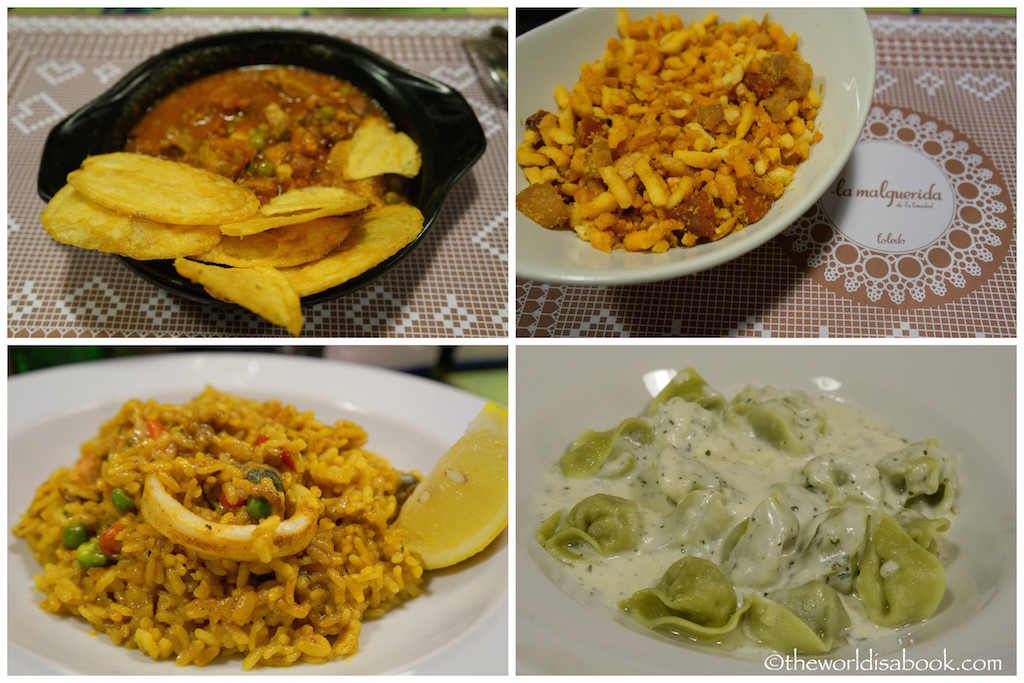 Though, the one food we were most looking forward to eating in Toledo was their famous marzipan or mazapán meaning March's bread. These were delicious treats made of almond paste, honey and sugar. The Convent of San Clemente nuns were believed to have invented mazapan during a wheat shortage when the Spaniards were battling the Muslims.
We picked up mazapán in about three shops and also saw signs of convents selling them but they were closed. The best ones we tasted were at the Confiteria Santo Tome. They had a delightful shop on Santo Tome road and by Plaza Zocodover. Their family has been making marzipan since 1856. The bakeries were also filled with other pastries that made dessert-loving people like my daughter and me swoon. They were also great snacks as we walked around town.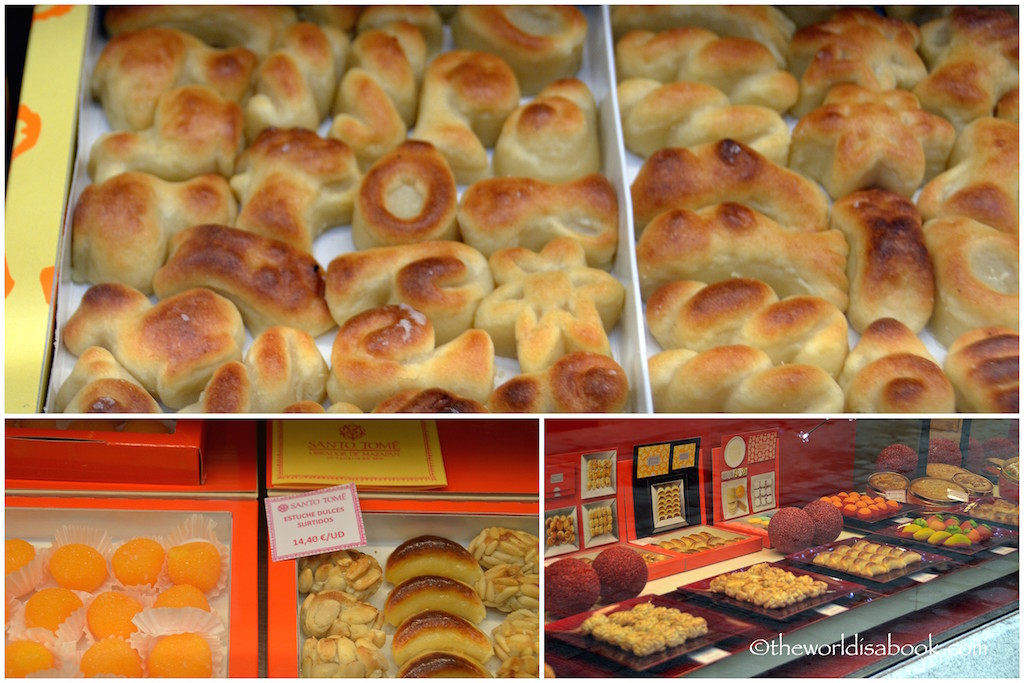 If you've heard of the expression "Holy Toledo!" which means mind-blowing, it may have well started with this beautiful town and its vast collection of religious structures. The mix of cultures and multi-religious history and legacy made for a very interesting visit. The whole town was so well preserved and was such a remarkable place to stroll. Toledo is a worth a day or a weekend trip if you're traveling around Madrid or central Spain.
Visiting Toledo Basics and Tips
Getting There: Toledo is about 43 miles (70 km) from Madrid. There are buses but many visitors arrive here through the high-speed Renfe train from Atocha station. They stop selling tickets 15 minutes before train departures. Trains leave every hour.
There is a Toledo visitor's center office inside the Madrid Atocha station. Visit them to get a map and for tips and information.
Book tour at Toledo train station. We do recommend the double decker bus as an orientation and it also gave us tickets to the cathedral (bypassing the lines) and the chance to climb the Bisagra gate tower. The buses were right outside the train station for the start of the tour. Sit on top for the best views.
Buses to the historic center are also available from the train station. Bus 5, 6, 22 will get you there. Taxis were also readily available.
Cathedral tickets can be purchased at the office in front of the main entrance. Bell tower visits are available.
If you can, spend at least a couple of days here. Our day trip was rushed and we would have loved to explore more of the area.
Sundays offer free admission to the cathedral and many of the museums. We visited on a Sunday and it wasn't as crowded as we expected in late November.
*Have you visited Toledo?
Where to Stay/Lodging
Save up to 50% on  hotels on

Booking.com

See the best prices from the major travel sites on HotelsCombined.
Find the best Central California Coast hotels and read reviews on Tripadvisor.
Flights/Vacation Packages
Compare airlines, dates and prices all in one place with Skyscanner