Walking through Kuranda, Australia: Village in the Rainforest
I've always pictured visiting a rainforest village to include tree houses and natives in their cultural costumes welcoming us. Well, Kuranda, the mountaintop retreat located 15.5 miles (25 km) from Cairns, Australia (gateway to the Great Barrier Reef) , didn't live up that image but it was still beautiful. It earned its nickname since it was surrounded by the World Heritage Rainforest. But, it was surprising to find how much this little town also had to offer beyond the rainforest.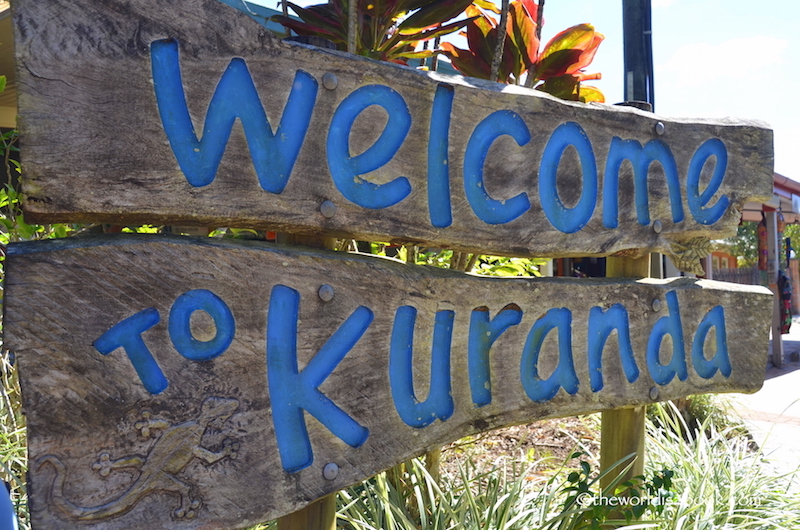 Visitors have been flocking to this mountaintop village, 1,000 feet (305 m) above Cairns, for centuries. Though, the Djabugay aboriginal people were the natives who lived in this region for over 10,000 years. They called the Kuranda village "Ngunbay" which means "place of the platypus". Although, we didn't spot any platypuses around here much to my kids' disappointment.
The village was surveyed and named Kuranda in 1888. It became more accessible when the Kuranda Railway Line was completed in 1891. The main reason people visited Kuranda was for Barron Falls. Artists also settled here starting in the late 1960s and the arts community still thrives here based on the many markets, galleries and stores we saw around town.
We arrived in Kuranda via our scenic ride along the Skyrail Rainforest Cableway. There was a small pathway lined by fig trees that led into Coondoo Street also known as Main Street.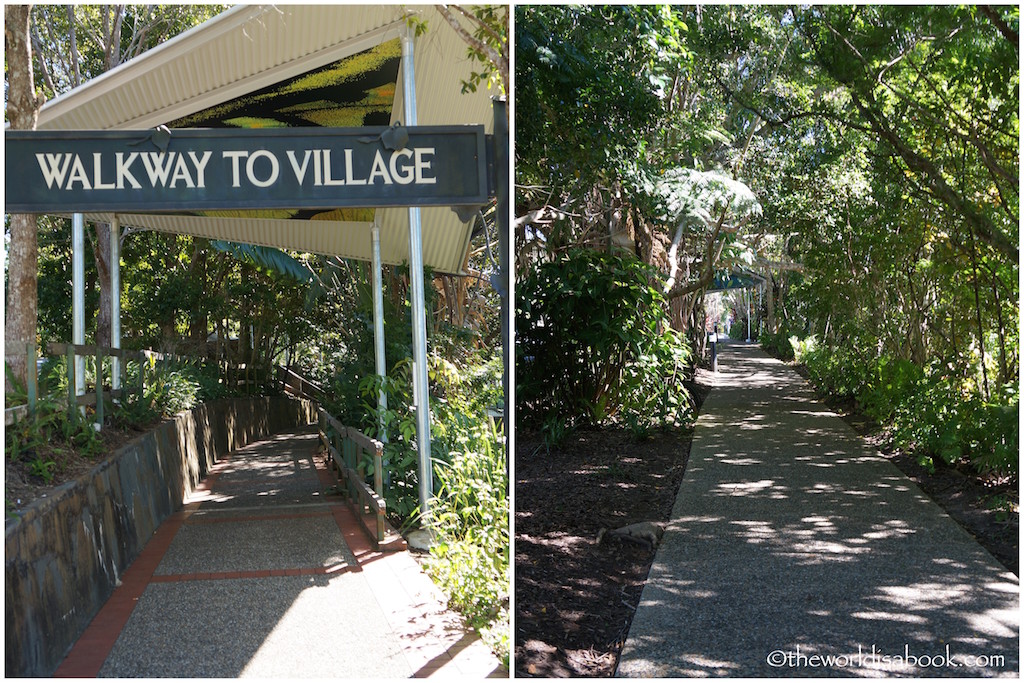 These large, exposed roots along the streets seemed like a fitting entrance into a rainforest village.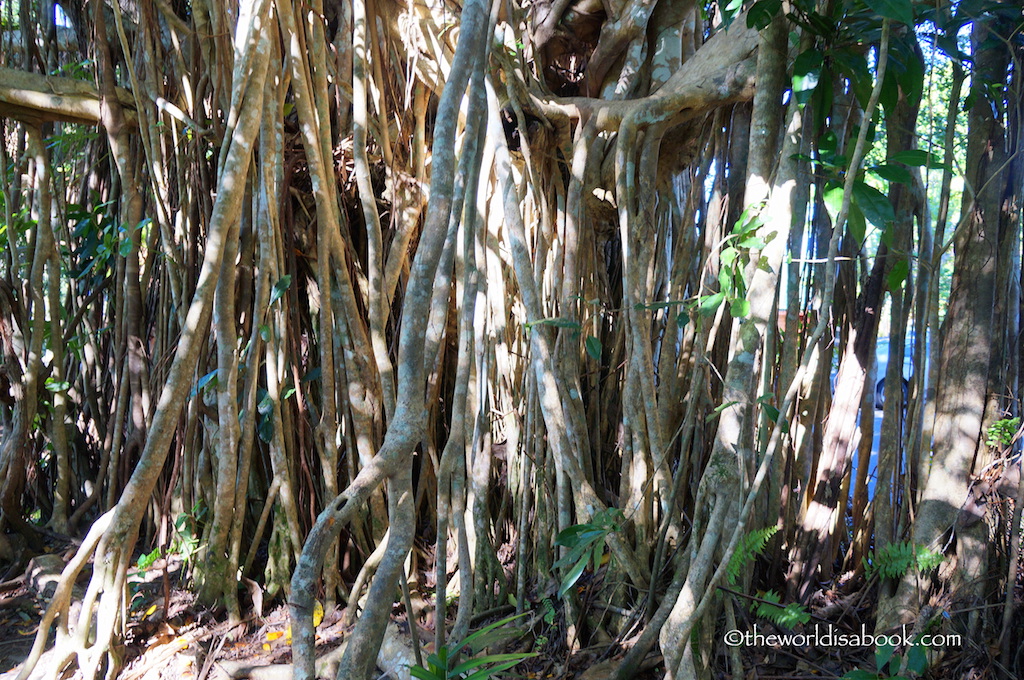 We found many people by the vintage looking Kuranda hotel with a carriage on its roof. This was established in 1880 and one of the few lodging options.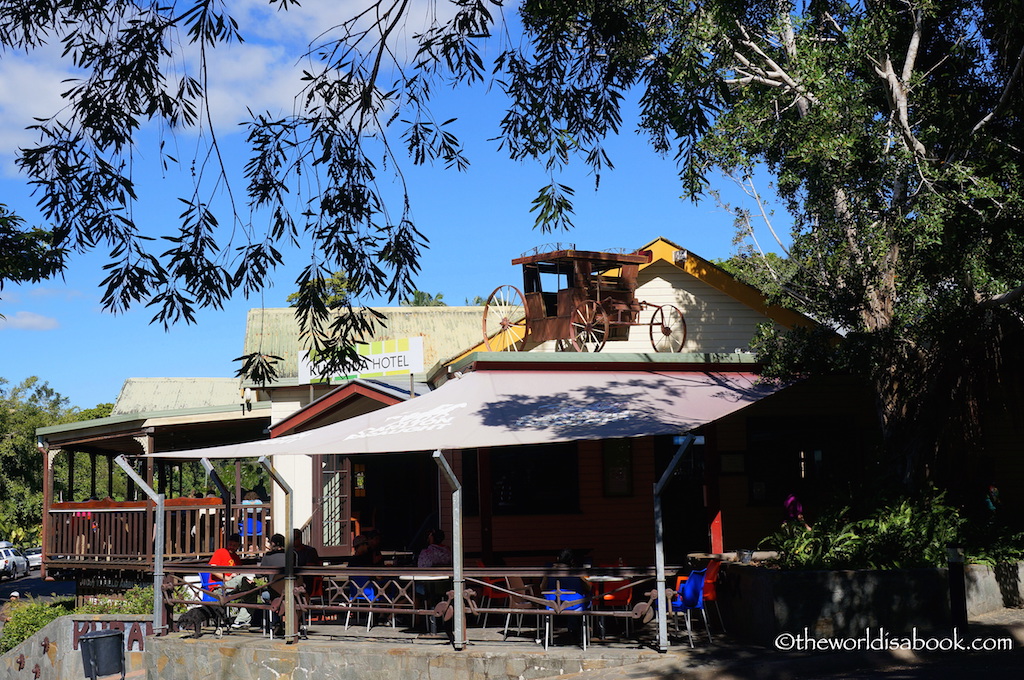 Kuranda's main street was quiet with a very laid back atmosphere. We liked that there were so many trees providing plenty of shaded pathways. This was one of my favorite street art around town. There was such a hippy artist vibe here that reminded me of some artsy Southern California towns.
My kids were so excited to see these real but dead Australian crocodiles displayed on a table. We couldn't touch them yet they still looked scary and intimidating. Of course, these were inside a shop selling crocodile skin wallets, belts, etc.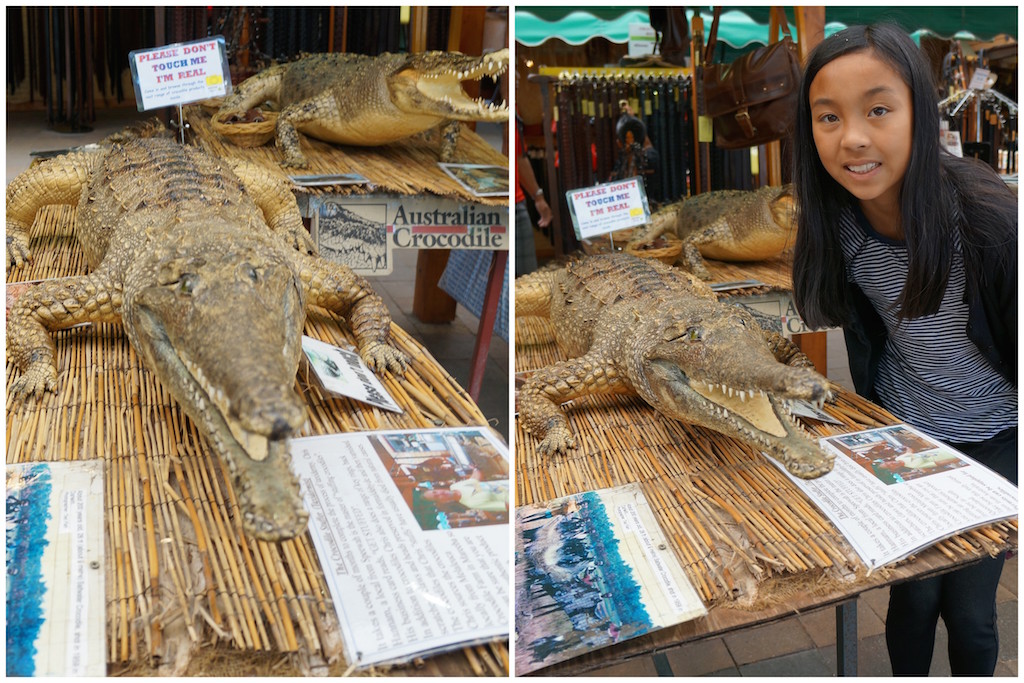 These kangaroo skin rugs were displayed in a few shops. We were in Australia, after all. They were quite soft and would surely have been great conversation starters if we bought one and had it in our living room. It was tempting but we left those rugs for someone else.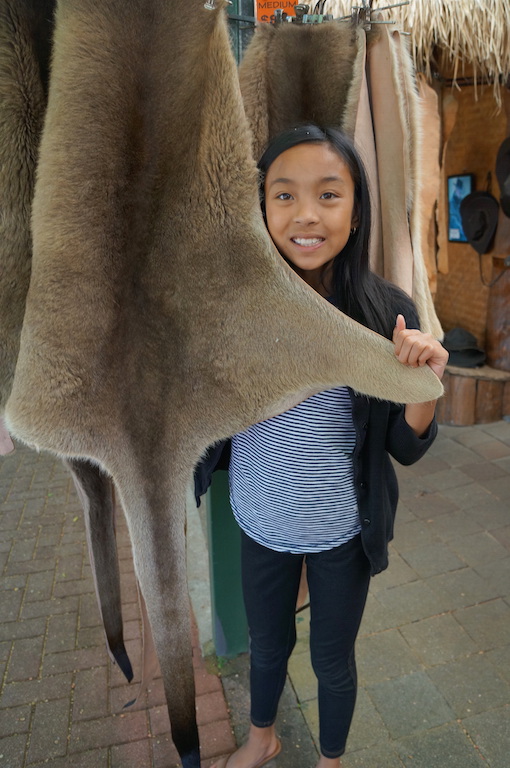 ATTRACTIONS
We decided not to do any of the attractions around town since we had a scheduled train departure on the Kuranda Scenic Railway. But, there were enough activities and attractions here to entertain everyone with varied interests for days. These were just a few I wanted to highlight.
Kids will love seeing the various native Australian animals and over 350 birds that roam in the rainforest exhibit at Birdworld. How about seeing Australia's largest butterfly flight exhibit with its over 1500 tropical butterflies at the Butterfly Sanctuary? There's even a venom zoo to see the country's five deadliest snakes. But, one of the most popular would likely be the Kuranda Koala Gardens. The Queensland Territory is one of the few places that allow koala holding.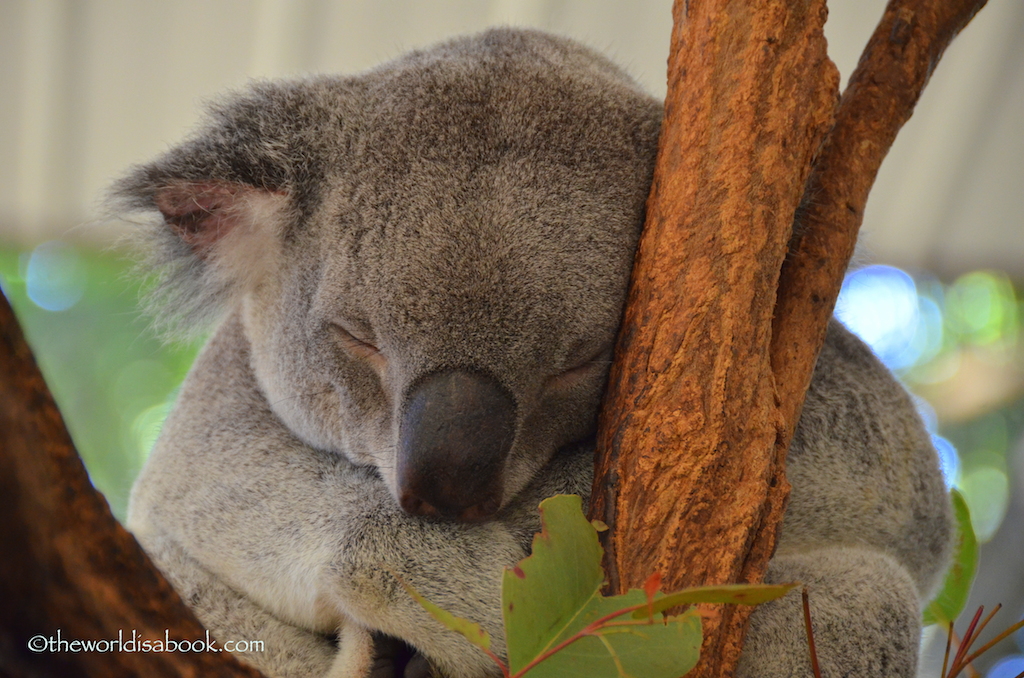 There were several rainforest walks including ones to the River Walk by the Barron River. There were various linked trails that could suit anyone's ability or time constraint. There were also shuttle buses that took visitors to nearby Barron Gorge. One of the best ways to see the waterfall was by riding the Skyrail and getting off on the Barron Falls stop along the way.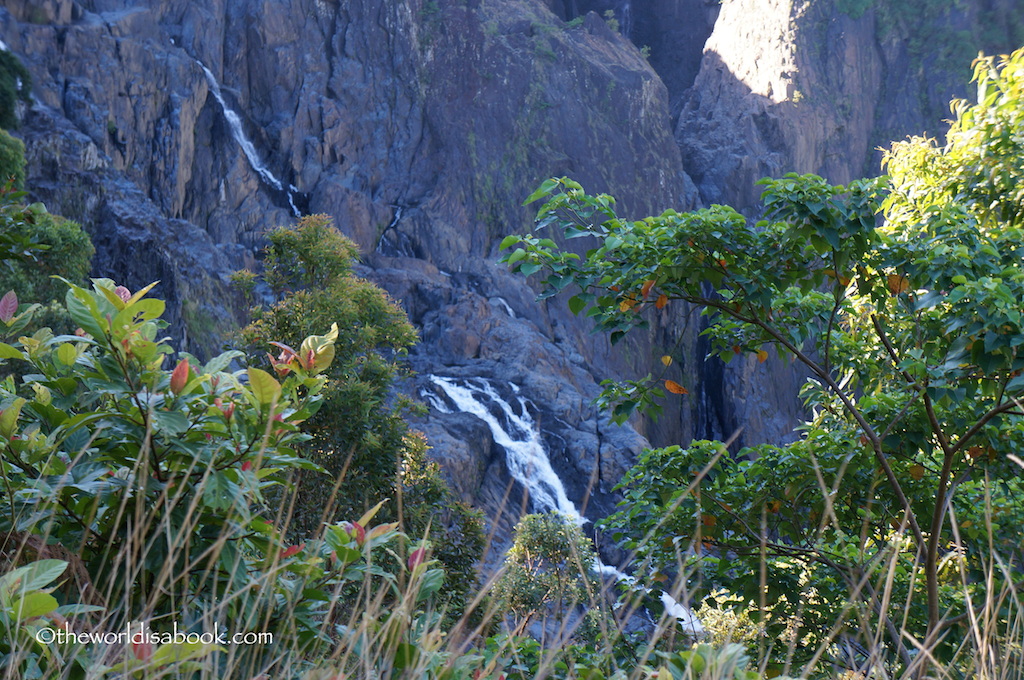 Aboriginal culture can also be experienced here. There were several galleries showing aboriginal art or even meet local indigenous artists. Visitors could learn how to play the didgeridoo or watch an Aboriginal cultural performance. Although, for a really fantastic and interactive cultural experience, we highly recommend visiting the nearby Tjapukai Aboriginal Cultural Park and accessible via the Skyrail.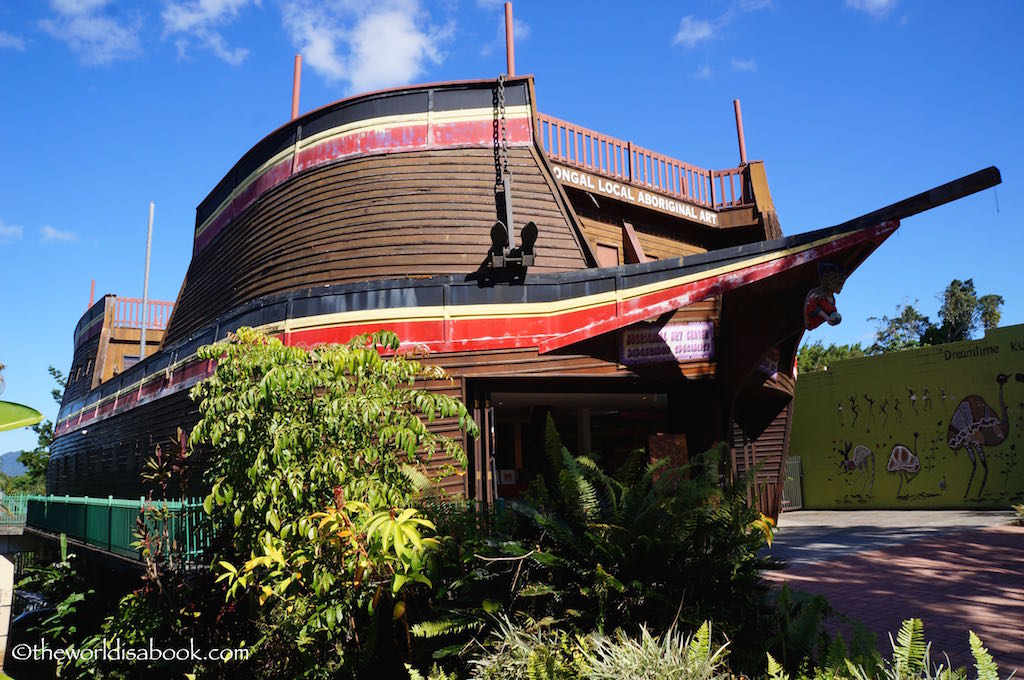 Kuranda is also well-known for its shopping options. The Kuranda Original Rainforest Markets, Kuranda Heritage Markets and the Village Centre have diverse shops and stalls that were such a joy to wander around. The original market was established in 1978 by local artists and craftsmen to entice visitors to the village.
The markets are open seven days a week and have many unique hand made jewelry, arts and crafts. There are also a few fashion and souvenir shops, We also found quite a bit of an eco-conscious theme throughout the market with a focus on recycling and organic. If you're looking for some unique souvenirs or items, Kuranda is a wonderful option. We found the prices to be quite reasonable.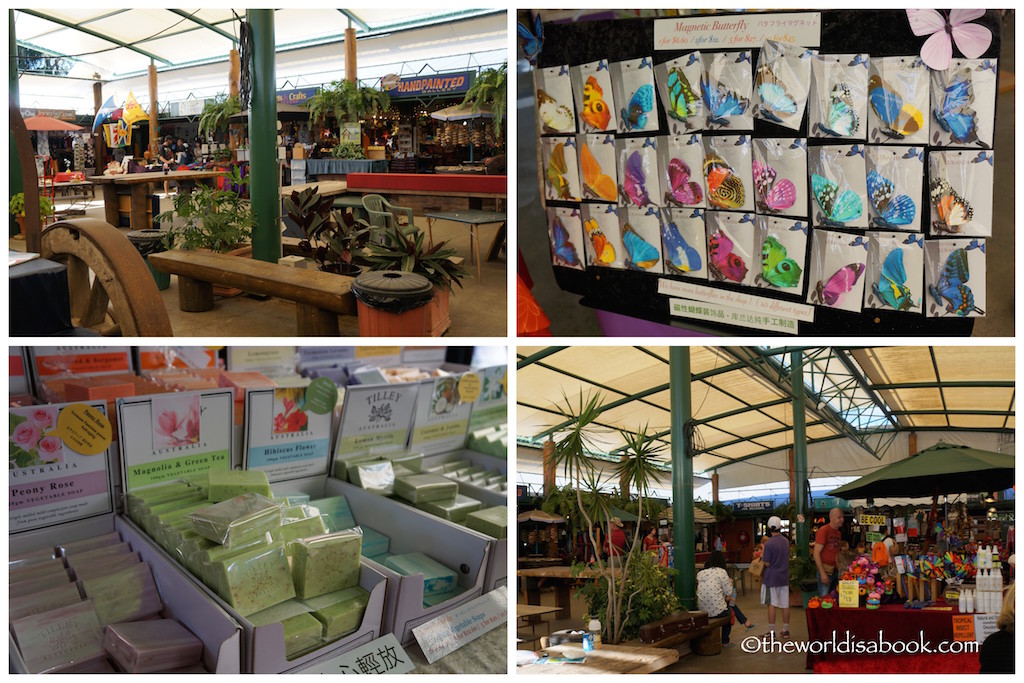 There were several restaurants and cafes here that ranged from a creperie to ones serving crocodile, emu and kangaroo cuisines. Many had outdoor dining venues to enjoy Kuranda's mild climate. We wanted something fast yet also filling and something Australian. We found Annabel's Pantry, which specialized in traditional Australian food on Therwine Street. We saw a few people walking the street carrying these goodies. Meat pies were quick, hot meals and they had 30 varieties. They were delicious!
Dessert options varied from mango wine tasting, tropical fruit ice cream, honey and my kids' favorite – the Kuranda Candy Kitchen. The colorful cardboard cutout was enough to attract kids. Rock candy was made here by hand and can even be personalized. It smelled so good inside. Unfortunately, we missed the daily demonstration to make the rock candy. There was a wide range of flavors and made for ideal snacks especially on the train ride down.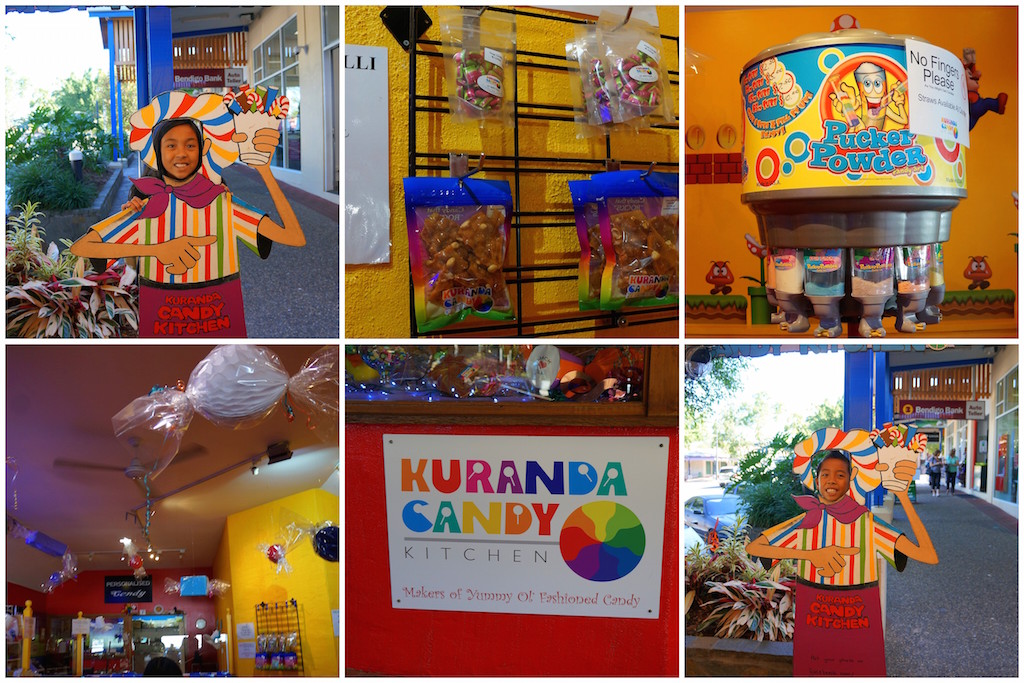 Kuranda isn't very big but offers so many attractions and activities for visitors that ranged from animal encounters to cultural tours. It's a wonderful and picturesque town to explore for the day or to spend the weekend while in Cairns. It also makes for a nice break from the Great Barrier Reef activities. We only had a few hours here and would gladly return for a longer stay to explore more of this village in the rainforest.
Visiting Kuranda Basics and Tips
Getting There: This is a popular day trip from Cairns so many people drive or catch a bus from town.We highly recommend coming here via the Skyrail Rainforest Cableway through the rainforest and going down via the Scenic Railway train or vice-versa. It makes for an even more unforgettable experience.
Various accommodations are available in town that ranged from campsites to family villas.
Day tour companies that include stops in Kuranda are available from Cairns.
Would you visit Kuranda? Have you gone to any other rainforest village?
Did you know that you need a tourist visa in Australia if you're traveling from the USA or Canada? Get your Australia ETA (tourist visa) in a few steps with iVisa (it's an electronic process!).
Pin it for later!