Bora Bora: Island Excursion and Jeep Safari Tour
Bora Bora's idyllic turquoise and crystal-clear waters are world-renowned. But, there's also life and a rich culture and history beyond the postcard perfect scenes. One can spend their entire vacation at the resorts. They make it easy to forget that there is a main island filled with 9,000 inhabitants across the lagoon. Our tour around the island gave us some insights into the people, culture and history of Bora Bora.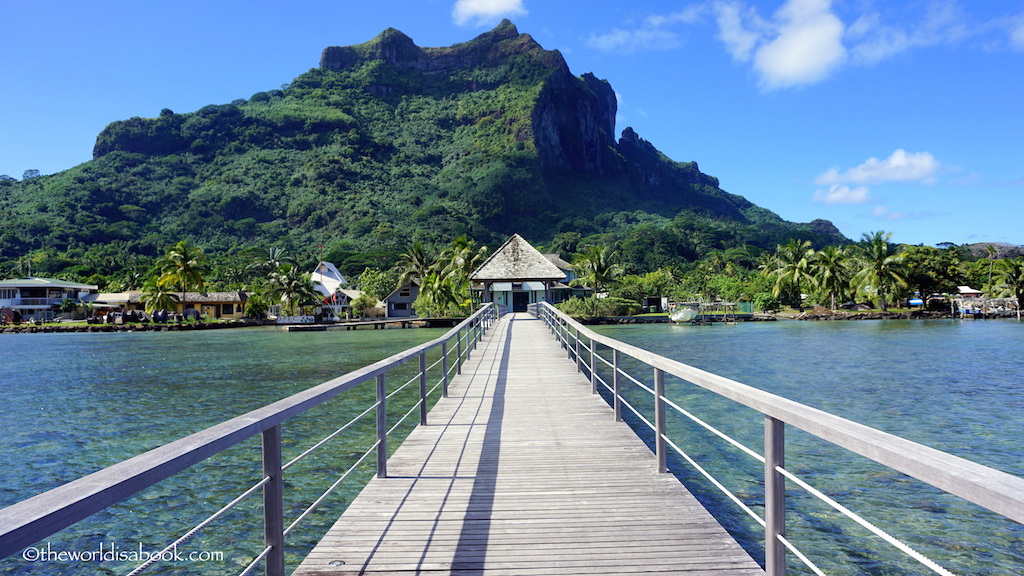 We were picked up in the main town in a modified Land Rover truck with elevated seats in the truck bed. The seats gave us a great vantage point with the breeze flowing as we went around the island. There were seat belts which made us feel so much better riding this. It was only us and a Chinese couple here on their honeymoon for our tour. Joseph was our tour guide and he was friendly and wonderful.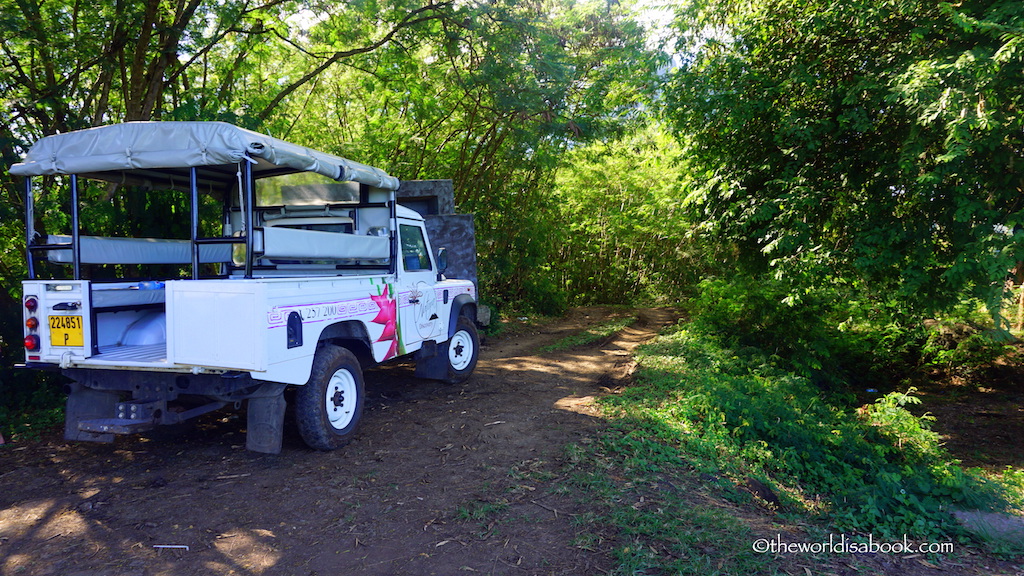 Our first stop was a brief one at Bora Bora's only public beach, Matira Beach. There was no one around since it was pretty early in the morning. This is a topless beach so something to keep in mind when bringing kids along when it gets busy. True to Bora Bora form, the water was warm and clear with white powdery sand. There is actually no high or low tide at the beaches due to its locaton. The winds determine the waves which don't get too big.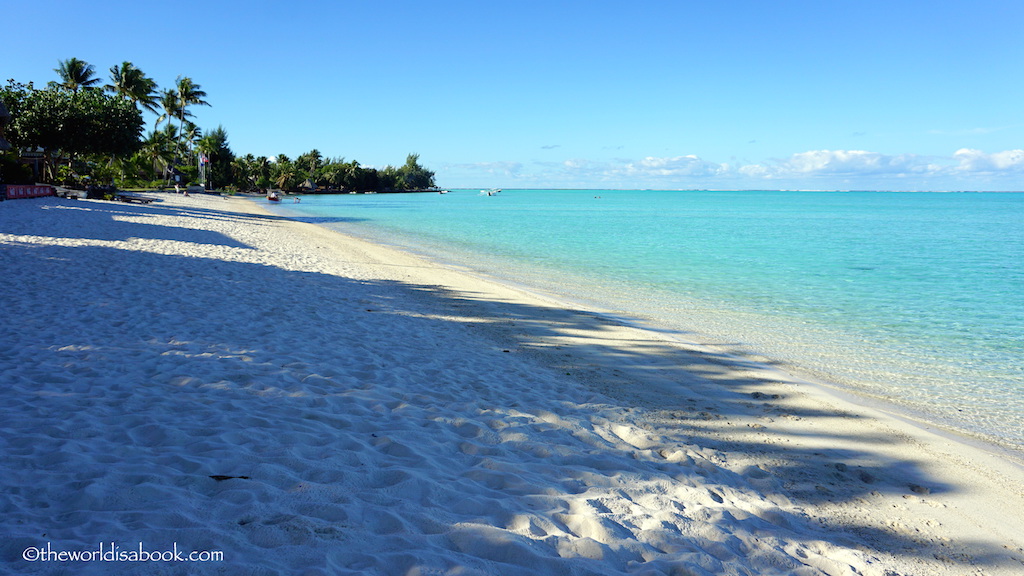 We passed through Vaitape again which is Bora Bora's main town with one major street. There wasn't much here but stores and homes. Most of the stores catered to tourists and especially to cruisers who dock here for the day. There were no sidewalks and the road was pretty narrow so it's not the most ideal place for a stroll. Although, there were a couple of local food trucks here which were cheap but good. We loved the crepes and ice cream truck.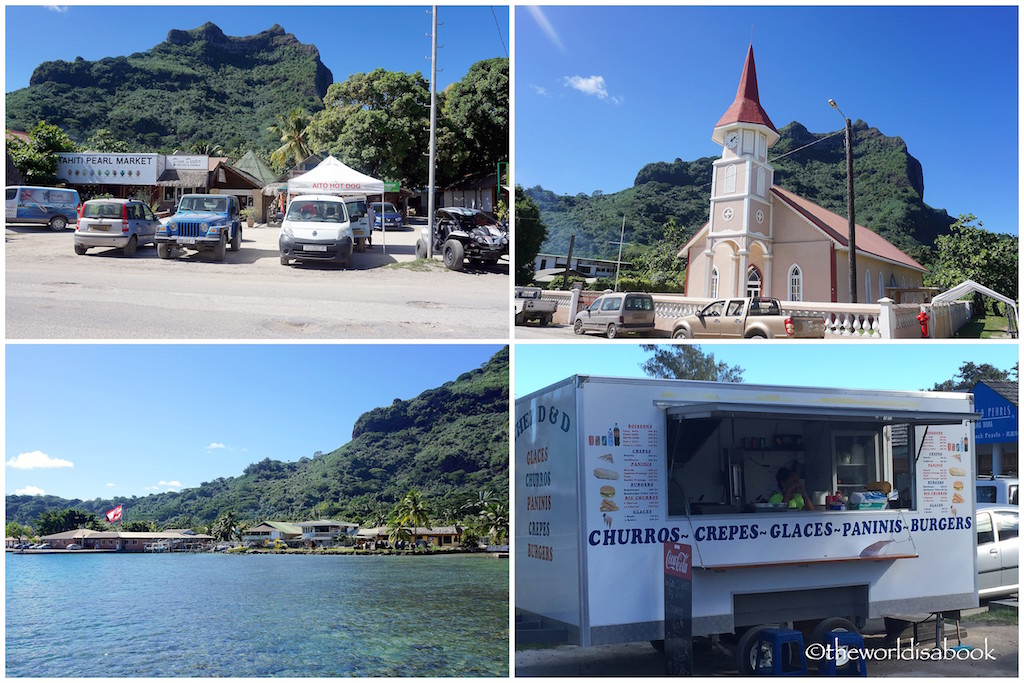 Our adventurous climb to a lookout point was fun. The jeep made the steep ascent look easy but we surely felt every bump along that road. We passed by many banana trees with a lot of fruit hanging from them on the way up. The vegetation along the way reminded me a lot of everything that surrounded me growing up in Guam and the Philippines. We had some great views of Vaitape, the harbor and a couple of Bora Bora's mountains at radar and lookout station.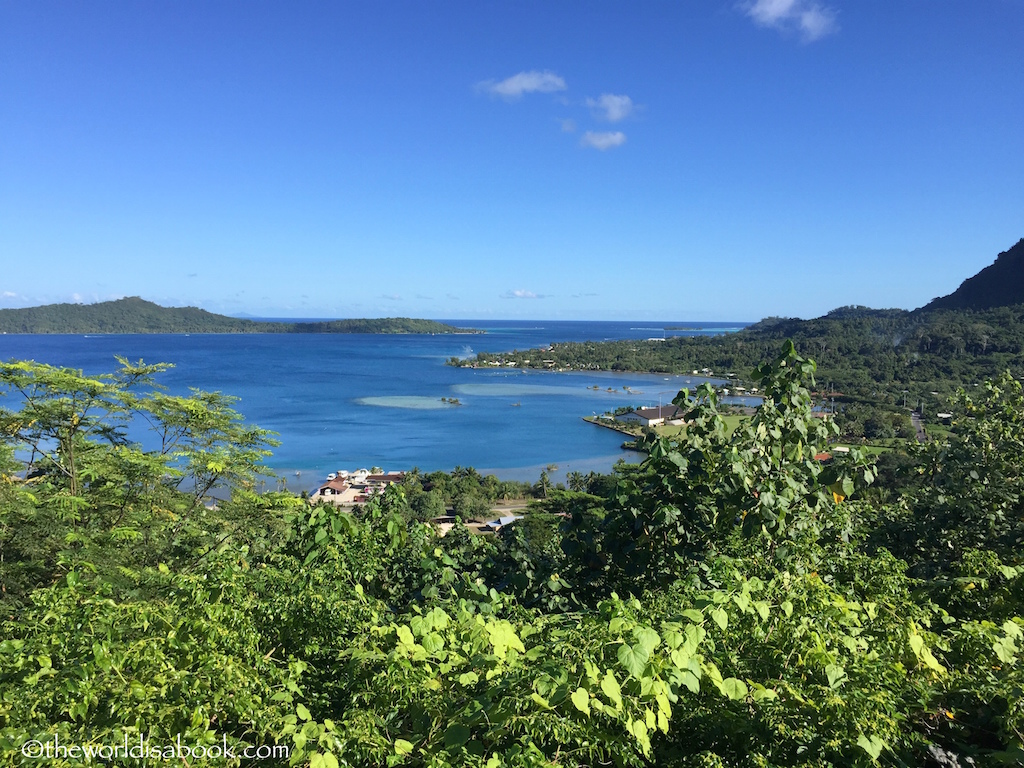 Due to its strategic location, Bora Bora was used by the United States military as a supply base for ships crossing the Pacific Ocean during World War II. They also left behind eight cannons around the island. Two were strategically installed in every corner to protect it from any attack. They were built in 1906 and transported here . The cannons had a six mile range but thankfully were never fired other than for practice rounds.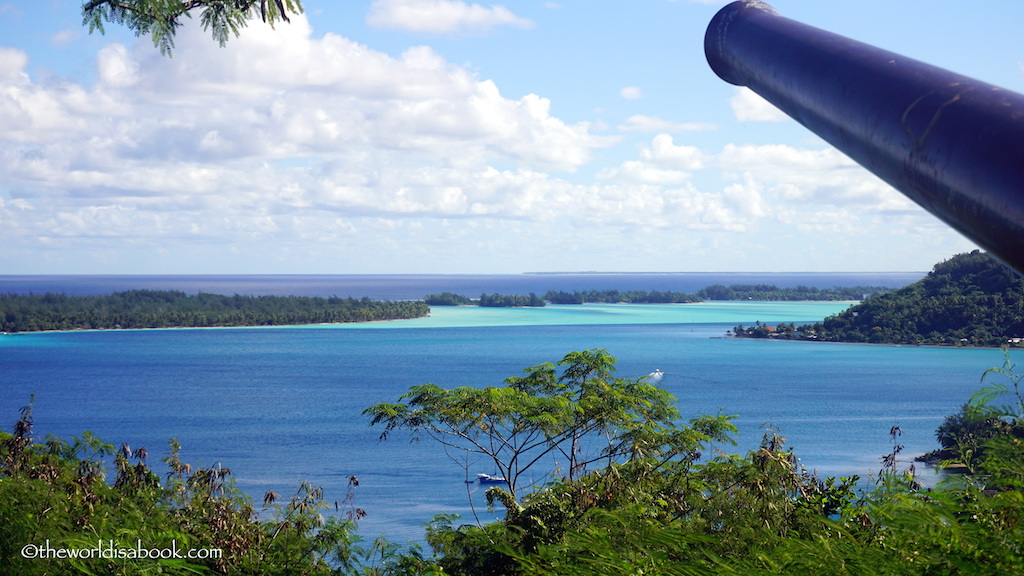 We visited two of the cannons on the island and got to see them up close. They were huge and my kids enjoyed climbing on them. It's not often you get to be up close and personal with one of these relics. It wasn't an easy road to get to these cannons.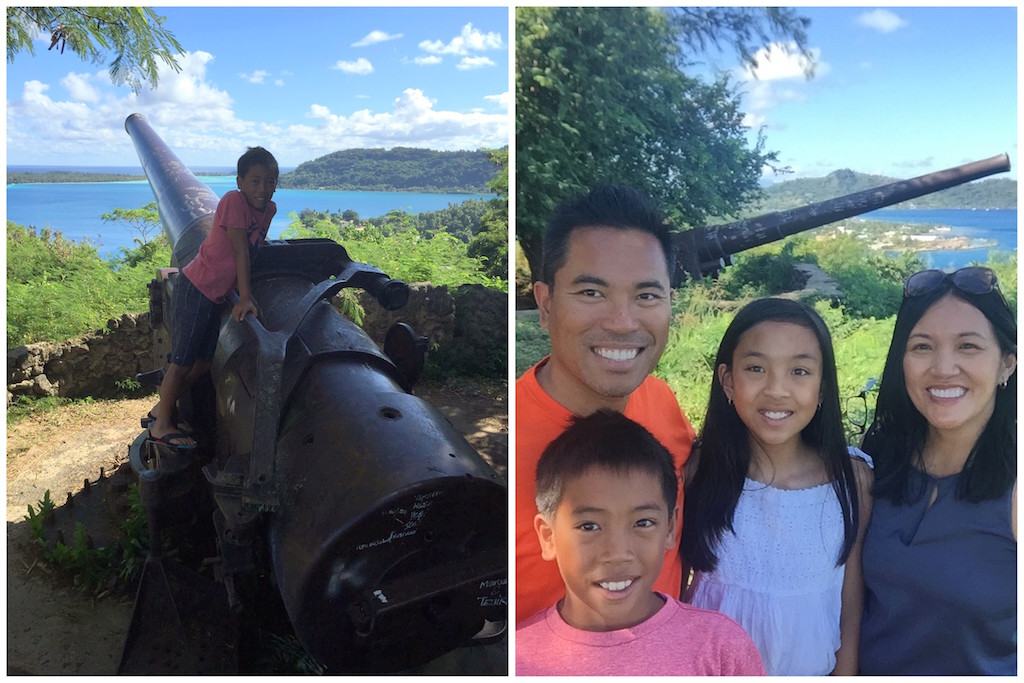 It was steep, muddy and only accessible by experienced drivers in 4×4 trucks. We had to hand it to Joseph for navigating that truck so well and ensuring we didn't get stuck in the mud. My husband was especially grateful he didn't have to help dig the truck out of a muddy pit.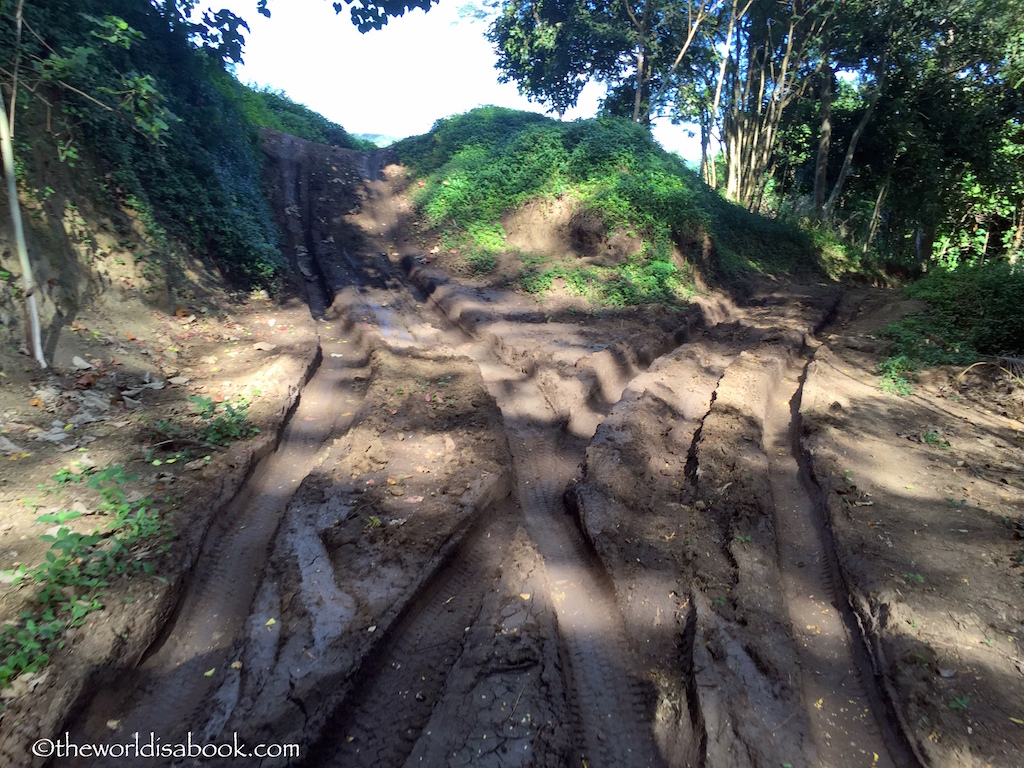 Joseph briefly pointed out Marae Fare Opu which were stone piles on the side of the road. This was the remnant of one of the maraes or Polynesian cultural monuments found around the island. Maraes were rectangular stone walled areas used for gatherings and celebrations. If we were driving by ourselves, we would have totally missed what once was the largest of the maraes here. A couple of the stones had petroglyphs and one of them was a turtle which was the symbol of royalty and considered sacred. Unfortunately, most of the marae is now under the current road.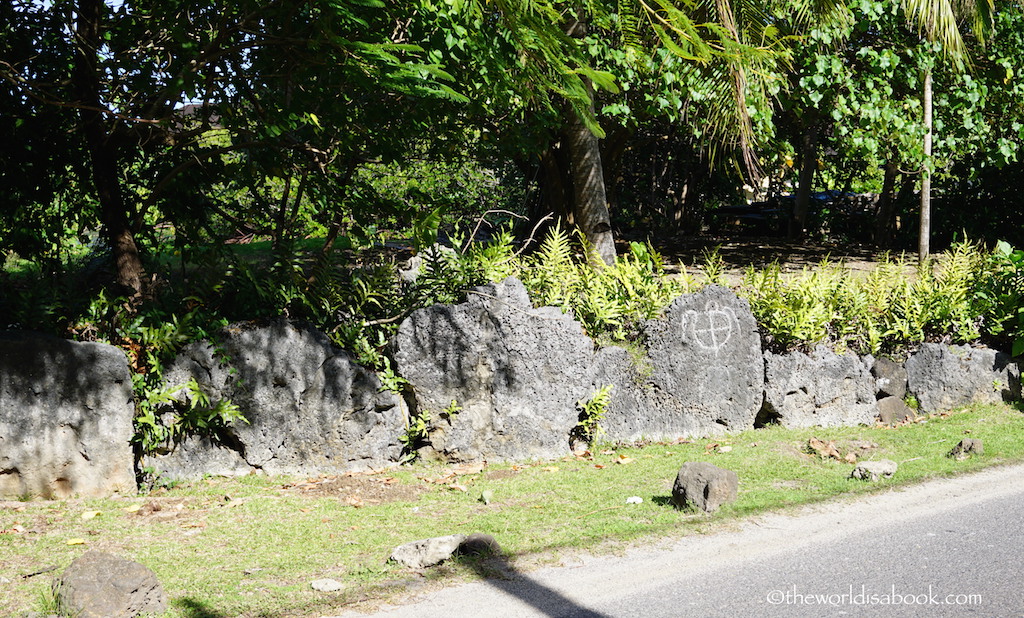 Both men and women commonly wear Pareos in French Polynesia for their lightweight and multi-purpose uses. They're more widely known as sarongs in other parts of the world. Our next stop was at one of the residences for a pareo demonstration. It was great to see the colorful pareos hanging around the entrance.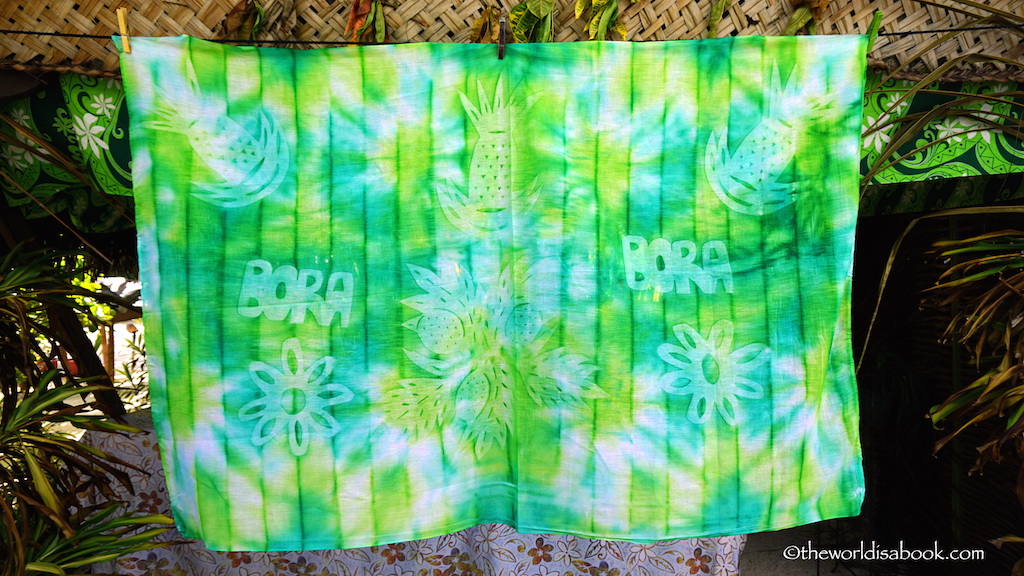 They led us to an area in the back to show how pareos were made. Kristoff did our demo and led the kids to a section with various paint containers. They were each allowed to choose a couple of colors. They said they chose blue and greens because it reminded them of Bora Bora. Sections of the white cloth were tied with rubber bands, crumpled and then dipped into the color containers much like the tie-dye process.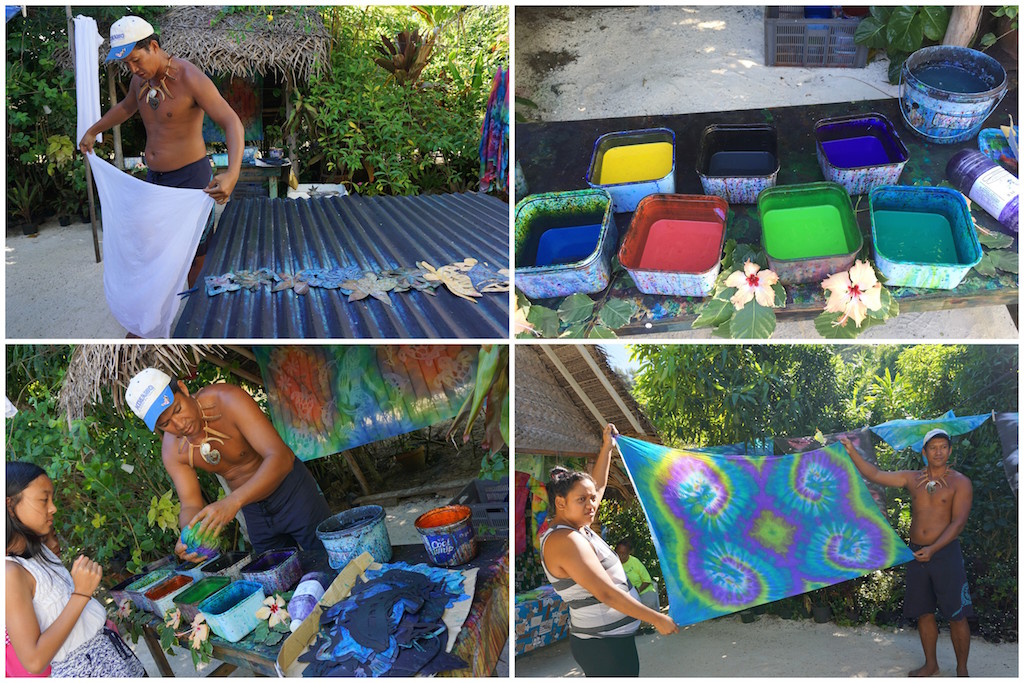 The colorful cloth was then laid out on top of a piece of tin roof. Cut out patterns or appliques made of plastic were then strategically placed around the fabric for more decorations including the Bora Bora words. The pareo soaks up the pattern while it's drying in the sun.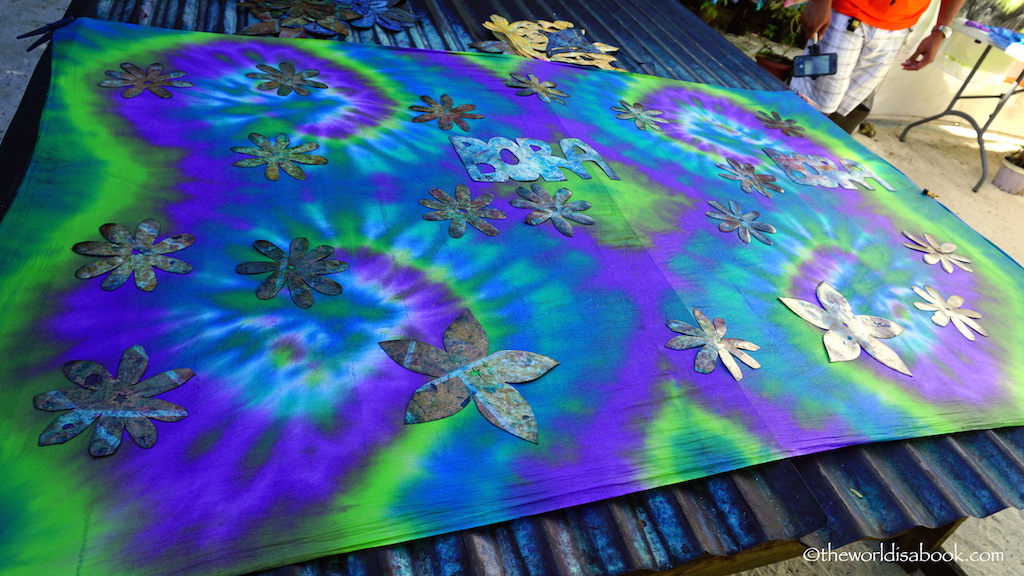 Each pareo created is unique with varying patterns and colors. Many had tropical fruits and flowers, sea life or Polynesian designs. The kids were also used as models on how to tie a pareo in many different ways. Kristoff made it look so easy but I've had trouble replicating them since that demo.
The handmade pareos here sold for $10 while the machine made ones were for $20. These were the cheapest we found including the ones in the main island of Tahiti. They made for great souvenirs and is a versatile way to use as a cover-up at the pool or beach.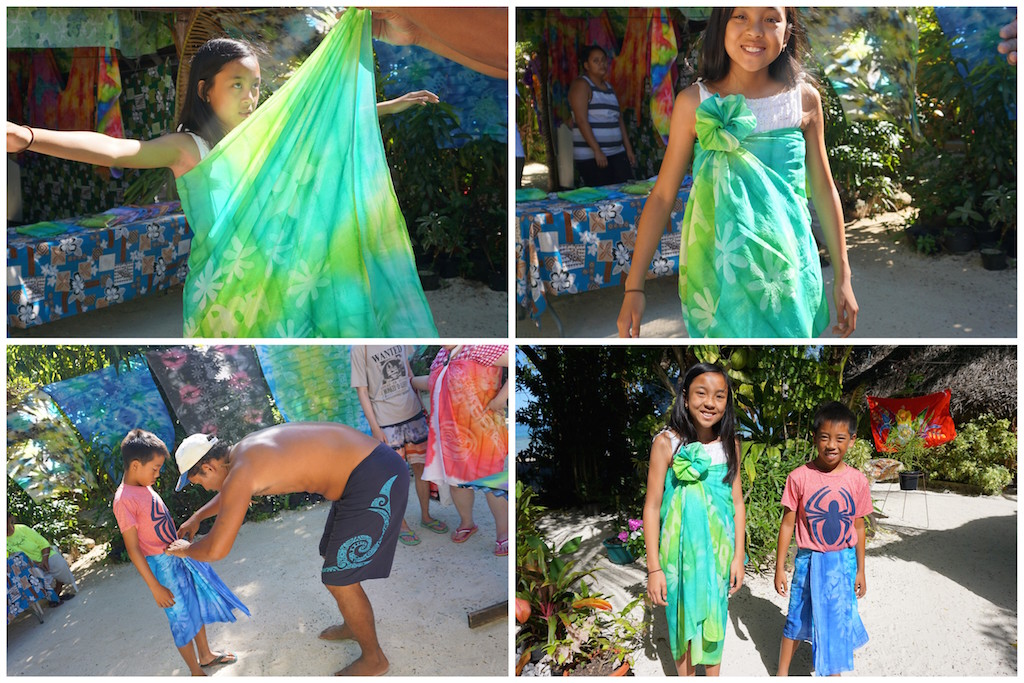 We were then introduced to the biggest crab we've ever seen. I was familiar with coconut crabs or giant hermit crabs in Guam but they were never this big. They are an island delicacy due to their meat. This particular coconut crab was treated more like a pet on a leash. They loaned it to my son for a very slow walk in front of the house. Although, they barely moved.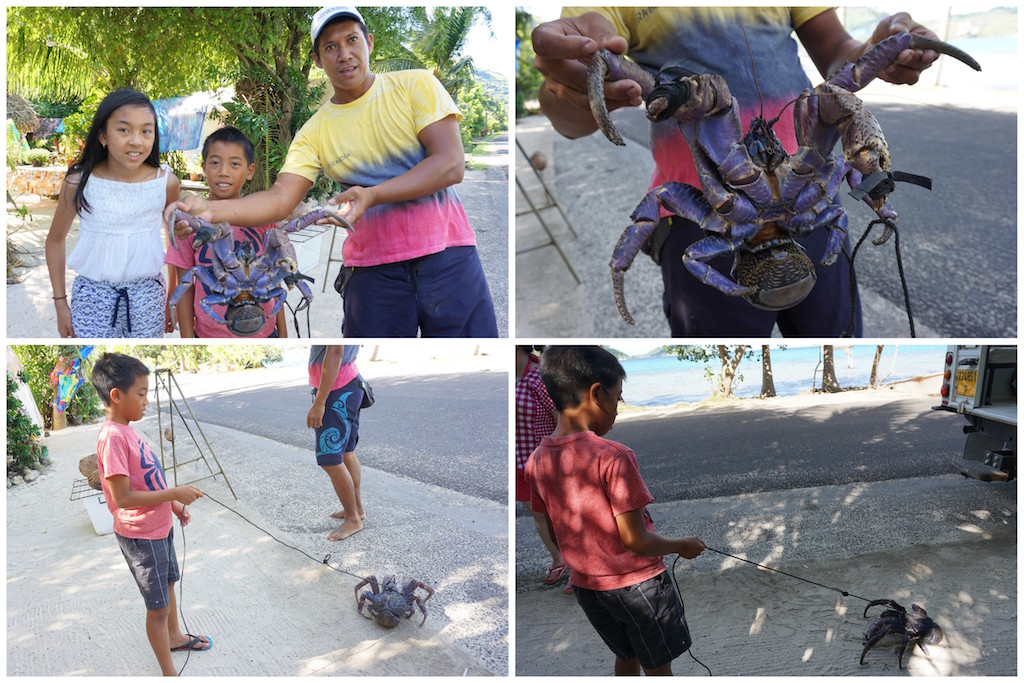 There is an abundance of fresh tropical fruit waiting to be tasted around the island. We stopped at a home with many of these trees and a fruit stand at the front. We were treated to freshly picked bananas, papaya and starfruit. I loved these starfruit (to the right of the banana) growing up. If you cut them across the ridges, the cut pieces look like little stars.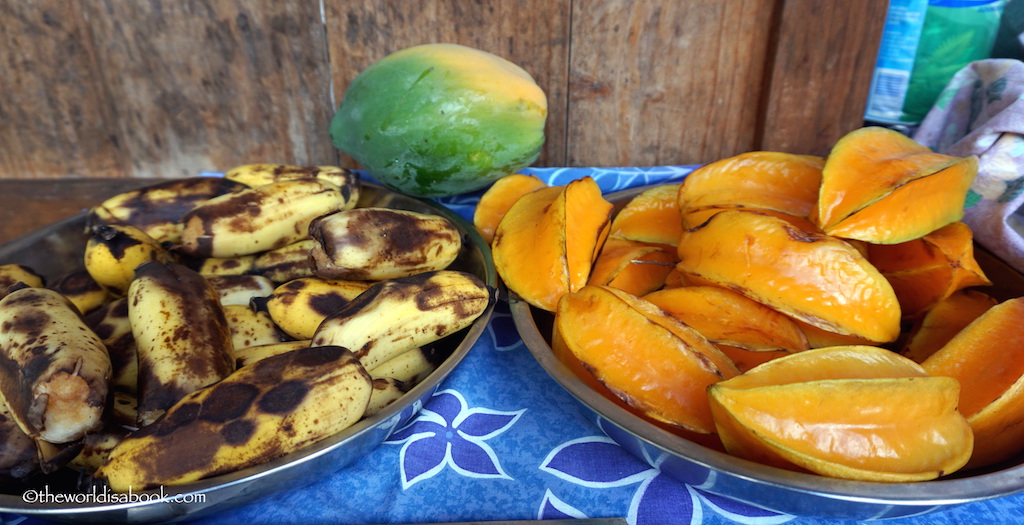 Of course, we couldn't leave without having some fresh young coconut. It was so refreshing and we couldn't get enough of them. They just taste so much better right off the tree than the ones we buy at the store.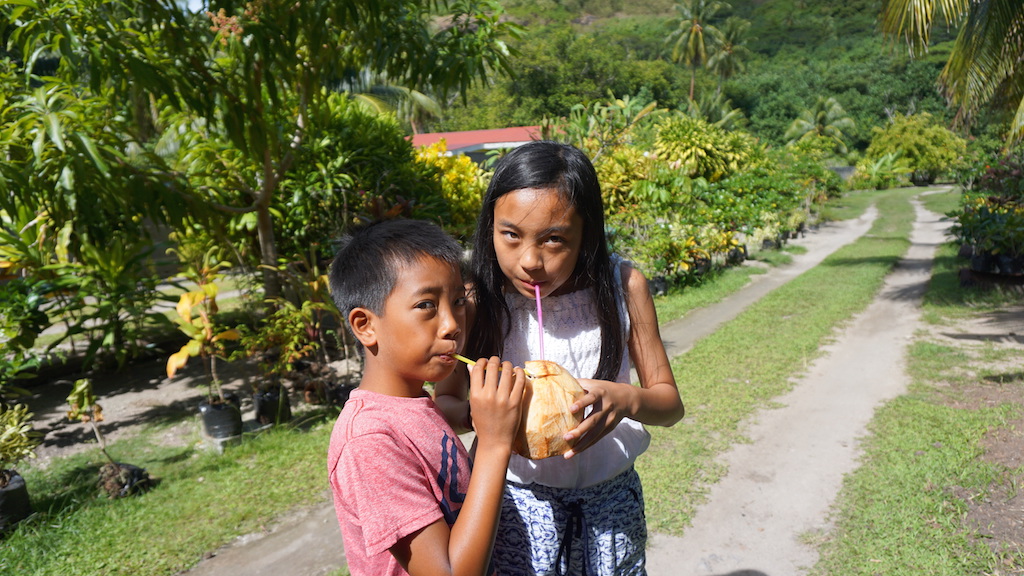 Our last stop was at a mountain-top lookout that showed unobstructed views of the various posh resorts and the overwater bungalows Bora Bora is famous for. This was one of those unmarked steep roads again that needed a 4×4 truck to access.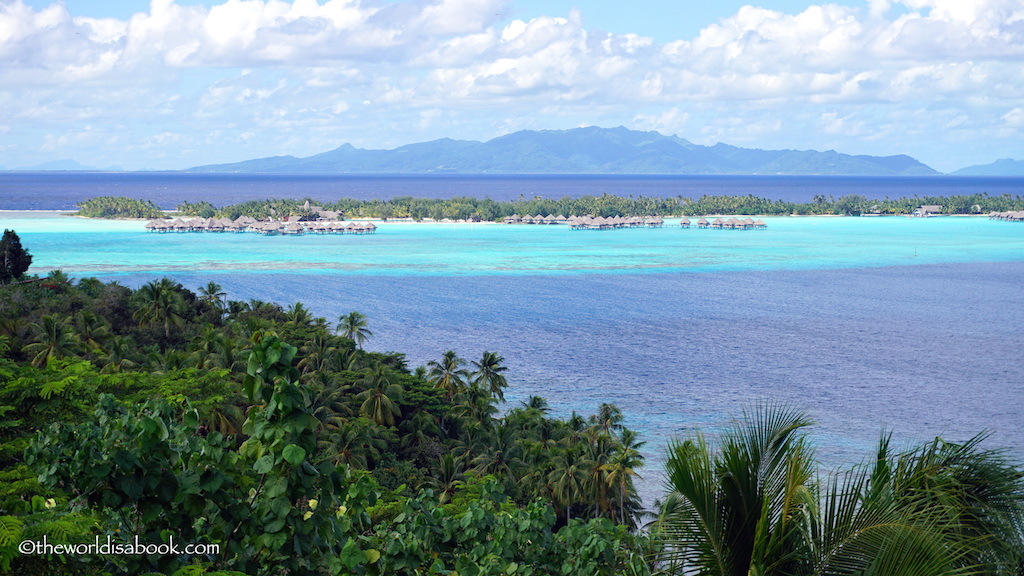 We also got another stunning view and different perspective of the majestic Mount Otemanu. Joseph told us this was the best viewpoint on the island and we couldn't agree more.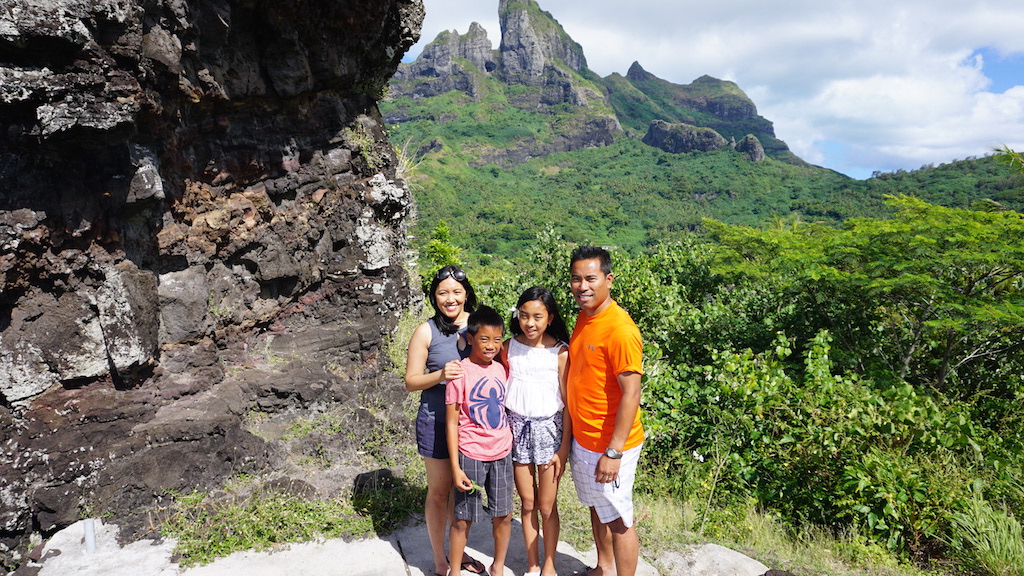 We asked to be dropped off at the island's most popular restaurant, Bloody Mary's, after our tour for lunch. This was a famous spot frequented by celebrities and their names are enshrined in a wall outside. It's a very tropical setting inside with sand on our feet as we dined. We loved the money wall.
The food was nothing to brag about for lunch but we've heard that dinner was a whole different story with cooked to order seafood. The restrooms here were quite memorable especially the men's but not appropriate enough for a family-friendly site.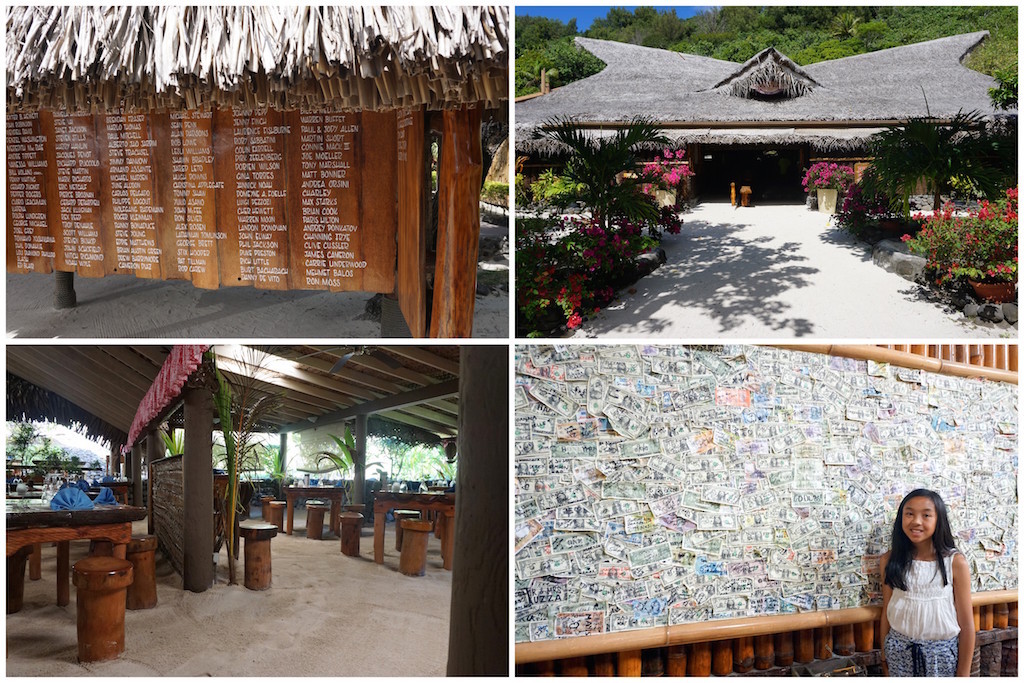 While we could have spent our entire time in Bora Bora on its lagoons and the Hilton resort, we were so happy we got to learn a little bit about the island and see its interior. We highly recommend doing an island tour excursion to see a different side of the island. This was the Bora Bora hardly shown on tourist brochures and billboards. The kids loved being on an off-road adventure. This was a great mix of an educational and fun tour and well worth the price.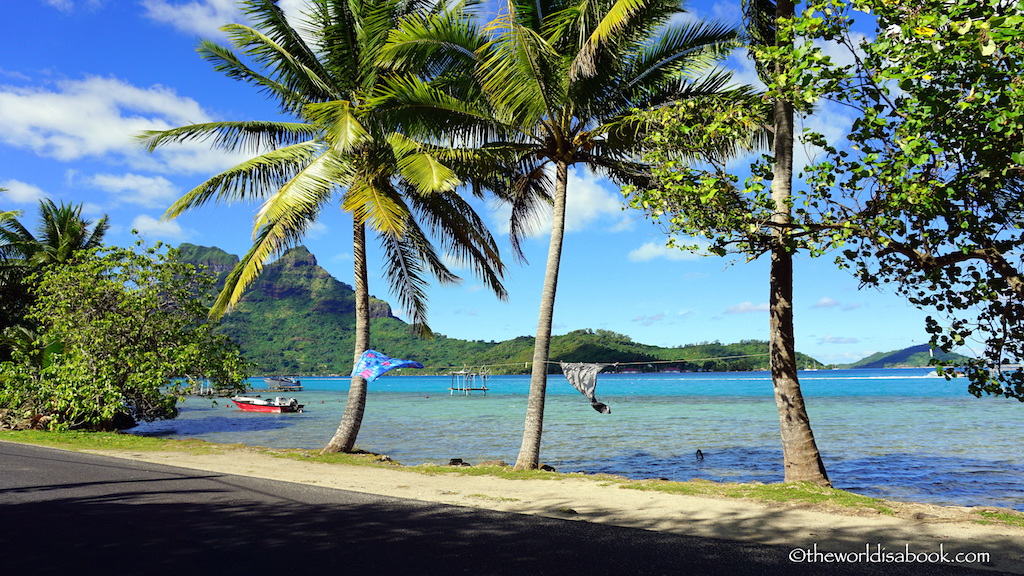 Island Excursion and Jeep Safari Tips
Book this tour early and especially before arriving on the island. It's cheaper and you get the times you want and not risk being able to go on one in case tours are sold out. They get really busy when a cruise ship is in town.
We booked our tour with Natura Discovery. Price was $210 US for the four of us. Kids were half price. This tour can be combined with snorkeling with stingrays and sharks too for an all day tour with another company. We did the island tour on a different day and did a full day snorkeling tour the day before.
We were provided cold beverages on the tour. Fruits and coconuts were also complimentary.
The tour was three hours long and is not on an air-conditioned vehicle. We were here in June and it wasn't as hot and humid.
Bring sunscreen and mosquito repellant since you're going into the jungle areas.
*Have you visited Bora Bora? Is it on your travel list?
Related Posts: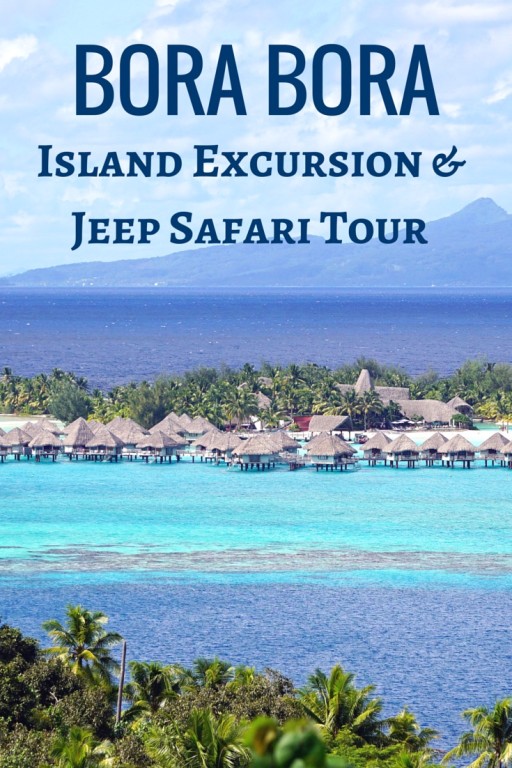 Check out these related posts: