Adventures at Oceano Sand Dunes
Did you know there is a coastal sand dune in the middle of California? This area has eluded us for years. We finally made it to Oceano Dunes State Vehicular Recreation Area (SVRA) last May during a holiday weekend and had a wonderful experience. Located three miles south of Pismo Beach and about 80 miles north of Santa Barbara, this is one of the best places for adventures on the beach and the sand dunes at the same time.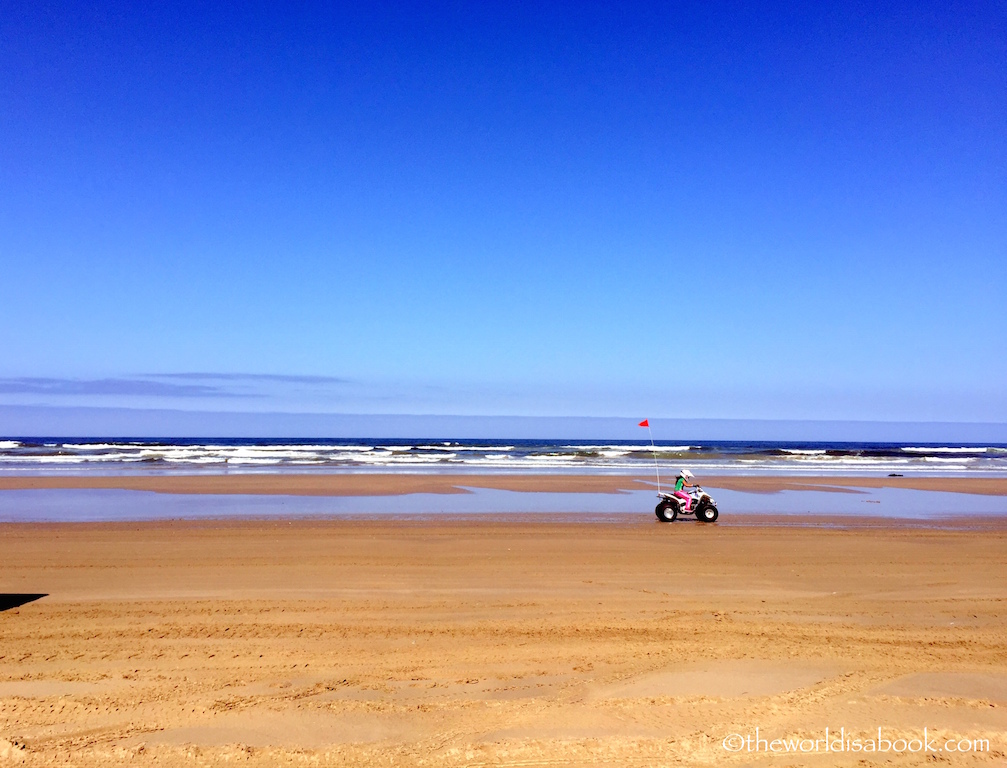 We were able to drive our car right on to the beach area. I've read conflicting reports but this could possibly be the last place in California to legally drive on the beach. It was one of the widest stretches of sand we've seen and was hard-packed. It was even more impressive how clean it was considering the number of people that were there.
The Sand Dunes
The primary reason we came here was to play on the sand dunes. Oceano Dunes is 5.5 miles long and was like a giant sandbox. One of the best ways to explore it is by riding All Terrain Vehicles (ATVs), motorcycles and dune buggies. This was our first attempt at operating ATVs. My kids were so excited to try this new adventure.
Ocean currents transported the sand here from rivers and creeks over thousands of years. The winds shaped the sand dunes and still changing its forms. I've always found sand dunes, especially ones not in a desert environment, fascinating. These weren't as huge as the Great Sand Dunes National Park but still amazing to see a sizable sand dune especially near the beach.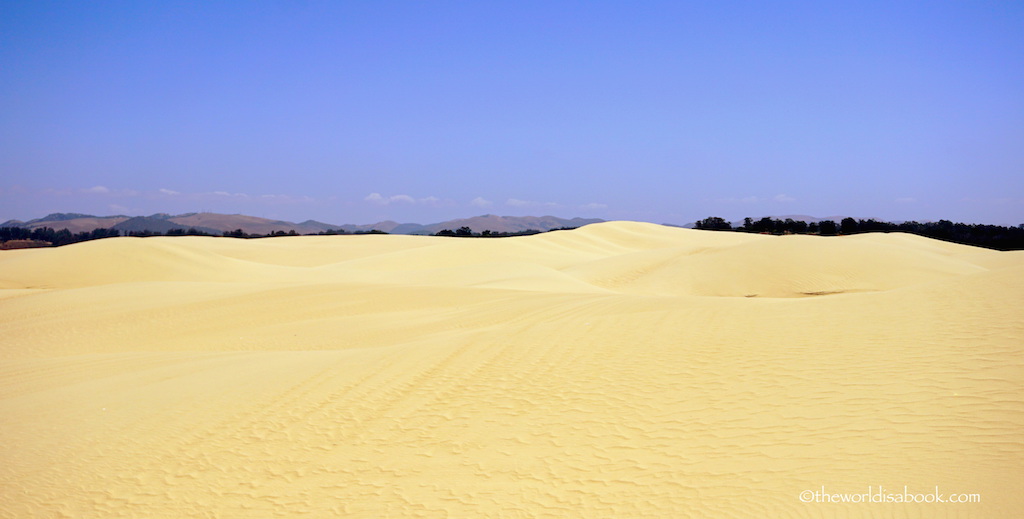 The Oceano Dunes has an interesting history beyond its geology. Native Americans (the Chumash) settled here 10,000 years ago long before the European explorers traveled through the area in the mid-1700s. It became the home of "free thinking people" or bohemians who called themselves "the Dunites". It became a haven for artists, writers, hermits, mystics, nature lovers and even nudists during the 1920s-30s. It eventually became a California State Park and was known as Pismo Dunes SVRA for awhile.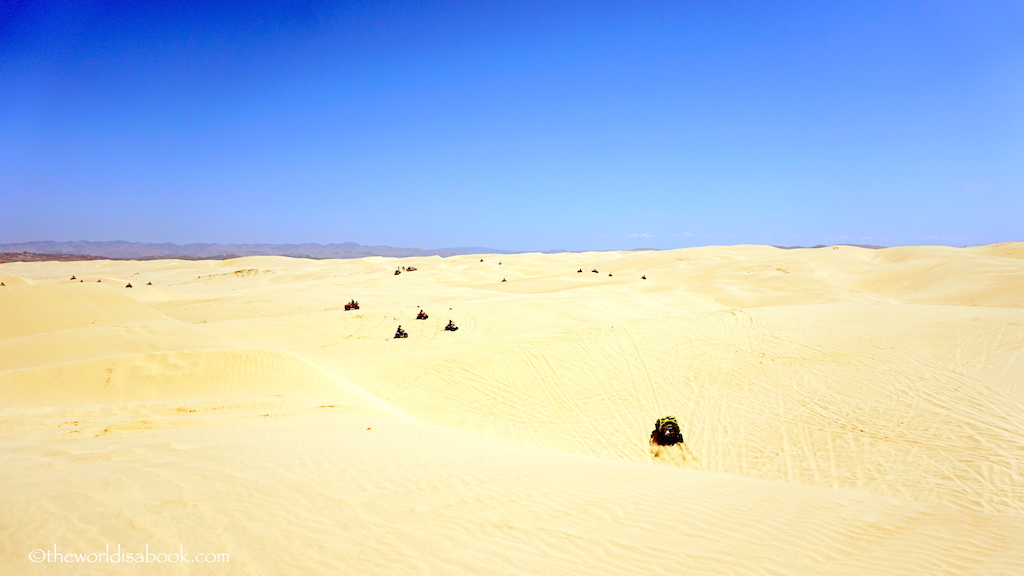 The SVRA has about 3,500 acres of beach and sand dunes and 2,000 of it are preserved. We were there during May when the recreational area was further reduced to 1,100 acres. This was due to the snowy plover and California least tern nesting season which occurs from March to September. These are threated or endangered bird species among other birds that call this home. It was surprising to find shrubs and even wildflowers growing on the dunes considering its environment and level of activity around it.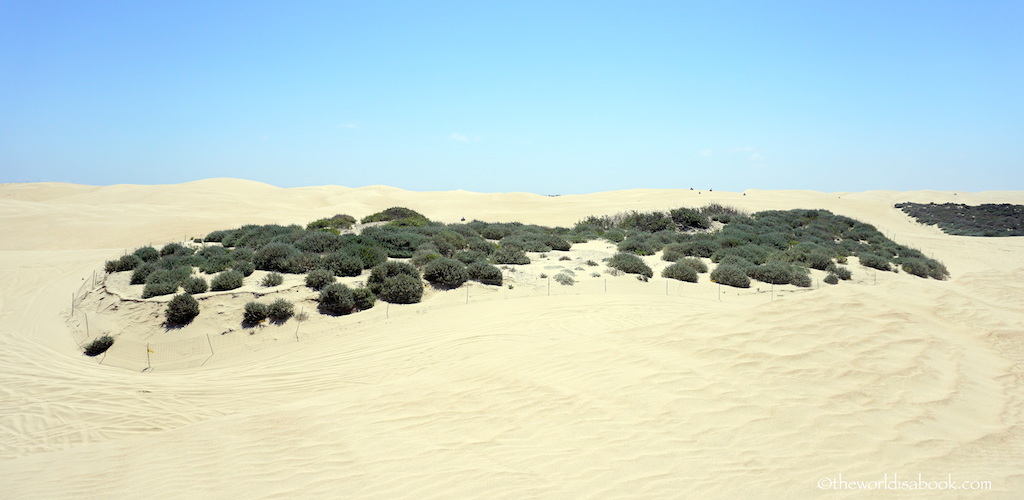 The Sand Dune Experience
The sand dunes are extremely popular for driving anything 4×4 including dune buggies, ATVs and even large trucks. There were a few vendors along the dunes that rented out the ATVs and buggies on an hourly basis. We went with the two-hour rental which we felt was a good enough time frame to enjoy the dunes.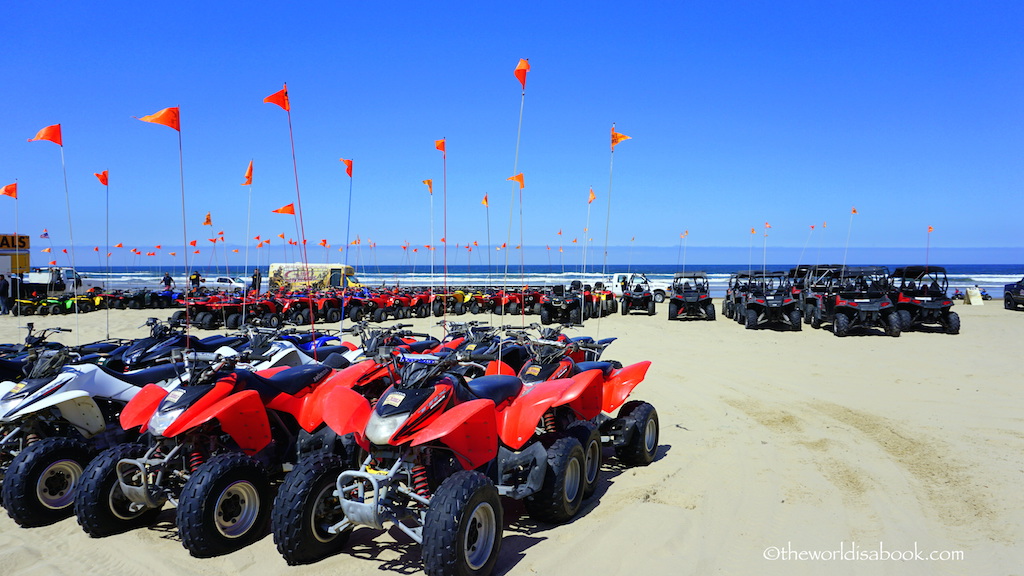 I decided I didn't want to drive my own ATV and be my husband's passenger instead. Rentals are per vehicle so I was still paying. I don't remember having any major discount for being a passenger. The travel blogger in me wanted to enjoy the scenery and take photos. The mom in me wanted to watch the kids and make sure they didn't do anything dangerous or didn't get too close to crazy drivers. I do have a little daredevil son who likes to test my limits every now and then.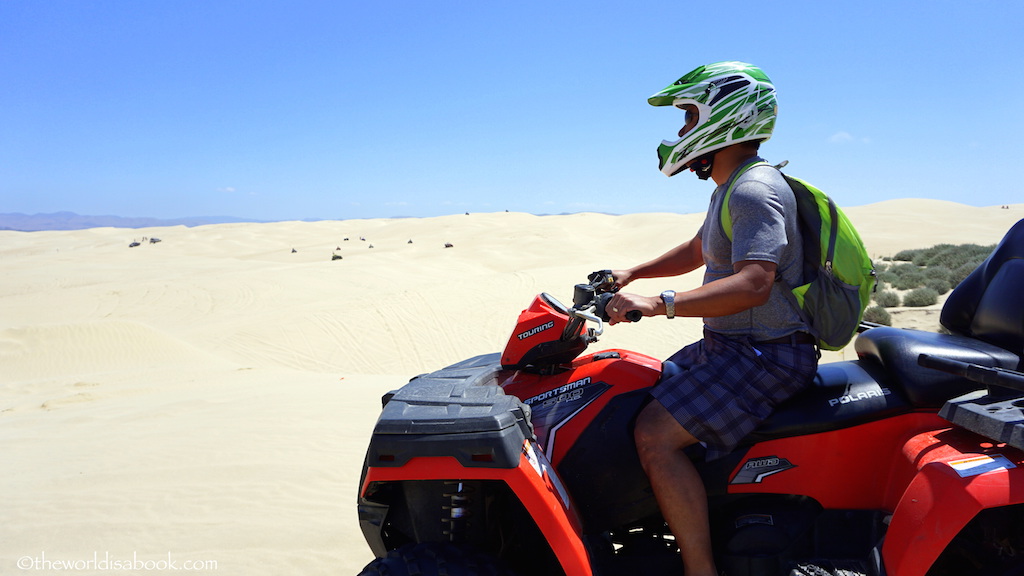 Everyone must watch a safety video before operating any of these vehicles. We then had a short orientation on how to operate the ATVs. It wasn't very complicated considering kids can operate them. We had a few practice runs near the rental trailer under the watchful eye of one of the employees. He gave us the go ahead to leave after he was satisfied we knew what we were doing.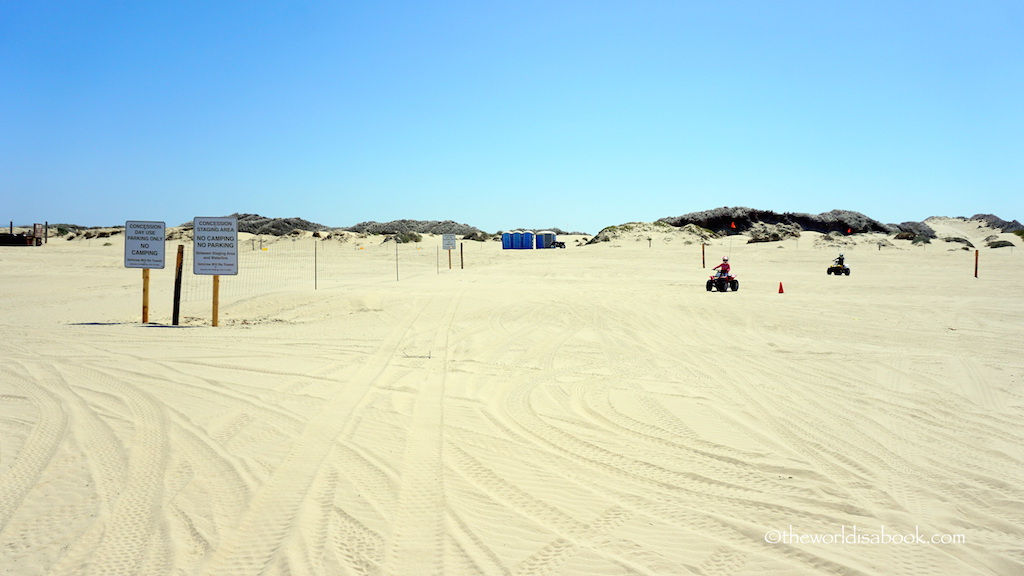 And then we were off! This was a self-guided tour of the dunes. No maps were provided and the directions weren't very thorough. It was pretty much to follow the path along the fence and once you reach the end you're in the dunes.We followed his directions and then voila…the vast sand dune area filled with other off road vehicles greeted us. It was a little intimidating to see so many vehicles were out there.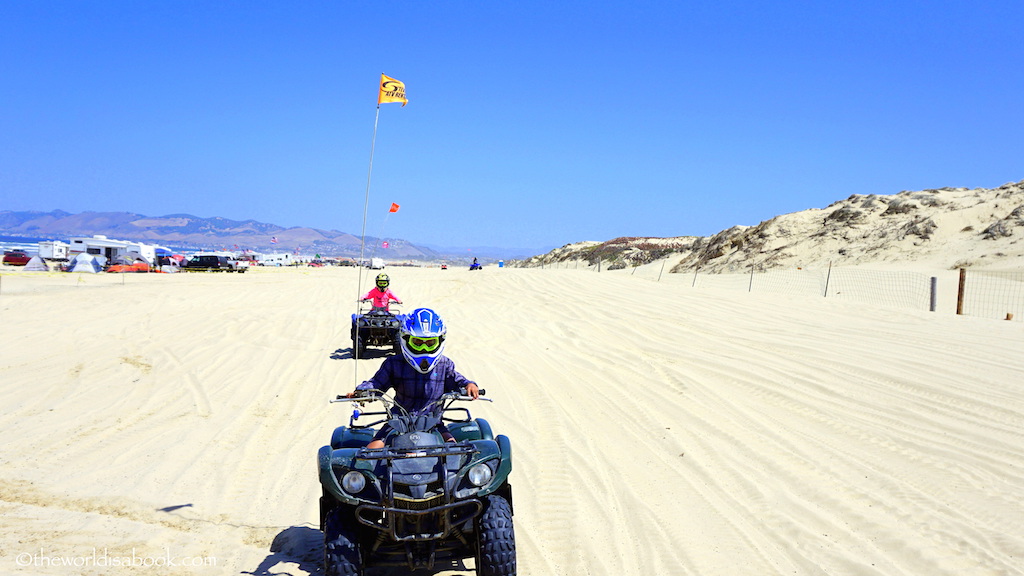 But, it was easy to find areas with less people to get the hang of it. It was actually a lot of fun, even more so as a passenger. My kids were so thrilled to have control of where they were going. There was no sand dune highway here though. We made our own roads and there weren't that many straight areas. It was a lot of valleys and slopes to maneuver through. We started out with the small dips. This was a relief since it was hard to go fast.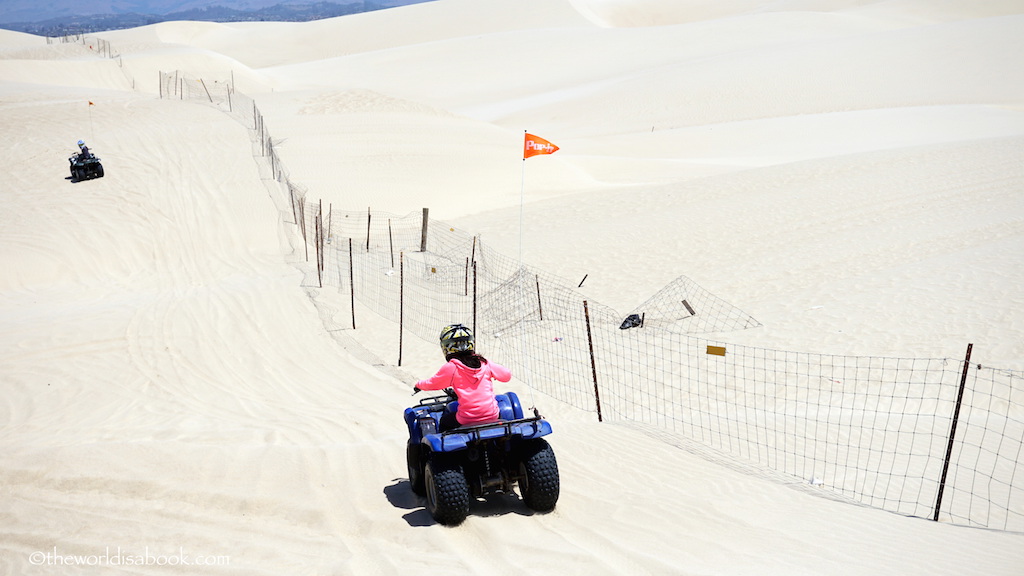 There were posted speed limits in various locations. Unfortunately, we saw a few people dangerously speeding and I'm not sure if someone is actually supposed to be around to enforce the rules.
We shortly found out one of the pitfalls of ATV riding on sand dunes. My son seemed to pick the routes where he would get stuck or maybe because he just didn't have enough strength to accelerate in some areas. My poor husband had the unfortunate task of getting him out every time.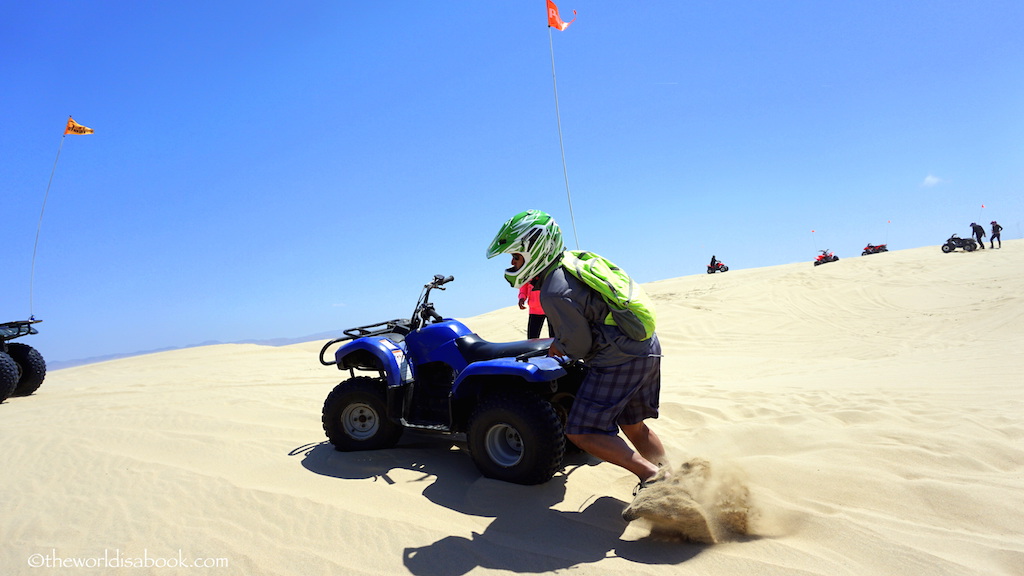 Sadly, our two hours went by fast. We eventually moved on to the bigger slopes, which was a thrill to drive down, and almost felt like a rollercoaster. But, we also found out that going up those valleys took a lot of work to power through.
Beyond the Sand Dunes
There are many activities at Oceano Dunes beyond the thrilling rides on the sand dunes. We saw plenty of Recreational Vehicles and tents along one area so this was a very popular campsite. It's a great location with the sand dunes behind and the ocean in front. Water activities from swimming, surfing and fishing are pretty common as well as hiking.
We really enjoyed our brief time at the sand dunes. My kids are already making plans for a return visit. This is a wonderful area for a weekend trip and great for the entire family. It's unfortunate that state parks don't often get the same attention as the tourist attractions. The Oceano Dunes SVRA is a gem that shouldn't be missed when exploring the California central coast.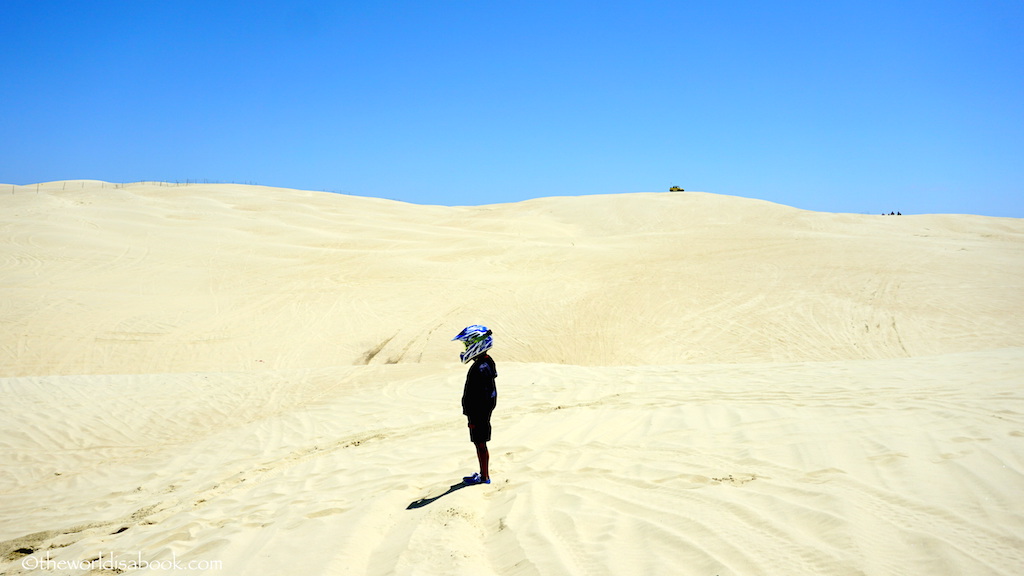 Visiting Oceano Dunes Basics and Tips
Day Use Parking Fee: $5. Payments can be made at entrance stations by cash or check.
Campsites are available by reservation year-round. Reservations are highly recommended especially during the holidays.
Reservations aren't required for ATV rentals. Children as young as 5 years old can operate ATVs. Everyone is required to wear a helmet.
We rented with Steve's ATV Rentals which offered various specials and discounts especially if booked in advance. Prices vary based on the type of equipment and is charged per hour.
*Have you visited this area?  Would you be interested in doing an ATV ride?  
Pin it for later!