Walking the Freedom Trail in Boston
Boston is one of the best cities in America to learn about our country's beginnings and its history. Many of the buildings were well preserved and the city has done a wonderful job of making history come alive for visitors. One of the most popular tours is the Freedom Trail. A red brick line around the city and embedded on sidewalks lead to 16 major historical sites and marked this 2.5-mile route. Come along with us on this informative tour.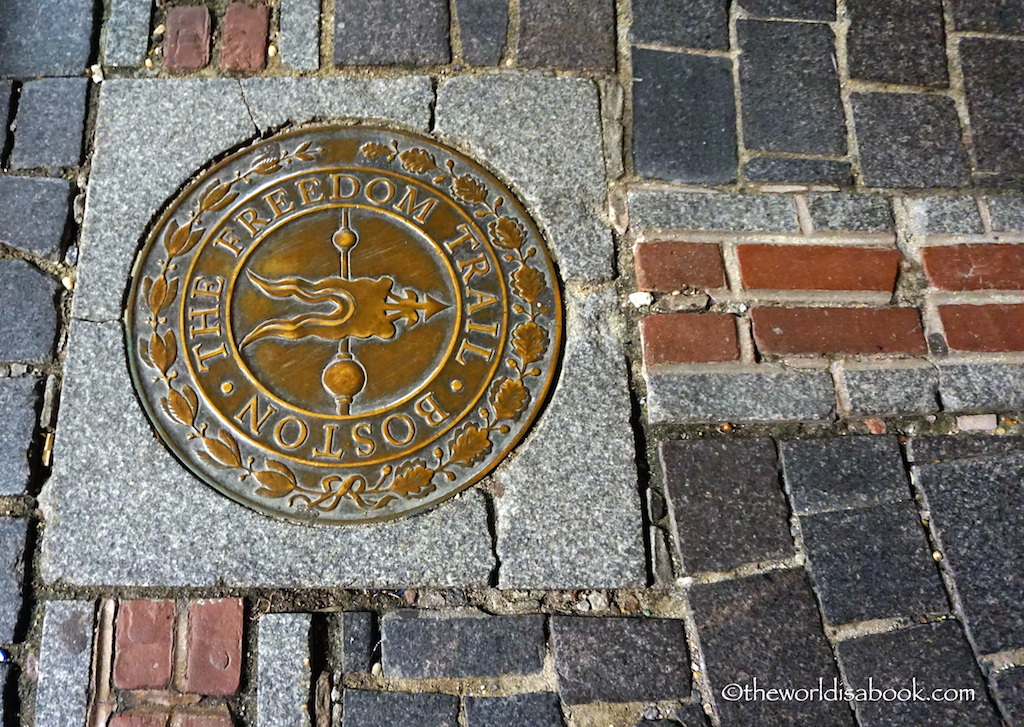 Various tours are available that involved the Freedom Trail. We did the 90-minute walking tour with an 18th century costumed role player as our tour guide. These tours usually start in Boston Common which is America's oldest park and ends at Faneuil Hall and covered a portion of the trail. We did the reverse during Labor Day here in the afternoon. We got lucky and happened to be the only ones in our tour group. Our tour guide was a young man portraying one of the citizens of Boston in the 1700s. He stayed very true to his character which gave us some interesting insight into the city and history of Boston at that time.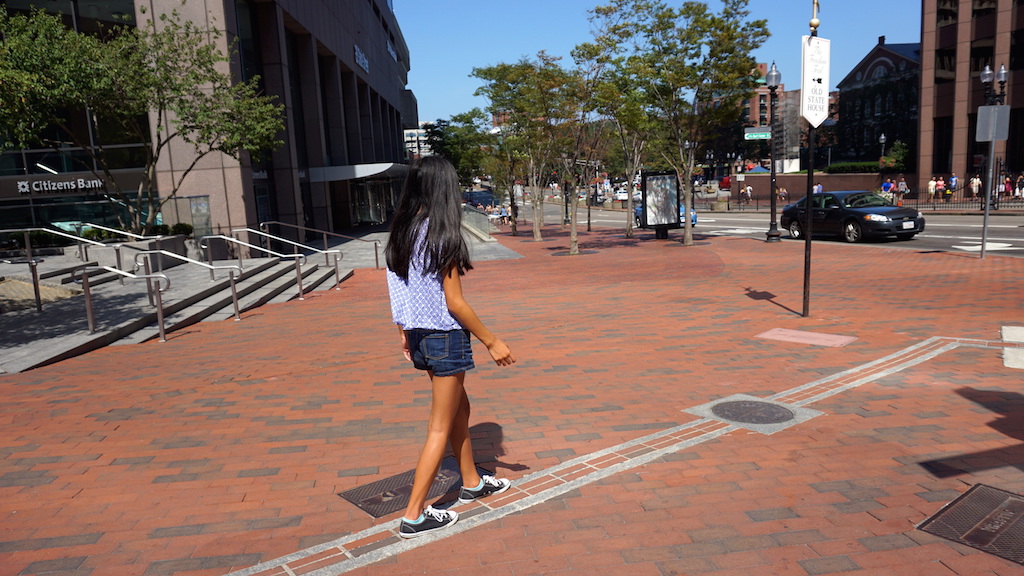 Our tour started outside of Faneuil (pronounced Fan-yoo-uh l)) Hall and Quincy Market. This historic building is considered as "the home of free speech" and the "Cradle of Liberty." This was where the country's first Town Meeting was held. It has been a meeting hall and marketplace for centuries. It is also the site where newly naturalized citizens are sworn in every year. Quincy Market is across from the hall brimming with food choices.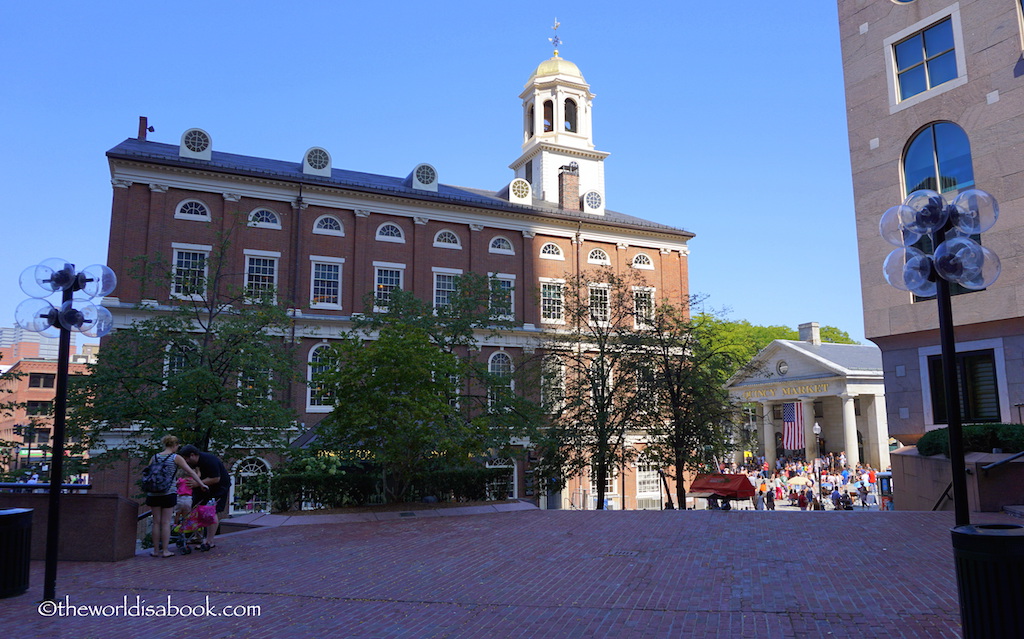 One of Boston's most prominent and popular historic buildings is the Old State House. This was built in 1713 as the colony's government house. It was the site of many events that eventually led to the American Revolution and resistance against the British rule. The Declaration of Independence was first read here to Boston's citizens in 1776 at its balcony. The Old State House became the Commonwealth of Massachusetts' new government house.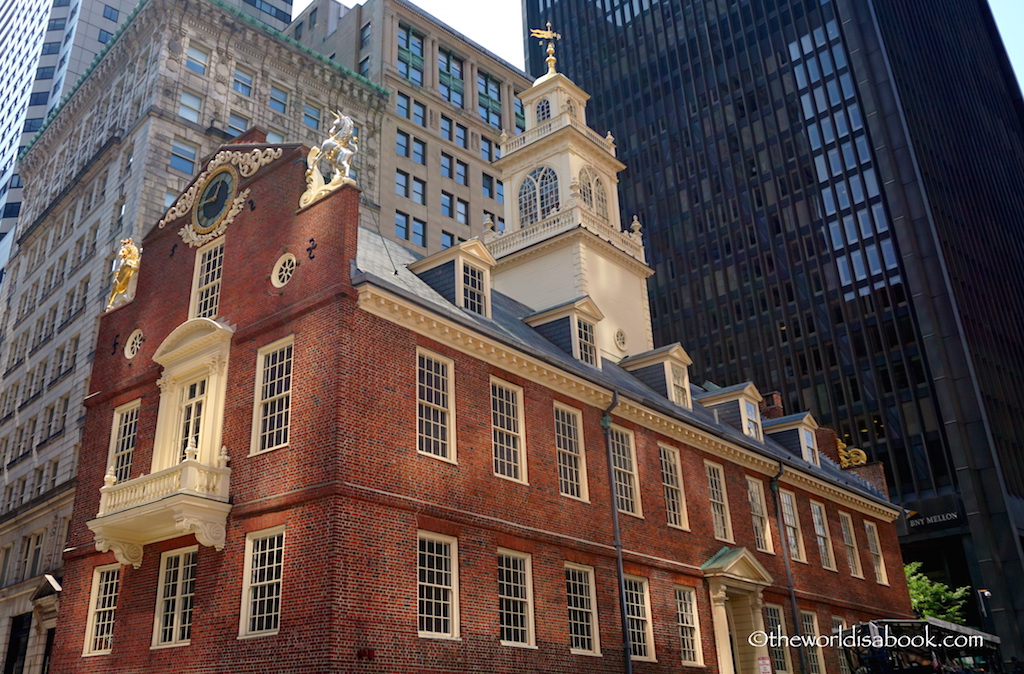 The rooftop still holds the lion and unicorn which were "symbols of authority". The Old State House today serves visitors with interactive activities and exhibits of Boston during the Revolutionary times. Some of the historic items on display are a tea vial from the Boston Tea Party and a musket that was used at the Battle of Lexington.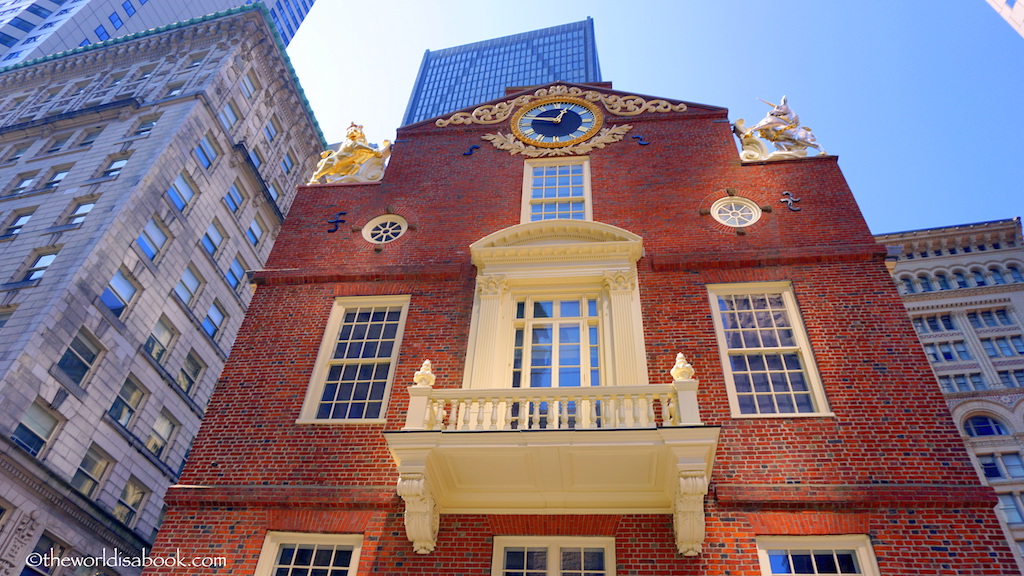 Outside of the Old State House is a ring of stones. This was a small but stark reminder of a tragedy on March 5, 1770. Tensions and confrontations had risen between the Redcoats or British soldiers and the Bostonians for years. The chain of events leading to the Boston Massacre started when a Redcoat struck a Bostonian named Edward Garrick in the face with his musket. Angry Bostonians threw snowballs at him and quickly surrounded the Redcoat.
His fellow Redcoats came to his rescue. Amidst the chaos between the troops and a hostile crowd, shots were fired and in the end, five people were dead. The Redcoats were tried for murder. The Bostonian Society holds reenactments here every year if anyone is interested.
This red brick building that now houses a Chipotle Mexican Grill fast food restaurant was once the Old Corner Bookstore. This is one of Boston's oldest structures that were built in 1712. This wasn't just a bookstore though but also where famous publications like The Scarlet Letter and the Atlantic Monthly magazines were published. There is s small plaque at the side of the building to commemorate the bookstore's existence here in the past.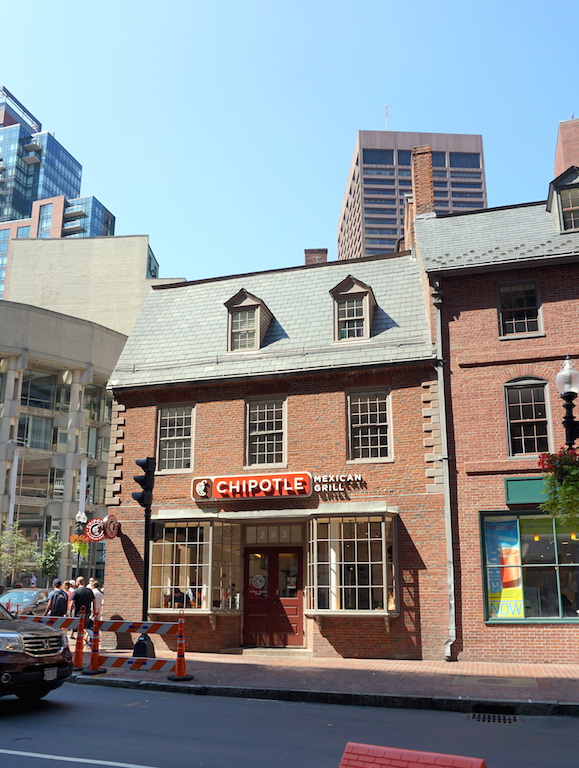 The Boston Latin School is America's oldest public school and was founded in 1635. The original schoolhouse was located here on School Street before it was torn down in 1745. The school provided free education to boys regardless of their social statues. Five signers of the Declaration of Independence attended the school including Benjamin Franklin, John Hancock and Samuel Adams.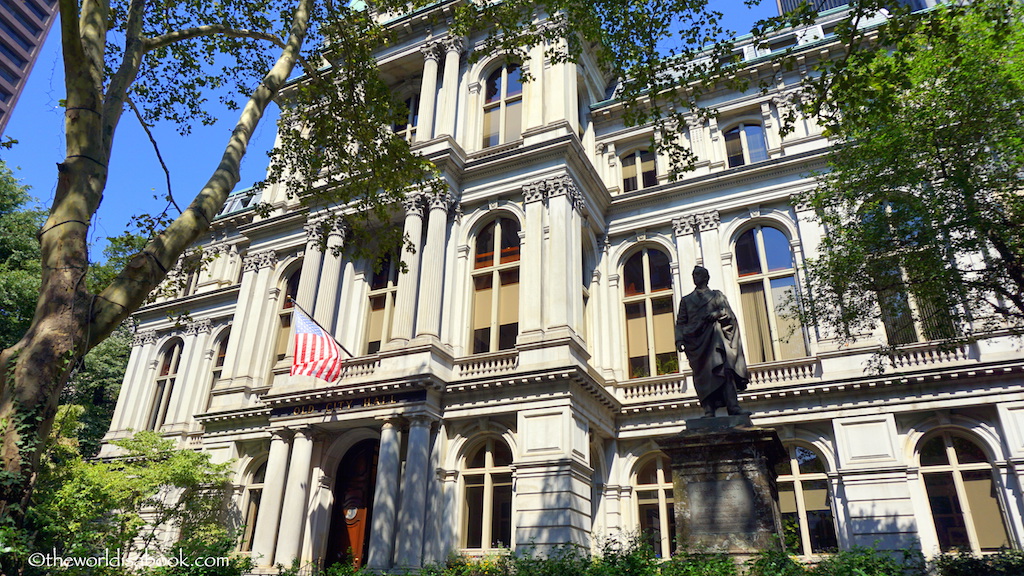 The school moved to various locations and is currently in Boston's Fenway neighborhood. It started admitting girls too in 1972 which surprisingly took a very long time to do so. There's a statue of Benjamin Franklin here who was born in Boston and was also one of our country's Founding Fathers.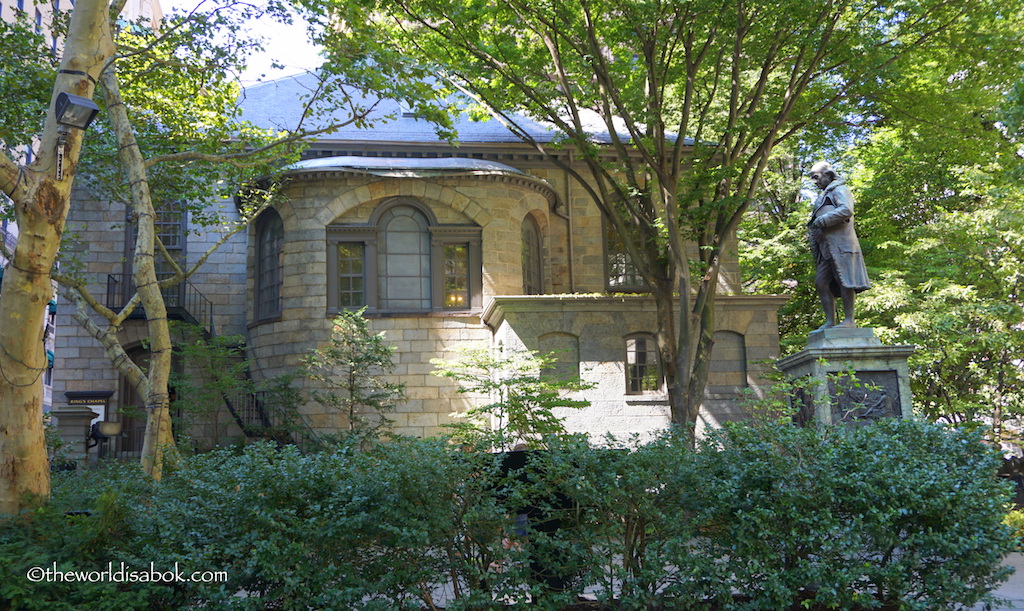 Ever heard of the famous dessert called Boston Cream Pie that's made of sponge cake with custard filling and chocolate icing? The Parker House Hotel, which is now the Omni Parker House Hotel and its French chef, laid claims to creating what was once called the Parker House Chocolate Cream Pie. The Boston Cream Pie became the state of Massachusetts' official state dessert in 1996. This hotel was also the first Boston hotel with hot and cold running water and had the first elevator. We didn't just learn about Revolutionary history in this tour. Unfortunately, we'll have to eat that pie on a return trip.
As we continued with our walk, it was hard to miss the Tremont Temple's unique architecture amidst the red brick buildings. The Tremont Temple Baptist Church congregation, which was founded in 1839, occupies this building. It was started with the belief that worshipping in churches should be free.
Unfortunately, Bostonians in the 1800s had to "rent" their place in church pews which was a hardship especially for the poor. Tremont Temple became the place for people to freely practice their religion and worship no matter what their gender, class or race was. The church continues to welcome everyone today.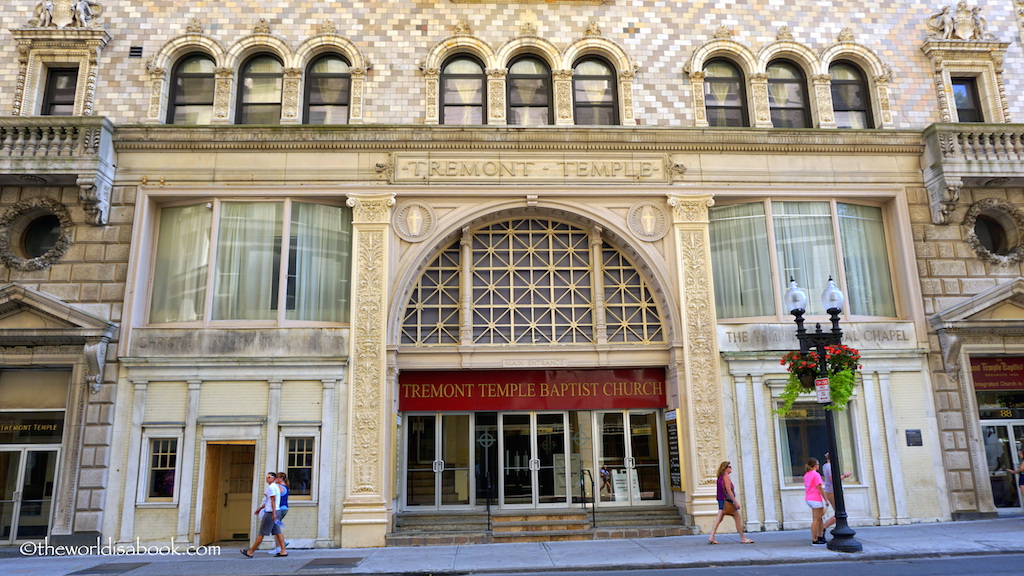 Granary Burying Ground
It was a bit odd that we spent the most time at Granary Burying Ground during this tour. This wasn't just any cemetery though but one of America's most historic burial sites and where some famous Americans were buried. It was named after the neighboring grain storage building here before. This was established in 1660 with 2,300 markers here. Though, it is believed that there were actually over 5,000 Bostonians buried here. Our guide didn't know what happened to the missing grave markers.
The cemetery has become a popular place to pay respects to some distinguished Americans in one place. The large obelisk in the middle is the grave marker for Benjamin Franklin's parents. Another obelisk towards the back is the marker for John Hancock's grave. He was the state's first elected governor and known for the largest signature in the Declaration of Independence. Paul Revere's grave was a bit more unassuming. An original small slate marker was next to it. Paul Revere was the silversmith who famously rode his horse to warn of the British approaching.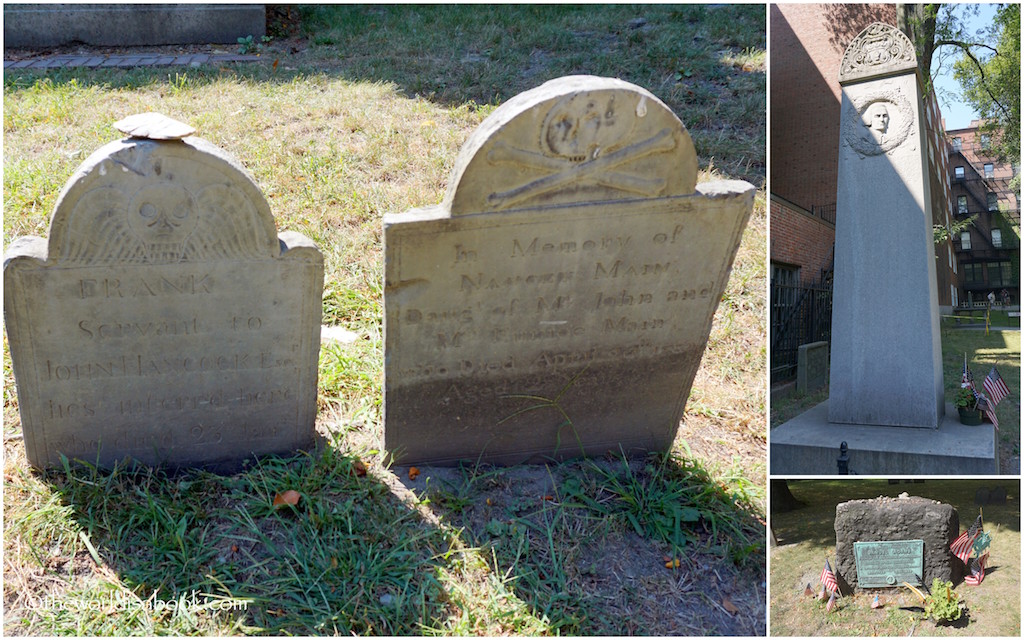 Though, Sam Adams may be well known more for the domestic beer name, he was actually a Massachusetts governor and a signer of the Declaration of Independence and was also buried here. The Boston massacre victims also have grave markers here. I'm so glad we visited with a tour guide or it would have taken us awhile to find some of these markers.
This was probably one of the most lavish government buildings we've seen. Located on a hilltop, the Massachusetts State House was a stunning structure that was built in 1798. Its large dome was covered with 23 karat gold. It was almost blinding with the sun shining on it during our summer visit. Tours are available for free but must be scheduled in advance.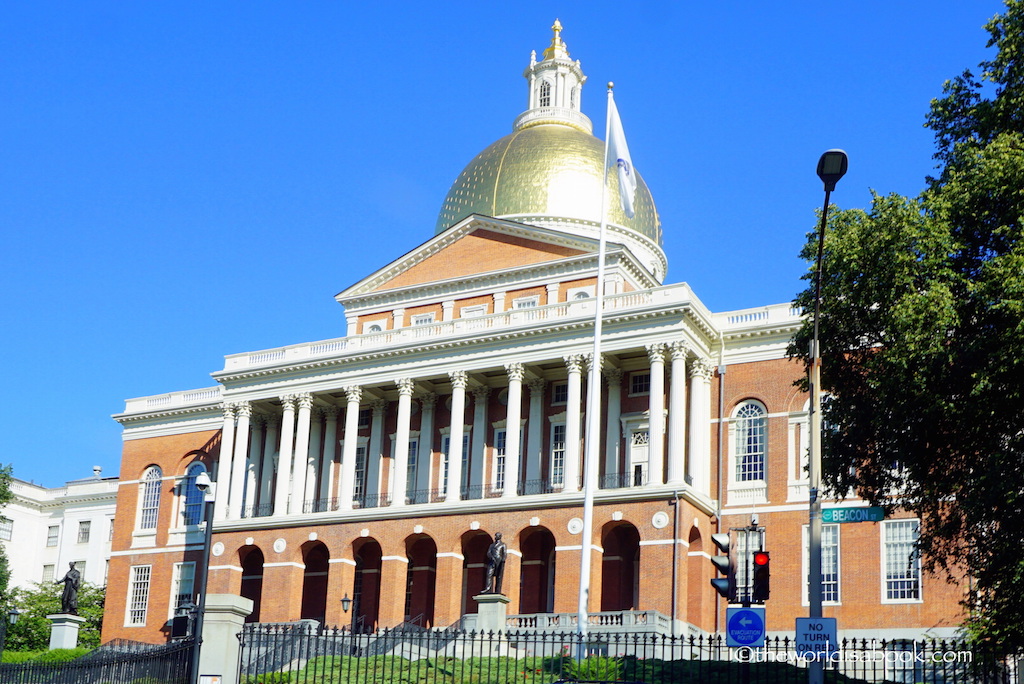 Our tour ended at the Boston Common and Public Garden. This is America's oldest public park. We loved the adjacent Public Garden a bit more. Take a stroll through this green oasis to find ducks, swans and go cruising on the one of a kind swan boats.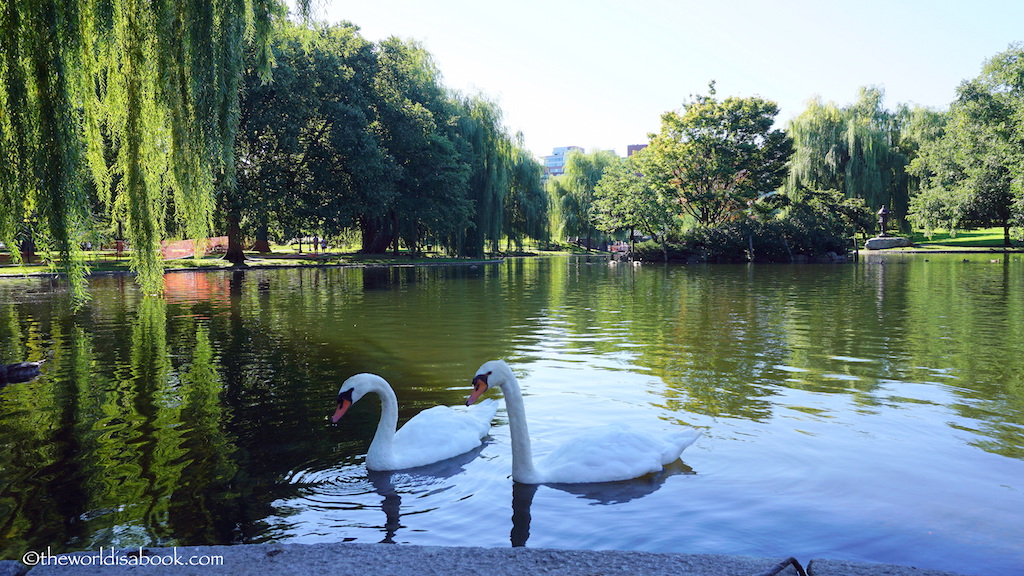 The Freedom Trail tour shouldn't be missed for anyone visiting Boston and especially for visitors interested in American history. We covered a lot of attractions and learned so much in a span of 90 minutes. My kids weren't bored and hopefully retained some of that information to contribute to their history classes this year. They've touted this tour as one where "every step tells a story" and it was true. It gave us a wonderful perspective of Boston's critical role in history and the American Revolution.
Tips for Walking the Freedom Trail in Boston
Buy the Freedom Trail public tour tickets online to save time and money. Various times and start locations are available. The tickets are valid for any tour time. These tickets can also be purchased at ticket booths by Faneuil Hall and Boston Common.
Tour Prices (as of Sept. 2015): $12 Adults; $6.50 Children (6-12 years old)
Wear comfortable walking shoes. It's a bit of walking on cobblestones and uneven sidewalks and a lot of standing.
Use the restrooms beforehand especially the kids. There are no restroom breaks along the way here.
The National Park Service offers free 60-minute guided walks on some of the attractions along the Freedom Trail with the Park Rangers. Go inside Faneuil Hall to schedule the tours.
Visitors can also get maps and do self-guided walks to follow the Freedom Trail through the city.
We took the 12:30 PM tour that was the reverse starting from Faneuil Hall and ends at Boston Common. As I mentioned, we were the only ones on this tour. We saw the one ending at Faneuil Hall and there were at least 30 people. Our guide told us that the morning tours and ones right before lunchtime do get crowded.
*Have you walked the Freedom Trail in Boston?
Lodging
Hilton Boston Downtown/Faneuil Hall – We stayed in this historic and centrally located hotel for several nights. It was convenient to the subway getting to/from the airport and within walking distance of many attractions in Boston. The rooms were spacious and views from the upper floor were great.
See the best Boston hotel prices from the major travel sites on HotelsCombined.
Find the best Boston hotels and read reviews on TripAdvisor.
Activities
Flights/Vacation Packages
Compare airlines, dates and prices all in one place with Skyscanner
Pin it for later!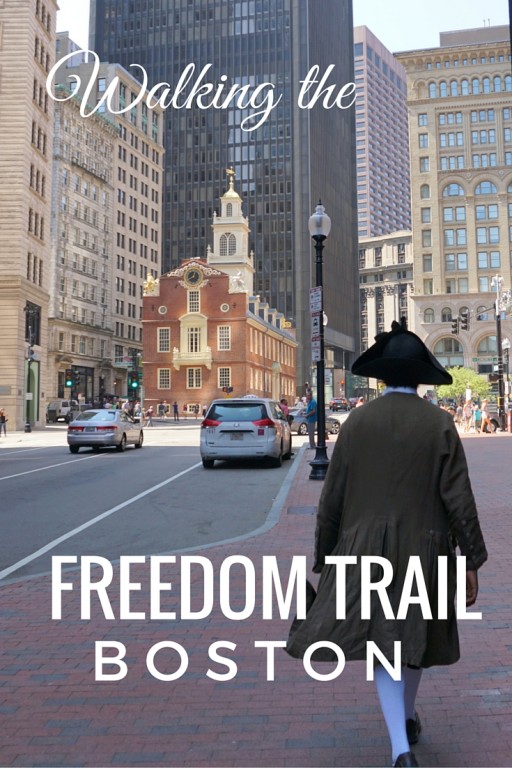 *There are affiliate links in this post to help support this website.