A Snowmobile Tour in Whistler, BC, Canada
Whistler in British Columbia, Canada has consistently been ranked as one of the world's top ski resorts. But, the area also offers a multitude of activities beyond the slopes such as zip lining (read about that adventure here) and snowshoeing. One of the activities we were excited in doing was a snowmobile adventure in the nearby Callaghan Valley. Read on to virtually ride with us on this three hour adventure along Whistler's backcountry.
We were in Whistler last year to finally have that "White Christmas" and experience the holidays with snow instead of sunshine and palm trees (my husband's idea). I admit it was quite special despite my grumblings of leaving warm San Diego for very cold Canada.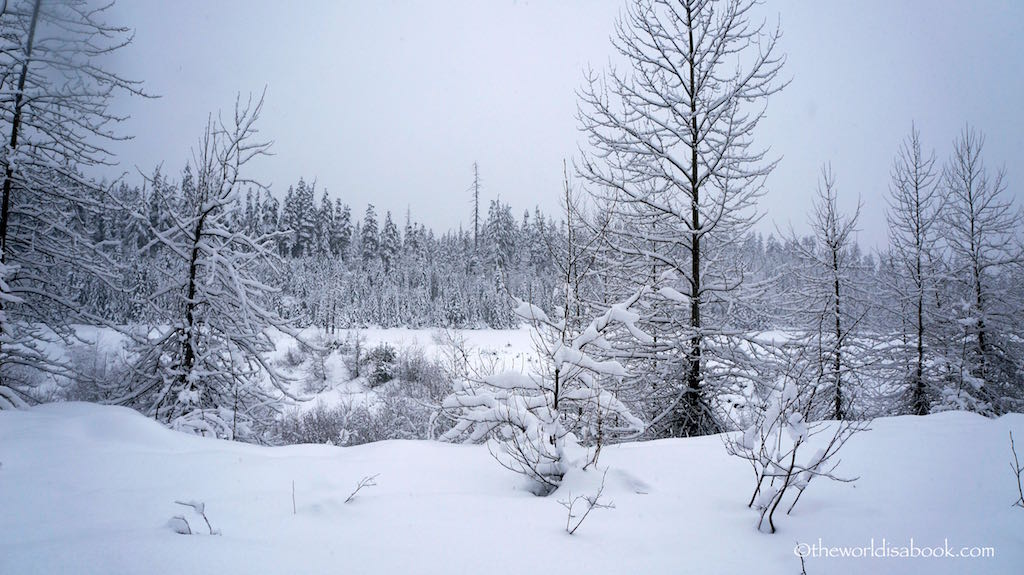 We met at the Canadian Wilderness office inside Carleton Lodge in Whistler village (by the lifts) to sign paperwork and meet our guide for our 9AM tour. A bus took us to a lodge about 25 minutes away. All the snowmobiles were parked outside and we were fitted for helmets inside the lodge. They also had waterproof pants, jackets, boots goggles, gloves among other things, available to borrow. They just didn't have a wide selection of kids' items other than the helmets. So, make sure your kids are well prepared.
After we got all our helmets and the guides ensured we were all dressed for the snowy outdoors, we had our brief orientation on how to operate a snowmobile. My husband and I have gone on a snowmobile tour in Brian Head Resort in Utah a couple of years ago. He was the driver and I was the passenger hanging on for dear life on some of the twisty trails.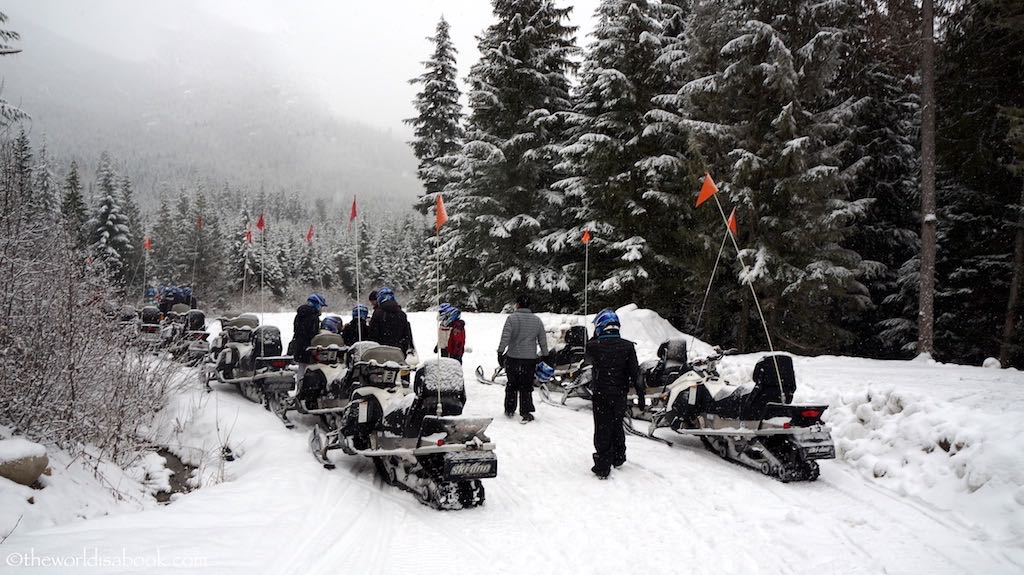 I was grateful that the snowmobiles weren't overly complicated to operate as a rookie driver. I knew I was fine as long as I knew how to stop. Our orientation started with the guide explaining all the safety features and let us have several practice runs. He also ensured we could turn corners properly by lifting our butts off the seats in a coordinated move with the passenger. My kids particularly enjoyed this part.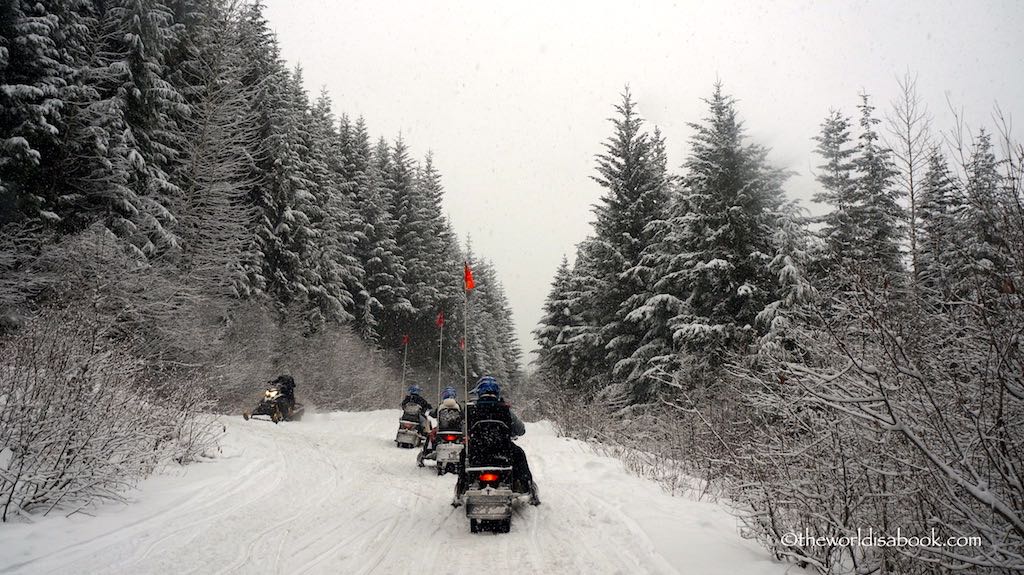 He made sure we were all comfortable and knew how to operate the machines before moving on. My son decided to be my passenger. He quickly switched with his sister after our first stop because I was driving too slow for him.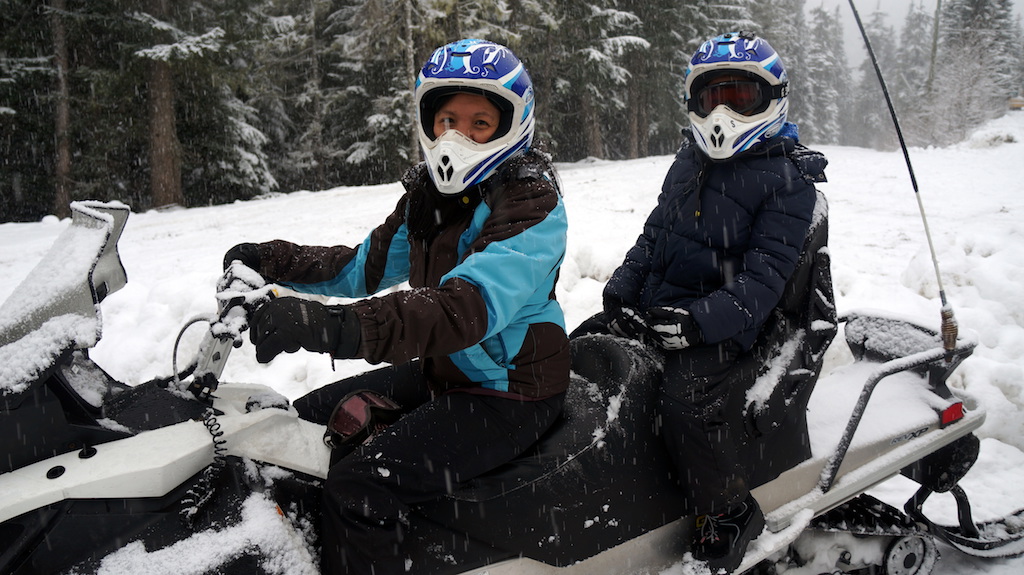 Our group wasn't very big with about seven snowmobiles with one guide. We started on the well groomed trail which made it easier to adjust driving the snowmobiles. It didn't take that long to get used to driving it. The snow-covered forest surrounding us was really beautiful.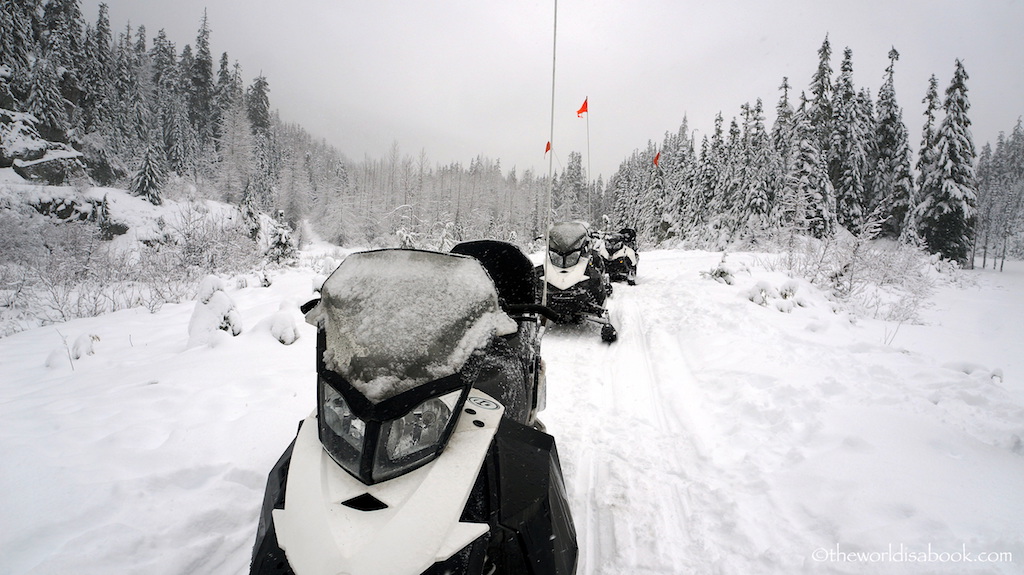 We didn't realize we were on the same trail as the dog sledders until we stopped and saw a group on their tour. This gave us an idea of what to somehow expect when we decide to do this activity. Dog sledding was also another fun family activity outside of the slopes. This was very pricey though which was why we opted to do it another time. The passengers looked cozier and more relaxed than we did though.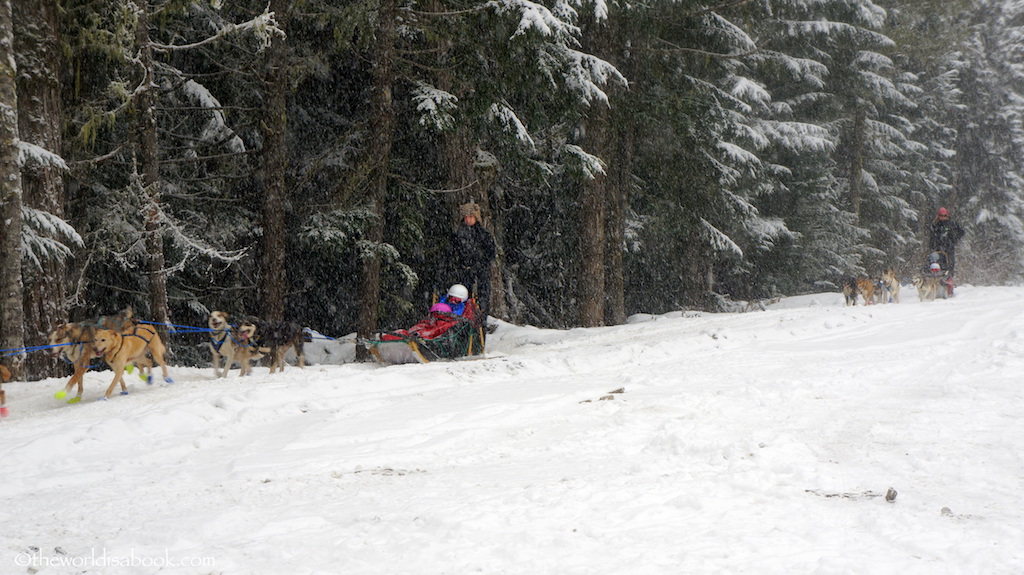 We ended up at the end of this particular trail along with the dog sledders and stopped to regroup. My kids along with the other kids in our group were so excited to meet and pet the hardworking dogs. How cute are those little socks the dogs are wearing?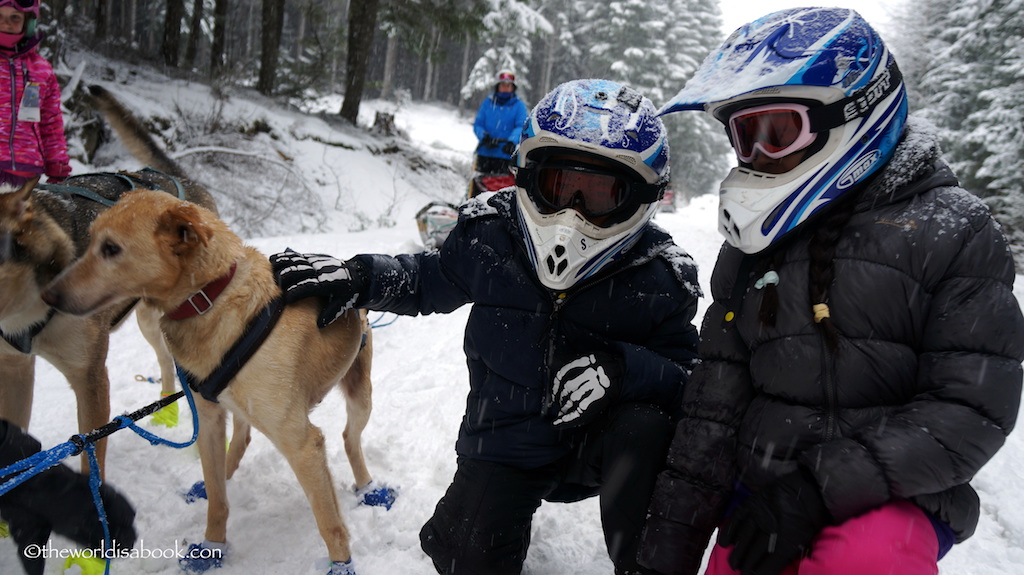 It truly was winter wonderland out there.I really liked that most of the trails were groomed well and were mostly wide roads which helped in navigating.
It was a bit overcast during our tour but glad it wasn't wet snow we were traveling on. It even snowed for a bit while we were riding which made this experience a bit more magical. We did hit some winding areas but they were manageable. There were also some areas with overgrown branches which we had to watch out for.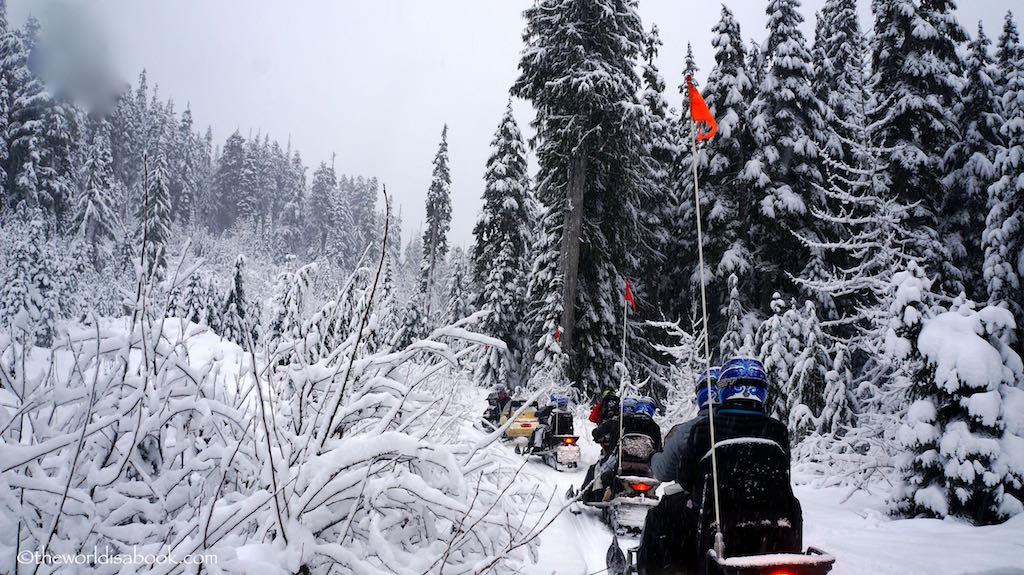 Our tour guide led us to a picturesque open area which was actually a frozen lake. We thought we were going to actually have an opportunity to ride on the open area but not this time. But, we could walk and play on it. We stopped here for awhile for some play time which everyone enjoyed. The kids loved playing snow angels.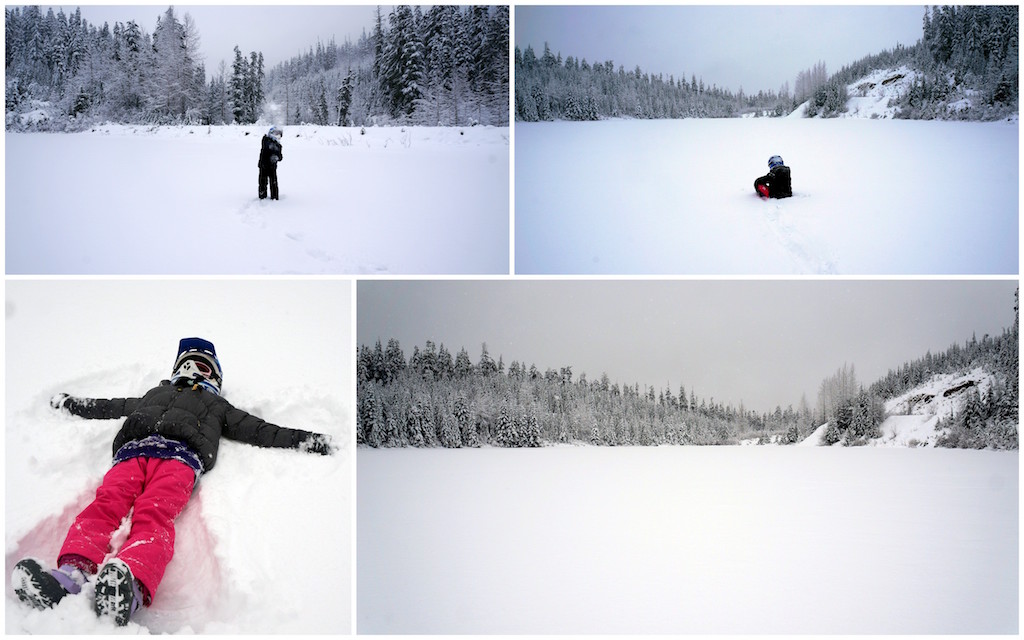 The guide eventually dug a hole in the snow to show us the water underneath. It was interesting to see just how much he had to get through to get to the water. I know this may be a common occurrence for those living in cold places by a body of water but this was a first sighting for my kids who thought it was so cool (pun intended).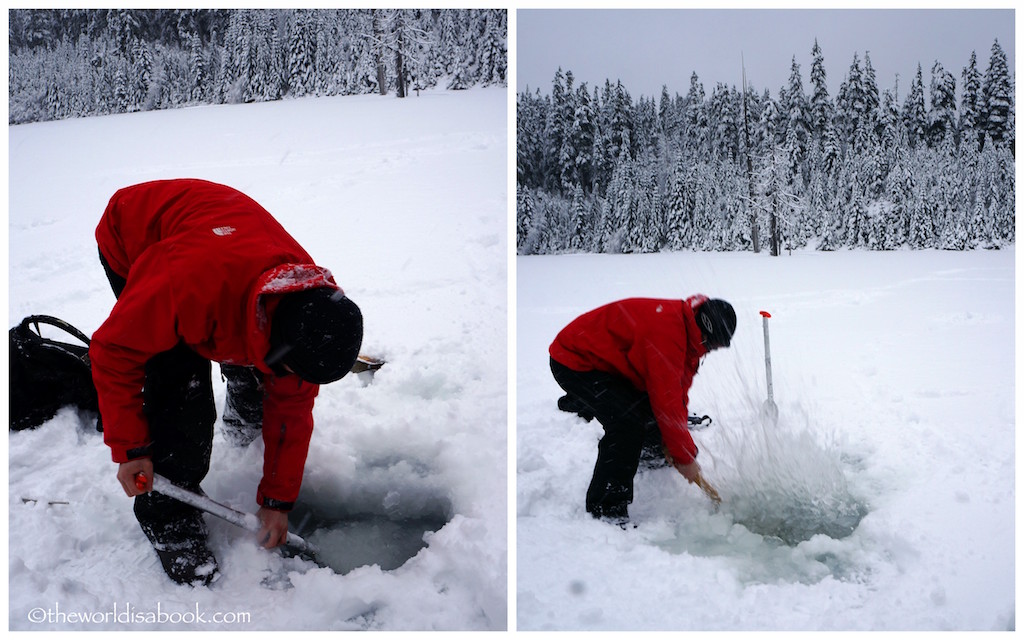 It was easy to see why the company highly recommends this particular tour for families and beginners. The trails were just right so we didn't have to do complicated turns or go up and down steep trails. It also didn't allow much room for those who want higher speed and adrenaline rush. They have other tours for that. This was just right for me. Our guide was helpful, patient and professional throughout the tour. We liked how they enforced safety but also ensured we were having fun and traveled together.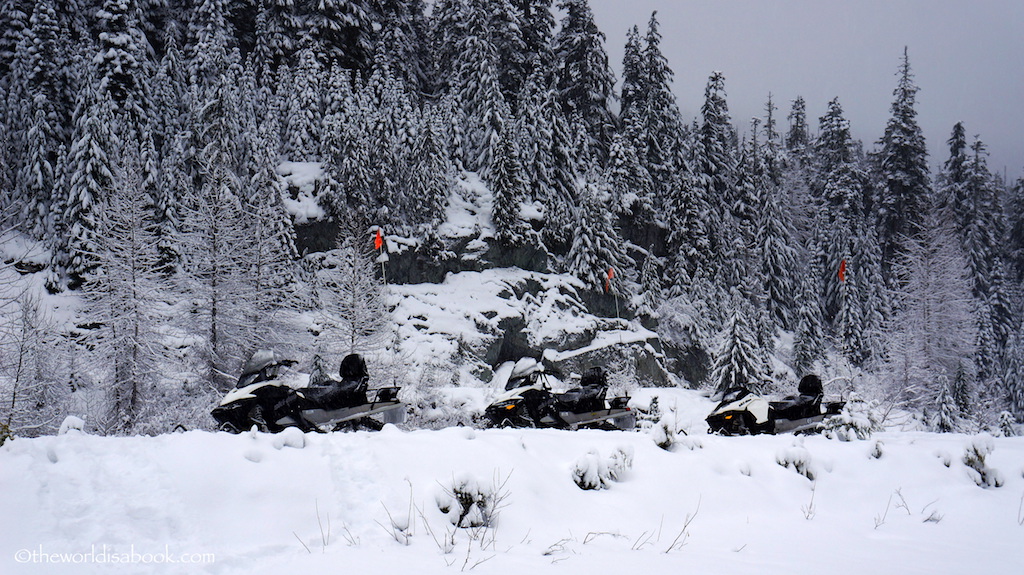 While this was such a fun experience, I decided I much prefer to be a passenger to enjoy the scenery than being a navigator and driver while snowmobiling. It took some physical effort to handle those machines! My kids loved and enjoyed the experience since they were being driven around. This was a wonderful family activity to do beyond the ski slopes and a great way to include those who aren't into skiing or snowboarding. We highly recommend it for a few hours of adventure if you find yourself in Whistler.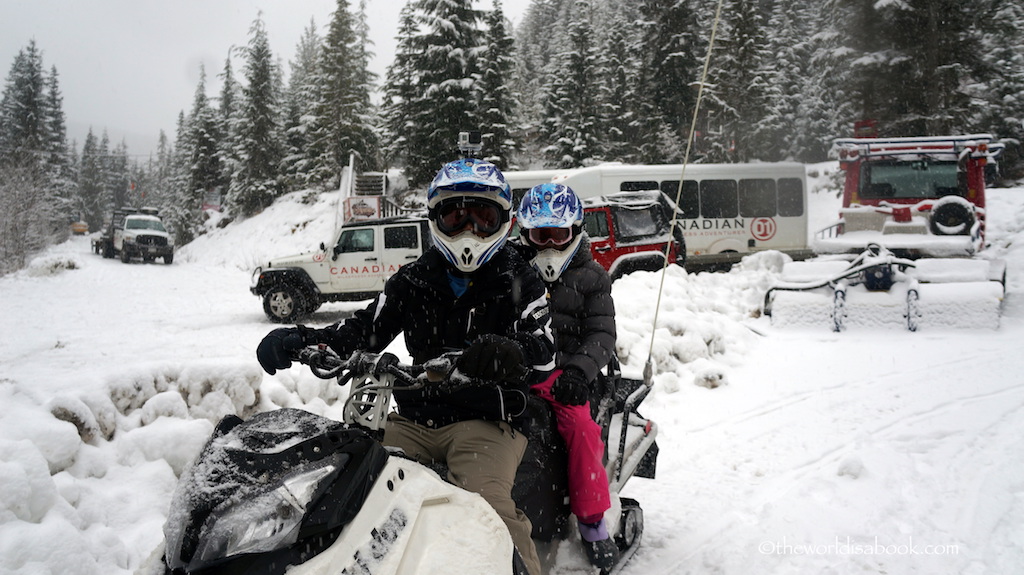 Snowmobile Tour Basics and Tips
We did the three-hour Callaghan Cruiser Tour with Canadian Wilderness Adventures. There are two daily tours (9 AM and 1PM). We did the morning tour which was a fantastic way to start the day and a prelude to lunch.
Prices (as of Dec. 2015) – $119 per person sharing; $159 single riders; Children (12 years and under) ride free with each paying adult. This was a great deal for families.
Tours can be booked online. They have various tours available including night tours. Reserve early especially if you're going during the holidays.
Layer up. Dress accordingly and try to wear snow pants. A couple in our group was wearing jeans and had to put snow pants over them. It was cold and I'm so glad we were all dressed warmly from head to toe. I just wish I had some of those hand warmers in my pockets.
*Have you gone on a snowmobile tour? Would you go?
Pin it for later!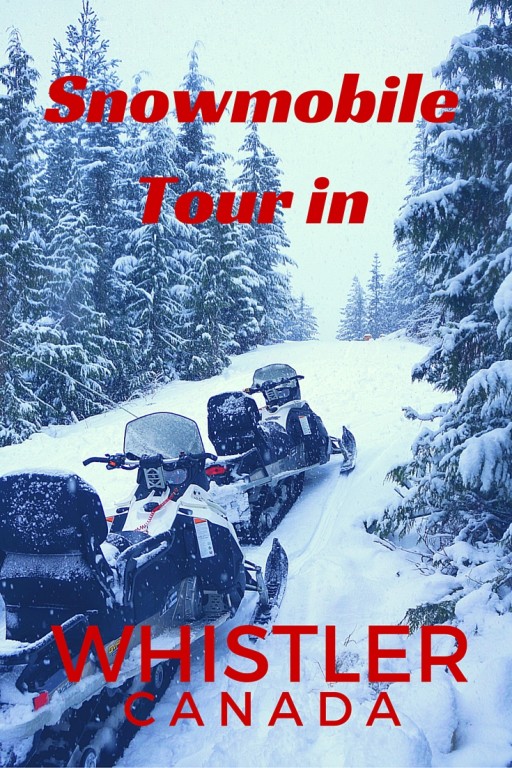 Check out these related posts: