5 Free Things to do in Minneapolis-St. Paul With Kids
I'm happy to resurrect the Five Free Family Friday series for 2016. It's my pleasure to introduce this guest post from Karla Lemmon of Little Peanut on the Go, who was kind enough to give us a list of these wonderful free attractions from the twin cities of Minneapolis-St. Paul (I've only been to the airport for layovers sadly). Please check out Karla's very useful app for parents at the end of this post and hope you can use it too. 
When you think about visiting Minneapolis-St. Paul with kids, one of the first things that probably comes to mind is, "Brrr, it's too cold!" Another thought is likely the Mall of America, which certainly won't be free if your kids have their way! But the Twin Cities has much more to offer families in both winter and summer, including fantastic free experiences.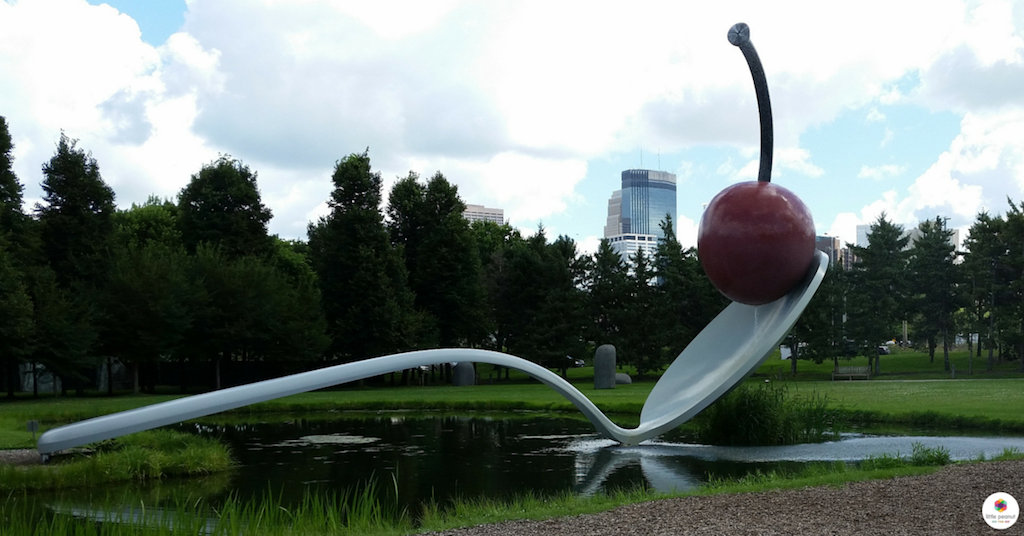 1. Take In Some Sculptures
Just west of downtown Minneapolis is the Walker Sculpture Garden, home to many much-loved sculptures. It's always fun exploring the garden as you never know what sculpture you might find around the next turn. And don't forget to have your picture taken in front of the iconic Spoonbridge and Cherry! Be sure to venture across the bridge to Loring Park. It's exciting to watch the traffic on I-94 from above and a treat to take the additional stroll in the park to see a close up view of downtown Minneapolis.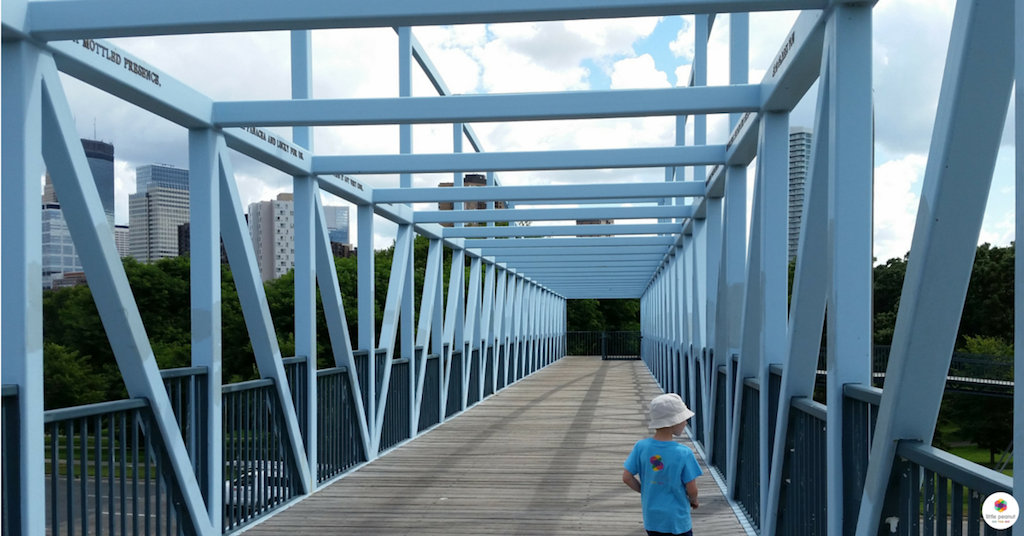 2. Fall for Falls
Explore the popular Minnehaha Regional Park in Minneapolis to get a look at Minnehaha Falls, a 53-foot beautiful waterfall. You will enjoy seeing the Falls from different angles while you explore the many trails along Minnehaha Creek. The park offers biking trails and playgrounds, too. While there are plenty of places to have a picnic, you might also consider springing for some super fresh seafood at Sea Salt Eatery, located right by the Falls.
3. See Some Animals and Plants
Another free must-see in St. Paul is the Como Park Zoo and Conservatory. The zoo has a wide variety of animals, from zebras and giraffes, to polar bears and bison, plus their well-known gorillas. The zoo has done a fabulous job of giving the animals a nice amount of room to roam while providing visitors close up views. The zoo is also easy to visit in the winter by walking short distances between buildings.
Inside the conservatory you'll find an amazing array of plants and flowers. Once you enter the Sunken Garden you won't even realize it might be winter outside! The Sunken Garden's ever-changing display is updated seasonally, so you'll find everything from tulips to roses to lilies to poinsettias depending on the time of year. One thing never changes though – you will be awestruck by its beauty! In the surrounding Como Park you'll find many picnic areas and playgrounds to enjoy as well.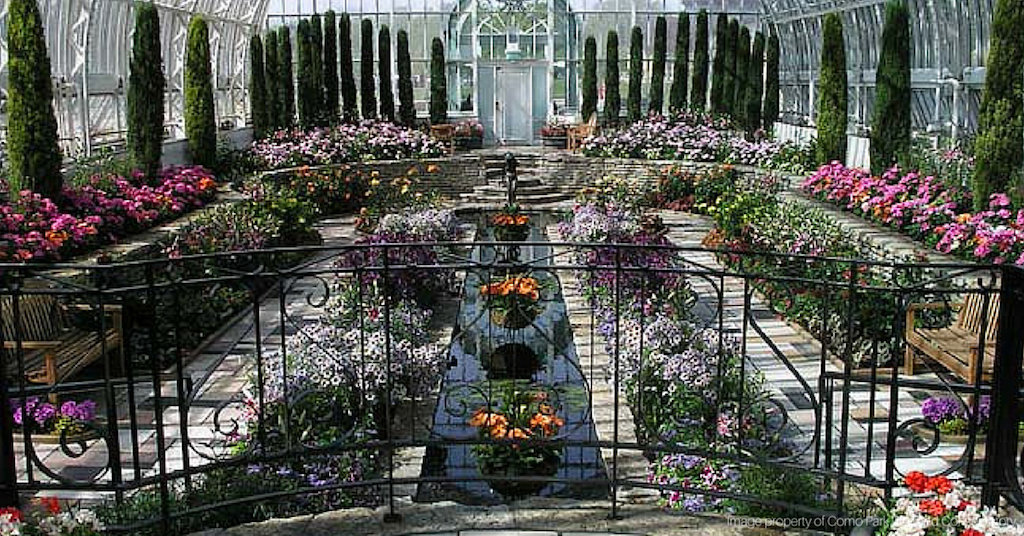 4. Learn Our History
For many years Minneapolis was known as the "Flour Milling Capital of the World." This was possible due to one natural resource, St. Anthony Falls, which powered the many flour and lumber mills along the mighty Mississippi River. Just east of downtown Minneapolis you can walk and bike across the Stone Arch Bridge, giving you great views of St. Anthony Falls. The bridge is part of the St. Anthony Falls Heritage Trail, a two-mile trail full of learning kiosks and activities.
If you have time, stop by the Guthrie Theater to see if you can go to the 5th floor to walk on the Endless Bridge, or the 9th floor to look out from the Yellow Box. The views are unique and the whole family will enjoy them, especially the kaleidoscope views from the mirrored cutouts along the Endless Bridge!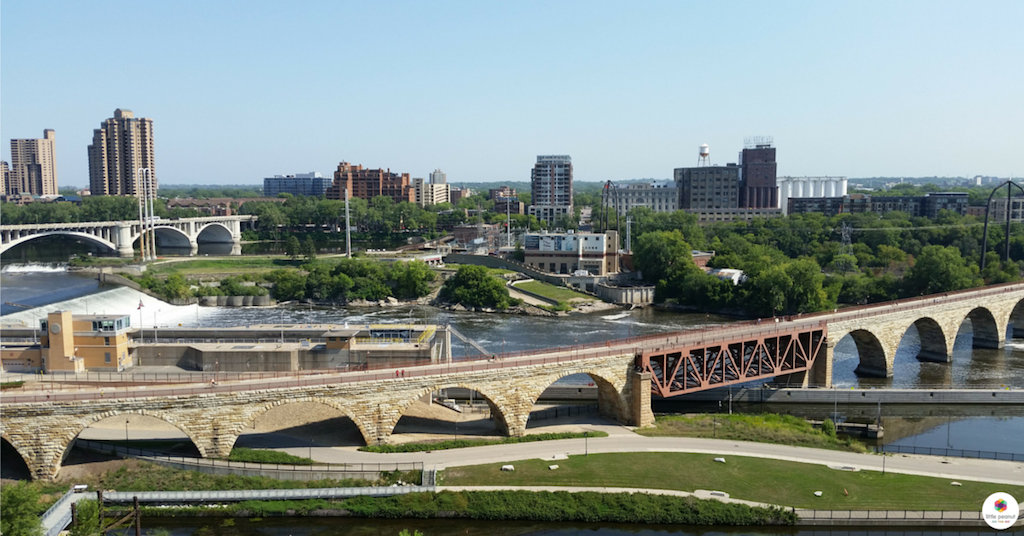 5. Splash and Play
Since Minnesota is the "Land of 10,000 Lakes" and Minneapolis is known as the "City of Lakes," you'll find plenty of beaches for splashing! The Chain of Lakes in Minneapolis includes Lake Harriet, Lake Calhoun, Lake of the Isles, and Cedar Lake, and has 13 miles of paved walking and biking paths, playgrounds, beaches, picnic areas, and great views. Lake Harriet even has a beautiful rose garden and a band shell with free concerts and movies in the summer.
You're probably thinking, "But what do we do in the winter?" Remember that those lakes freeze, so you can always skate or play some pond hockey. But if you'd prefer to be indoors, take a trip to Choo Choo Bob's Train Store in St. Paul – and yes, it's the home of the TV show, too! The store has a play area your kids will love and also offers story hours. In Minneapolis you can have a magical visit to Wild Rumpus, a store full of books, cozy reading nooks…and animals! Chickens, cats, and ferrets are among the feathered and furry friends you'll meet when you enter the store through its kid-sized purple door.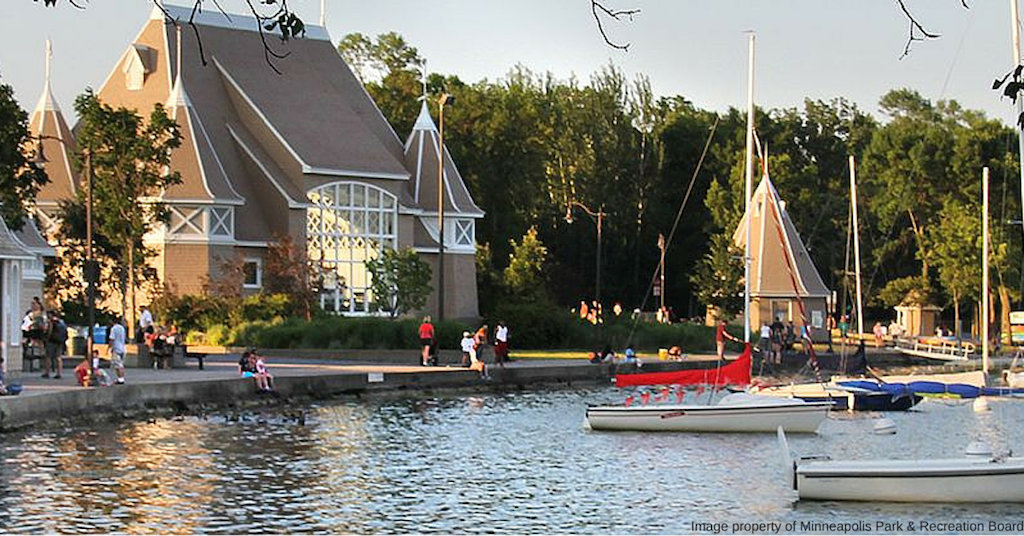 Occasional Freebies
Visit the Walker Art Center, next door to the Walker Sculpture Garden, during Target Free Thursday Nights and Free First Saturdays. And be sure to take advantage of Target Free 3rd Sundays at the Minnesota Children's Museum in St. Paul.
There's something for everyone in the Twin Cities of Minneapolis and St. Paul!  It's a wonderful place for families to enjoy year round…although I'll definitely forgive you if you skip winter for your first visit!
*Any other suggestions for free things to do in Minneapolis and St. Paul with kids? 
Karla Lemmon calls Minneapolis home and is the founder of Little Peanut on the Go, a mobile app for parents to use any time they or their children are away from home. Parents can create emergency information and care instructions to share with caregivers, build packing lists and to-do lists, and connect with their children while they're away. Any time you need a sitter or a suitcase, use Little Peanut on the Go to keep you organized and connected while you're on the go! The app is available at the App Store and Google Play. You can follow Karla on Twitter or Facebook. 
Check out this review of the Little Peanut on the Go app from Francesca of The Working Mom's Travels.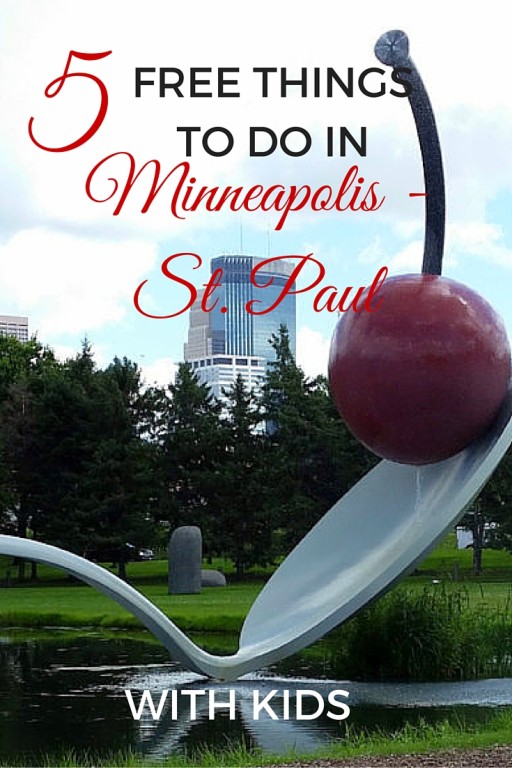 This is a part of a series called Five Free Family Friday which is a collective guide of free family-friendly attractions from places all over the world.  If you'd like to contribute with the free attractions in your home city, I would love your guest posts. Thanks!