11 Things To Do In Old Town Tallinn, Estonia
There are some places that are underrated or not talked about as much it ignites curiosity. This was Tallinn for us on our Scandinavia adventure a few weeks ago. Tallinn is the capital of Estonia, a country located in the Baltic Sea with a fascinating history and ties to Sweden, Denmark and Russia. The Old Town area of Tallinn or Vanalinn is a UNESCO World Heritage Site. We focused on this enclosed area during our day trip due to our limited time. This was also referred to as the city's cultural center and it didn't disappoint.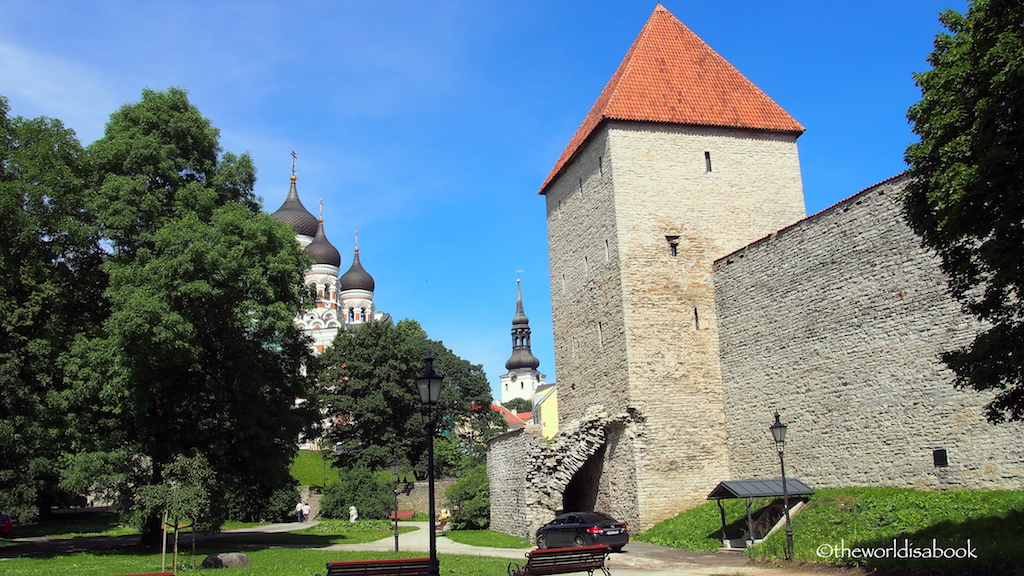 Tallinn or Reval (back in the days) dates back to the 13th century where it was a major player in the Hanseatic trade league. The Old Town was divided into the Lower Town and Toompea hill. The lower town was where the churches were located and where residents and merchants lived. Toompea was and still is the country's administrative center and where the castle ad cathedral were located.
Tallinn almost looked like it was stripped off a fairytale book. Colorful, gabled houses and medieval buildings lined the cobblestoned streets with guard towers along the enclosed city walls. This medieval town has been preserved very well despite its history of being constantly attacked and taken over by the neighboring countries. Here are some things to see and do in Old Town Tallinn.
1. Hang out at Town Hall Square
Like many European cities, this main public square was used as a marketplace and meeting point for many centuries. It was the center of the Lower Town during the 13th and 14th centuries. Today, it is a hub of activity with many entertainers, shops, restaurants and outdoor cafes. There was a big cruise sip plus our ferry that docked during our visit so there were quite a few tour groups walking around. We spent quite a bit of time hanging around here. Stay in one corner and watch people and guarantee you'll have free entertainment.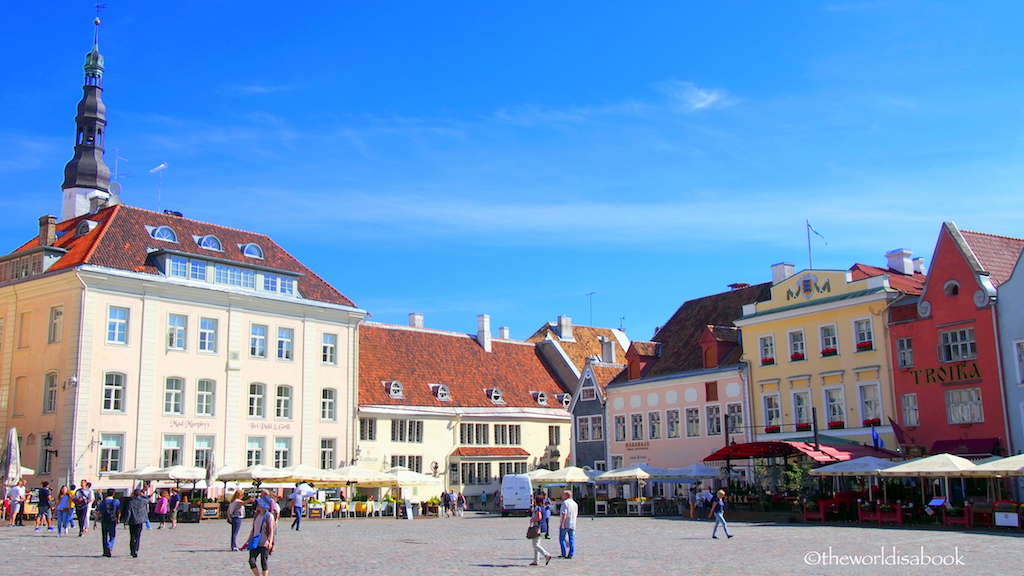 It's hard to miss the towering Town Hall (Raekoda) that has dominated this square since its completion in 1404. This is considered Scandinavia and the Baltic countries' "oldest surviving town hall". The city government uses this now for concerts and also functions as a museum. We visited the museum and it was wonderful to see the exhibit of different Estonian costumes and some exquisite tapestries. Don't miss the model showing how Tallinn looked in the Medieval Ages and clearly showed the division between lower and upper towns.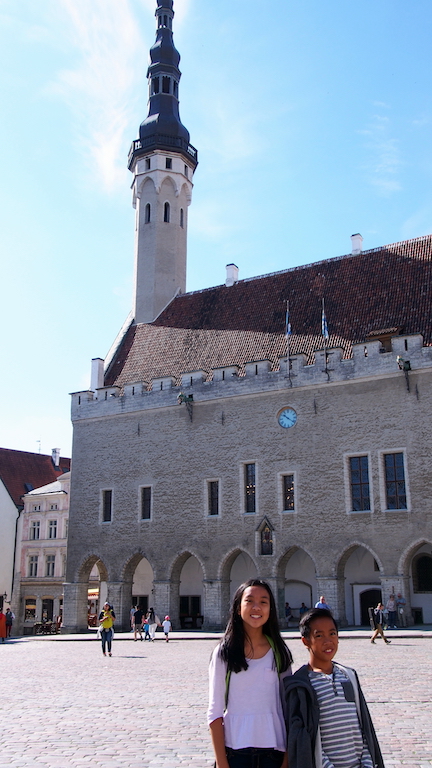 2. Visit the Great Guild Hall
This 15th century Gothic building may look unassuming compared to its colorful neighbors on Pikk Street but definitely worth entering. This was once a "guild for merchants and artisans" But, now a museum showing Estonia's rich history from the prehistoric times to the late 1990s lies behinds its doors. The "Spirit of Survival: 11,000 years of Estonian History" was a very interesting exhibit.
My kids particularly liked some of the interactive activities and watching the short videos. It was a wonderful place to learn some important things about Estonia's history and culture in a non-textbook way. It was small but engaging, which is always great when visiting with children. This should be one of the first stops to fully appreciate the sites throughout the old town.
3. See Churches
There is no shortage of beautiful churches in the Old Town Tallinn. I love visiting European churches and of course, we stopped by some of them for a peek. St. Olav's Church was the first one we saw along Pikk Street which is Tallinn's main historic street. Its tall tower juts out from Tallinn's old town skyline. Along the way we also passed by St. Nicholas Orthodox Church and St. Mary's Cathedral which is Estonia's oldest church.
Perhaps, the most photographed and visited is the St. Alexander Nevsky church located in Toompea. This was a Russian Orthodox church. It looked amazing with its onion domes and completely different from the other churches in town with its Russian look. The interior was a lot simpler compared to its detailed and opulent facade.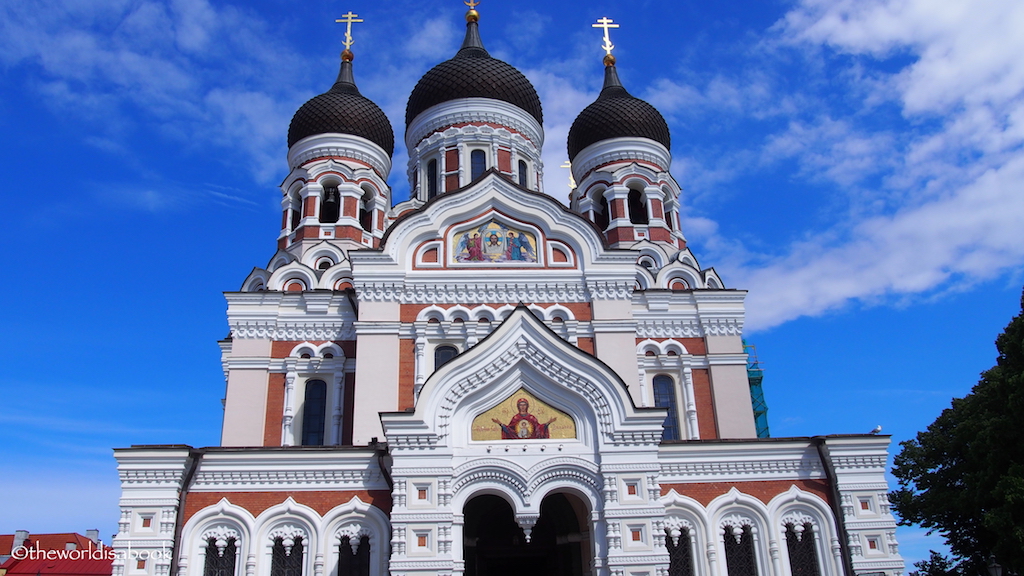 4.  Gawk at Toompea Castle
This was perhaps the brightest looking government building we've ever seen. Toompea Castle was built during the 18th century and has been home to the Estonian Parliament or Riigikogu. One country or another has ruled Estonia through most of its history. It finally achieved its independence in 1991. The Estonian flag proudly flies here. It was closed during our visit but it looks like tours are available during weekdays including watching parliament sessions from a gallery. This would have been so interesting to see.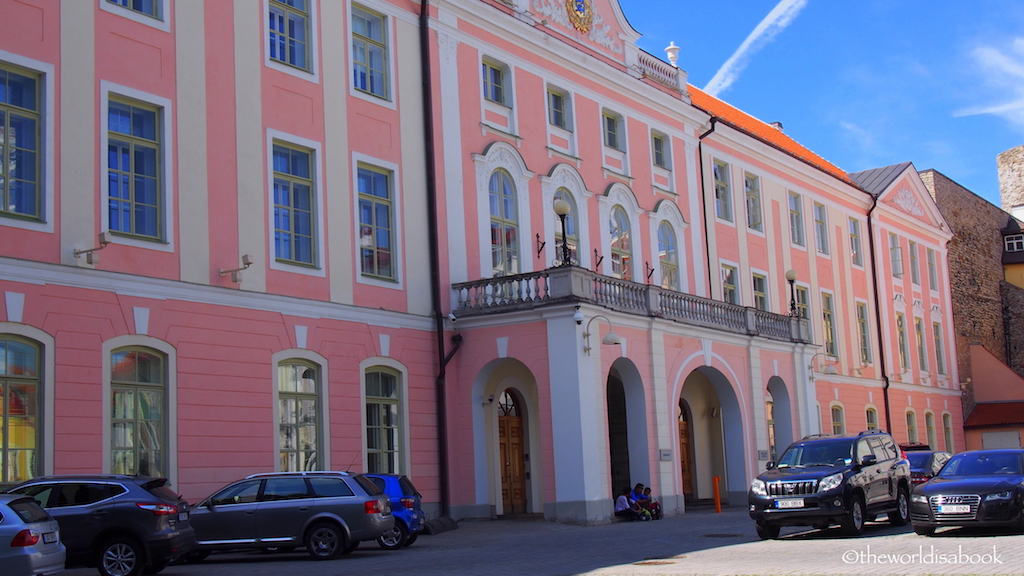 5. Eat local food
There was a door adjacent to the town hall entrance that advertised elk stew. Of course, my husband and son decided to try it. No utensils necessary and drink right out of the bowl like back then. They said it was delicious. There were plenty of restaurants around the Town Hall Square but I suggest walking father away and look for quieter ones. There were many diverse restaurants here so it's a matter of choosing what's most appealing.
We had lunch at the Grillhaus Daube with their grilled ribs and lamb. They were delicious and reasonably priced. This seemed like a popular place for the tour crowd.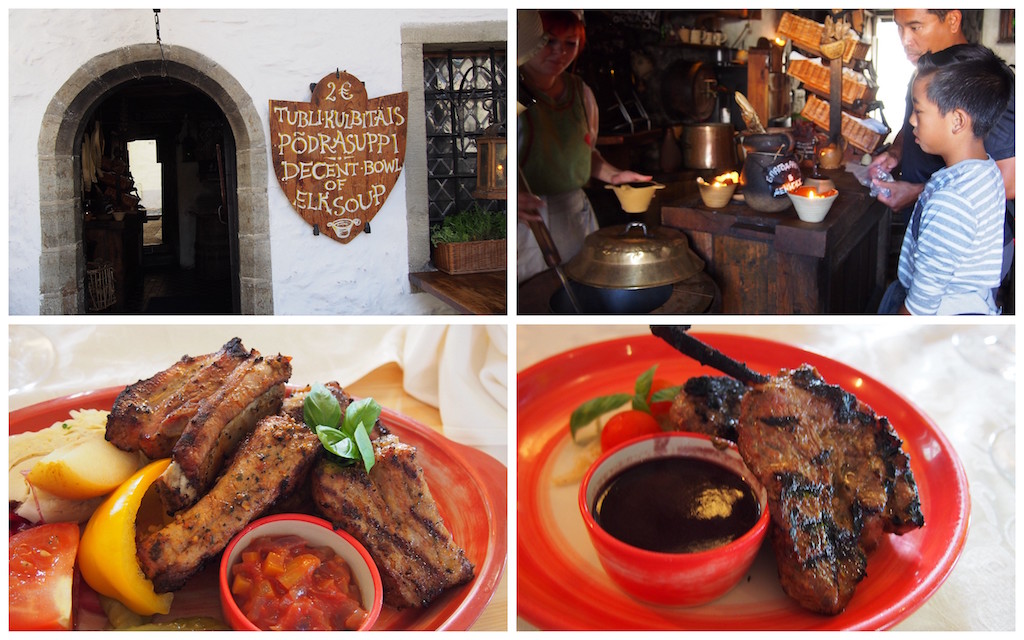 6. Climb towers
As a once defensive fort, Tallinn's surrounding wall had over 40 towers. There are still some towers around town that are open for visitors to enjoy panoramic views. My kids always enjoy climbing towers even if they complain about their feet hurting from all the walking. Here are a few of the towers to climb:
The large and round Fat Margaret Tower greeted us as we entered the walled city. It was free to climb the tower for some views of the town and better views of the port and harbor.
St. Olav's Church tower which is the tallest spire in Old Town.
Cathedral of St. Mary the Virgin's baroque bell tower offers some amazing views.
The Town Hall tower's 115 spiral stone steps to the top showed a great vantage point of all the activities on the central square.
Tall Hermann Tower was located adjacent to the pink Toompea Castle and got its name for being the castle wall's tallest tower.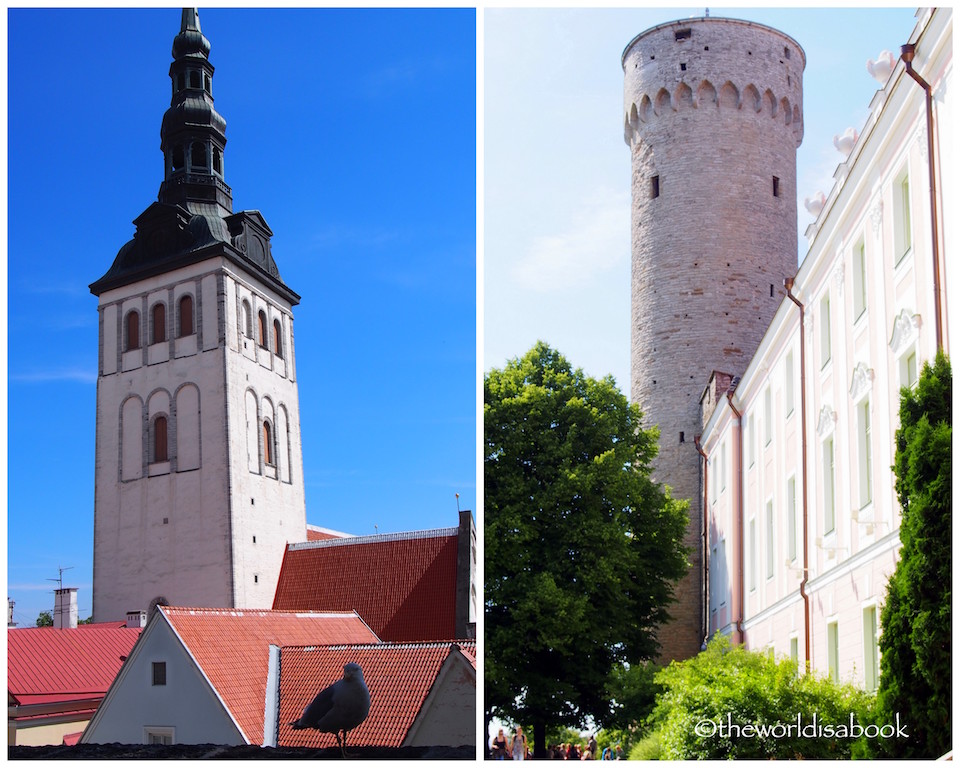 7. Enjoy Danish King's Garden
This open garden in between Toompea and the lower town isn't very big but home to what is said to be the birthplace of the Danish flag. One legend says that this was where a flag dropped from the sky during the battle that made the Danish king win the battle. This resulted to Denmark ruling for over a century.
It was a nice relaxing spot flanked by two fortification towers and a medieval wall. One of the towers houses a cafeteria. The medieval wall has a walkway connecting the two towers. Of course, many kids, including mine, climbed up for a walk here.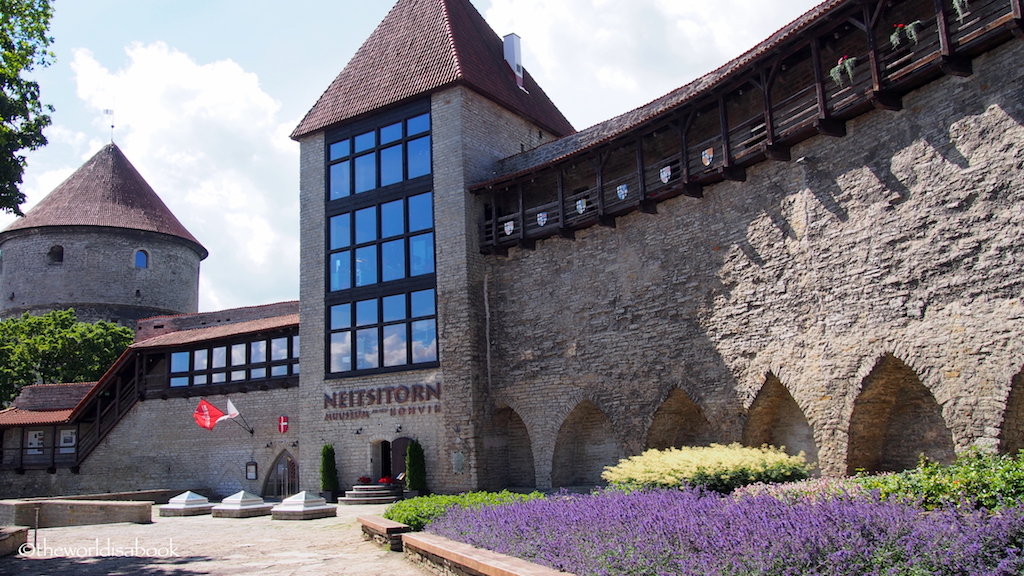 There were three large sculptures of monks here. They looked quite intimidating but my kids and many tourists enjoyed posing next to them and copying their poses. They were looming dark figures that looked more like undertakers ready to take you to the underworld than hooded monks. I couldn't really find any information on why the monk sculptures were here.
8. Admire the Views
While at Toompea hill, there are two viewing platforms that shouldn't be missed. The Patkuli viewing area is a wonderful spot to see the beauty of the lower town from above. We loved looking over the red roofs and church spires. Estonia's executive building up could also be seen up close from here. We enjoyed watching all the activity below. From up here, the lower part of the old town really does look a fairytale village. Don't forget to explore some of the shops that you pass on the way to Patkuli.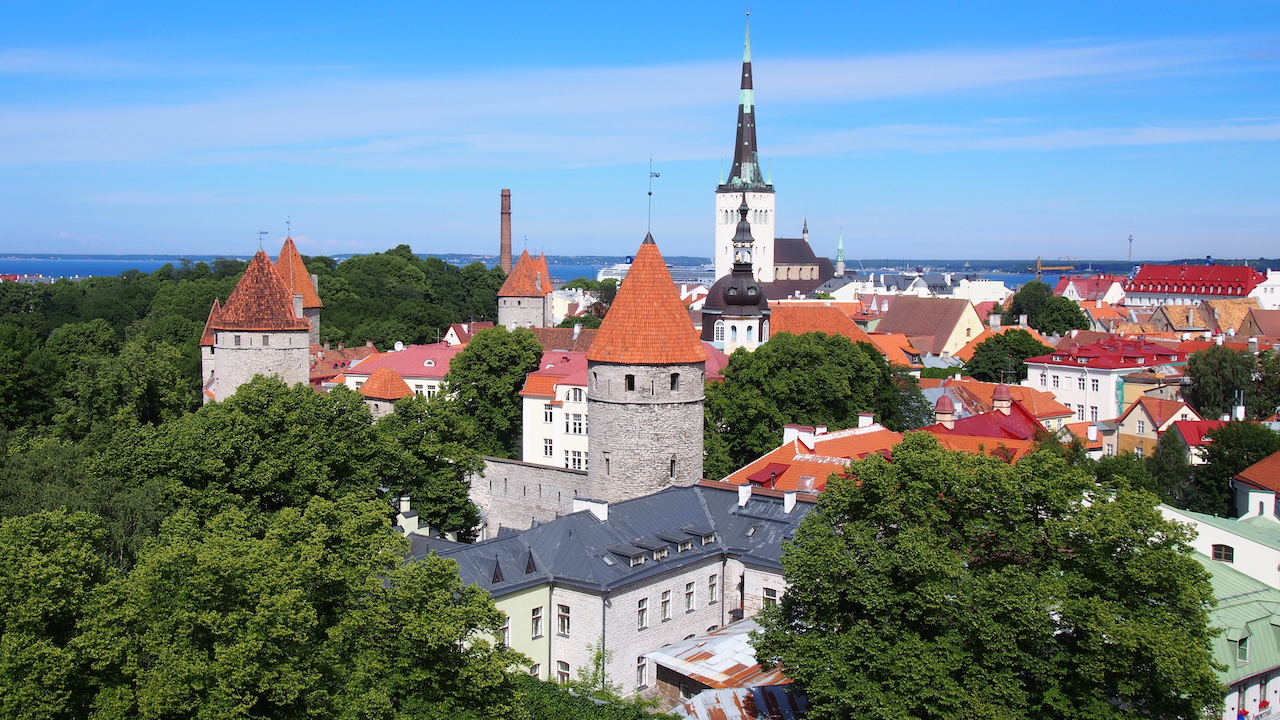 The Kohtuotsa Viewpoint shows a little more of Tallinn's modern area including the cruise port and the sea. These two areas were worth the climb for the best views and photo ops of Old Town Tallinn. The narrow streets made for a lovely stroll in either direction.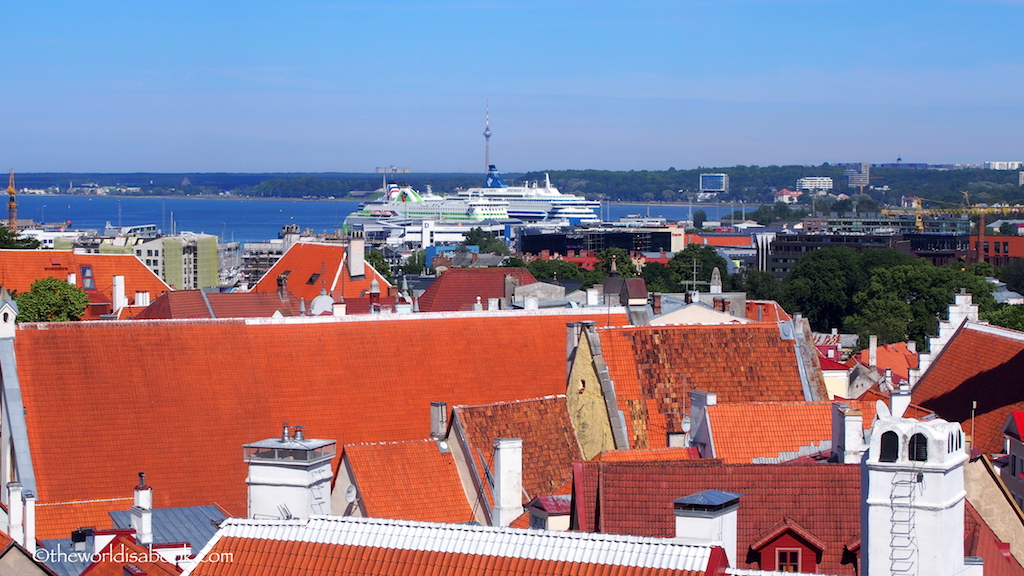 9. Walk the town
The best way to explore Old Town Tallinn is to walk the historic, cobblestone streets and admire the beautiful and colorful buildings. We followed this self-guided walking tour route provided by Rick Steves and it hit a lot of the major attractions. It took us a few hours because we stopped at many places longer than we planned. Then, there was an ice cream break and a lot of stops for photos.
The tour starts from Fat Margaret Tower, goes through the lower town to upper town and eventually ends at Viru Gate. I would have loved to just get lost on these streets if I had more time.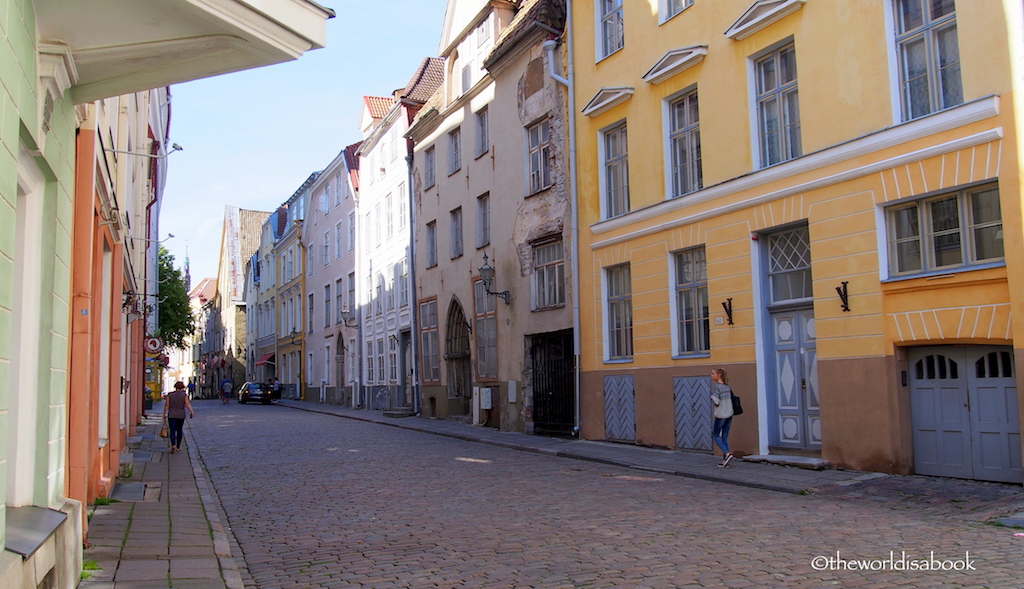 10. Tour the Bastion Tunnels
Our favorite tour in Tallinn had to be going into the hidden tunnels or Bastion Passages underneath the old town. Our tour started in the cellar of the "Kiek in de Kök" round tower by the Danish King's Garden. While that name got a good laugh from us, it actually means something like "view in the kitchen" in German. This former defense tower's positions gave the guards a peek into the kitchens of the houses below.
Guided tours of the tunnels were available but must be reserved. We went to the tower and just signed up for the next available one. There was only our family and three US military guys. We watched a short introduction video of Tallinn's history and these tunnels.
The Swedish, who ruled Estonia then, originally built these tunnels in the 17th and 18th centuries to move ammunition, supplies and troops in case the Russians attacked. It was abandoned for many years until this became a tourist attraction. The tour went from current time and back into the past showcasing the many uses of the tunnels over the years. The tunnels were used as a bomb shelter during World War II, a haven for the punk rockers defying the Soviet Union laws in the 80s and the homeless when Estonia's economy wasn't doing too well after its independence.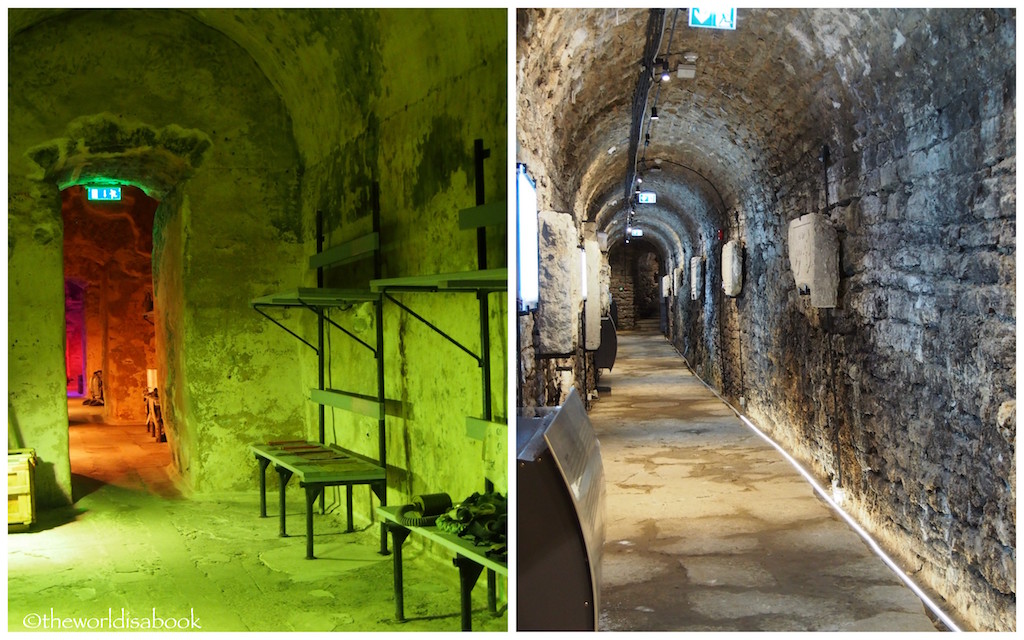 It was a very interesting walk back in time and history. The tour ended at the Carved Stone Museum with over 200 pieces of stone work from the 15th century that were used mainly for decorative purposes around houses and buildings. They were fascinating. There are still many tunnels that haven't been uncovered so who knows what lies underneath Tallinn.
11. Relax at Parks
It may not look it but the Old Town is actually quite vast. It can get very tiring when exploring on foot with some hills along the way. If you need some rest and downtime, there were a few green spaces to relax. My kids enjoyed running around the park even before we entered the city walls by Fat Margaret Tower. There was also a small park next to Toompea Castle. Pick up a map and you'll see that the Old Town area is actually surrounded by many green spaces.
We really wished we had more time in Tallinn or even got the chance to do the city tour. We missed it by a few minutes. There was so much more to do and see beyond the old town. We'd love to return one day to explore more and do some of their activities by the water. But, if time is short, then we recommend touring the Old Town for its history, culture and architecture.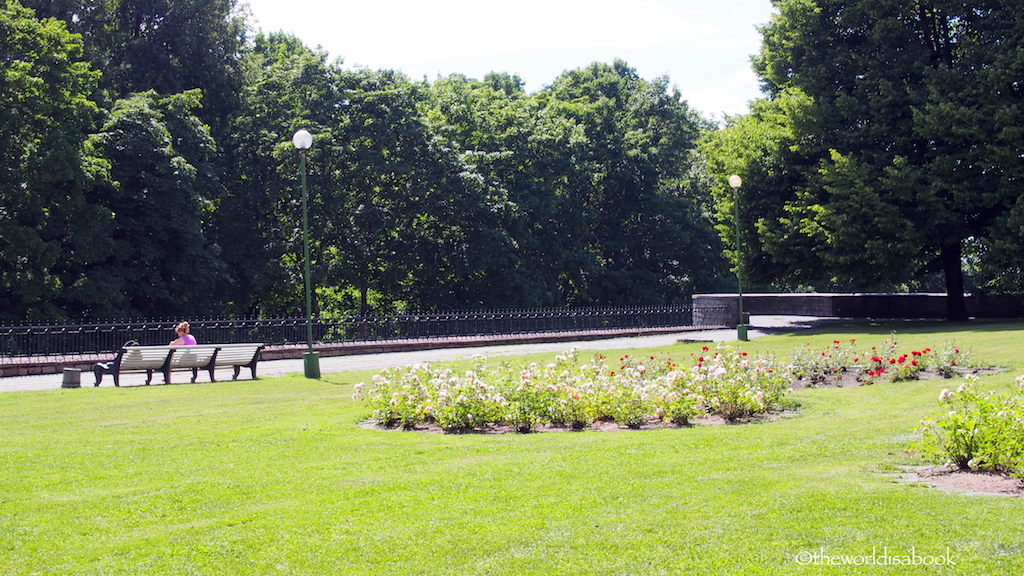 Basics and Tips for visiting Old Town Tallinn
How to get here: Tallinn is a popular cruise ship port on a Baltic Sea itinerary. We arrived here via a two-hour ferry ride on the Tallink ferry from Helsinki, Finland. That was not a common ferry but more like a cruise ship with restaurants and shopping and even a band to entertain us on the way home. Check the Tallink Silja website to reserve online and for prices. We paid about 120 Euros (as of June 2016) for the four of us. Prices can vary depending on dates and times.
Get the Tallinn Card. This is one of the better value tourist cards in Europe. It included free admission to over 40 museums and attractions, unlimited rides on the public transportation, a free city tour and even discounts on dining and shopping. It can be purchased online or at various sales points. Cards come in 24, 48 or 72 hour increments with the lowest being 32 Euros and 16 euros for children 14 years old and younger.
Stop by the Information Center located near the Town Hall Square. They have some great brochures and friendly staff.
Wear comfortable walking shoes with a lot of cushion. It's cobblestones everywhere and you will walk everywhere.
Their currency is the Euro but credit cards were widely accepted. Free Wi-Fi in certain spots and advertised along shop windows.
Disclosure: Visit Tallinn provided my family 24-hour Tallinn Cards. We really put it to good use and could see its overall value to tourists. All opinions and photos are my own.
*Have you visited Tallinn or is it on your travel wish list? 
Pin it now, read later!