Seeing Bergen, Norway from Above
Panoramic views from mountaintops are sometimes one of the best ways to see a city. Bergen, Norway, also known as the gateway to the fjords, is surrounded by seven mountains. We went to two of those mountains to see Bergen from above. It was quite an adventure between chasing the sun and trying to get the most of the views. See why these attractions shouldn't be missed when visiting this charming city.

Mount Floyen
The first mountain is the most accessible from the city with a scenic funicular ride. The Fløibanen funicular station is located very near its two other most popular attractions, the Fisketorget or the fish market and the historic and colorful Bryggen wharf. The two funiculars, being pulled through cables, were visible from the streets below and was quite a sight as it slowly moved up the mountain.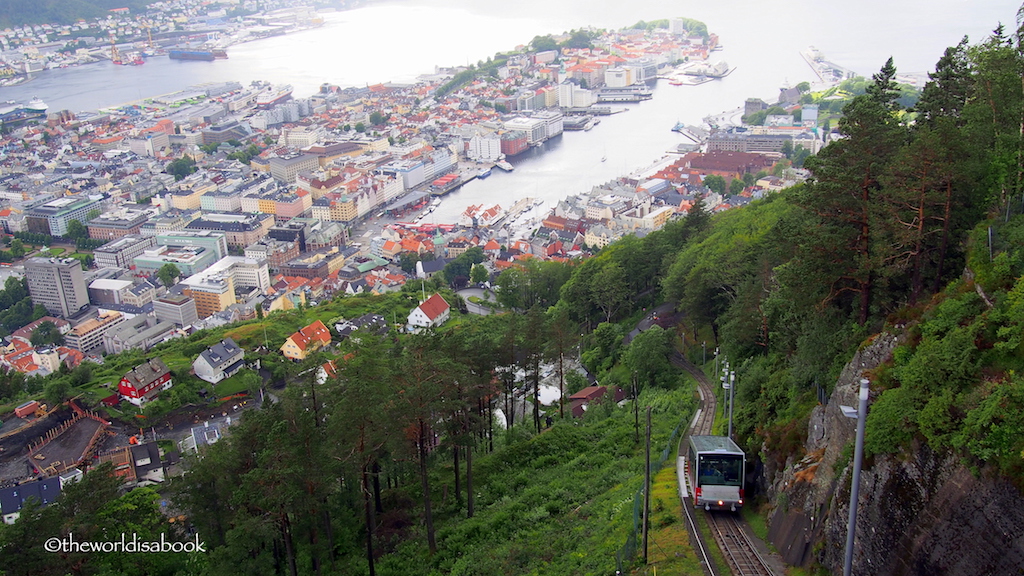 Mount Floyen is (1,050 ft) 320 m above sea level and Bergen's most visited mountain. The electric-powered funicular takes between 5-8 minutes to go up and down. It seats a maximum of 100 people along with a driver.
This has been in operation since 1918 and is one of Bergen's top tourist attraction. The line may seem long at first but it actually moved pretty quickly. The best seats are of course right by the glass but those go really fast. My kids managed to stand on the front area though. This funicular is also used by some of the residents who live on the mountainside.
The main attraction here is the large platform that looked out into Bergen's wharf and the city below. The views were amazing. We waited a bit for the clouds to clear up but it was all worth it. I cxan just imagine how incredible it must look on a very clear day.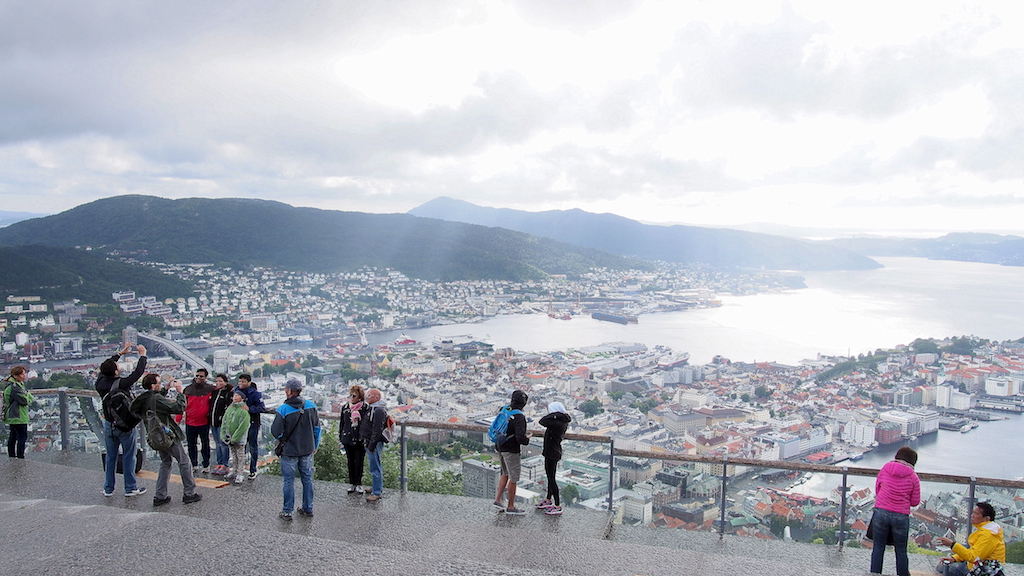 Bergen is Norway's second largest city. It was almost as picturesque seeing it from up here as strolling its historic streets. This angle allowed us to see the busy harbor where boats depart to explore the fjords and where cruise ships dock on the Baltic itinerary.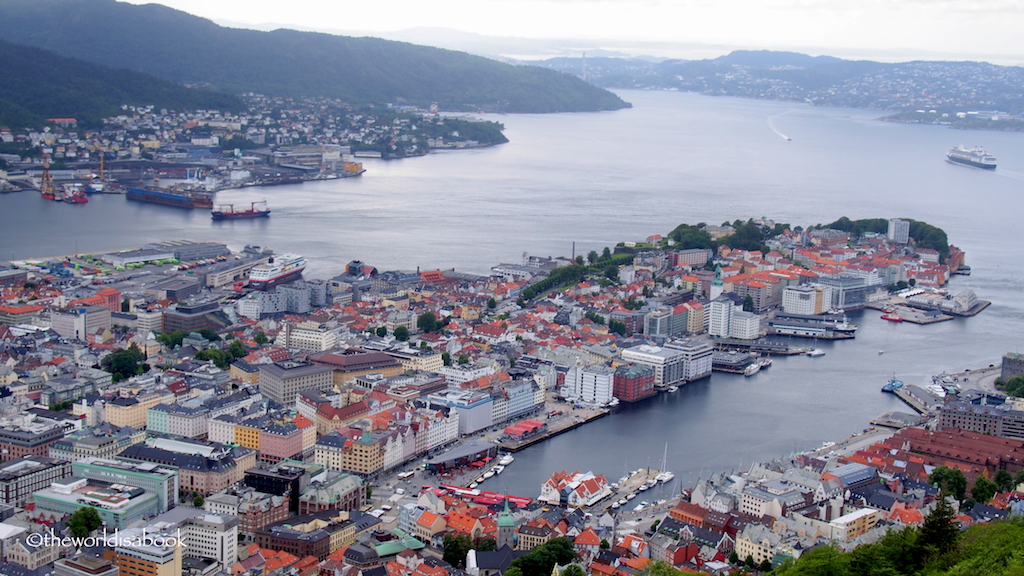 The fountain seen here is on the octagonal Lille Lungegårdsvannet or Smålungeren lake. It is surrounded by a beautiful park and many of Bergen's museums.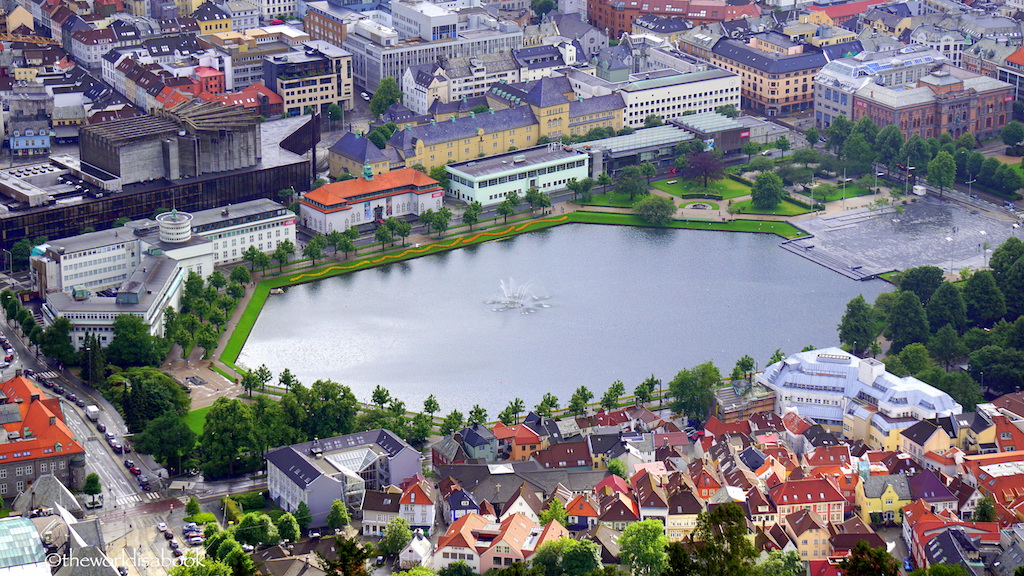 Unfortunately, it rains an average of 231 days in Bergen. It would rain really hard and then the sun would come out and would get cloudy again. It was a continuous cycle throughout our stay there. We always felt like we were chasing the sun. Throughout the day, we were watching the clouds clearing up so we could make the trip to the mountain. At least, it gave us a few minutes to see the views.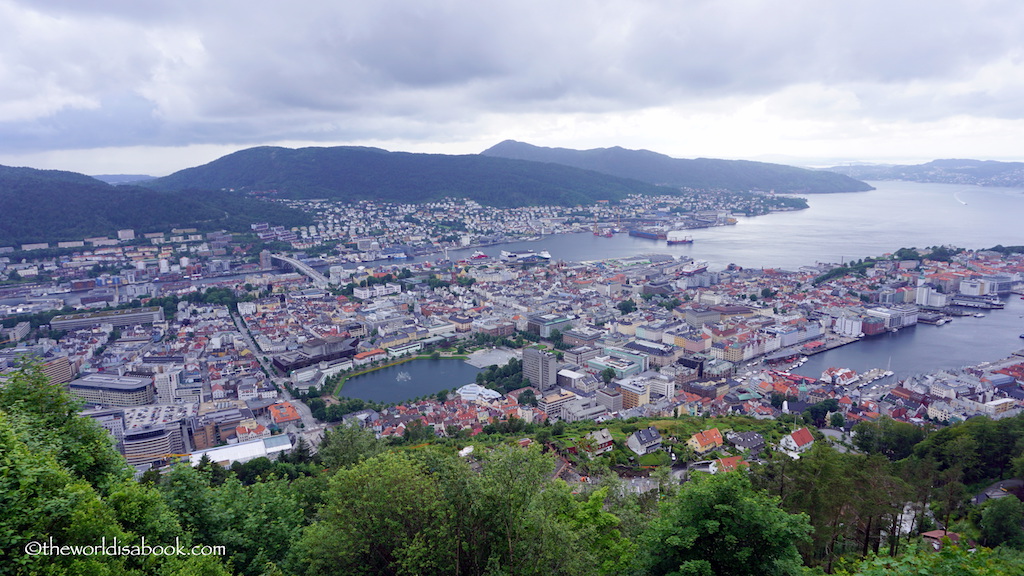 It was a pleasant surprise to find these resident goats here. They were tagged and pretty much ignored all the tourists trying to take pictures of them.
There are some other attractions and activities here on Mount Floyen beyond admiring the views. My kids' favorite part was this troll playground. Trolls have been a big part of Norway's mythology and folk stories. My kids made it a point to pose next to EVERY troll we saw on this trip. They were very happy to see this large one. They may be a tween and a teen now but they still can't pass up a playground. There was also a troll forest trail here that we didn't get the chance to explore due to the rain.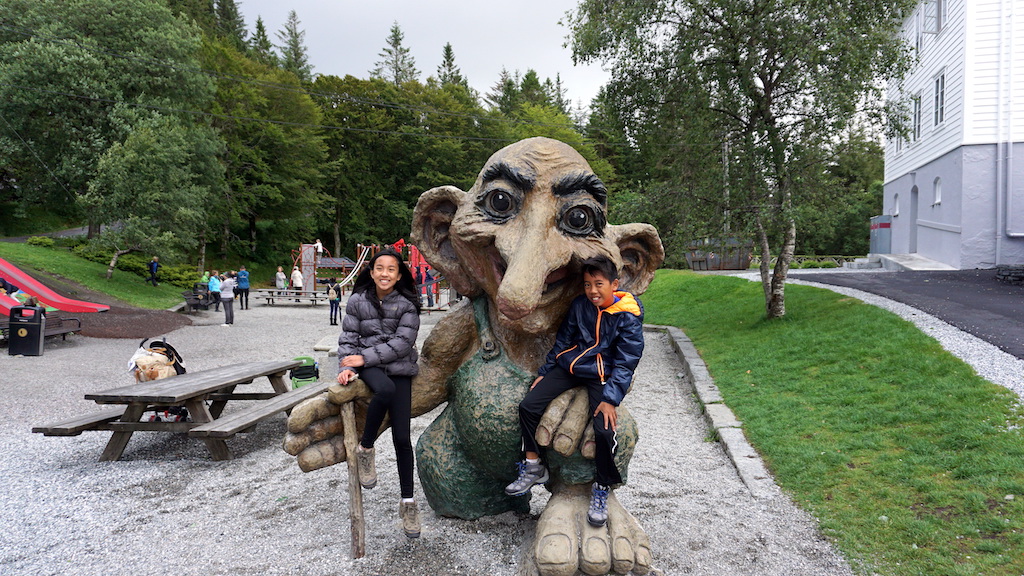 There was also a small souvenir store, a cafe and free WC (restrooms). Many of us took shelter at the cafe during the downpour. The Fløien Folkerestaurant Restaurant looked so elegant. This was opened in 1925 and has been restored beautifully.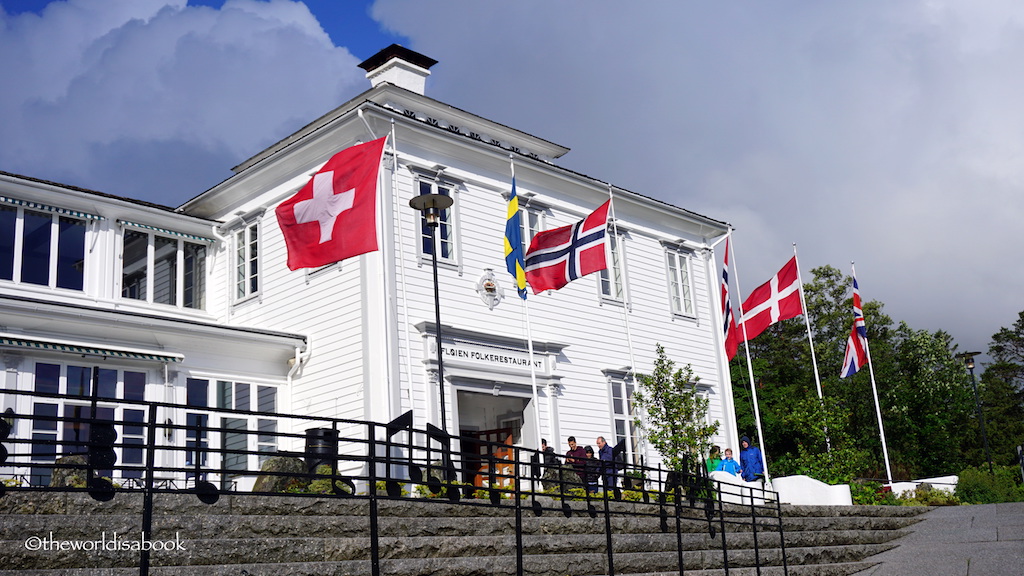 Mount Fløyen offers many scenic hiking trails. I wish the weather had cooperated a bit more for us to explore the trails that included a lake. One more reason to go back. They also offer a guided two-hour tour to hike around Mount Floyen and the surrounding mountains from June to August.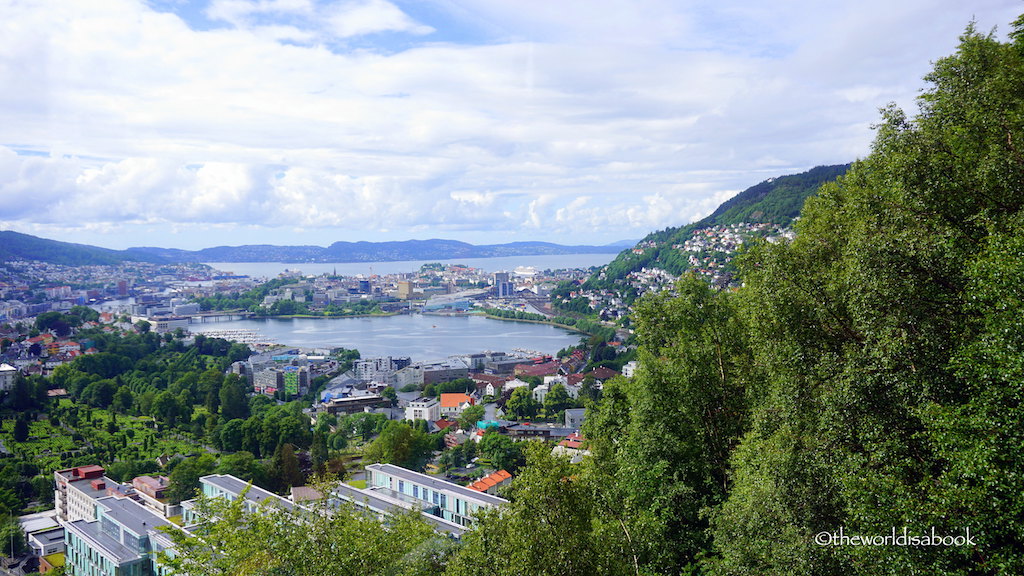 Mount Ulriken
The other attraction with the most incredible panoramic views was Mount Ulriken. This was the highest of the seven mountains surrounding Bergen at 2,109 ft (643 m). Our adventure started with a ride on the blue double-decker bus from the city near the Fishmarket. We had first dibs on the seats so we chose the top front seats. We highly recommend them for better sightseeing around the city.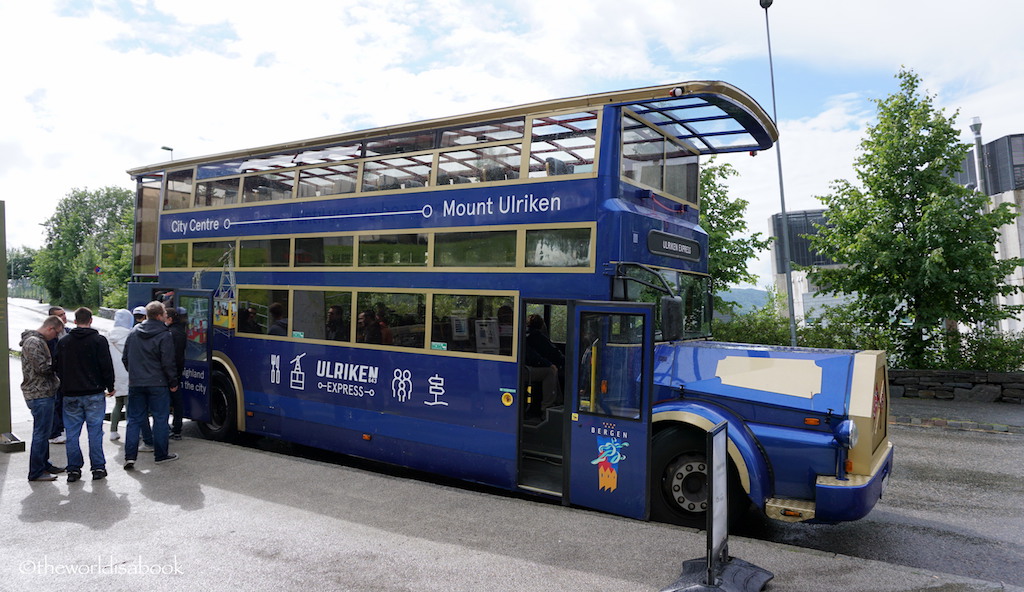 It was about a 15-minute ride outside the city center to their cable car station. The yellow and red cable cars, which were named Perle and Bruse after what looked like cartoon characters and their mascots, whisked us off on a 7-minute journey to Mount Ulriken's summit.
I really liked that these cable cars only seat up to 15 people. I can imagine the lines can get long here but we got lucky on a late Sunday afternoon and walked straight to the cable car. The cable car made it easier for us to move around and admire the views as we climbed higher and higher. There was even a small waterfall along the way.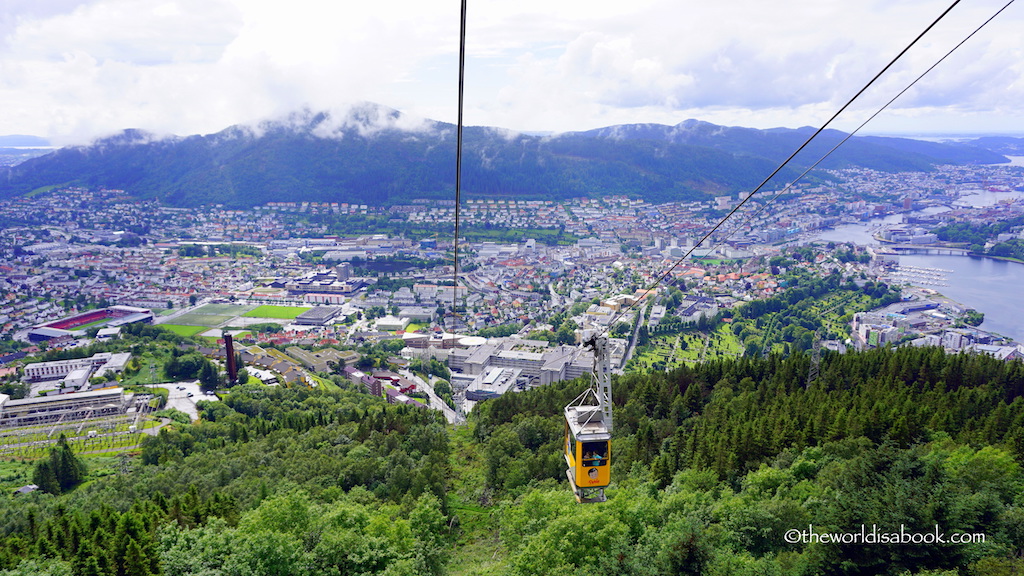 There was no big platform to see the view compared to Mt Floyen. But, there was so much more of Bergen and its surrounding areas to see here. We were seeing more of the residential side of the city compared to Mt. Floyen. It was amazing to see mountains, the sea, fjords and all the charming buildings just from standing in one spot.
There was also a lot less people here. Luckily, it didn't rain during our visit. But, we waited a few times for the clouds to clear up. At one moment, we were underneath some clouds that we couldn't see anything beyond a few yards. It was another lesson in patience with the views worth waiting for.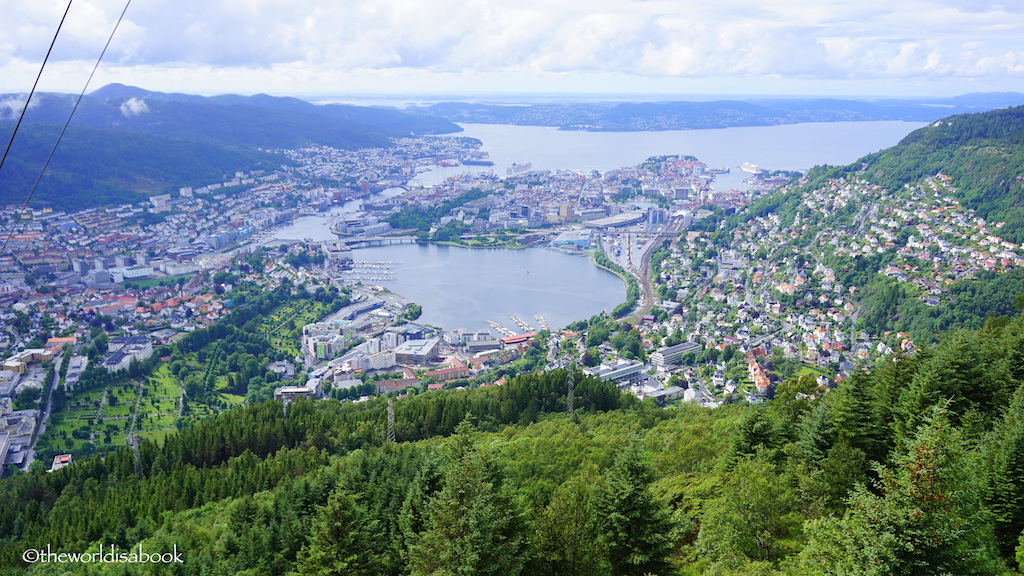 There was a shop and the sky:skraperen restaurant. This had to be one of the best places to eat in Norway. Look at the views from this outdoor seating area.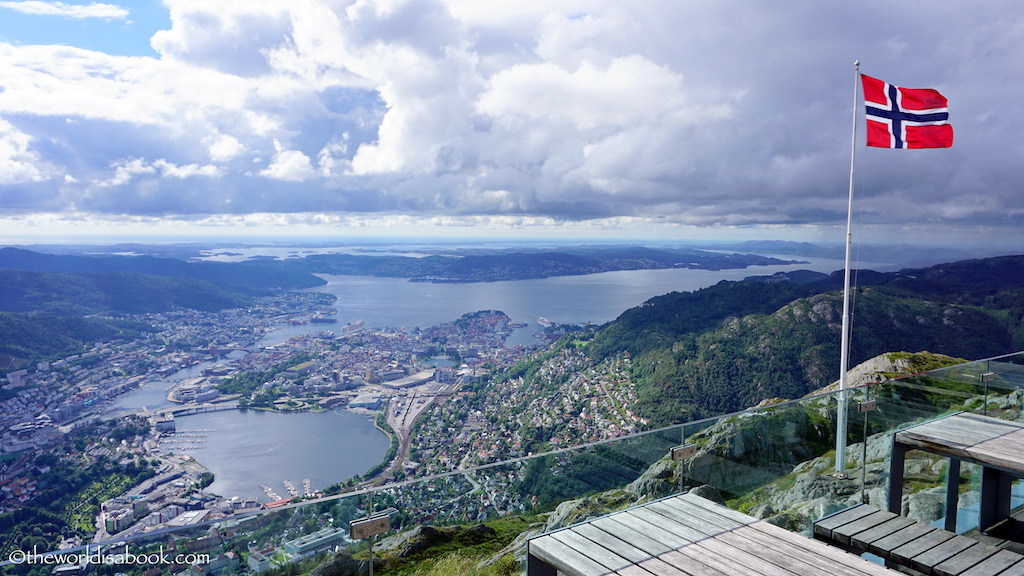 My kids found this obstacle course near the cable station. I think they use it for team building exercises. It was muddy but that didn't stop my kids from going through this small obstacle course a few times. Thankfully, no one fell and they both left the mountain with only muddy boots.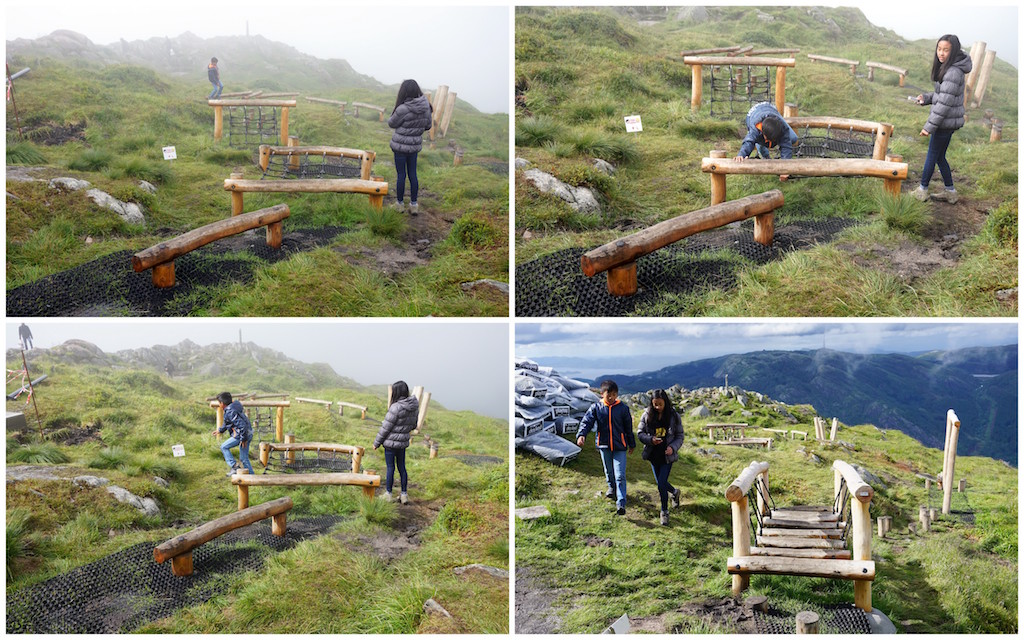 There was also a zipline touted as the country's fastest that recently opened. No one was doing it so we didn't really see how it would have looked or where the stations were. The zipline was 219 yards (200 m) long. We thought it was a little pricey considering the length of the zipline. It was  (300 NOK ($35 USD)/ 200 NOK ($23 USD) and children must be eight years old and above.
There are several trails here including one that connects to Mount Floyen. The Mountainshop has some free trail maps of the area. We decided to follow one of the shorter trails. My kids were so excited to see this sheep herd. Can you tell they're city and suburban kids? The sheep kept staring at us. Yes, we knew we were invading their space. Some even followed us on the trail.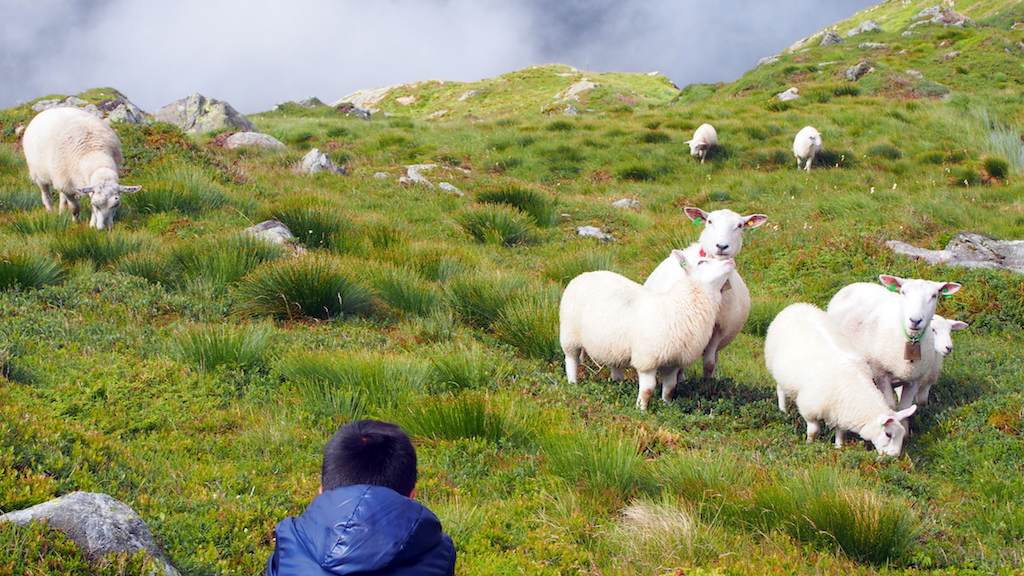 We recommend doing both mountains if you have time. They offer varying angles and panoramic views of Bergen. It was two different experiences for us. If you can only do one and have some time, then do Mount Ulriken. If you're short on time, then do Mount Floysen. It was an unforgettable experience to see Bergen from above. We really liked that they have other activities to supplement going up for the views.
Basics and Tips
Check the weather. The clouds and rain can spoil a trip to either of the mountains. We used our smartphone weather app to see when it was less likely to rain or have lesser clouds.
Bring umbrellas and rain gear. You never know with the Bergen weather so be prepared.
Floibanen and Mount Floyen Tips
The Fløibanen funicular hours are 07:30 AM to 23:00 PM on weekdays and opens at 8 AM on weekdays. It runs every half hour on the hour in the mornings and every 15 minutes from 10 – 1900 and again every half hour until closing time.
Reservations are not necessary but can be reserved online to save some time lining up for tickets. We just walked up to the ticket counter and had no issues. There were also ticket machines that accept credit cards and cash.
Ticket Prices Roundtrip (as of July 2016): Adults 90 NOK ($10.50 USD); Children 45 NOK ($5.26 USD)
Get the Bergen Card which comes in 24, 48, 72 hour increments. It offers free and discounted admission to many of the attractions around the city. Using the Bergen Card gives a 50% discount on the Floibanen from May 1 to September 30. The Bergen Card allows for free return ticket during other dates.
Mount Ulriken Tips
Tickets can be purchased from the attendants on the bus stop area or at the tourist information center. The bus stop is located a block from the outside food stalls. The double decker buses depart from this stop at the top of the hour from 09:00 – 18:00.
It departs Ulriken at a quarter past the hour from 09:15 -5:15 PM (17.15) and the last bus departure is at 6:30 PM (18.30).
Ticket Prices (as of July 2016); Bus and roundtrip ticket: Adults NOK 260 ($30 USD) / Children NOK 150 ($17.50 USD) (4 – 16 years old ) / Families (2 adults +2 children) NOK 695 ($81 USD)
*Have you visited Bergen and seen these views?
Where to Stay
Scandic Bergen City

 – We enjoyed our stay at this hotel. We ended up in a family room with a full kitchen and it was so spacious. The hotel is in a great location and within a 10-15 minute walk to most attractions. Breakfast was included and it was a good spread.
Scandic Strand 

– 

This hotel had a great location and within steps from the Fish Market and other attractions and located right by the harbor. Kids under 13 years stay free and receive a welcome gift upon check-in.

Radisson Blu Royal Hotel

 

– If you want the most convenient location to most attractions, this hotel was perfectly situated in Bryggen at Bergen's historic and colorful wharf area. Free access to fitness center and sauna. Breakfast buffet had plenty of offerings and the hotel offers free wifi.
Flights/Vacation Packages
Compare airlines, dates and prices all in one place with Vayama
Disclosure: My family was graciously provided with 72-hour Bergen Cards by Visit Bergen. All photos and opinions are my own.
Pin it for later!