Relaxing at Laugarvatn Fontana Geothermal Baths in Iceland
Iceland seems to have countless geothermal hot springs and pools and taking a dip in one of them is usually in many visitors' checklist. The Land of Fire and Ice and its geothermal activity resulted in numerous geysers and hot springs where some are ideal for bathing and relaxing.
We visited the popular Blue Lagoon a few years ago and decided to explore a more natural and less crowded alternative during our visit a few weeks ago. Laugarvatn Fontana Geothermal Baths is located along the popular Golden Circle route and was the perfect stop.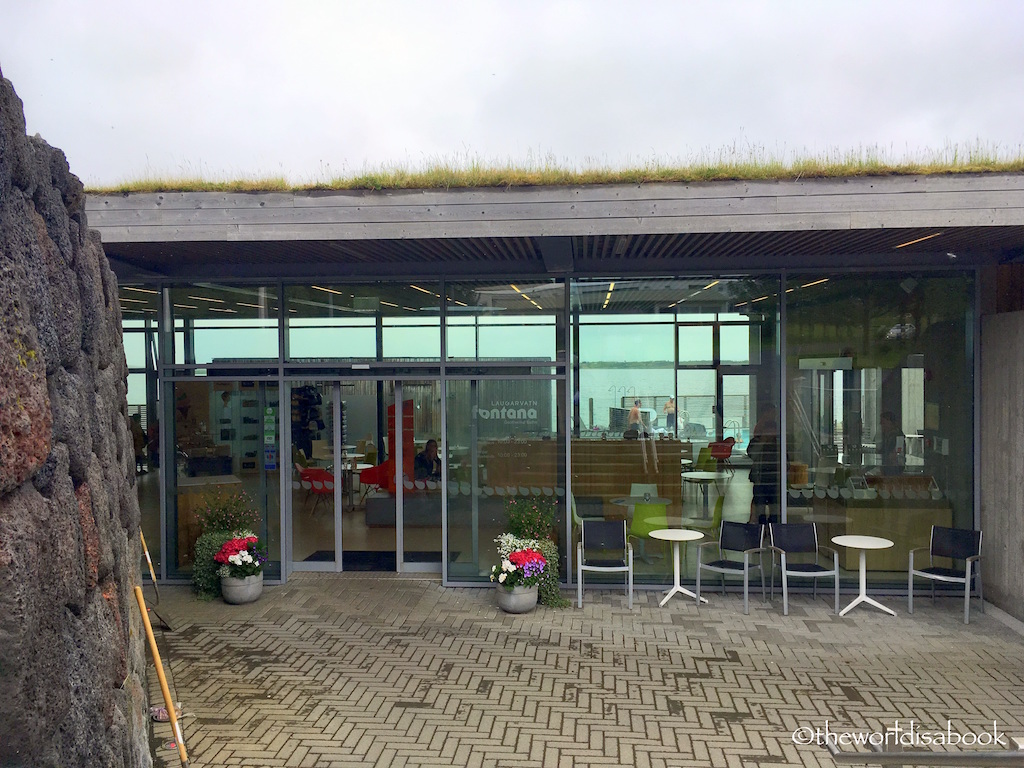 These current facilities have been here since 2011. But, locals have used a former spa facility to take advantage of the hot springs here since 1929. It is located along the shores of Laugarvatn lake and surrounded by a scenic landscape of valleys and mountains.
Our timing of activities worked out where we ended up here after our horse riding tour thirty minutes away. It was also raining while we were riding horses so we were wet and muddy. It was the best place to clean up and feel refreshed.
Steam Rooms
The facility has three different natural steam rooms called GUFAN. They sit on top of the natural hot springs. There is no way to control the temperature here. So, you can get a mediocre, just right or very hot temperature that varies between 40°C and 50°C (104°F to 122°F) with very high humidity. It was actually possible to hear and smell the hot springs underneath the floor in between the grids. You can't get any closer to the springs.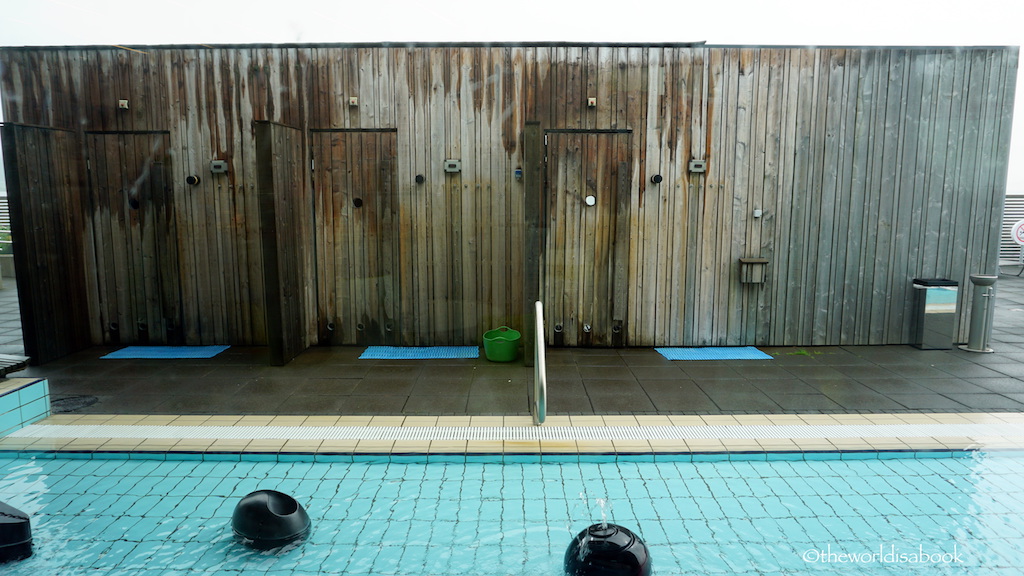 Pools
It was a bit cloudy with some rain sprinkles during our visit but that didn't stop us from enjoying the outdoor interconnecting pools. The mineral baths had varying temperatures, sizes and depth. Signs were clearly posted before entering. There was also a hot tub that was on a higher level for better views of the lake. They were all clean and maintained well.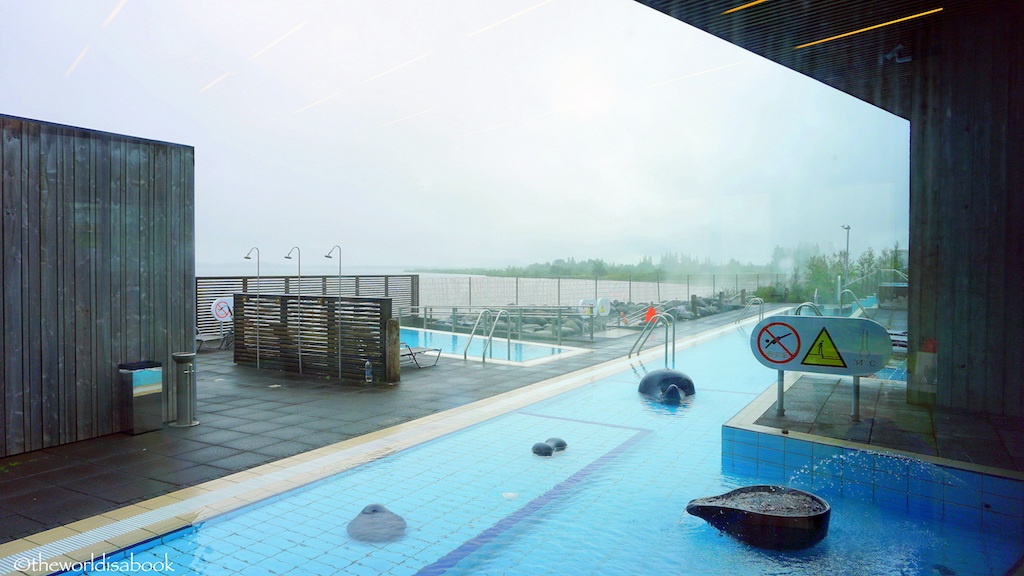 My kids tried every single bath area multiple times. They kept going back to the most natural one filled from the hot springs. Black rocks surrounded this pool that actually had some natural seating areas. The rest of the baths had some chlorine in them and looked like regular pools. I didn't notice any sulfur smell during our visit here.
We loved the waterfall area. We spent plenty of time here and letting the powerful rush of the water massage our backs. I really could have sat there all day. Next to the waterfall was a shallow, family friendly area with some climbing rocks perfect for toddlers.
Some toys were provided for the kids. There were quite a few people during our visit but it didn't feel crowded. That may be a different scenario with a tour busload of people here.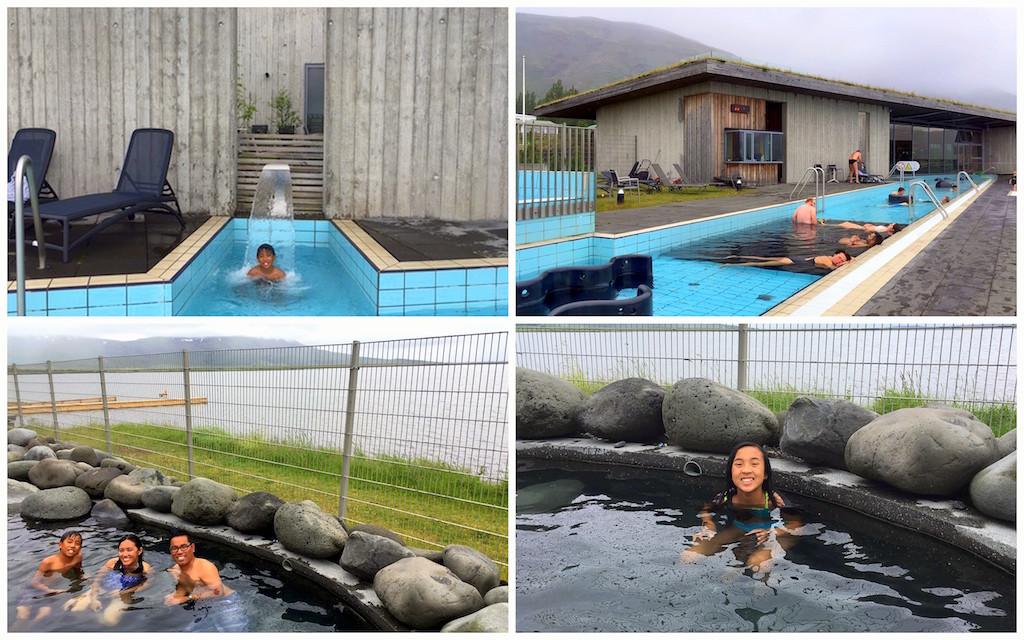 Laugarvatn lake
Laugarvatn lake was easily accessible from the pools through a gate. They were upgrading the pier and should be completed soon. It certainly was a contrast to the heat as we watched a couple of people shiver as soon as they went into the lake water.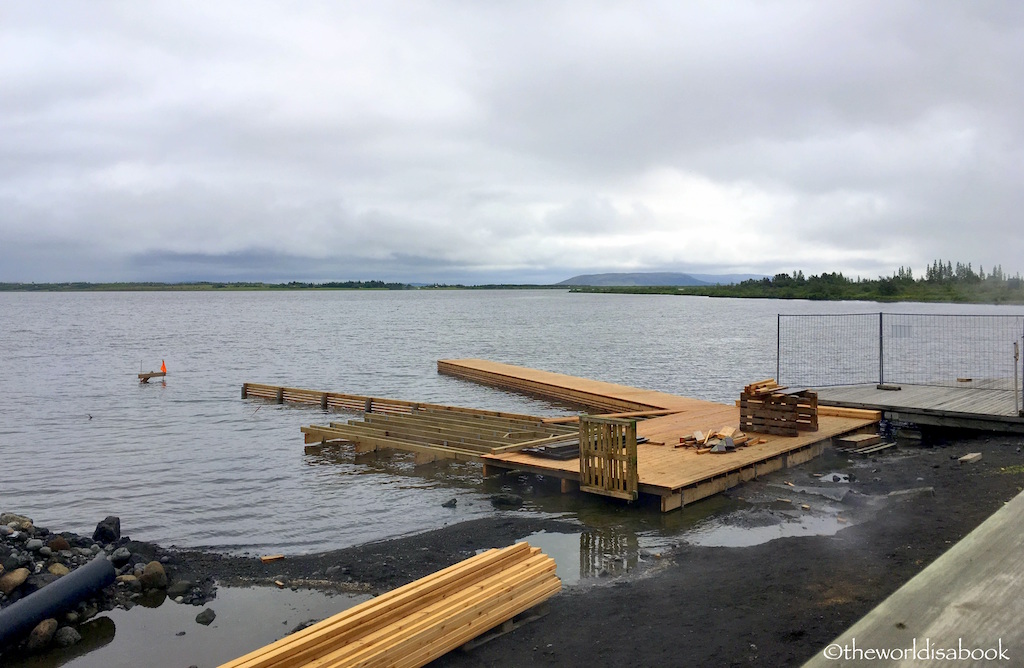 In hindsight, we probably should have gone to the lake first to experience it and then warmed up on the baths or saunas. It may have been summer in Iceland but it was still quite cold as soon as we got out of the water.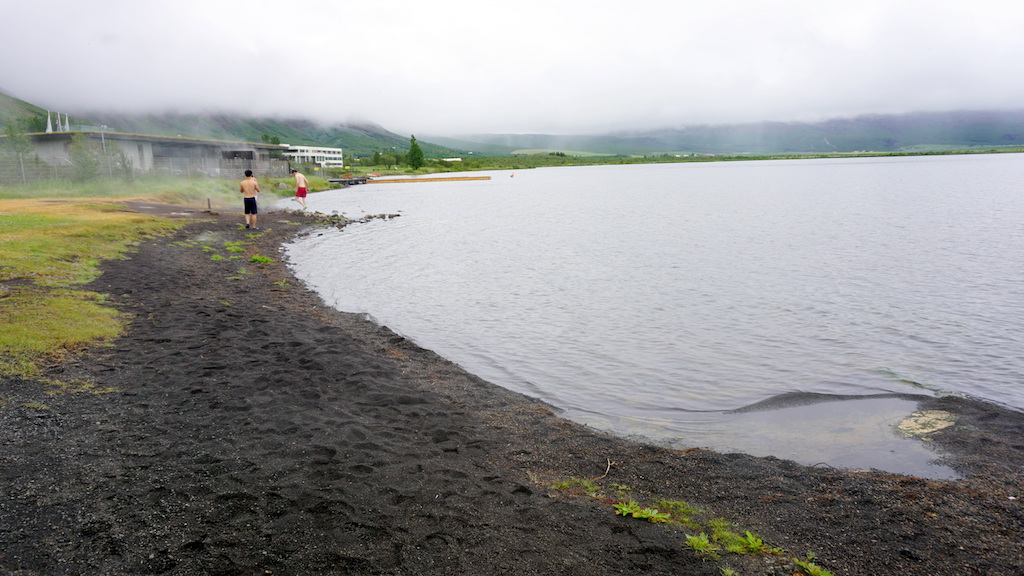 Locker and Shower Rooms
There were two separate shower and changing areas for men and women. It was lined with lockers which had plenty of room inside to store clothes and valuables. We were each given keys for the lockers.
The middle area had mirrors and amenities like cotton swabs, tissues and hair dryers. It was clean and a bit plain. You won't get the spa feeling here. If you're a little shy about changing out in the open, there were a couple of bathrooms too for some privacy.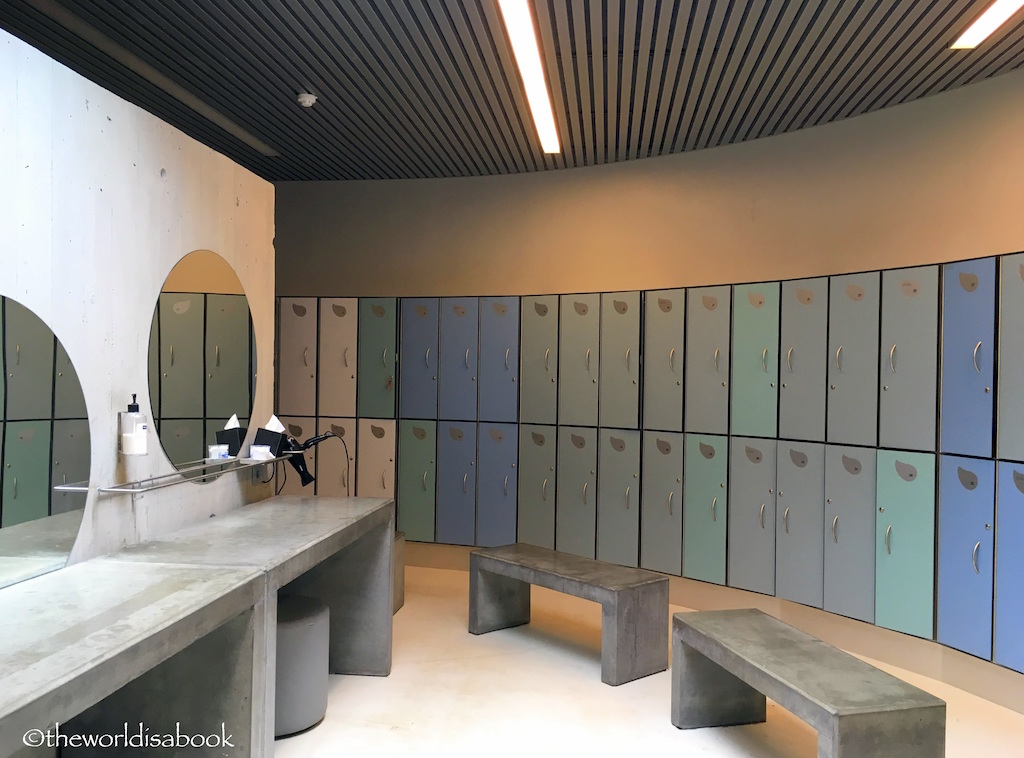 Be prepared to see a lot of nakedness around you. My teen was a bit uncomfortable at first but she got over it. Apparently, my 10 year-old son had the giggles in the men's shower room. My husband had to admonish him a couple of times. But, these are the same kids who laugh at naked statues. It's something to keep in mind when bringing kids who aren't used to seeing naked people.
There was a small room to leave towels and bathing suits before entering the communal showers. It is standard protocol and a requirement to shower naked and wash thoroughly before entering geothermal pools in Iceland.
There are signs that tell you which body parts require the most attention. This is to ensure the water stays clean since the chlorine level is low. Shower gels and shampoos were provided. Their hair care products were awesome!
The facility does understand and considered that there are cultural issues. They know there are people who aren't too comfortable with being naked around others. I'm a prude and I wasn't too comfortable showering naked with strangers out in the open. Nor, was I ready for my teen daughter to see me all naked. Luckily, they set aside the end area with a shower curtain for some privacy and for some of us who are shyer.
Fontana Cafe
The buffet is one of the first things we saw when we entered the building. It was a colorful display of delicious looking food. Upon talking with the manager, we learned that they have a professional chef on staff.
They mostly source their food from local farms and businesses including the farm across the lake for the fish. They serve lunch and dinner. Unfortunately, we already had late lunch plans and took a couple of their cakes with us for dessert. They were so delicious!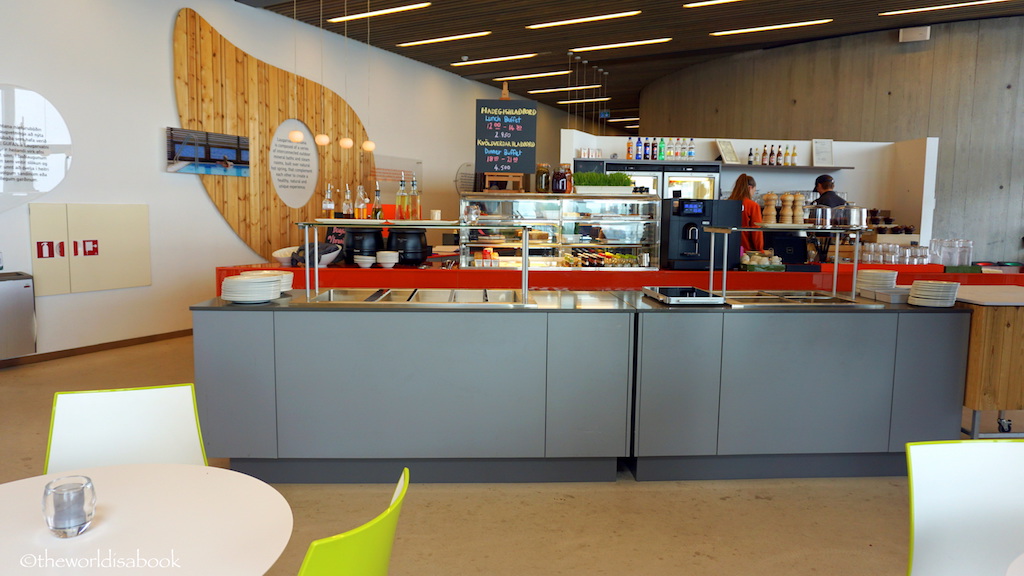 The Rye Bread Experience
Laugarvatn Fontana offers a unique experience that should not be missed. Since it is surrounded by geothermal hot springs, they decided to take advantage of this and have an underground bakery. We were led to the black sand beach area adjacent to the buildings.
The boardwalk was surrounded by little bubbling geothermal activity. The young female staffer proceeded to dig out a pot under the hot sand replacing it with a new one. She uncovered it to reveal fully baked bread. This has been baking underneath for the last 24 hours.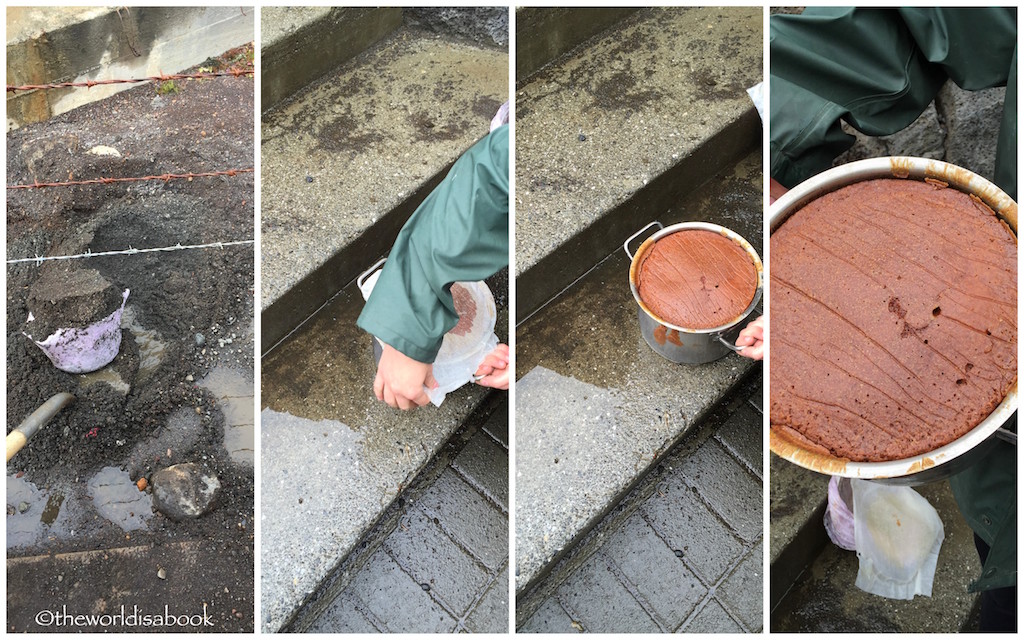 We ate the warm, fresh rye bread with butter. It was delicious! The recipe was available and I haven't had time to bake it. I'm assuming the natural geothermal bakery added that special taste to it. They also sold the bread at the cafe.
Unfortunately, there was a group of tourists who were walking around the lake and saw our group and joined in. There's really no way to stop them from watching and sharing this experience for free. Apparently, the staff is used to this happening on an almost daily basis.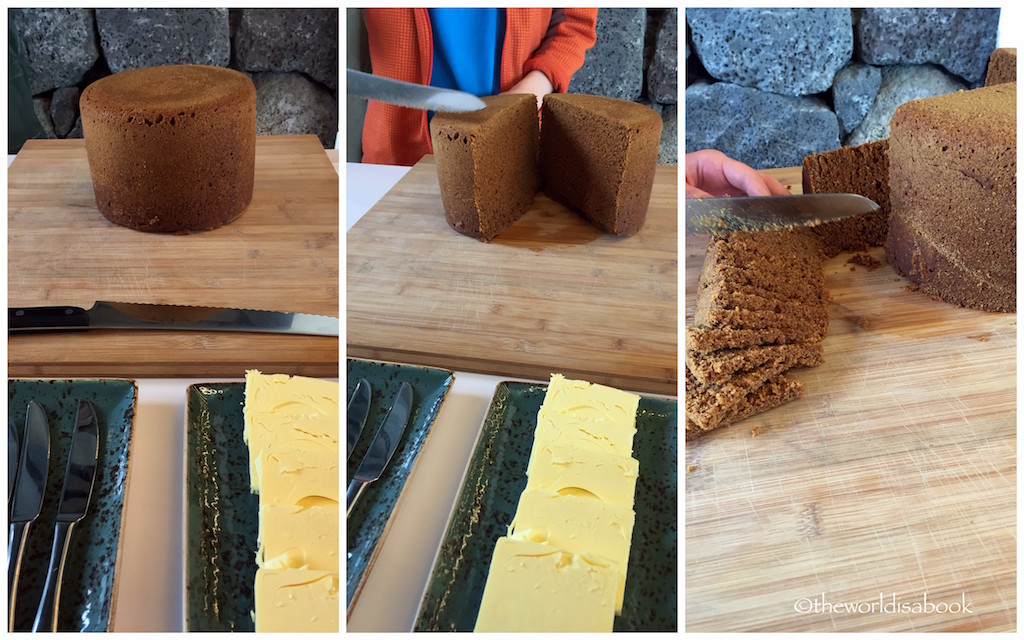 When we return to Iceland, Laugarvatn Fontana would be one of the first places we would go to relax especially after a long plane ride. It wasn't as touristy and we felt like we were hanging out with the locals instead of hundreds of tourists.
This was a very different experience from our visit to the Blue Lagoon a few years ago since it was smaller and felt much more relaxing. It was a perfect way to end our busy road trip through South Iceland.
Basics and Tips for Visiting Laugarvatn Fontana Geothermal Baths
Admission Prices (as of Aug. 2016): Adults 3.800 ISK ($32 USD); Youth (13-16 years old) 2.000 IS ($16.82 USD); Children (ages 12 and under) are Free when accompanied by adults;

This is a great deal! Family Rate for two adults and up to four children 18 years old and under 9.500 ISK ($79.91 USD)
Towels, bathing suits and bathrobes are available for rental. Towels are 800 ISK ($6.73 USD)
Day tours are offered from Reykjavik if you don't have a car. These are combined with a tour of the Golden Circle.
This area was full of bugs from the lake especially if you're visiting during the summer. There were so many outside the facilities, the parking lot and by the beach area. Thankfully, they didn't bother us in the bath areas.
Bring slippers to make it easier to walk around the pools and showers.
Fontana Cafe serves lunch and dinner buffet daily. Prices: 2.950 ISK ($24.81 US) for lunch and 4.500 ISK ($37.85 USD) for the dinner buffet.
The Rye Bread Experience is offered daily at 11:30 AM and 2:30 PM. Price is separate from the bath admission. 1500 ISK ($12.62 USD ) per person. Book in advance by emailing [email protected] to reserve your spot and timeslot.
*Have you visited Laugarvatn Fontana or any of Iceland's geothermal hot springs?
Where to Stay
Hotel Berg in Keflavik

 – This was the first hotel we stayed during our first visit and loved it. It's close to the airport (2 miles), by the marina and offers free Wi-fi and airport transfer. It's a small family-owned hotel. We had a split-level suite which fit our family comfortably.
Hilton Reykjavik Nordica 

– 

This hotel is located in the city and within walking distance of the center but shuttle buses are also provided. If you want the comforts of a modern hotel, this has it with buffet breakfast and Executive Lounge for Hilton Honors Gold and Diamond members. A couple of friends have stayed here and recommend it.

Hlemmur Apartments  

– We loved this spacious, two bedroom apartment located within walking distance to Reykjavik's city center. It looked like an IKEA showroom, It was clean, well-equipped and furnished well with all the amenities we needed for our stay. It had free WI-fi and the owners were friendly. 
Save up to 50% on Iceland hotels on Booking.com 

(the #1 Accommodation site)

Find the best Iceland hotels and read reviews on TripAdvisor.
Car Rntals
Flights/Vacation Packages
Disclosure: My family was graciously hosted at the Laugarvatn Fontana Geothermal Baths. All photos and opinions are my own.
Pin it for later!