Things to do in One Day in Key West, Florida
Key West, Florida is a tropical island city that lies in the southernmost point of the continental United States. We visited the Florida Keys last week that are an archipelago of about 1,700 islands with the Atlantic Ocean to the East and the Gulf of Mexico to the west.
This was a last summer getaway before the kids start school again. Key West is the most populated and a favorite destination for day trips and cruise ships stops. We visited for a day and had such a wonderful time despite our limited itinerary.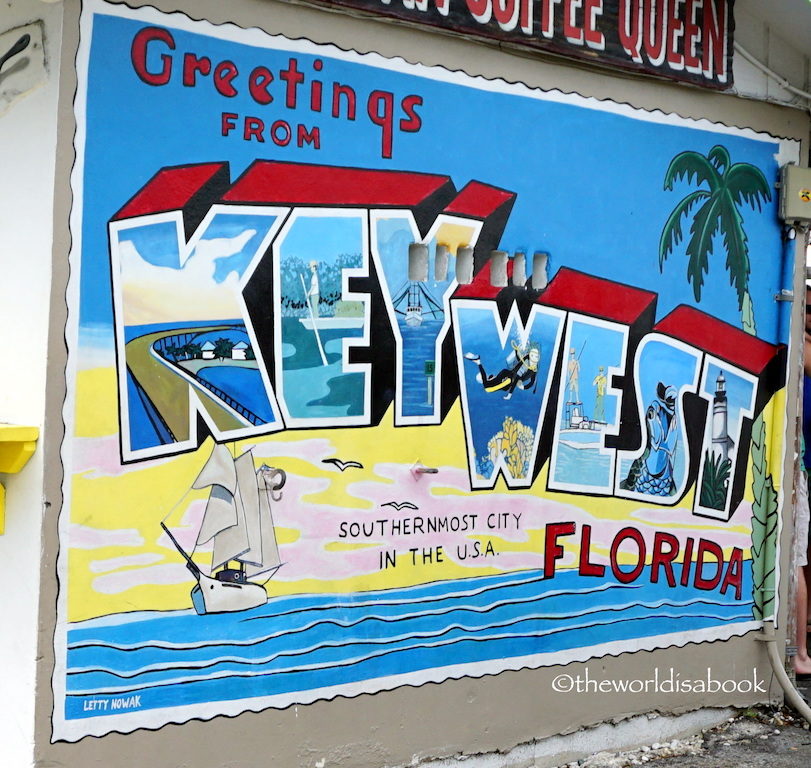 Depending on what adjacent islands are included, Key West varies between one to two miles wide and is about four miles long. We learned that residents called people who were born in Key West and the Keys as "conchs" (pronounced 'conks').
The conch shell is a popular souvenir and the conch fritters are popular snacks. Key West has a colorful and interesting history that involved the military, pirates, salvaging wrecked ships, and processing sponges. Don't be surprised to see many chickens roaming freely around the island too. They're considered part of the island's charm.
Southernmost Point
Our first stop was one of Key West's most popular attractions. We're all about being tourists and stopping at landmarks. So, we had to have our picture taken at what's claimed as the Southernmost Point in the continental United States.
This landmark and bright concrete buoy is a must stop for many Key West visitors and has been here since 1983. This marker said we were about 90 miles from Cuba which is probably the closest we'll get to it for awhile.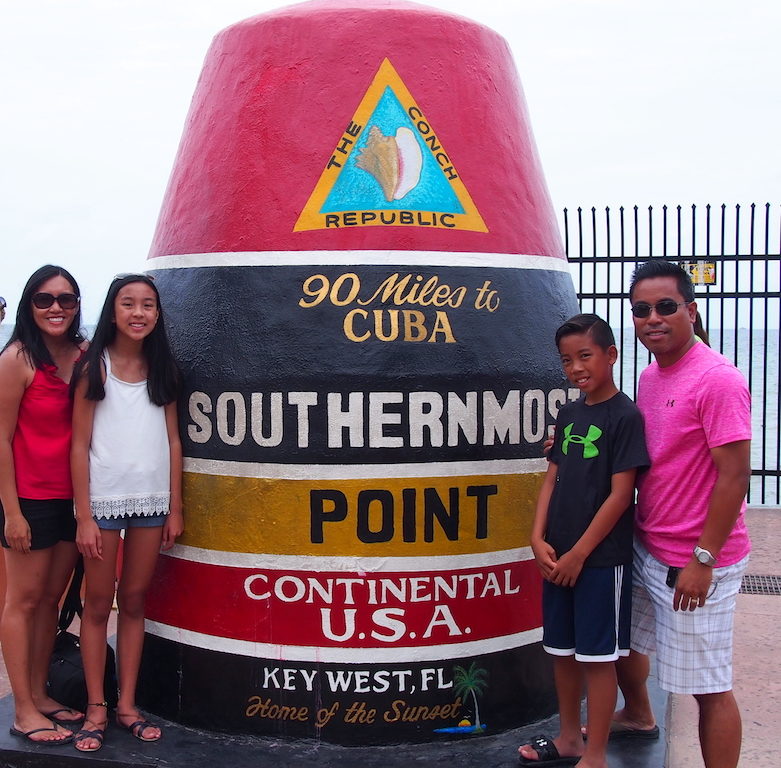 The line was quite long to take a picture here during our visit. It didn't help to be standing under the notorious Florida summer heat and humidity. But, the line did move a lot faster than what we expected. Many recommendations I've read said to come here early in the morning for a lot less people. It is located on the corner of South Street and Whitehead Street following the US 1 South highway.
Driving down south on the Florida Keys on the Florida Scenic Highway 1, the mile markers descend in numbers and eventually end at Mile Marker 0 in Key West. We learned this sign was often stolen.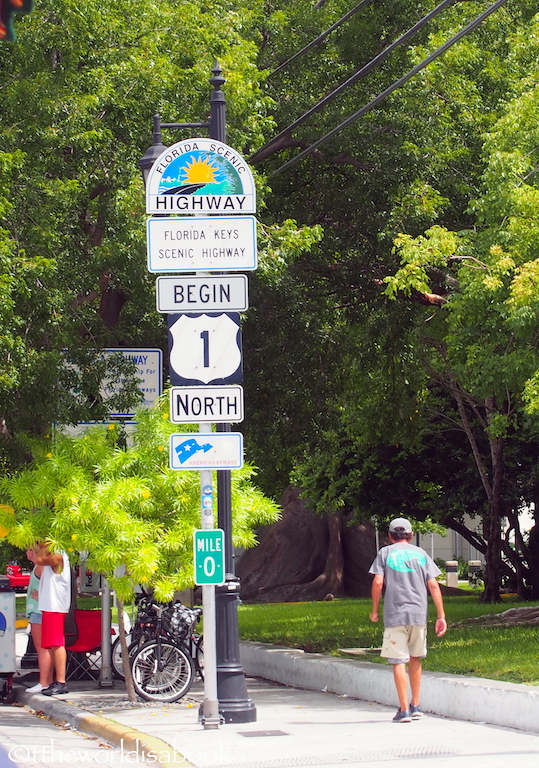 Conch Train tour
One of the best ways to learn about and see a city with a limited time frame is through tours. The Conch Train tour has been showing Key West to visitors since 1958. It's not really a train but more like a tram with covered open air seating.
We enjoyed this 90-minute fully narrated tour through Old Town Key West, the city's oldest area. It was a bit bumpy on some parts but my kids loved it. Our tour guide was very informative and funny. We learned many interesting facts and fun tidbits about the island and its history and attractions.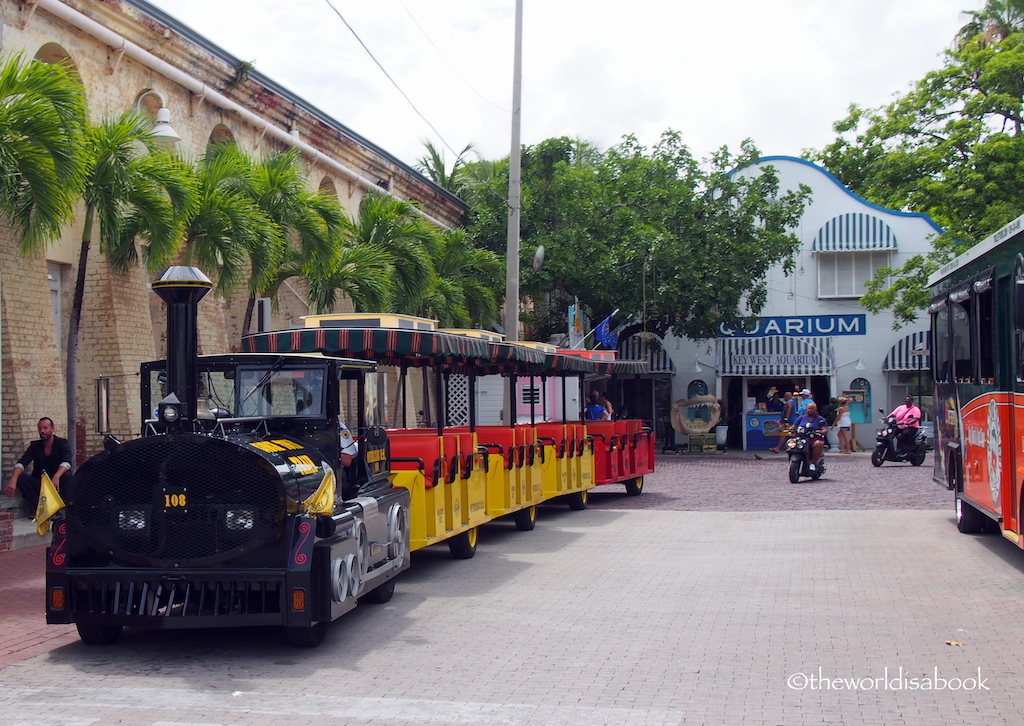 We loved passing through the historic district and seeing all the colorful houses. There were three stops and passengers were allowed to hop on and hop off. One of our stops was at a big souvenir shop that was long enough for us to buy some souvenirs and ice cream and a restroom break. It gave us a great overview and see where we wanted to explore more.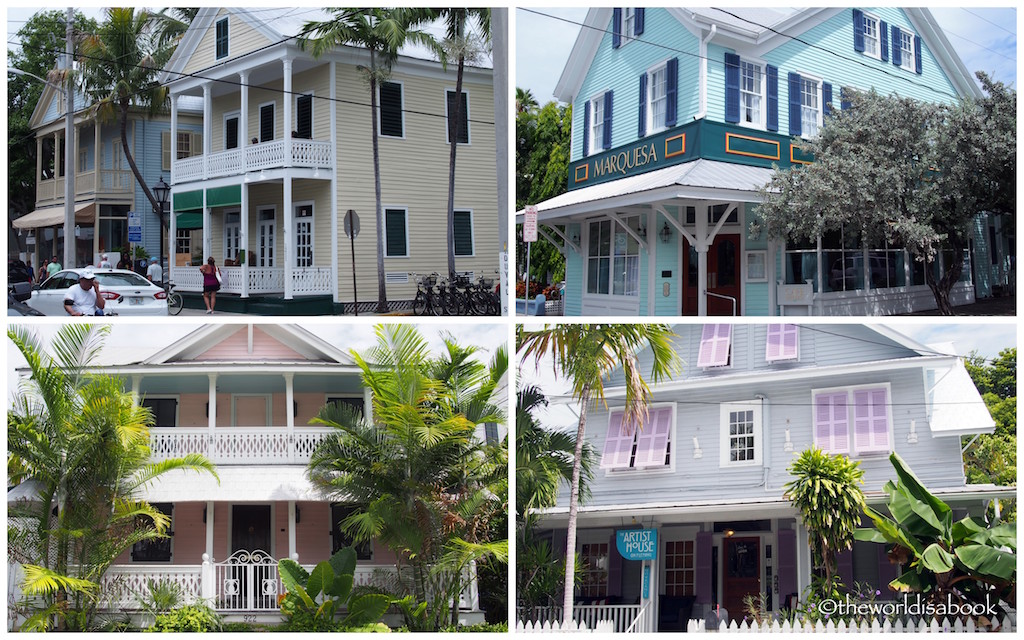 We got on and off the train at Truman Avenue and Duval Street and had to switch trains at the main boarding area at Mallory Square. It tremendously helped to see the attractions this way instead of walking in the heat and humidity.
The tour was touted to cover over 100 points of interest which is pretty remarkable for a small island. Kids ages 12 and under ride for free. Trains depart every 30 minutes.
There was also a trolley tour as an alternative that goes around the city. My kids were also eyeing the Ghost and Gravestones tour. Apparently, Key West is one of America's top ten haunted cities.
Museums
I had plans to visit the Butterfly Museum and the Shipwreck Museum. But, time escaped us and many of them close by 5 PM. So, they will have to be filed away for next time. I was happy to have visited the Ernest Hemingway Home and Museum though.
Ernest Hemingway was one of the most celebrated American authors. He was also one of Key West's well-known residents and wrote many of his classic novels here during his thirty-year residence.
His 164-year old mansion has been converted into a museum and is a National Historic Landmark. It was very well maintained and well preserved with original antique furnishings and memorabilia.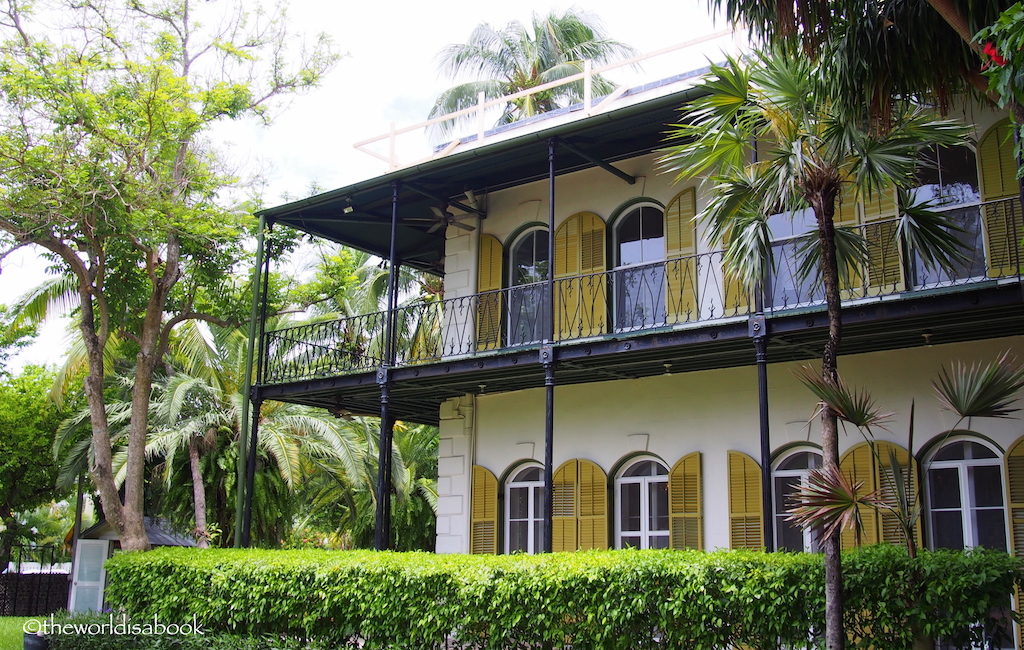 It was quite crowded during our visit and some rooms were small which made it a bit hard to move around. Guided tours are available every 10-15 minutes. I caught parts of the tour and it seemed like the best way to learn more about Hemingway, his life here and interesting tidbits and the history of the house.
If you're a cat lover, this is a must stop. There were over 50 cats and surprisingly there was no smell or even hint of litter boxes. Many of the cats were six-toed and descendants of Hemingway's original cat. We found some inside the house but most were lounging around outside.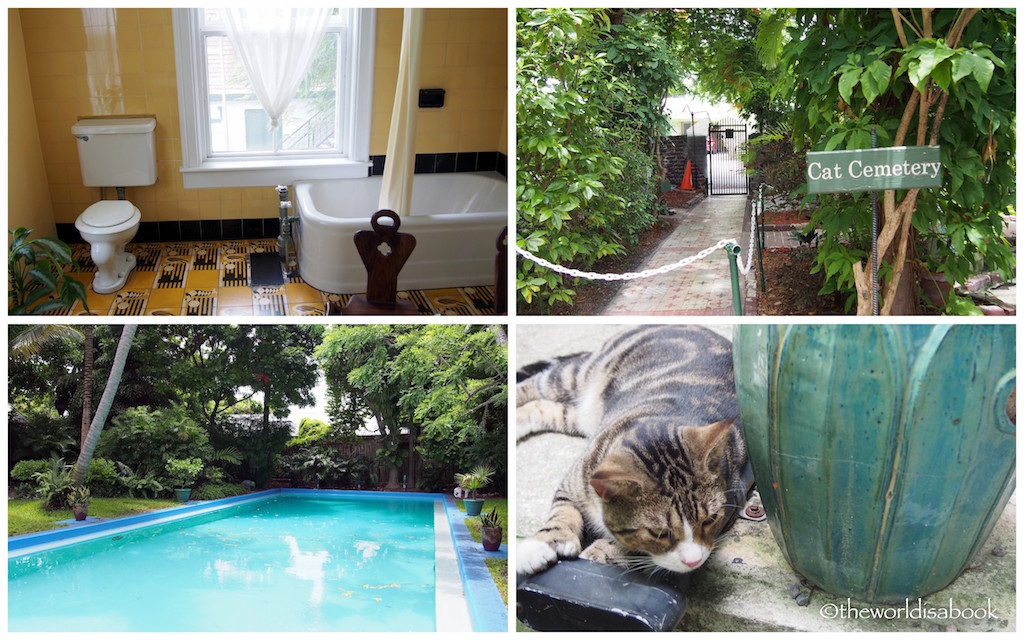 Don't miss the grounds which include a cat cemetery, tranquil tropical garden with a beautiful pool. Download the app e-book guide that provides more information about each room if you want to do a self-guided tour instead. Whether you're a fan or not, this made for a wonderful stop. They only accepted cash for tickets.
Another museum worth a look is the Museum of Art and History at the Customs House. It's hard to miss the large, vibrant sculpture of a dancing couple outside the red brick building. This sculpture of a dancing Victorian couple was created by Seward Johnson and called "Time for Fun". A Renoir painting called "Dance in the Country" inspired it.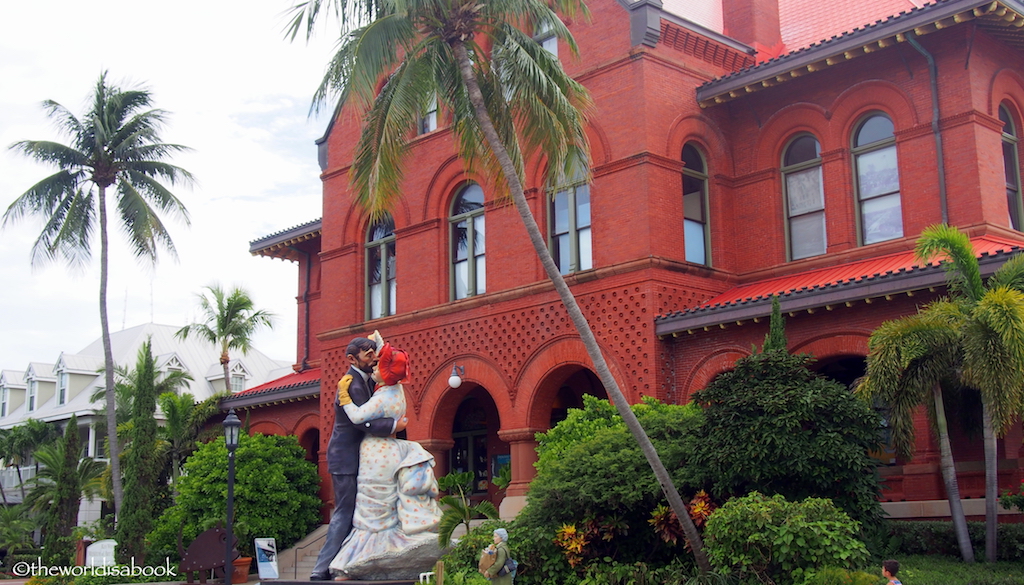 The museum was closed by the time we got here but we enjoyed walking around the museum's grounds to admire the fun and life like sculptures. My kids loved posing next to these statues. Based on its description, it sounded like an interesting museum to visit that blended Key West's art and history.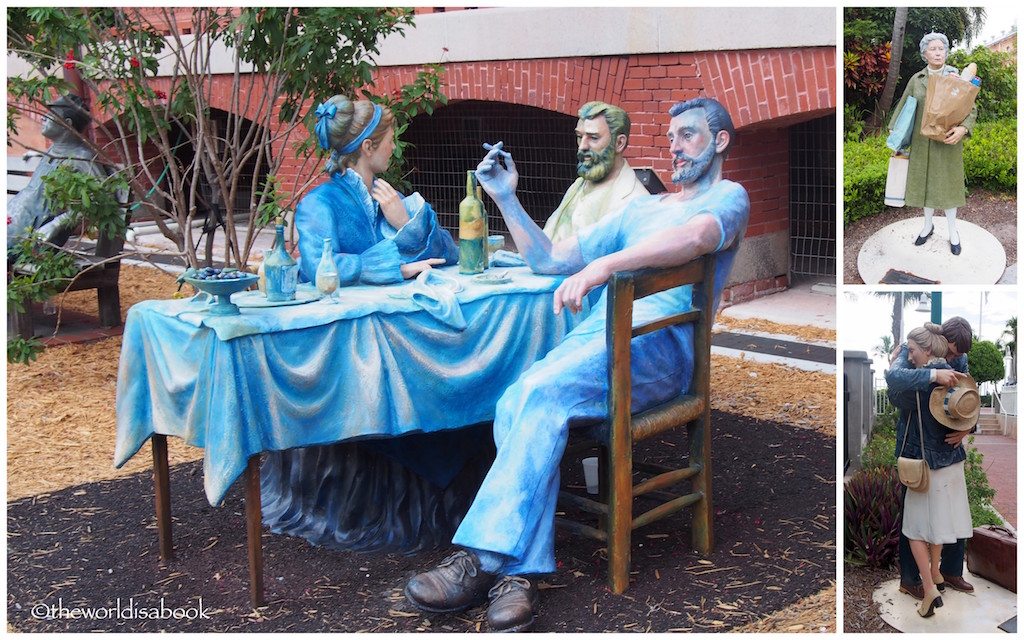 Shopping at Duval Street and Mallory Square
Duval Street is the main street on the island that stretched for almost two miles. My teenage daughter loved this area and wanted to spend more time here. It was lively and filled with many stores, souvenir shops, galleries, bars and restaurants.
We were told by a couple of locals that it was a real party scene and really comes alive after dark especially during weekend nights. So, it may not be the most family-friendly place to be at then.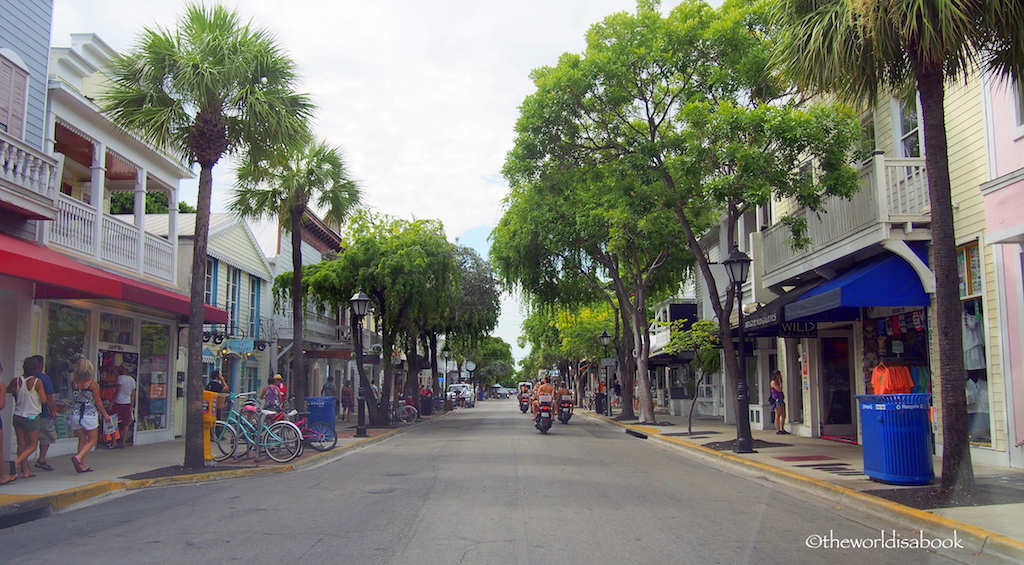 We were here on a Sunday afternoon with no cruise ships docked in town. It wasn't as crowded or as rowdy and made for a pleasant stroll. I can only imagine how this place looks when one or two cruise ships are in port.
We loved walking around Mallory Square for some unique shops and galleries like the shell warehouse and sponge market. The square is considered the island's activity hub. The aquarium, several museums, some historic sculptures and many restaurants are around the area too.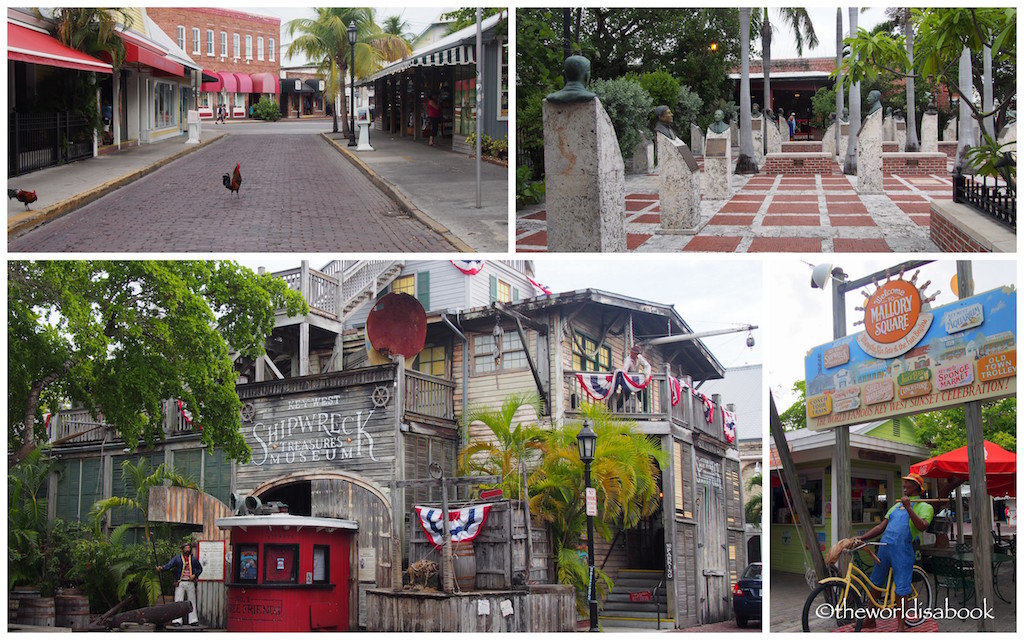 Sunset Cruise
I have seen so many fabulous sunsets from Key West on Instagram and knew we had to see it for ourselves even if it meant driving back to our Key Largo hotel two hours away later. The Key West Sunset Celebration is a nightly festival of some sorts that occurs two hours before the sun sets with entertainment and food all to watch the sunset colors over the Gulf of Mexico.
While the party sounded great, we opted for one of the sunset cruises instead and went with the Wind and Wine Sunset Sail with Danger Charters. Yes, the kids went with us and they enjoyed the cruise too but with water and soda.
This highly rated cruise was on a 65 ft. schooner and limited to less than 25 people. They served a variety of about eight wines and five different types of beer along with several appetizers. Food was plentiful that we didn't even need to eat dinner afterwards. My husband loved this cruise.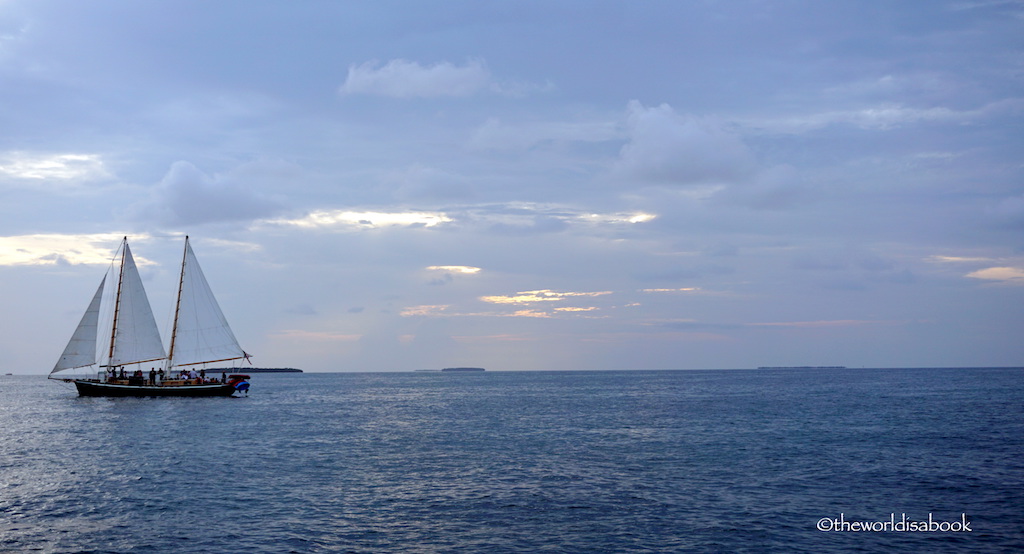 It was very smooth sailing so no seasickness. This gave us an opportunity to see Key West from the water and a couple of the neighboring small islands. The three-crew members were so helpful, funny and friendly so it made the cruise even better. We loved how they interacted with all the guests and remembered our names.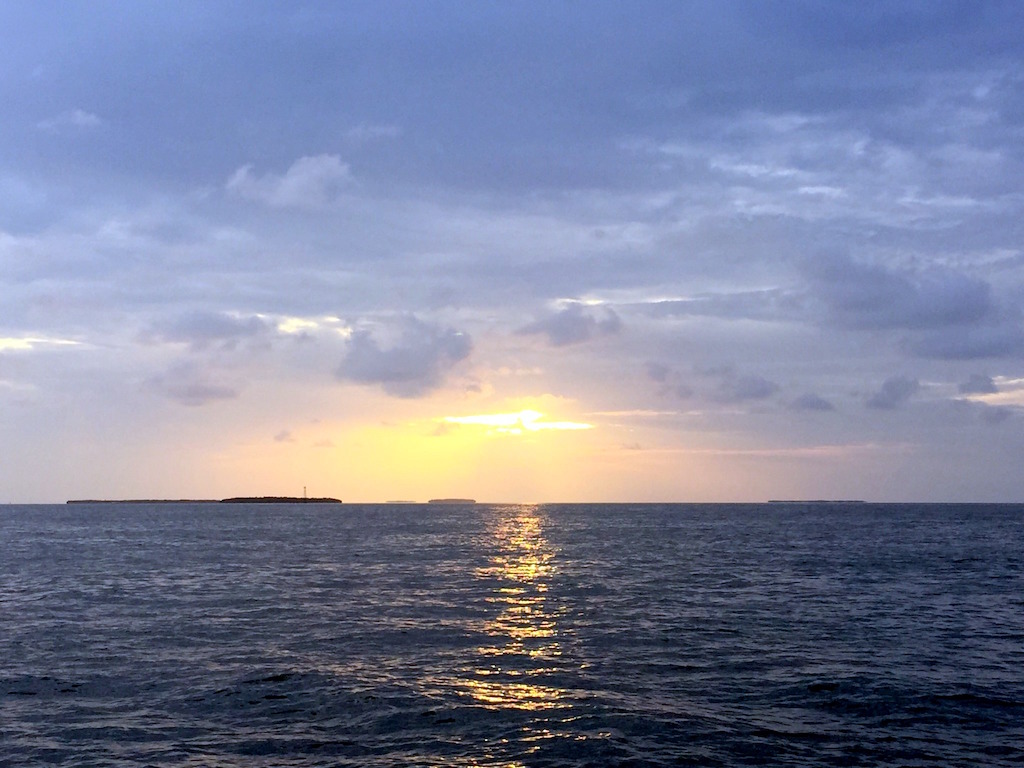 Unfortunately, it was a bit cloudy during our sailing so we didn't have the best sunset colors. Our fellow passengers were all great so this is far from a booze cruise. The kids even got to temporarily steer the boat. We highly recommend this cruise if you want to have a unique and relaxed sunset experience here with a smaller group. It was the perfect way to end our day in Key West.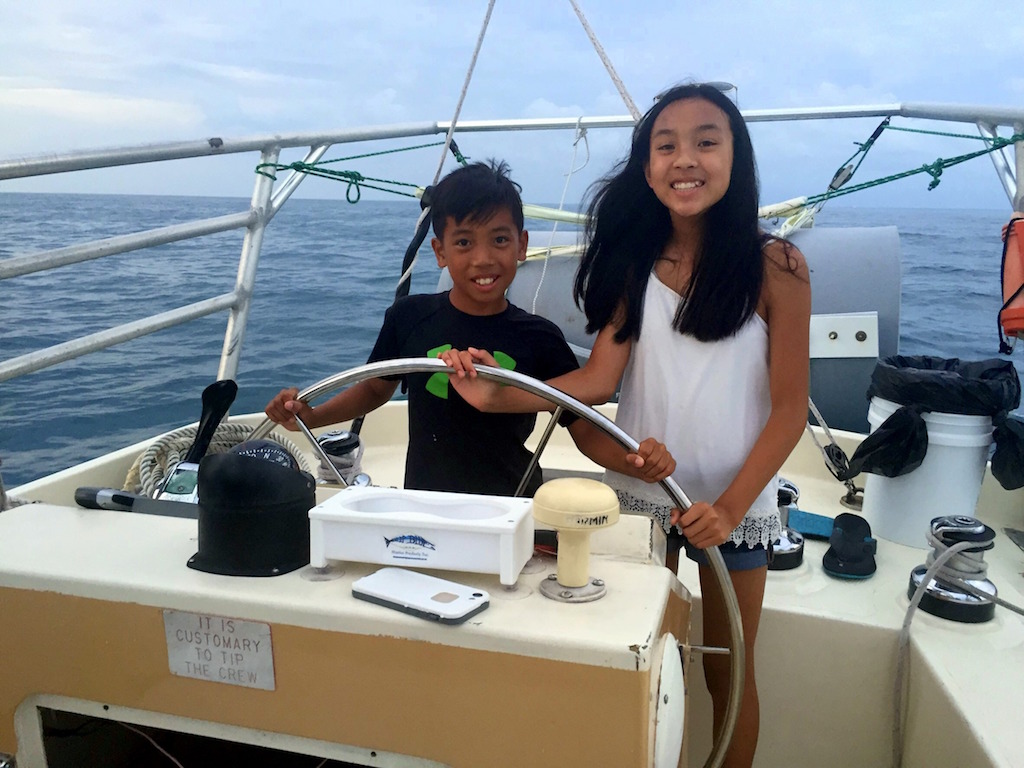 Recommended Eats
We only had the opportunity to eat lunch at Key West but it was a fantastic place. We had places in mind based on some recommendations but due to our schedule and location, we couldn't get there. We walked by Blackfin Bistro on Duval Street and were immediately drawn in with their menu. We had their calamari, seafood pasta and hanger steak and they were all so delicious.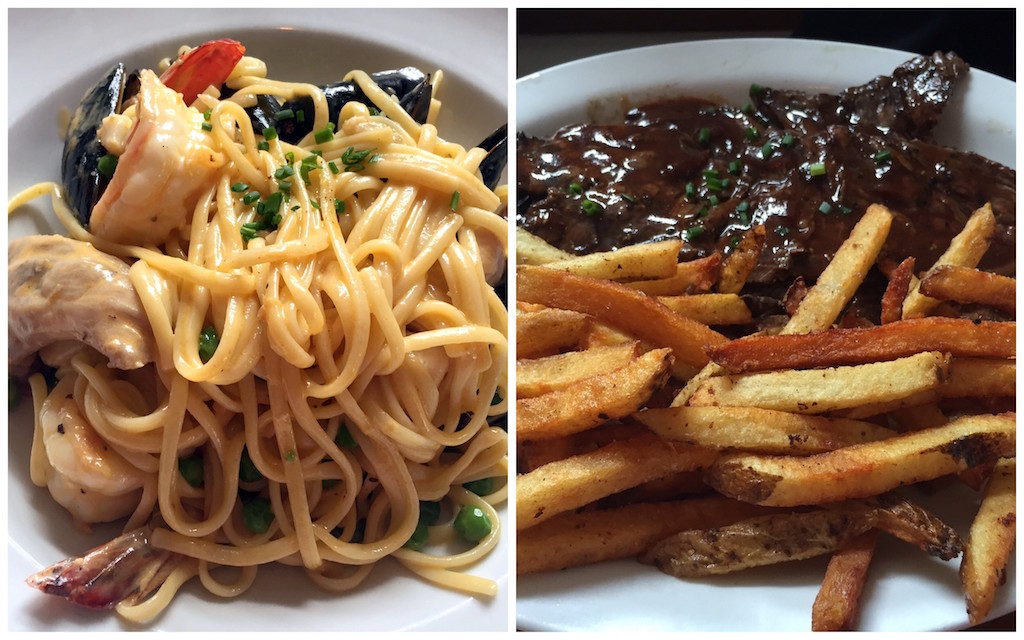 It's almost sacrilegious not to eat a dessert made of Key Lime when visiting Key West. The most popular product is the key lime pie as well as different items like key lime chocolates to key lime flavored ice cream. It's an ideal combinations of sweet and tart.
My favorite was the key lime pie slice on a stick and dipped in chocolate goodness. We stopped at Key Lime Pie Company. We were here late but you can watch the pie makers in action during the day. Their pies were tasty!
It was really easy to see why Key West was such a major tourist destination in the US. Its pastel colored houses, history, relaxing vibe, island feel that almost felt like we were on Caribbean island instead of being in the USA. We really wished we had more than a day here.
There was so much to do for such a small island. We hope to get back and do some of their water activities, take part in the sunset celebration and visit more of their unique museums. If you're looking for a tropical destination with plenty of attractions and activities, Key West makes for a fun getaway.
Basics and Tips for Spending One Day in Key West
Look into combining tours and attractions for discounts. Here are some discounts from the Chamber of Commerce. The conch train tour also hands out a booklet with several coupons.
Since it is a small island, there is very little parking much less free ones. Be careful where you park. Some blocks are free and others require payment or reserved for residents only.
Be sure to eat some conch fritters and a key lime pie.
*Have you visited Key West or is it on your travel wish list?
Where to Stay/Lodging
Flights/Vacation Packages
Compare airlines, dates and prices all in one place with Skyscanner
Disclosure: The Florida Keys and Key West Tourism graciously hosted us that included our sunset cruise, museum entrance fees and conch train tour. We appreciate their hospitality. All opinions and photos are our own.
Pin it for later!