Cruising the Fjords from Bergen Norway
Bergen, Norway is called the gateway to the fjords. The country's second largest city has plenty of attractions to offer visitors from its markets, museums and views from above. While, the Norway in a Nutshell tour is probably the best way to see the fjords and the beautiful countryside, there are also short cruises that span a few hours shouldn't be missed. We started out our second day in Bergen with an almost four hour cruise to Mostraumen through the Osterfjord with Rodne Cruises. Take a glimpse of the Norwegian fjords, waterfalls and mountains with us on this fjord .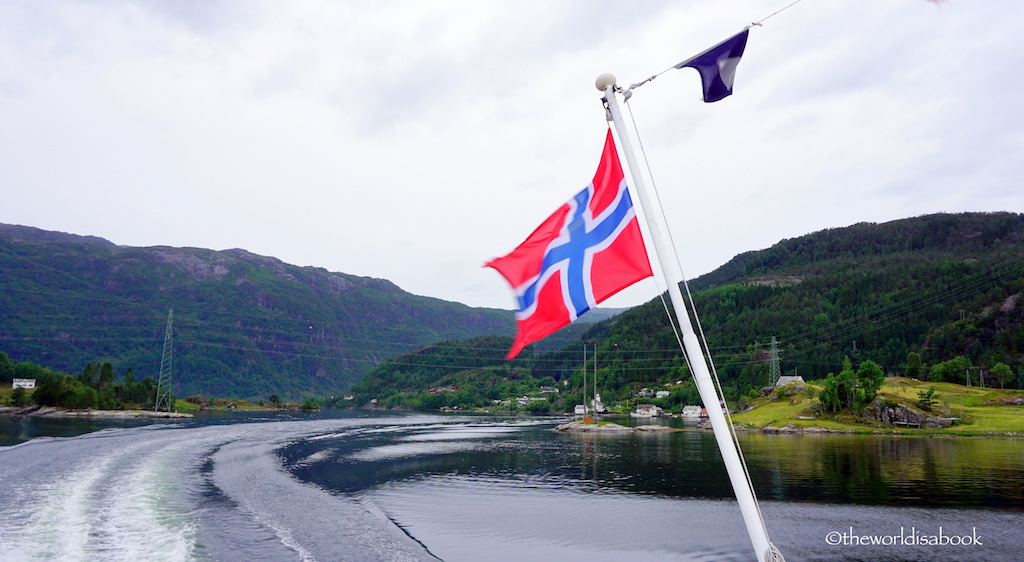 Our cruise started on the docks behind Zachariasbryggen which was by the Fish Market. The company offers two cruises – one at 10:20 AM and another at 2:30 PM. We chose the morning one after looking at the day's weather. It rains an average of 231 days in Bergen so we, at least, wanted some clear skies during a fjord cruise.
The catamaran was modern and fairly spacious with a large sun deck. Since the sun was still out, we made sure to sit up here. There weren't that many seats so it's best to get there early to get these much desired seats. There were also plenty of seats below which were indoors with wide windows. We were happy to find that there was a concession stand that sold snacks and various hot and cold drinks.
We highly recommend sitting outside when cruising away from the harbor. This is probably the best way to see the colorful wooden buildings and historic harbor district known as Bryggen. This is one of Bergen's most popular attractions and its old wharf. It's also a UNESCO World Heritage site.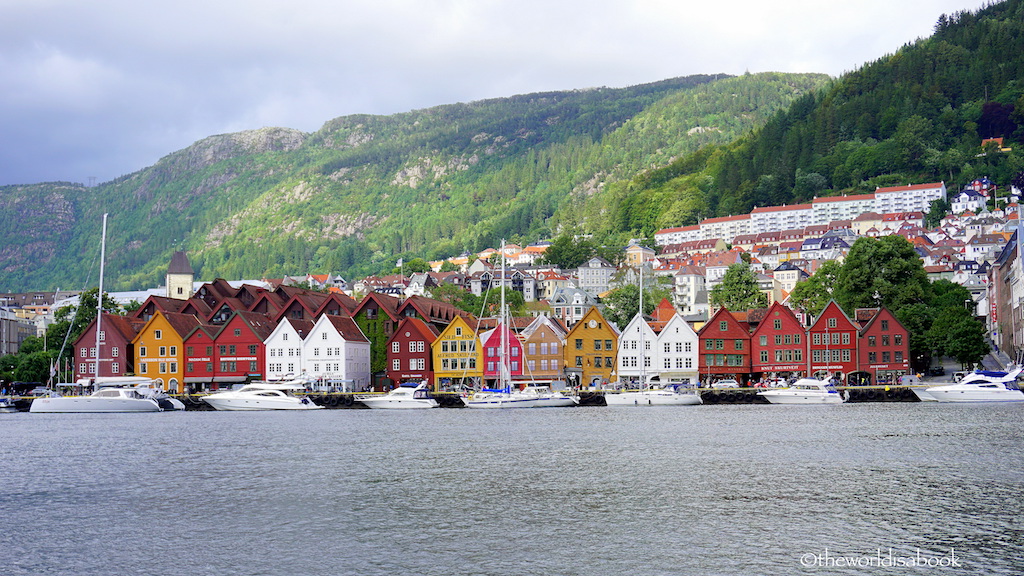 These cruises were also a great way to see the city from the water and a closer look at the harbor. Many cruise ships dock in this area. While we loved seeing Bergen from above during our excursions to Mt. Floyen and Mt. Ulriken, this cruise gave us a different perspective of this picturesque city.
We enjoyed seeing the architecture and the many houses that lined the water and the hills. There were even quite a few residents who kept waving to us with their flags in tow. The Norwegians were some of the friendliest people we've met in our travels.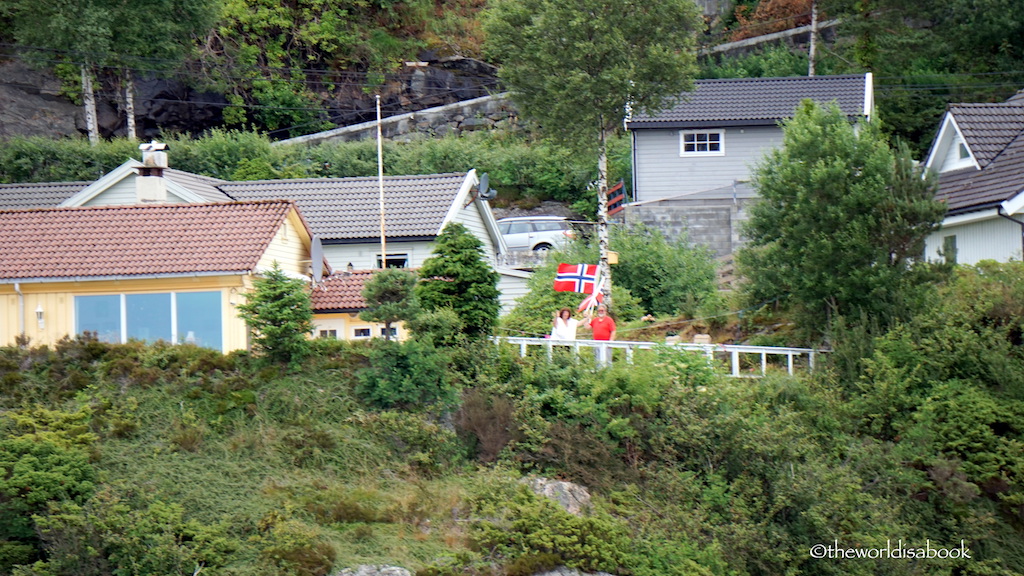 There was some narration which told us what we were passing during the cruise with a sprinkle of history. I loved that there was some music accompanying some of the major attractions. Cue the Titanic song when we entered the fjord and Elvis' "Jailhouse Rock" for an old prison and many instrumental songs that accompanied our scenic cruise.
One of the first things we passed was Norhordalands Bridge or Nordhordalandsbrua. It was quite impressive sailing under it. This was a combination of a cable and pontoon bridge. It's a road bridge that connects the Nordhordland district to Bergen.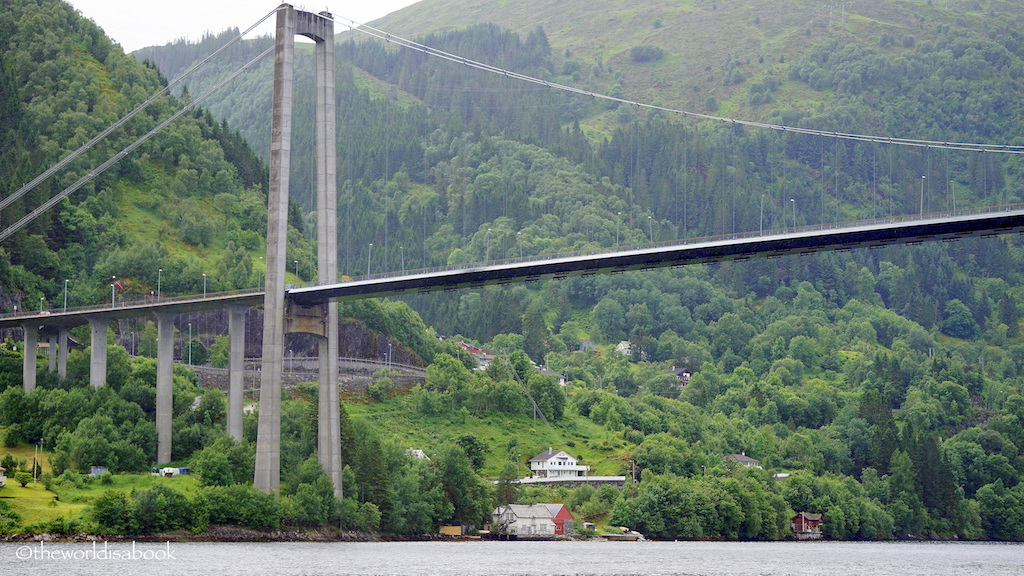 This was a sample of the scenery we saw as we sailed to the fjords.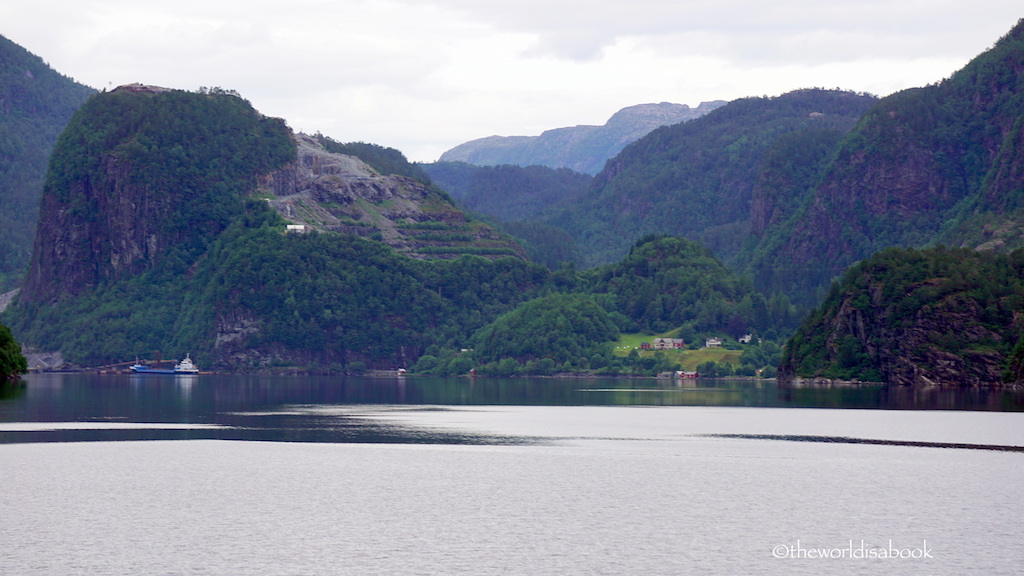 I loved seeing the fishing and remote villages with dramatic backdrops.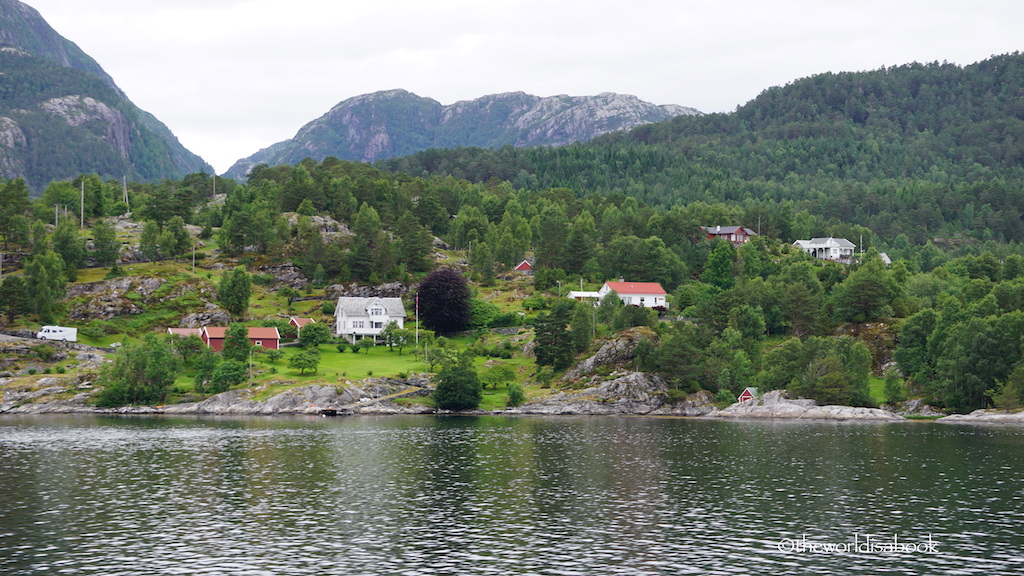 These stunning sceneries were one of the reasons Norway had been near the top of my travel wish list for a long time. It is filled with incredible landscapes that really needs to be seen in person to fully appreciate them.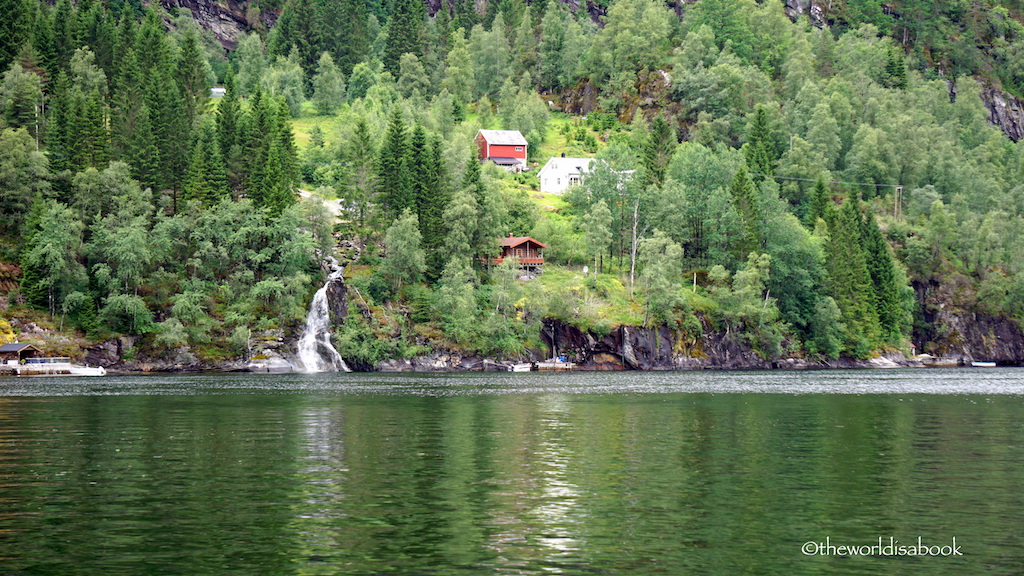 Even though the sun was out, it got quite windy and cold while at the deck especially once the boat sped up. Many of the passengers, including my kids, retreated to the enclosed deck for warmth. My husband and I stayed out and bundled up so not to miss the scenery and views. It was hard not to constantly take photos.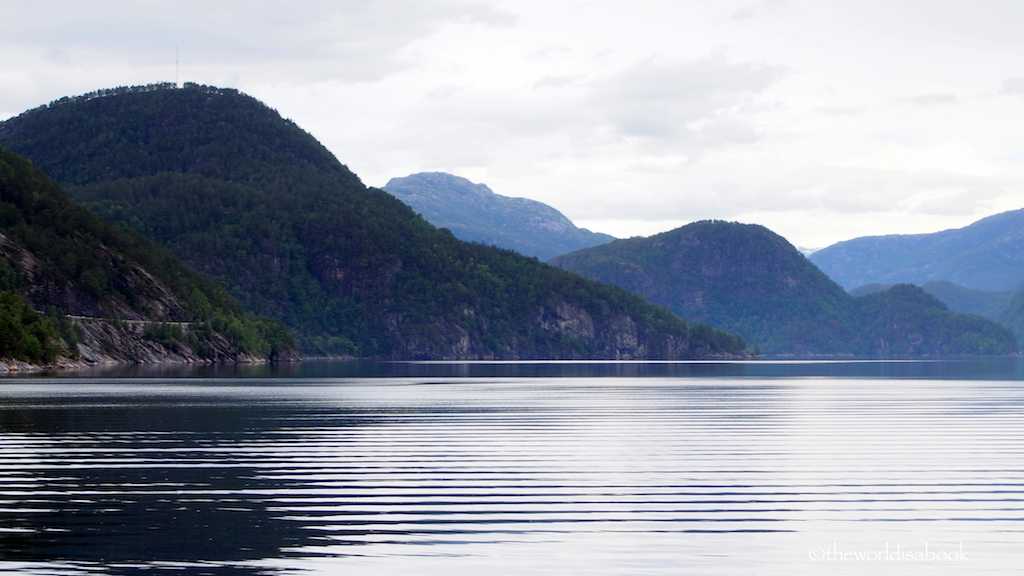 Fjords were formed when glaciers eroded and carved a valley between the mountains which became filled with sea water. We cruised on the Osterfjord. The boat slowed down once we entered it. This is a smaller one compared to the other Norwegian fjords we saw. Though, it was still magnificent scenery.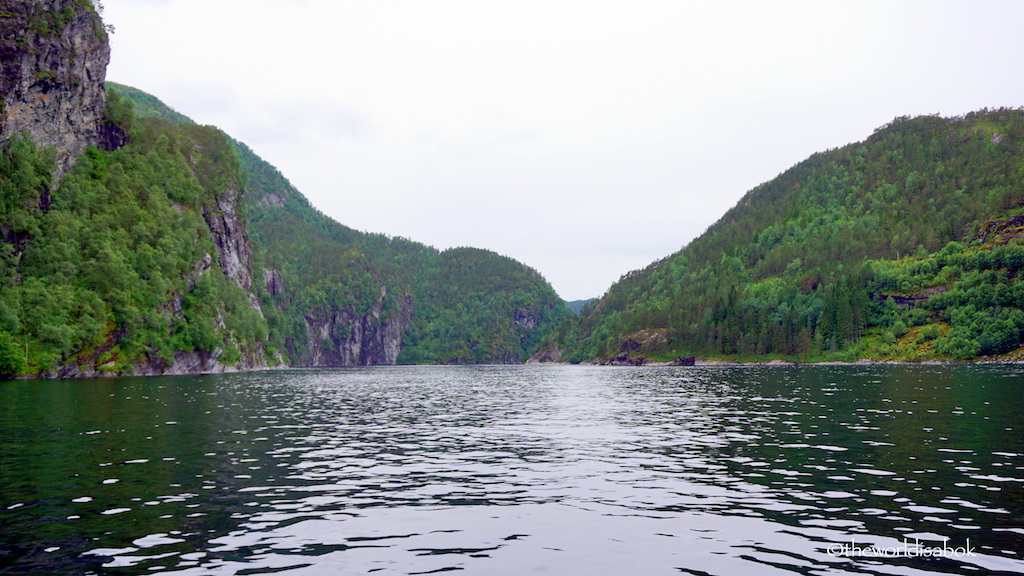 The cliffs, some filled with trees, surrounded us. Some areas had small waterfalls cascading down its surface.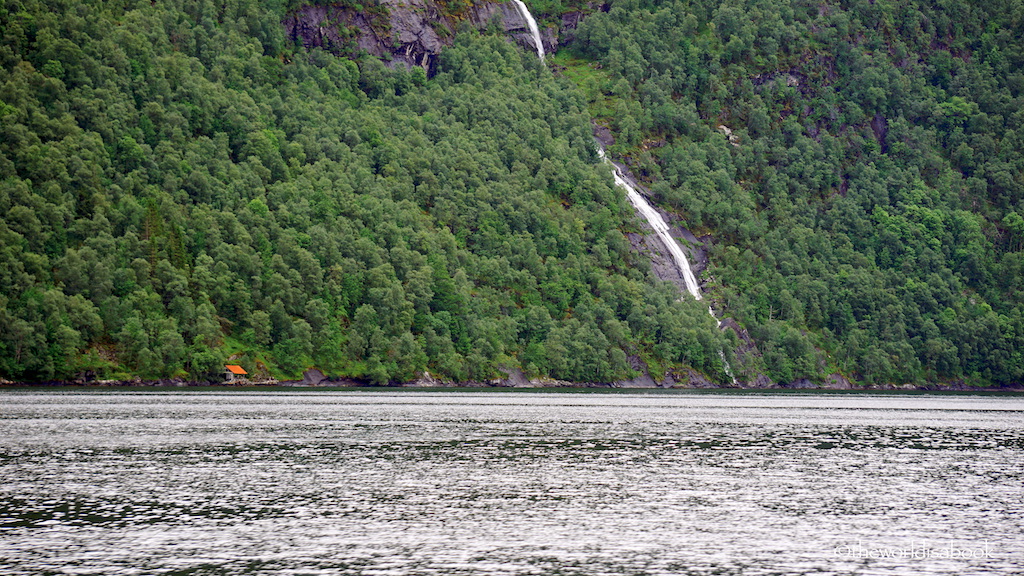 Our main destination was actually Mostraumen which was a sound at the end of Osterfjord. The fjords were narrower around this area but surrounded by mountains.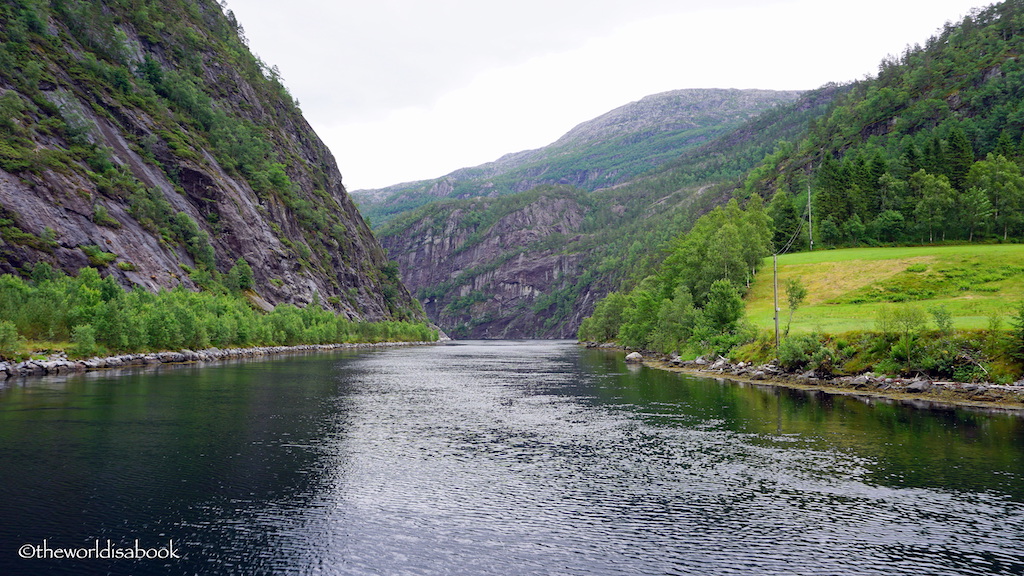 There was such serenity looking at these landscapes. It's hard to believe it wasn't too far from a major city too.
These remote and isolated villages looked so charming. It looked like the only way in and out was through the water. I can't even imagine living in this countryside and so detached from everything. But, look at what they wake up to everyday.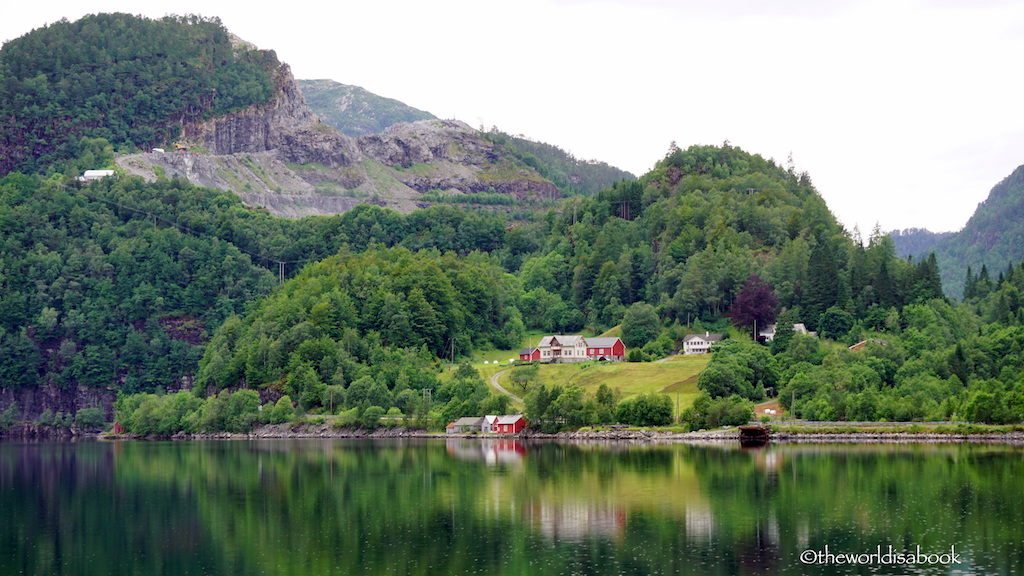 We got very lucky and the sun came out during part of the trip. The waters were calm and made for some amazing reflection shots.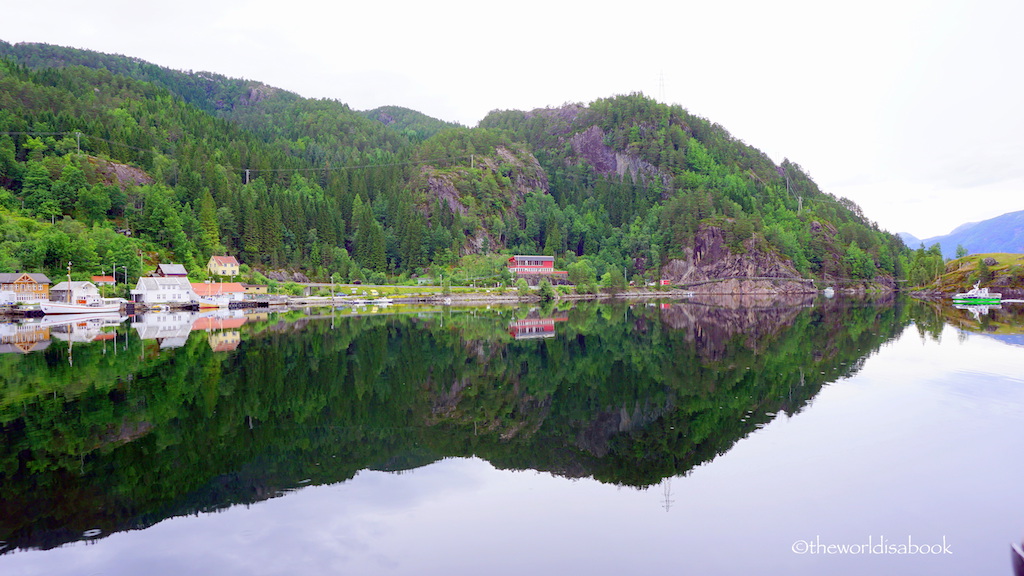 During our return trip, we sailed around the almost landlocked village of Osteroy. This was considered Norway's largest island inland and surrounded by fjords and steep mountains. I'm not sure if this was actually Osteroy in the photo but all the villages looked so photogenic.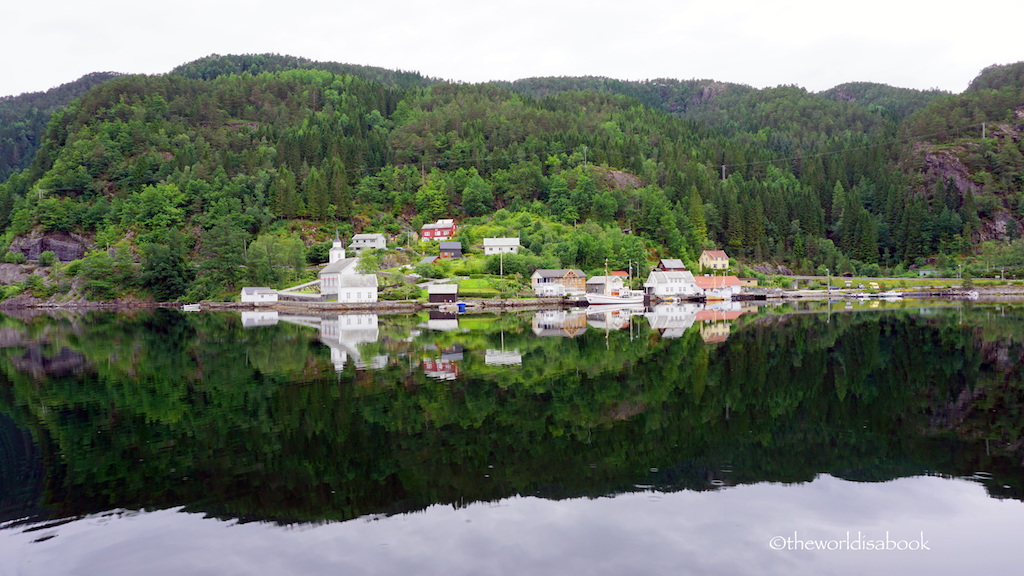 And because you can never have enough reflection shots on a Norwegian fjord.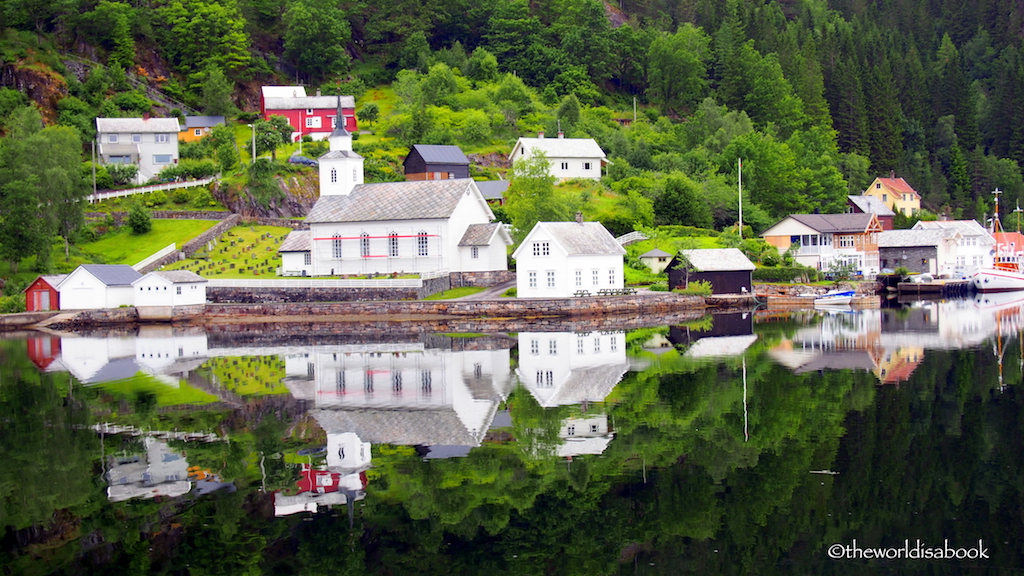 There were several waterfalls along the way. One of the highlights of this cruise was when we sailed very close to one of them. We watched the crew and a couple of volunteers gather water from the Heskjedal waterfall into the buckets. They passed around cups to all the passengers to try the fresh mountain water. It was cold, refreshing and so good.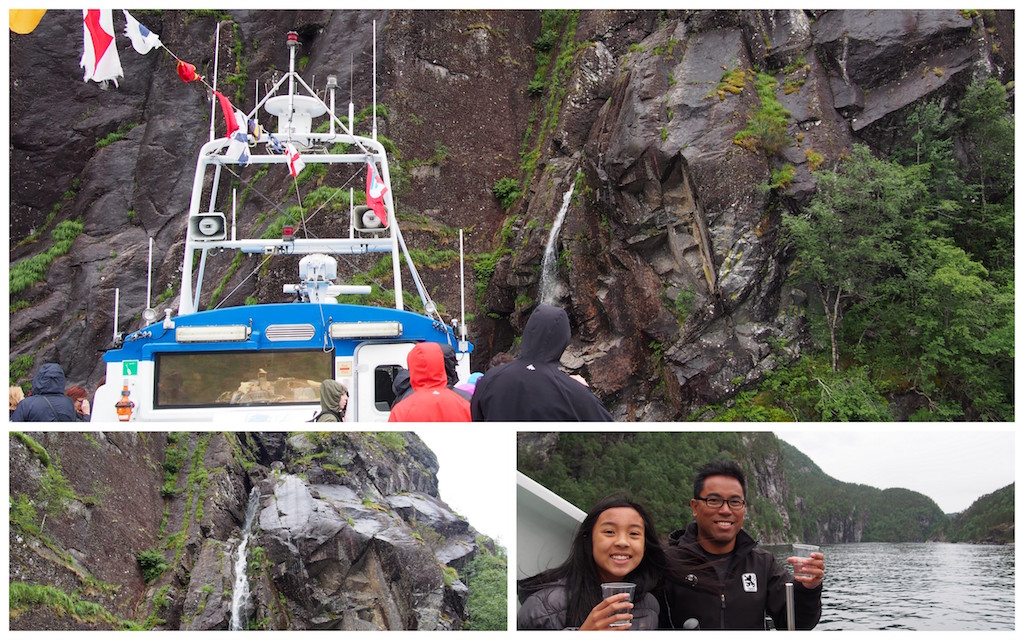 Heskjedalsfossen was a very scenic double waterfall that we sailed quite close to. I wish we could have gotten off here and explored the area a bit.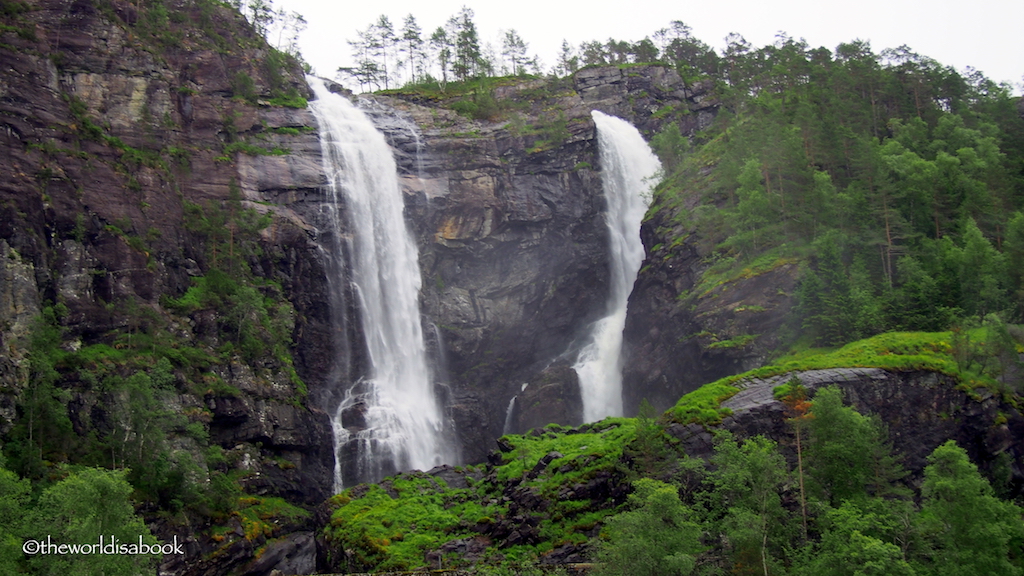 Doing this cruise gave us an excellent and relaxing way to see the fjords, mountains, waterfalls and its surrounding landscape. The catamaran was clean, comfortable and large enough to avoid any seasickness. If you're only in Bergen during a cruise stop or for a day and have a limited time, we highly recommend doing this short cruise as a wonderful glimpse of the Norwegian fjords. We were in Bergen for a few days and did this short cruise in addition to the longer Norway in a Nutshell tour that covered the larger fjords. (more to come on that fantastic tour). We loved both of the cruises.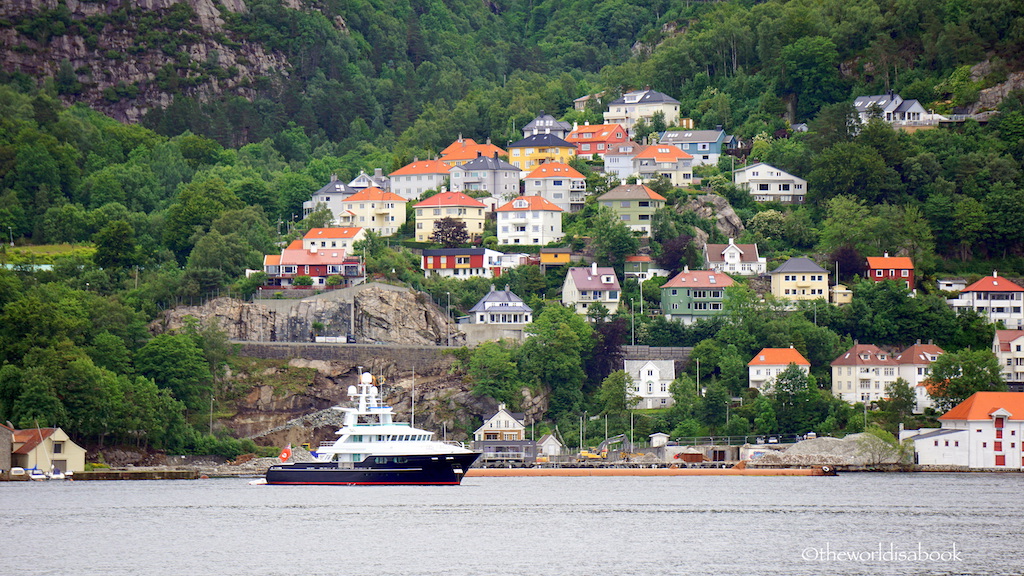 Basics and Tips for Cruising the Fjords from Bergen
Rodne Cruises offers this 3.5 hour cruise year round. It offers two sailings from May-September at 10 AM and 14:30.
Prices (as of October 2016): Adults 550 NOK ($68 USD); Children ages 4-15 years old NOK 350 ($44 USD); Family Ticket NOK 1500 ($187 USD)  for 2 adults and up to 4 children (4-15 years old). Children under 4 are Free.
The Bergen Card gives a 20% discount for adult and children tickets. Tickets must be booked through

[email protected]

Check the weather before you go. You go on this cruise to see the fantastic views and hopefully, rain isn't in the forecast.
Bring your own beverage and snack to save some money. There is also a limited selection so it's best to bring something you like to get you through the almost 4-hour cruise.
Restrooms were available on deck.
Layer up and bring a waterproof jacket. You need this jacket around Bergen anyway. It got very cold on the sun deck even in early July.
Get there early to grab the sundeck chairs especially if it's sunny and crowded. Once it starts to get chilly, make sure you get some of the indoor seats quickly. These seats are grouped into threes and you would want the window seats.
*Have you cruised the fjords in Norway?
Where to Stay
Scandic Bergen City

 – We enjoyed our stay at this hotel. We ended up in a family room with a full kitchen and it was so spacious. The hotel is in a great location and within a 10-15 minute walk to most attractions. Breakfast was included and it was a good spread.
Scandic Strand 

– 

This hotel had a great location and within steps from the Fish Market and other attractions and located right by the harbor. Kids under 13 years stay free and receive a welcome gift upon check-in.

Radisson Blu Royal Hotel

 

– If you want the most convenient location to most attractions, this hotel was perfectly situated in Bryggen at Bergen's historic and colorful wharf area. Free access to fitness center and sauna. Breakfast buffet had plenty of offerings and the hotel offers free wifi.
Flights/Vacation Packages
Compare airlines, dates and prices all in one place with Vayama
Disclosure: I was provided with complimentary cruise tour on Rodne Fjord Cruises by Visit Bergen. My family paid regular prices for the cruise. All photos and opinions are my own. 
Pin it for later!