Encounters with the Galapagos Giant Tortoises
They have almost become the symbol of the Galapagos Islands. There was one animal my kids wanted to see more than anything during our visit a few weeks ago and it was the giant tortoises. We mainly stayed on Santa Cruz Island (see our itinerary) and it was an easy 30-minute drive to see these ancient and interesting creatures in their natural habitat.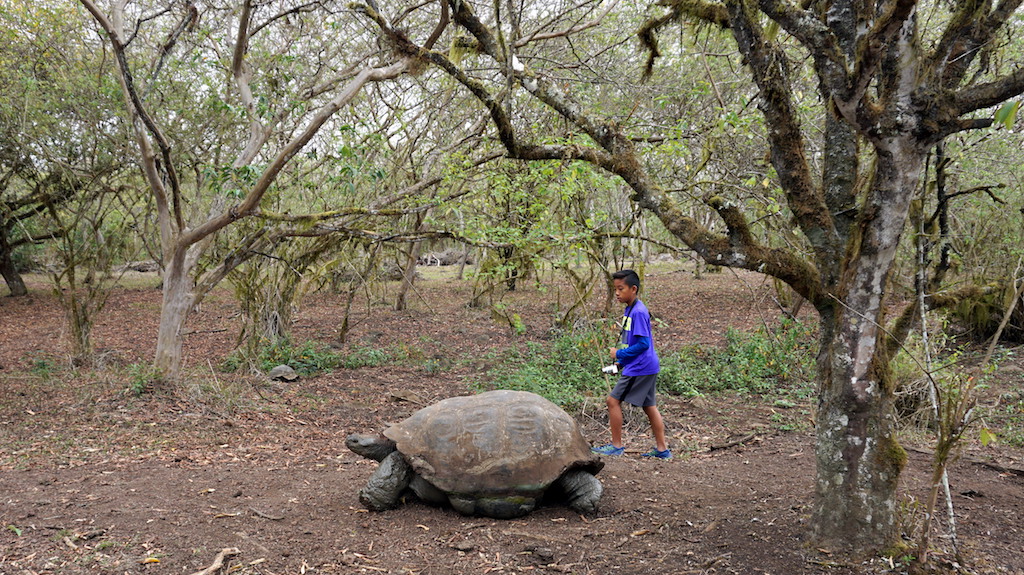 We spent our first full day on the island traveling to an area known as the highlands or parte alte. The highlands have a higher elevation and get more rain. It's cooler than the beach and lowland areas which are continuously heated by the equatorial sun. As a result, many farms were located here and was a favorite spot for the giant tortoises.
Seeing the tortoises is a popular land excursion for those who go around the islands via a cruise. While there are day tours available from the main town of Puerto Ayora, our hotel manager called a specific cab driver who takes visitors to the farms frequently. Our driver waited for us while we explored the turtle farm. You can also flag most taxis (they're all white pickup trucks) around town to take you to the turtle farm.
We spotted our first tortoises along the yards of several farms and some on the side of the road. As we neared the reserve, we actually had to wait for a couple of tortoises to cross the road. Insert the 'How long does it take a tortoise to cross the road?' joke here.
Our driver took us to El Rancho Primicias which was a private reserve. He told us that you'll see the giant tortoises roaming around in both farms. There was also the El Chato Reserve next door. Our driver made the right decision to recommend going to Primicias since we passed by the other farm and there were several tour vans there already. The farms were separated by a fence that the tortoises can easily cross.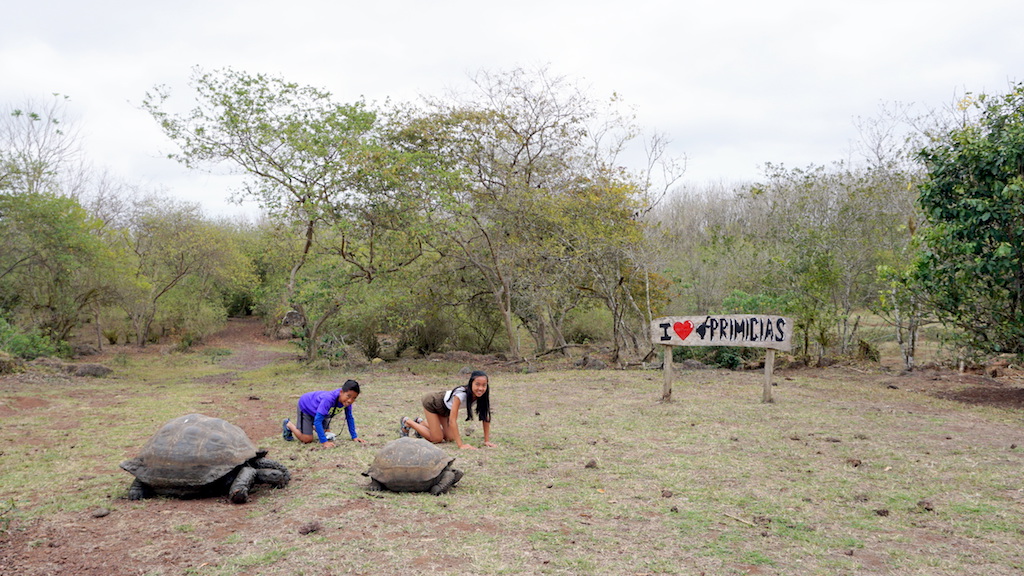 Once we got to the ranch, we immediately spotted the biggest tortoise we've ever seen. It was there on the open field just eating grass. We spotted a few more nearby. It was amazing to see so many of them at once.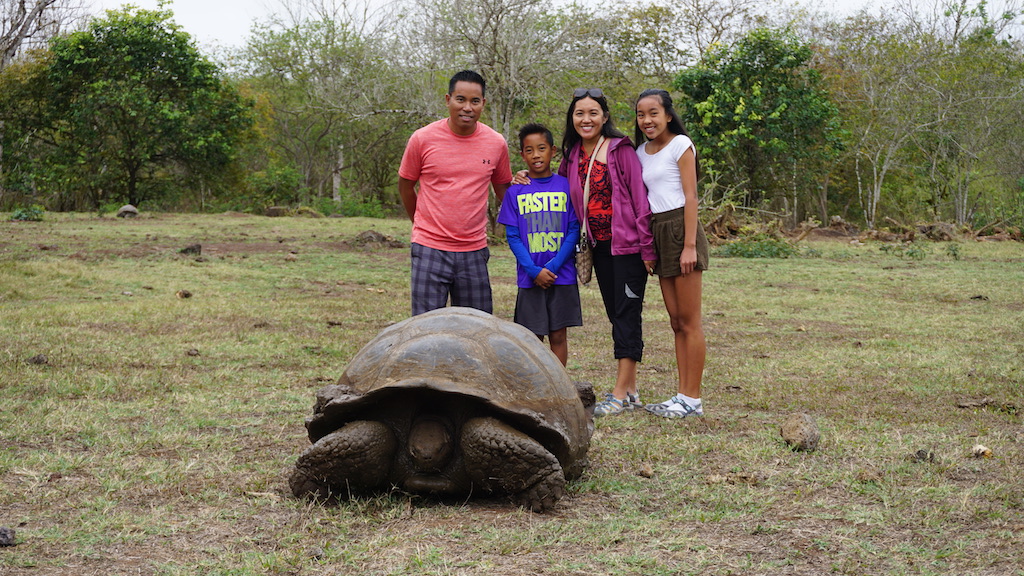 We were free to wander around the farm with no time limits and no one really watching us. I'm glad most of the people who visit come with the tour guides to ensure these rules are followed. The farm just asks visitors to follow three simple rules.
Do not use flash when taking photos.
Maintain a distance of 6.5 feet (2 meters) from the tortoises at all times.
Do not touch the tortoises.
My kids ran from one tortoise to another looking for the biggest one they can pose with. I had read that we had to go behind the tortoises so they don't immediately retreat into their shell. When tortoises feel threatened, they immediately pull their head into their shell and let out a hiss. It's not very loud but it sounds intimidating coming from such a big animal. We heard it several times when they directly saw us.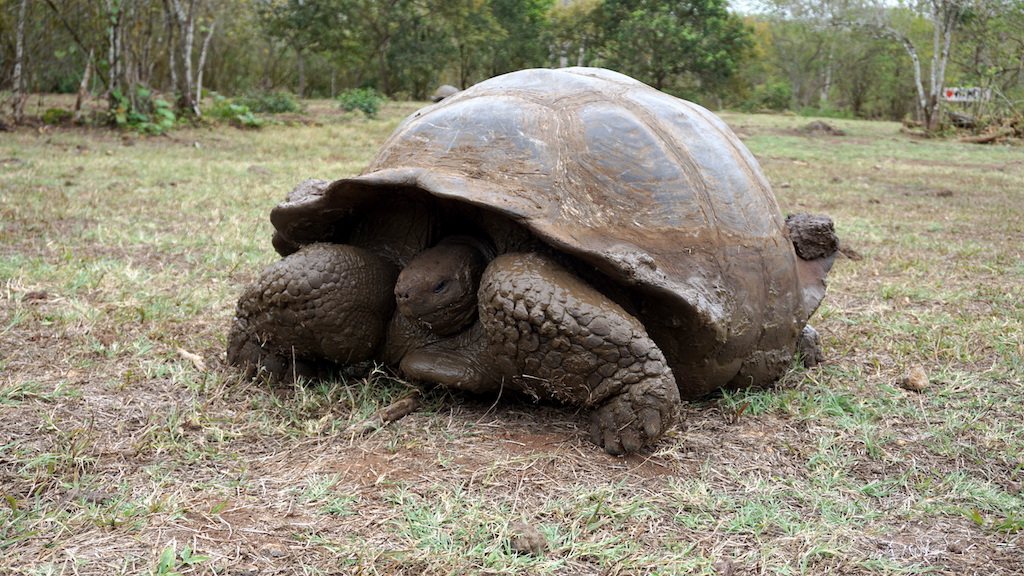 For the most part, the tortoises were oblivious and ignored all the humans. They went on their way slowly wandering around eating grass and guava leaves. They are herbivores eating mostly cacti pads, grasses, leaves and fruits. It's easy to see why they thrive in the highlands and farms here.
We loved watching them eat!
Some of them looked like statues so it was really easy to observe them. Their skin looked so rough and wrinkly. They really do look very pre-historic. It felt so unreal being here that we almost felt like we were watching a special on the Animal Planet channel.
Check out how sturdy those legs are! I guess they pretty much have to act like trunks to carry all the weight around. Their toenails were huge too.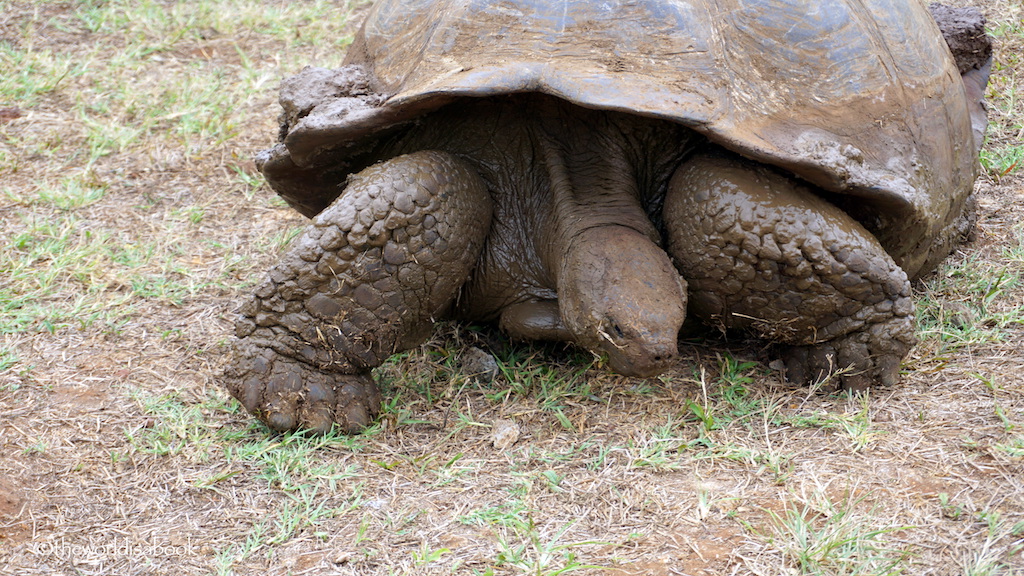 History of Galapagos giant tortoise
The Spanish sailors named the Galapagos Islands for the many tortoises they saw here in the 16th century. Galapago was an old Spanish word for saddle and these explorers called the tortoises these because of their shells' shapes. Unfortunately, the tortoises were on the brink of extinction as whalers, merchant seamen and pirates hunted them for food from the 15th to the 19th centuries. Tortoise oil was also used to light lamps.
Scientists believed there were once eight species but three have gone extinct. There are believed to be about 20,000 -25,000 left on the islands today. Sadly, the animals that came to the islands over the years like dogs, cats, pig, goats and cattle have threatened the tortoises' food, habitat and eggs. Ecuador and the Galapagos National Park are making every effort to protect these endangered giant tortoises including the establishment of captive and breeding programs at the Charles Darwin Research Station. These tortoises are introduced into the wild after they are large enough.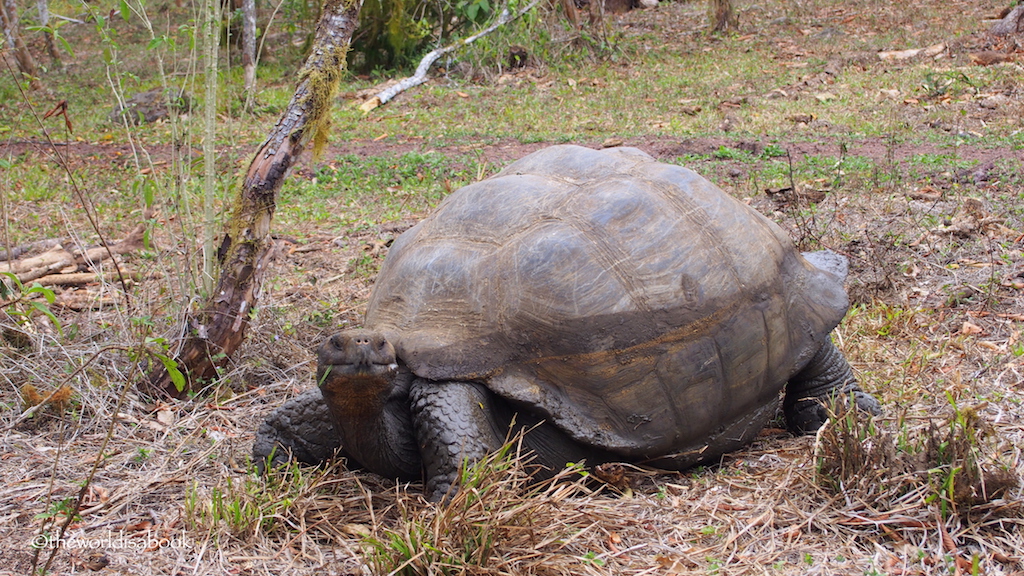 Since this is their natural habitat, we saw poop/feces around the fields. Don't worry, you can't miss it since they were quite large. Some were almost shaped like grenades which my kids thought was really amusing.
The giant tortoises actually spread seeds and nutrients around helping to keep the farms' soil healthy since they are so low to the ground. Here's a short clip on just how they maneuver and move around with all that weight.
There are no trails around the farm so we kept walking towards the back. We came across one of these shallow ponds where many tortoises were basking in the mud and sun.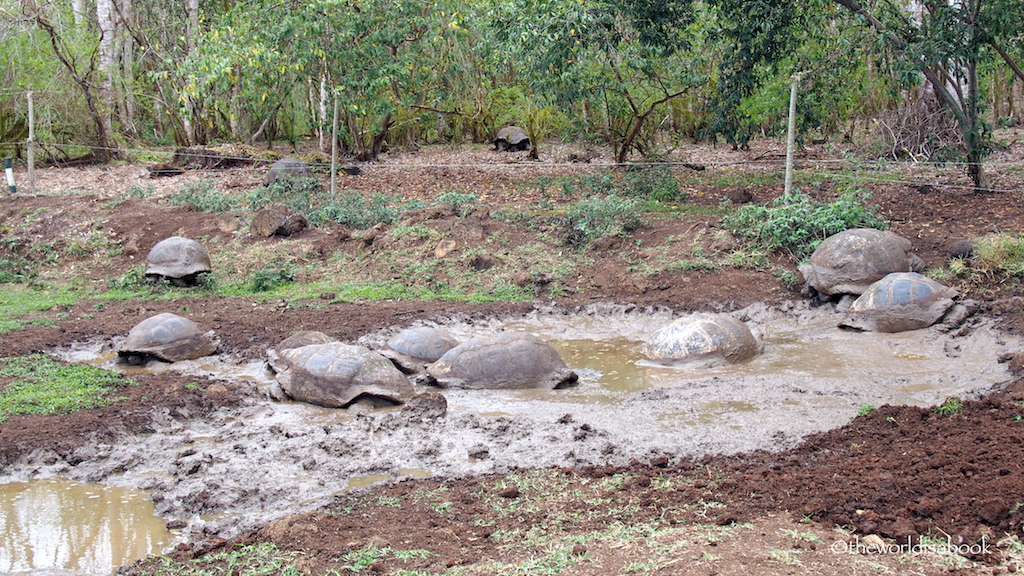 This was also their way to conserve energy and stay cool. It was so interesting to watch them slowly emerge from the mud.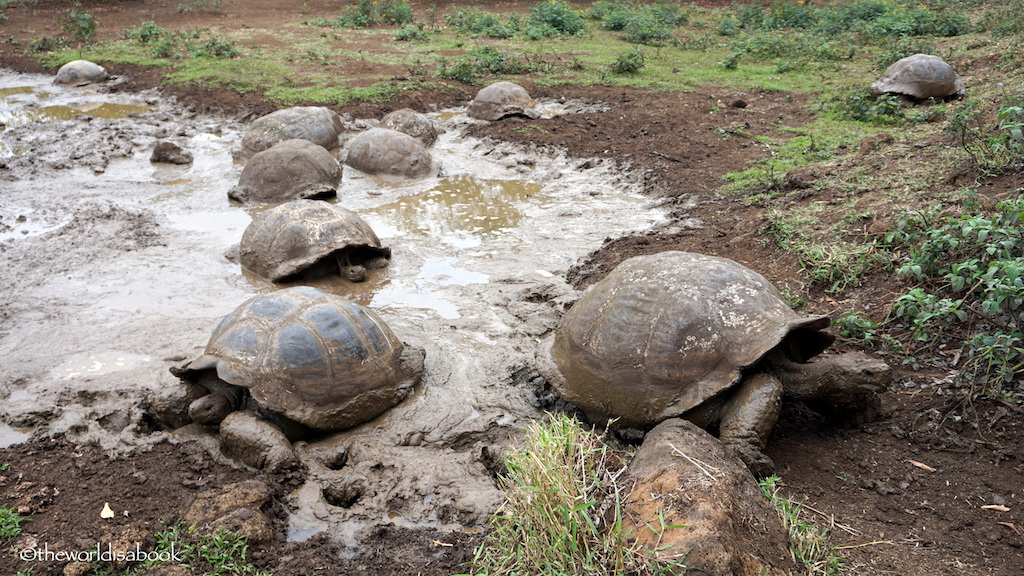 My husband tried to stare down this giant tortoise and hopelessly lost. We didn't realize that their necks could stretch for so long. We learned that they developed this in order to reach food above the ground.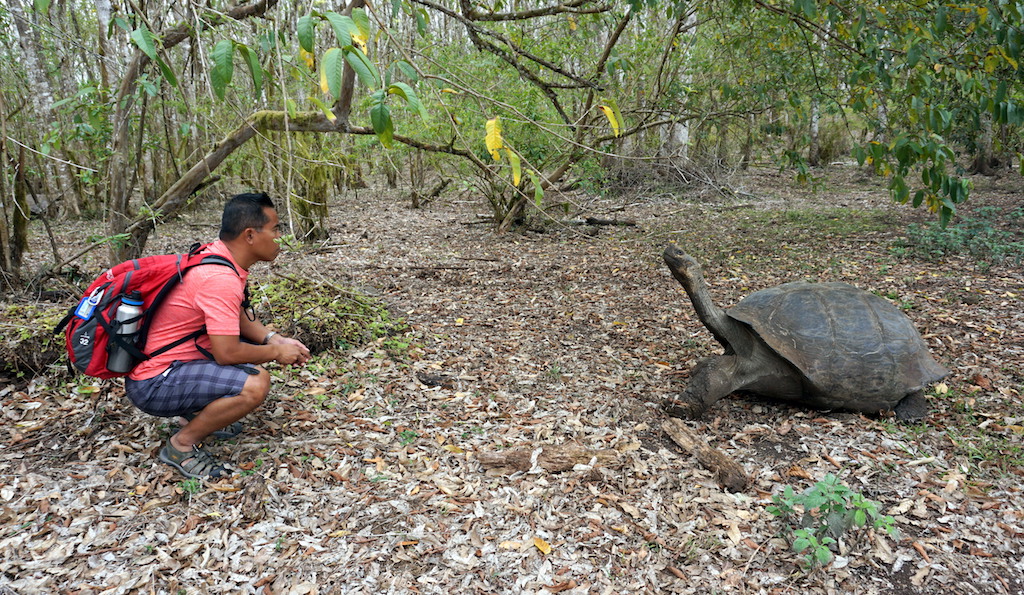 They also have a small gazebo with giant tortoise shells that visitors can climb into. See how it feels to be enclosed in a shell momentarily.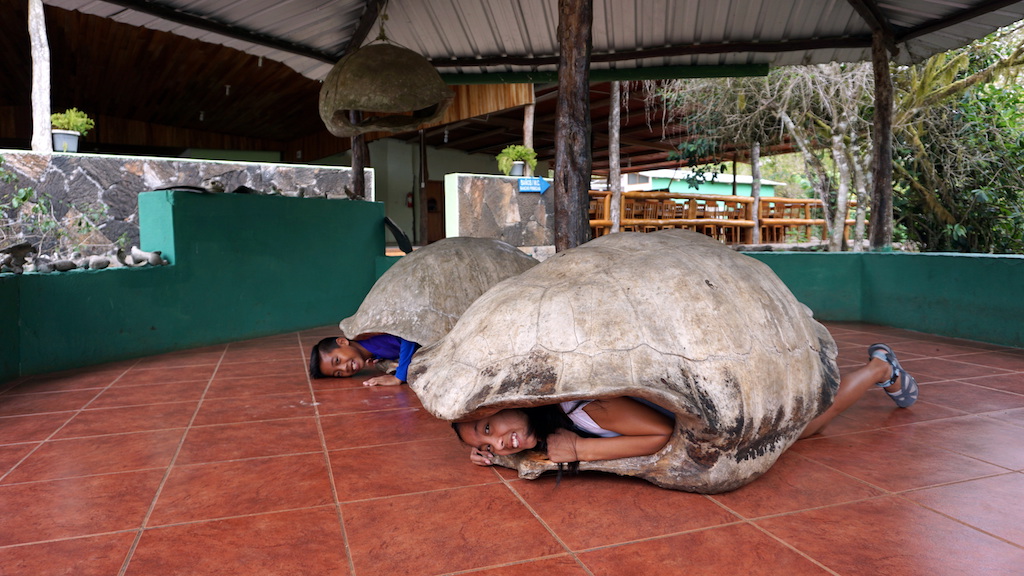 Entering the Lava Tube
After we left the farm, our driver took us to a nearby lava tube. He walked us to the entrance and waited for us on the other side. Lava tubes or tunnels are created when the lava flow's cooler surface hardened and inner lava flow continued moving. The entrance was pretty wide and we had to descend down a stairway. It was actually lit and pretty easy to walk through for most of the area. The trail eventually narrows in some areas with some rocky patches. It actually looked very much like walking through a cave.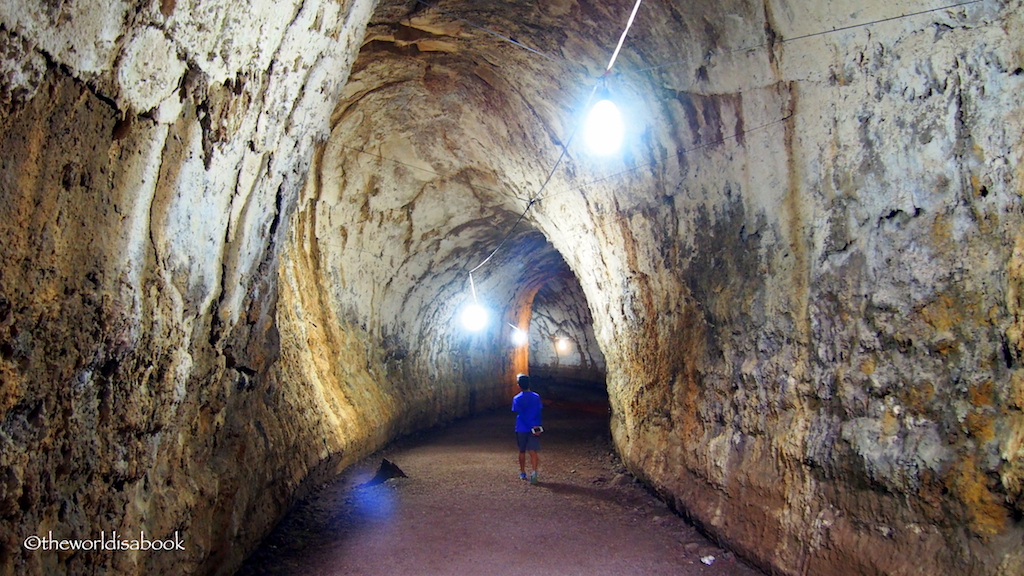 The most fun part for my kids was crawling through a very small area that was only about two feet tall on your stomach. Luckily, they provided a rug underneath. This is not recommended for anyone with mobility issues or suffering from claustrophobia.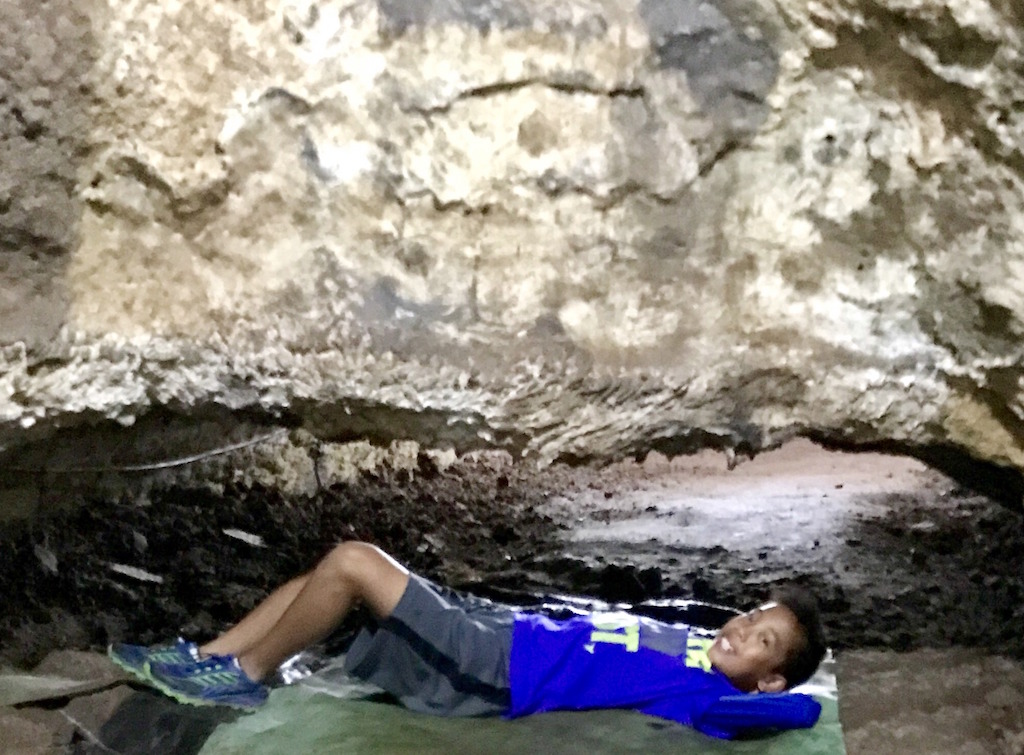 Just in case you're a bit more curious about these creatures, here are seven interesting things about the Galapagos giant tortoises:
They live an average of over 100 years old. The record holder was 152 years old.
They are the world's largest tortoises with some weighing about 550 lbs (250 kilograms)
They nap an average of about 16 hours a day.
The tortoises have a slow metabolism and can survive a year without food or water for up to a year.
The female tortoises travel many miles to lay their eggs in nesting areas and holes, cover them up with sand and leave them. The babies hatch within four to eight months and they have to survive on their own.
Temperature determines the sex of turtle hatchling. If the temperature in the nest is low, there are more male hatchlings and vice versa.
Tortoises don't have teeth. They have flat beaks for crushing and mashing their food.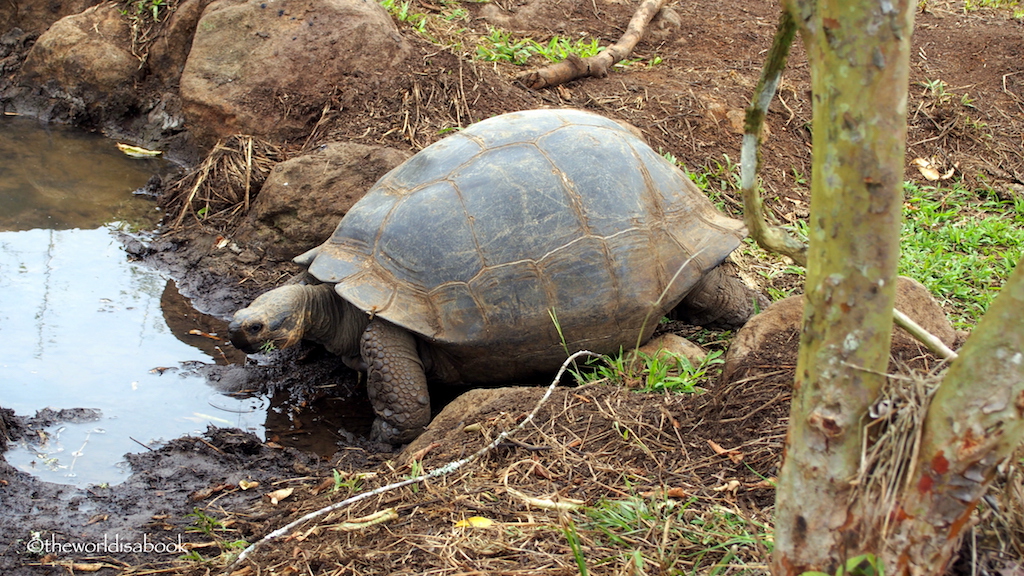 This short excursion was one of our favorite experiences from our Galapagos trip. It was so amazing to see so many giant tortoises in one place roaming freely in their natural habitat. If you're staying or docking in Santa Cruz island, we highly recommend making a trip to the highlands to see them. We loved that the farms allowed visitors to walk freely to observe the tortoises and take photos of and with them. A visit to see these giant tortoises completes any Galapagos Islands itinerary and wish list.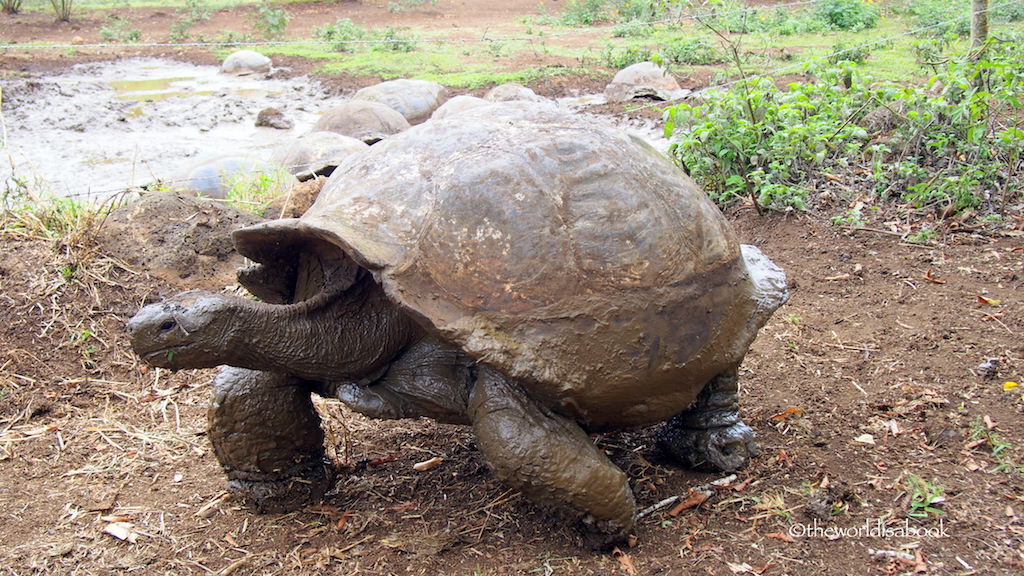 Tips for Visiting the Santa Cruz Highlands and the Galapagos Giant Tortoise
Negotiate on a roundtrip price with the taxis before heading to the farms. Try to ask them to include the lava tube stop with this price. Most of them charge between $30-$40. (Note: Ecuador uses the US dollars for its currency)
You can also reserve day tours that include visiting these turtle reserves from any of the tour operators in Puerto Ayora.
It is also an option to stop here from the airport on your way to the Puerto Ayora hotels if you are taking a taxi. We were a little paranoid to have all our luggage out in the open but it's another option to save time and money.
Rancho Primicias charges $3 entrance fee per person (no children discount). We've seen photos of people walking around the ranch in rain boots. We were here during dry season so we didn't have a mud issue.
Rancho Primicias also has a restaurant (cash only), souvenir shop and restrooms.
Allot for about one to two hours to roam around the property and observe the tortoises.
Wear comfortable, closed-toe shoes. You will be doing a bit of walking through dirt and maybe mud.
Go early. We got to the farm around 9:30 AM and there weren't that many people there. We saw a couple of vans going to the ranch on our way out.
*Have you seen these giant tortoises or is it on your travel wish list?
Pin it for later!