Canal Sightseeing Cruise in Helsinki
Helsinki, Finland has about 330 islands. There are many possibilities to sightsee around the capital city and its surrounding islands. We've made it a point to go on sightseeing boat tours when we first arrive at cities by the water as an orientation. It gives us an idea of the city's history, where to go and see places we otherwise wouldn't see. After a midnight flight from Reykjavik last summer, we were jet lagged but pushed through since our hotel wasn't ready. Come along with us on a canal sightseeing cruise through the city known as the "Daughter of the Baltics"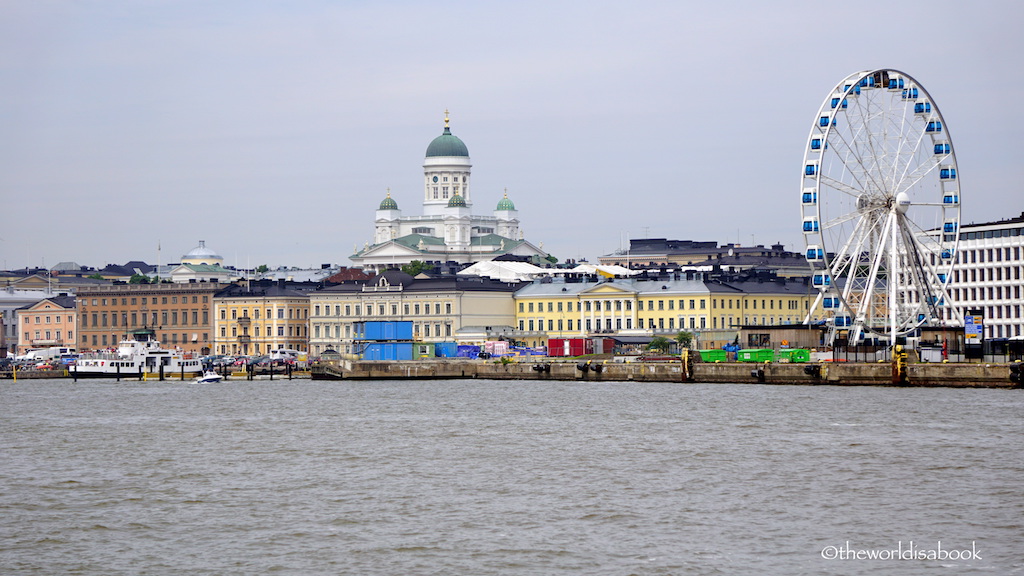 We started our boat tour from Market Square. This is a wonderful place to hang out and where many ferries and boat sightseeing tours leave from. There are also many food stalls to explore and try local cuisine. Our particular tour was called 'The Beautiful Canal Route' operated by Stromma. We chose this one because it went on the smaller canals that the bigger boats cannot pass through. It was a beautiful sunny day and perfect for cruising though still a bit cold.
There were plenty of seats inside the enclosed lower deck and on the top outside deck for the brave souls enduring the wind and cold weather. Blankets were provided but we decided to stay indoors. The back of the boat had a nice seating area. There was narration in several languages (English, Finnish, German, Russian) during the cruise as we passed highlights around the archipelago and was quite helpful.
We were first briefed with Helsinki's interesting history. The city was founded by Sweden's King Gustavus Vasa in 1550. It became more of a military strategic location than a major trading port in the Baltic Sea the king had hoped. Russia conquered Finland in the early 1800s and Helsinki became its capital in 1812. Finland finally claimed its independence in 1917.
We slowly made our way out of the harbor and passed by several touring boats, cargo and cruise ships. This has to be one of the best cruise ports to dock. Everything is easily accessible once you get off the ship and the harbor is quite scenic.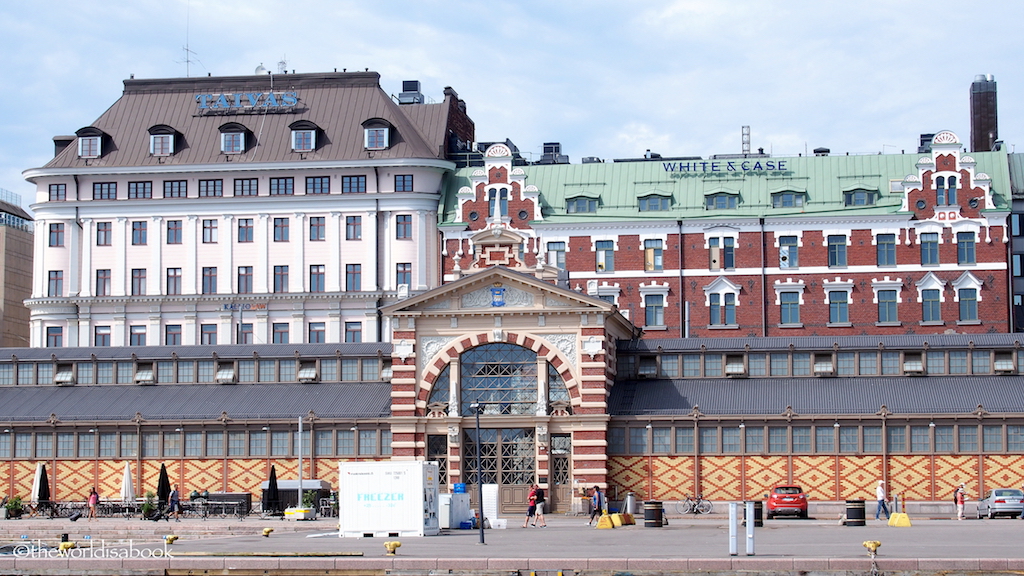 One of the most popular day trips from Helsinki is going to Suomenlina (Castle of Finland) Sea Fortress. We cruised past the island but it is only a 30-minute ferry ride from Market Square. I'll be writing more about this fascinating area later.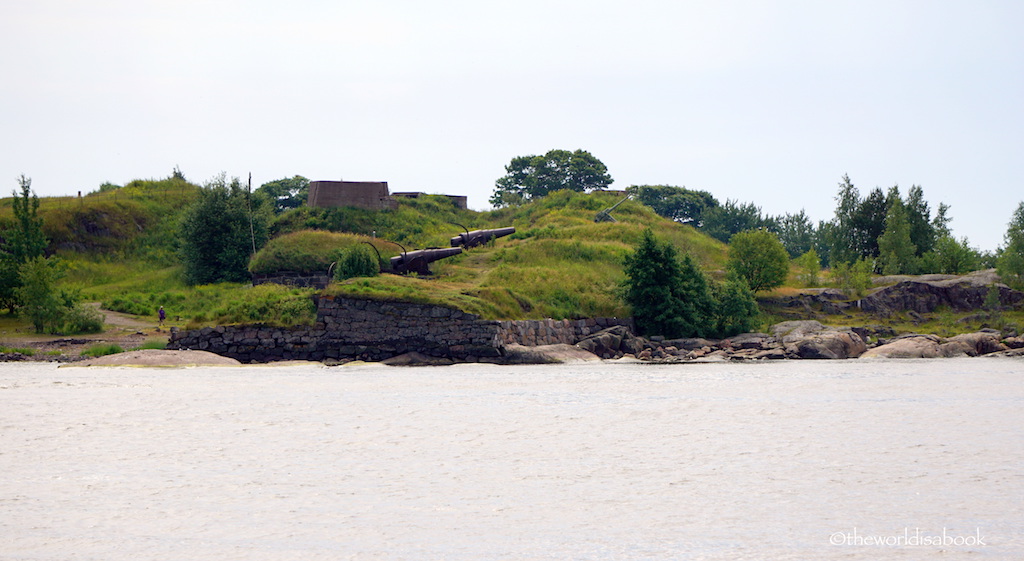 The fortress was built on a group of six islands. It was started in the 1740s and initially used as a fortified army base when Finland was still part of Sweden and was fighting against the Russian empire. It was used as a "garrison and harbour" when Finland gained its independence. Eventually, more buildings were renovated over the years to be used as workspaces and residences.
It is now a UNESCO World Heritage site with about 200 buildings and home to about 800 residents. There are some beautiful views of the Baltic Sea and the city from this area.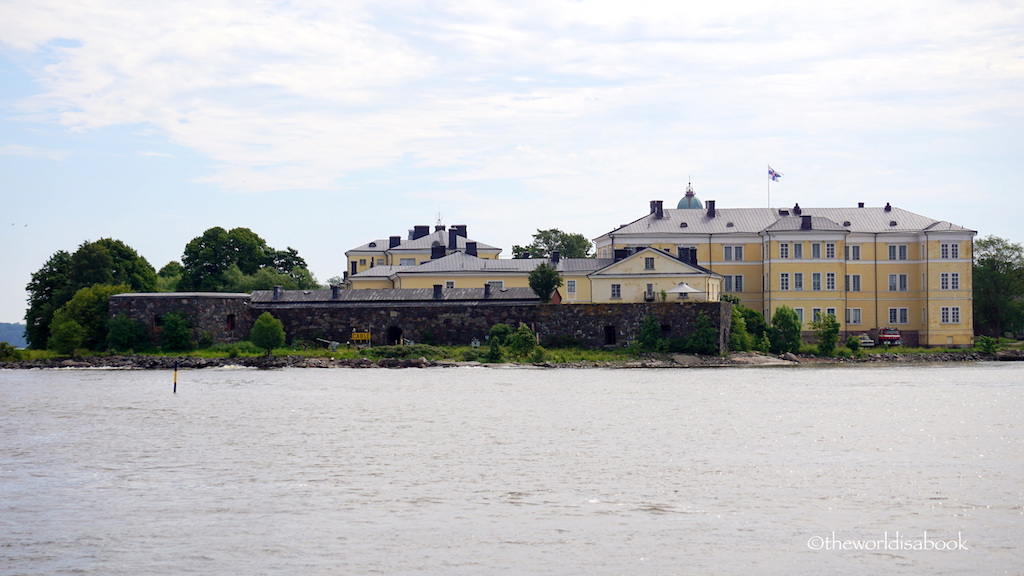 We also passed by the nearby Vallisaari and Kuninkaansaari Islands which are also accessible from Market Square via a water bus. Dubbed as nature destinations, it looked like the ideal place for a day trip of hiking and spotting wildlife and various birdlife. There are also fortifications on these islands. Several guided tours and activities are available on the islands.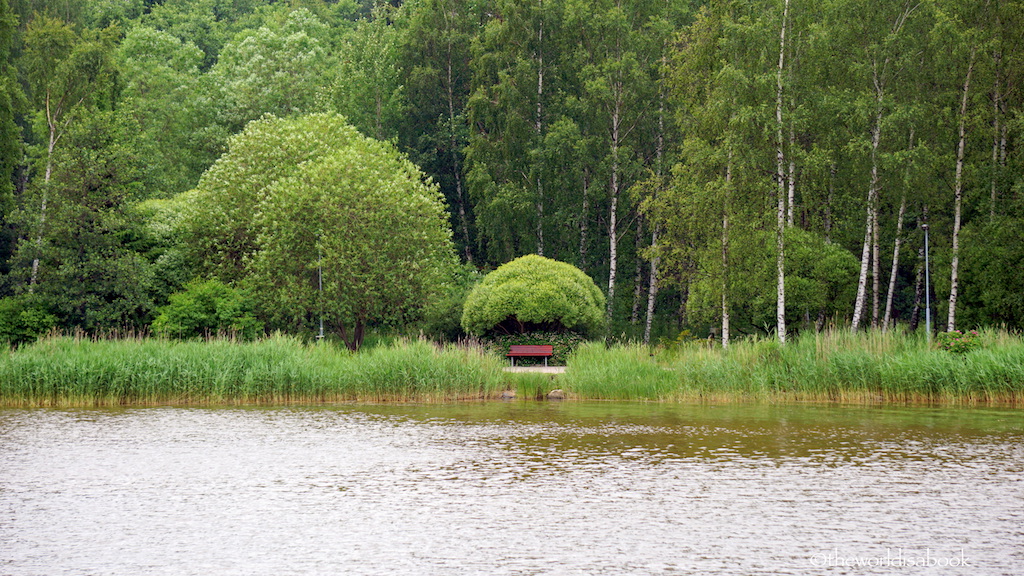 With the start of summer, we saw many locals relaxing on their cottage lawns along the various islands. It was too bad we were only in Helsinki for a short time or we would have loved to see if one of these beautiful cottages was affordable enough to rent for a night or two. Some of the houses along the water were extravagant with huge yards surrounding them.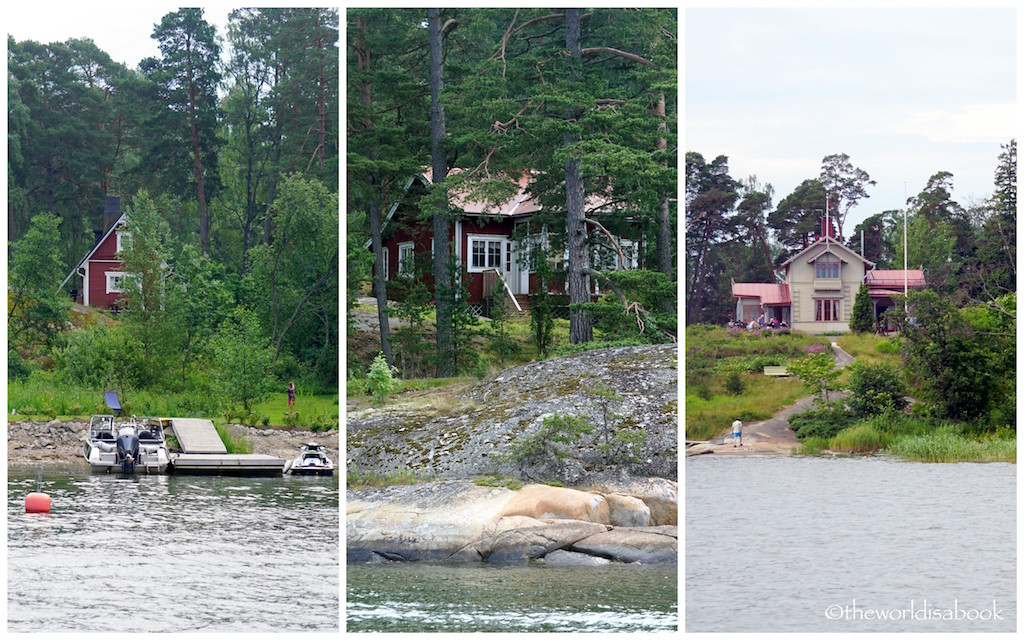 All that rain makes for plenty of green spaces around the islands.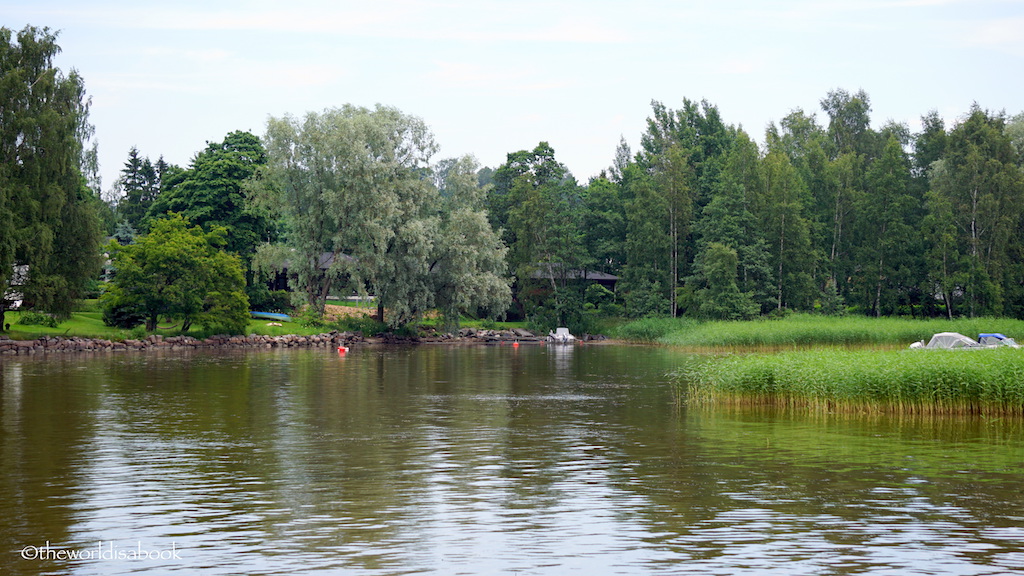 One of my favorite parts of this cruise was our crossing through Degero Canal. This canal was only 120 m long and was one of several we crossed. I loved how there was a green canopy that covered it. It was so narrow it looked like this boat was specifically made to make it through the canal. The canals gave us a better and up close view of some oft these charming homes.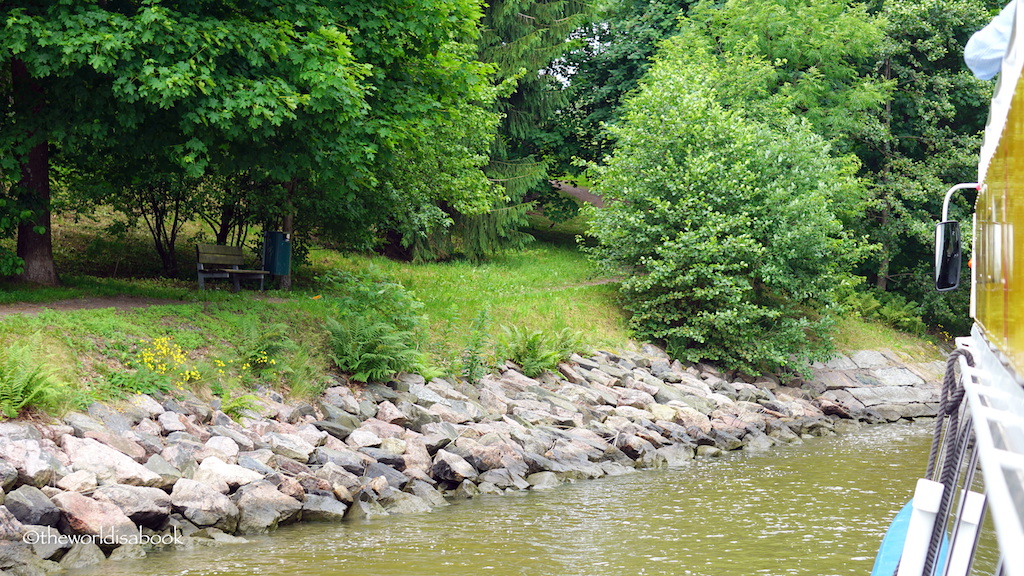 I admit to tuning out the narration halfway through the cruise. We were enjoying the scenery too much. So, I don't know the significance of some of these buildings or islands. Though, it was great to see a mix of modern suburban homes and people enjoying the water.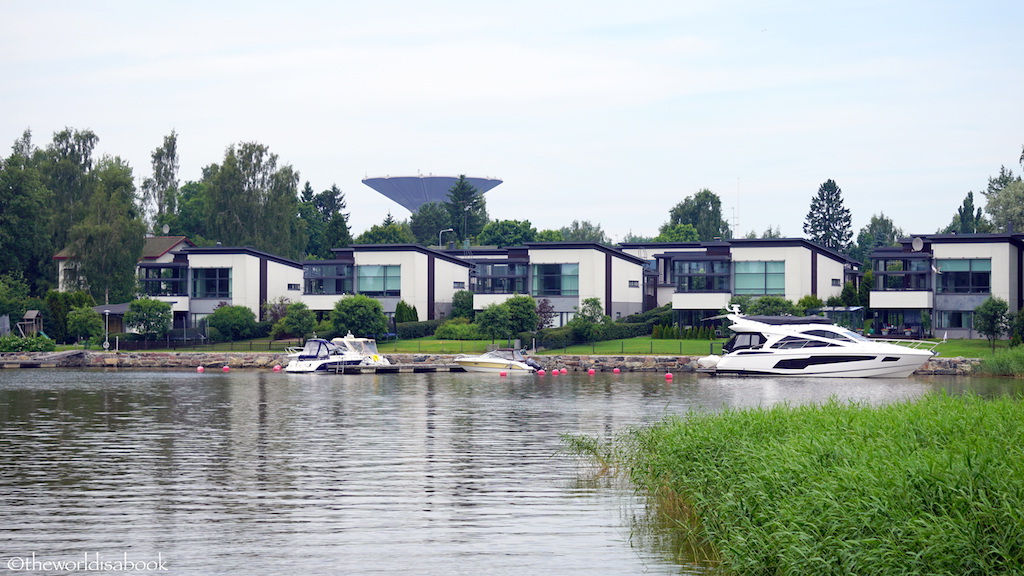 If my kids were younger or we had more time, we would have made a special trip to the Helsinki zoo. This was recommended to us by several locals including the hotel staff. This was established in 1889 and is one of the world's oldest zoos. It's on an island and they have about 150 animal species and open 364 days/year (yes, even during Finland's winter). This was the closest we got to the zoo and saw a couple of enclosures from afar.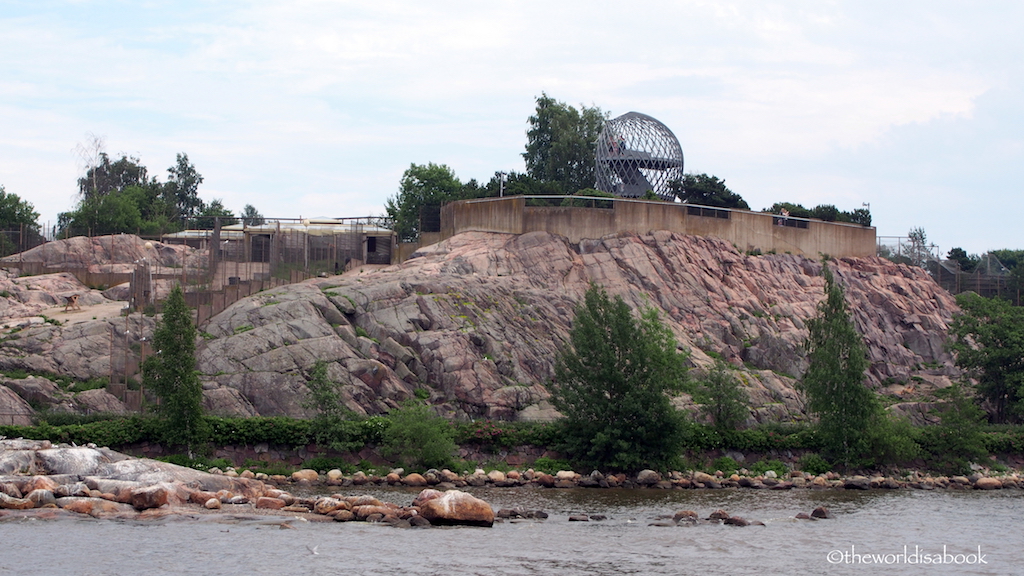 We cruised by this beach and it looked so small compared to what we're used to in Southern California. There was another area next to this too.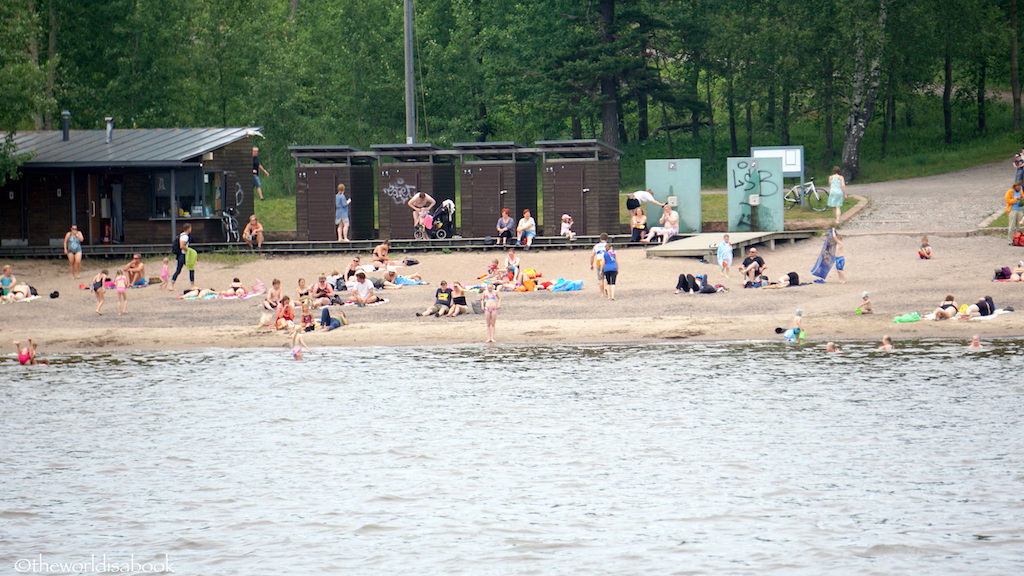 I love how the Finns took advantage of every area to sunbathe including a boulder. Though, it looked a bit uncomfortable.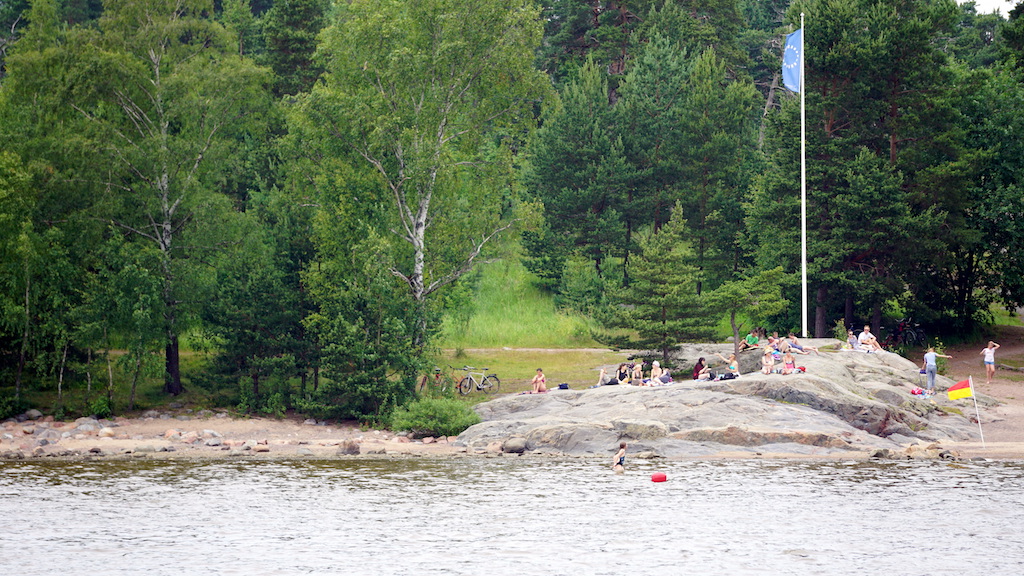 Finland has a busy port and unfortunately, ice becomes a problem during the winter when the Baltic Sea freezes. We saw some of the ice breakers fleet docked that helps keep this port functioning and navigating the surrounding waters manageable all year long. How neat would it be to see one of these ships in action.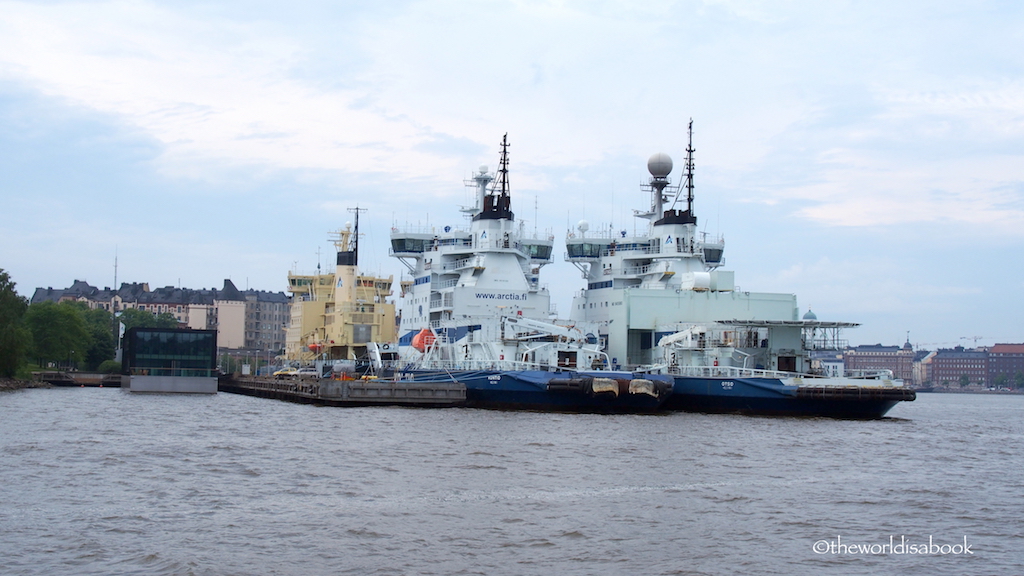 This Helsinki sightseeing tour gave us a different perspective of the city and a chance to see its outlying islands. It was a relaxing cruise to see such beautiful scenery and how some of the locals enjoy their summer in Finland. The boat was comfortable, spacious, clean and the staff were friendly. This sightseeing cruise was a great value and we recommend it as one of the first activities to do during a visit to Helsinki.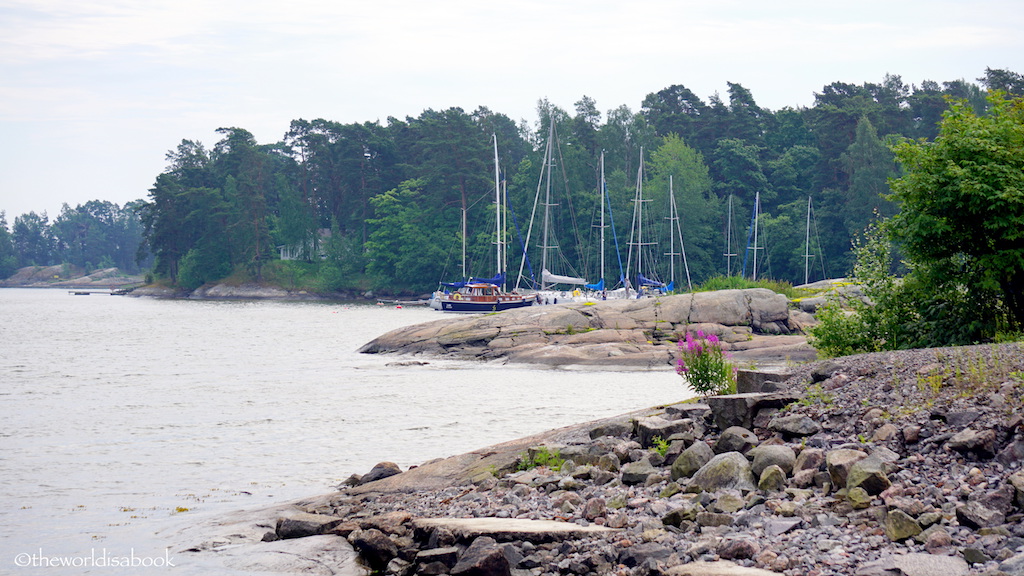 Helsinki Sightseeing Cruise Tips and Guides
Departure point and sales kiosk are located by the waterfront area on Market Square. Look for the yellow signs.
Prices (as of Jan 2017) Adults 24 Euros; Children (ages 6-15) 12 Euros; Best value: Family Ticket 60 Euros; If you purchased the Helsinki card, this tour is free.
This tour can be combined with the Hop On Hop Off (HOHO) Bus tour.
There is a cafeteria on board with wine, coffee, beer and Finnish pastries and surprisingly had reasonable prices.
The tour lasts 1.5 hour.
Check the Stromma website or kiosks for departure times. Summer departures were every hour after 10:30 AM until 18:30. Not available when?
Wear layers! Our tour started out sunny and manageable and it was cold and cloudy when we returned.
*Do you also like sightseeing cruises?
Pin it for later!