Guide & Tips for Visiting Hawaii Volcanoes National Park
There is no better place to see how land is formed and an active volcano in action than Volcanoes National Park in the island of Hawaii or commonly known as the Big Island. This park has two of the world's most active volcanoes – Kilauea and Mauna Loa. We re-visited the island a couple of weeks ago and of course, couldn't resist a visit to this unique national park. We were actually here during a cruise stop 10 years ago with our then toddlers. It was a whirlwind visit so I'm glad we got this second chance to explore this park again with kids who are somewhat interested in lava and volcanoes.
Kīlauea and Mauna Loa changed the landscape of Hawaii. These volcanoes created the Hawaiian island chain and continue to add land to this particular island. According to their site, this park "displays the results of at least 70 million years of volcanism, migration, and evolution". The National Park Service created this park to protect the natural areas around the volcanoes and protect the diverse flora and fauna found here as well as archaeological sites from ancient Hawaiians who used to live in the area.
Like many national parks, every visit should always begin at the Visitor Center since they're a wealth of information. The Kilauea center was one of the busiest centers we've ever seen. It also had to do with it being President's Day and fee free day at the park.
There is a movie in their very comfortable auditorium shown on the hour from 9AM to 4 PM. Several rangers are on hand to answer any questions and plan itineraries depending on how many hours you have. We had four hours and one of the helpful rangers gave us a map and suggested several attractions. Sign up for various informative hikes with Rangers here. Programs are posted daily after 9AM at the Kilauea Visitor Center and Jagger Museum.
Crater Rim Drive
There are two main roads through the park that gives visitors a wonderful overview of everything this park has to offer. Crater Rim Drive is right off the Kilauea Visitor Center. If your time is very short at the park, this is is the drive to take. Along the way, there are attractions like sulphur banks and steam vents. The park recommends between one to three hours here including stops and short walks to attractions.
This was one of the steam vents. You can probably tell from my kids' reactions, this had a pretty foul odor of burnt and bad egg smell.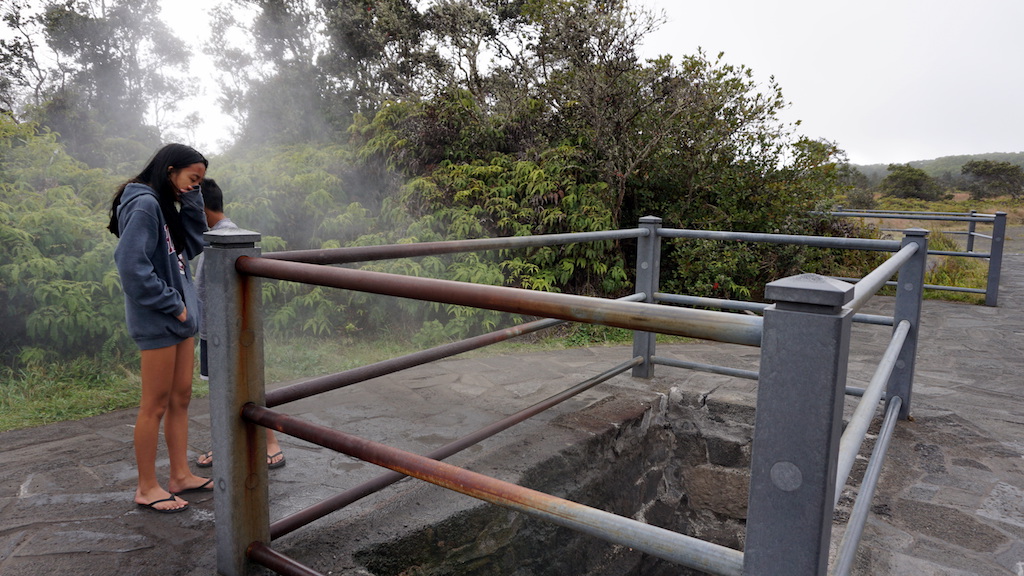 The Jagger Museum is at the end of this drive. There are restrooms and a gift shop here. But, most visitors flock to the overlook of the Kilauea caldera and main crater of Halema'uma'u. There was a telescope here too to see the caldera up close. It's an amazing opportunity to see what scientists have called a "natural laboratory" that helps them better understand volcanoes. The Kilauea caldera has dramatically changed over the last 600 years.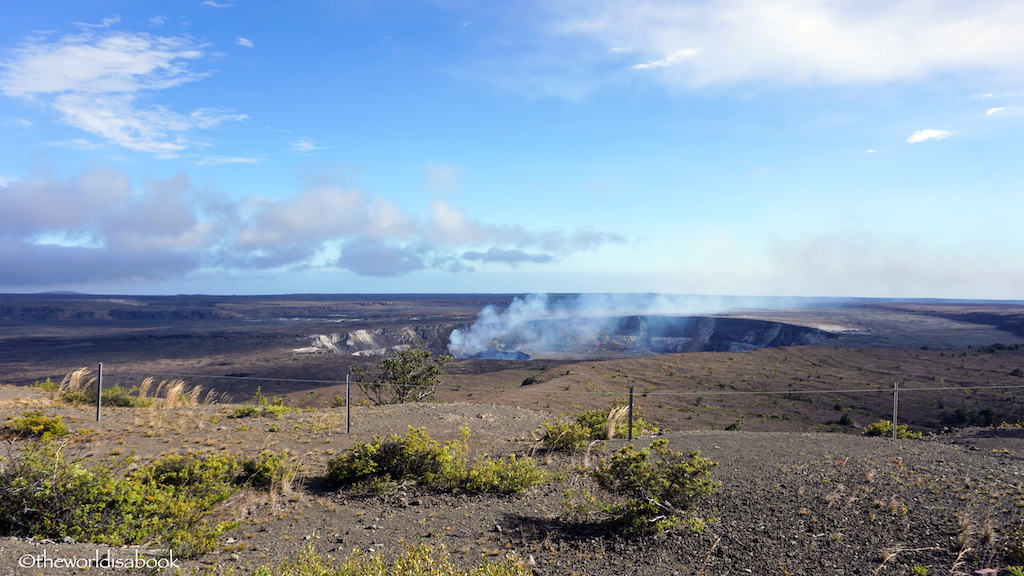 We could see smoke from the volcanic gas coming out of the caldera while at the observation deck. The caldera spans over two miles with a lava lake below filled with molten magma. Look into the telescope to see the bubbling lava. We were told that visitors can see the lava lake glowing during dawn or dusk. Unfortunately, we couldn't stay later to witness this glow.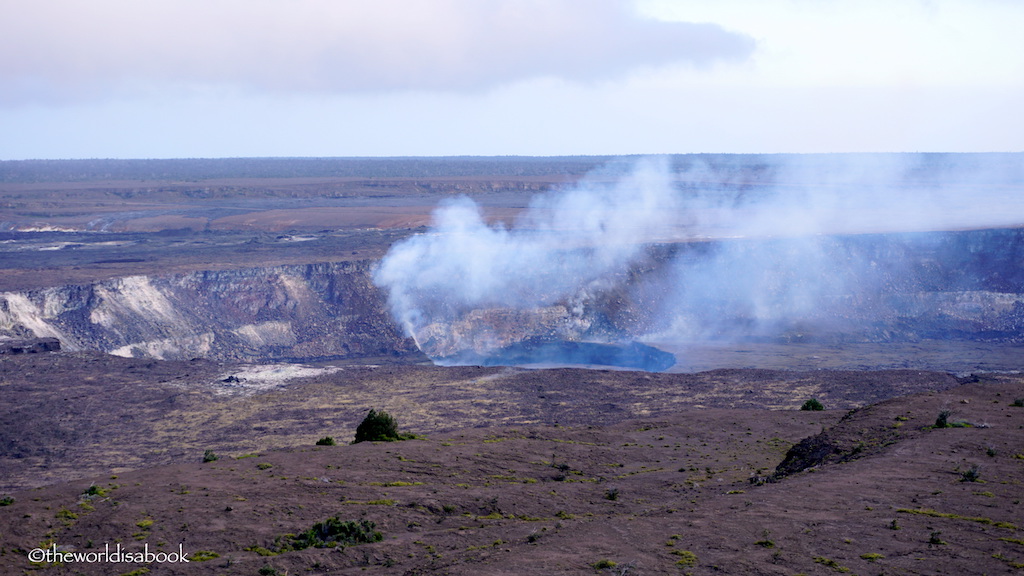 Another thing that makes this park unique is its connection with Hawaiian legends and culture. The Halema'uma'u Crater within the Kilauea's summit crater is said to be the home of Pele, who is the Hawaiian volcano goddess. Some visitors throw their greeting leis into the caldera to honor Pele.
On the other end of the Crater Rim Drive is Thurston Lava Tube or Nahuku. This is one of the park's most visited attractions. It formed about 600 years ago but was discovered in 1913. Walking through the lava tube is a major highlight. Lava tubes were created when lava from Kilauea flowed through here and air temperature cooled the surface to stone crust. However, the molten lava continued to to flow underneath the crust. This river of lava kept draining underneath the crust and formed this cave looking attraction. We visited another one recently in Santa Cruz Island in the Galapagos.
Getting to the lava tube requires a 1/3 mile hike through a tree fern forest but on a paved walkway. We spotted some birds here so take a slow stroll into the lava tube and look up once in awhile. Some of those tree ferns were tall and plant types we didn't really expect to see here.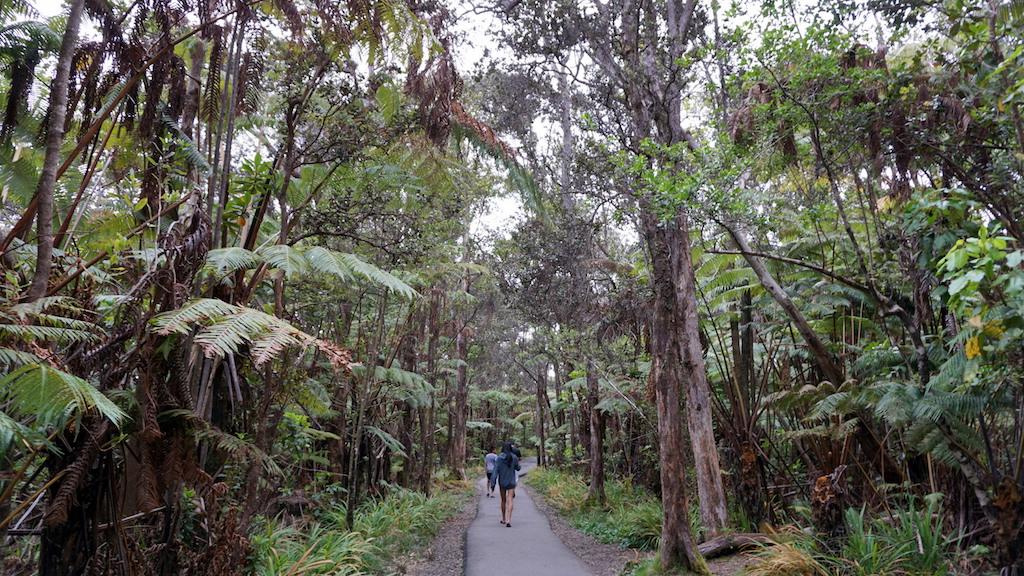 We were lucky enough to be inside the lava tube by ourselves. The pathway was well lit and it didn't take very long to get across. It was surprising to see moss growing on the ceiling. The walls had shelves called "bathtub rings" formed from the water. Despite its cold and dark environment, ancient Hawaiians used these lava tubes for shelter, getting water and storing food.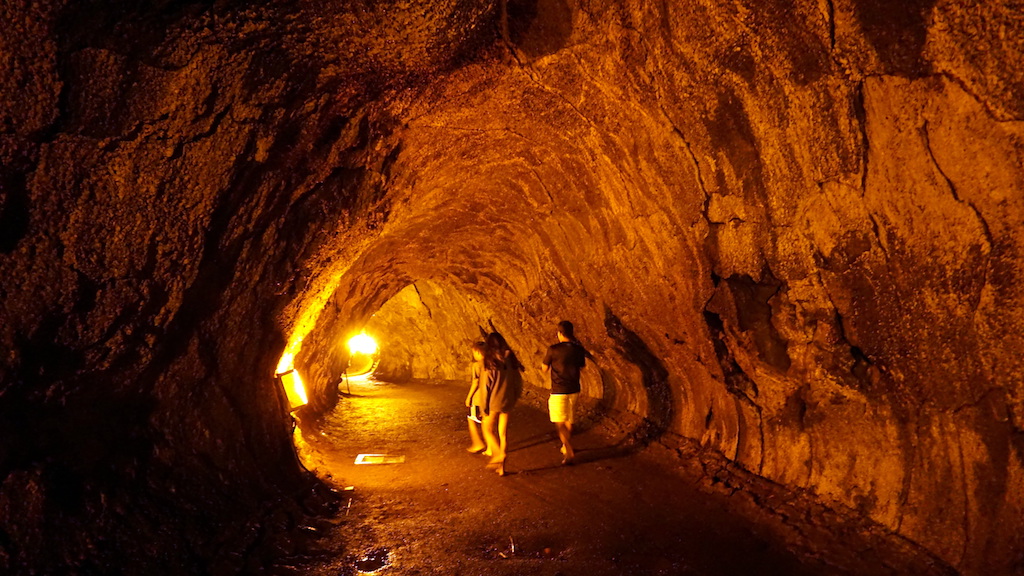 Chain of Craters Road
The other popular route is the 38-mile (61 km) round-trip drive along the Chain of Craters Road . This drive covers various landscapes from rainforest to dried lava as it descends 3,700 feet (1,128 m) to the coast. This was the drive we missed during our last visit so we were happy to finally follow this road. The drive started out through lush forests. It was a bit surprising to see all of the verdant flora here.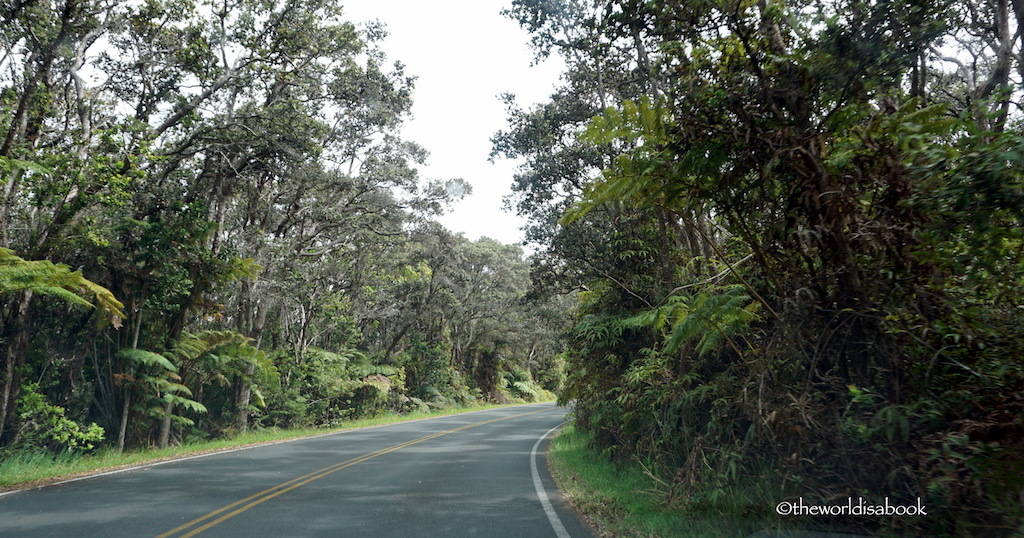 There is more to this park's volcanic landscape that almost resembles an otherworldly island. There is a thriving ecosystem of diverse and native plants and animals within the park. Some are endemic to the islands. We loved seeing the ohi'a trees with their red "puff ball" flowers during our drive
There are various signs around the park to slow down so as not to run over the endangered Hawaiian goose or Nene. The Nene can only be found on the Hawaiian Islands and is the official state bird. They are smaller than Canadian geese, who they shared ancestors, but also have less webbing on their feet so they can walk across lava rocks. We didn't see any at the park but did see a few of them just a few hours earlier at the Mauna Kea area.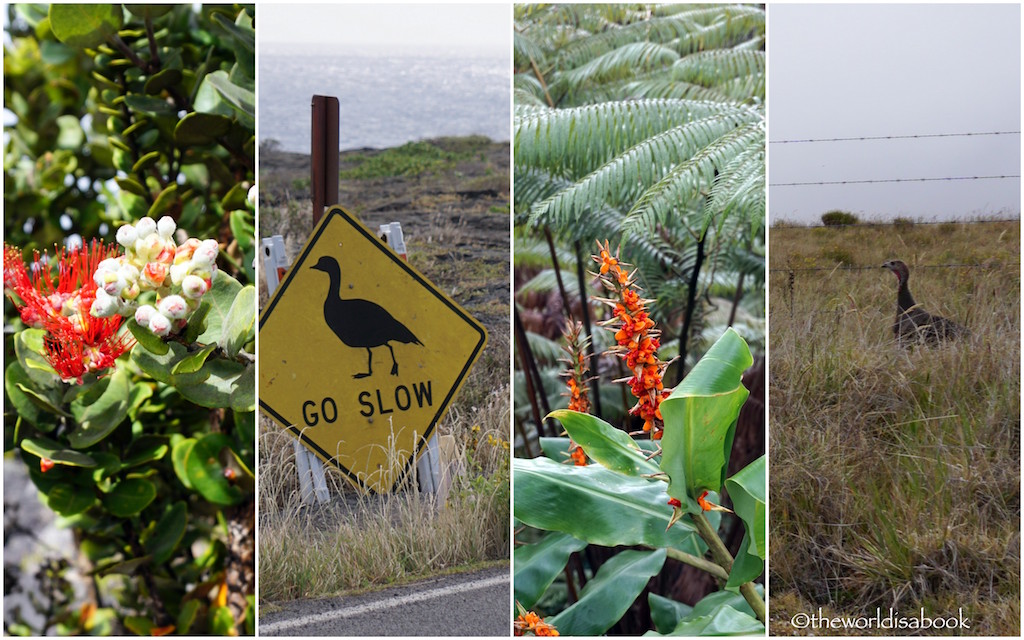 The drive eventually took us through several lava fields and pit craters. Some are clearly marked so visitors can stop and see them further.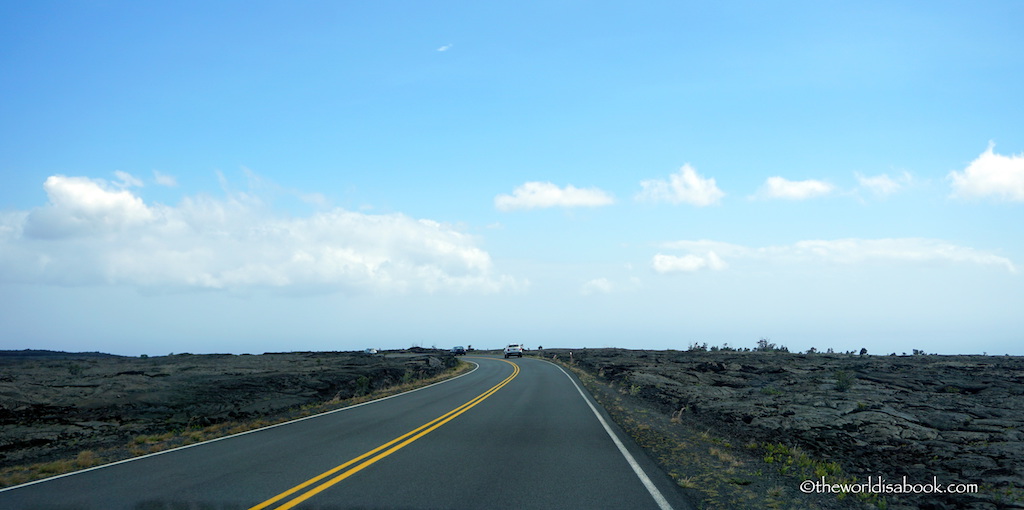 Kealakomo Overlook is one of the must stop places along this road. The lookout offers beautiful panoramic ocean views and the lava field that flowed through this area. Unfortunately, this lava flow also covered the ancient village of Kealakomo which meant "the entrance path". It also gave us an idea of how our distance to the end of the road.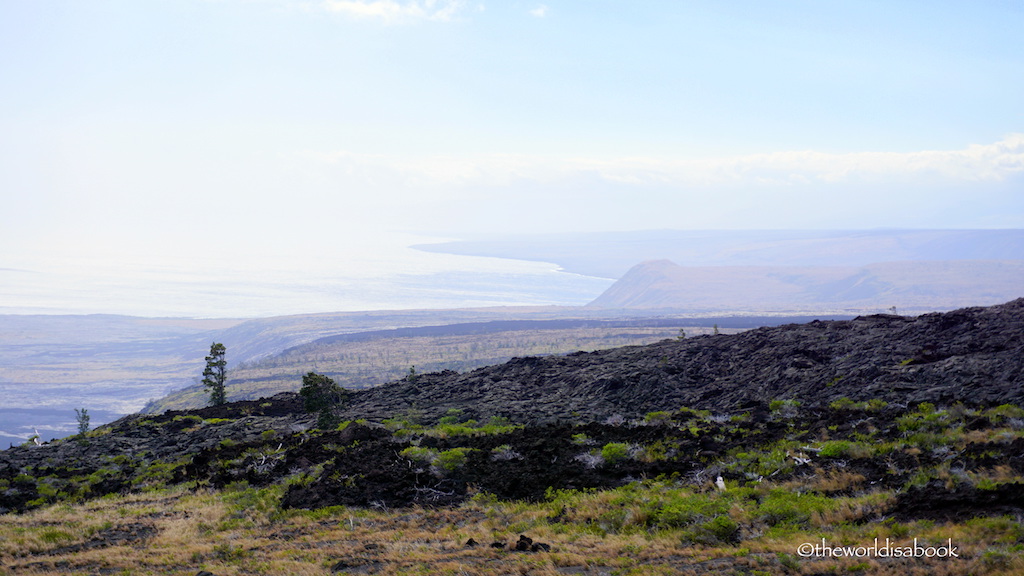 It was a winding drive down to the ocean. We stopped at the lava fields as we neared the ocean. It is an almost surreal landscape.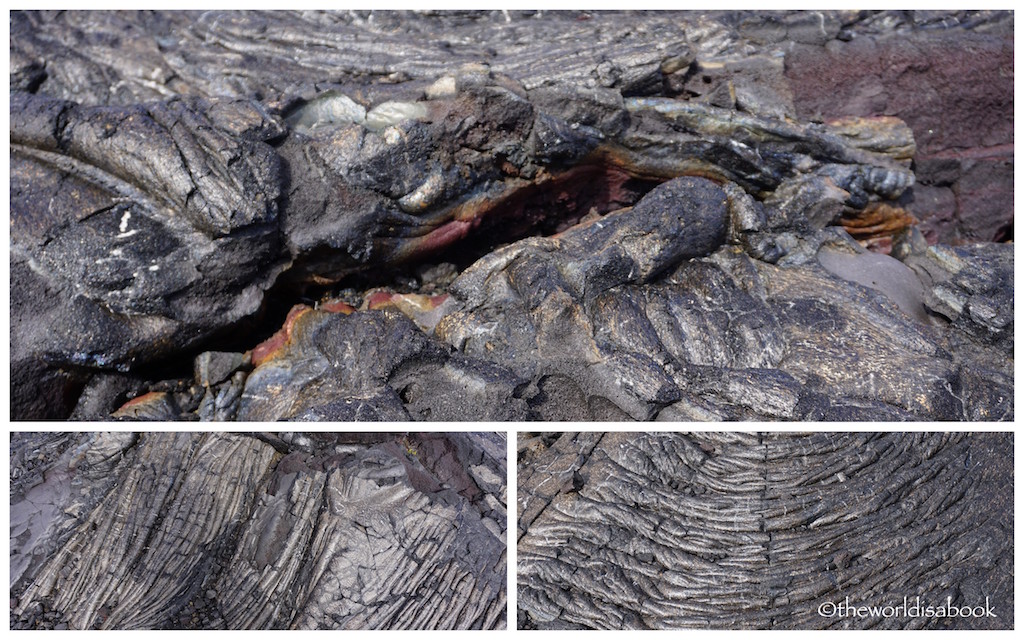 According to my kids, some areas looked like brownies that just came out of the oven. It really was a fascinating landscape.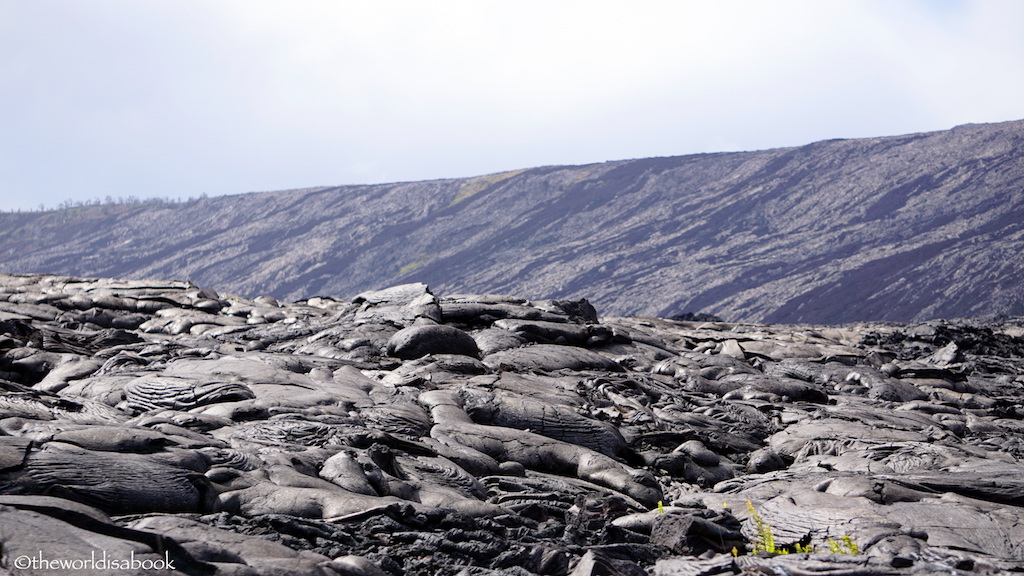 This is a beautiful drive to the coast. Several villages used to exist along this area with evidence of some agricultural sites and places like Pu'u Loa Petroglyphs where visitors can still see of them. We saw this green patch on the cliff where we came from showing that life can emerge after the lava flow.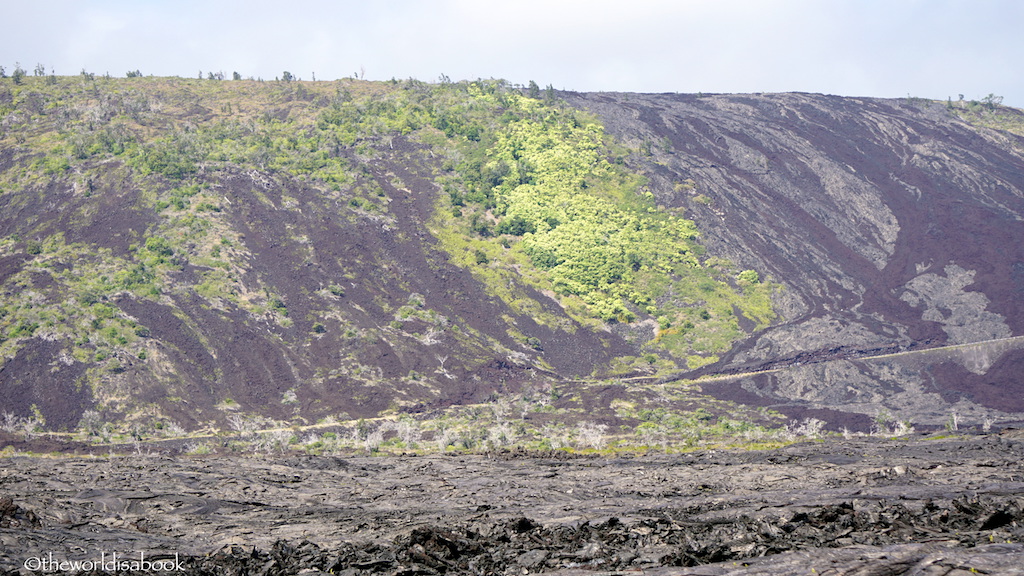 The Chain of Craters Road ends at the coastline for some spectacular rock formations at the bottom of the cliff. We could see the path of the old lava that flowed into the ocean. One never really associates this park with these dramatic rock formations but they were amazing.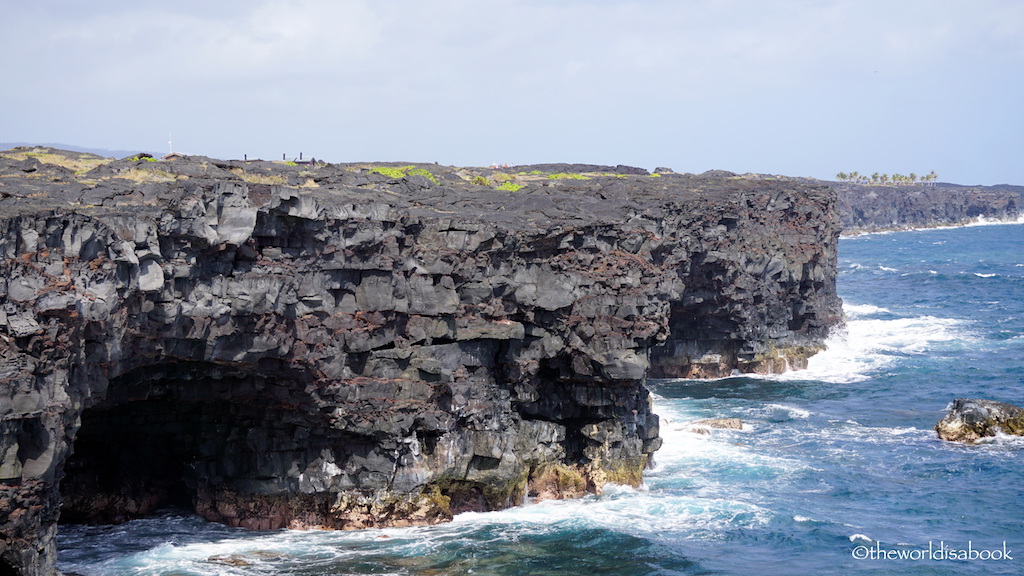 The main attraction here is the Holei Sea Arch. There's a small viewing platform for visitors to see the arch along with some spectacular ocean views. The arch was formed only within the last 100 years through wave erosion. The sea arch is about 90 ft (27.4 m) high and it was an unexpected gem in this land of volcanoes. Unfortunately, just as it was created by waves, that will also be the result of its downfall. So, if you're visiting this park, go see the arch before it collapses with the forces of nature.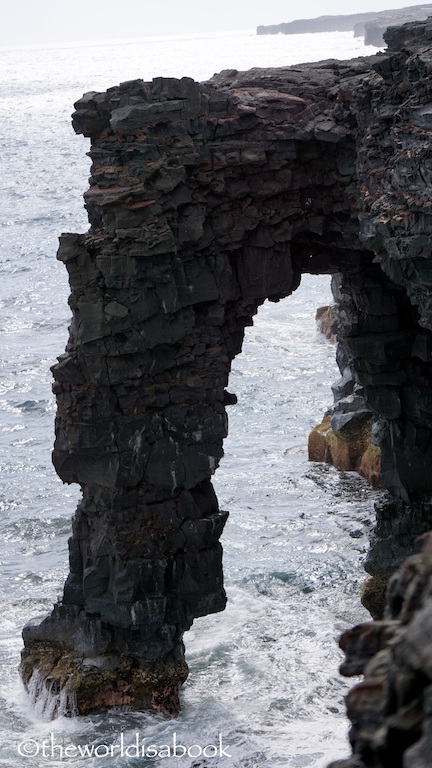 Here is a closer look at those interesting rocks on the arch. They almost looked like they were stacked individually.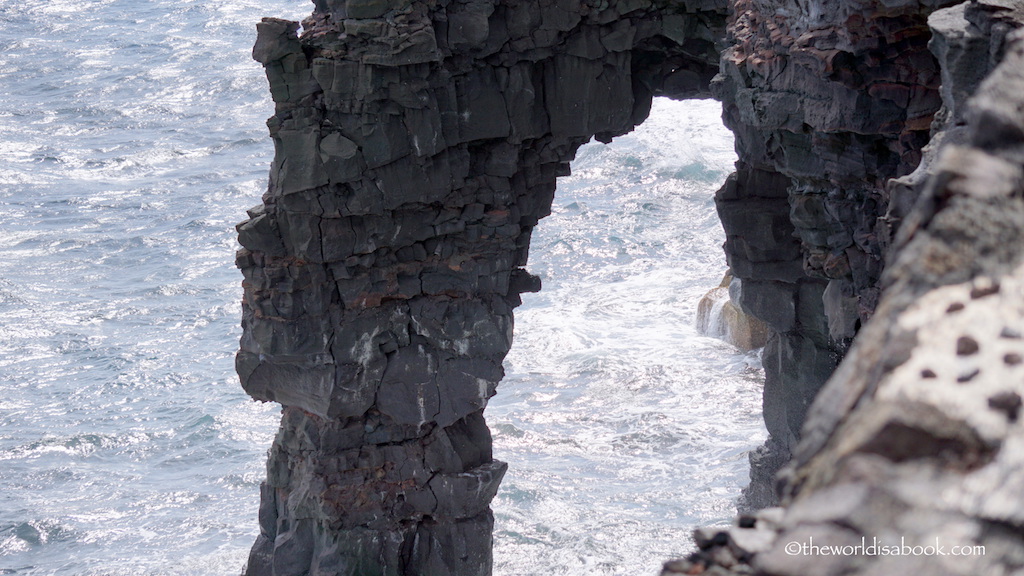 Part of the road is closed now since lava has flowed here since 1986 and covered most of the road. There is only an emergency area gravel road at this point. It's a great way to see how new land is being formed. Volcanoes National Park has grown by several hundred acres since lava has actively flown here in 1986.
Junior Rangers
The Junior Ranger program has been an invaluable educational tool for our family when visiting the national parks. Kids learn about the parks and the value of conservation through activities while earning badges. Unfortunately, my teenage daughter isn't as enthusiastic about doing the activities like she used to. These are ideal for kids ages 7-12. I admit that I liked doing them with my kids to learn more about the parks. So, while your kids are still younger, get the booklets from the visitor centers. This park required watching a movie or going on a Ranger hike plus completing at least two activities in the book. The Kilauea center closes earlier but you can turn it in to the Jagger Museum until 6 PM.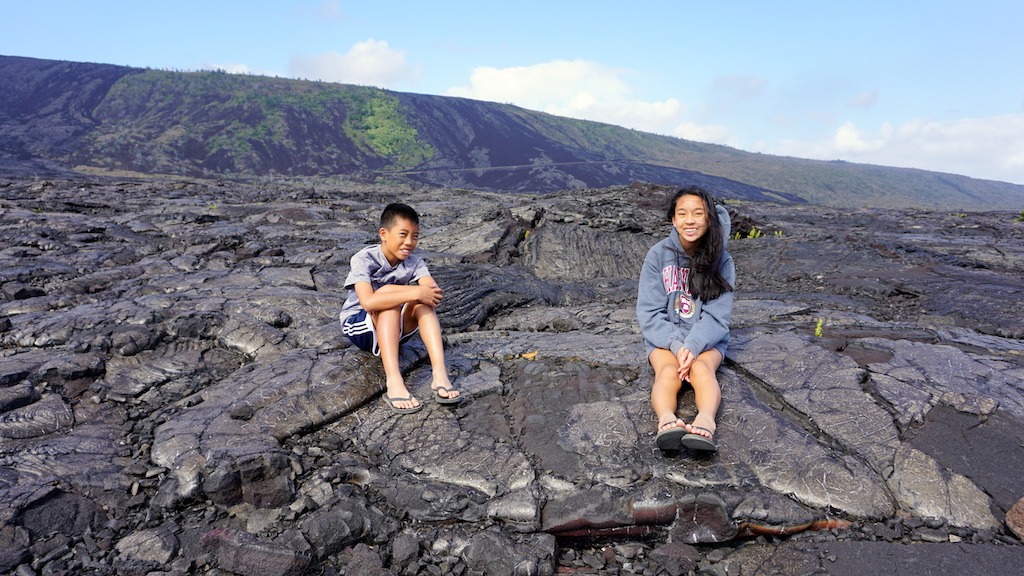 We were so glad we set a day from sightseeing and relaxing at the beach and gawking at sea turtles to revisit Volcanoes National Park. Though, a day wasn't enough. We definitely want to visit again to see the lava flow up close, see it glowing at night and spend more time hiking here. This is such an incredible and unique park that we highly recommend visiting no matter where you're staying on the Big Island or how long your stay is. There aren't many places to witness an active volcano and its activity. This park does a great job of showing the volcano's power but also offers a native ecosystem and ancient Hawaiian culture and history many visitors can appreciate.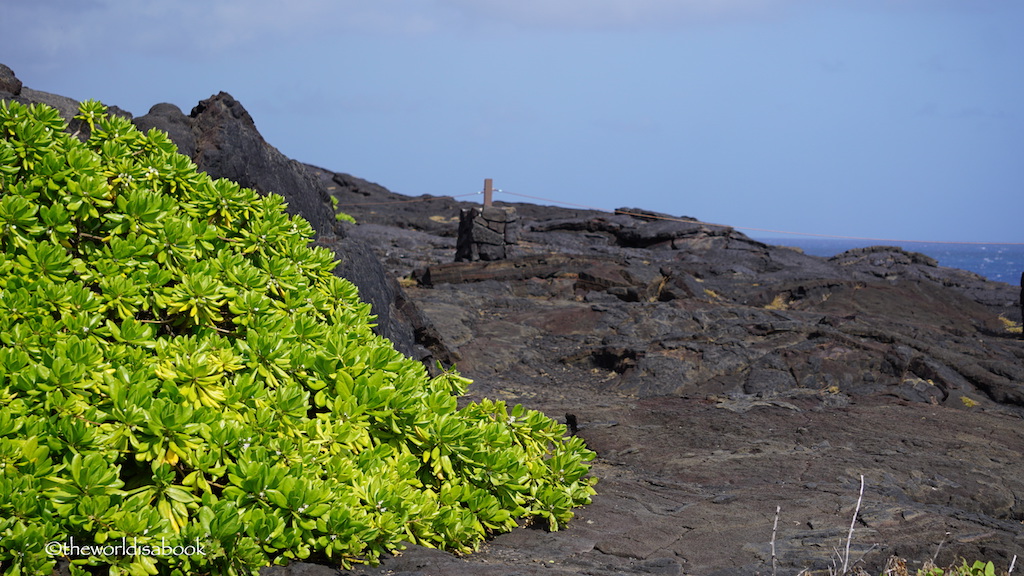 Tips for Visiting Hawaii Volcanoes National Park
Park admission is $20 per vehicle for seven days. You can save money by buying the America the Beautiful Pass for $80 good for all the US parks. There is also a Lifetime Pass for $10 for US citizens and permanent residents over 62 years old. The US National Park sets aside several days annually to enter the parks for free. Check the National Park Service site every year.
The park is open 24 hours a day. Rangers have told us staying into the night allows for seeing the glowing lava flow in some areas and some remarkable star gazing.
Spend some time at the two visitor centers. The Kīlauea Visitor Center is open 9 AM to 5 PM daily. The Jagger Museum is open 10 AM to 8 PM. They are the best two places to get the most updated information on lava flows, road conditions, trails and ranger-led activities. They have wonderful gift shops too for souvenirs and offer clean restrooms. You can also fill up bottles with water here.
The park is about 2.5 hours from the Kona area. It makes for a very long road trip with a lot of driving that crosses the whole island. Be prepared for a long day if you're staying in Kona.
This park is located about 40 minutes from Hilo. We recommend staying in Hilo or use the lodging inside the park like Volcano House across from the Kīlauea Visitor Center. This has 33 rooms plus snack bar, dining room and gift shop. We loved the view of Halema'uma'u crater from its lounge area. There are also cabins and campsites in the nearby Nāmakanipaio Campground.
If you're a an active or retired US Armed Forces, Reserve, National Guard or current and retired Department of Defense civilian employees, Kilauea Military Camp can be reserved. This was a great location within the park along the Crater Rim Road and has some cottages and apartments.
Apply plenty of sunscreen and insect repellant especially when doing some of the hikes.
Wear layers. There was a drastic change in temperature from the top where it was quite cool to hot by the ocean. We also experienced a slight drizzle and very windy areas.
Wear sturdy walking shoes when walking on the lava fields. Some of the rocks were sharp.
Gas up and stock up on food, snacks and water when driving the Chain of Craters Road. There are no services along this road. There are vault-type toilets at the Mauna Ulu parking area and at the end of the drive. There is also snack availability at the "end of the road" building.
Seeing the lava flow. I hope you have more time than we did to explore some options to see the lave flowing into the ocean. We really hope to do this next time. There are boat tours that leave from Hilo as well as various helicopter tours that leave from around the island.
The park ranger also told us that visitors can hike four miles one way on the gravel road plus an additional mile on lava field from the end of Chain of Craters Road. There is also another option to bike to an area. Visitors can go to Highway 130 towards the Hilo direction. We were told to make a right on the fifth stop light. The end of Highway 130 south has several bike rental companies. Bikes ranged from $10-$20. Visitors can then ride 4.5 miles (7 km) one way to lava flow on the ground and into the ocean. Bring binoculars for this experience.
Have you visited Volcanoes National Park?
Pin it for later!