Viewing Desert Blooms & Metal Art at Borrego Springs, California
Spring is here and Southern California's desert is brimming with colorful wildflowers. Mother Nature unleashed many rainy days upon us these last few months. We're a region that thrives on our sunny days so it was a bit of an adjustment. But, all the rain helped with our drought situation and also produced what is known as a "super bloom" of wildflowers everywhere but particularly in the desert region.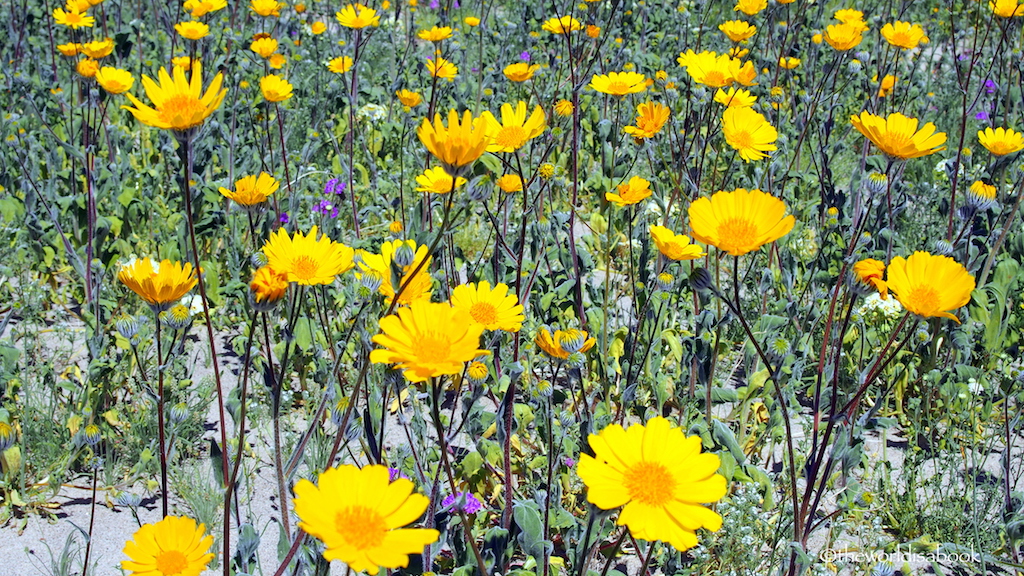 The Anza-Borrego Desert State Park is the state's largest park and is adjacent to the town of Borrego Springs. We drove almost two hours east into the desert from our home in north San Diego this past weekend for some wildflower viewing. This desert area has not seen a "super bloom" like this since 2005 due to the seven inches of rainfall it received over the past few months. The cooler weather also allowed moisture to stay in the ground longer. This area has its typical Spring blooms ever year but this month is an explosion of color on its arid landscape.
Viewing Wildflowers
We saw patches of color as we were coming down the mountain. There was so much publicity to this super bloom that there were so many people there. It took us almost 45 minutes to go five miles down the mountain. But, it gave us a closer look at some of the vegetation sprouting along the side of the road. I loved seeing all the yellow flowers.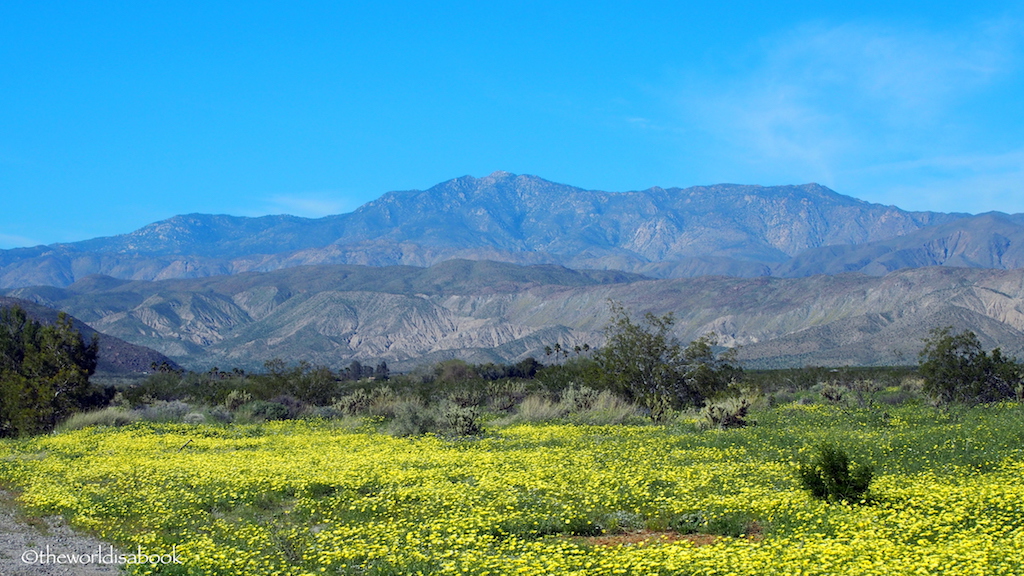 Our first stop was at the Anza-Borrego Desert Natural History Association center. I had been following their updates online throughout the week. They had a quaint and charming gift shop. The ladies in here were so helpful and they were handing out free maps that highlighted where to go and what flowers to see. It was invaluable information. They were also selling maps for $1 of the type of wildflowers to see around the area.
It is important to come here early to fight traffic and also to see some of the flowers open. One of the ladies told us that some flowers close up around 2 PM due to the heat. It was around 90° F (32°C) during our visit.
Park officials are estimating that the super bloom will last until the end of March. But, other wildflowers will probably stick around throughout Spring. Our first flower field stop was at Lazy S Drive. This was the field of desert dandelions. We were surprised to find this area all to ourselves.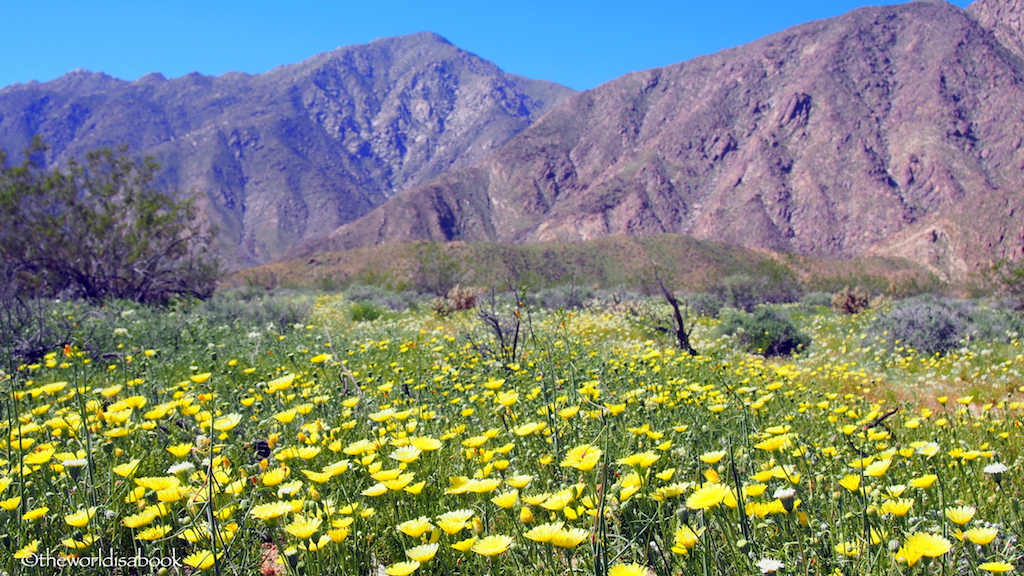 Most of the flower fields were along Henderson Canyon Road. It's hard to miss the colorful hillside. Everyone just parked on the side of the road and picked a sandy path through the wildflowers.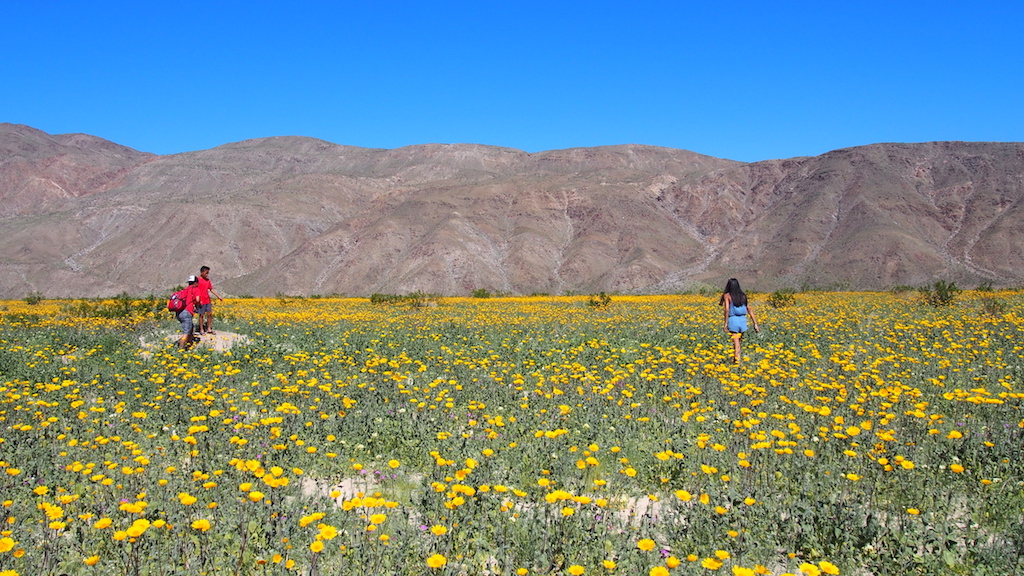 They had labeled these flowers as desert sunflowers. It was just yellow everywhere and made for some really great photos with the mountains in the background.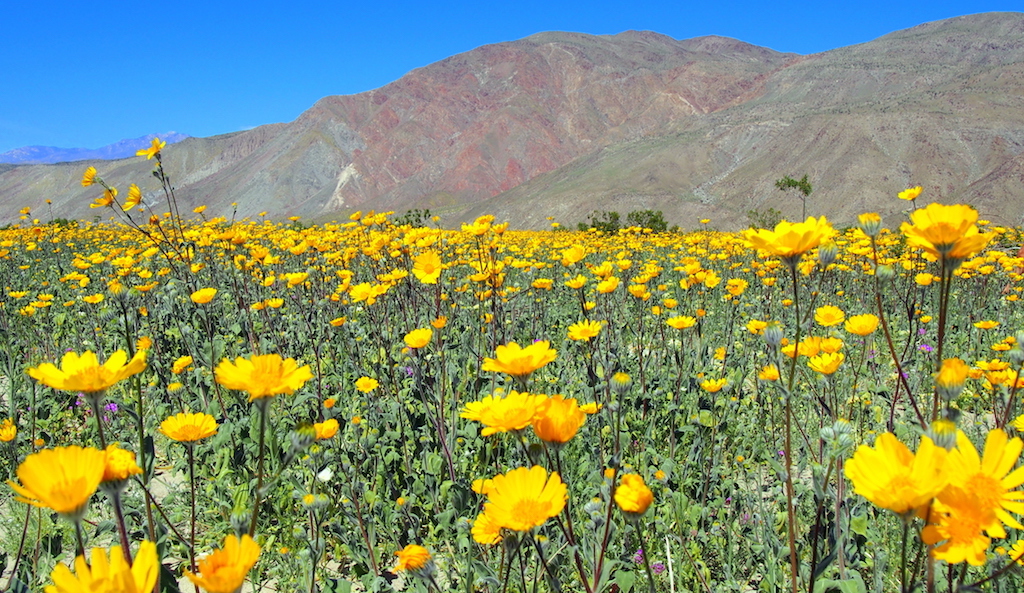 It's not all yellow flowers here. There were also some white and purple verbenas.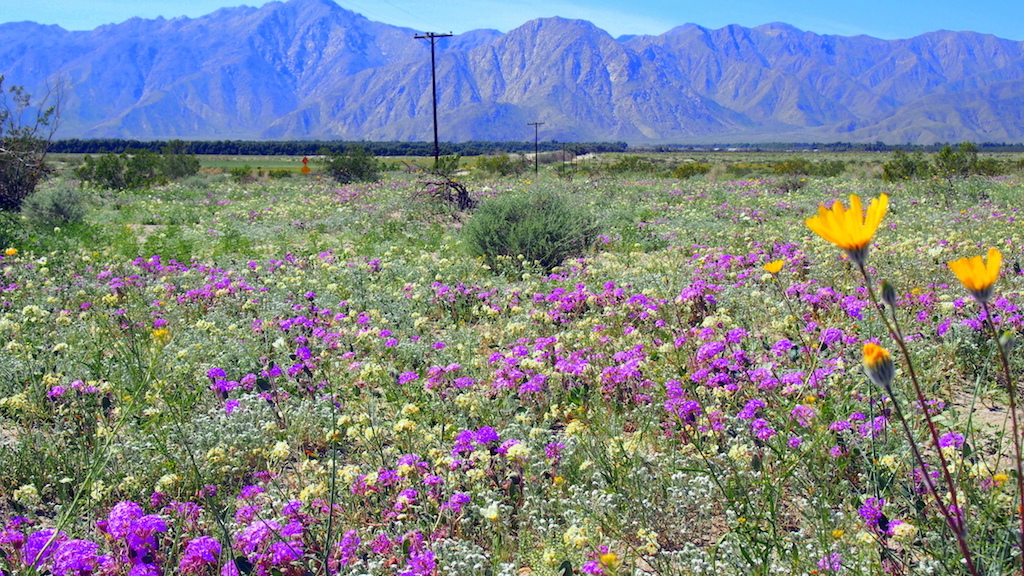 Of course, it wouldn't be the desert with some cacti varieties. The cacti looked better with some wildflower backdrops though.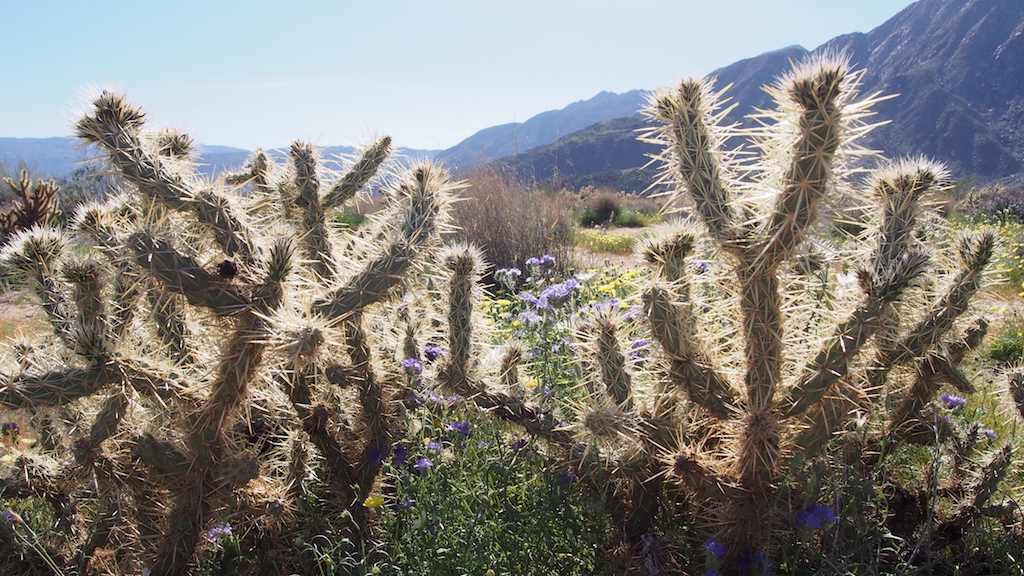 Looking for Metal Art
Another major attraction beyond the wildflowers in the area is "Sky Art". I have seen these on a couple of travel blogs and have always wanted to visit knowing my kids would love them. There are over 130 full-sized metal sculptures by local artist, Ricardo Breceda, around the three mile area.
Most of the metal sculptures are located on Borrego Springs Road on private land called Galleta Meadows. The sculptures were the idea of Dennis Avery, a millionaire and owner of Galleta Meadows Estates. He wanted to create an outdoor gallery on his property and Breceda made that vision a reality. Maps can be downloaded online or are available at the Anza-Borrego Foundation and State Park Store on Palm Canyon Drive (where many restaurants and stores are located).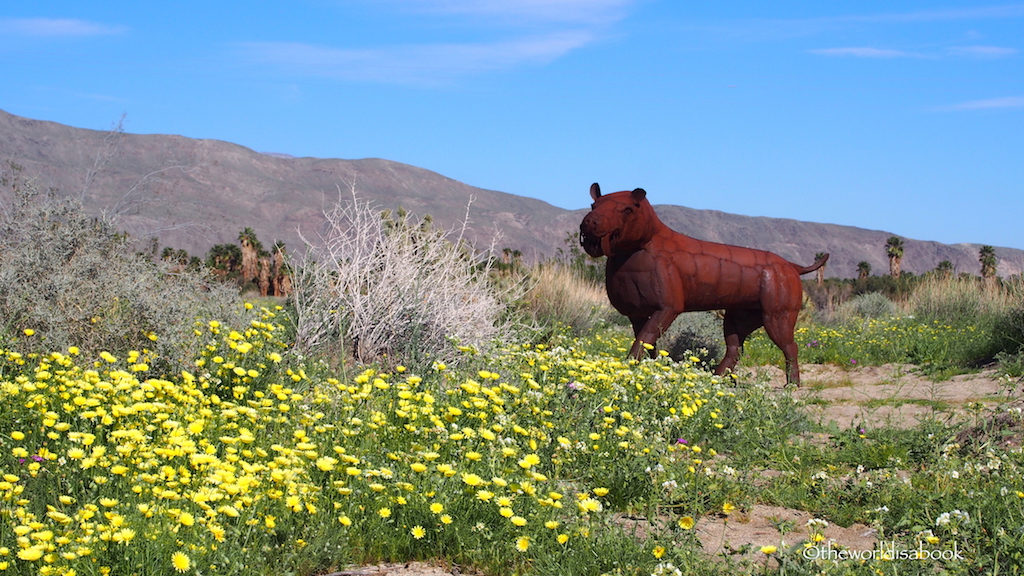 Some of the sculptures were inspired by pre-historic animals that were once living in this desert area many years ago. Fossils of these creatures have been found here. This was an impressive and free outdoor gallery where some animals are peeking out from the plant life and some were in an open area.
Most have small roads where cars can park or do a drive by. Though, most visitors go out and pose with the sculptures or inspect it more closely. The craftsmanship and artistry were amazing.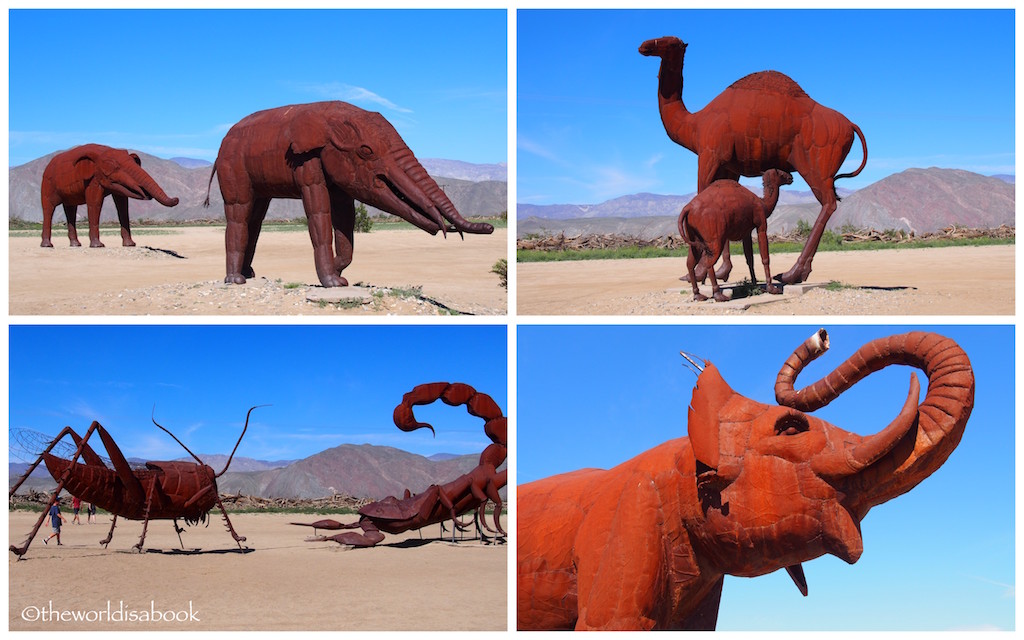 The "star" of the sculpture collection has to be the very large 350 ft serpent/dragon who towers over everyone about 15 ft from the ground. It is so long that part of its tail extends to the other side of the road. Can you see a visitor at the end of his tail here for some perspective of its size? This was even more incredible to see in person.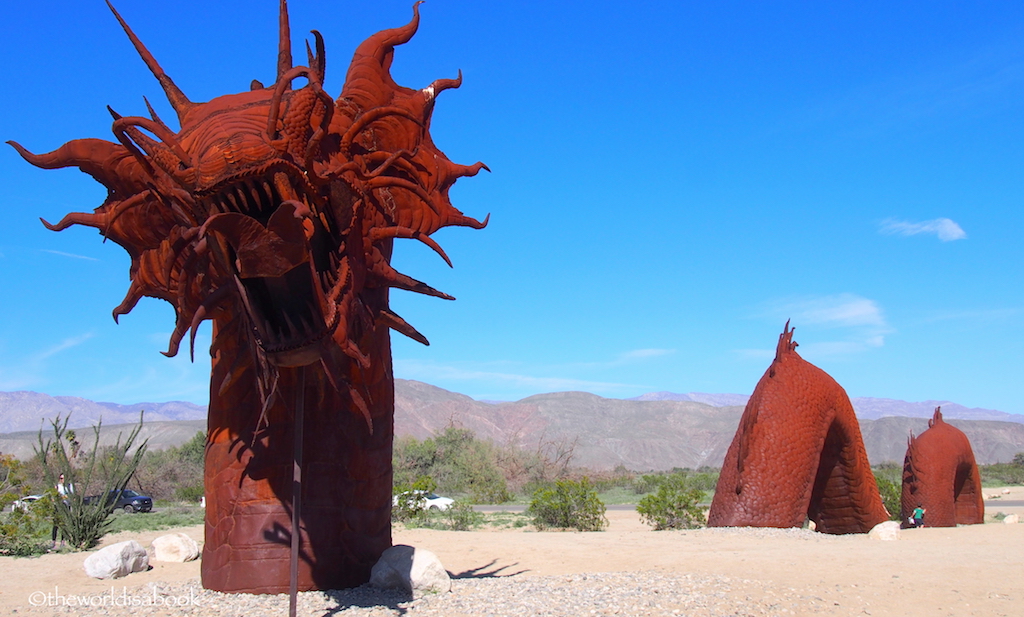 One of my favorites has to be this giant sloth. Look at all the details of its skin/fur. The metal sculptures were a great way to keep kids busy and play I Spy or scavenger hunt. It'll also minimize complaints about the heat since they're preoccupied with all the "cool" artwork here.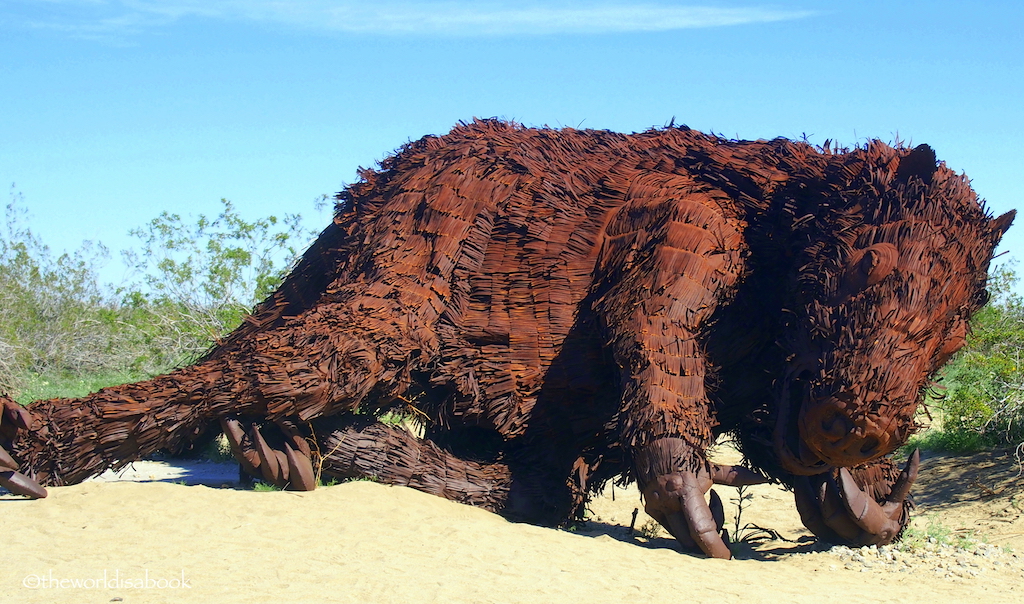 In addition to the prehistoric animals, there were also some sculptures of people. We found an Native American head with gold metal that really stood out. There were also groups of people picking grapes and of a Spanish Franciscan priest, Padre Pedro Font who played a role in the expedition of the area. His rosary beads were made of rocks instead of metal.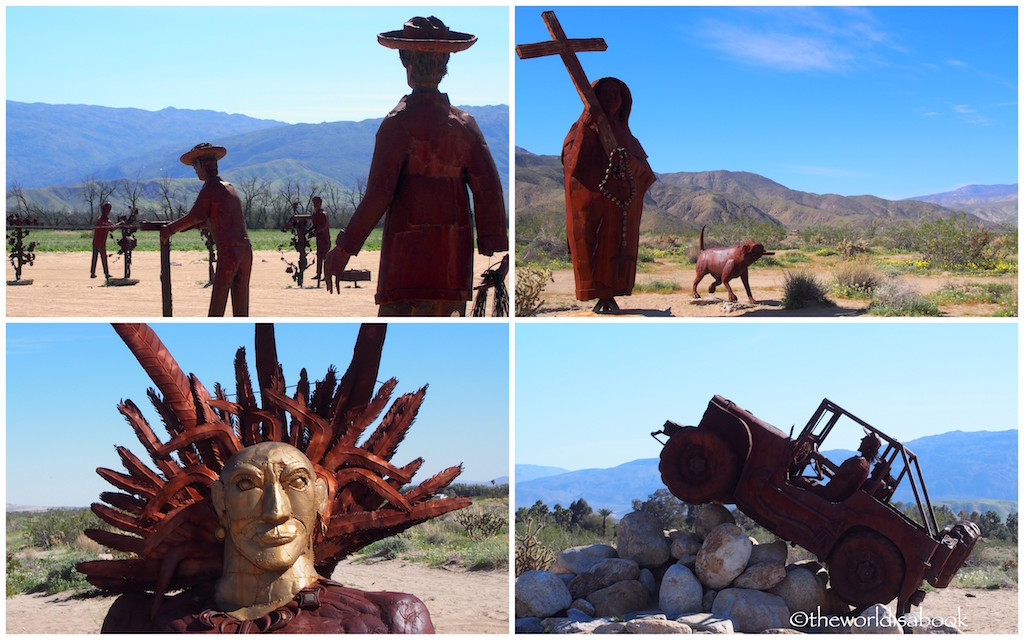 Other Borrego Springs Activities
There actually is more to this area beyond the desert wildflowers and the metal art. Here are a couple of things to do in Borrego Springs.
Hiking – The Anza Borrego Desert State Park offers plenty of trails. We didn't do any hiking during our trip but we saw plenty of people venturing off to the canyons for even more wildflower viewing. The most popular and family-friendly hike was the three-mile roundtrip Borrego Palm Canyon trail.
Stargazing – Borrego Springs is California's only International Dark Sky Community whose mission is to "protect the night skies for present and future generations". Its unique location surrounded by mountains and a vast desert park make it ideal for one of the best stargazing spots. Night Sky Tours are available.
Despite the traffic and heat, we were so glad we finally made it to see a super bloom. We missed the Death Valley National Park one last year. Anza-Borrego State Park and Borrego Springs aren't very well known outside of Southern California. But, they are a couple of the state's hidden gems. Vibrant wildflower fields really usher in Spring and standing in the midst of all that color was such a fantastic experience.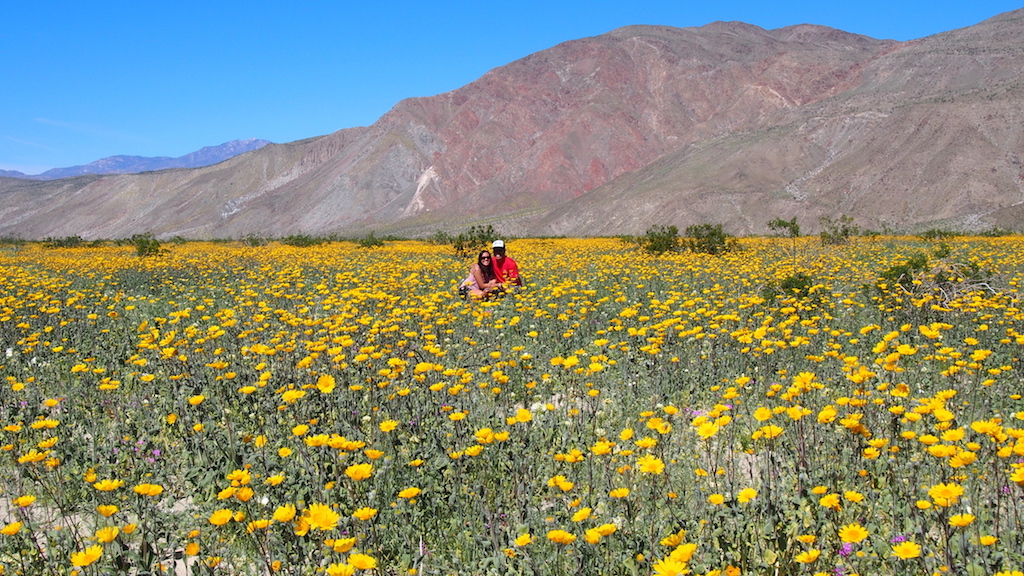 Tips for Visiting Borrego Springs
Check the wildflower updates page from the ABDNHA site. 

 Flower maps (updated daily) are available in ABDNHA's Nature Center on 652 Palm Canyon Drive.  

Go as early as possible to see some flowers still open and avoid some traffic. If you can, weekdays will always be better than the weekends in terms of crowds and traffic.
Take your allergy pills beforehand if you're sensitive to Spring blooms.
Bring plenty of snacks and water. There are some restaurants in town. We liked the deli inside the Center Market. They also had some hot foods like chicken and ribs for take away.
Gas up and fill your tank before leaving your home. We only saw one gas station in town. Another reasonable gas station is by Pala Casino on Route 76 if that's on your way.
If you're traveling here with kids ages 6 to 12, download the Explorer's Guide 

before you leave home

. This activity guide allows kids to score points and once they've scored 100 they can exchange it for a Junior Naturalist arm patch.
You can find a map of the metal sculptures on this site.
Make reservations early if staying at hotels/motels. Most were sold out for the super bloom. But, there are also camping places at Anza-Borrego State Park
Have you visited Borrego Springs or heard of the "super bloom"?
Pin it for later!