Zodiac Boat Tour on Jokulsarlon Glacier Lagoon Iceland
Long before Iceland became a top destination on most people's travel wish list and incredible pictures began circulating, many of us probably pictured it as a land of glaciers and floating icebergs. Jökulsárlón Glacier Lagoon epitomizes that postcard image. It almost looks unreal but so incredibly beautiful.
Visitors can go on the boat tours around the lagoon but we decided to go on the super fast Zodiac inflatable boat that got us quite close to the glacier. See our adventure and why this was an unforgettable experience during our trip to Iceland last summer.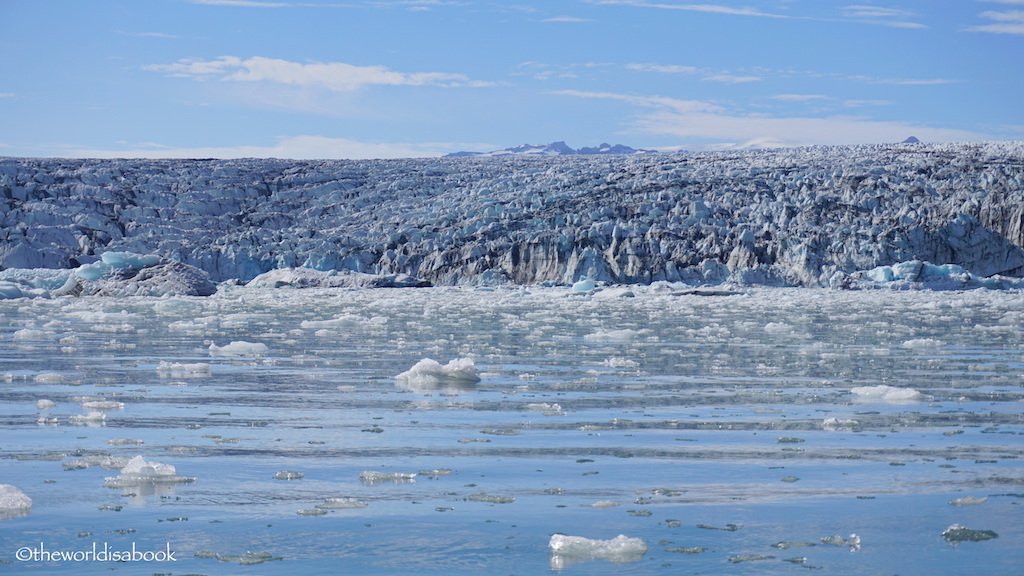 Jökulsárlón, or Glacier's River Lagoon is one of Iceland's most popular attractions. It is located in the southern portion and about 4-5 hours away from its capital city of Reykjavik.
The major attraction to use as a marker to know that you're getting close is Skaftafell National Park. It is located right off the Ring Road or Route 1 which is Iceland's main national road.
Jokulsarlon is adjacent to Europe's largest glacier – Vatnajökull. The lagoon is made from the Breiðamerkurjökull (an outlet of Vatnajökull) glacier's melted water. So, its size continues to increase as the glacier's size decreases. The lagoon hasn't always been here and first appeared around the mid-1930s.
This is an ever changing landscape as the different icebergs float through the lagoon. We pulled over to the first turn before the bridge for a preview of the glacier lagoon and came upon this stunning scenery.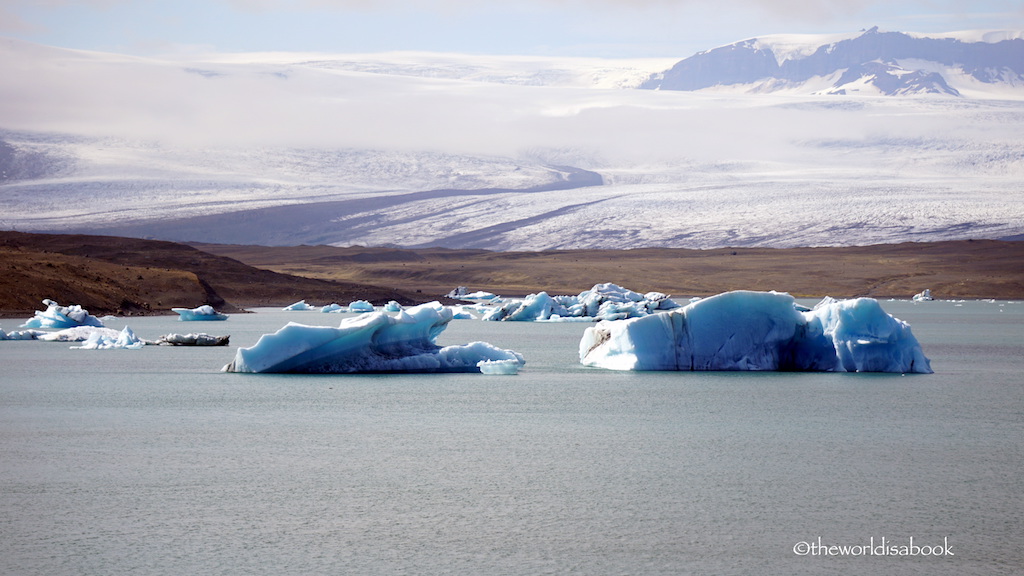 There were a lot of people here and some tour buses. Though, most people were going on the Amphibian boat tour. This was how they looked which was a 30 minute ride around the lagoon with about 25 passengers onboard.
Boat tours have been going on at this lagoon since 1985. Visitors can also choose to just stay on shore, walk a couple of short trails and marvel at the scenery for free all year.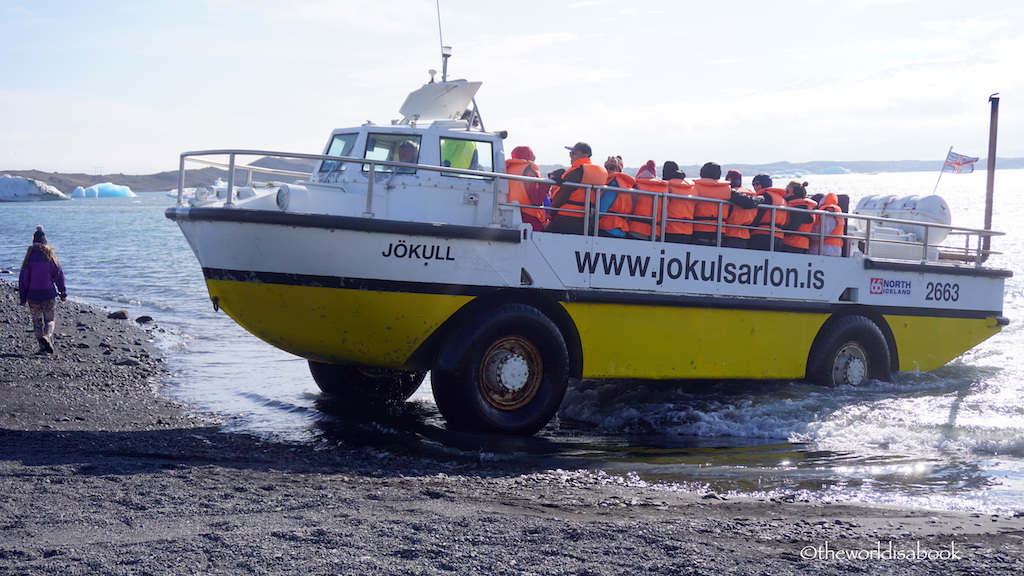 Everyone had to put on flotation suits that made us look like we were going on an Arctic exploration. They had some kid sizes luckily. Those suits kept us very warm during the windy ride. We also had to wear life vests at all times. It was a short walk to the lagoon to board our Zodiac boat.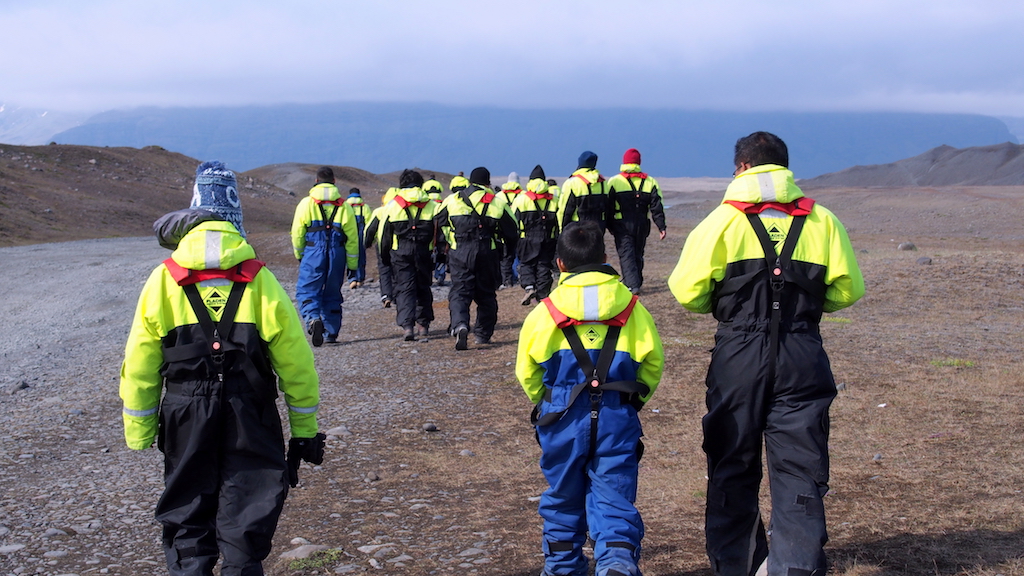 The Zodiac Boat Tour
There were about 10 passengers in each Zodiac inflatable boat plus our driver/guide. My kids were the only minors on both groups. We took off from that dock fast alongside the other Zodiac boat running over the small ice chunks.
My biggest fear was my kids or me falling off into the icy lagoon despite having a life vest and flotation suit. Thankfully, that didn't happen.
It didn't take long to go past the Amphibian boat tour route. We were further out and started to slowly cruise past the huge, floating glacial ice or what I like to call glacial sculptures.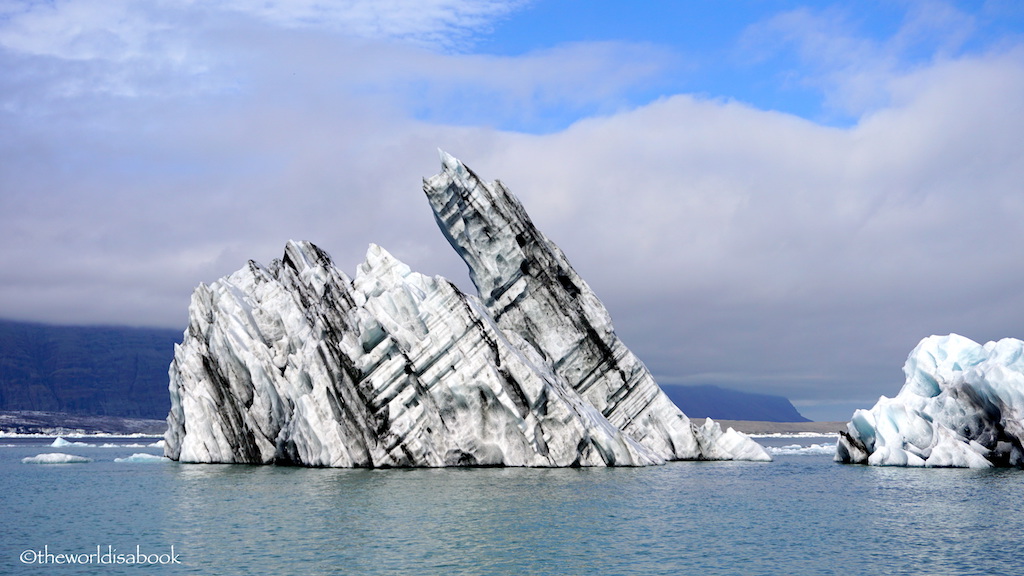 We called this particular one glacier sponge or glacier coral.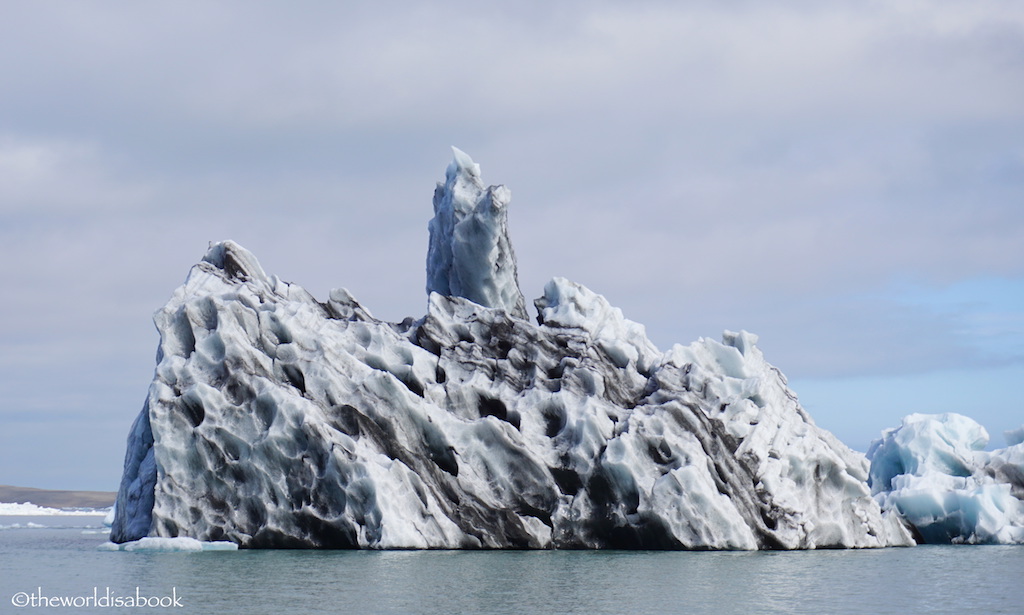 Some of the icebergs were so blue it almost looked unreal. We were told the blue color is because these particular glacial ice is older and more dense and absorbs every other color of the spectrum except for blue.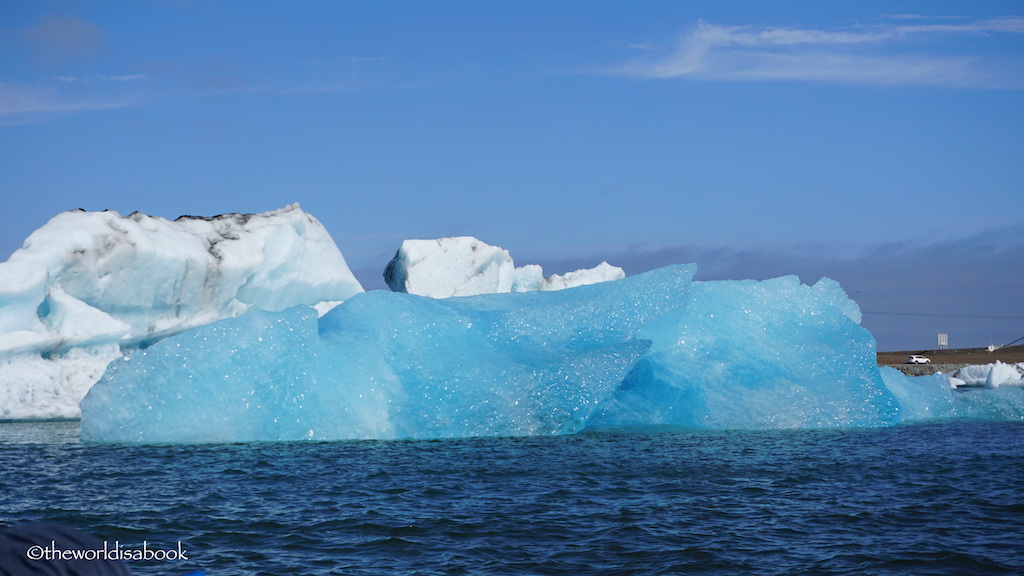 This group of ice chunks seemed to defy gravity and ready to crack soon.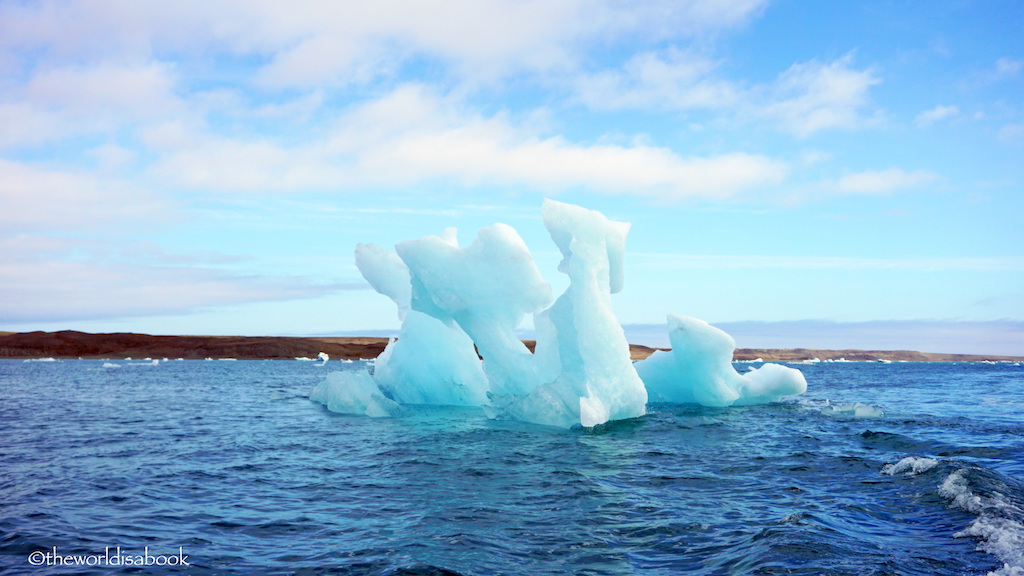 We loved being so close to these massive structures. Some of them have really unique textures. We loved that our guide slowed down to allow us to take some photos and a closer look at the icebergs.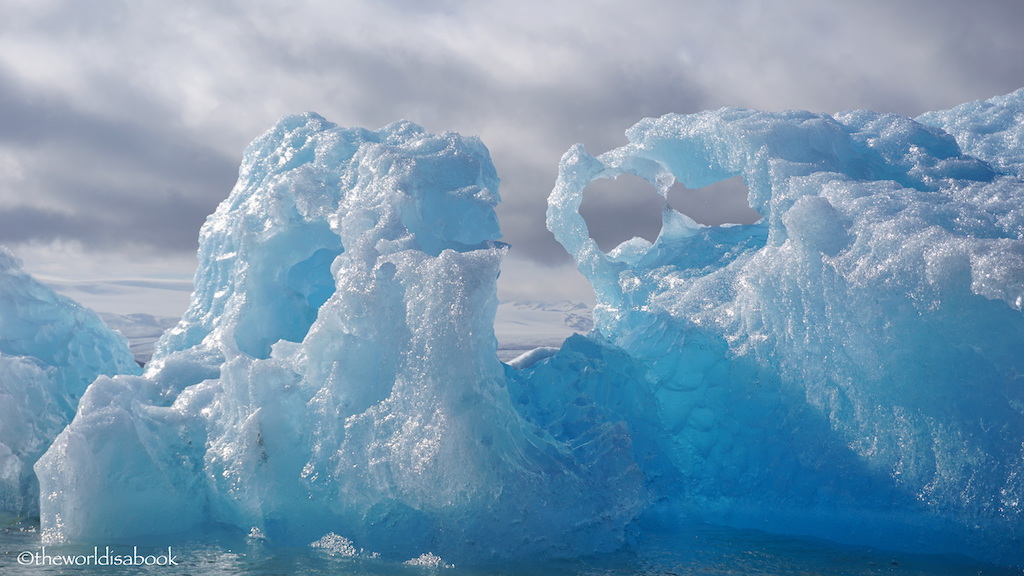 This almost felt like an otherworldly location and a prehistoric Ice Age feel to the whole area. It's no wonder this is a popular place for filming locations including a couple of James Bond movies.
The massive glacier was like the lagoon's wall and provided such a stunning backdrop. We stopped at this particular area to see the darkened portion.
The dark material is a combination of dirt coming down from the depths of the glacier but mostly ash from the volcanic eruption in the area several years ago. Can you imagine how this place must have looked covered in ash?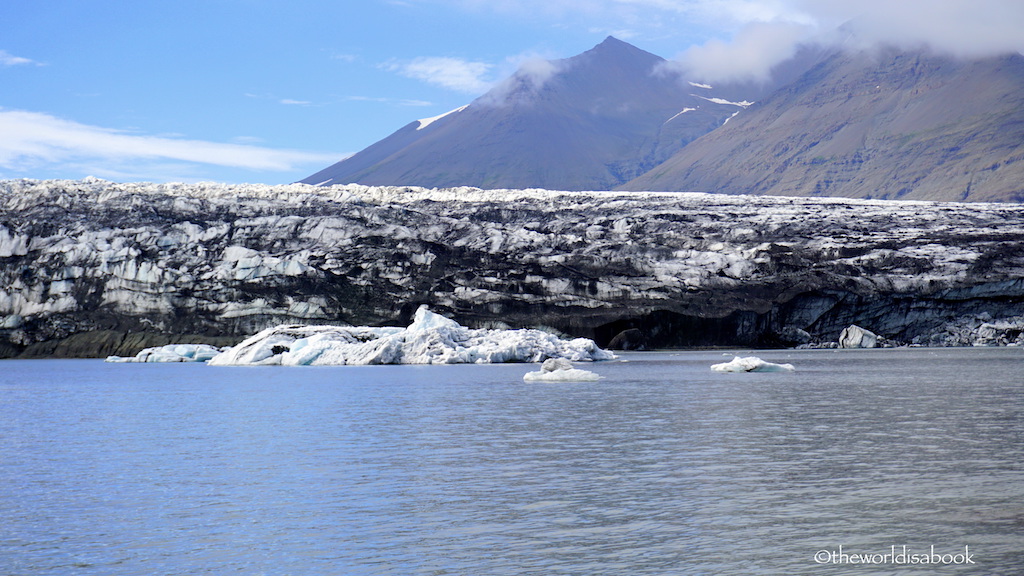 We got really lucky with the weather with sun shining brightly during our tour. Many of the photos I've seen here have been foggy and overcast.
This was the major portion of the glacier that just seemed to indefinitely go on inland. Our guide told us that the glacier is reduced by 100 meters each year due to global warming.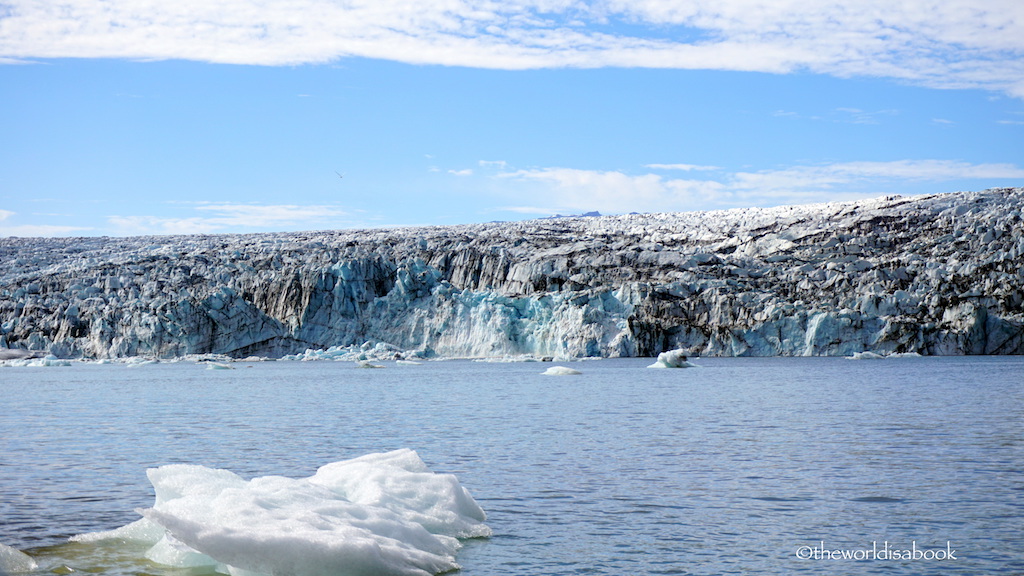 We heard parts of it calving or when an ice chunk falls off from the glacier. We've seen glacier calving during our Alaska cruises but have never been this close to the glacier. Luckily, we got to witness a couple of glacier calving but were too slow to capture it on film.
Throughout our tour, our guide was on the lookout for seals around the lagoon. Wildlife spotting is a popular wish list on these tours. We had some wrong guesses and letdowns when we thought it was a seal on an ice but was actually just big black patch.
But, our patience paid off and we finally saw this adorable seal sunbathing. That seal looked up momentarily at all the tourists taking its picture and ignored us the rest of the time. Unfortunately, that was the only seal we saw during that tour.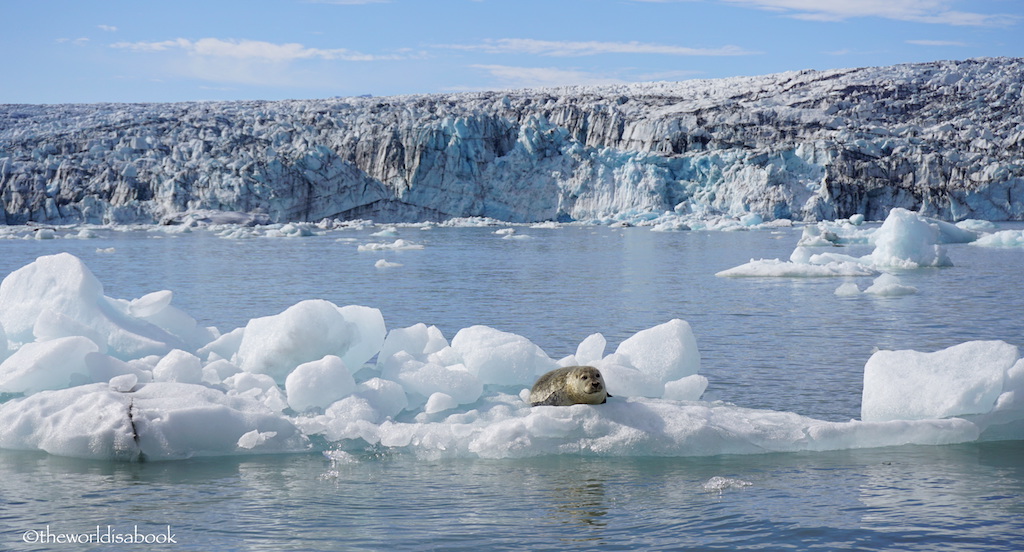 Considering we were surrounded by thousands of ice chunks, our tour guide picked out a decent size from the lagoon. You can tell from that smile my son was really happy to be the chosen one to hold that transparent ice.
Our guide then proceeded to break little pieces from it and handed to each of us to suck on. It was definitely a memorable experience and very refreshing to taste a thousand year old ice.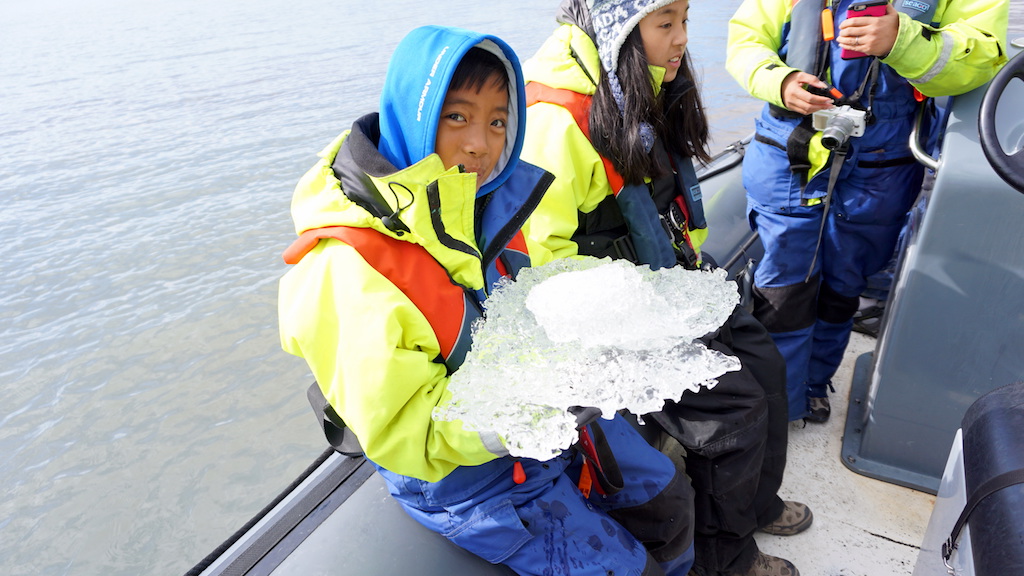 This was how we looked on our Zodiac boat cruising around the lagoon. The other group went in the other direction so we were glad we had many areas to ourselves during this tour.
The Zodiac's small size really allowed us to get up close to the glacier and the large icebergs as we safely could. We were also able to cover a larger area of the lagoon compared to the other boat tour for the same thirty minute duration.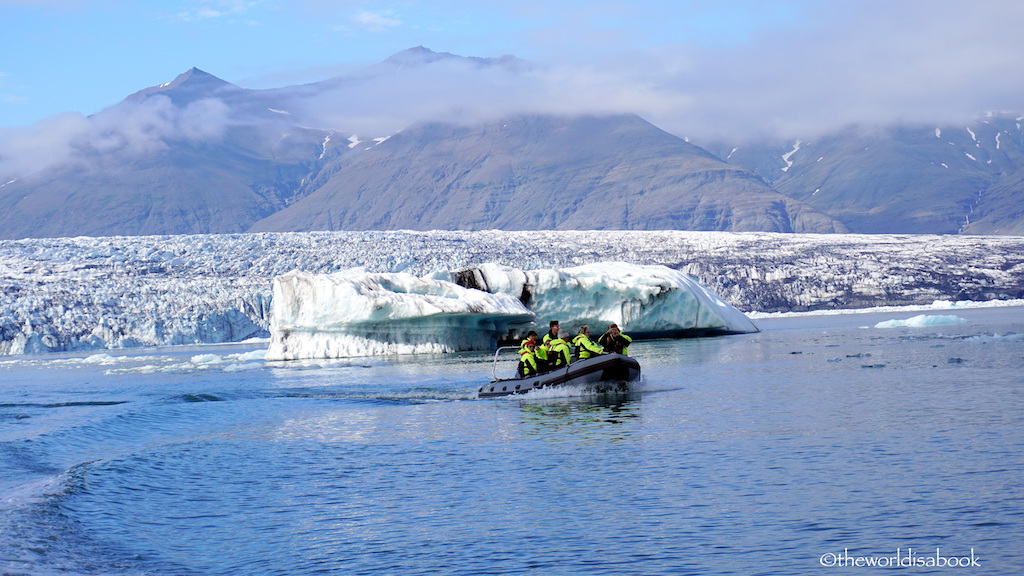 The shoreline, road and bridge from our boat gives an idea of what is on the other side of this glacier lagoon.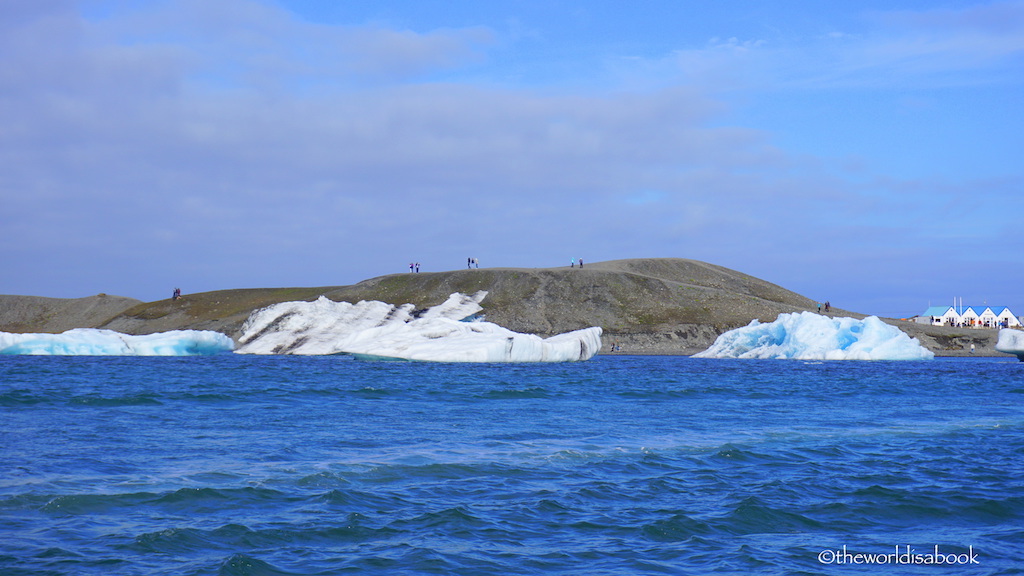 Walk the shore after the tour to see the chunks floating and some breaking off as they crashed to each other. This is sort of their holding area before they float to the ocean across the road. There were also plenty of birds here, like the Arctic terns, that were fascinating to watch.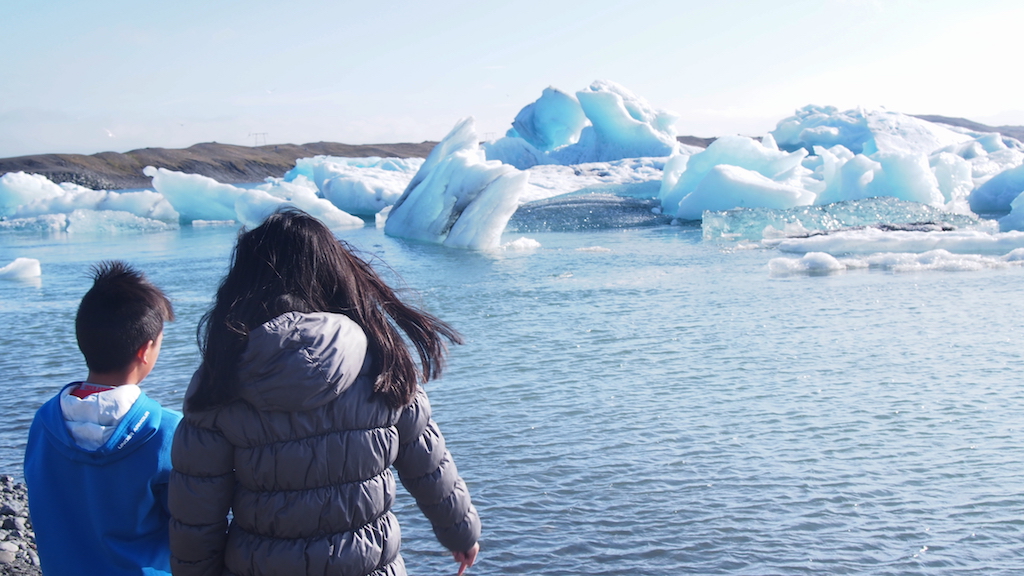 We highly recommend crossing the road to the beach area. It is a black sand beach and quite expansive for a stroll. It's called Diamond Beach since some of the ice on the shore looks like diamonds glistening under the sun.
This was a great place to see the icebergs wash up on the beach or float to the ocean as the tide pulls them. There were no icebergs at the shore during our visit.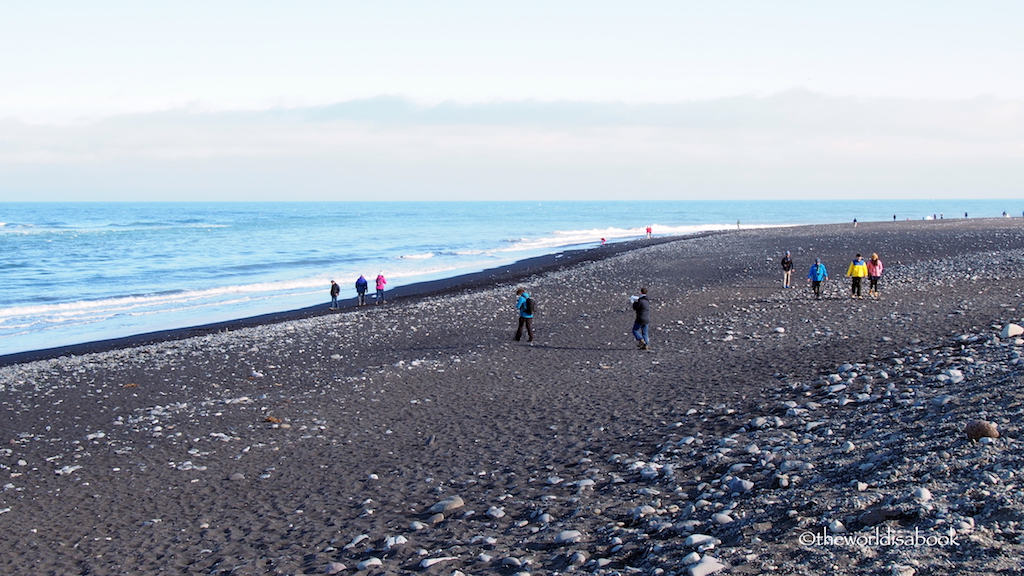 Jökulsárlón Glacier Lagoon offered an incredible scenery and an unforgettable experience. Every visit here will never be the same since the icebergs are constantly moving and glacier ice is always breaking off.
Visiting the lagoon and doing the Zodiac Boat tour was one of the highlights of our Iceland trip. If you are planning a trip in the southeast Iceland area, this is a must see attraction and it's easily accessible.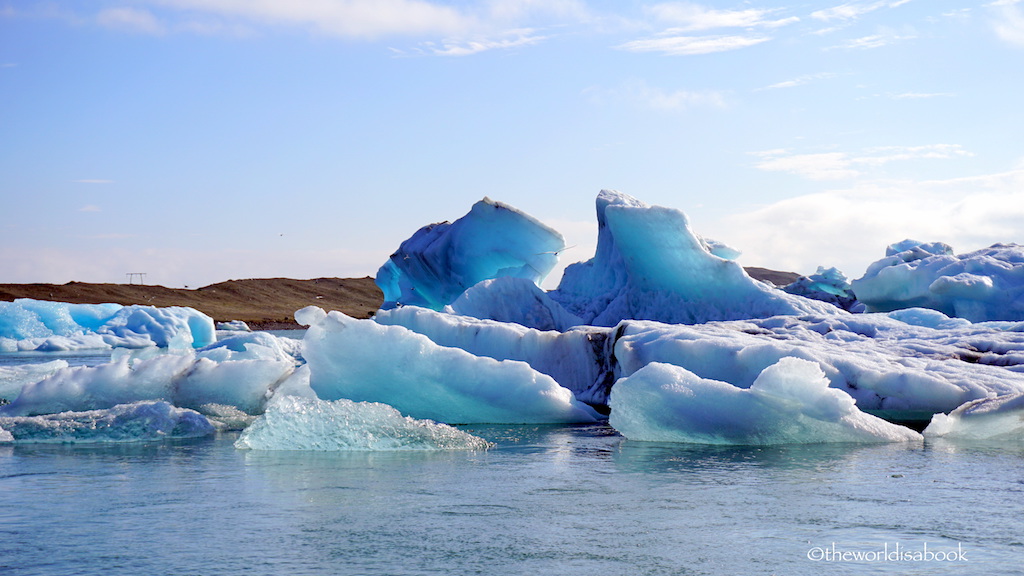 Tips for Visiting Jokulsarlon Glacier Lagoon and doing the Zodiac Tour
Reserve as early as possible on their website. Space is very limited on the Zodiac tours and they're on a fixed schedule. No advance reservations are needed for the amphibian boat tours unless your group has over 12 people or you want a specific time slot.
The Zodiac tours operate between June and September. Check-in is 30 minutes before departure to allow enough time to put on the flotation suits. The amphibian boat tours operate between April and October.
Zodiac Tour Prices (as of March 2017) – Adults 13+ 9500 ISK ($86 US); Children (10-12 years old) 5000 ISK ($45 US)
Amphibian Boat Tour Prices – Adults 13+ 5500 ISK ($50 US); Children (6-12 years old) 2000 ISK ($18 US); Children under 6 years old are free.
Children must be 10 years old or over 130 cm (4'3″) in height to go on the Zodiac tour.
Layer up. It was still quite cold during our trip in late June.
Bring and wear gloves and something to cover your head but nothing that will fly away. Beanie hats were ideal.
Use the restrooms before putting on the flotation suits. They're located inside the cafe.
There is a souvenir shop and cafe on site with good soup and it is open all year.
Some day tours from Reykjavik are offered. It makes for a very long road trip. I really don't recommend a day trip here from the city unless you have no choice. There's so much to the area it requires a road trip for a few days in your own rental car.
Have you visited Jokulsarlon Glacier Lagoon or some place similar?
Where to Stay
Hotel Berg in Keflavik

 – This was the first hotel we stayed during our first visit and loved it. It's close to the airport (2 miles), by the marina and offers free Wi-fi and airport transfer. It's a small family-owned hotel. We had a split-level suite which fit our family comfortably.
Hilton Reykjavik Nordica 

– 

This hotel is located in the city and within walking distance of the center but shuttle buses are also provided. If you want the comforts of a modern hotel, this has it with buffet breakfast and Executive Lounge for Hilton Honors Gold and Diamond members. A couple of friends have stayed here and recommend it.

Hlemmur Apartments  

– We loved this spacious, two bedroom apartment located within walking distance to Reykjavik's city center. It looked like an IKEA showroom, It was clean, well-equipped and furnished well with all the amenities we needed for our stay. It had free WI-fi and the owners were friendly. 
Save up to 50% on Iceland hotels on Booking.com 

(the #1 Accommodation site)

Find the best Iceland hotels and read reviews on TripAdvisor.
Car Rntals
Flights/Vacation Packages
Pin it for later!