5 Free Things to do in Boston with Kids
Boston almost looks like an outdoor museum with many of its well-preserved historical buildings and sites scattered across the city. American history really came alive for my kids during our visit. Most city destinations can drastically affect a family travel budget with accommodations, food, attractions and sometimes, transportation. We found Boston to be a family-friendly and a manageable city to get around with some delicious seafood. It also has many attractions geared for the budget conscious. Here are five free things to do in Boston with kids (or without).
1. Explore Boston Common and the Public Garden
Amidst the modern buildings that have surrounded the historic sites around the city, Boston Common along with the Public Garden is a beautiful urban park and a tranquil spot for quiet strolls and admiring nature. America's oldest park, at about 50 acres, continues to offer so many things to both visitors and locals. The adjacent Public garden was the country's first public botanical garden.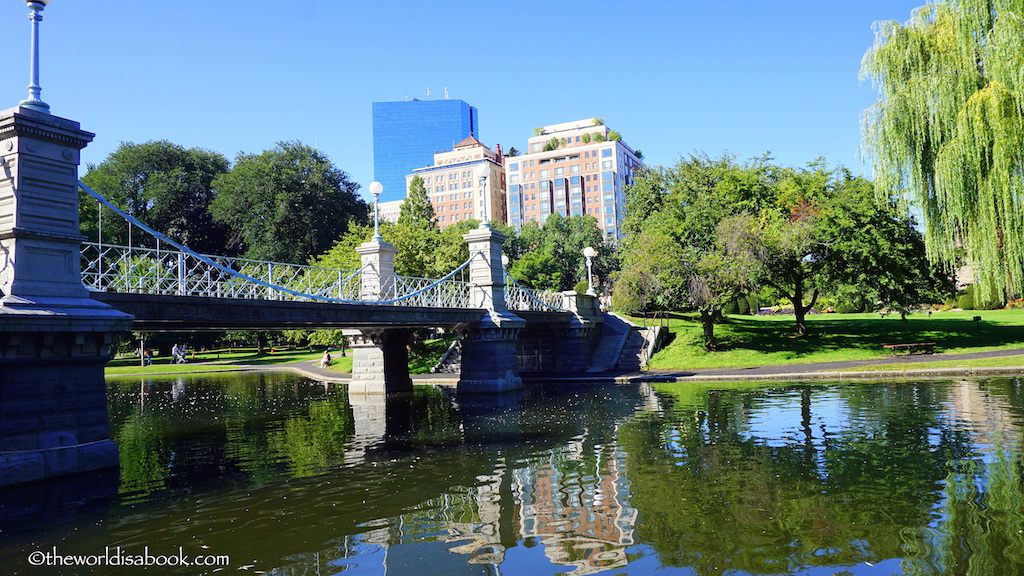 The Duckling Sculpture of Mrs. Mallard and her eight ducklings is a popular stop for photos. The sculpture was based on Robert McCloskey's bestselling classic called Make Way for Ducklings. If you want to see some real ducks or even some swans, make your way to the artificial lake. The lagoon was one of the best places for a stroll.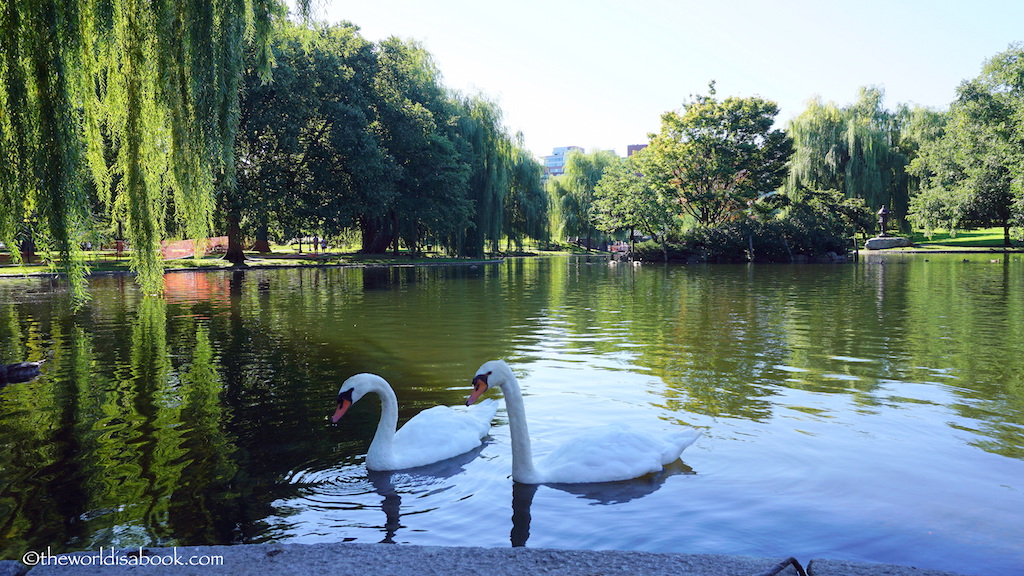 For a small fee (about $3.50 for adults and $2 for kids), visitors can also go around the lagoon on Swan Boats for about 12-15 minutes. The boats are operational from April to September. We were here during late summer and loved seeing all the many flower beds, shrubs and trees. I'm sure it's even more beautiful and vibrant during spring and fall. Walk around and you never know what will greet you around the corner. An audio tour of the Public Garden is available. The Frog Pond in Boston Common turns into an ice skating area during winter and a spray pool for kids in the summer.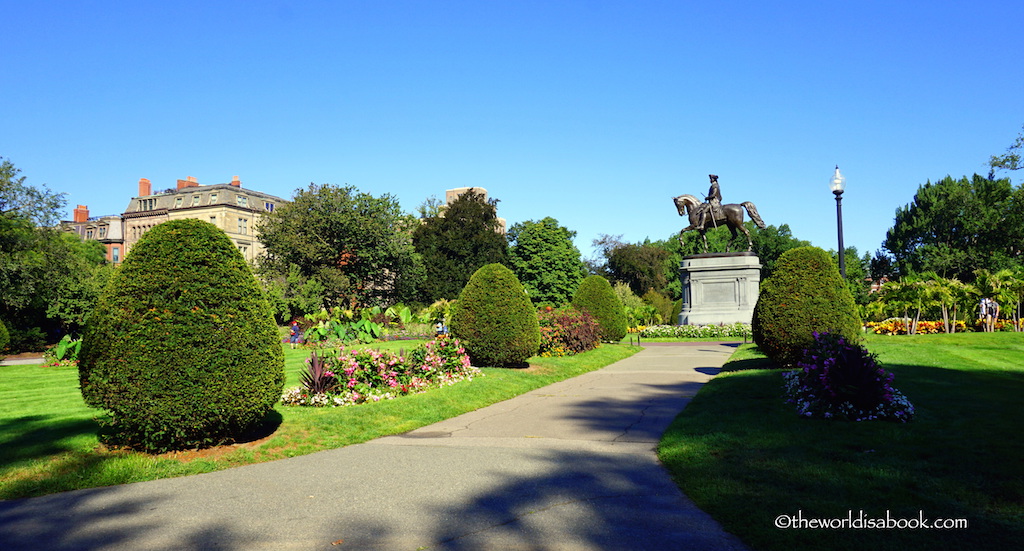 2. Walk the Freedom Trail
It's hard to miss the 2.5 mile red brick line and on sidewalks around Boston. The Freedom Trail leads visitors to 16 major historic sites from museums and churches to burial grounds. It's a fantastic way to learn about the American Revolution and America's early and turbulent history. It's especially helpful for children who are or will be studying American history. My kids' history lessons came to life along this trail.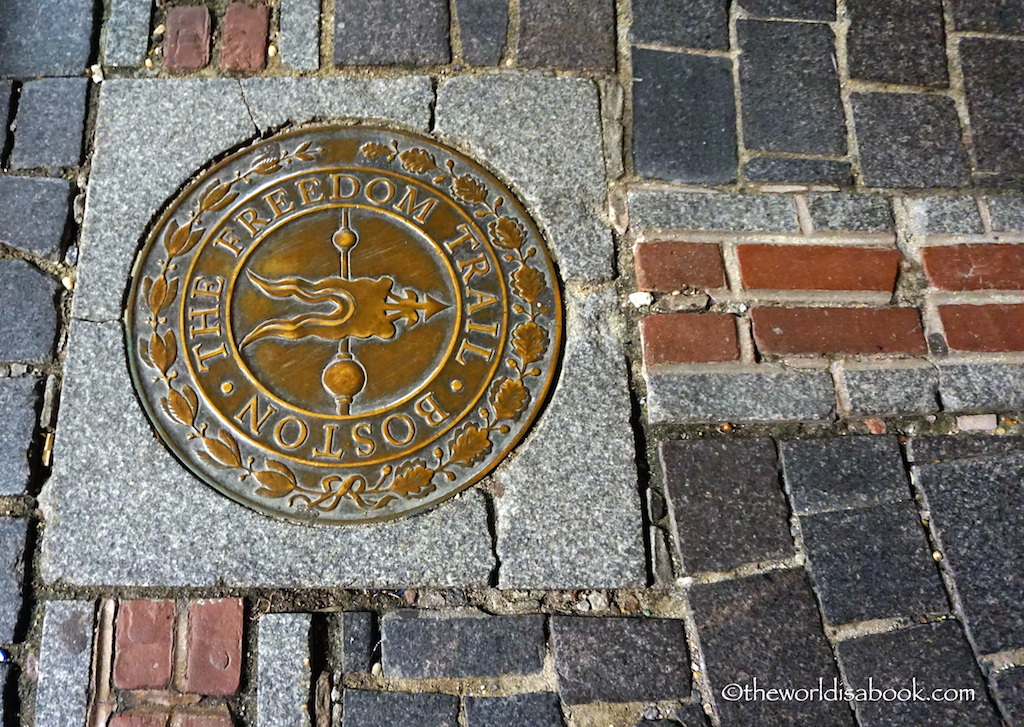 Some tours are offered with costumed guides which was what we did but for a fee. Though, one can get a map and do a self-guided tour of the trail too. Here are some major sights and stops along the Freedom Trail that have no admission fees for a self-guided tour.
Faneuil Hall
Boston Massacre site
Massachusetts State House – free tours are offered on weekdays. Reserve in advance here.
Boston Common
Park Street Church
Granary Burying Ground
Benjamin Franklin Statue and the Boston Latin School
Bunker Hill Monument
USS Constitution, Free boat tours every 30 minutes
This was our Freedom Trail guided tour.
The National Park Service offers several guided tours including a 60 minute tour along the Freedom Trail. The Boston National Historical Park rangers also offer free talks that offer unique insights on Boston's history. Visitors can even participate and become characters in a reenactment of a historic meeting. Check this website or go to the Visitor Center inside Faneuil Hall.
Since this is part of the park service, kids can earn their Junior Ranger badges here. Complete the handbook and activities. They are available at the visitor center or can be downloaded online.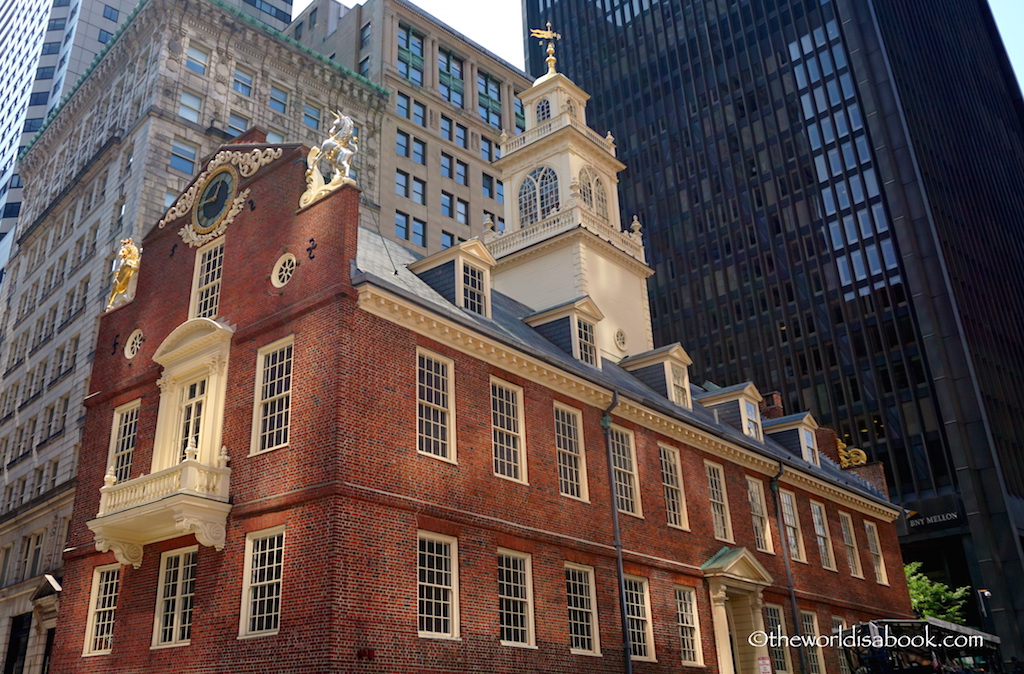 3. Shop at Faneuil Hall Marketplace and Quincy Market
While Faneuil Hall is a significant historic building known as "the home of free speech" and the location of America's first town meeting, the Faneuil Hall Marketplace (located behind it) is also a can't miss attraction. The marketplace has over 100 shops in restored 19th century buildings plus some unique carts. Download and print the Hall Pass Discount program for some major savings while shopping.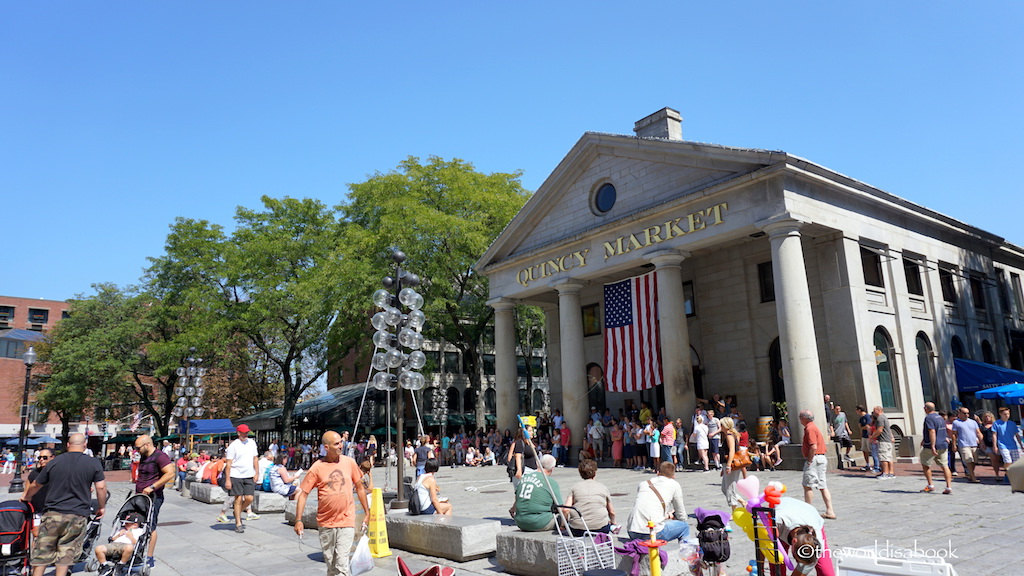 Don't miss Quincy Market for some great food options. There are 18 restaurants and 35 varied eateries that span major global cuisine. Since you're in Boston, try the clam chowder or lobster rolls and finish it off with some delicious Boston cream pie. These shopping and eating areas are quite possibly Boston's most visited area. There are always a lot of people here no matter what time of day we have visited. It's free to window shop, people watch and see some very cool street performers here.
4. Visit Museums
Boston's ties to education don't stop with all the historical sites. The city also boasts some wonderful and diverse museums and some of them are free to visit. The Highland Street Foundation offers Free Fun Fridays during the summer where several museums and cultural venues offer free admission every Friday. During other times of the year, here are a few to consider.
Museum of Fine Arts – This has over 450,000 different art pieces and offers free admission every Wednesday night after 4 PM. Children 17 years old and under also receive free admission everyday after 3PM, weekends and on public school holidays.
MIT Museum – The Massachusetts Institute of Technology is a top notch school and you'd expect nothing less from their museum. They have many interactive exhibits and programs with a science and technology focus. Think robots and video games! Its free admission on the last Sunday of every month from September to June.
Coit Observatory at Boston University offers free admission on Public Open Nights on most Wednesdays.Visitors have the opportunity to learn all about astronomy and see the night sky through some telescopes.
Institute of Contemporary Art (ICA) – Want something a little more modern for the kids to see? This art museum offers free admission every Thursday from 5-9 PM and on every last Saturday monthly for families.
Commonwealth Museum – It's always fun to learn a little bit more about the state you're visiting. This museum is always free and a great resource to learn about Massachusetts' history and all it has to offer visitors through interactive exhibits and its Treasures Gallery.
5. Enjoy the river and harbor
We always enjoy visiting cities by the water. Boston doesn't disappoint especially during the warmer months. The Charles River Esplanade enables everyone to enjoy, run, walk and play by the water for several miles. There are also some docks to relax by the water. Free movies and music are available at the DCR's Hatch Memorial Shell during the summer. Along the way, gardens and playgrounds make for fantastic pit stops or picnics.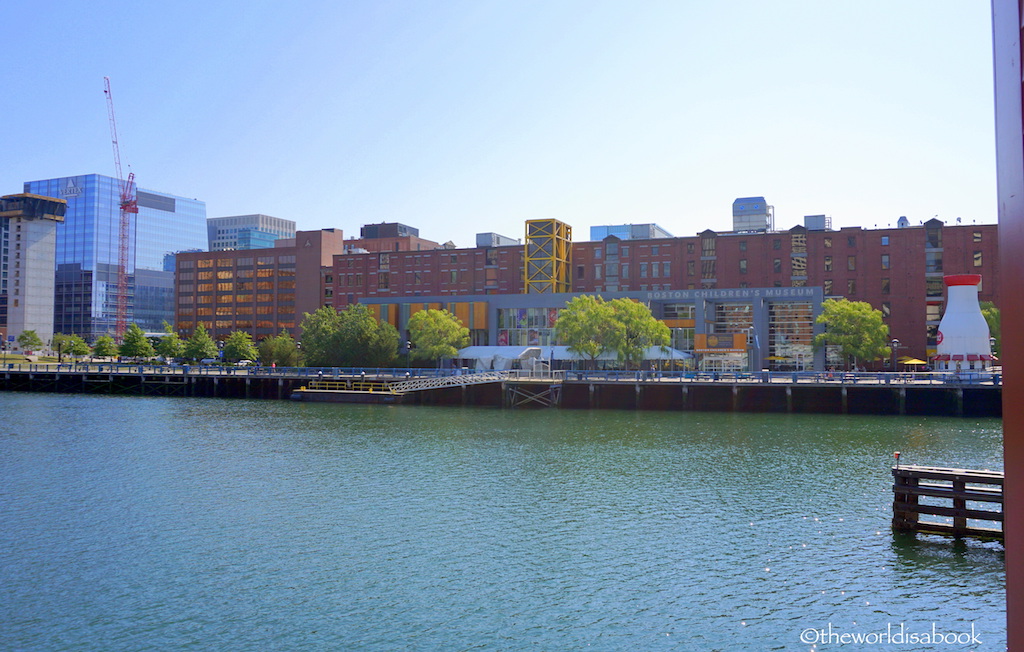 The HarborWalk is a public walkway that goes through several diverse neighborhoods along the Boston Harbor waterfront that currently spans almost 40 miles.  There are many restaurants, public art, green spaces, playgrounds, bike paths and even museums to entertain the whole family. The Downtown portion is a popular and accessible area especially for visitors. The South Boston area is along busy harbors and even some beaches.
Honorable Mentions
You can start the kids' college tour early or if you're just curious about the country's oldest university but touring Harvard University was a highlight for my kids. The university offers free one-hour guided historical tours.

Tours start at the Harvard Information Center

.
Boston is such a great city to walk around and explore. Try one of these free walking tours.
Have you visited Boston or know other free things to do in Boston?
Lodging/Where to Stay in Boston
Hilton Boston Downtown/Faneuil Hall – We stayed in this historic and centrally located hotel for several nights. It was convenient to the subway getting to/from the airport and within walking distance of many attractions in Boston. The rooms were spacious and views from the upper floor were great.
See the best Boston hotel prices from the major travel sites on HotelsCombined.
Find the best Boston hotels and read reviews on TripAdvisor.
Activities
Flights/Vacation Packages
Compare airlines, dates and prices all in one place with Skyscanner
Pin it for later!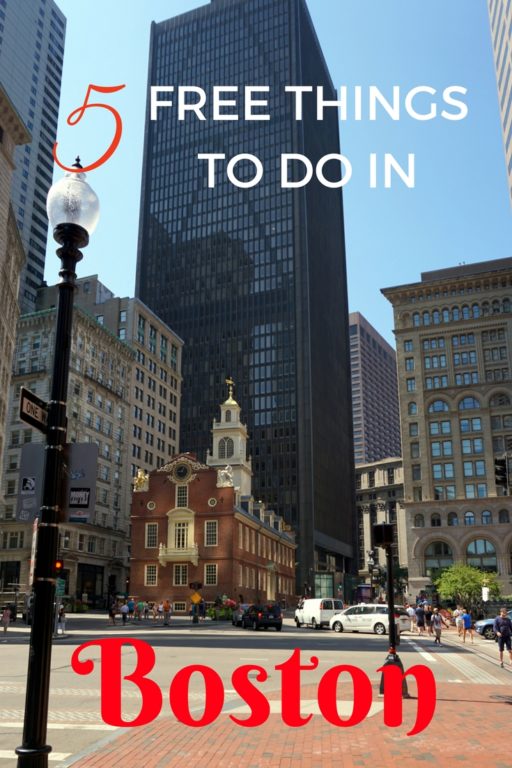 *There are affiliate links in this post to help support this website.