Flying High with Superfly Tandem Zipline in Whistler
Fly High! Ziplining over snow-covered trees may not easily come to mind for most people at a ski resort. But, we like to be a little different sometimes. We spent a few hours with Superfly Zipline while on a Spring ski/snowboard trip to Whistler in British Columbia, Canada last week. Their most popular tours may be during the summer but zipping over winter wonderland was just as exhilarating.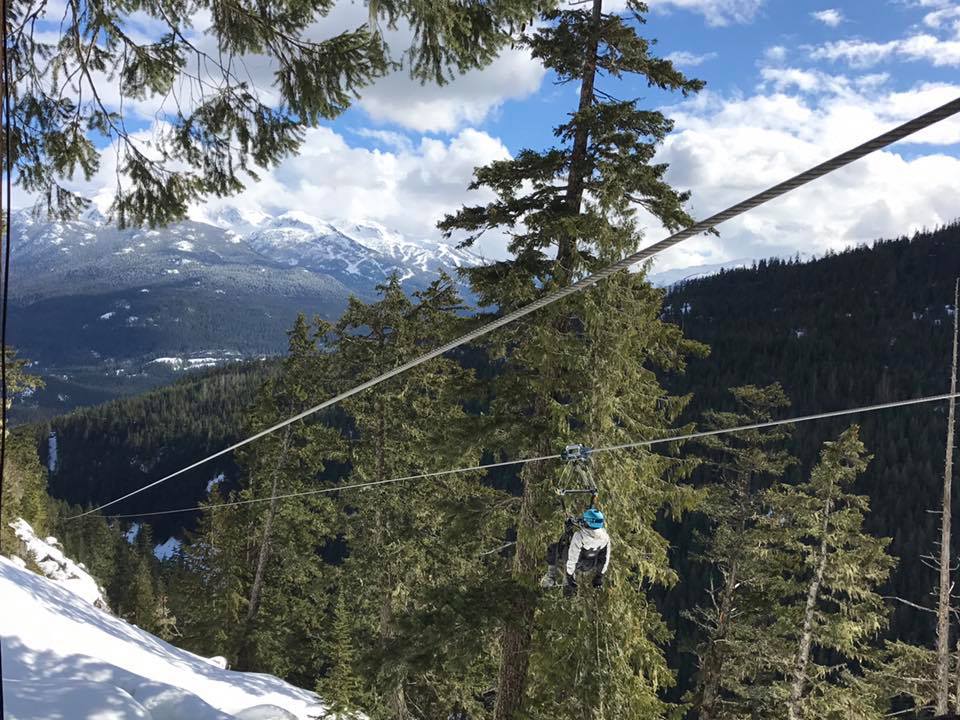 We met our group in The Adventure Group's office near the base of the Whistler gondola in the pedestrianized ski village. There were nine passengers including our family and our kids were the only minors. It was about a 10-15 minute drive on their shuttle to their base camp in Cougar Mountain for the start of the tour.
Their base camp almost looked like a tiny village. There were some small buildings, picnic benches and even a shed with games for waiting customers. It was set amidst the old growth forests so it already felt like we were quite far away from all the hustle and bustle of Whistler village.
We met our three guides for this tour (Kay, Chris and Gracie). They were wonderful and so helpful from beginning to end. They showed us how to put on our harness and showed us the trolleys we'll carry at some points.These weren't the same harnesses we've used with our other zip line adventures. This allowed us to be in a sitting position and made it quite difficult to go upside down or flip. We actually found these harnesses to be more comfortable when walking. It was all very informative and even the lone person who was ziplining for the first time felt at ease.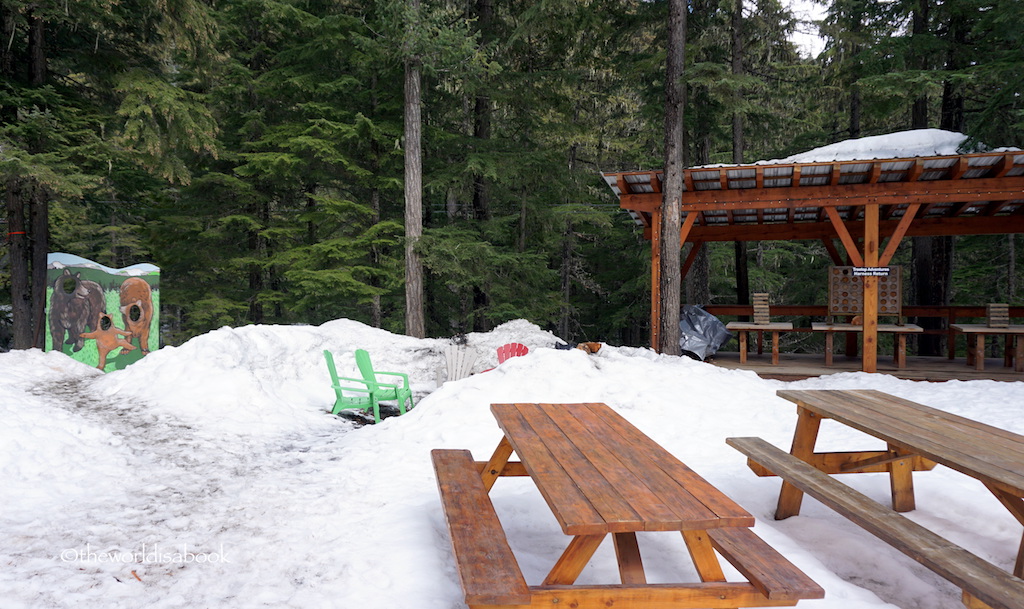 We were ushered into an indoor equipment area to be fitted for helmets. These were the large helmets similar to what's used for snowmobile rides. They had waterproof pants, gloves, goggles and boots to borrow if you don't have them. The guides gladly helped all of us with sizing and making sure they fit. They had a water cooler for last minute hydration, restrooms and lockers to store all valuables and belongings.
Our next step was to go on the polaris rangers that took us to the top of Rainbow Mountain. It was about a 20-minute slow ride up along the snowy paths but the views were amazing. We were wondering why we needed the massive helmets.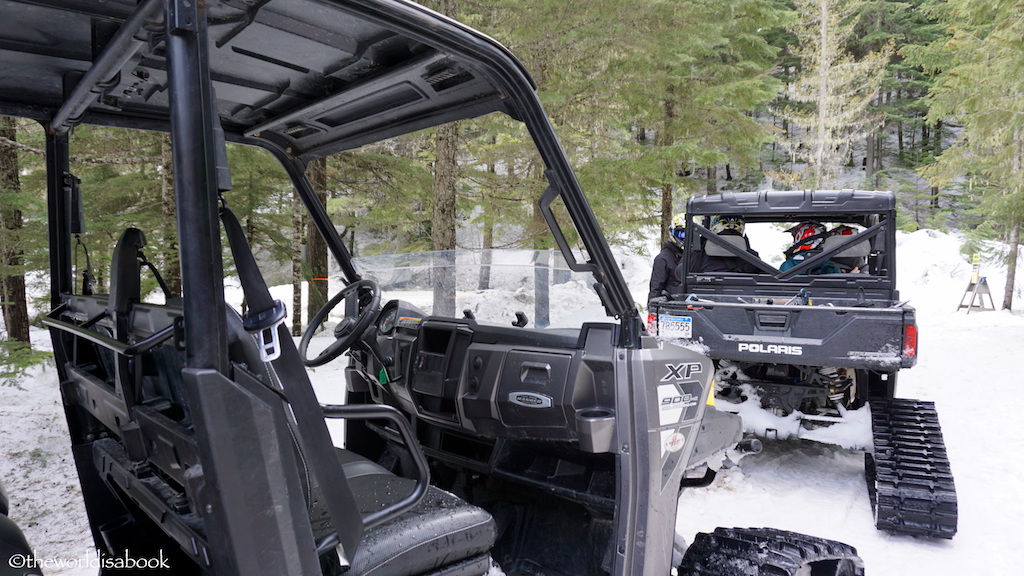 The roads were wide enough so it felt safer and more comfortable navigating than snowmobile trails. The ride up to the top of the mountain was already a fantastic start to all the fun. Once we reached the top, we switched to smaller helmets.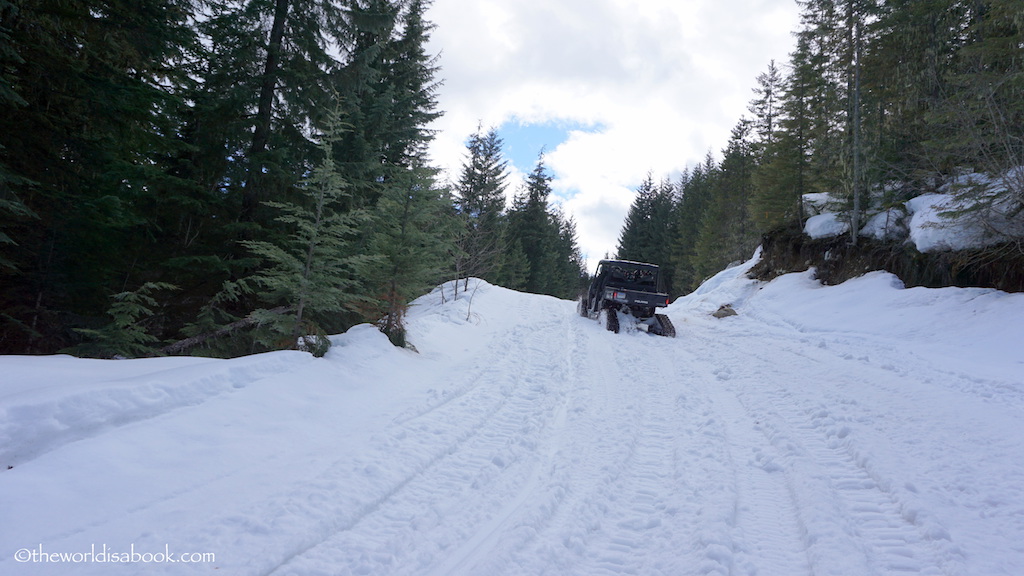 We were lucky enough to be here on a sunny though still a bit cold day. We've been going to Whistler for years during winter and this was one of the best days weather wise. There was also a platform here to admire the panoramic views including great vantage points of Whistler and Blackcomb mountains.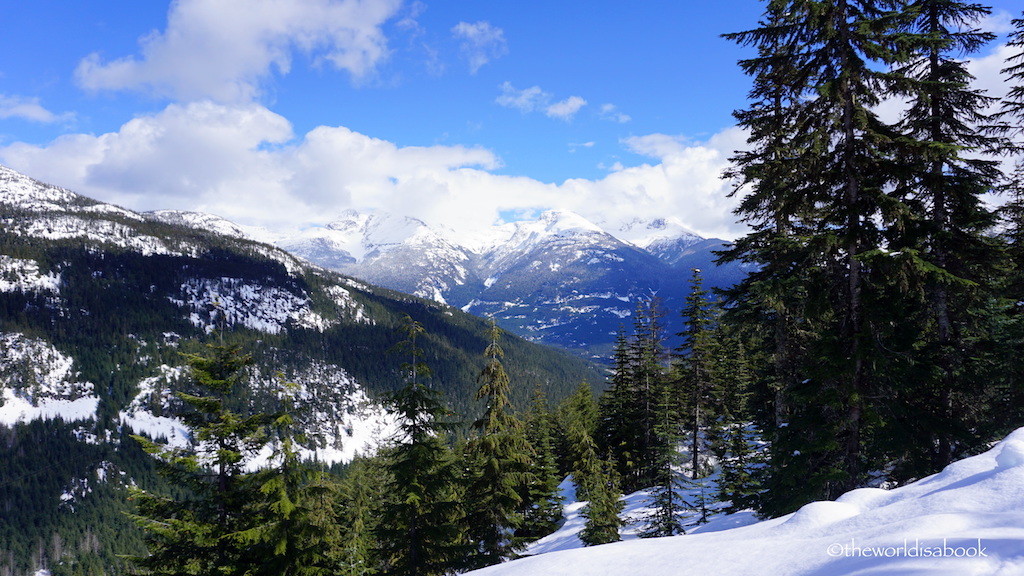 We knew right away how safety is a priority with Superfly. We had to be hitched up to the cables with our trolleys for each line. They inspected our harnesses and did safety checks thoroughly. They communicated with the other guide on the landing platform frequently.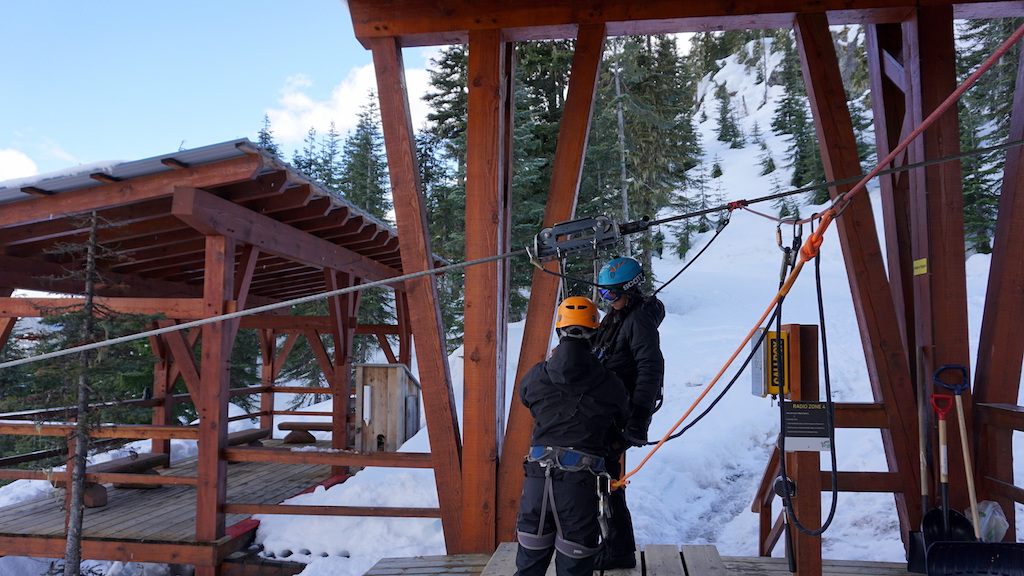 The landing was a bit different too. There was a brake system in place but we had to bend our knees and put our chin down to our chest for safety reasons. Those landings were powerful jolts and we swung a bit afterwards. We were usually higher up the platform requiring a ladder or stools to get down.
What's different about Superfly was their tandem or side-by-side ziplines. It meant some time savings when there's a lot of people in a group since you're going in pairs. It also meant the opportunity to ramp up your competitive juices when traveling with friends and family members. My kids looked forward to racing with each other and with my husband and me. Of course, my husband always won since the heavier person moved faster.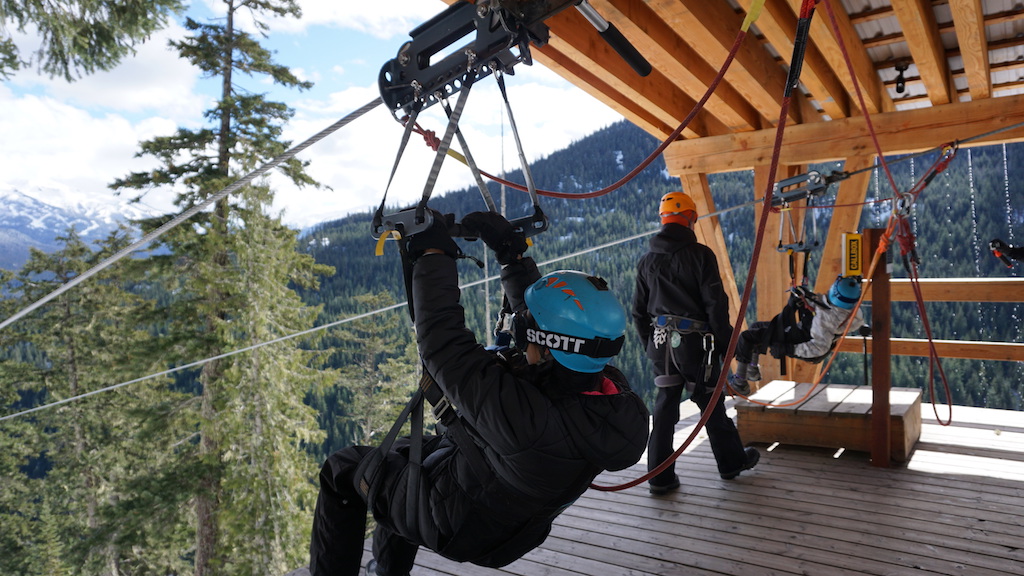 There were four ziplines on this tour. Each line offered something different with varying speeds, heights and lengths. Our first station was considered the highest zipline in North America that's operational year round at over 600 feet (183 m) across a gorge. Nothing like starting the adventure with the highest one! We couldn't even see the landing platform on the other side of the valley. I can see how this can be nerve wracking for first-timers.
Getting off that first platform was so exciting and thrilling. One of the great things about having zip lined multiple times is that any anxieties about heights are gone and we can really enjoy the experience. It also really helped to have sunny skies and the spectacular views surrounding us. Whistler has a rainforest canopy underneath and easy to see why this was called its backcountry.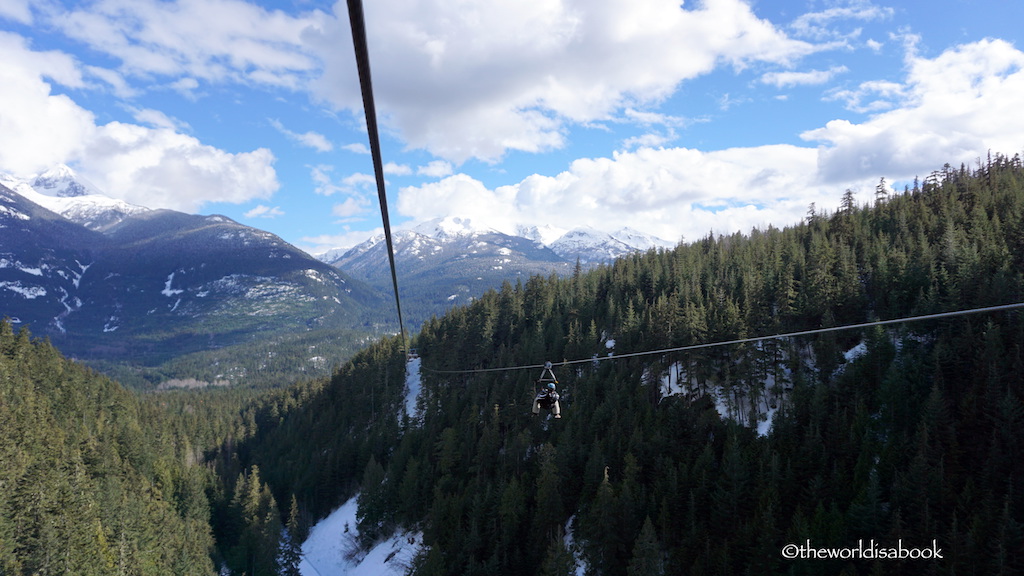 The seated harness made it really comfortable and ensured a smooth ride. For kids and the young at heart who always dreamt of being Superman or a superhero's sidekick, this may be as close as they get to flying. Of course, my kids loved the rush, speed and height on the first line.
The second line was my favorite. This was longer than the first one at .8 mile (1300 m) but wasn't as high. I loved the views of the mountains from here. This longer line really made us appreciate the surrounding beauty and being above the forest and cliffs.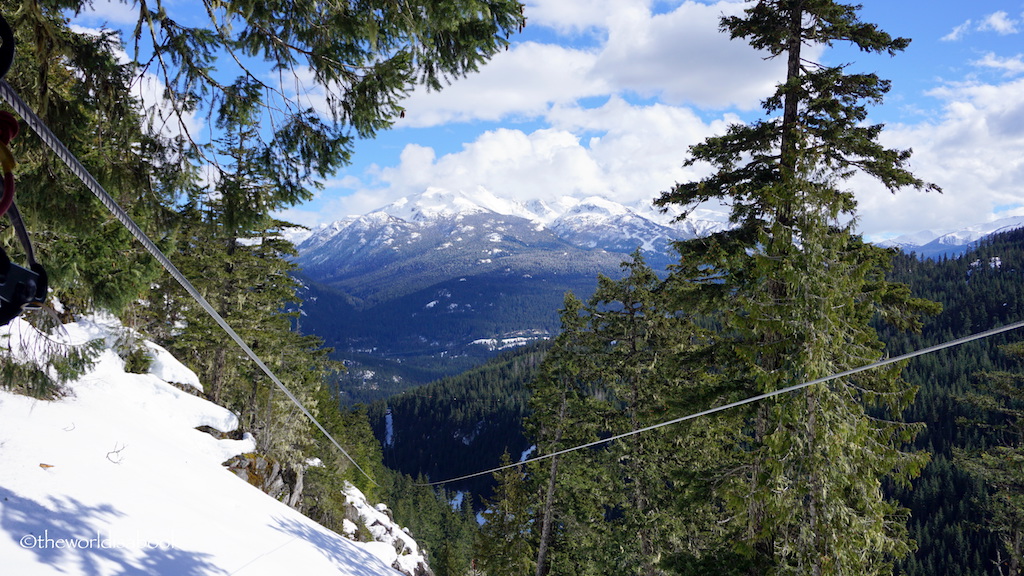 The station platform was also set up for some great viewing with available binoculars. This is probably a great spot to see wildlife during warmer weather. There is also something quite special about being high above the snow covered mountains and trees.
The walk between the platforms involved a suspension bridge and wooden walkways among the trees. If you're here with snow present, just be careful with the walkways. Take some time to breathe in the fresh alpine air. Overall, the walks were easy and pleasant between the platform stations.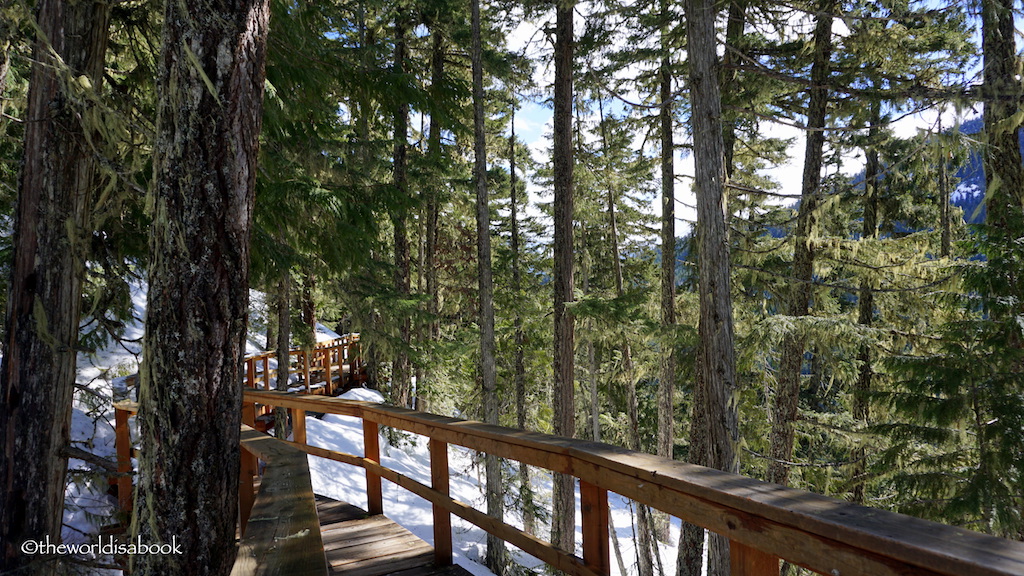 Our third line was called Godzilla. There was nothing menacing about it at first glance. The base station was a metal outpost. The challenging part was climbing the steep metal bridge slowly while carrying our trolleys. It was a bit of a balancing act since the bridge wasn't stable and we had to hold on to the mesh on the sides.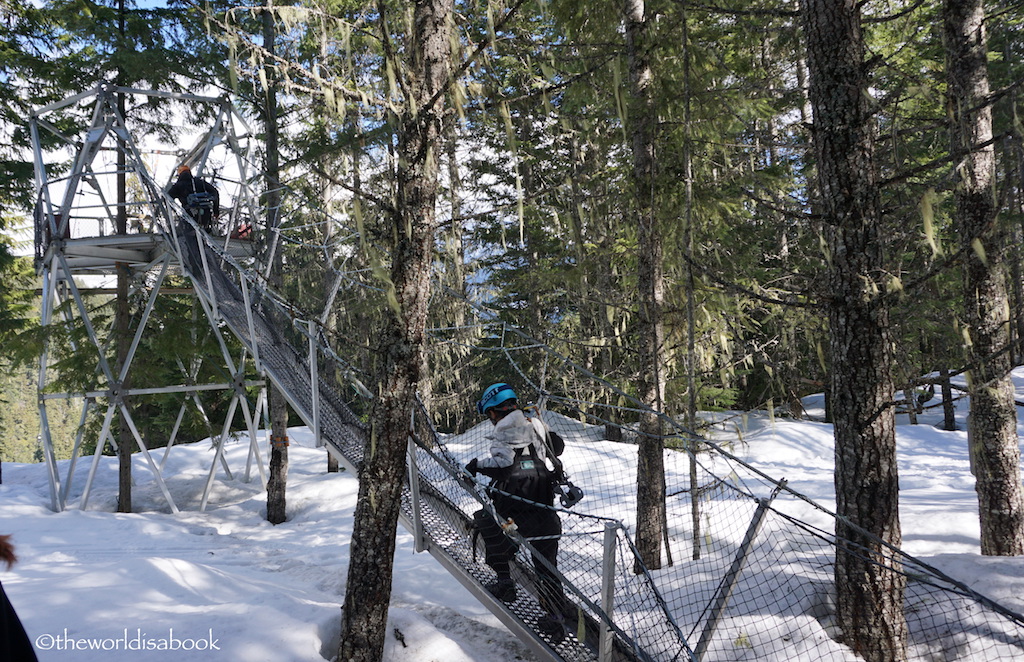 This didn't have much of a view from the base but it was the fastest with speeds at about 50-60 km per hour (as we were told). My husband and kids said this was their favorite for the speed alone. I prefer slower lines for opportunities to admire the views. So, this one also seemed the shortest as we quickly passed through the trees.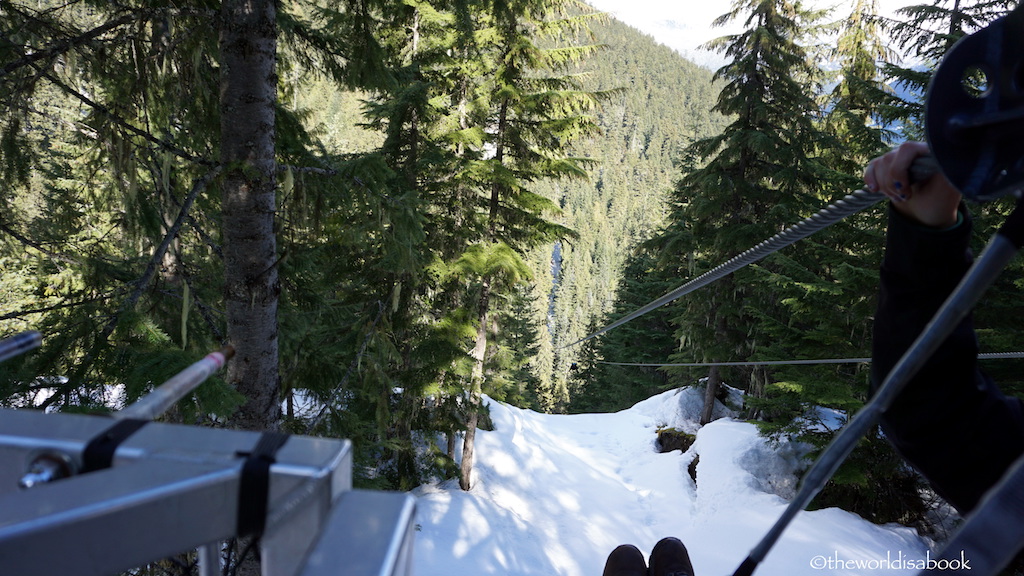 Our last line seemed the slowest of them all. It landed us back to their base camp where we had our training and left our belongings. This was the only line that allowed people to hold hands when starting at the platform.
My husband and I initially did this because where else can we zipline holding hands. It seemed romantic at that time until he started to go a lot faster than me and I was screaming to 'Let go!" As we expected, my teen and tween refused to hold hands even for a brief moment. There wasn't much of a view here but still thrilling. I thought it was a great way to end the adventure with a slower line.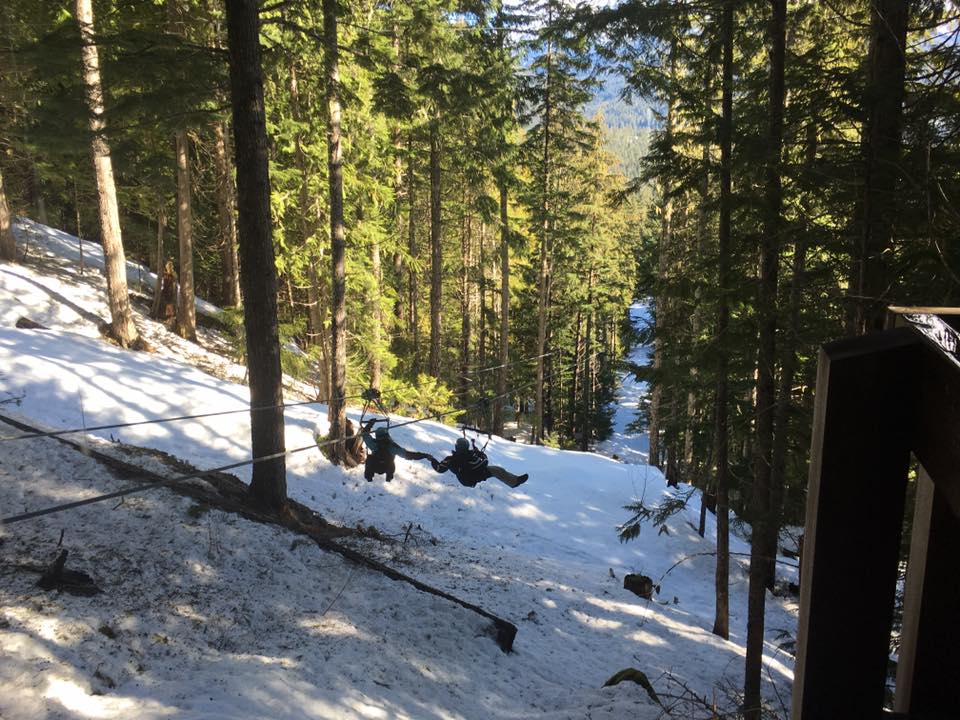 This was a really great activity the whole family can enjoy. It was also a wonderful break from the slopes during winter. Superfly Ziplines are operational all year so we highly recommend doing this when visiting Whistler no matter what season. Our time went by fast and by our last line we were wishing we had a few more ziplines to go.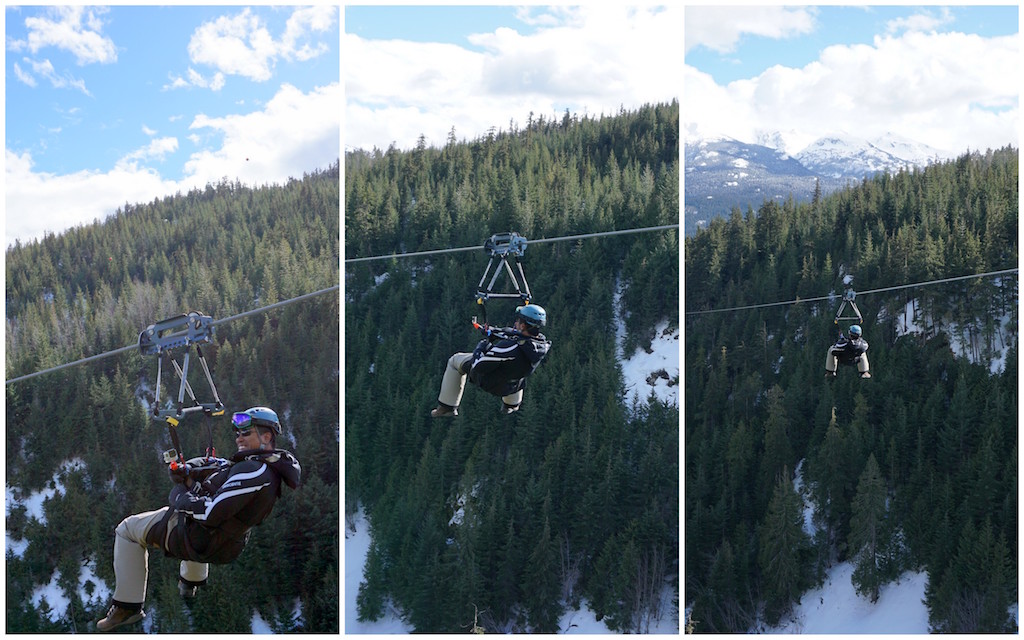 We really liked that each zip line was varied whether by speed or by breathtaking views. The guides were friendly, professional, helpful and made the whole experience fun while ensuring safety was a top priority. This was such a memorable experience filled with thrills and beauty and we can't wait to do it again. Here's a glimpse of our adventure in video format.

Tips for Zip Lining with Superfly
Reserve early especially during their busy summer season to get your preferred times. You can reserve through their website or stop by The Adventure Group Office in Whistler Village (next to Rocky Mountain Chocolate Factory)
Zip line Prices (as of April 2017): Adults ($119 CAD) Children 12 years and under ($99 CAD); Twilight Pricing after 3 PM – $99 CAD. Go to their website for updates and price changes.
It took about three hours from pick-up to drop-off for our zip line adventure. They depart hourly from 9 AM – 4 PM but have more frequent trips during the summer so check their website for updated times.
The minimum age for this zip line is seven years old and 60 lbs (27kg). The maximum weight is 250 lbs (113kg).
Use the restroom at base camp before your zip line. It's a long trip.
If you're coming in winter, wear the appropriate attire for the cold including any waterproof gear especially snow pants. Don't worry if you don't have one since you can borrow from them.
Tip your guides for a job well done. It's not customary but know its' appreciated so bring some cash.
Bring straps for your smartphones and your go pros to record this unforgettable adventure.
Have you ziplined before or is it on your travel wish list?
Disclosure: Superfly Ziplines graciously hosted our family with the winter zipline tour. All photos and opinions of our fun adventure are our own.
Pin it for later!