Visiting National Park Sites in the Big Island of Hawaii
The US National Park Service is celebrating its annual National Park Week! It meant free admissions for its over 400 parks, historical sites and protected lands during the weekends. We have loved exploring these parks over the years. While the main island of Hawaii or also known as the Big Island may be known for its beaches and coffee plantations, there are also some National Park sites worth visiting and a couple of them have the best places to spot green sea turtles.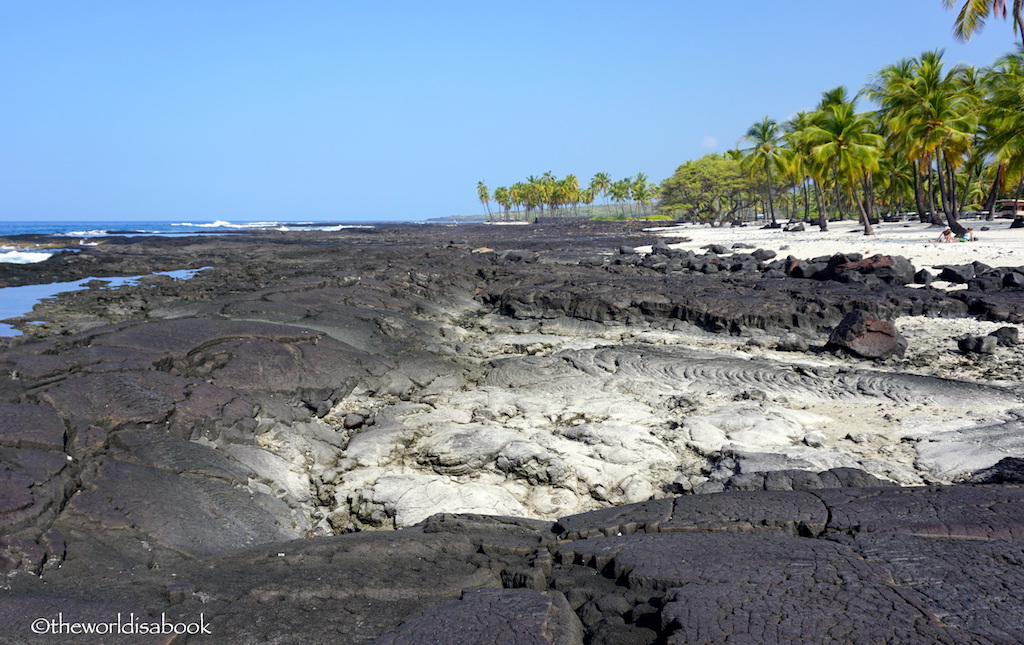 Hawaii Volcanoes National Park
This park is the island's most popular attraction and definitely worth the day trip. See two of the world's most active volcanoes, Kilauea and Mauna Loa, in action and continually forming land. Crater Rim Drive and Chain of Craters Road are the two main routes through the park. For visitors short on time, this road is a fantastic overview of what the park has to offer.  Sulphur banks and steam vents line the road. There is a lookout into the Kilauea caldera and Halema'uma'u Crater where the lava lake glows at night and visitors could see the volcanic smoke.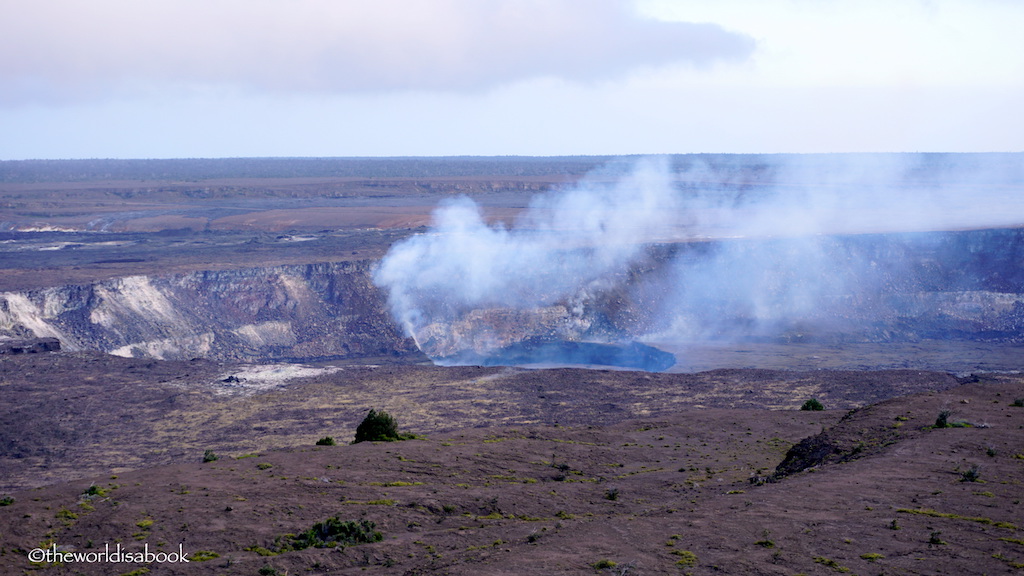 Thurston Lava Tube or Nahuku is one of the park's most popular attractions. We loved walking through the lava tube that was formed over 600 years ago.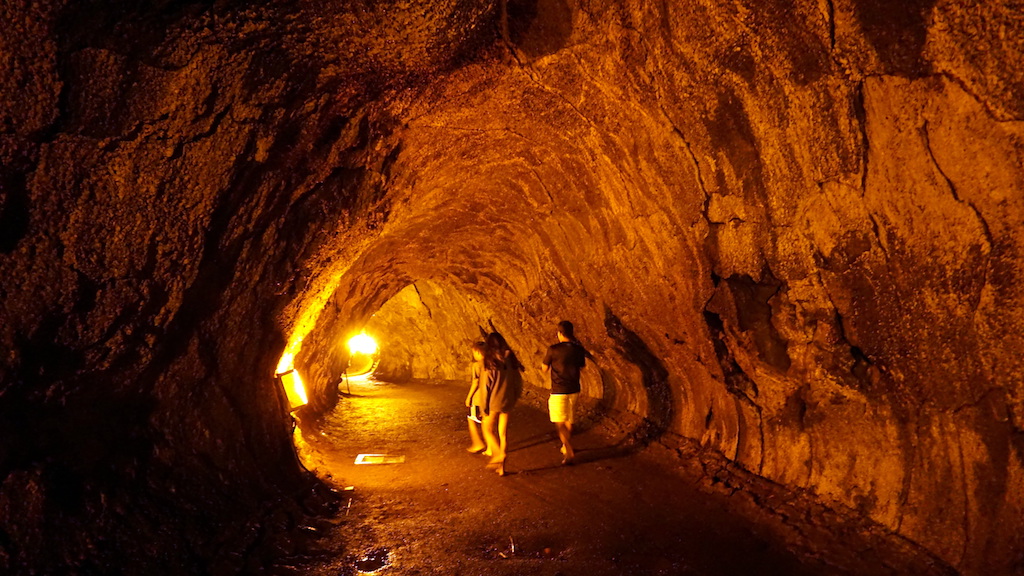 Our favorite route was the 38-mile (61 km) round-trip drive on the Chain of Craters Road. The landscape changed from a lush rainforest to dried lava fields and eventually ended at the coastline. It was interesting to see where old lava flow ended into the ocean. It was amazing to see the rock formations here and especially the precarious Holei Sea Arch.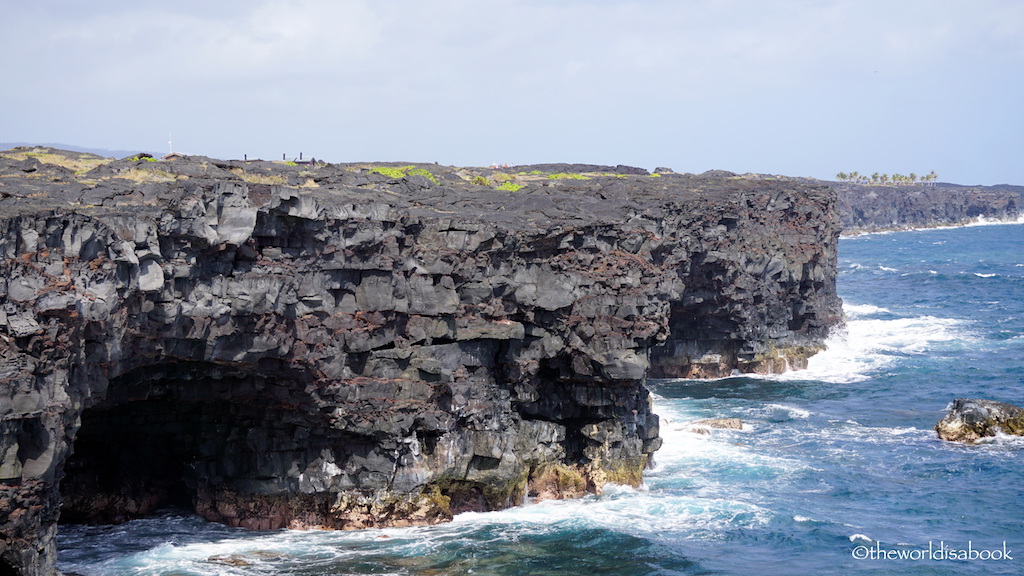 *Read all about our afternoon exploring Volcanoes National Park.
Puuhonua o Honaunau National Historical Park
This 180-acres historic park located south of Kona in Honaunau Bay is one of our favorite places in the Big Island. We revisited a few weeks ago and it was just as beautiful as we remembered it. Pu'uhonua means "place of refuge". This area was used by ancient Hawaiians who broke the law to escape punishment which was usually death. Defeated warriors or those who couldn't fight during wars also sought refuge here. Though, the offenders had to get through the king's warriors or swim through shark infested waters to get to this area. The site was also home of the royals in the Kona district.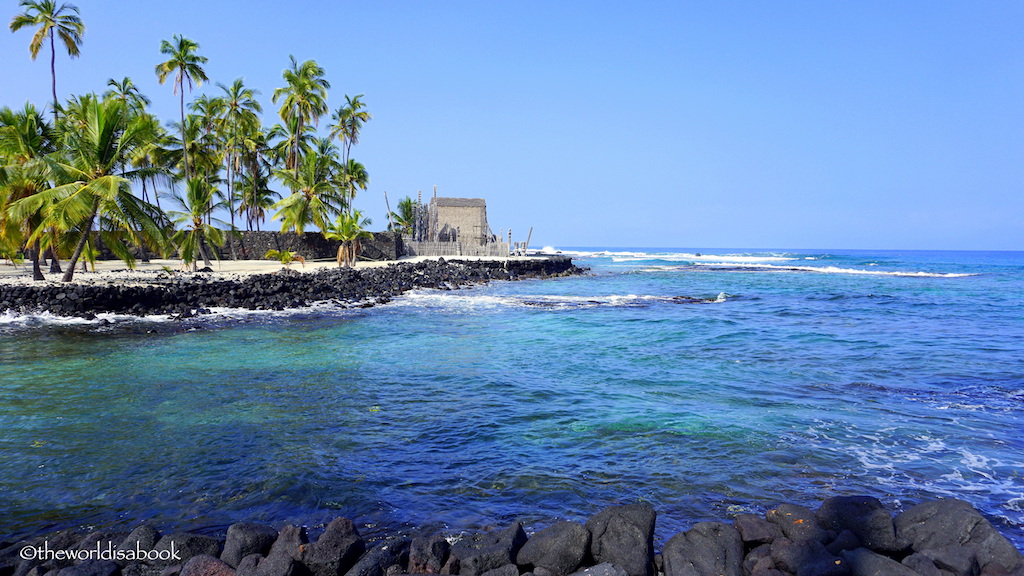 The small Visitor's Center is a wealth of information and there are usually ranger talks and walks to join. There's also a short movie to watch. There were several tables set up where visitors could learn about the park and Hawaiian culture. Park rangers were also readily available to answer any questions.
It was hard to miss the lava stone wall that separated the royal grounds and the sanctuary. The wall is 17 feet wide and about 10 feet high. It's amazing how they were able to build these without modern equipment. Ali'i or chiefs and their royal court once strolled through these royal grounds situated on the beautiful coast.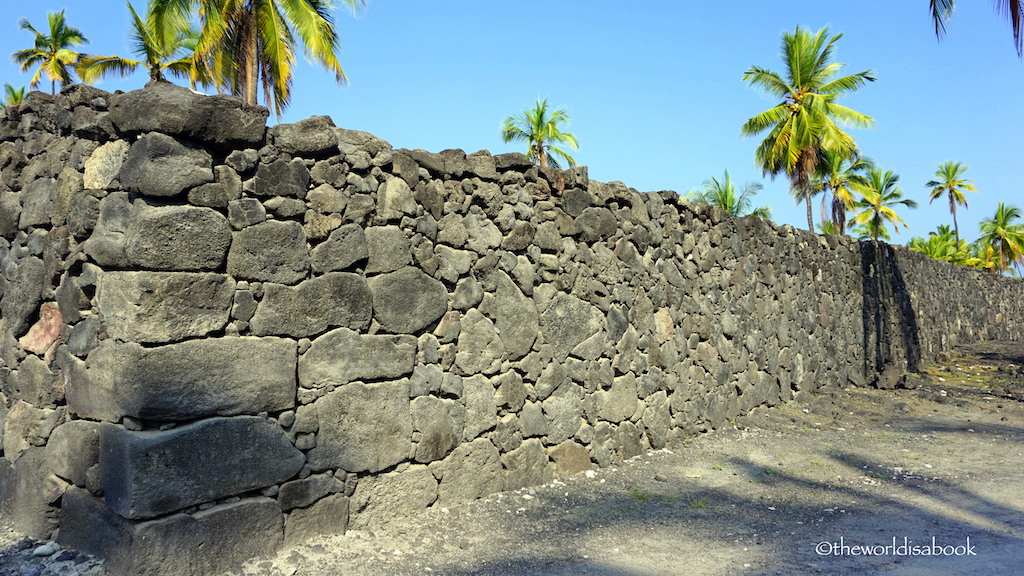 The reconstructed Hale o Keawe temple was the sacred site where 23 line chiefs were once buried.
Visitors are particularly attracted to several of the ki'i or carved wooden images that were around the temple. I'm not sure what most of them symbolized. But, these particular two by the shore seemed happy.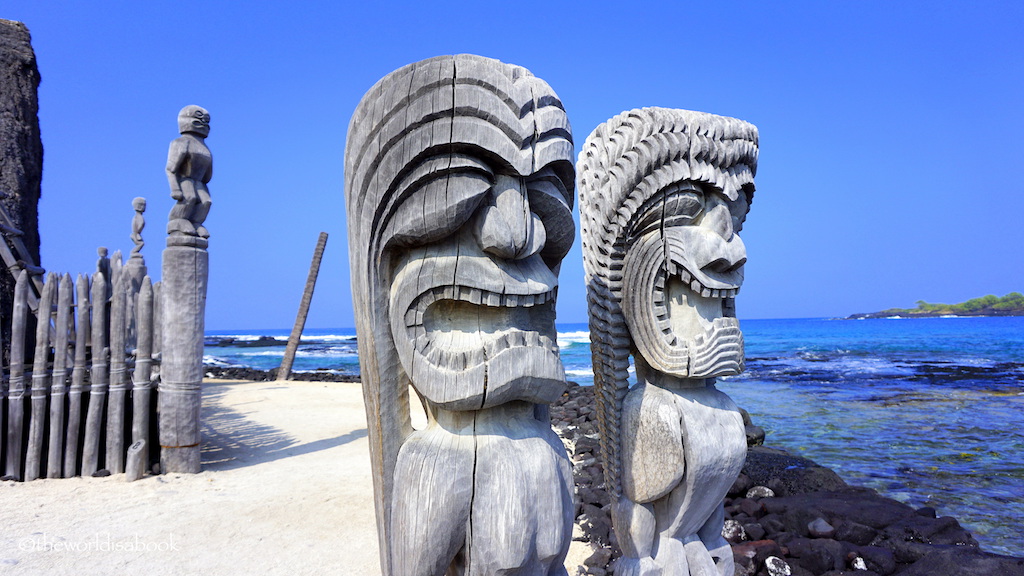 Walk around the temple area for more tranquil spots among the dried up lava flow, a grove of palm trees and some beautiful ocean views.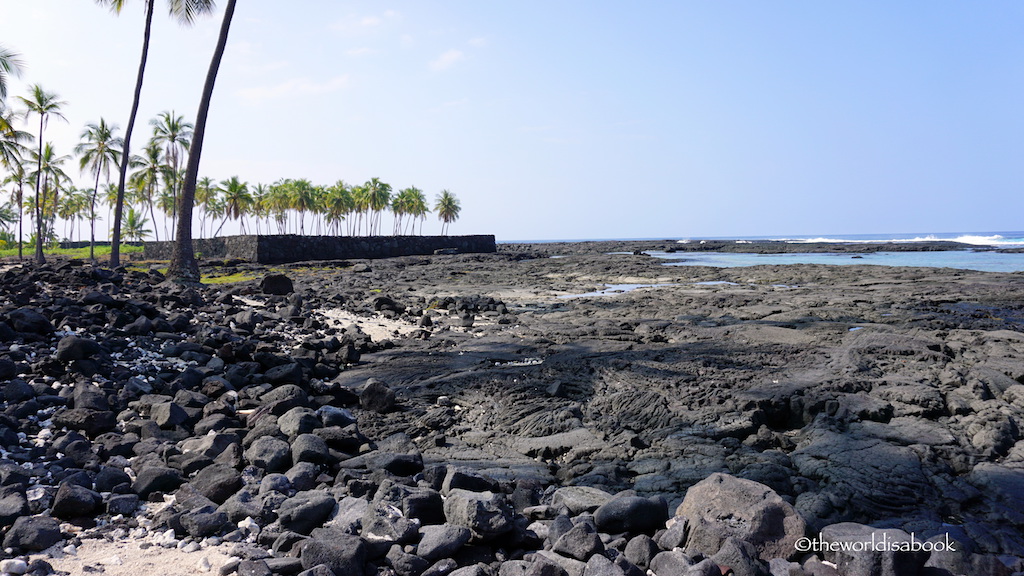 Keone'ele Cove was once how royalty entered these royal grounds using their canoes. It's a beautiful and tranquil area today. Sometimes, honu or green sea turtles swim to shore and bask in the sun. We were lucky enough to see them here a few years ago but didn't see any during this last trip.
This park was small enough that it was easy to do a self-guided walking tour and everything was well-maintained. Brochures at the visitor's center had descriptions of the numbered sites. The reconstructed village showed what life was like for the ancient Hawaiians. There were several artifacts on display in one of the huts including a canoe. It was a bit like stepping back in time in an outdoor museum setting. It was quite interesting to imagine being an ancient Hawaiian living along these shores.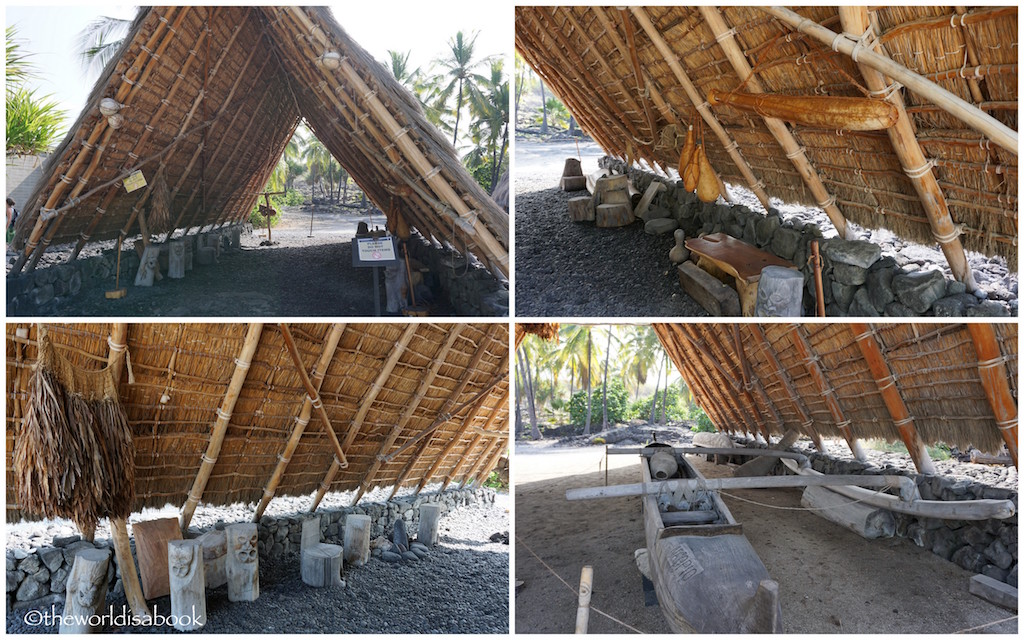 Ever wondered how some Hawaiians entertained themselves? My husband and son found this near the shore area. The ancient Hawaiians played a strategy game called konane that was almost like checkers. Black lava and white coral were used as the pieces and played on a carved rock which served as the gameboard.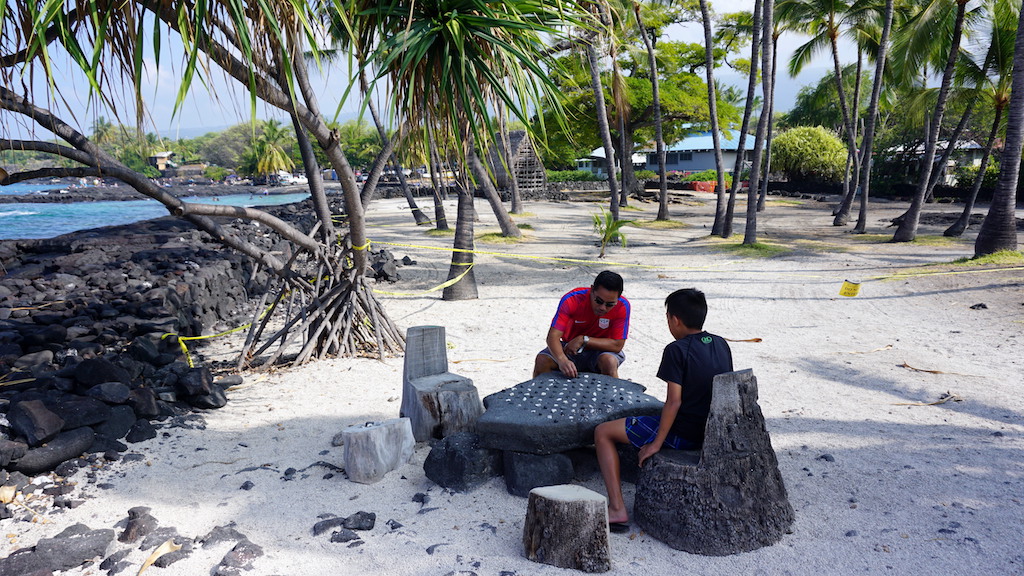 If you're into snorkeling, one of the best areas in the island is located nearby. "Two Step" was accessible via a one way public road just before the park entrance. Street parking is available but very limited. Parking is available at a lot across the street for $5. There were a lot of people during our morning visit. My husband and daughter snorkeled here and really liked it. They saw a lot of colorful fish.
We highly recommend going to the adjacent beach area if you have some free time. Drive through the road to the left of the Visitor's Center. It's also accessible from inside the park on a gravel path. This area was beautiful with plenty of palm trees, picnic benches and all the volcanic rocks. It's a great place for seeing the tide pools.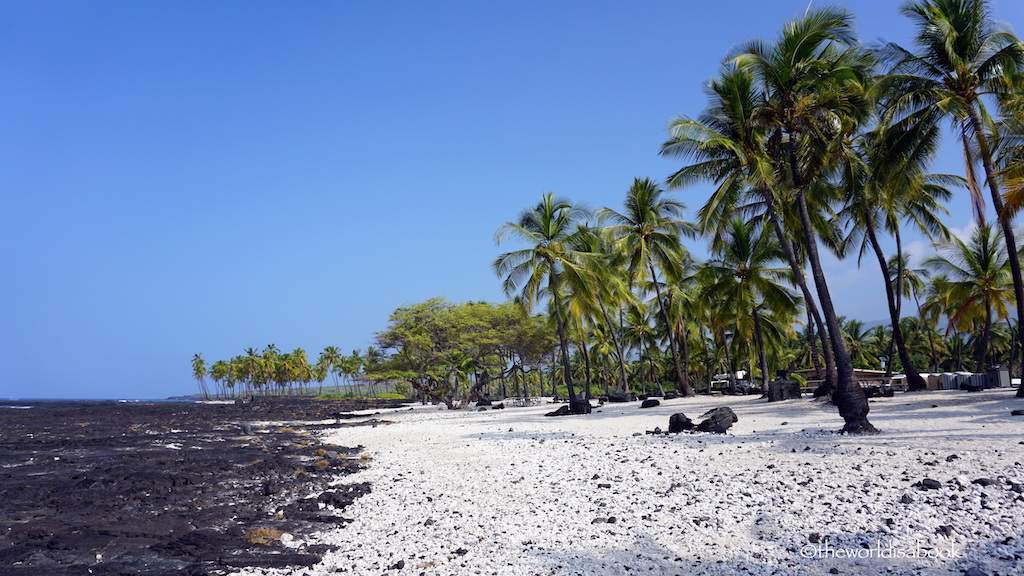 Tips for Visiting the Puuhonua o Honaunau National Historical Park
Park Hours: 7AM until 15 minutes after sunset daily. The Visitor Center is open from 8:30 AM – 4:30 PM daily.
Fees: $5.00 per vehicle good for 7 days
Plan a safe and fun hike. Pick up a trail guide at the visitor center. Bring sturdy walking shoes, sunscreen and plenty of drinking water.
Bring water, food since there are no food concession stands. You can fill up water bottles by a fountain near the restrooms.
Apply plenty of sunscreen and insect repellant. It's going to be quite hot and humid.
Try to go early to beat the heat and crowds.
If you're coming from Kona, take Hwy 11 and down Hwy 160 (a right after the US post office). We decided to take Napoopoo Rd on the way back to Kona and there were some one way spots and it's a harder road to navigate.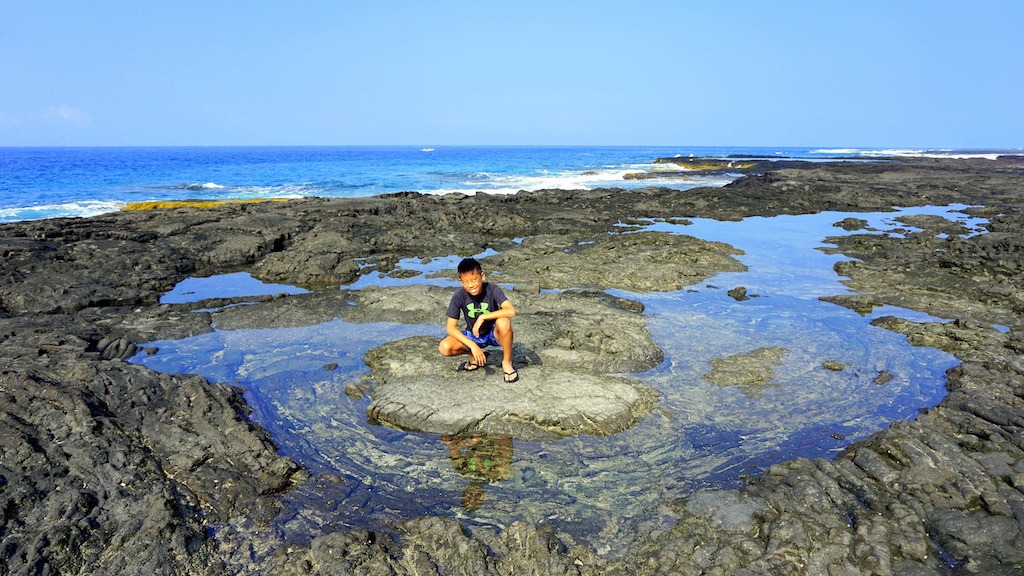 Kaloko-Honokohau National Historical Park
We actually didn't know about this park until the Honaunau park rangers gave us a brochure when we asked where else we could see sea turtles. This coastal park was located just south of the Kona airport. It protects an early Hawaiian seaside settlement and offers the chance for visitors to learn more about the local culture and the island's natural history. It's also a wonderful way to see how the ancient Hawaiians survived efficiently along this rugged coast.
We visited the Hale Ho'okipa Visitor's Center which was located off the main Highway 19. The park is made up of several areas that contain petroglyphs and trails with remaining house platforms, stone walls, worship sites and native plants. The park also has two Hawaiian fishponds used by the natives to catch seafood that involved channels, traps and sluice gates.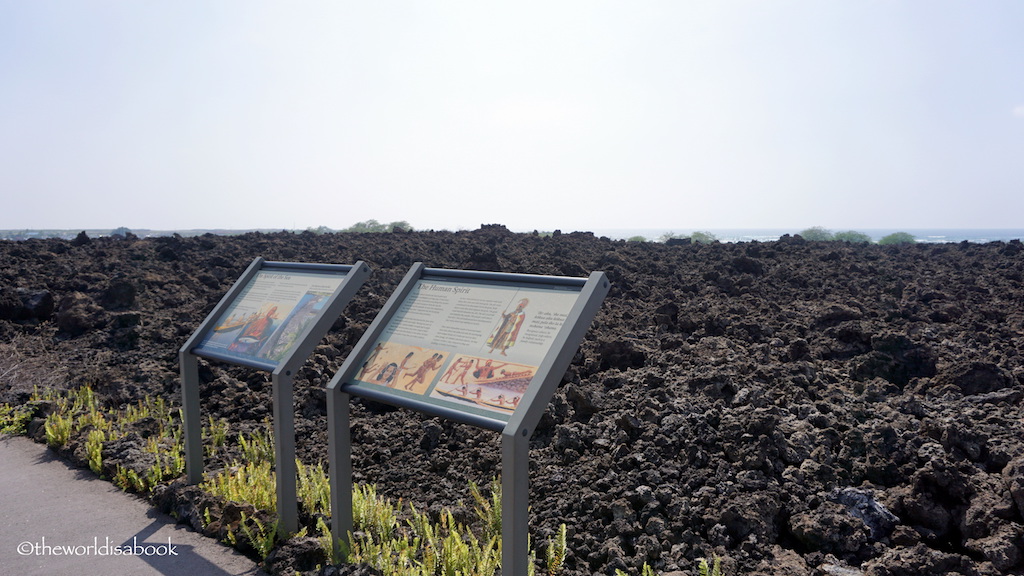 Though, its two beaches of Honokohau and Ai'opio beach that stretched for about a mile are what we liked best about this park. We followed the entrance and a short trail from the Honokohau Boat Harbor. We loved the calm water, white sand against the black lava rocks. It's a great place to watch what emerges from the tide pools. There weren't as many people here too which made for a great beach day.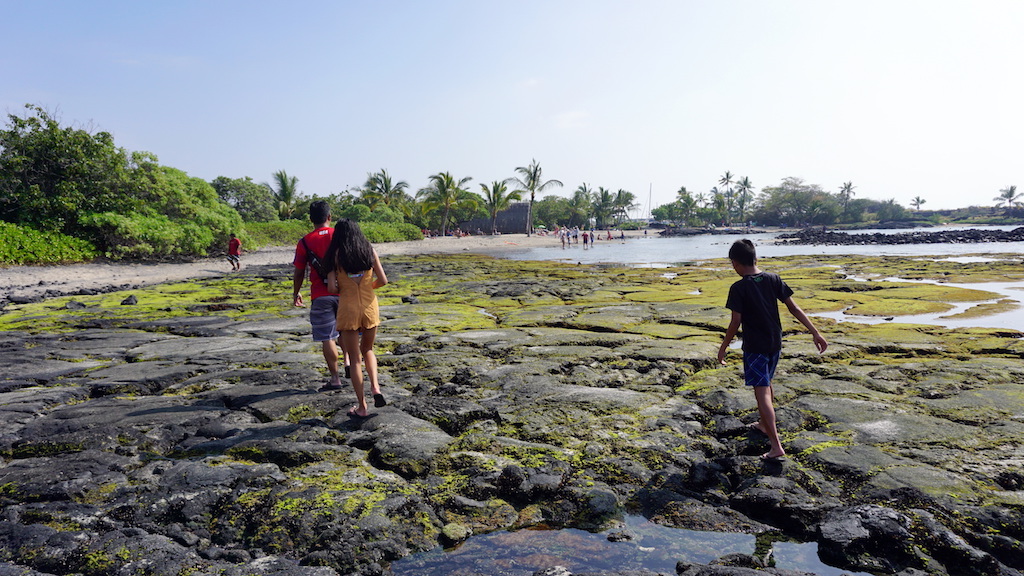 There was an ancient heiau or temple that was at the beach that showed a glimpse of how the ancient Hawaiians lived and survived. This particular area is made up of many miles of barren lava fields where nothing much grew in addition to a dry and hot environment. It's amazing to think how self-sufficient they were with raising crops, finding freshwater and using the ocean as a food resource. They also traded what they caught from the ocean with mountain residents who had fruit and vegetables.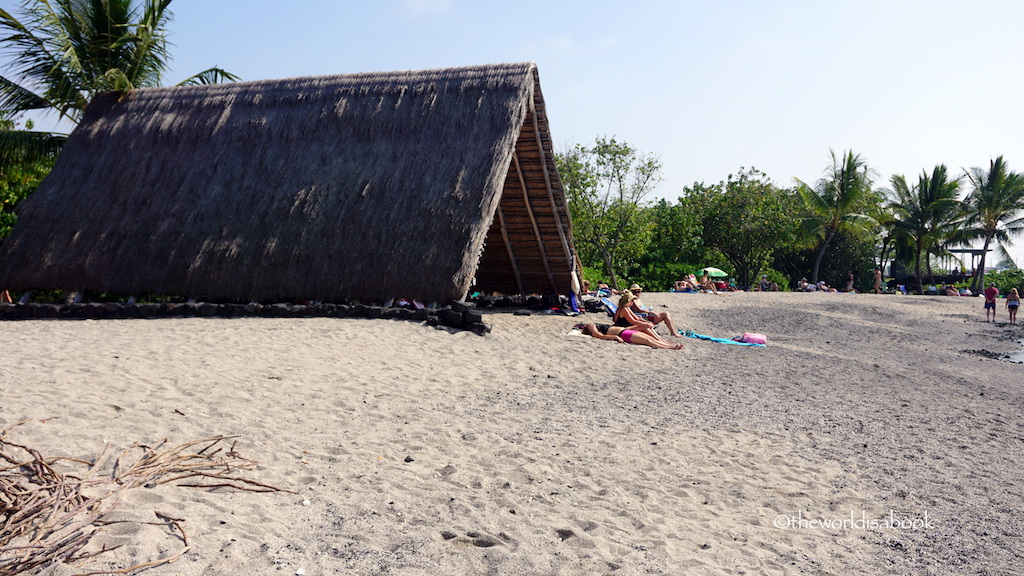 We were lucky enough to spot many green sea turtles or honu in the water and along the shores here. The turtles enjoy coming here to feed on algae, seaweed and to bask in the sun. Some were using these plants for some shade.
The green sea turtle are a threatened species and fiercely protected by the state and federal laws. Visitors shouldn't disturb or touch them and must always remain at least 15 feet away. Though, we did see some people come quite close for photos.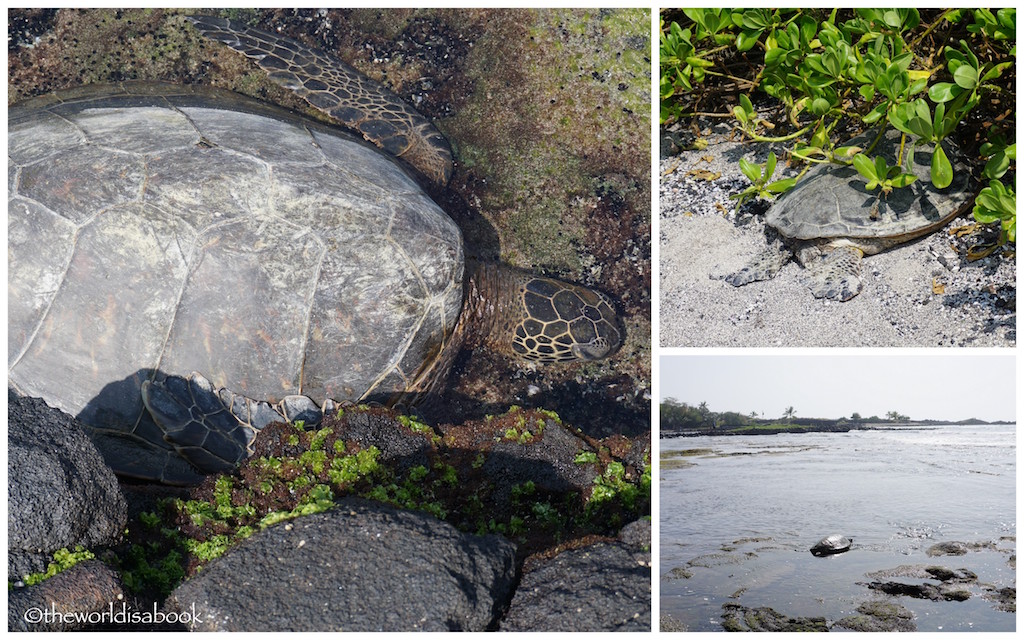 Tips for Visiting Kaloko-Honokōhau National Historical Park
Free Entrance
Hours: 8:30 AM to 4 PM (Hale Ho'okipa Visitor Center) daily. Park brochures with a map are available as well as a park audio tour.
There are no lifeguards at the beach area. Some areas around the tide pools were quite slippery  and be aware of high surf warnings.
Wear closed toe and appropriate for walking/hiking shoes on gravel trails and in some areas on lava flows.
Bring water if hiking the trails .
Fishing and gathering of some ocean resources are allowed. Check with the park rangers.
General Tips for Visiting National Park Sites in Hawaii
Save money by buying the America the Beautiful Pass for $80 good for all the US parks. There is also a Lifetime Pass for $10 for US citizens and permanent residents over 62 years old (price will be increasing to $80 soon). The US National Park sets aside several days annually to enter the parks for free. Check the National Park Service site every year.
If you have a 4th Grader, they can get an Every Kid in a Park pass that's valid for 12 months. Passes must be printed. Visit the

Every Kid in a Park website.

Be sure to get the Junior Rangers packet for kids at the parks to earn their Junior Ranger badges.
Have you visited any of these parks or are they on your travel wish list?
Pin it for later!