Doing the Ring Tour in Rüdesheim am Rhein Germany
Images of scenic hillsides dotted with castle ruins and verdant vineyards are what I'll remember fondly about Rüdesheim am Rhein in Germany during our visit a few weeks ago. This town was the gateway to the Upper Middle Rhine Valley UNESCO World Heritage site. The area is also known as a wine region. Come along with us on the popular circuit or ring tour for a fun day of exploring the area through gondolas, chair lifts, cruises, hikes, charming villages and picturesque panoramas.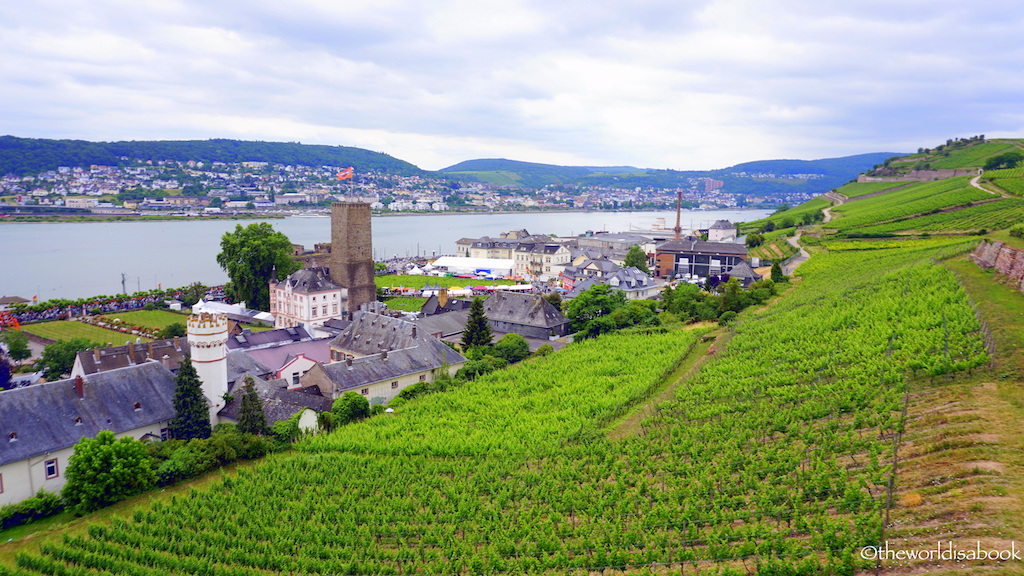 We were in Germany for a few days during our three-week European adventure. This was a day trip from my brother's residence over an hour away. Our GPS led us to the town of Bingen. We then took a car ferry to cross the river to Rüdesheim without our car. It was about 2 euros each.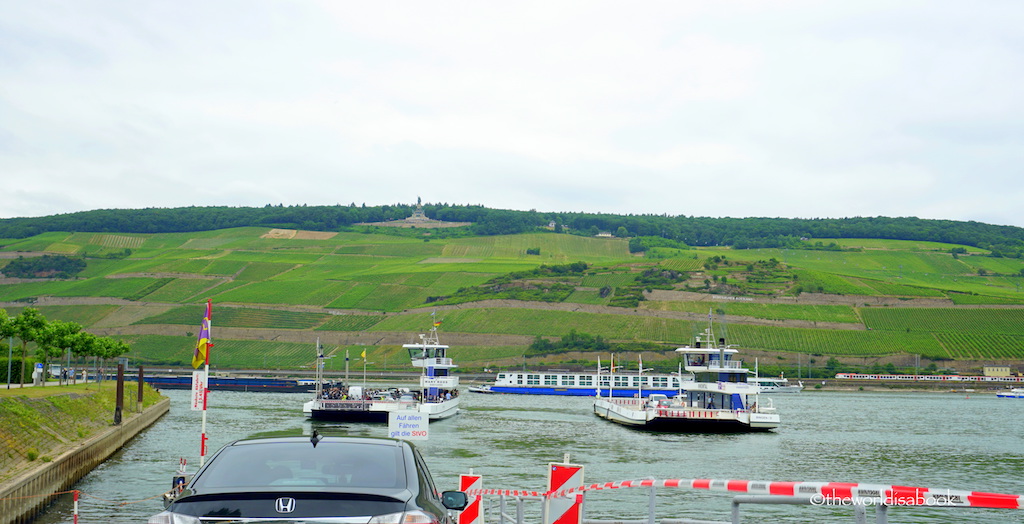 At any other time, it would have been ideal to have a car there. We just happened to be there when there was a huge Harley Davidson ride event going on and the streets were closed. I have never seen so many motorcycles and leather-clad riders gathered in one place.
It was a bit challenging to walk the few blocks to the tourist welcome center to get our ring tour tickets with all the riders and their motorcycles parked. Though, it felt like being in a large town festival.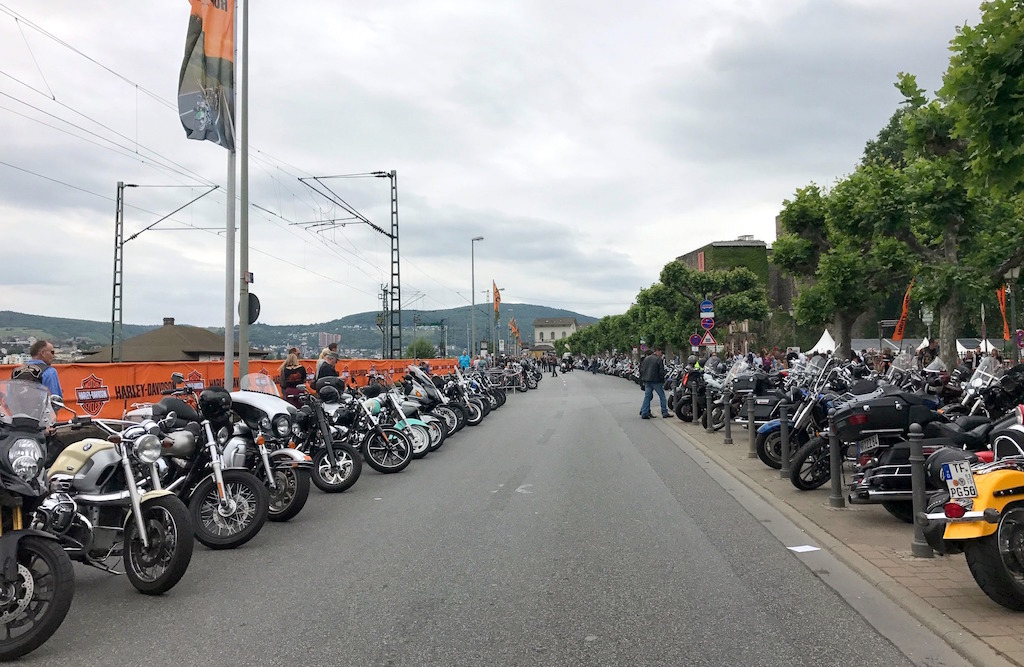 The welcome center personnel were friendly, helpful and spoke great English. The circuit or ring tour ticket included rides to go up and down a mountain and a cruise on Rhine river.
She recommended that we start with the cable car from Rüdesheim mainly because the chairlift that would take us down to the village of Assmannshaussen will have a better scenic view of the valley compared to having our backs away from the village.
Rüdesheim am Rhein was a charming town and great for strolling and window shopping. I'd love to return here without all the crowd and explore all the stores and restaurants. The old town area is filled with colorful buildings and quaint shops connected by cobblestone streets. Its most famous street was Drosselgasse.
This 472 ft (144 m) long cobbled lane was lined with restaurants, shops and historic buildings. We loved looking up at the well-decorated buildings here. Some of the cafes even had small and charming courtyards to hang out.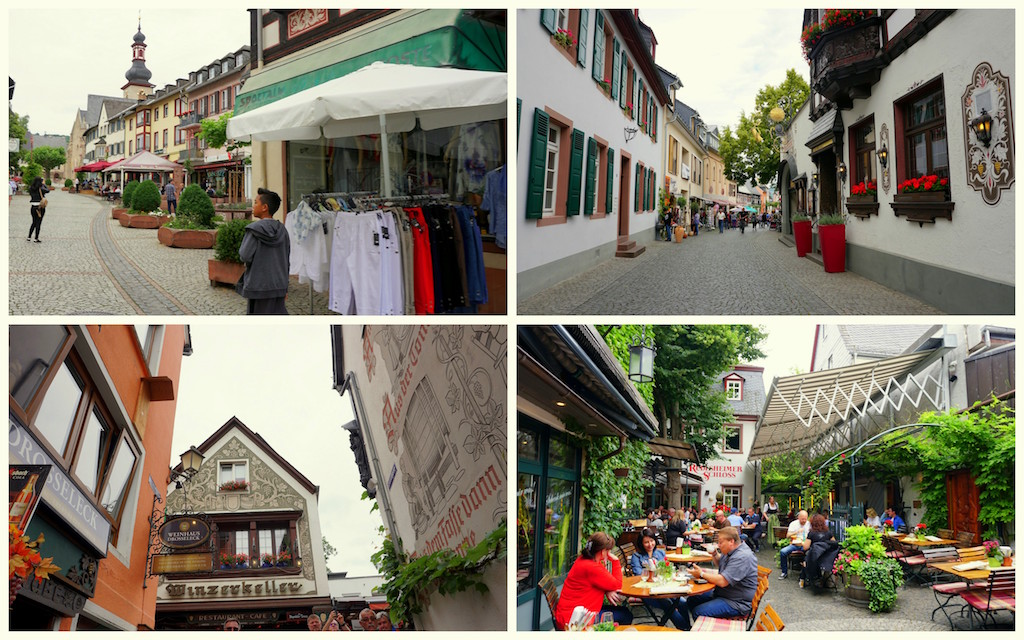 Rüdesheim am Rhein is an established wine growing region known for their reislings and pinot noirs. Of course, there were several wine tasting shops. Some even had free tastings and the ones we tasted were all great. If you're a reisling fan, they were bargains here at less than 5 euros a bottle.
There were also quite a few gelatarias here and only cost 2 euros. That was way cheaper than the ones we've had in Italy.  Gelatos work wonders with kids being hustled through crowded streets and wine shops.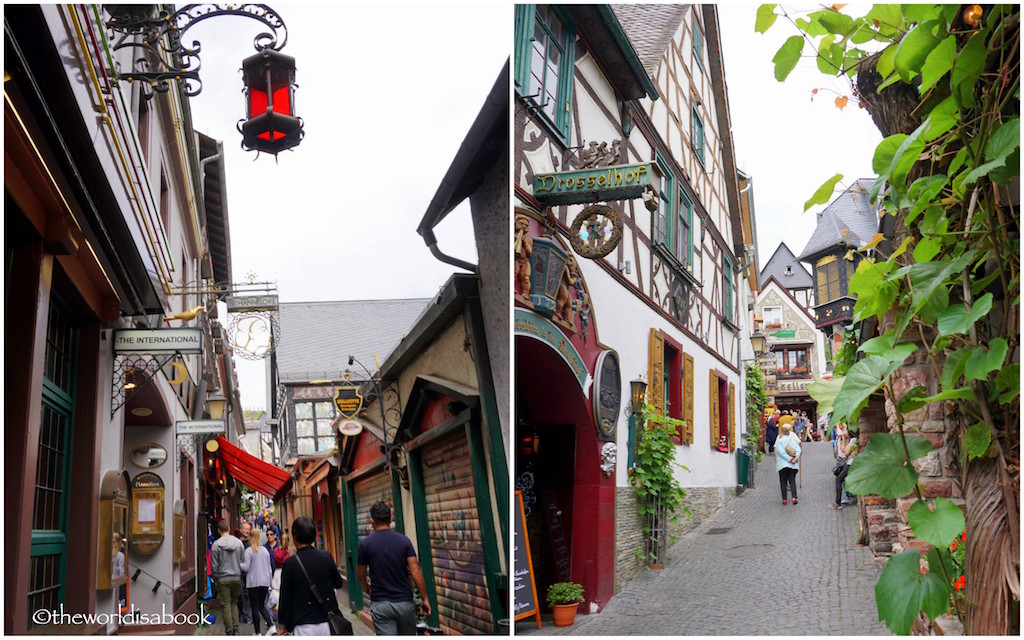 The first leg of our ring tour was taking the Selbahn (cable car) to go up to the Niederwald Memorial and park. They weren't very big and occupied at most two adults facing each other.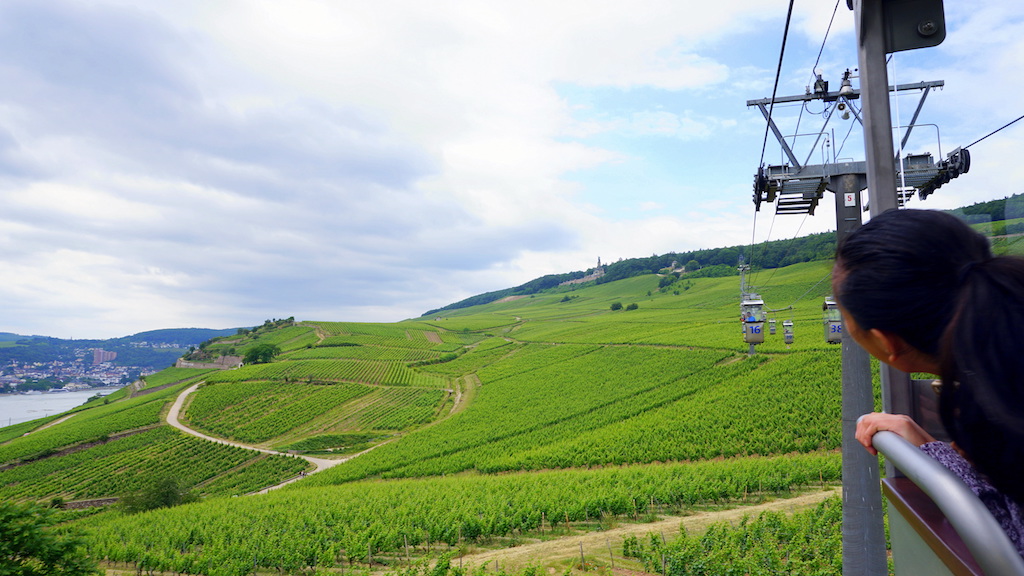 We rode over verdant vineyards as far as we could see. The views were amazing and made me wish the 15-minute ride was a lot longer.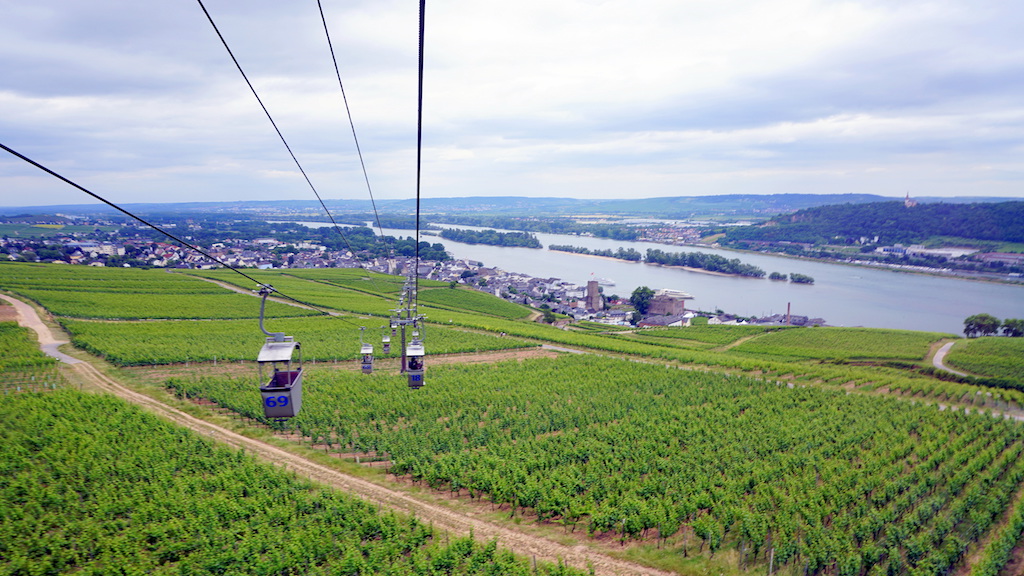 We saw some people walking down the scenic path between the vineyards to Rüdesheim instead of taking the cable car. There were also some people having picnics here. Can you imagine how this place looks during harvest season when all the grapes are hanging out of the vines?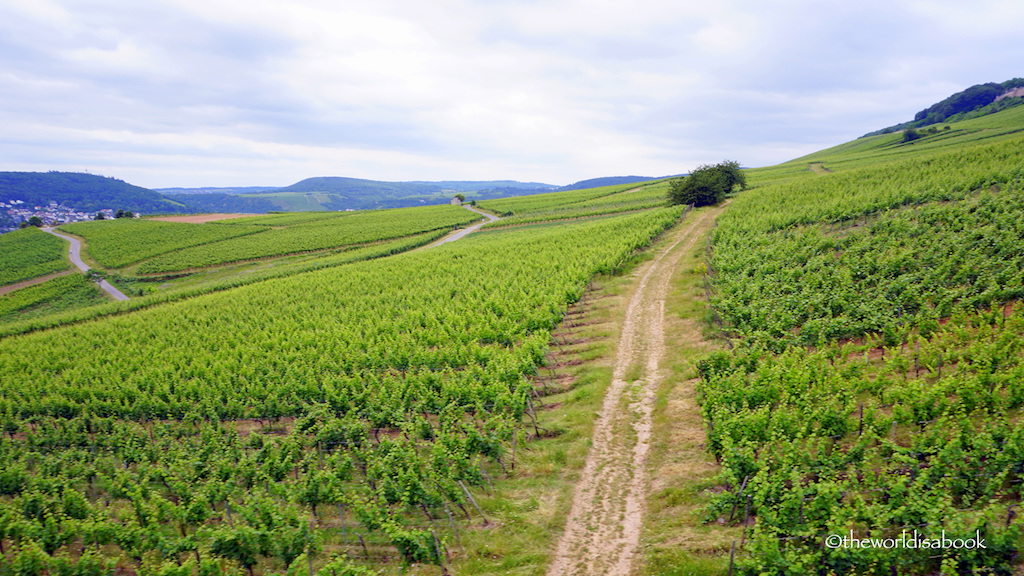 The Niederwald monument is hard to miss when cruising the Rhine River. It was surrounded by a beautifully landscaped park with a cafe, kiosks and gift shop. The panoramic views of the steep hills covered with lush vineyards, villages and all the activity on the Rhine River was spectacular.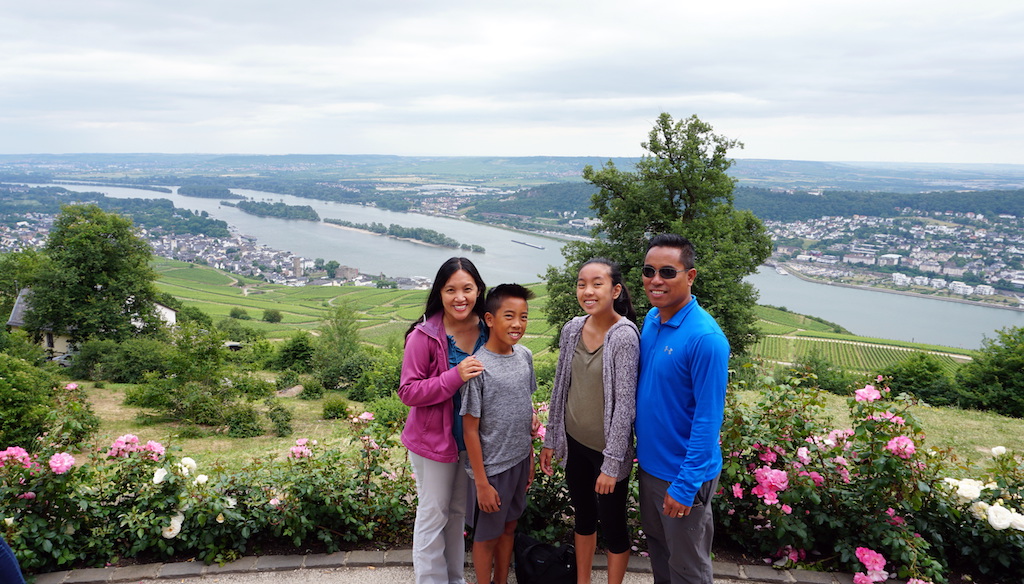 This area must look even more stunning during Autumn when the trees explode in color. I'm adding a Rhine River cruise during Fall on my travel wish list.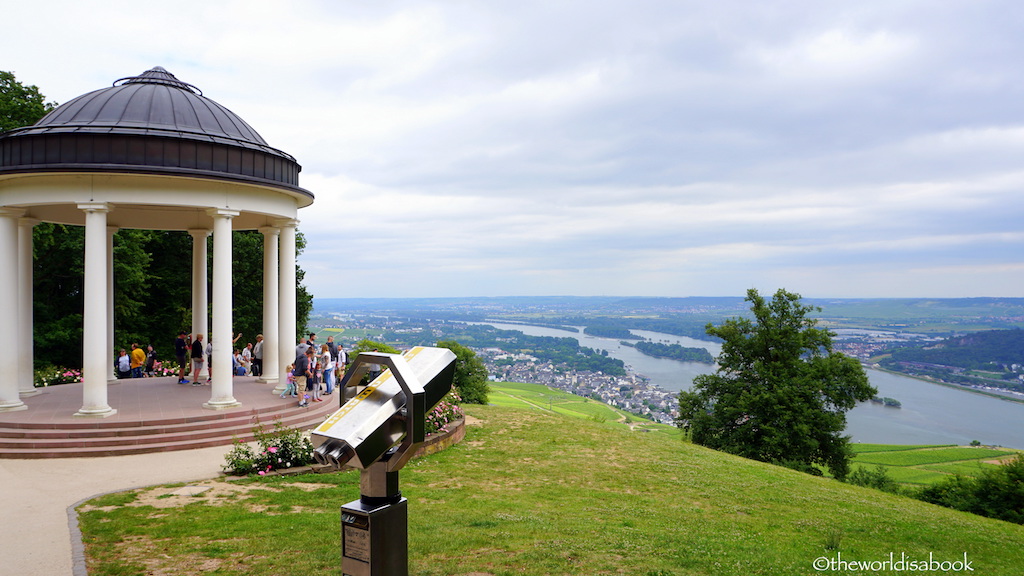 The centerpiece here is Niederwalddenkmal which has a group of bronze sculptures. These include the most prominent figure was Germania (symbol of the German nation). Below her were figures that represented war and peace.
This impressive monument was built in the late 1800s to commemorate the German Empire's unification and in memory of the Franco-German War. Visitors can opt for a roundtrip cable car ride or hike from Rüdesheim to reach this monument. There was also a parking area for those driving up here.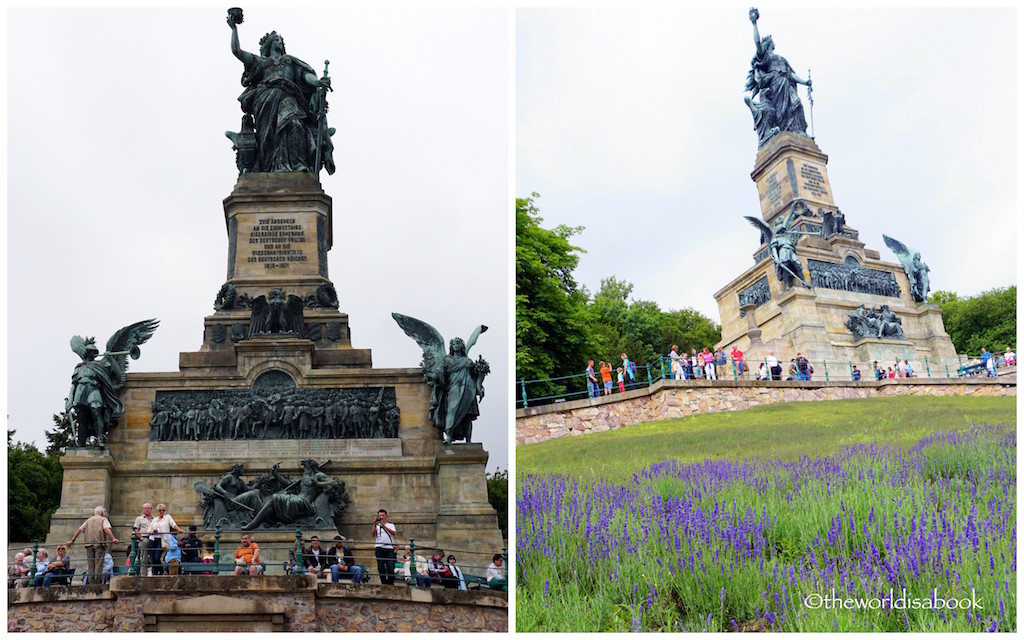 The next part of our ring tour was an easy hike through the forest which really looked more like a well-maintained, wooded park. There were some viewpoints of the Rhine River valley along the way.
This 1.86 mile (3 km) trail took us about 45 minutes at a leisurely pace. There was also a horse carriage which took visitors through this trail and from/to the monument.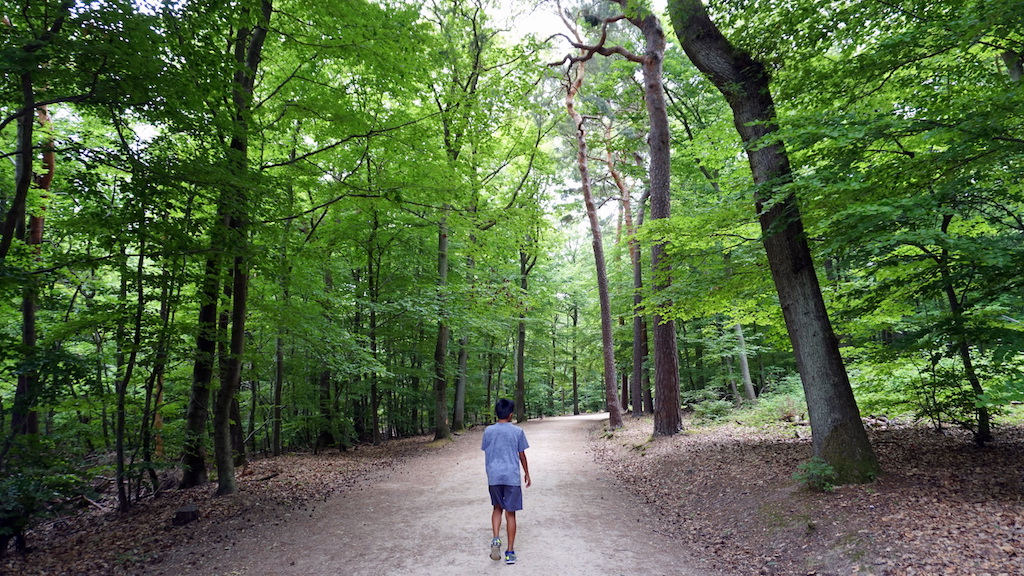 The trail ended at Hotel Jagdschloss Niederwald which looked like a very charming hotel. This was located in a national reserve. I loved the eating area outside underneath those neatly shaped trees.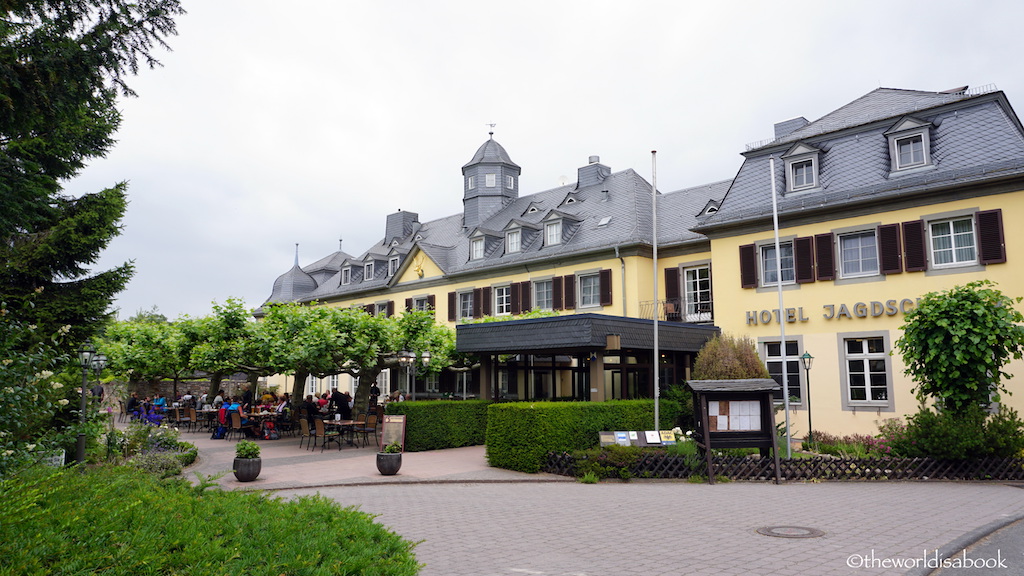 It was a pleasant surprise to find this deer park behind the hotel. We found some friendly deer here in an enclosed fence. There was also food for sale to feed them.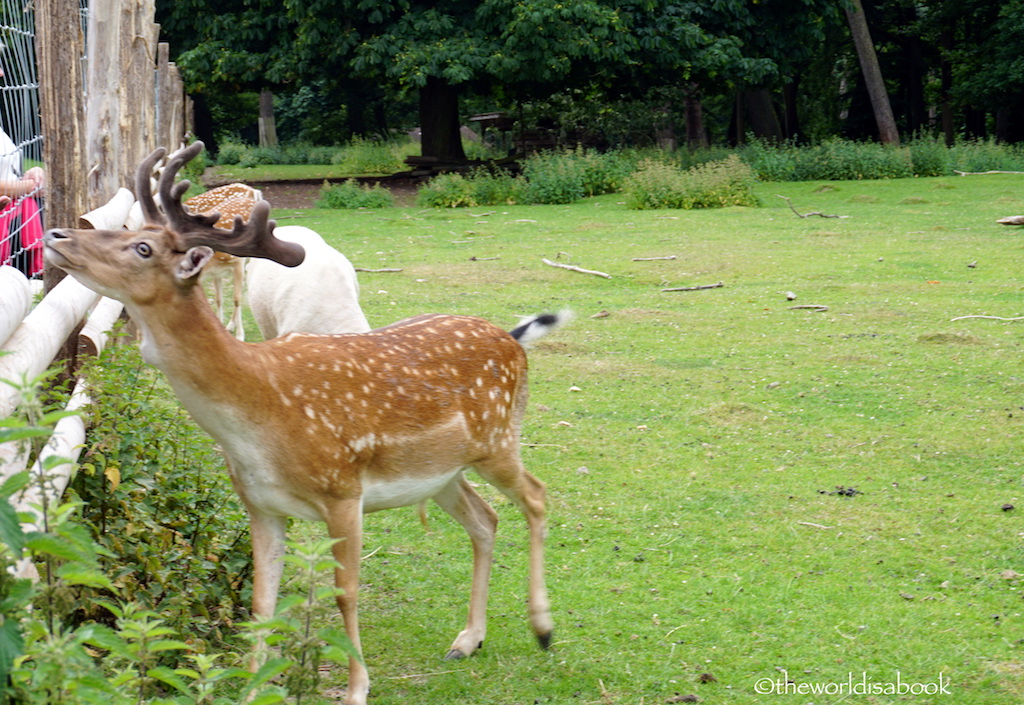 A few steps took us to the start of the Sessellift (chair lift) that took us to the "redwine village" of Assmannshausen. Yes, my kids got a real kick out of that name. This ride was steep and seemed a lot higher than the cable car ride. This isn't for anyone with a fear of heights.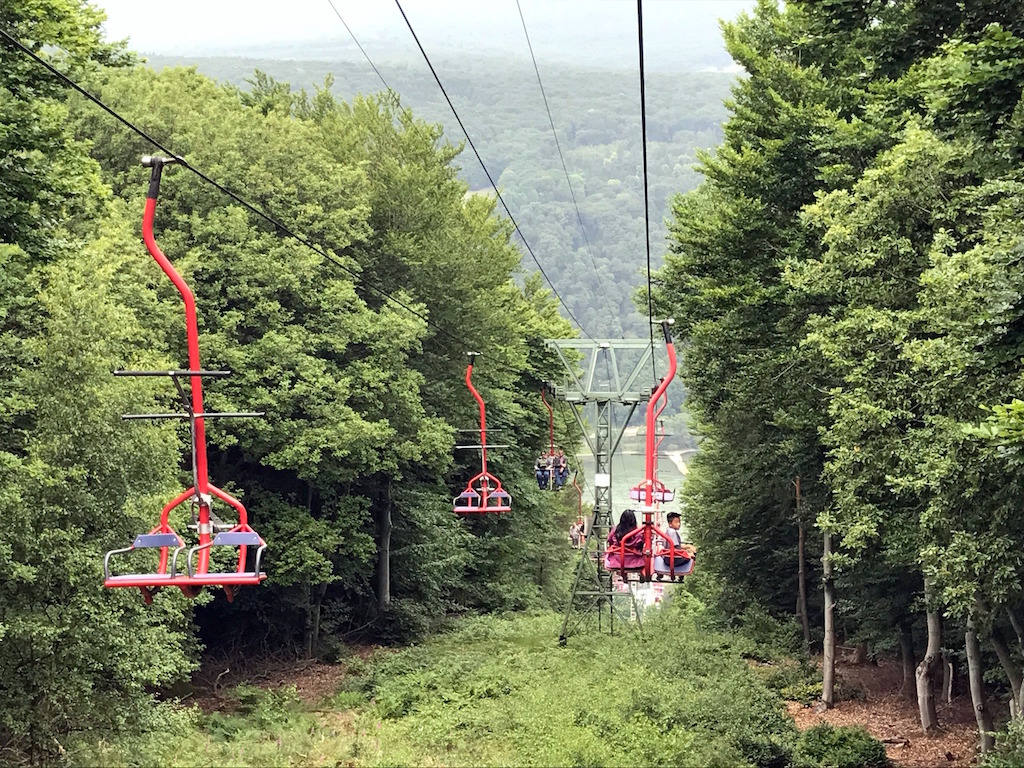 Though, the scenery of the village below and the hillside covered with vineyards made the ride go by quickly.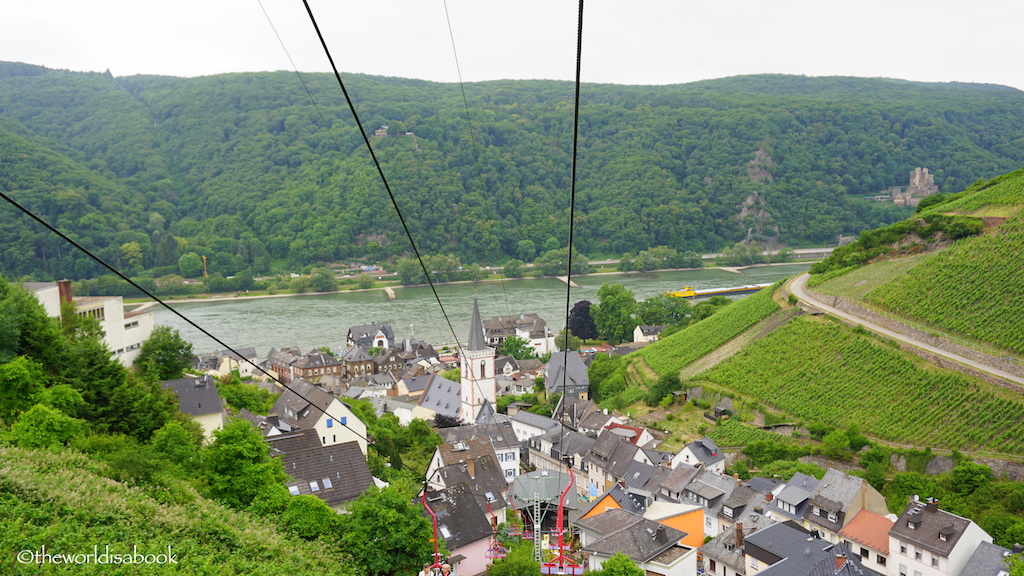 We didn't really have any time to explore Assmannshausen. Mostly everything was closed which seemed odd considering it was a Saturday. But, it looked so charming with these half-timbered structures. It was another 10 minutes walk mostly along the river to where the boats dock.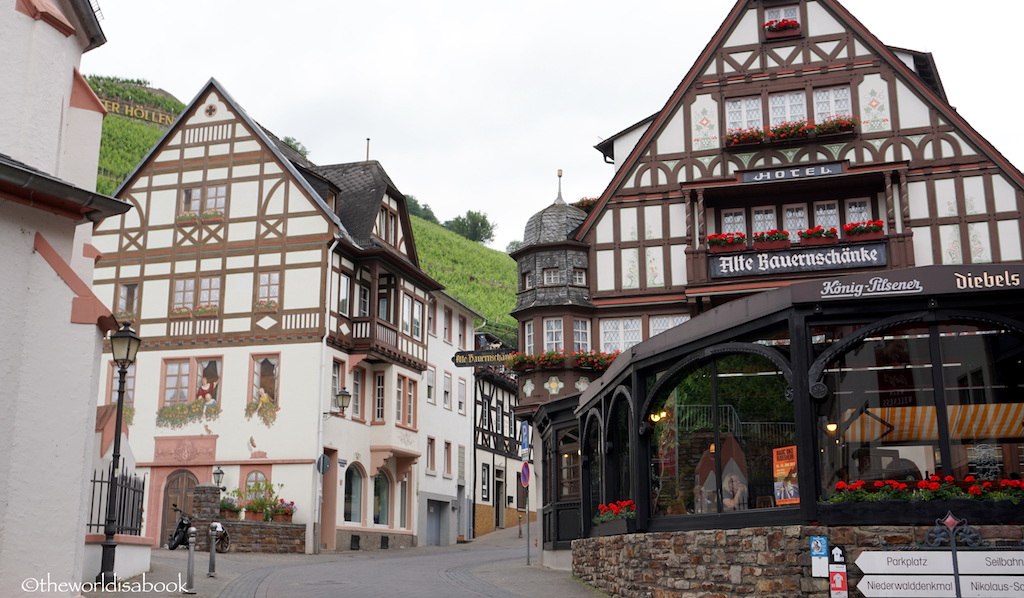 Bridge/Dock #3 is operated by Bingen – Rüdesheimer Cruise Line. We boarded our small ship to cruise a small part of the Rhine river here. Luckily, there weren't as many people as we expected. Departures were about every hour.
There were open air seats at the top deck to get the best views. There were also enclosed seats at the bottom floor. They had clean restrooms and had a concession kiosk.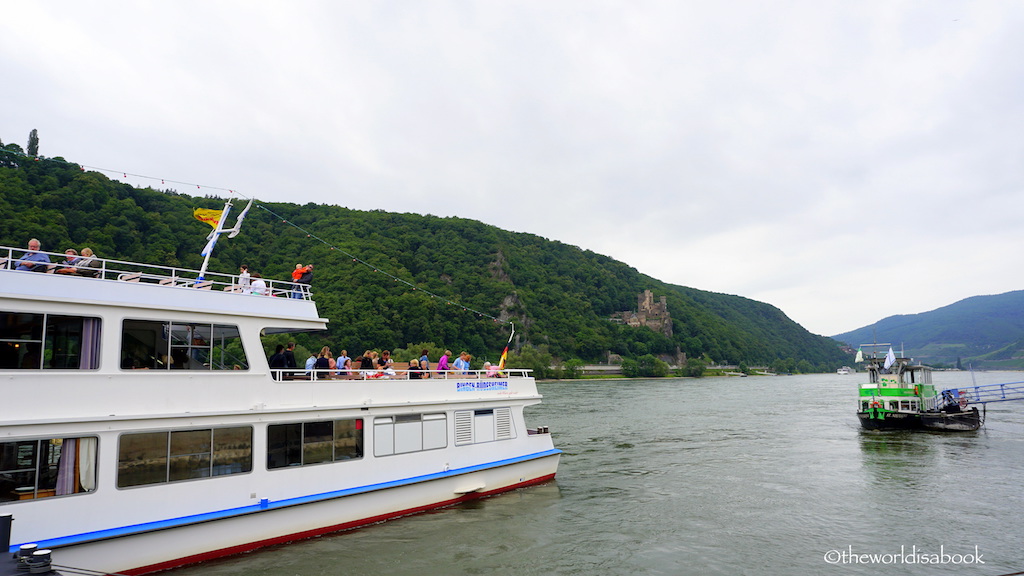 We slowly cruised down the river passing by those verdant valleys filled with vineyards. It was miles of vineyards here with some of the winery's names displayed prominently. There was an occasional castle ruin along the hillside. It was a very relaxing way to sightsee and end this day trip. It takes about 45 minutes to cruise from Assmannshausen to Rüdesheim.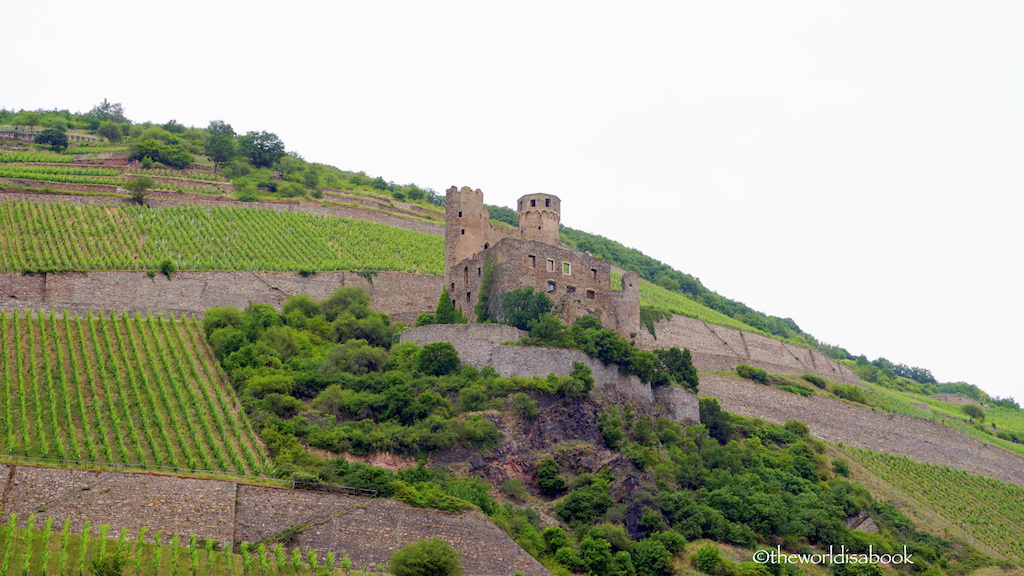 This was the town of Bingen which was our stop since we parked here. There was a nice riverside promenade with several restaurants and a nearby park and playground for kids. For visitors that want to return to Rüdesheim, that town was the next stop.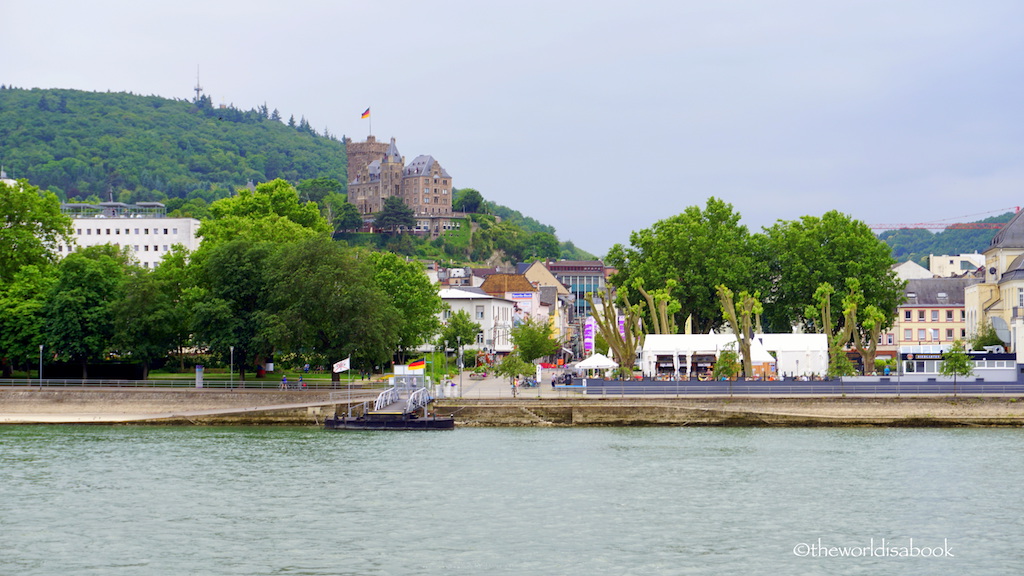 Our family really enjoyed this ring tour. It was a great route and variety of transportation options that took us above the area for some stunning views and a cruise through portions of the beautiful Rhine Valley. It was the best way to get a taste of what this area has to offer while including the outdoors and some history. We highly recommend doing this circuit/ring tour when visiting the area.
Tips for Visiting Rüdesheim am Rhein and Doing the Ring Tour
Ring Ticket prices (as of Aug. 2017): Adults (14 €); Kids ages 5-15 years old (7 €)
Buy tickets at the Rüdesheim am Rhein Visitor's Center. There were signs from the ferry dock to its location. The brochure includes a timetable for the cruises. They had plenty of maps and the staff were very helpful.
This tour is available from March until November. Special events occur throughout the season like a romantic cable car ride during Advent and moonlight cable car rides during the summer.
Eat in Rüdesheim am Rhein or get some snacks before heading up to the cable car. Bring plenty of snacks along the way for the hike if you have smaller children.
Other sightseeing cruises are also available from Rüdesheim including a castles cruise. This area has a high concentration of historic castles.
Driving Distance from Frankfurt is about 52 minutes; Kaiserslautern (1 hr and 21 minutes); Mannheim (1 hr 25 minutes); Train service was also available from Frankfurt and other cities.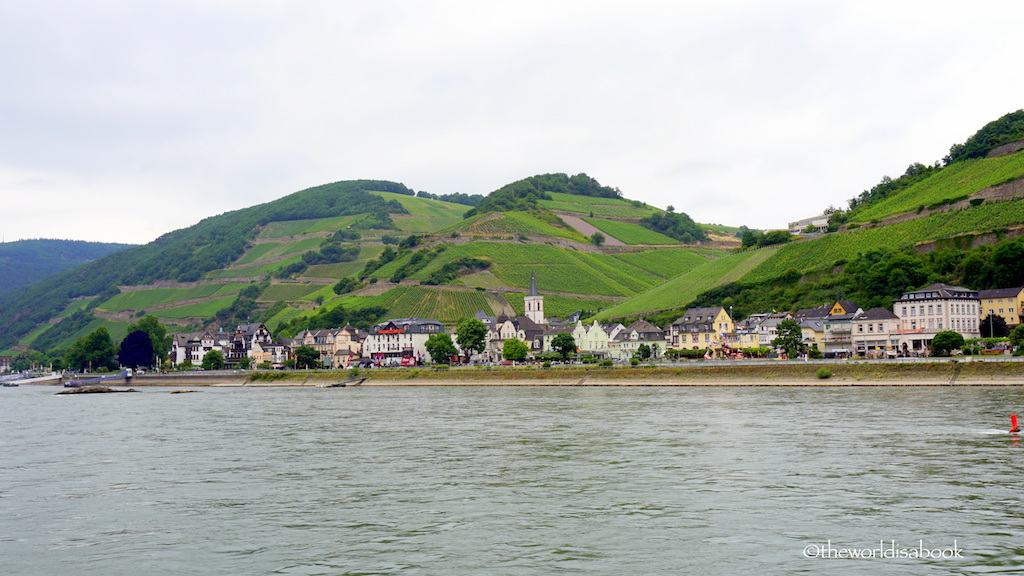 This was our circuit/ring tour in summary. It took us over five hours including a lot of photo stops and walking around Rüdesheim.
Park at Bingen by passenger ferry (this part can be bypassed if you can take your car to Rüdesheim)
Go to Rüdesheim am Rhein via passenger/car ferry
Ride the gondola up to Niederwald Memorial (15 minutes)
Hike (3km) to Hotel Jagdschloss Niederwald
Ride the chair lift down to Assmannshausen (15 min)
Walk to the boat dock area (10 min)
Cruise to Bingen or back to Rüdesheim (45 min)
*Have you done the Ring Tour? Is a Rhine River cruise on your travel wish list?
Pin it for later!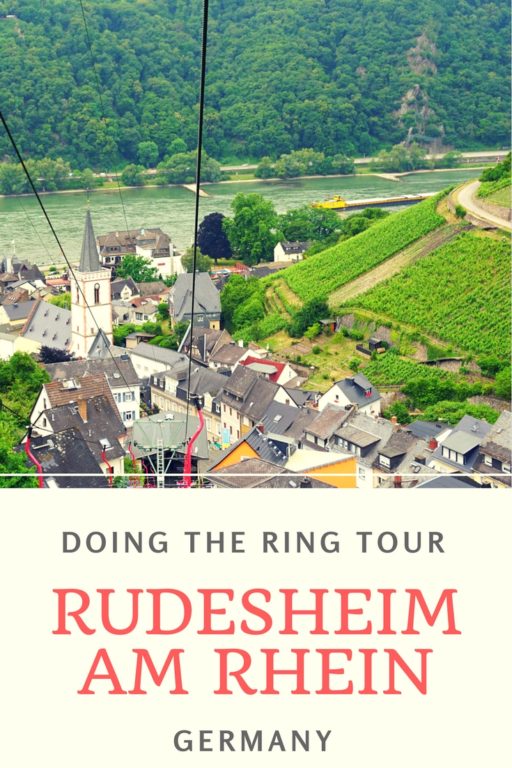 This post is part of Travel Photo Thursday at Budget Travelers Sandbox , Weekend Wanderlust at A Brit and A Southerner, Weekend Travel Inspiration at Reflections Enroute, The Weekly Postcard at Travel Notes and Beyond .  Do some armchair traveling and please visit the sites for other travelers' wonderful photos and posts.