Palace of Versailles Bike Tour with Fat Tire Tours
We're usually not the tour groups type since doing them with kids can be challenging. But, our three-week itinerary this past summer in Europe with a seven day cruise included quite a few tours. One of our favorites was biking to and around the Palace of Versailles in France with Fat Tire Tours. See why this tour was the best way to see this massive royal residence.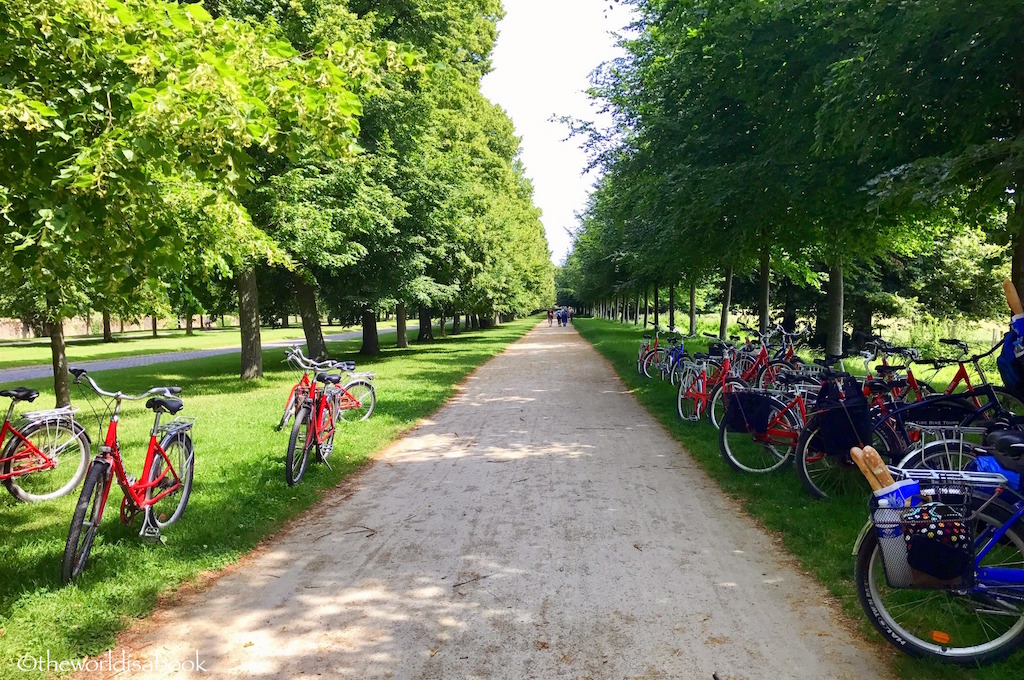 Getting There
We met the group and our tour guide, Eddie (who's from Spain), at the Fat Tire Tours office near the Eiffel Tower. Eddie gave us a brief orientation of what we were doing for the rest of the day. There were 17 in our group including five kids and my 11 year old son being the youngest.
Our group walked a few blocks to the RER C Champ de Mars train station. Roundtrip train tickets were included with the tour so we didn't have to worry about lining up and buying them. We were handed tickets and all we had to do was swipe. The train ride took about 25 minutes to Versailles with a couple of stops and no transfers.
The Versailles Rive Gauche trains station is about a five minute walk to the palace. It's hard to get lost. There were many signs or just follow the crowd. We had to pick up our bikes first from the Fat Tire Tours office a few blocks away.
Their office was in a great location by the imposing Cathedrale Saint Louis. The adjacent square was surrounded by cafes and a farmer's market. It helped to have the square to practice with the bike assigned and trying out riding on cobblestones.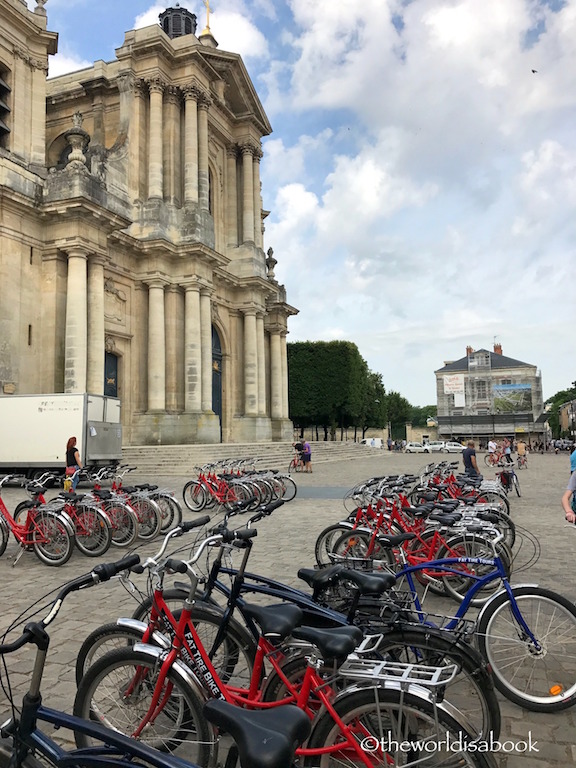 Once we had our bikes, it was a short ride to the gates of Versailles. We had a glimpse of this massive royal home and its gilded fences. There were already a lot of tour buses lined up and it was barely 9:30 AM. Luckily, we didn't have to deal with the crowds since we were touring the grounds first.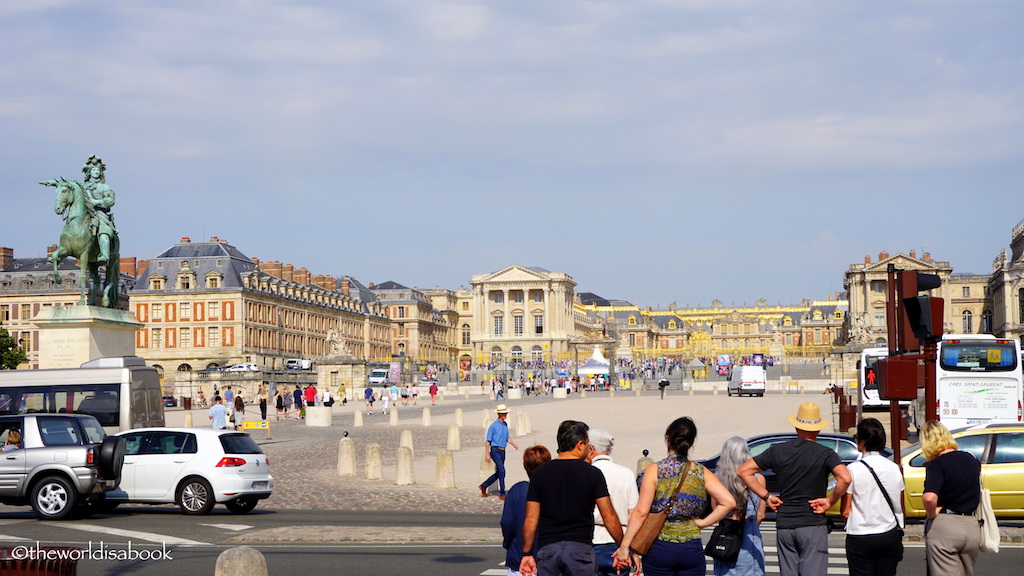 History of Versailles
Europe's largest chateau started as a hunting lodge in 1629 when King Louis XIII bought the land and built a chateau. Since then, it has a long history of construction and rebuilding.
King Louis XIV or the "Sun King" ruled France for 72 years and transformed Versailles into this opulent palace complex with extravagant formal gardens. He wanted it to be the envy of the other royals.
After the French Revolution in 1789 when the royalty stripped of their power, furniture was auctioned off and sold to help pay for wars. It was a seat of France government for a century and was turned into a historical museum in the 1830s.
It was declared a UNESCO World Heritage site in the late 1970s. The palace is now a major tourist attraction and a place for visiting heads of state to stay.
Picnic Shopping
We really enjoyed this bike ride through the streets more than our Paris bike tour since the traffic wasn't as busy. It was a a bit more relaxing and smaller, tree-lined promenades to ride through. Since we were having a picnic lunch on the grounds of Versailles, we stopped at the local markets to stock up.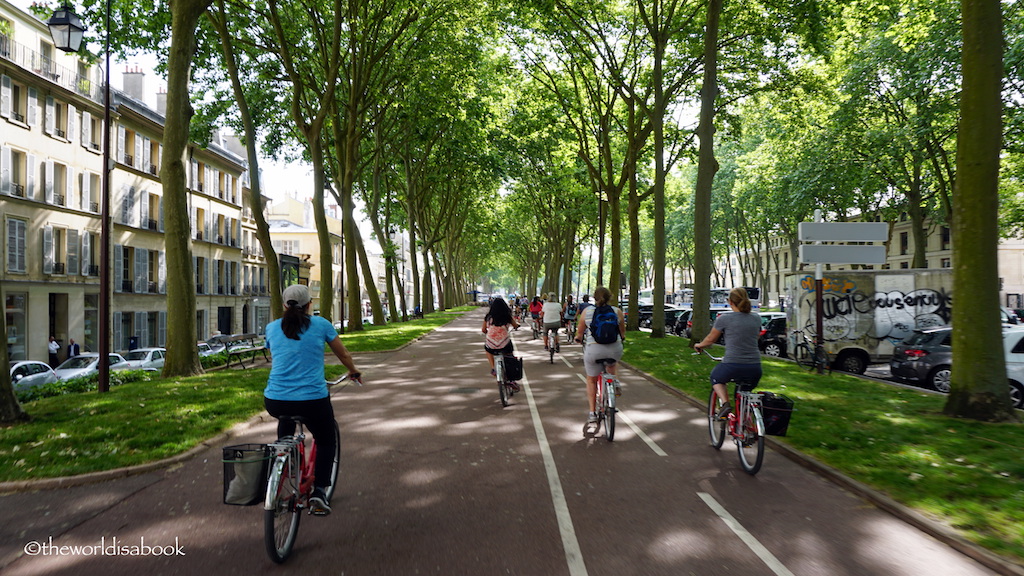 The Place du Marche Notre Dame was a large square surrounded by four indoor food halls and market. There was also an outdoor food/produce market here on Tuesday, Friday and Sunday. We were here on a Thursday and only vendors selling clothes and shoes were setting up.
Eddie gave us some recommendations of his favorite places to get food and wine. Don't miss the cart that sold fresh-squeezed orange juice. Our first stop was the Maison Guinon bakery.  It smelled amazing in here. They had so many mouth watering pastries and desserts.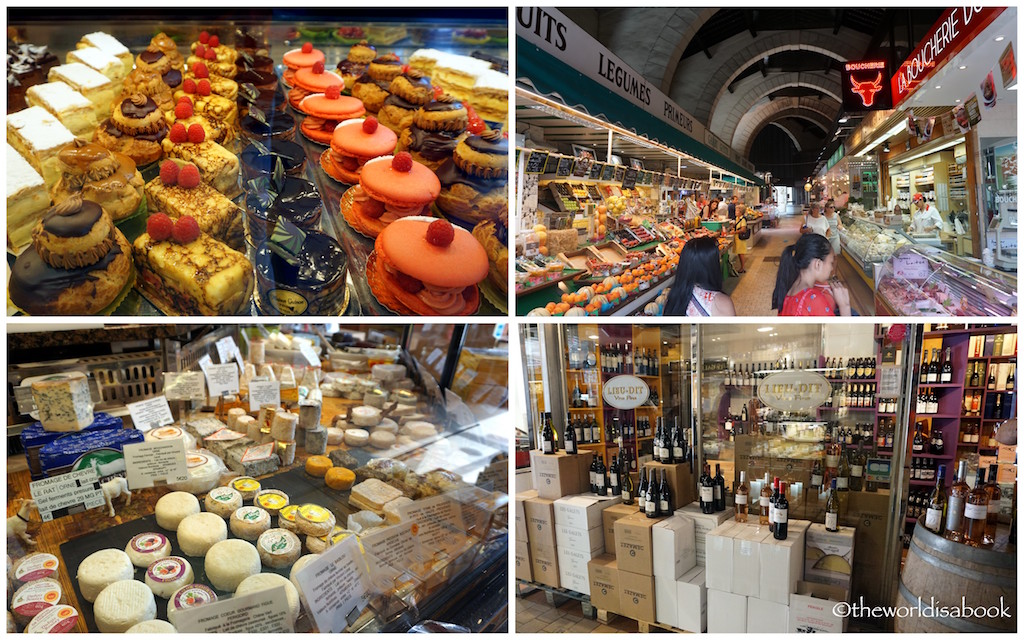 Shopping for those picnic supplies was one of our favorite parts of the trip. The indoor markets and food halls were filled with meat, prepared food, artisan cheeses, wine, fruits and vegetables. The prices were also reasonable. It was foodie heaven!
With our picnic goodies in place, it was a pleasant ride through the streets as we entered the grounds of Versailles. What a big difference! We loved biking on the tree lined paths surrounded by so much open space. It was such a relaxing bike ride.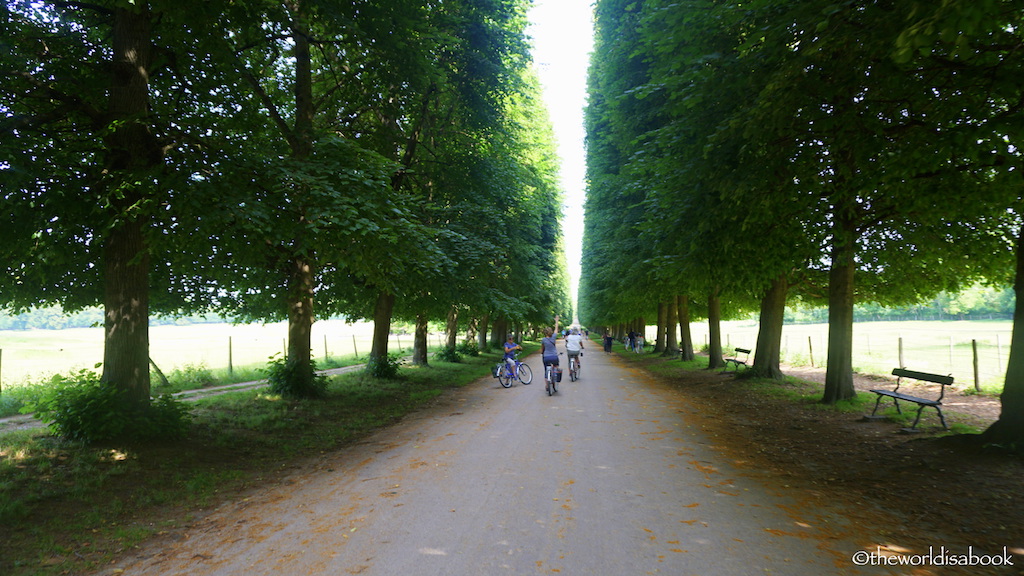 Estate of Trianon
It wasn't all biking during this tour. We parked our bikes and did a tour of the Estate of Trianon. Our first stop was the Petit Trianon surrounded by the gardens. Louis XV's had this mini-chateau built mainly for his mistress, Madame de Pompadour, who died before its completion. Louis XVI bestowed the estate to his young queen, Marie-Antoinette.
Much of the beauty and improvement of this estate was attributed to Queen Marie-Antoinette. Seeking a more private life, Petit Trianon became sort of her retreat from the daily rituals and formality of the Versailles royal palace. We spent a few minutes following the self-guided tour of this royal residence.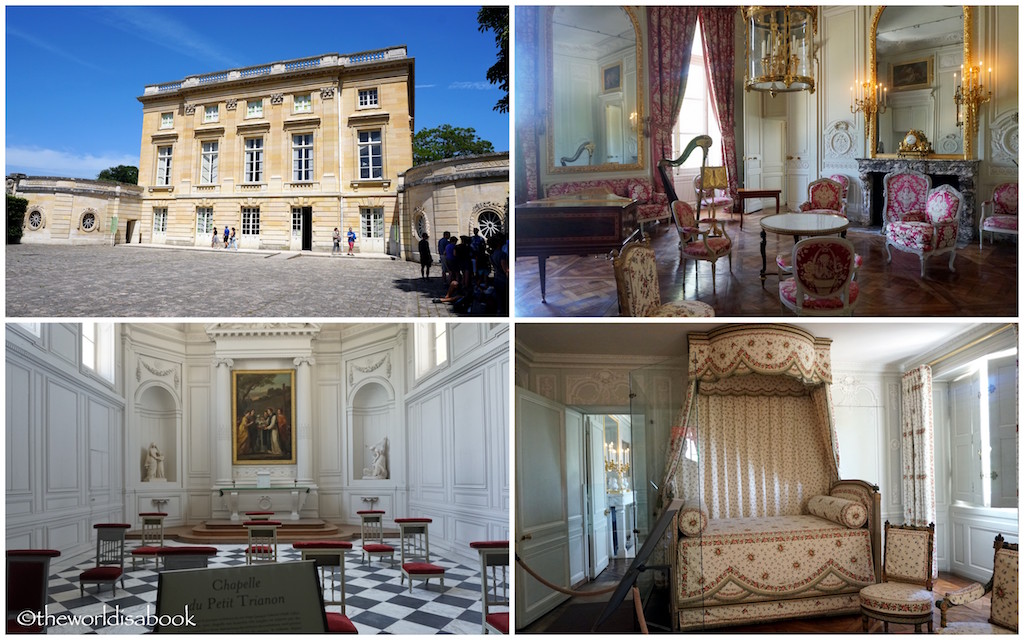 She remodeled most of the landscape into an English style garden. This included a waterfall, grotto and gazebos.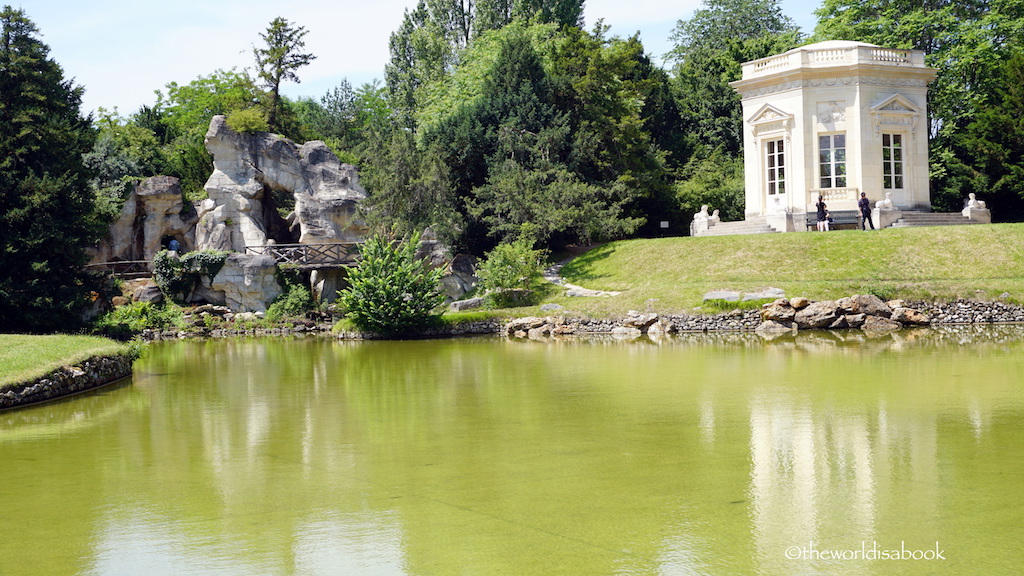 My family's favorite area in Trianon was The Queen's Hamlet. This was built in the 1780s and represented a small rustic village with charming cottages including a windmill, barn and dairy. It was a semblance of reality compared to the palace.
The Marlborough Tower looked over the small artificial lake. There were some swans and ducks that entertained many kids here.
Marie Antoinette used the village as an escape, to host guests, for promenades and to show her children the farm and rural lifestyle. The guests often stayed in the cottages which were more lavishly decorated. This was also a functioning farm. We found sheep and goats during our stroll around the area.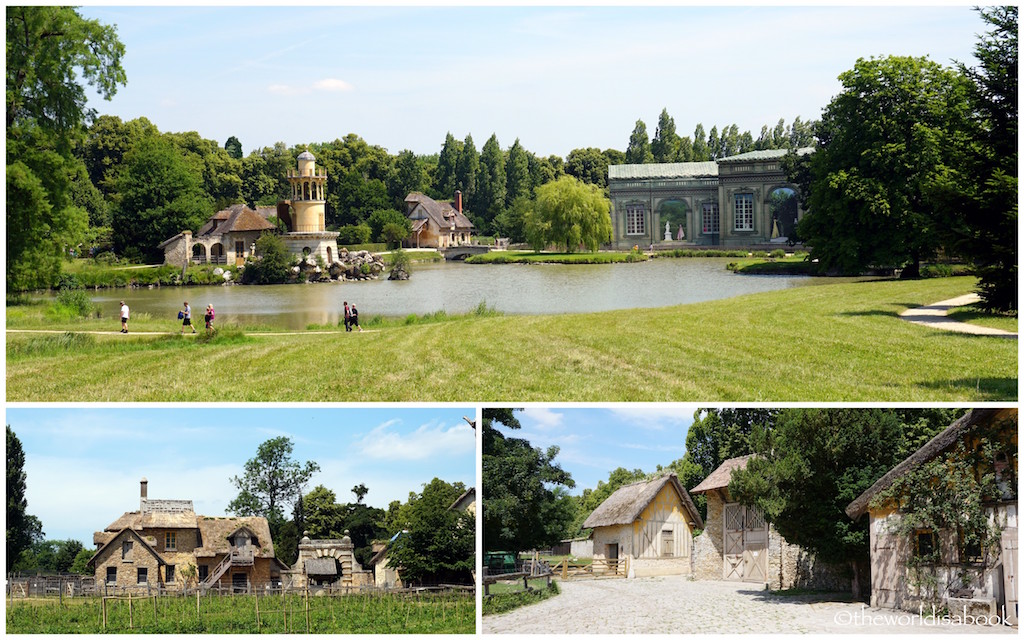 We all opted to have a longer picnic lunch instead of touring the Grand Trianon. It really was an easy decision to make despite my desire on visiting another royal house.
Louis XIV built the Grand Trianon residence for his mistress, Madame de Maintenon. It was once known known as "Marble Trianon" due to the pink marble panels on its facade. Napoleon once used this as his residence.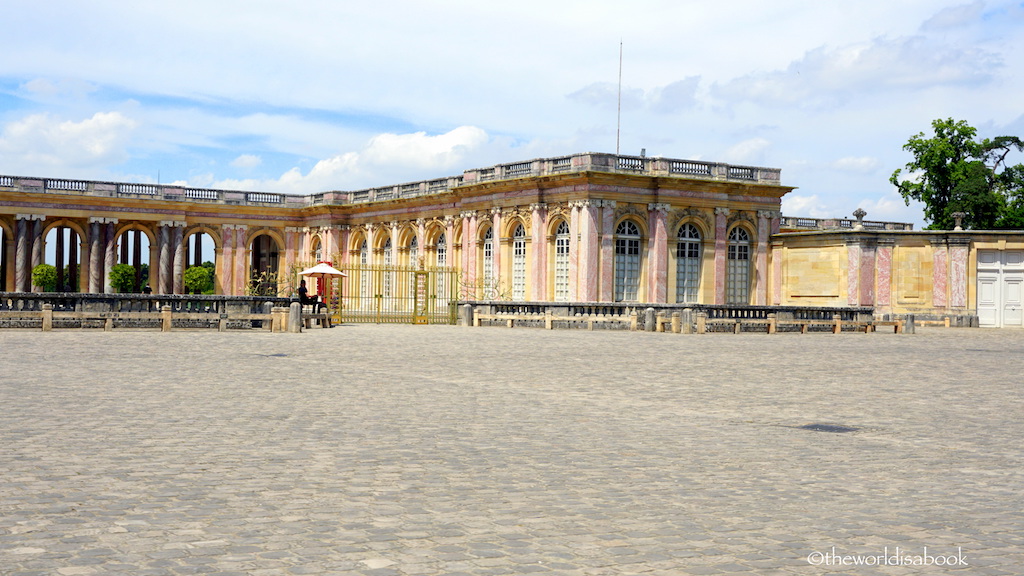 Our Picnic
Our group settled along the banks of the Grand Canal. This was shaped like a cross and was 1.5 km long and 62 m wide. Lined with various trees, it once had rowboats and Venetian gondolas during Louis XIV's reign.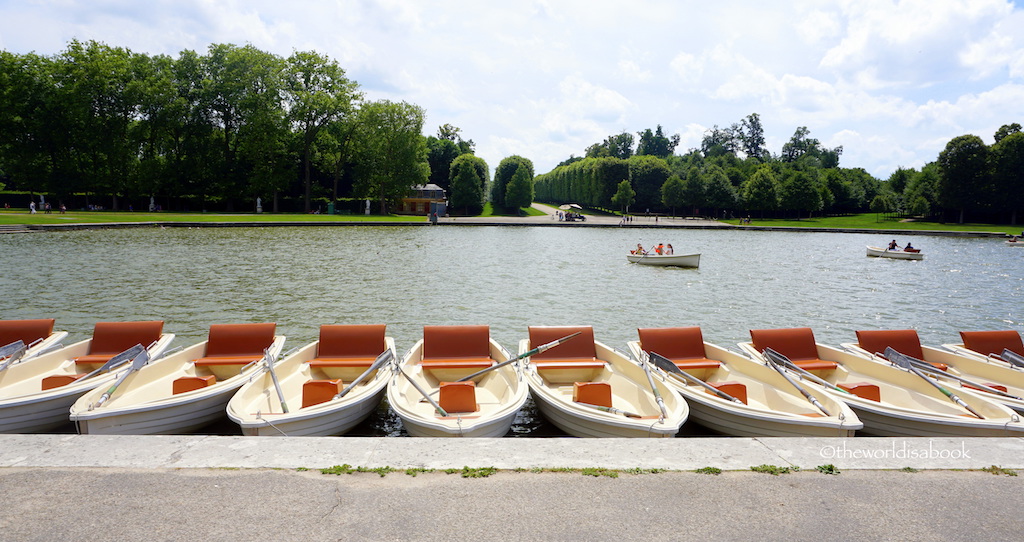 Eddie had a tarp and we all spread out our picnic items and enjoyed each other's company by the water. The backdrop was amazing with the beautiful hedges and as we watched people in their boats row across the canal.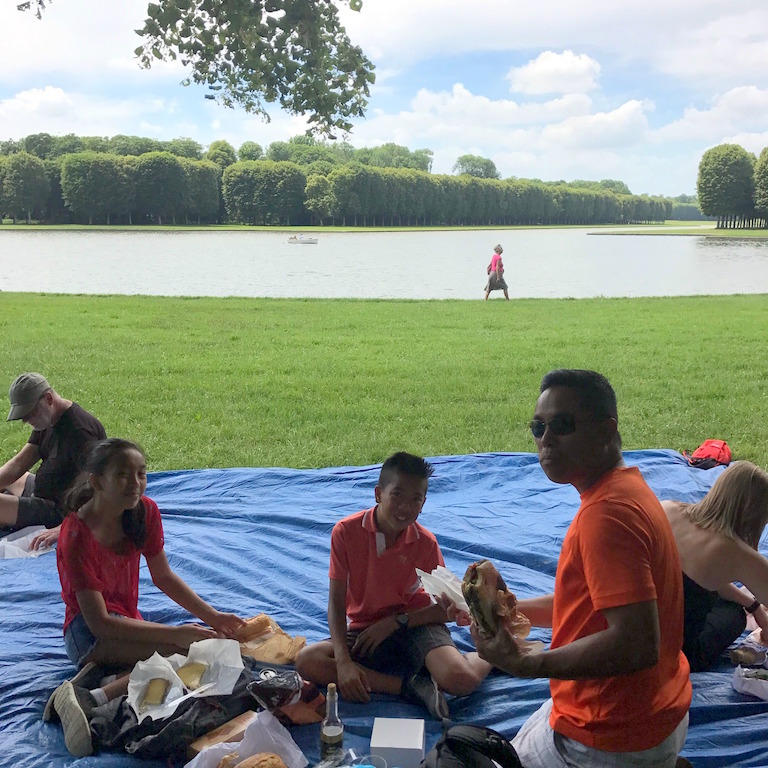 It was really hard to leave our picnic spot. I almost wished we had another hour or two to take a nap under one of those large trees. It was so relaxing and one of those memorable moments. It's not often one can have a picnic in the grounds of one of the world's most famous royal homes.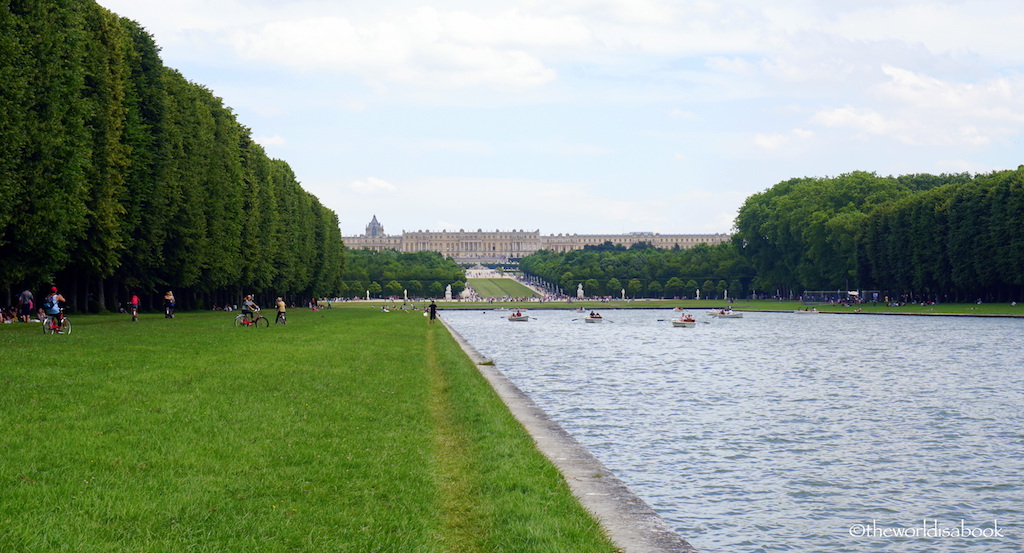 We biked back into town to return our bikes to the Fat Tire Tours office and walked the short distance to the palace.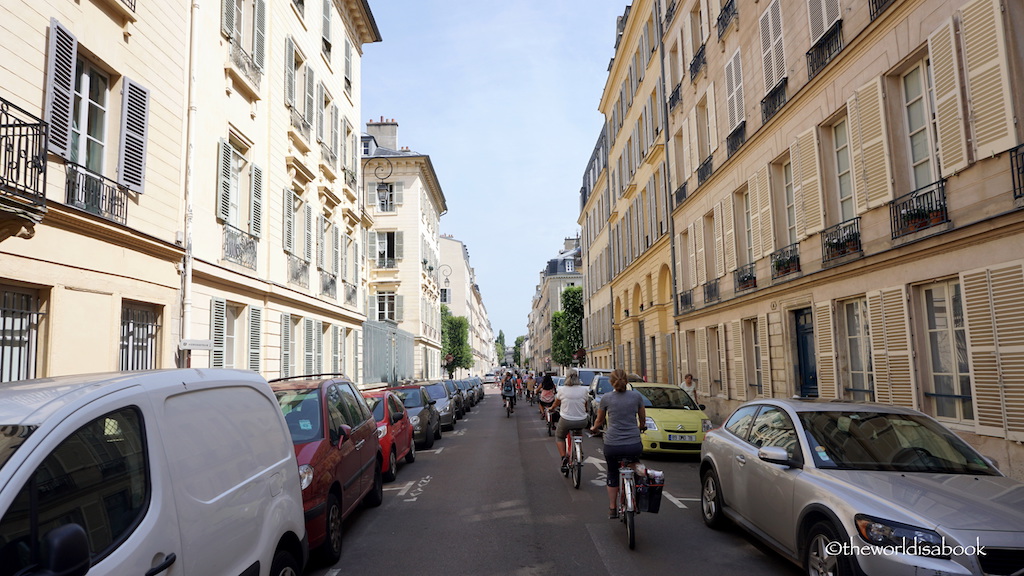 Visiting the Palace of Versailles
We had a designated time to enter the palace with our guide. But, the palace was running a bit behind so we waited along with all the other tour groups for about 15 minutes in the summer heat.
I cannot even imagine queuing for more than that. The heat was brutal and it helped to have an assigned entry time with this tour.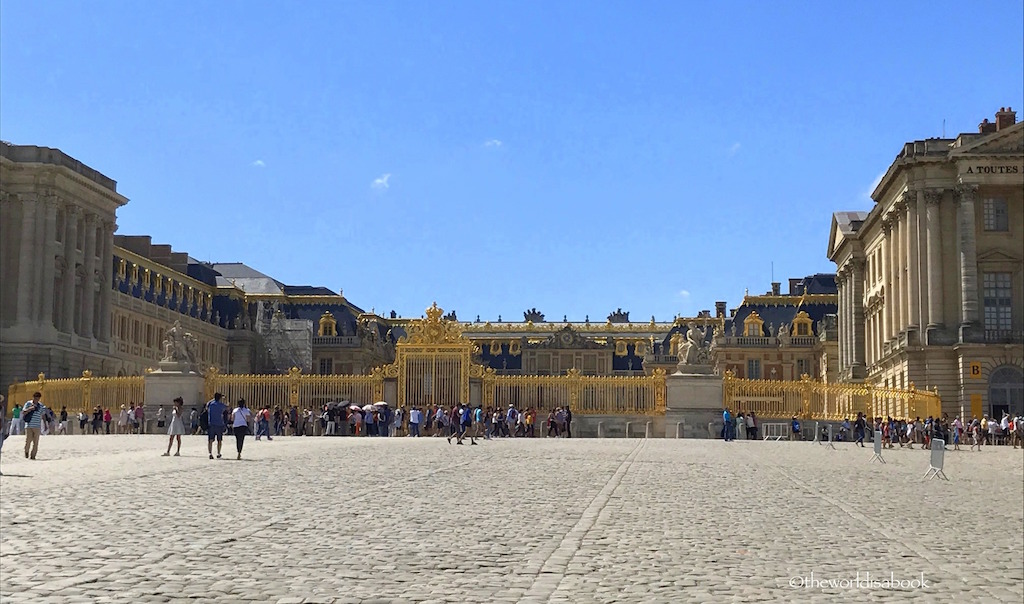 Unfortunately, our tour with Eddie ended as soon as we made our way into the grounds of the palace. We thought and really hoped that Eddie could have given us a wonderful tour of the interior as well.
But, he laid the foundation very well of its history and the different characters that made the palace come alive for us. It wasn't easy to keep all those various King Louis straight.
The courtyard, golden fences and gate were amazing. With the sun shining brightly, some of the gilded features were almost blinding. The square in front of the palace was huge.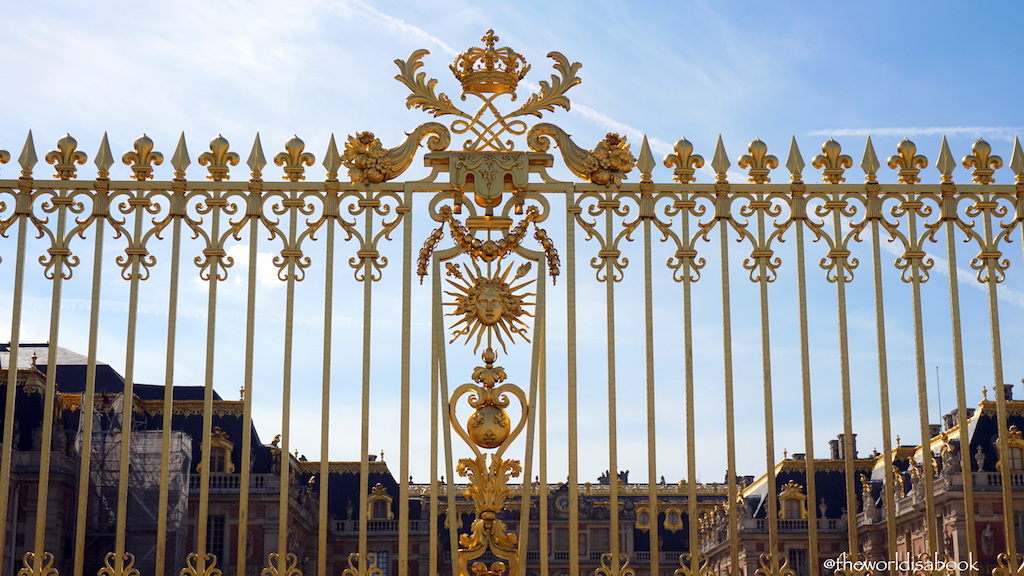 It was impressive to look around and see the exterior of some of the buildings. There were so many beautiful details from the ground and extend all the way to the roof.
The chateau has 700 rooms, 352 chimneys and 2,153 windows. Of course, not all of them are open to the public.
There were many guided tours but also a lot of visitors wandering around the palace rooms. We pretty much followed the crowd on the self-guided tour. Audio guides were available for rent. There were marked placards in the rooms to follow along.
Like many royal homes we've visited, it's always fun to imagine what life was like here during is heyday. We learned a bit about the various Louis and their habits so it was only fitting to see some of the royal apartments. The opulence is mind boggling.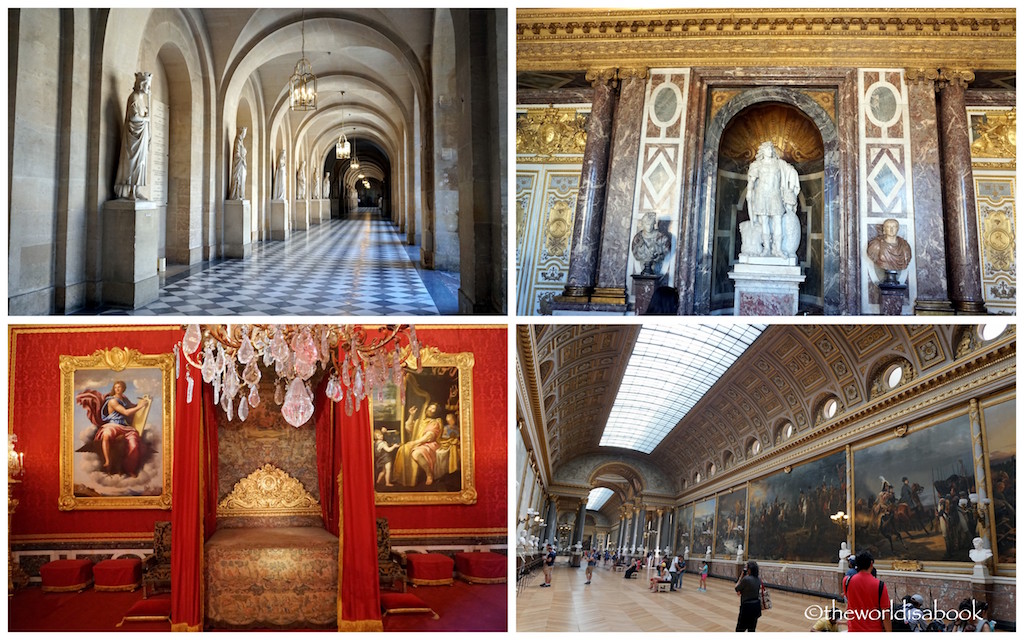 Hall of Mirrors
Every picture I've ever seen of the Palace of Versailles from friends and family who have visited involved the Hall of Mirrors. For the longest time, I didn't even know how the palace's exterior looked. We actually hurried past some of the rooms and exhibits so we could finally stand in this most popular room.
It was really crowded. It was no surprise considering we were here in late June. We barely moved as we made our way around all the tour groups and fellow tourists. Patience was the key here. We made our way to the very end of the room and were able to fully enjoy its grandeur.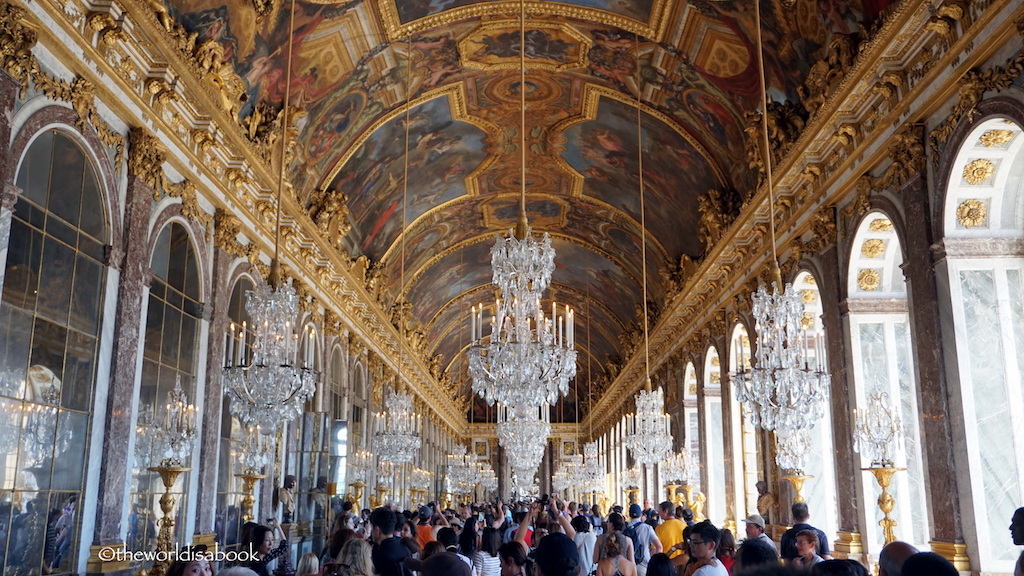 The Hall of Mirrors was 220 ft (73 m) long. One side was flanked with 17 arches and windows that looked out into the gardens. The opposite sides and other walls were filled with 357 mirrors. During the 17th century, Venice had a monopoly on mirrors but these were produced in Paris and have held up pretty well considering over half are in original form.
The gallery was fully restored to how it would have looked in the 1680s. I loved the marble walls here and the random golden sculptures scattered around the room. This has to be the most elegant room we've ever visited. The many crystal chandeliers added even more to its opulence.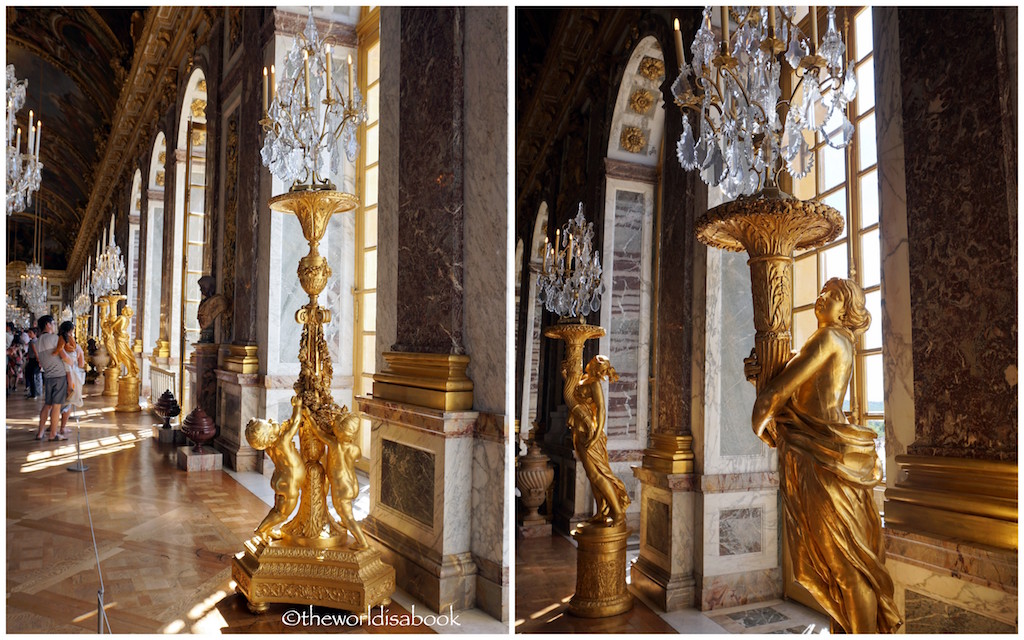 The vaulted ceilings were also a sight to behold with its 30 paintings. The paintings depicted Louis XIV's military and diplomatic victories. Don't forget to look up when visiting.
This room held several purposes throughout the years. It was mainly used for guests to walk through and wait. The gallery also served as a venue for political ceremonies and weddings including the one of Louis XVI and Marie Antoinette. The Treaty of Versailles, which ended World War I in 1919, was also signed here.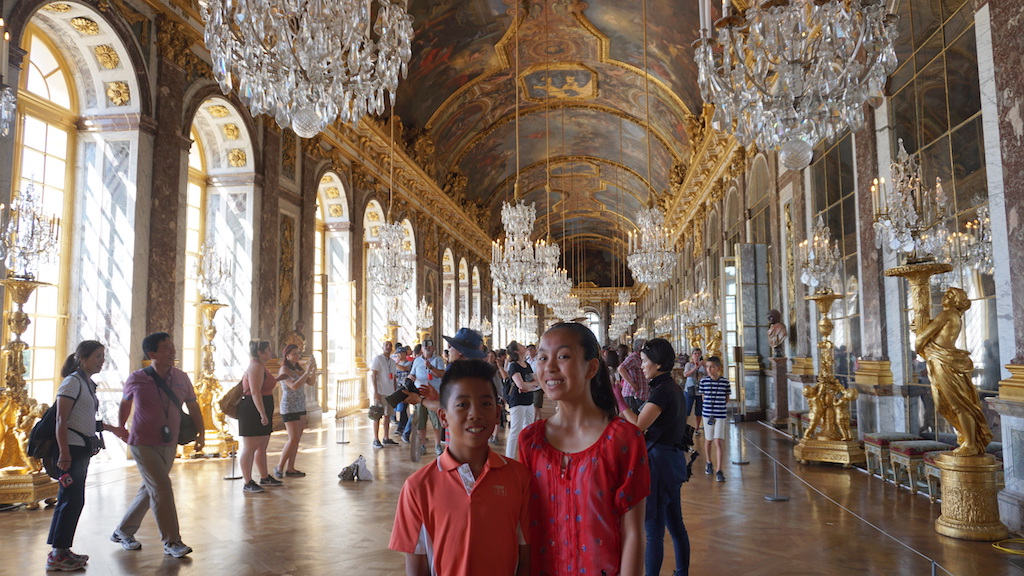 The Gardens
The Versailles Park is about 2,000 acres (800 hectares). This included the forest areas and agriculture fields. The gardens contain so many hidden treasures and varied items that there are actually tours for them. Visitors can spend days exploring these areas.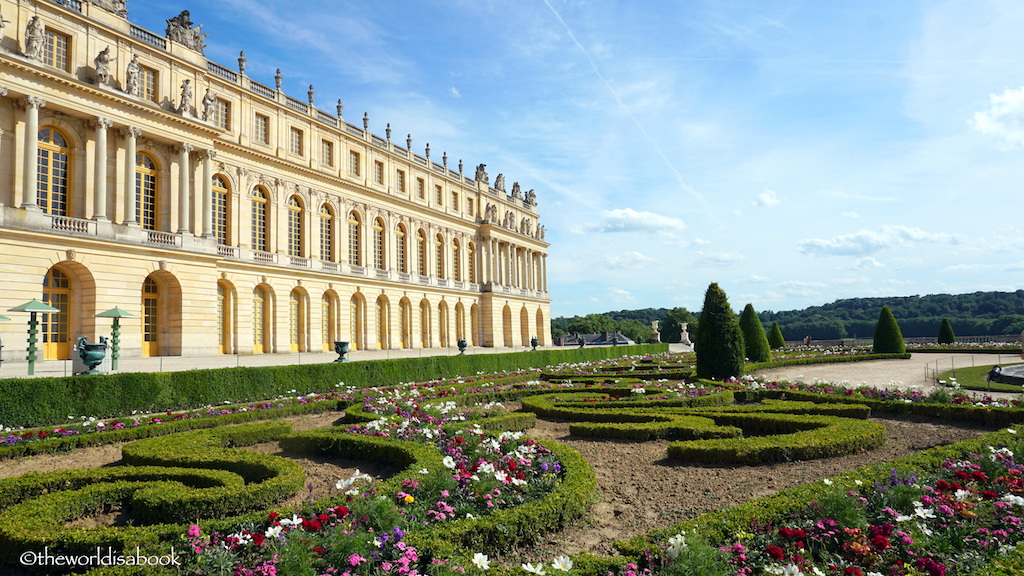 We visited the garden in the palace's lower part for last. It was beautiful but I think I was expecting a bit more color and flowers or something resembling a botanical garden. We loved the well-manicured shrubs that resembled geometric patterns.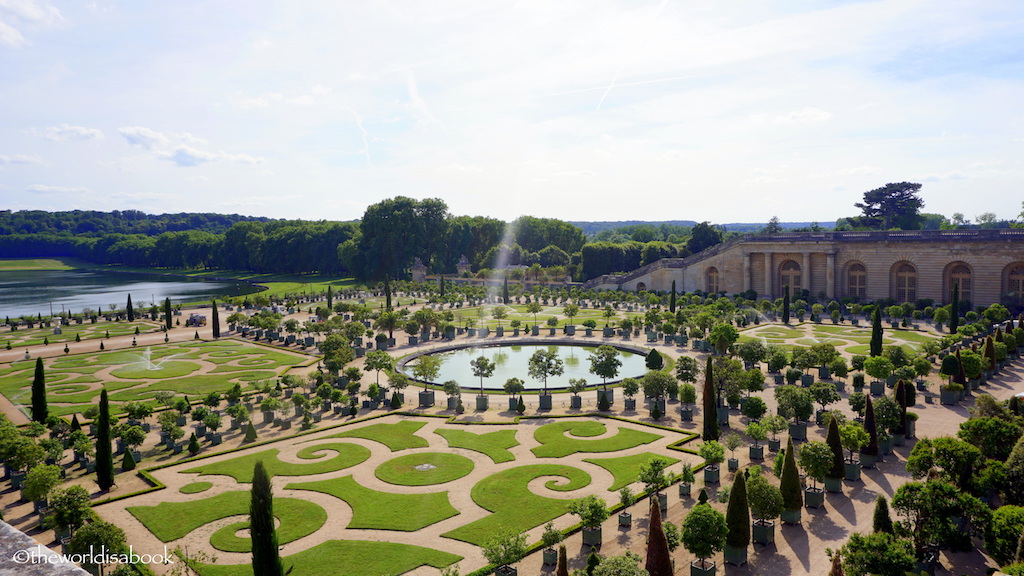 The Palace of Versailles has long been on my travel wish list. Doing the Versailles Bike Tour was really the best way to explore the palace grounds, learn its history and burn off those calories from all the delicious French pastries. Our guide took great care of us and was very informative.
The area was so expansive and the bike tour allowed us to cover more than we otherwise would have if we did a DIY tour of Versailles. The tour was well organized and we loved that shopping for picnic supplies and having a picnic lunch on the grounds was included in this tour.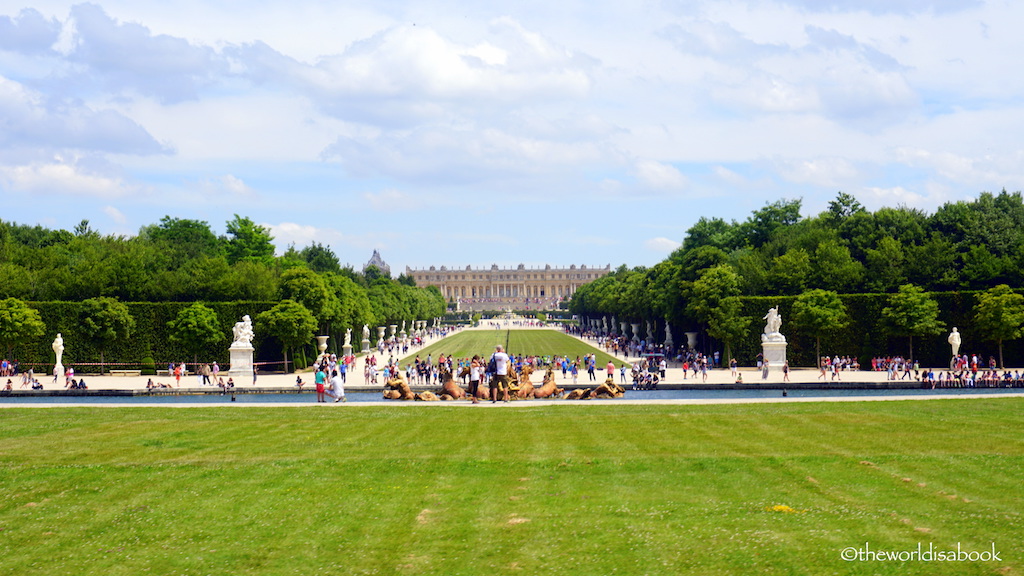 Tips for doing the Versailles Bike Tour
Reserve this tour online

as early as possible. Tours are cancellable 72 hours prior to tour date. Palace of Versailles is closed on Mondays.
This was an all day tour that started around 9AM and ended between 5-6 PM. Guests can also stay as late until the palace closes at 6:30 PM. Train tickets provided were roundtrip so we didn't need to line up on the way back.
All tours operate rain or shine. Rain ponchos available for purchase in the Fat Tire Tours office.
Bring a backpack or grocery bag to carry picnic supplies.
Bring enough Euros for the market vendors (some accepted credit cards) and to tip your hardworking guides.
Reserve any equipment you need during the booking process. Fat Tire Tours has baby seats, toddler trailers, kids' tandem bikes, children's bikes.
Fountain Shows and Musical Gardens occur on Tuesday, Saturday and Sunday afternoons from March to October. The various fountains are set to classical music. Nighttime shows include lasers , light effects and fireworks. Separate admission is required.
Please use the promo code: THEWORLDISABOOK to receive 10% off these particular bike tours: Versailles Bike Tour, Paris Day or Night Bike Tour, Monet's Garden Bike Tour or Best of Paris Bike Tour.
Want to WIN an all expense paid trip for a week in Paris and join Fat Tire Tours in 2018? See the rules and

enter the contest here

. Contest is open Sept. 18 – Oct. 12.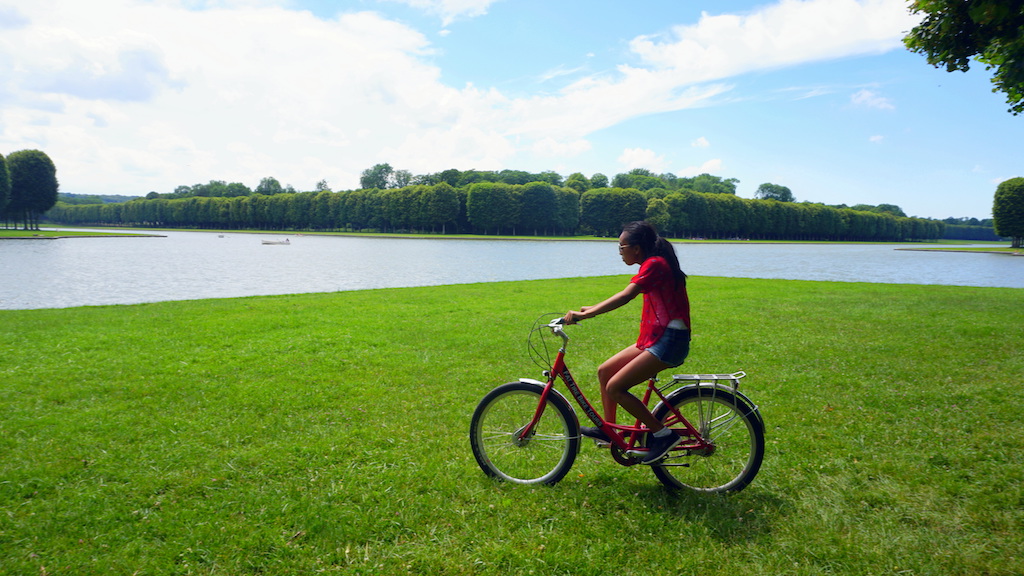 Disclosure: Fat Tire Tours Paris graciously provided our family with discounted rates for the Versailles Bike Tours. All opinions and photos are our own.
*Have you done any of these bike tours or visited Versailles?
Pin it for later!